Sunny days in Catalonia from FKB (pix)
How often, I stuck in the traffic jams on this ancient motorway from Stuttgart to Karlsruhe, so I thought last sunday morning when I ride down
the A 8. Very low traffic today, not bad, we started this trip with a 30 minutes delay from home.
It was autumn holiday season in germany and the fares to southern destinations with the classic airlines from STR gone really high.
An acceptable alternative was to go from FKB, not bad for my log, a new airport and also not bad for my bank account, the fare for us three travellers was ok
in mid august when I´ve booked this short trip to the (hopefully) sunny south.
Sunday, 29.10.2006
FKB (Karlsruhe/Baden-Airpark) - GRO (Girona-Costa Brava)
FR 9212 operated by Ryanair B 737-800 EI-DAV
Scheduled: 12.45 // 14.25
Acutal: 12.50 // 14.10
Gate: 6 Seat: 19B
Load factor: 100 %, no free seat
Fare: 130,38 EUR return
Delivered to FR: 10.01.2004
We made it in around one hour from door to door and arrived at 11.00 am at FKB airport.
I was really positive surprised there, lots of not to expensive parking spaces.
Only short ways to walk, a new and spacious terminal building, better equipped than the usual Ryanair-ports.
Terminal FKB:
Two counters open, long queues there, we had to wait for another 20 minutes till check in was done by a third female agent
arrived only minutes ago.
No time to wait at security, the guy there told the pax with liquids about the new security guidelines starting from 06.11. in case that there will be some travellers with later return flights.
The gate area was also spacious, a large coffee bar, a really cheap duty free shop, but negative, only limited views to the apron.
An AtlasJet A320 and a Sky Airlines B738 both bound for Antalya parked there.
Priority boarding for familiy with children means this time, nearly half of the pax had priority, lots of children there.
Boarding started as announced half an hour prior to the scheduled departure time by bus around the corner and to the plane.
Parked there was EI-DAV leisure flight no.15 on the B738 and the first on this machine.
Boarding EI-DAV at FKB: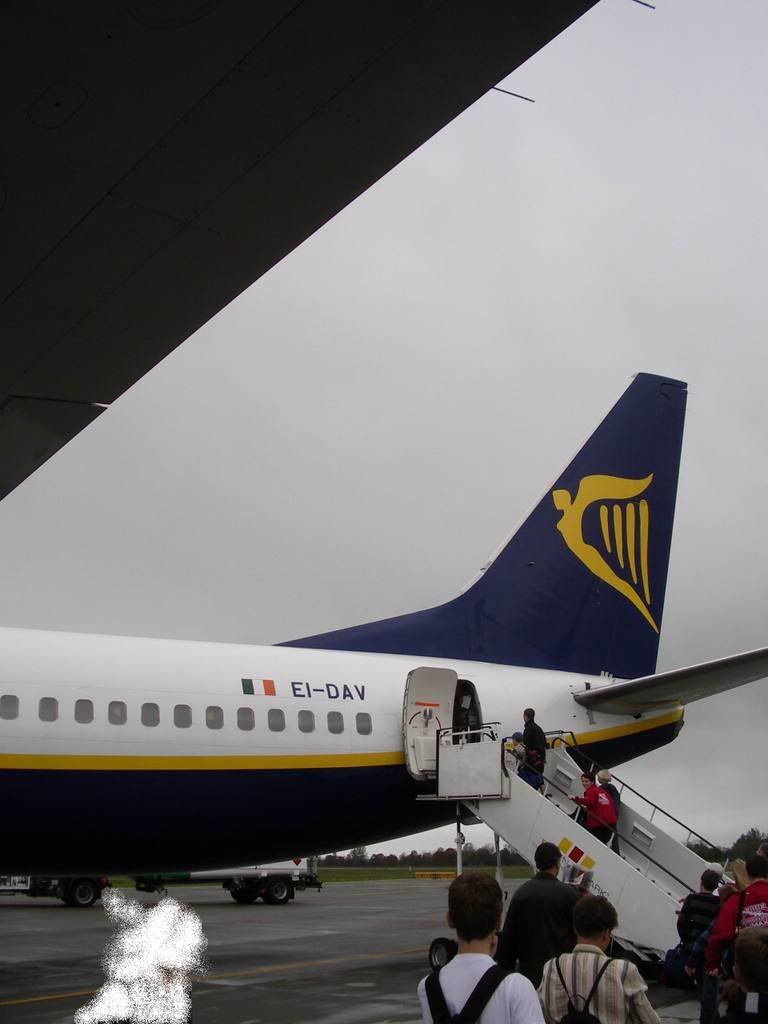 We entered by the rear door, welcomed by a not to friendly elder german female FA.
Total four female FA's on this flight, ok friendly, but on a low level.
The plane fitted with the typical dark blue leather seats, slightly dirty.
The captain introduced himself during boarding as Thomas Smidersky, IMO from the czech republic.
Departure ontime from the 2730 meters long runway 21.
Route: FKB-ZRH-GVA-MRS-GRO.
Flight level 35.000 feet.
Inflight EI-DAV: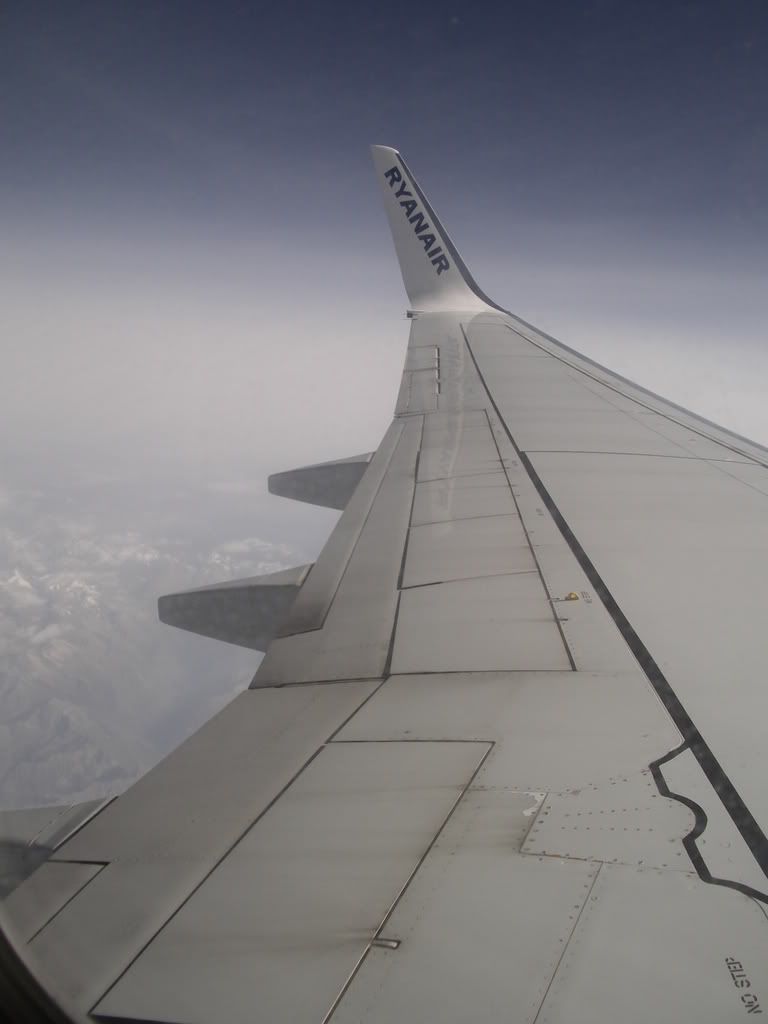 Typical FR service standard, one time more detailed from the FO inflight, dont understand his name.
Approach started than 25 minutes ahead to arrivals on GRO´s runway 20.
Some circles along the southern pyrenees and touchdown in Catalonia 15 minutes ahead to schedule, proudly announced by one of the FA´s.
Deboarding EI-DAV at GRO:
EI-DAV and GRO:
We had to walk to GRO terminal.
I picked up the rental car, booked by Auto Europe for as low as 66,70 EUR, the car was from Europa/Goldcar, during baggage delivery.
A Chevrolet Kalos, around 10.000 km, very friendly service at the counter, no problem, I was positive impressed about that in comparison to the very low fare,
around 30 percent cheaper than the second opinion.
I payed for the first gas but secured a agreement with the girl that she will refund it when I returned the car full, no problem till now.
Only ten minutes later or around 30 minutes after touching spanish, sorry, catalonian soil we arrived at our accomodiation, the Melia Vichy Catalan,
opened in April/May this year, a very well designed and managed property surrouned by the PGA Golf de Catalunya course.
Hotel:
Real recommendable for a relaxed short stay, fitted with indoor/outdoor pool/whirlpool, saunas and so on.
The carribean?:
or Australia?: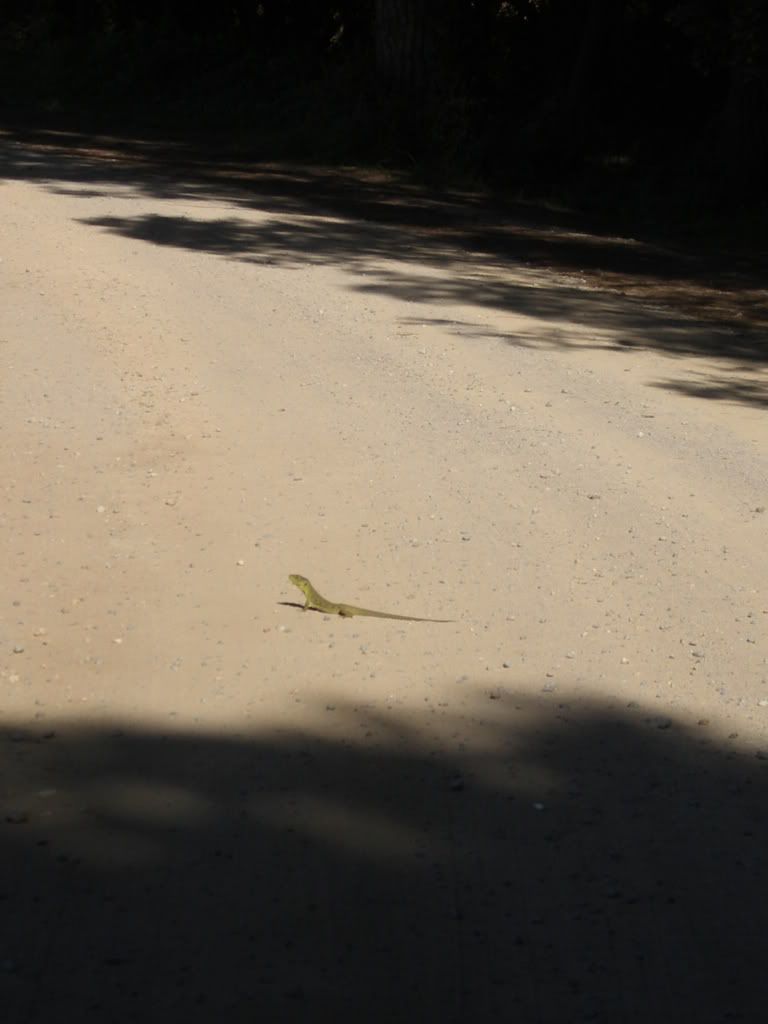 no, Catalonia with the Musee Dali in Figueres:
Wednesday, 01.11.2006
GRO (Girona-Costa Brava) - FKB (Karlsruhe-Baden-Airpark)
FR 9211 operated by Ryanair B737-800 EI-DHE
Scheduled: 10.35 // 12.20
Actual: 10.35 // 12.00
Gate: ? Seat: 24B
Load factor: Again around 100 %
Delivered to FR: 03.03.2005
Again slighty delayed we arrived at GRO airport at around 09.00 am, returned the car and joined the queue at the two open desks to FKB.
Around 30 minutes to wait, no time at security and in the gate area at around 09.50 am.
Two new FR features today caused some trouble during check-in, the reduced 15 kg bagagge limit and later the new boarding system.
Boarding started at around 10 am, no more group boarding at FR.
One row with priority boarding pax, that means web check in and else and one row for all the others.
In our case a male agent dont mentioned this and asked for the families with children, so we leave the queue and boarded again early, some troubles between the agents there behind us.
Leisure flight no.16 on the B738 and the first on this machine.
Boarding EI-DHE at GRO: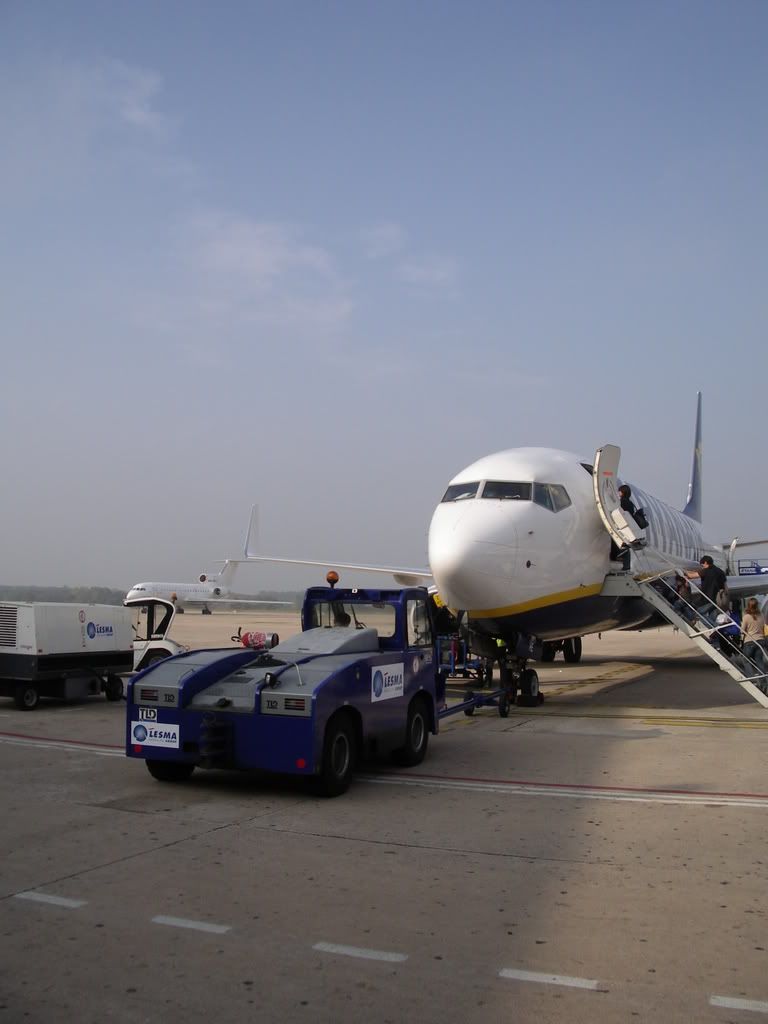 Again EI-DHE at GRO: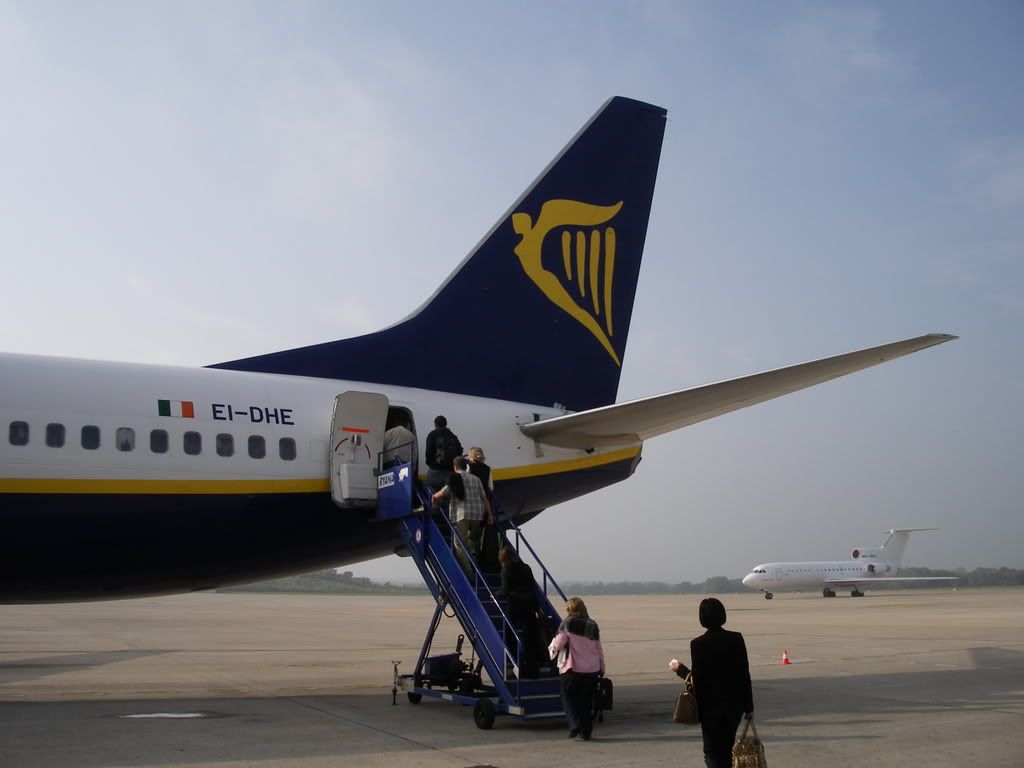 We walked to the plane, entered by the rear stairs, again four FA´s, two female, two male, more friendly this time.
Captain today Miroslav Cenicic,IMO from Slovenia, I saw him later during the walk around at FKB, a well experienced pilot, age near 60.
Detailed informations during boarding around the following flight.
Departure from runway 20 ontime.
Route: GRO-MRS-GVA-ZRH-FKB
Flight level: 36.000 feet.
Leaving Catalunya: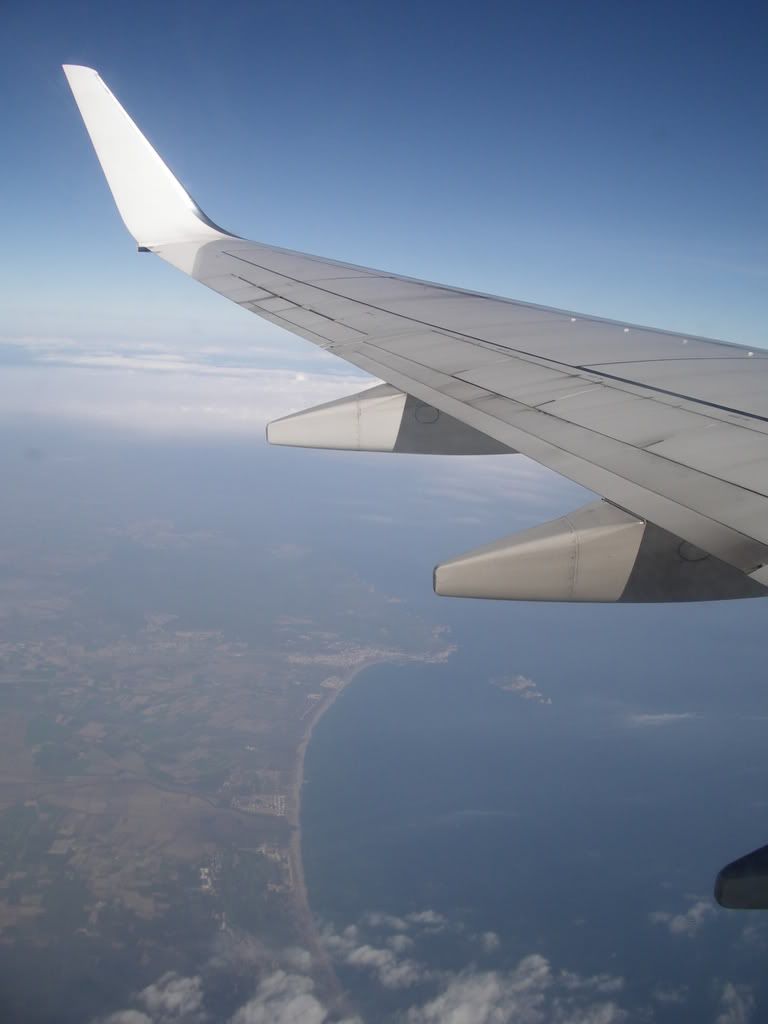 Entering France near MRS:
Clear blue sky, good views, but some CAT´s over the french alps.
The FO apologized later, dont understand his name, two times for the shakers, he told us that the asked for another flight level, but the controllers had only limited
space according to the heavy traffic in the area so we cant leave the turbulent flight level.
Approach to FKB, again runway 21, 25 minutes ahead to arrivals, touched down in cold germany, again announced by on of the FA´s, 20 minutes ahead to schedule.
EI-DHE at FKB: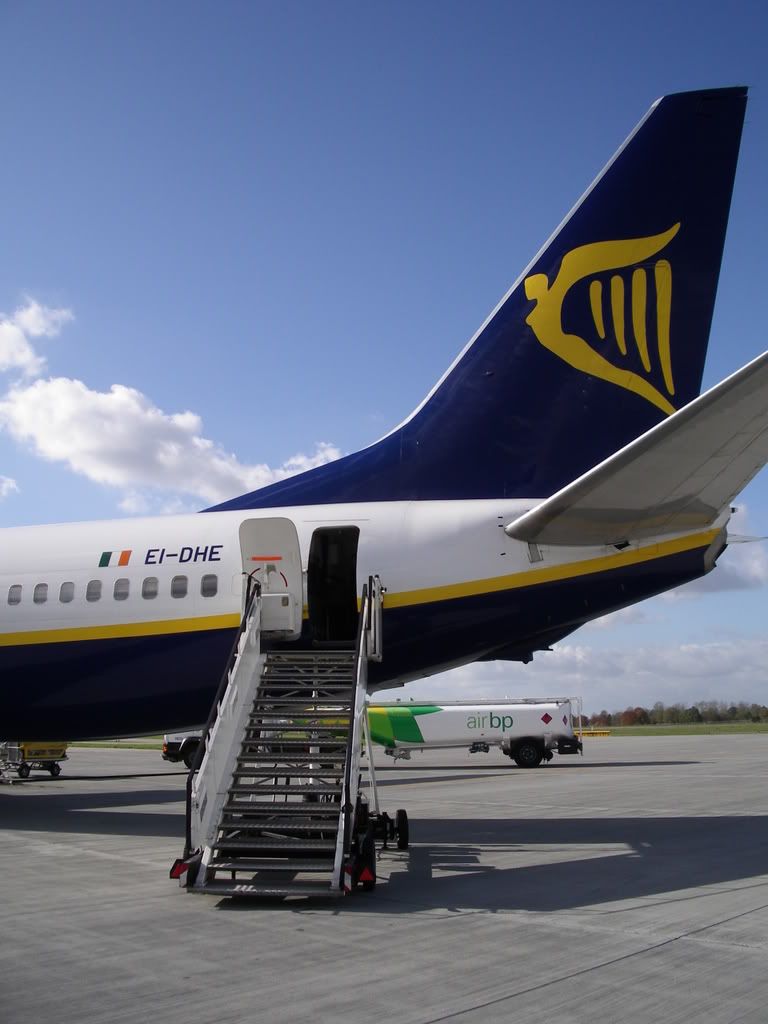 Deboarding by bus, no time to wait for the bags and again a quick ride back home.
Ryanair delivered us ontime to Girona and back home, the fare was acceptable in comparison to anything else on the market during this autum holiday week.
Nothing special, but I had low expectations.
FKB surprised me really positive, Girona also an new airport to my log is not to bad, but a bit oldfashioned.
The hotel and the area itself is real recommendable, the wheather was excellent.
Comments and critics always welcome,
Markus (FLIEGER67)