Feedback always appreciated.
Trip Report: 015
Flight Category: Y-DSR (See Report End)
Date: 08-Oct-06
Dep.Arr.Time: 1940/2050/01:10hrs
Flight:
INDIGO, 6E 204
, 309 miles
Routing: GAU (Guwahati/India) – CCU (Kolkata/India)
Aircraft: 320
Seat: Economy, 13F
I > Background:
Last flight in India and first report on 6E
Part of a month long amazing passage to India for a wedding, with some stops in Asia to see friends. Routing was CCS-MIA-EWR-SIN-CGK-SIN-CCU-DEL-CCU-BOM-CCU-IXZ-CCU-IXA-GAU-CCU-SIN-ICN-YYZ-EWR-CCS with a mix of J and Y class of travel. This focuses on the 6E segment from GAU to CCU. Other trip reports for this trip will be EWR-SIN (SQ/J-Cabin), SIN-CGK (KI), CGK-SIN (VF), CCU-DEL (SG), DEL-CCU (IC), CCU-BOM (S2), IXZ-CCU (DN), CCU-IXA (CD), IXA-GAU (IT), CCU-SIN (SQ/J-Cabin), and ICN-YYZ (AC/J-Cabin). I think these reports will be "firsts" for revenue flights on CD, IT (mainline) and 6E and cover IXA, GAU, IXZ-CCU, and CCU-DEL for the first time on Airliners.Net.
II > Pre-Flight:
a) Before Airport:
Indigo shocked the world by ordering 100 A320s a year back. Well, they seem to have got off to a flying start and have been receiving a 320 a month. This was the first month of operation for them.
I booked this ticket pretty much the second day Indigo's website went online and found an amazing deal for INR 399 + taxes. After initial modifications (mind you, I checked the website the second day of launch), Indigo's website is now a breeze. In fact, I rank it as the best online booking experience in India. You can access it at
http://goindigo.in.
While the site does not have much "frills", the booking engine itself is amazing – gives you an option to book/change/cancel reservations and lets you chose seats – and then MY FAVORITE PART – it's the only Indian airline right now that lets you book exit row seats for an additional price of INR 100. Impressive!
b) At Airport:
As I mentioned in my trip reports earlier, Gauhati is my favorite airport in India. Having arrived early, I went to the excellent viewing deck on the top floor and managed to click a few pictures of tarmac action. While outside of the airport conformed to IADS, the inside was splendid and had many Indian-styled art-works all around. Moreover, the personnel at the airport was much nicer than counterparts in many other Indian cities. (For example, I find North Indians significantly more aggressive than anywhere else in India.)
Check-in was interesting as the woman gave me seat 15F. I was slightly confused and mentioned I had paid for an exit row seat – she looked confused as well and finally gave me my much cherished 13F. My word of advice: Indians feel genuinely uneasy at the low-cost model and charging people for extra legroom etc. Next time, I would just show up at the airport and request a free exit row seat. Who knows … might save INR 100 and have 10 more of the addictive cups of tea!
Security was a breeze and soon we were off on one of the brand new 6E buses to the aircraft. I was impressed by these buses with huge Indigo ads and the electronic displays telling you of the flight and destination. Apologies for not being able to take pictures as it was very dark. As soon as you enter the plane, the freshness hits you. The Airbus 320 is brand-spanking new and the pilot later confirmed that it had been only 8 days in service. Load was 80%.
Airport - External:
(Gauhati Airport – first on A.Net)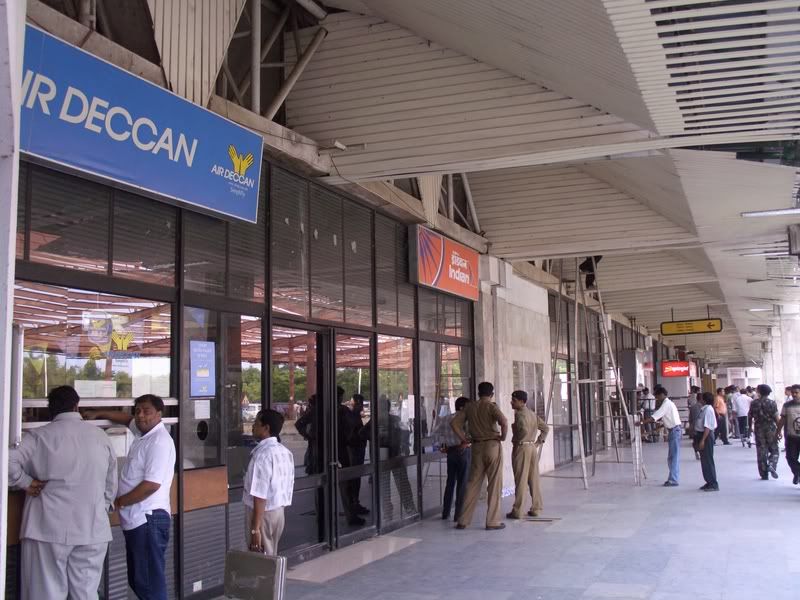 Check-In:
(Make-shit counter)
Airport - Internal: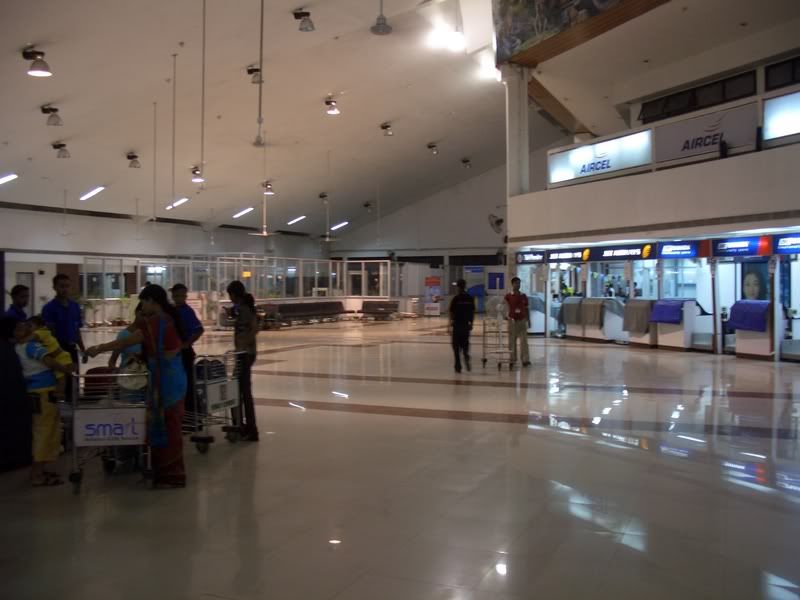 Scenes of the tarmac:
(S2 bound for CCU)
(9W)
(IAF – Viscount?)
(Spacious viewing area)
Boarding:
NONE
III> In-Flight:
a) Service Schedule + Impressions:
Indigo is a true low cost product. After IT and CD, it felt cheap. Service consisted of a beverage service and that is pretty much it.
b) Aircraft + Seats:
Absolutely brand new, the airline smelt fresh. Added to this was the new-look 320 lighting (see pictures) and general good cabin upkeep. Legroom was generous, even outside exit rows and so was the recline.
Aircraft:
NONE
Views from Aircraft:
NONE
Seat Leg-Room:
Seat Recline + Angle View:
Cabin:
c) Meal + Beverage:
6E is definitely low-cost. You are only given a bottle of water and made to buy everything – by "everything", I mean a pack of juice (something I bought for INR 20), and some cold drinks were available. No food. Nothing else.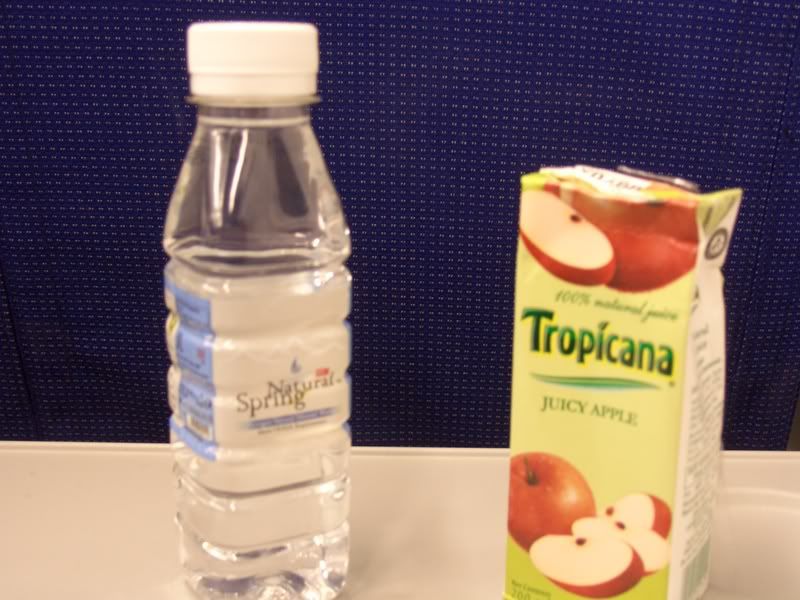 d) Inflight Entertainment:
Nothing. Not even an inflight magazine. It was a shock after all the pampering I have got on many Indian airlines. I asked the cabin crew and they had no idea if 6E would ever come up with one.
(I did like their barf-bag. Probably the best looking air-sickness bag I have ever seen – well, along with the motifs on Air Indias)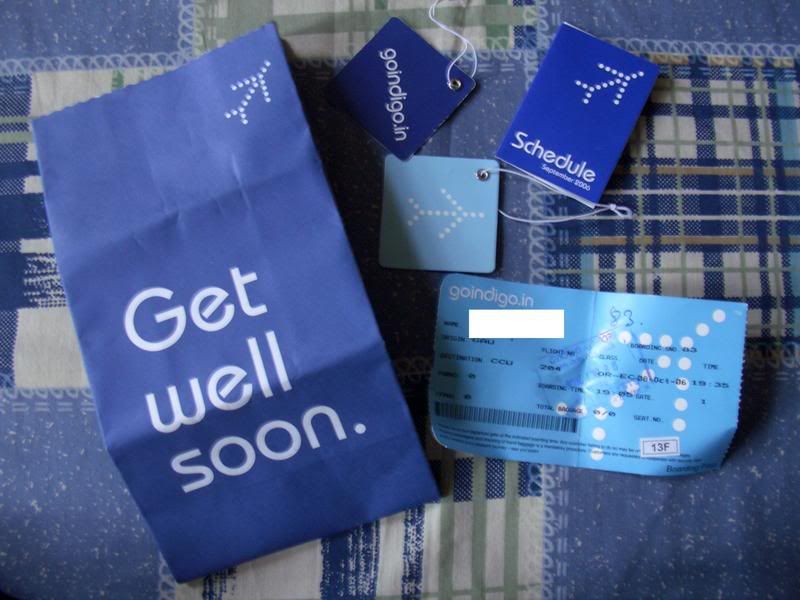 e) Crew:
Very professional who knew how to handle the members on board. They were obviously trained to deal with first-time passengers and were of course convinced of the viability of the low-cost model in India. Surprisingly, they made some interesting commentary – including on how low-cost works, and how we should given them the trash so as to minimize ground time (never heard that in India), etc.
IV> Post-Flight:
Bag was waiting in the carousel by the time I reached to it. Lines for pre-paid taxi were huge; but thankfully, I had a friend pick me up.
Calcutta Airport:
(from tarmac)
(domestic arrivals board)
V> Impressions + Scores:
Indigo has slick campaigns all over India announcing its launch. It has strong ambitions to be a dominant carrier in India. It seems 6E has adopted the US Air model (its chairman I believe is ex-US Air) of no-service and is very efficient in delivering passengers from point A to B. A price sensitive passenger will have no problem going for 6E – cheap, safe, and clean. However, I personally would prefer with a little more frill. Bottom line, I would only travel with them if price was the only issue.
Reservation: 9.5
Check-In: 6.0
Lounge: n/a
Boarding: 8.5
Seat: 7.5
Aircraft Overall Ambience: 8.0
IFE: 2.0
Crew Service: 7.0
Food: 3.0
Beverages: 5.0 (standard default score, when served only beverage)
Amenity Kits + Others Freebies: 5.0 (standard default score)
Disembarkation: 7.0
On-Time Record: 10.0
OVERALL IMPRESSION: 6.54
(Scores are based on comparison with other airlines in THAT class of service – No comparison of Y vs. F for example)
VI> Other Trip Reports:
1/
Avianca: BOG-LIM: 07/06/06: 7.09pts: Y-IMR
2/
Air Tran: EWR-MDW: 08/02/06: 6.73pts: Y-DMR
3/
West Jet: YYC-YVR: 09/05/06: 7.14pts: Y-DLR
4/
Air Canada: YYZ-YVR: 09/02/06: 5.92pts: Y-DLR
5/
Air Canada: ALB-YYZ: 09/01/06: 5.88pts: Y-ISR
6/
Singapore Airlines: EWR-SIN: 09/20/06: 7.81pts: J-ILR
7/
Adam Air: SIN-CGK: 09/22/06: 6.04: Y-ISR
8/
Valuair: CGK-SIN: 09/22/06: 5.04: Y-ISR
9/
Spice Jet: CCU-DEL: 09/25/06: 6.67: Y-DMR
10/
Indian: DEL-CCU: 09/26/06: 7.25: Y-DMR
11/
Air Sahara: CCU-BOM: 09/28/06: 4.42: Y-DMR
12/
Air Deccan: IXZ-CCU: 10/07/06: 5.75: Y-DMR
13/
Alliance: CCU-IXA: 10/08/06: 7.54: Y-DMR
14/
Kingfisher: IXA-GAU: 10/08/06: 8.21: Y-DMR
(Note on Codes: Y – Economy, J – Business, F – First :: I/D – International/Domestic :: SR/MR/LR – Short/Medium/Long Haul :: I have designed these codes so people don't believe my scores are comparing apples and oranges)
VII> Other Pictures:
NONE
[Edited 2006-11-05 00:52:54]