Hi again, so now I am continuing with my world adventure on star alliance, this part of my trip report consists of three legs which are Sanfrancisco to Chicago to Sao Paulo, Brazil and finally on to Salvador, Brazil. By this time I had spent a good 4 nights in SFO with my brother and his wife, did a little shopping, and bought a cool leather jacket from the Gap which is pretty cool. Basically I geared up for the winter at home. Anyways hope you guys enjoy this please leave comments and ask any questions you have. Here I go:
LEG 1
FROM: SFO TO ORD
AIRLINE: UNITED AIRLINES
DATE: 29.10.2006
FLIGHT NUMBER: UA 843
DISTANCE: 1647 KILOMETERS
AIRCRAFT: BOEING 757-200
REGISTRATION: N507UA
SEAT NUMBER: 33F
FLYING TIME: 3.20
FLIGHT LEVEL: 370
SCHEDULED DEPARTURE: 11.55AM
ACTUAL DEPARTURE: 12.05PM
SCHEDULED ARRIVAL: 18.04PM
ACTUAL ARRIVAL: 5.51PM
Ok so we had a 11.5 departure, so we all got up pretty early around 7 am and got ready ate breakfast and all and soon we were ready to jet off to Brazil via ORD. In part one of my trip report, I had mentioned how we paid excess baggage at the very beginning of our journey, so you can just as well imagine what our bags were like when we were ready to leave the states. A little background is required now about check in. I wanted to check in online at the earliest so that I could get a good seat so I went online exactly 24 hours before departure and did all the formalities and after doing everything, I managed to get my seat but I kept getting this message to ¡§REPORT TO THE COUNTER OF CHECK IN TO CLEAR SECURITY OF MY BAGS¡¨. This was kind of strange but nothing out of the ordinary due the various security reasons, however there is a twist, I tried choosing seat for my parents who were again, traveling business class and their check in ws successful and they managed to print out their boarding passes. I however thought there must be some catch in the system, and since we were going to check in lots of bags we would anyways have to spend a lot of time at the check in counter whether we had our boarding passes or not.
Back to the day of the flight now, so we reach the airport and park the car and go upstairs to the check in lounge. We walk up to the United check in counter which has an obscenely long line in front of it. Luckily, thanks to my parents we got the check into the business class counter. Anyways, we walk up to the counter and there is a middle aged check in agent who does the normal chit chat with us, looks at our passports (each of us have 3 booklets because we have valid visas in various old passports) and comments on how we are such frequent travelers. Anyways, that was fine because most people do that stuff. So we tell her we are going all the way to GRU on UA and further on to SSU (Salvador) on TAM and asked her if she could check us in all the way to SSU. Which she did very graciously which was very relieving for us, so anyways, she stuck our baggage tags on our check in luggage and was about the send them off on the belt when we decided to double check and sure enough, she had checked them in only till GRU, we asked her again and she was highly apologetic and tore off the tags and printed fresh ones which said TAM and SSU on it which was cool.
So anyways, all the bags were checked in and the lady pushed them off onto the belt and handed us our boarding passes (two to be exact one for SFO to ORD and the other for ORD to GRU). We thank her and proceed to pass security. My brother and his wife are still waiting for us and stand with us in line and we say our byes and give each other hugs etc etc.
Now here is where the real excitement begins and the craziness of flying in the states shows its colours. We reach this woman who is checking everyones boarding passes before we enter the line for security and she looks at my parents and is like ¡§go ahead¡¨, when I show her mine, she pulls out a pink permanent marker and makes a big mark on my boarding pass and then she asks me to follow her for security. At that moment I got kind of happy.. lots of thoughts were running through my mind.. maybe I was getting priority and I got to go through before everyone one else. Little did know what was in store for me, she led me to a small line which had been cordoned off from everyone else. At that moment I was like ¡§right¡¨ something is wrong here, there were four people in the line including me. Right infront there was this young mother with her year old baby, infront of me there was an African American kid who was probably my age (21) and behing me was a woman from Brazil.
Anyways, we stood and stood and about 50 people passed security including my parents, that¡¦s when I started getting a little anxious, right then a security officer walked up to us and said ¡§well people you guys have been selected for extra security¡¨ and I was like ¡§what?!?¡¨ and he is like well the procedure is easy but a little longer. So he opened our line and told us to remove our shoes (normal procedure) and take out EVERYTHING from our hang baggage. And let me tell you, I had my Kata camera bag which had two of my cameras, two big lenses, my new video camera , my laptop, etc. So it¡¦s a big pain taking everything out of it, so we walk thru the metal detector and again and ushered into another line where another security officer was to give us more instructions which were as follows:
¡§Hi guys you have been selected for extra screening, its showed on your boarding pass as four s¡¦s (SSSS), so what you have to do is go stand in this machine, we will blow some air at you for 20 seconds and then you have to go behind the curtain and wait for a security person to take out everything in your bag and scrutinize it¡¨
I noticed this huge machine made my GE and the first thing that came through my mind was, OH THESE ARE THOSE MACHINES WHICH SEE THROUGH MY CLOTHES! So I asked:
¡§Are these the controversial machines which allow you to see through my clothes?¡¨
terrible flustered:
¡§No sie, we are just going to be blowing air at you¡¨
At that time I was like:
¡§Yea right!¡¨
So I went through the machine and sat down while this terribly sweet lady came up to me and was all smiley and chatty and she started taking each thing out of my bag and started rubbing these paper circular things on them and putting the samples in the machines. The only good thing about this procedure was that the lady who had been assigned to me was very very nice and sweet and kept apologizing to me for the painful extra security. We had anice long chat and she was overwhelmed by my bag, because I didn¡¦t have any clothes or anything.. but I had 3 cameras! Hehe I told her about how I was a plane spotter and studied law. At that she also came up with the fact that she ALSO studied law.. so we struck a good conversation.
Let me point out, it took me 1.5 hours to cross security and I was pretty sure that it was the way that I look which got me the extra security but at the same time I feel it¡¦s a random computer check. She punched my boarding pass, which is essential because without the punches, no SSSS marked boarding passes can be allowed to board. Infact she told me that I was lucky I was early for my flight because she said most people are late and miss their flights because of this extra measure. Finally the nightmare was over and I had passed security.
We walked passed security and had about a half hour to kill before we boarded, I took the opportunity to take some pictures, which I am attaching with this report.
I boarded and went to the last but second row of our 757-200 (N507UA) and to my luck, I had a overly large woman sitting next to me! This basically meant that I couldn¡¦t move around much after we took off, so before sitting down I took out half of my equipment (which always causes a little stir) I took out my Camera and video camera and my flight log, which I put on my pat and basically my stuff was falling all over the place.
OUR BEAUTIFUL BIRD
VIEW FROM MY SEAT-SECOND LAST ROW
The seats were really grotty because they kept shaking and vibrating while we were taking off and things. The leg space in UA¡¦s 757¡¦s isn¡¦t the greatest either, its very cramped infact. But the only good thing was that our flying time was rather short, only 3.20 hours.
Taking off from SFO is VERY interesting, I managed to see various A320¡¦s parallel land which was very cool, I got some video of those too which I will upload later. We pushed back on time and it took a good 10 mins to reach the runway and get clearance to take off. I was looking forward for the take off because I had heard so many good things about the powerful take off of the 757. And sure enough, we were off like a rocket, and actually it was a bit scary because the moment we took off, we banked sharply to the right and performed a fly around of SFO. The initial climb was kind of bumpy but once we reached our cruise altitude, it was much calmer.
VIEWS AGAIN FROM MY SEAT
SUN SETTING AS WE NEAR ORD
REASONABLY CRAPMED SEATS
APPROACH INTO ORD WITH CHICAGOS BEAUTIFUL LIGHTS
The cool part about the 757 is that you can see the horizontal stabilizers from the last couple of rows and actually they are quite low, or it just seems that way from the inside of the plane. Once we took off, we were offered drinks (I ordered a coke) and were given some pretzels to munch on. The F/A¡¦s were decent, nothing exceptional, but then I thought to myself that after SQ, any airline would seem crappy, anyways, I also knew that since it was a short domestic flight, the service wouldn¡¦t be overly exceptional. Now there was another screw up, I downed the Coke really fast and soon enough I realized that I had to desperately pee!! And guess what? I was sitting on the window next to a HUGE woman and another man on the isle. I held it in for a good 1.5 hours until I couldn¡¦t hold on any longer, so I politely asked her if I could go to the loo and she obliged by getting up. So I furiously thanked her once I got back from the restroom.
The attendants came around offering food for sale, which I didn¡¦t really fancy so I didn¡¦t buy anything to eat. By now we were an hour into the flight and we had a beautiful contrail being left behind us. At that time I put on Channel 9 and listened to ATC for the rest of the journey. What surprised me was the amount of traffic we saw on the way there, I must have seen almost 50 other aircraft, all with contrails behind them, its one of the most beautiful sights in the world, I must admit! Once the F/A¡¦s were free, I handed over my flight log over to the F/A who took it and brought it back for me within 10 mins, and again to my surprise, the captain had sent me a business card! I was absolutely delighted, that gesture made up for the pain in the ass security at the airport.
An hour or so before touching down, I was listening the Chicago ATC instructing us to descend from FL 370 to FL 330 and then to FL 250 followed by FL 180 then FL 100 and finally were cleared to land. The landing pattern into ORD was VERY interesting, it involved various steep turns until we got to our final approach path. The lights of Chicago look absolutely breath taking from the air. I was very excited about ORD because I was going to meet one of my childhood friends at the airport after some 7 years! So even though I had a long 10.5 hours flight onwards to GRU, I was in a good mood! Once we landed, the large woman next to me asked me if I was a pilot, and I laughed and said no, Im just a huge aviation enthusiast. She smiled and didn¡¦t know what to say about a nut like me, we taxied to our gate and once everyone was out, I walked out after taking a few pictures of the empty cabin.
Over all the flight was great, a little cramped but it was made up by a smooth flight, a business card from the captain, lots of traffic in the air and a huge beautiful contrail behind us most of the way. ORD also rand a loud bell in my mind, and then I realized that when I was a kid, HOME ALONE was my favorite movie, and that¡¦s where I remembered it from! Haha So we walked out, my parents met some friends of theirs and I met up with my friend Ankush. It was cool hanging out with him, the only goof up was that I didn¡¦t have any warm clothes, and Chicago was FREEEZING! Lol
I spent the next 3 hours walking around with Ankush catching up on old times and then we ended up in the Hilton (at the airport) where my parents had been taken by their old time friends. We ate dinner and walked around a bit more. Soon it was time to bid adieu and get onto another long flight.
LEG 2
FROM: ORD TO GRU
AIRLINE: UNITED AIRLINES
DATE: 29.10.2006
FLIGHT NUMBER: UA 843
AIRCRAFT: BOEING 767-300ER
REGISTRATION: 6347
SEAT NUMBER: 22A
FLYING TIME: 10.39
FLIGHT LEVEL: 330,350,370
SCHEDULED DEPARTURE: 21.09
ACTUAL DEPARTURE: 21.42
SCHEDULED ARRIVAL: 10.30
ACTUAL ARRIVAL: 11:39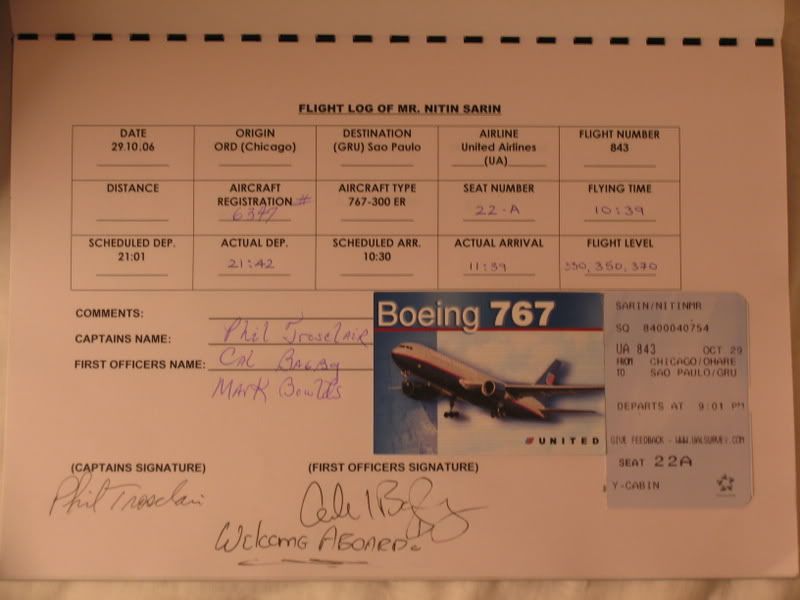 So after saying our byes, we headed to our gate, C20 and once we reached, they were already boarding the business and first class passengers. So I sheepishly walked over to the counter with my parents and tried to hide my Economy class boarding pass. But just as we reached the counter, I went up to the lady and asked her if there way any chance of an upgrade, to my surprise, she actually tapped away on her computer for a few mintues and then said sorry the flight was full! She very sweetly though said that my seat was waay at the back and she could change my seat to one upfront and which was a window with no one next to me! That was awesome news for me, because having two seats is as good as having a business class seat.
So anyways, I was allowed to board at the same time as the business class passengers and I went ot my seat, took out all my equipment and sat down, put on my head phones and listening to some of the good music UA plays on their flights! This was my first experience on a 767, I was a little skeptical about flying on these, I dunno why but I have some mind block and I think they are old and outdated ļ
The condition of the plane was pretty decent in fact it looked pretty new, specially because of the new livery outside. Though I found it s little smaller and more cramped than the bigger 777. It was however not bad, the ptv screen was also small but worked well. We pushed back on time and just as we were about to begin to taxi, the captain announced that we were going back to the gate because there was some baggage which got left behind! So we taxied back to the spot and waited another 10 odd mins before we pushed back again.
At this time, the captain announced that the flying time would be ten and a half hours because of the closed off section of ATC in Brazil. He however (and thankfully for the other passengers) didn¡¦t give the real reason as to why the ATC was closed off!! (for those of you who don¡¦t know, its because of the recent crash of the brand new GOL 737). Again we taxied to the runway where we were off, video is attached.
The initial climb was rough, but smoothened up after a while. We were warned that the flight over the continental USA would be smooth with light turbulence over the Caribbean. So once we took off, the F/A¡¦s came around offering something to drink and shortly came around with dinner. Ok! This part is going to be a little rant! I choose the pasta, which turned out to be the most horrible and tasteless pasta I have ever eaten in my whole life! Along with the great pasta, we got lettuce which was black at the edges and totally dead! I left most of my food.
The thing that kept me going was the red Chilean wine which I purchased for 5$ and drank fairly slowly. I must admit that the flight attendant was very sweet and friendly. Once dinner was done with, I handed over my flight log to the most friendly purser who was surprised that I wanted something so geeky! But sure enough, in about a half hour, he was back with a big smile and presented me with lots of goodies! This is what impressed me most about our captain, the gave me not his business card but a little Boeing 767 card and had written a big ¡§WELCOME ABOARD¡¨ on my flight log! Check it out above!
The rest of the flight was in darkness, so I didn¡¦t get any photos, that¡¦s when I sat down to watch some movies, I watched THE BREAK UP and SCARY MOVIE 4. Both were ok, nothing special. After that I decided to stretch out and sleep for a while, and so I did, even though my sleep wasn¡¦t the best I have had.. but I did snooze for a while. Soon, the sun was rising and we had entered Brazilian airspace . I have to comment the weather was horrible over Brazil, most of the way we were in clouds despite being at FL 370. The ride all the way from the top of brazil till Sao Paulo was cloudy and bumpy and soon we were commencing out descent into GRU. This was when the f/a¡¦s came around handing out immigration forms which I took and filled fairly quickly.
SUN RISING OVER BRAZIL
Soon we were all ready to land, and again we went through a series of turns to line up for an approach into GRU, we were an hour late and we had to catch a TAM flight 3 hours later, but 3 hours seemed to be a decent amount of time! Before we knew it, we were landing into GRU, flaps were fully extended and gear was down and we touched down at exactly 11.39 AM. We had a rough landing and soon were taxiing to out gate, we stopped in the middle to wait for another plane to take its place for about 15 minutes and then proceeded to our gate. Within 10 mins I was off the aircraft walking outside where I met my parents who were waiting for me. We walked to immigration which was a breeze and went to pick up our bags since we had to change airlines and check into TAM. We weren¡¦t sure whether our bags would be directly transferred to our onward TAM flight, but we checked and sure enough our bags were starting to come on the belt!
OK THIS IS WHERE THE SHOCKING PART BEGINS!
We are waiting for out bags, my bag comes, my dads bag comes, my parents checked in handbag comes too but there is no sign of my moms bag! We wait and wait and it doesn¡¦t show up at all! Then we walk over to the UA bag counter and show them our bag coupons, the guy was helpful and tapped at the computer and looks up and says ¡§ SIR I AM SORRY, BUT YOU BAG IS IN SEATTLE¡¨!!!!!!!!!!!!!!!!!!!!!!!!!!!
We were like WTF!! And he apologized and so we stood there filling out forms and he explained to us that they will try to get it on the earliest flight. So disgustedly we took the missing bag claim form and walked out and checked into TAM for our onward flight. We still had an hour and a half to kill so we walked around the airport and then we proceeded to the departure lounge for our TAM flight JJ 3330 to SSU from GRU.
LEG 3
FROM: GRU TO SSU
AIRLINE: TAM Linhas Aereas
DATE: 30.10.2006
FLIGHT NUMBER: JJ 3330
AIRCRAFT: AIRBUS A320
REGISTRATION: PT-MZT
SEAT NUMBER: 27C
FLYING TIME: 2.20
FLIGHT LEVEL: 370
SCHEDULED DEPARTURE: 14.35
ACTUAL DEPARTURE: 14.50
SCHEDULED ARRIVAL: 16.55
ACTUAL ARRIVAL: 15.15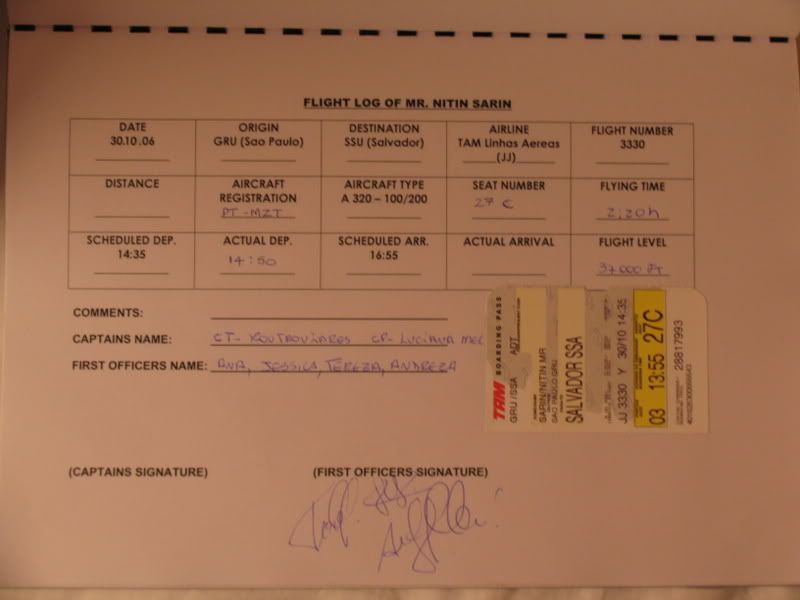 I was excited to fly TAM, because I like the colours of the planes! So I was looking forward to this short flight, even though I was beaten and tired and sleepy and just couldn¡¦t wait to land in Salvador (SSU). We entered the departure lounge and cleared security and sat down at the gate an hour before departure time, I looked around the terminal and took some photographs while the parents sat downstairs waiting to board. I managed to buy a calling card and call home and talk to my girlfriend who I hadn¡¦t talked to for two days because I had been flying for so long! Anyways I realized that calling India from Brazil is bloody expensive, for 20 usd$ I got only 6 minutes of talk time! By the time I had made my phone call and stuff, it was time to board.
We boarded from gate 1B from where we got onto the shuttle bus which was to take us to our bird. Soon the bus pushed off and we were just next to our beauty PT-MZT (reminds me of Mozart for some reason hehe). Since we were in the second last row, we boarded form the rear door. That¡¦s when I got the shock! I was in brazil! The f/a¡¦s were young things wearing tight skirts with TIGHT while shirts.. and each one was better looking that the next!
A CO BIRD STANDING NEXT TO THE 767 WE ARRIVED ON EARLIER THAT DAY
HEHE, soon the doors were closed and we pushed back and taxied to the runway. We started our take off roll and for some reason, it felt we were sliding left and right on the runway before we took off! That got me a little worried but soon we were off in the air even though It was a crazy bumpy ride to our cruise altitude.
I must say, this has to be the bumpiest ride I have ever had, there were severe storms over Brazil and our little A320 was bouncing around like MAD!! At one point I was very scared and my heart was pumping like mad. It was so bad that the F/A¡¦s were told to sit down and I am sure if anyone was standing, they would have been thrown around the cabin. Once things had settled down, we were served delicious sandwiches with delectable ham inside them hmmmmmmm.
PASSING A THUNDER STORM
NOT ME.. BUT THE GUY ACROSS FROM ME, AGAIN EMPTY SEATS NEXT TO ME
SELF PHOTO, LOOKING ZAPPED.. TOO MUCH FLYING!
The two hours and twenty mins flew by.. haha literally.. and again we were descending into Salvador (SSU). Soon we landed into a heavily cloudy Salvador and ofcourse it was a very bumpy landing.
Oh and before landing I handed over my flight log to the beautiful flight attendant and realized that she didn¡¦t speak English so she had a hard time understanding what I wanted. Oh I didn¡¦t mention we were piloted by a female captain, which was again very cool. The English bar still is valid , people in Salvador speak very little English, but its still easy to get around. The lack of English was evident from the fact that in the space on my flight log for name of first officer, the captain wrote the names of all the flight attendants! ƒº It was still very cool. I liked TAM very much I think they are a great airline.
LANDING IN SSU (SALVADOR, BRAZIL)
My holiday is Salvador comes to an end tomorrow after a great 6 days attending the UIA congress, and mind you¡K my moms bag came YESTERDAY! It took UA 5 freikin days to get a bag from seattle to Washington and then to Salvador! Quite crazy we have a lot of compensation to seek once we get home.
Anyways I hope you guys enjoyed my second part of my RTW trip, look out for the third and final part which involves SSU to LIS to FRA to DEL. My TP flight to LIS is tomorrow at 7pm.
Many regards
Nitin
PS: keep the comments coming ļ