PROLOGUE
Before you start to read, Please feel free to read my Trip-report to China
from April this year.
http://www.airliners.net/discussions/trip_reports/read.main/75532
My last trip to Bangkok and Thailand was exactly one year ago. Or, almost. 27th of October 2005, and
now, 20th October 2006. The weather in Stockholm
had been gray and rainy for some days now, and the leaves were falling. Is
there any better place than Thailand when the circumstances are like this?
Probably not. This trip is the first trip with my new computer, and IBM Thinkpad. One of the best
travel-mates you can have, except from the one who pays your trip. Since SK has Wlan onboard (Connexion
by Boeing) and because of they are going to end this service early next year, they are providing it free
until they end the service. Might be good. And surfing onboard must be one of the funniest things you
can do year 2006. Especially in Business Class. This trip will be written day by day, and my personal
thoughts
and feelings will be affected in the text. Have a good reading!
1420, CET, 20th October
My school is located in Central Stockholm, just 15 minutes of walk from the
nearest airport coach station. The original plan was to get to ARN from that
station, but one hour before the bus departure my mother called that our neighbor could drive
us (Me and my Mother) to Arlanda with his car. Perfect! Instead of walking
in rain to the bus-station we got to Arlanda in a hot car. And the weather were grey, and the rain were
pouring. At Arlanda I saw Tui´s new 744 in a nice blue livery. A few SK 737s were landing, and a single
MD80 was taking of. Just a standard day @ Stockholm Arlanda Airport. The check-in area were crowded,
very crowded. Doing a manual check in was not in our minds, so we headed up to the check-in machine. The
line was not very long, and in just 5 minutes we were checked in. We got "Seats at gate", a standard
procedure when you are traveling non-rev as we do. Security check was a
mess, the line was not very long, but every one ahead of me had a laptop that they removed from their
bags. And, it took some time. But whatever, I was going to a 30 Celsius Thailand! The Wlan at Arlanda is
not free (A shame!) so I'm not available to surf on Anet. That's bad. Not to many interesting aircrafts
were parked at Arlanda, so spotting was not an idea right now. Perhaps I will get some interesting (and
dark...) photos when we arrive at Copenhagen.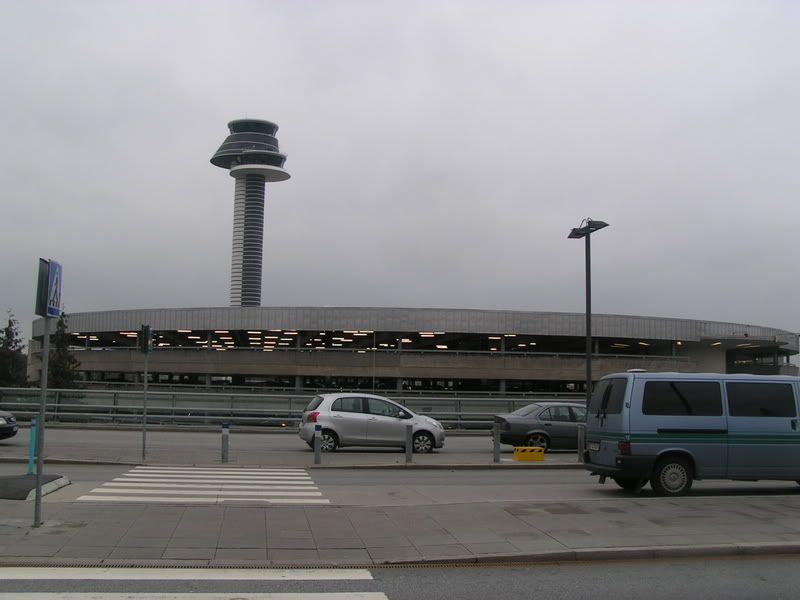 Rainy Arlanda..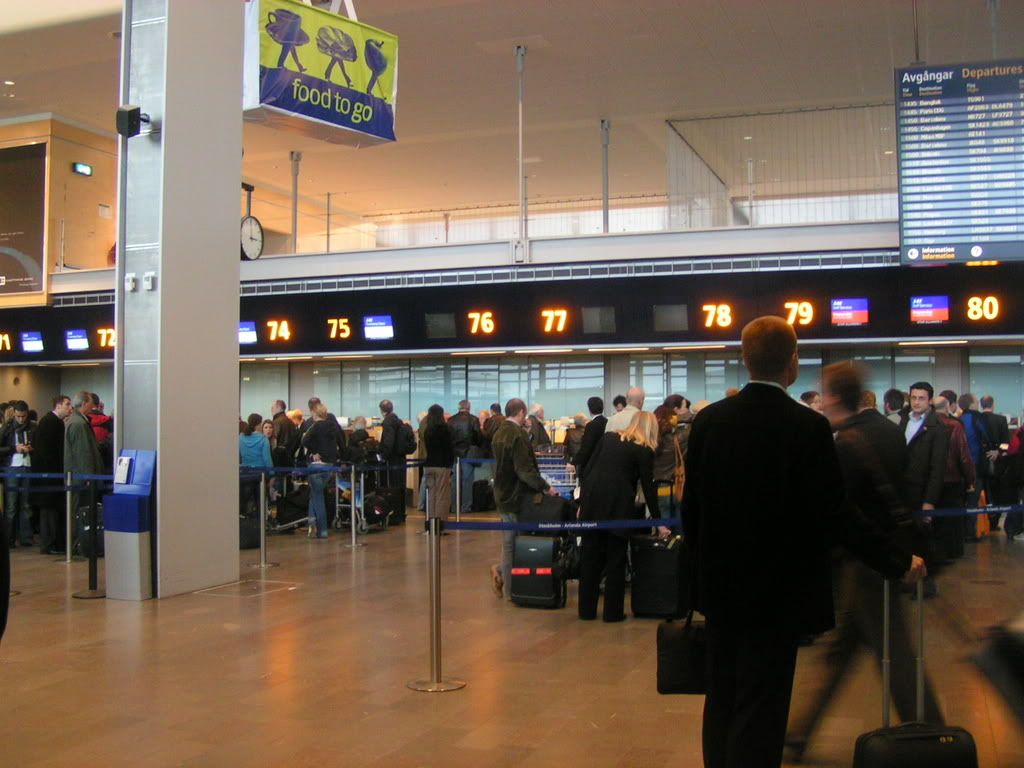 Over-crowded.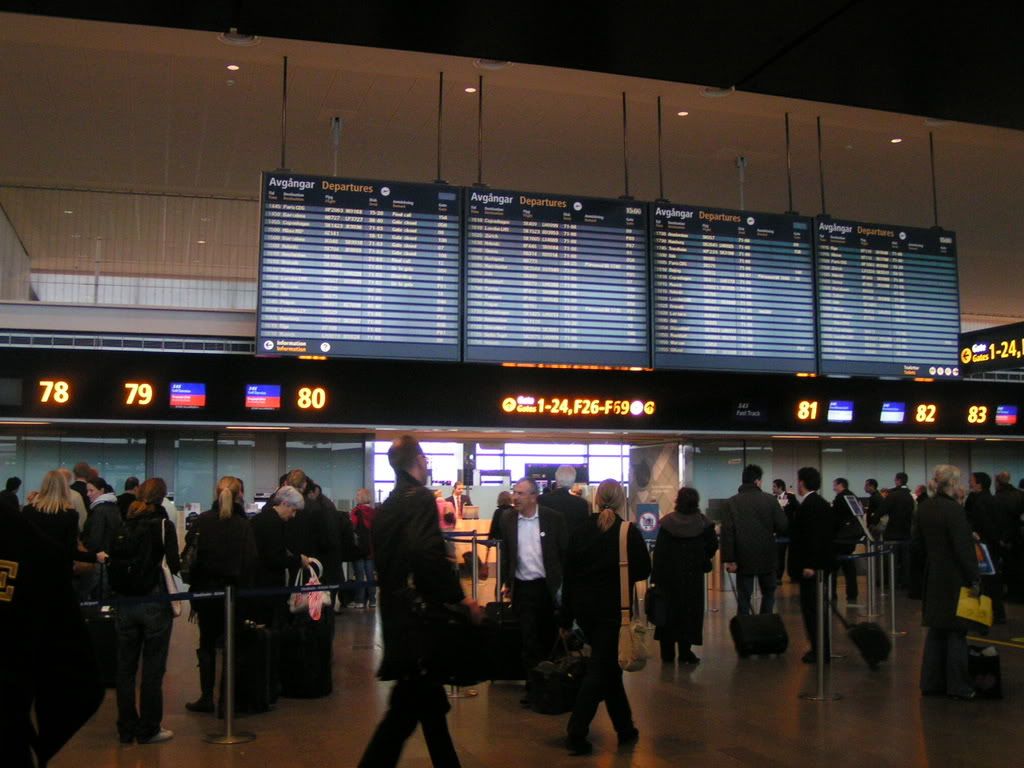 Nothing interesting.
The gate area.
An Airbus!
First leg
Carrier; Scandinavian Airlines SAS ( SK409 )
Route; ARN-CPH
Aircraft; Airbus 321
Registration;
Departure; 1610 CET (1620)
Arrival; 1720 CET ( 1720)
Class; Economy
Seat; 20B
Load; 99%
Start; Rwy 19R
Land; Rwy 22L
1630, CET, 20th October
At last we got our seats. I got a center seat, and due to that I wasn't available to take any photos of
the world outside. But, you will get some photos from the cabin. The boarding was slow, but eventually I
got to my seat. Ten minutes after departure time we started to taxi, and we did a takeoff from runway
19R. Before our takeoff it was a starting MD80 in front of us, and God I loved the roaming sound of
those P&W engines. It was a pretty
powerfully takeoff, on the roll I saw a Novair 330 and a taxing Lufthansa
Airbus. Interesting, or maybe not. The seat-belt signs were soon of, and immediately I grabbed my lovely
IBM Thinkpad (I just love it!) and started writing on my report. When i write this, I'm in the air.
That's cool I presume. There is no meal service as usual, only drink service. I had a coffee, and I'm
not going to spend money on buying anything! I'll save those coins to more interesting stuff in Bangkok.
Hehehe.. The landing went on smoothly, and suddenly we were at Copenhagen Airport.
Leggroom.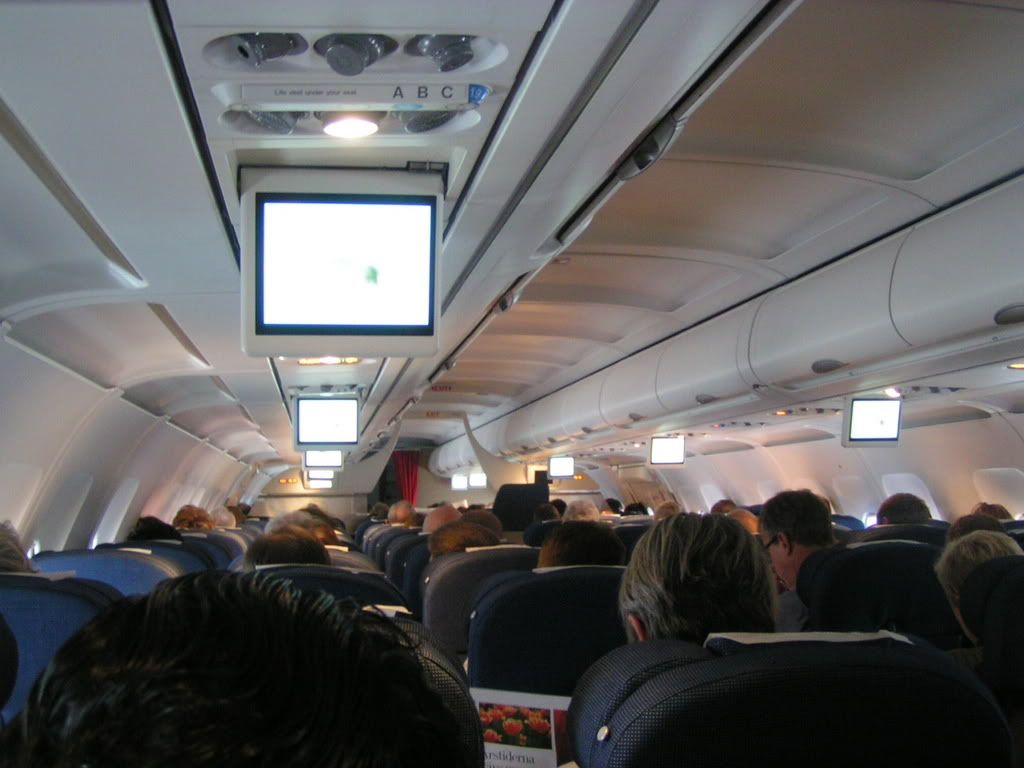 Safety instructions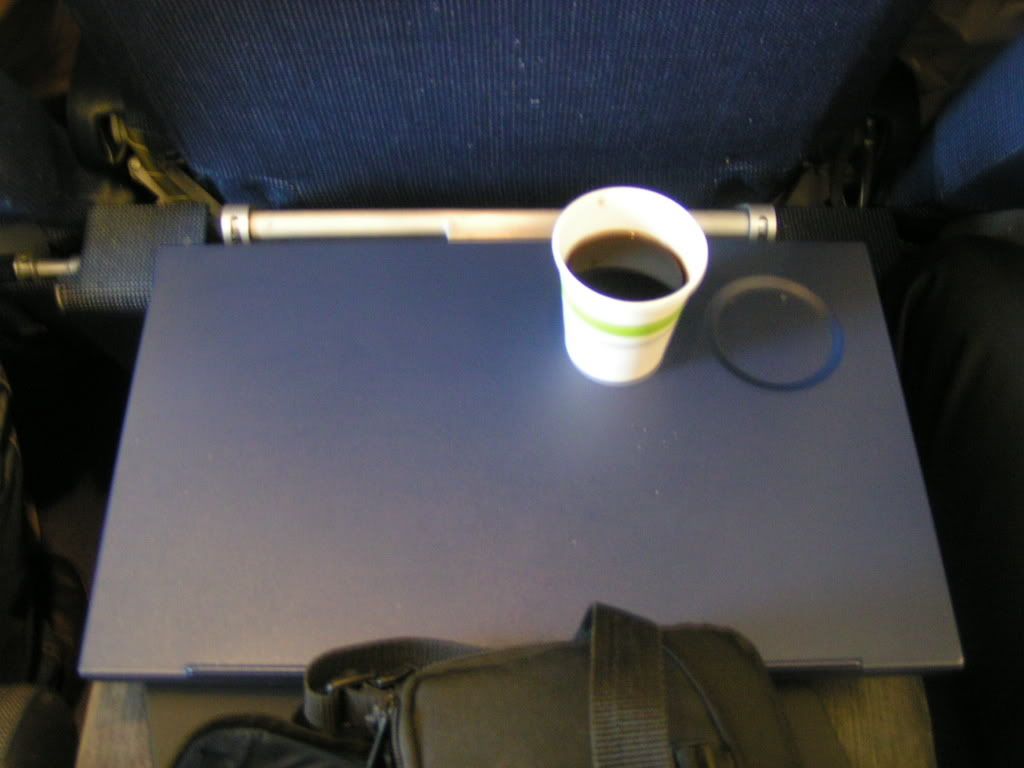 Food?
I made it all the way
1950, CET, 20th October
The check-in was okey, we got seats at gate (surprise....) as usual. The
line was a bit long, but I'm used to it these days. The security check
was horrible against the one in Stockholm, now I had to remove my belt and
it's not so remove-friendly. Well, that's life I presume. After the security line we headed directly to
the Novia lounge. My mother has Diners card, and we are getting invited for free. The lounge is not the
best in world, but it's free for us and they have drinks, and Wifi. And it's more quiet here than in the
public wait-room in Copenhagen. And now I can recharge my laptop
too, and It's good =). I watched some movies (the Swedish movie "kopps" and
Good bye Lenin) in the lounge, and I drank a lot of Pepsi and ate sandwiches. Well, if it's free you
should enjoy it. Time is 2005 CET now when I'm writing this, and we are going to the gate soon. I hope
we get seats..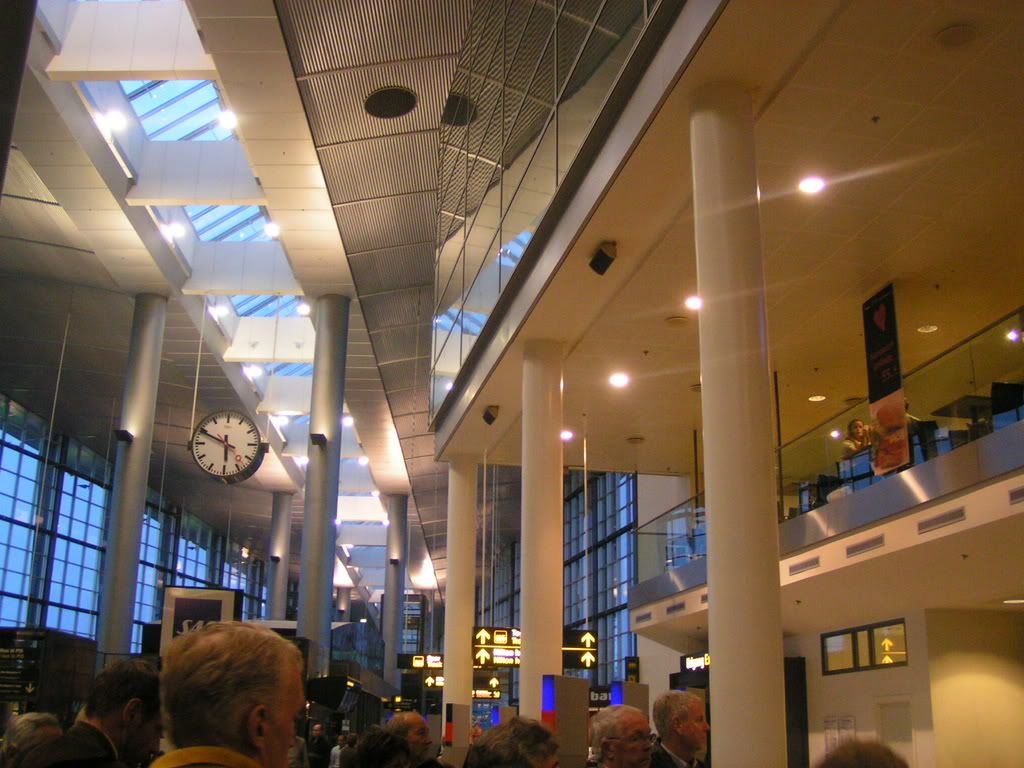 Great architecture.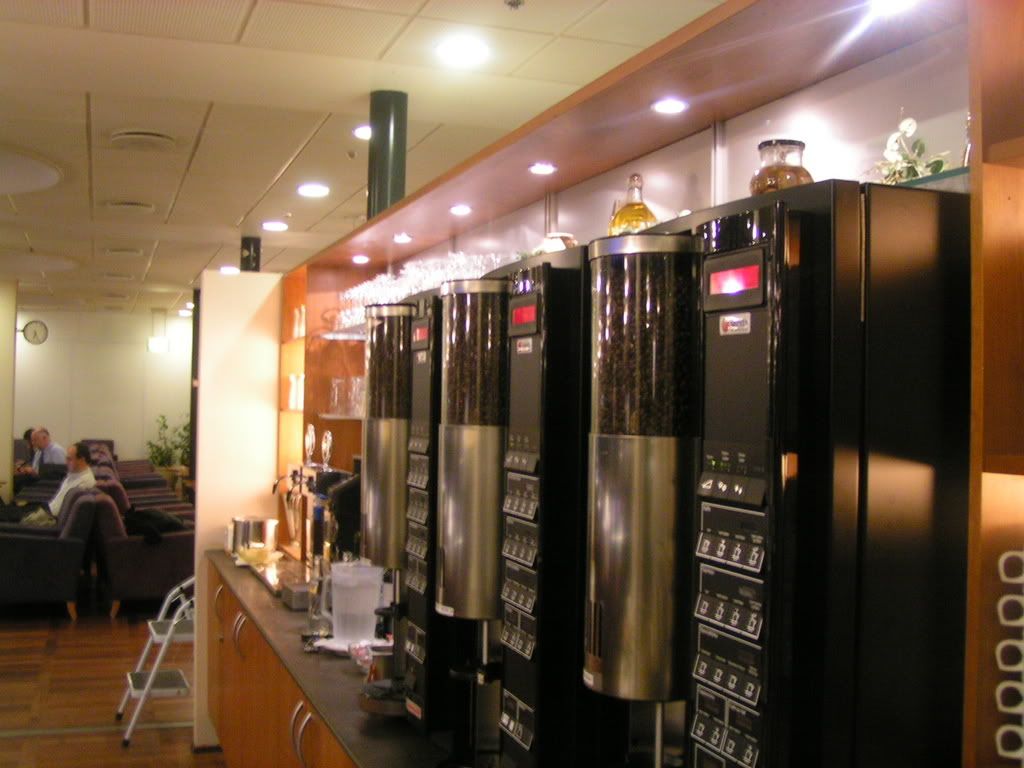 Not much.. But it's free.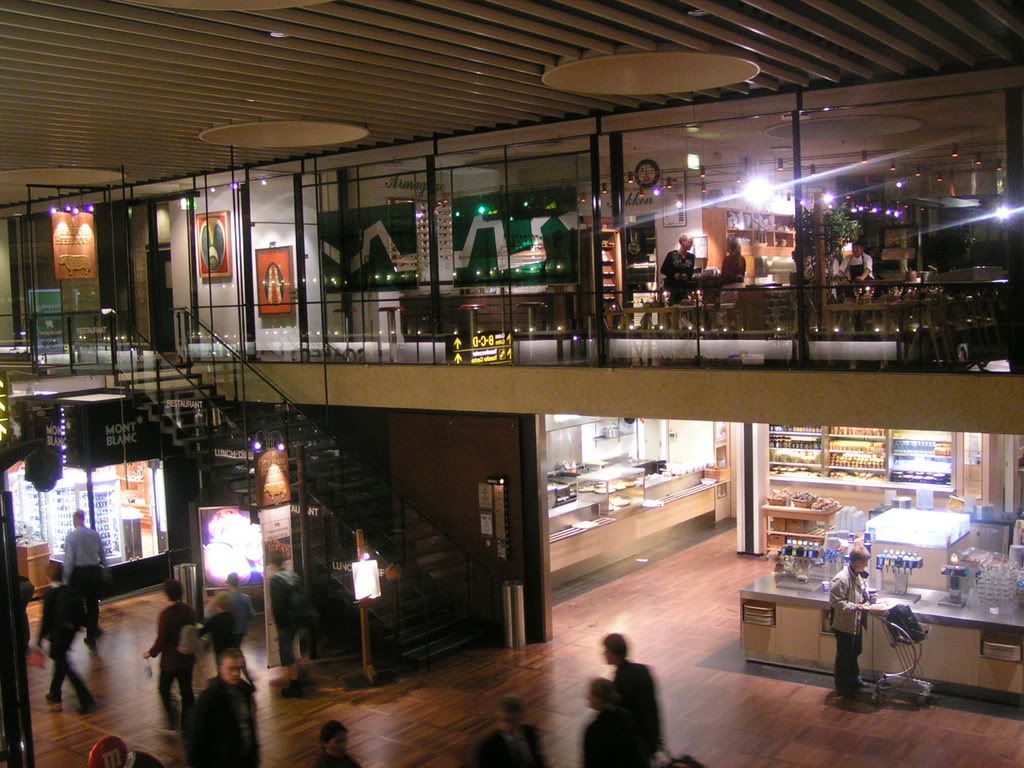 Almost dark.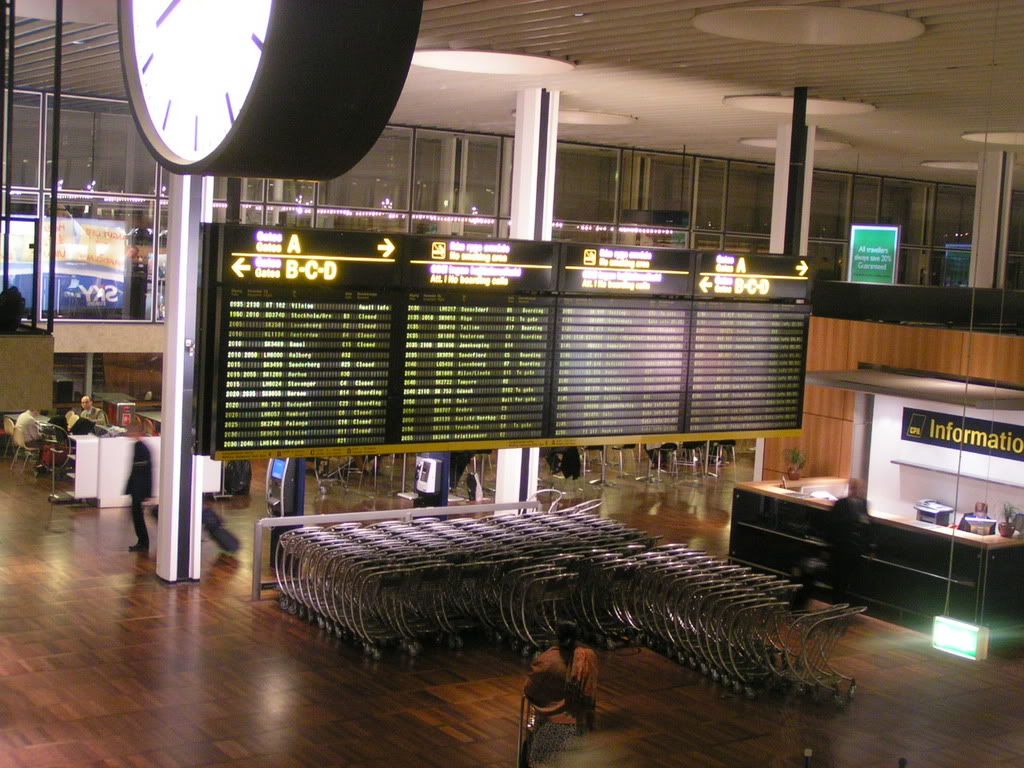 More interesting destinations.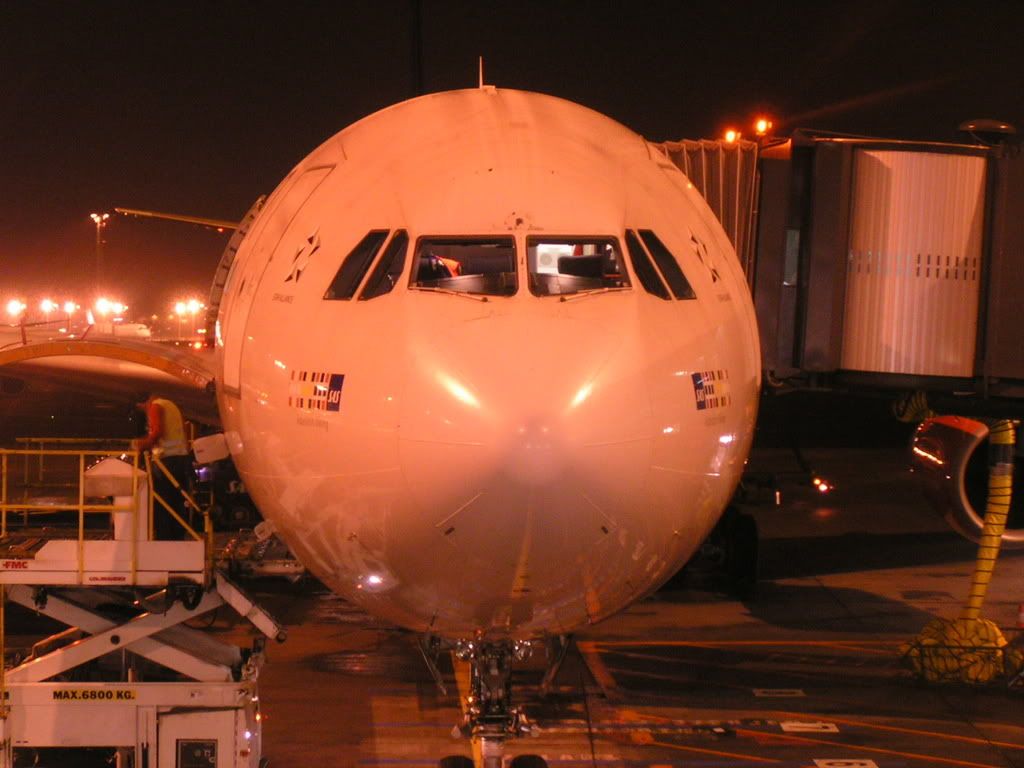 Here's our Airbus!
The real first-class seats.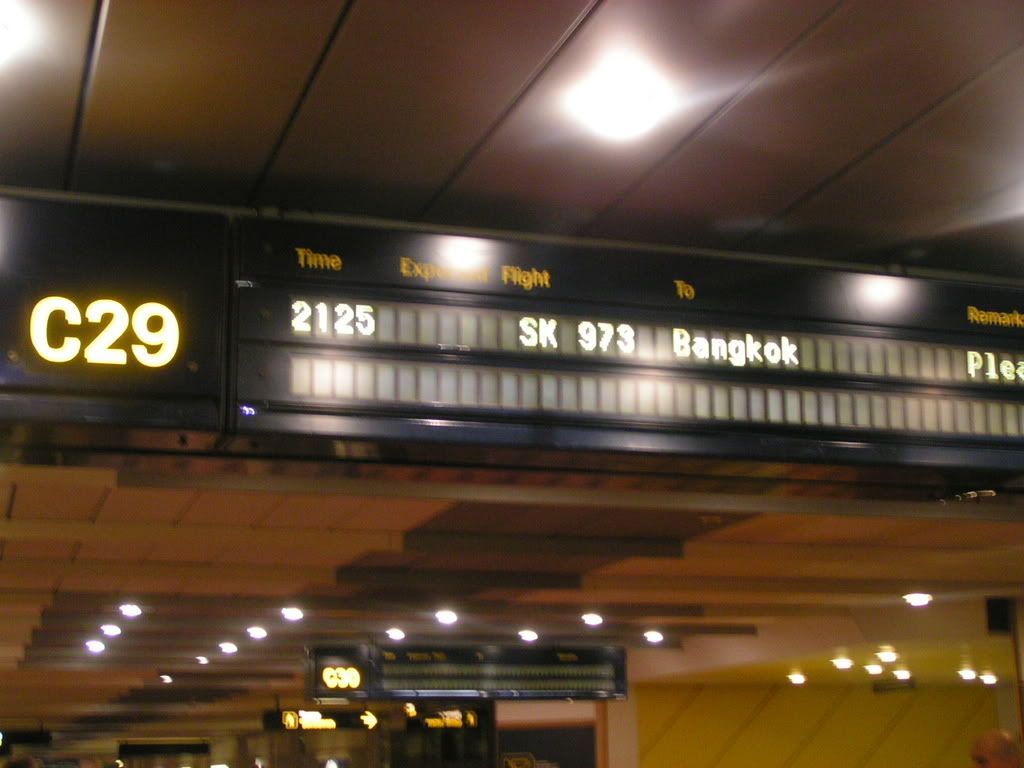 Here we go.
2200, CET, 20October
One hour before departure time we started walking towards the gate, C 29.
Since it's non- shengen flight(no, shit?!) I walked through the pass-control. No problems at all. The
gate were overcrowded, and for a moment I thought that we might not make it. My mother walked to the
gate agent, and she talked five minutes with her. Suddenly, she came towards me with our seats
and a big smile!! Yes!! We got seat 17 D and 17E. I knew that it was a bit
special seats, since SK has a class called "Economy Extra", with 2-3-2 config, bigger legroom and better
food than in Economy. Economy Extra has seats 14 to 17 in the 340 config, but I did realise that when I
found my seat,
and not before boarding. So it was a very nice surprise to find out that we
were not going to economy class. Twenty minutes after departure time we began to taxi out, and since it
was very dark and I had a middle seat I couldn't take any pictures of the world outside. Again. But,
whatever,
I was on my way to Thailand in Economy Extra!! The takeoff was typical for
the 340. Slow, and climb because of the earth´s slope. One minute on the 22L runway, and then liftoff.
Ten minutes later the seat-belt signs were turned off, and I took up my laptop and continued on my
report. I hope that the Wlan onboard is good, since I need some Anet surfing.
Second leg
Carrier; Scandinavian Airlines SAS ( SK973 )
Route; CPH-BKK
Aircraft; Airbus 340-300
Registration; OY-KBA
Departure; 2125 CET (2140)
Arrival; 1325 CET+5 (1302)
Class; Economy Extra
Seat; 17 E (center)
Load; 100%
Start; Rwy 22L, 1 minute on the runway
Land; Rwy 19R
0050, CET, 21th of October
The flight had free wifi, so I was available to surf on the internet for free! It was pretty cool, and
revolutionary. The dinner were served like one and a half hour after departure, and did include of the
typical "Chicken or fish" choice. I choose chicken, and OMG, that was the strongest chicken I've ever
eaten! Several other passengers who had chosen chicken began to sweat, and I understand them. SAS IFE
was like usual, a few movies but nothing interesting. Since it was wifi onboard, I could download all
the movies shown on their IFE =) (In your face, APB!) I didn't even turn on the IFE. First time I've
never done that in a flight. Well, the clock turned
to 0100 CET, and I was getting more and more tired. I decided to give sleep
a try, but someone in the cabin listened to loud music that my earplugs did not stop, and others were
talking. Eventually I felt asleep, and dreamed weird dreams about, well, I don't remember now. Five
hours later I woke up, and I didn't feel as tired as I thought I should be. The breakfast service began
around 0630 CET, and it was omelette with bacon. That did taste very good. Those in Economy class did
get a box with the breakfast, but we in Economy Extra got a tray with it =). When I'm writing this I've
just finished my breakfast, and we will land in one hour.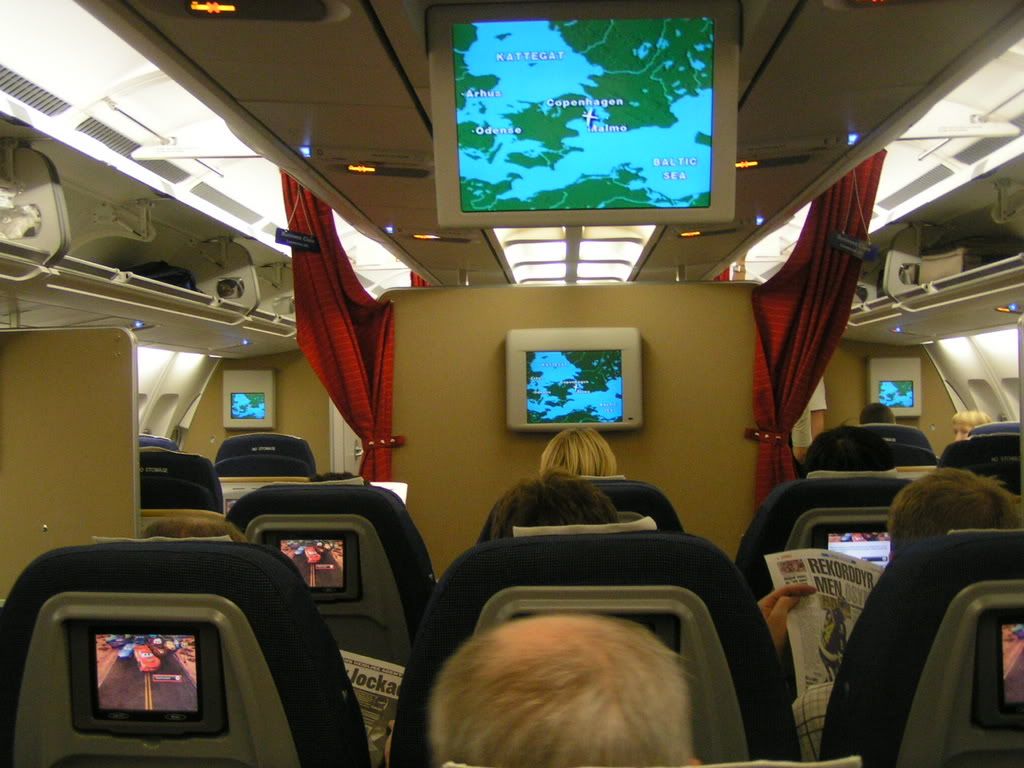 Better than economy.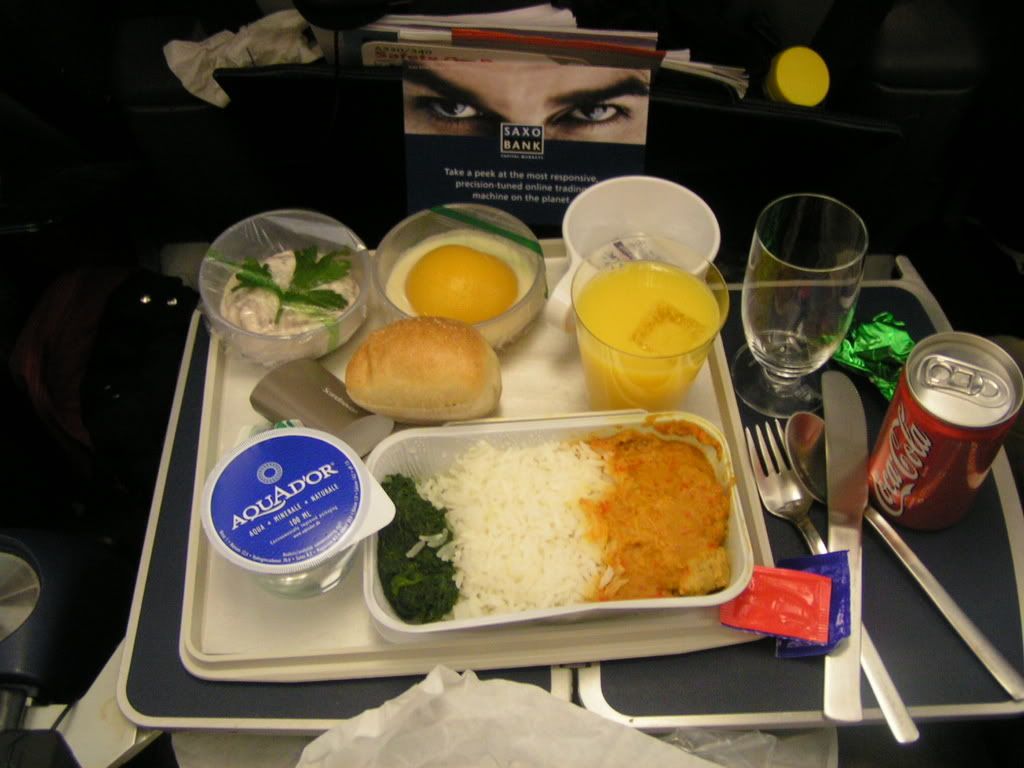 Food! And that was strong.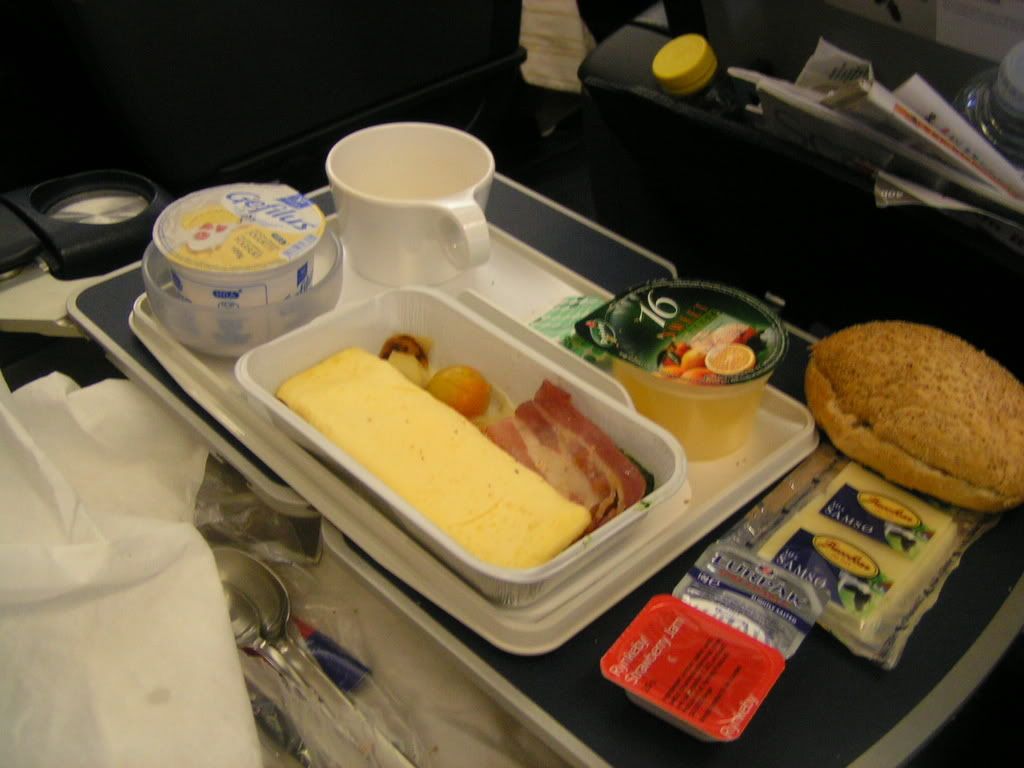 Breakfast. Did taste OK.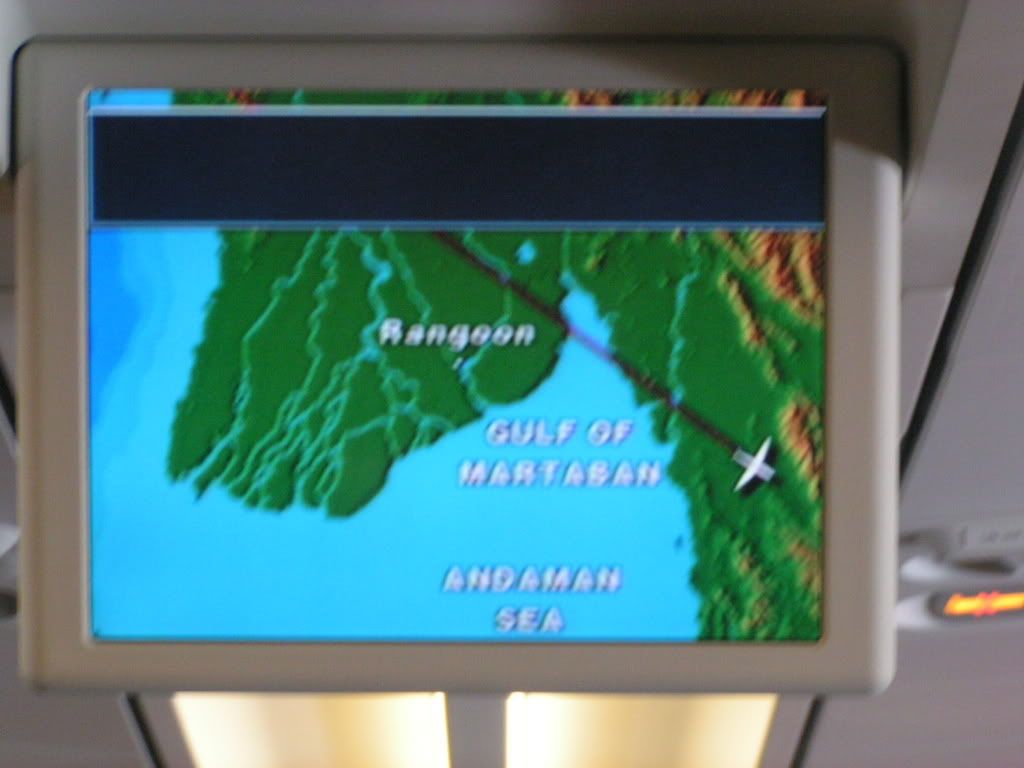 After some hours of flying..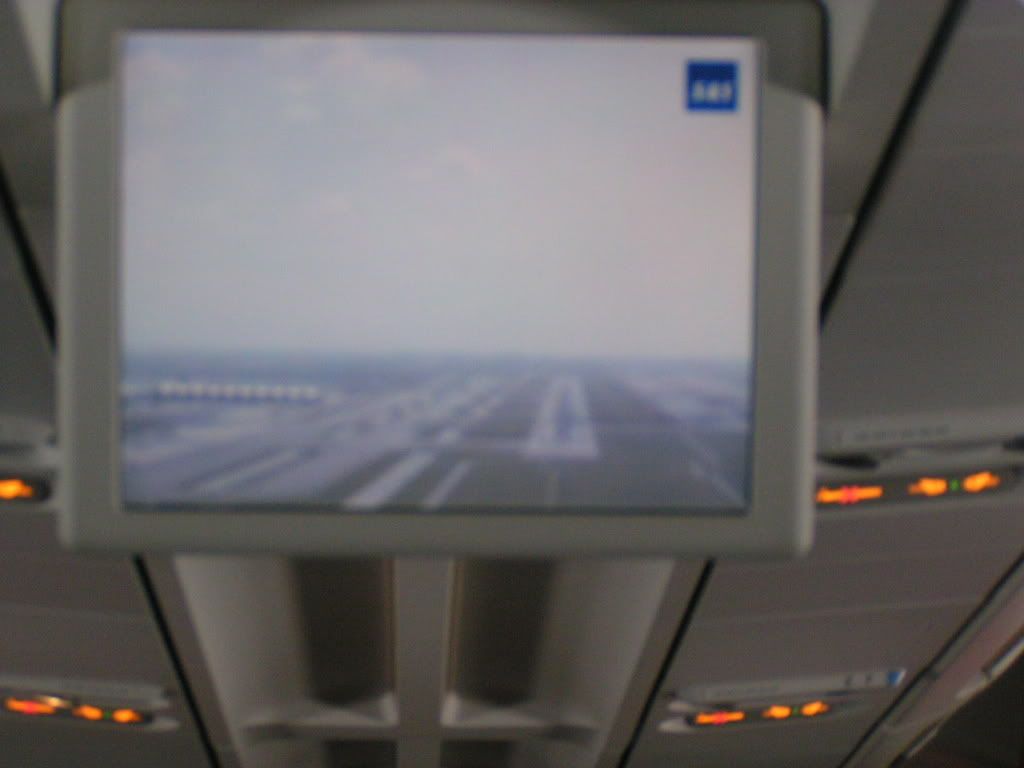 "- Do you see the runway?" "- Yees.. It's straight ahead." (You who fly at Ekeby know this)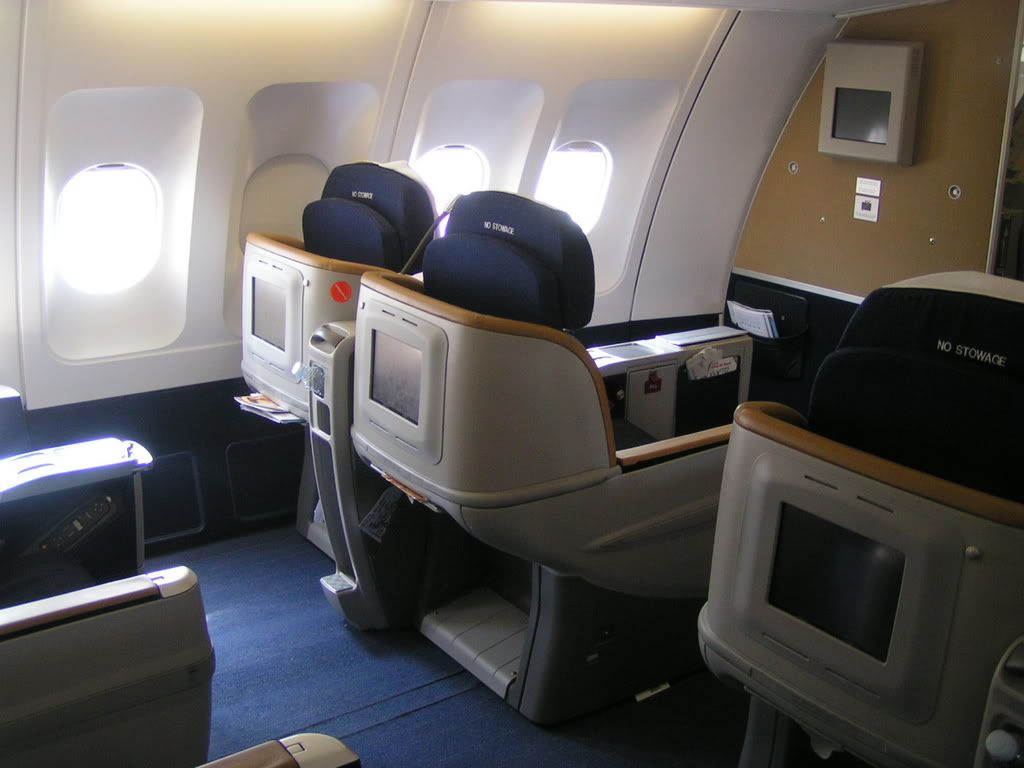 For those who can pay.
I made it all the way!
1325, CET+5, 21th of October
One hour later we landed, about 25 minutes before schedule. The landing was
a bit hard, but no accidents, so I suppose it was ok. The new airport is fantastic, though it's some job
left to do. A lot of painting, there is a lot of grey concrete, and it reminds me of Paris CDG Terminal
1. Not the prettiest terminal I know.. And on the air-bridges I noticed advertisement for the King, who
is _very_ big in Thailand. Immigration lines were very short, for instance. We had a car waiting for us
who should drive us to our hotel in BanChang,
near Pattaya and Rayong on the south-east of Bangkok. When I walked out from the air-conditioned
terminal out to the hot, well-moistured air I felt as if it was yesterday when I was in Thailand last
time. It was exactly one year ago though. The temperature were around 32 Celsius, and like 85
Fahrenheit. But our waiting car was luckily air-conditioned. The trip to the hotel started, and traffic
in Thailand is a bit more.. running than it is in Sweden. But they only
drive like 110km/h here, as same as we do in Sweden on our highways. Officially.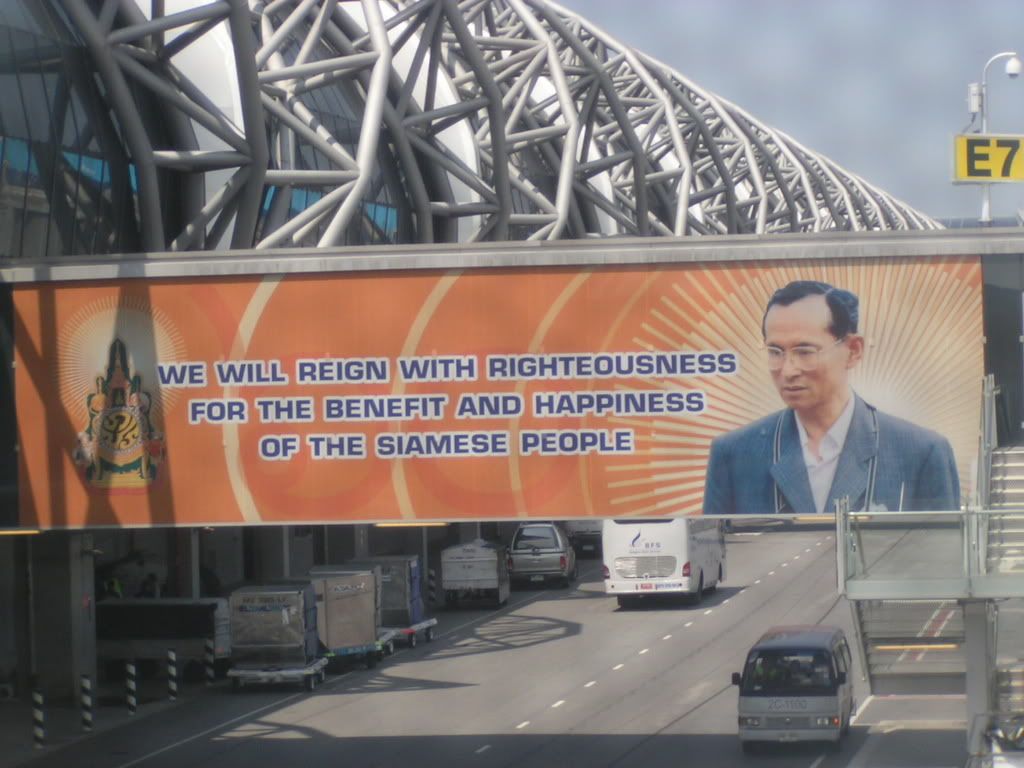 Looks like someone is popular here..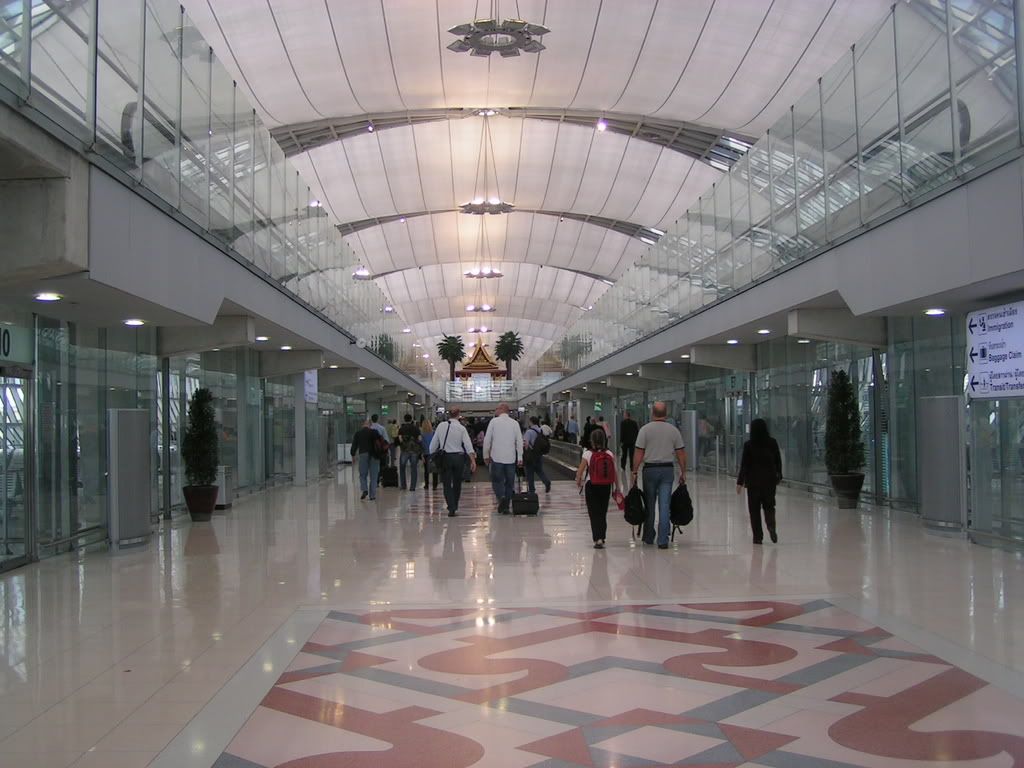 You get exercise..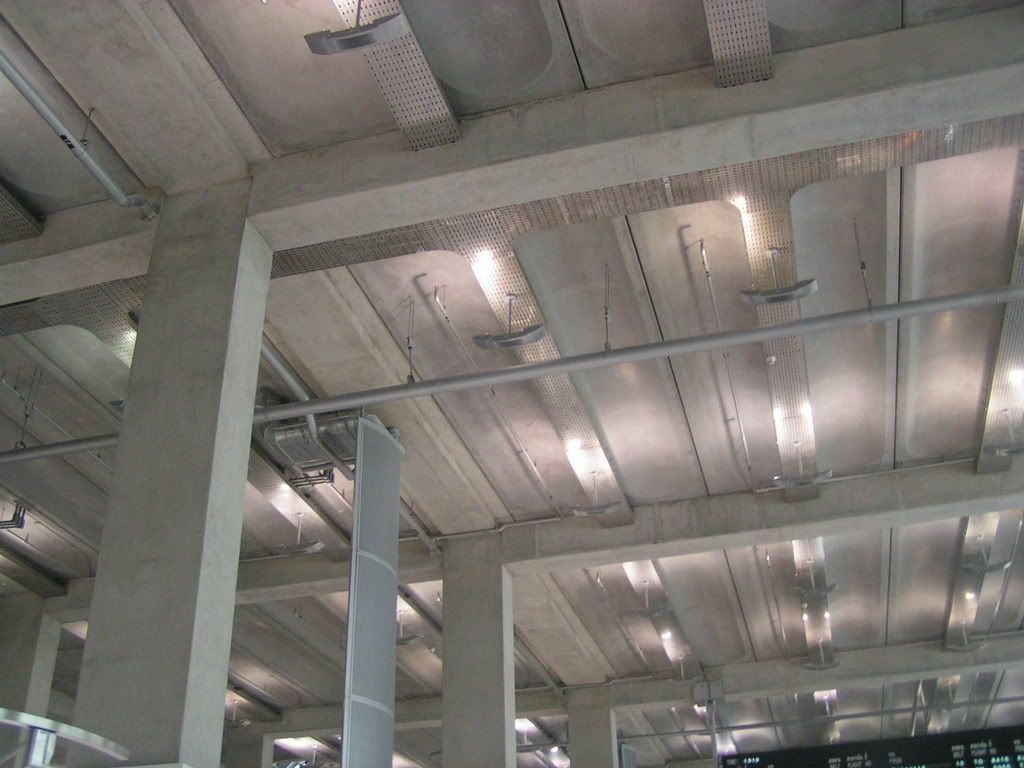 T1 @ CDG, anyone?
The sun always shine.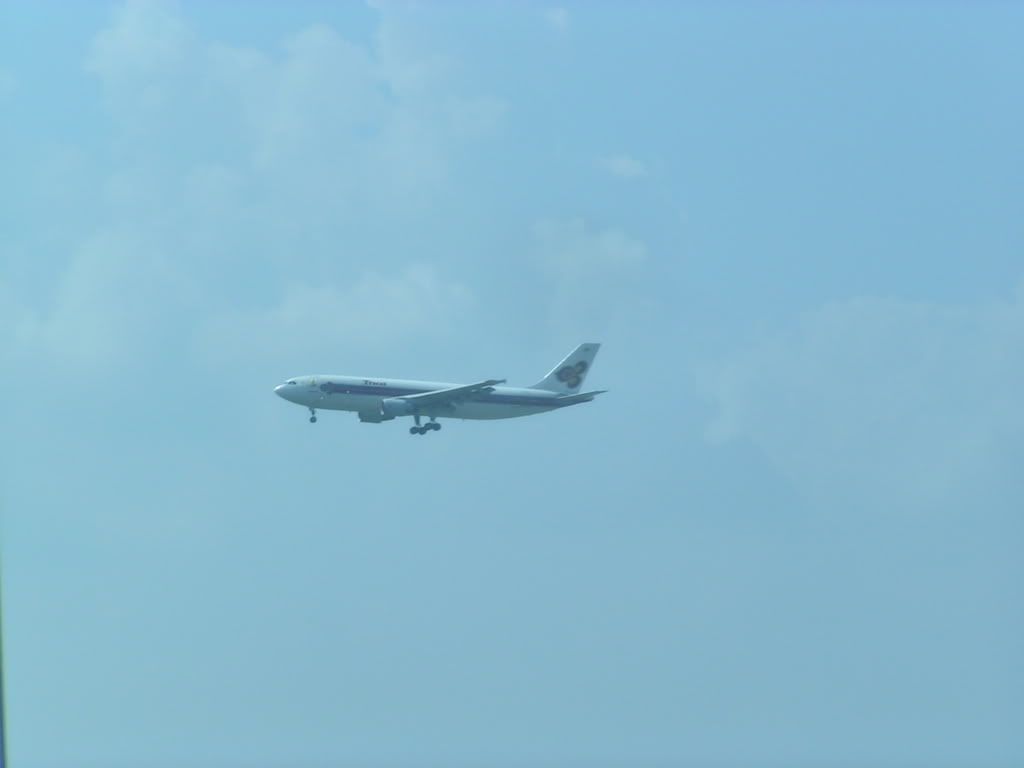 From a taxi.
1520 CET+5, 21th of October
After two hours of driving we arrived at the hotel, Cliff Beach Resort in
Banchang. We were at the same hotel on our
last trip to Thailand, and I'm kind of familiar with the hotel. Our room is
on the third floor, with one big double bed (my bed!) and a smaller one (my mothers). This is the only
hotel where I can afford anything from the mini-bar. 35bath (approx one dollar) for a soft-drink, that's
cheap. There is Wifi in the hotel too, but only if you pay. Our scenery from the balcony is wonderful; A
big and deep-blue sea, and the sound of waves. Is there anything better you can have? Probably not. Now
we are going to have a cheap and tastefully dinner.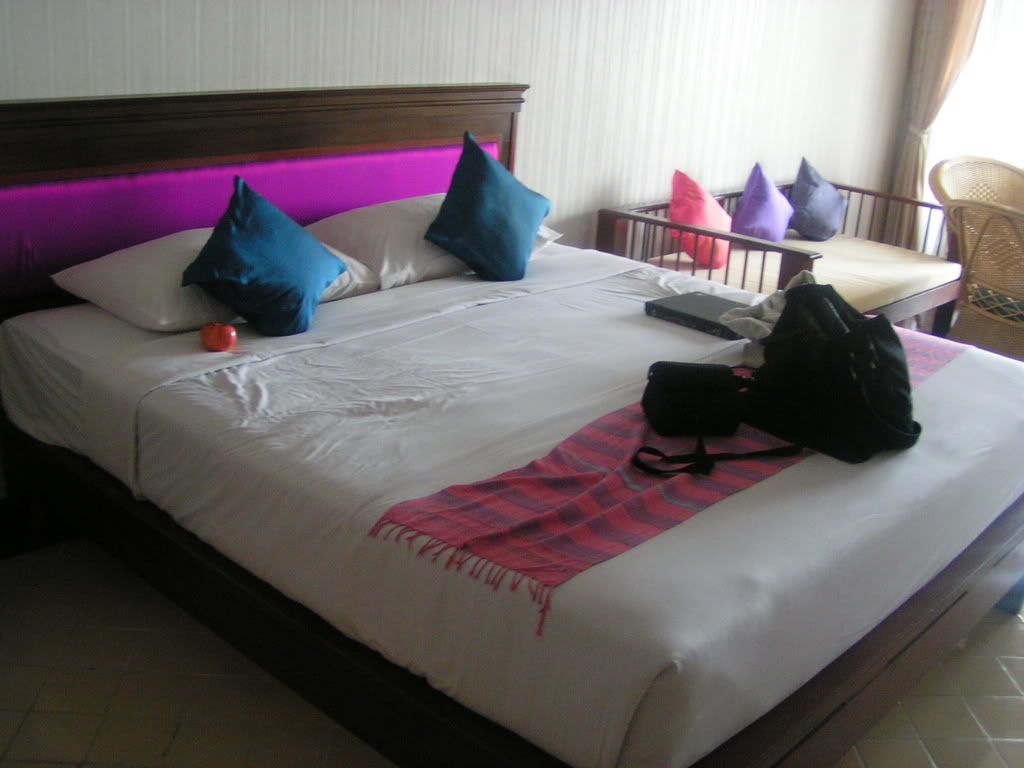 My bed.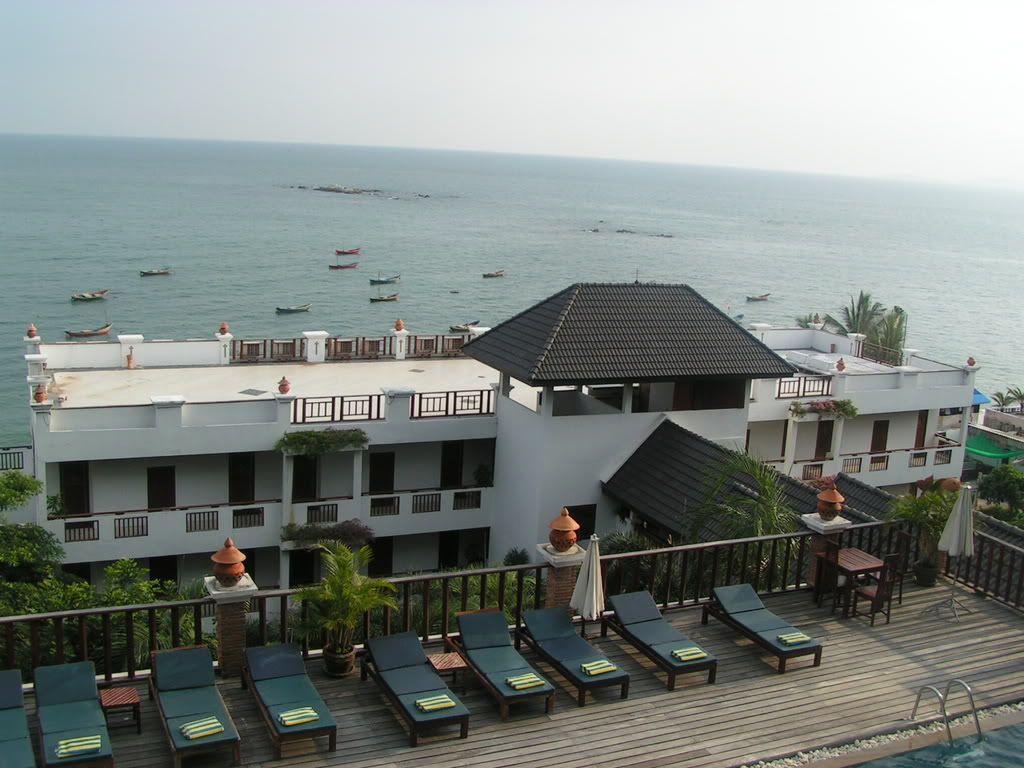 Another part of the hotel.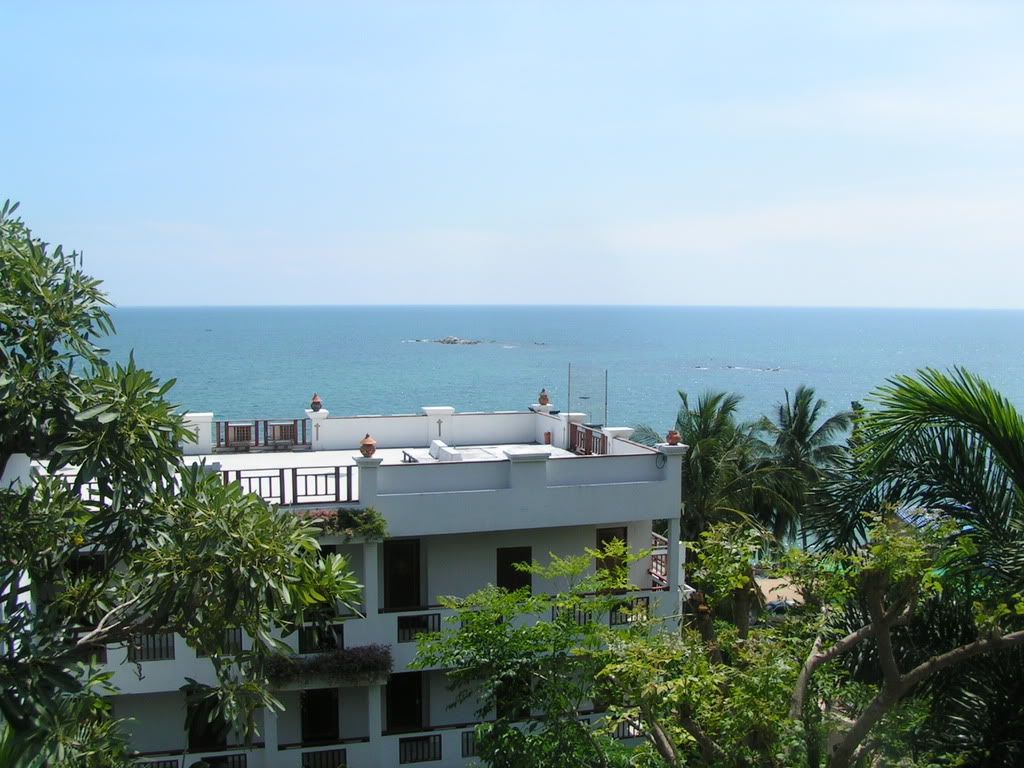 Another picture of the other part of the hotel.
2124 CET+5, 22th of October
My first "real" day in Thailand on this trip. The weather was just like I
excepted, sunny and a few cumulus clouds, perfect for Soaring. But this wasn't any soaring trip, this
was a vacation. We rented a motorcycle in the morning, and drove to the town of BanChang. Shopping here
is cheap, and suddenly we had bought around 30 football shirts, with various english, Dutch and Spanish
teams. Well, it was cheap.. On the way home to the hotel, I suddenly felt that the MC started wobbling
on the road. I
stopped immediately, turned left on to the side of the road and found out
that I've got a flat tyre. Congratulations. It was 3km to the hotel, so I had to drive in like 30km/h on
the very
side of the road to avoid fast cars driving on the right side of me. At last
I got to the hotel, and they changed the MC to one without a flat tyre without problem. Well, that's
good. With a "new" MC, and half day left, there was no place like the beach. But I didn't bath, because
of the sea at
this beach was full of jellyfish, and I don't like having one on my face..
So instead of that I walked along the beach for an hour, and then returned to the hotel. I had a big,
tastefully and cheap dinner and
after that I took a long bath in the hotel's pool. It was very dark now, and
it started to get a bit cold, so I returned to the room (which was air-conditioned and cold too) and
started watch TV.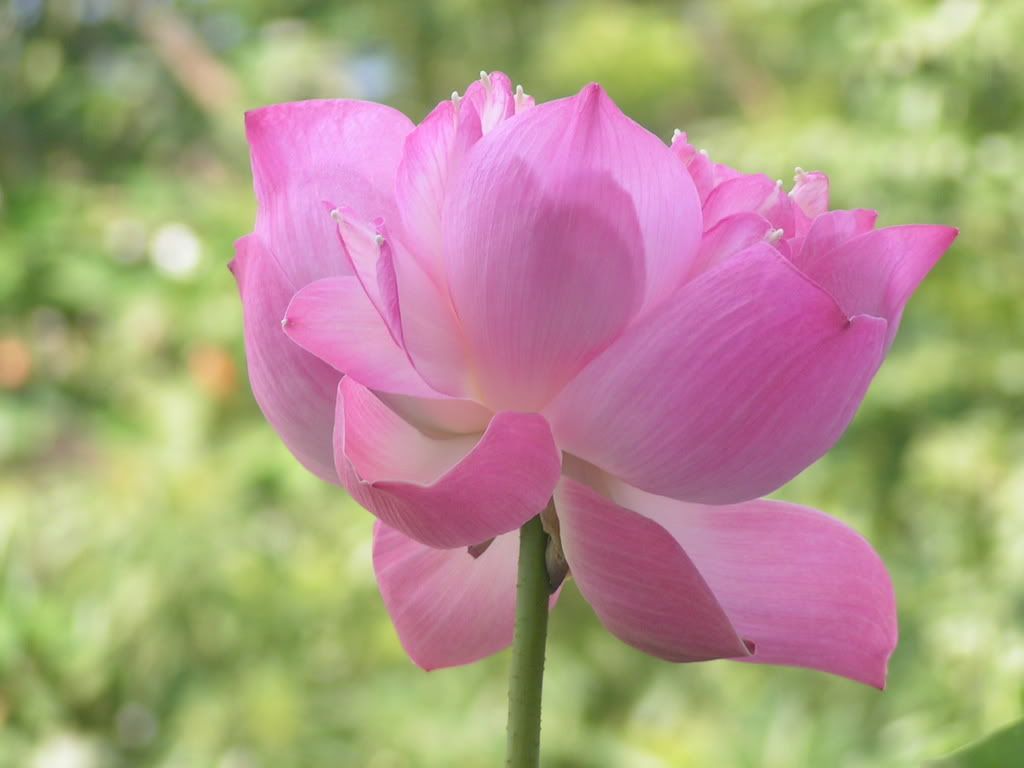 Yes.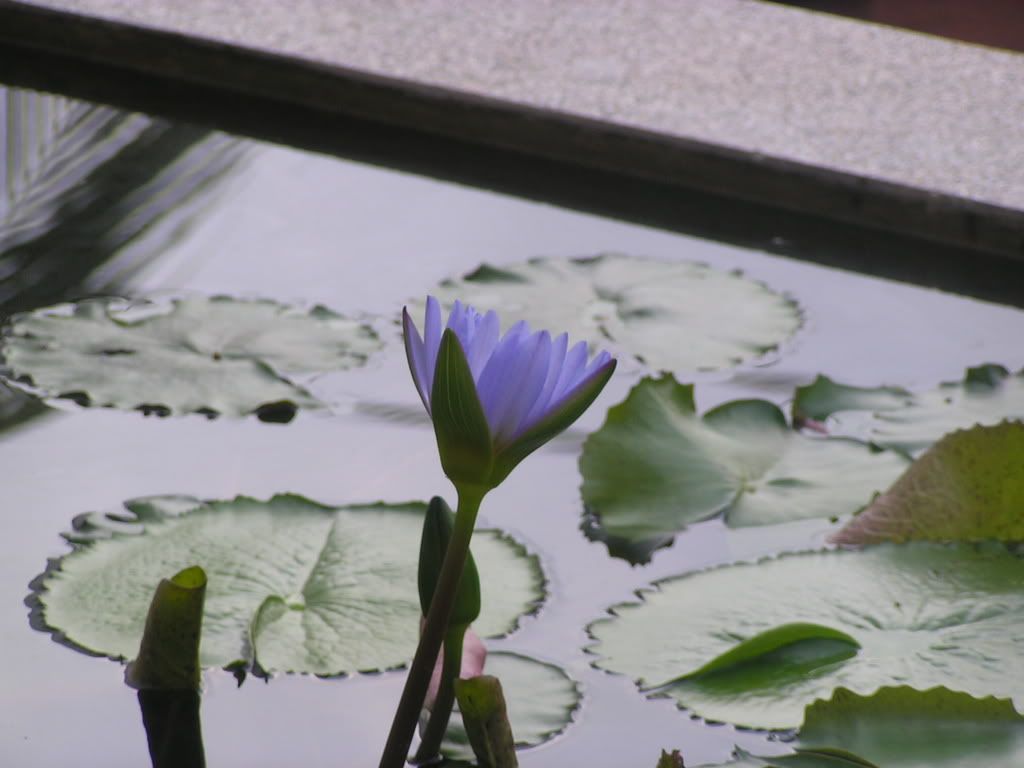 Outside of the room.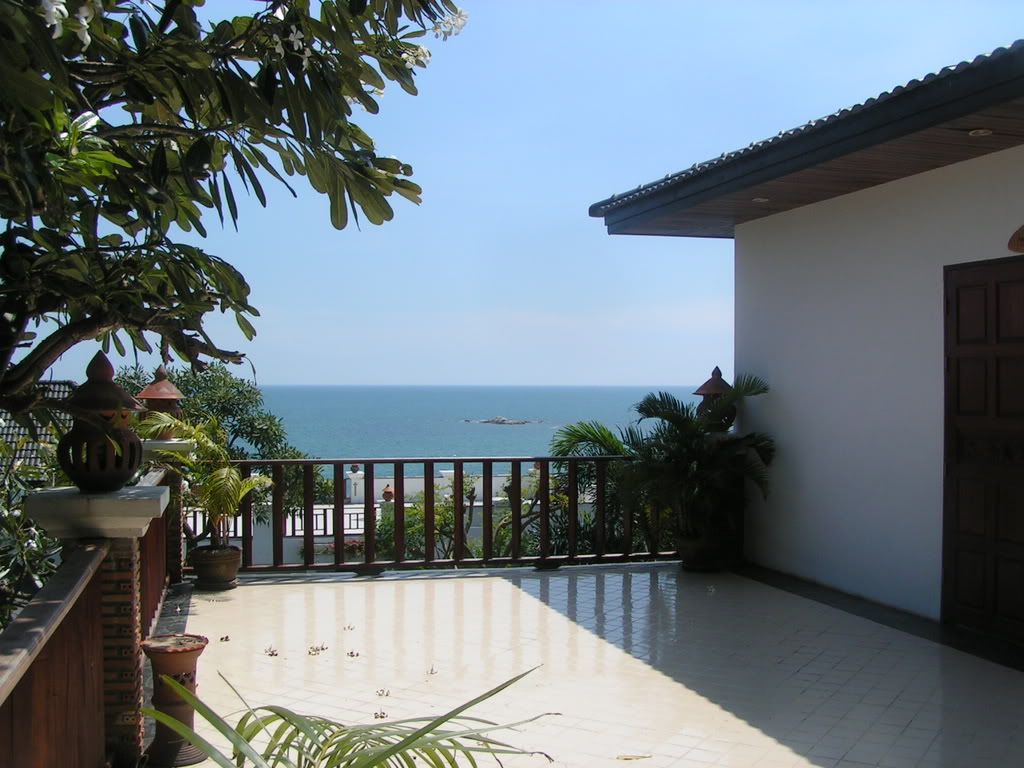 Colors!
Green!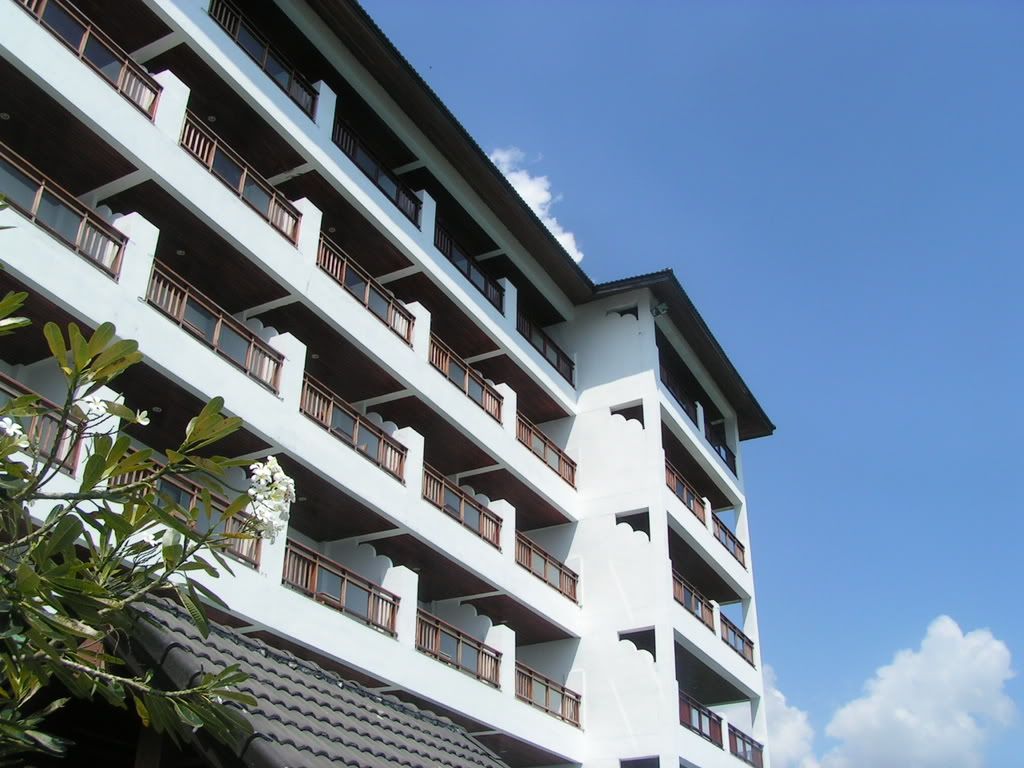 Our balcony is visible in that picture.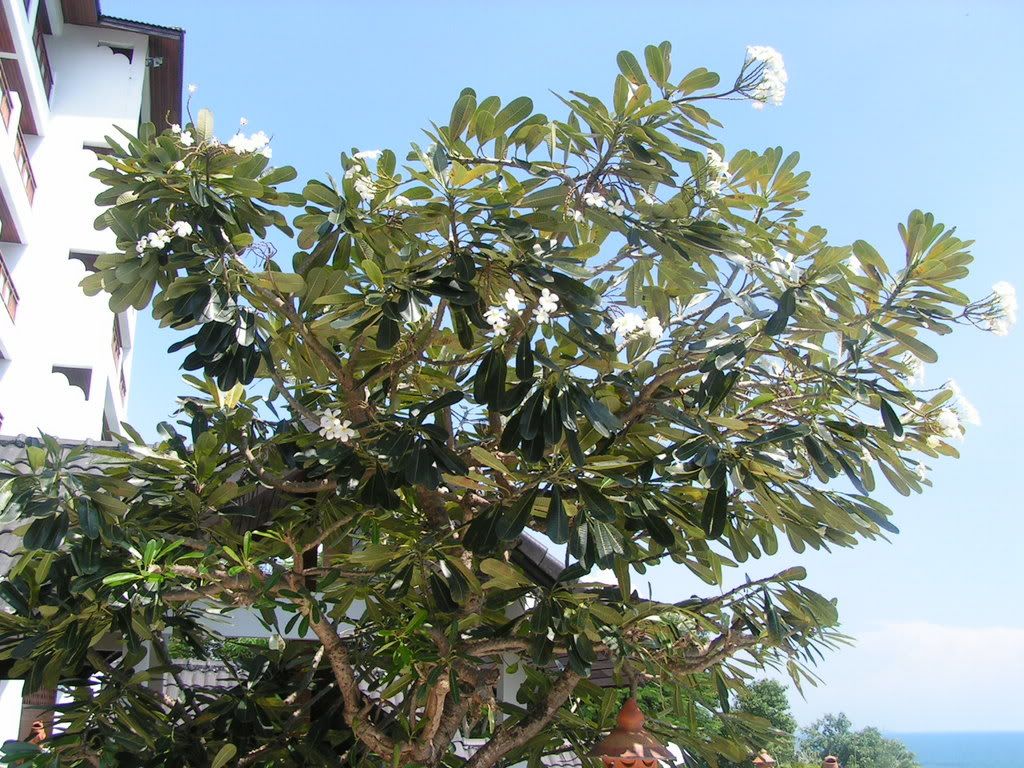 Outside the restaurant.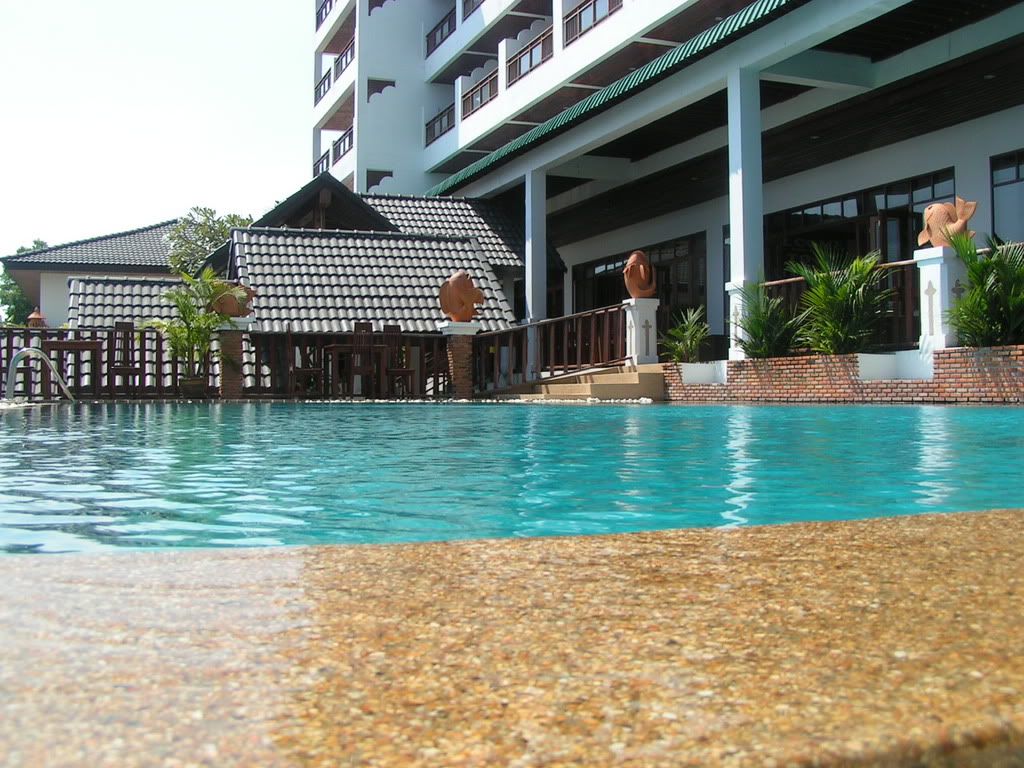 Hope no-one is jumping into the pool now..
2117 CET+5, 23th of October
The lazy day. I couldn't sleep so well this night, the second night is
always the hardest. Well, I woke up at 0930 local time, and had breakfast. I was planning have a
massage, but I ended that plans after a while. Instead I took a book and headed down to the pool, with
alot of sunblock on my arms. After two hours I felt that I shouldn't maybe be in the sun without
sunblock on my chest and body, so I ended that pool-visit. It was to late I found out at the evening.
Well, I had a half day left, so I rented a motorcycle and
headed towards the Banchang town. Some hours later I drove back to the hotel in about 80-90 km/h, and
hell that was fun!! I walked on the beach for maybe an hour after that, and then had a great dinner. I
didn't ate
Thai food, this time I took pasta with chicken. I'm kind of tired of Thai food.. I bought one hour
internet at the hotel desk, and checked out fares for Bangkok airlines flight from Bangkok to Koh Samui.
It was cheap, like 2000bath single way (around 50 dollars) so we might fly to Samui for one day when we
are in Bangkok. At the evening I found out that I had a big sunburn on my chest. Yeha, congratulations.
Now I have to wear a long-sleved t-shirt for the next days. But whatever, I'm in Thailand.
Over and out.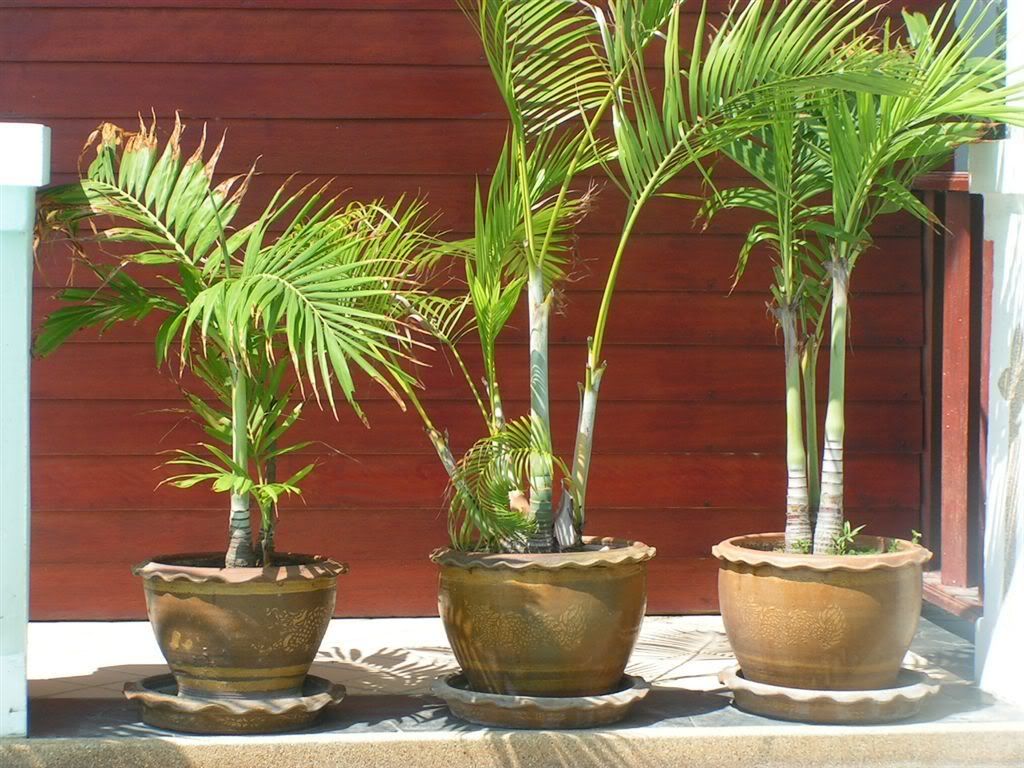 Three caballeros.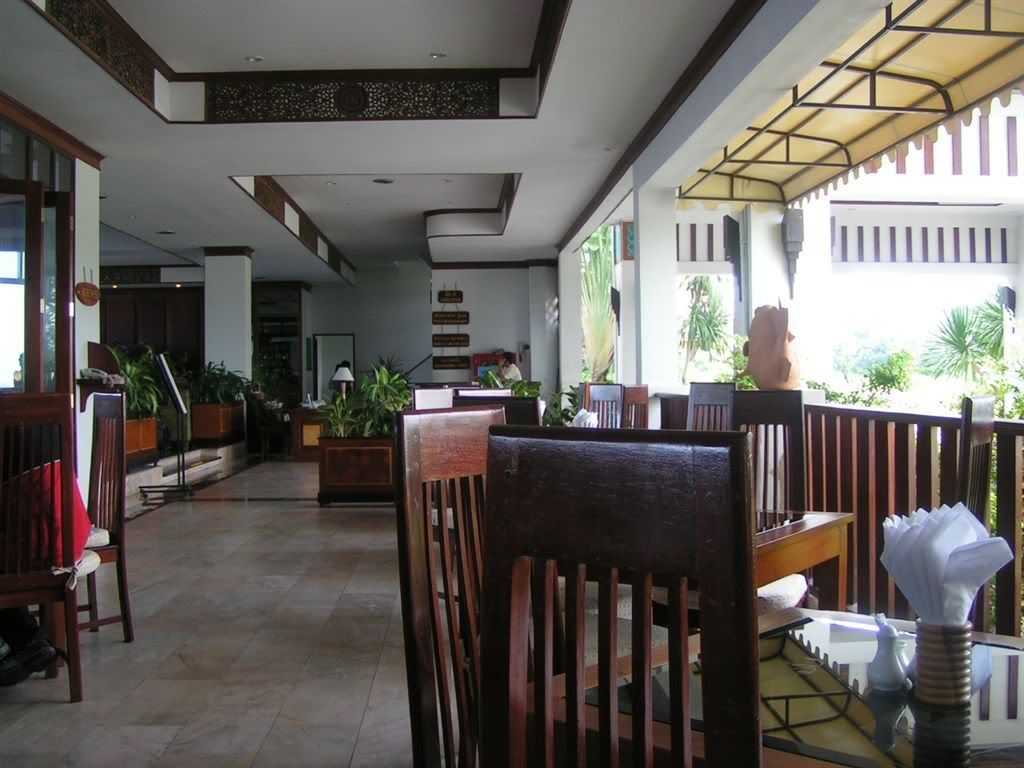 Restaurant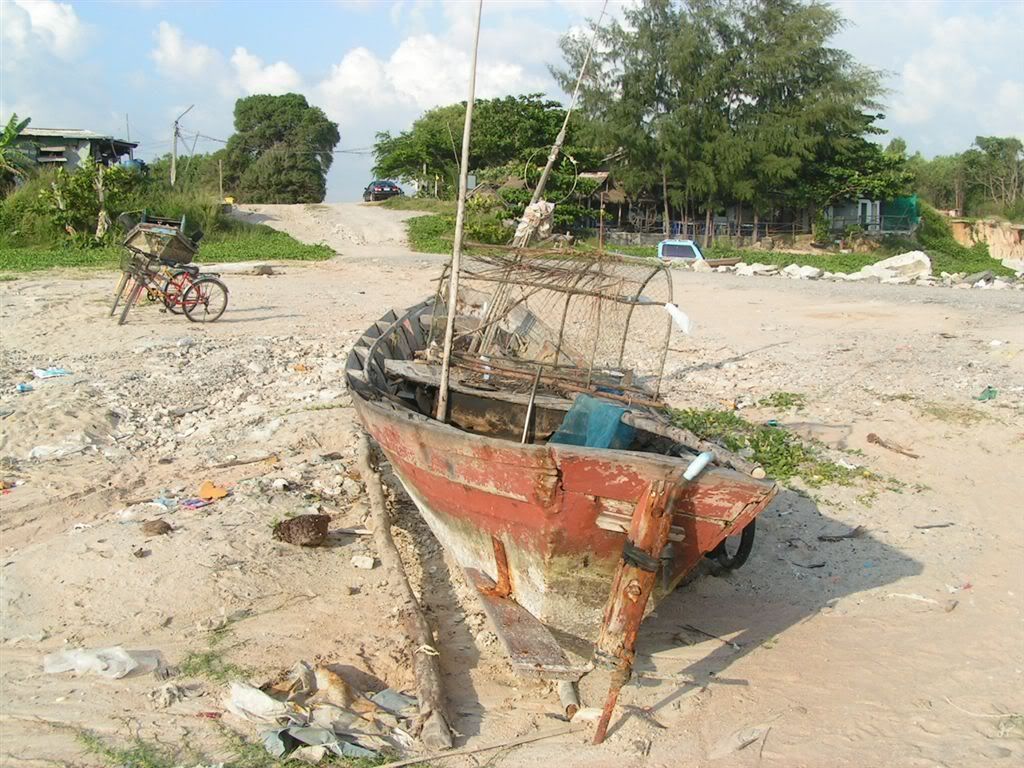 Seen his best days?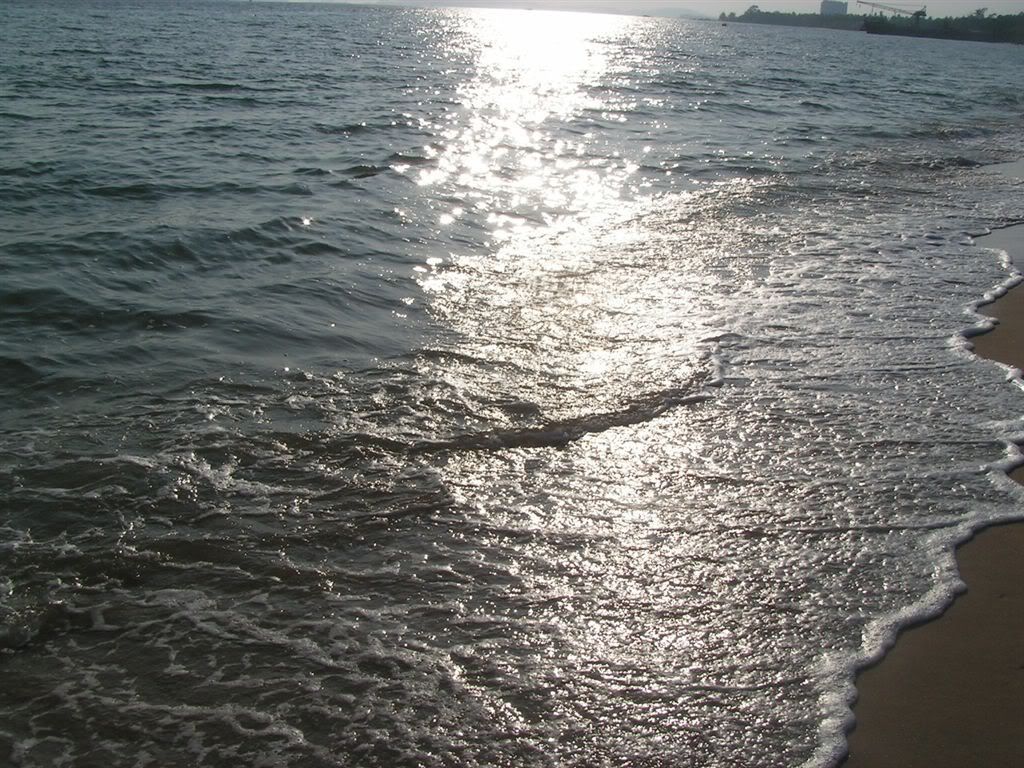 I will remember this for sure..
The diamonds are scrambling. Only a true Glider-pilot understands what I mean.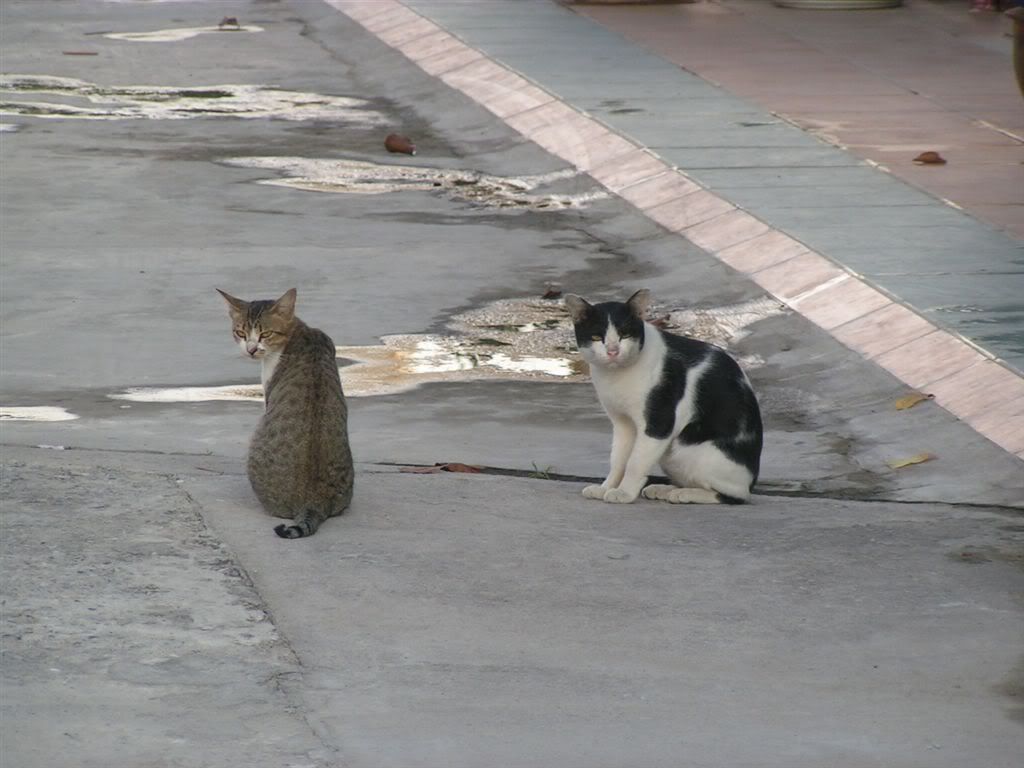 Cats at the temple.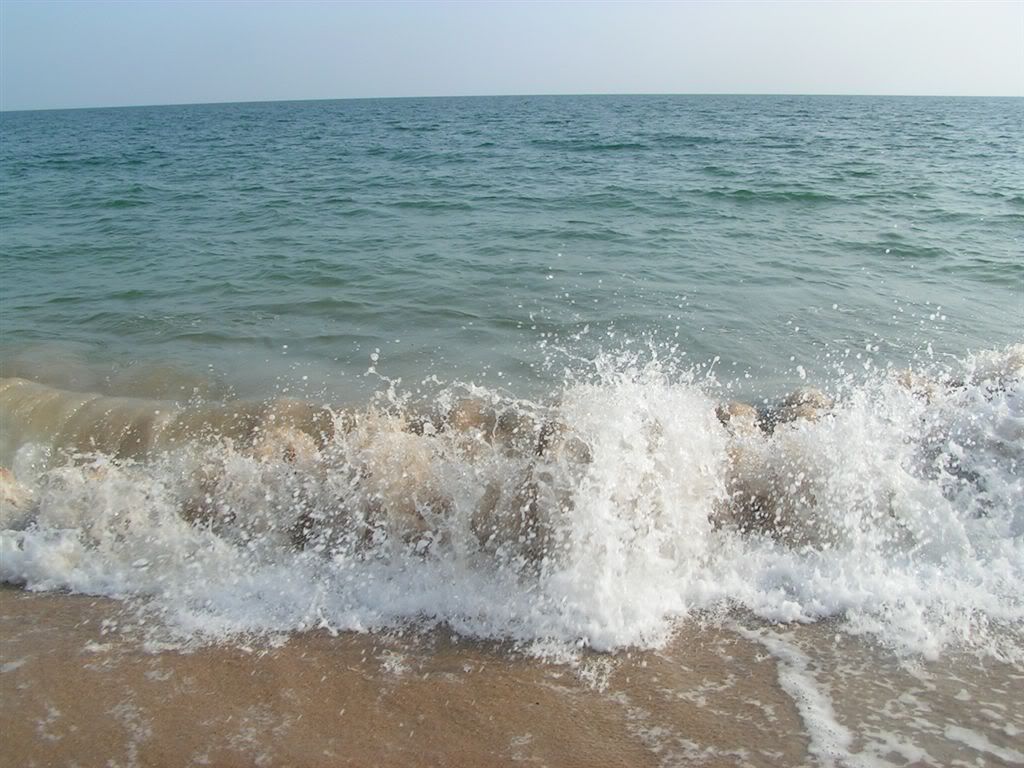 ACTION!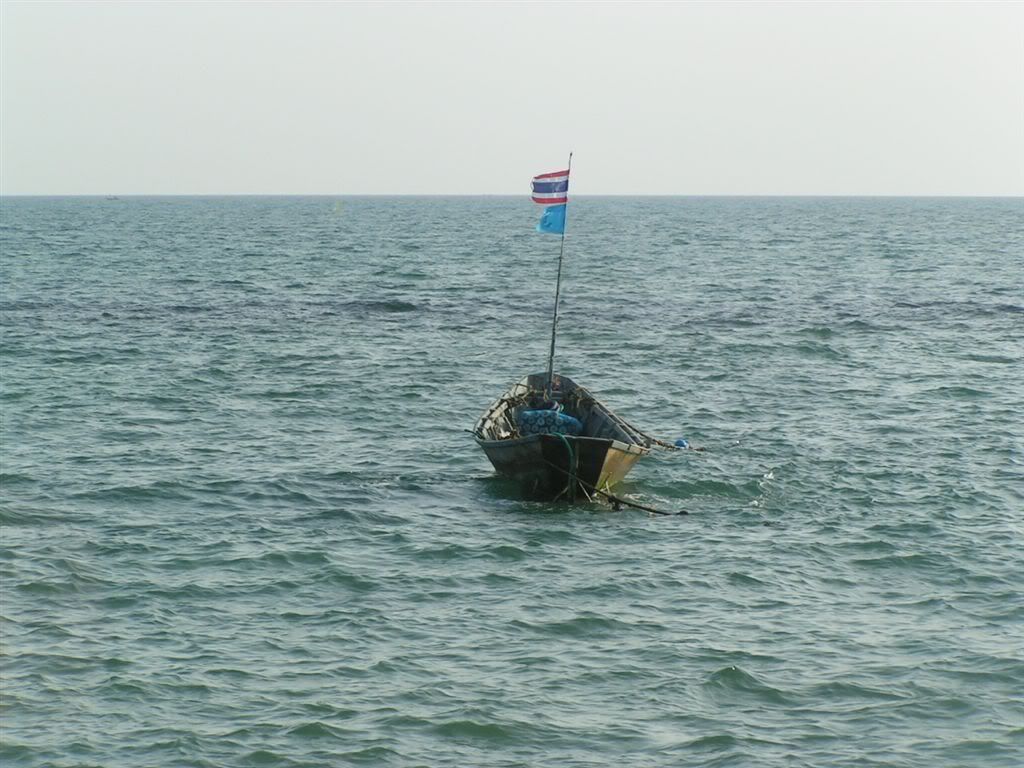 Fishing.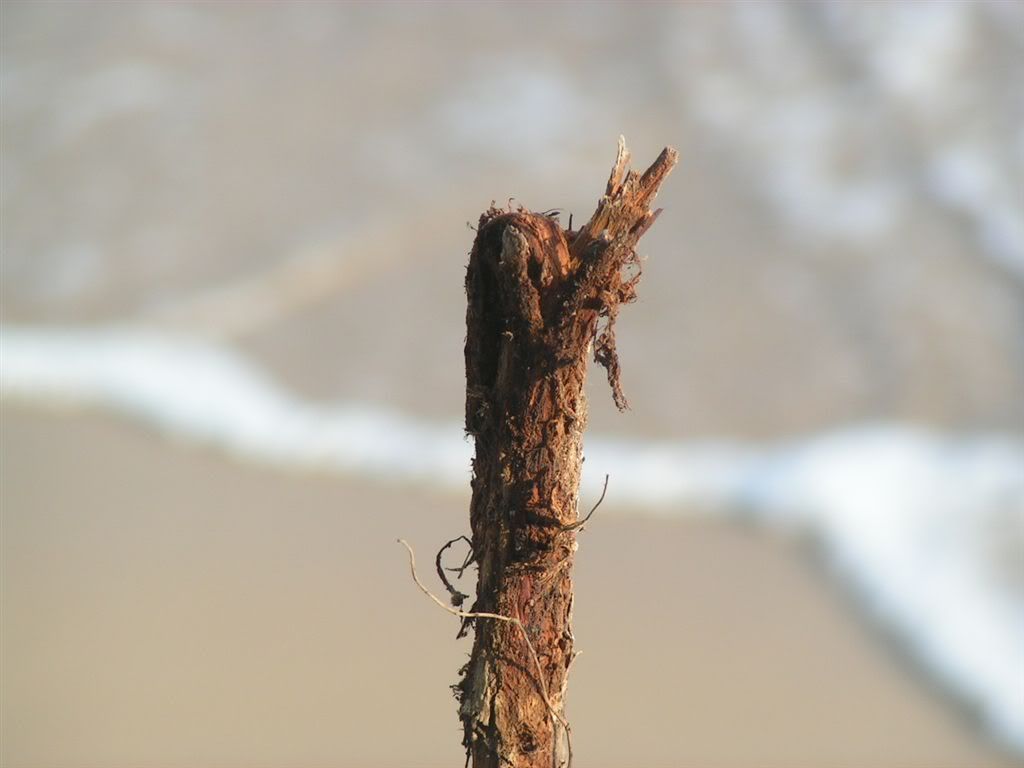 Well...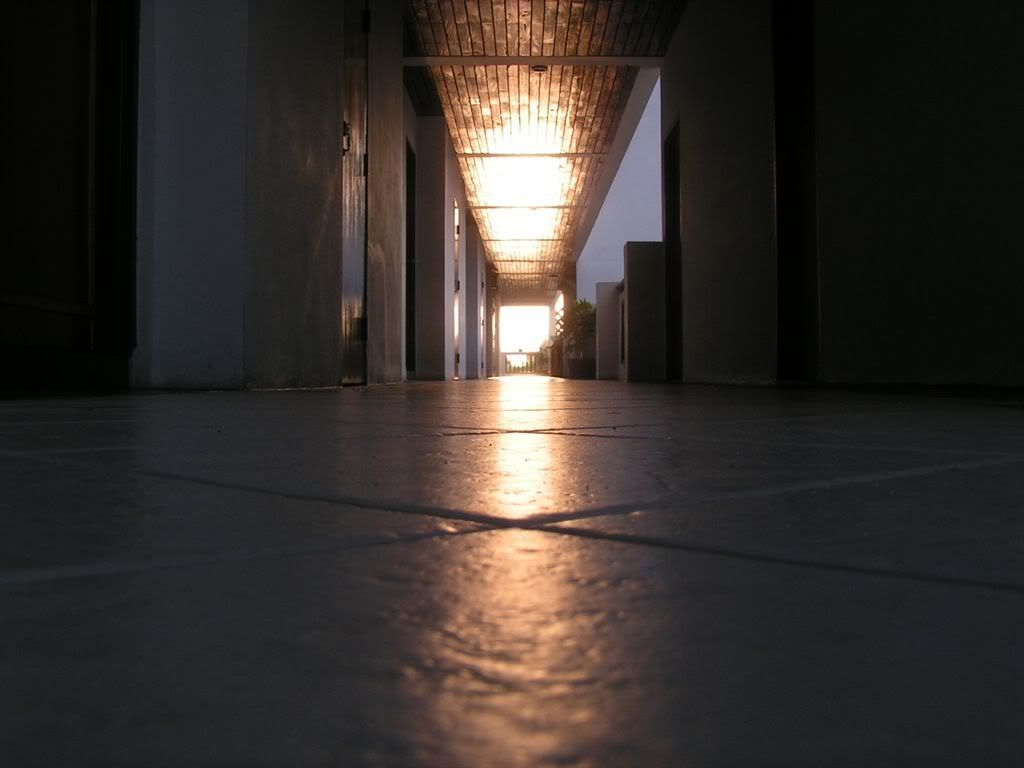 Goodbye!
1103 CET+5, 26th of October
The next two days (24th and 25th October) were very similar to each other.
We did just nothing but sunbathed, and went to the town with a rented
motorcycle. We also booked two air tickets to Koh Samui with Bangkok Air,
and it was very cheap. Just 2000 bath a single journey, that's like 50 dollars. I've seen many great
pictures of Samui's airport, and I really look forward to see that in real life. And of course the
beaches. These days I've taken a lot of pictures of various things, like the hotel, area around the
hotel, some beaches and things around this area. I hope you will enjoy it. When I'm writing this I'm on
the bus to Bangkok, and the bus is air-conditioned. Thank God to
that. The rest of this day I will spend on the streets near my hotel, Grand China princess. And so I
did, Holy sh*t what they sell on the streets. Like one meterlong swords, and batons, and taesers, and
and and....
Overandout!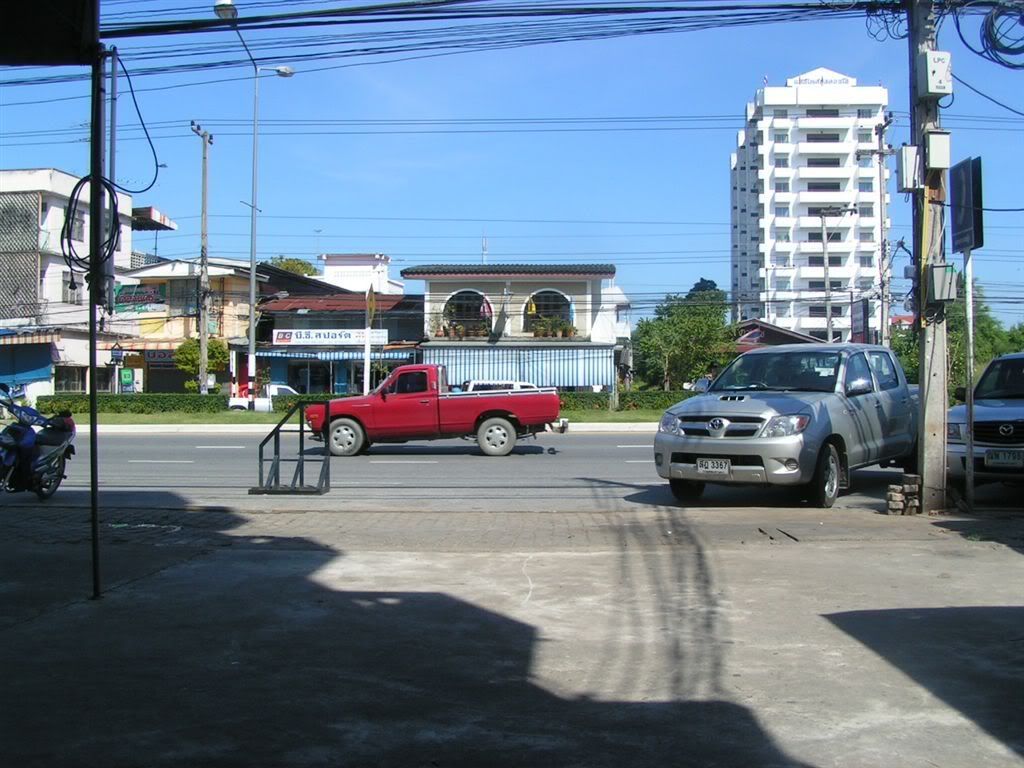 Busstation at Banchang.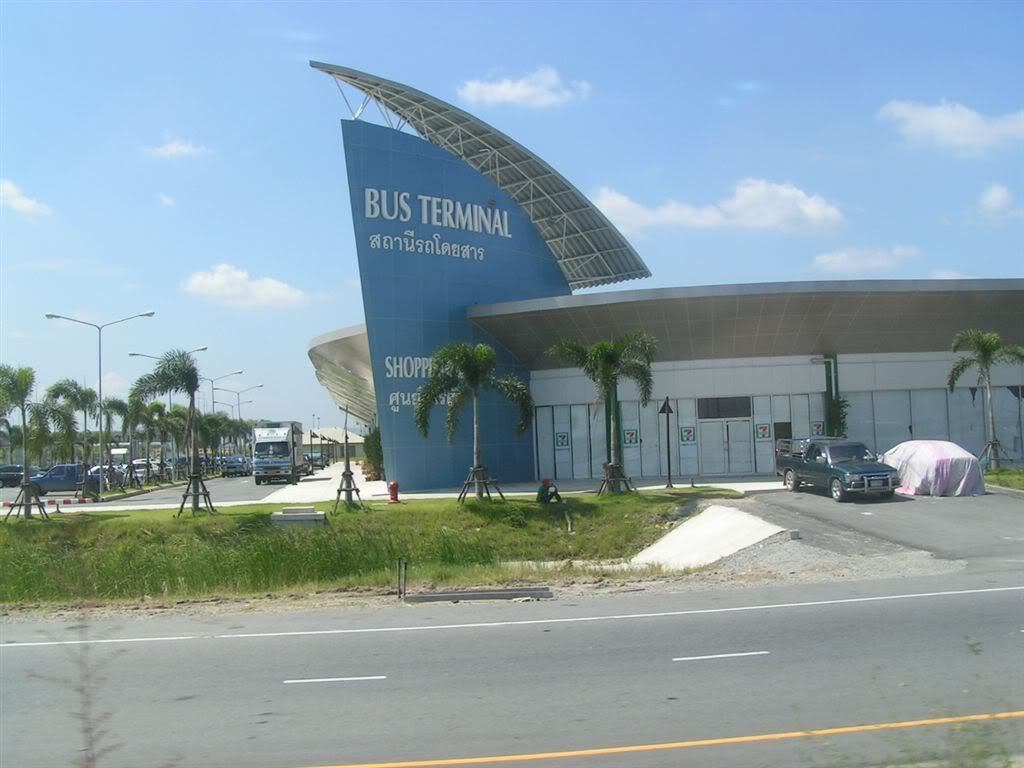 Busstation at Suvarnabhumi.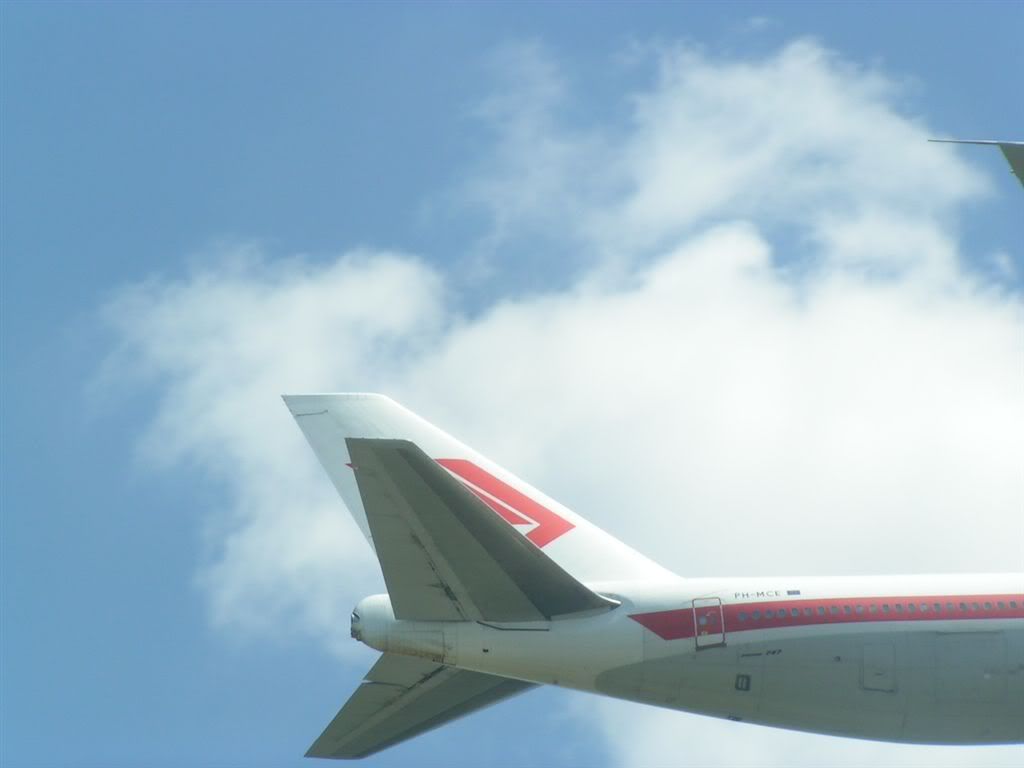 From a buss, with screaming babies and a slow zoom. (Martinair)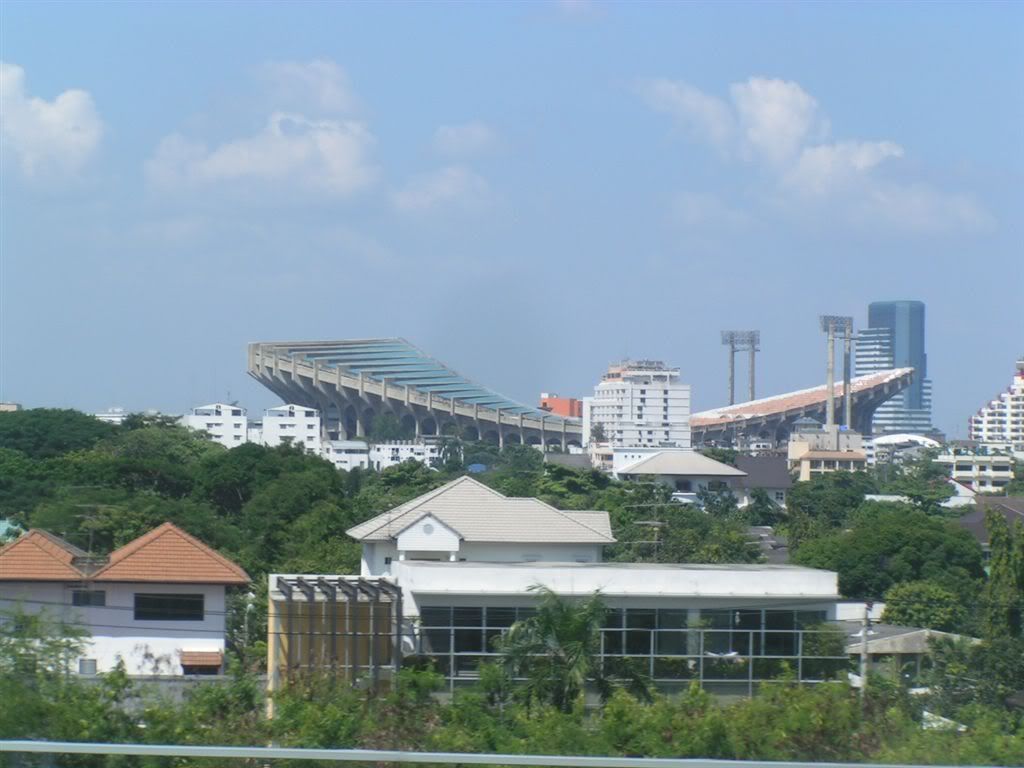 Soccer?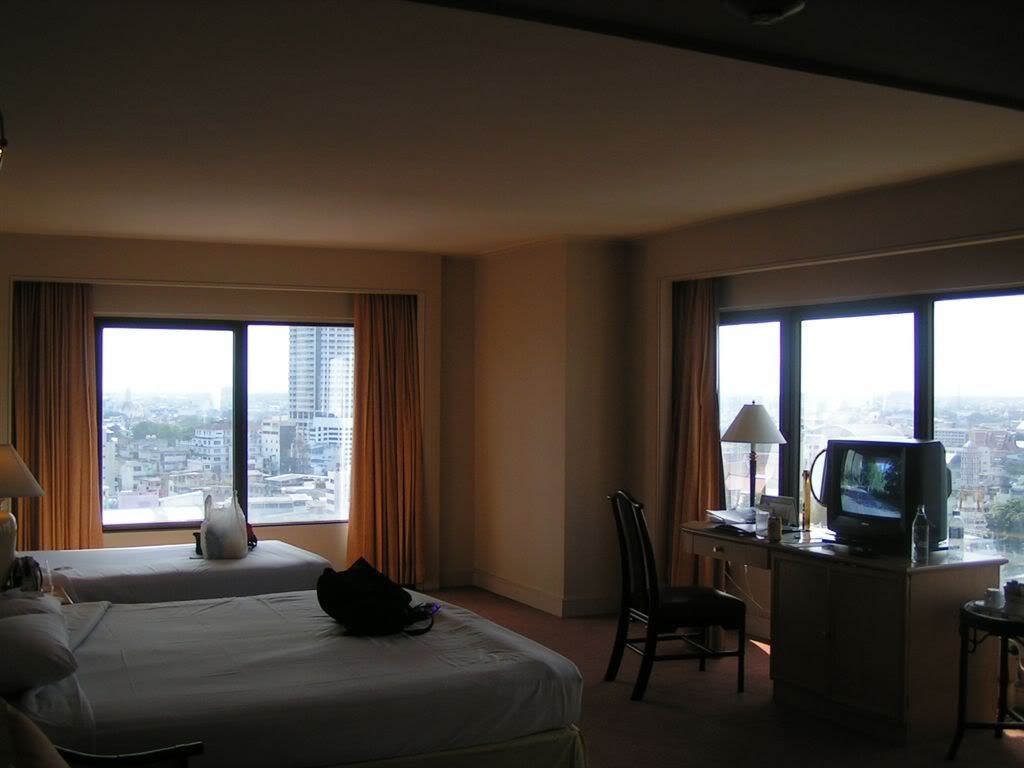 Our room. The windows had a reflecting coat, blocking the hot sun from the room.
Tokyo Drift?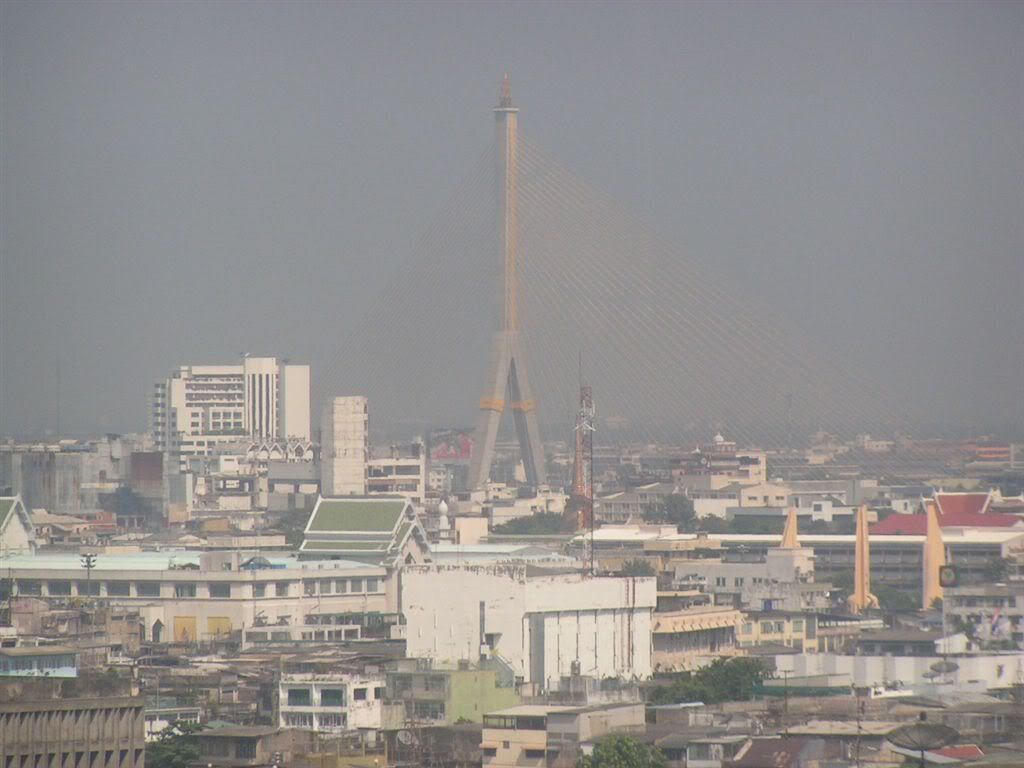 Bridge.
Just outside of the hotel.
2021 CET+5, 27th of October
Yes, Today I spent a lot of cash. Or, maybe not so much, but I did buy a lot
of things. Like six shirts, one pair of jeans, and a Heatsink for my new computer. The heat-sink has a
special story. I bought it at Pantip Plaza, the BIG computer mart in Bangkok. The price was 1500bath,
approx 350 dollars, or 300 Swedish kronor. At a big store in Stockholm, the same heat-sink costs only
200 sek, and that includes our 25% gov. tax. So tomorrow I will say "this was the wrong model........"
to the clerk, and I hope I get my cash back. In the same store I also found a Lian Li PC-7G computer
chase, that costs 3000bath. In Sweden, the model would probably cost 1500 SEK - If we had it. I can't
find it in any store in Sweden, and I've searched in several on-line stores. Looks like I'm the first
one with that in Sweden =) I will buy it tomorrow. And, a another funny thing happened today when I was
on the way to the riverboat station ten minutes from my hotel. The whole station was flooded, and then I
saw that the river that goes through Bangkok
was flooded! Almost one meter I think, because the whole harbour was under
water, and I had to walk on to the boat. I saw several sand barriers along the river too. Hope this
hasn't made to much damage to the people.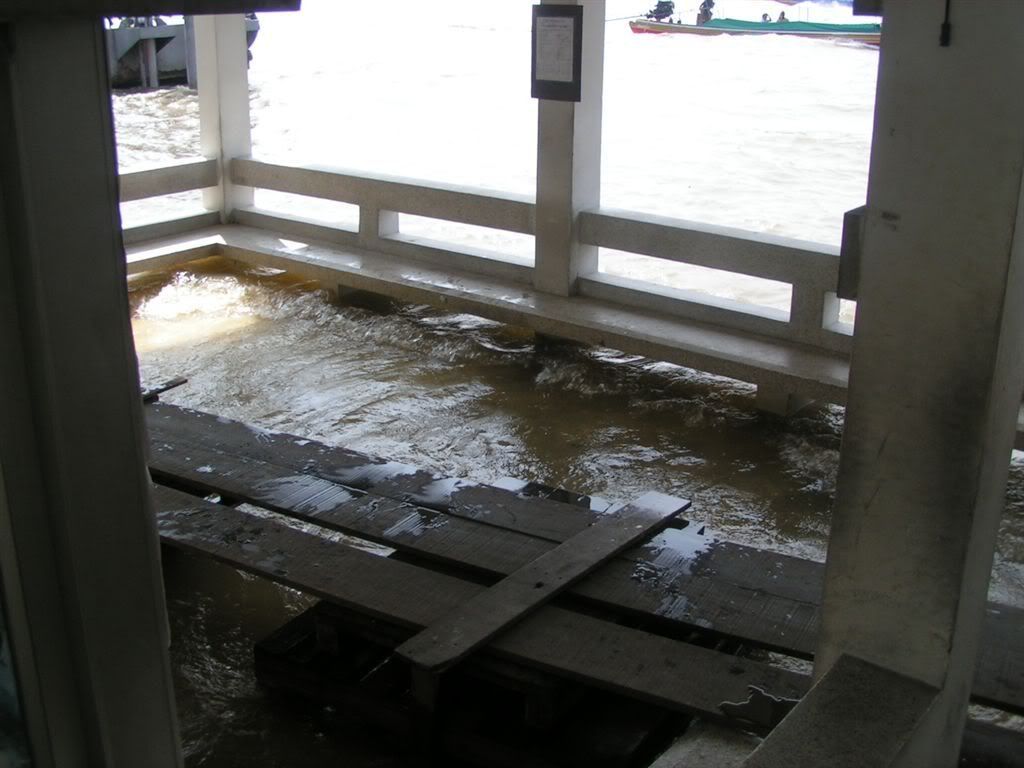 Water.
On the way to the boat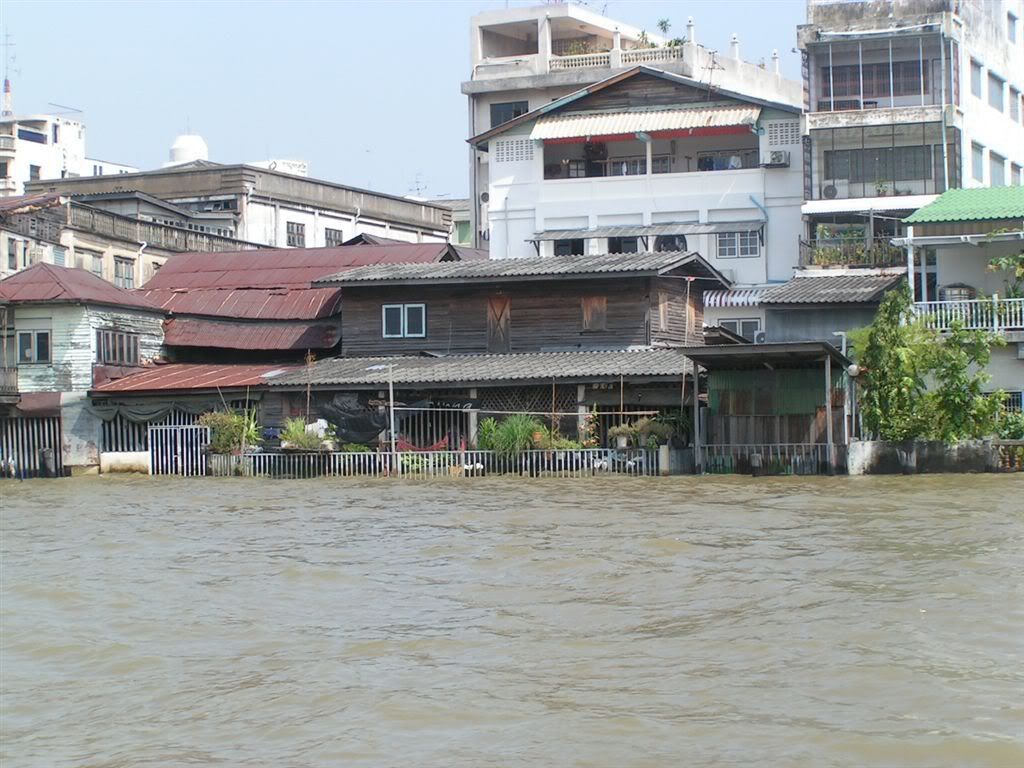 More water.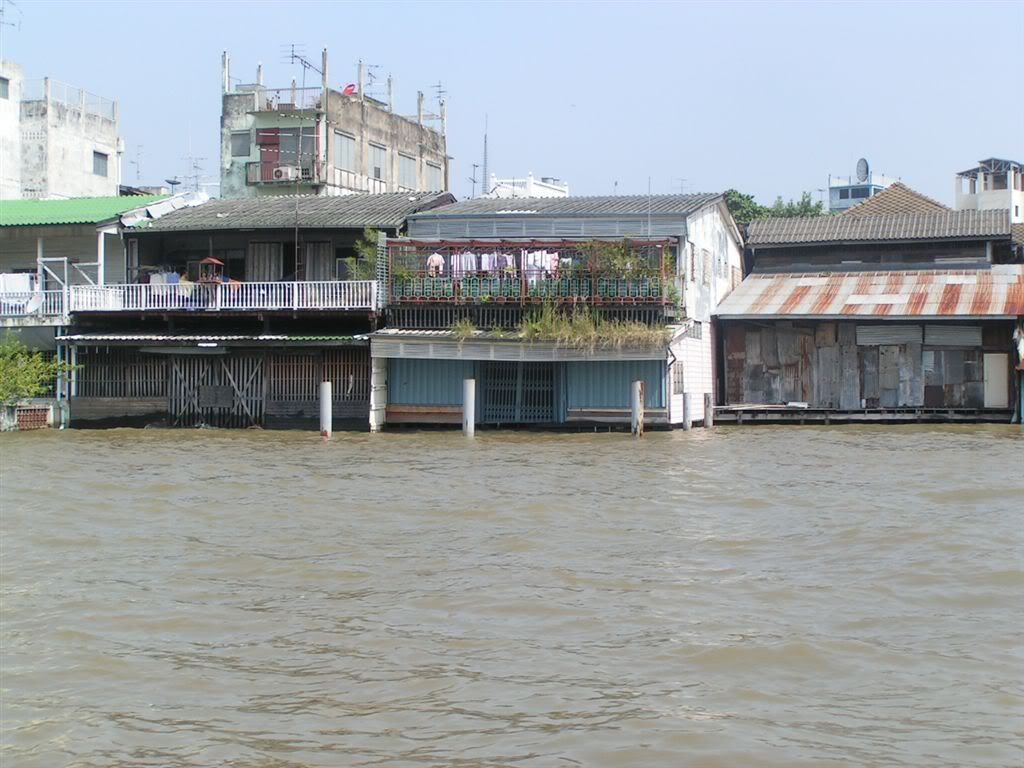 Water, again.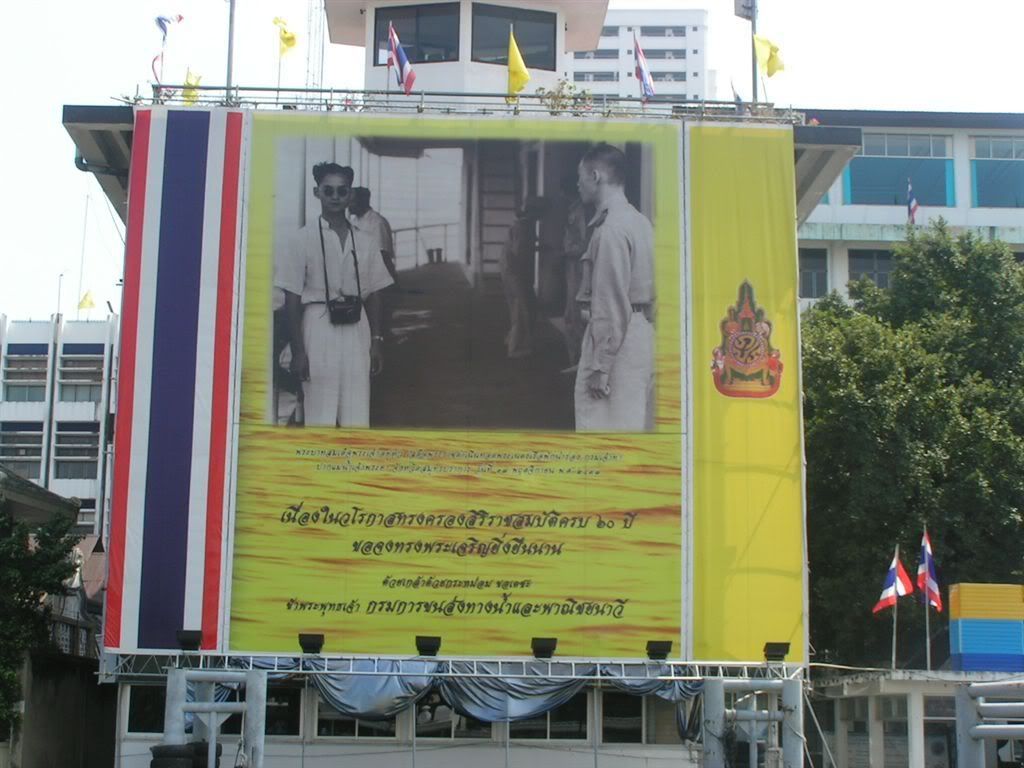 "The king did go with the riverboat too" ?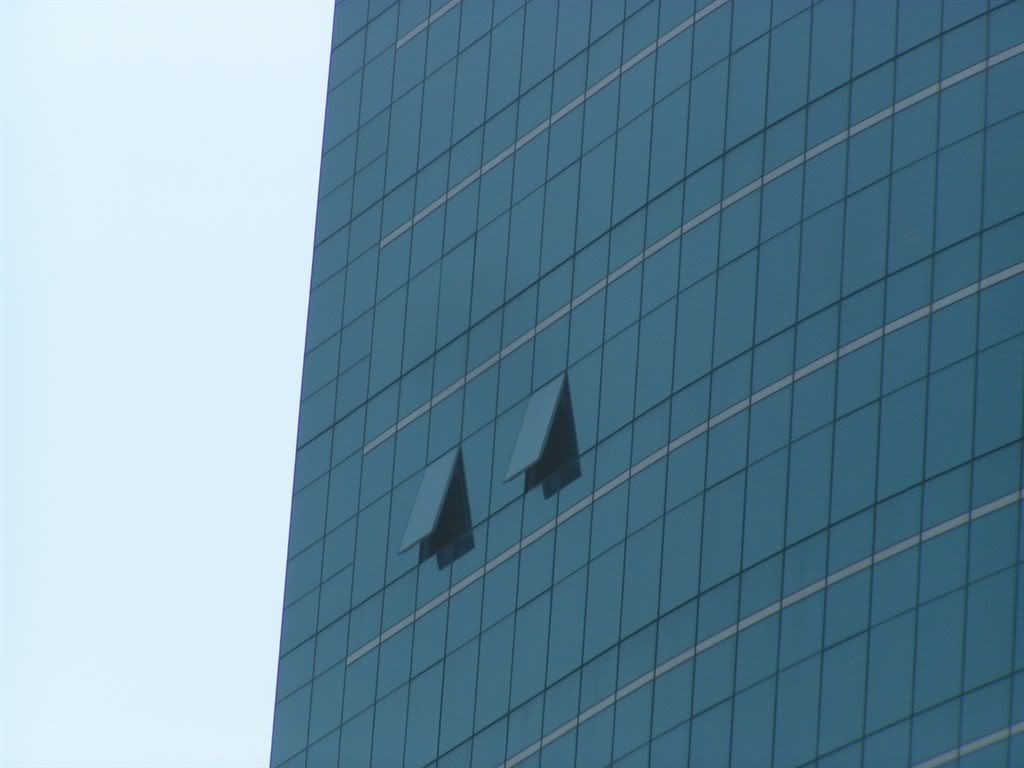 Two windows open.
1719 CET+5, 28th of October
This day was very busy. .
The day (28 October) started with an usual breakfast at the tenth floor, and
then of to MBK shopping center. The river was not so flooded today, but still a bit. We said that we
"had bought everything now and not should buy anything more" but of course we bought stuff today. I
bought two pair of belts, one D&G and one JL belt. 40 SEK each, and in Sweden they probably cost around
900 SEK. That's life. After that we headed to Pantip plaza, and I tried to get my money back for my
heat-sink which I bought the day before. The conversation between me and the owner was like this;
Me; I bought this here yesterday... but I found out that it was the wrong
model..
Her; No, you say it was for athlon 64 socket 939
Me; I said wrong... it was for Opteron Socket 940
*she takes a 940 motherboard and tests the heat-sink, and it works on socket
940! Damn!*
Her; It work on 940 too.
Me; Hm, oh, I said wrong, I have an AM2 socket on my computer. Yeah, that's
what I have. *my nose is growing longer*
*she takes a AM2 motherboard, and tries to install the heat-sink on it
without success*
She; Hm... OK, you can have money back
Me; Ok, thank you
Yes, that's like how the conversation was. I made a big lie, but what should
I do? I don't want to pay 100SEK extra for a heat-sink. But at last she was convinced. I also bought a
Lian-Li PC-7G there, and later I packed it well on the hotel room. I hope it will make the trip to Samui
well. After that we made
ourselves back to the hotel the same way, with Skytrain and River boat.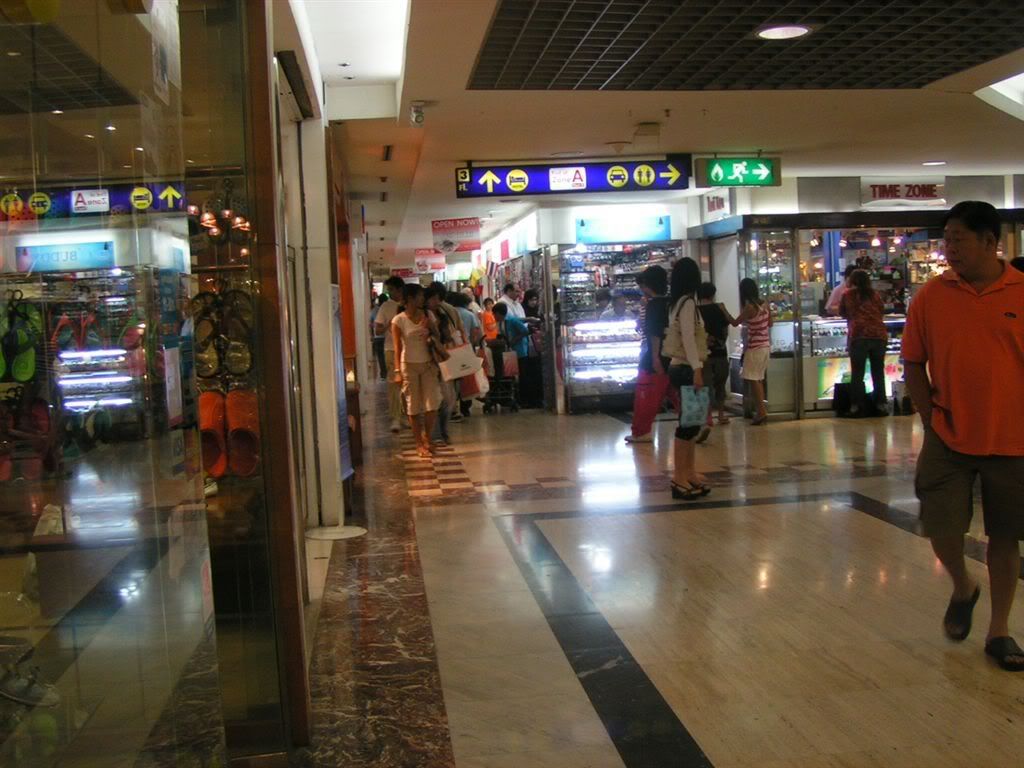 MBK center. If you've been there, you probably have a lot of clothes.
Another view of MBK.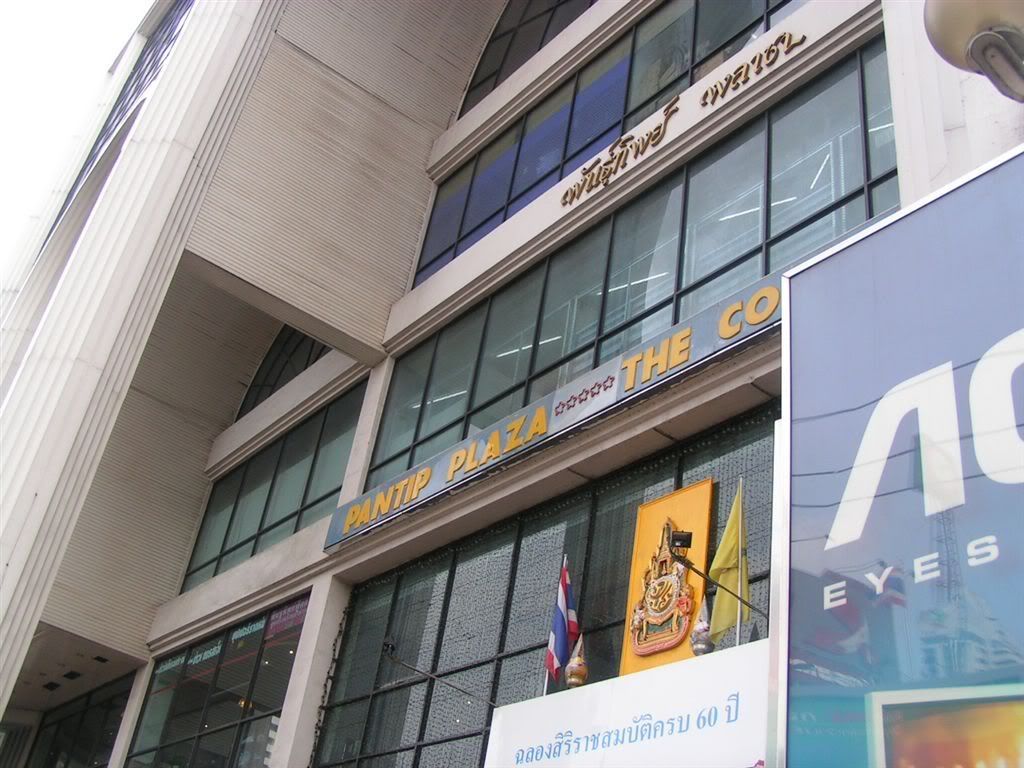 Heaven.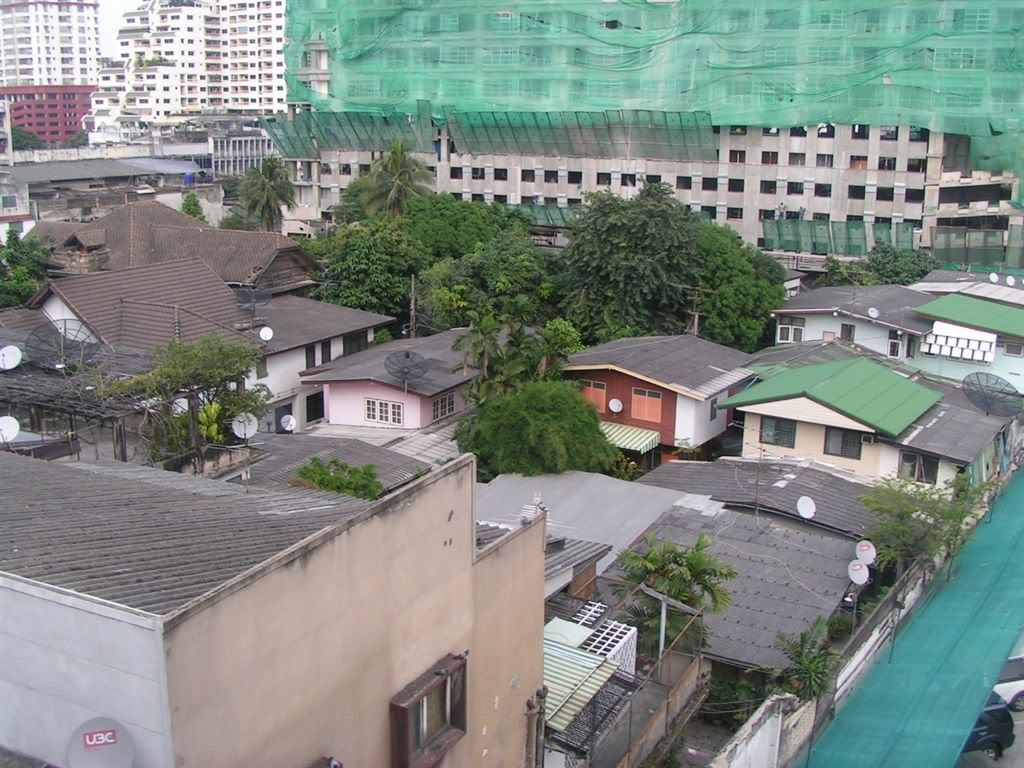 Old Bangkok.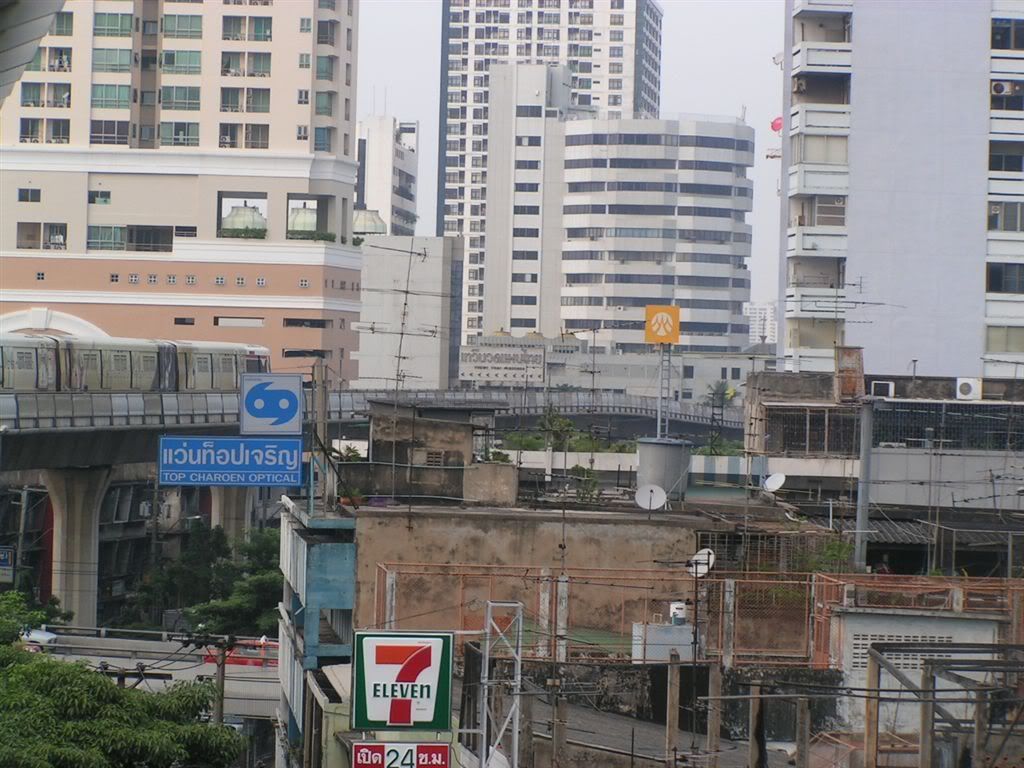 And seven eleven.
0729 CET+5, 29th of October
Sitting now on the Suvarnabhumi airport, and surfing on Anet on their free
(!) Wlan. At last a airport who knows what infrastructure is. It's ten minutes to boarding, and our
aircraft (717, my first flight with that type) hasn't arrived
yet. The windows on this airport is very dirty, and they have a fence like one meter in front of the
windows, so pictures aren't so good from the terminal waiting area. That's life. The trip to the airport
went on smoothly, only a half an hour from the hotel. And the airport is HUGE! I've never seen any
bigger in my life. Almost as big as HongKongs airport.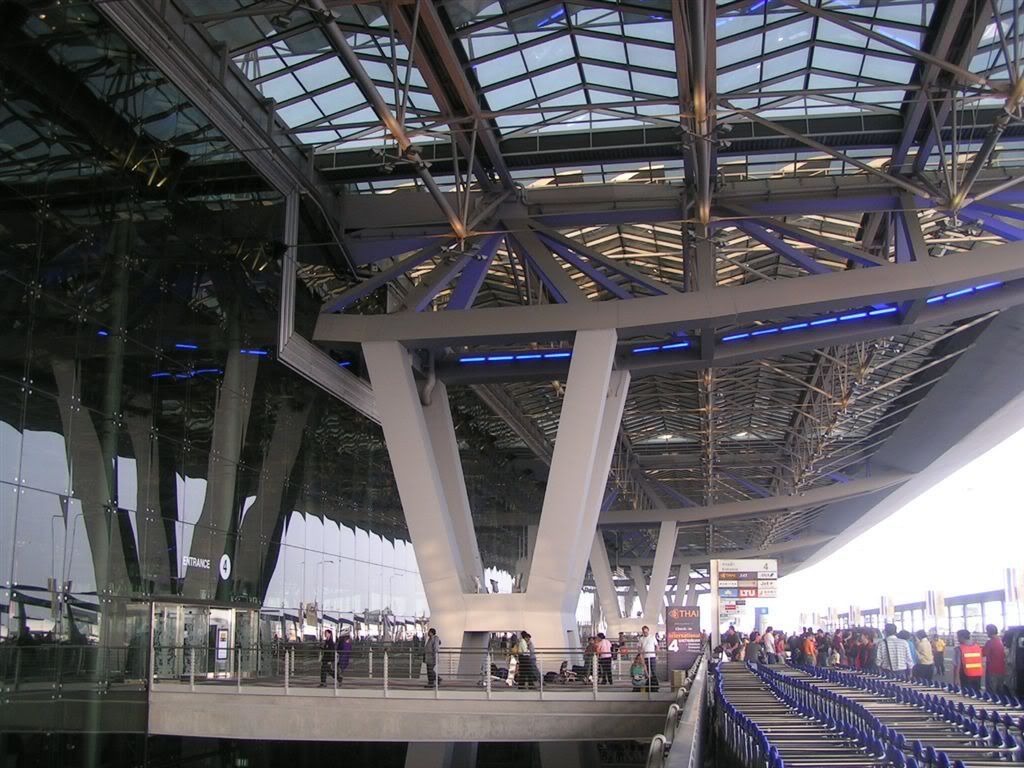 Big.
Big, again.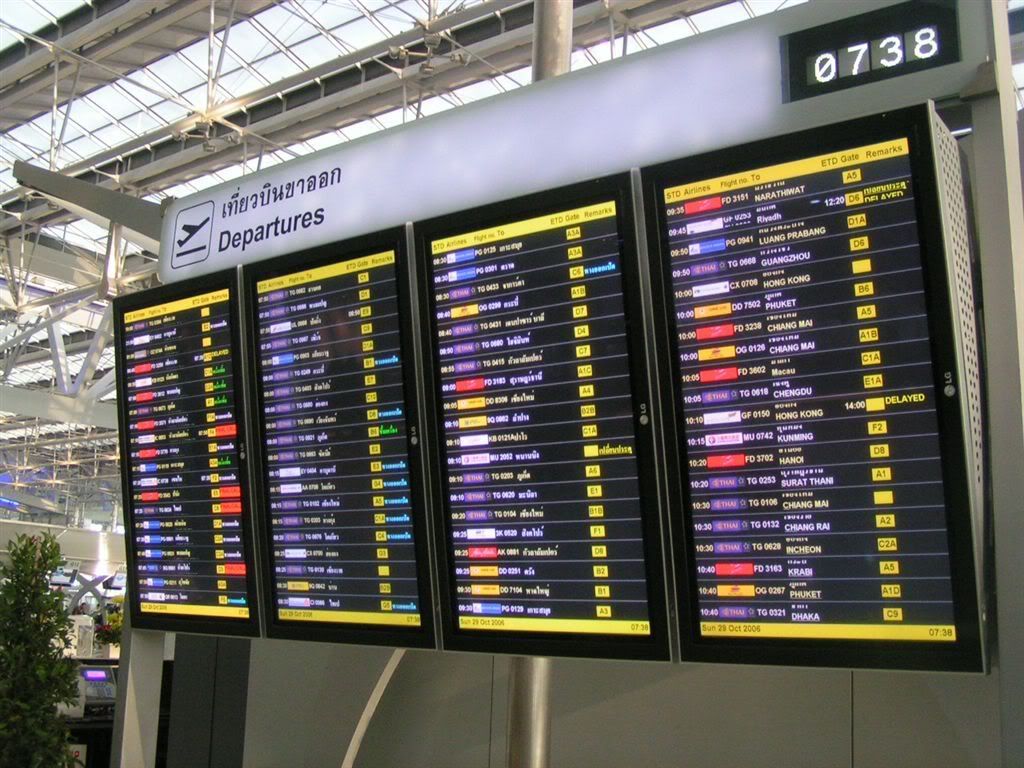 Domestic departures.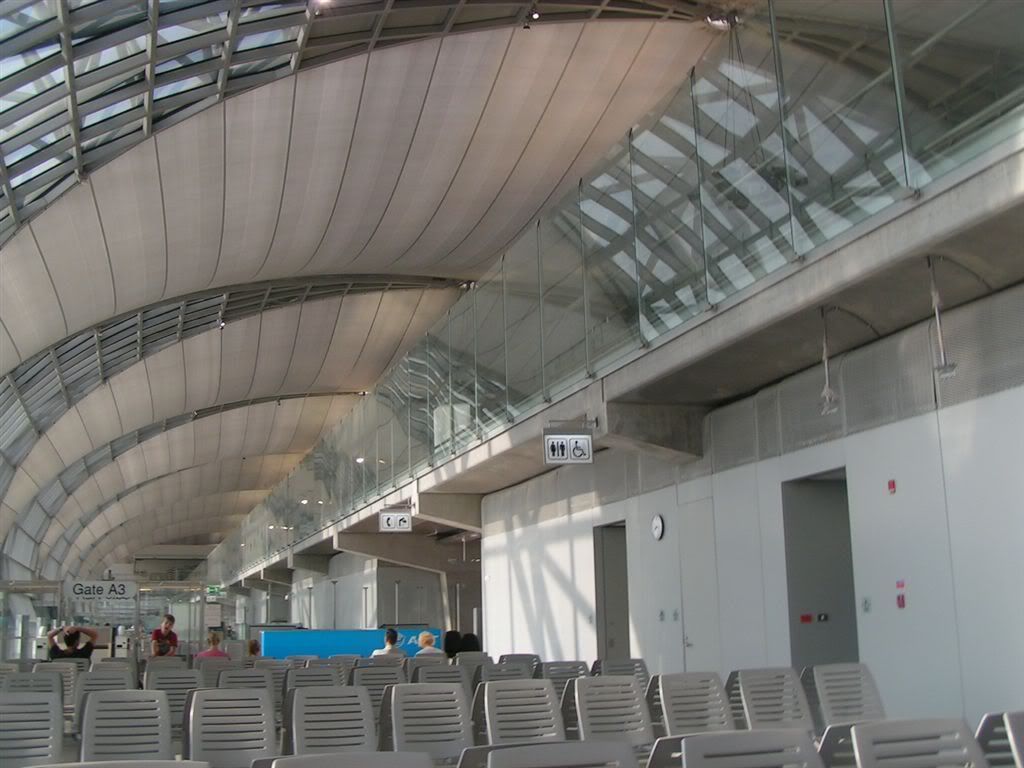 Departure area.
Third leg
Carrier; Bangkok Airways ( PG129 )
Route; BKK-Samui
Aircraft; Boeing 717-200
Registration; HS-PGQ
Departure; 0930 CET+5 (0940)
Arrival; 1030 CET+5 (1035)
Class; Economy
Seat; 17F
Load; approx 99%
Start; Rwy 01L
Land; Rwy 17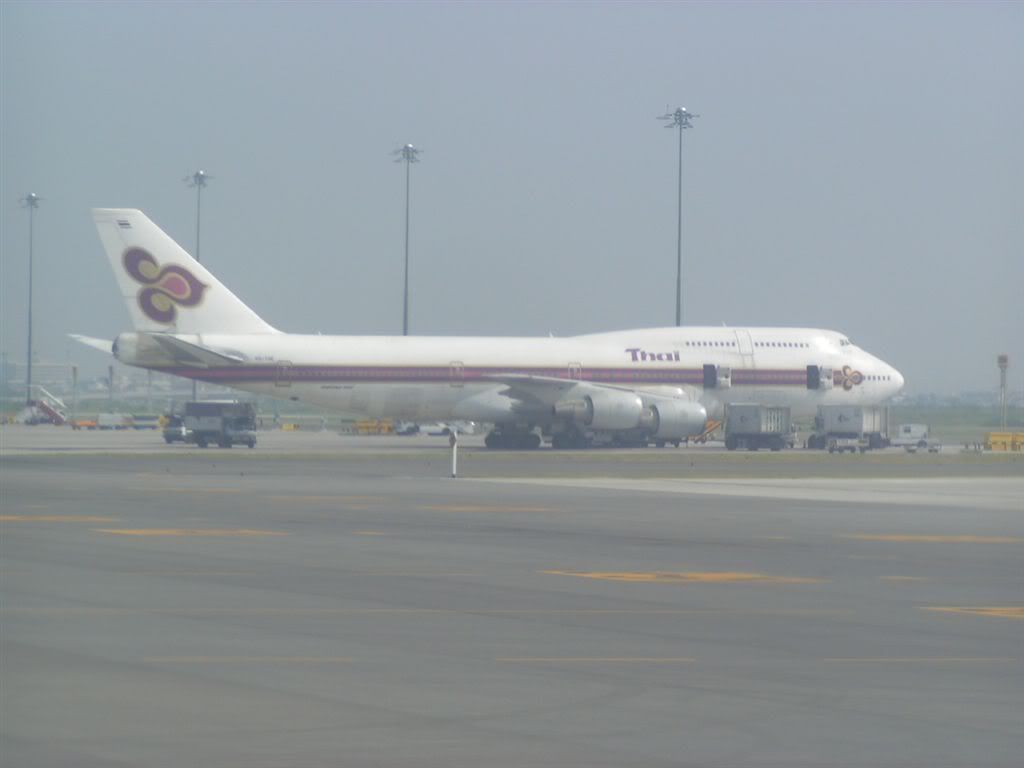 Thai 747 something. A lot of zoom.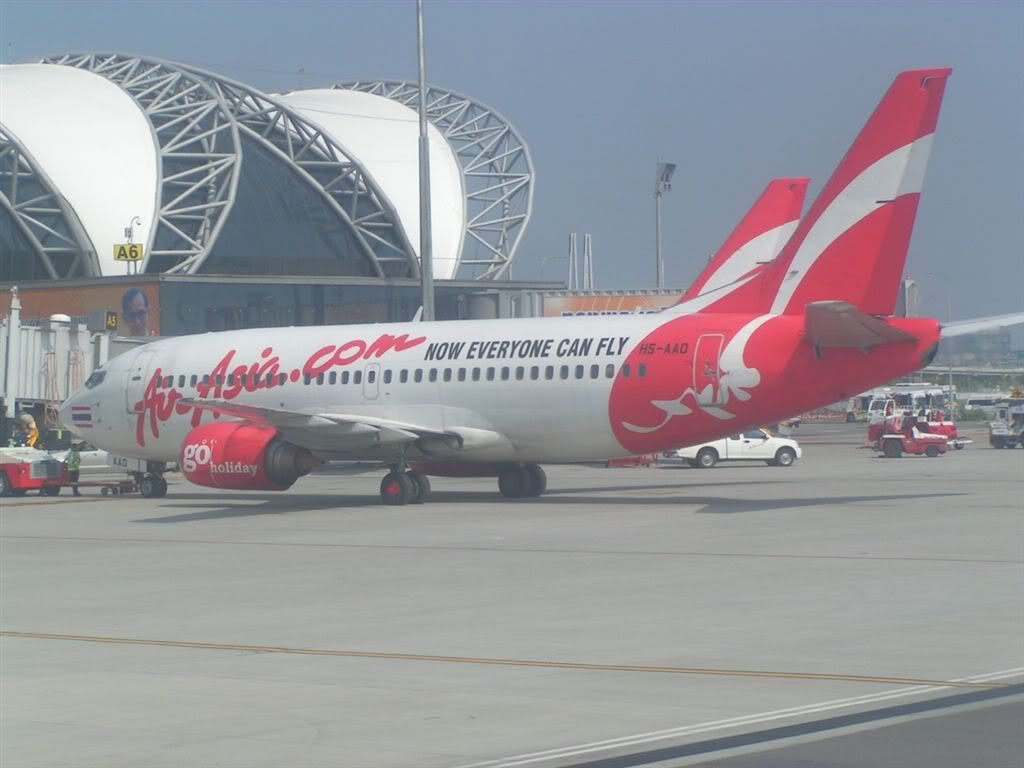 "Now everyone can fly, even the beggars!"
Last comment x 2.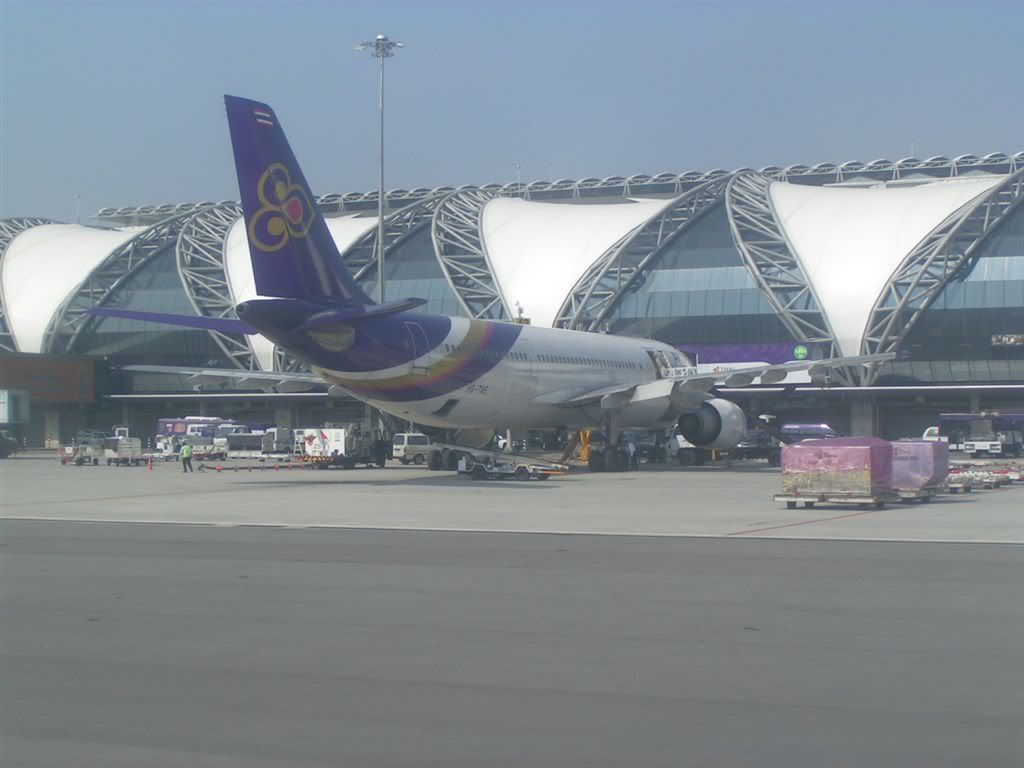 Thai and modern arcitechture when it's best.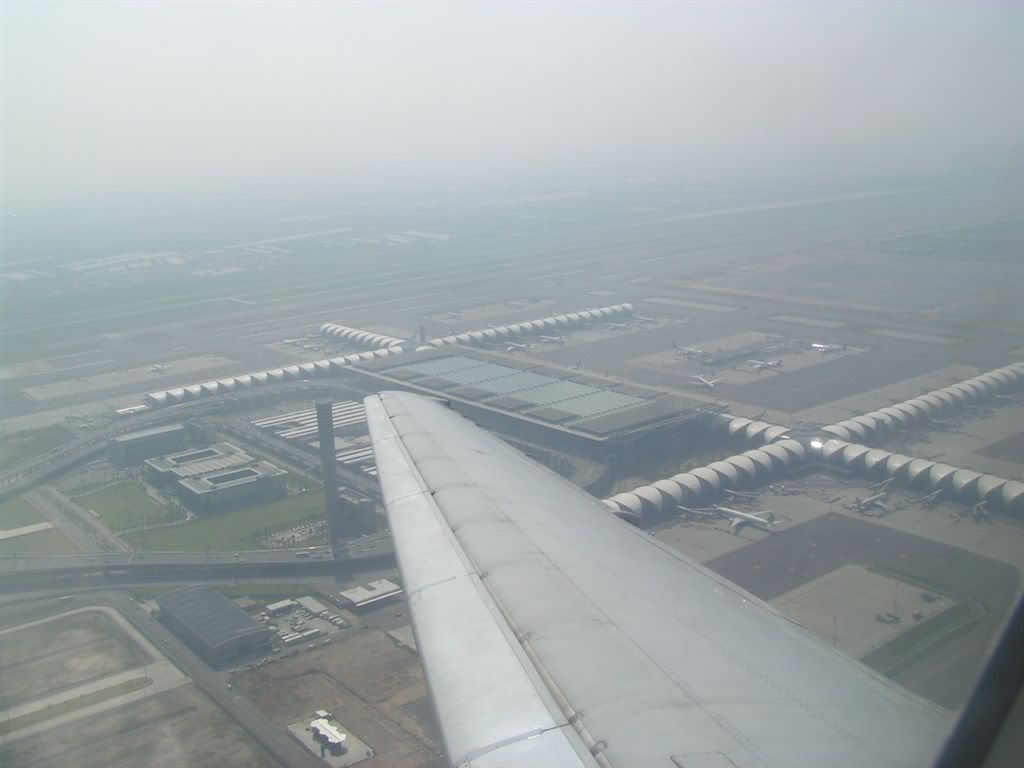 We talk big buildings here.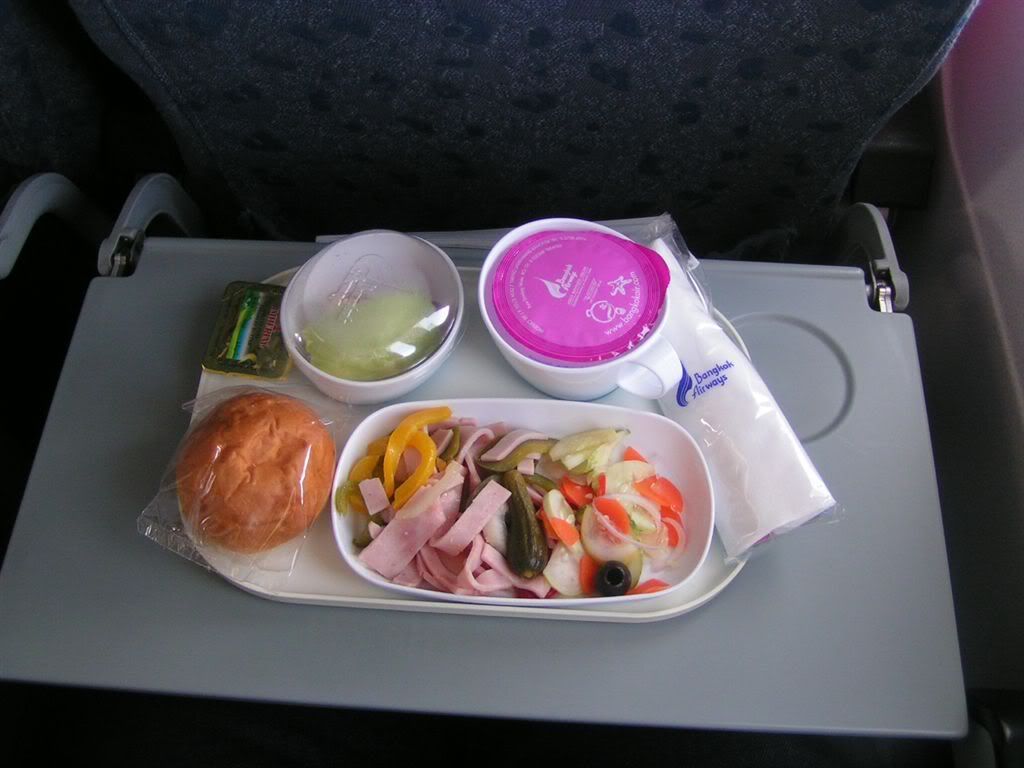 Tasted good.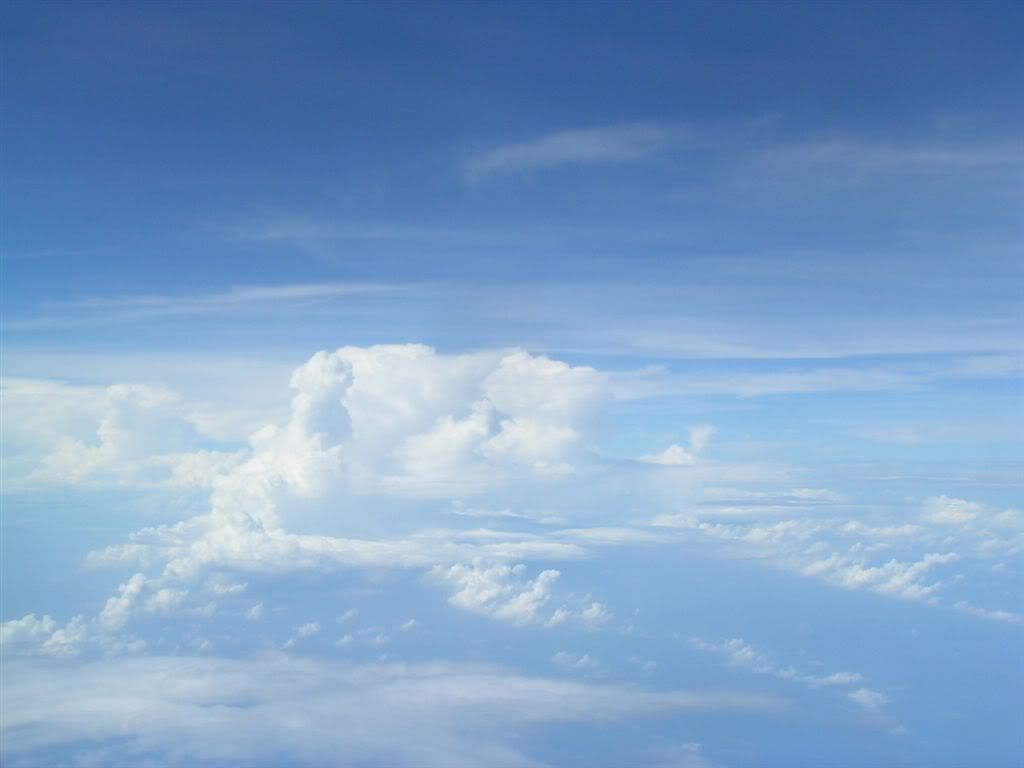 The diamonds are scrambling again.
At last..
Engine.
Taken from the "airport bus", driving fast without control..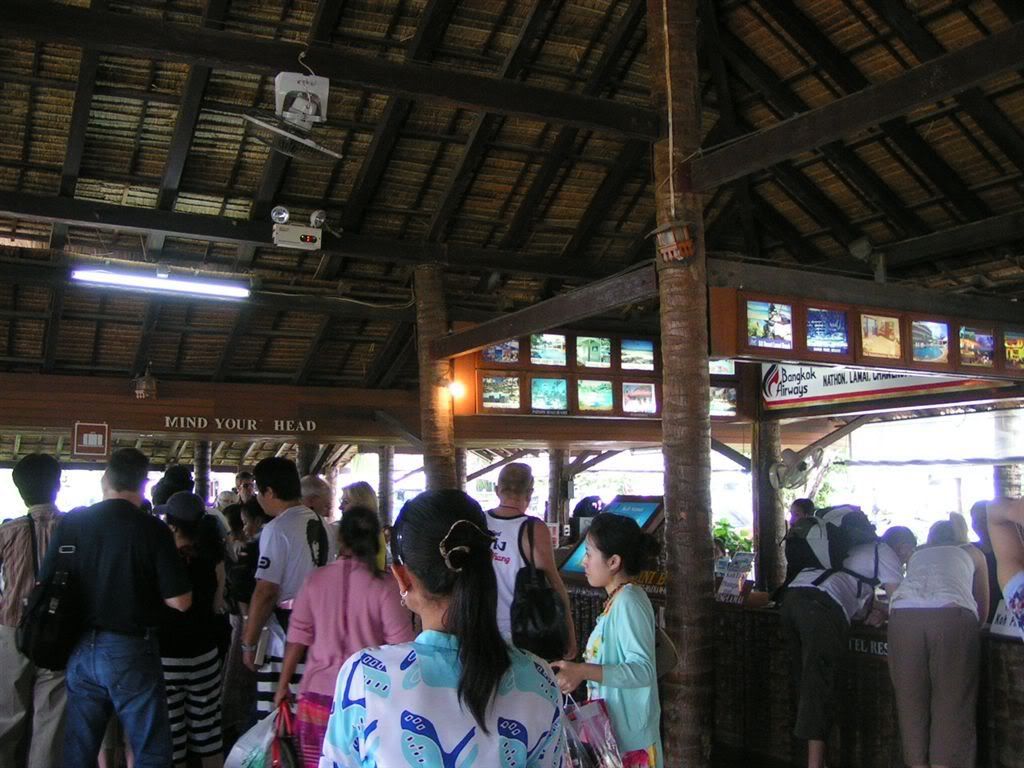 Exotic arrival hall.
1101 CET+5, 29th of October
The flight lasted for 50 minutes, and suddenly I had beautiful blue water
under me. The approach was fun, if you've landed on Samui airport you know what I mean. And the airport,
it's so beautiful! Open air and palms everywhere. We had a driver waiting for us who drove us to our
hotel, the Moonlight hotel near Chaweng beach. The rest of the day we spent walking on the beach, that
wasn't so beautiful that I'd imagine. At the night we rented a 125cc bike and headed towards Chaweng
town. We bowled, and I made 6 spares and one strike on my second game. I got 140 points on that game.
Good for a beginner. The sellers in Chaweng are crazy, one asked me where I was from, I said; "Sweden".
Suddenly he started talking Swedish with a VERY big Thai accent, but it sounded very funny and I started
laughing. This was my first and for this trip last night in Samui.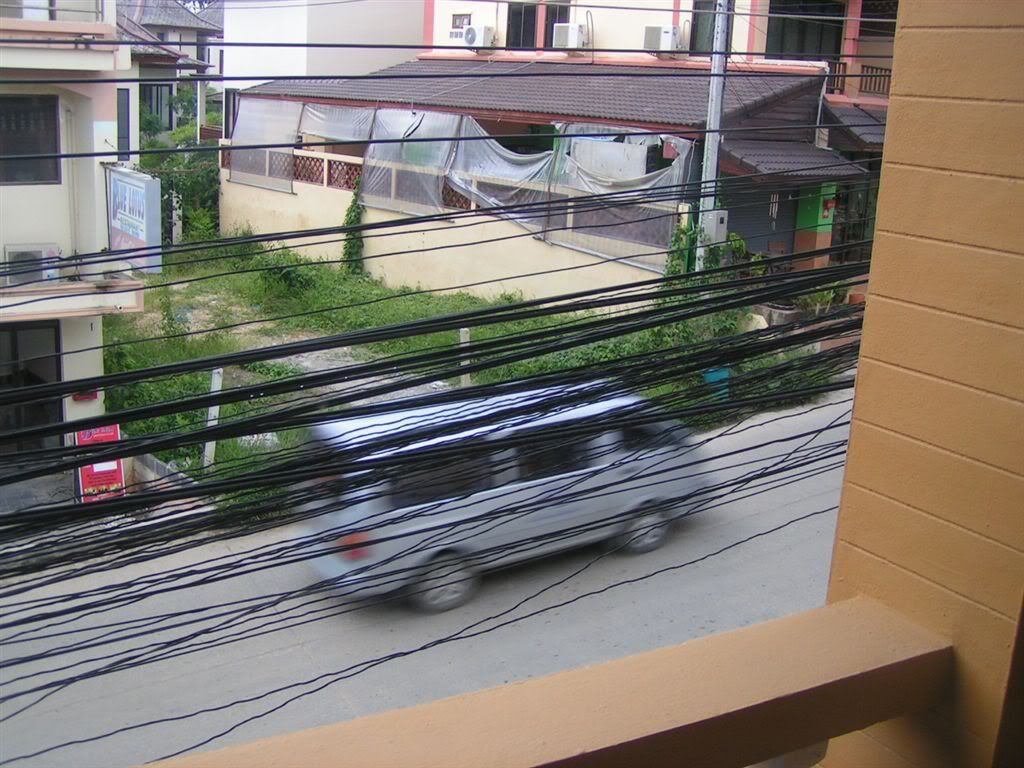 View from our room.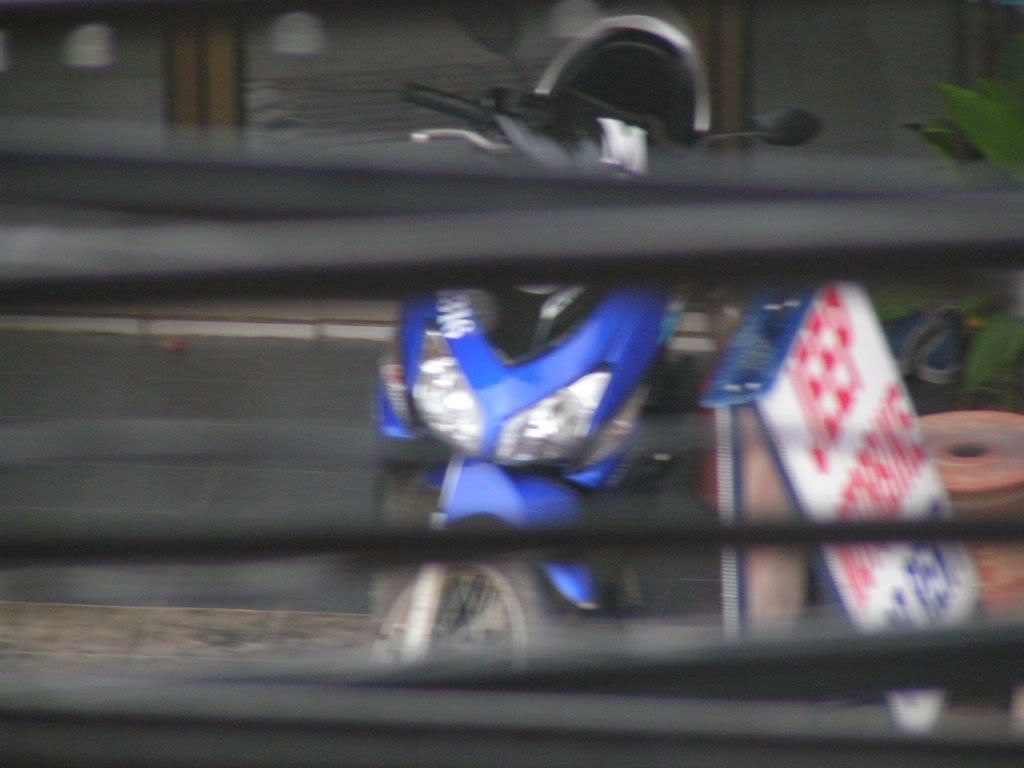 This one was fun to drive.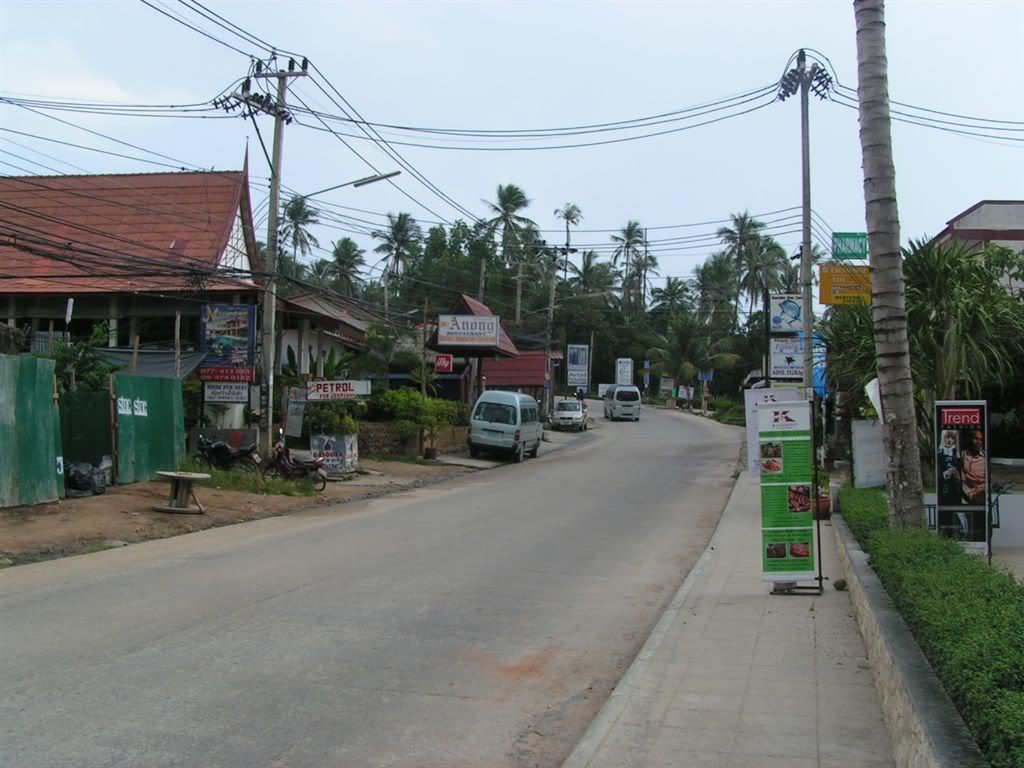 Local street @ Samui
820 CET+5, 30th of October
The last day in Thailand, and probably the best. Since our hotel didn't have
any breakfast service, and the cafe next door was closed our breakfast was eaten at Seven Eleven. I had
a icecoffe and orange juice, they didn't have any good sandwiches there. After that we drove around a
bit in town with our rented motorbike, and my mother got a haircut. It did cost 200 bath, very cheap to
the prices in central Stockholm. Eventually we returned the bike, and I got to know that you have to bee
18 years to drive a 125cc in Thailand - Yeah, I have two years left to that, officially. But whatever,
the police
haven't stopped me, yet. Since I haven't bathed in the sea yet, and this was
my last day in Thailand (this time..) I was in big need of a bath in the warm sea. The beaches was like
I said before not too good, but it didn't matter much this time. I laid on the beach for some hours,
bathed some, and then headed back to the hotel to pack my stuff.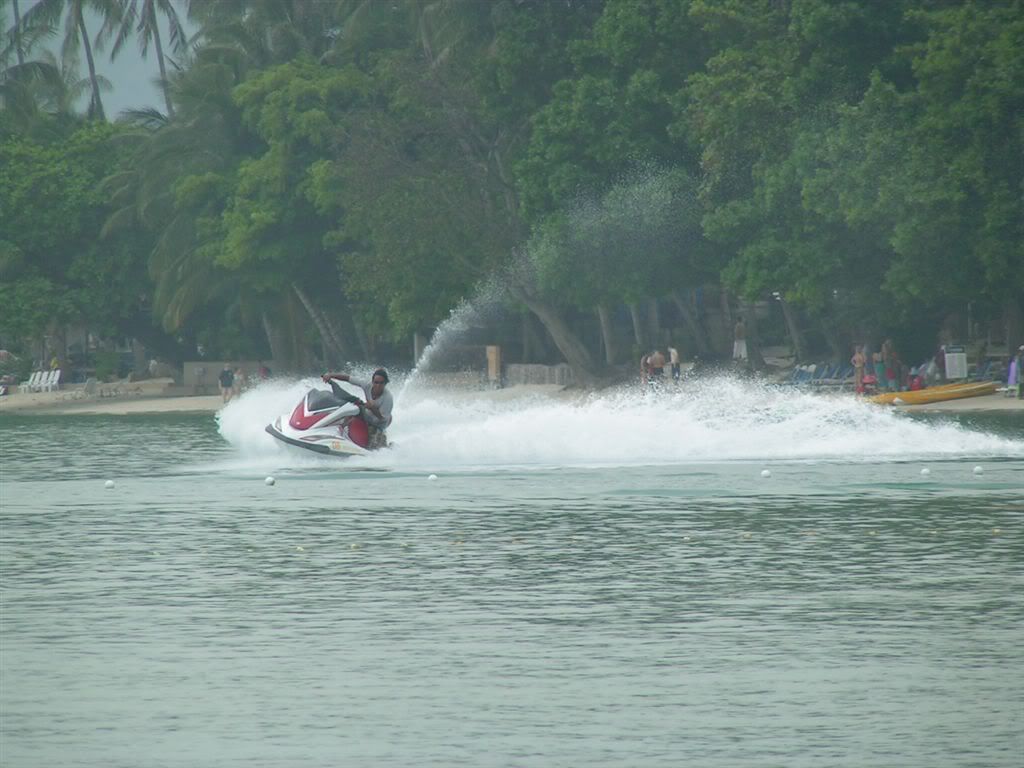 Looks fun!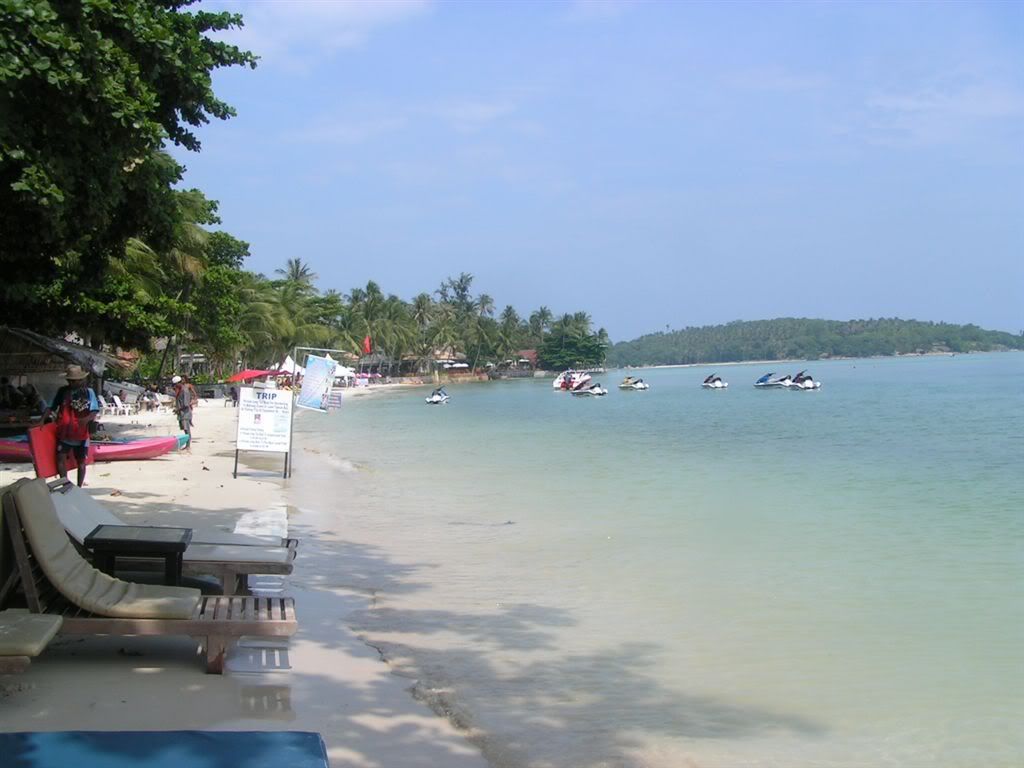 The beach.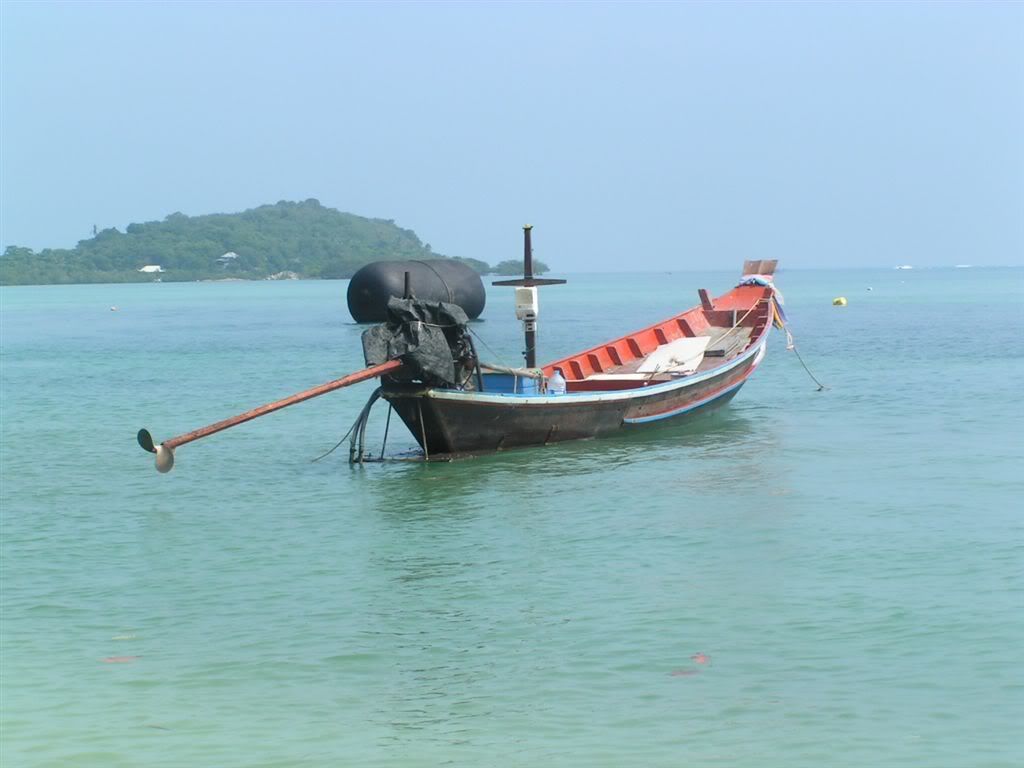 A boat.
At three o clock, local
time our driver came to pick up us, and ten minutes later we were at the
airport. He wanted 400 bath for that short drive, a bit of overprice huh? Well, check-in went on good,
we got seats on the 7th row. Samui airport is owned by Bangkok Airways, and they provide free beverages
and sweets in their "departure lounge" for free. That's one of a kind I think. The departure
area was near the runway, and suddenly I heard a reversing 717! I took up my
camera i like a half second, took some pictures and was happy. The aircraft did land on runway 35, and
the terminal was at the edge of runway 17. I started playing Tetris on my cellphone, thinking that "It
should not land any aircraft now, and they are using rwy 35.. I don't need to be ready
with my camera" And, of course, when I thought that I heard a noise of jet
engines, and I saw a Bangkok Air 717 land on runway 17, like hundred meters in front of me. And I didn't
have my camera ready. Yes, long live... After thinking several censured words, I calmed down. This
wasn't the whole life. After halfanhour they started boarding in their small funny busses, and
eventually I sat in my seat, 7A.
Goodbye..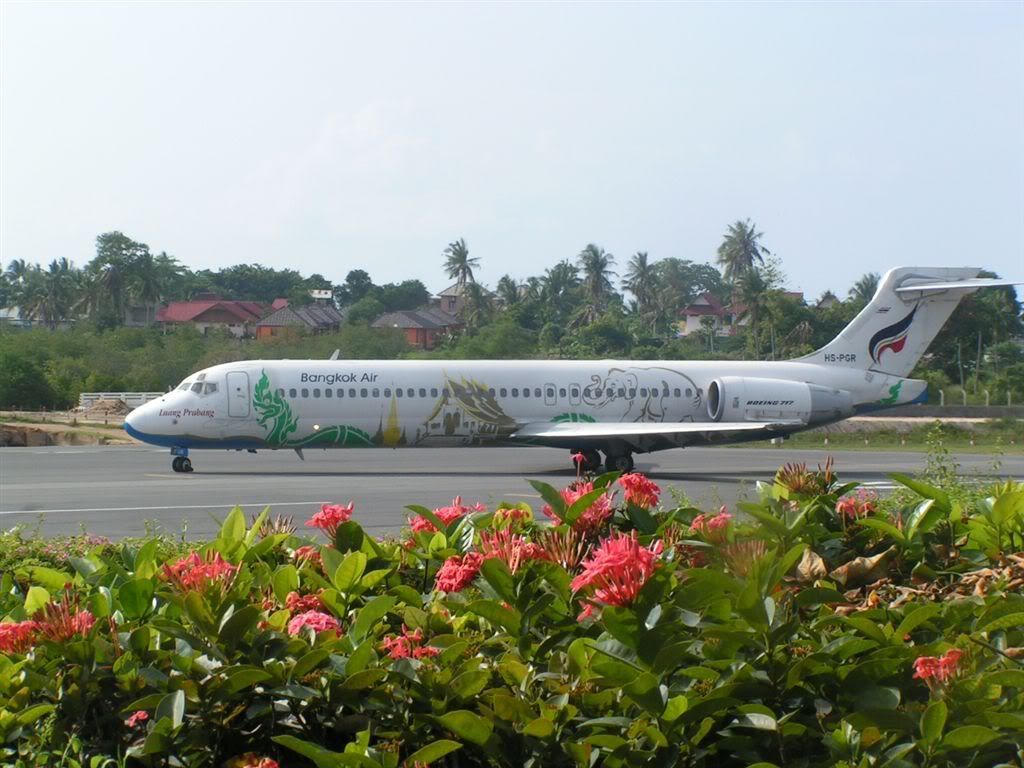 Flowers and a 717.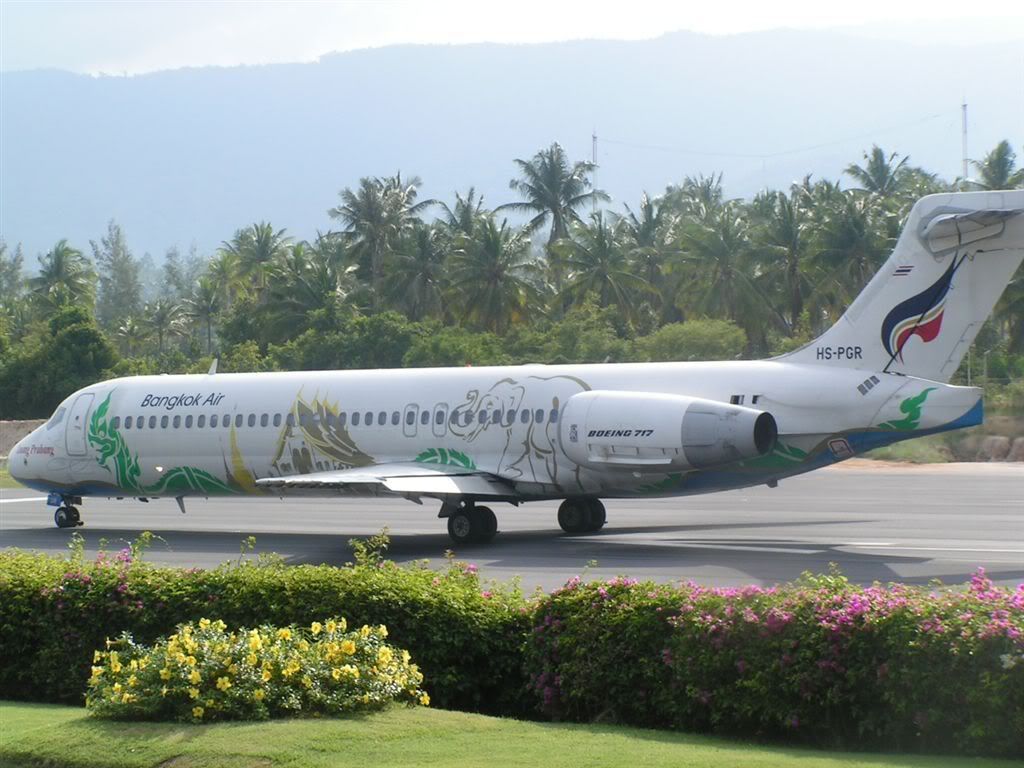 More 717.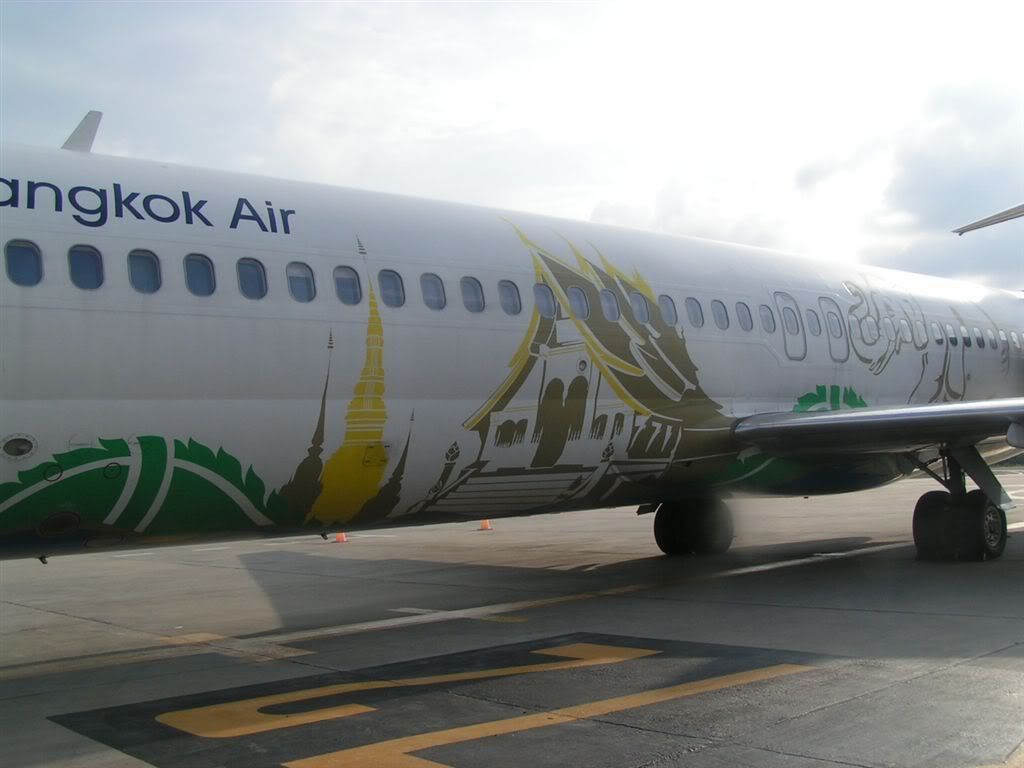 Closeup.
Fourth leg
Carrier; Bangkok Airways ( PG158 )
Route; Samui-BKK
Aircraft; Boeing 717
Registration; HS-PGR
Departure; 1630 CET+5 (1640)
Arrival; 1730 CET+5 (1731)
Class; Economy
Seat; 7 A
Load; approx 99%
Start; Rwy 35
Land; Rwy 01L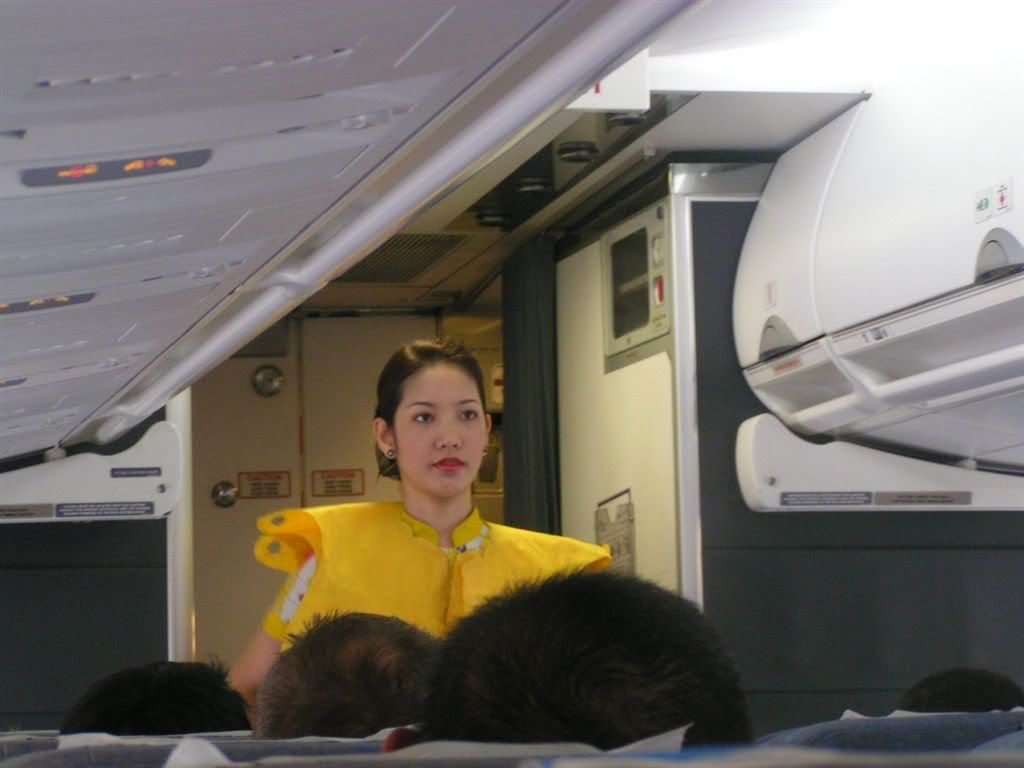 They do it live here.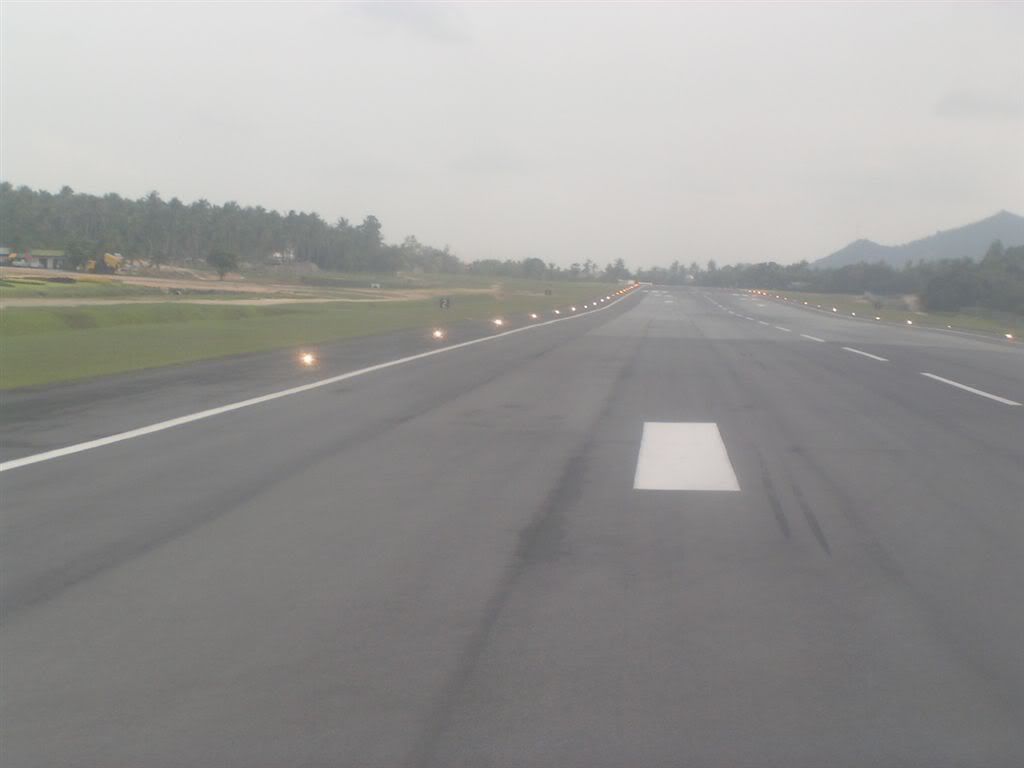 Not too long..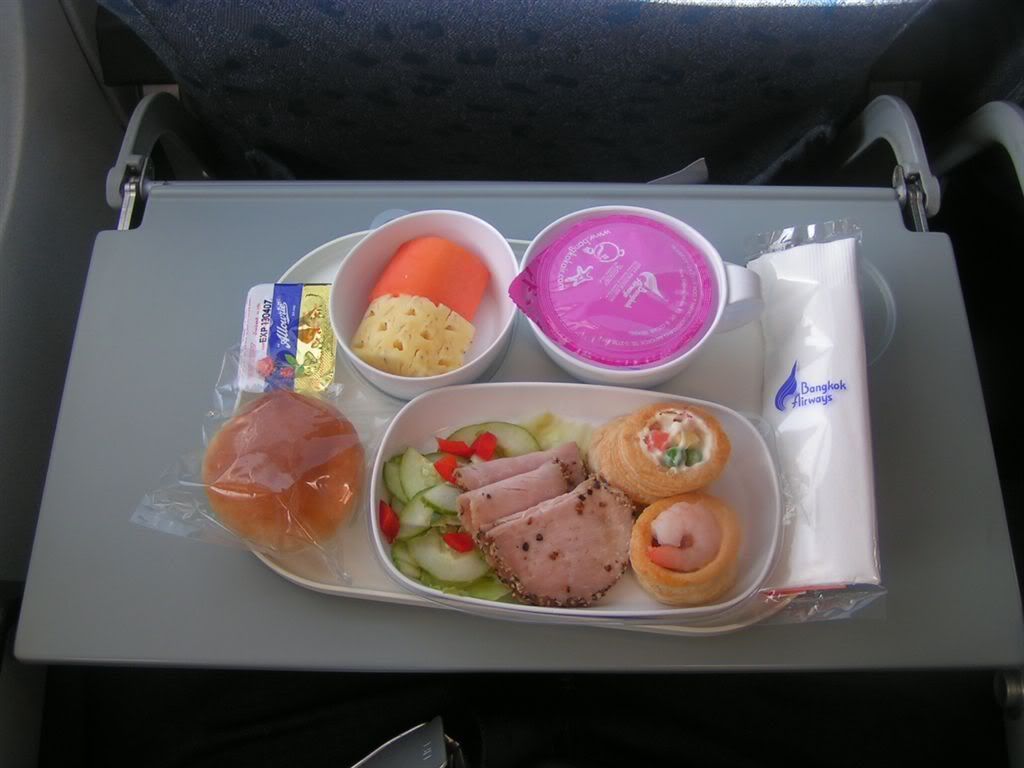 Did taste OK.
The aircraft was 99%full, and had a lot of luggage, so the takeoff were one
of a kind. The meal service on Bangkok air is the best I've experienced on a
45 minute flight. They have full meals, and serve beverages (only coffee, tea and OJ) for free. Hey, you
heard that SK?! After like 30 minutes we landed on runway 01R at Bangkok Suvarnabhumi airport. We parked
at the ramp near concourse A, and I got on the second and last bus to the main terminal. When we waited
for our luggage, a gang of maybe 20 happy Aussies stood near me. They seemed to have very fun, and
probably were traveling with the Qantas Jumbo then. One of them had footprints and scars in his face,
and was very quiet. He imitated some person stamping on the floor. Maybe he got in trouble on Samui?
After we got our bags we headed to the check-in area. And surprisingly no-one asked us about taxi!
That's strange in Thailand. When we stood outside the check-in area wathing people get out of their cars
with luggage, suddenly two motorcycle taxis arrived with one people each. This must be the funniest
thing I've seen in Thailand! They laughed a lot when they
paid the taxi drivers, and walked in to the terminal. I took a fast and blurry picture of them, that
will be a great souvenir.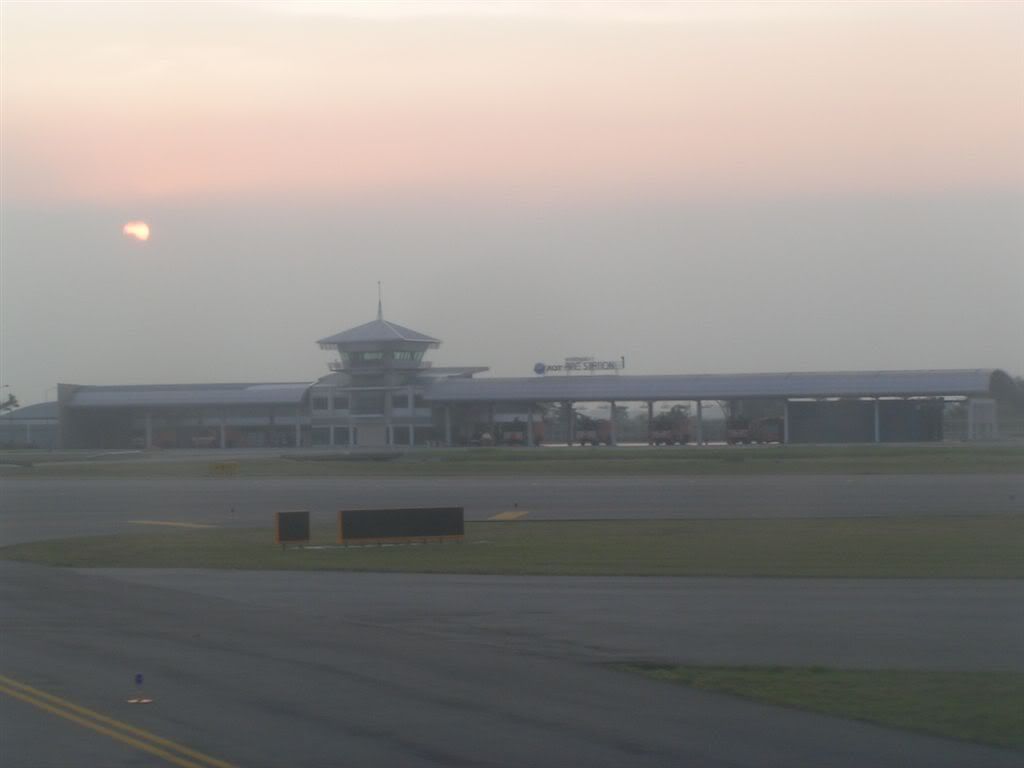 Firestation at evening.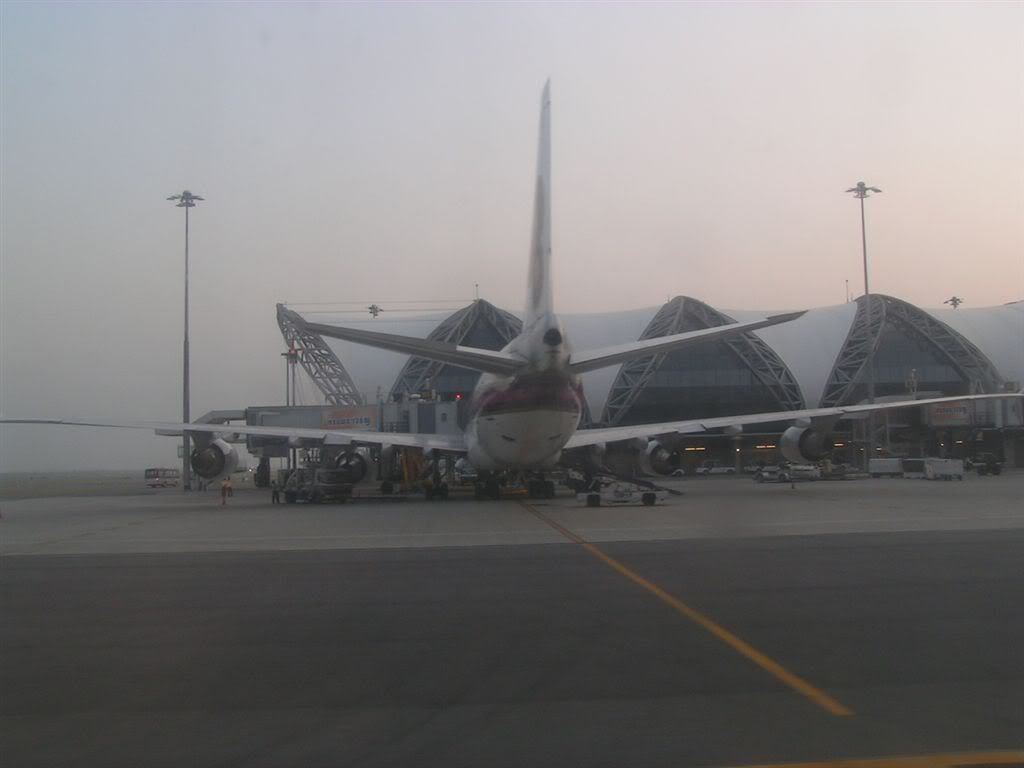 Where are you going?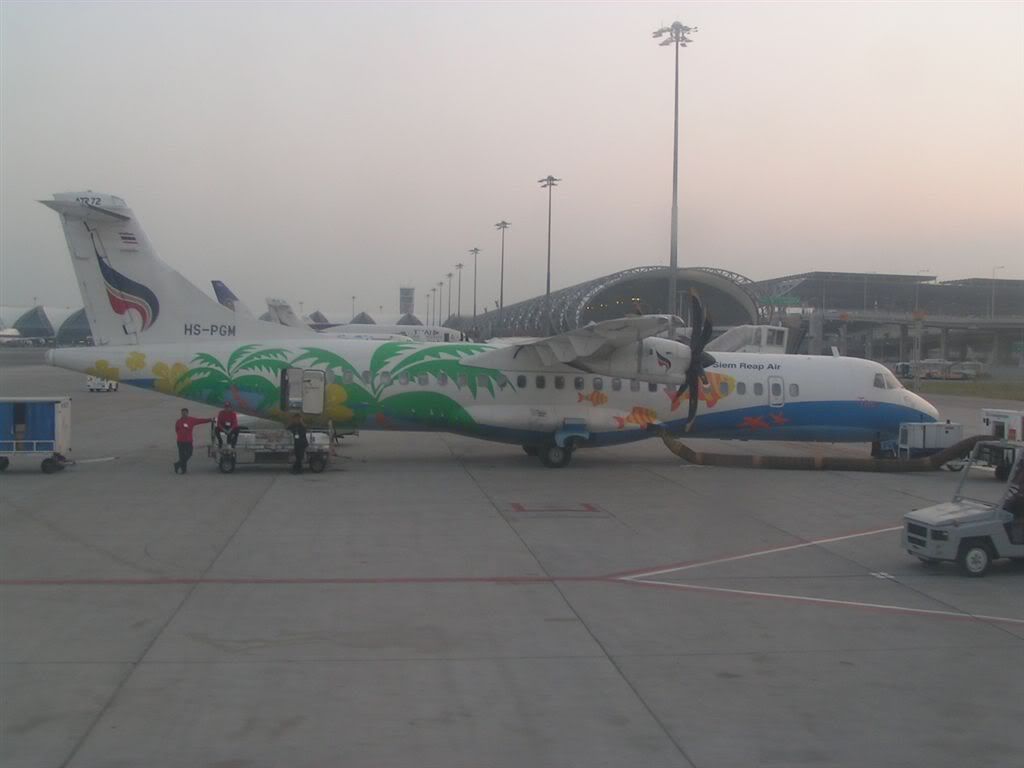 We stood next to an ATR.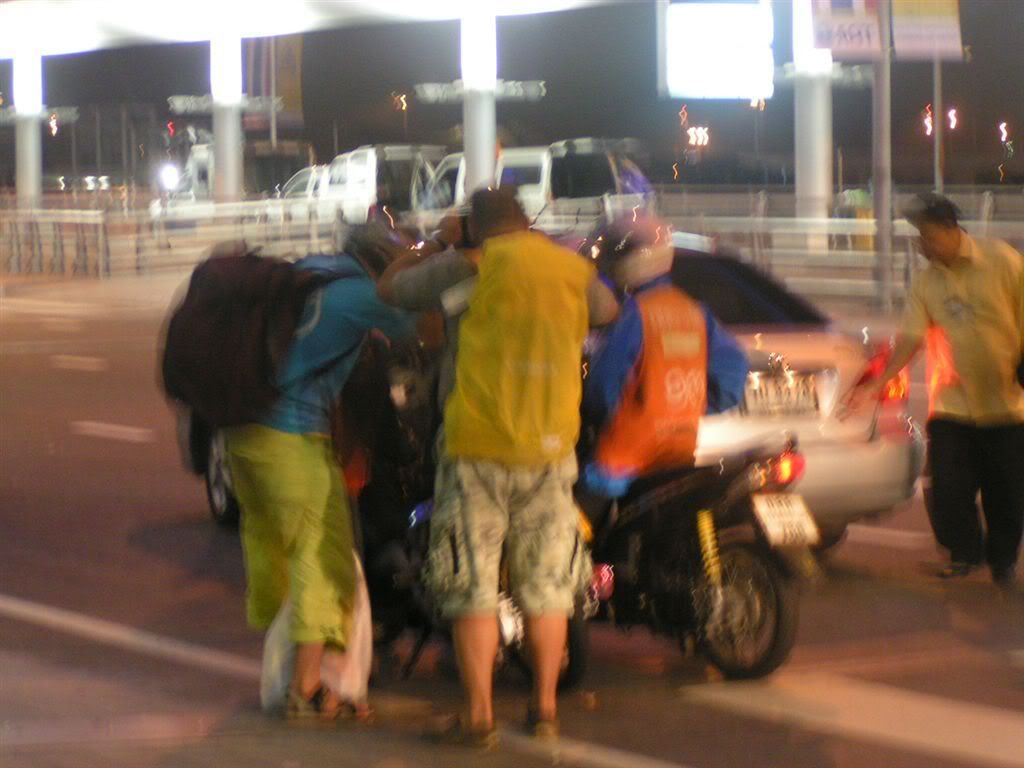 Are you saving for the ticket home?
0111, CET+6, 31th of October (onboard the 340)
After like half an hour we headed to the check-in, they only had one desk
open ATM. We got seats at once! Great for us who travels non-rev. Seat 8D
and E, Business class =) Okay, now we had like four hours to spend. The immigration line was very slow,
or, I had like one couple in front of me, and they had some kind of problems. They didn't fill in the
departure card, and was filling in that at the passport-check desk. Yeah, long live. After we had change
our line like three times we eventually were in the transit area. And, what a big airport! It's easy to
get lost. After shopping and buying whisky and chocolate to friends, neighbours and to my dad we headed
towards the
C concourse. "It's the star alliance concourse, SK are departing from there", I said. When I saw that
our flight was departing from gate E3 (other side
of the whole terminal = 30min walk) I didn't say anything more. I was just
very quiet and didn't stuck up to my mother for at least one hour. After we were at our gate I read the
Swedish newspaper "Aftonbladet", and my hockeyteam of my hearth, Modo hockey (may Forsbergs peace be
upon them) had been playing against Farjestad (everyone hates them..) and when Modo
had 2-0 against Farjestad, and it was 7.13 left of the third period SOS
alarm had got a bomb threat against Lofbergs Lila Arena (Farjestads "arena"). They had to cancel the
game, and evacuate the whole arena. The rest of the game is going to be played when the teams met next
time. Looks like some supporter of Farjestad has weak nerves, and don't like to see their
weak team lose against Powerfully Modo. Hehehe.... Yeah, back to the report.
I eventually saw a VERY dirty 340 being towed to our gate. 40minutes prior departure the boarding
started, and they announced "business class passengers first" and when I walked past all of the economy
passengers my eyes stared with the words; "Haha, you worker-class scum! Feel the power of
capitalism!" Yeah, and I was traveling Non rev. Whatever, I got to my seat,
got a glass of Champagne, watched the 340 do a 55second start and lift-up due to a round earth, and
after the seatbelt sign got of I bringed up my laptop and started to surf on Anet. Long live SK's Wlan!
Fift leg
Carrier; Scandinavian Airlines SAS ( SK973 )
Route; BKK-CPH
Aircraft; Airbus 340-300
Registration; LN-RKG
Departure; 0025 CET+5 (0029)
Arrival; 0615 CET (0607)
Class; Business
Seat; 8 D
Load; approx 70-80%
Start; Rwy 01L, 55 sec on the runway
Land; Rwy 22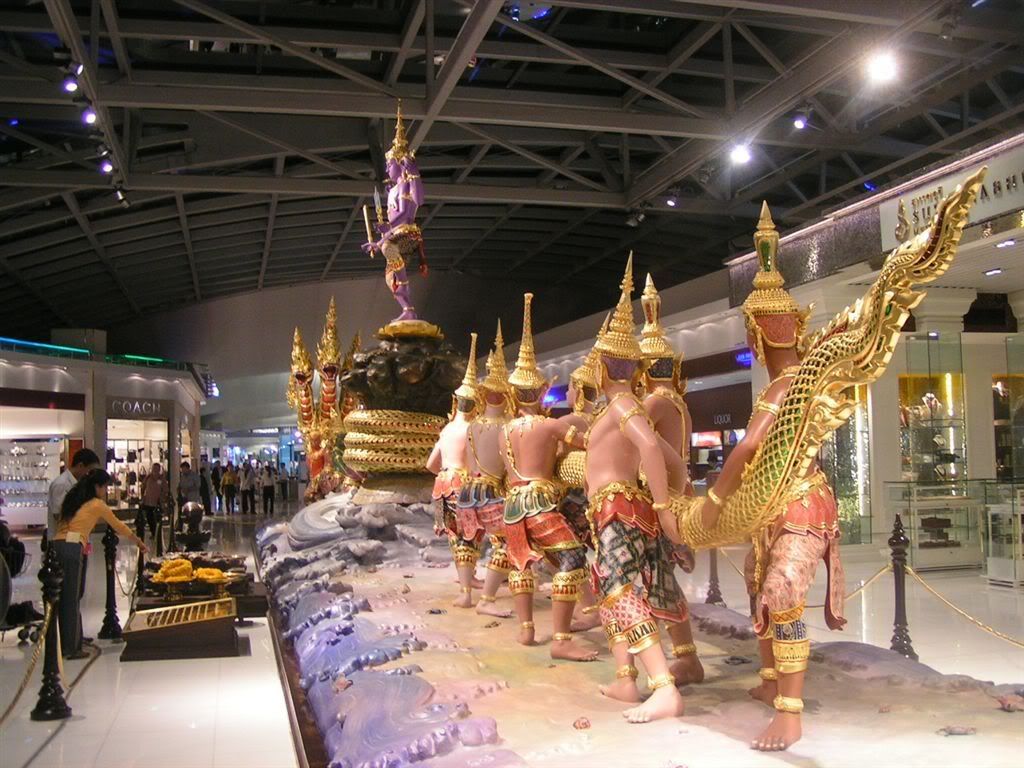 Interesting..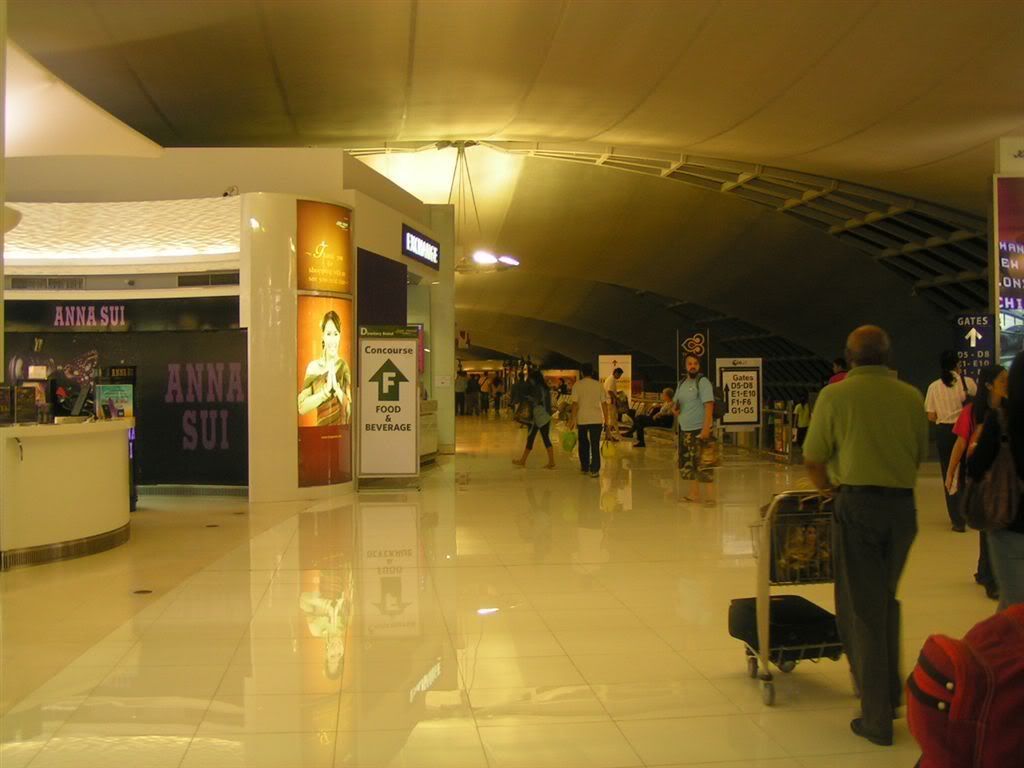 A part of the terminal.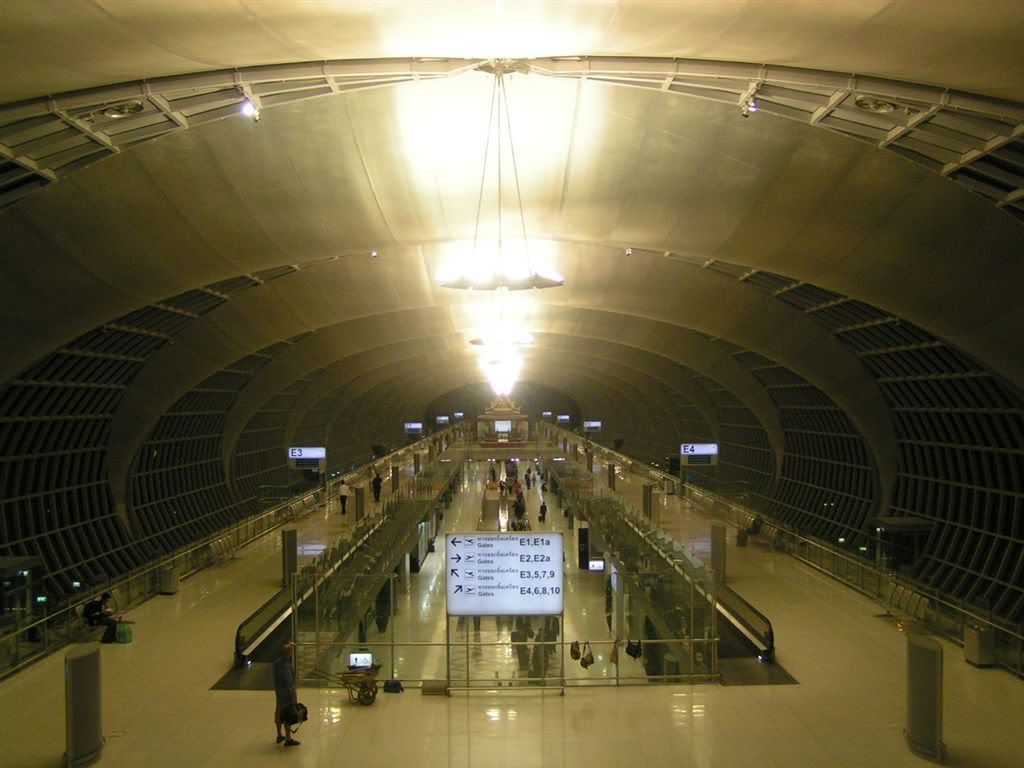 We talk space here.
Business seats.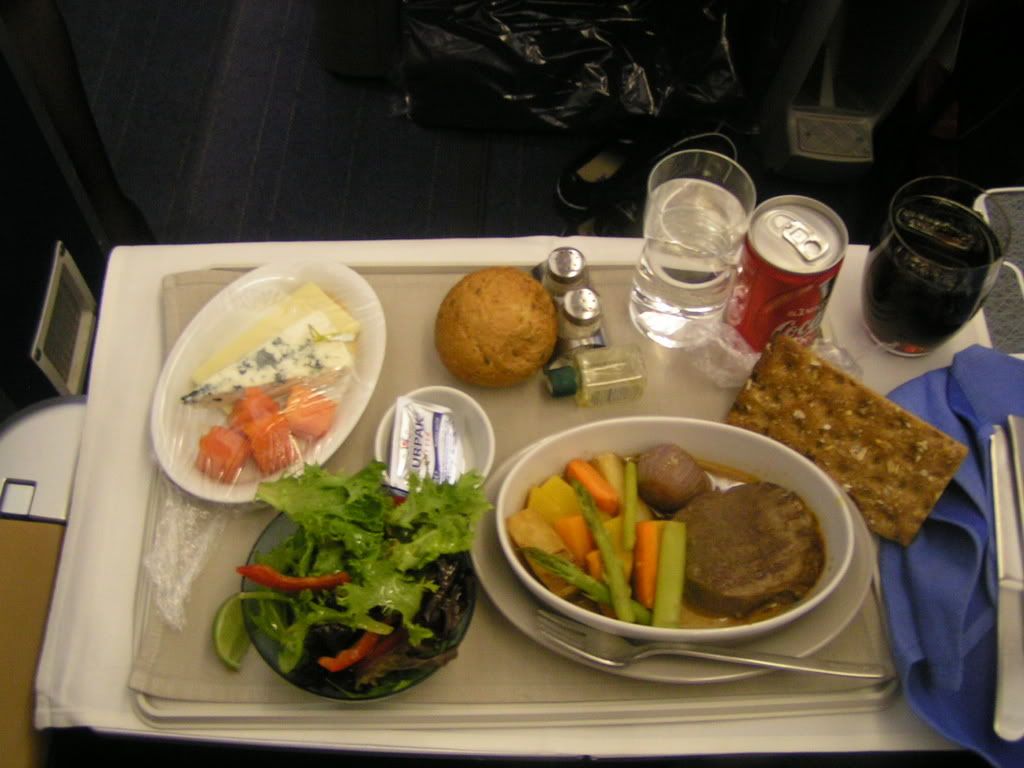 Dinner. And Knaeckebroed!
Dessert and Baileys.
Food were given out after one hour. I had some beef, and it tasted good.
After two hours I got very tired, and felt asleep. After four hours of sleeping, I woke up and felt that
something was not right. My stomach was very , and I headed up to the toilet. Well, there I realised
that I've eaten something very bad that my body wanted out as fast as possible. You know what I mean. I
don't know where I ate something bad, but now it was to late. When they served breakfast I just drank
the Orange Juice, and almost had a throw up when I saw the breakfast, that consists of omelette and
sausage. I really was in a bad shape. After some hard hours we landed. It was very dark, and the captain
did a good job. They showed the landing on screens, and it looked great. The landing was very hard, and
the nose-wheel was touching the ground hard too. We did dock at gate C40, and some minutes earlier a
TG744 had come to CPH to. But the immigration lines were not very long. The man in the immigration
office just said "Yes" with a very big danish accent when I
just showed the passport almost without opening it. Well, I didn't look suspicious I presume.. Well, our
bags were handled out without problem, and my computer case did not get any damage on the long flight.
When we passed the customs they wanted to check our luggage. NO!!! I thought, since
I had some secret.... things in my bag. But they just asked us if we had
cigarettes, and we didn't. Phew, no problem this time. At this time I was very tired, and had fever. We
checked in on SK's automatic check-in automates, got seats 30E and F. Next to the MD80 engines I later
found out. In to the transit area, up to the servisair lounge to get a lot of water and Pepsi.
After an hour we headed to the gate, which was B3. The aircraft next to the
gate was SAS A319 Retrojet. That was a very nice surplice, and I got some pictures of it too. We boarded
after a while, and had five aircrafts waiting for takeoff.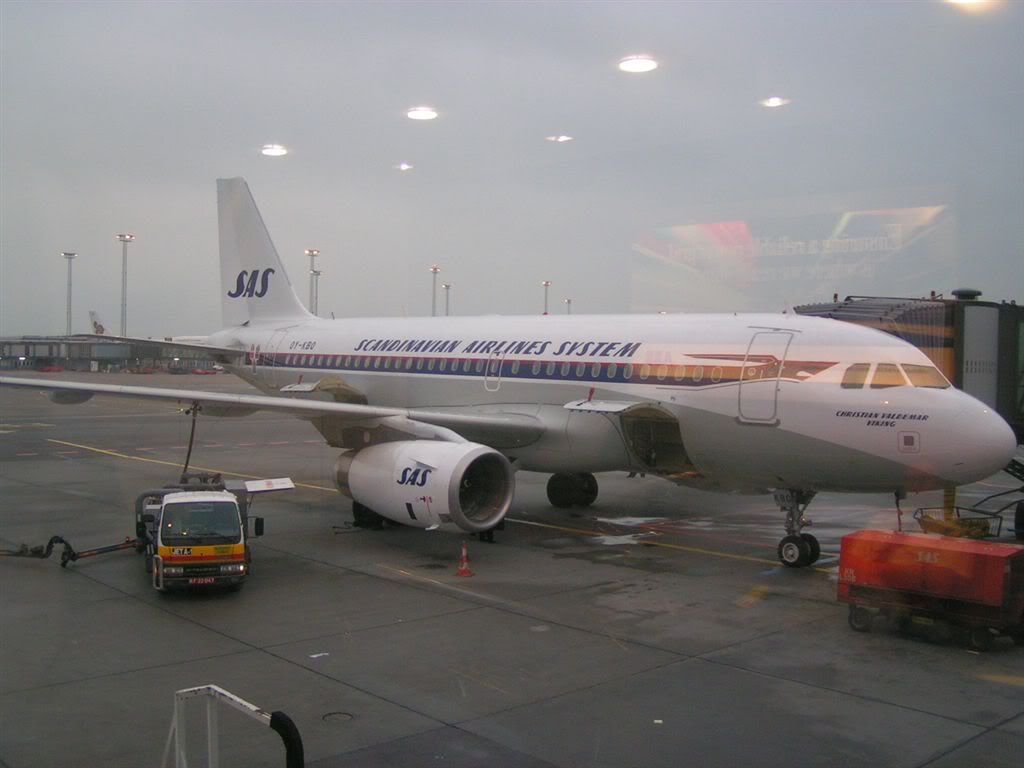 Retrojet.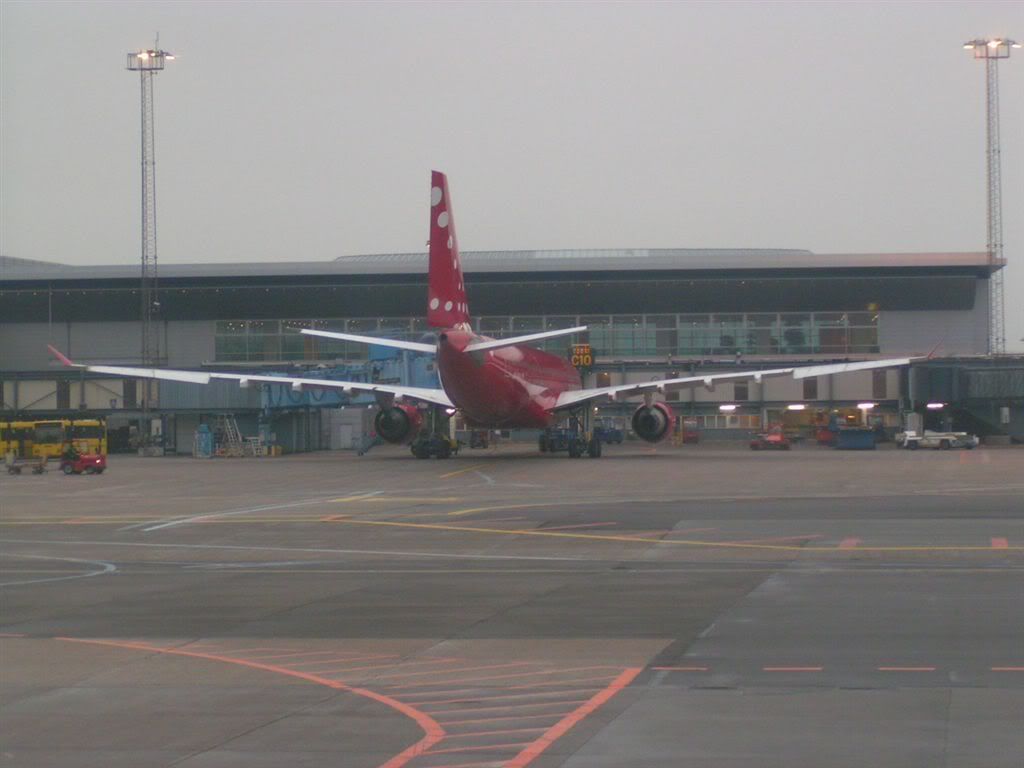 Air Greenland.
Sixth leg
Carrier; Scandinavian Airlines SAS
Route; CPH-ARN
Aircraft; MD 80
Registration;
Departure; 0825 CET (0840)
Arrival; 0925 CET+5 (0930)
Class; Economy
Seat; 30F
Load; approx 95%
Start; Rwy 22R
Land; Rwy 01R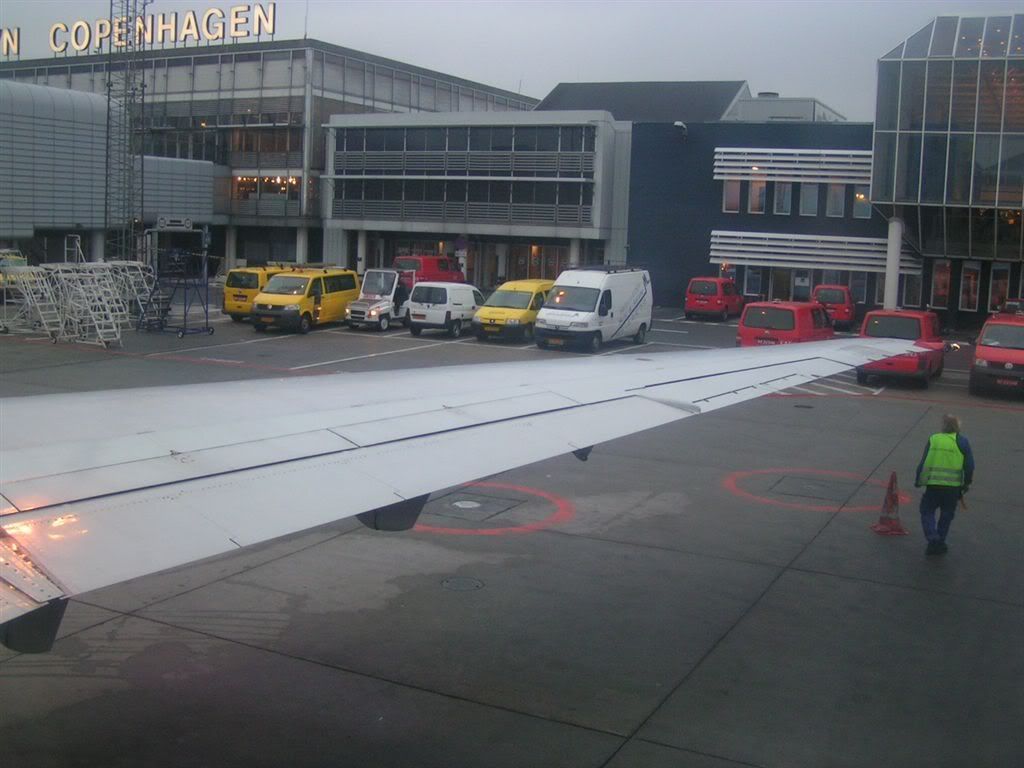 MD80 wing.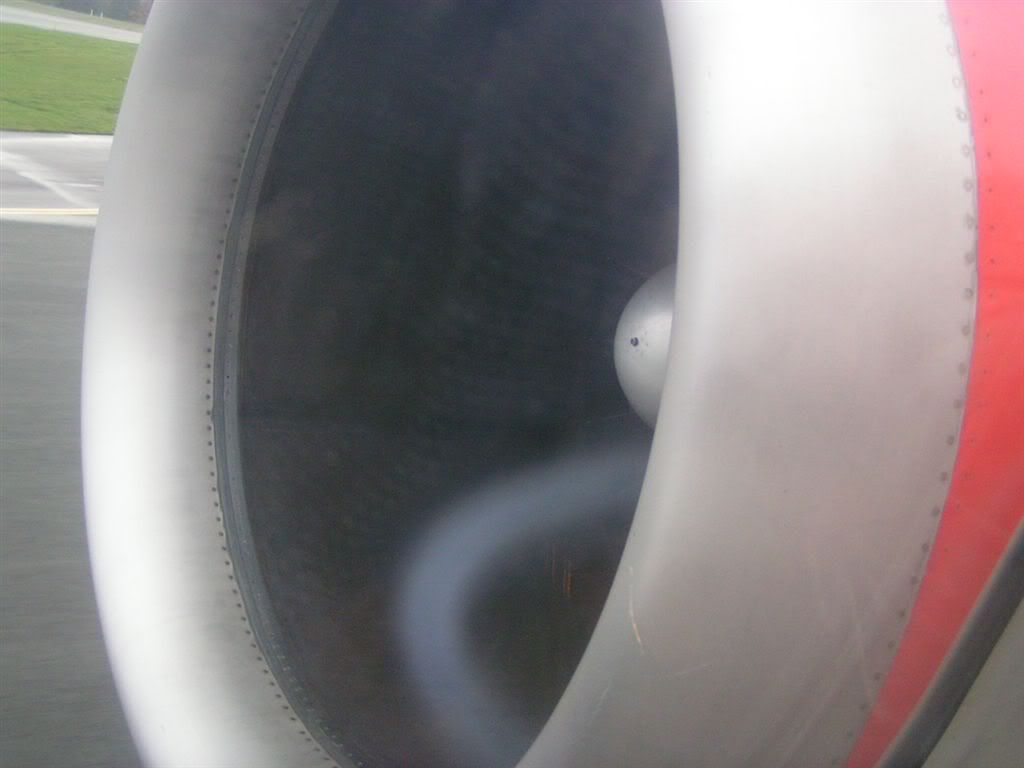 The engine want air.