I've been wanting to do a report on this one for awhile now, but am just getting around to it.
Recently I took Amtrak's Sunset Limited, train #1, from New Orleans to Los Angeles. I flew back to New Orleans on United...well, it was really Ted if you want to be picky.
All the pics except for one have to do with the rail portion of the trip since my flight back departed LAX at 6:30pm and well, it was night by then. Also, my apologies in advance, since some of them are kind of blurry due to the train window.
So sit back, relax, and enjoy this great American rail journey...and the flight back home.
Amtrak #1
Sunset Limited
NOL-LAX
Superliner Roomette
This train no longer operates to/from Orlando since Katrina, so New Orleans is once again the Eastern home for this train, which it had been for 100 years before Amtrak expanded service East of New Orleans in 1993. Indeed, the Sunset route is the oldest in the Amtrak system.
The Sunset Limited, historically, has been notorious for massive delays, thanks to its running on mostly Union Pacific track. Only a short portion, New Orleans to Lake Charles, is run on non-UP track (BNSF). This trip though, as many have been recently, was just about on-time...only twenty minutes behind schedule. In fact we would have been EARLY into LAX but we had to hold for a bit maybe 1/2 mile from the station waiting on a track assignment. Regardless, it was very admirable timekeeping this go around.
The service was very friendly, as is usually the case. Of course, with the new budget cuts imposed, the service in the Dining Car (which was usually full) takes longer since there is now only one waiter and one cook...as opposed to two of each not too long ago. Also, the food is now prepared OFF the train, and is simply reheated on the train in convection ovens. Amtrak calls this "Simplified Dining Service", and it is generally hit or miss in terms of quality. Everything was acceptable this go around...I had no real complaints.
I have to give Amtrak credit for the totally refurbished Sightseer Lounge car. It was beautiful...newer, more comfortable seats, new booth seating on the upper level, new tables upstairs, etc. The new lounges are, for now, only running on the Empire Builder and Sunset Limited. All Superliner-equipped trains will have them eventually.
The train itself was in good working order. Leaving NOL, the train was comprised of the following:
2 P42 locomotives
1 baggage car
1 Superliner Transition Sleeper
1 Superliner Sleeping Car
1 Superliner Dining Car
1 Superliner Sightseer Lounge
2 Superliner Coaches
In San Antonio the train picked up one additional Coach and Sleeping Car from the Texas Eagle.
About 40 coach passengers got on in New Orleans, in addition to about 15 Sleeping Car passengers, a decent load for a midweek day in a slow travel period. The train slowly filled up more and more on the way and, by the time we arrived LAX, the Sleeping Cars were 90% full and i'd venture to say that they had about 120 passengers in Coach. Not a terrible load at all.
All in all, it was an excellent, relaxing trip. Long distance rail travel can be an endurance test for many, but it is always a great experience for me. I just hope congress continues to support Amtrak. I wish all the people who say that Amtrak long distance trains should be discontinued would hop on board trains like the Sunset Limited and see how many people board trains in towns like New Iberia, LA....Del Rio, TX...Alpine, TX...Deming, NM...etc. Small communities depend on Amtrak in many instances. Ok, enough ranting.
Now, a quick summary of the flight back home, before I present the pictures.
The flight back home was a typical domestic segment on United/Ted. 3h25 minute flying time, and the flight was 99% full...just a few middle seats open in Economy Plus. "Pirates of the Caribbean 2" was shown, which was pretty entertaining. Service was, well, minimal....one beverage service and one round of coffee, buy on board snack box offerings, and that's it. I was up in seat 3F so I had some good legroom at least. I commend UA for jumping right back into LAX-MSY, even though the seasonal introduction of Ted in the market is a definite service downgrade from UA-proper. Hopefully, when mainline returns next month, it'll stay for good.
Picture time!
1) Boarding in New Orleans. Train #1 (Sunset Limited) on the left. Train #58 (City of New Orleans) on the right.
2) Train 58, on the left, departs daily for Chicago @ 1:45pm.
3) Corridor of my Superliner Sleeping Car.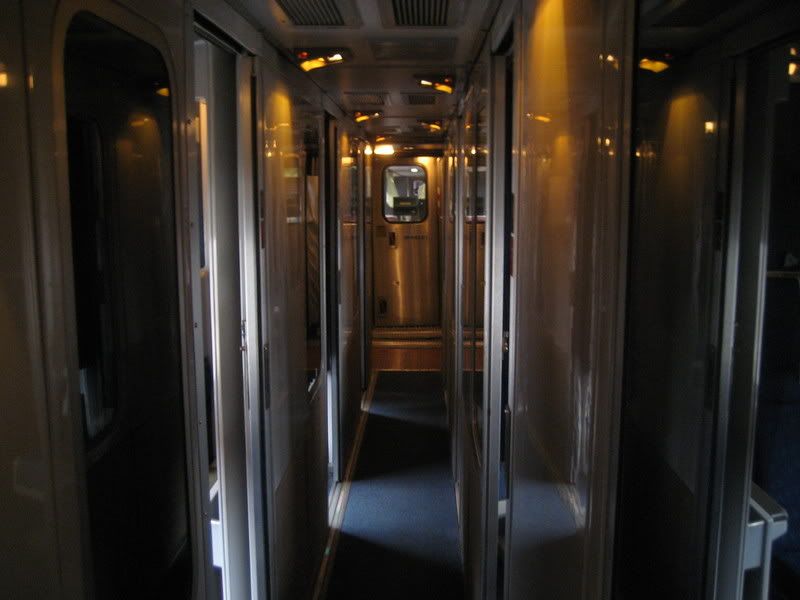 4) Amtrak's coach yards as we pull out of NOL.
5) Amtrak's NOL engine shop.
6) This neighborhood got about five feet of water after Katrina and is still basically abandoned.
7) Fifteen minutes after leaving the station, we start our climb over the 4.4 mile Huey P. Long bridge, which spans the Mississippi River.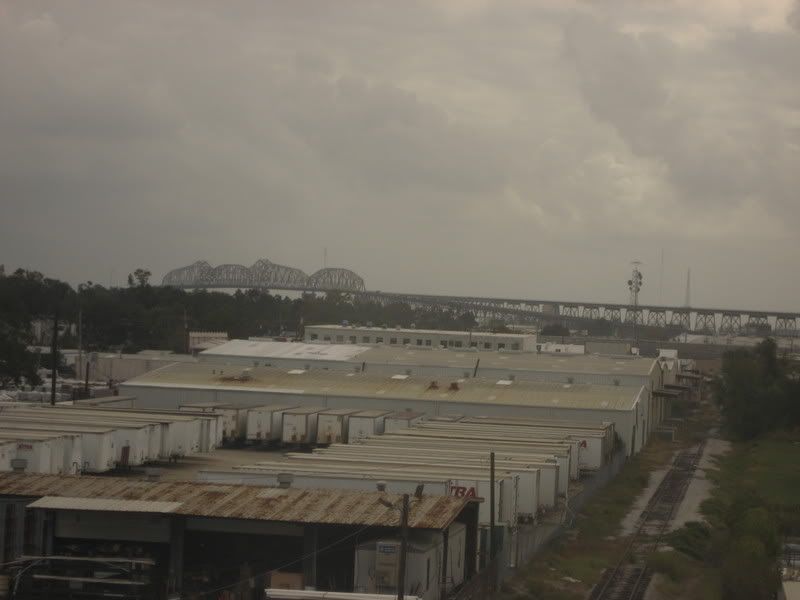 8) The bridge was built in the 1930's and still sees dozens of trains per day.
9) Approaching the superstructure crossing the river.
10) A levee that didn't fail.
11) It's always interesting crossing the bridge by car when a train passes.
12) Dreary shot of N.O skyline as we descend into Bayou country.
13) Bayou country.
14) Crossing the Atchafalaya River in Morgan City, LA.
15) A few boats.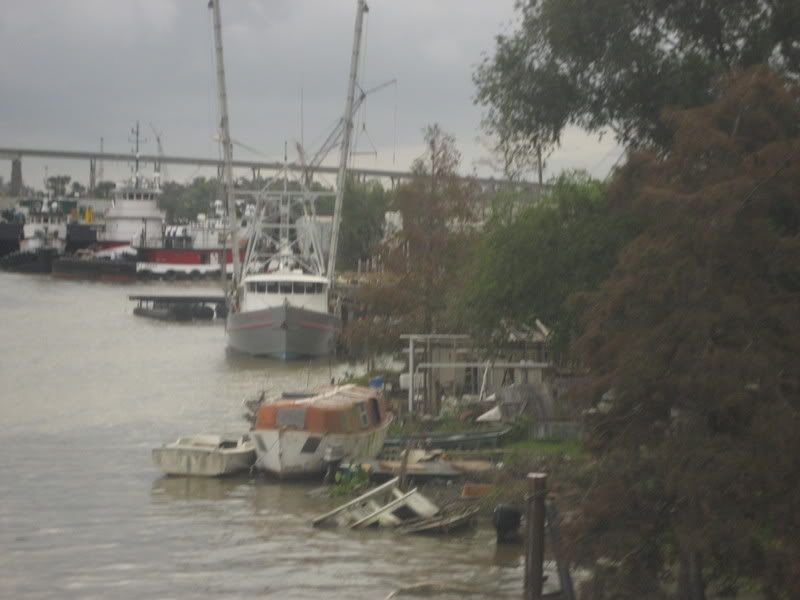 16) Rainy day in New Iberia, LA.
17) One of the many water crossings on the Sunset's route in Louisiana.
18) Oil rig waiting to be used.
19) Lafayette, LA station stop.
20) About twenty people boarded here, all in Coach.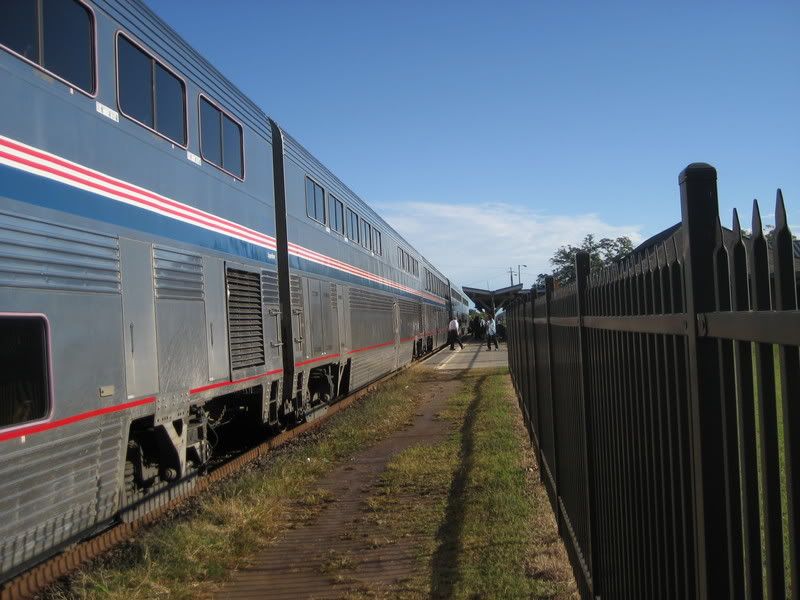 21) Totally refurbished Sightseer Lounge Car.
22) New booth seating on the upper level...very nice!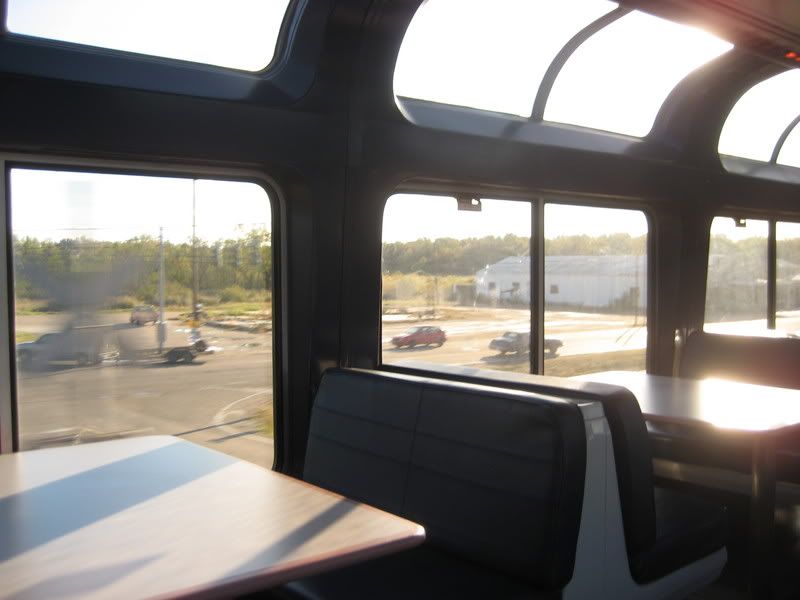 23) Soggy fields of Southwest Louisiana.
24) Relaxing in my Superliner Roomette.
25) A pretty large Rice mill in between Lafayette and Lake Charles.
26) more Rice mill...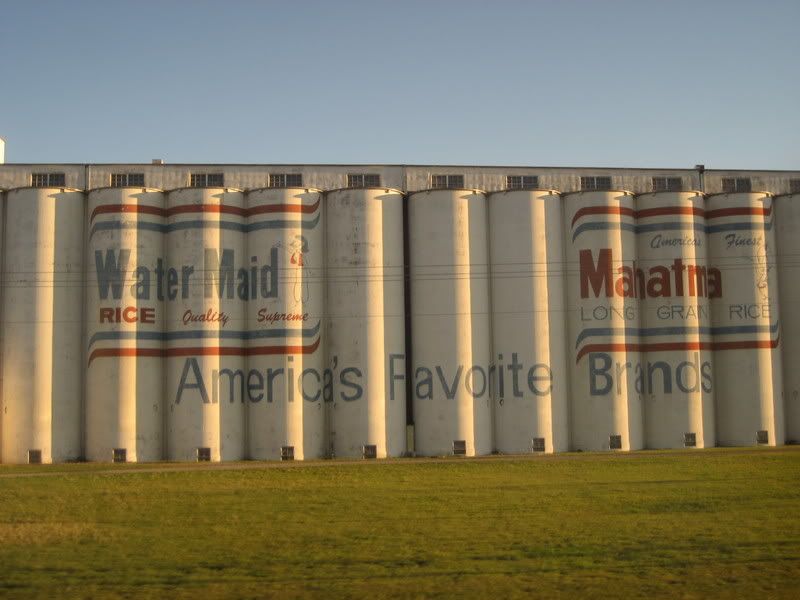 27) Sunset on the Sunset.
28) Dining Car before the crowd arrived.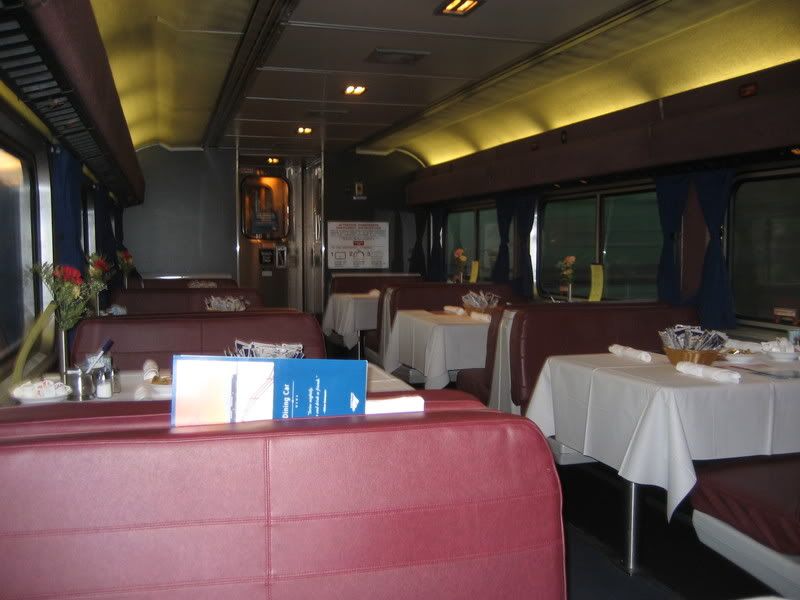 29) After a fairly restful sleep, I woke up to this scene, in between San Antonio and Del Rio, TX.
30) Approaching Del Rio.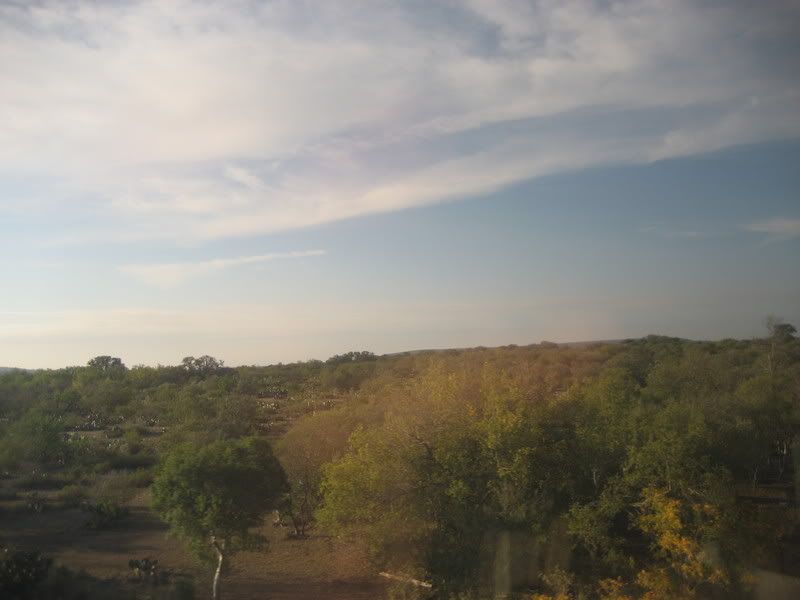 31) A small park in downtown Del Rio.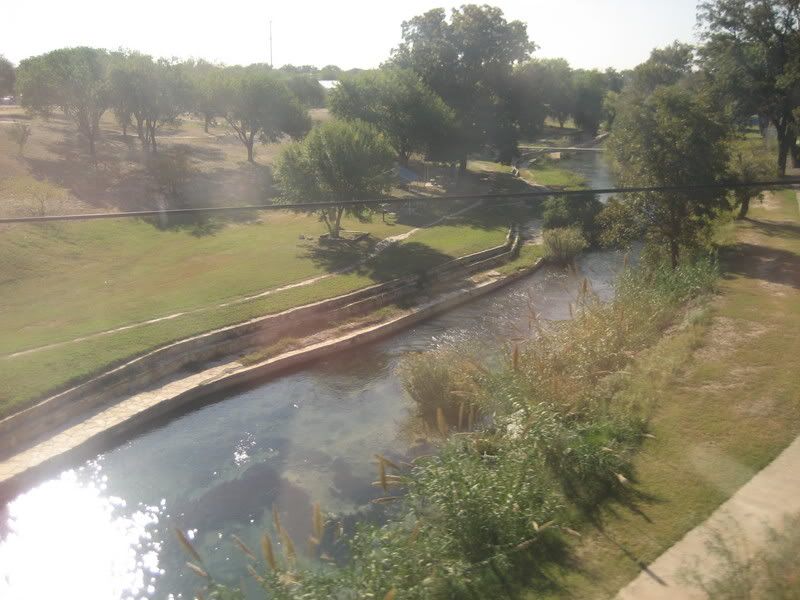 32) At the Del Rio station.
33) Gotta love those Superliner cars.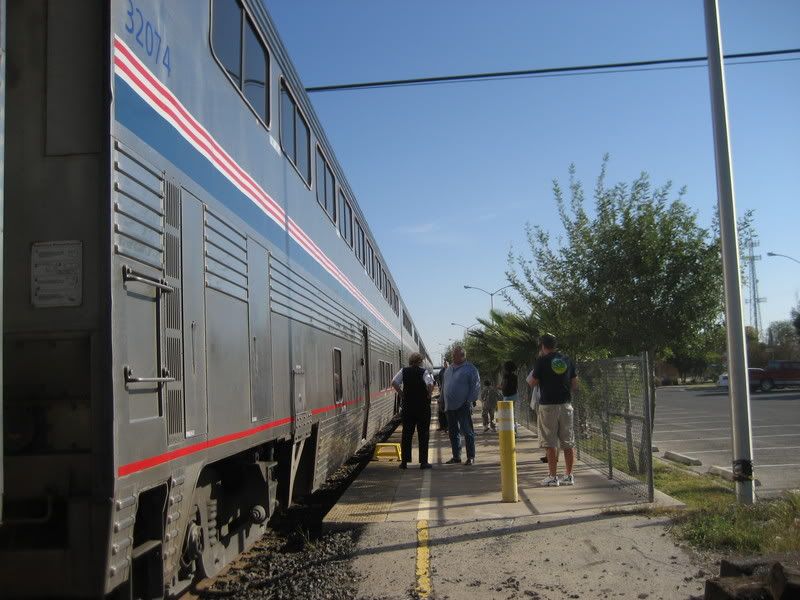 34) My home for 48 hours.
35) That's Mexico on the other side of the Rio Grande river.
36) The beautiful Lake Amistad.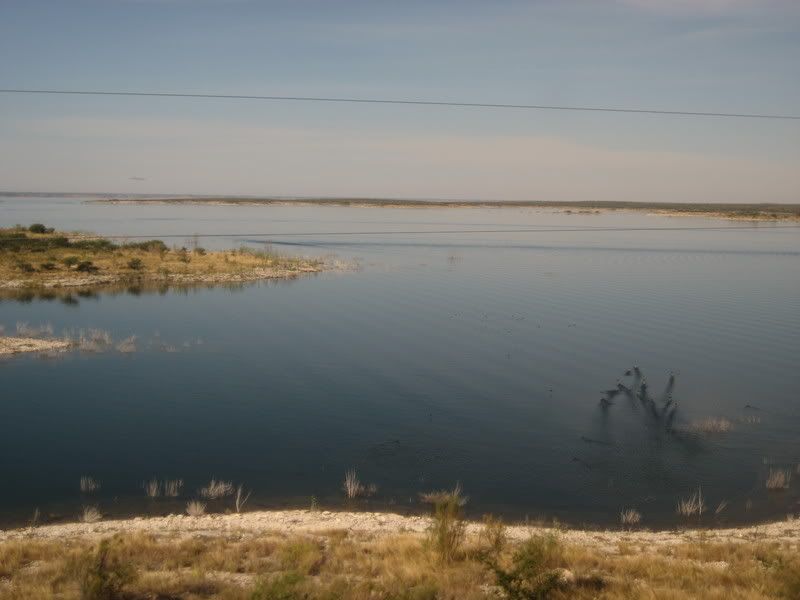 37) No, we didn't stop at this small town.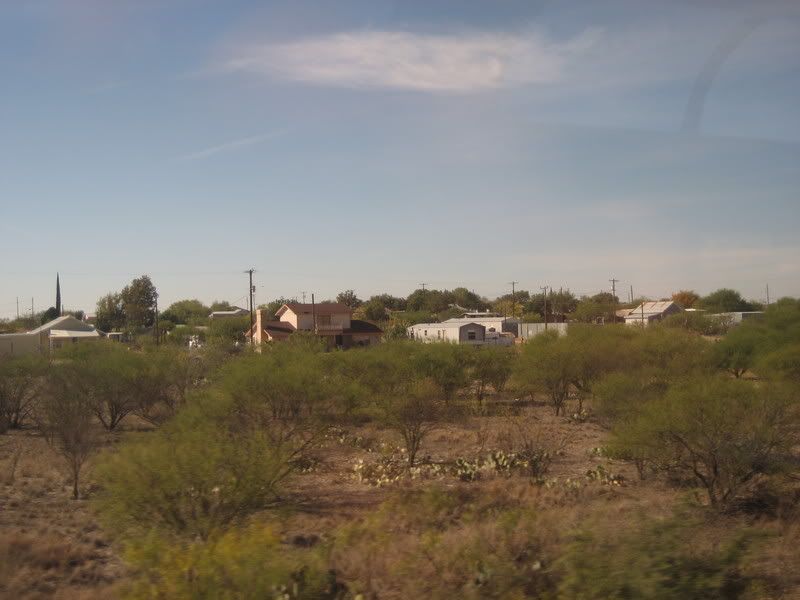 38) Getting ready to cross the Pecos River High Bridge.
39) The bridge is 280 feet high...about twice as high as the Huey P. Long bridge.
40) One more...beautiful, eh?
41) Eagle's Nest canyon, near Langtry, TX.
42) Beautiful landscape...to some people, pretty boring I would imagine.
43) View from the last car on the train.
44) Lots of interesting views along the Sunset route.
45) Getting ready to cross that old bridge.
46) That's Highway 90, which follows our route (for the most part) from New Orleans to El Paso.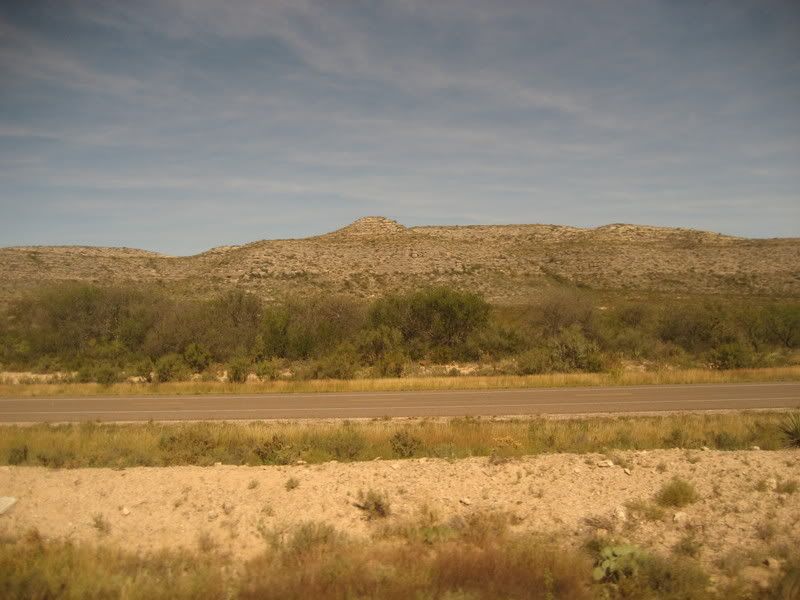 47) Alpine, TX.
48) Alpine's neat little station.
49) Mountain.
50) Those packages won't get there on time.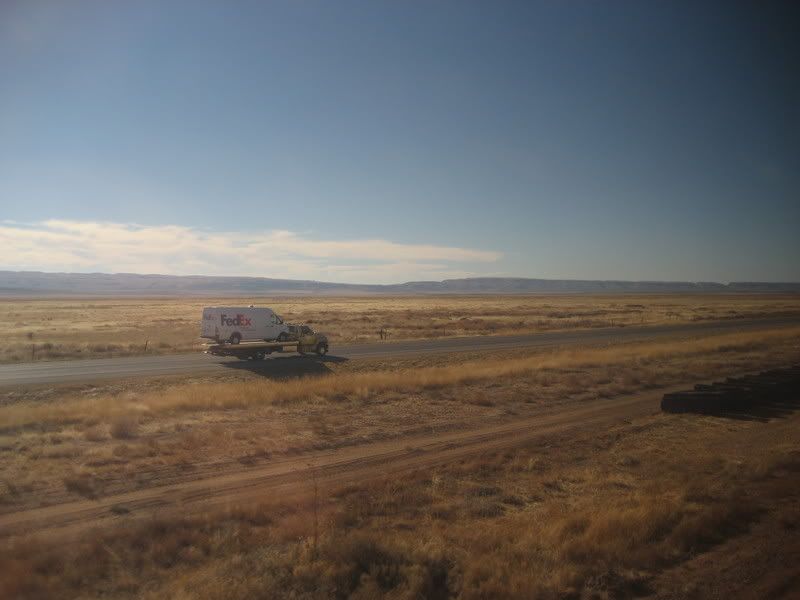 51) The top bunk can be a tight fit some some people.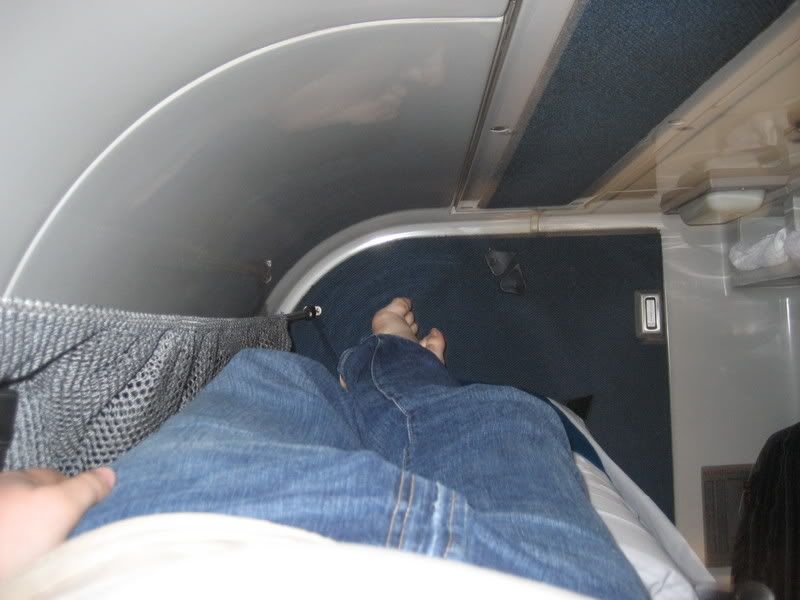 52) In between Alpine and El Paso.
53) Sunset #2.
54) The beautiful El Paso train station.
55) Unloading baggage from the well-used Baggage Car.
56) Maybe two dozen people boarded here.
57) I woke up as we pulled into Palm Springs, CA. Here's a view of Palm Springs from the Dining Car window.
58) More Palm Springs...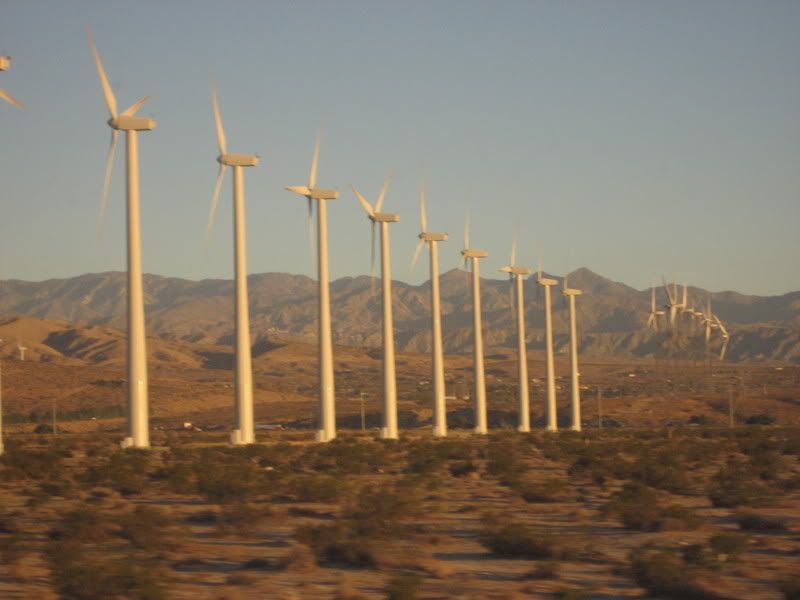 59) One of the two dozen or so UP frieghts that passed us along the route.
60) Orange groves in between Palm Springs and Ontario.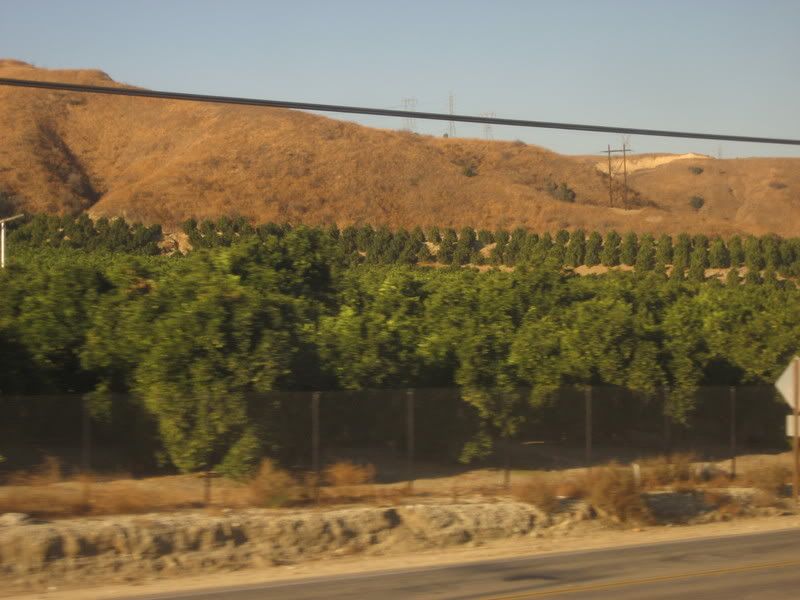 61) The huge Colton Yards near Ontario.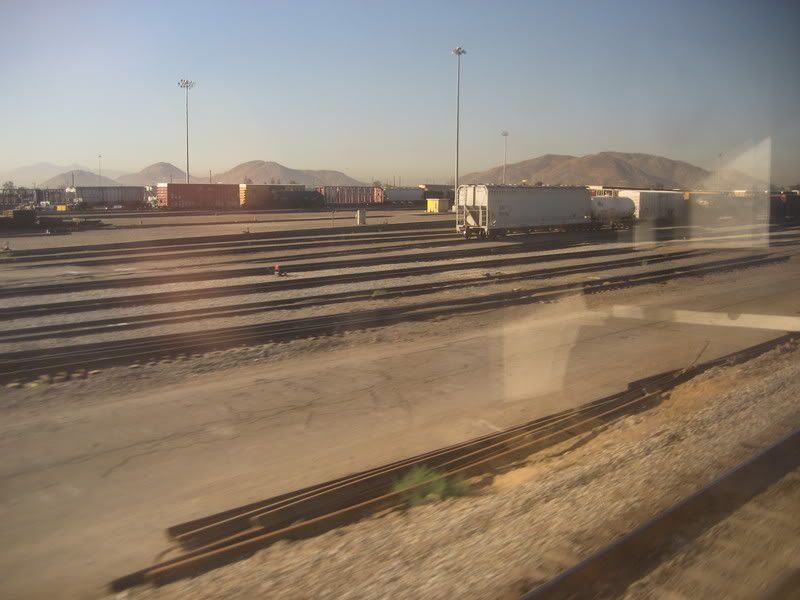 62) Ontario airport.
63) Pomona, CA.
64) Skyline of L.A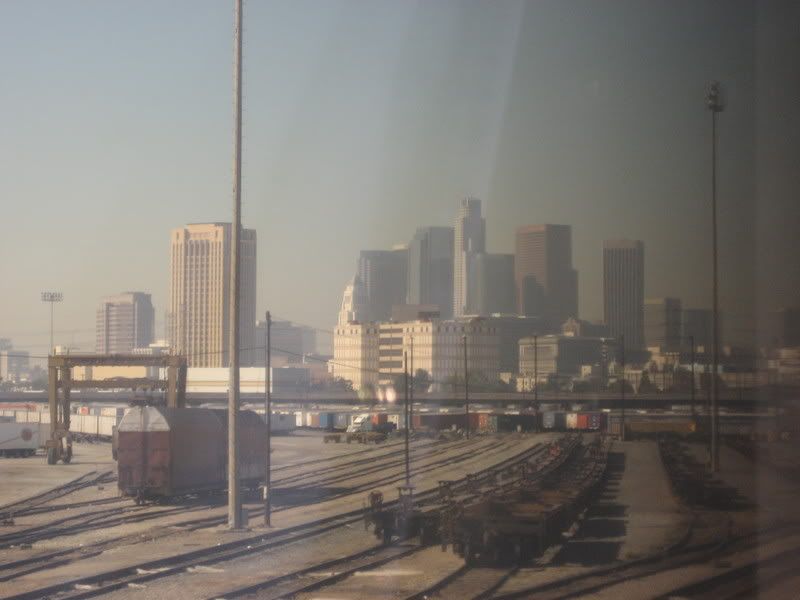 65) Head end of our train as we approach Union Station.
66) And the tail end...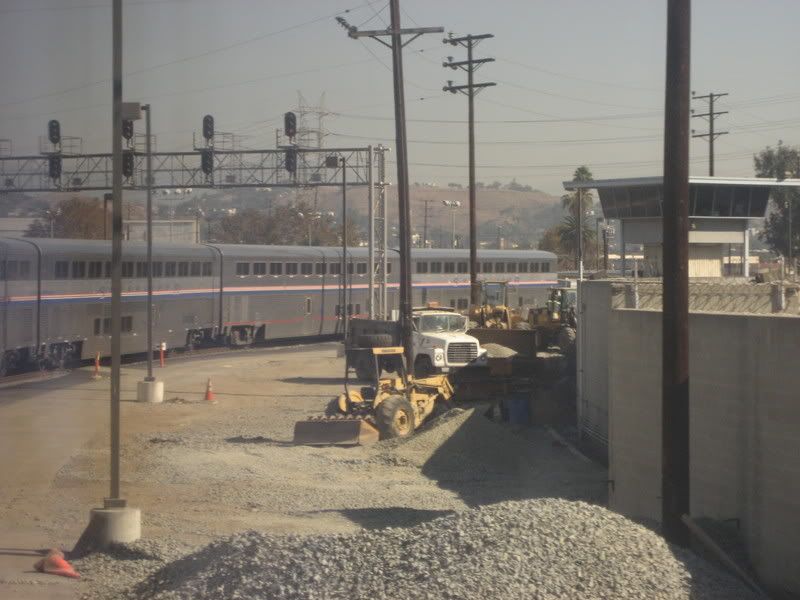 67) Stopped over the L.A River just a few hundred yards from the station.
68) We came to a stop just twenty minutes behind schedule. Here's what was pulling us.
69) The Coast Starlight departing for Seattle.
70) Every Sleeping Car room had one of these...also a postcard, timetable, and two bottles of water.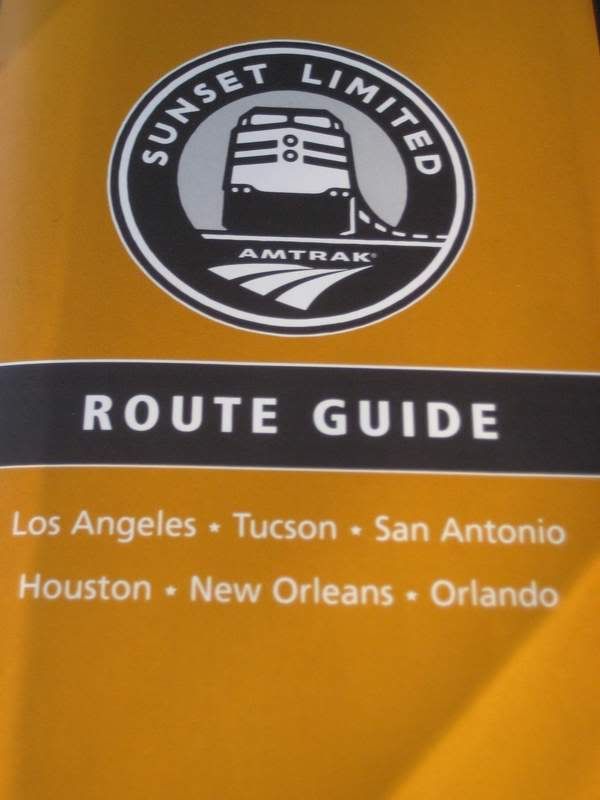 71) My only airplane picture of the trip...some classic international heavies at the TBIT.
Well that's all. I hope you guys got a real sense of what a long distance train trip is like. If you've never tried it before, give it a shot. You may like it.