Feedback always appreciated.
Trip Report: 016
Flight Category: Y-IMR (See Report End)
Date: 11-Oct-06
Dep.Arr.Time: 2350/0630+1/04:10hrs (Delayed by 03:00hrs)
Flight:
SINGAPORE AIRLINES SQ 415
, 1799 miles
Routing: CCU-SIN
Aircraft: 772
Seat: Raffles Business Class , 12A
I > Background:
Part of a month long amazing passage to India for a wedding, with some stops in Asia to see friends. Routing was CCS-MIA-EWR-SIN-CGK-SIN-CCU-DEL-CCU-BOM-CCU-IXZ-CCU-IXA-GAU-CCU-SIN-ICN-YYZ-EWR-CCS with a mix of J and Y class of travel. This focuses on the SQ J-class segment from CCU to SIN. Other trip reports for this trip will be EWR-SIN (SQ/J-Cabin), SIN-CGK (KI), CGK-SIN (VF), CCU-DEL (SG), DEL-CCU (IC), IXZ-CCU (DN), CCU-IXA (CD), IXA-GAU (IT), GAU-CCU (6E), and ICN-YYZ (AC/J-Cabin). I think these reports will be "firsts" for revenue flights on CD, IT (mainline) and 6E and cover IXA, GAU, IXZ-CCU, and CCU-DEL for the first time on Airliners.Net.
II > Pre-Flight:
a) Before Airport:
Booking for the sector was made using my travel agent in CCS. I was frustrated that the agent could not book my seat directly and I had to call SQ a few times before finally being guaranteed my choice of seat. SQ seems to have a very old-fashioned system as passengers in Y-cabin cannot pre-select a seat. Guess traveling in Raffles Business Class has its perks.
b) At Airport:
Construction work all over CCU's international terminal was very apparent. After having my ticket verified, I walked pass the other empty check-in counters (see picture) to around the terminal where SQ had its "new" counter. They had definitely moved from the last time around and I was surprised to see that their new counters were probably the worst at the airport. Check-in at the Raffles counter was a disaster. The line was long. See the picture of the check-in counter below? I stood exactly at that same spot for 32 minutes!
UNACCEPTABLE!
Anyways, then at the check-in counter, the sheer incompetence of the SQ staff was legendary. Despite the fact that I was flying to YYZ, they kept on tagging me to EWR. It took 3 attempts before they understood the concept of short-checking bags. The staff also "lost" my pre-reserved seat, could not enter BD's FF number (check the boarding pass, it says UAL), and finally could not give me the SIN-ICN connecting flight boarding pass. Uugh. Anyways, grumbling at their incompetence, I took the lounge passes, made my way back out of security (bizarrely, the international lounge – or rather small room – is outside the security perimeter.) Only in emerging countries . Anyways, I had a last round of beer with my friend and thanked him for an amazing time in India. It truly is an incredible country and hands-down the best travel experience in the world. It can be infuriating for sure – but no country can challenge you and teach you the meaning of life like India. I am going to be back!
At around 1115pm, my friend's parents were freaking out given my 1150pm flight and I decided to make my way to finally make it onboard. Pass security, awesome check-out immigration (the guy was like, "Mr. AM, hope India was good to you. Do come back!"), then a round of security check at the gate. Here is when further issues with SQ started. First of all, there was these 3 annoying Aussie dudes who kept on yelling at the security staff and saying pure bigoted commentary on how 3rd world the country was because they were not allowed their lighters on and how they would never come back. After hearing them scream for a bit, I lost it – I went to them and literally yelled at them something along the lines of "…try doing this in Australia, UK, or US and you will be behind bars. And take your bigotry outside. I am glad for India you all are leaving." At that point, they turned beet red and knowing I had the crowd behind me, retreated to the back of the gate area. Later, I had several people come up to me and just thank me. Anyways, having done by good duty for the day, I waited to board with my friend and A.Netter KIRAMAKORA who got special passes to wait with me. 1150pm, 1210am, 1230am, 1250am and still NO announcement. Suddenly an apology (but no explanation) for the delay and boarding was announced (an hour late.) It got worse. Post the London bomb scares, Indian security had been conducting secondary screening for all passengers prior to embarkation. Now, SQ had obviously STILL (it was almost 2 months later) not adjusted to the whole concept and boarding took a further 2 hours. I was one of the last to board and pulled the station manager aside and remarked at this. The guy went off – he kept on saying how it was the fault of the Indian Government, how they are brutal with their security, and something like he was from Singapore (which he kept on saying several times), followed by more blame-the-Government-of-India rhetoric crap. Probably inspired by me, Mr. KIRAMAKORA just fully exploded. You guys should have seen him – he went to Mr. Station Manager and said something along the lines of … "I work for the Government of India and we are doing this to protect innocent civilians. If you are not capable of accurately scheduling your flights with appropriate turn-around times, it is not the fault of the Government. You are welcome at any point to leave the Indian market and take your profits with you." Mr. KIRAMAKORA went further, "…and I don't give a crap to if you are originally from Singapore, India, China, or America … nationality and incompetence need not be related. I travel outside CCU often enough to know this happens mostly with SQ." Wow. Even I was impressed. And it seemed so did all the other J class passengers who started clapping. Haha. You had to be there to see it. Anyways, I gave my friend a good hug and bade farewell. I was told the station manager followed MR. KIRAMAKORA and that the later has filed a complaint against the SQ manager and have asked SQ to install sensitivity training.
Anyways, on board, the SQ girls quickly took my jacket away and I made myself at home at 12A – next to a Brazilian guy! He had apparently been 43 times to India this year! Apparently, Indo-Brazil trade grew at 454% last year. He also mentioned how he eagerly anticipated the new EK flights. Soon prior to boarding, I was offered a choice of either water or orange juice. No hot towels and no champagne. By the way, J class load was 100%.
Airport - External:
(NSCBIA – International, Kolkata)
Check-In:
Airport - Internal:
(Empty Counters)
Scenes of the tarmac:
NONE
Lounge – TAJ Clipper Lounge:
NONE
Boarding:
(Basically people congregated for secondary screening – all SQ had were excuses – read above)
III> In-Flight:
a) Service Schedule + Impressions:
Pre-takeoff included a choice of orange juice or water. Soon after take off and upon reaching cruising altitude, dinner was served (at around 3am) to the few passengers awake. No breakfast or snack was served prior to arrival.
SQ's overall Raffles product is definitely showing its age. I was disappointed by the amount of small things that SQ did not have anymore … including lack of deck of cards, and lack of amenity kits/except an eye-shade and socks (this is totally unacceptable to me in a premium cabin.)
b) Aircraft + Seats:
The regional 772s in high-density J class seating on SQ are OK. The cabin was extremely clean; however, the old-styled moderately reclining business seats with average 50" pitch contributed to the outdated feel of the cabin. The bathroom was impeccable though.
Aircraft:
NONE
Views from Aircraft:
NONE
Seat Leg-Room: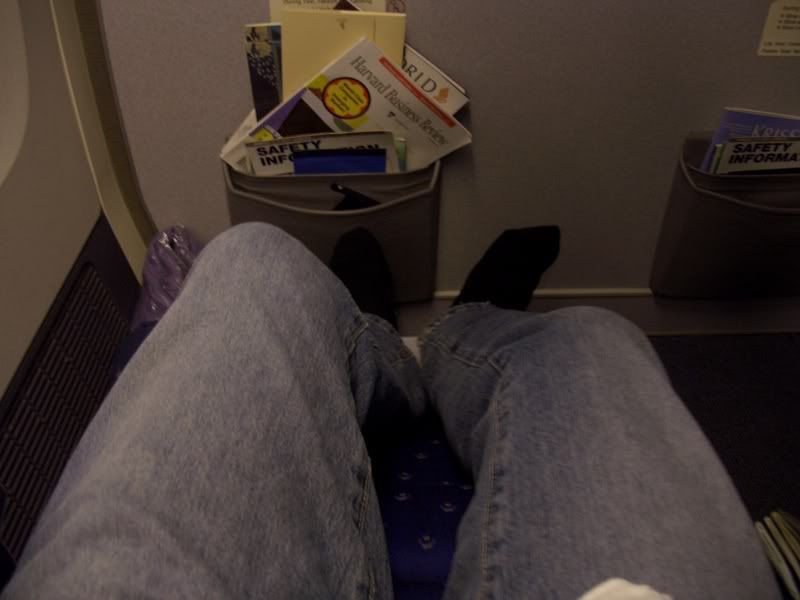 Seat Recline + Angle View:
Cabin:
c) Meal + Beverage:
Surprisingly, there were no menus distributed for the flight. This was probably my first Singapore Airlines flight without any in-flight menu. Options for dinner were either a chicken curry with yellow rice, a pasta dish, or a vegetarian entrée. I chose the chicken curry dish and it was accompanied by a shrimp appetizer, and a rather lovely dessert. The usually robotic SQ FA was very cute when I was initially reluctant to have a dessert … she insisted with a "come on sir, its really good." The food on board was MUCH better than the J food on the EWR-SIN flight. Though, the lack of menu cards definitely reduced presentation. After dinner, I also ordered a cup of tea to go with my movie.
In terms of beverages, SQ offers a wide variety of specialty cocktails including the Golden Spice, Singapore Sling, Silver Kris Sling, Gin Fizz, and Cloud Nine and regular more common ones. Aperitifs include Campari and Dry Vermouth. Spirits include Cognac XO Otard, Chivas Regal, Johnnie Walker Black, Jack Daniels, Gordon's Dry Gin, Smirnoff, Bacardi Carto Blanca. Liqueurs include Cointreau, Tia Maria, and Baileys. There is also an international selection of beer, red wines (Lockwood Cabernet Sauvignon 2004, Chateau Marquis De Terme 1998), port (Dow 2001 late bottled vintage), white wine (Wente Reserve Riva Ranch Chardonnay 2003 and Rheingau Riesling 2004), and champagne (Piper 1999.) Besides these, there was a variety of non-alcoholic drinks, 5 kinds of fruit juices, soft drinks, and iced drinks (tea, coffee, mocha, chocolate, milo.)
(Shrimp Starters)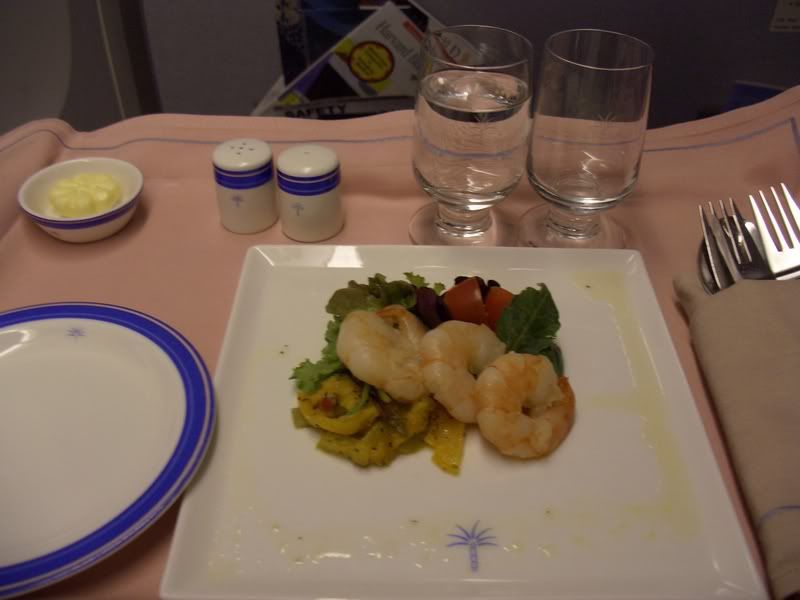 (Papad – crunchy Indian snack)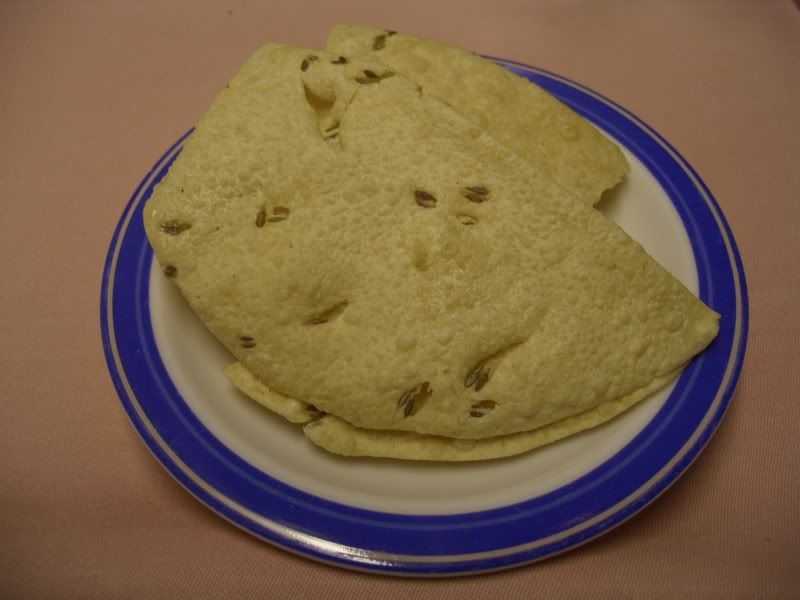 (Chicken Curry)
(Dessert)
(Tea)
d) Inflight Entertainment:
I simply love SQs on-demand IFE system … 80 movies, 104 tv channels, music, game, live tv … it cant get much better than this. However, the choice of recent Hollywood movies was not as stellar as it has been in the past and I ended up seeing a classic … THE MANCHURIAN CANDIDATE. Helping enhance the IFE experience were the noise-canceling headphones provided on board. The excellent SILVER KRIS magazine helped as well during this long flight. Of course, having internet on board helps and this was surely missed from such a long flight.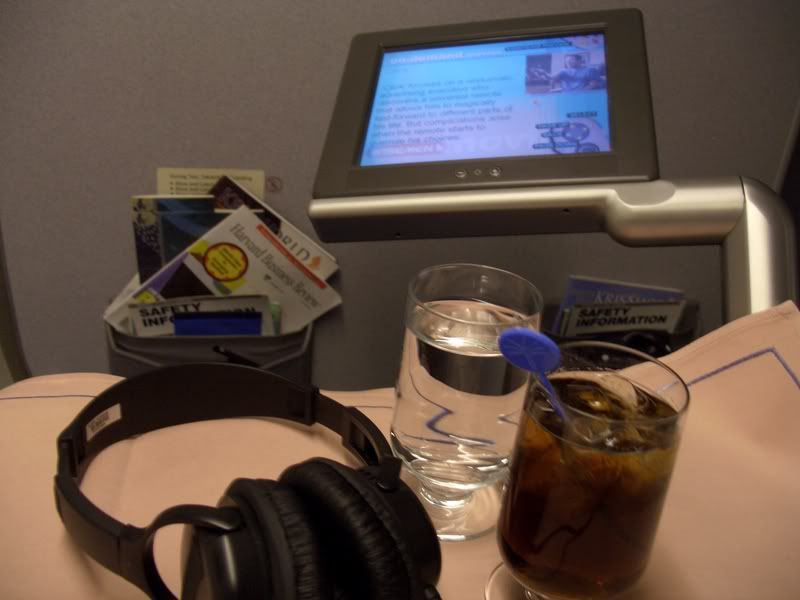 (In-flight magazines, Boarding Passes, etc.)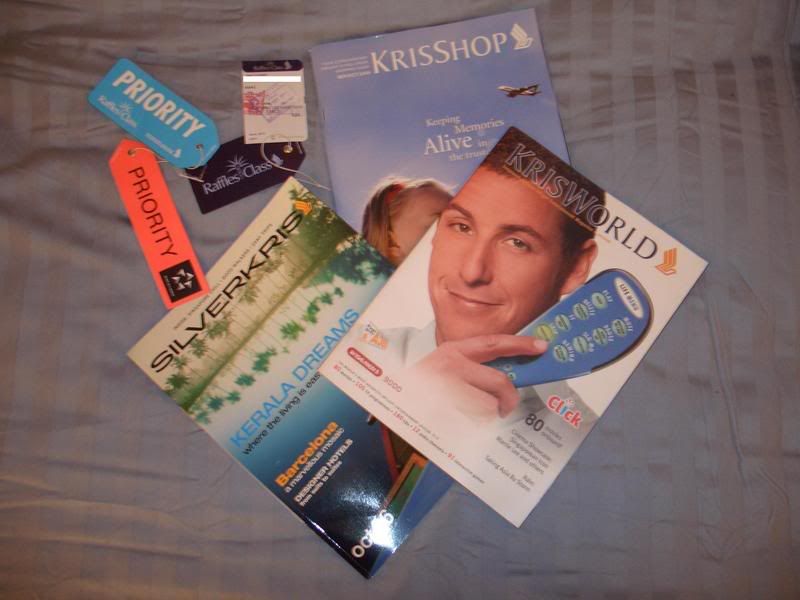 e) Crew:
Singapore Airlines crew were nothing to write home about … except my one interaction at dessert. Otherwise, they looked extremely tired (they don't stay @ CCU) and slow. However, they met every request with a smile.
IV> Post-Flight:
Transferring at Singapore Changi is a breeze and it continues to be one of my favorite world airports. I made my way to the SQ Raffles Lounge and waited there until my next flight to ICN … and even managed to get a shower.
Singapore Changi Airport: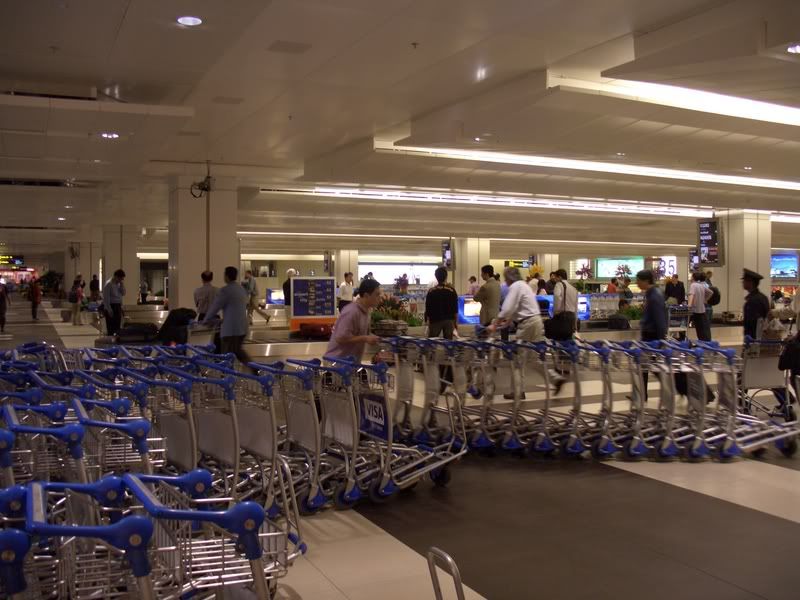 V> Impressions + Scores:
Singapore Airlines standards have gone down drastically. I was not impressed on my EWR-SIN flight and was not impressed this time around. A shabby J class cabin product, coupled with the overlooking of small details that make J-class J-class (lack of menus, cards, etc.), an indifferent crew onboard, and an absolutely horrible ground crew made this one of my least favorite SQ flights. Don't get me wrong … they are still a great airline and better than the most and I enthusiastically recommend them. However, I can think of at least 10 airlines off the top of my head which I consider better … if you are curious they would be … NH, CX, MH, NZ, 9W, IT, ET, ME, EY, and JJ.
Reservation: 7.0
Check-In: 3.0
Lounge: 5.0
Boarding: 1.0
Seat: 7.0
Aircraft Overall Ambience: 7.0
IFE: 9.0
Crew Service: 5.0
Food: 7.0
Beverages: 9.0
Amenity Kits + Others Freebies: 6.0
Disembarkation: 8.0
On-Time Record: 2.5
OVERALL IMPRESSION: 5.88
(Scores are based on comparison with other airlines in THAT class of service – No comparison of Y vs. F for example)
VI> Other Trip Reports:
1/
Avianca: BOG-LIM: 07/06/06: 7.09pts: Y-IMR
2/
Air Tran: EWR-MDW: 08/02/06: 6.73pts: Y-DMR
3/
West Jet: YYC-YVR: 09/05/06: 7.14pts: Y-DLR
4/
Air Canada: YYZ-YVR: 09/02/06: 5.92pts: Y-DLR
5/
Air Canada: ALB-YYZ: 09/01/06: 5.88pts: Y-ISR
6/
Singapore Airlines: EWR-SIN: 09/20/06: 7.81pts: J-ILR
7/
Adam Air: SIN-CGK: 09/22/06: 6.04: Y-ISR
8/
Valuair: CGK-SIN: 09/22/06: 5.04: Y-ISR
9/
Spice Jet: CCU-DEL: 09/25/06: 6.67: Y-DMR
10/
Indian: DEL-CCU: 09/26/06: 7.25: Y-DMR
11/
Air Sahara: CCU-BOM: 09/28/06: 4.42: Y-DMR
12/
Air Deccan: IXZ-CCU: 10/07/06: 5.75: Y-DMR
13/
Alliance: CCU-IXA: 10/08/06: 7.54: Y-DSR
14/
Kingfisher: IXA-GAU: 10/08/06: 8.21: Y-DSR
15/
Indigo: GAU-CCU: 10/08/06: 6.54: Y-DSR
(Note on Codes: Y – Economy, J – Business, F – First :: I/D – International/Domestic :: SR/MR/LR – Short/Medium/Long Haul :: I have designed these codes so people don't believe my scores are comparing apples and oranges)
VII> Other Pictures:
(Raffles Class Comfort Pack and writing materials!)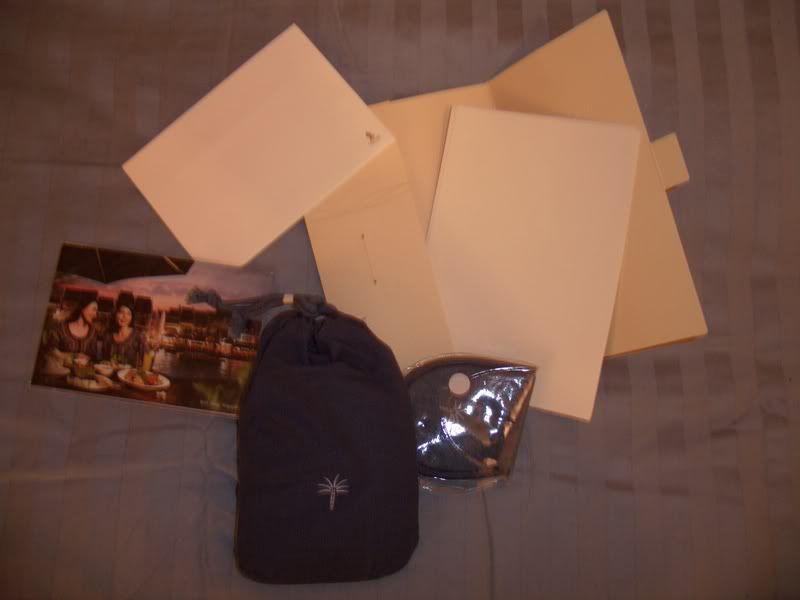 (Leaving India)
(An SQ 744 awaiting push-back)