Feedback always appreciated.
Trip Report: 017
Flight Category: J-ILR (See Report End)
Date: 12-Oct-06
Dep.Arr.Time: 1935/1945/13:10hrs (Delayed by 01:30hrs)
Flight:
AIR CANADA AC 66
, 6612 miles
Routing: ICN-YYZ
Aircraft: 343
Seat: Executive First, 4K
I > Background:
Part of a month long amazing passage to India for a wedding, with some stops in Asia to see friends. Routing was CCS-MIA-EWR-SIN-CGK-SIN-CCU-DEL-CCU-BOM-CCU-IXZ-CCU-IXA-GAU-CCU-SIN-ICN-YYZ-EWR-CCS with a mix of J and Y class of travel. This focuses on the AC J-class segment from ICN to YYZ. Other trip reports for this trip will be EWR-SIN (SQ/J-Cabin), SIN-CGK (KI), CGK-SIN (VF), CCU-DEL (SG), DEL-CCU (IC), IXZ-CCU (DN), CCU-IXA (CD), IXA-GAU (IT), GAU-CCU (6E), and CCU-SIN (SQ/J-Cabin). I think these reports will be "firsts" for revenue flights on CD, IT (mainline) and 6E and cover IXA, GAU, IXZ-CCU, and CCU-DEL for the first time on Airliners.Net.
II > Pre-Flight:
a) Before Airport:
Booking for the sector was made using my travel agent in CCS. I was frustrated that the agent could not book my seat directly and I had to call AC to have my seat confirmed. Later on it did not matter, as my seat was given out at ICN (sad.)
b) At Airport:
ICN is an excellent airport – just zillions of miles ahead of SEL. Anyways, since I was on a connecting flight on SQ ex-SIN, this travel report will not deal with check-in and other aspects of a normal trip report. SQ could not issue my AC boarding passes for the ICN-YYZ leg both at CCU or at SIN; I found this very strange given how much Star Alliance touts their inter-connectedness. Anyways, upon disembarkation from SQ 18 (SEL-ICN), I made my way to the Raffles Class Lounge to relax for an hour. Interestingly, I find the SQ Raffles Lounge much better than the OZ business class lounge at ICN. Does anyone else agree? The lounge was good - complete with showers, internet terminals, hot food (though it would frequently run off), and relaxation rooms. After checking my email and grabbing a bite to eat, I headed to the relaxation room to basically change into new clothes. The departure board had already indicated that the flight was delayed by an 1:30hrs so I decided to even catch a quick power nap.
Around 2035 (30 minutes prior to the new departure time), I made my way to the gate where a new boarding pass was waiting with my name hand-written. My 2A seat assignment was gone and they had initially given me a middle-row seat. However, I managed to convince them to move me to a window – this was not much of a problem was the flight was fairly empty. Boarding was rapid and at ICN there are always 2 entrances – J and Y – which makes boarding go far smoother.
The first thing that hits you on entering Air Canada's J class is how old the product looks. Poorly lit, the cabin looks straight out of the mid 1980s. The dark green old-fashioned J class seats were quite the nostalgic experience and even now I cannot decide whether it was good to have taken one last inter-continental flight on such a old-school product. Complimenting the "step back in time", were the crew who after all the flights in Asia were just old. Nothing wrong with the age factor – but it was a HUGE shock to suddenly get crew who did not smile and were only here "primarily for my safety." I started missing Asian airlines immediately! The other thing that struck me was how empty the premium cabin was (perhaps due to their product?) J class load was around 20%, while Y class was filled like sardines! Anyways, push-back was 1:30 hrs delayed due to late arrival of inbound aircraft and the captain mentioned that there would be no way of making up the time due to strong headwinds.
Airport - External:
NONE
Check-In:
NONE
Airport - Internal: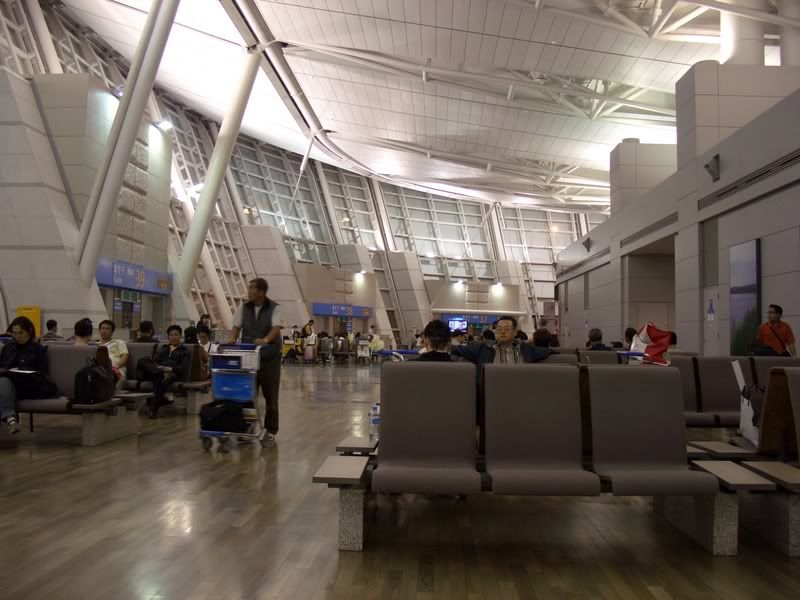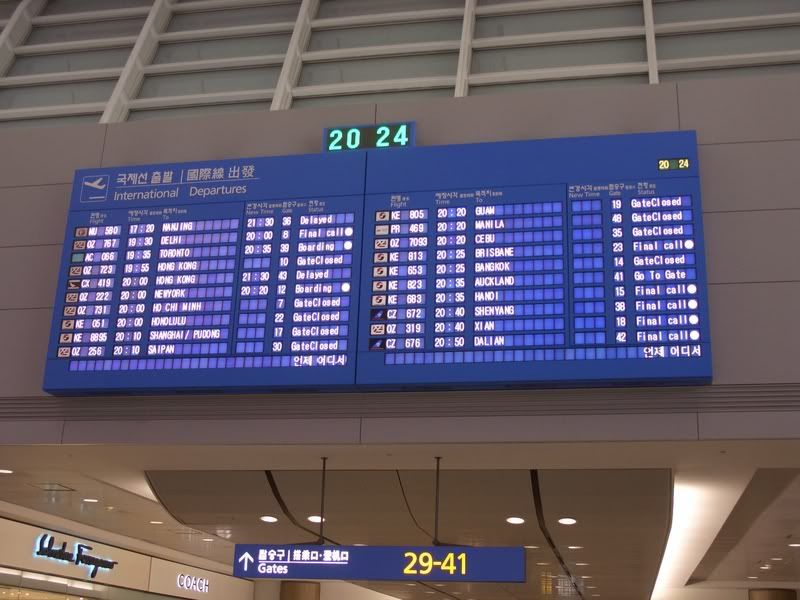 Scenes of the tarmac:
NONE
Lounge – Singapore Airlines Raffles Lounge:
(Apologies for blocking out the screen. I was working on a super-sensitive analysis … hehe …)
(Mini-bed room, a nice touch)
(Lounge bathroom, nice)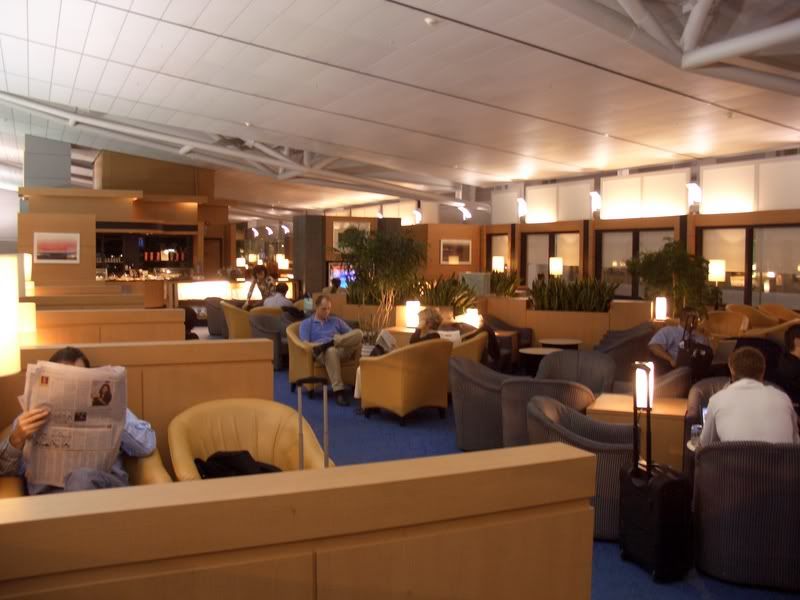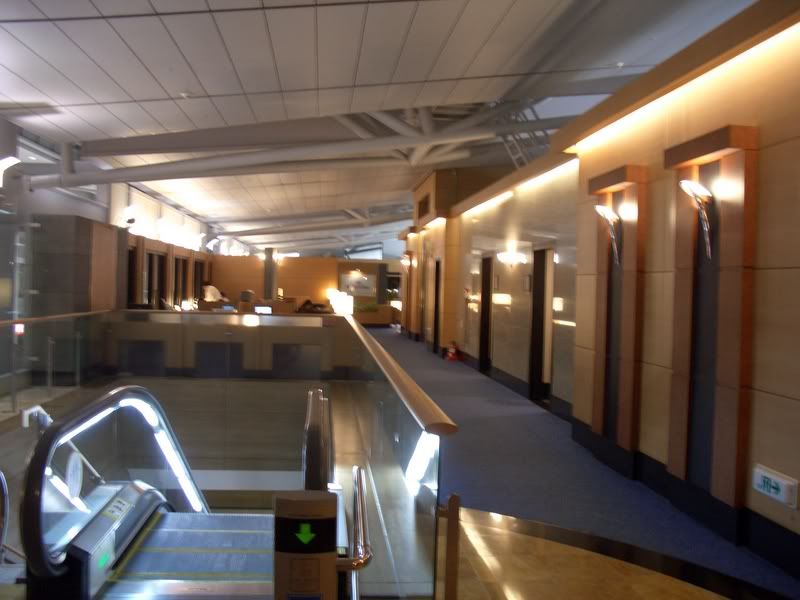 Boarding:
III> In-Flight:
a) Service Schedule + Impressions:
Pre-takeoff included a hot towel and a choice of drinks. Post take-off, amenity kits were distributed along with noise-canceling head-phones. Soon thereafter, dinner was served. 2-3 hours prior to arrival, a breakfast was served – though, we were arriving at 845pm – joys of time travel I guess – hehe. Oh, the amenity kits were nothing amazing – but definitely a nice touch and carried all the essentials.
b) Aircraft + Seats:
The 343 does not win awards for economics or for interior cabin (vs. other similar aircrafts); however, it is an extremely beautiful aircraft from the outside! Anyways, as mentioned, the AC-J class cabin looked extremely tired and the seats were very old-fashioned. Though I could have done with the 160 degree recline and the above-average pitch (for old-styled J), the material of the seat was not as comfortable as one would expect. I was lucky that there was no one who sat next to me. Oh, and what's up with the very primitive seat controls?
Aircraft:
Beautiful Airbus 340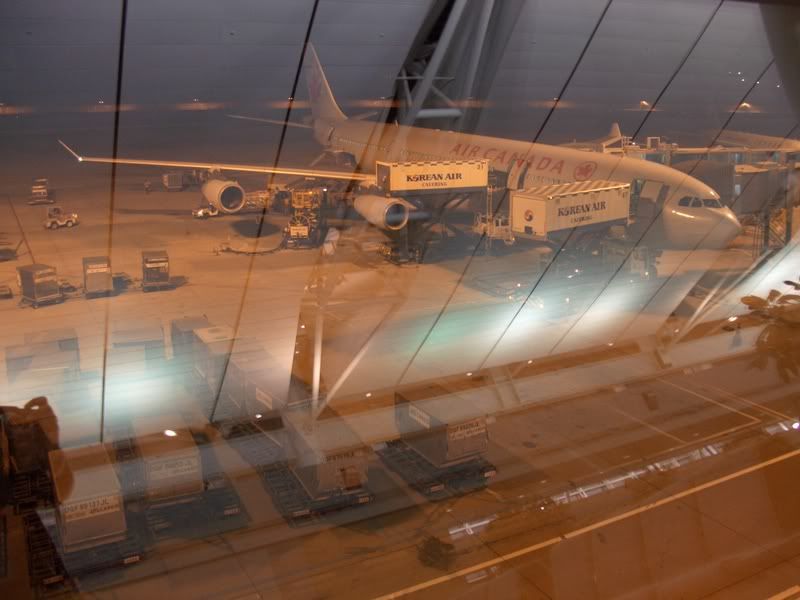 Views from Aircraft:
Seat Leg-Room:
Seat Recline + Angle View: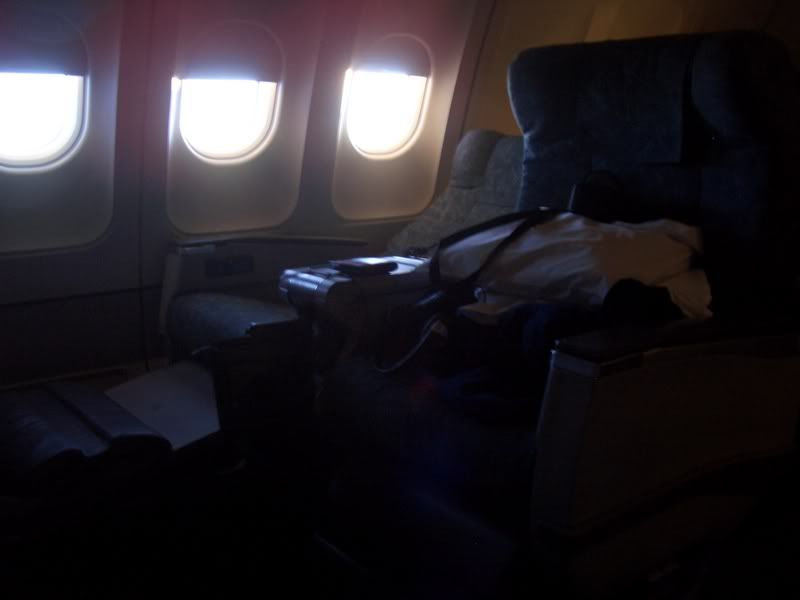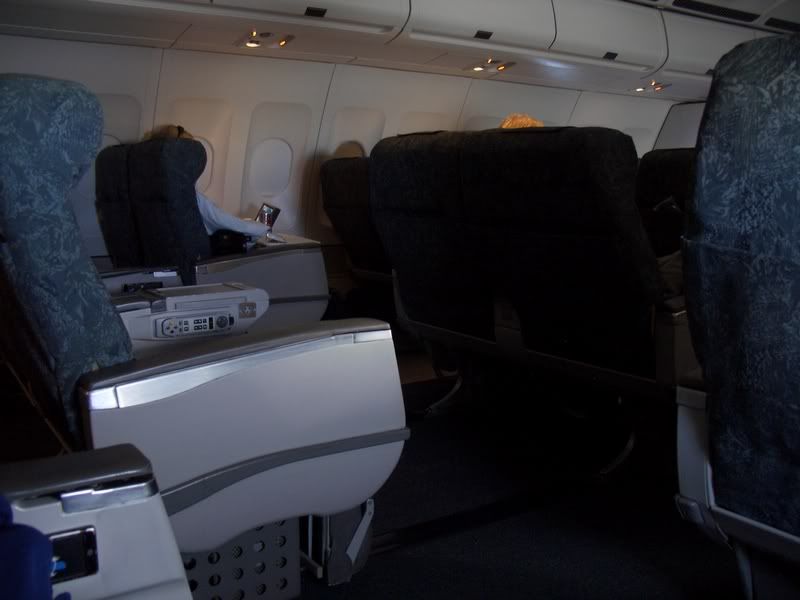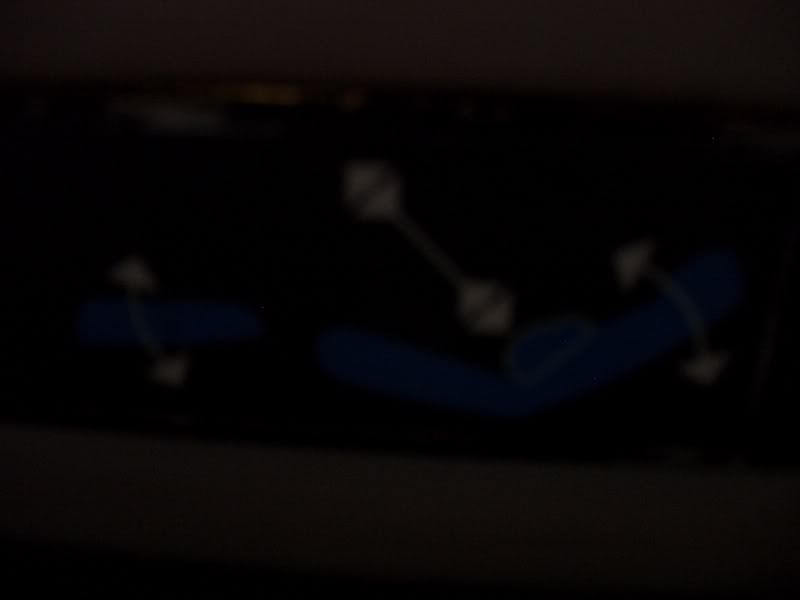 Cabin:
c) Meal + Beverage:
AC's meal and beverage service included dinner soon after take off, and a breakfast 2-3hrs prior to landing in Toronto. In between, one could go to the snack bar to grab some fruits. The snack bar was a trolley the crew left on the middle aisle between seat rows 3 and 4 and the overall presentation looked incredibly tacky. One could also ask the flight attendants for a noodle bowl or some Dim Sum.
Dinner menu read as follows:
TASTE OF ASIA: Grilled Scallop on diced Ratatouille
APPPETIZER: Salmon Tataki with marinated Dill Prawn, Eggplant Caviar, and Tapenade
SALAD: Mixed Greens with Olive Oil and Balsamic
MAIN COURSE: Cream of Cauliflower Soup (
They ran out – despite J load being 30%
) and choices of :: Beef Tenderloin :: Chicken Breast Florentine :: Braised Halibut with Oyster Sauce
DESSERT: Opera Cake :: Vanilla Ice-Cream :: Fresh Fruit
CHEESE CORNERS: "Gourmet" Cheese with Crackers
Food was not delivered from the cart. Instead flight attendants would come to the cabin and just bring the food in. I chose the rather good Halibut and capped it off with a nice Vanilla ice-cream sundae. Oh, the "Taste of Asia" was just weird. We were served scallop on a soup spoon – I am sure this was AC's way of being creative … but it looked rather cheap to me.
Besides dinner, the other main meal was breakfast. I chose the Cheese Omelet which was definitely better than the crap I had been eating on SQ's J class breakfast menu on-board EWR-SIN.
JUICE SELECTION: Orange or Pineapple
FRESH SEASONAL FRUIT
MAIN COURSE: Cheese Omelet :: Steamed Rice with Seafood :: Apple Crepes
WARM BREAKFAST PASTRIES
ASSORTED YOGHURT and CEREAL
AC's beverage menu was pretty basic. In addition to the range of cocktails, champagne was limited to Drappier Carte-D'Or (uugh); cheap white wine (basically a local Canadian and one from Bel-Air); cheapish red-wine (again, Canadian/Jackson-Triggs Merlot and a Chilean Cabernet Sauvignon); and Cockburn Special Reserve Port. Aperitifs include Dubonnet. Spirits include Smirnoff, Bombay Sapphire (YAY), Black Label, Crown Royal Scotch Whiskey, Jack D, Bacardi White, and Rhum Blanc. Liqeuers included V.S.O.P. Cognac, Kahlua, Grand Marnier, and Bailey's.
Oh, the poor beer selection included Molson and Coors light in inter-continental business!
(Looked very cheap – did they run out of serving dishes - hehe)
(Appetizer)
(Halibut)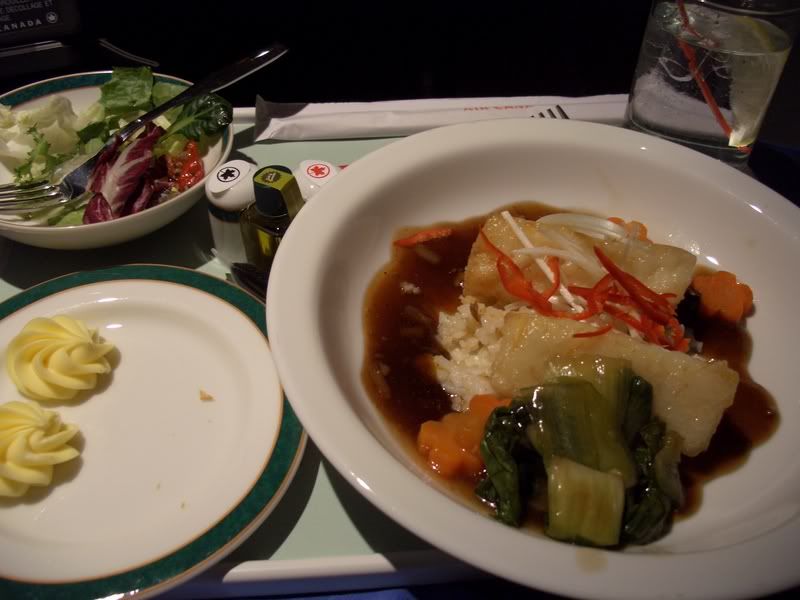 (Dessert)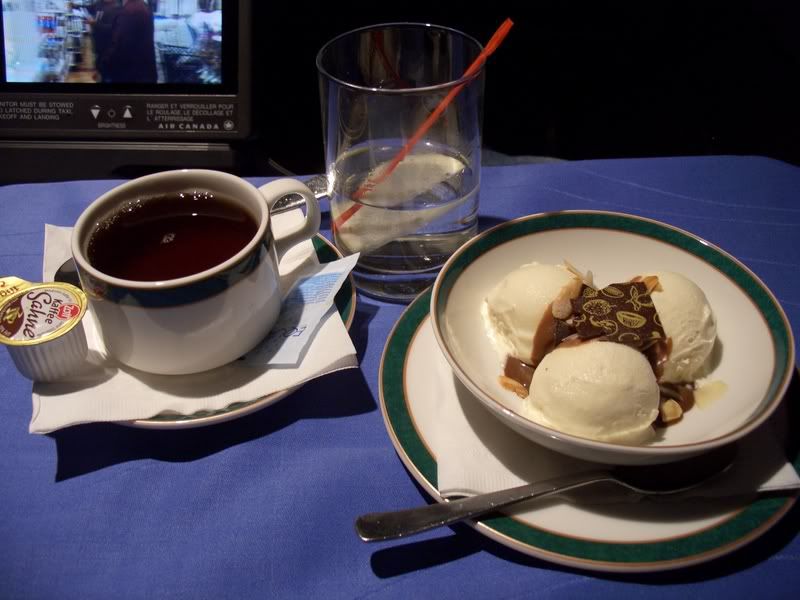 (Breakfast)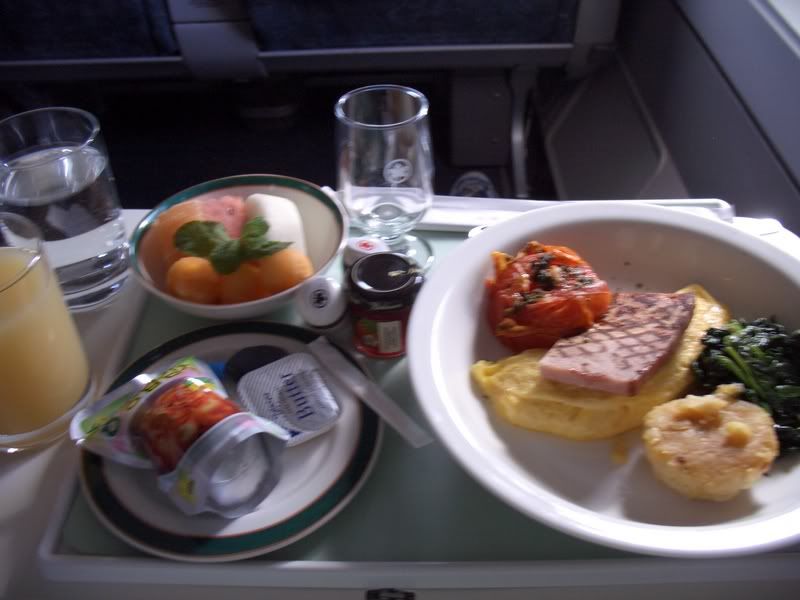 d) Inflight Entertainment:
One word, OUT DATED. A small screen playing 8 non AVOD movies which went with some poor-noise canceling head gear does not make good IFE.
(In-flight magazines, Boarding Passes, etc.)
e) Crew:
Air Canada's crew just did not display the level of personal warmth that is the hallmark of Asian carriers. I found their crew to be as dismal as NW's cross-pacific J crew. Perhaps I was in a culture shock after a month of mostly exemplary service on Asian carriers, but AC's crew was aloof and detached and DID NOT SMILE. They just did their job and disappeared into the cabin. Also, why was there 5 crew members assigned to the J class cabin? I mean, its not like they left the galleys much. Having said that, I don't think I would extrapolate my experience to the entire Air Canada cabin crew as I had received really excellent crew service on an AC YYZ-YVR flight a month backl. Check:
AC 131: 02/SEP/06: YYZ-YVR: Y Cabin (pics)
(by
Abrelosojos
Sep 13 2006 in Trip Reports).
IV> Post-Flight:
The new terminal at YYZ is really good and my bags arrived fast enough.
Toronto Pearson Airport, International Terminal: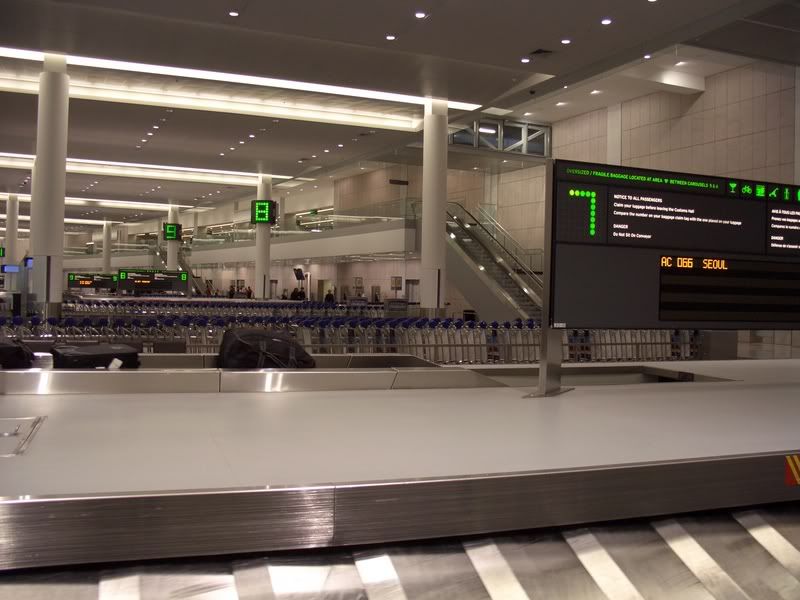 V> Impressions + Scores:
Air Canada's service looked shoddy. It lacked the finesse of many of their Asian counterparts and many aspects looked plain cheap. Worse, the cabin staff was BLAH and the IFE dismal. For a premium ticket, I expect much more and would recommend passengers research other alternatives prior to choosing AC on a given segment.
Reservation: 7.0
Check-In: n/a
Lounge: 8.5
Boarding: 8.0
Seat: 7.5
Aircraft Overall Ambience: 6.0
IFE: 5.0
Crew Service: 5.0
Food: 7.0
Beverages: 7.5
Amenity Kits + Others Freebies: 8.5
Disembarkation: 8.0
On-Time Record: 7.5
OVERALL IMPRESSION: 7.13
(Scores are based on comparison with other airlines in THAT class of service – No comparison of Y vs. F for example)
VI> Other Trip Reports:
1/
Avianca: BOG-LIM: 07/06/06: 7.09pts: Y-IMR
2/
Air Tran: EWR-MDW: 08/02/06: 6.73pts: Y-DMR
3/
West Jet: YYC-YVR: 09/05/06: 7.14pts: Y-DLR
4/
Air Canada: YYZ-YVR: 09/02/06: 5.92pts: Y-DLR
5/
Air Canada: ALB-YYZ: 09/01/06: 5.88pts: Y-ISR
6/
Singapore Airlines: EWR-SIN: 09/20/06: 7.81pts: J-ILR
7/
Adam Air: SIN-CGK: 09/22/06: 6.04: Y-ISR
8/
Valuair: CGK-SIN: 09/22/06: 5.04: Y-ISR
9/
Spice Jet: CCU-DEL: 09/25/06: 6.67: Y-DMR
10/
Indian: DEL-CCU: 09/26/06: 7.25: Y-DMR
11/
Air Sahara: CCU-BOM: 09/28/06: 4.42: Y-DMR
12/
Air Deccan: IXZ-CCU: 10/07/06: 5.75: Y-DMR
13/
Alliance: CCU-IXA: 10/08/06: 7.54: Y-DSR
14/
Kingfisher: IXA-GAU: 10/08/06: 8.21: Y-DSR
15/
Indigo: GAU-CCU: 10/08/06: 6.54: Y-DSR
16/
Singapore Airlines: CCU-SIN: 10/11/06: 5.88: J-IMR
(Note on Codes: Y – Economy, J – Business, F – First :: I/D – International/Domestic :: SR/MR/LR – Short/Medium/Long Haul :: I have designed these codes so people don't believe my scores are comparing apples and oranges)
VII> Other Pictures:
(Air Canada Comfort Pack)
(Enroute)
(Arrival @ YYZ)