I was now an engineer. Finally, after long years of studying all the hard work finally paid off. After I had defended my final thesis on the 8th of November I was in serious need for some vacation. This was easy to foresee for me so I booked some tickets to College Station a couple of weeks before graduating. Admittedly, College Station is not the No.1 tourist destination, but since I spent a study-abroad semester there I have a couple of friends I haven't seen for a while now and I like it. I got a good deal on Expedia although I had expected it to be too late to get a bargain. 600€ for a DUS-ZRH-DFW-CLL round-trip, that was a nice surprise. So I booked and my brother was so kind to get up very early to bring me to DUS on the 10th of November.
1st flight:
DUS-ZRH
LH3760
Scheduled departure: 07:55am
Actual departure: On time
Aircraft: BAE146-200
Registration: D-AJET
Düsseldorf International was, as usual, a great place to start the journey from. The airport is clean, bright and not too big. Although the tickets were issued by American Airlines I had to check-in with Lufthansa since my first flight was operated by Eurowings. The check-in counters were pretty crowded at six o'clock in the morning already. Lots of business travellers were using LH's good European network from DUS. It was so crowded that I was even allowed to check-in at the business class counter which went pretty quick. The nice check-in agent checked my bags through to CLL and assigned me a nice window seat in the back of the BAE146. I went through security and took a newspaper. Unfortunately, LH doesn't seem to give out free coffee for its customers anymore, so I had to pay 3,50€ for a mediocre latté. At 7:25am I boarded the flight. It was nice to see that LH still offers a minimum service on those short flights. I got a bagel with cheese and a chocolate bar. The flight itself was pretty uneventful.
By the way, when boarding the aircraft I saw a white ARJ with an LTU tail (see picture below). I didn't know LTU has Avros. Unfortunately, the quality of the photo sucks.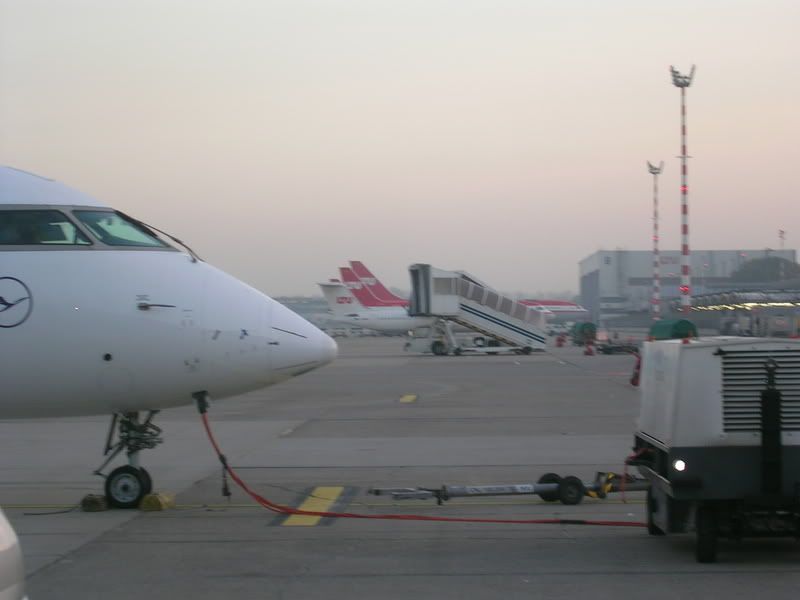 2nd flight:
ZRH-DFW
AA37
Scheduled departure: 10:45am
Actual departure: On time
Aircraft: Boeing 767-300ER
Registration: N369AA
After having landed at ZRH I had to change the terminal because all the transatlantic flights seem to depart from Terminal E. The underground train made the terminal change very convenient and quick. The even play traditional Swiss alphorn music inside of the train. Terminal E seems to be the newest of ZRH's terminals. It is very modern und the wall are almost completely made of glass so you have a nice view over the airport. I needed to get my boarding passes for the next flight so I walked up to the AA counter where they told me that I had to do another security check. Unfortunately, there was a queue and it took some time until it was my turn for the check. I was asked the usual questions by a very nice agent, everything was quite relaxed. When boarding the plane later I was asked some of the same questions again.
I was glad that the online seat reservation worked out fine. I chose the itinerary via ZRH because of the 767-300ER and its 2-3-2 layout. I got exactly the seat I wanted to have when I booked: 33H. Since I am quite tall (6'5") I wanted to have an aisle seat where I could stretch my legs a little bit. I had never flown over eleven hours in economy before so I was worried which turned out to be unnecessary. The service was much better than I thought because I wasn't impressed by AA's domestic service when I flew them over a year ago. This time I got two alright meals and plenty of drinks. Unfortunately, AA charges you for beer which pissed me off a little bit. It is always easier for me to fall asleep after having had two beers. The guy next to me apparently didn't have these problems. He slept almost during the whole flight. Although I would have preferred a private tv screen in the seat in front of me the IFE was alright. There were three movies and lots of comedy shows like "King of Queens" that made the time pass by quicker than I had expected before. The flight itself was pretty smooth except for the normal turbulences you have when crossing the atlantic ocean. The captain turned out to be a very funny guy. I guess he was a Texan because of his constant "hey folks" and his accent. Finally, I was back in Texas!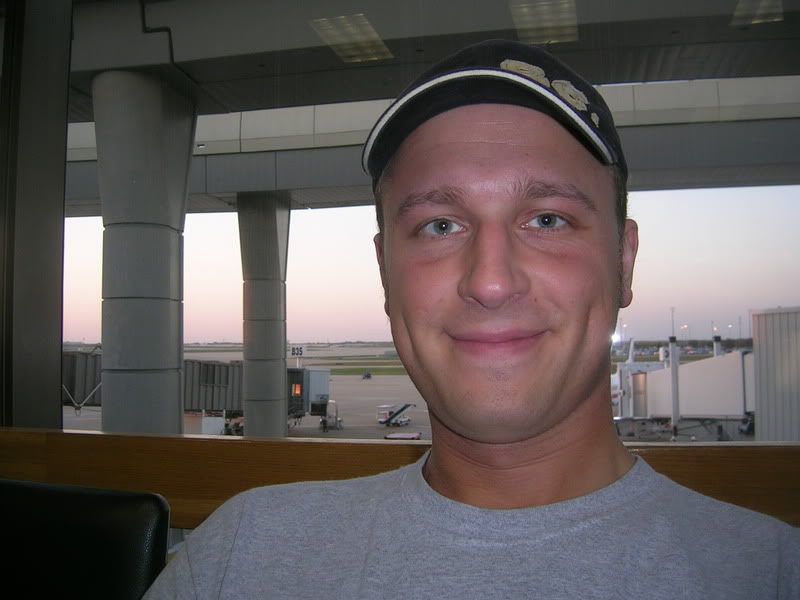 3rd flight:
DFW-CLL
AA3241
Scheduled departure: 6:35pm
Actual departure: 7:10pm
Aircraft: Saab 340B
Registration: N904AE
I had a three hour layover at DFW so I wasn't worried about immigration and security. However, as usual all the European flights came in around the same time and they only had 8 immigration counters open for non-US citizens. After all the US citizens had cleared immigration these counters were available for non-US citizens as well which made it a lot quicker in the end. Immigration took me about 50 minutes. The bags were already waiting for me when I arrived at the baggage claim. I went through the customs and rechecked the bags. The following security check went pretty quickly as well and the TSA staff was friendly and relaxed. Afterwards I had to do a terminal change again so I took that new sky train to Terminal B. In my eyes, the layout of DFW makes it very easy to navigate. Thus DFW is my favourite gateway to Texas and I would prefer it over IAH any day which I used the last time I went to Texas. Being used to the DUS sky train which seems to be broken 50% of the year the DFW version was a nice experience. I went to my AE gate in order to wait for my flight to depart. I had a nice chat with some Nebraska fans who were going to the Texas A&M – Nebraska football game as well. When it was time for boarding the gate agent told us that the aircraft we were supposed to travel on had technical problems. They tried to fix it for another 20 minutes until they decided to use a substitute aircraft. We departed from DFW with a delay of approximately 35 minutes. I feel asleep during the flight because I got very tired in the meantime. When we descended from our cruising altitude into CLL I couldn't sleep anymore. This was probably the bumpiest landing I ever had. The plane was shaking wildly during the descend. At least I was awake now.
As a conclusion I would say that I would definitely take AA again on that route. The 767-300ER is an alright aircraft to travel on, the airports were all easy to navigate and the service was very pleasant. I would have liked to take a lot more pictures of the airports and aircrafts though, but I wasn't sure if that would cause problems once I am in the US.
Unfortunately, we lost that game to Nebraska. I am thinking about joining the USAFHummer's Nebraska haters now. At least the Longhorns lost against KSU as well.
GIG 'EM AGGIES!!!