It's been awhile since my last trip report (I'll have some big ones to post in the next few weeks) but I thought I'd start things off with something different.
I recently unearthed a big shoebox full of pictures I took on trips in junior high and high school. Quite a few of them were taken at airports or from airplane windows, and as I looked through them it was strange to see how much things have changed in just ten short years.
I decided to scan the pictures in and put together a little montage of my travels (mostly on family vacations) in the mid-1990s. I don't have as many pictures as I normally like to take - but in those days I was using a film camera, and film was provided by my parents, who didn't look too kindly on me "wasting" a whole roll on airplane photos. So I had to put a little more judicious than I am today.
Without any further adieu, back in time we go...
**********************************************
Honolulu International Airport
Summer 1986
I was only five years old when these pictures were taken, almost certainly by my mother and not by me (although I probably whined until she gave in and took them.) Both were taken from an American Airlines DC10 getting ready to depart on a redeye flight to our home airport of Dallas/Fort Worth. A few gates down was a Continental DC10, wearing the updated red "meatball" color scheme: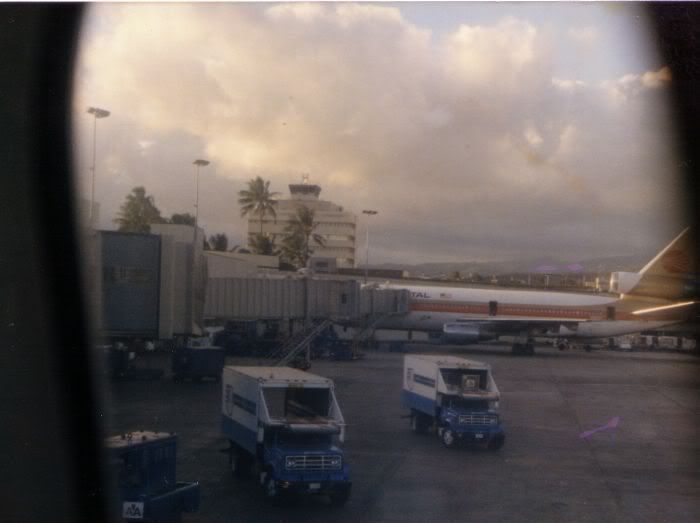 Some things never change... the top dog at HNL back then (as today) was United. On this particular day there were three 747s and a DC10 on the Ewa Concourse: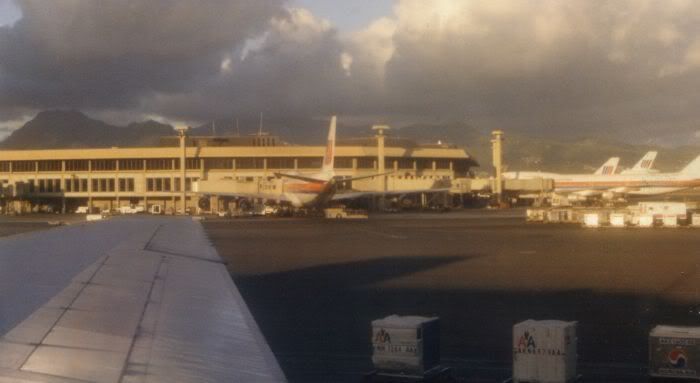 ***********************************************
Denver International Airport
March 1995
For my fourteenth birthday in 1995, my parents surprised with plane tickets to Denver, to visit the new airport, which had just opened the week before. My stepfather and I flew a Delta MD80 from DFW to Denver - this picture was taken at what was then called Terminal 4E. Delta's hub was in full swing back then - notice the mainline aircraft parked at the satellite in the background. It was later relegated to handling Delta Connection flights, then abandoned altogether: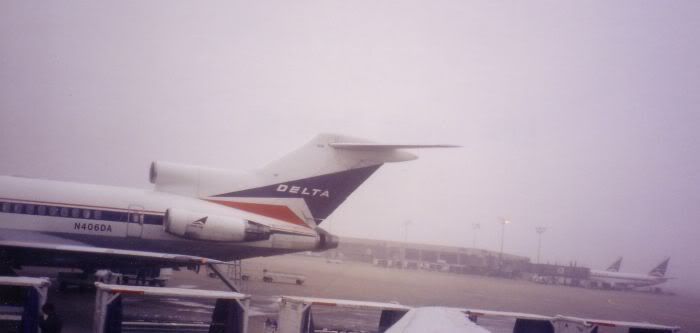 It was snowing hard when we landed at DIA, which was pretty exciting to a kid who'd spent his whole life in Texas... our measly snowfalls were nothing compared to the driving snow I saw at the window in Denver. As we taxied toward the terminal we passed a tiny Mesa propliner chugging through the snow: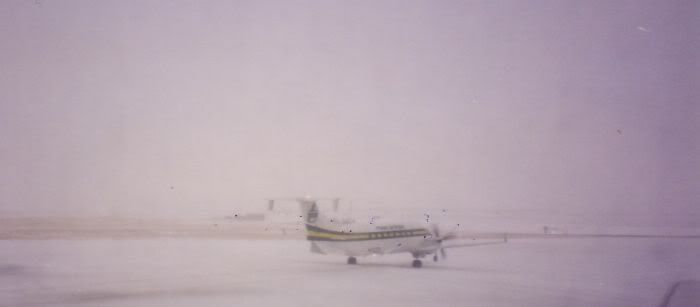 After disembarking I spent the rest of the day exploring every nook and cranny of the new airport. United had only introduced the "Worldwide Service" colors a few years previous, and this 727 on Concourse B hadn't been repainted yet: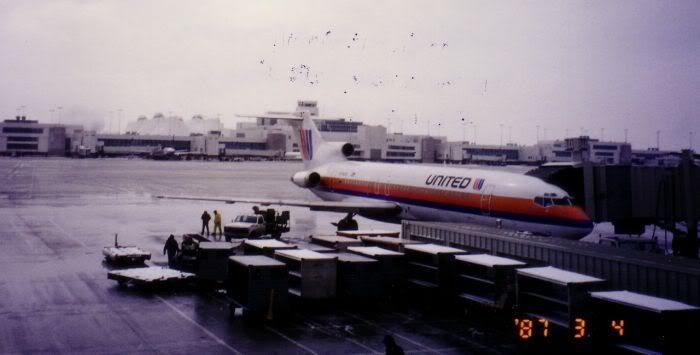 Over at Concourse A, most of the gates were idle - Continental had closed its DEN hub already and Frontier was still a fledgling startup with a few gates, flying to places like Minot and Bismarck. A Continental A300 was resting between flights, one of the last vestiges of the Denver hub: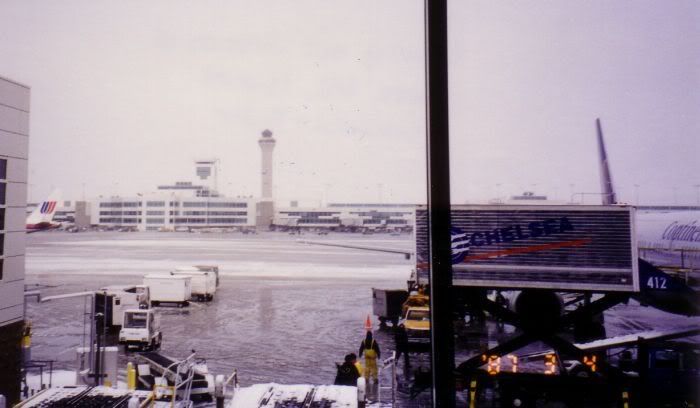 The skies had cleared when I left the next day - here's a TWA 727 idling at the next gate on Concourse C: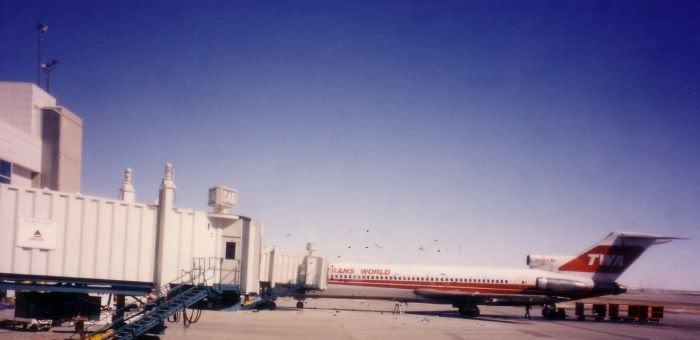 ***********************************************
Atlanta Hartsfield International Airport
March 1995
This was my first trip to ATL - we flew through Hartsfield on a Delta itinerary to St. Thomas. The DFW-ATL leg was on an L1011, and then we switched to a 757 for the flight to STT. After landing on what was then runway 9R, we taxied past the then-new Concourse E, where one of Delta's elusive A310s was parked: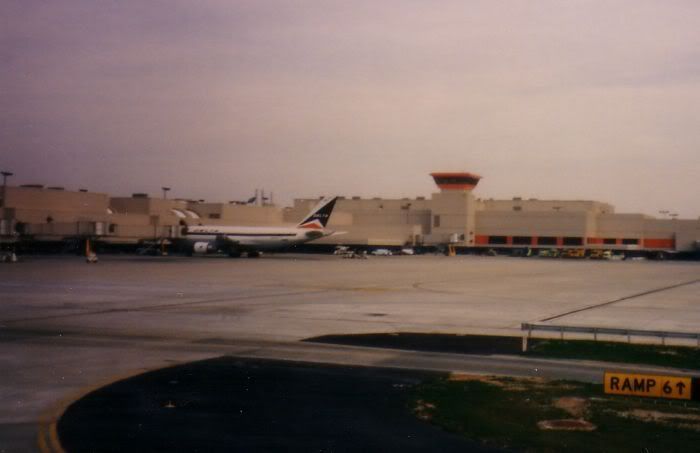 Concourse D and a grey-colors United 727: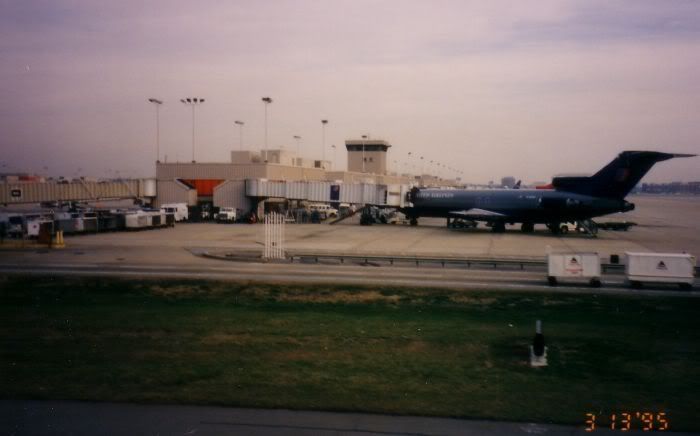 Widget colors everywhere at Concourses A and B: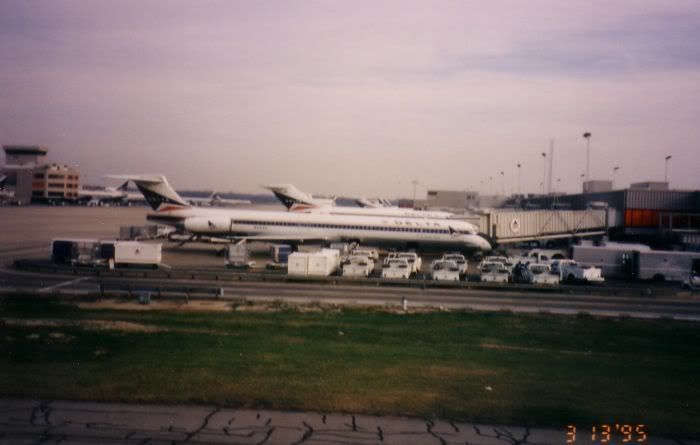 ***********************************************
Pittsburgh International Airport
June 1995
I connected through PIT on my way to camp in North Carolina the summer before I started high school. After my USAir F100 landed, we taxied past the abandoned hulk of the old Pittsburgh terminal, which had been closed almost three years: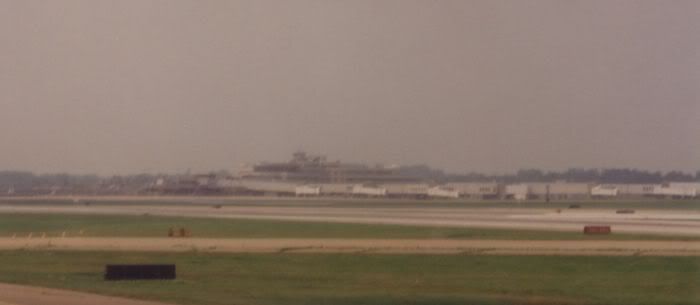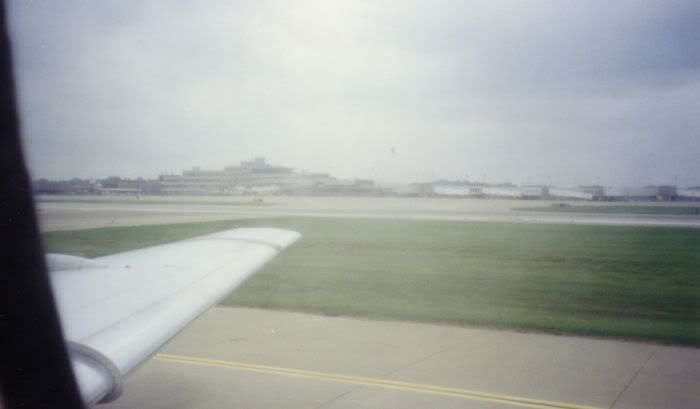 In those days Pittsburgh was USAir's biggest and busiest hub, and there were plenty of mainline aircraft at the terminal as we taxied in: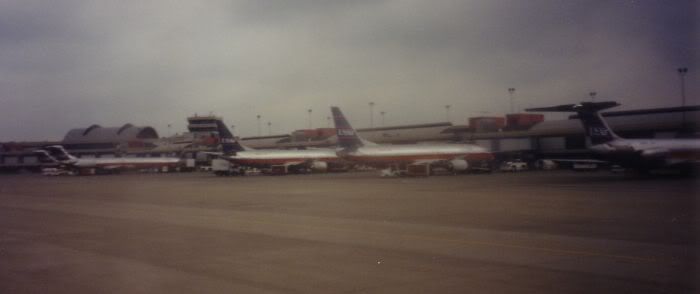 Two USAir DC9s on Concourse B: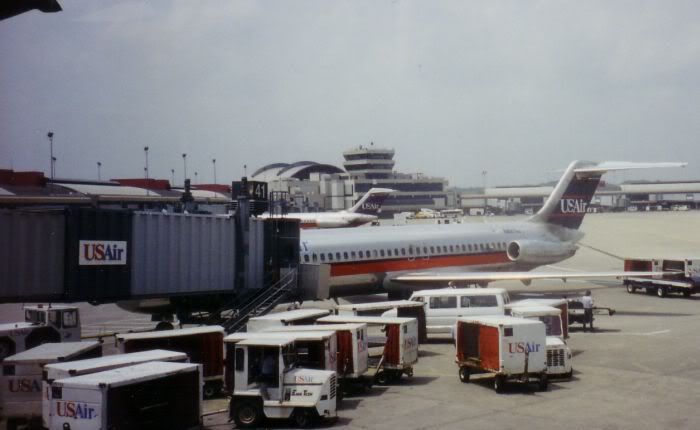 Pulling into our gate alongside a company 737: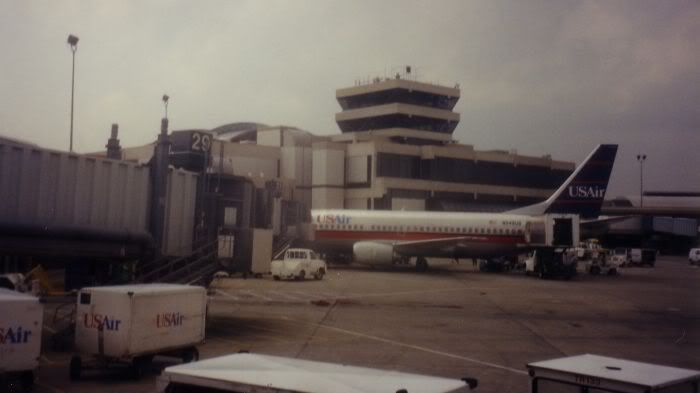 ***********************************************
Los Angeles International Airport
July 1996
We flew through LAX on the way back from a family trip to Hawaii, routing OGG-HNL-LAX-DFW. We landed at LAX early in the morning, passing a pretty empty-looking TBIT as we taxied back in. Instead of the usual group of Asian 747s, there were just three Aero California DC9s and a lone Carnival Airlines A300: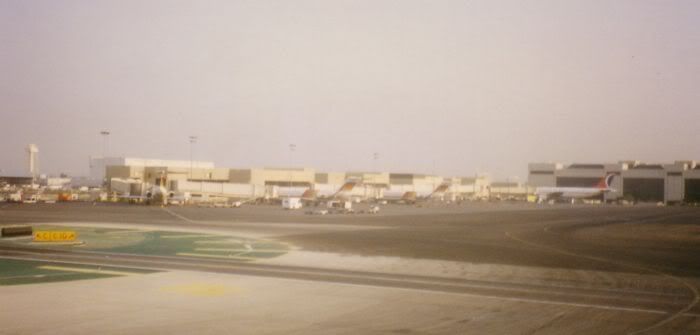 Passing by American's Terminal 4 (which wouldn't be rebuilt for a few more years), where plenty of DC10s and 767s were preparing to leave on transcon runs: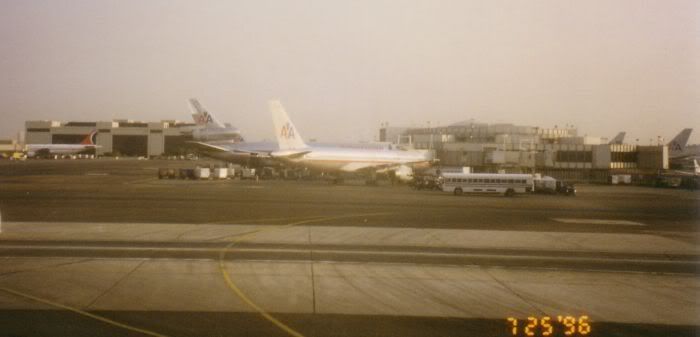 Back in 1996 American Eagle flights still parked at Terminal 4 - note the swarm of Saabs in the foreground, and the widgeted Delta L1011 and 727 in the background: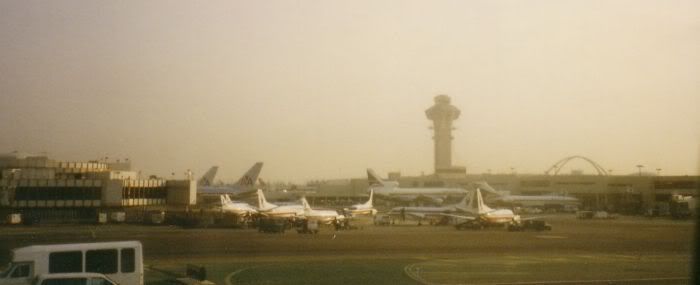 Pulling into our gate at T5 next to a company MD11: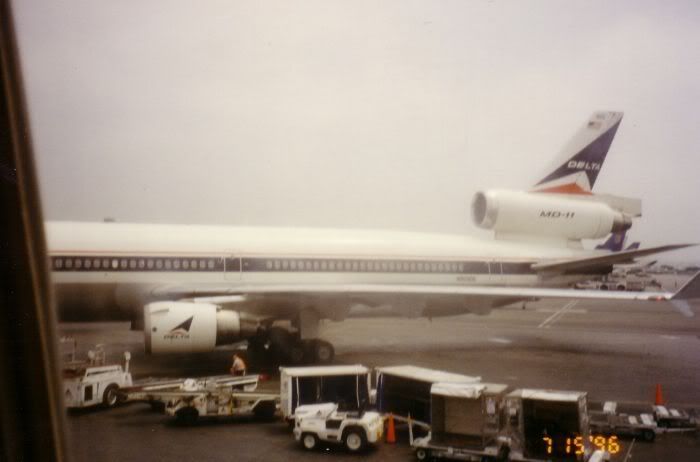 We left our L1011 at Terminal 5 and switched to a 727 for the flight back to DFW. On the way out to the runway we passed United's Terminal 7, where most of the fleet was wearing the three-year-old grey colors (except for a few ugly ducklings at the end of the line):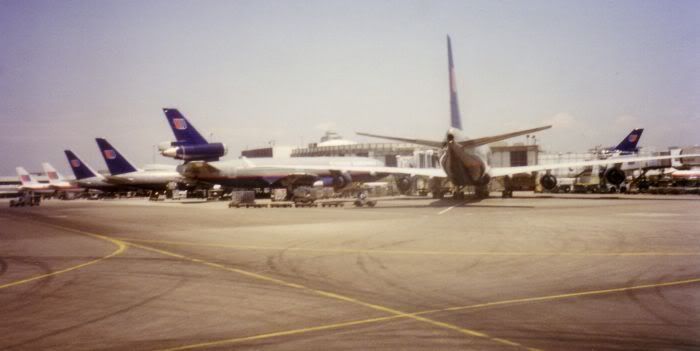 Here's the TBIT most of us are used to seeing - 747s from JAL, Korean Air and Thai, plus an MD11 from China Eastern:

Boston Logan International
October 1996
My dad's family lives in New England, so we made a trip up my sophomore year of high school to visit relatives. We flew American (my dad and stepmom were loyal to AA, my mom and stepdad were Delta FFs) - equipment was a 727-200 on the DFW-BOS leg and a 757 on the return flight. We arrived on a beautiful clear autumn day and pulled into Logan's Terminal B next to a Midway F100: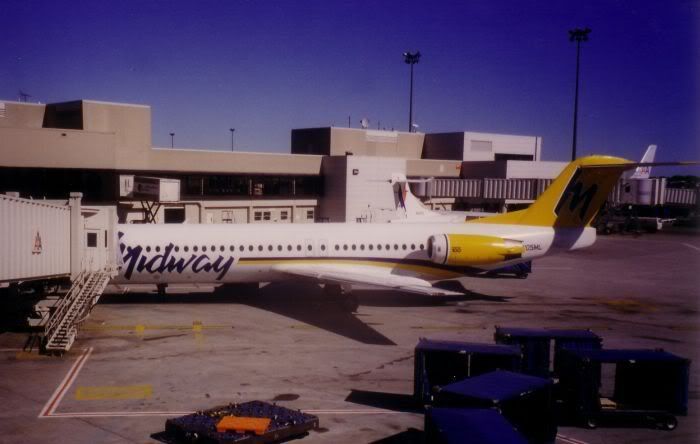 An American 727 in the background: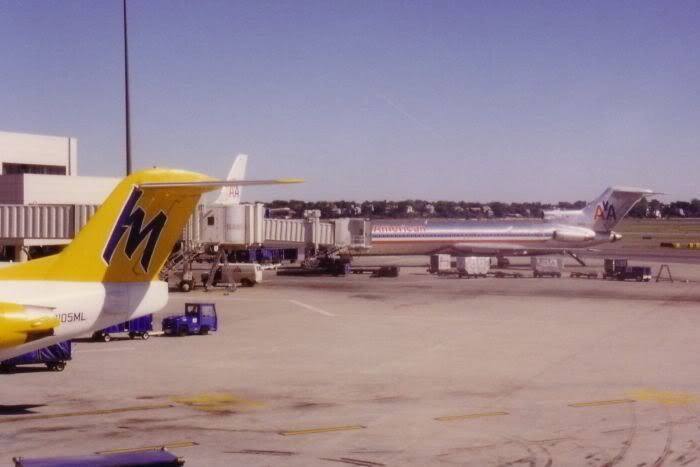 The weather on our departure wasn't nearly as ideal - the remains of a tropical storm were sweeping across New England and conditions were deteriorating quickly as we checked in. I took the camera and walked around the airport for about an hour prior to our flight, starting at Terminal B. In those days United used a few gates in Terminal B to supplement its operation in Terminal C: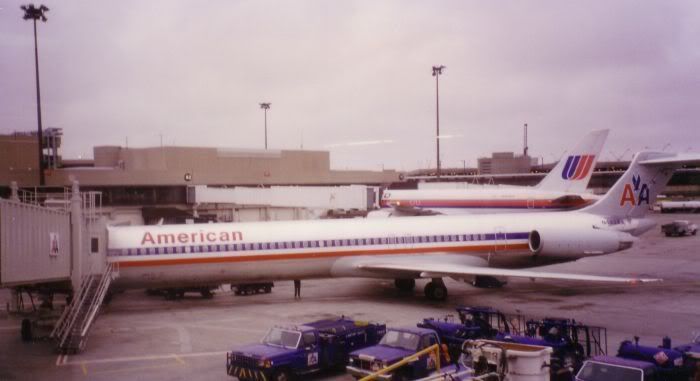 The familiar Logan control tower: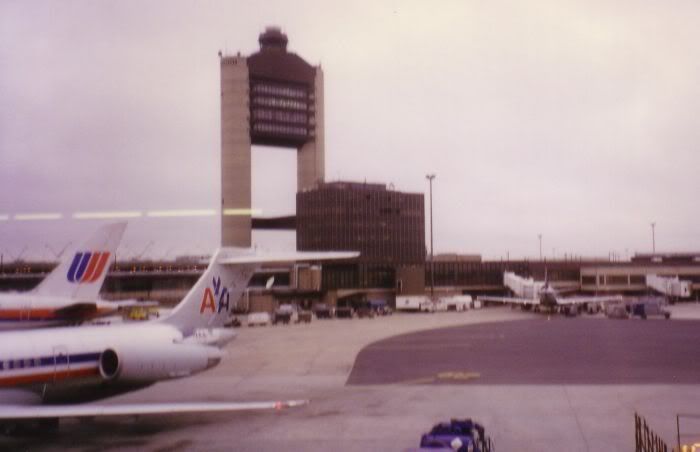 A Midway A320, American MD80 and Delta Shuttle B727 at the far end of Terminal B. Delta Shuttle has moved twice since I took the picture, first to the other side of Terminal B and then to the new Terminal A: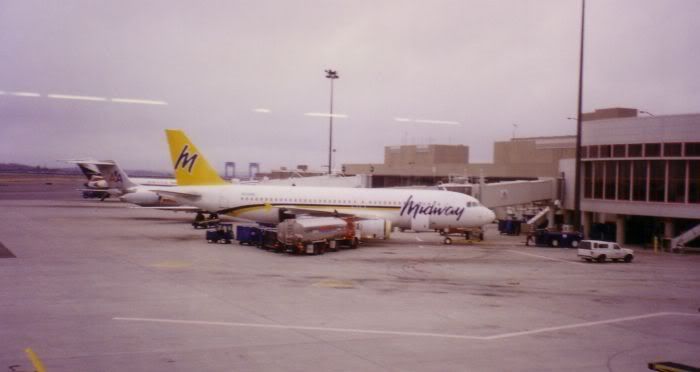 Up close and personal with a USAir B737 at the other side of Terminal B: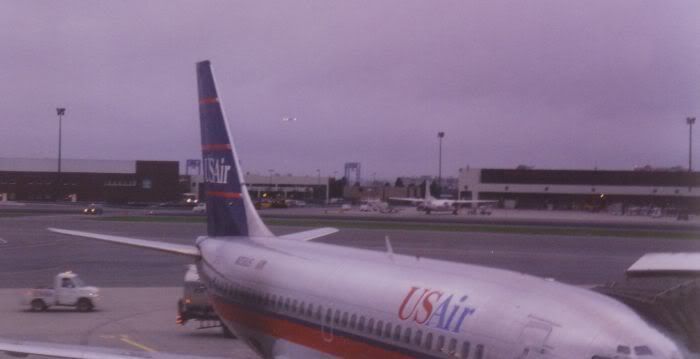 Around the corner was an America West A320 in the company's original colors - the more recent colors were still a year away: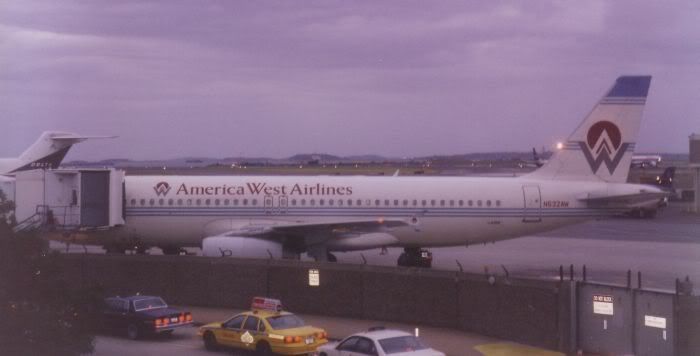 The USAir Shuttle (only a few years old in 1996) was still running 727s from the Trump Shuttle gates at the original Terminal A: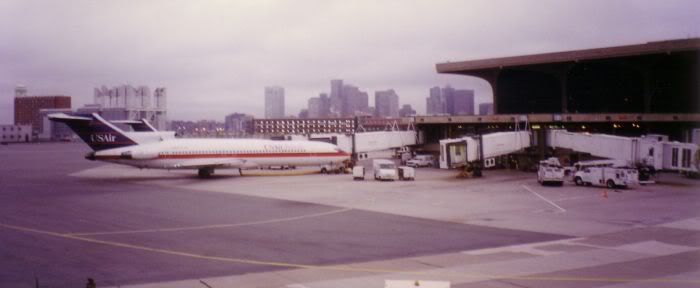 Shortly after I took these pictures the rain started coming fast and furious, and our return flight to Dallas wound up being delayed more than three hours. We got home at about 1:30am (and I got to miss school the next day - always a plus!)
***********************************************
Philadelphia International Airport
June 1998
This was my first trip to Europe... a school-sponsored bus tour of Spain, France and Italy. The tour company routed us on US Airways (a pretty new name back then) connecting through Philadelphia en route to Madrid. I didn't get a window seat until our return flight from Rome, when I snapped a few pictures after our landing. Most of the US Airways fleet was still wearing the old colors in summer 1998: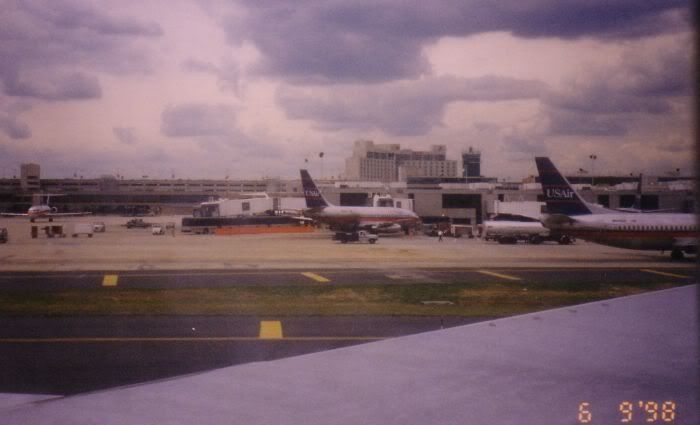 One of AirTran's DC9s livens up the scene in front of Concourse B: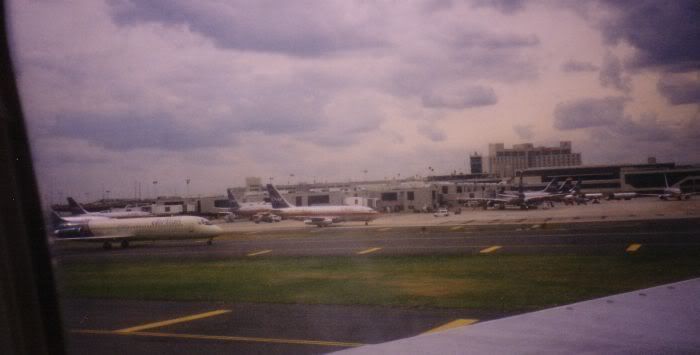 The entire US Airways transatlantic fleet had been repainted at that point, including the 767 I was aboard - here are a few examples calling at Terminal A (Terminal A-West was still several years off):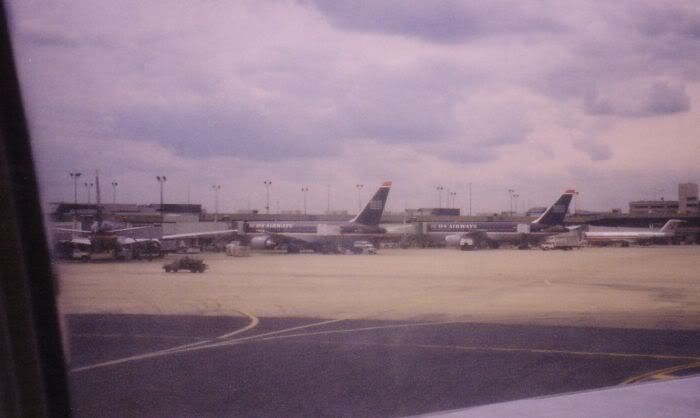 More US heavies and a British Airways 747-200 still wearing the Landor colors: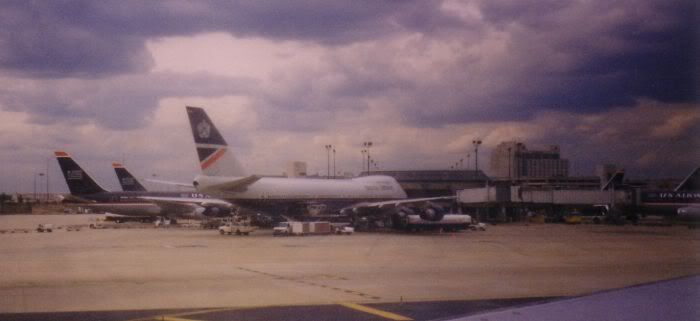 In 1998 Northwest was operating a Philadelphia-Amsterdam service as part of the KLM alliance. Their DC10 touched down right behind us: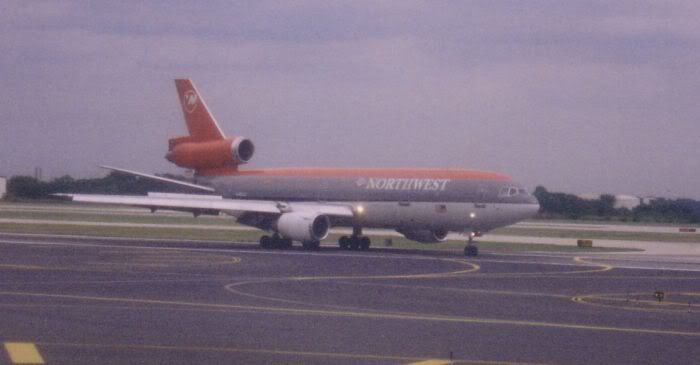 ************************************************
Chicago O'Hare International Airport
July 1998
Jump forward two years, and I've started my college search. My dad and I flew to Chicago to visit Northwestern, the school that I wound up attending between 1999 and 2003. The trip was a good one - we flew up on American's sole widebody DFW-ORD flight, which in those days was flown with an MD11 (today it's a 777).
This was only my second trip through O'Hare, so I spent some time wandering around the various terminals. Here's an American F100 parked at Gate H2, which has since been converted to an American Eagle as the regional jets continue their slow takeover of domestic flights. That's Concourse G in the background, pre-renovation: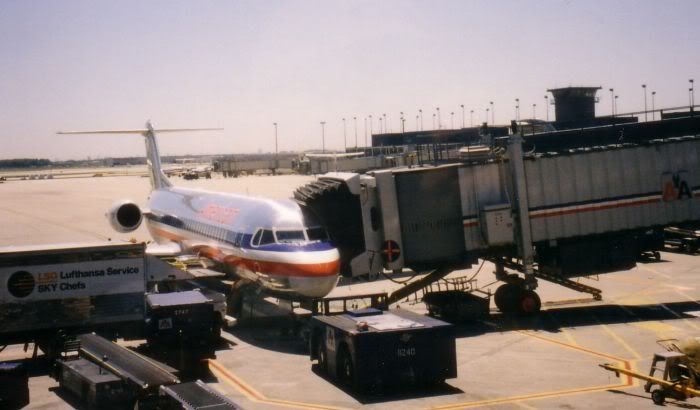 An American 767 and two Canadian 737s parked at the end of Concourse H (Canadian used Terminal 3 due to its codeshare agreement with American):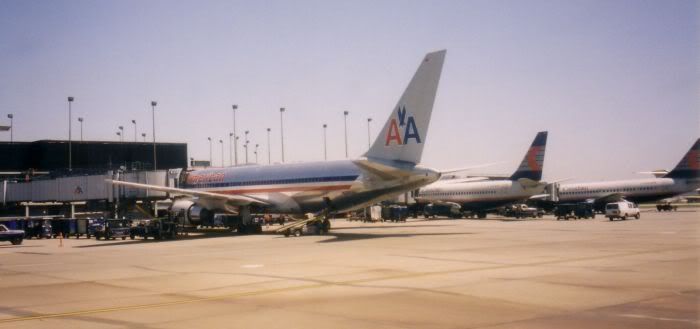 Here's a beauty - a United DC10 passing by Concourse G on its way to runway 32L: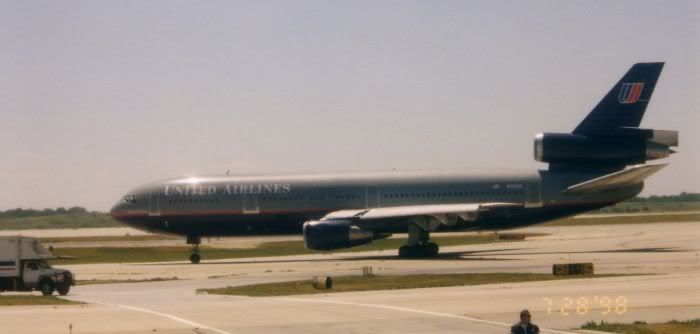 Pretty strange to see the Concourse F ramp without a dozen United Express CRJs cluttering things up! Instead, there's a Continental 727 and MD80 parked at Concourse F (at gates now used by United Express) with a Delta 727 taxiing by in the background: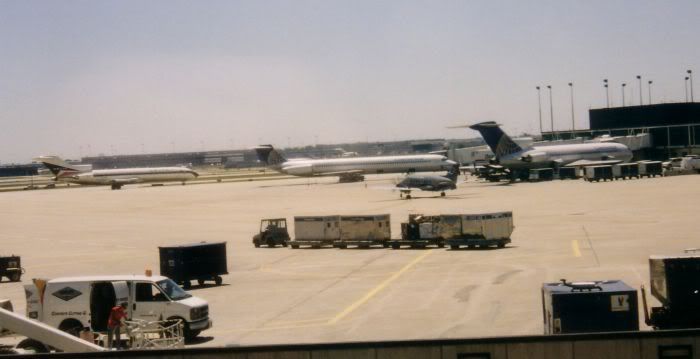 An Air Canada DC9 parked on Concourse E: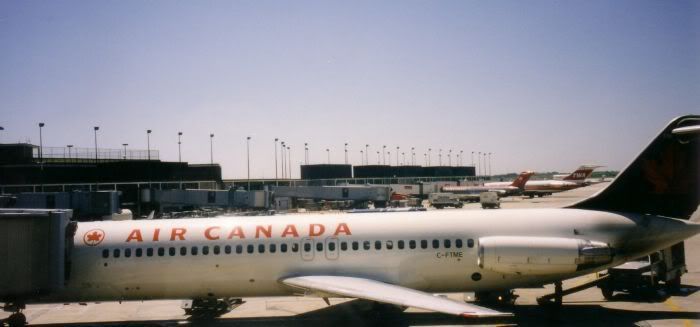 ************************************************
That's it for my old pictures... kind of a random assortment, but it's interesting to see how airline fleets and colors have changed in such a short time. It's hard to believe all of the DC9s, 727s, L1011s and DC10s are all but gone from US airports. Even more curious - there isn't a single regional jet in any of these pictures!
Anyhow, I hope you enjoy the stroll down memory lane, even if it was a stroll into the fairly recent past. Next week I'm heading out on a weeklong trip through Scandinavia (I'll be flying through CPH, HEL and ARN) and I should have a doozy of a report to put together when I'm done. Stay tuned until then!