Here's a brief report of my first TG flight from the new Suvarnabhumi airport. I booked a last-minute TG Super Deals fare to Hong Kong, flying on the ancient B747-300 and A300. Suvarnabhumi had been open for about 5 weeks at this point, so I expected nice facilities and a smooth trip. The reality was something entirely different.
I took a taxi at 5:30am, and after a rather quick 30-minute ride, arrived Suvarnabhumi. The structure looks mighty impressive from outside, but I'm afraid that's pretty much it. I spotted the brand new 777-200ER HS-TJR and Orient Thai's newest 747-300 HS-UTO on the ramp near TG hangars as we were driving to the passenger terminal building.
Entrance 1 for TG premium passengers at 6am. Never heard of Royal Orchid Premium whatever that is…
Entrance 4 for TG Economy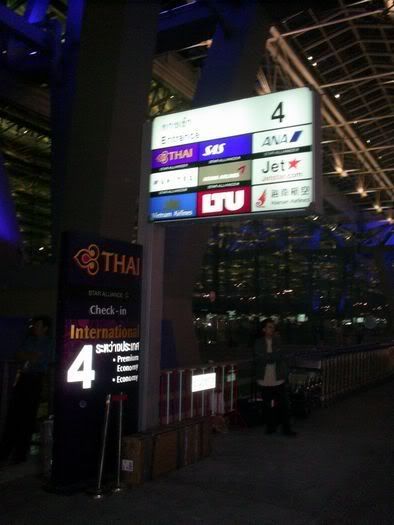 Inside the check-in hall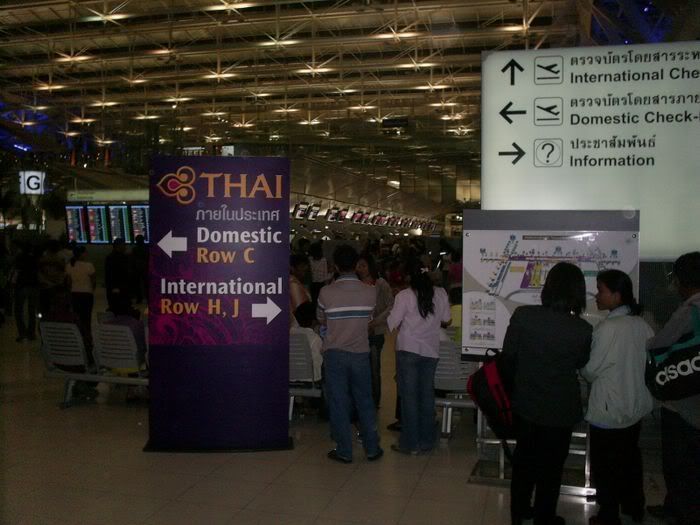 As soon as I made it inside the check-in hall, I was shocked at the crowds inside. The layout is weird, there are no seats to speak of, and hundreds of people hanging around the check-in desks. These can't possibly all be passengers, it's time to tell the sightseeing folks to take a hike as the situation is ridiculous. One could hardly walk in the check-in hall. All the big rotating doors at the entrances were out of order I noted.
Star Gold check-in is a complete joke. TG has two whole rows dedicated to Royal Silk Class, yet Star Golds in economy have to use regular desks with a Star Gold sticker the economy area. There were four desks with long lines, beyond ridiculous. It took me at least 10 minutes in queue, there were never any queues at Don Muang TG premium check-in. I bet the TG employees enjoy chatting with each other in the C/F check-in zone as I can't imagine there to ever be enough passengers to keep those desks occupied.
Please also take out those AOT logos on the screens, the things are to direct people to the correct desks, not advertising IMHO. For example the Finnair screens have "Business Class" with tiny letters next to a huge AOT logo, and cattle class folks end up using it.
Gold check-in
TG Check-in area
The next unpleasant surprise is when you try to go to departures. What they claim to be the world's largest single passenger terminal has about two metres between the end of check-in counters and the booths where you pay the departure tax. Lots of fun with all the masses trying to make their way to passport control. They haven't bothered to move the machines here from Don Muang, s everybody has to queue up,
Passport control was quicker than at Don Muang, but what's the point of bragging about the number of passport control desks when 70% of them were not staffed and the rest had long lines? What follows after your passport is stamped is probably an unpleasant surprise for many. A downward sloping ramp that could be best described as an ice skating rink. I almost fell down about five times. The whole terminal has the same tiles, whoever bribed their way into providing something completely unacceptable as floor tiles should be held responsible. Any US airport operator would be bankrupt from lawsuits already.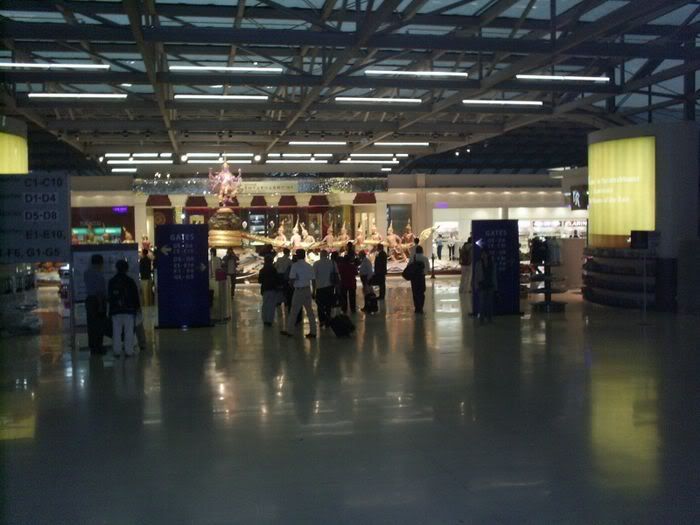 At least they now have signage…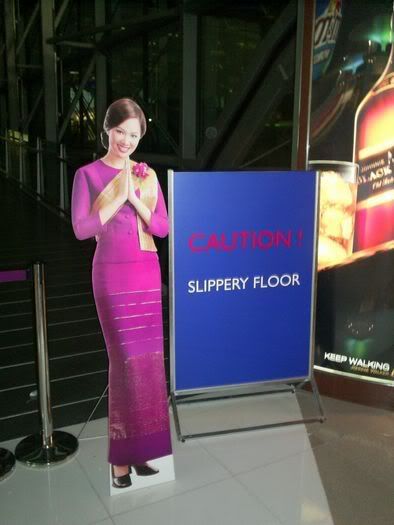 Thai style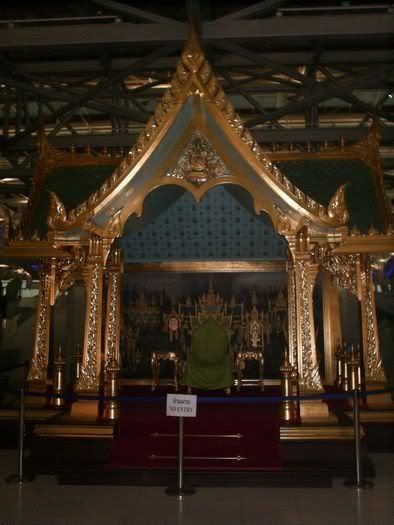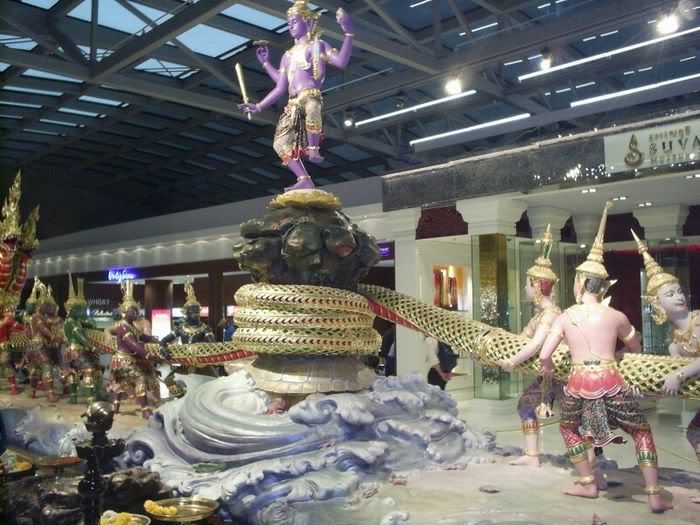 There is temporary signage everywhere, like these lounge and gate signs.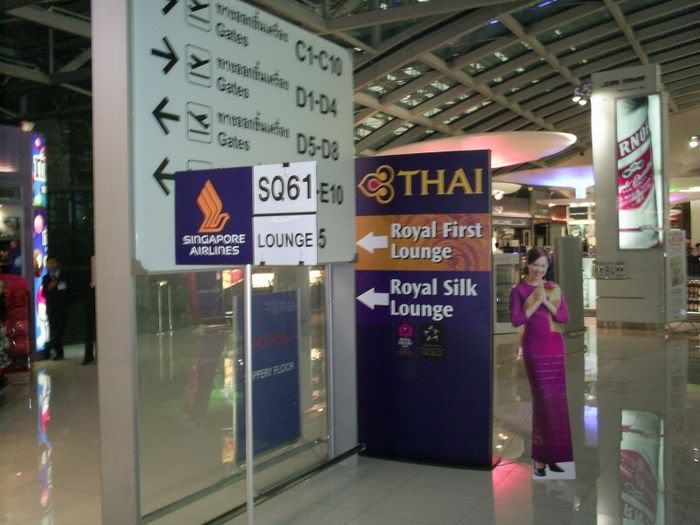 Shopping arcade – construction STILL going on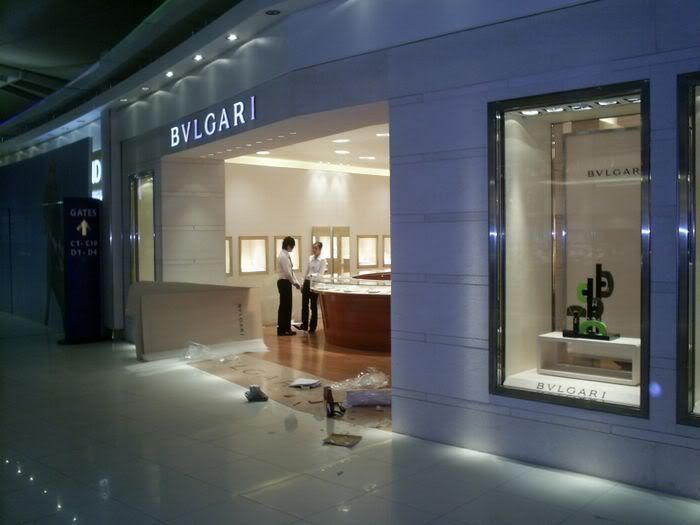 The D-concourse TG lounges are down one level from the shopping area, as are other lounges. This is where I realized what many had complained about – there's a serious lack of lighting everywhere at the airport, very dark unless you're by the windows. Also, the concrete surfaces look terrible, nobody bothered to polish them I guess. It's also generally very dirty everywhere.
Dark entrance to the new TG flagship lounges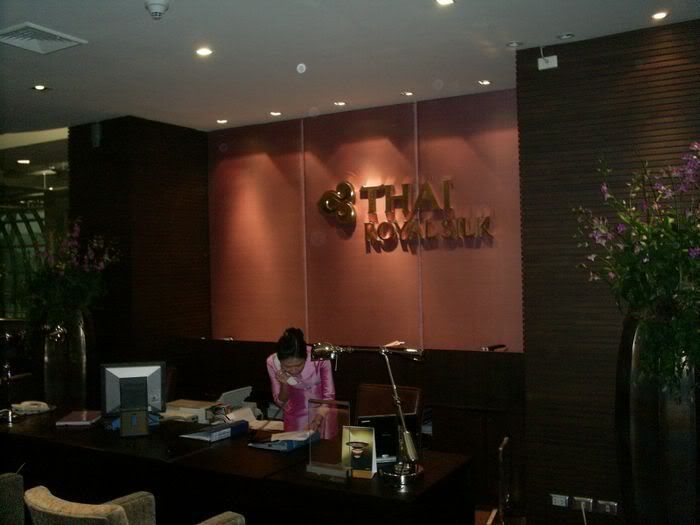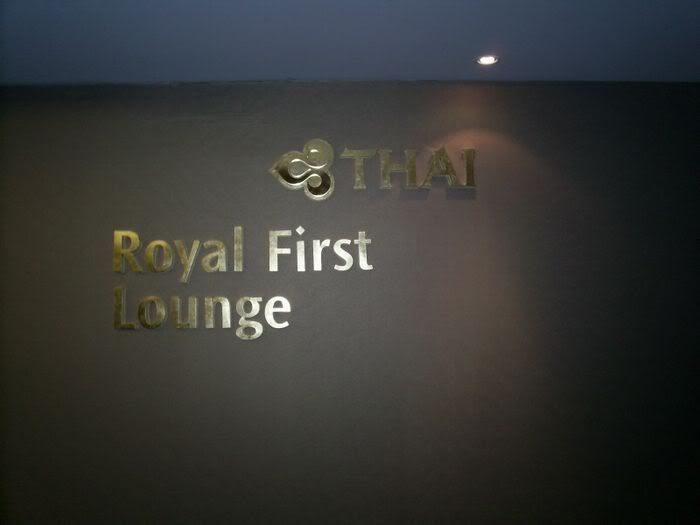 Equally dark inside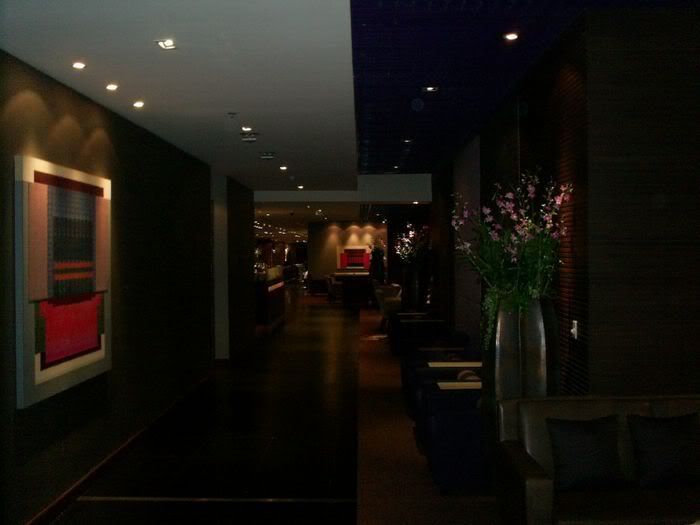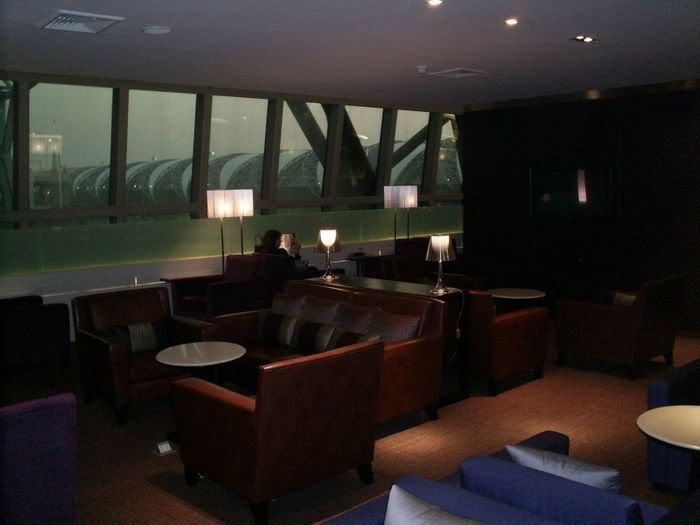 The lounge was overcrowded, and a huge disappointment. Basically a long corridor with seats if you manage to snag one (though the crowding should be reduced with more lounges opening). There's a smoking room, some computers, a few relaxation chairs, kids' playplace and a few buffet counters. Very ordinary business class lounge, I expected something special.
The place offers no proper food apart from pastries, sandwiches and fruit. This is supposed to be TG's flagship offering – compare that to food like omelettes and noodles (breakfast), salads, chicken fillet with mashed potatoes etc offered by SQ in Singapore. CX Noodle Bar in HKG… The list goes on. The saddest thing is that Hong Kong international airport is 10 years old IIRC, and the CX lounges beat the heck out of what TG came up in 2006.
I wanted to have some breakfast, but took some small sandwiches and JW Black Label instead since all they offered was those pastries.
There were a few cleaners to be seen, all they were interested was picking up plates before you had finished eating the stuff. The toilets were filthy and look at the floor… Looks like some garbage room in a grocery store, not a flagship business class lounge of what's supposed to be a top Asian airline.
Apparently the concourse C lounge has now opened, I snapped a picture on my way to the gate. The disinterested TG check-in girl of course didn't bother informing me of any lounges, not that any TG staff at BKK ever has.