Hi everyone,
As there will be many (rather low quality) pictures will be involved in this report, I divided it into 3 parts.
1: IST-BKK on TK A-332
2: BKK-HKG on EK B-777-300 ER
3: HKG-IST on TK A-340-300
I will go to the army in about one month now so I decided to take a 10 day vacation in South-East Asia. I was planning for about a month but I actually bought my flights and hotels about 30 hours before the flight. I planned to stay in Pattaya for 6 days which would be a relaxing beach holiday and in Hong Kong (HK) for 3 days which would be a shopping and gourmet holiday. I changed my plans after I arrived in Pattaya but I will tell about that a bit later. I am not a very experienced trip report writer so please excuse me if I make any mistakes. Also, I have a very humble digital camera so picture quality is not very high
02 November 2006
Route: IST-BKK
Airline: Turkish Airlines (TK)
Flight: TK 60
Aircraft: Airbus 330-200, TC-JNC (named Bursa)
Seat: 22 K (Emergency Exit)
STD: 23:40
ATD: 00:10
STA:13:45
ATA:14:00
Flight Lengh: 9 hours
Speed: 560 mph or 900 km/h
Altitude: 37000-39000 ft
Weather: Very cloudy in IST, fine en-route, sunny and hazy BKK
I was very much looking forward to this flight because I had been wanting to fly TK's new 332s with the new interior including PTVs
I usually don't sleep on the airplane so it's a very important detail for me. I do not have and take off pictures of this flight as it was a night flight. Amazingly, TK allows to check-in for the emergency exit seat online so I booked my seat 24 hours in advance. It has many advantages as there is always a separate counter for online check-in. I took seat 22 K. There was a window next to me but it was a bit behind me so it wasn't very ideal for taking pictures.
I arrived at the airport around 1 and a half hour before take off. I was one of the last to check in and the agent told me that the flight was pretty full but the seat next to me would be empty (hurray
). I then proceeded to the passport control, smoking room, duty free area, smoking room, gate, smoking room and gate respectively
Boarding stared at around 23:00 hrs. It went pretty smooth. It all went very fast but because of a few missing passengers, we left about half an hour late. Just before push-back, a rather stocky guy came and sat next to me. We pushed back at exactly mid-night.
One of the male F/A's sat right across me. I said hello to him and told him that I was an ex TK F/A too. Actually, the other F/A on the other side was a friend of mine. We talked for 10 minutes during take off about past and present and how their job is right now. They get paid much better compared to 6 years ago when I was flying
Take off was not so smooth due to bad weather in IST but it got better later and we had almost no turbulence for the rest of the flight.
about 30 minutes after take off, the crew served drinks with hazelnuts and about 45 minutes after that, we were served a light cold meal although I was expecting a hot meal. It was not very tasty to be honest so I didn't eat much. I spent most of the flight playing with the PTV. There was a good choice of movies and TV shows as well as music and games. I watched "The Devil wears Prada" for the third time and "Pretty Woman" for the 100th time
Sunrise was about 4 hours after take off somewhere over southern Iran but I didn't get many pictures as everyone were sleeping and the windows needed to remain closed. About an hour and a half before landing, we were served breakfast. Once again, it was not very tasty. I usually enjoy TK's food but on this flight, it was not good and the portions were rather small.
Landing was also pretty event-less. After a few sharp banks, we landed at the new impressive BKK some 15 minutes behind schedule. I think, I SAW the old airport as well. The plane is also equipped with cameras so I also watched the city from the camera on the belly (or at least I think its somewhere on the belly
)
Enough talking. Time for the pictures now
I am using PhotoBucket for the first time and I hope it works fine.....
Some cabin shots first: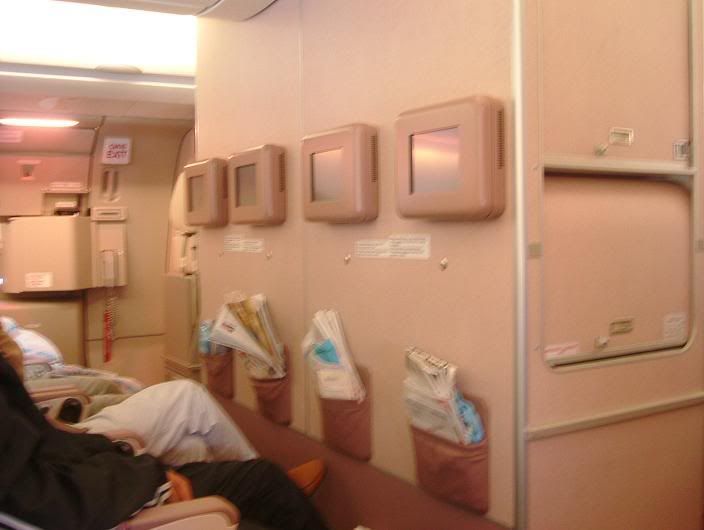 The PTV and the very generous seat pitch at the exit... Sorry about the mess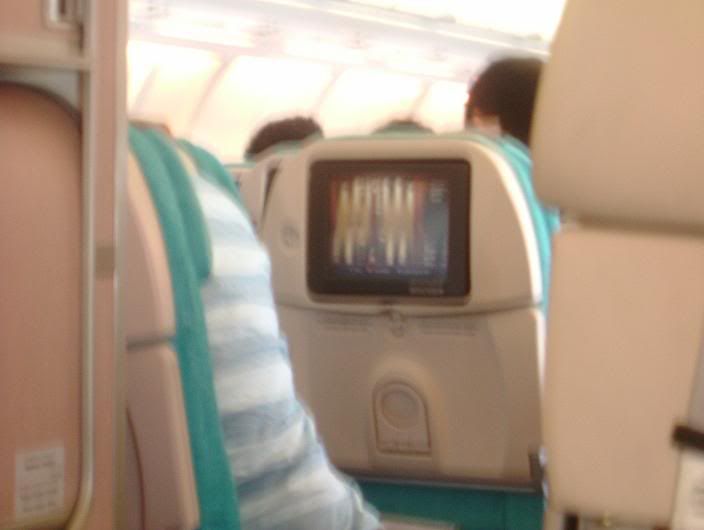 I think "Devil wears Prada" is an amazing movie and Meryl Streep was particularly great
Some flight information...
Sunrise moment...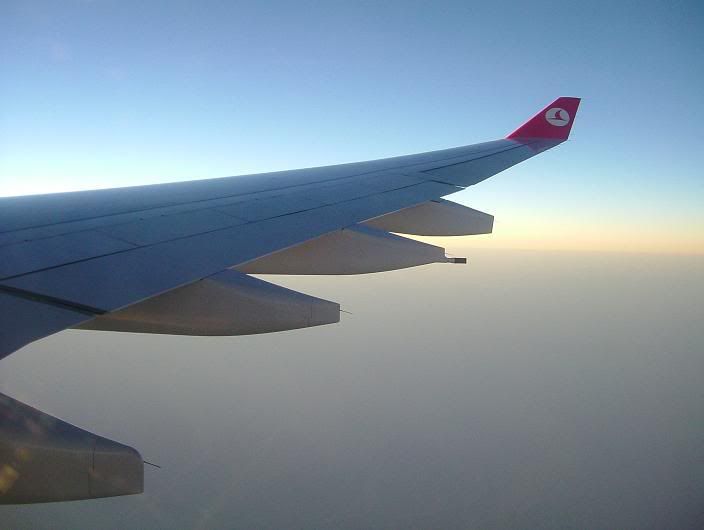 over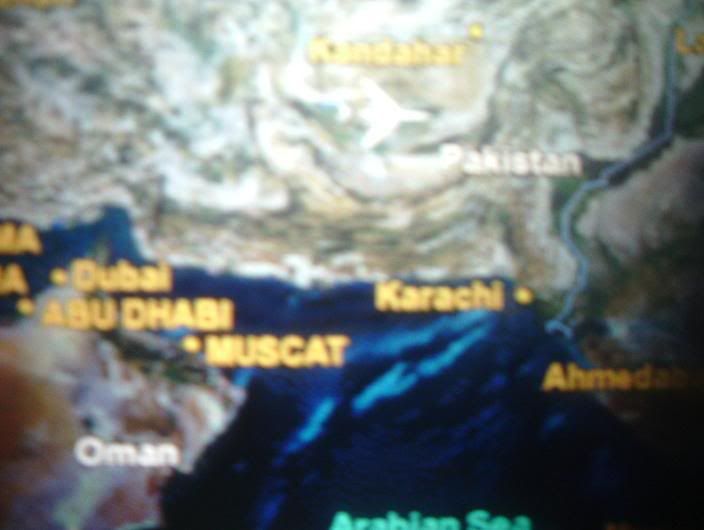 Some interesting view in southern Bangladesh
Some landing pictures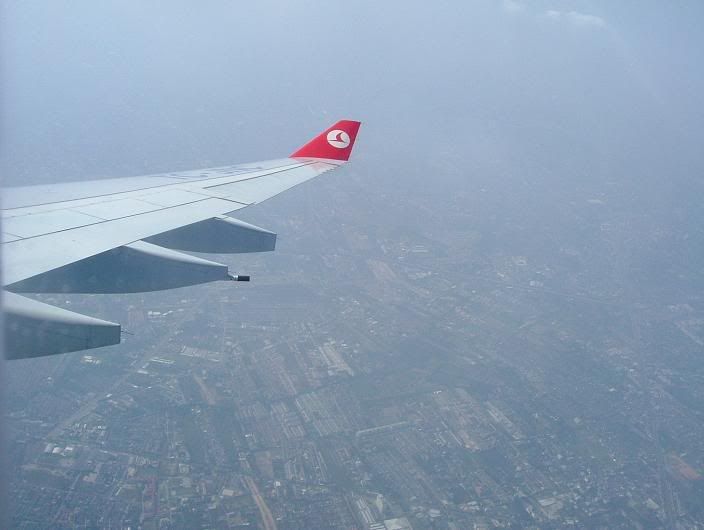 And touch-down...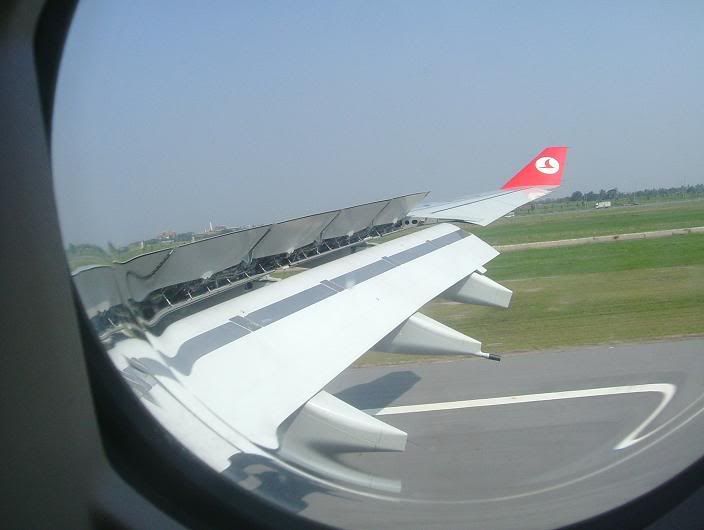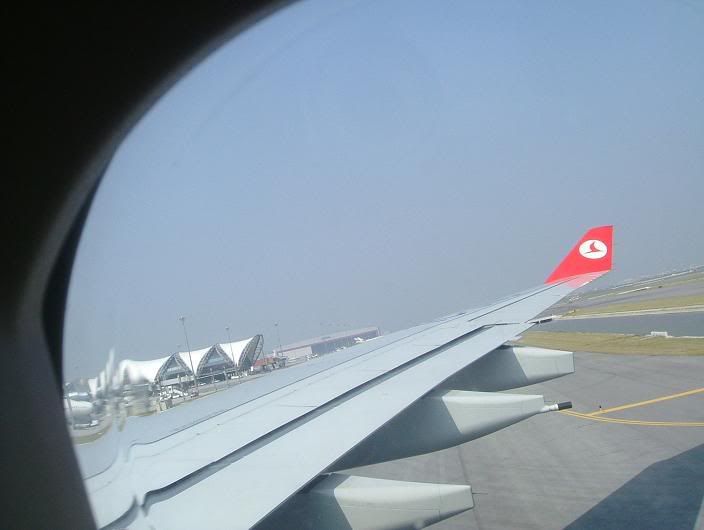 The old and new Thai livery next to each other. I am not a big fan of their new livery by the way..
And the amazing Suvarnabhumi
And a few last shots before I cleared immigration and caught my taxi to Pattaya...
Unfortunately I caught the info in Thai only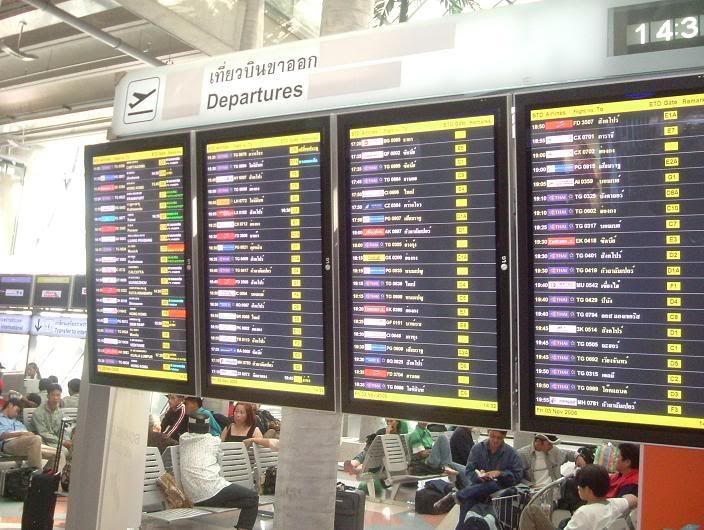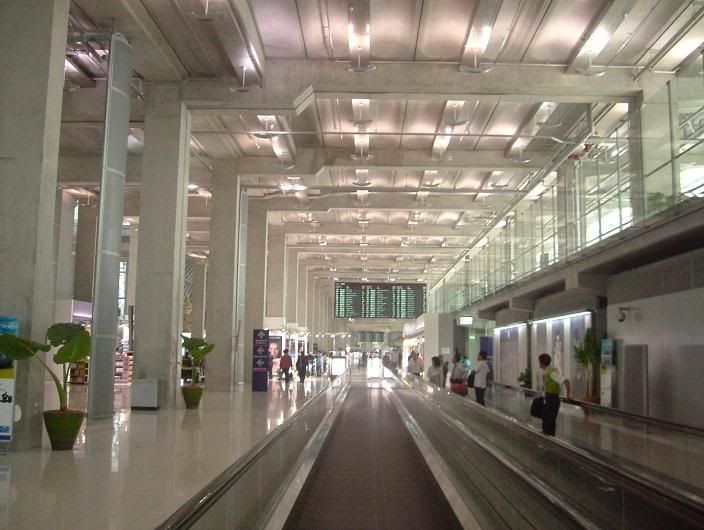 That's all for this report. I hoped you enjoyed it. Part 2 and 3 are coming very very soon. By the way, I think this was the first TK 330-200 photo report
I apologize for the bad quality pictures again. My camera really sucks at night....