As I said in my previous report, I was supposed to stay in Pattaya for 6 days. I booked Hard Rock Hotel despite being expensive because it had a very large pool and I thought it would be fun to stay there. After a very long flight from IST, I had a loooong first night sleep and I was ready to head for the pool next morning after missing breakfast... I arrived at the pool just to find out there was entertainment going on and hundreds of children were screaming around me. There were competitions around the pool and children were running around playing their games. And surprise: Live music starts at the pool at 15:00 hrs !!! This was not why I came here.... I thought about going to the beach but they told me I couldn't swim because it was dirty.
I said to myself, all right, you will go out, meet other travelers, find beaches where you will swim and night clubs to hang out. I went out to have dinner in town just to find out that I was the youngest tourist in town. The streets were full of young Thai boys and girls holding hands and making out with very very old European men. The only night life was go go bars. There was no such thing as night clubs or bars you can just enjoy a drink without being harassed by a Thai boy or an obese man.
I made up my mind on Saturday night, the day after I arrived, and changed my EK tickets on the phone to arrive in HKG 3 days before I scheduled. It was a very wise decision as HKG turned out to be an amazing experience although 6 days was a bit long... 4 days in HKG would definitely do it if you are not interested in the Ocean Park or Disneyland.
So I arranged a private pick up through a travel agency and headed for Bangkok on Monday morning.
06 November 2006
Route: BKK – HKG
Airline: Emirates Airline (EK)
Flight: EK 384
Aircraft: Boeing 777-300 ER,
Seat: 19 K (actual 32 HJK)
Gate: E 1
STD: 13:20
ATD: 14:08
STA:17:10
ATA:17:16
Flight Length: 2 hrs 8 mins
Speed: 935 km/h
Altitude: 37000 ft
Weather: sunny and hazy BKK, fine en-route, sunny and hazy HKG
I arrived at the airport at around 10:00 because I needed to go to the EK ticket counter to change my ticket. I waited until 11:00 for it to open ad finally changed my ticket and went to check in. It went very fast at the desk but all emergency exit seats were occupied. So I took a random window seat as I wanted to take as many pictures as possible.
I walked around at the airport and took some pictures.
There were signs pointing an observation desk but it was closed. So I paid the 500 THB departure tax and went through the immigration which also went quite fast. The new airport, as I said before, is really impressive. It feels very spacious compared to the old airport which I though was quite a mess. After walking around a bit, checking out some duty free shops, I headed towards my gate together with the multi-national EK crew.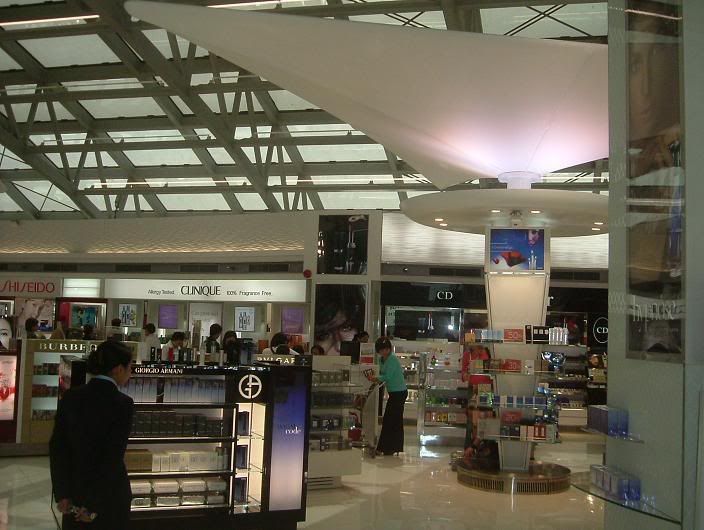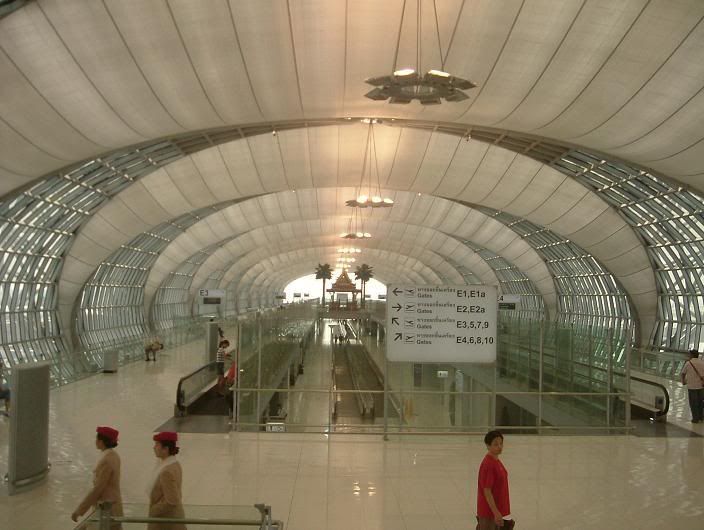 I sat down at the gate with a bunch of other people. Great, the plane was late. After reading a few pages from my book, it appeared. And to my surprise, it was an ER model so it meant ICE !!! It was scheduled to be a non-ER version. I got very excited after I saw the plane because it would be my first 777 plane and it would happen on the largest 777 currently.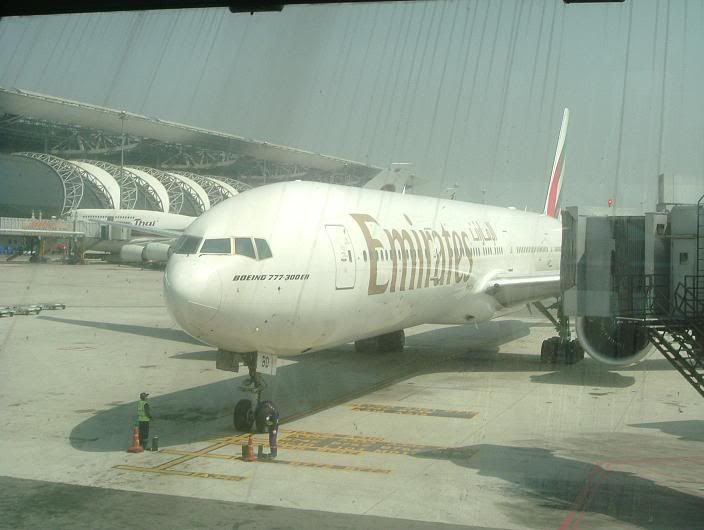 Hundreds of people left the plane and only a bunch of us were waiting so I know the load would be very light. I waited for everybody to board and then boarded myself at around 13:35. When I arrived at my seat, some girl was sitting there with his old father next to her. I told them that the plane looks empty and that I would sit somewhere else. The F/A agreed with me and I moved back to seats 32 HJK
I had the whole row to myself...
The view of the cabin before take off...
Shortly after I sat, the doors were closed and we were ready for pushback. 777 is a massive aircraft. Besides the impressive cabin, what shocked me most was the sheer wing size. It was twice the size of anything I had seen before. At this point, I was more and more excited. I only wished this was a longer flight.
The massive wing of the 777-300/ER
The F/A came around with menus after the looong safety video and we pushed back at around 14:00.
Here is what I saw during out taxi....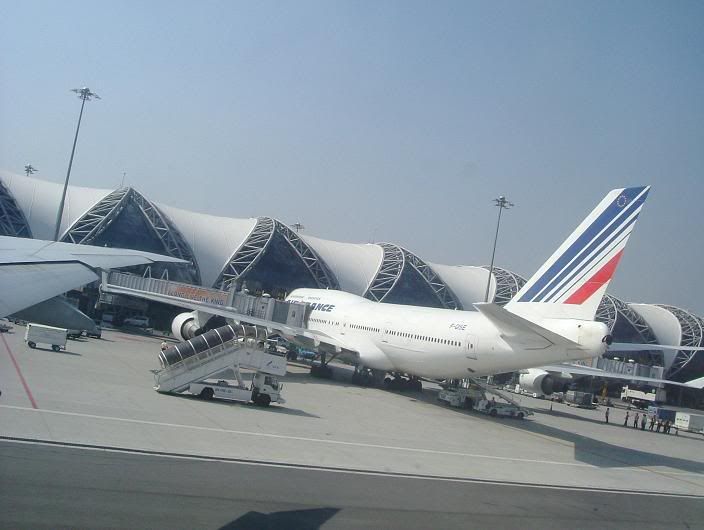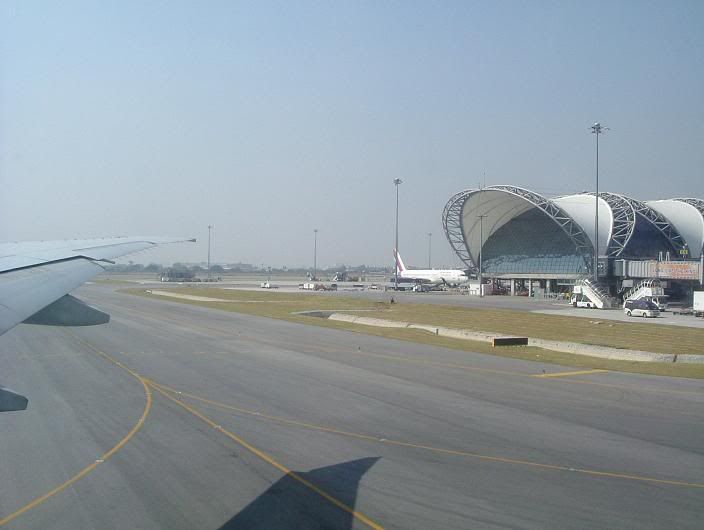 Is this Royal Nepal Airlines? I couldn't tell really...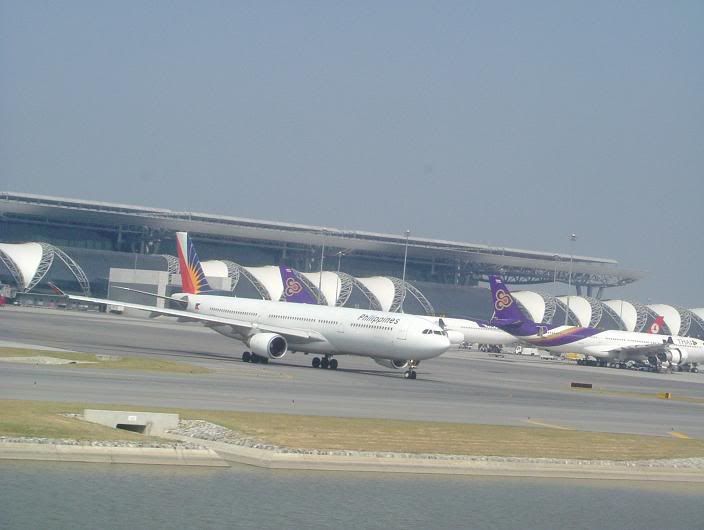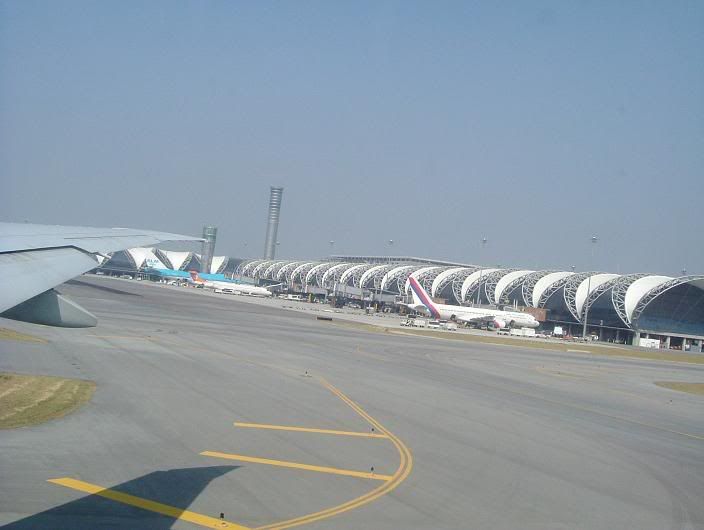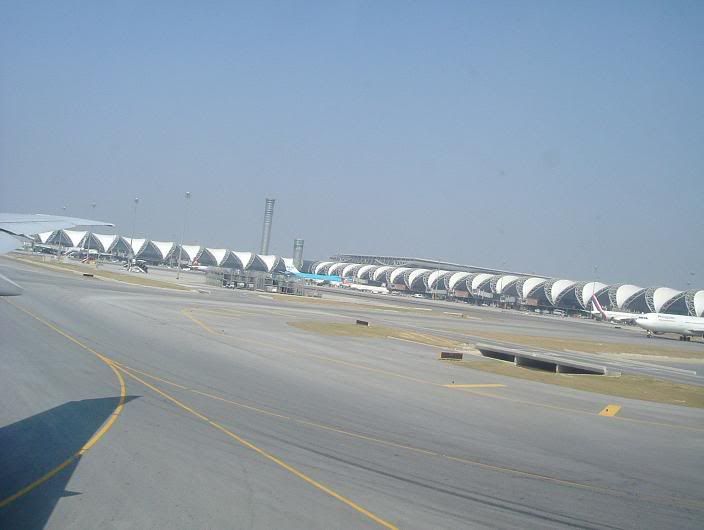 We then turned towards the active (I am not sure about the runway. Maybe some BKK experts could tell me). We took off shortly after an Air Asia 737. By the way, ALL Air Asia flights were delayed by at least 2 hours that day.
At precisely 14:08, about an hour late, we started our rather short take off run. Even before the flight started, I wanted it to never end... We took off towards NE Thailand and without too many sharp turns, we were on our way.
Here are a few pictures from the take off roll and climb...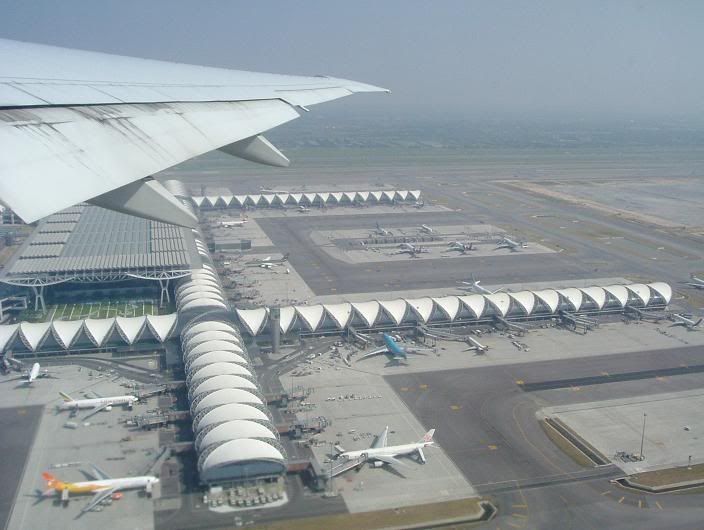 Soon after we took off, the crew came around with the meals. The menu for the BKK-HKG segment was as follows:
Bar Service
With the exception of champagne, drinks served are with compliments of Emirates
Apéritifs
Campari, Sweet or Dry Cherry and Sweet or Dry Vermouth
Wines
A selection of Red and White Wines
Champagne
Champagne Brut (30 Dhs.)
Spirits
Bourbon, Gin, Rum, Rye, Vodka, Whisky
Liqueurs
Baileys, Cognac, Cointreau, Drambuie, Tia Maria
Beers
A selection of beers
Soft Drinks
An assortment of soft drinks, fruit juices, ice tea and mineral water
Light Meal
Appetizers
Seafood Salad
A marinated seafood salad, served with a lime wedge
Main Course
Green Curry Duck
Green curry duck, accompanied with steamed rice and Chinese broccoli in oyster cause
Fried Plakapong Fillet
Fried plakapong fish fillet, topped with garlic and coriander, accompanied with hokkien noodles and pak choy
Dessert
Coconut Lime Cheesecake
A tangy coconut lime cheesecake, served with a berry coulis and whipped cream
Beverages and Chocolates
Tea or Coffee
Chocolates
I opted for the duck which was rather spicy !! and a diet coke. The whole meal was pretty good to be honest except it was too spicy for my taste. The dessert was delicious
Here is what the food looked like.....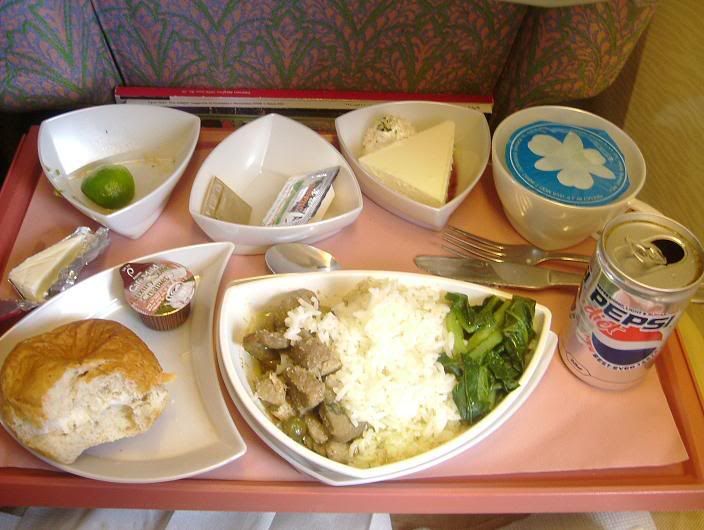 After the meal, I devoted myself to the wonderful ICE. There were so many options that I didn't know what to watch. I ended up watching a few episodes of this: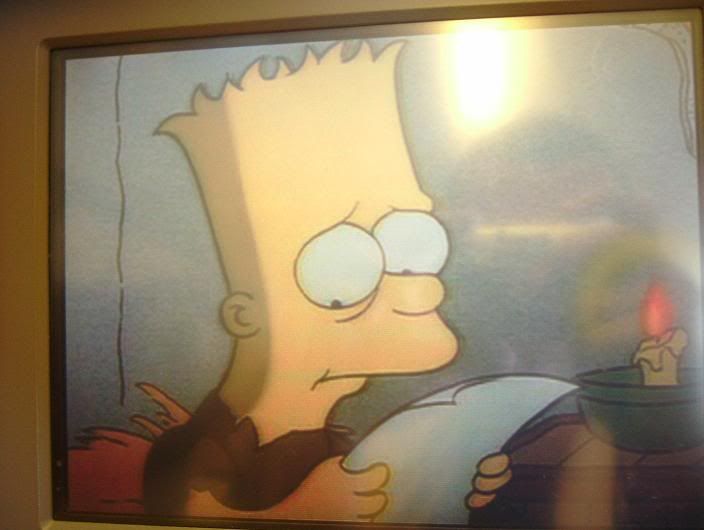 And this:
And of course took many many pictures...
The island of Hainan can kinda be seen in this picture 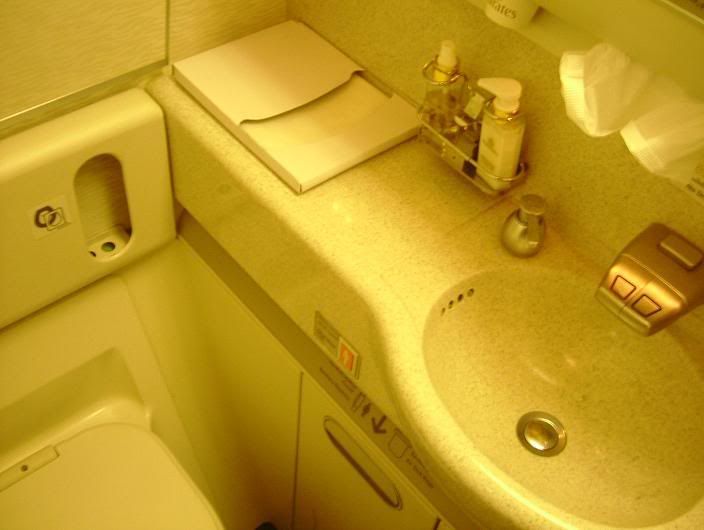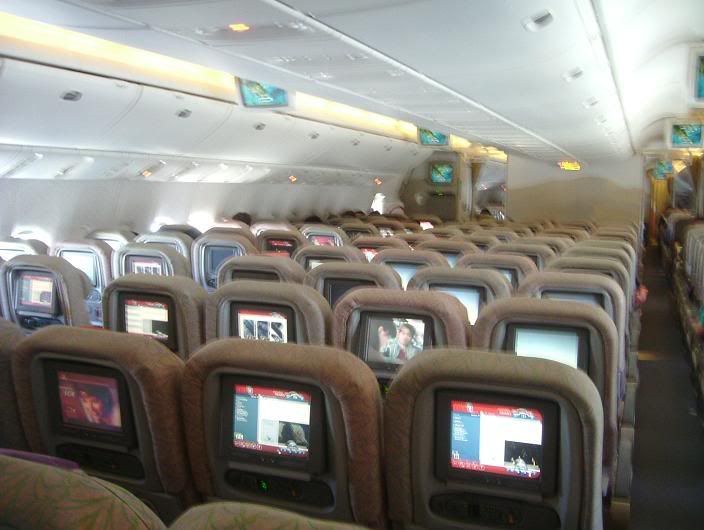 After about an hour and 40 minutes, we started our descend. The speed brakes were deployed instantly.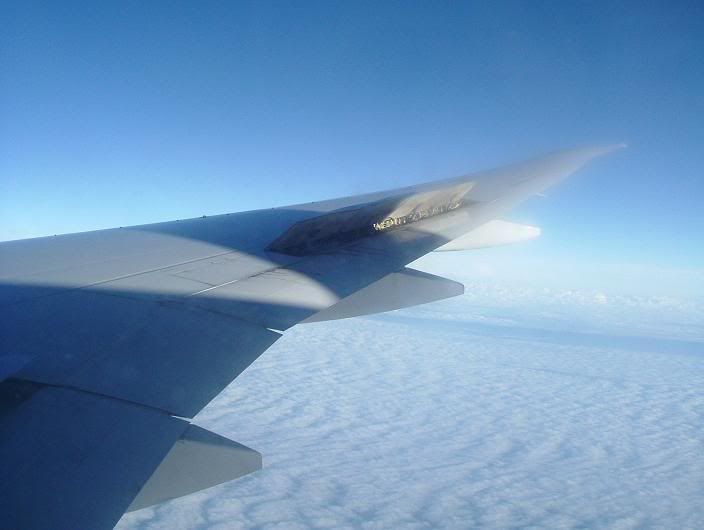 We were over here:
The rest were turn right, then left, then right, slow down, turn left again etc....And we neared the destination....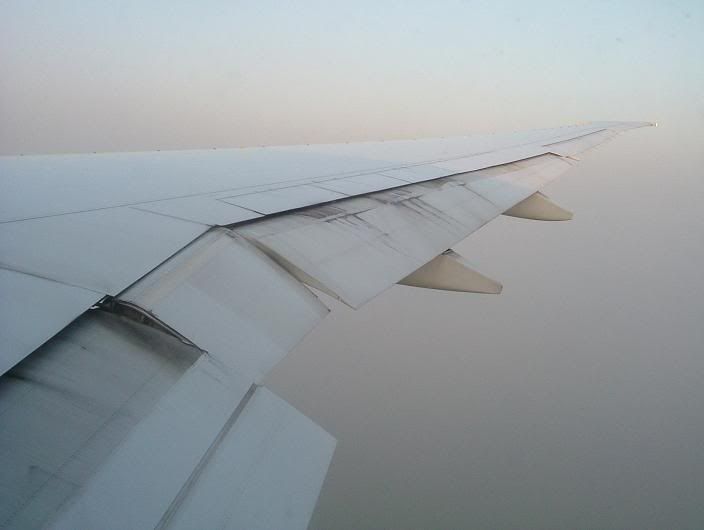 I was just amazed by the size of the flaps, the innermost in particular. I thought it would actually touch the ground upon landing. It was huge...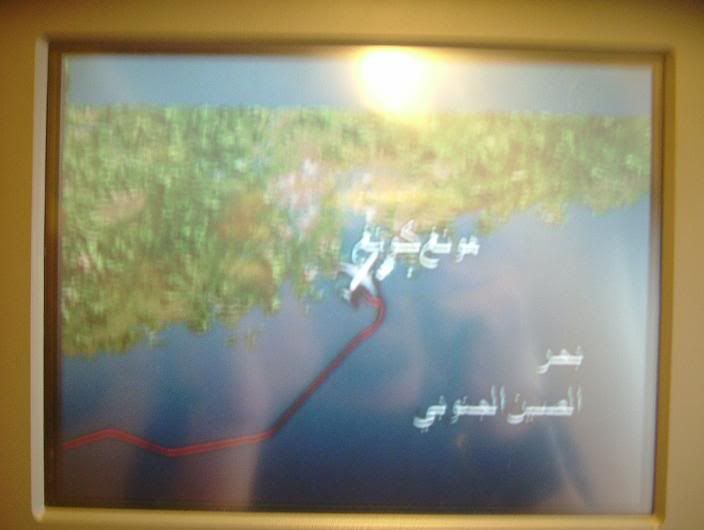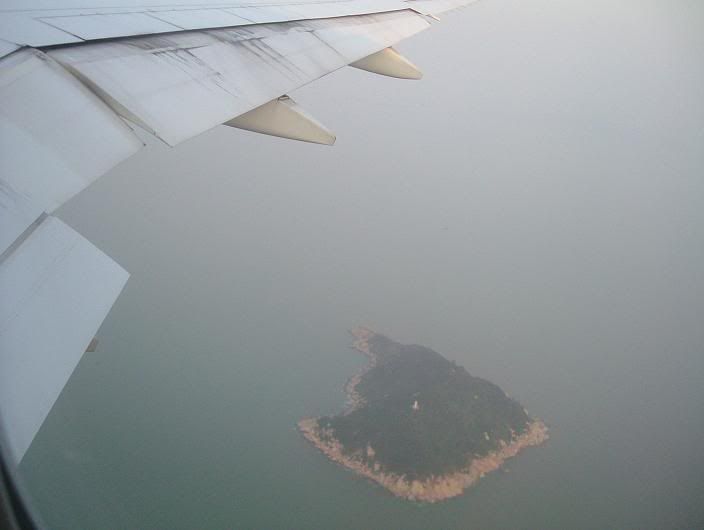 It stared getting a bit bumpy at this point and the island of Lantau came into view on the right...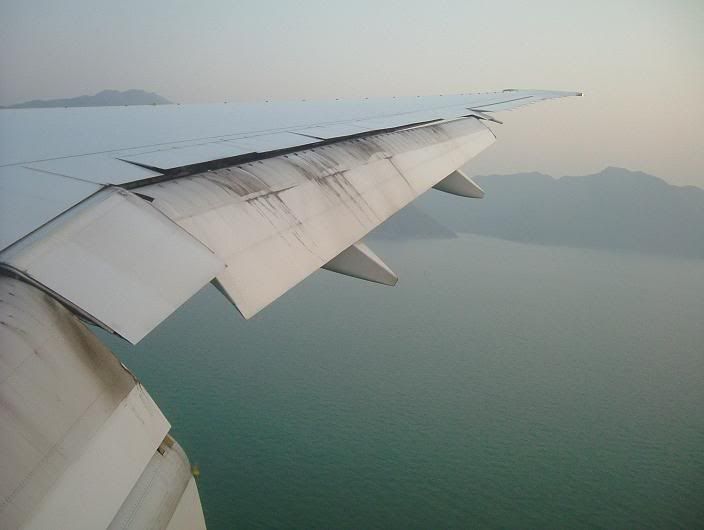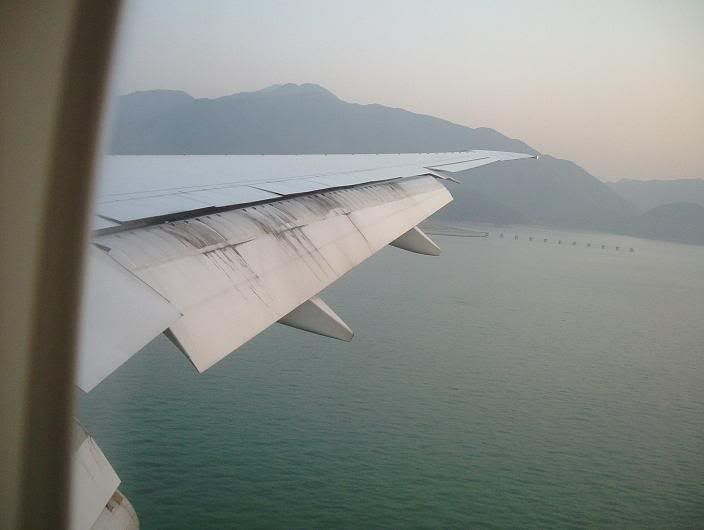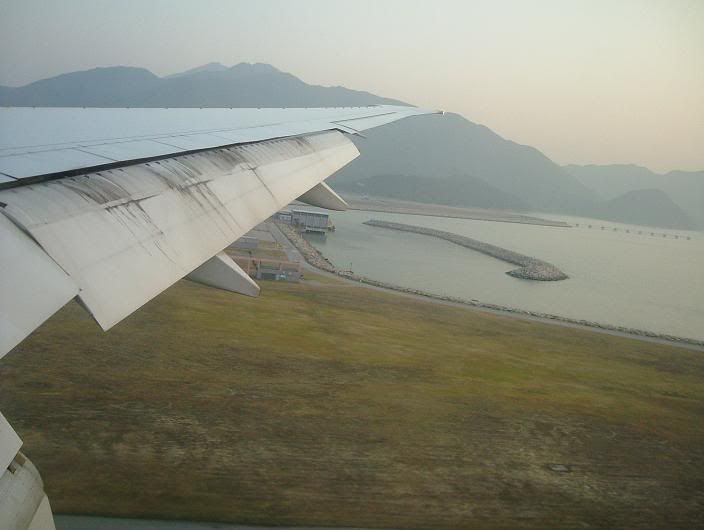 We touched down precisely 2 hours and 8 minutes after departure. 42 minutes less than scheduled and 12 minutes less than announced.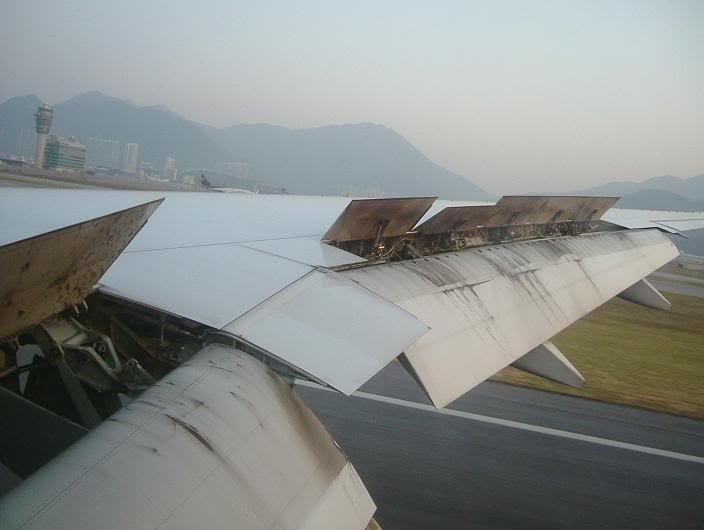 And just look at what I was greeted by
I guess I am one of the first here to get a shot of this airline.. It looked cool....
Then a few others...
Shortly after, we arrived at our gate. I was able to grab some few shots of the cabin while deboarding...
A bad shot of the C class too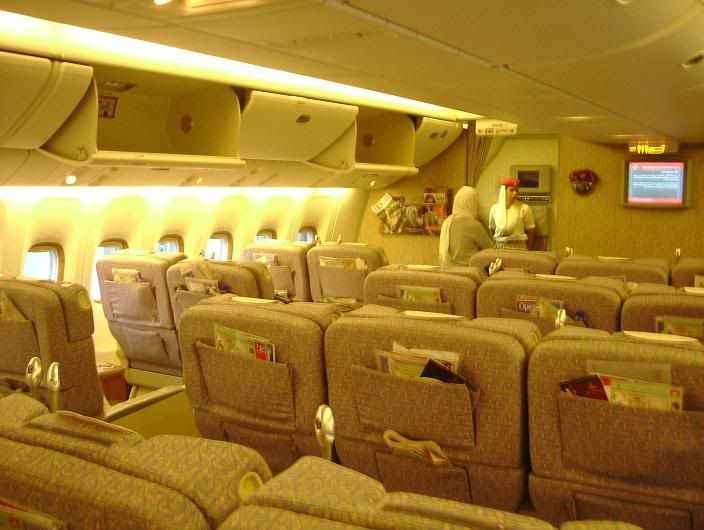 Just as I was taking these pictures, I saw the most handsome Brazilian guy ever
He asked why I was taking these pictures and I briefly told him about A.net etc... He knew about the website and although he wasn't a member, he was a frequent visitor. We had a couple of dinners together in the city later
And this is why, the pictures end here because I was no more concentrated on the flight......
Just as we stepped outside the aircraft, some immigration officers were waiting and they were stopping some people to look at their passports. I was not one of them...
I then stopped at the smoking room, and went through the immigration. Our luggage came shortly after and I took the Airport Express to Kowloon where I changed to a shuttle bus to arrive at my hotel.....
This was the second part of my trio. I hope you enjoyed it.... Any questions or comments are very welcome...