So this is the 3rd and the last part or my trio. I hope you will enjoy this one too. As it was a night flight, the pictures aren't great again and blurry too. But here it goes……
I was supposed to spend 3 days in HKG but because Pattaya sucked big time (I told the story earlier), I ended up staying 6 days in HKG which was a tad long but was great. I really had a great time there… I stayed in two different hotels in Kowloon area (in Tsim Sha Sui to be exact). The area is very vibrant but it feels like Harlem of NY
I walked at least 5-6 hours everyday, did lots of sightseeing and lots and lots of shopping. There are great restaurants, bars and clubs for every budget. The SoHo area in Central was great for restaurants and clubs… The foreigners hang out in Lan Kwai Fang area at night which is very close to SoHo but usually a straight bunch
Shopping is spread all over the town depending on what you are looking for. If you want to buy expensive brands, Central or Causeway Bay are the places yet for electronics, I think Mong Kok in Kowloon was the best place. Cameras, mobile phones, Nintendo's, Ipod's are almost half price compared to Europe. I bought A Nintendo DS Lite and an 80 SA)">GB Ipod which does not exists in Turkey yet hehe…. You should definitely visit street markets such as Stanley in southern HK Island, Ladies Market and Temple Street.
Pay a visit to the Peak for spectacular views of Kowloon and Central and their impressive buildings. I have been told the Ocean Park is a lot of fun as well as the Disneyland. I didn't visit these two as I did not want to go on my own. Plus I did Disneyland in Orlando so I don't think it would satisfy me
Some pictures of HK now before we move on to the report….
The view you get from the Peak….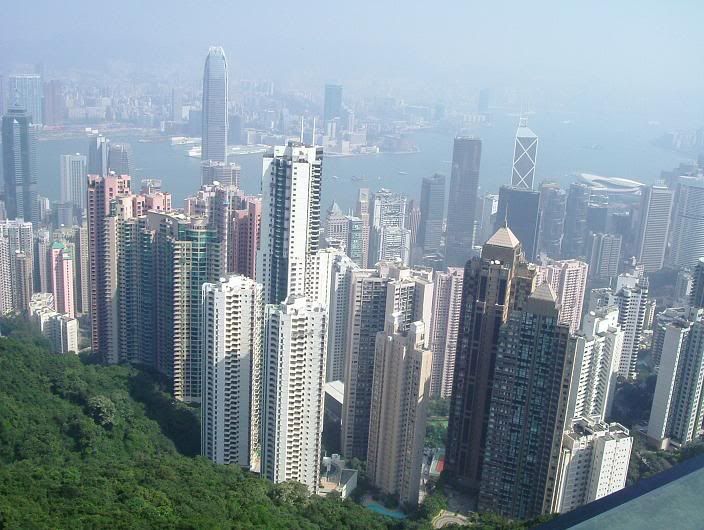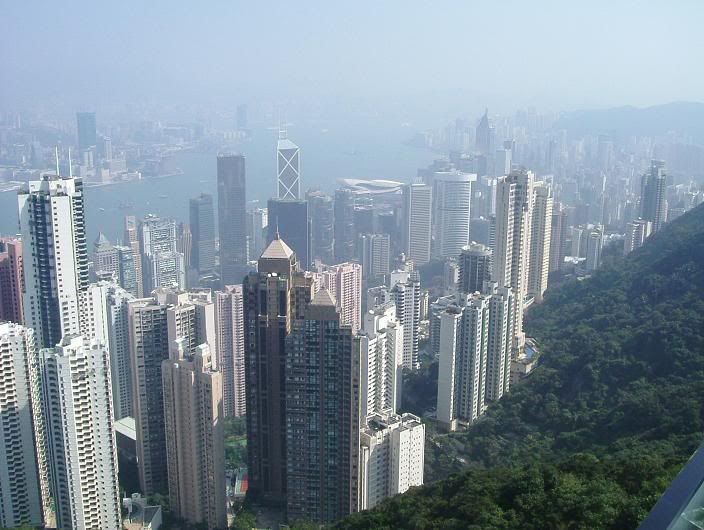 The shopping mall at the peak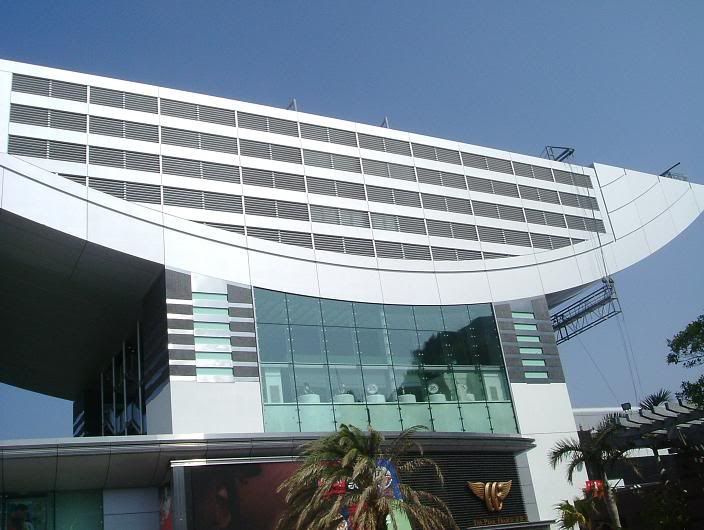 There are very very good hotels in HKG… If only I were richer
And this one is supposed to be one of the BEST in the world so I had my picture taken by some other tourists
The IFC (International Finance Center) is the tallest building in HK. It is really impressive. It also hosts a very nice shopping mall and various bars and restaurants. There is also a Ben and Jerry's there which I had been looking for 2 years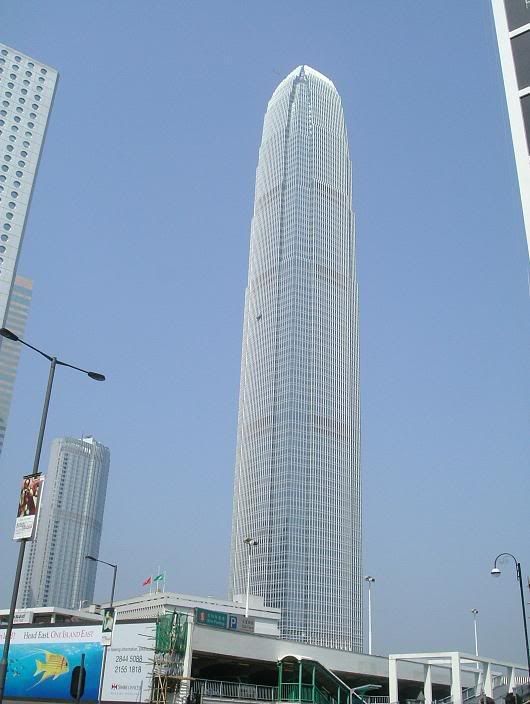 This is a picture of a street in Causeway Bay...
I saw this somewhere in Causeway Bay and did not dare to ask him what the animal was. Any ideas?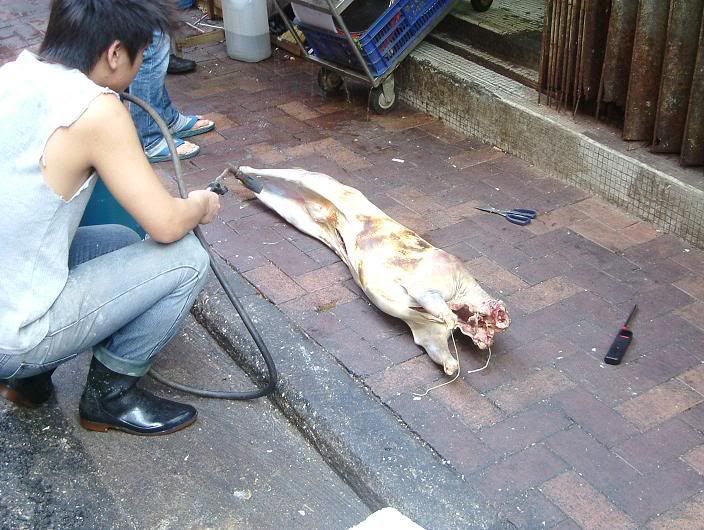 SoHo area:
And a picture of Central at night… The HSBC building is the one to the right and Bank of China is to the very left…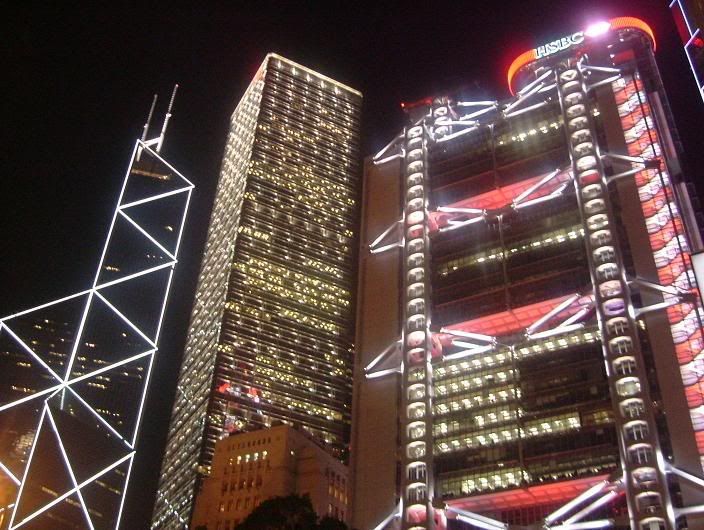 I also visited Macau for a day…. Yuck
It was not very pretty… I gambled at the Wynn and Lisboa hotels, walked around a bit and took the ferry back after 3 hours or so… Waste of time if you ask me.. The good thing is that I have a Macau stamp on my passport and two stamps from HK
Some Macau views…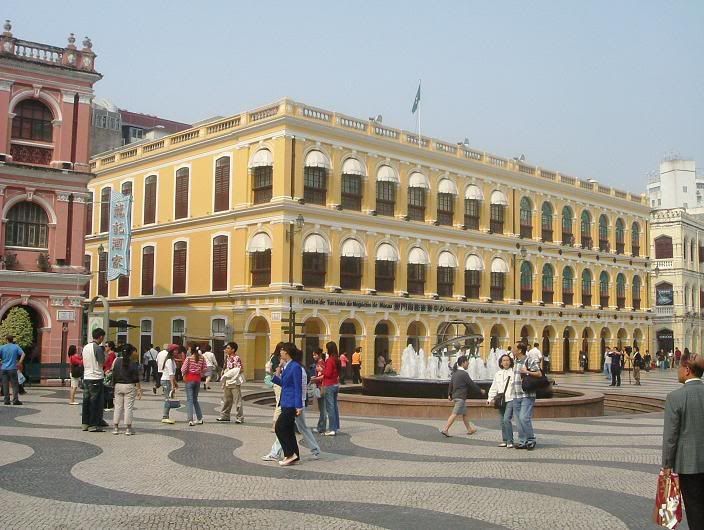 I also met a cabin crew from El Al whn I was at a bar in Central. He was staying in HKG for 3 days. He returned a few hours before me… He just left for YYZ where he will stay for 6 full days only doing a YYZ-ORD-YYZ run once… I say I'd work for that airline
We hang out together for my last few days…
I took the Cityflyer A21 bus back to the airport and saved about 70 HKD by not taking the Airport Express train. It takes longer by bus but the views are much better…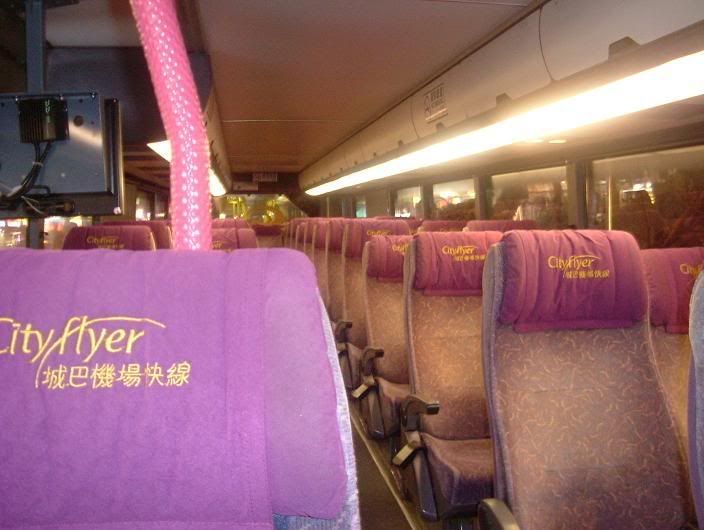 So I was at the airport about 3 hours before departure…. The trip report finally begins
12 November 2006
Route: HKG - IST
Airline: Turkish Airlines (TK)
Flight: TK 71
Aircraft: Airbus A-340-300, TC-JDM, named "Izmir"
Seat: 33 J (actual 37 JK)
Gate: 40
STD: 23:45
ATD: 00:10
STA:05:55
ATA:06:28
Flight Length: 12 hrs 18 mins
Speed: 685 to 780 km/h
Altitude: 31600 ft
Weather: Clear and hazy HGK, mostly fine en-route and mostly cloudy in IST
HKG is also an impressive airport. Compared to new BKK it still is better I think… It's very big and very well organized. Shopping was a lot better and so were other facilities…
A few very bad pictures of the departure hall which I thought was very similar to that of BKK's.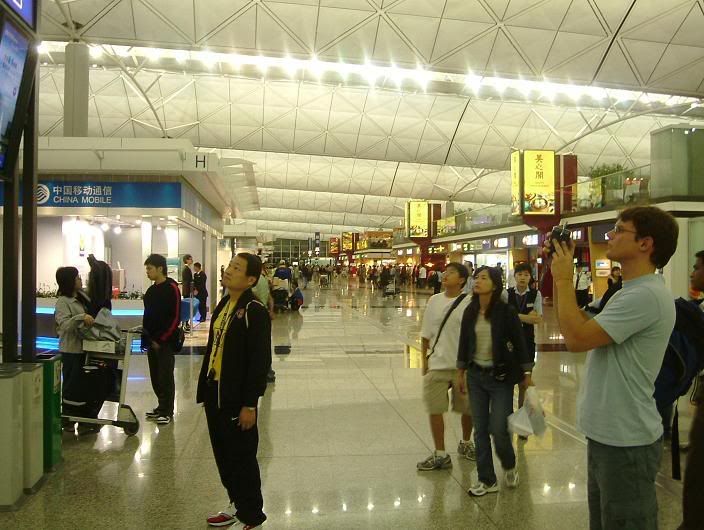 I had already checked-in online so I did not have to queue for too long as TK usually has a dedicated counter for online check-ins. I chose sat 33J which is an aisle seat. I thought I wouldn't sleep much and would need to walk around a lot and plus it was an all-night flight. At check-in, I asked if the exit seats were occupied and he said yes so I went with my original seats. He was also nice enough to accept my 30 kg luggage…. I had about 10 more in my hand luggage and about 5 in my backpack
I walked around a bit more and went through the passport control… I still had some 700 KHD to spend so I did a good search and bought a perfume (Issey Miyake) and 2 aviation magazines… I then located the smoking room which was a bit far from our gate so I had to go back and forth a good few times before I boarded…
The airport was very very busy with lots of flights to everywhere… The most amazing thing was that there were 6 flights to LHR within 2 hours time frame. 3 BA, 2 CX and 1 VS. The 2 BA flights were leaving within 20 minutes of each other !!! There must be good demand on the route….I believe now ANZ also flies the route right? Some of the other international flights were AF to CDG, LH to MUC, SA to JNB, EK to BKK and DXB, SQ to SFO and may CX flights to many destinations
We boarded and pushed back on-time but there was a good queue for take off so we left about 25 minutes late… It was going to be a long flight and I was not looking forward to it…
I was sitting next to a young Arabic man but there were plenty of empty seats. I told one of the F/A's whom I previously know to tell me when boarding was more or less over. She did so and I moved to a few seats back where I had 2 seats to myself… The Arabic guy was also happy but not the Turkish guy who also had and eye on the seat I moved to
The 340 felt extremely different from the 330. Much older and simpler product… Some cabin shots now….
The 34 inch seat pitch is quite generous I must say… I had no problems stretching (I am only 176 though)
As I said, we pushed back on time and here is what I saw before take off….
We then took off towards north and made a sharp bank towards east. It was a bit shaky and typical for the 340, I thought we were not gonna make it
I love the very slow climb of that aircraft….. It's funny… After a few turns, we were on our way towards China… It got bumper once we reached Chinese mainland and did not stop until we passed over northern Thailand. The rest of the flight was smooth as silk…
The crew first served drinks with hazelnuts... My friend was responsible for the area where I was sitting so I was fed very well
And shortly after that, meal service begun.. We had a full hot meal unlike the cold meal we had from IST to BKK. This flights was 3 hours longer.. Maybe, that's the reason why...
We had the option of pasta or beef.. I took beef and a diet coke... This is what the meal looked like... It was not very tasty to be honest
Especially the salad and the dessert...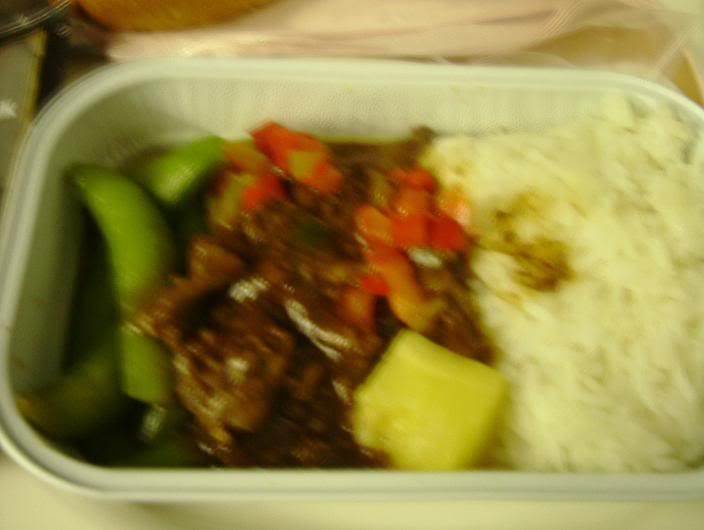 Cabin crew during dinner service...
After the meal, I started watching the "Monster House". Actually it was very good but I felt sleep and slept for the next 5 to 6 hours missing the next 2 movies as well... I took this shot when I lay down...
Next pictures show our route...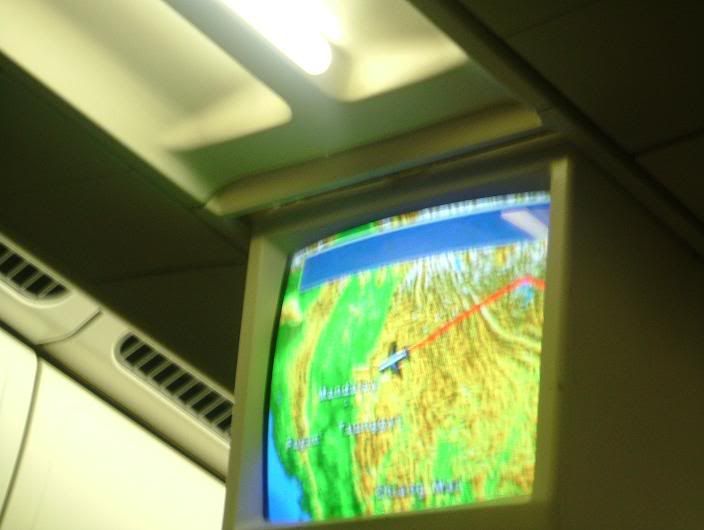 About 2 hours before landing, the crew served breakfast. Some spinach crepe wanna be but once again, it was not tasty....
I took a few more shots of the cabin afterwards...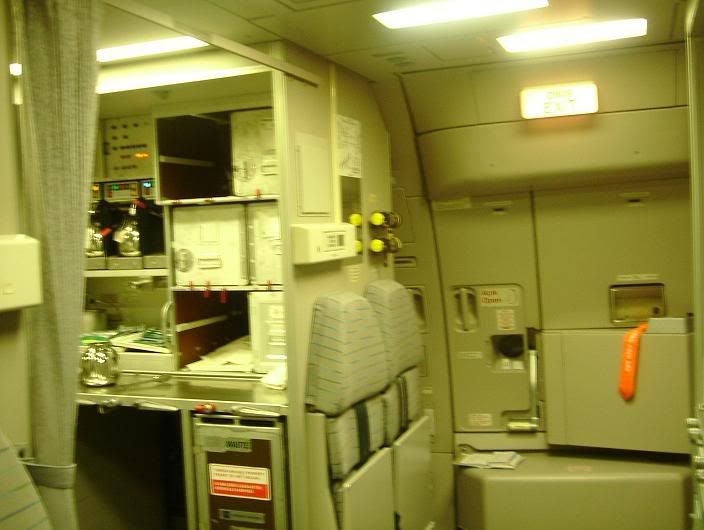 We started our descend about 25 minutes before landing... The next photo shows our entire route...
It was still dark outside so my landing shots suck big time.. But here are a few anyhow...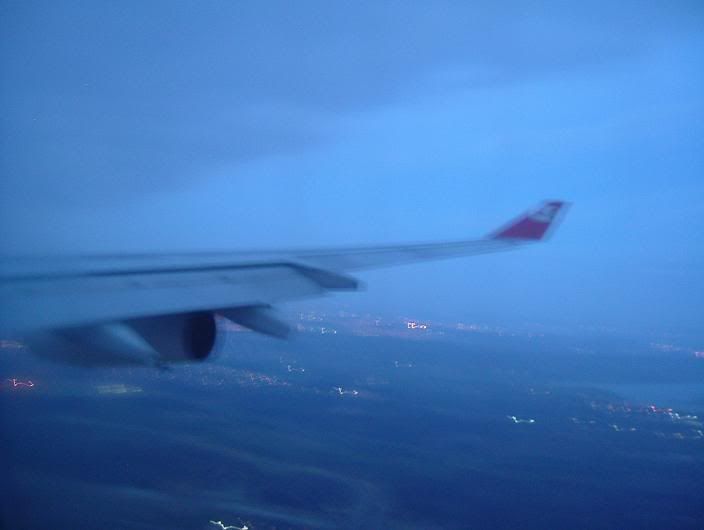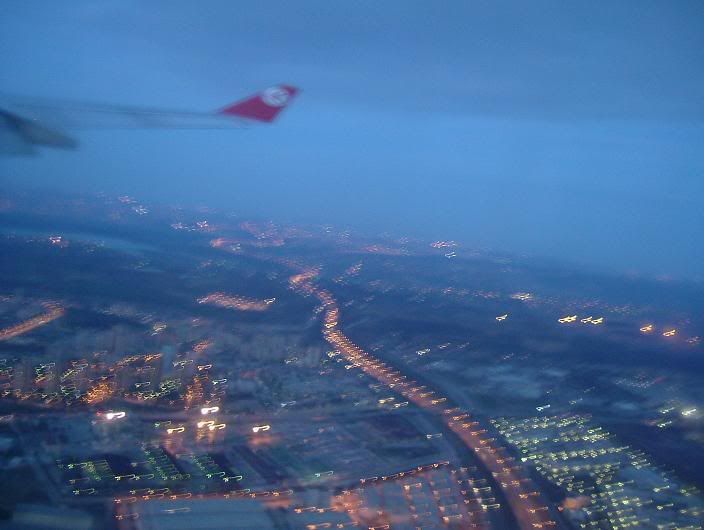 We landed after about 12 hours and 18 minutes of flying.. I was very happy
Both of these aircraft were a surprise for me..
One more shot and we were at gate 214 right across the passport control….
BKK, HKG and SIN as well as many Middle Eastern flights (such as BY, DAM, DXB, CAI, AMM) arrive around this time so the passport control took ages... Once through the control, I expected to see my luggage but it was still not there... So I went for a smoke and waited for 20 more minutes... I then bought a few things from the duty free and caught a taxi home...I was finally out of the airport some one and a half hours after landing....
I had one of the best sleep ever in my large wonderful bed
So... That's it... The trio is finally finished... Thanks a lot for reading all my reports.... I soon will fly to ADA for a few days to see my family before I proceed to the army for 6 months... Pray for me