DL 1514 – SEA-JFK
Depart 7:50 am and arrive 4:11 pm.
B755-200 ,
couldn't get the registration.

http://flightaware.com/live/flight/D...4/history/20061118/1608Z/KSEA/KJFK
I got to the airport at 5:20 am, which turned out to be a very wise decision. DL went completely kiosks, except paper tickets and international trips. A global airline like this should have more crew for international passengers that were plenty. It took me a good hour and half to get to the check in. There simply were too few people to handle all the international and paper tickets.
Suspecting that the aircraft was full i asked the agent if i could get a better seat. She said she could give me the exit row. I knew that the seats won't recline but given the choice between a legroom with no recline and the no legroom with 5 inches of recline i decided to get the exit row. I was originally assigned 32F, so i got 26F instead.
After the check-in i thought i was home free, but the lines for A checkpoint were extremely long. It took another half an hour to go through the security. By the time i got to my gate, A13 they were already boarding.
I had planned to use this time to charge the battery of my digital camera, but as they were boarding i had no time left. So, you will not get any pictures, unfortunately.
When i got to the aircraft there was a nice surprise waiting for me; well, series of surprises actually. I had the middle seat empty, huge amount of legroom and PTVs. Looked like this was a former Song aircraft but with new DL colors.
We pushed back on time (by DOT standards) at 7:58 am. Took off runway 16L and turned left over Enumclaw.
The flight attendants started their service about 30-40 minutes after the take off. The frills were pathetic for 5 hour block flight. Snack mix which included a cracker, tiny cheese spread and a granola bar. I got my usual drink of sparkling water as a drink.
4:33 scheduled flight passed very fast with two movies i purchased. One was a mistake with Jennifer Aniston and Vince Vaughn, but the other one was a movie with Vin Diesel about a gangster who defended himself. I don't remember the titles.. but they made the time ...fly  
45 minutes before arrival flight attendants came for one more round of snacks and drinks. I got a Biscoff cookie which felt pretty tasty as the snack mix was the only breakfast and lunch i had.  
We approached NY area from the north. The weather was low overcast so nothing was visible as far the sightseeing is concerned. Following the progress of the flight through the PTV helped with situational awareness. We flew west of Hudson to south and turned east and then by another turn to north. By the time we completed our turn we were under the overcast layer and we did a parallel approach to runway 31L.
At the roll out i could see the Turkish A330 which was my next ride. It was amazing to get this lucky to get a brand new bird in my first Turkish long haul flight in 7 years.
Even though the service was non-existent in DL flight (they should offer buy on board) I was totally impressed with large, comfortable leather seats with PTV. The crew kept a smiling face, kept us hydrated and did a good job. I think is a shame that the airline travel is not like this anymore. Obviously this DL flight was an exception.

TK2 JFK-IST 5:30 pm departure
TC-JNB Konya
5,020 miles 9:50 hrs of scheduled time.
Terminal 1, Gate 3

http://flightaware.com/live/flight/T...2/history/20061118/2308Z/KJFK/LTBA
In 7 years that i haven't from/to US in THY things haven't changed a bit. The check-in is done by the same ground handling crew that serves Alitalia/Korean and the Turkish crew lack the English skills. One thing that i noticed was the regular stampede called boarding didn't change.
There was one Turkish guy trying to handle the boarding by row numbers (22 to 35 first and the rest as the second group). The problem is, there were two groups on the boarding passes, which was printed there for nothing. Turkish pax was so eager to get on that once a guy saw a lady to walk up to the counter, he followed her, and 50 more people lined up after him. This was 15 minutes before the scheduled boarding time.
None of the local crew made an announcement about boarding. The Turkish guy made the Turkish announcement very low and half of it was not understandable, the announcement in English was "numbers 22 to 35" with a thick accent.. As I have mentioned before, Turkish needs to work on the professionalism of their ground and flight crews if they really want to be a global player.
I waited to be the last to board, to avoid the stampede. This was a good decision as well; i got to my seat in few seconds. I was really excited to be in this aircraft, the flagship of the long haul fleet.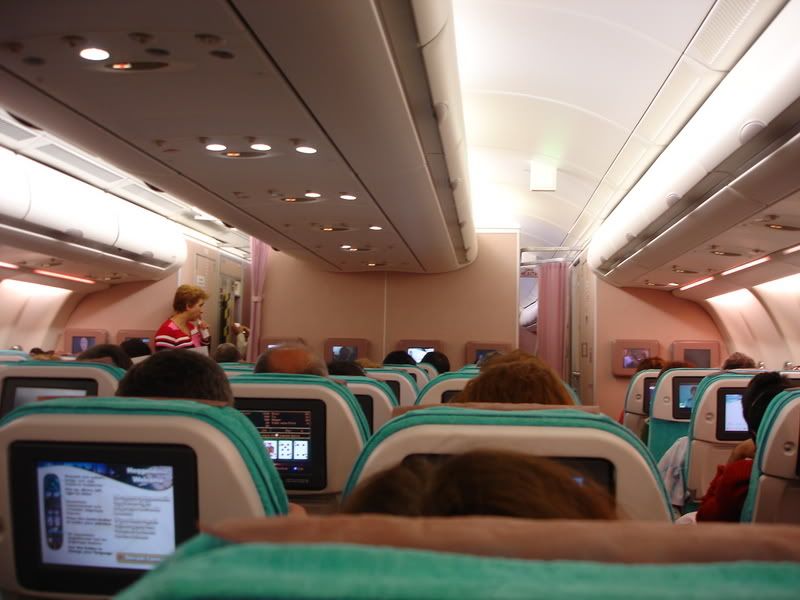 As soon as i sat down, i was disappointed by the choice of seats. They are extremely hard. They are cloth... Somebody has to explain to me why on earth Turkish ordered leather seats for their A320 family and they 737s but they kept the cloth seats for the long haul fleet? The foot rests under the seat in front of me don't do anything for me either..
I decided to explore the PTV as soon as settled. It had a lot of things in it, like live cameras in front and at the back of the plane, games which you can play with some seat mates; lots of movie choices.
To my luck, the movies were all disabled. The problem was shared with some other people around my seats. The flight attendant tried to reset my PTV several times; but nothing changed. So i decided to play some games, backgammon, blackjack, chess.
We used the regular 31L departure. I was under the impression that we were going to make a left downwind climbing turn towards the NE (I think there is a departure procedure for that)
Flight attendants came around for a drink order and a small bag of hazelnut. Turkey, being one of the biggest producers of hazelnuts in Turkey considers it a natural and national snack. (Aganigi maganigi for our Turkish friends)  
The big culture of dried fruits and snacks showed in this service too. I really like snacking on some hazelnuts and pistachios while i am having a drink. I got Kavaklidere white wine as a drink.
The dinner was served about half an hour after the drink service. The usual 'chicken or pasta' choice. I went for chicken and ordered nice chilled white Kavaklidere wine (being homesick for some Central Anatolia grapes
). The side items were plenty, small in size but to give you a nice taste of good stuff : a salmon "cocktail" as they called it wrapped with a little artichoke heart, chocolate cake for desert, a heated bun with butter, Eti Form wheat thins, small salad with olive oil/lemon dressing and of course Kavaklidere white wine.  

The chicken was ok, the rice side was dry and the carrot side items were fine considering this was an airline food. Quantity and quality of the food was close or even better than some business class food served in some other us airlines, except United. Considering that i was flying coach I was quite happy with the food service.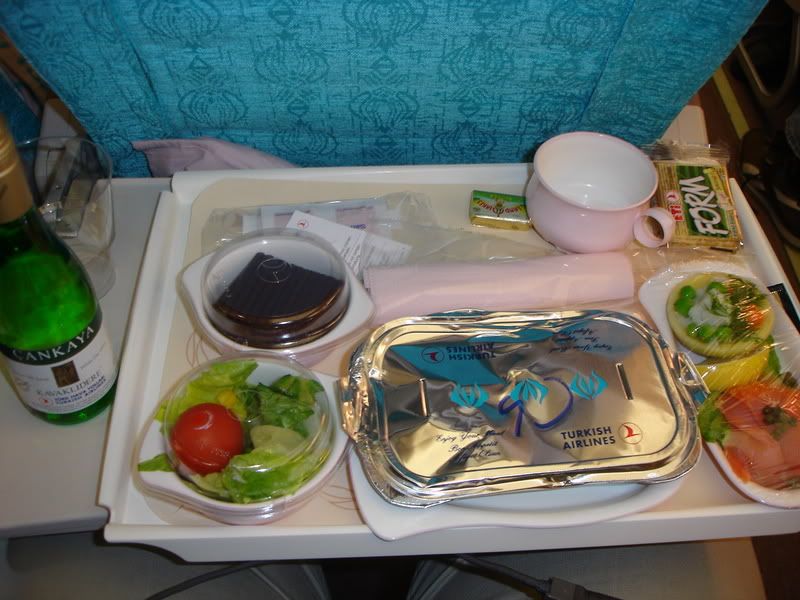 I slept about an hour after dinner. I really didn't feel that comfortable despite the nice legroom. It is amazing how lack of in flight entertainment made so much of a difference. I had some CDs of a Turkish stand-up guy with me. My laptop came in really handy as i watched that show for about and hour and half. More backgammon and blackjack and some more games later the sun started to rise on our nose. I turned the front camera on and took the following picture.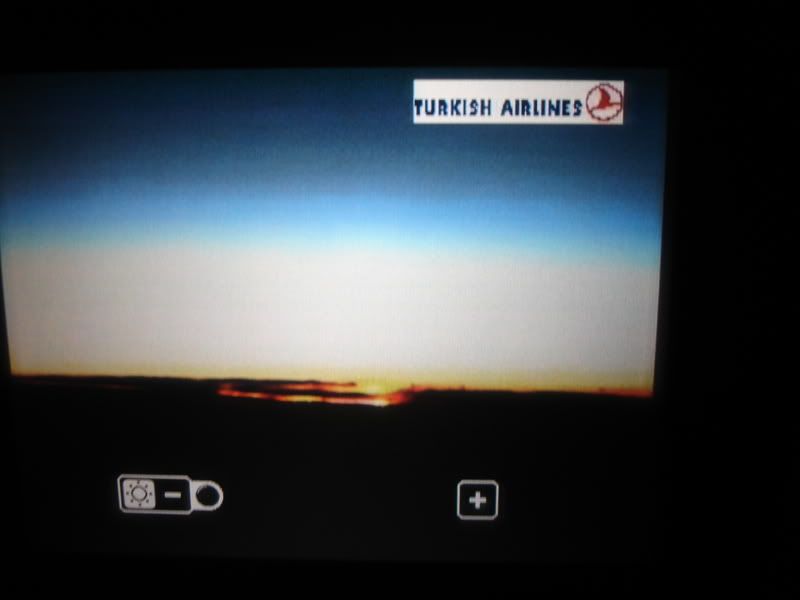 Passed Hungary the breakfast was served. Nice and tasty fruit plate, fresh dinner bun, butter, triangle cream cheese, cherry preserves and the main dish was something in the middle which i wasn't sure what it was (some egg product?), potatoes, two mushrooms, a single cherry tomato. I took a bite from that 'thing' and decided not to eat it. The fruit plate was yummy, juicy and fresh. This time i decided to get a cup of coffee,waking up with another Kavaklidere wouldn't be that nice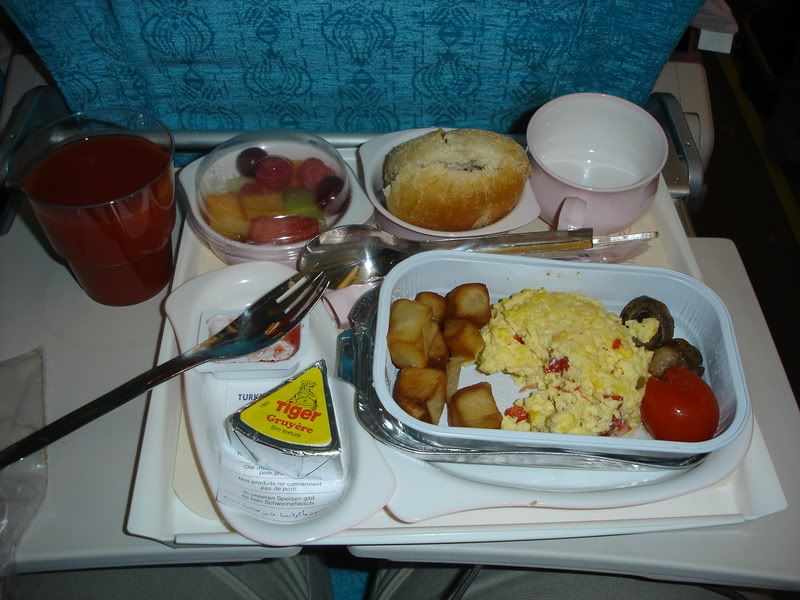 We crossed eastern coast of Bulgaria and started our decent for Ataturk Airport. We flew south passed the airport and made a 180 degree turn towards the runway. A smooth landing was photographed by yours truly  
Took a high speed taxiway and crossed 36R. While crossing i noticed that there was a single hold short line on the taxiway, not two as it's required for both directions.




I was really shocked not to see a single passenger get up as soon as the wheel touched down. This is one of my biggest pet peeves in Turkish pax. Kudos to all the pax.  
We pulled in to a gate close to the charred cargo terminal. Getting off the plane was quick and painless. After a short walk through passport control i was in a taxi to go home (the other home besides the one in US) to see mom and taste her home cooking..

Negative Impressions of THY:
- The only two times i saw a smiling face was when the head flight attendant was greeting people on and off the plane. The known fact is THY crews don't smile. Not even once.. As a matter of fact if you are on the way of a THY flight attendant like i was when she was serving the girl next to me, you will hear "PARDON ME!!!" which can translate into 'get out of my way'. For a country that thrives on its hospitality, THY F/As need to put on more smile and less make up  

- The boarding in JFK has been a mess since my first flight on TK in 1993. Being state owned, THY simply doesn't care..
- The in flight entertainment needs to be looked at. I think there were some issue related to this when A330s were supposed to be delivered.
THY is the flagship of inconsistency. We beat the dead horse on the A320/B737 order mix, but why on earth they would order leather seats for the new aircraft on short haul but order cloth seats for long haul, beats me..
- Maybe it was defective system, but i was not able to listen to radio channels and watch the progress of the flight at the same time on the screen.

Positive Impressions of THY:
- Nice aircraft with very good legroom on coach. I didn't measure it but i think i head 33 if not 34 inches on coach.
- Good food, plenty of food at coach.
- Good choice of in flight entertainment even though i never had a chance to taste it. The fact you can play games with other people on the aircraft is amazing.
- I don't know if it's an Airbus or THY thing but flood lights in the aircraft were perfect. The night lighting is great, combination of pink, blue, turquoise, was pretty neat..
- The North American flights are known for delays but the flight left only 10 minutes late and arrived 25 minutes ahead of schedule.
- Really nice looking interiors.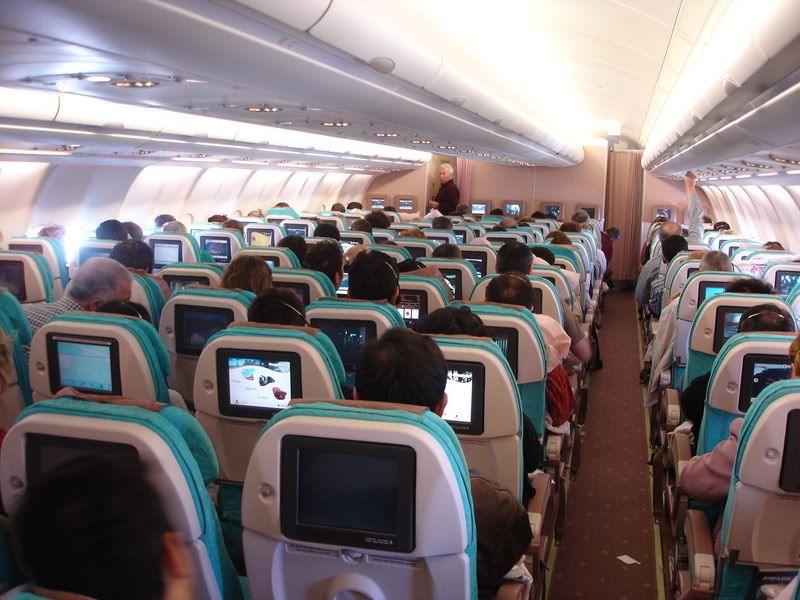 [Edited 2006-11-21 04:34:45]