A trip report from my trip in Sept. Oct. - a little delayed - nonetheless finally done writing.
Sept. 20, 2006:
The day finally arrived when we were to set out for our trip to London and India. For the first time, we were to fly on BA 224 – the daytime flight from IAD to LHR. The shuttle to the airport called and asked if it could pick us up earlier than the 4.30 am previously arranged. We were excited and ready – so took up the offer and reached IAD at about 4.25 am.
The main terminal was pretty thinly populated at that ungodly hour. Since we had done OLCI the previous night and already had our boarding passes, all that was needed to be done was to drop the bags. The counter did not open until past 5 am. Meanwhile, neighboring SA)">AA counter had become quite crowded with lots of people waiting to catch their early morning departures. After dropping our bags and quickly clearing the security, we proceeded to our gate D32. We had quite a bit of time to kill before the boarding would start. Since it was quite dark outside, could not really do a lot of plane-spotting and not much action going on either at that hour just yet.
One hour before departure, I checked with the gate agent about availability of emergency row seats. The BA agent seemed completely disinterested in doing anything and told us none was available. Just a few minutes before boarding, the TSA decided that they were going to do a random secondary screening for the flight. The gate agent was mighty pissed at them and griped to her colleague "why don't these xxxs show up a little early? I don't want to delay such an empty flight on my watch". I was picked up for the secondary screening, my wife was not.
As we would soon find on board, the emergency row was almost completely empty – only 2 seats occupied in the entire row. Flight was pretty light – just about 40% full. Pushback was at about 8.02 am and we taxied for about 15 minutes. A SA)">B6 320 took off and then we waited for a couple of landings before finally beginning our take-off roll and we were wheels up at about 8.28 am. Take off was a little choppy while clearing the clouds but the seat belt sign was quickly turned off at around 10K feet. We were seated in 33 A and B and the gentleman in 32B decided that he wanted the comfort of J/F in Y and hence had reclined his seat and then some. He kept banging on it trying to get it back further.
Cabin service began about 45 minutes into the flight. We had ordered Asian Veg. meal – Indian food was quite good. It was a fare of black-eyed peas, rice, spinach, roti, yogurt, fruit, bread, butter, raisins, saunf (fennel seeds), Indian pickle etc. It was one of the best Indian foods I have had on an airplane yet. (Sadly, haven't yet flown AI, IC, 9W). Suddenly there was a mild chop and the FAs discontinued meal service for few minutes. Eventually, we were cruising at 39K feet on our way to LHR. A small snack was served before landing – pretty mediocre.
We landed at about 7.55 pm at LHR. On our way to the gate at LHR, saw a variety of planes – AI 777, CX 340, SQ 777, SA)">QX 744. View of huge BA hangars was quite good too. This was my first time in LHR in 10 years.
Immigration and customs at LHR was not bad and we were out fairly quickly.
After 4 days in London, on Sept. 24, 2006, we reached LHR T4 at about 6.20 pm for our nighttime departure to BOM on BA 199. As usual we had done the OLCI. I however noticed that OLCI does not allow you to print boarding passes for UK-India sector. We waited in the baggage drop off line for 15 minutes with no BA staff around to help us. Then suddenly a BA agent said we had to get out of line since there were 10 more minutes before the 3 hour window for baggage drop for our flight opened up. The system at LHR is thoroughly disorganized and various staff members give at times conflicting information. Finally, we dropped off our bags and collected our boarding passes and proceeded to security.
The line for security had snaked out of the terminal building. In the general are where we cleared security, I noticed that quite a number of screening gates were not being used. On a Sunday evening – which I guess must be quite busy always – this was a pathetic situation. I noticed one of the screeners was not even looking at the monitor as the bags passed through the x-ray machine. So much for enhanced security!!
The gate was not announced until 8.15 for the 9.50 departure. I have noticed LHR is unusually late in gat assignments compared to other major airports. We sat near gates 15-16 in T4 facing a runway – seeing planes take off including an AI 744. At the gate, there didn't seem a whole lot of passengers for pre-boarding. We were let in soon but as it happens, there was some miscommunication and there was a 10+ minute delay as we queued up near the plane door waiting for the flight crew to let us in the plane.
The bird was G-VIIU and the flight was almost 80% full. There were 2 Indian FAs and all announcements were in Hindi and Gujarati as well. For this as well as the previous flight, the safety demos were manual instead of video. The plane safety cards in seat pockets had messed up Hindi wording horribly – wonder how such typos make through without anyone catching it.
Dinner consisted of okra, rice, veg. koftas, yogurt, cheese, potatoes. As usual the food was good. The small snack before landing however was pretty bad and inedible combination of some bread and cheese. I had a nice nap and then watched some in-flight entertainment to kill time on the 9+ hour flight. We landed a few minutes before scheduled time. 2 other LHR-BOM flights landed almost simultaneously – VS and 9W.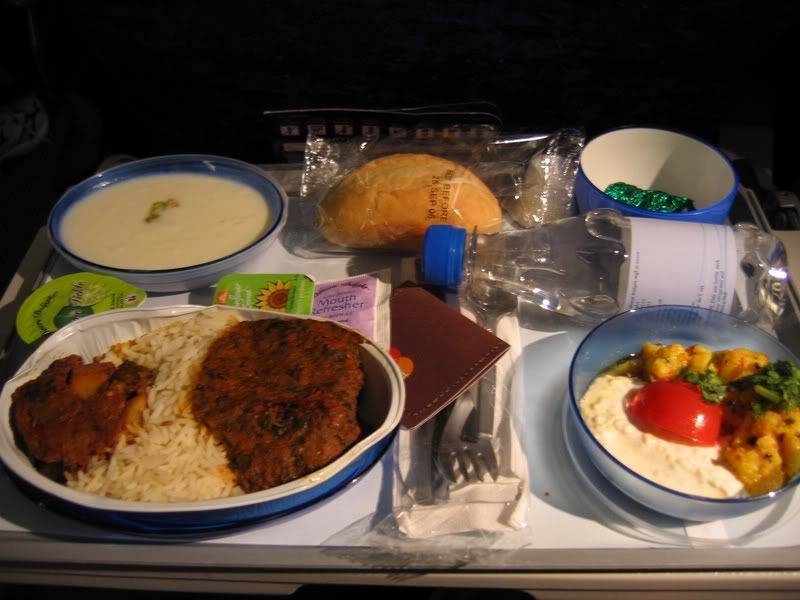 Immigration facility at BOM has vastly improved in last year or so. Umpteen number f counters – all functional. We needed just about 2 minutes to go through immigration. But then we had to wait to get our bags. Meanwhile, we suddenly heard a noise and turned around to see what it was – turns out Aishwarya Rai and Abhishek Bachchan had arrived – I guess on the 9W flight. They waited patiently like the rest of us in line to get through customs. In spite of the slight delay in getting our bags,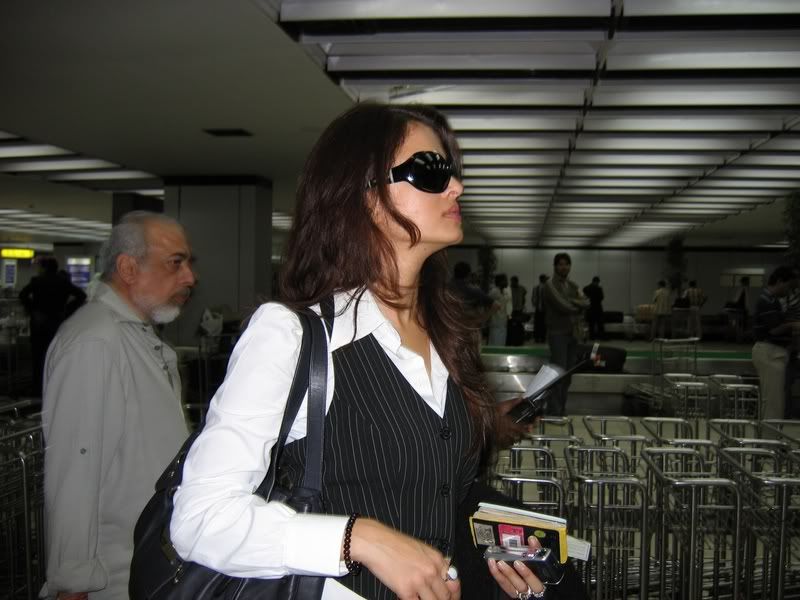 On our return journey, we reached BOM at about 10.20 pm. We had already done OLCI, so all we needed to do was drop bags and collect boarding passes. Fast bag drop counters were not crowded at all. So we were done in no time. BA regular check in counters were fairly crowded, LH counters were packed. We had nice seats – 51BC in the BA 744 (G-CIVI).
Again immigration was a breeze with lots of manned counters. Waiting areas are nice and clean – looks like privatization of the airport is already showing small but visible results. Chairs and sofas before security are much more comfortable then those in the immediate gate areas. It was pretty crowded too with a lot of flights leaving in short amount of time. We had a small snack and some coffee and then proceeded to clear security at about midnight. SA)">NW to AMS was boarding at gate 6 and IC to Sharjah was boarding at gate 7. SA)">NW A330 pushed back at about 12.45.
BA announced the boarding at 1.30. Theoretically, there was a pre-boarding – but in reality, it was a free for all. LH 744 D-ABTC just pulled into gate 6 as we were occupying our seats. I could also see a SAA 340 close by.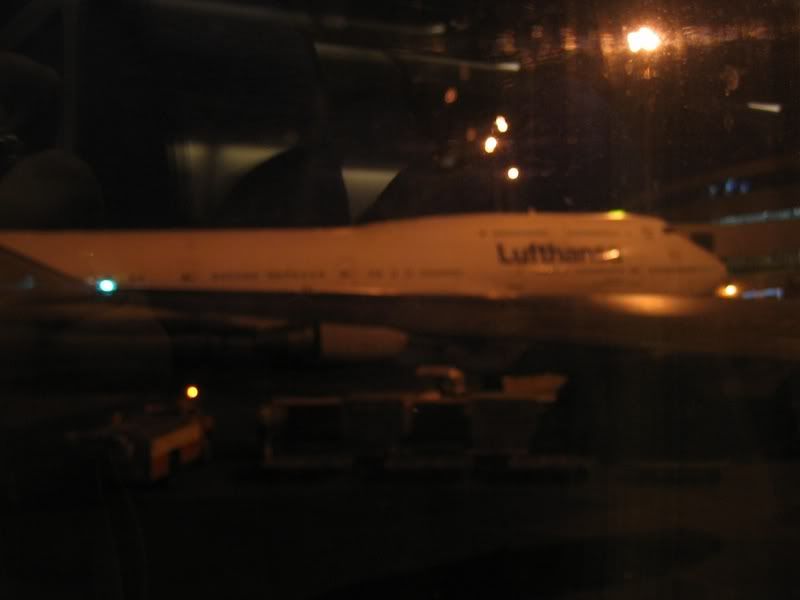 After the doors were closed, we had a push back at about 2.15 am. This time te safety demo was on video. Then they sprayed the cabin with something "per WHO rules". Y was almost full. First meal was a light snack of stuffed vegetable croissant, samosas, muffin, milk chocolate etc. Samosas were cold but tasty. After the meal service, I was too tired and went right to sleep and slept quite well for aout 5 hours. Then just before landing, hot breakfast of stuffed parathas, bread, butter, juice, fruit cup, cutlet, paneer sabji, yogurt, saunf etc. was served. Overall, I was quite pleased with the main meals in Y on BA. Quantity was sumptuous and quality was excellent. We touched down at LHR at 6.50 am but it was another 15 minutes before we actually got to the gate. Temperature inside the plane wa actually too warm for about 6-7 hours and last two hours, it was freezing cold.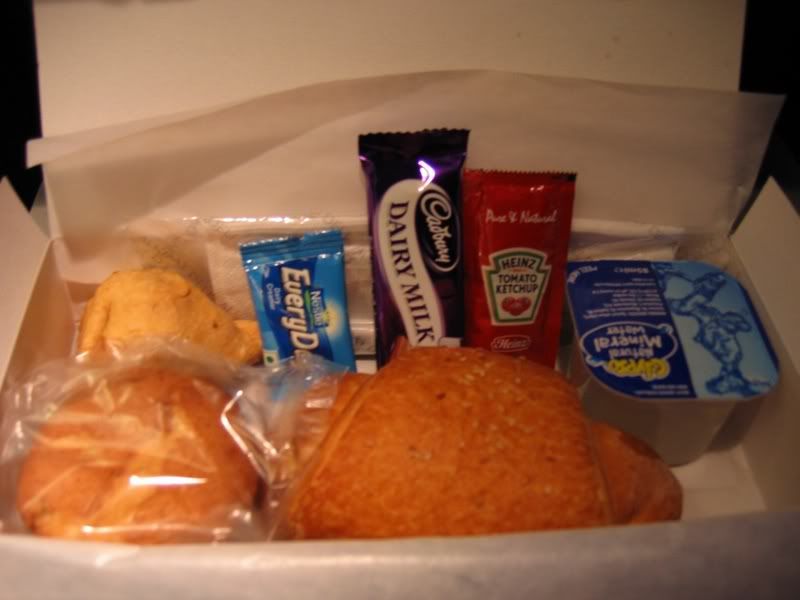 After deplaning, we were in the bizarre world of LHR security. After walking through the cavernous walkways, we were back to the security screening areas to catch our connecting flight from the SAME TERMINAL! What an idiotic security set up! The line was long and it seemed to take us forever to get through. After the ordeal, we retreated to te AMT coffee near T4 gate 1. Nice viewing area – saw a departing QF 744. KL 320 "Garibaldi Bridge" take its place.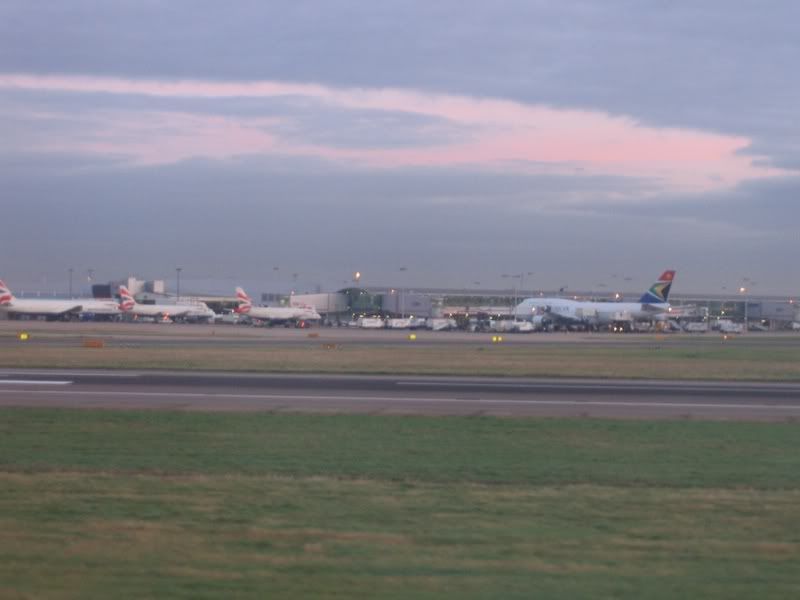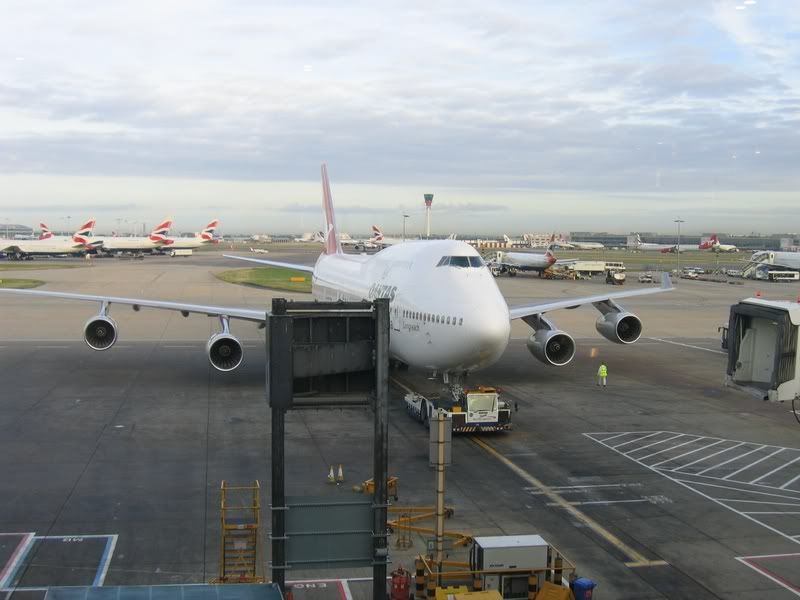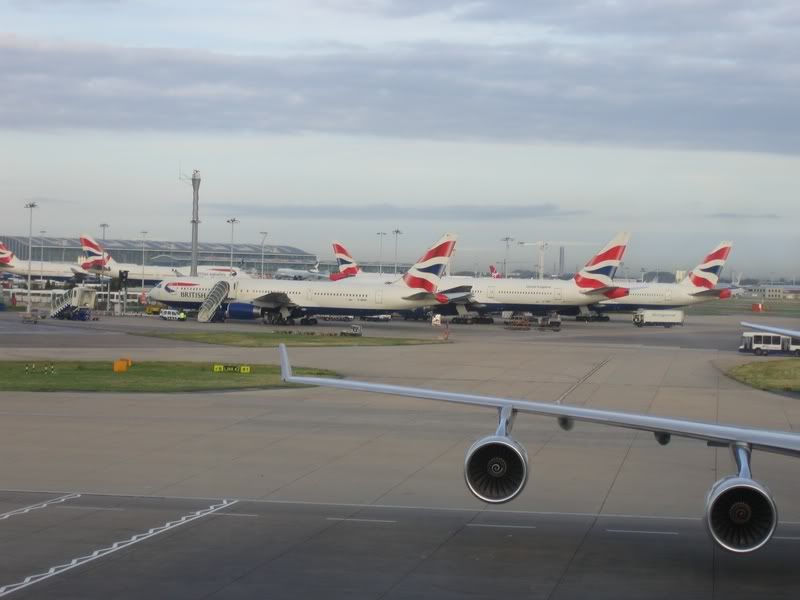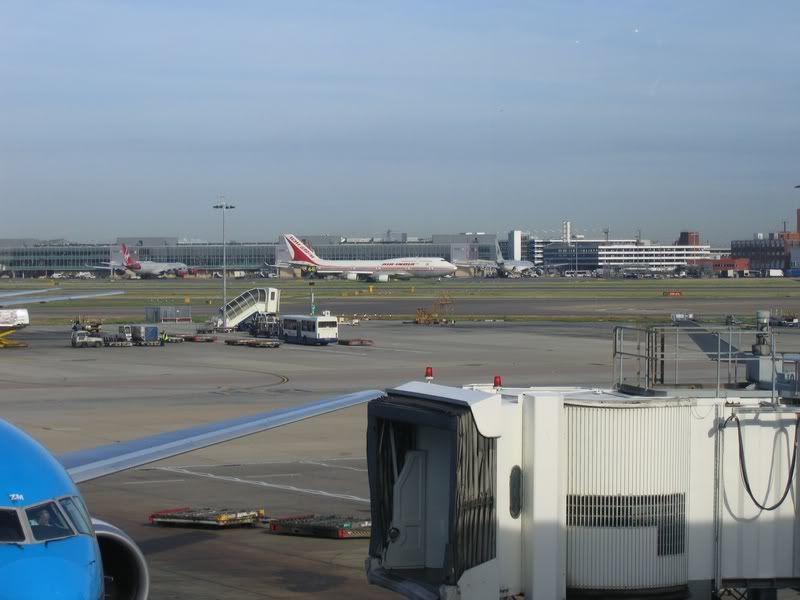 Finally, we began boarding at gate 8 at 10.20 am. Our seats were 39DE in the BA 777 (G-VIIN). Y was completely full except last row center seats which were blocked for crew rest. Surprising thing was that me and my wife got 2 completely different AVML trays. This meal was however very so-so compared to all the others we had so far. IFE was ok – I preferred to have a nice nap instead. We landed at IAD on the dot. Immigration was slow with only a few rows open – surprising for a prime arrival time.
Generally, service on BA was quite good and professional - attentive but non-intrusive. I however found that BA gate agents were pretty lazy to see if there were emergency row seats available. Some just didn't bother to check – others tapped a few keys and plain lied. Wonder what the deal is with that. Somehow, I have never had a problem with LH, UA and AF in getting such seats if they were available. Overall the trip was nice, BA service was impressive. Transit through LHR - well that's a different story!