So yet again I find myself jetting off to the not so far reaches of the world to support one of our clients. I've been traveling back and forth to the San Francisco area for them and also went to Sydney back in September with them. Now it was time to visit their site south of Manchester, UK. Since I live in Atlanta and wanted a non-stop flight Delta was of course my only choice. Not a bad thing for me as this first flight over made me Platinum Medallion for this year.
If you remember back to my Sydney trip the client didn't pay for business and my company wouldn't pay the difference (despite a travel policy stating otherwise but I digress) so I purchased a coach ticket and upgraded it to BizElite with 25,000 miles each way. The second trip came up much later in discussions and their travel policy had changed so I was able to purchase a business ticket for it. Thank goodness because I don't think the wife would have let me spend another 50,000 miles to upgrade unless I took her as well.
Anyway, the day was finally here to travel after a couple of reschedulings due to end of month and end of quarter concerns. As usual I was running behind because of taking care of stuff at home. With Thanksgiving coming up the following week my wife and I decided it was a good weekend to get the carpets cleaned in advance of family visiting. Needless to say we had lots of furniture to move around and it took all day and I finally hurried out of the house a couple of hours before the flight. I was also trying to watch as much of the Florida-South Carolina football game as I could before leaving.
I apologize in advance for the quality of some of the pics. I don't have any issue with taking pictures while flying since I'm not doing anything wrong. I don't like to use the flash though since it can disturb folks and bring more attention to me than I want. That said...enjoy.
11/11/2006
DL 64
Lv ATL 2015 (2017 Actual)
Ar MAN 0925 Next Day (0852 Actual)
Plane: 767-3P6ER (ex-GulfAir)
Registration: N155DL
Tail Number: 1505
Seat: 2G
BusinessElite Check-in Area. The whole area is being remodeled and I forgot to get a picture of the planned area. I'll try to get one on my next trip. The plans they have for the area are quite impressive. There is lots of work going on in ATL right now. I'll try to get some shots of it when I get back home and include it later on in this TR.
Looking back into the South Terminal towards the Delta ticket counters and baggage claim even further off in the distance.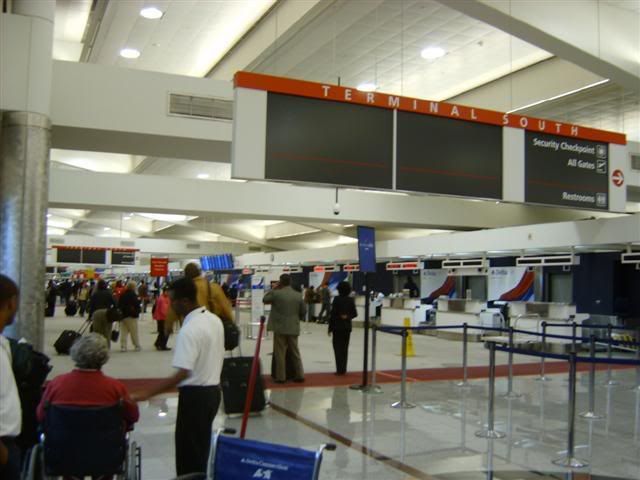 On the walk into the T Concourse there is a display of western art from a museum up in Cartersville, GA. The exhibits in here change all the time. They used to have a great Delta history exhibit but I'm sure that's been moved over to the Delta Museum.
For some reason the flight to Manchester departs out of the T Concourse instead of the normal E Concourse for international flights. Since I was short on time this evening I went to the Crown Room in T instead of taking the train all the way out to E for the BizElite lounge. Next trip I'll take some time to go out there. The CRC here in T is probably my favorite in the airport. Because there are only 8 gates on DL's side of T it is never a crowded club.
Looking towards the back corner of the CRC with a TV set to the news.
Looking towards the bar area and the main TV room where I was able to see the end of the Florida-South Carolina game. GO GATORS!
The main travel desk in the CRC and more seating.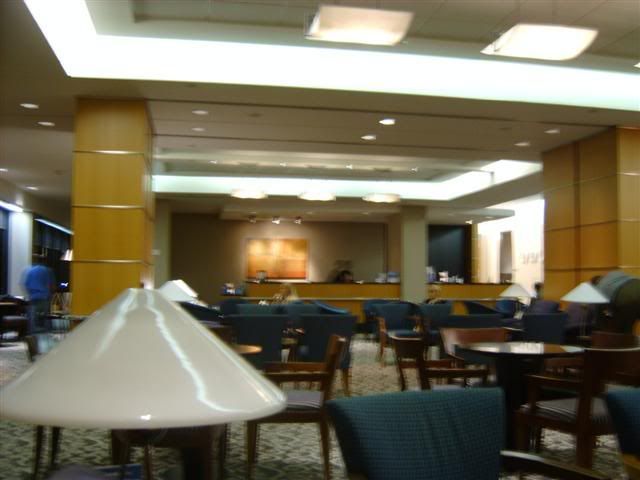 One of the seats next to me and the one I was in were showing their age. Time to upgrade and refresh the clubs there Delta.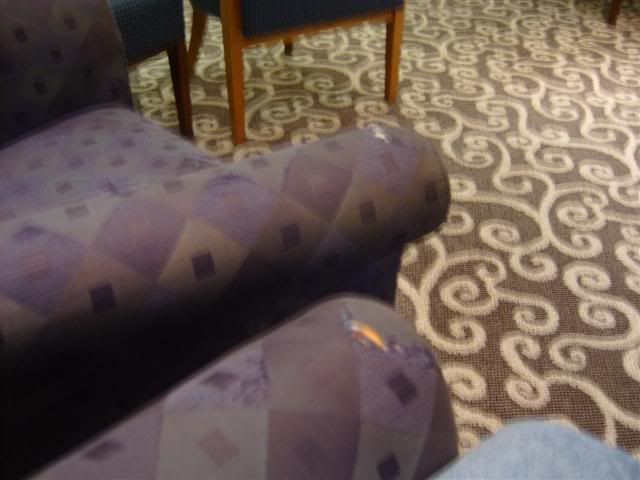 Looking out of the CRC onto the ramp between the T and A Concourses.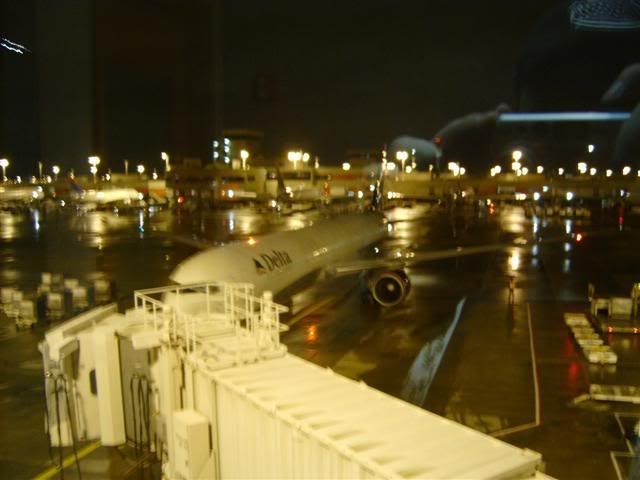 The gate area at T4. Nothing fancy but they do have flat screen monitors suspended above (and not in this picture) with flight info, upgrade status, standby status, weather, etc. for everyone to check on.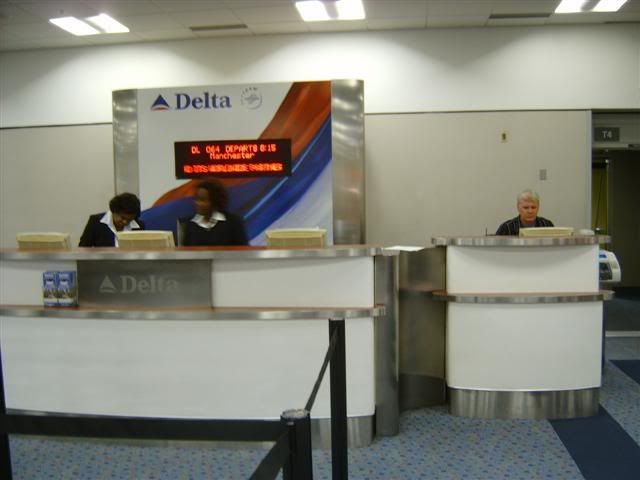 Finally in seat 2G with lots and lots of legroom. SeatGuru says that the starboard side of the 763 has a few inches more legroom. Since this plane was one of the ex-GulfAir birds with one less row of BizElite I have no idea if that is true but it was plenty of room.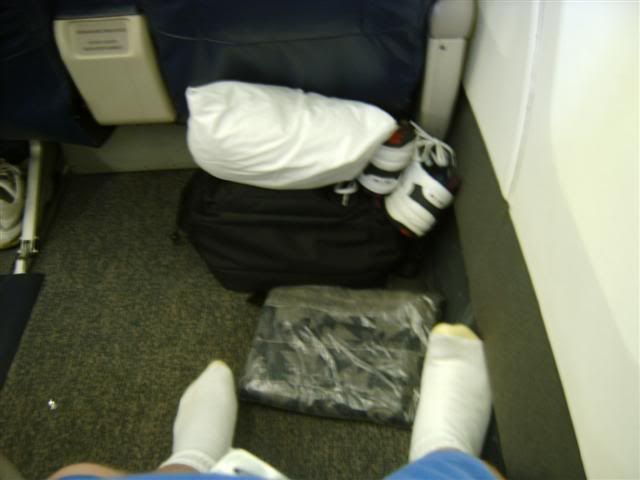 Looking across the cabin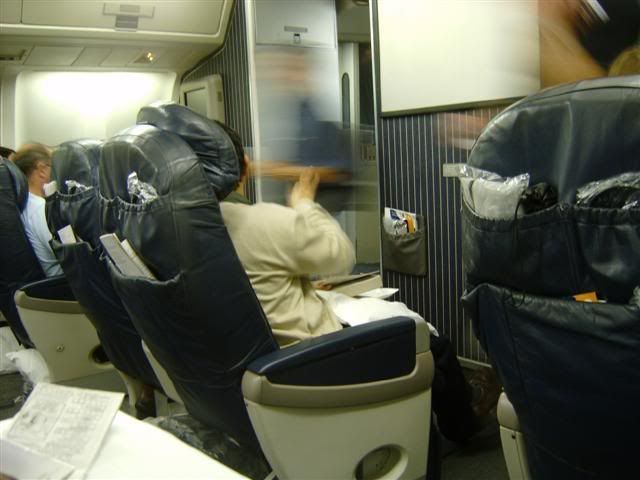 Looking across the cabin another way.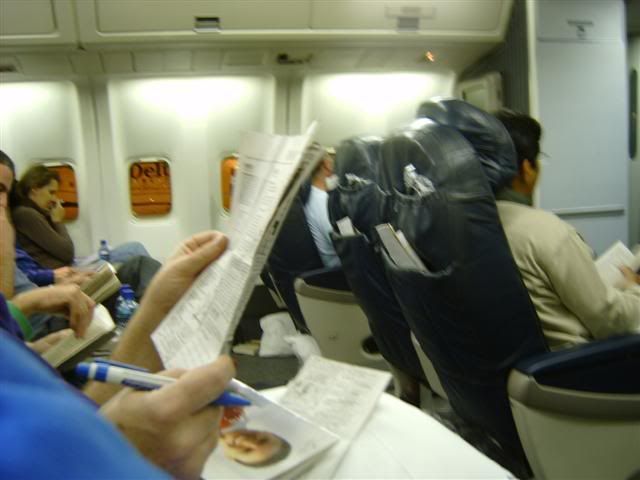 The seat in front of me with pockets for various goodies.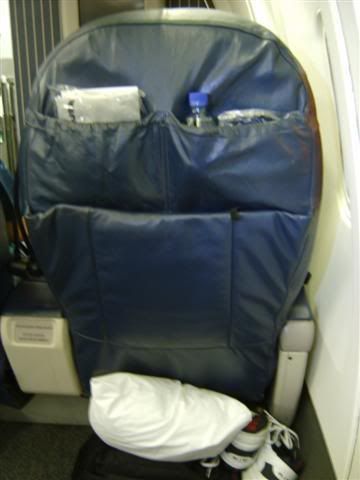 One of the gate agents came aboard and asked if anyone in the Biz cabin would be willing to give up their seat and ride in the back for two First/Biz Class upgrade vouchers (if available.) Seems they had oversold the cabin by one seat. He even promised that they could have a whole row of three seats in the back but there were no takers.
Once we backed away from the gate and started to taxi I noticed that N171DZ "Force for Global Good" in Habitat for Humanity colors had parked next to us after we got on board. Not a great picture given th light but there she is. Good cause but this paint job is kind of dull.
Service onboard was pretty good and normal for Delta's premium cabins. The stewardess that was assigned to my area was very attentive and always asking if I needed anything else. I was greeted upon boarding the plane and before I could even get situated I was asked if I wanted to have them hang up my jacket. Drinks while boarding consisted of champagne or OJ which is a departure from domestic First Class on DL where you can get hard liquor, wine, and Coke on the ground.
My only complaint about the 767 with BizElite is the width of the seat. Steerage is set up as 2-3-2 across and Biz is 2-2-2 across so they width difference in the seat is only .5 inches. 18" in the back and 18.5" up front. I've ridden Continental's 764s across the Pacific and their 2-1-2 seating is great since it gives you a seat about 21" or so wide which is plenty of room to scoot around in the seat. I'm a big guy (former offensive lineman) so I'll never be tiny and slender but I do fit in the seat though I'd like a little room to roam around. Of course with my luck I ended up next to the other big guy on the flight. Normally not a bad thing up front but he started leaning over in my direction while sleeping.
I continued to scrunch up against the window as much as I could but he kept leaning. Add to that he was an LSU fan and I was afraid he was going to think I was his Cajun girlfriend before the flight was over.  
I like to sleep on my side and these seats just don't let you do it. One last gripe is the position of the headphone jack. It sticks straight into your leg and if you move it digs even deeper. I did finally find a comfy position where it didn't go 3/4 of the way into my leg but luckily I had brought my iPod with me so I listened to that instead. Despite the complaints about the seat I must say it is world's better than being back in Steerage.
While on the ground we were handed menus with the choices for this evening's meal. Not a bad presentation if you ask me but then what the heck do I know. While we got real live glasses (gasp!) for wine and drinks we still got stuck with crappy little plastic utensils. I just don't get it. Why not just go ahead and serve us on paper plates while you are at it? You have to wash the dishes at the end of the flight so what's some silverware as well? Big deal, get with the program Delta.
The menu cover with Chef Michelle Bernstein who runs the restaurant, Michy, in Miami. She's a native Floridian Cracker so she's ok in my book.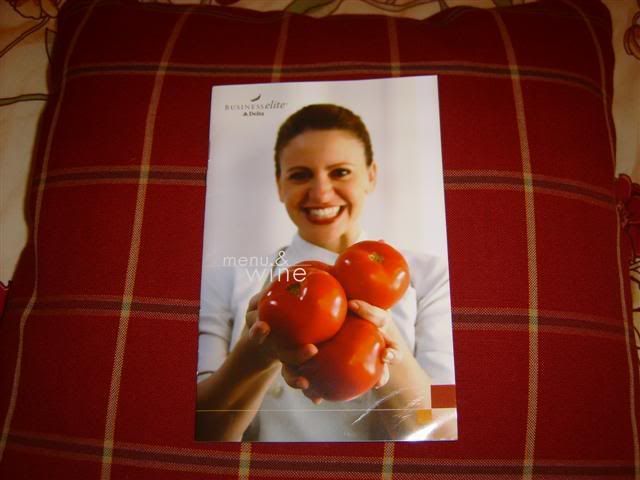 A little blurb about Bernstein, her cooking ideas, and what meal types will let you sleep or help you work.
The next page with menu selections. More on what I had later though main course options included steak, duck, pasta, and vegetable soup.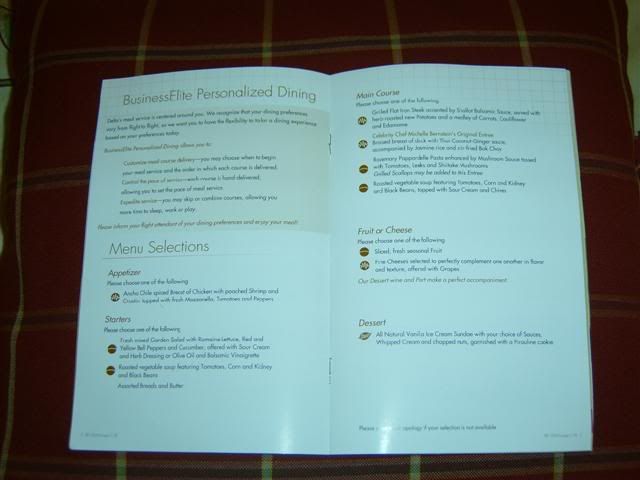 Yet another page with breakfast selections.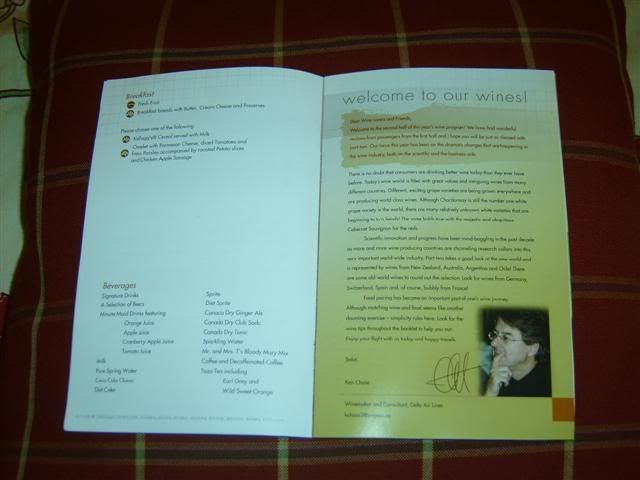 White wine selections. Looks good but I'm a red wine man.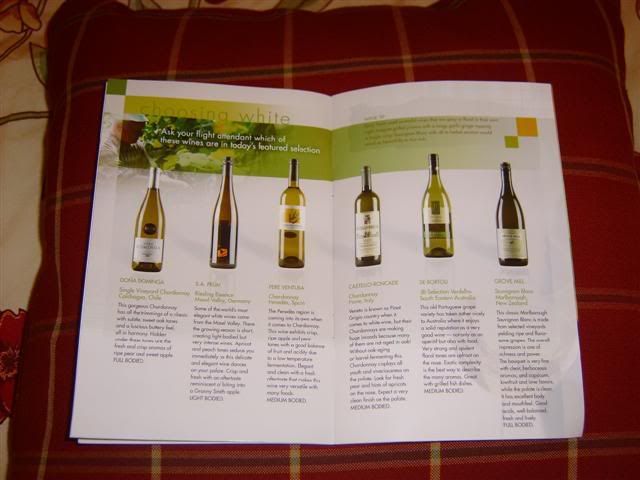 Ahhh....the red wines. I wanted to try the Swiss Pinot but they didn't have it so I went with the Italian Shiraz. Very good!
Champagne and dessert wine selections. I had a couple of glasses of the Moscato dessert wine. So yummy and syrupy sweet.
Tonight's starter was Ancho Chile spiced chicken, poached shrimp, crostini with mozzarella cheese, tomatoes, and peppers. Served cold and a nice start to a decent meal.
The next course was the salad of Romaine lettuce, red & yellow bell peppers, and cucumbers. I was a little disappointed because they don't mention Iceberg lettuce and then they gave too much of it and not enough other greens. Saving the day was a tasty balsamic vinaigrette dressing.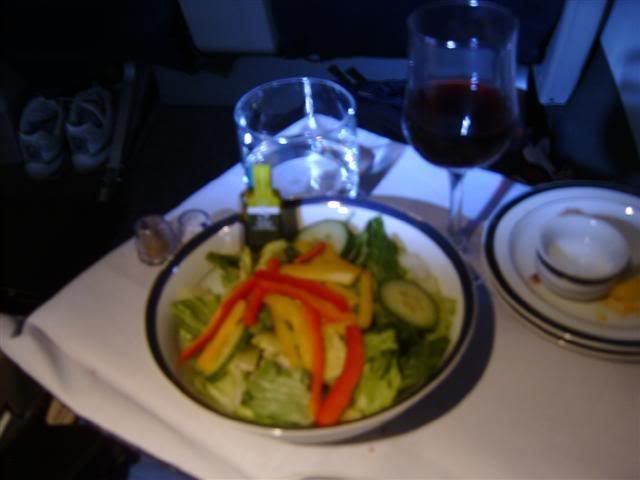 For the main course I had Chef Bernstein's special which was braised breast of duck with Thai coconut-ginger sauce and jasmine rice and stir-fried Bok Choy. While the rice wasn't even remotely put in the same room as jasmine the dish was very good with just enough spice to let you know you're eating Thai food. Sorry this picture sucks so bad because of the light.
Other main meal choices included:
1. Grilled flat iron steak with shallot balsamic sauce with herb-roasted new potatoes, and a medley of carrots, cauliflower, and edamame.
2. Rosemary pappardelle pasta enhanced by mushroom sauce tossed with tomatoes, leeks, and shitake mushrooms. Grilled scallops could also be added to this entree.
3. Roasted vegetable soup featuring tomatoes, corn, kidney beans, and black beans topped with sour cream and chives.
The cheese course with a few different selections though none of them were particularly stinky. I ould have gone for a big old hunk of Stilton though I doubt the folks around me would have appreciated it.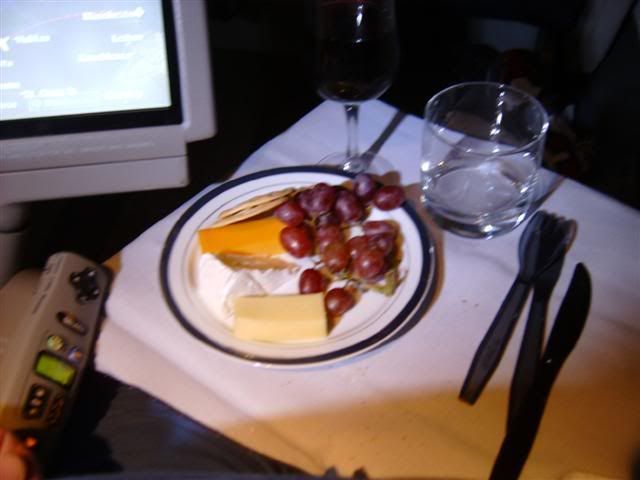 Dessert on BizElite flights always seems to be ice cream sundaes but that's ok because they are quite good. I ate the Pirouline cookie before I took the picture...sorry about that.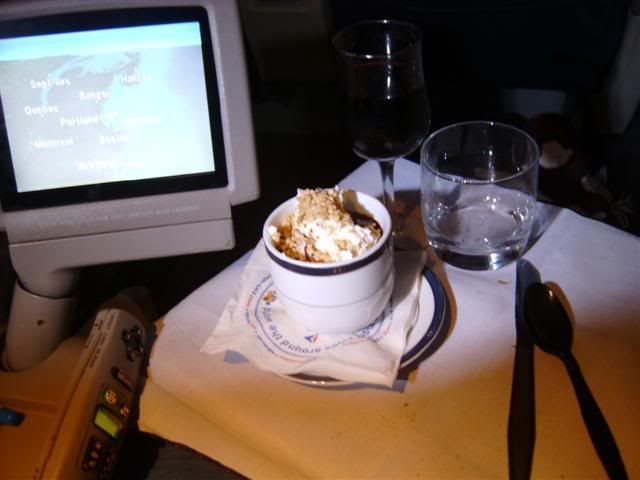 After the sundae I kicked back with a couple of glasses of the dessert wine and continued to listen to my backlog of Adam Carolla podcasts on my iPod for another half hour or so. I eventually reclined the seat all the way back, put on my eyeshades, hugged the pillow to my face in hopes that it would drown out my snoring and went to sleep. I think I got about 3.5 hours or so of sleep. About 2.5 hours from landing we hit some pretty good turbulence. Not nearly as bad as what I have been through before but enough to make my legs bounce up and off the footrest more than once. You could feel and hear the gusts coming from the side and feel the plane "slip" a little bit through the air before it caught itself and kept on flying. I'm sure there is a technical term for that but unfortunately that's the best way I can describe it.
I woke up about an hour and 15 minutes before our scheduled arrival (at least that's what the moving map said.) I got changed back into my jeans and shirt and went back to me seat for breakfast. It seems by the time I got back they had run out of cereal so it was eggs, potatoes, and sausage which was plenty fine by me.
Mmmm...tasty breakfast with fresh fruit though the Blueberries were a little too tart.
Making UK landfall (already crossed over Ireland) at Liverpool.
Manchester city in the distance. Probably not that good of a view due to the sun but trust me...it's there.
While taxiing to the gate we passed by what I would learn is the aviation viewing park. More on that later.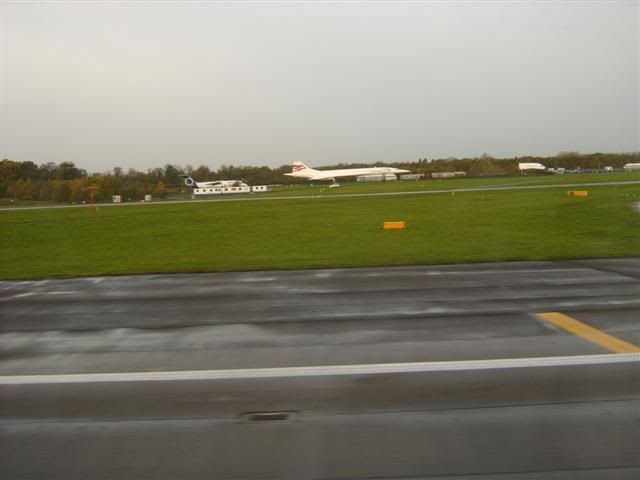 When pulling into the gate we parked next to an AirFrance A320 (F-GFKY) and a FirstChoice Airways 767-300 (G-DBLA)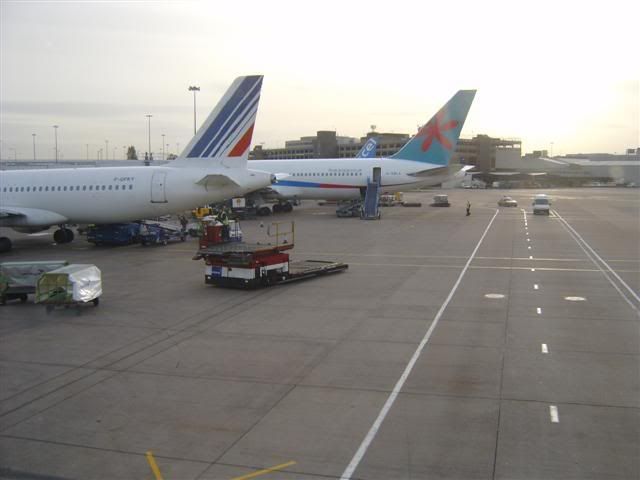 Immigration was quick and although my bag didn't get a priority tag in ATL it was rolling around on the belt when I got through my 10 minute wait at Immigration. I walked out of the terminal and across the road into the parking garage and was on my way in a few minutes after picking up my rental car.
We did have a "celebrity" on the flight today. Had we not been inside the Immigration area I would have snapped a picture. The Great Khali from WWE was about 20 folks back behind me in line. It seems the WWE wrestlers were in Manchester this week for a show or pay-per-view and he was arriving. Seeing as he was a ways back in the line and I would have noticed such a tall guy in the BizElite cabin I can only imagine the pain he must have been in sitting back in Steerage for 8 hours.
Once at the hotel I dug into the amenity kit and snapped this picture of the contents. Not too shabby though I travel with my own eyeshades and socks. I liked the Do Not Disturb sticker if you wanted to be left alone.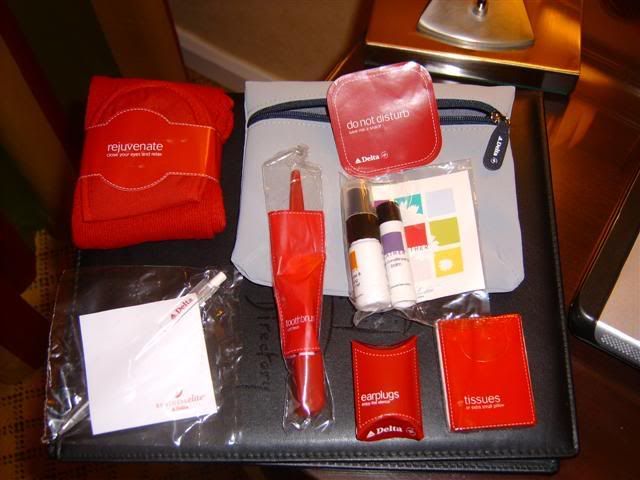 WHILE IN THE MANCHESTER AREA
I made a wrong turn (damn British traffic circles! Look kids...Big Ben, Parliament) getting to my hotel and stumbled across the airport viewing area. I turned around and went back to find the Marriott. Since I was early (even though I was supposed to have early arrival) my room wasn't ready so I went back to the viewing area and got some pics. Sorry I couldn't get all the registrations because a few of them were too far off for the puny little zoom on my camera to get them clearly. A Pakistani 777 was leaving but my picture was blurry.
Monarch DC-10 plane cut up for the cockpit section.
British European Airways Hawker-Sidley Trident 3 that was once registered as G-AWZK in various states of being cut up.
US Airways A330 going back to PHL or CLT I would presume.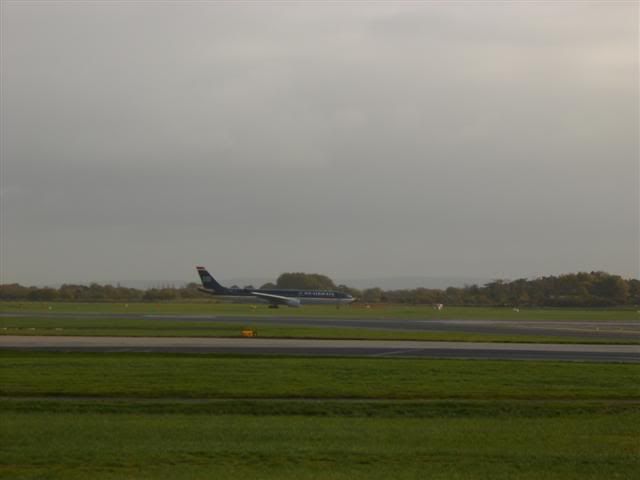 Thomas Cook plane. A310 or A310? I'm not sure.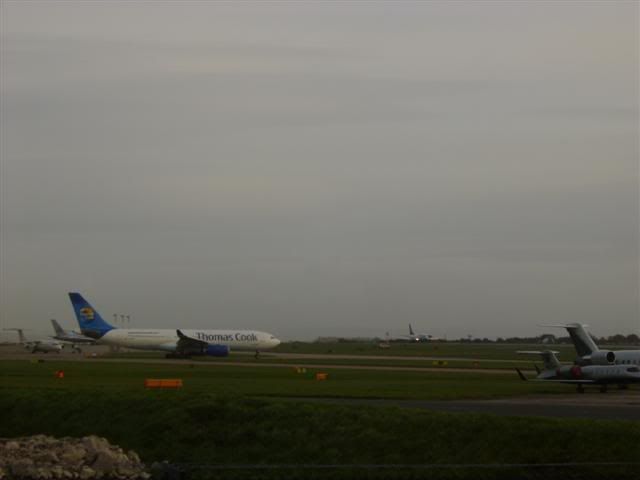 Qatar Airways A330 and an American Airlines 757 with winglets.
KLM 737-400 registered as PH-BTG, "Sir Henry M. Stanley"
bmibaby 737-300 registered as G-TOYF
Thomsonfly 767-300 registered as G-OBYJ
Flybe Dash8 registered as G-JECO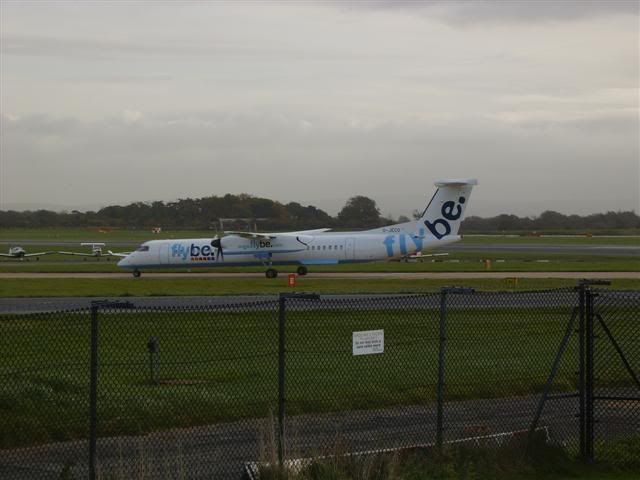 British Airways 757 registered as G-CEPS
The Concorde G-BOAC on display at the viewing site. Guided tours available by appointment.
Excel 737 and a SN Brussels plane. Avro or BAE-146?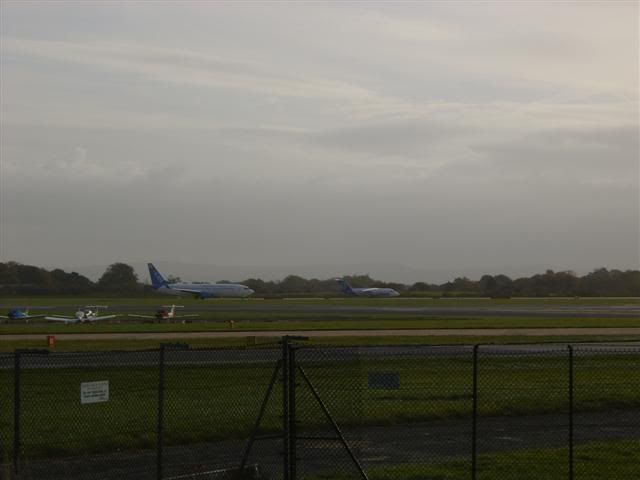 Lufthansa 737-500 registered as D-AIBH, "Bruchsal"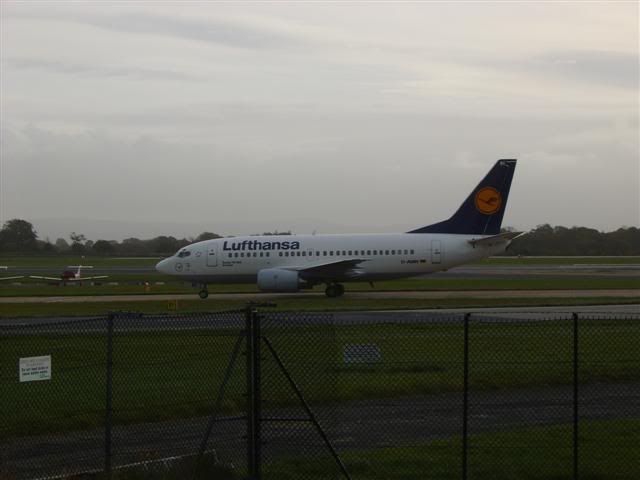 AirMalta 737 and an Excel 737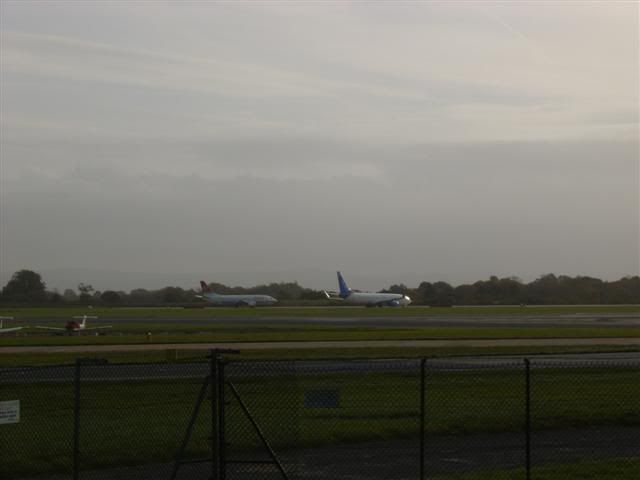 I went back to the viewing park on Saturday morning hoping to see some planes that we just get over in the States. I got a little bit lucky. I played a little bit with the digital zoom on my camera and found out I could get some closer shots though I still couldn't make out the registrations from that far away. I got an up close shot of the PIA 777 as it taxied to the get but I gave up waiting for the Delta flight back to ATL. I found out when I got back to the hotel it was delayed until almost 2PM and I left about 12:30.
My clients were leaving this morning to go back home to California and were flying BMI to ORD and then connecting on United. As I drove into the car park (look at me using fancy British terms) I saw their plane lifting off. Hope they're having fun after buying upgrades to Business class. I'll see you all back here in a couple of weeks. The first plane of the day I got a picture of was a US Airways A330 bound for PHL I would presume. I sure hope that merger doesn't happen with Delta.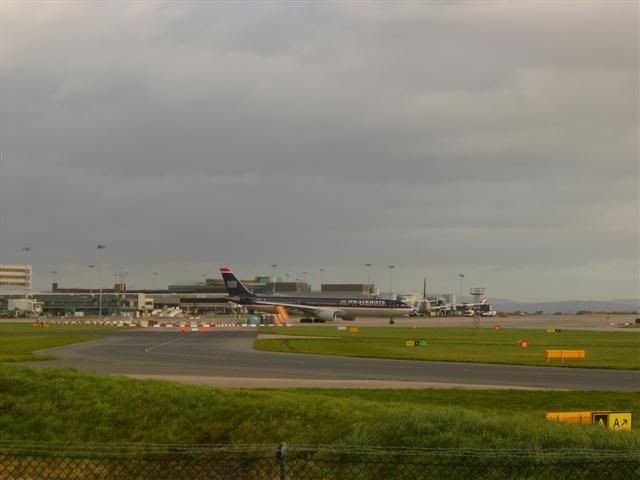 Various other planes in no particular order include...
Turkish 737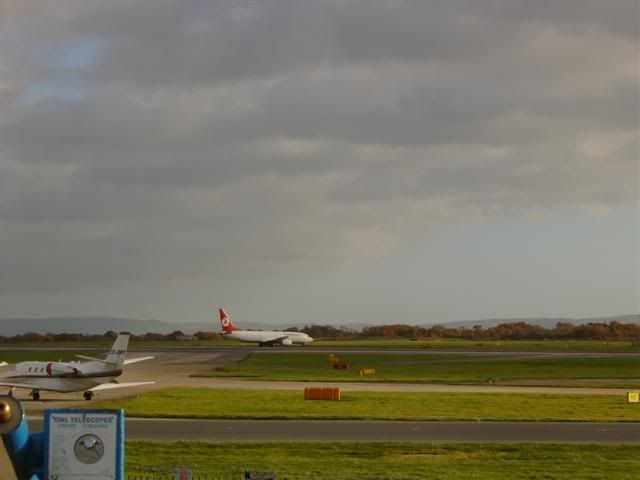 Thomas Cook 757 and MyTravel A320
Cypress Turkish Airlines A321 registered as TC-KTC
Luxair ERJ-135LR registered as LX-LGK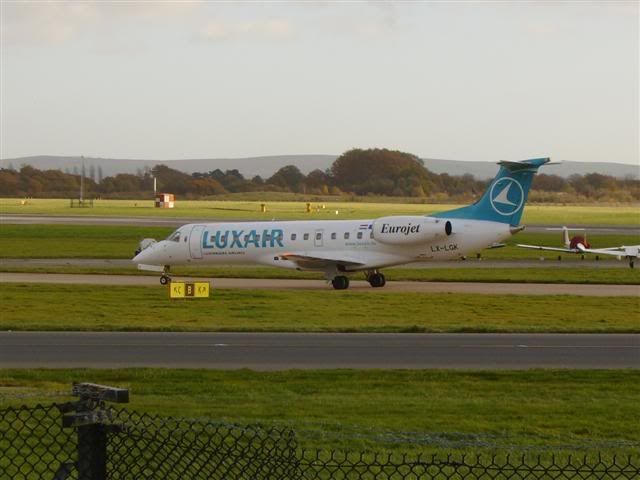 BMI A320 registered as G-MIDY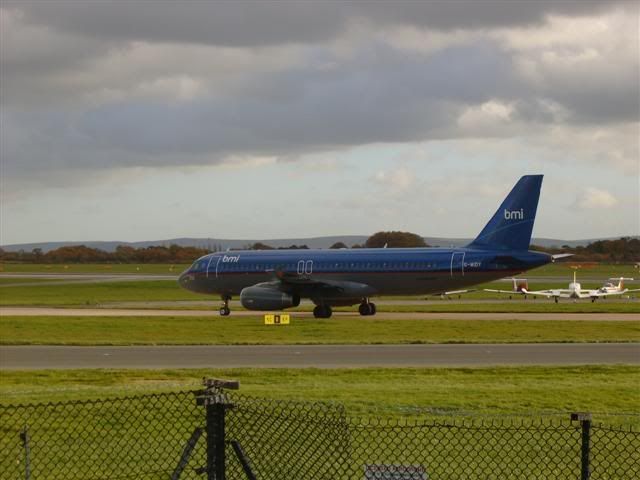 Thomas Cook 757-300 registered as G-JMAA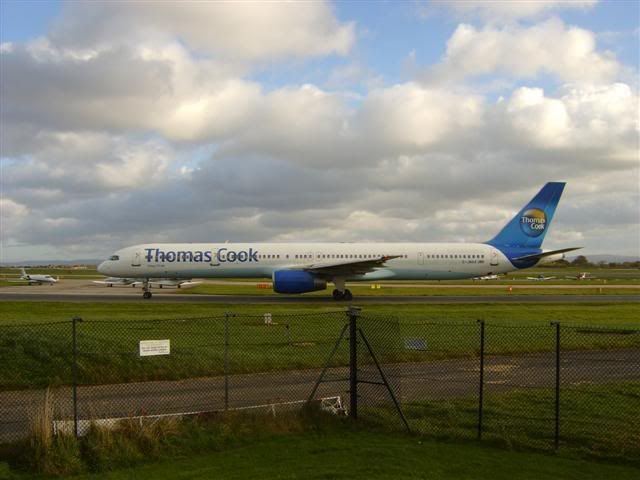 BA Connect ERJ-145EU registered as G-EMBC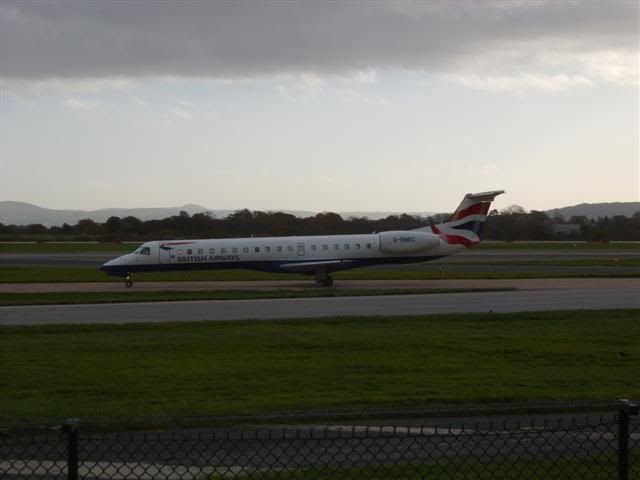 Jet2.com 737-300 registered as G-CELK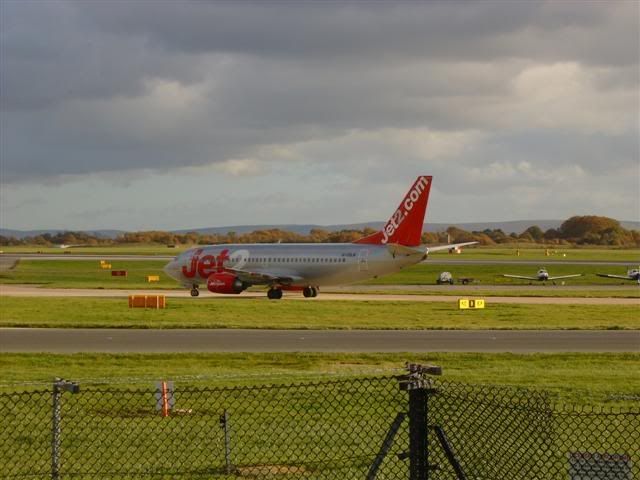 bmibaby 737-500 registered as G-BVZE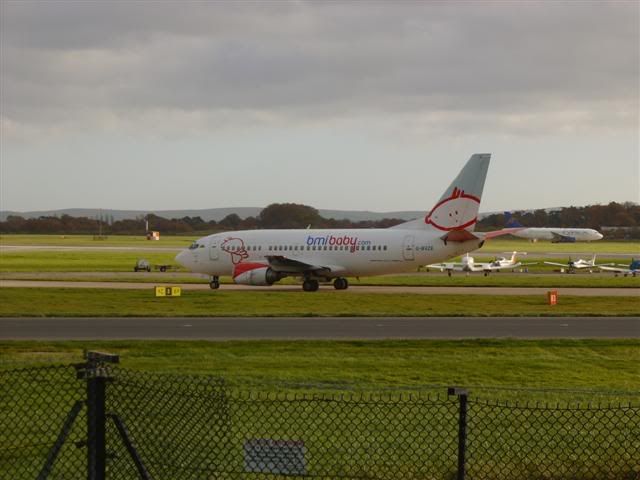 BA Connect Dash-8 registered as G-BRYY
Lufthansa A320-200 registered as D-AIQD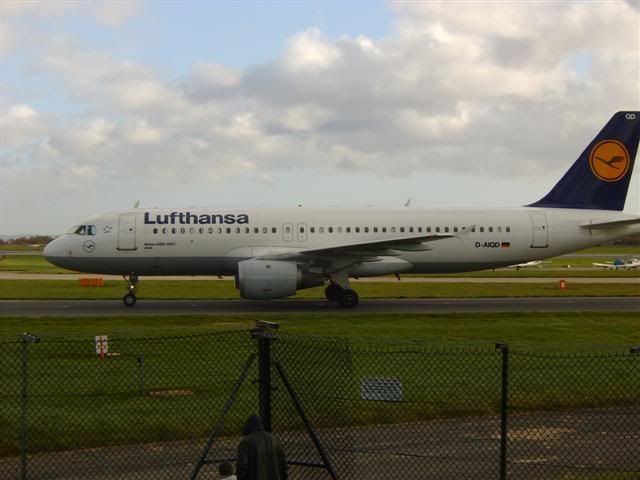 Cyprus A320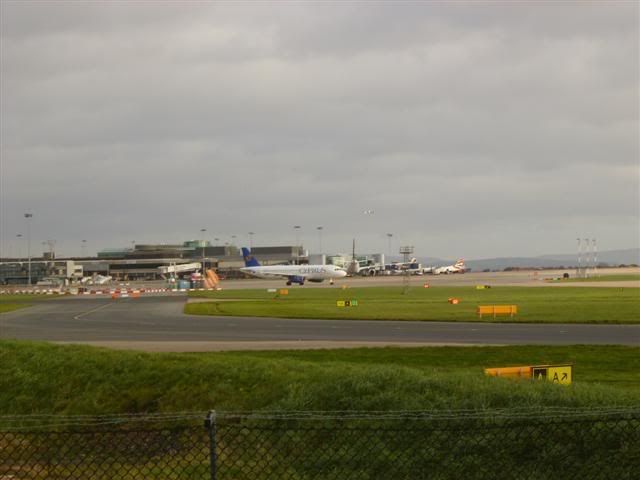 Cathay Pacific Cargo 747 maybe registered as B-HVZ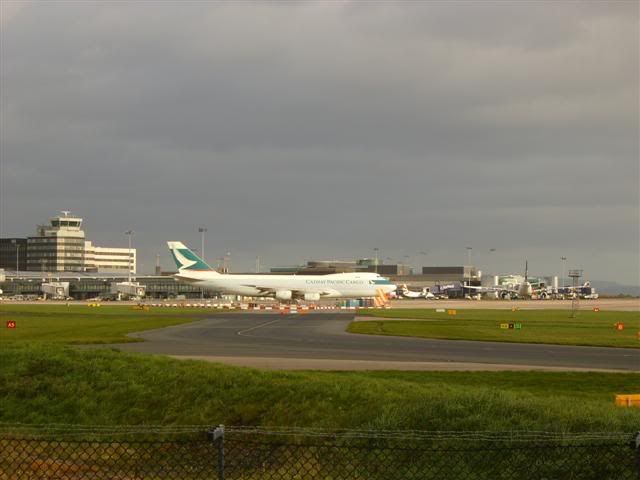 A KLM 737 and a Continental 757 taxiing for takeoff. My co-worker was on the CO plane back to EWR. I still have a few days left here in Manchester.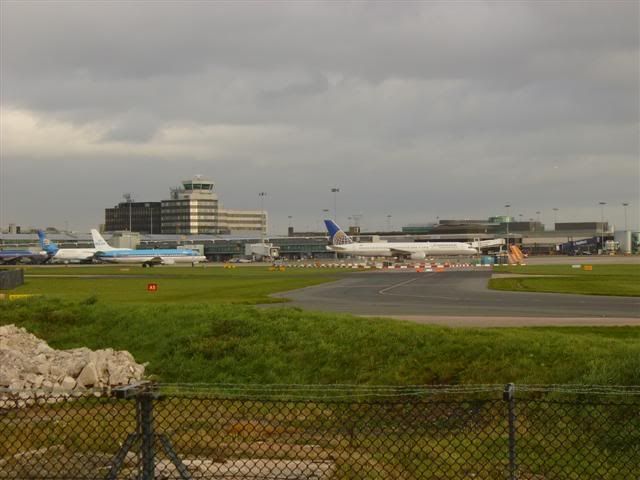 A little but closer picture of the CO 757. Have a nice early ride home you lucky SOB! Just kidding. Manchester is nice but I hate being gone from home more than a week. The wife may not miss me but the dogs do at least.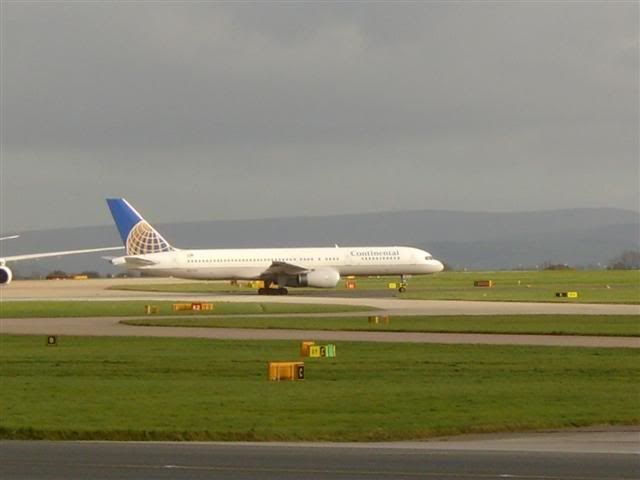 BMI A330 in Star Alliance livery.
Dragonair Cargo 747-300 registered as B-KAA
PIA 777-200ER registered as AP-BGJ
Emirates 777-300ER registered as A6-EBV
I got up Sunday morning knowing I had work to do today so what did I do instead...that's right, go back to the viewing park for an hour or two. Here's a few more planes we just don't get back home other than the Delta one.
Thomas Cook A330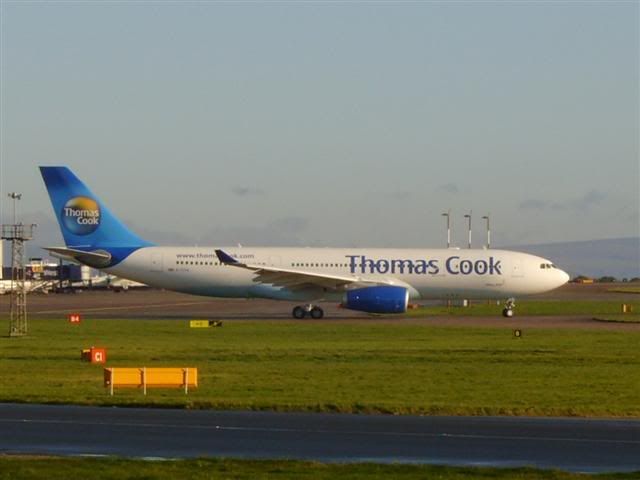 KLM 737-400 registered as PH-BDS
Excel Airways 757 registered as G-VKNA
Delta 767 running as DL64 from ATL and registered as N153DL. Not sure why she was late this morning but here she was from my hometown.
Virgin-Atlantic 747 "Ladybird" registered as G-VAST
Thomsonfly 767-300 registered as G-OBYH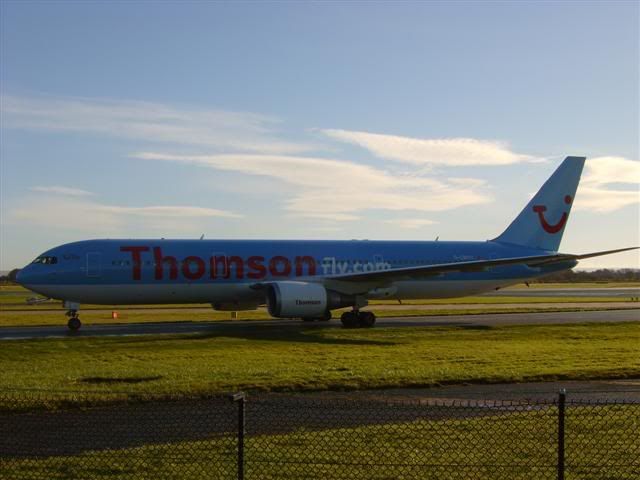 BMI A320-200 registered as G-MIDR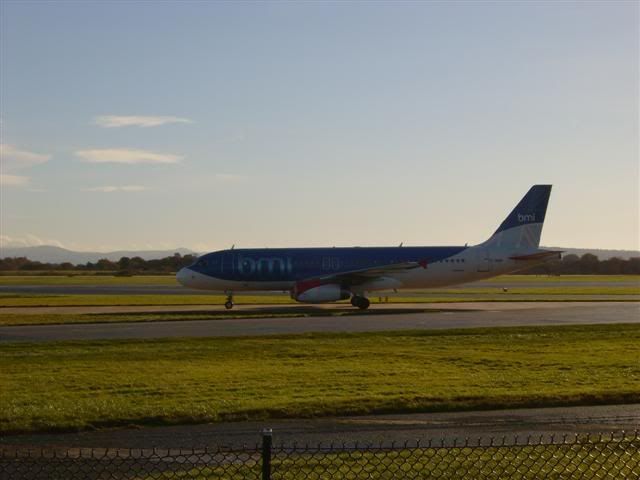 Flybe BAe-146 registered as G-JEBB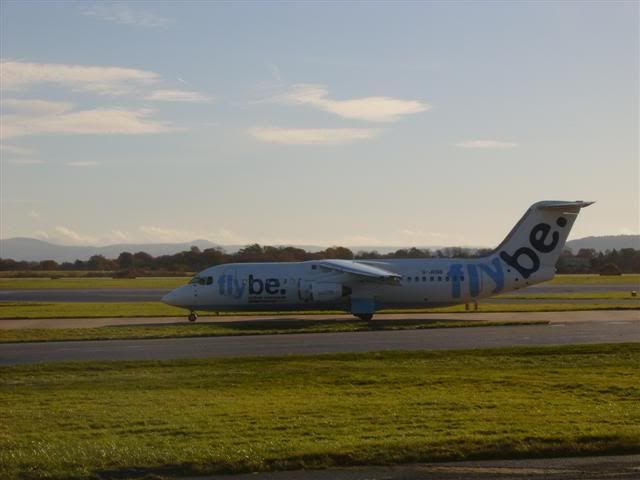 Britten-Norman BN-2T-4S Defender 4000 from the Manchester Police (is this plane the UK version of the "Ghetto Bird"?) registered as G-GMPB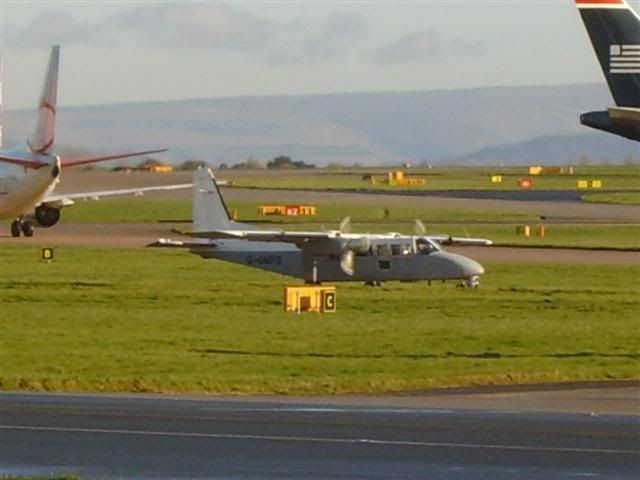 British Airways 757 registered as G-CPEO
Manchester's own 737-300 from Jet2 registered as G-CELI
Finnair EMB-170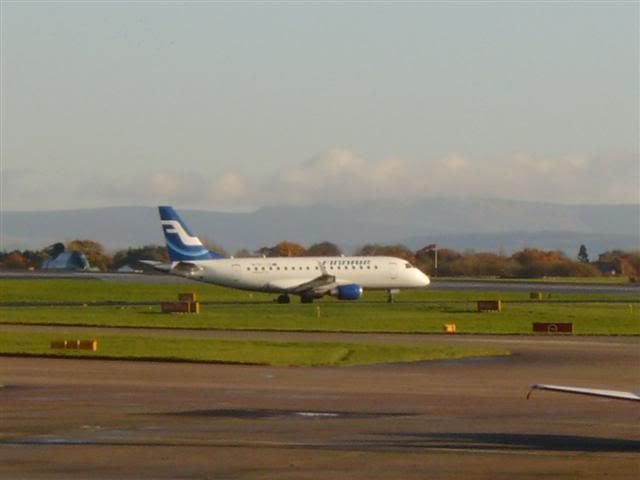 Ryanair 737-800 "City of Nykoping" registered as EI-DCP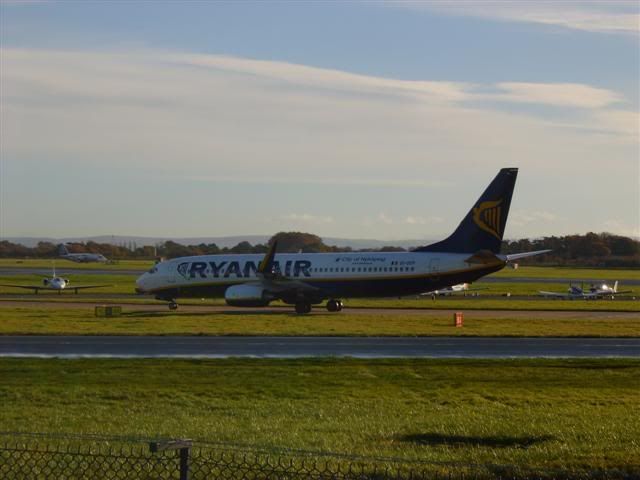 Lufthansa Regional CRJ-700 registered as D-ACPF
BMI A330 to Chicago
Aer Arann ATR-72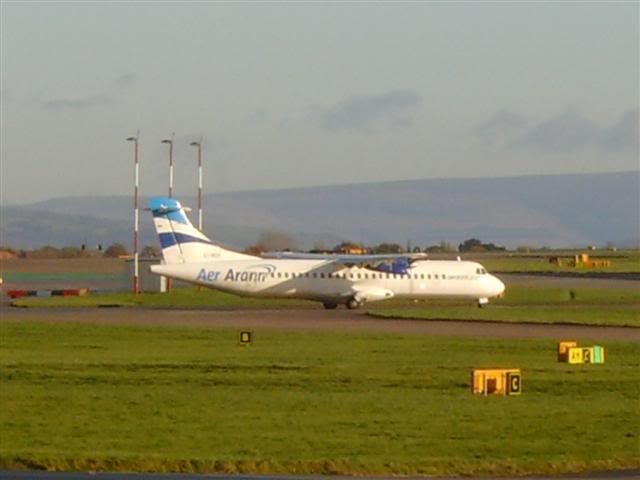 American Airlines 767 going to Chicago perhaps?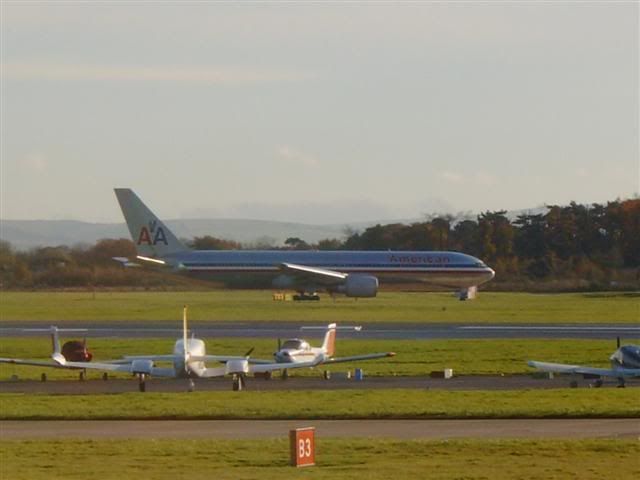 Qatar Airways A330 registered as A7-A?? (anyone know what the last two letters are?)
Singapore Airlines 777 I believe registered as 9V-SVM
11/21/2006
DL 65
Lv MAN 1155
Ar ATL 1620
Plane: 767-3P6ER (ex-GulfAir)
Registration: N155DL (same damn plane as coming over...boring!)
Tail Number: 1505
Seat: 3G
Well the day came to fly home for the Thanksgiving holiday and I was ready to see my family and dogs again. I packed up my stuff and left the hotel later than I wanted but that was ok since I still had time to spare. I dropped off the rental car and walked across the drive into the terminal. Before being allowed to approach the ticket counter I had to play 20 questions with a nice British guy about why I was going to the US (it's my home hence the US passport) and exactly where and what my luggage had been and been doing since I packed them. After answering the questions to his satisfaction I was allowed to go get my ticket. Service at the desk was quick and efficient. I was given my invitation to the AirFrance lounge and directed to the FastTrack lane for security.
T2 Arrivals Hall
Going up the escalator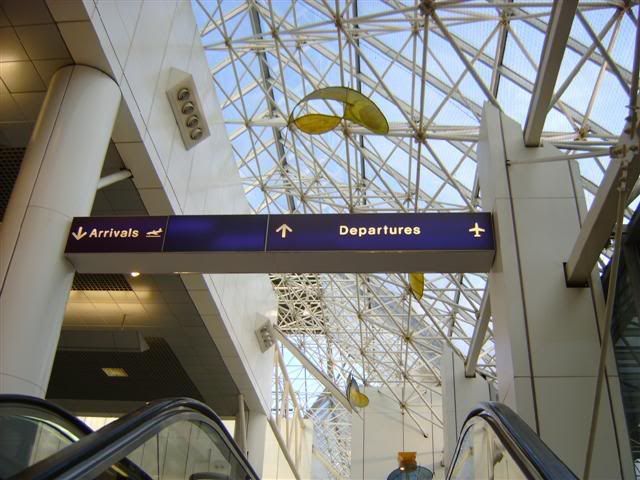 T2 main ticketing hall
Delta ticket counter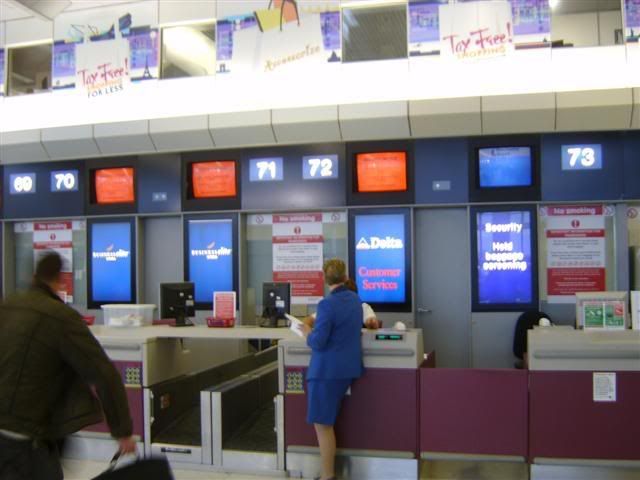 Security wait...not so much. Flying business class I could use the FastTrack line which I did though the main line wasn't busy at all.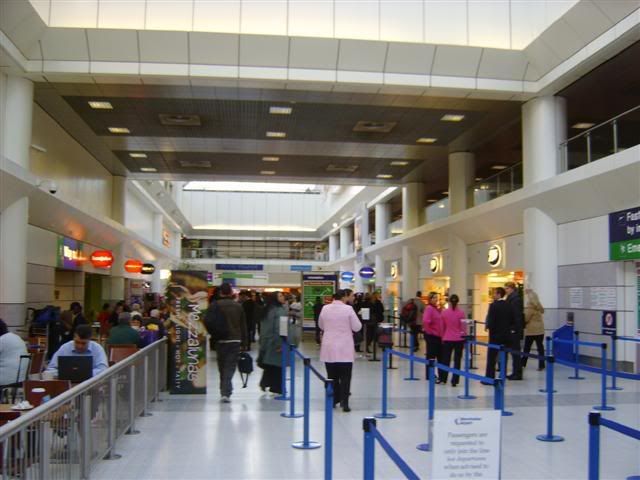 Delta doesn't have a lounge in Manchester so they use the AirFrance lounge. I was expecting more in the way of size but I guess AF doesn't have a huge amount of flights going through here as well so it isn't very large. It can seat around 40-50 people or so. Here is the main seating area.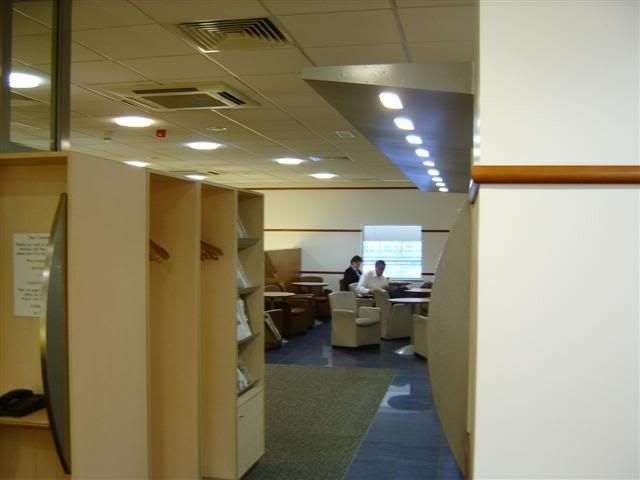 AirFrance lounge smoking area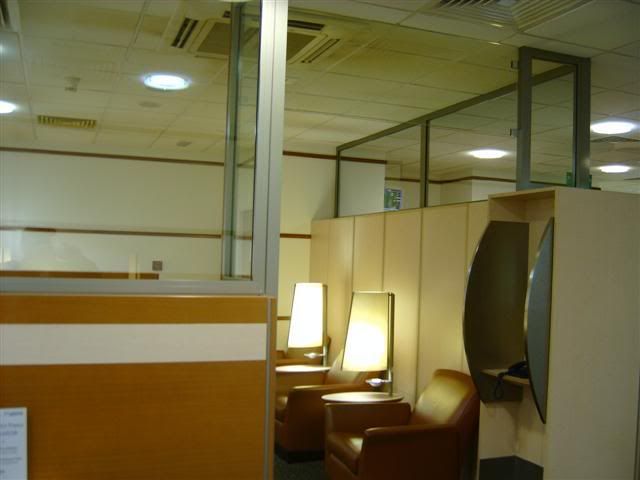 AirFrance lounge drinks and snacks
FirstChoice 767-300 registered as G-DBLA as seen from the jetway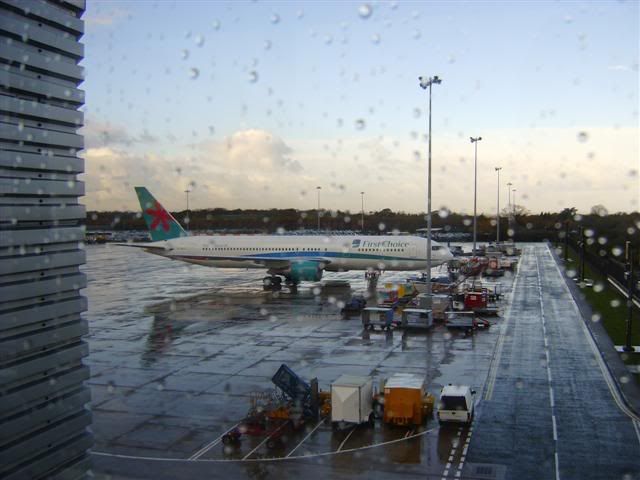 While having my ticket checked 10 feet away from just having it run through the machine that says I'm supposed to be on the flight I was asked to step aside for a more complete search. No big deal but I wanted to ge on the plane and get comfortable. They dug through my bag, frisked me, looked in my shoes, asked some retarded questions and then sent me on my way. Once on board I found my seat and started to get settled in. Headsets, amenity kit (same style as the first trip but this time the color was beige), blanket, pillow, and a bottle of water were all waiting for me at my seat. A stewardess came by and took my jacket while another one offered OJ or champagne which I didn't take because I was going to the head to change into shorts so I could be comfy for the flight.
Various charters at T2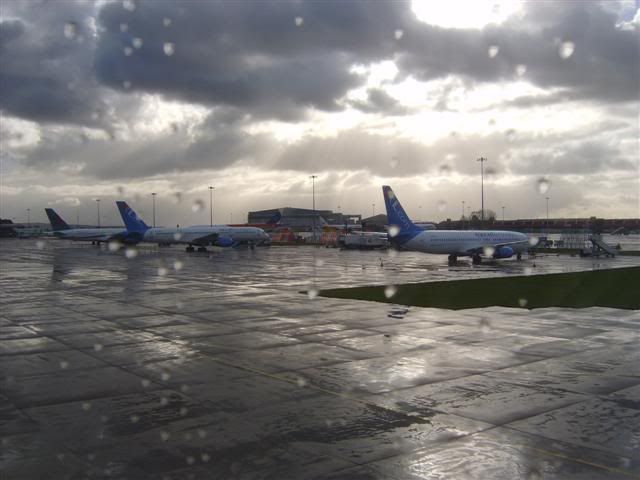 FlyJet 767-200 (with no titles) registered as G-FJEC
FlyJet 757-200 (with titles) registered as G-FJEB
Monarch 757-200 registered as G-MONE
Travel City Direct 747-300 registered as TF-AME
A Garuda Indonesia A330 that is in MyTravel colors. I suppose that Garuda leased this one to MyTravel for the busy season?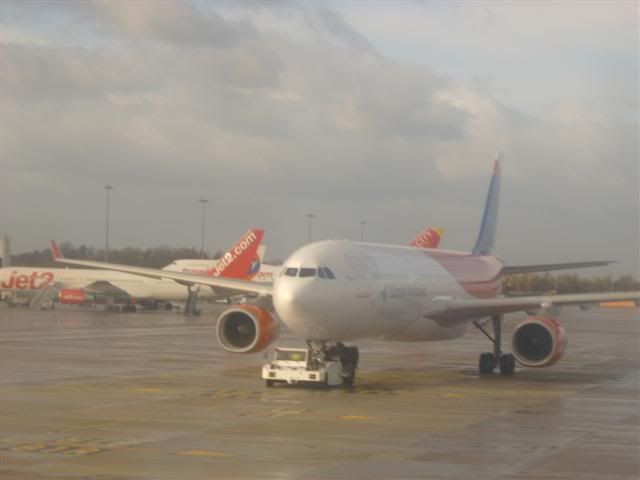 The MyTravel hangar
I have no idea why but I find Delta's "Stewardess MILF" to be very attractive. "Stewardess Barbie" before her was hot as well but for some strange reason I find this chick hot. I'm seeking help for it.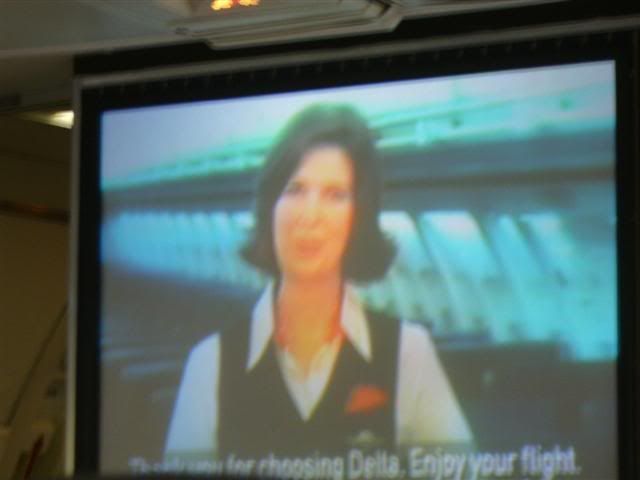 Pakistan 777-200 registered as AP-BGJ arriving as we are leaving.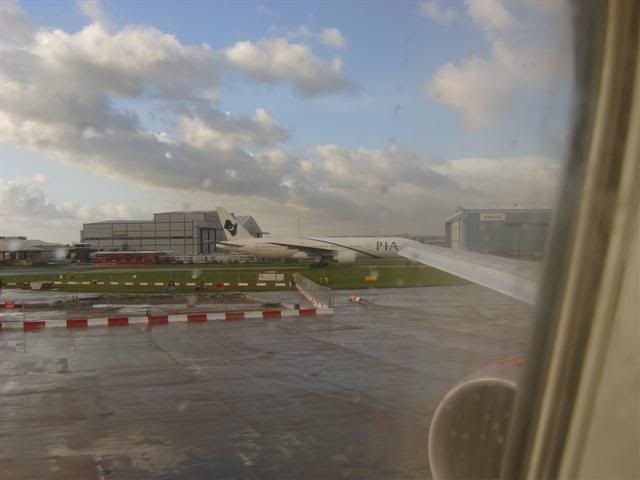 Fire service training area at the airport.
Hello folks in the viewing area! See you in a few weeks.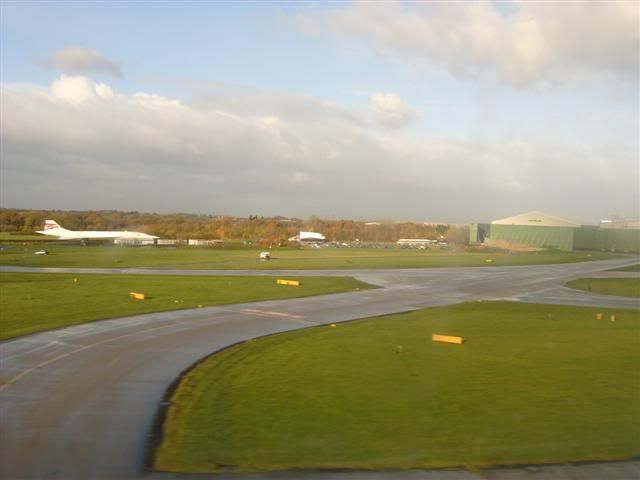 Ooh look...sheep!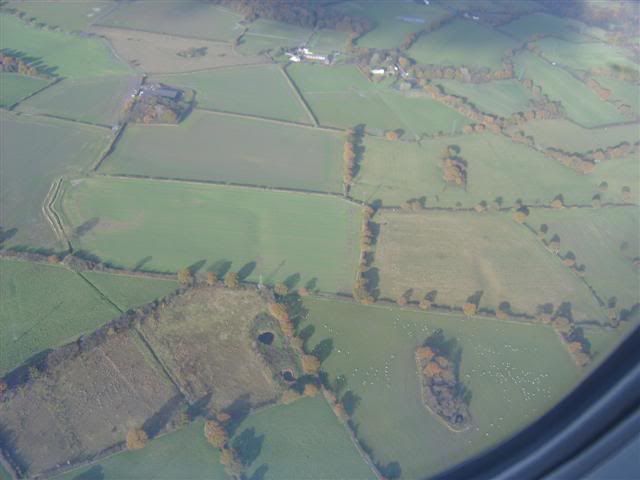 Flying over the Irish Sea. Are those whitecaps or ice flows? Either way it doesn't look like it would be fun down there.
Meal service didn't start until we were beyond Ireland due to turbulent air and bumps. Wine choices today were the same as the trip across the pond. The menu looked exactly the same though the choices for chow were different.
The appetizer today was grilled zucchini and yellow squash with oven-dried tomato, grilled asparagus tips, marinated olives, and goat's cheese splashed in basil olive oil.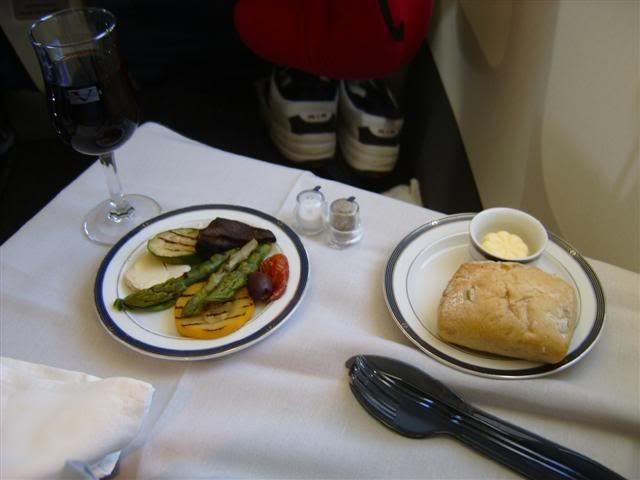 The salad today was mesclun lettuce mix with julienned carrots and almonds with an olive oil and balsamic vinaigrette dressing. The other choice was a beef barley soup with potatoes, carrots, and mushrooms.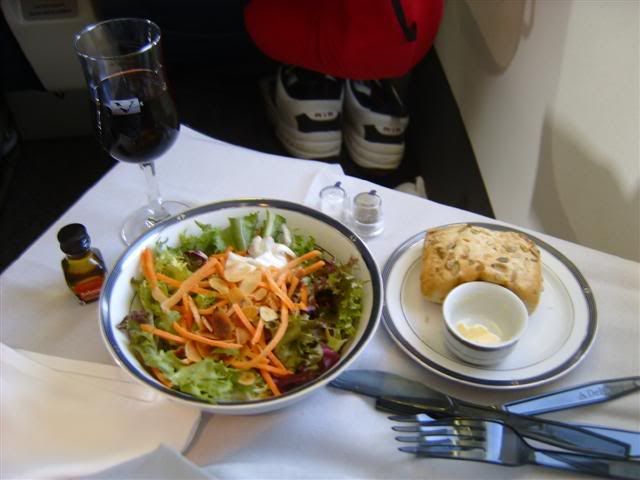 The entree I picked today was the grilled filet of South American (can't narrow it down to a specific country?) beef tenderloin accented by roasted garlic demi-glace offered with herb mashed potatoes and a vegetable medley of green beans, yellow bell peppers, and tomatoes.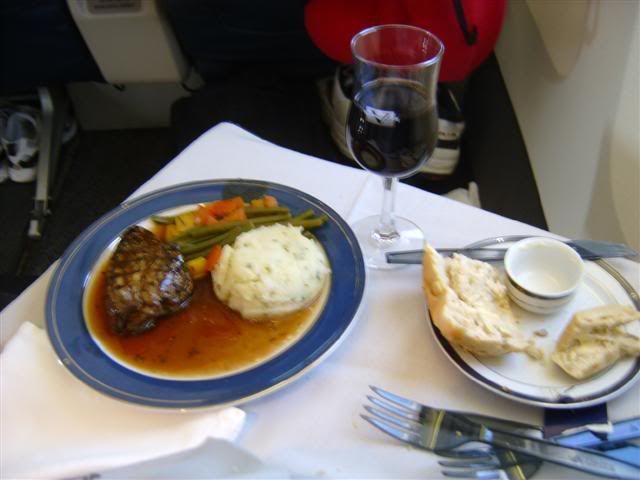 Other choices today included:
1. Breast of chicken filled with Fontina Cheese and enhanced by tomato olive sauce with pan-roatsed potatoes and a medley of snow peas, bell peppers, and carrots.
2. Chef Bernstein's original entree for this flight was linguine pasta in brandy and goat's cheese sauce with tarragon tossed with roasted tomatoes. Sauteed shrimp could be added to this entree.
3. Beef barley soup with potatoes, carrots, and mushrooms garnished with chives.
I forgot to take a picture of the fruit plate before dessert but I'm sure you all know what sliced fruit looks like. Mmmm....ice cream sundae and sweet dessert wine. No cookie today for me to eat before I took the picture.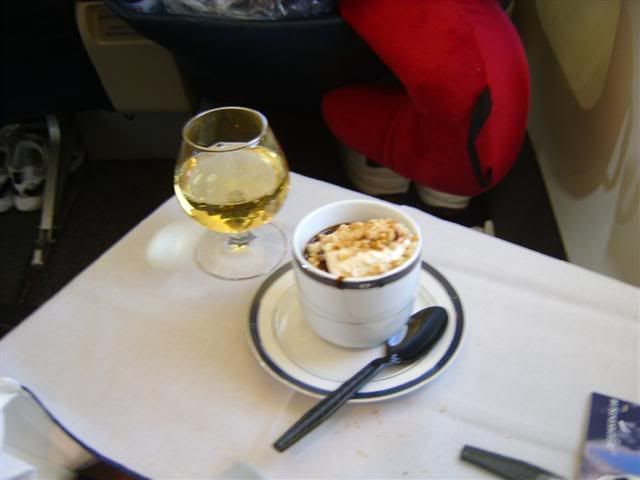 After lunch I settled in for the flight and leaned the seat all the way back. For some reason I couldn't get comfortable today and kept stirring around. Even sitting up straight wasn't comfortable this trip and I always felt as if I was reclining which bothers me. I like to sit up straight and I just couldn't get it working today.
Service was excellent and the stewardess dedicated to our few seats was very attentive and kept the drinks refilled and tray table clean. She even read my mind and brought me a bottle of water that I wanted without me even asking. I slept a fair amount crossing the Atlantic and woke up over Canada about 3 hours or so from arrival. I watched some more episodes of The Man Show on my iPod until it was time to out away all the electronic goodies for arrival.
Flying over the St. Laurence Seaway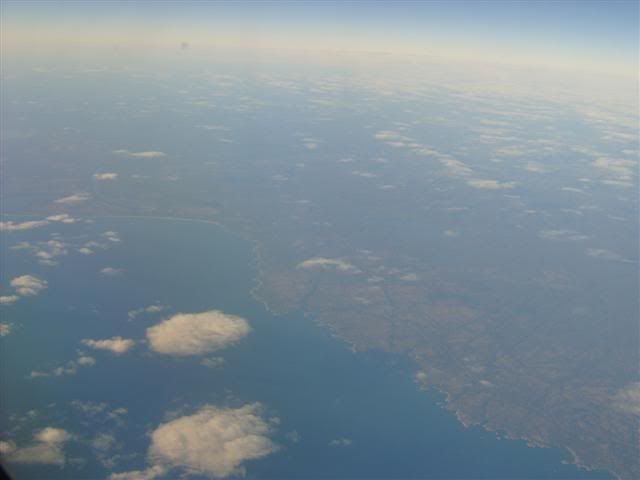 Overflying Quebec City
Plattsburg AFB on the shores of Lake Champlain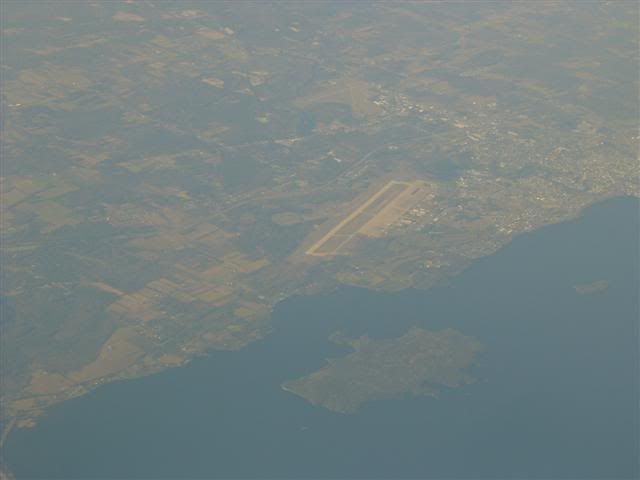 Charleston, WV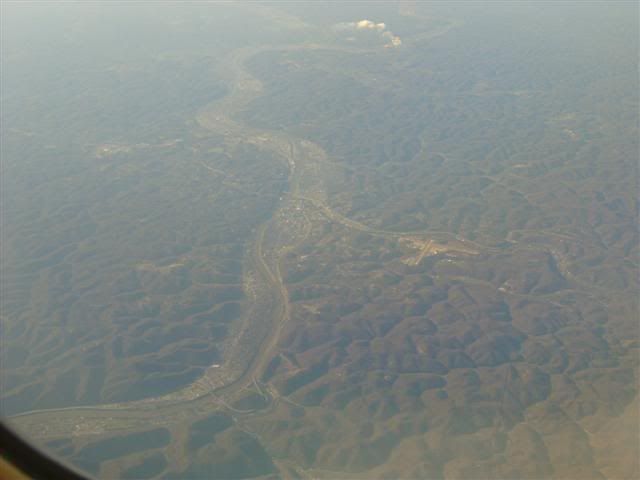 Mountain ridges in SW Virginia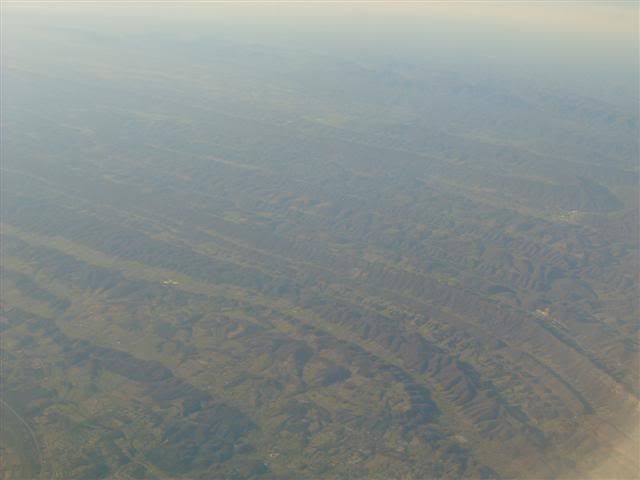 Douglas Lake close to Knoxville
Fontana Lake outside of the Smoky Mountain National Park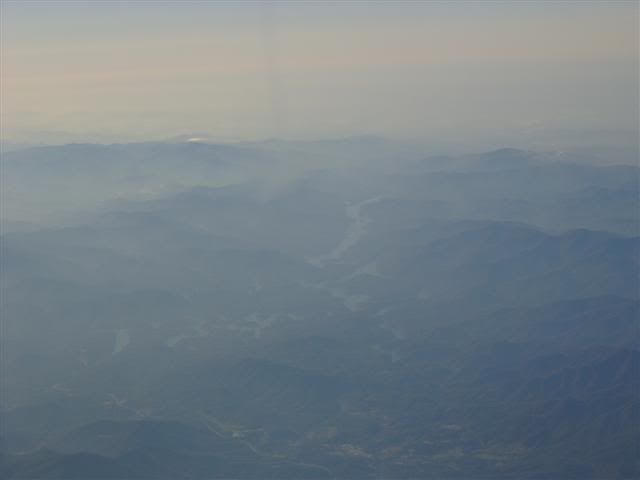 Great Smoky Mountain National Park
Gilmer airport in Gainesville, GA close to the shores of Lake Sydney Lanier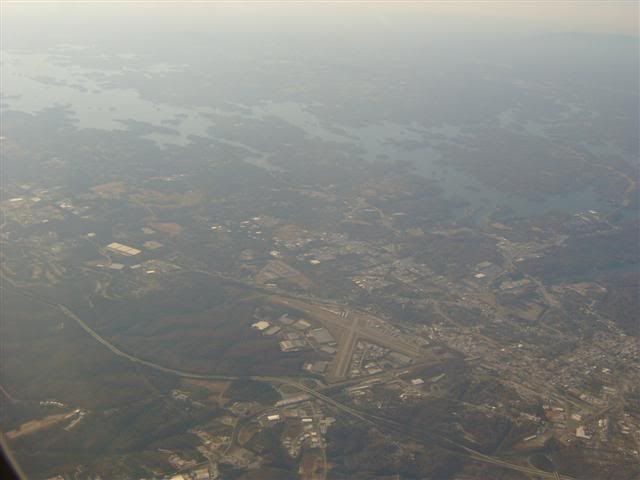 The Mall of Georgia in Buford, GA northeast of Atlanta.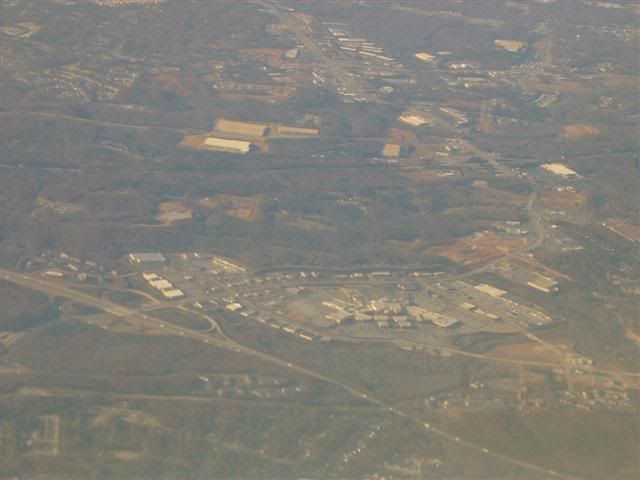 Fly Delta Jets courtesy of the Delta Technical Operations buildings
AirTran 737 registered as N272AT
ASA/Delta Connection CRJ-200ER "Texas Bluebonnet" registered as N868AS
We arrived into ATL ahead of schedule by a few minutes but our gate was still occupied so we sat on the taxiway for 20+ minutes which sucked. We finally got to the gate and were off and on our way to Immigration. I was 5th in line and got through quickly. I got downstairs to the luggage reclaim area and once the belt started moving about 5 minutes later my bags were the 4th and 5th ones off. This time I did get the yellow Priority tags on my luggage so perhaps that helps some. One thing I noticed with my original checked bags going over to Manchester is that while I didn't get the yellow tags the label did have Priority printed on it though it was too small for someone tossing bags into and out of the hold to see.
I went to the Customs line and passed right through with no issues. Then it was off to the baggage recheck which is the dumbest thing about the ATL airport. Since the E Concourse is open to the rest of the airport you have to recheck your bags and go through security screenings and then reclaim your bags again in the main terminal. It is seriously a pain in the butt because it adds another 30 minutes of wait time sitting in the main terminal trying to get you bags back again. Oh well, deal with it and move on.
Delta 777 (N862DA) being pushed back for a flight somewhere.
Going down to the transportation hall from the E Concourse there is artwork from black Americans. I always chuckle when I see the part that says "Who Dat?"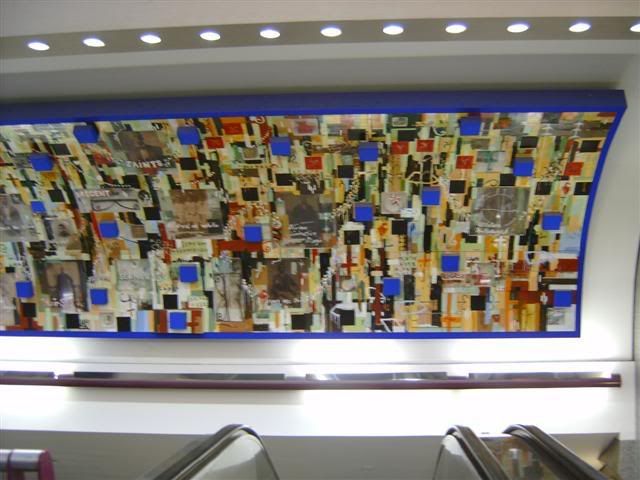 Welcome to Atlanta says the kid playing in the filthy water that is the Centennial Olympic Park fountain. It really is gross water. I wouldn't go anywhere near it since all the little kids pee in it. Heck, one kid in the picture is even wearing a diaper. Gross! (not the kid or the diaper but just the E Coli infested water.)
Arrivals board with baggage claim numbers
A new arrival into the Hartsfield Airport is a Georgia Lottery store so you can start losing money before you even get your bags.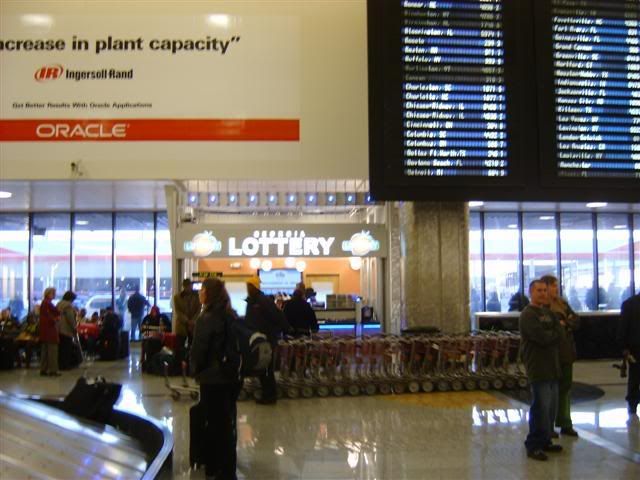 Well folks, that's about it for this report. Delta's BusinessElite product is pretty good in my opinion. Yes, the Asian and some European carriers have more up to date stuff but for relatively short hops across the Atlantic this service is pretty good. The stewardesses do an excellent job keeping you fed and watered down with beverages. I'll be flying this route again in another week but figured I should get this report in now given the vast amount of pictures in it. With the upgrades that Delta has announced over the past few weeks to the BusinessElite product I believe they will continue to be a great option for travel.
And on a completely different note here is a picture of my Chocolate Labrador sleeping on my head. My wife snapped this pic one night and I just recently found it on my camera while pulling pics off for this TR.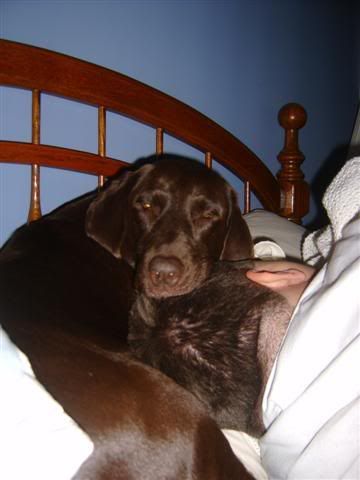 Edit: title
[Edited 2006-11-22 17:57:57]