Fulfilling a New Years Resolution; Birmingham-MAN-CWL-NQY-Plymouth
A few months ago Air Southwest dropped an email offer into my inbox; any flight, anywhere on their network for £19.95! Well, for that price I booked myself a Manchester to Plymouth return instead of the regular Bristol to Plymouth flights that I frequent, just for a weekend to go back and see family, in fact less than 5 mins after it had landed in my inbox then I had them booked, must be some kind of record I think!  
Thursday, 23rd November
So, after a virtually sleep free night due to me having to finish some important work, and then a morning discussing plans and designs in University I set off for Birmingham New Street railway station just after lunch. My train was at 14:18, so I still had loads of time and after checking the platform I headed on down where I found a seat and played a few games on my phone. I got petty engrossed in this, and didn't realise the train had arrived, but luckily there was still plenty of space onboard and I found myself a seat in carriage E.
Birmingham New Street - Manchester Piccadilly
Service:
14:18 Virgin Trains Voyager service, calling at;
Wolverhampton, Stoke on Trent, Macclesfield, Stafford and Manchester Piccadilly (if I remember correctly) 
Class:
220 - Voyager
Number:
220 011
The seats on Virgin trains are ok, well shaped but don't have a lot of cushioning and the hard backs do tend to hurt your knees after a while, especially if your tall and have somebody sat next to you. The journey was quite slow, it seemed there were a lot of speed restrictions on the line, but after just over an hour and a half we were pulling into Piccadilly in Manchester. I could have gotten off at Stafford and then taken the train to Manchester Airport from there, but I wasn't sure how frequent the service was.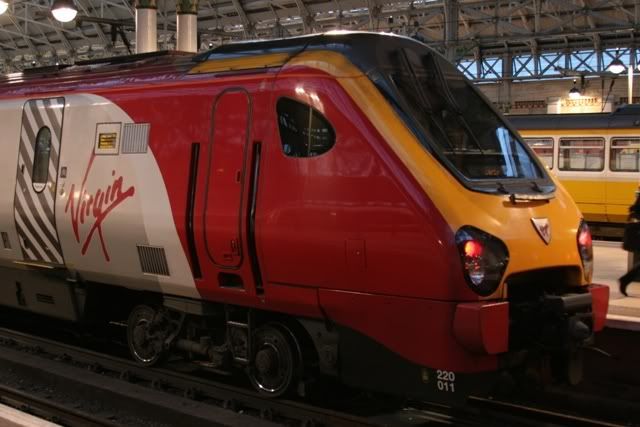 Manchester Piccadilly- Manchester Airport
Service:
17:13 Trans-Pennine Express Service, calling at;
Cheadle only.
Class:
175
Number:
175 116
There was certainly a frequent service from Piccadilly to the airport station, I counted at least five departures within less than an hour on the board, the next one being a Trans-Pennine express, crikey I thought, might even see Lee (BMI Flyer) at work! Well as it was the conductor was a guy called Mark, incredibly polite, and he clearly had a lot of pride for his job and the service he provided, mind you he come across as quite a camp chap, hope it's still PC to say that  
Well, enough of the railways, I arrived at Manchester Airport station and after digging out my ticket again to present to the 'bouncers' checking for fare dodgers, I headed for Terminal 1. There was another 45 mins before my flight opened for check in, so I took a wonder up onto the viewing deck, MAN was empty, with just a handful of aircraft in attendance.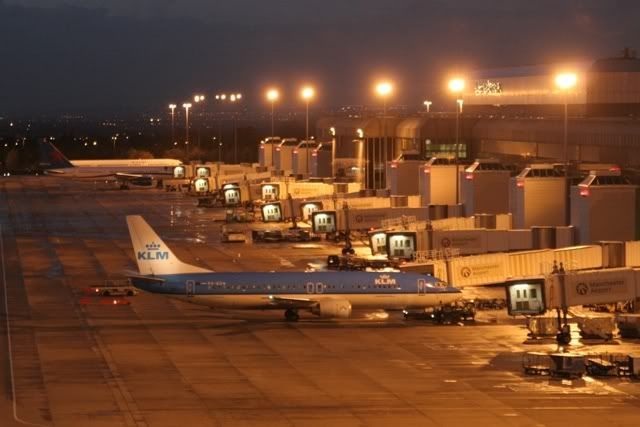 It was pretty cold up there, and I wanted to be first in line for check in so I didn't hang around for long, arriving back at desks 17 and 18 to claim first in line.
There wasn't long to wait, soon the girl arrived who was going to be checking in, seemingly for both the BRS/PLH and CWL/NQY flights as her colleague was late. I suppose this was where things started to go wrong; first off, although I was 99% sure it would be Dash 8 I asked her what aircraft it was - she had no idea which seemed a little unusual to me, then she couldn't get the baggage belt moving, still, she said it was ok and that was everything so I could go. As I walked away from the desk I had a feeling something was missing, but couldn't place what it was until I went to fold my boarding pass inside my passport. That's it I thought, she didn't give me my boarding pass! I returned to the desk and she looked at me blankly; "Yes?" I replied in a joking manor that I might have more luck getting on the aircraft if I had a boarding pass, the rest of the passengers stifled laughter, and whilst she turned the printing machine on I started to chat with a couple of guys going to Cardiff. I asked for seat 2D, but because Air Southwest do not have fully computerised systems, only the left hand side is available for pax going all the way to PLH, and the right hand side just for BRS. As a result I selected 2A instead, and boarding pass in hand this time, I was on my way... well as far as Burger King for an unhealthy but essential dinner!
I couldn't think of much else to do, browsing shops doesn't appeal to me much, so I progressed through security and then on to the lower gates area for internal flights operated by regional jets and props. There was still no gate showing, but I noticed an Air Southwest aircraft touching down, and then watched as it taxied up front of me.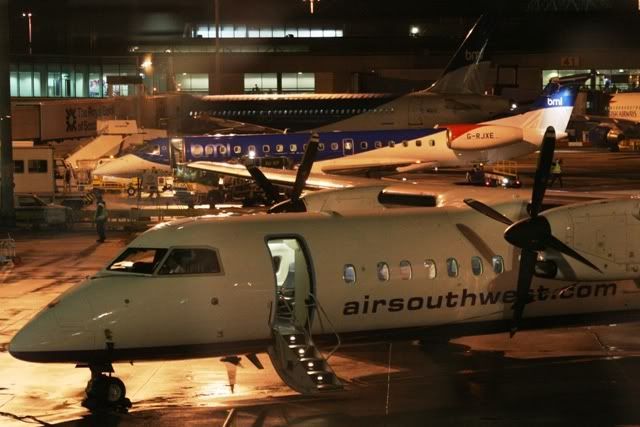 I wasn't sure if this was my flight as still no gates were being shown, but after half an hour went by I began to be concerned by the absence of another aircraft. I asked a Menzies aviation rep if they had any news on the flight, or why the other was still sat on the tarmac with no boarding. The reason, as I was told, is that Air Southwest crews do a change at MAN, so one crew does NQY-CWL-MAN, and then changes onto the other aircraft to fly MAN-BRS-PLH. The agent didn't seem too impressed with this plan, and I must admit it made me wonder, as if one flight is late then this will automatically make the other one late.
After another 15 mins the boarding began on the NQY flight, oh dear I thought, this means only one thing - the BRS/PLH flight is cancelled. I found another handling agent who was boarding the NQY flight and asked her if it definitely was. "Yes, cancelled," she said "due to an emergency". At that point I noticed the seating map for the flight which was running, "can you fit me on the NQY flight?" I asked hopefully. She seemed positive, but said that I would need to have clearance from the head dispatcher, and that Air Southwest would also need to be asked. As quickly as I could I rang Air Southwest on my mobile, a very helpful lady at the call centre okayed it and I passed her over to the agent just for her to confirm it. Things were looking up, she disappeared down onto the tarmac and then into the aircraft, but when she came back it was not the news I had been hoping for; "Captain's already done the paperwork and calculations, so he says no more passengers," she informed me. Obviously the captains decision is final, so asking again was futile, I watched from the terminal as the doors were shut and then the tug attached, whilst I gave my mum a quick ring to let her know I would be very late, and coming by coach, although to be honest at that point I was more likely just to ask for a re-fund and take a train back to Birmingham!
But, just as I put the phone down, the aircraft door opened again, I went back up to the dispatcher, and asked her if they were allowing people on after all. Yes, they were, it seems that management, somewhere - either at headquarters down in Plymouth or at the handling agency in MAN, had got the pilot to change his mind. There were obviously limited seats, but as I ran back down to Gate 3 from 1, she said that as I had already asked I would definitely be on, great, a wonderful reprieve I thought! Obviously there were a lot of very irate passengers, but an announcement was made; seven 'volunteers' were asked for, to be put on the CWL flight and then given round transport to BRS. No seats available to NQY though, darn I thought, but I said ok to the option available, as getting from Bristol to Plymouth was possible by train. Then as an add on, it was announced that only passengers with no bags could travel, ok, that rules me out I thought, as I had checked in my (empty) laptop case, by then I was really wishing that I had jammed it into my backpack as I was thinking of doing! Still though, I though an explanation was worth a try; I offered to leave it behind if I could get on the flight, after all I could wrap my laptop in bubble wrap to take it back up in my hand luggage and then pick the case up on my return through MAN a few days later.
One of the ground staff dealing with baggage overheard this and kindly asked if i was just this small bag I had. "Yeap" I said, "it's a small black leather case, about so big," as I made a gesture with my hands as to its size. "OK" he said, "give my boys 5 mins to find it and you'll have it", the dispatcher didn't seem too pleased at this, but he was already off to get it! The other passengers were taken out to the aircraft, and I was left waiting at the gate to see if my bag could be found. Just a few minutes later the dispatcher came rushing back in, "come on, hurry up we've got it, you're going!" I couldn't thank the guy who had gone to find it enough as he handed me the case, such a kind gesture to get me on the flight, I was really thrilled and in a way touched that there are still very thoughtful people out there. I literally ran out to the aircraft and there was the familiar face of one of the stewardesses, "You're late" she said jokingly, "come in and find a seat, anywhere will do." Pretty much no sooner than I had sat down, then the paperwork was re-filed for all 44 people onboard and we were pushed back from the gate.
Now my watch strap had broken, I obviously had to turn my phone off, and because I just plonked down in 1C; literally the first available seat, I wasn't going to be taking pictures out of a window, so all of my regular methods of timing a flight were gone, it's all from memory... but if I remember correctly is fairly accurate  
MAN-CWL
Airline: Air Southwest
Flight: WOW517
Aircraft: DHC8-311
Registration: G-WOWD
Seat: 1C
Estimated Departure Time: 19:10
Actual Departure Time: 20:40
Estimated Arrival Time: 20:05
Actual Arrival Time: 21:35
On the way out to the runway I could just about see some of the other traffic, I recognized an A330 of Qatar Airways, which taxied around and took off in front of us, then it was our turn. This was going to be my second flight 'backwards' so to speak, as row 1 on the Dash 8 faces the rest of the cabin; I had sat in 1D several years ago, but remember hardly anything of that flight. It was a fairly strange experience, as we rotated and pulled up, instead of watching the cabin tip up in front of me, I watched it go down and felt myself being pushed forwards, not the usual being forced back into my seat, so pretty much exactly the opposite of how you would normally feel on a flight when facing forwards!
The initial climb out was smooth and we soon reached our cruising altitude of 15,000ft. The captain came on to advise us that there was going to be a little turbulence as we approached Cardiff itself, but that we should have an otherwise smooth flight. Even better, the crew then announced that because of the delay we could have a free drink each, one black coffee for me please - I needed something to keep me awake having been up for well over 35 hours on just an hour and a half sleep! As expected, the flight was smooth, I relaxed, sat back and listened to my walkman, in the end I shut my eyes too, because I got bored of finding a place to look ahead of me down the cabin which didn't mean I was staring right at another passenger. The descent was as the captain predicted, quite bumpy, something interesting I found looking at 13 rows of pax was how much they wobble and bounce about during turbulence, its also virtually synchronized and is quite strange to watch. I always try to keep my head and body relatively still, but having watched other people, I'm not so sure now if it works! The actual approach was quite steep and I wasn't actually sure when we touched down because it was so smooth, from the 10! feet remaining warning that I heard being barked out in the cockpit behind me to the feathering of the props I didn't feel a single bump, very nice landing.
We were on the ground at Cardiff for around 25 mins, over half of the passengers had gotten off, and once some more had boarded we had to wait a short time whilst a couple of no shows had their bags removed from the hold. During the wait I was chatting to one of the stewardesses, it was clearly not a good day for Air Southwest! If I understood correctly, the Bristol based aircraft which does some of the runs to Norwich and Leeds Bradford had gone tech and was out of service, then the aircraft I should have been on was struck by lightening whilst climbing out of Bristol, meaning an immediate emergency landing in Cardiff, again put out of service and to top it all off, she said this aircraft was having troubles maintaining constant pressurisation, which affected the crews as they walked about, making them more tired (because of altitude I would imagine). I really felt sorry for the operations manager who was going to have to deal with it all the next day!
CWL-NQY
Airline: Air Southwest
Flight: WOW517
Aircraft: DHC8-311
Registration: G-WOWD
Seat: 1C
Estimated Departure Time: 20:20
Actual Departure Time: 22:05
Estimated Arrival Time: 20:55
Actual Arrival Time: 22:35
Once again the doors were shut, and we pushed back from the gate, the crew still had no idea if there was a taxi going to be provided to take me from Newquay back to Plymouth, so just before the engines were started up I sent my mum a quick text to ask her to pick me up, boy I thought, she'll be pleased at this! I could have moved to another seat and faced forwards, but to be honest I really couldn't be bothered. The aircraft had 36 people on board, including the crew from the flight which had to divert to CWL after the lightening strike. Taxing out to the runway I noticed the RAF/ Royal BAe146 commencing its take off roll, nothing on approach so we followed it around and were soon pounding down the runway and then back up into the soggy skies above South Wales.
Captain announced we would be flying at about 10,000ft and that flying time down to Newquay was going to be roughly half an hour. Being such a short flight there was no service at all, I had a better view out of the window this time, so I watched the lights of Cardiff and Swansea disappear into the distance, and soon enough we were descending down again having crossed the border into Cornwall. The approach was a little wobbly, but yet another perfect landing was executed and we rolled out down the runway until reaching the terminal turn off. Because I was in the emergency exit row, my bags had to be stowed in an overhead towards the rear of the aircraft, where there was room, so before pax were allowed to leave their seats one of the stewardesses brought them both down to me. She also informed me that I had a taxi waiting for me, excellent I thought! After thanking them again for allowing me on, I got off and headed for the terminal.
Before going inside I snapped a quick shot of the aircraft, I had no baggage to reclaim so I went straight out and got on the phone to my mum, I suggested that she stopped where she was and I got the taxi as far as wherever she was, but by that time she was hopelessly lost and said she'd rather go home, oops! For some reason she loses her entire sense of direction in Cornwall, everywhere else it's perfectly good. I found the taxi driver and we walked off to the car, and began the journey to Plymouth. Its only 39 miles as the crow flies, but as ever roads are not direct, especially not South West ones, which have to negotiate moors, hills, rivers and estuaries. Half way, we found that the main road was closed, so hence began a late night tour of Cornwall, I drew the route on the map below 
Because my house is less than a mile from the airport he took me right back to the door, and as I suggested to him, it would be quicker for him to drive back to Newquay by going through Tavistock and up to Launceston before going down the A30. I slipped a few quid into his hand for a pint for taking me right home, and then headed indoors, the time 23:50, just 2 hours 45 mins late. I thought to myself, thank goodness I'm not on a coach; the reason I fly is because I get travel sick on coaches if I can't see the road in front of me (also the trains to Plymouth take so long and are no cheaper than the plane!).
I do get the feeling though that I might be jinxed on the MAN-PLH flight; I have attempted to fly it twice, the first occasion was my return from the MAN summer A.net meet, and I encountered a 14 hour delay, and this time it was cancelled again! Still, this time Air Southwest were excellent, on the last occasion the ground staff in MAN had been very uninformed, and were not told anything by the airline, but this time everything worked well and Air Southwest handled everything perfectly, after all it was not their fault that the Aircraft had been struck. So, a big thumbs up to them for getting me home!  
So why was this fulfilling a resolution you may be wondering? Well, three years ago my new year's resolution was to fly twice as many times as the year before, for the consecutive three years, unusual I know! The first year I succeeded on paper, but failed because a flight was cancelled and I didn't have time to take another, then in the second year I managed it easily and this, the third year, despite taking much, much more effort, it was finally accomplished as I lifted off from Manchester on my 115th flight of the year! In 2005 I had flown some 57 times, so 114 was the number to beat this year.
From now on though, I'm going to concentrate on flying certain types of aircraft; the rare ones -- as well as trying to fly on as many airlines as possible.
Hopefully I shall have some interesting future trip reports to post, I have a backlog to write -- it's just finding the time to do it.
Thanks for reading, I hope you have enjoyed it.
Dan 
[Edited 2006-11-25 16:09:37]