7th September 2006
Luke is the first up today at 0830 demanding that everyone gets up, there is a city to see....after nearly all of us tell him where to go, we get another hours sleep. We fall out of bed at about 0930 and get ready, we leave hotel at 1030 running outta reception dumping key as we go, we headed back to McDonalds where we had dinner the previous night for breakfast. We then head to the tram stop to get the tram into Athens city centre, after about 10 mins wait we get on the tram for the 25 minute ride, our first stop today would be the Acropolis, we eventually reach our stop and follow some touristy looking people who look like they know where they going, sure enough they do and we arrive at the Acropolis, first we go take a look at "The Temple of Zeus"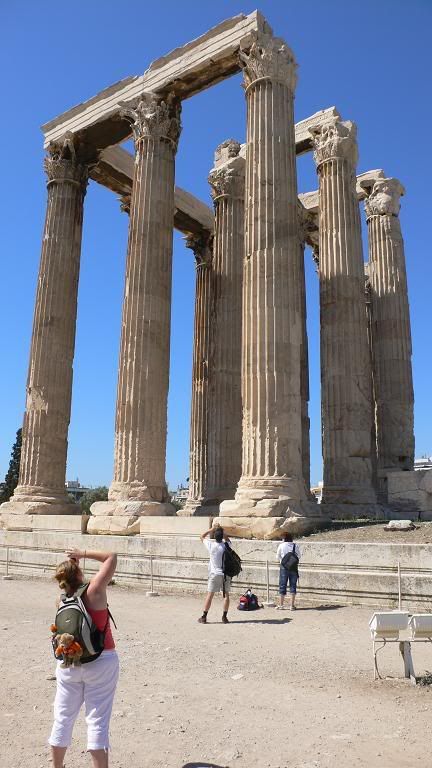 Lucy admiring it whilst Luke and Kaz can be seen in background
we spend about half hour here taking numerous pictures from different angles, even getting bollocked by officials for taking a picture they didnt like... after spending time here we were hungry again so off we went to find lunch, we headed towards the Acropolis and found some nice little restaurant so we ate here sitting outside in the sun. We paid the miserable bastard who run the joint and headed on up to the Acropolis, today was very hot day and seemed to take twice as long...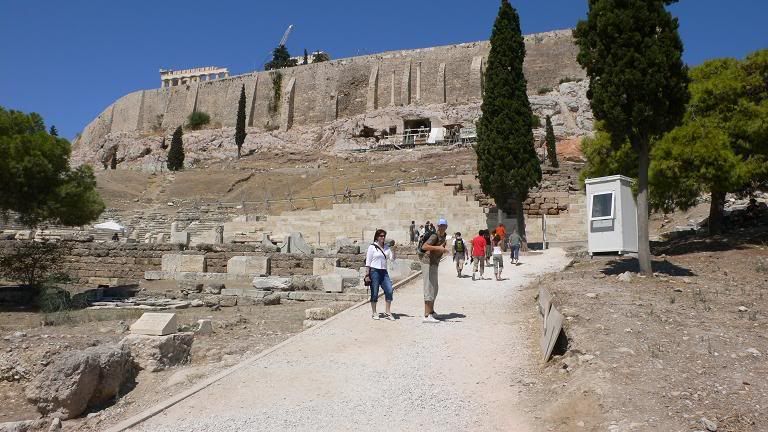 The climb begins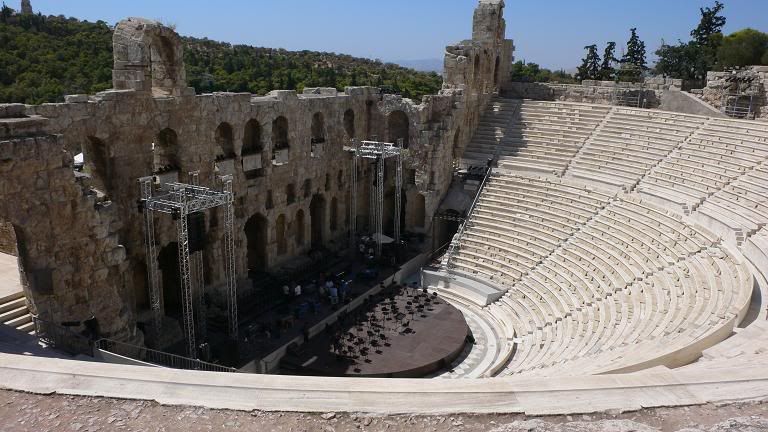 Theater that will probably be completed before the new wembley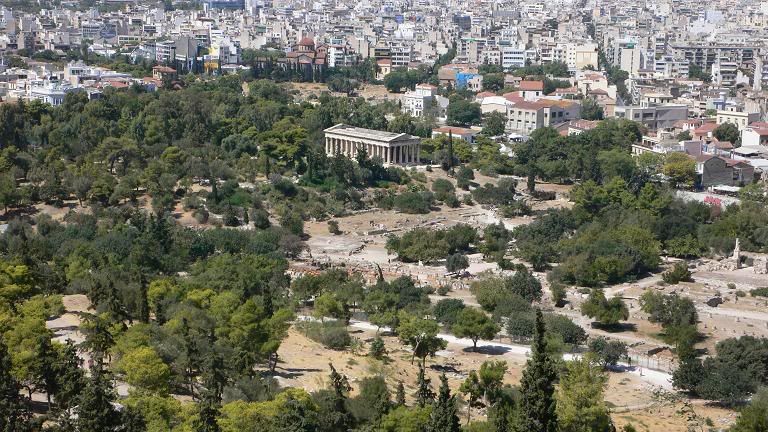 Some other little temple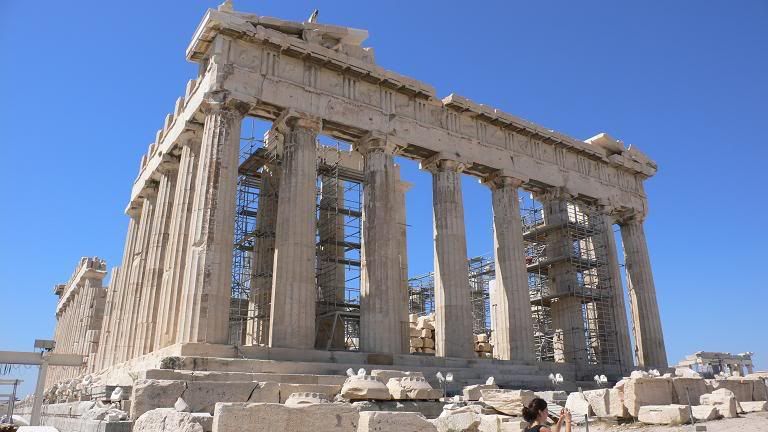 Acropolis or Parhenon as some call it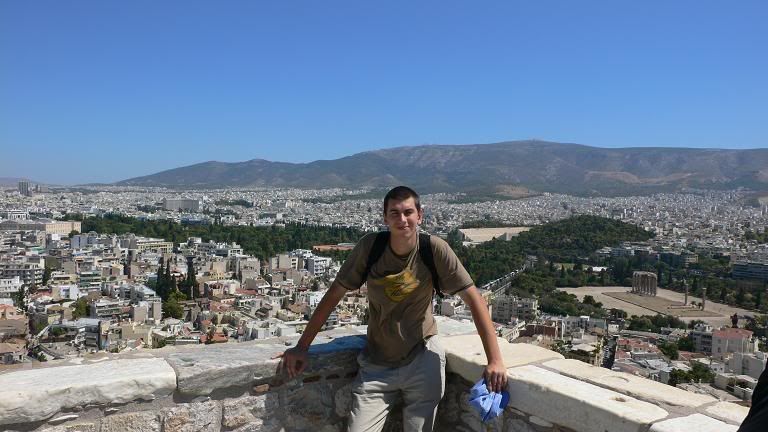 Me at the top absolutely knackered!
We spent about half hour at the top looking around taking numerous photos none worth putting on here anyway...so we slowly made our way back down to the bottom as time was getting on...descent took about 25 mins as we stopped taking yet more photos that look exactly like the ones we took going up....we headed into the city to Syntagma Square to take a look around the shops, here we found another McDonalds, so of course we had to sample it, just to see if it was as good as the one in Glyfada...this one was just as good. Time was getting on so we headed to the park, see what was there, nothing special so just chilled out for a bit with a drink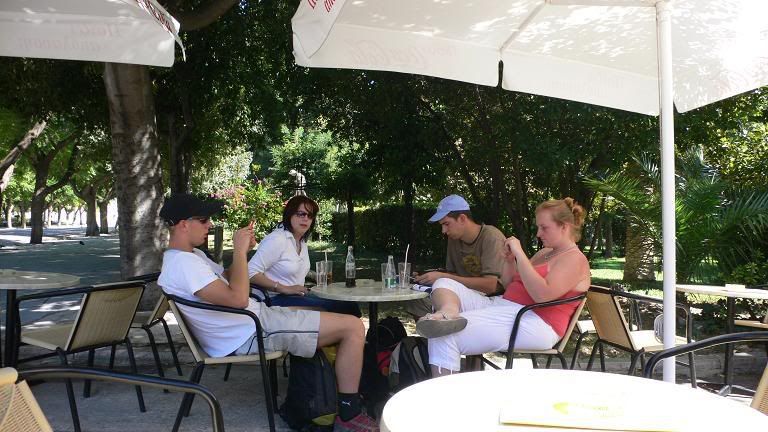 Luke, Kaz, Me and Lucy
After leaving the park we went back to Syntagma Square where we catch the train to the airport but first we had to have one last beer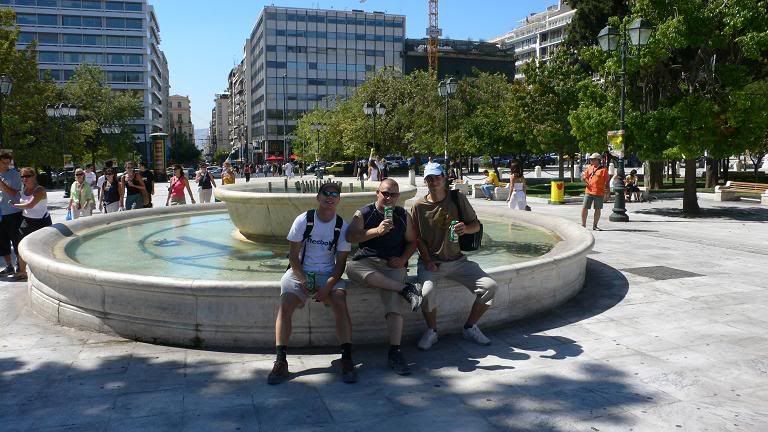 Luke, Tyron and Me
We went to the station, bought our tickets and go on the next train, we had to get off and some station half way and wait for the airport train...
We eventually got to airport and checked in straight away, then went to McDonalds for tea and sat overlooking the runway and watching the departures, it soon got dark so we went and looked around the shops, Luke bought himself a Nike Sweatshirt for some retarded price. Now it was time to clear security channels and head to the gate, we found our gate and had to go through another security channel...our gate was already pretty full, tonights flight was again operated by OH-AFJ, the Air Finland 757-200.
Aircraft arrived on time and boarding was quick with no problems, we chose to sit in the rear of the aircraft, in the exit seats just behind the wing cant remember which seat number it were...tonights flight was going to take a bit longer around 3hrs 40mins, it was going to be a bit bumpy with storms over the alps. we pushed back and taxied to the active, no holding this time and straight out, we asked the crew what film was playing for the return flight but they told us we wouldnt see a film as they broke the system on the LTN-ATH sector...so it was a case of sit back and chat to the others about the good times we had on our 24 hour trip to Athens....once we hit the alps the captain got it spot on, storms were lighting up the sky below us, I played a bit more on the PSP, Tyron had a bad stomach, Luke and myself drunk a few Baileys minatures while Kaz slept behind with her new found friend Gulliver
Kaz and Gulliver
Soon enough time for descent was upon us, the skies over southern england were clear and we had a nice smooth descent into LTN landing over the M1 onto runway 08, taxied off the runway and round to the main apron parking on stand 10 as this was the opposite side of the taxiway to the terminal we then had to get a bus to the arrivals hall, we got into arrivals and joined the end of a very long queue, it took us about 15 mins to clear, Kaz got her bag from baggage claim and we headed out to get the staff bus to the car park. We got in the car, dropped off Lucy and Luke on the way Tyron took himself in his car and we carried on to Hemel and home for a good nights sleep!
Id like to thank those who came with me on this trip even though it was very very short notice, but that made it even more fun....summing up Air Finland as a sub charter they did well, the film was bonus even though I couldnt watch it, aircraft was in good condition, seats were comfy overall a pleasant 2 flights!
Glenn