Feedback always appreciated.
Trip Report: 018
Flight Category: D-DLR (See Report End)
Date: 24-Nov-06
Dep.Arr.Time: 0750/1606/05:16hrs (Arrived early by 00:37hrs)
Flight:
DELTA AIR LINES DL 1514
, 2421 miles
Routing: SEA-JFK
Aircraft: 752
Seat: First, 5D
I > Background:
I decided to visit a friend from Switzerland living in Seattle. This coincided with American thanksgiving. Route was CCS-ATL-SEA-JFK-ATL-CCS.
II > Pre-Flight:
a) Before Airport:
Booking for the entire trip was made using Delta's excellent website at
www.delta.com.
I actually think Delta has one of the freshest booking system and which works very well; modifying reservations, choosing seats, and all can be done with extreme ease. As a Platinum medallion member, all flights were upgraded immediately within the upgrade window and I was able to get all the seats I wanted.
b) At Airport:
SEA airport is very much the typical all-American airport and there is nothing much to write about. Delta uses the far extreme end of the terminal and check-in using the kiosks was a breeze; I did not interact with the agents behind the counter who were busy checking this one gentleman from Somalia who did not have a passport … just his green card and some paper documentation. He was traveling internationally.
Like any other airport in America, security is annoying. I think its very AMERICANA to come up with "sound-bite" policies such as 3-1-1 (www.tsa.gov). However, I must say that the TSA agents were nice and in good spirits on the morning after thanksgiving and it made my taking off belt + shoes + computer + zip log bag so much nicer. Once past security, I had a Starbucks and made it to the gate.
Boarding was on time and was by zones; zone 1 being first class. At SEA, DL did not have those nifty LCD screens like they do at ATL, CVG, etc. You can see what I am talking about below. I went and asked the attendant if there was anyone next to me … she said NO … and I was extremely happy. Is that horrible? Well, either way, its long been decided that I am headed to hell. Anyways, I waited until final boarding announcement before heading to embark.
This was a ex-Song 752 and the First cabin was fitted with DL's new IFE. The cabin was clean; however, immediately noticeable was the considerably poor seat pitch in F. I think it was 38" or so? F class load was around 65%.
Airport - External:
(Seattle-Tacoma Airport)
Check-In: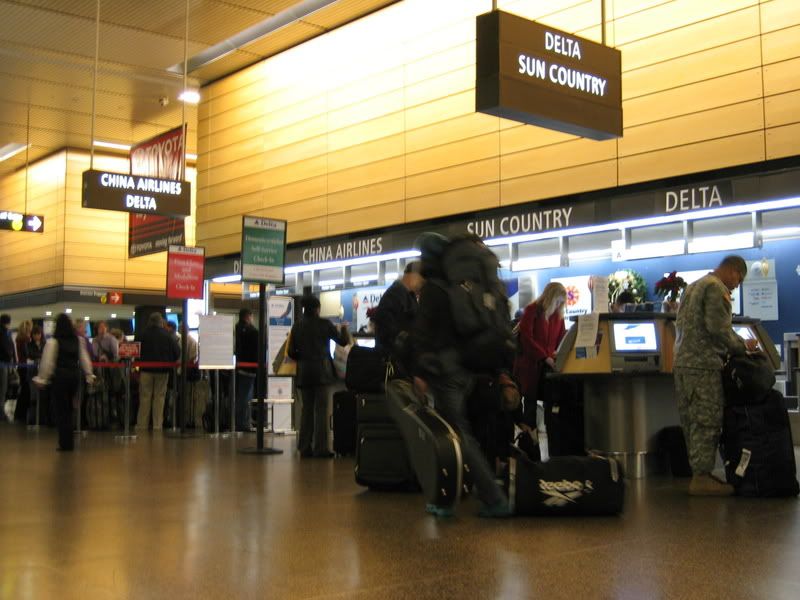 Airport - Internal: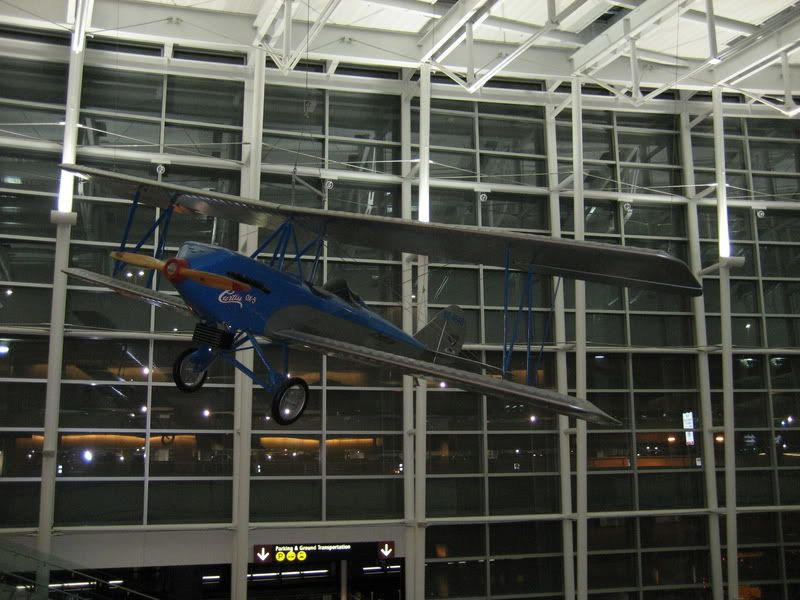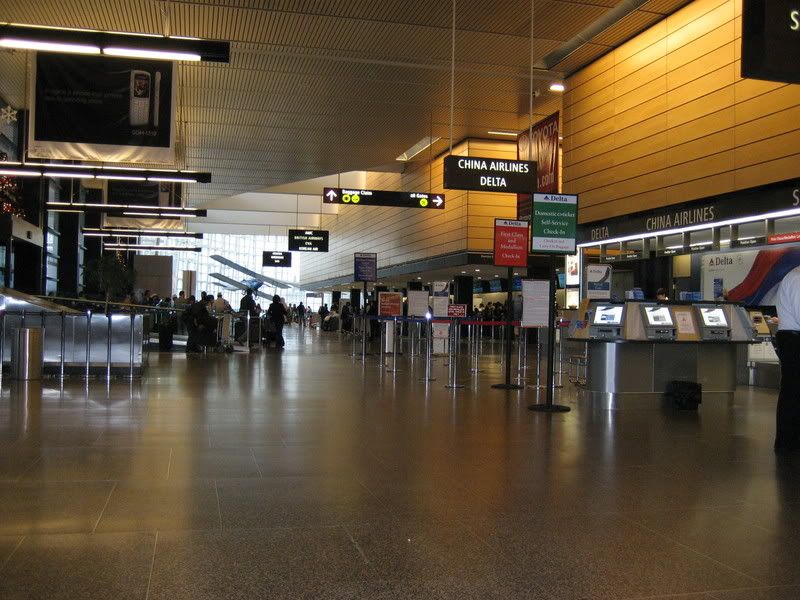 Scenes of the tarmac:
NONE
Lounge
NONE
Boarding:
(Gate @ SEA)
(Here is DL's new gate structure found @ ATL, CVG, with those super informative screens)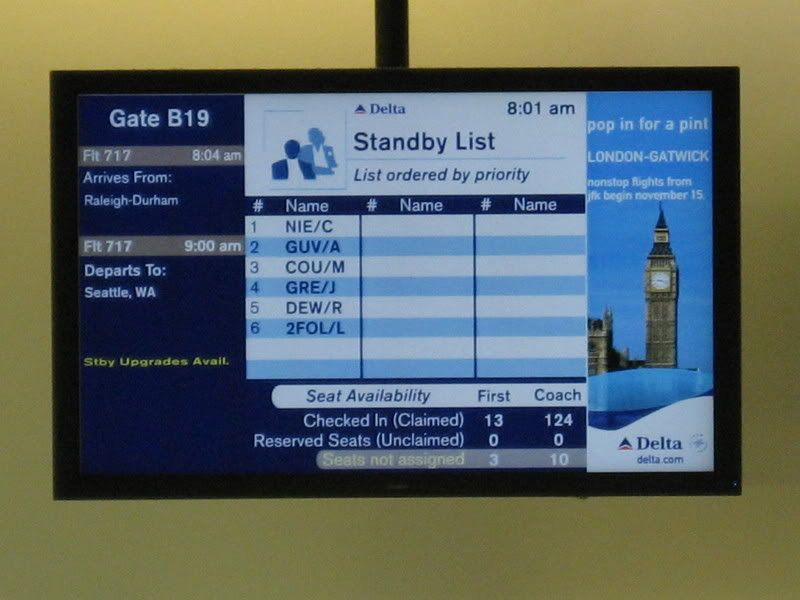 III> In-Flight:
a) Service Schedule + Impressions:
Pre-take off, drinks were offered and each seat had water + headphones ready. Post-take off, there were hot towels (pleasant surprise in American domestic F) and then breakfast. Later in flight there was the snack basket. Drinks flowed freely.
b) Aircraft + Seats:
Delta's ex-Song 752's look fresh. I think the interiors were cleaner than my last DL flight and the seats were well maintained. Finally, no garbage in seat pockets is a major plus. In the bathroom, they have these wood-like floors (sort of the accents you will find in their gate areas.) I was not a big fan as I felt they got dirty fast. Seat was comfortable; but pitch and recline were very poor.
Aircraft:
(A.Net photo by Royal King)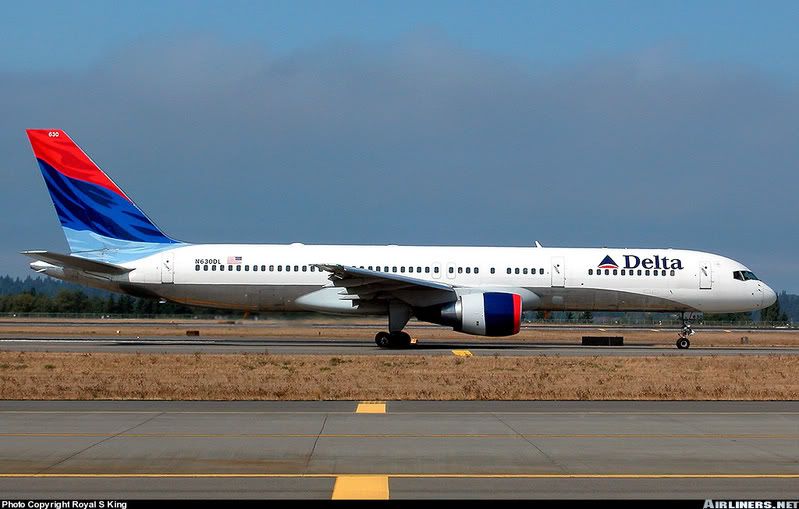 Views from Aircraft: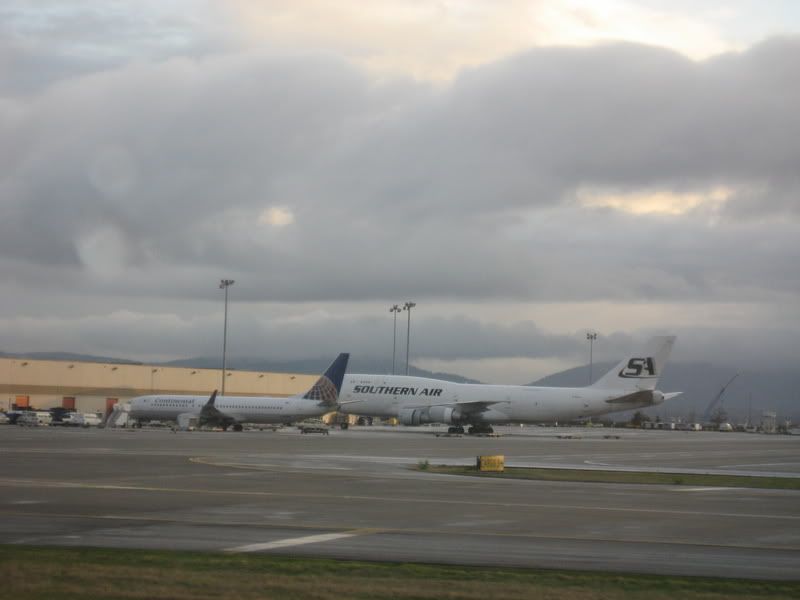 Seat Leg-Room:
Seat Recline + Angle View: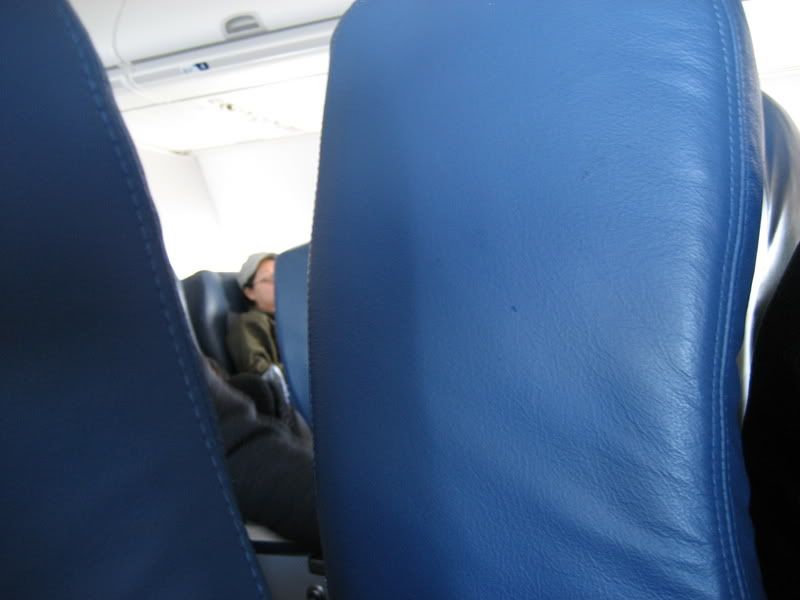 Cabin:
(Can you spot what is incorrect here –hehe?)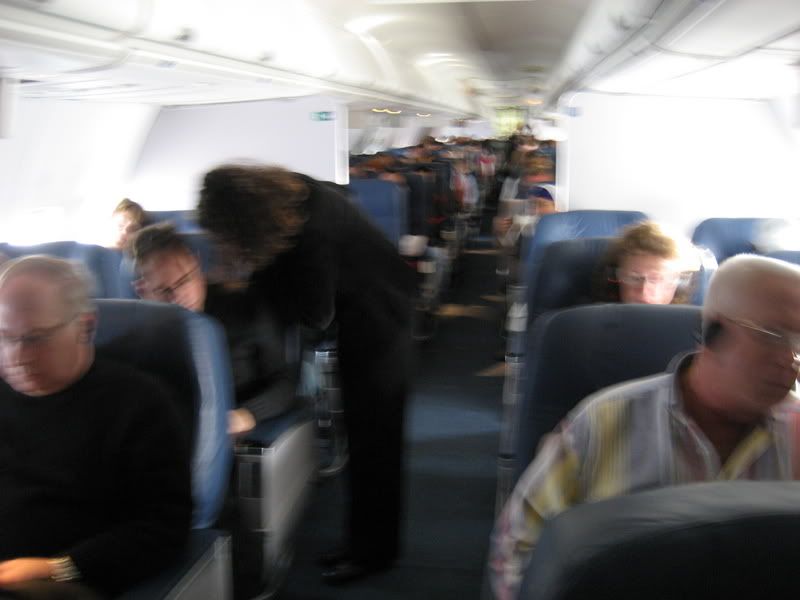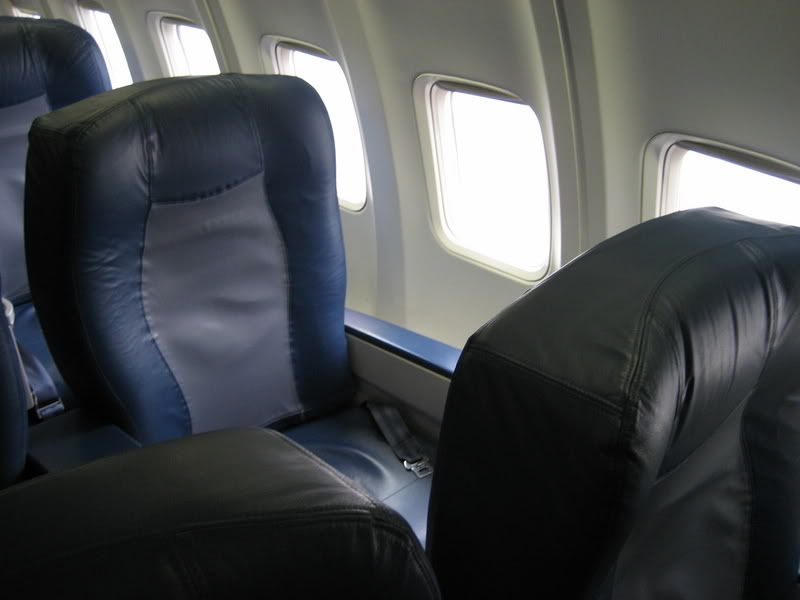 c) Meal + Beverage:
DL provides with pre-take off drinks and I had a bloody-mary. Drinks flow well throughout the flight. Meal service consisted of an egg frittata and some sides. There was no choices offered. Plastic cutlery and table cloth gave an overall cheap feel to the entire product. HOWEVER, the frittata was appetizing and MUCH better than the SQ 21 frittata I had last month (see report index for more at bottom of this TR).
(Pre-take off drinks. My first bloody-mary @ 7,35am. I had a total of 7 during the flight…borracho para-siempre)
[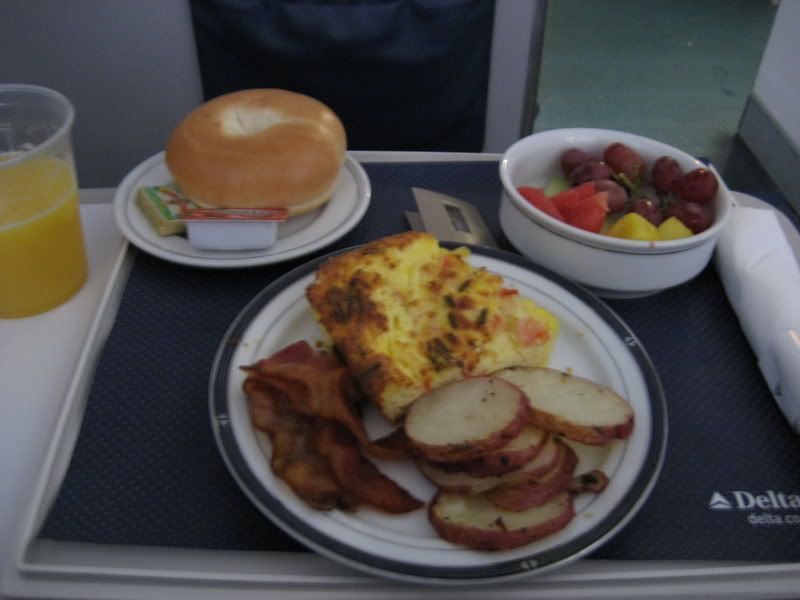 d) Inflight Entertainment:
Ok, DL's new IFE is VERY good for a domestic U.S. flight. You are technically supposed to have several on-demand movie options, live TV, music, games, surveys, etc. One thing – the movies have not been loaded in the system and the live-TV failed several times. However, if this is the direction of DL – it can only be positive. Oh, and no noise-canceling headphones.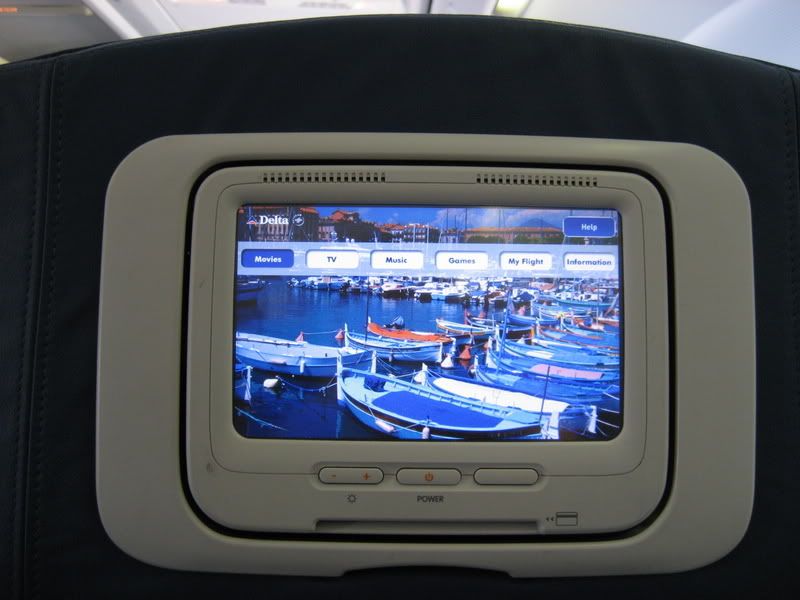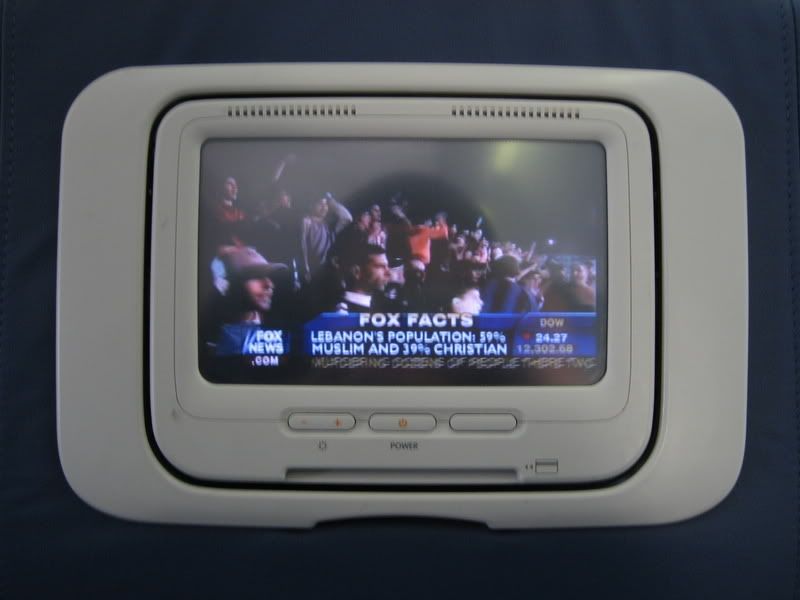 (In-flight magazines, Boarding Passes, etc.)
e) Crew:
Absolutely fantastic! First of all, the new attire looks good. Secondly, the lead attendant (who was returning to DL after 5 years out) had the BEST attitude she had amongst any FA onboard a U.S. carrier I have met of late. We chatted for a good 30-45 minutes and she informed me of her life; she had left post 9-11 to do other things and was returning. She had the best positive attitude I have encountered; she said FAs should not whine because they knew what they were getting into. She also remarked how efficient DL 2006 is vs. DL 2001; remarked on how she wished FA progress was not all about seniority (I agree 100%!); remarked on the US-DL merger, etc. An extremely well-informed FA with a sense of humor, style, and class. I am going to write to DL to promote her. SQ should hire her as an instructor to those robots they have.
IV> Post-Flight:
JFK's DL terminal is a zoo!
V> Impressions + Scores:
Increasingly, I think DL has the best FAs on board U.S. domestic carriers. Moreover, I think they are finally understanding the meaning of customer service. I was pleasantly surprised at the overall presentation of their product and am sad that this will be my last year as Platinum on Delta (after 6 years). I get demoted to Gold and then pretty much nothing as I move my business entirely to United. Its sad because IMO, DL crew is 100% better than UAL. However, I just absolutely do not like Sky Team which has my least favorite airline (AF) and poor connectivity to Asia (where I travel.)
Finally, I do pray DL and US does not merge. DL is a far superior carrier and the SEA-JFK service confirmed how hard they are trying to be a good airline once again. US … I have nothing good to say about them.
Reservation: 10.0 (First time)
Check-In: 8.0
Lounge: n/a
Boarding: 8.0
Seat: 4.0
Aircraft Overall Ambience: 6.0
IFE: 6.0
Crew Service: 9.0
Food: 4.0
Beverages: 8.0
Amenity Kits + Others Freebies: 5.0
Disembarkation: 8.0
On-Time Record: 10.0
OVERALL IMPRESSION: 7.17
(Scores are based on comparison with other airlines in THAT class of service – No comparison of Y vs. F for example)
VI> Other Trip Reports:
1/
Avianca: BOG-LIM: 07/06/06: 7.09pts: Y-IMR
2/
Air Tran: EWR-MDW: 08/02/06: 6.73pts: Y-DMR
3/
West Jet: YYC-YVR: 09/05/06: 7.14pts: Y-DMR
4/
Air Canada: YYZ-YVR: 09/02/06: 5.92pts: Y-DLR
5/
Air Canada: ALB-YYZ: 09/01/06: 5.88pts: Y-ISR
6/
Singapore Airlines: EWR-SIN: 09/20/06: 7.81pts: J-ILR
7/
Adam Air: SIN-CGK: 09/22/06: 6.04: Y-ISR
8/
Valuair: CGK-SIN: 09/22/06: 5.04: Y-ISR
9/
Spice Jet: CCU-DEL: 09/25/06: 6.67: Y-DMR
10/
Indian: DEL-CCU: 09/26/06: 7.25: Y-DMR
11/
Air Sahara: CCU-BOM: 09/28/06: 4.42: Y-DMR
12/
Air Deccan: IXZ-CCU: 10/07/06: 5.75: Y-DMR
13/
Alliance: CCU-IXA: 10/08/06: 7.54: Y-DSR
14/
Kingfisher: IXA-GAU: 10/08/06: 8.21: Y-DSR
15/
Indigo: GAU-CCU: 10/08/06: 6.54: Y-DSR
16/
Singapore Airlines: CCU-SIN: 10/11/06: 5.88: J-IMR
17/
Air Canada: ICN-YYZ: 10/12/06: 7.13: J-ILR
(Note on Codes: Y – Economy, J – Business, F – First :: I/D – International/Domestic :: SR/MR/LR – Short/Medium/Long Haul :: I have designed these codes so people don't believe my scores are comparing apples and oranges)
VII> Other Pictures:
NONE