I love flying.
When we got engaged, I wrote this:
PVD-ISP Hours After Our Engagement-awesome Flying!
(by
Mirrodie
Sep 24 2002 in Trip Reports)
After flying Concorde, I wrote this
http://www.airliners.net/discussions/trip_reports/read.main/31702
Since then, certain friends request trip reports from me.
http://www.airliners.net/discussions/trip_reports/read.main/75438
So here is another.
Western Oz and Moorea "our second visit to Australia with Moorea as a stopover.
I. Overview of a wonderful airline
Air Tahiti Nui has a fleet of 5 Airbus 343's. But I have read so few trip reports about their service. I had to add one here. I can't wait to fly them again.
We have flown AA coach and Qantas coach quite a few times, AA international First, BA international First, and QF international First a few times and have even flown Concorde. Air Tahiti Nui was as good, if not better.
The planes:
Nuku Hiva is the newest to the fleet. I noticed that it had power ports on the base of the first class seats, so I could plug in a laptop or charger for my camera batteries. Also, one of the IFE options on this aircraft was a view to the outside world. This allows for a view to the front of the plane. This was a fresh and different perspective on things. Actually there were 2 camera views to the outside to choose from.
Bora Bora and Rangiroa were identical to Nuku Hiva except for the lack of power ports and lack of external camera views.
The five a/c names are Moorea, Rangiroa, Bora Bora, Nuku Hiva and Mangareva.
The seats in first, on all three aircraft we flew, were very large and roomy. My wife was about 8 weeks pregnant and found it very comfortable. Pillows and blankets were found at every seat.
The cabin staff:
Well, we felt pampered and that is a
COLOSSAL
understatement. On three out of the four flights that we took on Air Tahiti Nui, we were the only people in first class. So we became close friends with our flight attendants on each leg. All the flight attendants were extremely pleasant and cordial. They were attentive and helpful without being overbearing.
We loved their outfits. For takeoff and landing, they were in a conservative but chique outfit. But for main cabin duties, they changed into these colorful flowery dresses. And the male staff had similar changes of clothing.
Each and every staff member about exuded an aire of Tahitian welcome.
The pilots:
We really felt that these flight crews loved what they did and really enjoyed it. On most of the flights, instead of the usual departure banter about weather and such, the Captains came out, greeted passengers and asked how things were going.
This was a classy touch that I have not seen much recently. It certainly sets most passengers' minds at ease.
The food:
The food was excellent. We did not request any special meals but we found the meals to be flavorful without being salty or rubbery. There was a good selection of foods and wines. Also, up front against the center bulkhead, a full bar was set up with tropical flowers as accents. As I mentioned earlier that my wife was in her first trimester, so her ONLY gripe was that she could NOT try all the great choices and foods available! (I guess we will have to plan that better for the next trip.)
The in-flight entertainment:
There were 10 music channels. There was a choice of 8 movies in 2 languages. And one of the movies was always an oldie, so I watched Donald Sutherland in a 70's flick called KLUTE.
Then there were 12 video games...poker, trivia, golf and the like, as well as space invaders type games. I loved playing Trivia on Nuku Hiva. You got to play against other passengers on the aircraft and it gets fun and competitive, addicting even! I learned a lot too. On the other 2 planes, there was Trivia but on at least one of them, you could not play against others (I guess I sound competitive! Sorry!)
My only gripe was this: On one or two of the aircraft, the video games would freeze. The simple solution was to ask the FA to reset the system, which I believe she was able to do for each individual seat. Happened maybe 3-4 times total but not a huge problem.
The in-flight amenities:
There was big yellow pillow at every seat. Then prior to takeoff, we are given headsets and blankets, along with a pre-flight Tahitian Punch (juice for her). Also given a First Class amenity kit...included eye mask, earplugs, toothpaste and brush and dental floss, hairbrush and comb, and a variety of hand and face creams, socks. Help me if I am overlooking something. I used the earplugs and the eye mask for sleep.
After eating, we were given duvets and another large pillow. The FA helped us lay our seats back. Then she gave us pajamas to change into. The pajamas weren't silk but I have to tell you, they felt so comfortable. Very cozy PJs that allowed me to quickly fall asleep. And the duvets made the seat extra cozy and soft.
The cabin:
Great looking seats. Clean and crisp lines. Cabin lighting was turned up or down as needed. The cabin was quite spacious. Very modern looking but with hues of Tahitian hospitality and color. Oh, even the attention paid to the bathrooms was amazing. Clean modern bathrooms, accented with Evian natural products such as face wash and toner.
I loved the portrait/painting that was hung up on the rear bulkhead wall in First and business class. That is just a touch of class I have to tell about. It was very casual and yet elegant! I am not sure if this was also present in coach class.
Now for the specific flight details: One caveat…..I am attempting to make this a good read but also pleasing to the eye. I will not go into ultra detail about the food on each individual flight. Instead, I will provide photos of the entire experience. Some of the photos may be a bit out of order. In essence, I felt the offerings of food, wine and the excellent service was the same on each TN flight.
II.
June 2006
TN3 JFK-PPT on F-OLOV "Nuku Hiva" 12 hours in-flight
Cruising at 38000
Seats 1A and B
We arrived at terminal 4 at JFK, 2.5 hours prior to the flight. The check-in line for coach was long. We asked if there was a first class check-in and were directed to an agent who expedited our check-in. The gate agent seemed confused that we had NO bags to check-in, just 2 carry-ons per person. I'm very proud of my wife's ability to pack the essentials only! After all, laundry facilities exist at hotels for a reason!
As soon as we were checked-in, we were given invitations to the SWISS First Class lounge. We got to the lounge and were directed to a small quiet room, which overlooked JFK tower and some gates at Terminal 4.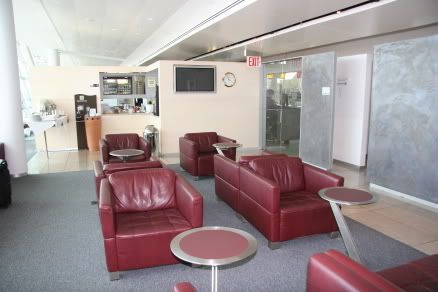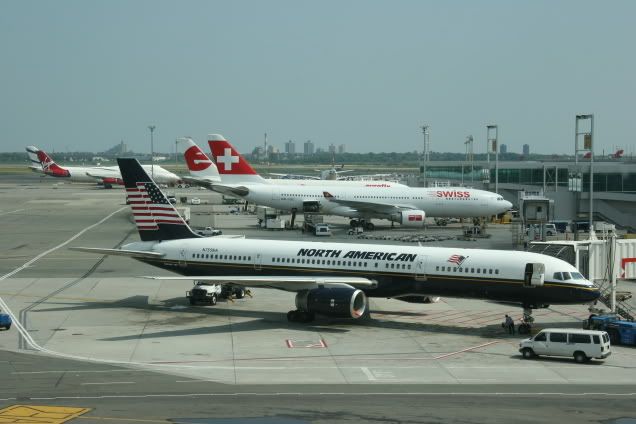 We sat in the lounge a few moments and gathered our thoughts. This was our last big trip before starting a family. We sipped Perrier and relaxed. The lounge was pristine, spacious and quiet. The TV was not on but my main point of interest in this room was the large ROLEX wall clock. A fitting touch.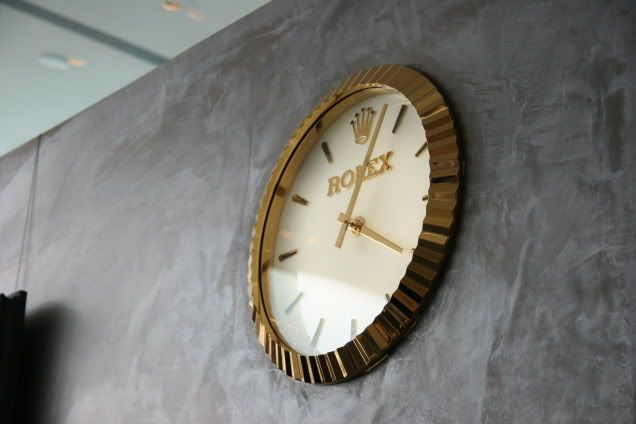 Starting to get antsy about the World Cup game, I ventured onto the ruffian gathering in the SWISS business lounge. There stood a mini world cup party, with anxious onlookers and others hoping for a goal while waiting for their flight to be called.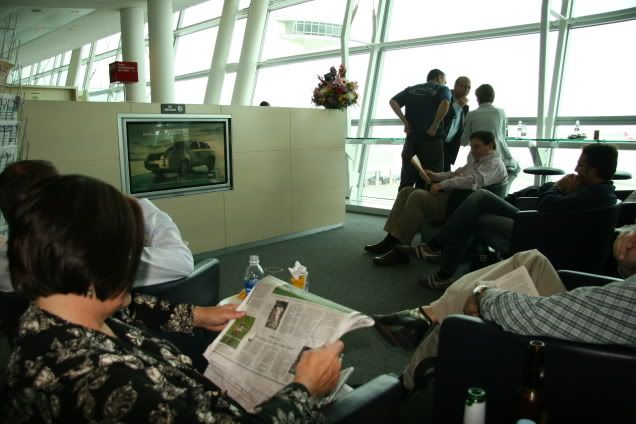 The game drew down to the last 9 minutes and I looked at the departure board and saw that our flight was not yet been called. Getting a bit anxious myself I asked it the flight was ready and the SWISS agent simply said she'd forgotten to call our flight. While this was not a reflection on Air Tahiti Nui, it was a bit annoying to say the least.
Security at JFK Terminal 4 was flowing and smooth. However, there was no line for premium class passengers at this security checkpoint. And this was at 5 PM on a Friday night. Interesting.
We quickly made it to the gate to find that our aircraft was 20 minutes behind schedule. I looked outside to see F-OLOV, dubbed "NUKU HIVA," being prepped.
Within 7 minutes, we were called to board. Highheels and I proceeded to give our boarding passes up.
The ticket stock was actually beautiful. Small gripe with TN: You went to through the work of making beautiful ticket stock but yet, we had to surrender it in order to board the plane. That makes no sense! All we got was the ticket stub L Further, I would have asked the gate agent for the large ticket part on a later flight but this nice ticket was only given to us at JFK. PPT and SYD have standard, bland tickets. Anyway, that's a minor gripe and observation.
If anyone from TN is reading this, can you please send me a duplicate ticket for our scrapbook? All you gave us was the ugly stub L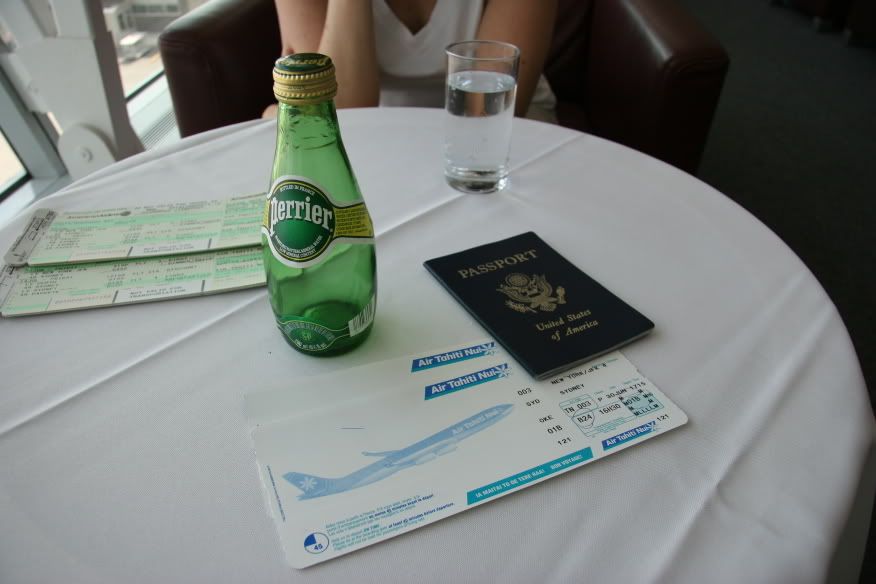 We made our way down the jetway and touched the plane's outer skin. Hence began the trip.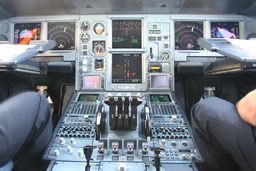 The interior of the First Class Cabin is very roomy and flavored with Polynesian themes. Bright colors and subdued blues. I loved the ceiling of the A 343, the lighting system was contemporary with lots of LED lights. We sat down and the flight attendant Raina, who would befriend us over the next 12 hours of flight, immediately greets us. She offered us drinks. I had the Tahitian Punch and Highheels had juice. I looked around the cabin a bit more. A Polynesian themed painting hung on the rear bulkhead wall. I totally fell in love with this particular detail. It made for a very cozy atmosphere. And Raina was the first of the many lovely FA's we had.
At the gate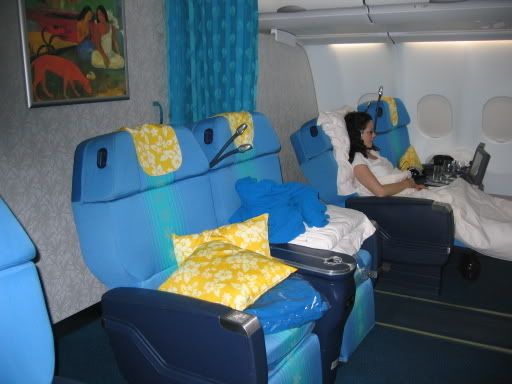 The seats went back about 175 degrees and each seat had on it a large yellow pillow and blanket. A small personal TV popped out from our center arm consoles. Also, directly in front of us, on the bulkhead, was an LCD TV. This screen gave us a view of a camera mounted near the nose gear.
Upon seating we were given
a) headsets for entertainment
b) a First class amenities kit.
Luckily, we were the only people in first class. It truly felt as if this A 343 was our own personal private jet.
Then another FA walked throughout the cabin and gave everyone a tiare flower to put in our hair.
~With Air Tahiti Nui, the trip began the moment you boarded the aircraft.~
Pushback began and I watched the LCD ahead of us and noticed how the aircraft moved relative to the tug upfront. This simple pushback process takes a bit of talent when you stop to think about it  
The tug drove off and I was mesmerized by the view out the front of the plane. We expedited to 31L and as we sat in the short queue of 3 planes, a mismatched United new/old colors pulled up alongside us.
Our pilots pulled onto 31L and the 4 hairdryers immediately spooled up and sent us down the runway. Our eyes were fixed on the screen as we ate up the runway. Finally the nose, then mains were aloft. The view out the front showed us the Canarsie climb from a very cool and unique perspective.
Some moments after the climb, the food service began.
First the FA began to set up an entire bar in front of us.
The bulkhead was a bar. We felt bad being the only pax in first class and she was doing all of this for us. So of course, I had to drink a fair amount to make it worth her while.
I started off with a Tangueray and tonic. Then she disappeared and reappeared with a cart and our dinner service. She pulled out our tables and then set a tablecloth, plates, silverware, napkins, salt and pepper and all this on good china. (Let me make a note, real knives were used as well.) However, on every other leg, plastic knives were utilized.
First, an elaborate menu was given out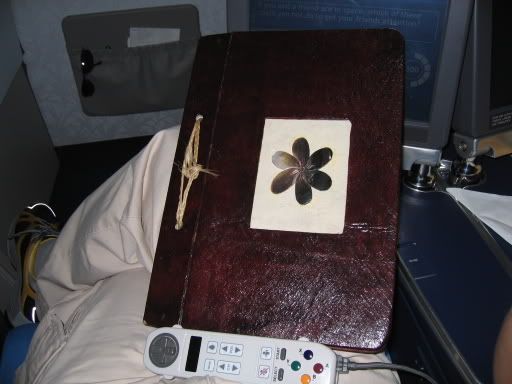 ~Dinner~
Then some canapés were brought put. One with duck, one with salmon, another with what looked like tomato and one with ham.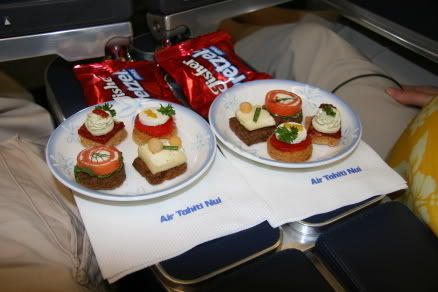 This was followed by caviar. Perhaps this was a tribute to Concorde service. The caviar was served with the Mother of Pearl spoon and tiny pancakes. Upon being served the caviar, I was offered a glass of Vodka to wash it down.
Appetizers:
Crab meat bavarois with tomato and orange jam
Quail Terrine with grapes and papaya salsa
Main entrees:
Roasted fillet of duck with mushroom sauce
Pork fillet with Chinese sausage ragout and satay sauce
Shrimp with curry sauce
Grilled tournedos of beef with morel sauce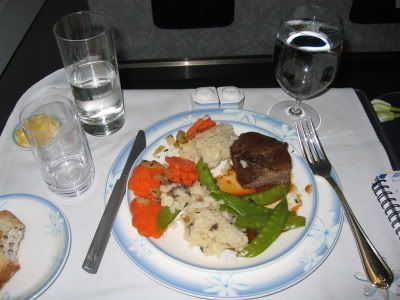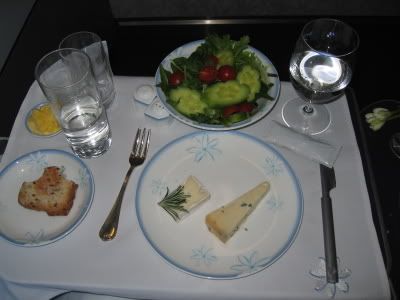 Sides included:
Sweet potato gratin
Valencienne rice with vegetable
Buttered green beans
Followed by fresh salad and assorted French cheeses. I highly recommend the Brie.
The dessert cart included strawberry tart, hazelnut cake, Paris-Brest, sliced fruit, sherbet and petite fours.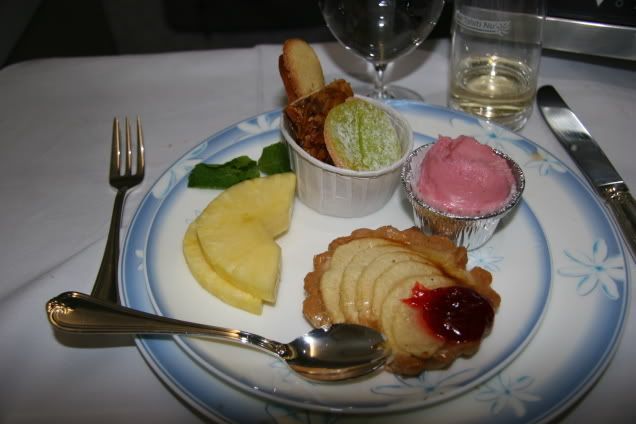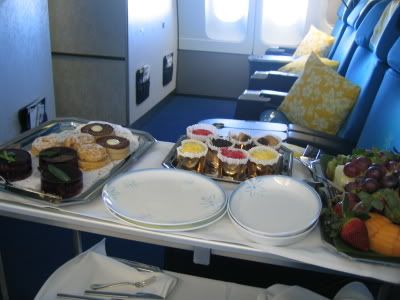 All the food was great but I have to give compliments on the crabmeat. I rarely opt for seafood on an airplane (Thanks to that movie  
) but this dish was awesome and left me craving more.
While we ate, I watched the newest Harry Potter Film. Once that was over, I geared up for some trivia against the other passengers on the aircraft. And I rocked the plane 
The only thing about the trivia I didn't like was that it listed your seat number...lack of anonymity. So some sore loser could come up and beat me down in seat 1A!  
Our bellies now full, our FA came by and asked how everything was. It was delightful. With that, she cleared our tables and I folded up my table and focused on more trivia games vs. other passengers.
I had another gin and tonic and now lay my seat back a bit further. As if on queue, the FA came out with a duvet and extra large pillow for me, as well as pajamas. We had another 9 hours to go, so I changed into the pajamas. They were not silk but certainly felt like it. Maybe that change just makes you sleepy? Anyway, while I changed, the FA put the seat down and laid out the duvet and pillow. I then put in a pair of earplugs and an eye mask and asked for our cabin to be dimmed and it was. I snuggled into my seat next to my already fast asleep wife and drifted off.
~Six hours later~
We awoke well rested and I changed back into my clothes. The FA greeted us with some water and more offerings for breakfast drinks, juices, mimosas, etc. We stuck to water.
thus began..she asked if I'd wanted a morning "snack". I said yes. HUGE mistake! This "snack" was another 7-course meal! Out came the breakfast cart. Loads of food and energy for the trip.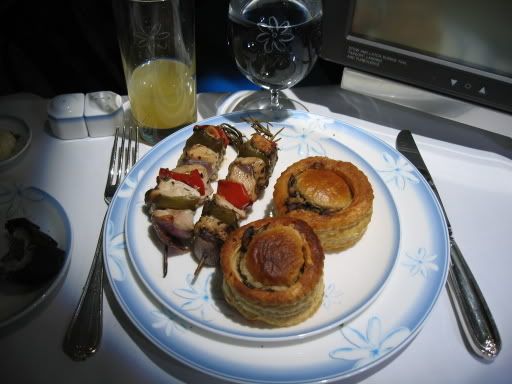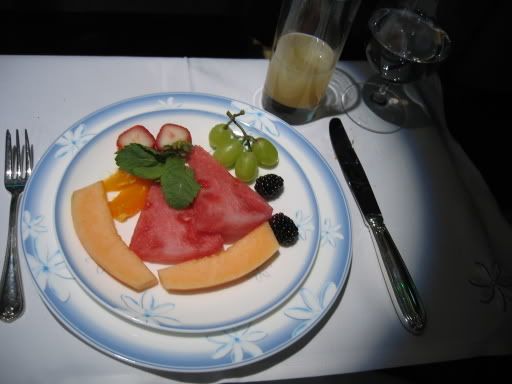 Started with prosciutto ham, sausage, cheese and roust beef with horseradish potato salad.
Chestnut and Pineapple crepes
Potato Stuffed Omelet with bacon, chicken kebab, and tomatoes. It has a great accompanying pumpkin cubed salad. YUMMY!
Quiche Lorraine
Hashbrowns
Fresh tropical fruit salad
Excellent Coffee. And an assortment of breads, rolls, multigrain bread, yogurt and cereals.
Beverages included:
Tahitian Pineapple Punch
Hinano Beer
Whisky, Tahitian rum, cognac, Gin, Vodka
Wines and Champagnes:
Chateau Croizet Bages- Pauillac Rouge 1998
Sancerre Blanc La Chatellenie 2004
Chardonnay Blanc- Domaine Laroche 2004
St. Emilon Grand Cru Chateau Peymouton 2003
Coup de couer decouverte Vin du Pays Du Gard rouge C2 La Cauviniere 2000
Champagne Moet et Chandon Brut imperial
Champagne Nicolas Feuillatte Brut Reserve partuculiere
I got up and walked around the cabin a bit. Looked outside and it was still pitch black night. I then went into the lavatory and took note of the modern contemporary bathroom 2 bottles of Evian Natural products, one a facewash and the other a skin toner. And a dish of tiare flowers.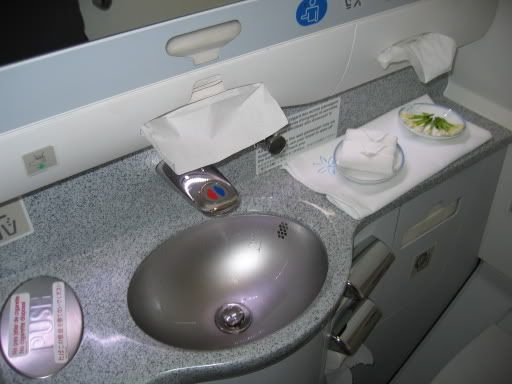 A few moments later, we started our descent over the dark Pacific. With only the stars to gaze upon, I stared out over the black sea.
Again, this was our first flight on an A340 so I took note. The descent into Papeete was quiet, deep and dark. In the void of night, there was simply nothing for our eyes to fixate on over the Pacific. Our only clue to the descent was the motion of sinking. I barely felt the mains touch down but the nosegear quickly followed. And since we were sitting directly above then, nosegear touchdown was noticeably bumpy. But again, the cool part was watching in on the LCD in front of us.
The thrust reversers soon turned on and slowed us down...but not completely.... In PPT, we had to run the length of the runway and then do a 180 turn to go back up the runway and taxi back to gate.
Arrival and 2 hours in PPT lounge:
Arrival at Tahiti airport was quick since we had all our bags. We made our way inside the small terminal and were given invites to the Lounge inside PPT. It was the only area with air conditioning in the airport. Once upstairs, a polite TN hostess who gave us use of the lounge greeted us. The lounge provided a comfortable and cool area to relax while giving a view of the aircraft on the tarmac. I checked my email, drank Hinano and Gin until our flight was called a few hours later.
TN 3, back on F-OLOV, PPT-SYD
Cruise at 36000 ft
Seats 1A and B
This leg was now 8 hours. I will not go into specifics, as I feel the notes above truly describe each flight we took. Lots of great food. Excellent service. And cool TRIVIA!
But I will say there were two meals on this flight as well. And the entire process was repeated.... another First Class Amenity Kit, Another set of PJs, just re-read the above. The only real difference was that the flight and cabin crew changed. This new flight crew was weighted more in XY chromosome types, which allowed my wife for some eye candy  
But this crew was just as good.
We took off again and NUKU HIVA had the same long roll and graceful sailing up into the darkness. You know what, yes, A 340's take forever getting into the air and they are slow climbers. So what? They are a pleasure to ride. And I can't get over how spacious they are. As spacious as the 777-200.
We slept another 4 hours and awoke to another snack. But this snack was more like a snack...mushroom quiche, kebab, cereal, omelets. Nope, it was just as much food.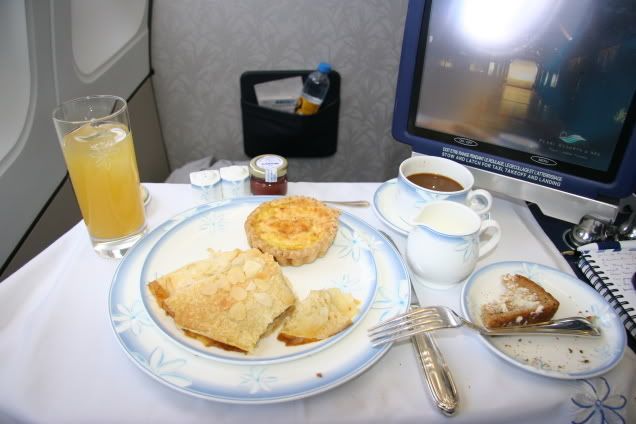 After eating, I raised the window shades to find a beautiful sunrise over Sydney. It was an awesome welcome to one of our favorite cities.
As we descended, again, I watched it all on the LCD. My wife was into it too. We turned right and within moments, the screen was full of views of Botany Bay. We were lined up and approached runway 34L. I watched on the nosegear camera as the PAPI lights initially showed us as too high, then on target. As we glided down, the runway raced closed until we were in ground effect and touched down. Very cool to watch.
We taxied over to gate and within moments, raced through customs to meet with Glenn Stewart. Thanks Glenn for a great time! We immediately set out to spot a few hours and I accomplished my goal, that being to catch the Qantas Socceroos plane and just one QF flight over the bridge.
The next day....
QF 846 SYD-DRW on VH-ZXC, a former BA 767.
Cruise at 28000 ft
Seats 34 H and J
Check-in was ODD. I got to the kiosk and swiped my credit card but it did not find a reservation. Then the computer asked to find the flight using the flight number. So we got our tickets and headed to gate. But NOT ONCE ANYWHERE did anyone check our IDs to our tickets. I found that a bit weird.
We got to the terminal and were bummed to see that Qantas Heritage Museum was closed for the night. So we waited by the gate for our 767 to pull in. As we waited, VH-EBU pulled out of our gate. As of this writing, its one of the last 3 -300 series Rolls Royce classics operated by Qantas. We'll fly on her in a few days
We were seated in row 34, behind a tour group of People to People Ambassadors. This is an outfit of teens that visit different countries. This was a nice personal note, as I was supposed to go on a People to People trip back in 1992 and if fell through because of an accident. So it was nice to see they were still around.
We sat just aft the wing and we were running late. And I was still a bit jetlagged. So I watched as EBU pulled out and then fell asleep. I awoke again a few moments later to hear the engines getting louder. We were just starting to roll off. I was in and out of sleep for this flight.
The cabin was a bit dated, cloth seats and minimal seat recline. But pillows and blankets were provided as well as headsets that we picked up at the gate earlier.
The IFE consisted of music. And I don't recall.... wait, there was a movie, ...the fish one...Anyway, it played in the main cabin but I was too tired to watch. Ah, SharkTale was the movie? Maybe Sharktale2?
The food was good (from the perspective that we do not get anything in coach in the US anymore). I had a chicken dish that wasn't rubbery. Wine and buttered roll. I fell asleep again and missed out but my wife told me a dessert was also given in coach, an iced fruit bar, I guess like a sherbet.
I awoke again as we descended into Darwin. It was midnight and we checked into the Darwin Airport Resort, which I recommend. 3 minutes from the airport and we were in bed 10 minutes after leaving the airport.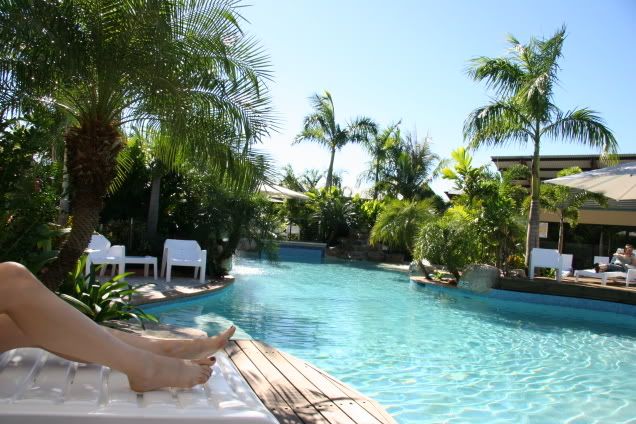 The next morning, I scanned the resort grounds. It is literally across the street from Darwin Airport. I walked over and saw Grumman Mallard (Probably of Paspaley Pearls,) and a UN plane taxi about. The Mallard was a great catch...and a reminder that we are never that far from home!
After a few days in the outback, we took our next flight:
Air North, TL 310, DRW-KUN on an Embraer 120.
Cruise at 19000 ft
Seat 5 B and C
Check-in was a bit more normal. She asked for our IDs. Then she commented on how she did not like how SYD does things. Yep, it's a bit odd. But the gate agent asked if we wanted exit row. All excited, we said yes! But have you ever been on exit row in an Emb 120??.....nothing to write home about!
Darwin Airport is cute. It has a tiny observation area overlooking the runway but not great for photos. But it is screened in, so you can smell that av fuel. We waited for a QF flight to clear before they called our flight.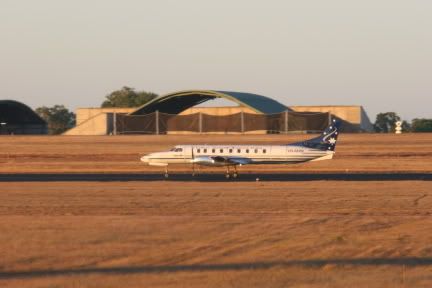 Our flight was called and we walked to the gate then down some stairs out to the tarmac.
We boarded and found the plane was 1+2 seating across, with a single, though attractive, flight attendant. She went through the briefing and we taxied out, got to the runway, then made an 'about face' and headed back to the terminal. Our pilots explained there was a fuel issue that the engineers had to sort out.
So we were off loaded, sat in the airport another 10 minutes while they popped open the portside engine, fiddled around, then called us back onto the plane.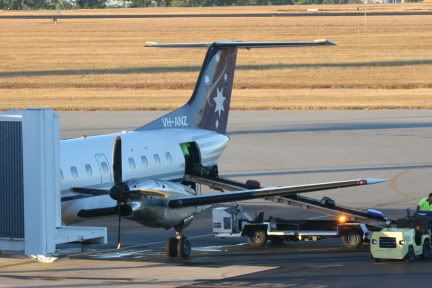 While awaiting the quick fix, in the terminal, there was an area where some seats were being surveyed. The airport was looking to update new seats and we were encouraged to try them.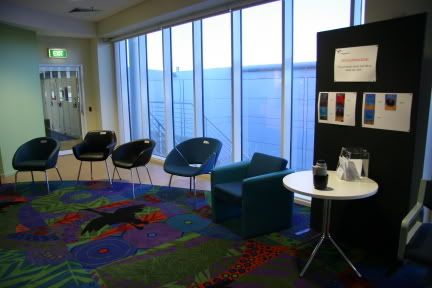 Taxied back and took a quick roll down the runway. We took off and made an immediate bank right, heading southwest to Kununurra. On the way there, there was one photo that I loved, just reminded me of Australia!
The in-flight service (for this hour long flight) started immediately, with passing out of newspapers. This was followed by a choice of juice or coffee and punctuated with a choice of goodies!!! I'm talking jelly beans, gummy bears, candy bars, Sara Lee Soft Cookies, Chips.... all the essentials of a heart attack and integral for a sugar rush at 0710. I had the cookies she had gummy bears. (After all, they were 100% natural)
Before I could finish the headlines, we descended into Kununurra. (And I thank TNBOY for advising us to come out here.) A great little town to stop in and see the Bungle Bungles. The approach in consisted of quite a few meandering turns above a vast flat valley. We landed on the smooth tarmac and made our way over to ....
Alligator Airways
Noon flight over the Bungle Bungles.
Cessna Caravan with Lycoming engine, Born in Australia, powered by US power  
I sat in the right seat alongside the pilot and made sure he was running a tight ship.
This was a nice 2 hour flight over the Bungles, Argyle Diamond mine and Ord River. I recommend it and thank Bill and Neva again!
One note about Kununurra.... while walking about, we actually saw a truck trailer upon whose windshield were emblazoned the words MAD MAX. Talk about cool sightings in Australia! Of all the luck!
After exploring Kununurra, the next day was...
QF 1871 KNX-PER via NME on VH-NJN, BAe 146, operated by QantasLink
Cruise at 26000 ft
Seats 3A and B
Got to Kununurra airport and our flight was an hour late coming from Perth. (So far, I have yet to have a QF flight on time diring this trip). So I walked outside the airport and got a few photos of operations. Later I saw our plane come in, cross over the runway and land. This will most likely be our last flight on this fantastic little jumbo jet.
She landed and the rear brake split in the tail and helped slow her down. I recall back in 2001 that our 146 had air stairs but this one did not. (Least I think I recall.)
Went back into the terminal and got ready to board.
Made our way onto the plane...Went through security sat in row 3, which was coach seats but with business class room... ROOMY! Also, row 3 seats you flush with the #2 engine cowling. So the view was not impeded.
Also of note were the window shades...They did not just go down...they were split, so one part of the shade went up and the other went down and they meet in the middle of the window. I wonder the reason for this.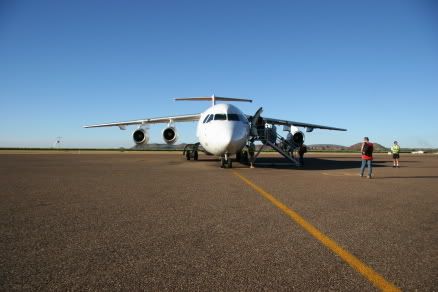 Our departure was expedited and we were up and on our way to Newman.
Unfortunately, we would not be afforded a view of Newman since QF was late once again and it was too dark. Further, the FA's decided that meal service would not be carried out until after we landed in Newman, picked up passengers, and then continued to Perth. And lastly, instead of disembarking us and re-embarking us, they had us sit on the plane in Newman when we picked up the 13 other passengers.
After 20 minutes in Newman, we got our last ever takeoff on the BAe 146. After some ravioli and rolls and a few glasses of water, I slept for a half hour and awoke to the city lights of Perth.
Why do I love the BAe 146? I don't know. It's just a one off, isn't it? A great looking plane and great to fly on. Once we slowed to a crawl and taxied over to the terminal, Bill and Neva met us. Great friends on the other side of the world.
Then got together for a few hours of spotting with Monty.
Then, after romping across Western Australia, it was time to make our way back east. But not before spotting this in front of Bills house
QF 518 PER-SYD on 747-300 VH-EBT
Business Class seats 19HJ
We arrived at Perth Airport and hugged Bill and Neva goodbye and found that we'd gotten access to the Lounge at Perth. [[Also, note to travelers, they did ticket us through to Papeete from Perth.] So we got our boarding passes in Perth... More on that later.
We checked in upstairs at Qantas Club and I pulled up a pair of seats to find Yananyi Dreaming starting back at us. The lounge was cozy with plush seats. A full top shelf bar was off to the one side and a small buffet style bar lined the other side of the lounge. But it was not small, quite large to handle 3-4 planes worth of pax. What was also nice was the Internet access inside.
After 20 minutes, Yananyi Dreaming was pulled away to a hard stand and VH-EBT came into the gate and nose in toward us, like that scene out of AIRPLANE!, we weren't sure she would stop!
Great catches on this trip! The Socceroos before her repaint, the Freedom Air Looney Tunes plane, Yananyi Dreaming, a Mad Max truck and a Grumman Mallard.
Our flight was called and we made our way onto the aircraft. We were boarded in to the port side of the plane and made our way up the stairs to the upper deck business seats. We were offered pre-departure drinks and made ourselves comfortable.
Q flight entertainment consisted of movies, which were not AVOD and video games. Also, The Dreamtime Seats were comfy like an old recliner. AGAIN, QF departed late because a passenger got hurt on the jetbridge and not we had to find her luggage and offload it. So we got a late start. The flight was only 4 hours, so I ate and slept.
The food was all right. Started with a drink followed by service on the tables. No amenity kit was given out but I do recall a blanket and pillow. Also, upstairs, in between the window seats and window, there were these huge bins where we could put our luggage.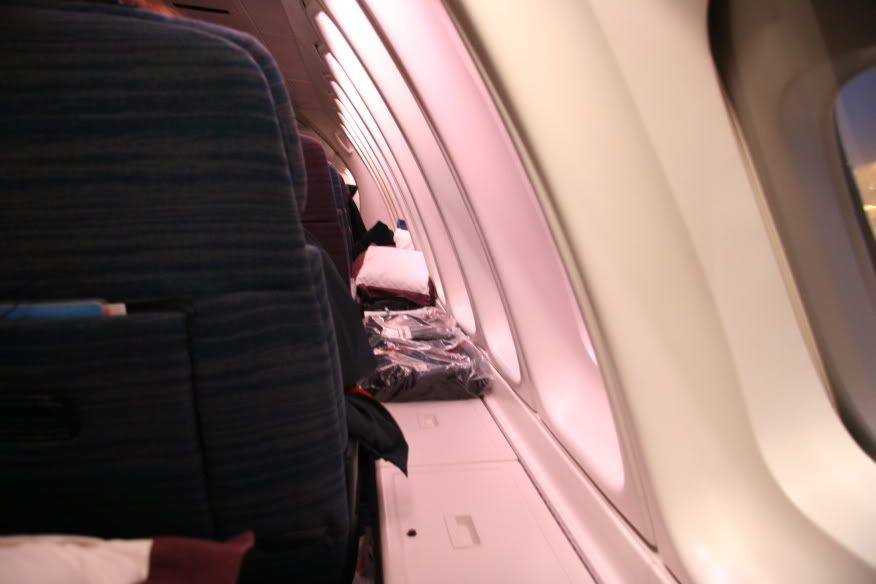 Back to the food. A shrimp salad and a Penne Pasta with artichoke and proscuitto. The shrimp (Sorry, Prawn)
Was a bit funky...maybe a few days old? Just not fresh. The Penne was good. Washed it all down and again fell asleep while a fruit bar was given out.
Descending into Sydney was a bumpy ride through clouds and rain. Heard a few cycles of spooling up and then down again as we maneuvered through the muck. Actually, in retrospect, those seats upstairs are nice in that you are a bit more sequestered from engine noise. As I fly more, I realize I don't care to be near the engines. Hopefully the 787 would make that disappear.
We came down on 34 R rather smoothly. Slightly different perspective from the top but not as cool as on Nuku Hiva's PTV view. It was pissing down on Sydney this morning  
But I caught a glimpse of this nonetheless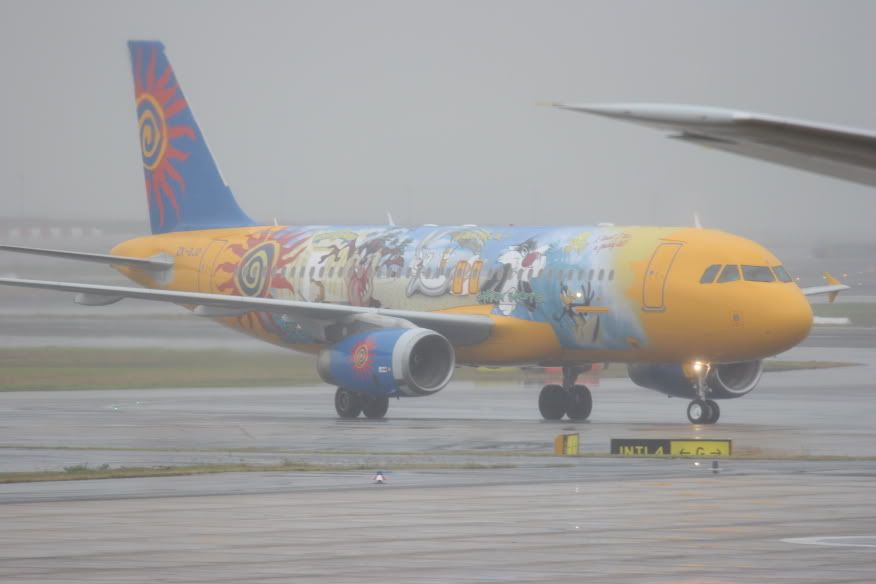 TN 4 SYD-PPT on A343
F-OJTN "Bora Bora"
Seat 1 C and D, well, sort of.
Ok, this was a bit odd. Our reservations were initially held for seats A+B but the ticket issued in Perth said seats C+D. So as soon as we got to the gate, I asked the FA if she had a window and aisle seat. She asked me to hold on...the answer... "Sure, pick any seat you want, you are the only 2 in First Class today" Nonetheless she reissued the boarding passes which was really nice of her as well as unnecessary. But that was key about TN, they went out of their way for the subtle touches here and there.
The sun was just breaking through the clouds. Prior to pushback, the captain took a moment to greet us in First Class. Again, we were the only pax in First on this flight. We pushed back and sashayed over to 34L. The pilots lit the fuses on those hairdryers and a careering down the runway we went!
Got a few shots of heavies at hardstands and Royal Brunei from the air.
Our flight attendant was a lovely French gal whose folks own a pizza place in Moore. Also very attractive and the best FA yet. She almost seemed embarrassed if we did something before she did, such as put back the seat, pull out the IFE, etc. She was great though. The employees are the most valuable assets that Air Tahiti Nui has.
On this aircraft, the seats were the same recline as previously mentioned and the IFE was great. 6-7 movies, (movies were not duplicated on any leg) and at least 10 videogames to play. This time I indulged in golf.
The meal service was as above. Fresh, filling and with a touch of elegance at every corner. I had some Hinano beer after lunch, perhaps for preparation of arrival in Polynesia. Again, a few times on this trip, my IFE had to be reset after periodically freezing. Not a major point. I simply called it a day and changed into my next set of TN pajamas and set off to sleep.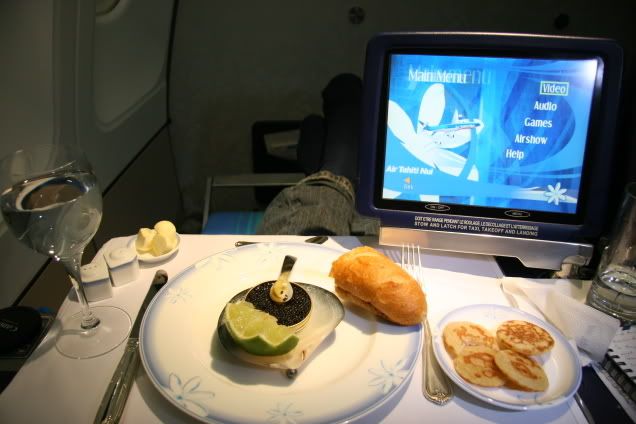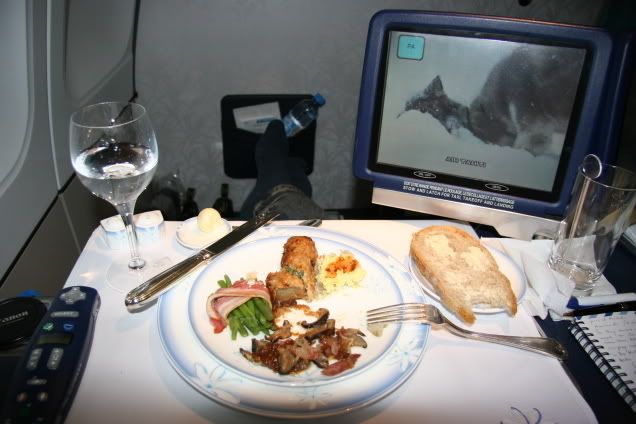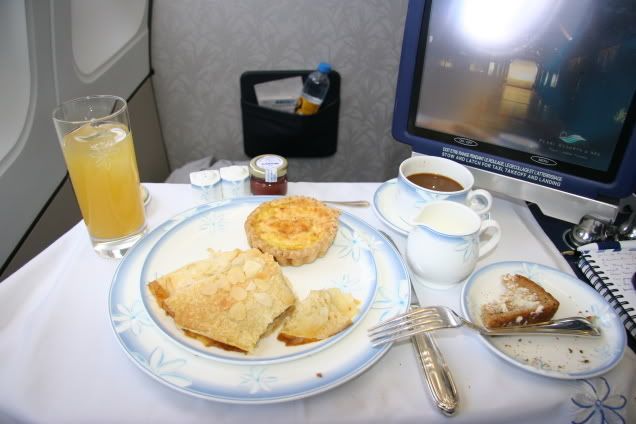 I slept 4 fours then awoke to open the shades and gather the last few rays flight for the day. We had just crossed the International Date Line.
To put this into a real perspective, we'd left Perth about 14 hours ago, at 1215 AM on Thursday. We went through Sydney and were now arriving into Papeete on Wednesday night at 8:30 PM. Fortunately, the fatigue and jetlag would take place in Moorea.
We were at 39000 feet and started our descent. The outside was pitch black. I could not see the moon, only the stars. We were initially given a direct in approach to runway 4. Although I knew the island was directly ahead, there was a cloud cover that impeded the view. Then the approach was changed and we had to fly around to the other side of runway 04/22 and land on 22. The planes followed the newly input information and flew a "teardrop" shaped approach and re-aligned with 22. Then a 'bright star' seemed to shine down on us.
About 1.5 hours prior to our departure at Sydney, there was another TN flight, which made Sydney-Auckland-PPT. So the sister aircraft had stopped in Auckland, picked up pax and was now following us into PPT. She had just flown overhead, in the opposite direction and lined up behind us for the landing.
We bore down on the runway and the mains lightly touched down, followed by the bumpy nosegear landing, which gets a bit bumpy but it's palatable. The reservers slowed us down but yet we continued to the end of the runway in order to turn around and taxi back up to the gate. Upon disembarking, I thanked our pilots and crew for the great ride in.
Rush over to Air Moorea!!
We were catching the last ferry flight to Moorea for the evening. Turns out one of the FA's were also catching the same flight.
Air Moorea F-OHJN Twin Otter, roundtrip
Open seating
A cute and brilliantly colored aircraft. Seats 1+2 across. I don't love tiny planes but this was cute. The throttles are mounted into the ceiling. It was a 7-minute flight each way, in complete darkness, both ways. Takeoff was brisk.
Landing was short, but not short of the runway. I doubt we reached up higher than 5000 ft but correct me if I am wrong.
A few nights later
TN 4 PPT-JFK on A343
Cruising 37000ft
F-OSEA "Rangiroa" I can now officially say that we've ridden 60% of the airline's fleet.
Seat 1 A and B whoa, wait a minute! We have company??
Went upstairs in the Tahiti lounge and had Hinano beer and a few gin and tonics while I watched our aircraft being readied. It was 9 PM and the Air Calin was about to depart late with pax to New Caledonia. Regarding the TN fleet present this evening, Rangiroa was being readied for us, Mangereva and Bora Bora stood silent, Nuku Hiva just landed and taxied in and Moorea was still up in the air.
Actually, on this last leg home on TN, we had an older couple sitting in the other aisle and window seat. Notice how the guy always gets the window seat  
By the time we boarded, they were already buckled in.
In keeping with Air Tahiti Nui tradition, the FA was very attractive and accommodating. But my wife noticed that the FA catered to them first and then us. Not a bother though.
I once again met with the officers on deck and they briefed about the way to JFK. The flight itself was a smooth 12 hours, of which I slept a good 6 hours.
But not before our dinner being served. As this was a late night flight, we got a hearty dinner, I washed it down with am ambien and started playing video games and watching a movie. Changed into my Air Tahiti Nui Pajamas, got my earplugs and eye mask on, the cabin lights dimmed and we drifted off.
Several hours alter, woke up rested with a view outside to a clear sunny day. And of course, whoosh, an AA 767 whisked right by us, perhaps a thousand feet below and headed in the reverse direction. 4 minutes later, a Continental 737 followed suit.
It was a beautiful sunny day in NY and I looked out for Eric Dunetz, but alas, as we turned final, I could see we were headed for runway 31L to land. So I couldn't see him out there. But thanks again Eric!
Moments prior to touchdown on 31L
In retrospect, Air Tahiti Nui is clearly the best BEST ride to Tahiti that the East coast has. I wish them continued success.
Thank Yous:
What makes a trip are the people and hte great experiences with them. That said, we thank:
Phil and Tom for the heads up about the Ab Fab FA's!
Eric for looking out for us.
Bill and Neva for putting up with us!
Glenn for the entire day and Max Brenner…CHOCOLATE!
Monty for meeting up and educating me on new nouns  
JJ for our rampside shots.
Francois, Paul, Sylvain, Stephen, you are the best.
TNs great crews
And my lovely wife…
This is our last international trip together, overseas, as a couple. As I type this, my wife is asleep, carrying our first little precious cargo for 14 weeks now.
Thanks for everything!
I love Flying
[Edited 2010-01-28 17:50:55 by mirrodie]