Hi Everybody
Thanks for looking at this report. it's pretty long. I will split it into parts because I simply do not have time to write it all at once and include pictures. I'll include as many pics as I can. I'm still figuring out how to add pictures from photobucket to here, but it is easy so far.
I flew my first trip to Asia as follows:
IAD-SFO-NGO (UA Y/Y+ class)
KIX-HKT (TG Y class)
HKT-BKK (TG Y class)
BKK-NRT-ORD-IAD (UA- C class)
This is my first trip report ever, so be brutally honest in your responses.
I took this trip in the summer of 2005, last year, and it took place betwen 19. June and 6. July.
Here it goes:
Flight 1
IAD-SFO
Airbus A319-100
N809UA
19 June 2005
07.15 departure
09.58 arrival
We fly standby on United and knew that getting to Asia would be tough in the beginning of summer. Getting to San Francisco would be relatively easy, though, because there are three morning flights from IAD to SFO departing within an hour of each other that still allow connections to Asia. We chose the first one because there is the least chance of trouble happening on the earliest flight. Plus, we'd have time in SFO to get lunch, look around, and find the international terminal.
This flight was really uneventful. I ended up sitting somewhere in the last couple of rows. What really bugged me is that this is the first transcon on United that I have been on that did not have any real complimentary food. Over the years it has been expected that shortly after takeoff, you are offered something on a flight that will take five hours. but no more. I didn't buy any food. I guess I may not have been so hungry...
The seat pitch could be better, but it isn't really bad, 31/32 inches is okay for just like 5 hours or so. Even though I'm 6'2, it's okay. I do appreciate the extra width of the Airbus seats. That means more wiggle room, ie: comfort...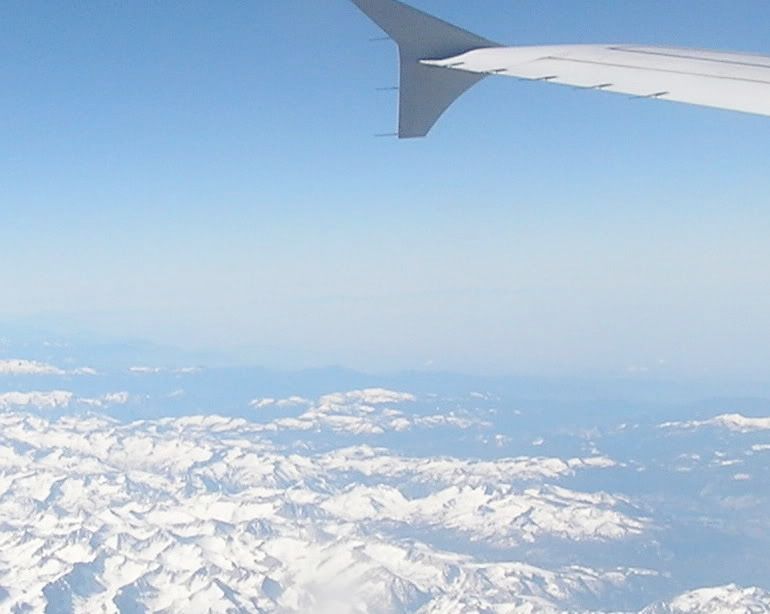 The beautiful rockies out of the A319 window
Well, we got to SFO and here was our plan:
Plan A:
fly to Osaka at 12.30. Drive to Nagoya from KIX
Plan B:
fly to Nagoya at 13.00
Plan C:
fly to Tokyo on the 13.35 flight. Continue with ANA to Nagoya.
Plan D:
overnight in San Francisco and look to see where the availability is.
Plan E:
fly to Tokyo on the 11.30 flight of the second day in SFO. Continue with ANA to Nagoya.
Plan F:
fly to Osaka at 12.30. Take the train to Nagoya.
Plan G:
fly to Nagoya at 13.00
As we took the bus to the international terminal after lunch in the United concourse, we got to see part of the ramp! Here's a list of the international flights for the afternoon and the gate assignments:
By the way, the international terminal at SFO is AEWESOME! I almost forgot that I was in an airport. There are escalators that go down to the boarding area, where there is additional seating. Up top are rolling walkways, bars, restaurants, and shops. HUGE three story windows give lots of natural light:
Thus, I got to photograph lots of UA widebodies coming/going to/from Asia and europe.
Eventually my mom and brother were able to secure two coach seats on UA885 to KIX, Plan A on the 19th of June. My dad, other brother and I tried and failed. This became a sorry but true sight to us:
We tried (and failed) all of these flights...
UA885 to KIX on June 19
UA831 to NGO on June 19
UA853 to NRT on June 19
UA837 to NRT on June 20
UA885 to KIX on June 20
Notice, that all these flights to Japan are roughly 30 minutes apart. For nonrevs to 'jump' from flight to flight means lots of running through the international terminal. As soon as we found out one flight was 100% full, we had to leap over to the Osaka gate, and then to Nagoya, and so on...
So there was a problem with the Osaka flight on June 20 and mechanics were called. There was still question whether there were any seats left for the three of us or not. My brother and I were at the Osaka gate while my dad was checking out Nagyoa at a gate far far away. He got word that there were a handful of misconnects to Nagoya and we ran to that gate. At this point it was not even funny anymore although I chuckled at the absurdity of us running everywhere. Yes, we got on, seats 22A and B for my brother and I (Economy plus, yay!) and my dad got the jumpseat which really means he gets a vacant first class sleeper seat! Grrr.
I was just happy to finally be on my way to Asia, first time ever! I was trembling with excitement! I first noticed that we were not in the West anymore when I noticed that 85% of the people on the plane appeared to be of Asian background! That was awesome, though. This was a totally new experience on a very familiar aircraft, as I fly to Europe very often on UAs 777s
Takeoff was beautiful, long, but awesome in the 777-200ER! As soon as I said goodbye CA, the purser came on the PA and introduced himself and his crew. He was extremely humerous and provided great information to everyone on board, although he only spoke English. The announcements were always translated into Japanese by one of his colleagues. If I knew this purser's name, I would definately write to UA of excellent customer service. He just knew what he was doing and sounded so proffessional yet friendly.
Beverages soon came along with an great lunch. Lunch consisted of your basic salad, bread, cheese and grapes, water and entree. The choice was between chicken and meatloaf. I have never eaten meatloaf in my life and never plan to due to its strangeness, so I chose the chicken which came in a generic Aisan/garlic sauce with rice and vegetables. Not bad, I was really hungry, though, so it filled me perfectly. UA's international Y meals really are not that bad. It could be much worse!
Soon I settled to watch movies/play on my laptop until the midflight snack. They came through with various snacks so I had some potato chips and an apple. The cabin was completely dark despite the vibrant sunlight outside in the middle of the afternoon. The North Pacific at this point was decked with clouds, but I was hoping to see the islands of Alsaka, which I did! Our flight to NGO took a very northerly routing, and I saw what I believe was Attu, right before crossing the international date line.
Soon enough, I caught my first glimpse of Asia and the second hot lunch service began. It was a smaller tray and I was awoken with "Noodles or Rice?" I asked for noodles, hoping for something Asian or stir-fried. Well, it was Lasagna. I really don't like beef, but it had little chunks of beef in it. And it had very few noodles. It was basically a few flat noodles and beef swimming in tomato sauce. My brother took the rice which was just fried rice and did not look much better. Not one of my better airline meals. But I was just excited to finally be flying over Asia, and decided to eat some and not complain! I even spotted Mt. Fuji outside my window!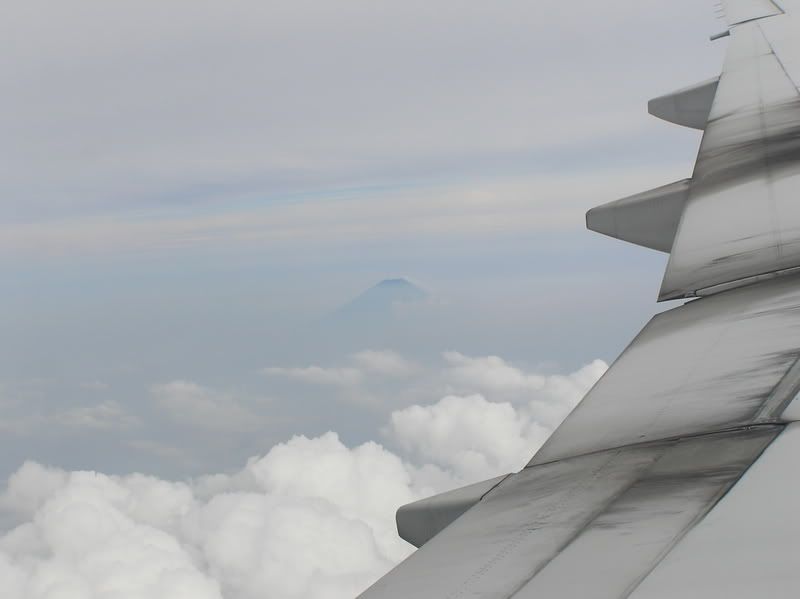 I kept falling asleep because it had been such a long flight. Soon enough we touched down in Nagoya and started an epic (and expensive!) journey though the Nagoya subway system to get to where we were going!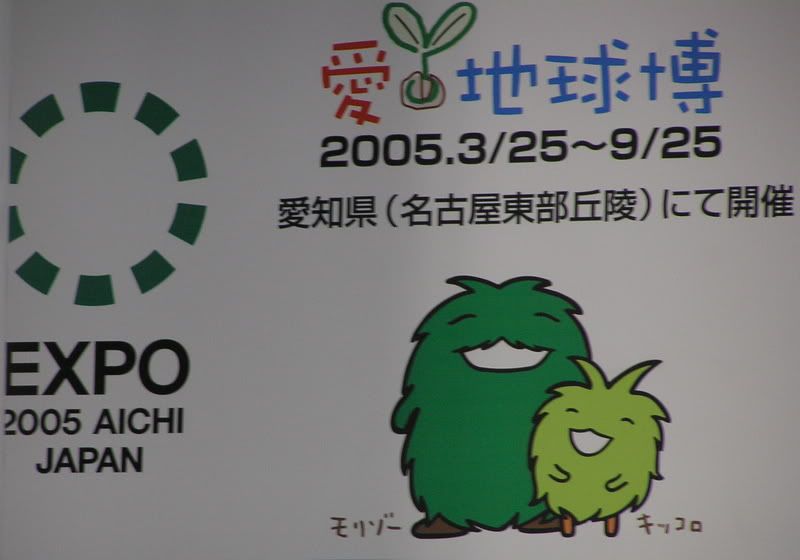 More to follow, thank you for reading!