A Trip to Brazil
Nine Flights on Five Airlines:
Northwest, United, TAM, BRA, and Delta
This report is about my flights to attend my brothers wedding in Recife and vacation in Salvador de Bahia and Rio de Janeiro, Brazil. The trip reports on the vacation will include MSP-ORD-MIA-SSA on NW/UA/JJ, SSA-REC on BRA-Brasil Rodo Aereo, REC-GIG on AM-Transportes Aereos Meridionais (Brazil)">JJ, and GIG-GRU-MIA-ATL-MSP on AM-Transportes Aereos Meridionais (Brazil)">JJ/DL.
Flight 1:
11 Nov 2006
NW 132
Minneapolis/Saint Paul (MSP) to Chicago O'Hare (ORD)
Douglas DC-9-50
Depart @ 3:06 PM G3 Arrive @ 4:24 PM E13
Actual @ 3:02 PM Arrive @ 4:16 PM
Seat 5A
I arrived at the airport around 1:30 PM and quickly checked in with NW who tagged my bags all the way to Salvador but was only able to issue my boarding passes to Chicago. Boarding for this flight started on time at 2:36 PM with Elite and special needs boarding and continued with one call for general boarding. This flight was only around 60% full so it boarded in a quick 20 minutes. This flight was pretty unremarkable, it was on time, and we had one drink service, where the passengers had to pay $1 for the pretzels or nuts if they were desired. That is pretty cheap on NW's part. Here are the pics:
The plane at the gate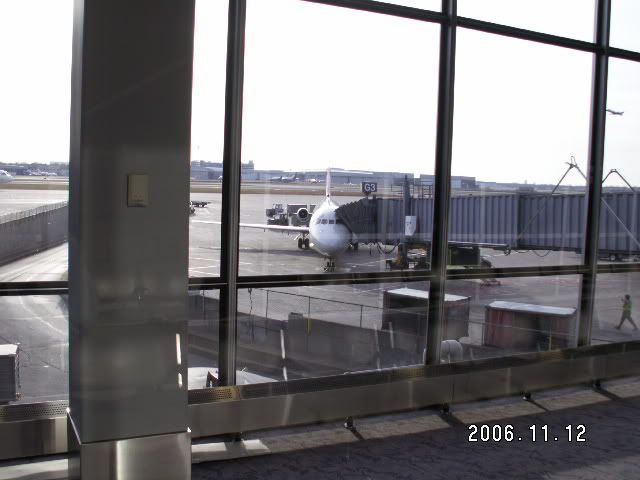 Legroom
Take-off
The triangle shaped building is Mesaba HQ
Snow over southern MN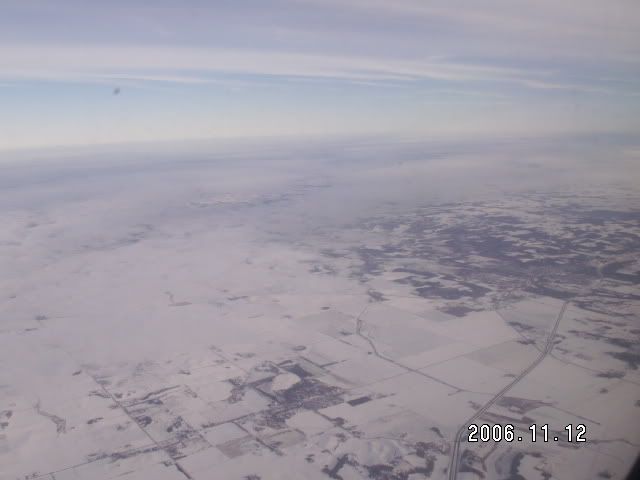 Final Approach
Touchdown at O'Hare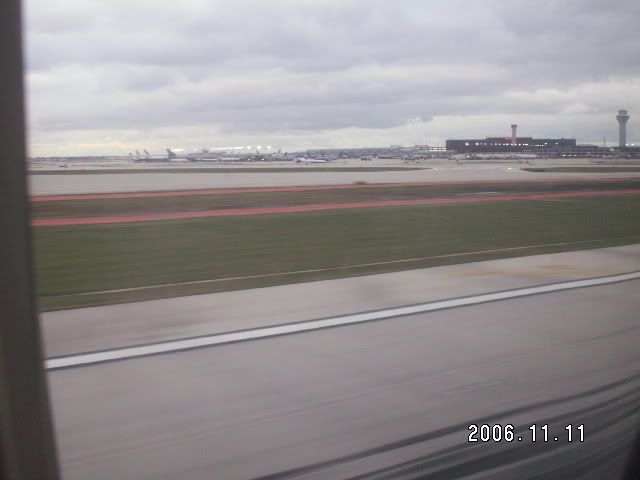 Flight 2:
11 Nov 2006
UA 1460 (operated by United for Ted)
Chicago O'Hare (ORD) to Miami (MIA)
Airbus A320-200
Depart @ 6:12 PM Arrive @ 10:22 PM B22
Actual @ 6:09 PM Arrive @ 09:59 PM
After the trek from Terminal 2 to Terminal 1 and a pit stop at Chilis for Dinner it was time to board the flight to Miami. This flight boarded on time and was completely full except for two seats, one of which was next to me. We left a few minutes early and after a 20 minute taxi took of from 22L. After takeoff we were offered a drink and pretzels (free) and a snack box for $5. The movie was Pirates of the Caribbean which was turned on about 10 minutes into the flight and lasted until 10 minutes before landing, which made the flight go by much faster (UA headsets are free). Here are the pics: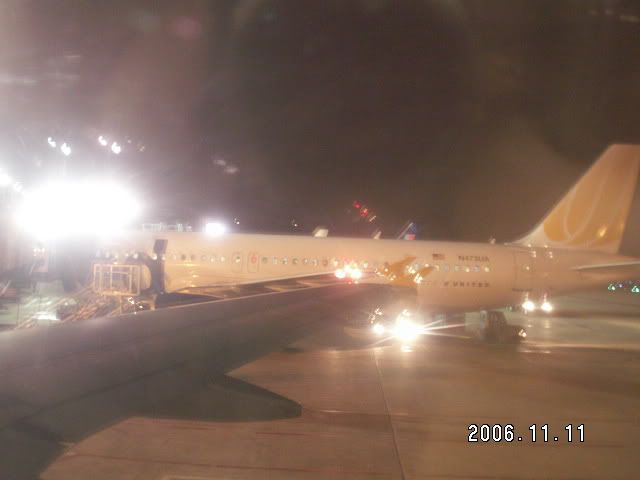 At the Gate in Miami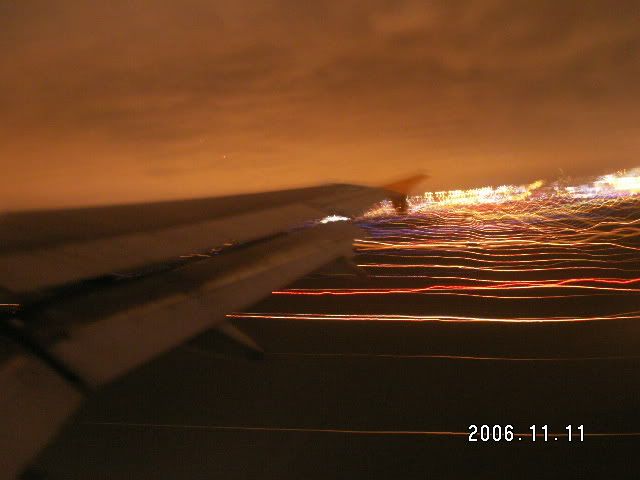 Rotation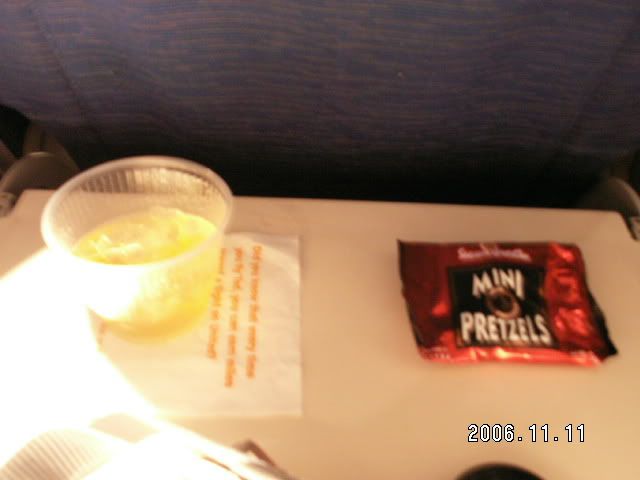 Drink and Pretzels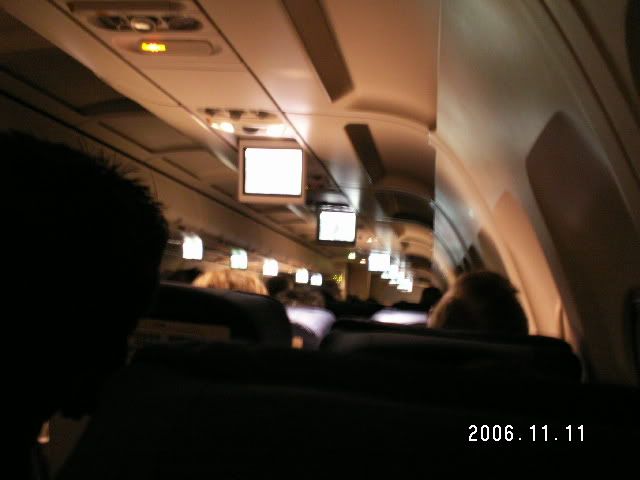 Movie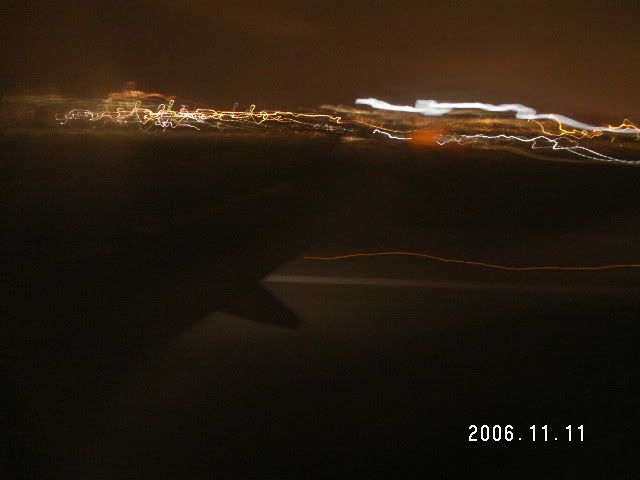 Landing in Miami
Flight 3:
12 Nov 2006
AM-Transportes Aereos Meridionais (Brazil)">JJ 8093
Miami (MIA) to Salvador de Bahia (SSA)
Airbus A330-200
Depart @ 6:30 AM Arrive @ 4:30 PM
Actual @ 7:36 AM Arrive @ 5:47 PM
After night at the Comfort Inn Miami Airport, I arrived at MIA Concourse A late at 5:25AM thanks to the hotel shuttle driver. Thankfully, there was no queue at the TAM check-in counter and I was checked-in immediately by a friendly TAM agent. Thankfully, I had checked my bags through in Minneapolis but my travelling companion who met me in Miami, had not done so and was greeted by a 20 minute line to drop his bags with the TSA. Then I happened to check the arrivals monitor and noticed that the flight from Sao Paulo had not arrived yet so therefore our flight was going to be delayed and I calmed down quite a bit. I stopped by the ATM and took out $60 just in case and proceeded through the short security line. I then stopped by Café Versailles for breakfast and headed to Gate A25 where the plane had arrived.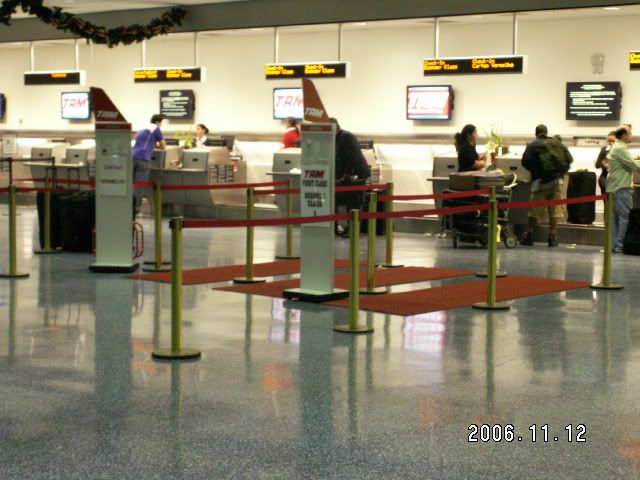 TAM Check-In Counter
Our Crew
Boarding Pass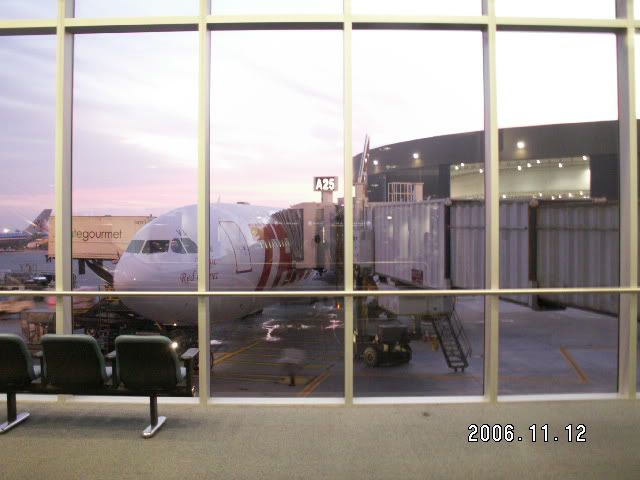 Plane at Gate
At 6:30AM (the scheduled departure time) the TAM agents arrived and announced that the flight was delayed due to late arriving aircraft. The TAM knew this when we checked-in so I don't know why they just didn't say so then and save their passengers a lot of anxiety, as you'll see in my later reports this is a peeve I have with TAM throughout my experience with them. At 7AM boarding starting with one call for general boarding and the entire plane queued up in three lines. The agents double-checked everyone's visa before they boarded the plane. On all TAM flights you board the plane by walking across a red carpet and you are personally greeted by the Captain and Purser as you board the plane, which is a very nice touch. I was seated in 34K today which is towards the rear of the aircraft.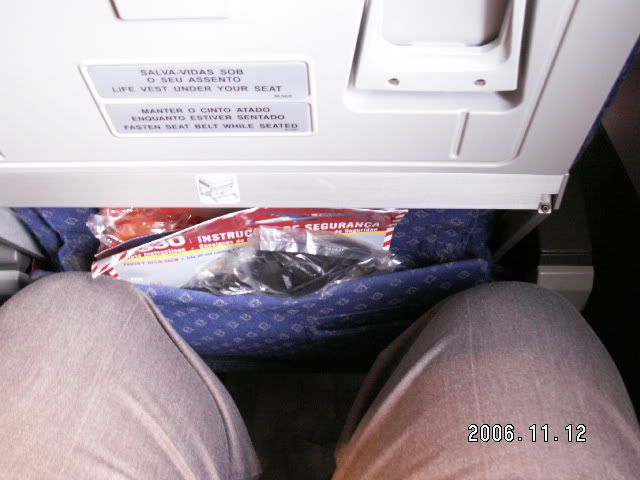 Legroom
This 70% full flight pushed back at 7:36 AM after the FA's distributed butter toffee candies and a small amenity kit consisting of eye shades, a toothbrush, toothpaste and a comb. After a 10 minute taxi we took of from runway 8R. The announced flight time was 8 hours and 5 minutes.
Safety Video
Rotation
Meal and movie service started 40 minutes into the flight while we were over the Bahamas. The breakfast consisted of a choice between an omelette and a ham and cheese sandwich along with fresh fruit and bread. I chose the sandwich and it was very tasty. There were six movies available on this flight (running on a track not AVOD) Cars, Pirates of the Caribbean, The Devil Wears Prada, Talladega Nights, and two other movies that I cannot remember. The second meal was served around an hour before departure which was a choice between chicken with rice and beef and potatoes with caju-flavoured cheesecake, a garden salad and hot bread. I had the chicken and it was very tasty. The TAM FA's were all very attractive, spoke English well and were very nice and personable especially with my mangled attempts to speak Portuguese. As you can see in the pic, TAM's seats recline way too far back to the point where it is impossible to get up and the lady of front of me's stomach did not react well to the Mango juice she had with breakfast and she was letting out absolutely rancid farts the whole flight to the point where she even apologized to my travelling companion and I.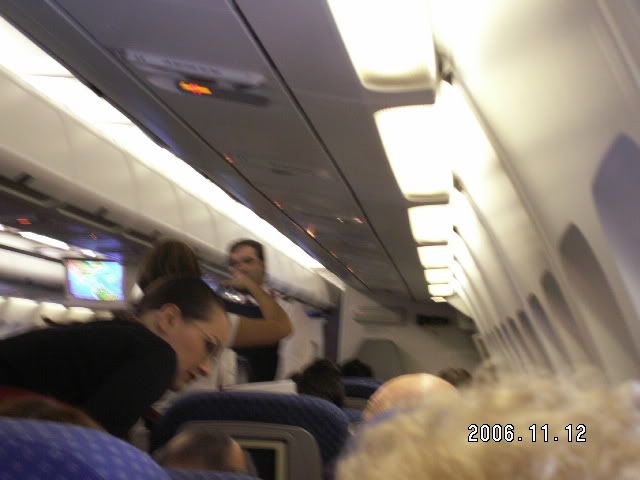 Meal Service
Dinner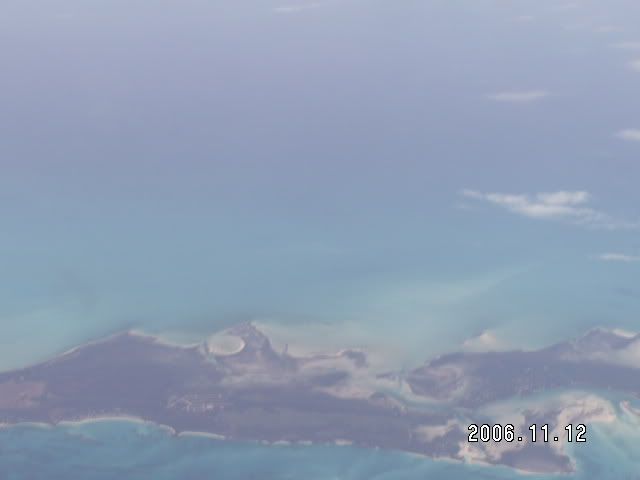 Somewhere over the Bahamas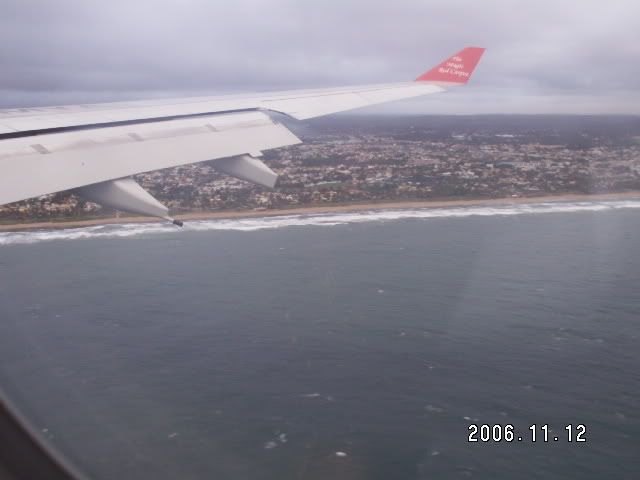 Landing in Salvador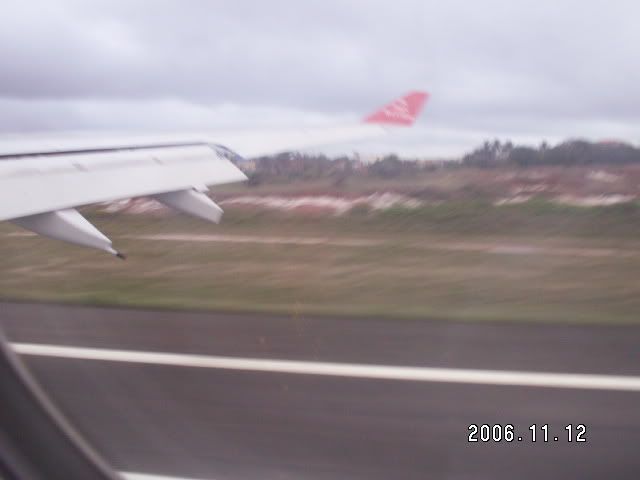 Touchdown
In Salvador, only around 50 people got off the plane, the rest continued on to Sao Paulo, so getting through Immigration was quick and easy. Unfortunately, at baggage claim my bag was never came out and the TAM Baggage Services person did not speak any English at all, so I had to have another passenger who lost his luggage translate for me. Then the Baggage Services person took my tickets, which were paper, and never gave them back to me. I didn't notice this until 3 hours later when I was getting ready to leave (I stuck around with my travelling companion who was continuing on to Recife that evening) and then had to spend the next 1.5 hours finding a TAM rep at SSA who spoke English and the another 2 hours tracking down the Baggage Guy, but it all worked out in the end and he personally brought my tickets to me with an apology. Luckily, my travelling companion's flight was delayed 5 hours due to the ATC slowdown so it was not completely wasted time.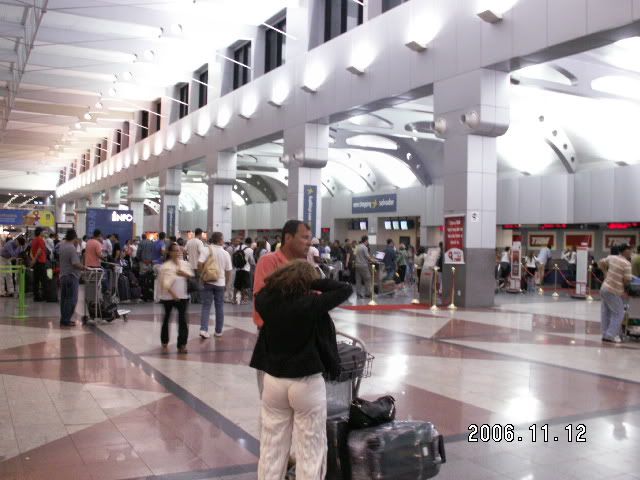 Salvador Airport