I finally got my film developed including the four pictures I took from my return flight, so here goes (part one may be found at
http://www1.airliners.net/discussions/trip_reports/read.main/90004/
).
Sun Country Airlines flight 701
25 November 2006
Depart PHX 7:05A, Actual Departure 7:05A, Wheels-Up 7:15A, Gate H4
Arrive MSP 9:25A, Wheels-Down 9:25A, Actual Arrival 9:27A Gate 18
Load roughly 65%
Seat 6A
B737-800, N801SY
I left my home/Parents' house in western Wisconsin at around 5:20 AM and arrived at a busy MSP Humphrey Terminal at about 6:00 AM. Even though the Saturday of Thanksgiving is generally pretty quiet compared to the next day, the terminal was really busy since SY has a bank at about 7 AM. I went to a check-in kiosk and waited a couple of minutes for the guy in front of me to get his bags tagged, and then I got my bag tagged for PHX and brought it over to the TSA bag drop. SY's kiosks at MSP are unusual in that they are not at a counter, but rather in the middle of the lobby with one agent in the middle of a group of about four kiosks printing bag tags. I went up to the only security checkpoint and had a relatively long wait, although the line moved efficiently. I got through without any problems, except for when about five people cut in front of me at my slightest two foot movement off to the side to grab a couple of bins for my stuff. Oh well. I went to gate H4 for my flight. H4 and H5 have nice large waiting areas since sometimes these gates handle chartered DC-10s from airlines like Omni and World, and our flight was just a B738. Some of the other gates, like H1-H3 are much smaller and often result in people sitting along the wall before boarding starts. I was able to get a look out the window and could barely make out the registration in the relative darkness as the sun was just starting to come up on the landside of the terminal. I would be on N801SY, which is SY's 2nd oldest plane, dating from 2001 and the oldest originally delivered to SY (N806SY is from 1998 but was originally delivered to North American).
View Large
View Medium


Photo © Josh Akbar
Boarding was prompt and on-time. Compared to my late Wednesday night flight, this Saturday morning flight was just packed full of old people, which makes sense for it being a flight that early in the morning. My seat, 6A, was in the third row of economy and was so far forward that I was in front of the engine. Compared to N807SY, which was my previous plane, the cabin was almost identical, except that the seats seemed to be more padded and more comfortable, and that the tray tables and latches were of a different style. It essentially still looked like this picture, of N807SY's cabin:
View Large
View Medium


Photo © Erwin
We pushed back right on time and headed to runway 12R for takeoff. It seems lately that I always take off on the 12s and land on the 30s, and never fly over the city, which is much more interesting. As we taxiied to the runway, we passed some NW planes on the other side heading for the same runway, including two 757s, one of which would turn out to follow us all the way to Phoenix. Takeoff was very smooth and before long we were at FL390. Soon the old man in the aisle seat got up and headed to the lav. When he came back, he noticed that the entire row in front of us was open, and he and his wife (from the middle seat) moved up, giving me an open row for the duration of the flight! I put up the armrests and practically had a couch to myself, which allowed me to comfortably take a few pictures that I otherwise would probably not have taken.
Service included first just a full beverage service. I ordered cranberry-apple and for the heck of it took a picture: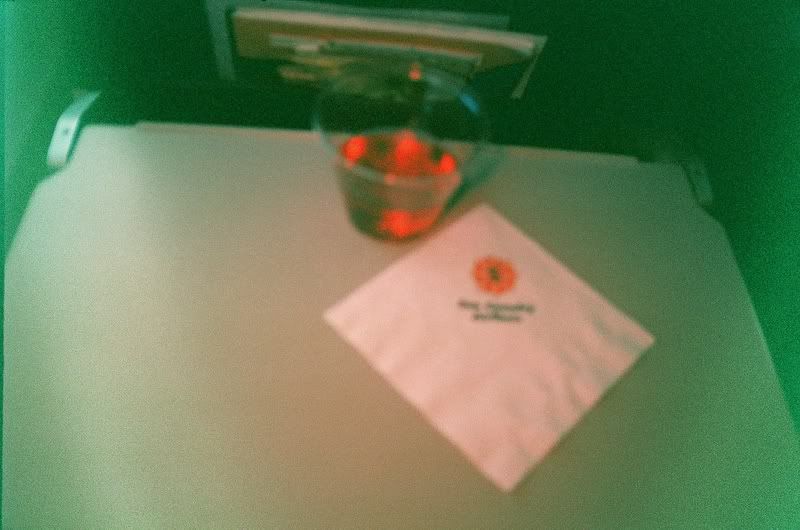 Soon after that, the flight attendants came by with the meal service, which was something like an Egg McMuffin. It was pretty good. Sorry this is blurry but you get the idea. The meal came with another beverage service, and this time I got a Diet Coke.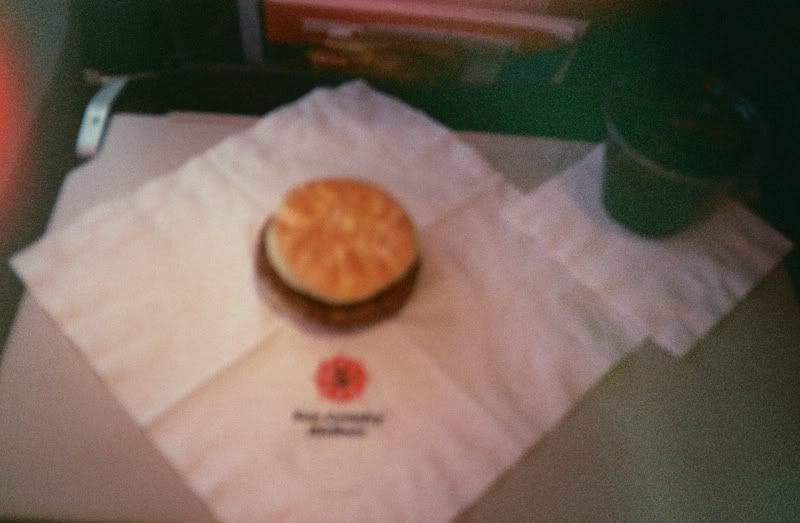 There were some cool clouds out the window, and I took a picture of them also. They looked better in person. Those weird squiggles were with the film and weren't actually there.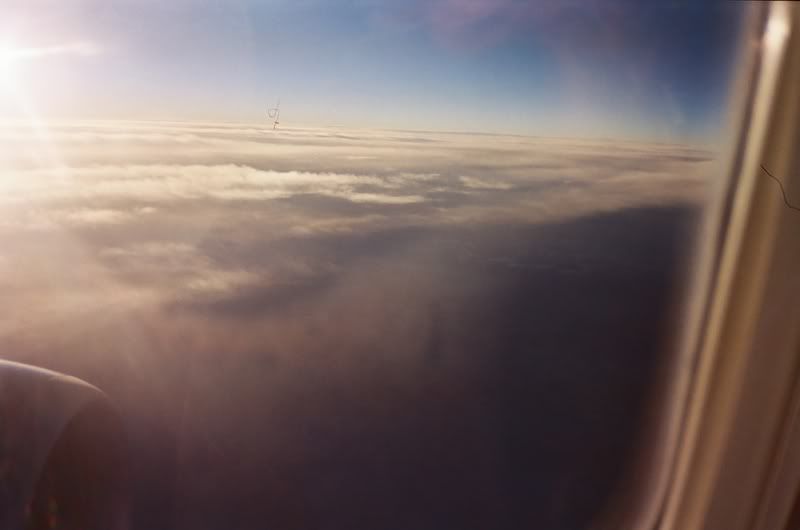 We went directly over Colorado Springs as usual and I got a picture of that. You can make out the airport in the middle if you look closely, keeping in mind that we were heading southwest. Below the airport in the picture is the city. The Air Force Academy was either directly below us or on the other side, and not visible.
As we came in for landing on runway 8, I could see a long white plane with an obviously red tail over on the base leg, and once I arrived I checked the monitors and it was coming from Minneapolis. I later found out that it followed us about 5000 feet below us.
In Terminal 3 in PHX lately, they have been switching bag claims every two minutes. The flight attendant told us to go to claim 4. We did and the monitor at claim 4 indicated that our bags were going there. Suddenly claim 3 buzzed and started spinning, and the monitor switched. So I went over there, and about 30 seconds later, claim 4 buzzed and started spinning, and the monitor went back over to that one, and claim 3 stopped. The next day my roommate came in on NW, and the same thing happened with claims 1 and 2.
Overall it was a very good flight, and having a couch to myself didn't hurt things either! Great service from SY as usual.