Here comes my flight report with Lufthansa on route FRA-NRT.
I flew LH B747-400 from FRA to NRT, and came back to FRA with ANA. I will post a separate trip report on ANA flight NRT-FRA which will come with a JUMBO surprise!
First of all, here comes some flight details
Flight no: LH 710 FRA-NRT
Plane: B747-400, named FRANKFURT!
Seat: 12 K Business Class
Duration: 11 hours
STD: 13.30pm, ATD: 13.45pm
STA: 8.30 pm, ATA: 8.45 am
Distance: 5836 miles
Miles earned: 11846 miles with C class booking
Flight route: Frankfurt to St.Petersburg, Ural Mountains to Siberia, China, Sea of Japan
POSITIVES:
- Improved business class seats: FRA-NRT was my first time I flew on new business class of LH. Compared with my previous numerous experiences on A340-300 on business, I found the new seats much better. Thinks I loved about the new seats:
a) very soothing lumbar massage button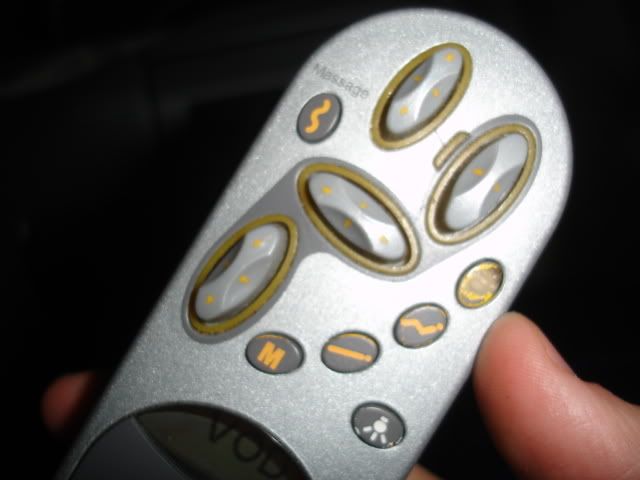 b) plenty of leg space, I was able to leave my window seat without disturbing my neighbour.
Although I had the new PrivateBed, the sleeper seat was not as comfortable as I expected, it was still a leap forward compared to previous LH business seats.
- Great in-flight entertainment program, 10.4 inch screen, four times bigger than the previous screen. There were 30 movies in the entertainment menu, along with plenty of TV programmes, a wide range of CDs.
- FlyNet connection, although I have not used it, my Japanese neighbour seemed very happy using internet to chat with his girlfriend, using webcam.
NEGATIVES:
- The choice of food during the flight was, apart from the menu, limited.
- The new seats have limited space for personal belongings, I had to put most of my stuff, newspapers, magazines on the floor.
I came to the airport late, one hour prior to departure, checked-in by using quick check-in service at FRA airport. I was not given a seat at the counter, as the flight was overbooked. I was hoping to get upgraded to first class, but it did not happen! Since I was late at the airport, I did not use LH lounge services, which is not that attractive anyhow.
When I arrived at the gate A56, I was one of the last passengers to board B747-400. I quickly sat down at 12K, started to sip my champagne, and cooled off after the rush to the gate.
Service started 45minutes after departure. I tried a 2005 Valle Central Chardonnay from Chile.
Then came the food service. I hesitated between the Japanese menu and the Western one, and opted for the latter. A mistake! I noticed that Japanese menu was much better than the standard choice of food offered.
Among what I ate during the flight, the hors d'oeuvre and the dessert was worth to mention.
Cecinq de Leon air dried beef from Leon with marinated wild mushrooms.
Along with hors d'oeuvre, iceberg lettuce salad with bell peppers, cucumber, tomato and thyme dressing was served.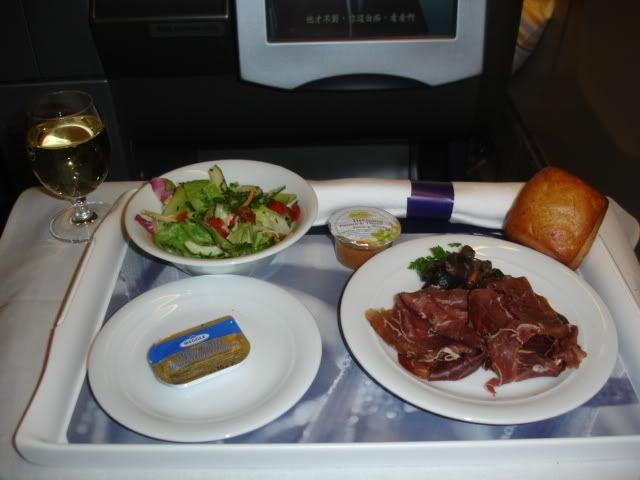 I chose the grilled breast of chicken with mocha and celery as my entrée. Nothing to die for!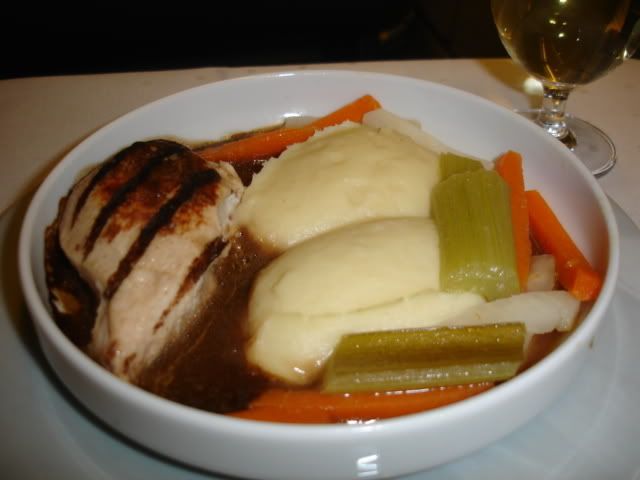 The dessert was an excellent chocolate delight with puree of pears. Really delicious!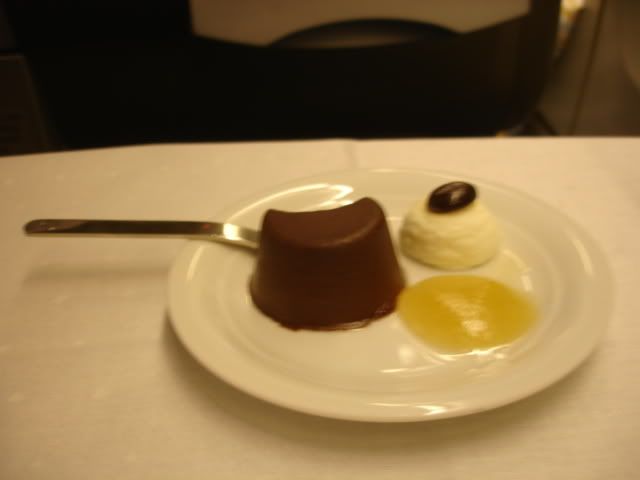 During dinner, I started watching a series of movies. During the whole flight, I slept only 90 minutes, and for the rest I watched 4 movies:
Click
The Break Up
Cars
Inconvenient Truth
Flying over West Siberia on a cloudy day! Look out for my other flight report with ANA from NRT to FRA where I will post splendid pictures of Siberia!
Prior to landing at NRT, I repeated the mistake on the choice of food; instead of Japanese breakfast I went for a plain, tasteless scrambled eggs with chives, vegetable Julienne and roasted potato wedges. I have to say, I enjoyed having two small portions of Nutella along with rolls and croissant.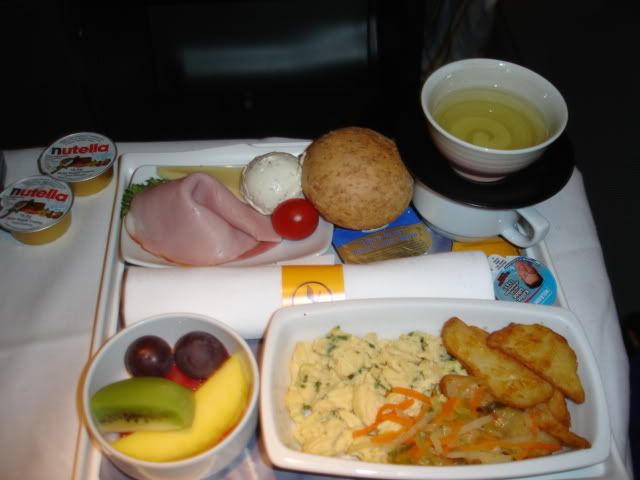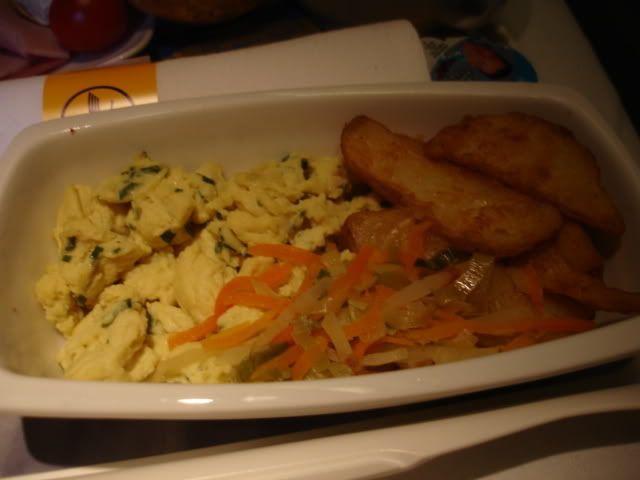 The Japanese breakfast had cold plate made of fish paste kamaboko, cod roe, pickled seaweed, radish and salted plum, followed by miso soup, then broiled kuromutsu fish served with lotus root ,carrot, shiitake mushroom, snow peas and rice with sesame seeds.
During the flight, LH crew set a small buffet of food that consisted of ham and cheese sandwiches, onigiri -- Japanese rice ball snack formed into triangle and wrapped in seaweed.
There was a tray of water and orange juice, but that was basically all on offer.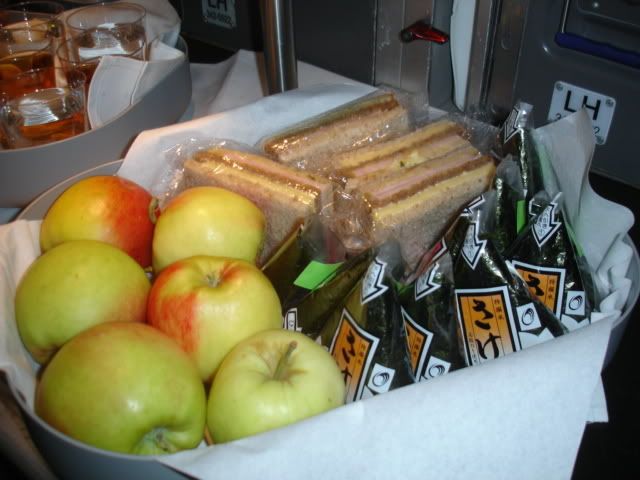 While descending to NRT, we had a very clear view of Mount Fuji, too bad that i could not capture that moment with my camera!
At landing, the NARITA grass sculpture:
After landing... At 8.45 am on Sunday morning, NRT airport was already busy with other planes landing and taking off simultaneously.
It was my first time in NRT, I liked it very much.
Big, clean, efficient. Smiley faces around, easy customs process.
From airport to the hotel, I took the limousine bus service... Here is an employee of the bus company bowing when the bus leaves Narita.. Japan: where manners are still alive!