This is more of a photo versus written trip report. If you have questions, I'll try to answer. I will have the BKK-TPE-LAX trip report soon.
I worked the midnight shift the night prior. After work I headed home to shower and pack. About half an hour later, I was out the door for the westward drive to LAX. Traffic was light on this Monday even though I was rolling during lunch.
I made it to Lot C at LAX in about 65 minutes from the Inland Empire (Riverside). No complaints there! I grab my bag and head to the bus depot. There are only about 3 or 4 of us on the bus, which seems close to normal for the Monday before Thanksgiving. The others are getting off at Terminal 6 so it's a straight shot to the Bradley Terminal (TBIT).
The set-up is the same from the last few trips. The TSA stations are in the lobby and you have to get your bags inspected before you can check in. I really lucked out as there was almost no one in the part of the lobby I was. The TSA folks were waiting for some action and I was head of the line. The inspection was complete in about 60 seconds and I then went to the check-in counter.
BR has separate check-in lines. The first group is for Economy, followed by Evergreen Deluxe, Super Business, and Super First. When they run their B773ERs though here, it's Economy, followed by Elite, and Premium Laurel. I managed a very, very good deal for a Super First seat on this trek so I opted for the afternoon B744 instead of the late night B773ER. There was one other person in the Super First line but I was helped by the staff at the Super Business line as their's was empty. Bag checked through to BKK and I'm off for the temporary first class lounge.
The TBIT temporary first class lounge is located before security, up the escalators and through the food court. Very easy to find, actually. There were only a few people inside when I arrived. Normal selection of drinks and snacks. Not too big a deal to be honest. Let me be about the millionth person to complain about having to pay for internet access, though. Pay for internet in a first class lounge? Ridiculous! I hadn't seen pics from the inside so I snapped a few. Work on the old lounges was well underway. There was a continual flow of construction debris raining down from the 4th and 5th floors and I'm awaiting their opening mid-2007.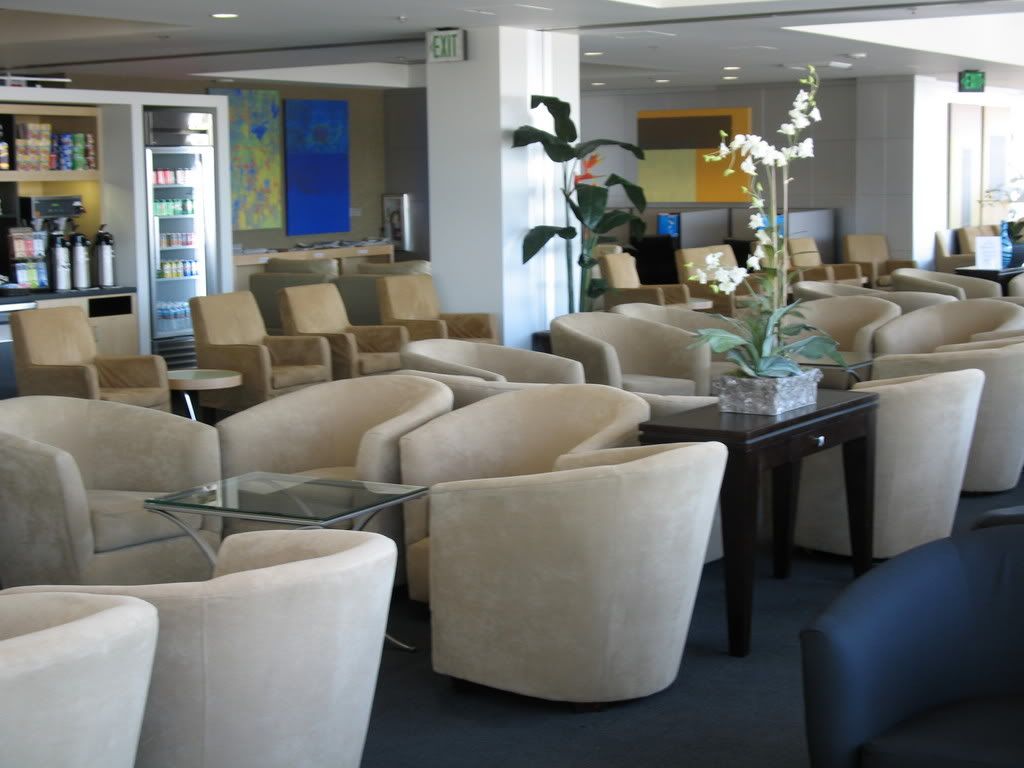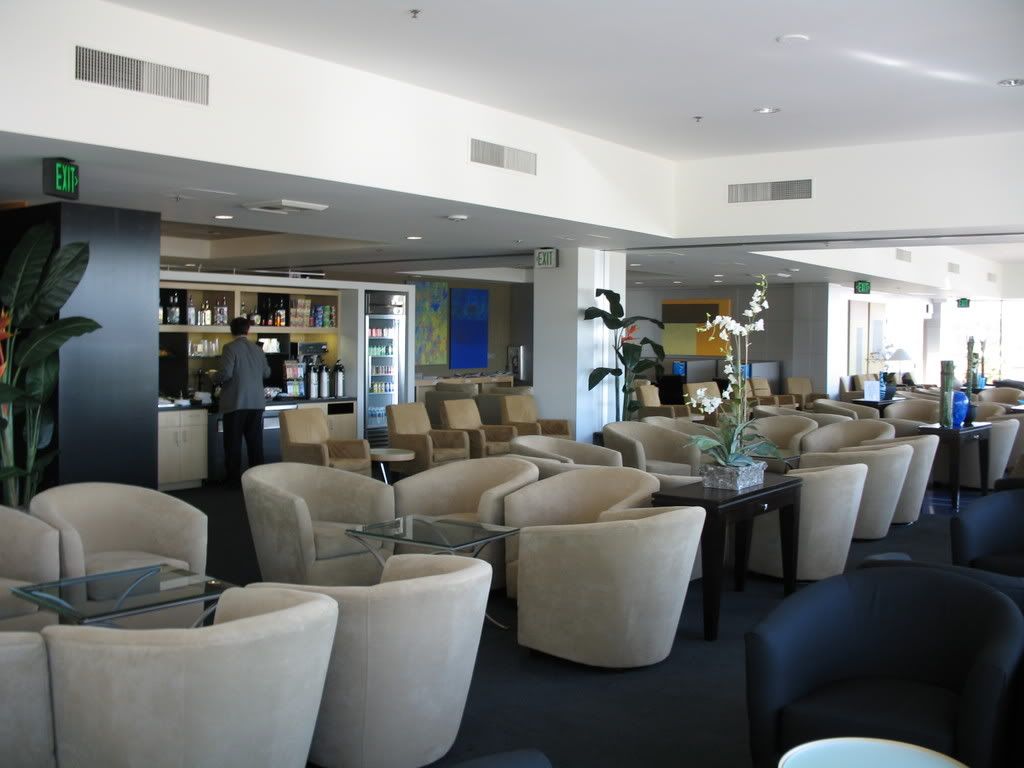 There is a wall of monitors with flight status to the left of the snacks and drinks. I knew my flight was running a little late because the inbound was behind schedule. I called work and got an ETA of about 1430L. I was figuring on a new departure of 1600L, as it would take that long to clear customs, unload, clean and restock, and load again. About 1530L, I headed for security. There was no line at all when I got there so that worked out fine. I arrived at the gate as they were announcing boarding would begin at 1550L for a 1610L departure. I took the time to note the registration number and noticed the aircraft was a combi.
Boarding began a little earlier than announced. It was actually fairly subdued. There was a line for F/C/Diamond Card members and another for Evergreen Deluxe/Economy. The combi set-up has F/C upstairs, Evergreen Deluxe in the nose and middle, and Economy from the middle towards the rear. Roughly the back 1/3 of the aircraft is for cargo. I finally boarded and took my seat. A few minutes later, a gate agent came up told me there was a reported problem with my IFE but there were only 3 of us in F and I could move seats if I wanted. To be honest, I really didn't care. I'm not much of a movie fan when flying, preferring to jam with my mp3 player when on the road. A pre-departure drink of water or orange juice was offered with a hot towel. The purser told me during pushback it probably just needed to be reset when they rebooted the system. I checked it out for them later in flight and it was working.
20 November 2006
Los Angeles International (KLAX/LAX) – Taipei International (RCTP/TPE)
EVA Air Flight 11 (BR 11)
Boeing 747-400 Combi
B-16461
Scheduled Departure – 1535, Actual – 1619, Airborne – 1636
Scheduled Arrival – 2155, Actual – 2236, Gate – 2239
Super First Class
LAX - Gate 103, TPE – Gate C4
We pushed back from the gate 44 minutes later than scheduled so I knew making my connecting flight to BKK was going to be tight. The purser later stopped by and we were talking and I mentioned I was continuing on and let her know the departure time from TPE. She said she would have the captain send an ACARS message ahead and await a reply. She later told me there were a few of us on board in the same situation but they would wait for us.
A pre-dinner drink order was taken prior to departure. When we reached our initial cruising altitude, the drinks were brought around. I took this time before dinner to browse the duty free catalog and jot down a few items for later.
Below is the wine menu.
Wine Menu
Champagne
- Moet and Chandon Dom Perignon 1998
Burgundy White Wine
- Albert Bichot Domaine Long-Depaquit Chablis Grand Cru 'Blanchot' 2002
German White Wine
- C. von Schubert Maximin Grunhauser Abtsberg Riesling Spatlese 2003
New Zealand White Wine
- Matua Valley Paretai Marlborough Sauvignon Blanc 2005
Bordeaux Red Wine
- Chateau Gruaud Larose 1999
California Red Wine
- Franciscan Oakville Estate Merlot 2003
Australian Red Wine
- Yalumba Cabernet Sauvignon Shiraz Barossa Valley 2002
Fortified Wine
- Burdon Dry Fino Sherry
- Graham's LBV Port 2000
I ordered my meals off BR's website for the extra 100 miles per leg. It is available to pax in Super First/Super Business/Premium Laurel from 2 weeks to a day prior to departure. It has decent pics and descriptions of the meals and is not difficult to use.
Below is the full menu. Pics are posted of the courses and my main course is in italics.
Dinner
Amuse Bouche
- Cherry Tomato with Bouquet of Assorted Baby Greens
- Conte Cheese and Dry Beef Mille-Feuille
- Egg Roulade with Smoked Salmon and Salmon Roe
- Stuffed Cabbage with Duck Liver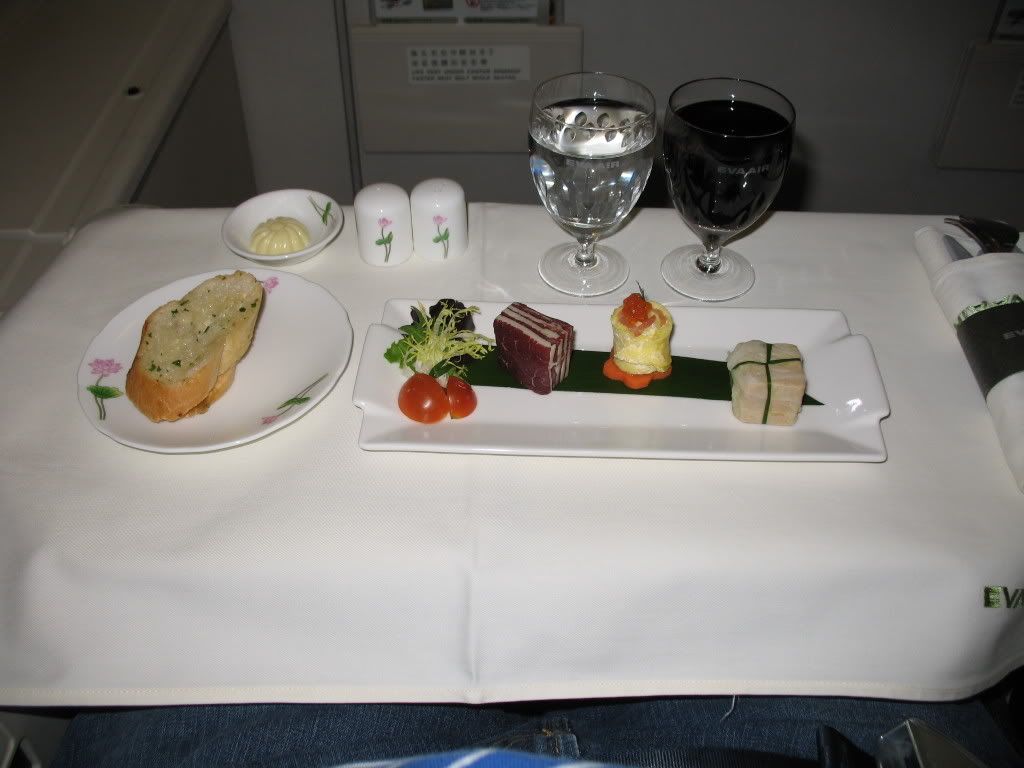 Caviar
- Caspian Iranian Caviar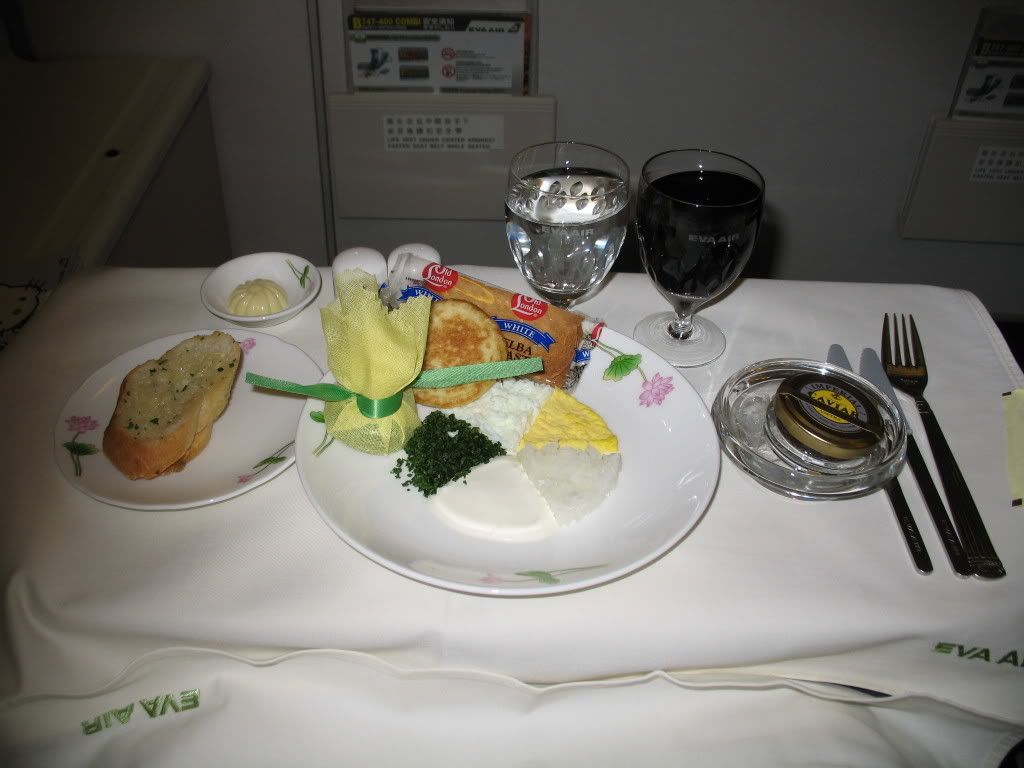 Soup
- Pork Hock Soup with Ginseng
- Clam Chowder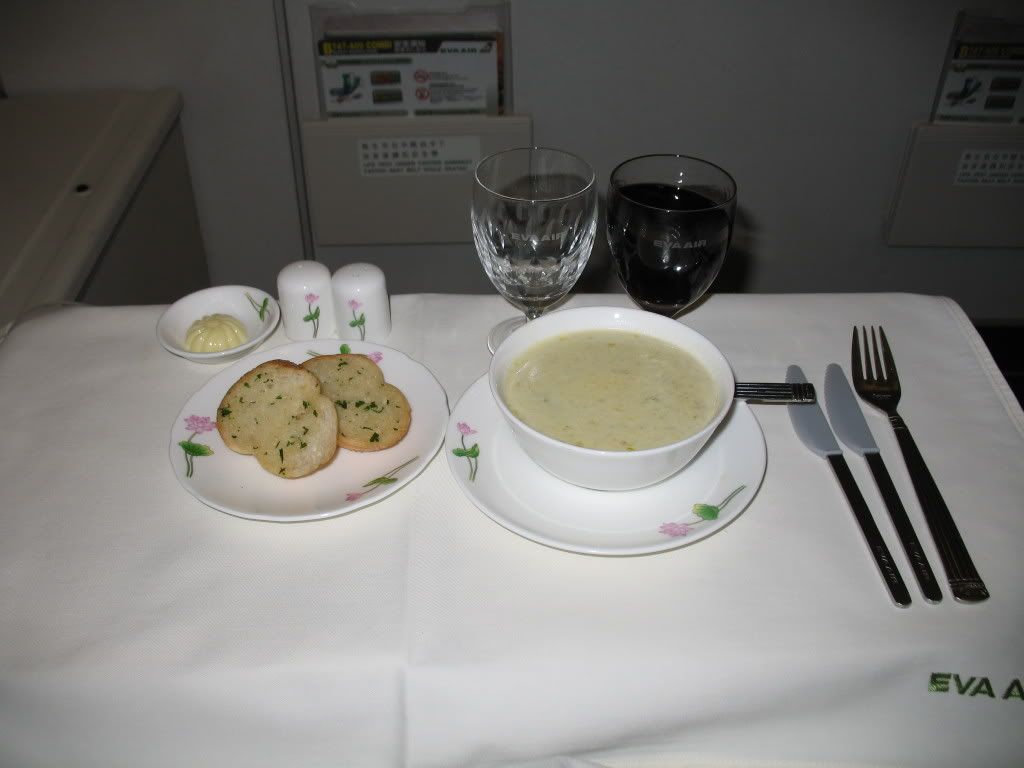 Seasonal Salad
Main Courses
Bacon Wrapped Marinated Lamb Loin
- Mixed Vegetables
- Creamy Polenta
Boneless Chicken and Fried Shrimp with Oyster Sauce
- Chinese Vegetables
- Steamed Rice
Marinated Veal Chop with Veal Jus
- Mixed Vegetables
- Peas Mashed Potatoes
Internet-Only Order Options
Tung Po Pork
- Mixed Vegetables
- Steamed Rice
Grilled Pork Chops with Herbs
- Mixed Vegetables
- Purple Potatoes
Braised American Kobe Beef with Morel Sauce
- Assorted Vegetables
- Mashed Potatoes with Herbs
Cheese and Seasonal Fruit
Dessert
- Chocolate Mousse Cake with Ice Cream (just ice cream for me)
Coffee or Tea served with Godiva Chocolate
Stuffed like a tick! I didn't get an in-flight snack because I didn't want to eat a snack and 3 meals before landing in BKK. Here were the choices, though.
In-Flight Snack
- Pork Siu Mai Meat Dumpling and Seafood Steamed Bun
- Goat Cheese Foccacia with Oven Dried Tomato
- Cup Noodles
- Hot Chocolate and Cookies
About 2 hours before landing, a hot refreshment was served. Pictures included, as above.
Hot Refreshment
Cold Drink
- Champagne, Juice, Soya Milk
Hot Beverage
- Jasmine, Oolong, Tan-Kuan-Yin, English Breakfast, Darjeeling, Earl Grey, Japanese Green Tea, Camomile Tea, Mixed Berries Tea, Soya Milk, Coffee, Espresso, Decaf Coffee, Cappuccino, Coffee Latté
Fresh Fruit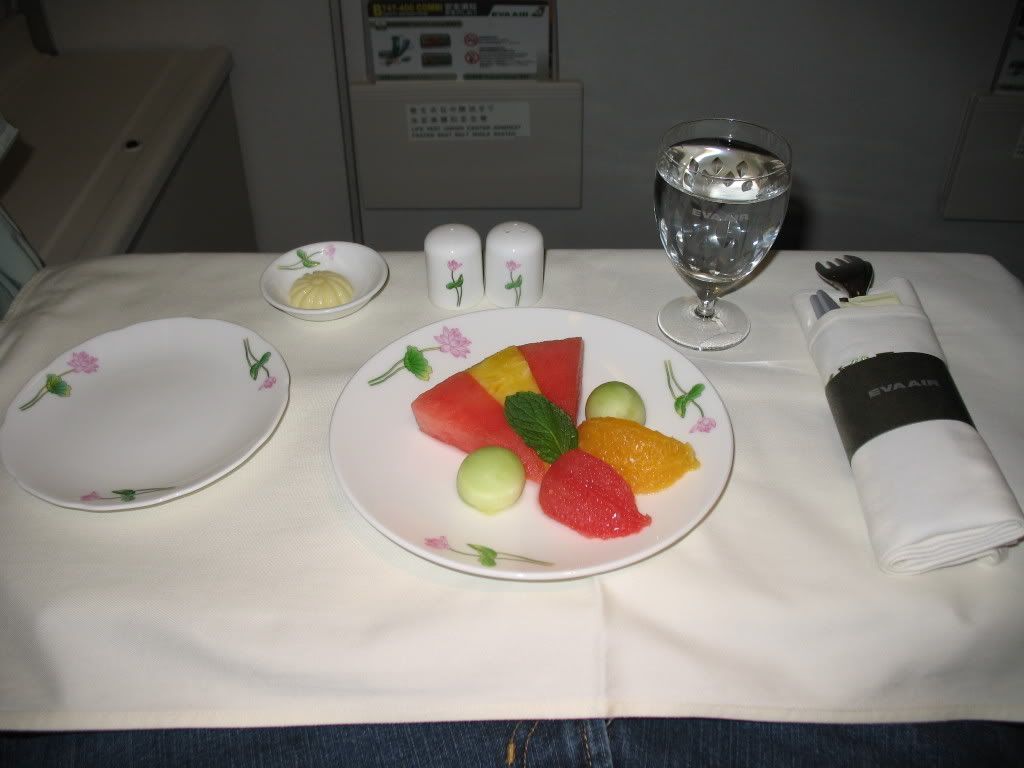 Choice of Bread
- Onion Roll, Potato Roll, and Rosemary Roll Served with Butter
Main Courses
Taiwanese Mixed Grain Congee
- Yellow Bean with Seaweed
- Dried Pork Julienne
- Roast Duck
- Mountain Yam with Asparagus
- Bamboo Shoot with Ground Pork
Triple Delight Pure Rice Noodle Soup
Ricotta and Spinach Stuffed Chicken
- Mixed Vegetable
- Mashed Corn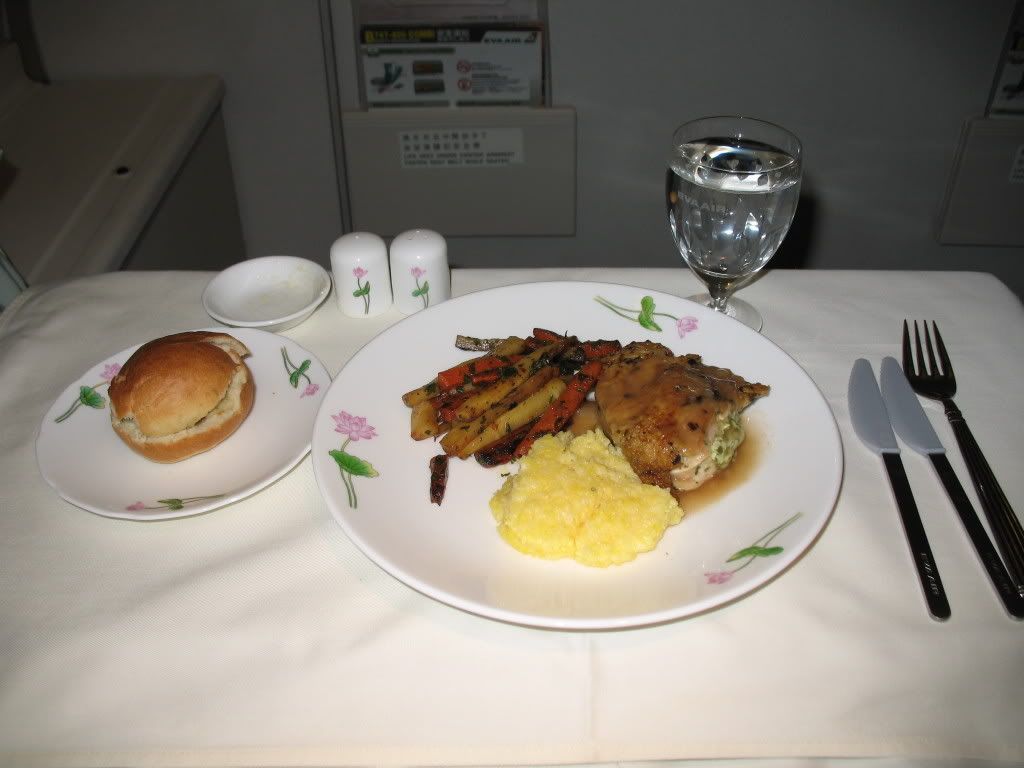 Assorted Pralines
(passed on dessert)
The flight arrived at the gate 44 minutes late. It's kind of weird how that worked from the late departure out of LAX. The left me 36 minutes to clear security and get to the gate for BKK. I was a little bummed because I planned to use the shower in the F class lounge. That wasn't going to happen as they were boarding for BKK when I made it to the gate.
21 November 2006
Taipei International (RCTP/TPE) – Bangkok Suvarnabhumi International (VTBS/BKK)
EVA Air Flight 75 (BR 75)
Boeing 747-400 Combi
B-16463
Scheduled Departure – 2315, Actual – 2321, Airborne – 2337
Scheduled Arrival – 0200, Actual – 0158, Gate – 0206
Super First Class
TPE – Gate C5, BKK – Gate E3
Boarding had just begun as I arrived at the gate. There was a line on the left for F/C/Diamond Card members and another on the right for Evergreen Deluxe/Economy. BR was using 2 bridges to load and that made the process much faster.
I made it to my seat and received a drink and hot towel. The seat next to me was open and the load in F was 6 of 8. We pushed back only a few minutes behind schedule. I was just hoping my bag made the trip! It was a short taxi but a long wait for arrivals. We were soon airborne for BKK.
The flight tonight would be bumpy as there were thunderstorms in the area. That was so true! It was great viewing from above the clouds. I'm talking a serious light show. LOL
The wine menu for the LAX-TPE flight was used for this flight with one exception:
Champagne
- Pommery Cuvee Louise 1996
Supper was served not long after reaching our initial cruising altitude. Below is the menu with all the internet offerings. The pickings out of TPE is much, much larger than other stations for obvious reasons.
Supper
Hors D'oeuvre
- Smoked Salmon Rose with Parma Ham and Balsamic Pickled Onion
Soup
(this soup was so good I had it on the TPE-LAX leg!!!!!)
- Zucchini and Potato Cream Soup Served with Lobster and Vegetables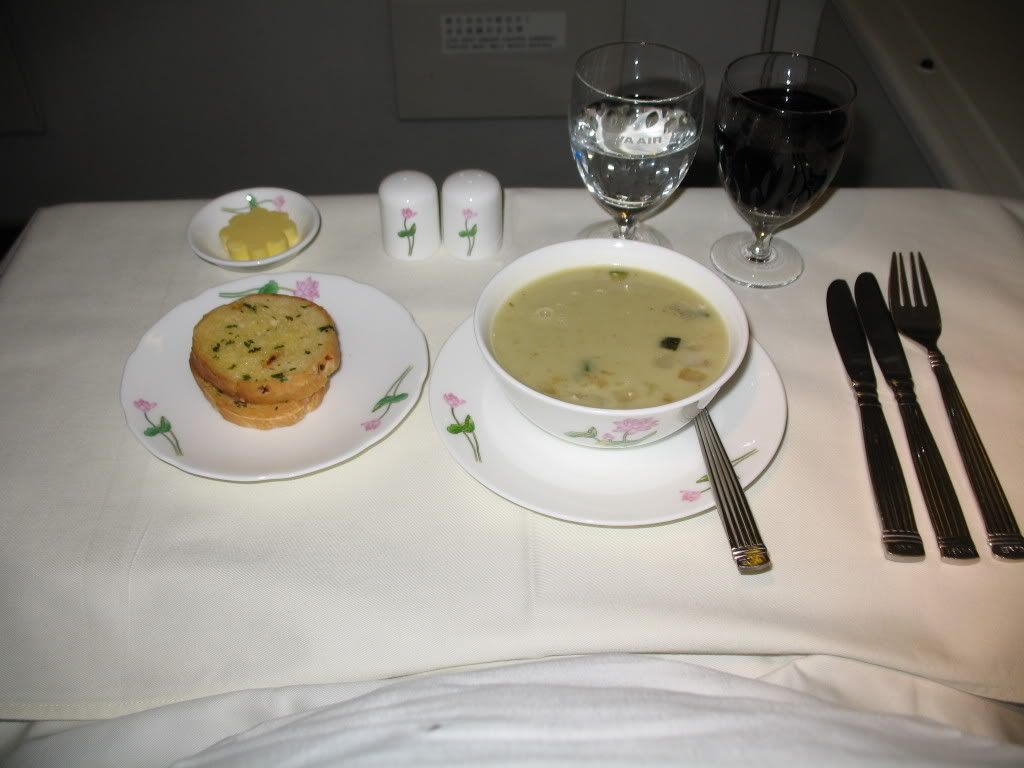 Main Courses
Stir Fried Beef Filet Slice with Fu-Chok
- Mixed Vegetables
- Shanghai Noodles with Poached White Cabbage Leaf
Pork Tenderloin Wrapped with Spinach and Bacon
- Mixed Vegetables
- Mashed Potatoes with Olive Oil and Chopped Parsley
Stewed Pork Trotter with Logtivity Fine Noodle (Chinese Style)
- Pak Choy
Internet-Only Order Options
Din Tai Fung Stewed Beef Shank with Noodle Soup
- Stir Fried Preserved Vegetables
Braised Whole Abalone in Oriental Sauce and Savory Glutinous Rice with Crab Meat in Shell
- Lettuce in Oyster Sauce
Savory Glutinous Rice and Fish Ball Soup
- Marinated Cucumber
- Stewed Beef Shank and Beef Tripe
- Stewed Duck Egg
Pan-Fried Beef Medallion Topped with Duck Liver on White Truffle Polenta
- Buttered Green and Yellow Zucchini Slices
Lobster Thermidor with Buttered Potatoes and Vegetables
- Buttered Carrots
- Buttered Green Zucchini
- Buttered Pumpkin
- Buttered Chateau Potatoes with Chopped Parsley
Under The Mediterranean Sun
Travelers demand wholesome cuisine that suits their active lifestyles, prompting EVA Air to develop a range of high-fiber, low-fat meals. We recommend you to order the following meals:
Herb Marinated Steamed Chicken Breast with Truffle Salsa and Asparagus
- Whole Wheat Spaghetti
Herb Marinated Pan-Fried Atlantic Salmon with Fine Mesclum Salad
Mystery Asian Health Diet
In the Far East, mushrooms are considered a delicacy and are prized for their medicinal properties. Many edible mushrooms contain lentinan - enhance immune system. We recommend you to order the following meal:
Rock-Grilled Abalone Mushroom in Oriental Sauce
- Asparagus
- Steamed Rice
Authentic Hakka Flavor
Starting October 1, EVA Air email brings you an in-flight Hakka feast consisting of famous dishes.
Braised Pork Ribs with Preserved Vegetables
- Kumquat Sauce
- Double Boiled Pork Shank Broth with Dried Turnip
Le Beaujolais Nouveau Cuisine
Wine connoisseurs everywhere look forward to the third Thursday of November, when this year Beaujolais Nouveau is ready to be uncorked. Specially flown in from Burgundy, southern France, 2006 Beaujolais will be served from 16-22 November.
Pan Fried Cod with Herb on Vegetable Ragout
Roasted Rack of Lamb Chop with Fine Lettuce and Grainy Mustard Vinaigrette
Fresh Fruit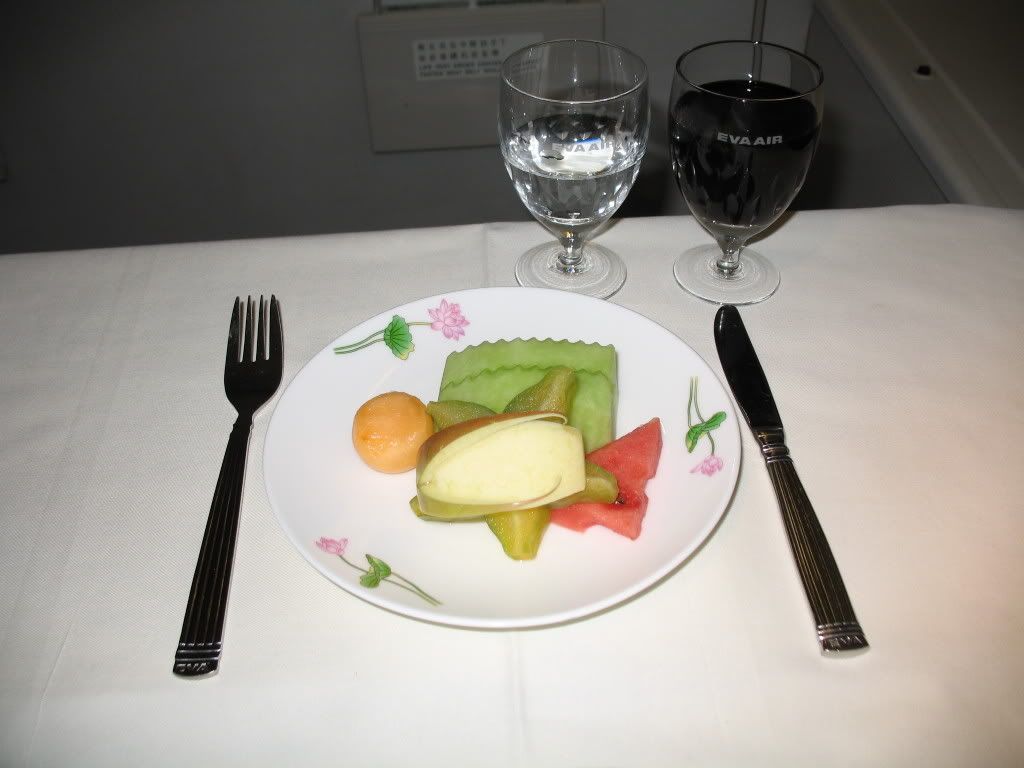 Dessert
- Blueberry Cheesecake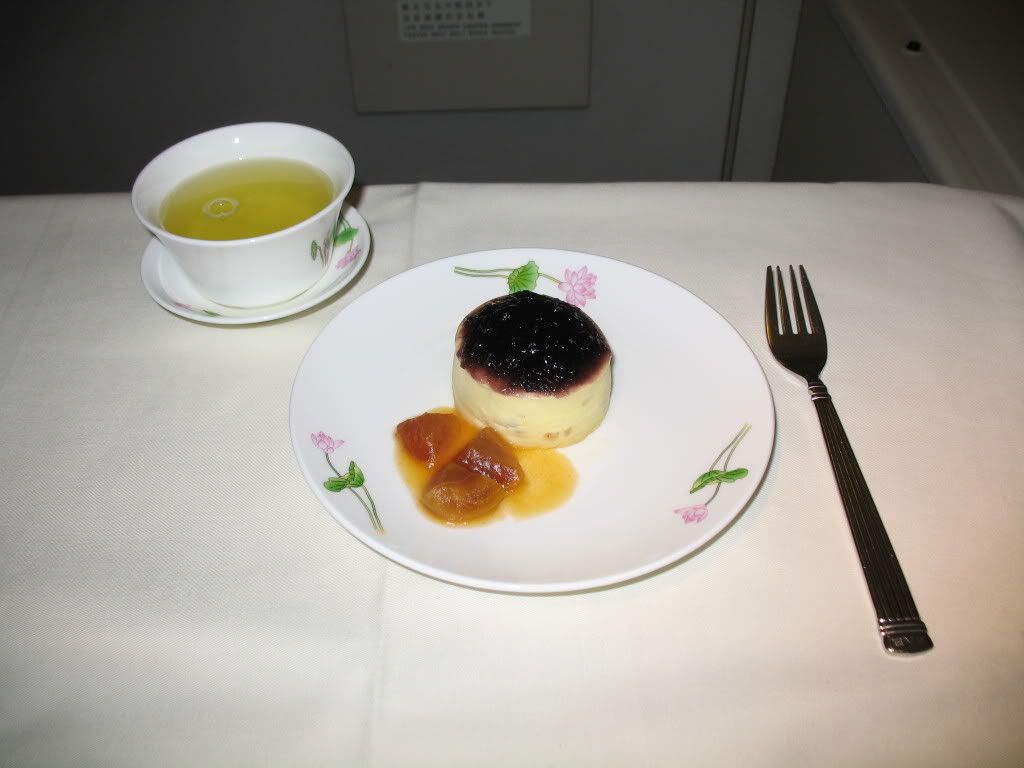 Coffee or Tea served with Godiva Chocolate
Overall, it's what I have come to expect from BR. A solid front-line airline with good folks throughout the process, from reservations, check-in, gate staff, flight attendants, and lounge attendants. I'll continue to fly with BR. They get you and your bags to your destination in one piece and generally on-time, and at a decent price. The meal service was fine. To be honest, you have the opportunity to make your own selection so it's your fault if it's not good. LOL
Here are more of my EVA Air Trip Reports:
Evergreen Deluxe LAX-BKK-LAX without pics
EVA Air Evergreen Deluxe LAX-BKK-LAX
(by
Echster
Nov 27 2004 in Trip Reports)
Super First LAX-TPE with pics
BR First Class LAX-TPE (with Pics)
(by
Echster
Sep 12 2005 in Trip Reports)
Premium Laurel TPE-BKK with pics
BR Premium Laurel TPE-BKK (with Pics)
(by
Echster
Sep 12 2005 in Trip Reports)
Premium Laurel BKK-TPE with pics
BR Premium Laurel BKK-TPE (with Pics)
(by
Echster
Oct 12 2005 in Trip Reports)