Here's another one of my crazy trips for your viewing pleasure. Not quite as ambitious as the last one, but this one had its own uniqueness to it.
12/13/06 - 12/14/06
Total number of flights: 4 (I boarded 5 aircraft though)
Approx. total mileage: 5,450
Total trip duration: approx. 20 hours
MSY-PHL
US1824
Airbus A319
Dep: 1115a (delayed due to PHL ground stop)
Arr: 250p (?)
At 11:00am an announcement was made that due to a ground delay program in PHL, this flight would not board until 11:20, with an 11:45 ETD from New Orleans. 98 passengers were booked on this flight, the first of thee PHL flights that US offers from MSY currently. I was given seat 4F, bulkhead window...fine by me. Boarding did indeed start at 11:20, and the aircraft did push at 11:45, but then the Captain advised the passengers that PHL was now under a ground stop, and that we were to be delayed another half hour, but we'd go wait on the taxi way for clearance. As it turned out, we ended up going BACK to the gate after waiting for 45 minutes....new EDT from MSY was not until 2:00pm local time! I figured my SFO connection was screwed until I realized that the 12:30pm CLT flight was still at the gate so, with any luck, I could catch that one and make my way to SFO for dinner.
Here's a pic I took from seat 4F on the Airbus...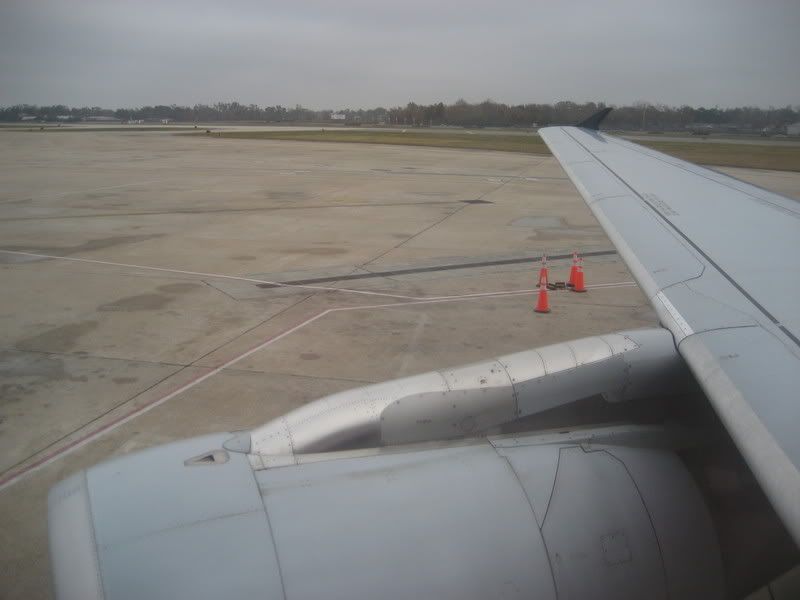 The US agents in MSY are top notch, and they switched me over with no problem. And they even put me up in First, seat 1F, on the 75%-full B737-400.
US1014
MSY-CLT
Boeing 737-400
Dep: 12:30pm (12:55pm actual)
Arr: 3:09pm (3:31pm actual)
First Class was full on this old workhorse, and coach was probably 75% full. We were late pushing back since the agents were switching some more passengers from my original flight to this one. We pushed at 12:55pm and we were airborne by 1:00pm off of runway 1. Not much in the way of in flight service in First....two rounds of drinks and one "snack basket" walk through...but the seat, one of those old leather ones, was amazingly comfortable. After about 1.5 hours in the air, we landed in CLT. Here are the pics.
1) Two heavily delayed A319's bound for PHL (mine was the second one)
2) Climbing over Lake Pontchartrain.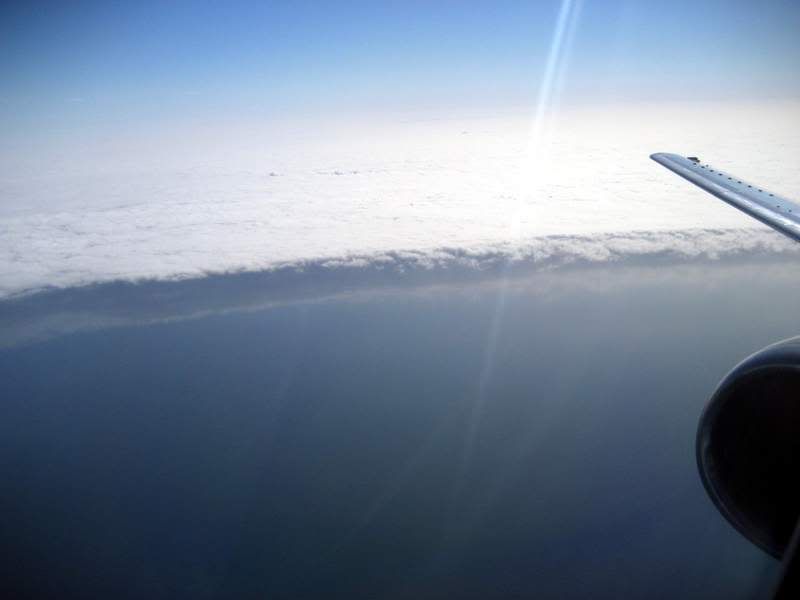 3) At cruise altitude.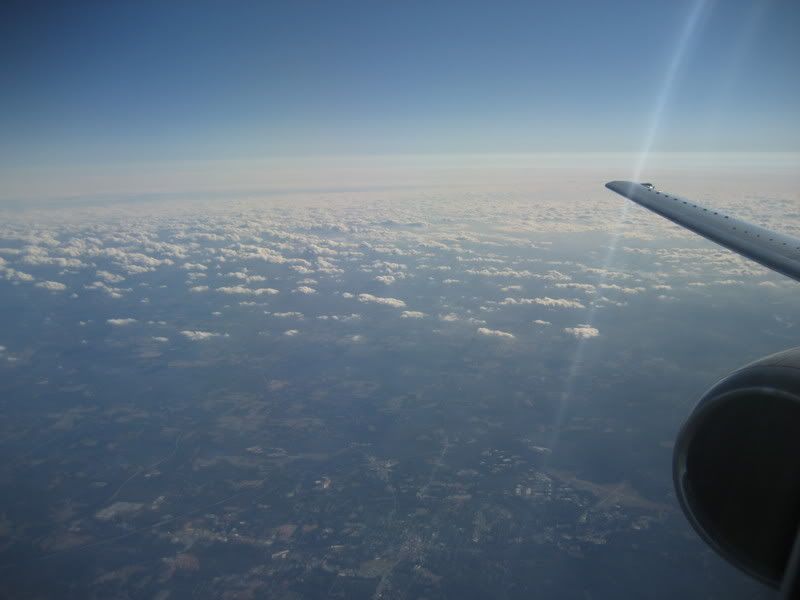 4) CLT seen on our downwind leg.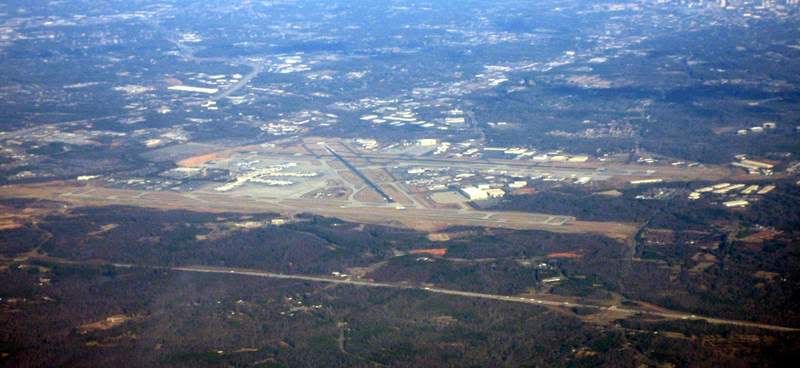 US1437
CLT-SFO
Airbus A321
Dep: 4:15pm (on time)
Arr: 7:03pm (on time)
I had seat 22F on this one. Not a full load today, we went out with 50 open seats in Coach, but First was full. The seat next to me was, thankfully for a 5+ hour flight, empty. Push was ontime at 1615....airborne by 1650 after waiting for about seven planes to takeoff ahead of us. In flights service consisted of a buy on board meal service and two rounds of beverages plus one coffee/tea/water service. Stupid me, I forgot my cash next to my bed at my place and didn't even realize that US didn't accept credit cards for meal purchases for b.o.b items until I got on the plane. My fault totally; HOWEVER, would it kill them to stock some of those mini bags of pretzels? Oh well, not a big deal, i'm trying to lose a few anyway. I just had my two cups of Diet Coke, watched a movie called "Invincible", and listened to my iPod. Here are the pics from this relaxing flight.
1) US A321 interior...sorry about the heads in the seats.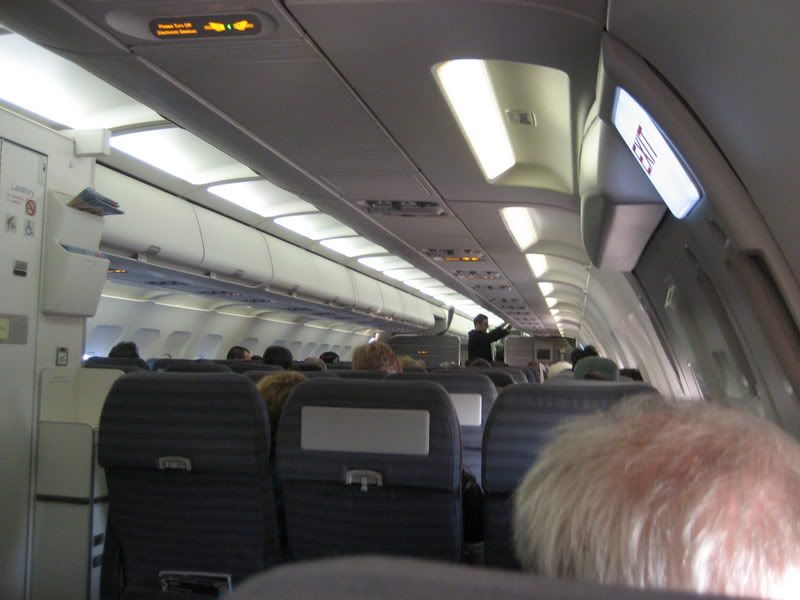 2) At gate B-5.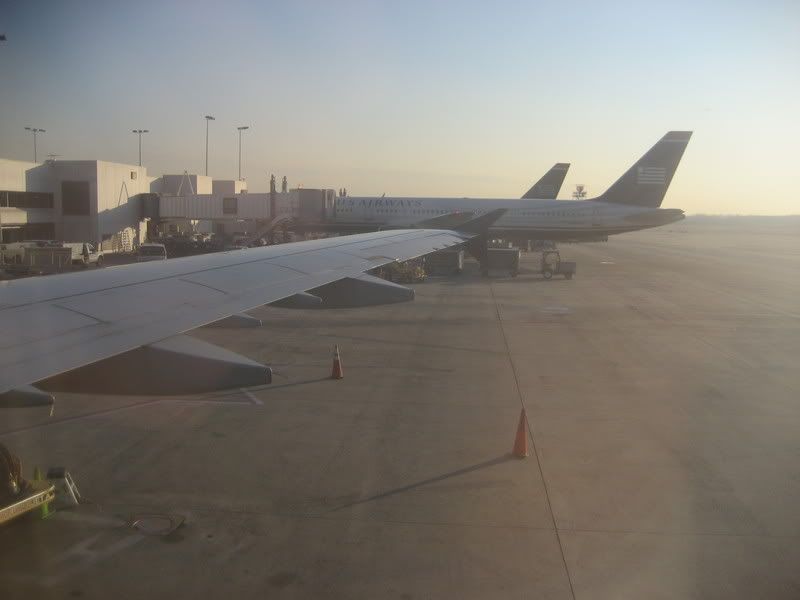 Takeoff video!
Airbus A321 Takeoff from Charlotte
Add to My Profile
|
More Videos
3) Just after takeoff...very pretty...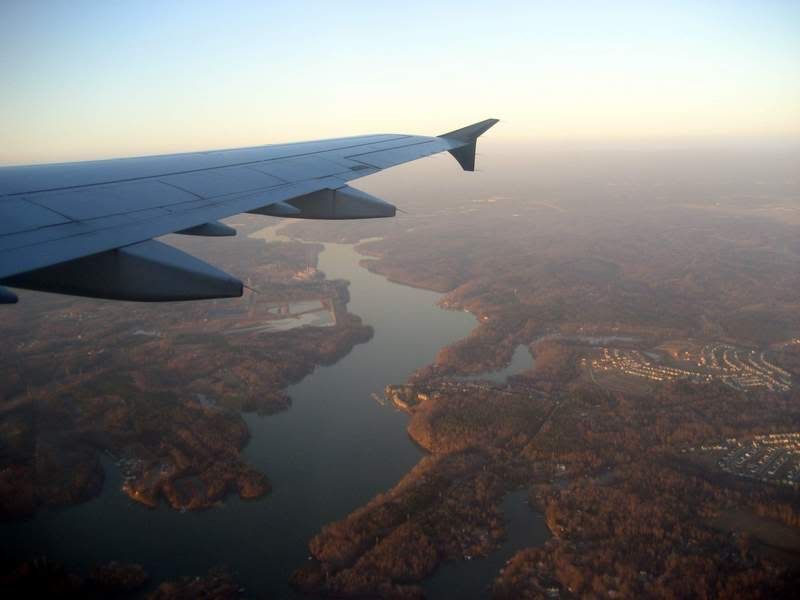 4) More gorgeous sky.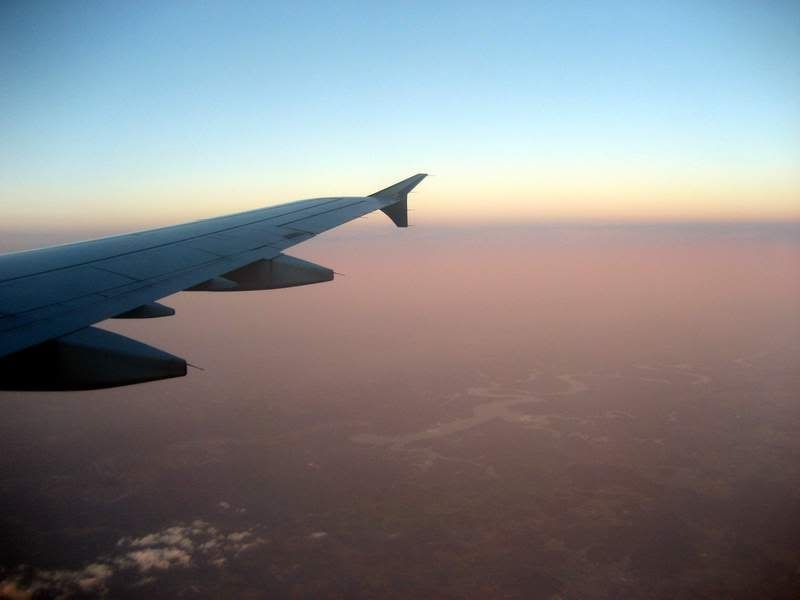 5) Wingtip fence semi close up.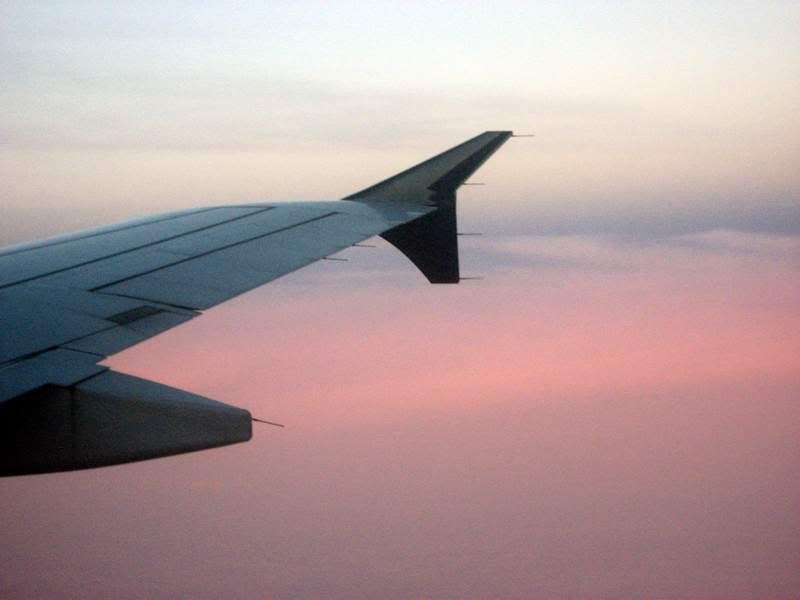 After that last picture it got dark quickly. The portion of the flight from Pueblo, CO all the way to SFO was very bumpy, so our final drink service was never offered. Straight in approach into SFO from the East. Parked at gate 20-something.
I hit the TGI Friday's with a vengeance (bye bye diet!) since I was officially starving at that point. I then went back through security towards the FL gate, which is in the CO gate area. It gets crowded in that area quickly!
FL52
SFO-ATL
Boeing 737-700
Dep: 10:40pm (on time)
Arr: 6:11am (actual 6:03am)
This flight was about 90% full, but I lucked out and got an aisle seat with the seat next to me open...29D to be exact. Spotlessly clean aircraft, and comfortable, as the FL 73G's tend to be. I got one cabin shot before we pushed...and it would be the only shot of the flight.
Flying time to ATL was 4h02min. Two beverage services, pretzels, and a coffee/tea service was offered. I listened to the XM radio for awhile before forcing myself to get some sleep...I probably slept half the flight fairly soundly. I woke up as the captain announced we were :30 from ATL. Smooth landing, and we parked at gate C4 I think it was.
FL453
ATL-MSY
Boeing 717-200
Dep: 8:10am (on time)
Arr: 8:45am (on time)
I had seat 3A on this ex-TWA 712. Five others joined me in Business Class on this flight, including the parents of NBA player Chris Paul, who, along with 30 family and friends, were flying to NOLA to see Chris and his New Orleans (not Oklahoma City) Hornets play later that evening at the N.O Arena. Coach cabin had about 80 passengers in it. In flight service on this 1h17min flight was excellent as usual, and the lead F/A was one of the best i've ever seen....in fact I'm writing him a compliment letter.
1) FL 717 Business Class...very nice.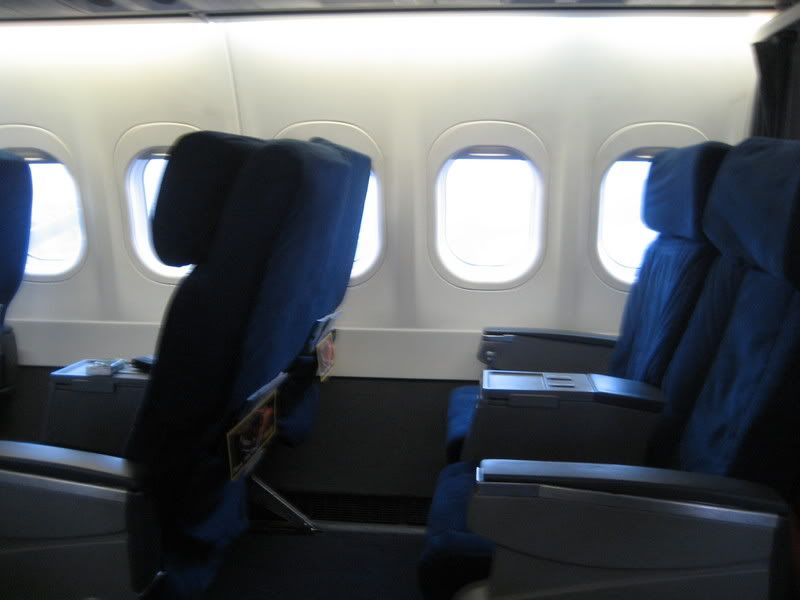 2) Just a tad foggy.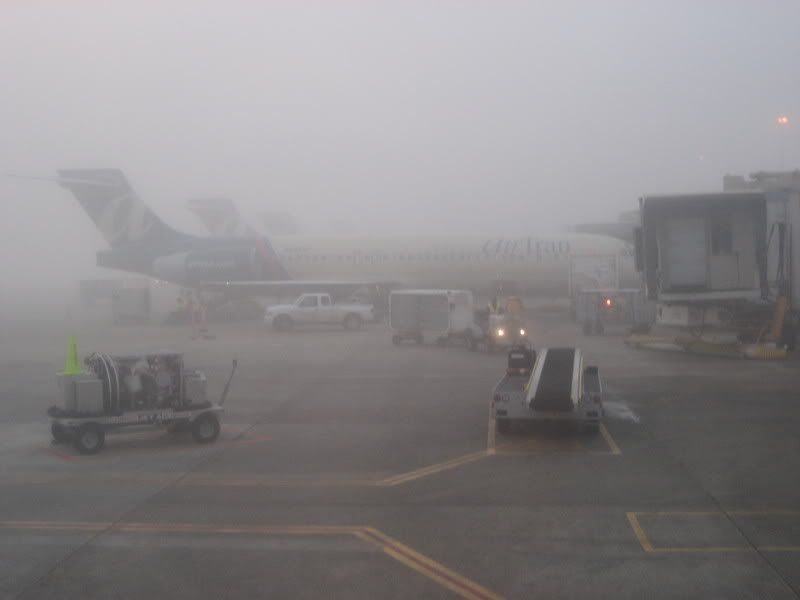 3) Liftoff through the muck.
4) Downtown Hotlanta.
5) At cruise.
....and finally, our landing in a dreary New Orleans. Thank god for the ILS that's all I can say. Talk about a smooth landing though. A real grease job. Bravo, First Officer!
Boeing 717 landing in New Orleans
Add to My Profile
|
More Videos
Thanks for checking out this trip report, and I hope you and yours have a safe and happy holiday season!