This is the final part of my trip to BKK from LAX. The first part can be found here:
EVA Air Super First LAX-TPE-BKK With Pics
(by
Echster
Dec 12 2006 in Trip Reports)
29 November 2006
Bangkok Suvarnabhumi International (VTBS/BKK) – Taipei International (RCTP/TPE)
EVA Air Flight 212 (BR 212)
Boeing 777-300ER
B-16702
Scheduled Departure – 1235, Actual – 1245, Airborne – 1300
Scheduled Arrival – 1655, Actual – 1701, Gate – 1706
Premium Laurel Class
BKK – Gate E10, TPE – Gate C3
Hung-over from a final night of partying with friends and family, I made it to the new BKK airport 90 minutes from scheduled departure. BR's check-in for this flight was at Row R on the 4th level. The only way to describe it is as you drive into BKK and reach the terminal, go all the way down to the end.
Upon entering the terminal, BR's check-in was straight ahead and to the left. The order of check-in from entry is opposite that from Don Muang. Premium Laurel closest to the terminal entry, followed by Elite and Economy. This was originally a scheduled B744 flight but changed to a B773ER before I left the States. The Premium Laurel line was empty when I arrived but the others filled and moving. Straight to the counter for check-in. My single bag was checked through to LAX and I received boarding and lounge passes for BKK and TPE. It was then a very short walk to pay the 500 baht departure tax, which they didn't have machines like Don Muang, at the booth set-up just outside Immigration. The lines at Immigration were small and I was through in a matter of minutes.
I made it through Immigration and headed out for the BR Lounge. The lounge pass has a small map and isn't hard to find. However, the AOT didn't make it easy to navigate the inside of the new airport. It's fair to say the duty free areas are just all over the place. To get there, leave Immigration and turn right. Continue down the hall until you reach, if IIRC, a teak roof-like structure where the hall splits from bi-directional to quad-directional. You will see a BR flight attendant cut-out that points you to the right, toward a down escalator. Also remember there are signs to the "Muslim Prayer Room". Yes, you have to go down from the 4th level. From there it's a right turn and just on your left. Here's what you'll see:
BR BKK Evergreen Lounge Entrance
The desk is straight ahead. The lounge is to the right. Here are the views as the glass doors slide open:
Left Side Entry View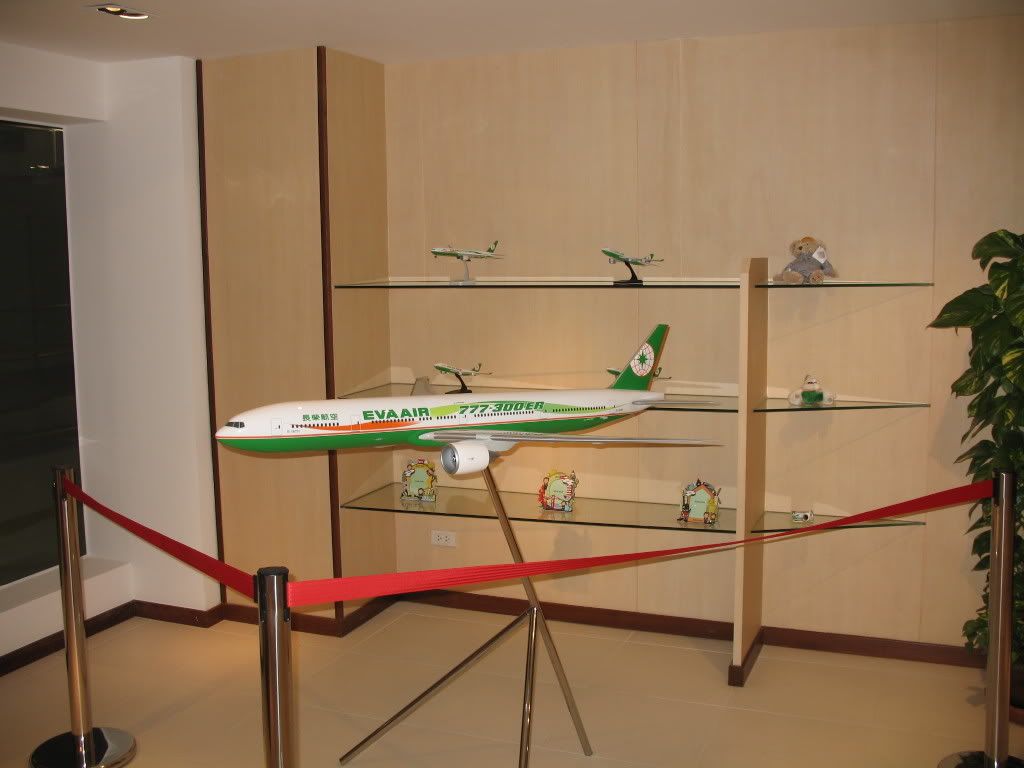 Right Side Entry View
I went all the way to the back and sat on the left side. Here are some pics of the BR BKK Lounge:
Lounge Area
Buffet Area
– Food being offered included pizza, dumplings, finger sandwiches, petit fours, and snacks.
Drinks Section of the Buffet
– Very nice spread for a BR lounge, IMHO.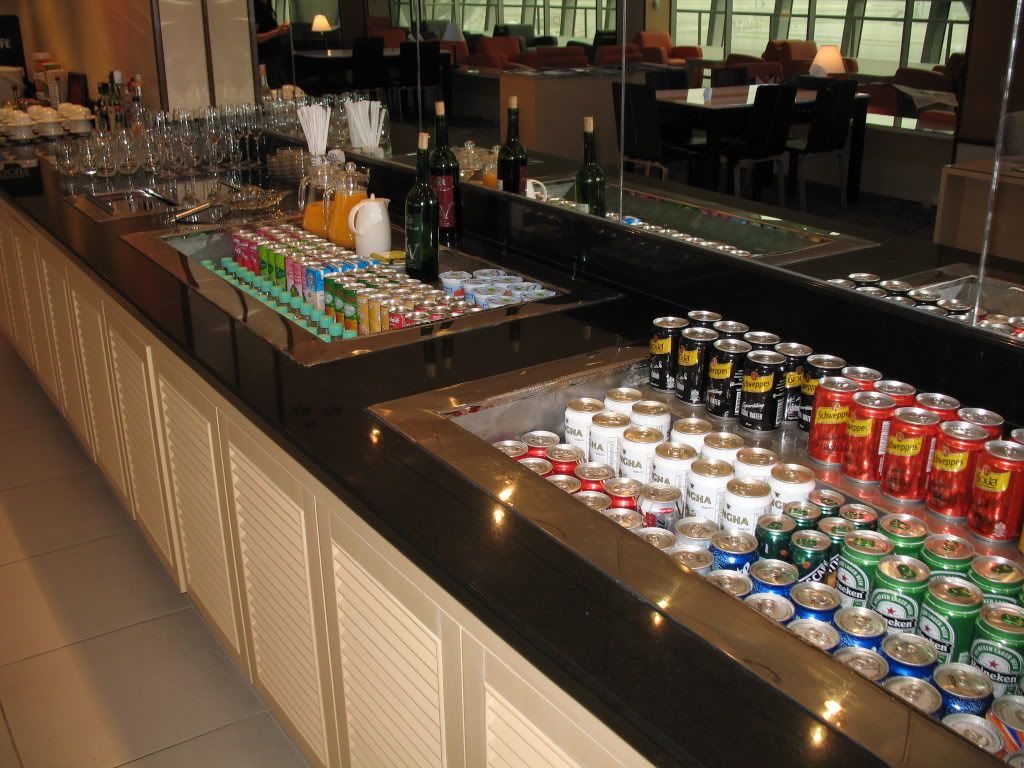 Massage Chair Area
– This seat is in the open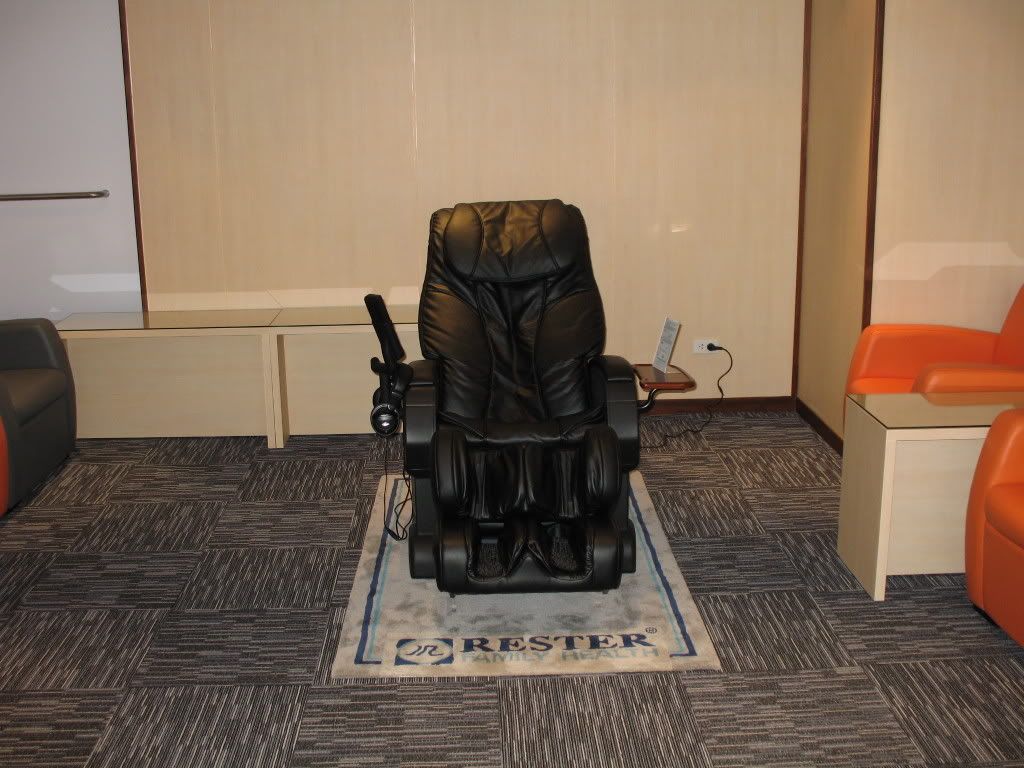 Massage Chair Area
– These 3 seats are semi-private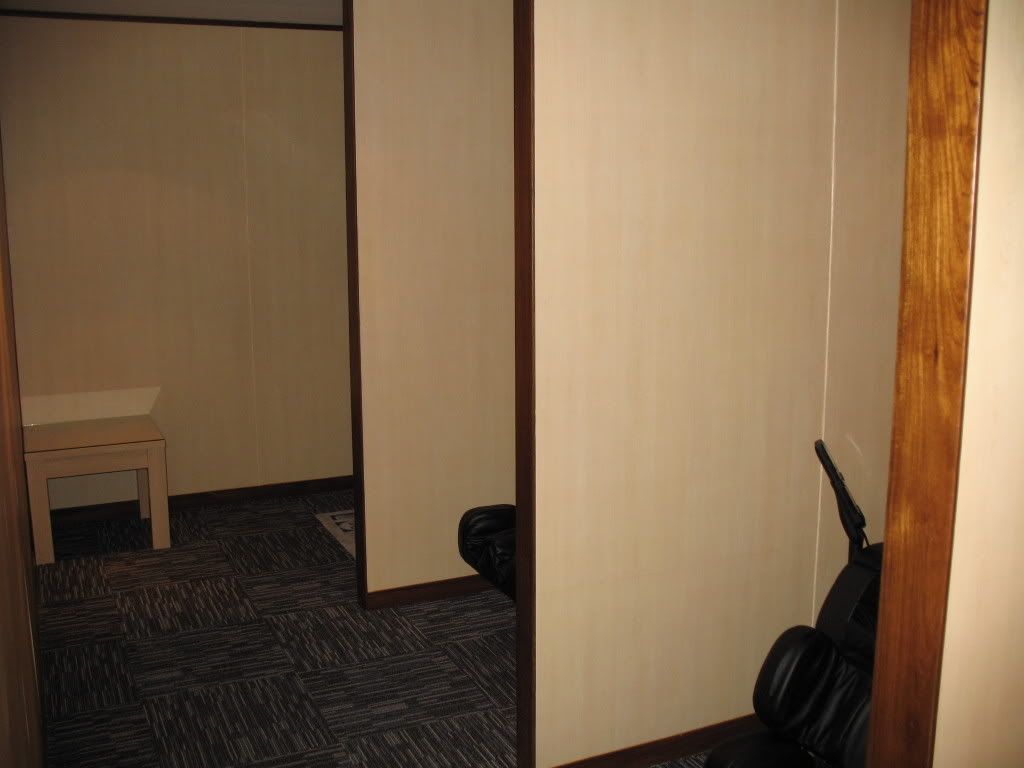 Yes, I used the massage chairs!!! Very nice.
In the back of the lounge is the internet area. There are 4 PCs set-up for access. The BR BKK Lounge also has wireless access.
Internet Station
The bathroom is the first right after entering the lounge. There are, IIRC, 3 urinals and 3 stalls, 2 sinks, and a shower.
Restroom
Sinks
Shower Entry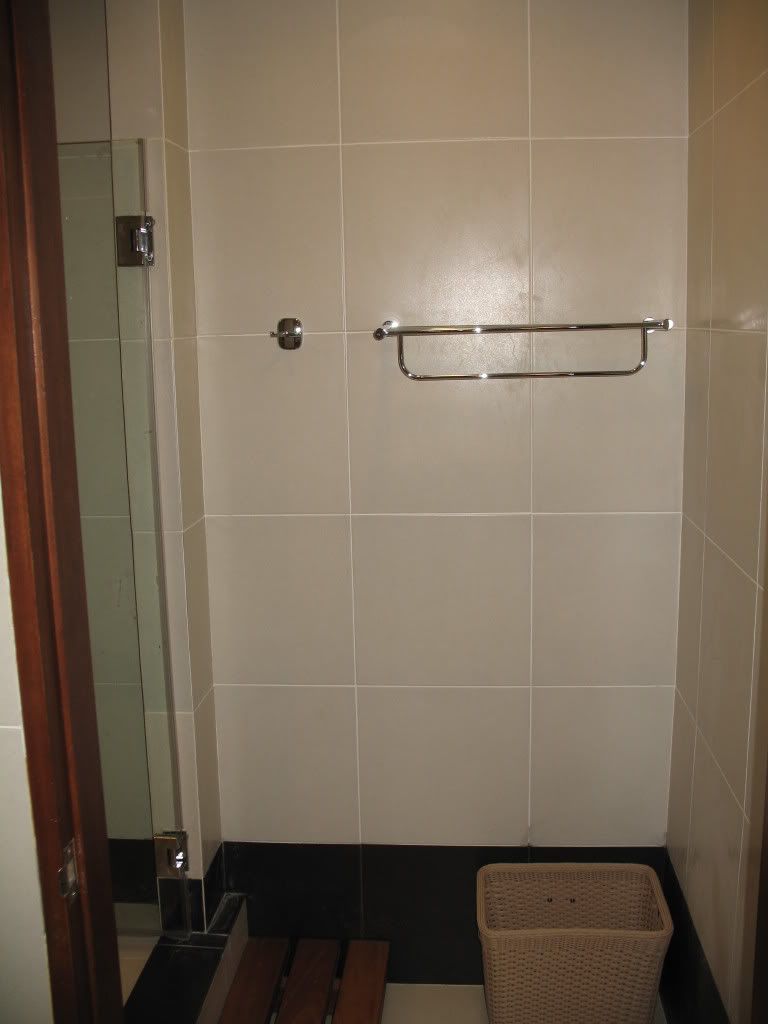 Shower
It was now time to head for the gate as boarding had already commenced. It's out of the lounge and back up the escalator. Then proceed straight ahead for security. Once checked continue to your gate via the moving walkways. It is then awkwardly down several descending walkways to the gate where your boarding pass is taken and your passport examined. From there it's down the jetway to the aircraft.
Once settled in, I received a pre-departure drink and a hot towel. A flight attendant also swung by to verify my lunch choice. I was one of the last to board so the doors closed soon after I sat down. We pushed back just a few minutes late and began the long taxi from our gate to Runway 19L. We were the only aircraft departing so it was onto the runway and a quick departure.
Terminal View Departing Runway 19 Left
There was no doubt it was going to be a bumpy ride. You could see the clouds building. We made a straight-out departure, almost reaching the Gulf of Thailand before turning to the northeast.
Gulf of Thailand
Chao Phraya Delta
Lunch was served about 35-40 minutes after departure because of the turbulence. Below are the menus and pics.
Wine Menu
Champagne
- Duval – Leroy Fleur de Champagne Brut NV
France White Wine
- Domaines Schlumberger Pinot Gris Les Princes Abbes 2004
German White Wine
- Dr. Loosen Bernkasteler Lay Riesling Kabinett 2005
Bordeaux Red Wine
- Chateau Lamothe Bergeron 2001
California Red Wine
- Blackstone Sonoma County Merlot 2003
Fortified Wine
- Burdon Dry Fino Sherry
- Graham's LBV Port 2000
Lunch
Hors D'oeurve
- Whole Duck Foie Gras with Broad Beans
Main Courses
Chicken Thigh Teriyaki Sauce
- Simmered Vegetables
- Steamed Rice with Sesame
Stir Fried Pork Belly with Leek and Sichuan Chili Sauce
- Sautéed Broccoli, Carrot Flower, and Black Mushroom
- Tossed Flat Egg Noodles
Poached Trout Fillet with Hollandaise Sauce
- Pumpkin Mousse with Sesame
- Boiled Potatoes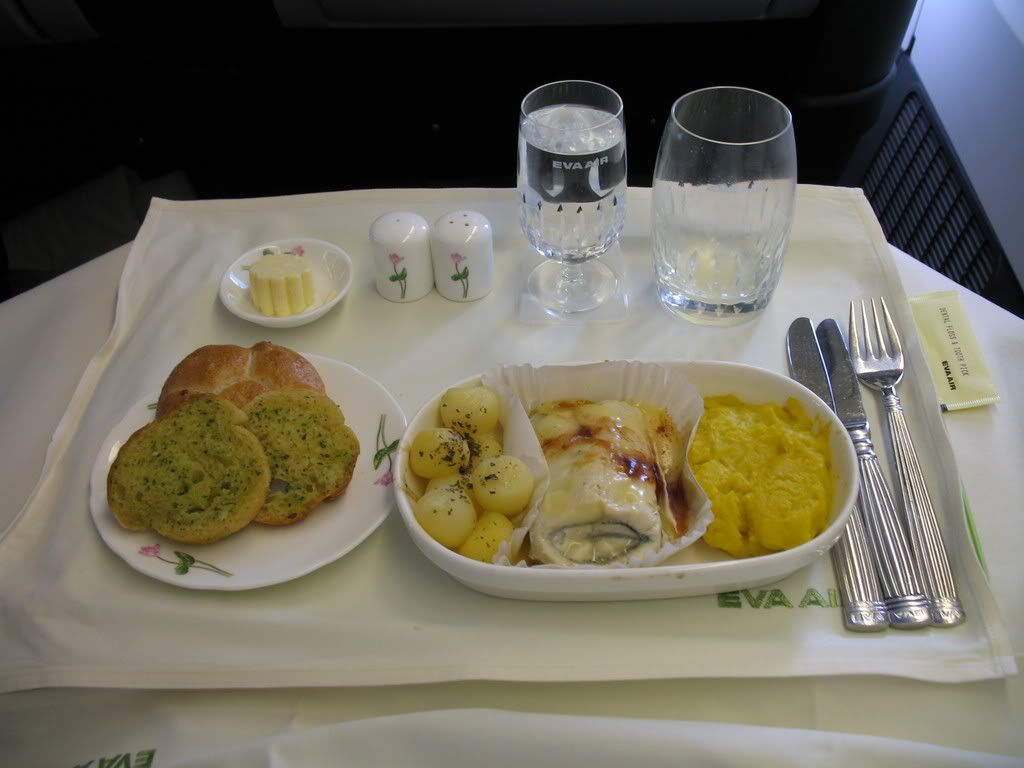 Internet-Only Order Options
Roasted Duck with Red Curry Sauce Thai Style
- Sautéed Turnip with Garlic
- Fried Egg with Spring Onion
- Steamed Rice
Grilled Sea Bass with Egg Yolk Sauce
- Simmered Vegetables
- Steamed Rice with Sesame
Slow Cooked Lamb Shank with Red Wine, Rosemary and Garlic Sauce
- Assorted Vegetables
- Potatoes
We were between the main course and fruit and cheese service as we overflew Danang. This view is of the Vietnam coast to the south of Danang.
Cheese and Seasonal Fruit
– Served with a small glass of port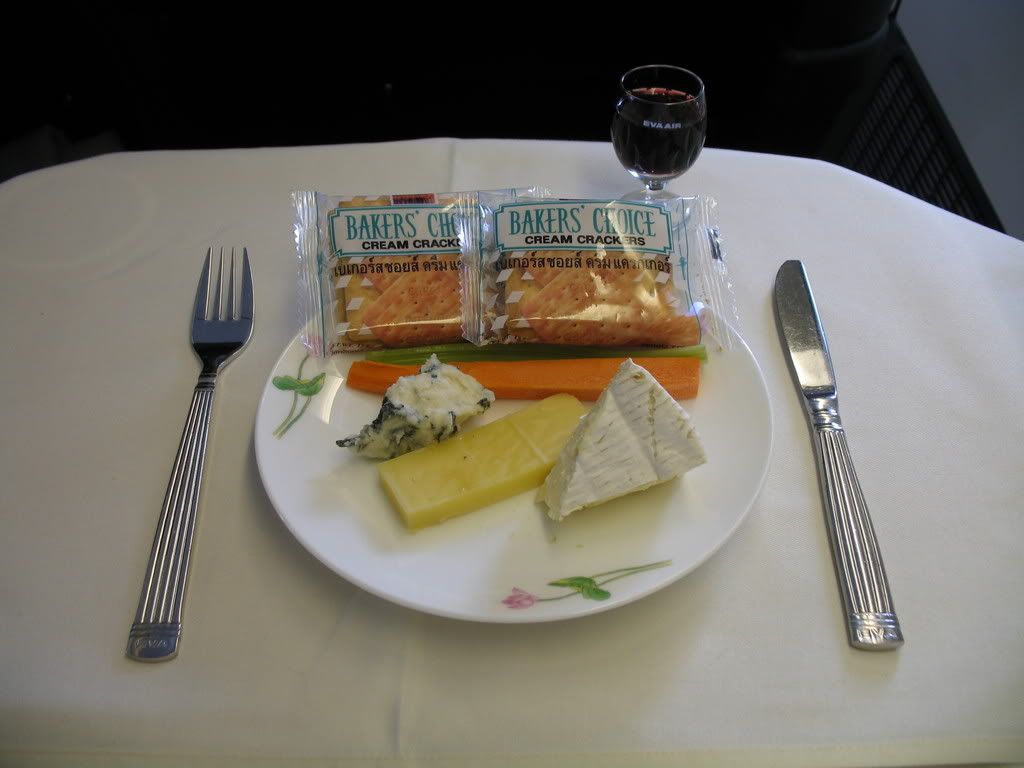 Dessert
- Coffee Ice Cream
- Sesame Cream Brulee
Freshly Brewed Coffee or Tea
We continued to Taiwan for landing at the Taipei Airport.
Route of Flight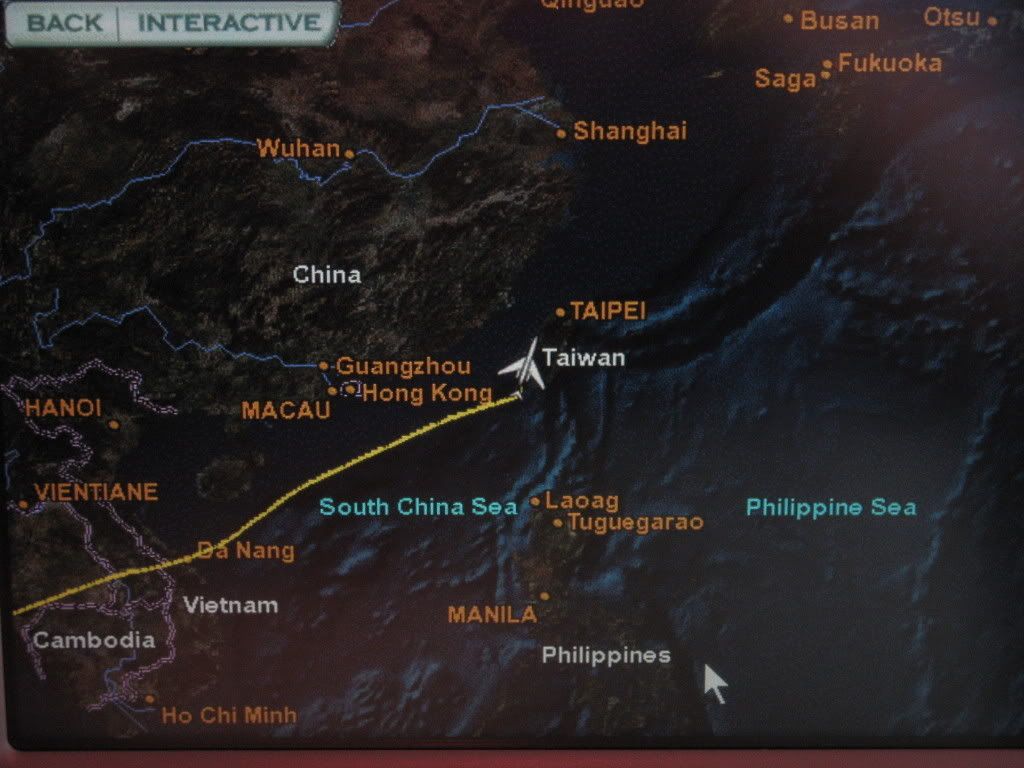 We crossed into Taiwan over the southwest coast. Here is a pic through the clouds of the Tainan Airport as we reached landfall.
Tainan Airport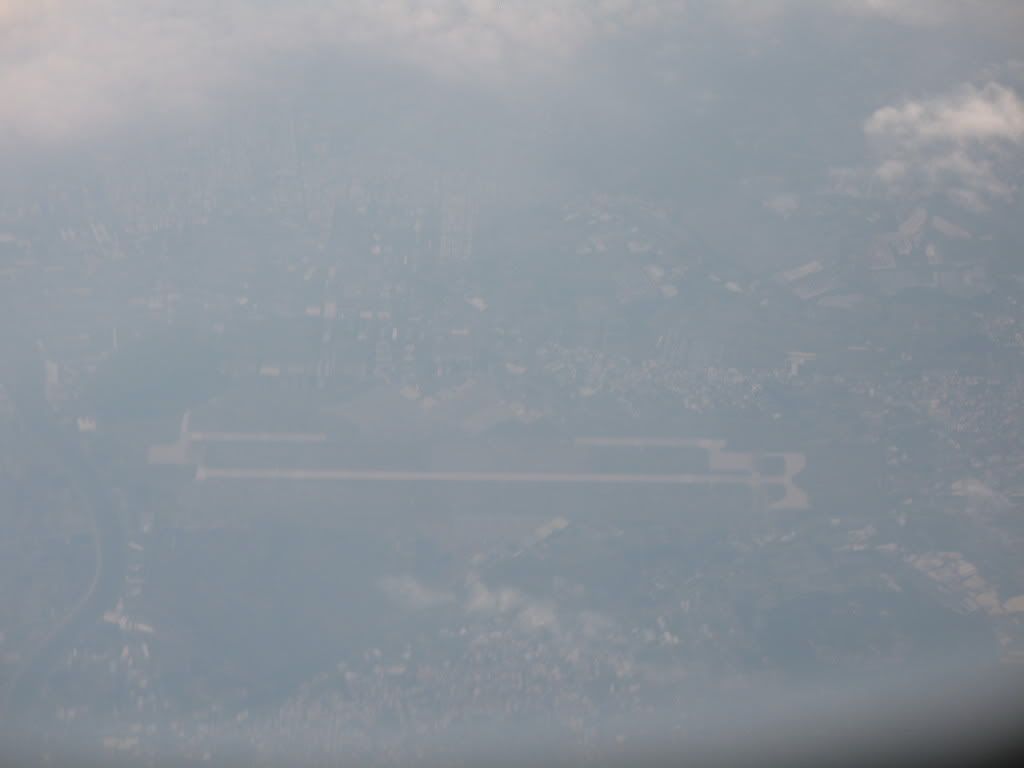 The weather over Taiwan this day was overcast. Here's what it looked like: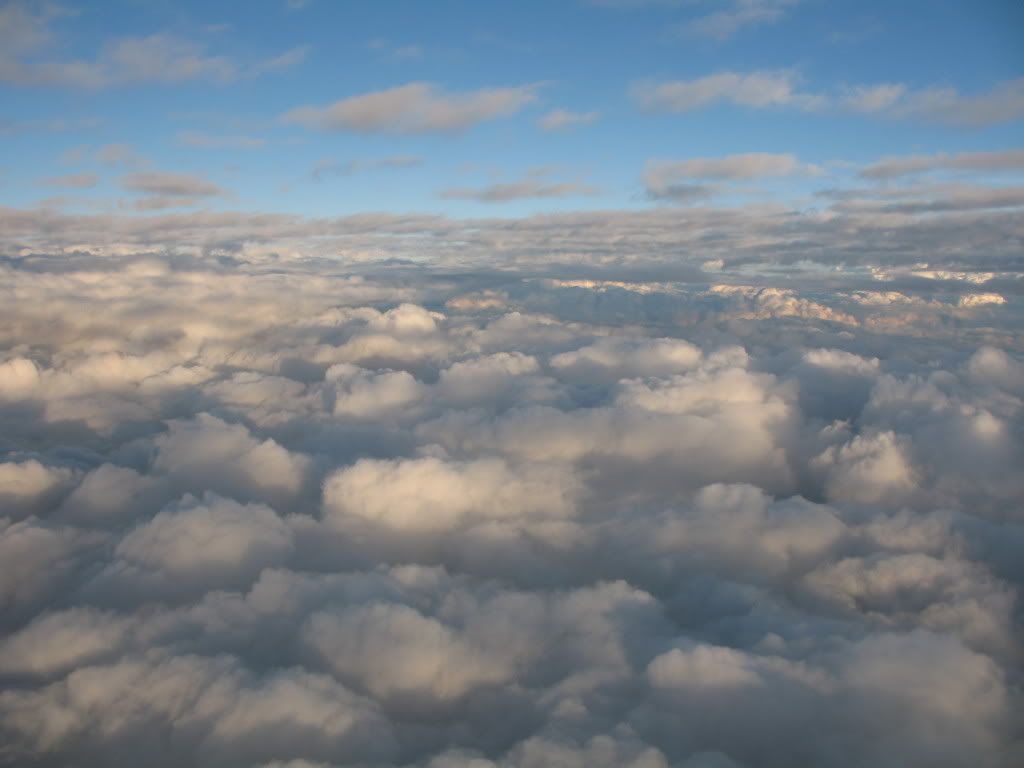 We finally began our descent into the clouds.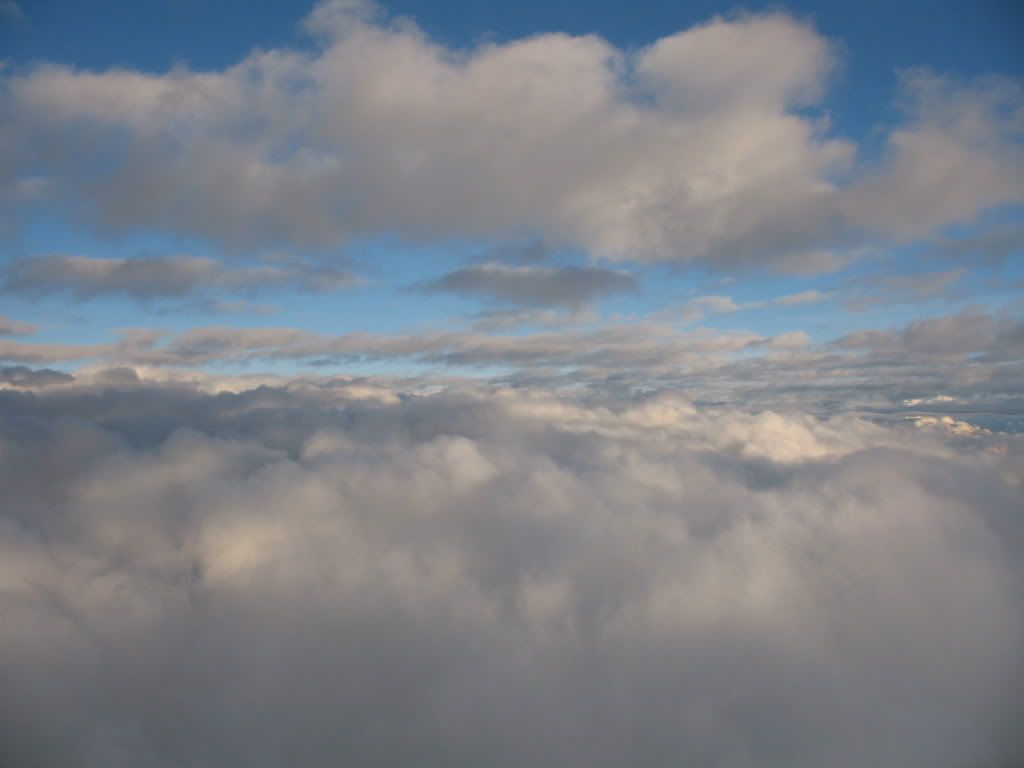 Here's a decent silhouette of the B773ER as we descend into the cloud cover prior to touchdown.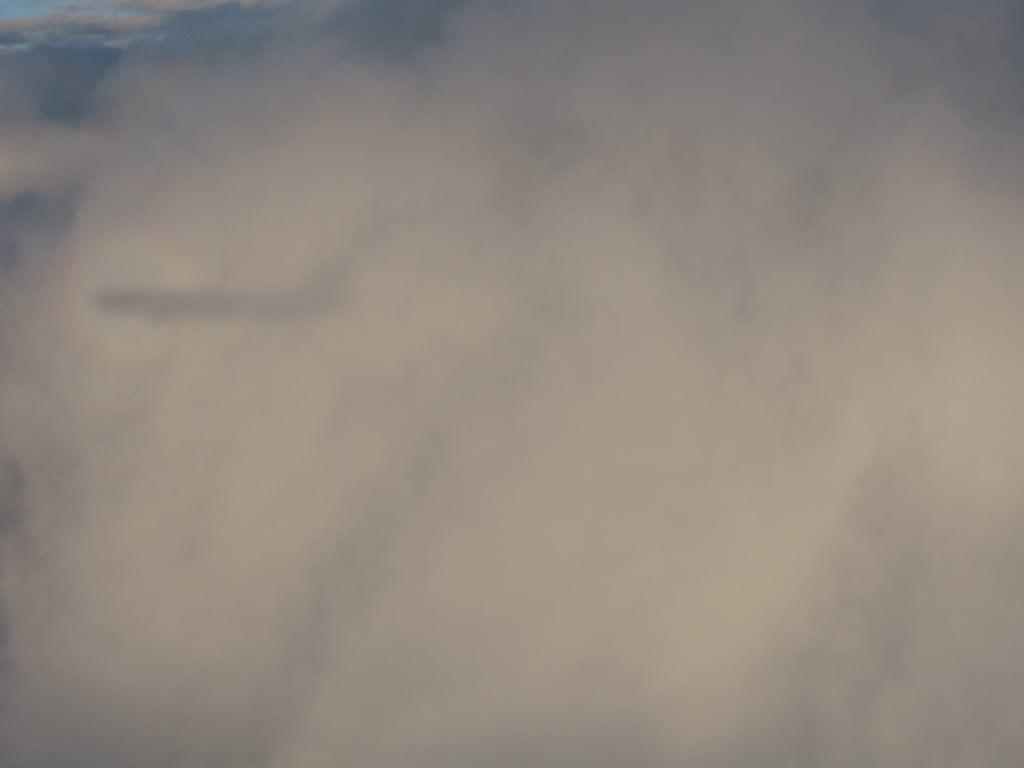 29 November 2006
Taipei International (RCTP/TPE) – Los Angeles International (KLAX/LAX)
EVA Air Flight 12 (BR 12)
Boeing 747-400
B-16412
Scheduled Departure – 1840, Actual – 1855, Airborne – 1705
Scheduled Arrival – 1405, Actual – 1401, Gate – 1413
Super First Class
TPE – Gate C8, LAX – Gate 104
I had about an hour between from landing in TPE until boarding began for LAX. I used the opportunity to use the F Class Lounge and shower facility in TPE. Off the aircraft, into the terminal and through security to transfer. The line was quite long as several flights had landed close together. A lot of folks were transferring from Asia to SFO, LAX, and SEA/EWR. It took about 10 minutes to get through the transfer process.
Finally through and up the escalators to the terminal. It's then a short walk to the escalators that take you up to BR's Lounge area. I checked in at the desk and received a shower kit. Not much to it, a couple of towels. I had a small hygiene kit with me. Man, the shower felt so good.
After the shower, I grabbed some water and an orange juice from the bar. The food really looked good but I wasn't going to eat in the lounge then a short while later on the aircraft. I wish I had remembered to take pics for you guys but I was tired from having very little sleep the last night in BKK.
Time to board so I left the lounge and headed for the gate. Boarding had just begun when I arrived. There were 2 lines set-up for boarding. A line to the left for F/C/Diamond Card members, a line to the right for Evergreen Deluxe/Economy. The line on the left was small so I made my way through the crowd to board. Two jetways were used. First Class and Evergreen Deluxe seating was through the left door so I knew we were sitting on the bottom deck in the nose. This configuration B744 for BR has 80-inch pitch with 3 rows of 2-2 seating. This leaves a lot of room between aisle seats. I believe the load was 10/12 with 4 couples and 2 singles. I had an empty seat next to me for this leg.
We pushed back a little late and held short for 2 arrivals. The captain told us it was going to be a bumpy departure as there was a typhoon somewhere up ahead. We departed Runway 6 using almost the entire length. Bumpy doesn't describe our climbing to initial altitude. I would call it more of a constant up-and-down, side-to-side motion that last from takeoff to FL280. I was starting to feel a little ill until we climbed above weather.
Seatbelt signs finally off, the flight attendants got moving. This flight had Beaujolais Nouveau wine service. IIRC, this is the first wine of the season out of France. I went with that for pre-dinner and dinner drinking and it was quite good.
The wine menu was the same as out of LAX, except for the added Beaujolais Nouveau. I planned for more pics this leg but I slept from dinner until just before landing. I also didn't write down the entire menu for this leg or take breakfast pics since I slept through it.
Wine Menu
Champagne
- Moet and Chandon Dom Perignon 1998
Burgundy White Wine
- Albert Bichot Domaine Long-Depaquit Chablis Grand Cru 'Blanchot' 2002
German White Wine
- C. von Schubert Maximin Grunhauser Abtsberg Riesling Spatlese 2003
New Zealand White Wine
- Matua Valley Paretai Marlborough Sauvignon Blanc 2005
Bordeaux Red Wine
- Chateau Gruaud Larose 1999
California Red Wine
- Franciscan Oakville Estate Merlot 2003
Australian Red Wine
- Yalumba Cabernet Sauvignon Shiraz Barossa Valley 2002
Fortified Wine
- Burdon Dry Fino Sherry
- Graham's LBV Port 2000
Dinner
Amuse Bouche
- Smoked Salmon
- Parma Ham
- Balsamic Pickled Onion
- Other things but I can't remember
Caviar
- Caspian Iranian Caviar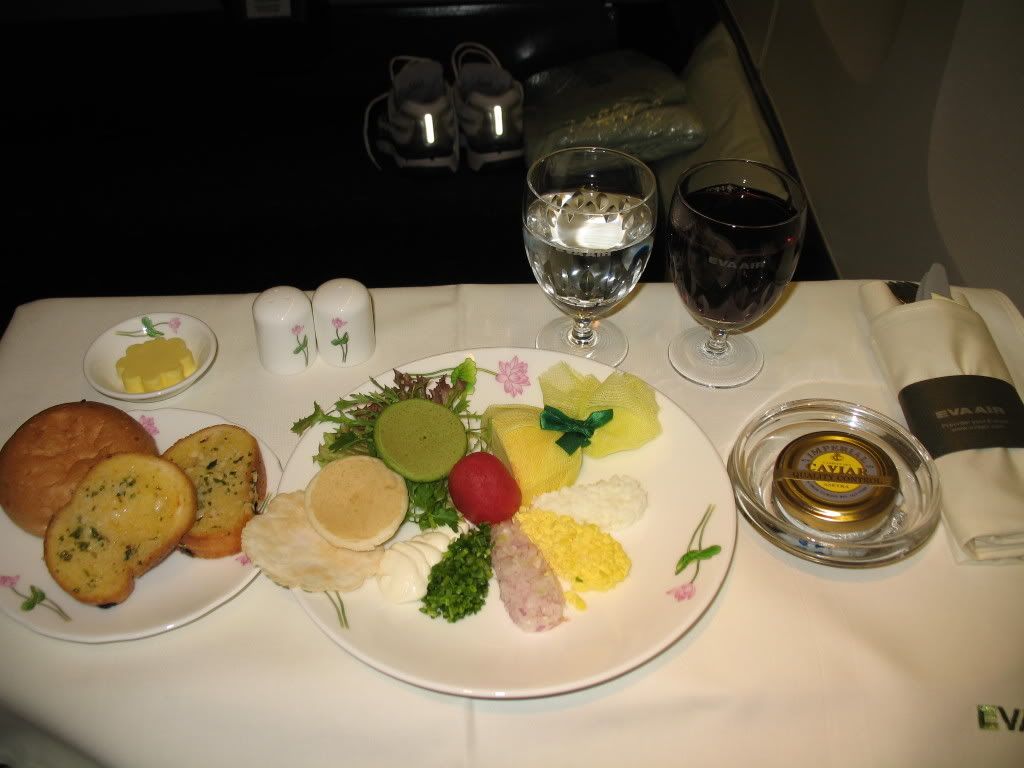 Soup
- Zucchini and Potato Cream Soup Served with Lobster and Vegetables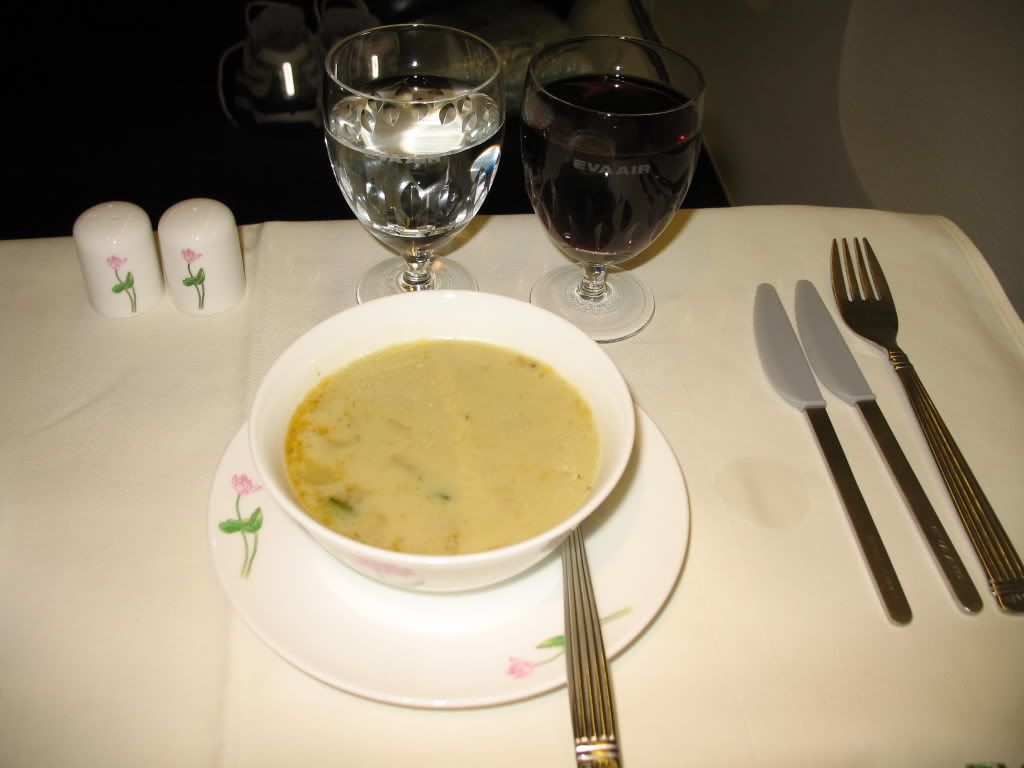 Seasonal Salad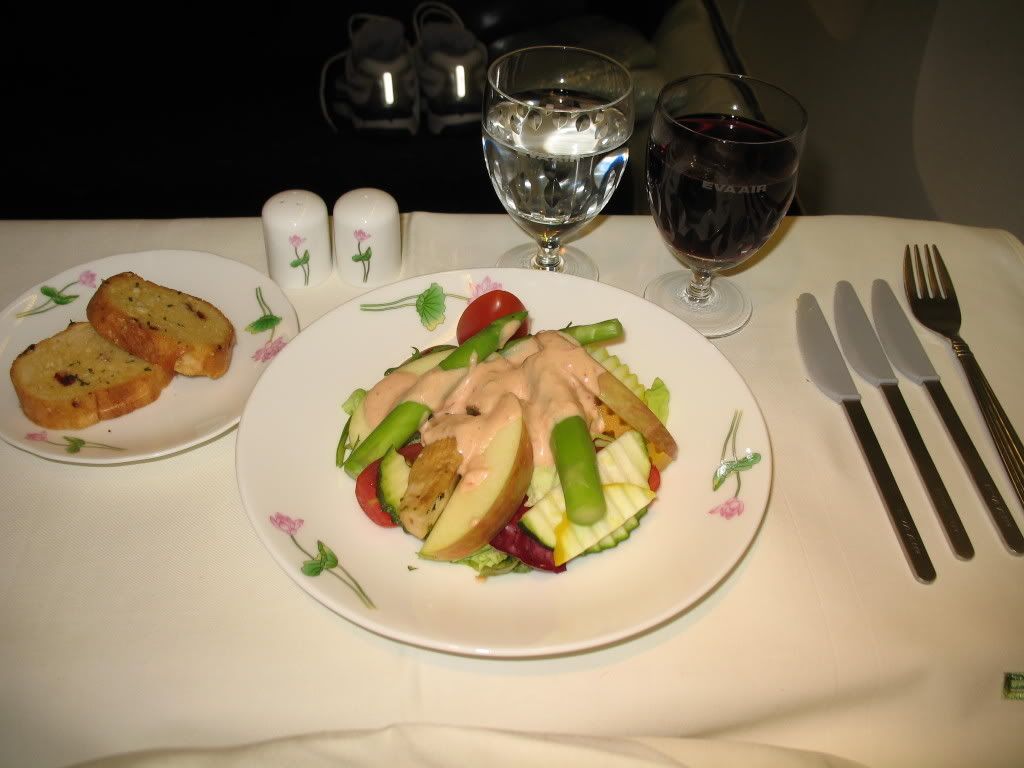 Main Courses
Pan Fried Chicken with Orange and Prune Cream Cheese Filling
- Ratatouille
- Linguini
- Buttered Asparagus
Wok Fried Seafood with Ginger and Spring Onion Sauce
- Mixed Vegetables
- Steamed Rice
Pan Fried Beef Fillet
- Apricot and Bell Pepper Chutney
- Mixed Vegetables
Internet-Only Order Options
Braised Pig Trotter in Asian Herbal Sauce served with Logtivity Fine Noodles
- Pak Choy
Din Tai Fung Stewed Beef Shank with Noodle Soup
- Stir Fried Preserved Vegetables
Braised Whole Abalone in Oriental Sauce and Savory Glutinous Rice with Crab Meat in Shell
- Lettuce in Oyster Sauce
Savory Glutinous Rice and Fish Ball Soup
- Marinated Cucumber
- Stewed Beef Shank and Beef Tripe
- Stewed Duck Egg
Lobster Thermidor with Buttered Potatoes and Vegetables
- Buttered Carrots
- Buttered Green Zucchini
- Buttered Pumpkin
- Buttered Chateau Potatoes with Chopped Parsley
Pan-Fried Beef Medallion Topped with Foie Gras on White Truffle Polenta
- Buttered Green and Yellow Zucchini Slices
- So good!!!!!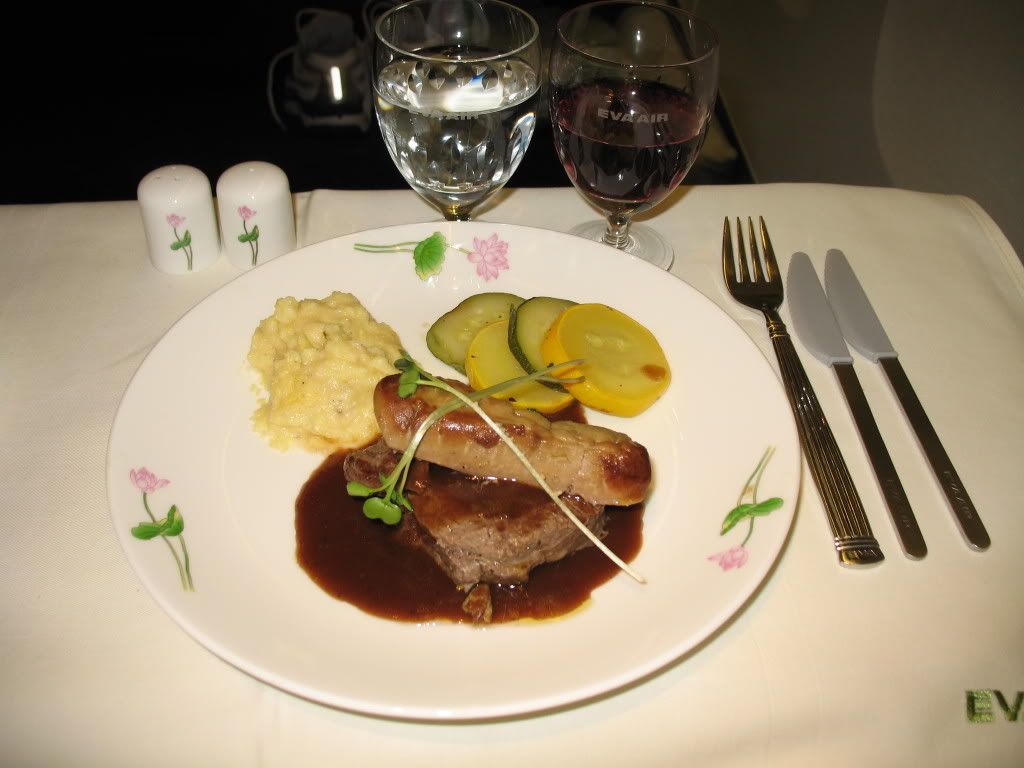 Under The Mediterranean Sun
Travelers demand wholesome cuisine that suits their active lifestyles, prompting EVA Air to develop a range of high-fiber, low-fat meals. We recommend you to order the following meals:
Herb Marinated Steamed Chicken Breast with Truffle Salsa and Asparagus
- Whole Wheat Spaghetti
Herb Marinated Pan-Fried Atlantic Salmon with Fine Mesclum Salad
Mystery Asian Health Diet
In the Far East, mushrooms are considered a delicacy and are prized for their medicinal properties. Many edible mushrooms contain lentinan - enhance immune system. We recommend you to order the following meal:
Rock-Grilled Abalone Mushroom in Oriental Sauce
- Asparagus
- Steamed Rice
Authentic Hakka Flavor
Starting October 1, EVA Air email brings you an in-flight Hakka feast consisting of famous dishes.
Braised Pork Ribs with Preserved Vegetables
- Kumquat Sauce
- Double Boiled Pork Shank Broth with Dried Turnip
Cheese and Seasonal Fruit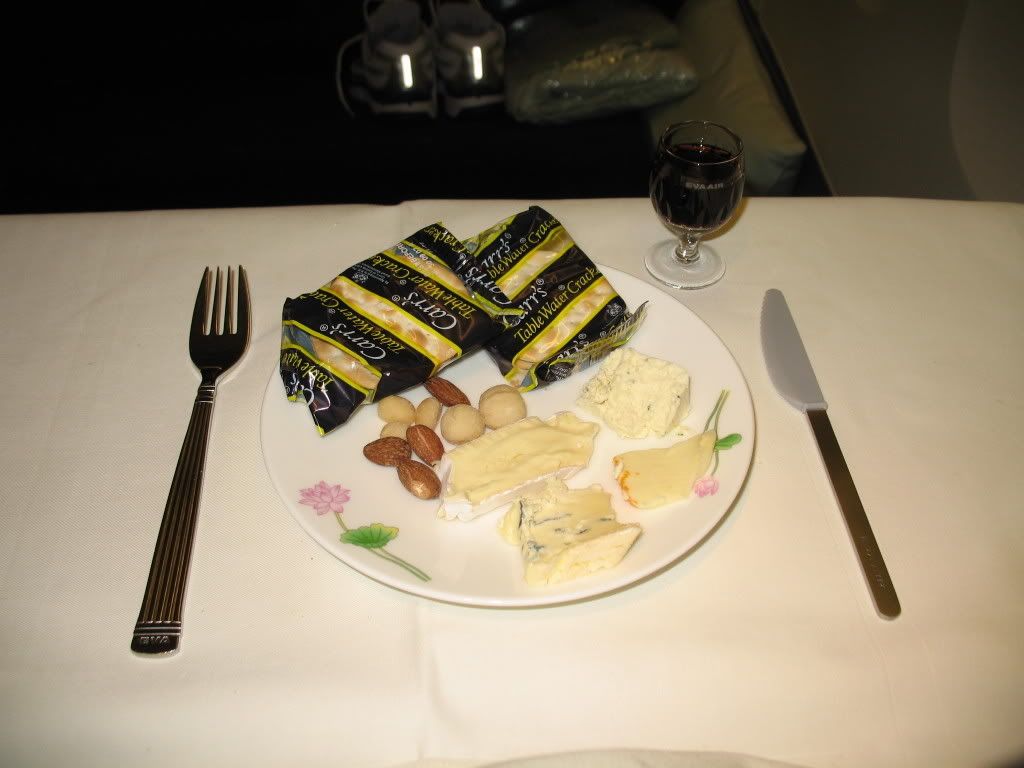 Dessert
- I can't remember, but I think it was a souffle and cherry ice cream with a mango sauce. It was good, though!!
Coffee or Tea served with Godiva Chocolate
As I said, I slept through breakfast but here's the menu.
Breakfast
Hot Beverages
Fresh Fruit
Choice of Bread
Cereal and Yogurt
Main Courses
Baked Crepe with Scrambled Eggs and Mushrooms
- Pan Fried Veal Sausage
- Roasted Tomato with Salt and Herbs
- Mixed Vegetables
- Home Fried Hash Brown Potatoes with Chopped Parsley
Din Tai Fung Juicy Pork Dumpling
- Din Tai Fung Vegetables with Pork Bun
Taiwanese Style Sweet Potato Congee
- Cold Delicatessen
- Japanese Pickles
- Dried Pork Julienne
- Braised Tofu with Mushroom
- Steamed Minced Pork with Salted Egg Yolk
- Stewed White Cabbage
I woke up as we were descending. I took some time to use the toilet for personal hygiene. I returned to my seat in time to take a few pics before landing.
Channel Islands
Pt. Mugu NAS
Hawthorne Airport and the 105 Freeway
LA Sprawl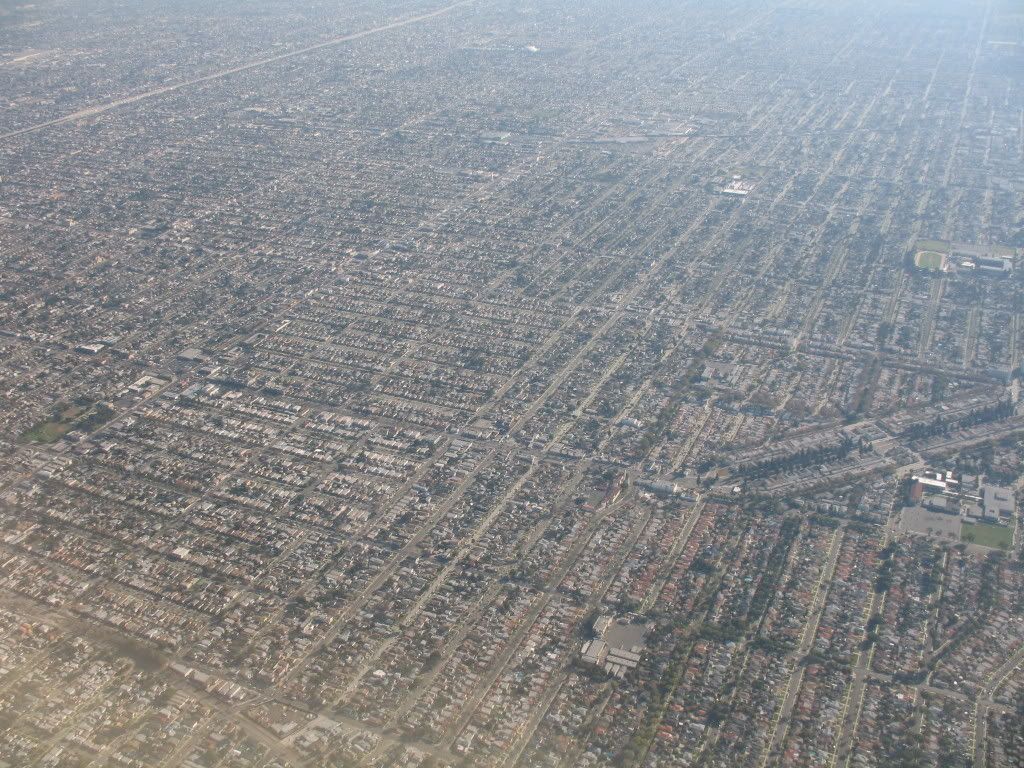 Downtown LA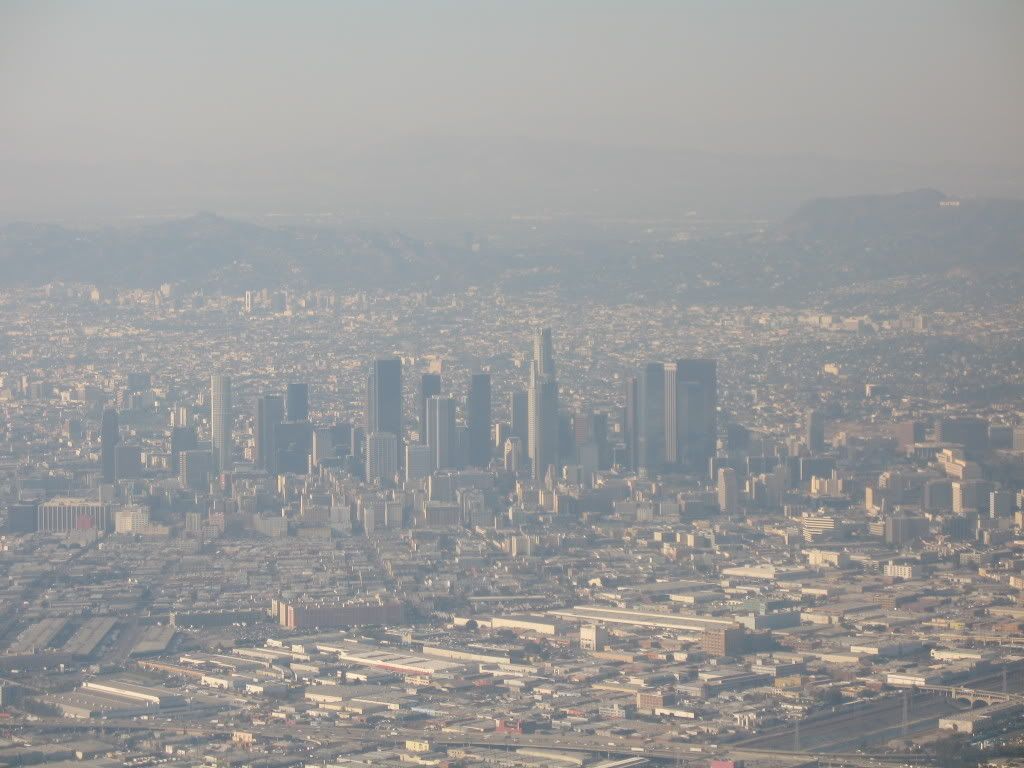 Destination – LAX
– Runway 25 Left on the top part of the airport still undergoing construction