Hi
I decided to put together a few of my pictures from my recent trips to LHR (of which there are lots, but these are what I think to be the best visits so far).
Anyway, These first 2 pictures are a bit off topic, but they are very good.
3 BA Airbuses (I guess they are all A320's) in the morning sunshine, as seen from the BA T1 Terrace lounge, well worth a visit.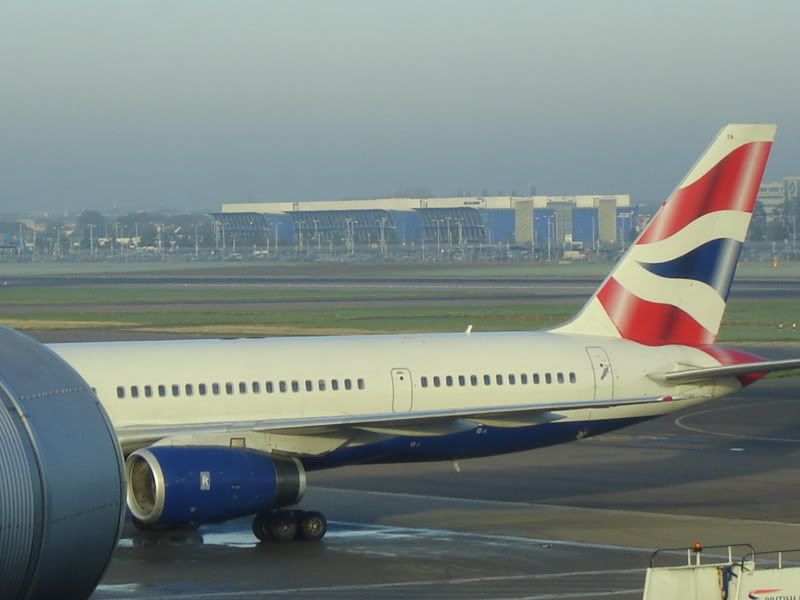 BA 757 with the Compass center in the background, this building is being sold off in the move towards T5.
Back on topic, these pictures are from 2 separate visits to LHR, these 2 are from the Saturday 2nd of December (2006).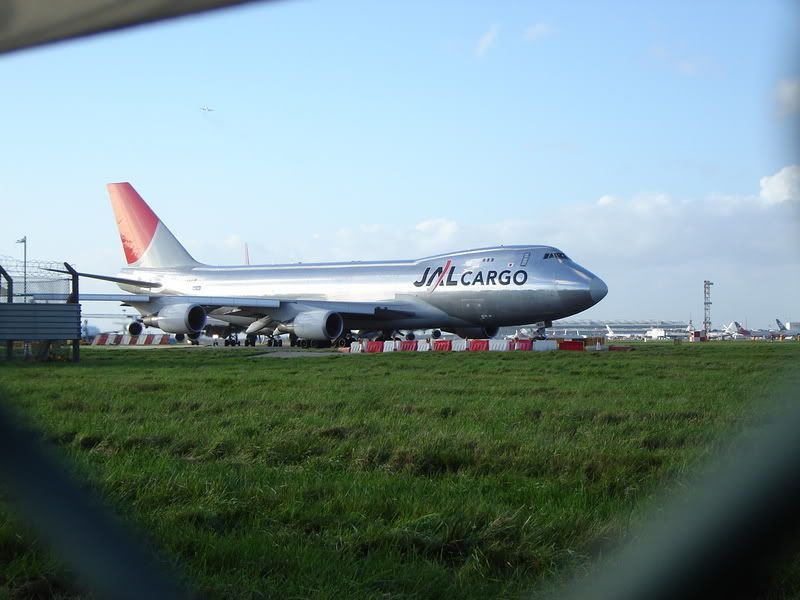 JAL Cargo 747 lines up for take off on 27L.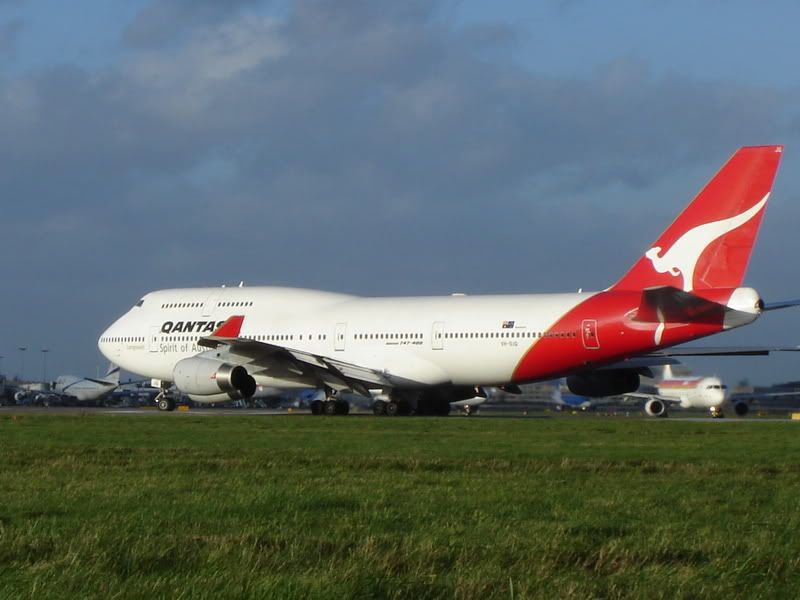 Qantas 744 rolling down 27L.
Because of this next trip, there was on space for those 2 photos on my memory stick, as I had to delete the rest
Right, this visit was without a doubt my longest, and probably most enjoyable visit to LHR yet on the Saturday of 9th of December (2006)
I got off the bus at about 11:10am at Hatton Cross, and immediately noticed that Landings were on 27L and take offs on 27R, which is good for photography, and so made my way down to the edge of 27L.
BA 744 on approach to 27L, if you love 'heavies' and/or BA, LHR is a must. Luckily, I like both, so it's great !
2 BA 744's over at BA's minor maintenance (TBE) area near 27L.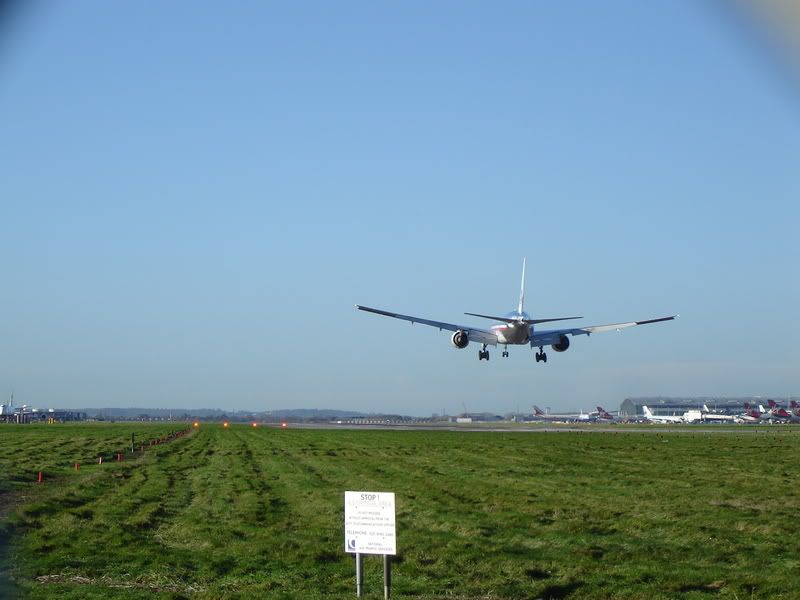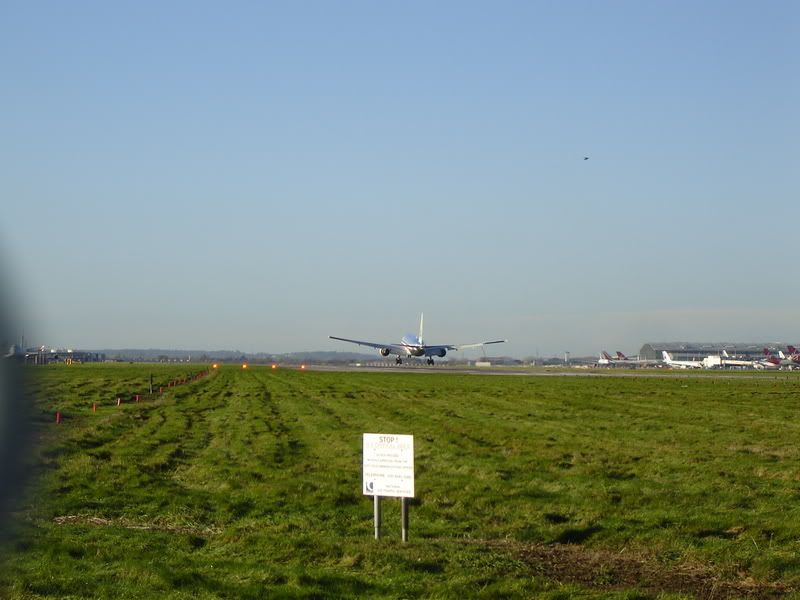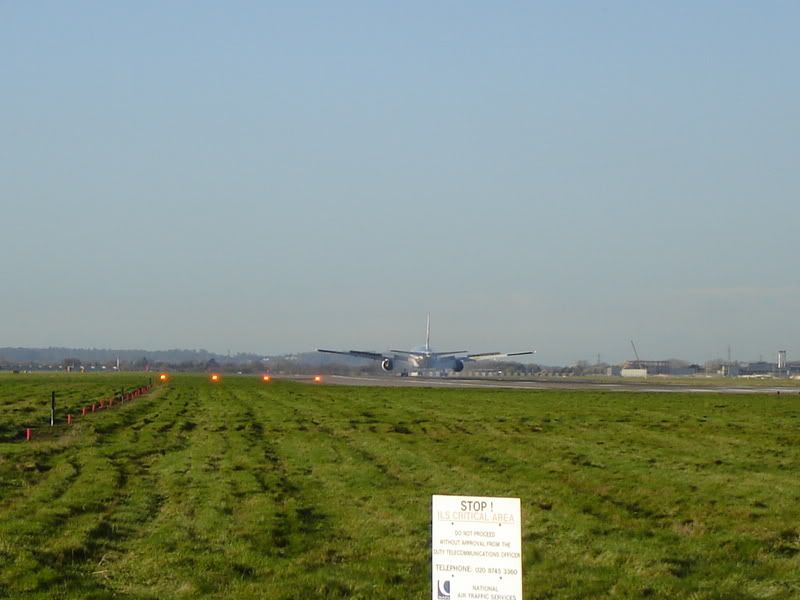 3 stages of an AA 777 landing on 27L.
BA 777 crossing the active runway.
Well, after about 40mins of soaking up the atmosphere and taking photos, I decided to move on to the other side of the airport.
Now, being on the course to becoming an aircraft engineer, I decided to pay a visit to the main BA engineering area on the other side of Hatton cross, and so took a shortish walk down to the hanger by the 'Jurys Inn' hotel, (or TBA to those in the know such as myself). Here, there was a BA 757 (G-CPEO)parked up outside, and I decided to see what kind of photo I could get through the different type of fence they use around the engineering base.
Firstly, may I tell you, that it is very hard to get a good picture with a big lens, so stick to an ordinary camera and unfortunately, the results won't be great unless you do so.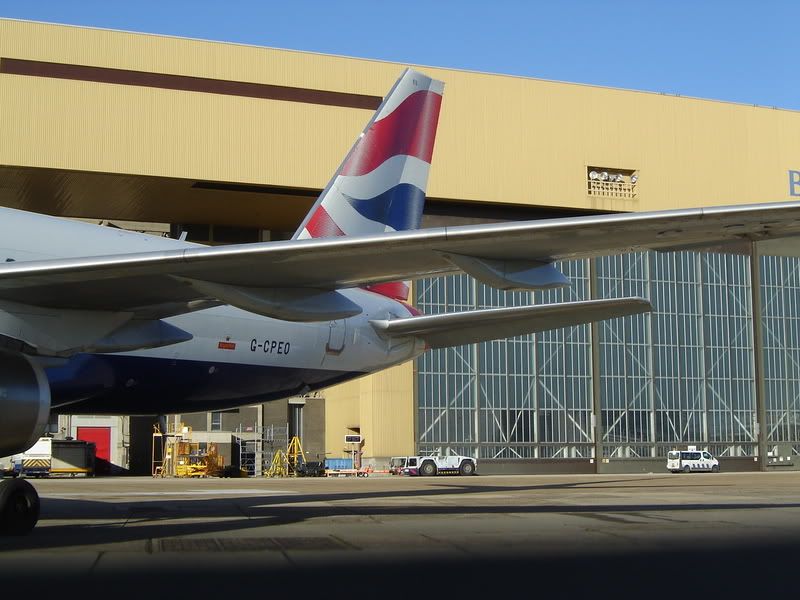 'PEO parked up outside the front side of BA engineering's TBA.
A close up of the Rolls-Royce engine.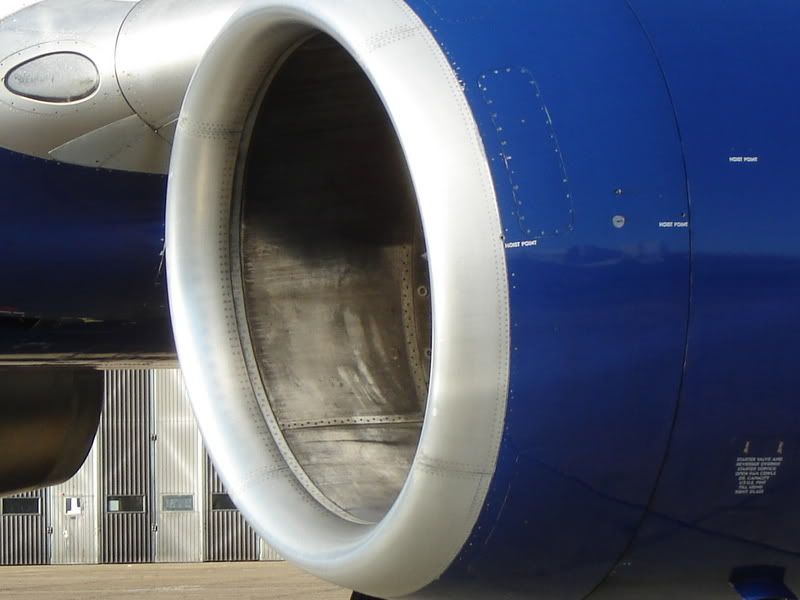 Even closer look at the engine.
I then walked back to Hatton cross and caught a bus to near enough 27R, and decided to get a few shots of the take off action.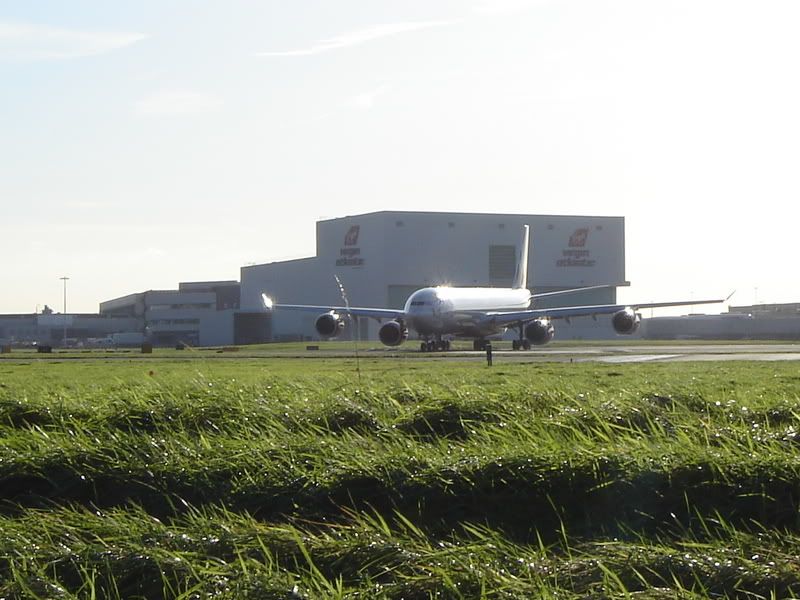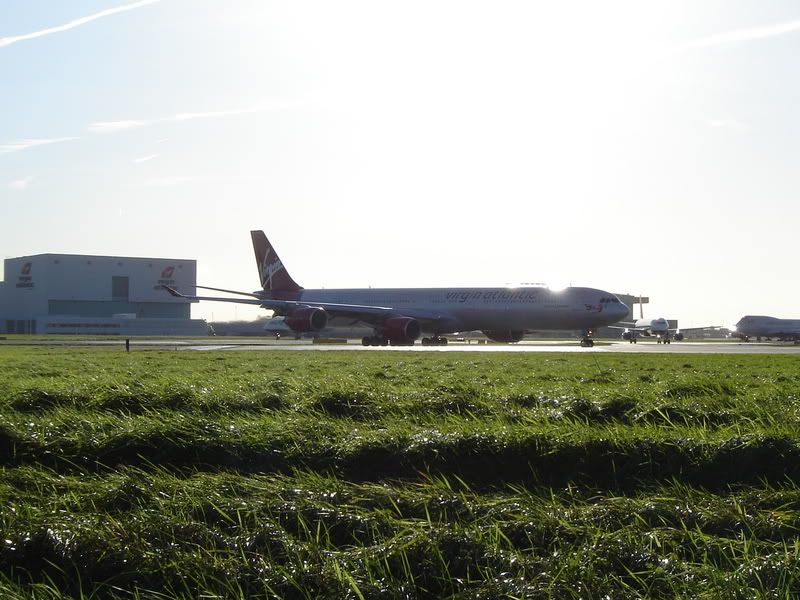 VS A340-600 holding at, taxiing onto and rolling down 27R.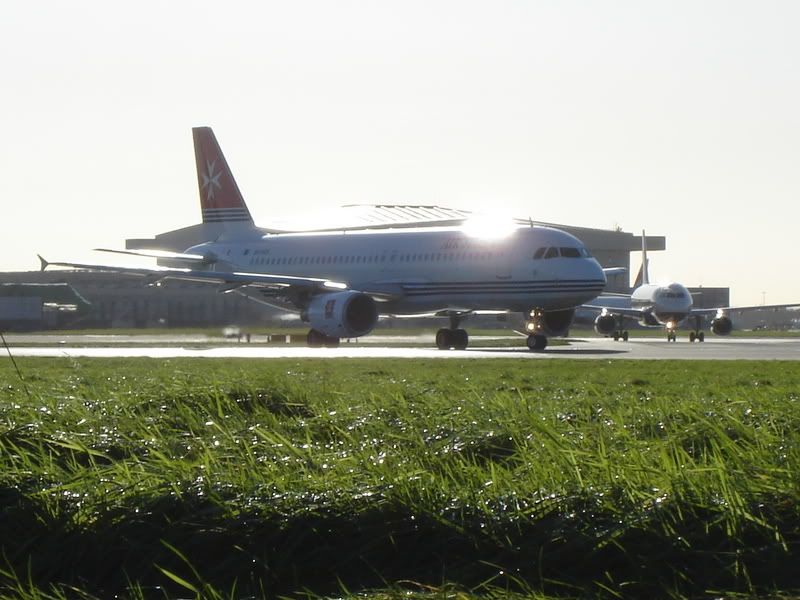 Air Malta A320.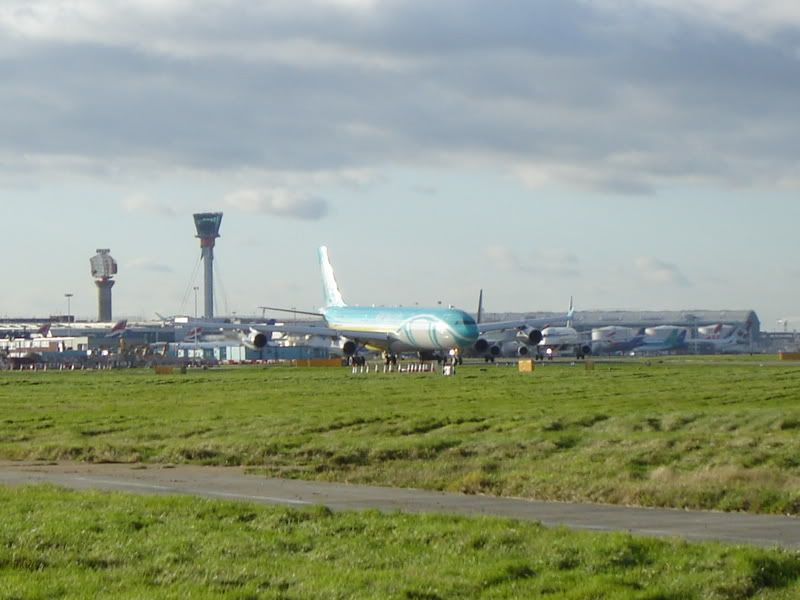 BWIA A340 waiting by 27R, this time next year, this airline will no longer exist.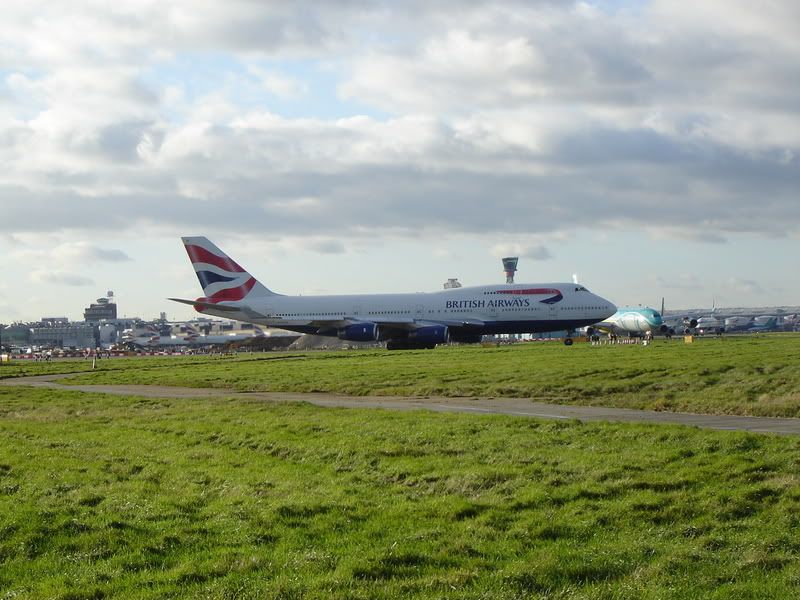 BA 744 on 27R.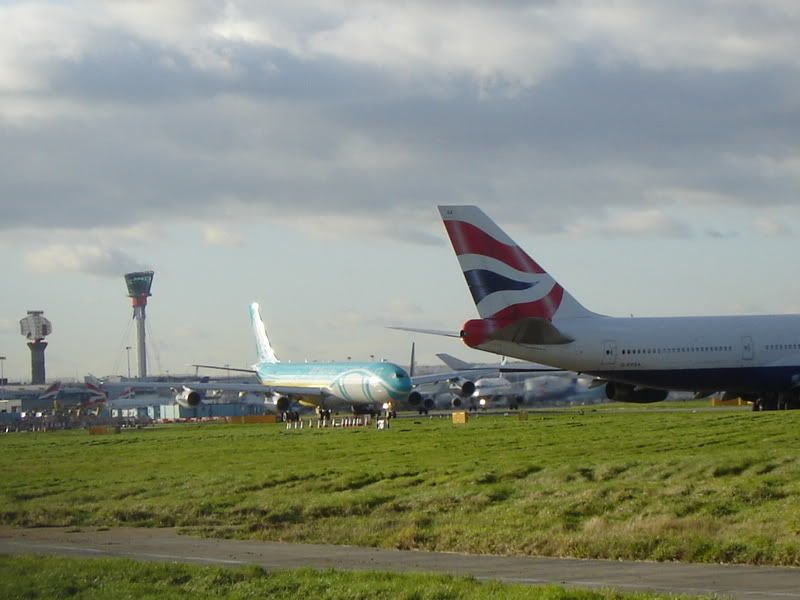 The BA 744 rolls while the A340 waits.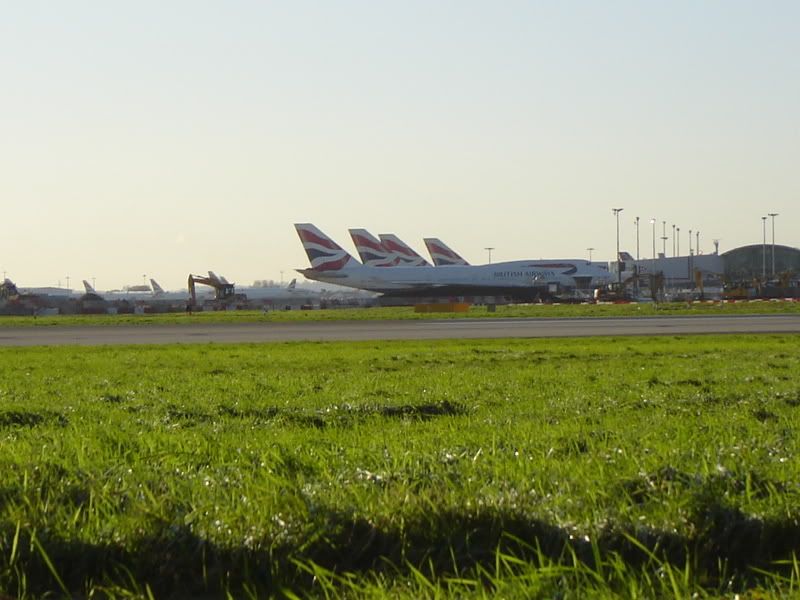 A whole load of BA 744's at T4, see what I mean about heavy/BA heaven !
Then I looked at the time, and grabbed a bite to eat at the McDonalds before heading back. Instead of catching the bus, I decided to take a walk back to Hatton cross around the main engineering area, and so I ended up, for the first time ever, taking some photos there.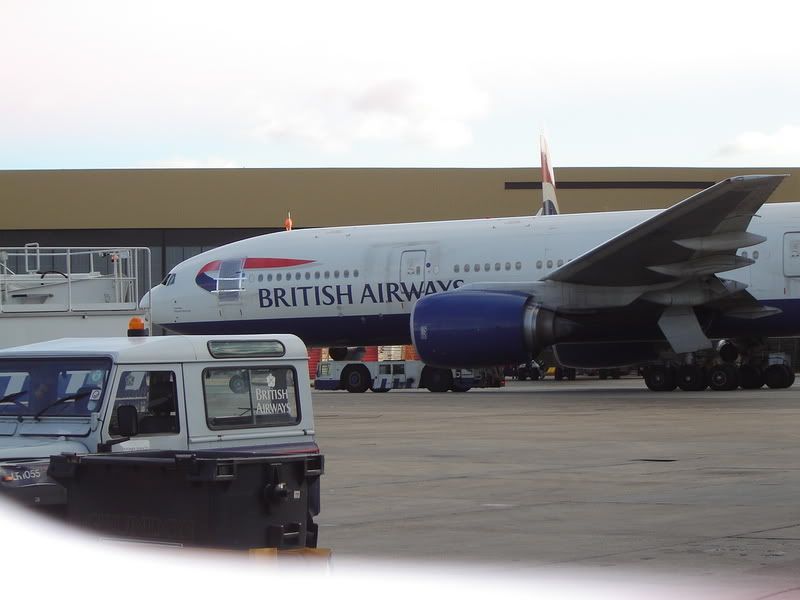 Notice something strange ? This BA 777 is towed into the BA engineering TBA hanger, hopefully to get a new door !!
BA 744 parked up at the engineering base.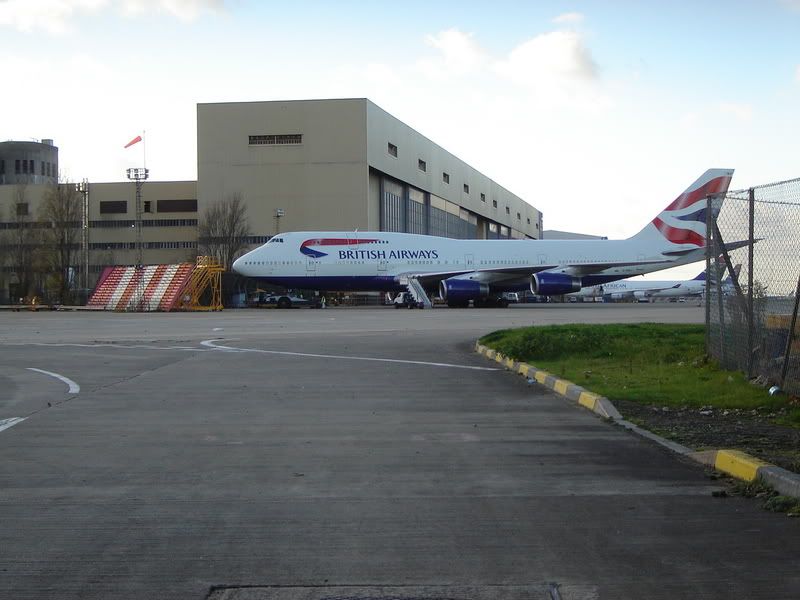 The same 744 but viewed from the side. The yellow building(s) in the background are the BA 747 hangers, although it looks like one building, it's actually 2. The nearest one is TBK while the one further away is TBJ. Almost all of BA's 747 'light' maintenance is done in those 2 hangers, while the 'heavy' engineering is done at Cardiff.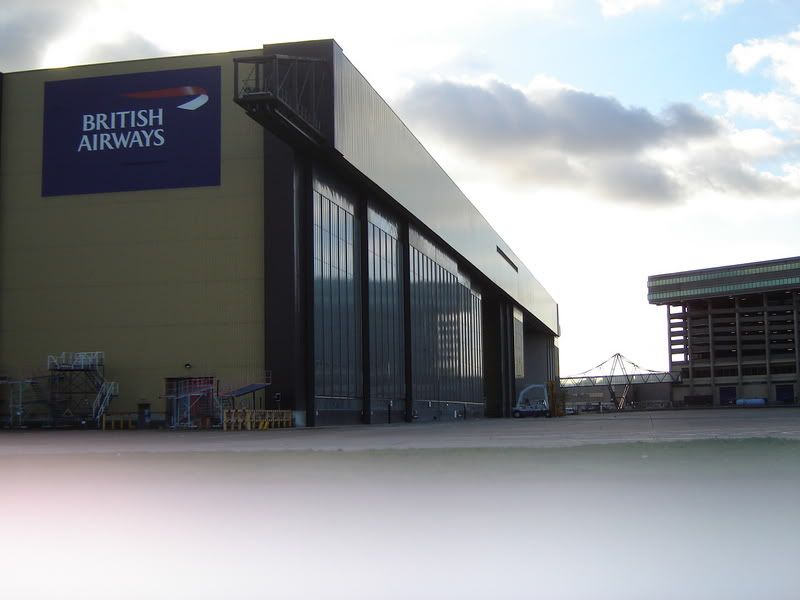 The other side of TBA in the foreground, looks kind of 'menacing' don't you think ? The grey building in the far right-hand corner is TBC, where most of the engineering offices are.
BA heavies parked up outside the 747 hangers, unfortunately my finger got in the way, and so that's what the white line is. But I though I'd show you this picture as it's an unusual sight.
Thanks for reading, leave any comments is you wish
Next Trip report: LHR-SEA-LHR !
wrighbrothers