Date: December 16, 2006
Route: MDW-ISP
Airline: Southwest
Flight: 6
Sched Departure: 1220
Sched Arrival: 1535
Aircraft Type: 737-700
Aircraft Registration: N408WN
I figured I would write this in case there were people just as bored as myself over the holidays. Anyway, after another semester of learning, it was time to go home for break and sit on my ass while surfing the web and watching crappy 80s movies on TV. I usually fly home out of IND, but I got such a cheap price on Southwest, I couldn't resist. I think after taxes I paid like 41 dollars. Not too bad considering MDW-ISP is not exactly what I would call a "short" flight. I have no idea how WN makes money with fares like these. It's not like I bought this ticket back in August; I bought it like a week after Thanksgiving. The plane was about 95% full, so they must be doing something right.
My roommate and I arrived at MDW around 1045 for our 1220 flight to Lawng Island. As usual, quite a line had formed in the Southwest check-in area. I noticed 2 things: 1) Each of about the 5 or 6 times I have flown Southwest out of MDW, the check-in line is always a zoo, no matter what time of day or day of the week. 2) Every other airline had check-in lines that were deserted. It just reminded me of the real monopoly Southwest has at MDW. After being on the line for about 15 minutes, we finally made our way to the front. Then, something catches my eye. I see a lady in a big green sweater that looks exactly like the lady from the A&E show "Airline" (yes I'll admit I am a loser). I just googled her and found out her name is Colleen, one of the MDW supervisors. I debated for a minute whether or not to say anything, then I was like screw it, I can't resist. I just said "hey, you are the lady from the TV show right?" She then looked at me with a half kind of awkward smile and said "yes, yes I am." After another weird look she walked away. It was busy, and she is probably used to weird people like me coming up to her and making a comment about the show. I guess that was my "celeb" spot of the year, which is sad since she really is not a "celeb" at all. The actual check-in was quick and easy, except for the old people next to me that had no idea how to use a self check-in machine. I had a B boarding pass and was off to security.
The security line was a breeze, and in no time I was through and at gate B7. I was happy because this was one of the first times I was not at a gate at the end of those long piers at MDW. At the gate was the usual assortment of Southwest passengers. There were mostly average people, with a few that looked like they hadn't bathed in weeks. Of course by like 1115, people were already getting in line for the 1220 departure. I think it is crazy that Southwest will not change that open seating crap, but that is another rant. At like 1150, the gate agent came on the PA and said the incoming aircraft was holding and would be a little late. Of course people still stayed in line, which perplexed me, but whatever. The aircraft arrived at like 1210, and I boarded about 1230. You can say whatever you want about Southwest, but they sure can turn a plane fast. I got on the 737-700, where the flight attendant told me that it was the first -700 model that Southwest received. Can anyone verify that? We found our way to the last row (which we had to ourselves) and settled in for the flight.
Our route of flight (courtesy of Flightaware) was: ELX CRL J554 JHW J82 ALB PONEE2. The captain came on and said our flying time to ISP would be 1:50. He said the weather was sunny and in the 50s. Our route basically took us East over Lake Michigan, over the Detroit area, through parts of Southern Canada, through Upstate NY, over Albany, Hartford, then to the south over the North Fork of Long Island and into Islip. The flights into ISP really get the shaft as far as routings go. Almost every time I go into or out of there we get this strange routing that probably is trying to keep us away from LGA/JFK/EWR/TEB traffic to the west. We came in over Massachusetts, Hartford, and then flew southeast almost to the CT/RI border, before making a turn back to the Southwest toward ISP. At least it was a beautiful day so the views were good. Just some trivia about Southwest Flight 6, this was the last leg of a long flight that had it start out at HOU in the morning and go HOU-DAL-LIT-MDW-ISP. I guess you could now buy tickets DAL-ISP on that insane routing, although I have no idea who has half a day to devote to that.
Nowfor some pictures:
This is us at the gate at MDW: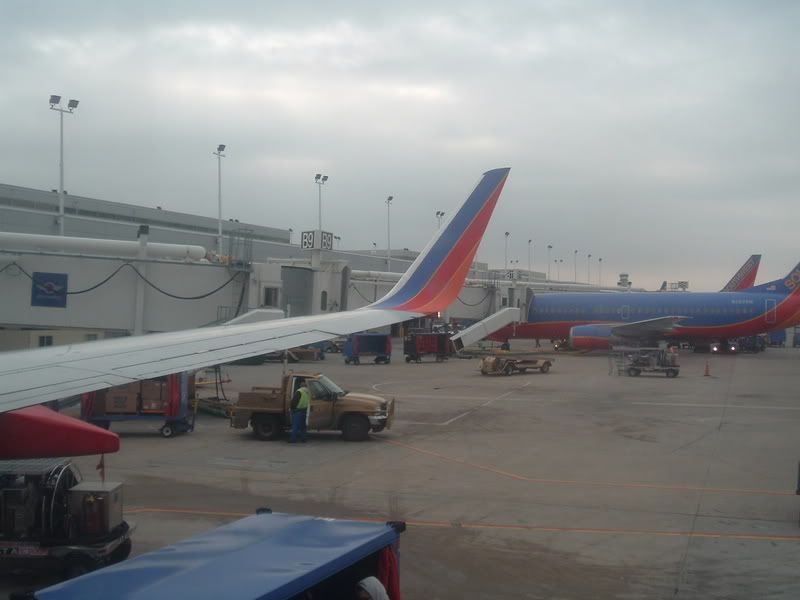 This is my hung-over roommate sitting next to me. I know it has no applicability to the trip report, I just found it too funny to leave out.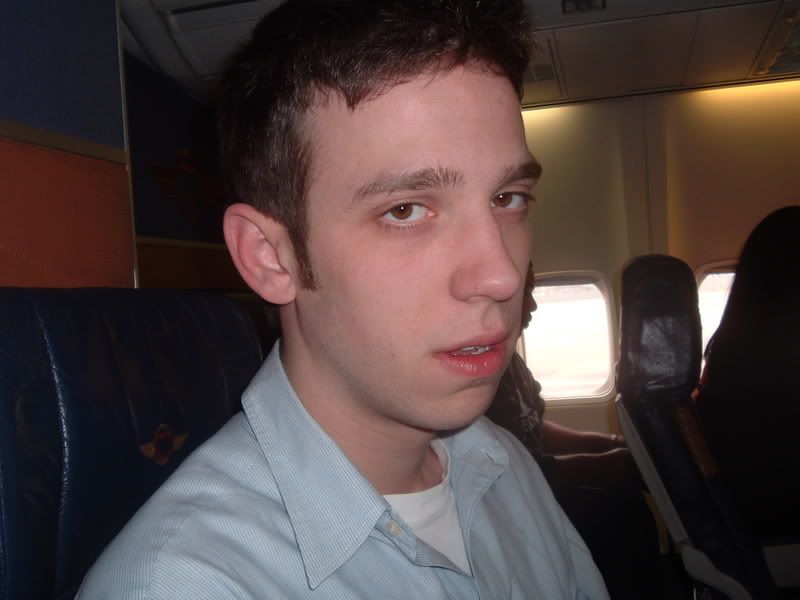 This is us pushing back from B7.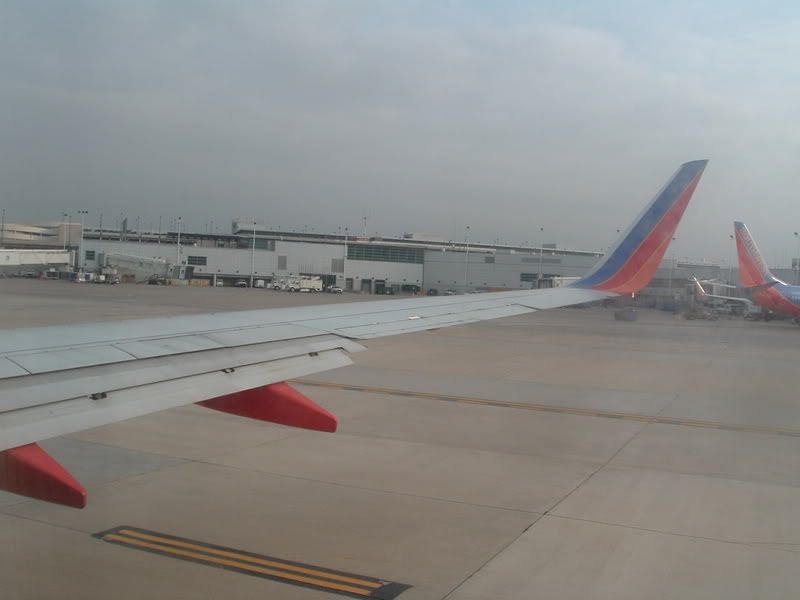 While we were pushing back, I saw a bunch of FL planes taking off of 22L. One 717 was holding off to the side of the runway for a while, so I assume it was heading to EWR or ATL and being ground delayed.
We quickly taxied out and took off from runway 22L at about 1245.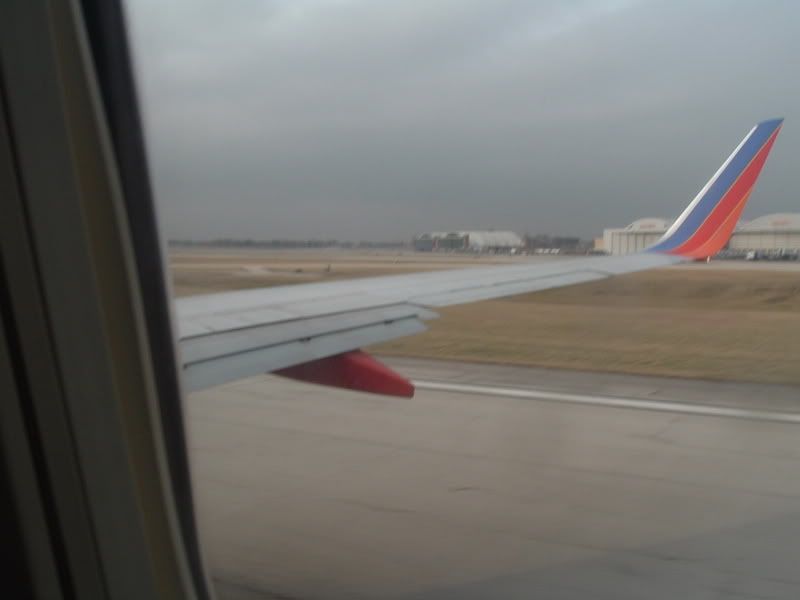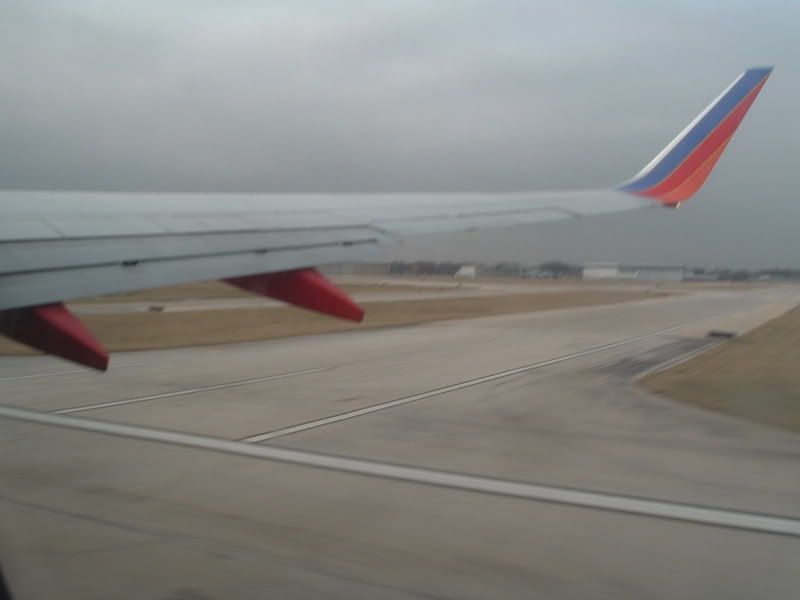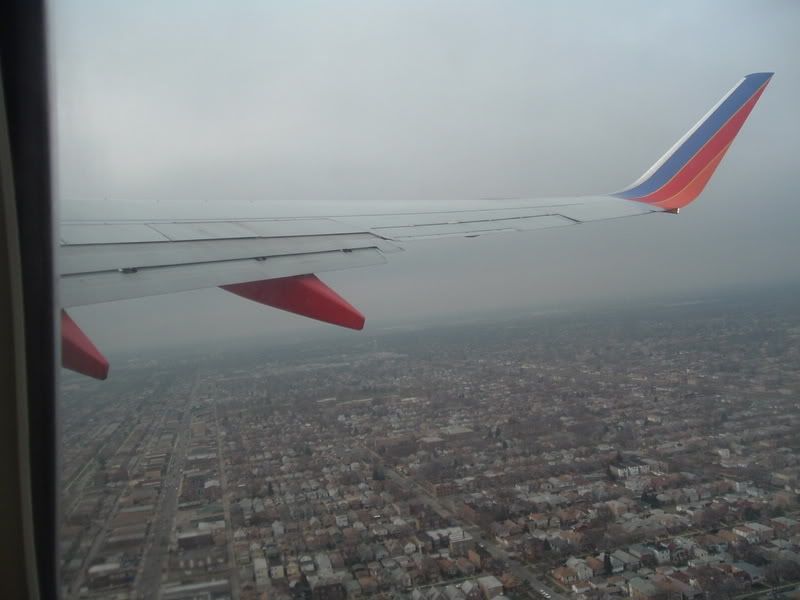 We made a quick left turn to the east after takeoff. There was an overcast layer, so I didn't get great views of Chicago.
During the flight I just chilled and listened to my Ipod. I got the typical friendly Southwest service. There was lots of singing from the flight attendants and they came around and offered everyone second drinks, which is a nice touch.
Here are some pictures of our 737 cruising east. For the most part it was a smooth flight at 41,000 feet, although there was some "unforecasted" turbulence, which caused us to descend into some smoother air. It was nothing bad though.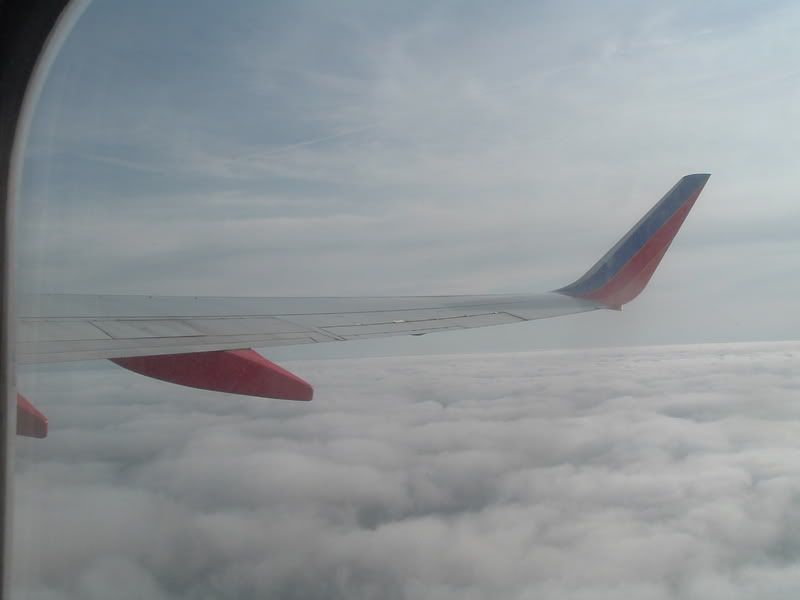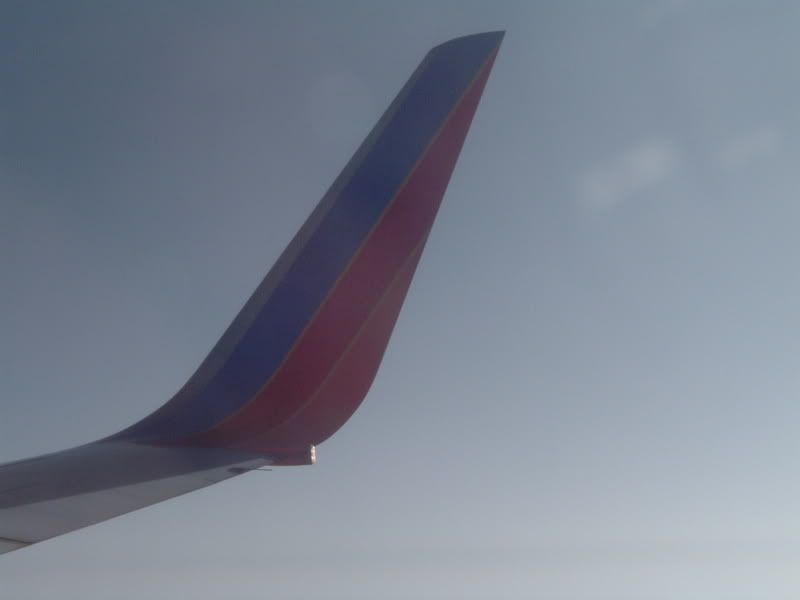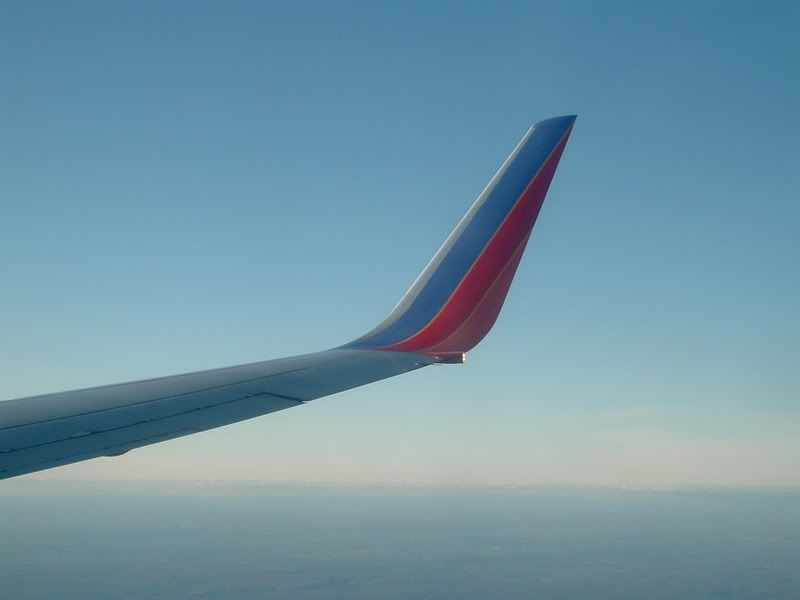 We started our descent probably somewhere over Connecticut. The weather in the Northeast was amazing that afternoon, so I got some great views of our descent. Here are some pics: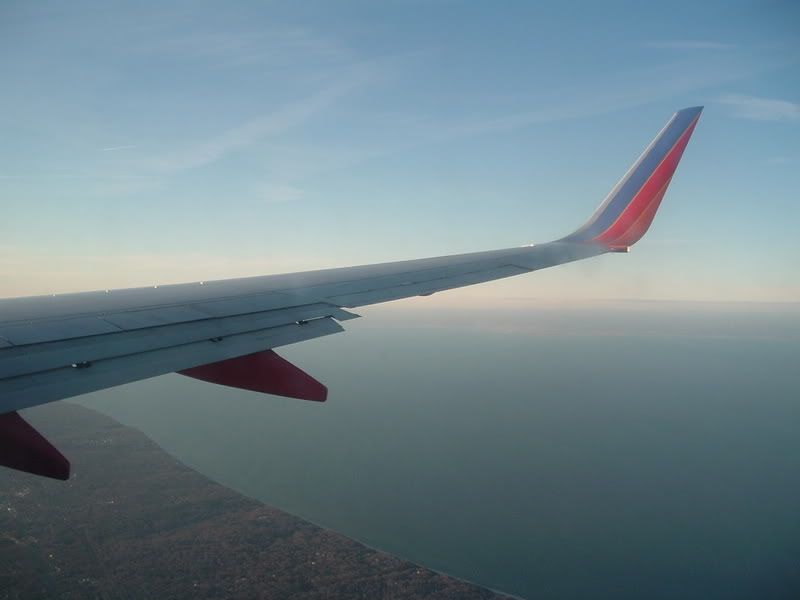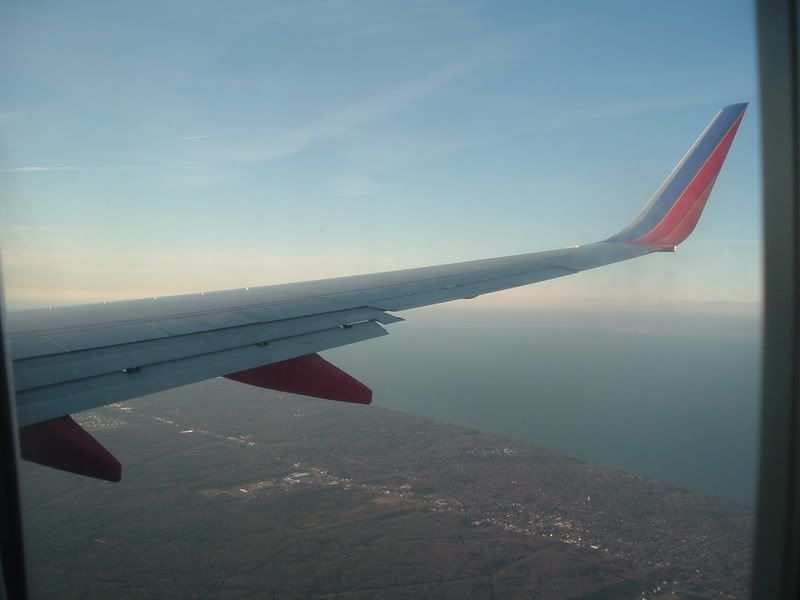 Soon enough the flaps came down, and we made a nice straight in approach to ISP (I can't think of the runway though). We kind of floated right down the runway for a bit, which caused the pilots to slam it onto the ground, using heavy rudder to keep it straight. I assume because the runways at ISP are pretty short, they didn't want to mess around. Thanks to schedule padding we landed EXACTLY on time at 1535. I'm always amazed at what an efficient operation Southwest runs. We taxied very quickly to the gate, since ISP is a super small airport. There were no other airliners at the terminal except for good old Southwest 6.
Here are some shots of us on approach to ISP: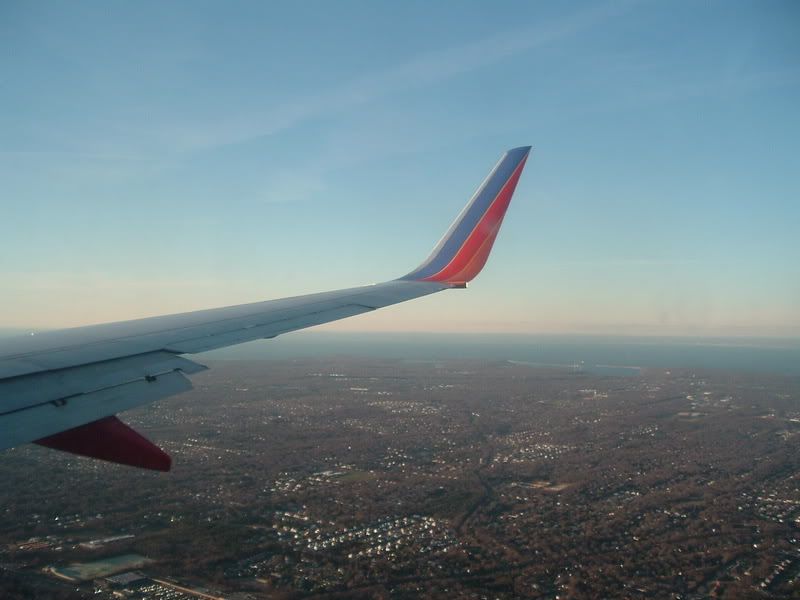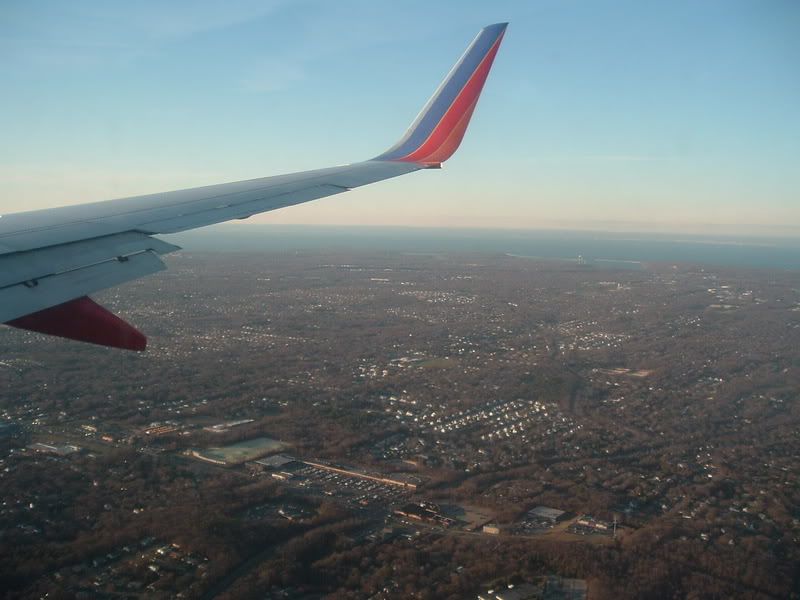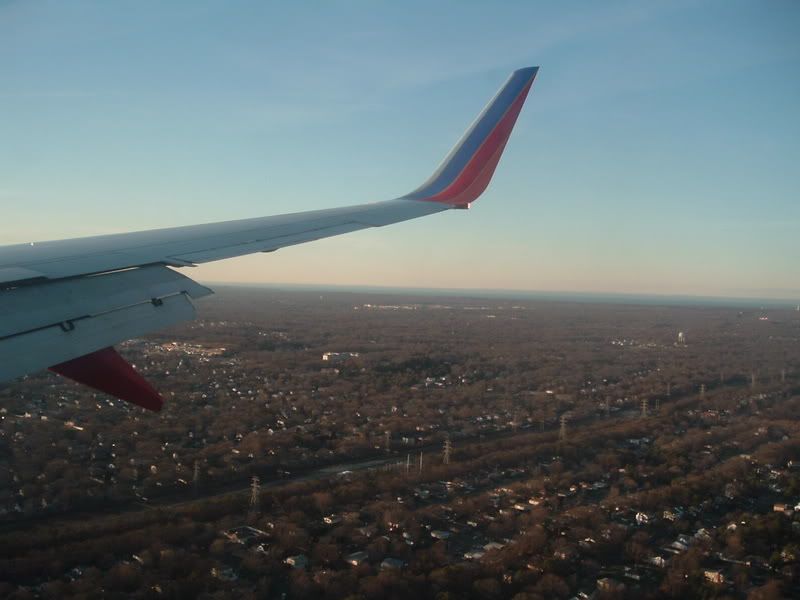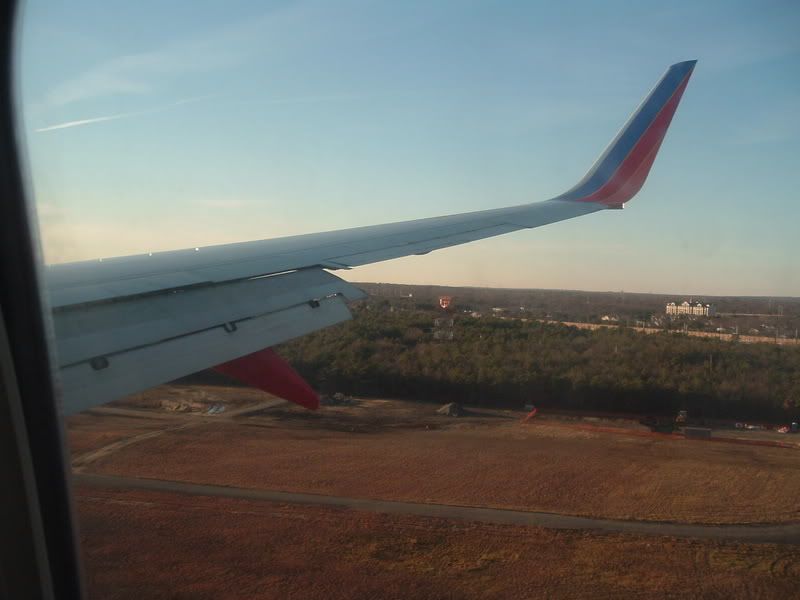 Here is WN6 taxiing to the gate at ISP:
We made it down to baggage claim, where of course only one of my 2 bags comes out. About 30 people didn't get their bags, so all hell started to break loose at the ISP baggage claim area. I guessed that since they tried to turn the plane fast at MDW, maybe they forgot to put in one cart of bags. I checked in very early, so there was no excuse for one of my bags to get lost. It kind of pissed me off, since the last time I flew MDW-ISP in October my bag got lost also. Maybe Southwest at MDW has some baggage problems. After dealing with the lost baggage office I was finally out of ISP. My lost bag finally got to my house at about 3am, despite the fact that Southwest called my house at 8pm and told me to "expect the bag within four hours." But I can't get too mad at them for that, since the bag is really out of their control once the courier service picks it up.
Anyway, I hope someone out there liked the report. Everything considered, the lost baggage really sucked, but I got the typical friendly, on time Southwest service, and I can't argue with that price at all.