Hey Guys!
This is my report on the trip I'm currently experiencing due to the Xmas break. It will show most of the details from the CCS-MIA, FLL-DFW and DFW-EGE (Vail) flights.
I'll try to make it as neat and fresh as possible so you guys can enjoy it.
I really hope you'll all like it.
1st Part Coming:
---------------------------------------------------------------------------
Day 1: Caracas, December 17, 2006.
Excited to start a nice Christmas Vacation trip, I woke up at 07.30AM after my parents were ready to go. I had some breakfast and then loaded our car to leave home at 08.12
(4 ½ hours before our flight)
, having in mind that the situation to go down to CCS is very unpredictable due to the well known Bridge problem.
Our way to the airport was pretty smooth, since Caracas on Sundays is relatively easy to handle. We went through two of the most traffic affected areas in the city, and never slowed down a bit. Here are some shots of our way through Caracas:
Caracas:
We then got to the famous "Trocha"
(the alternate way to connect Caracas and La Guaira)
, reaching the queue to go through it at 08.42.
After a bit of waiting, we were on the Trocha at 08.53 and passed it without any problems. On our way through it, I got to see the impressive construction of the new Bridge/Viaduct that's taking place right next to the one that was before. Here are some pictures of it.
Inside the traffic through La Trocha:
Construction of the Bridge/Viaduct: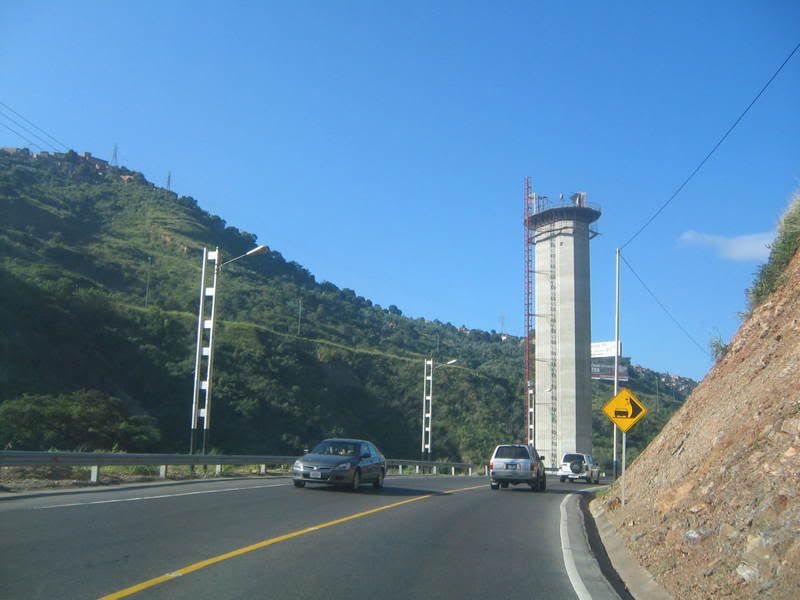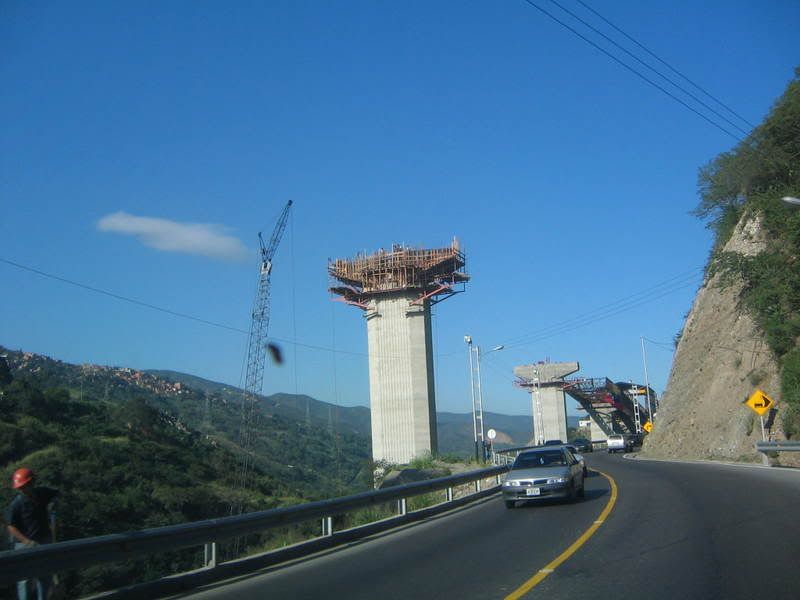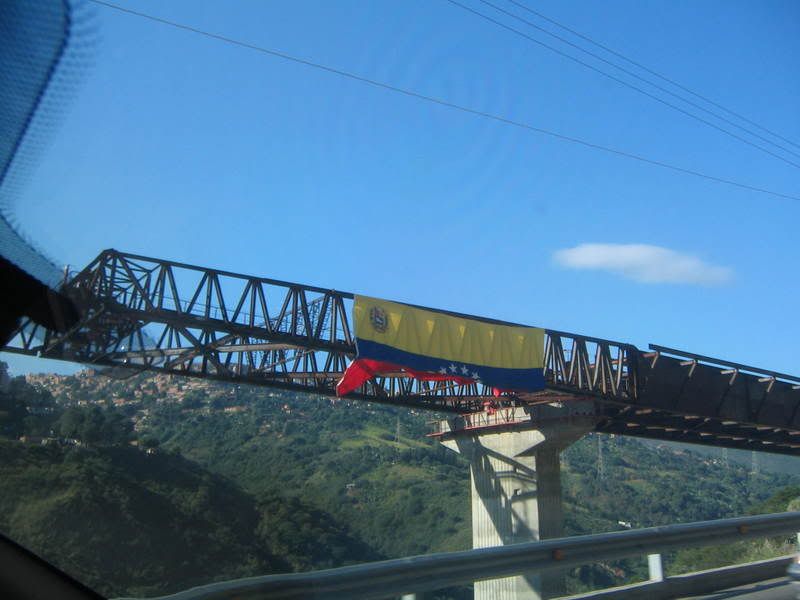 After we had that impressive sight, we continued our way to CCS at 08.59, having spent 17 minutes in that complicated area, very lucky I'd say.
Our way after passing the alternate road
: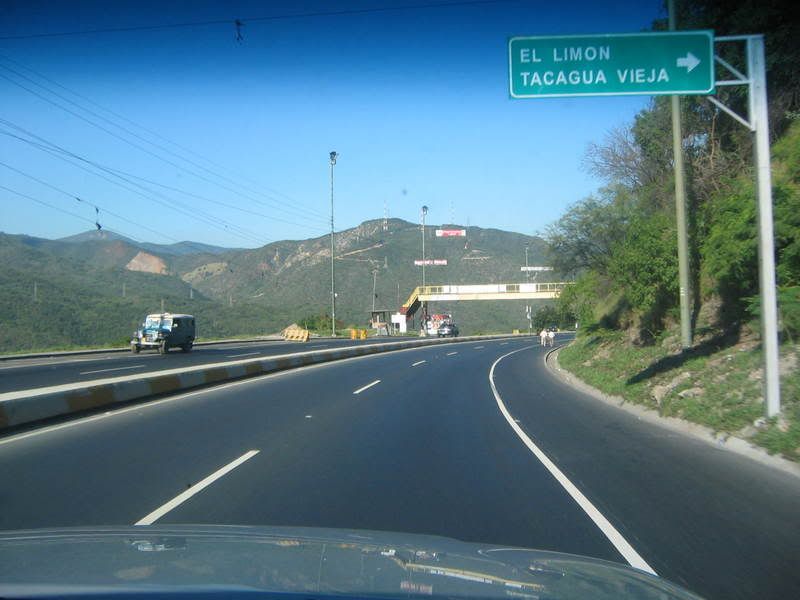 The first tunnel: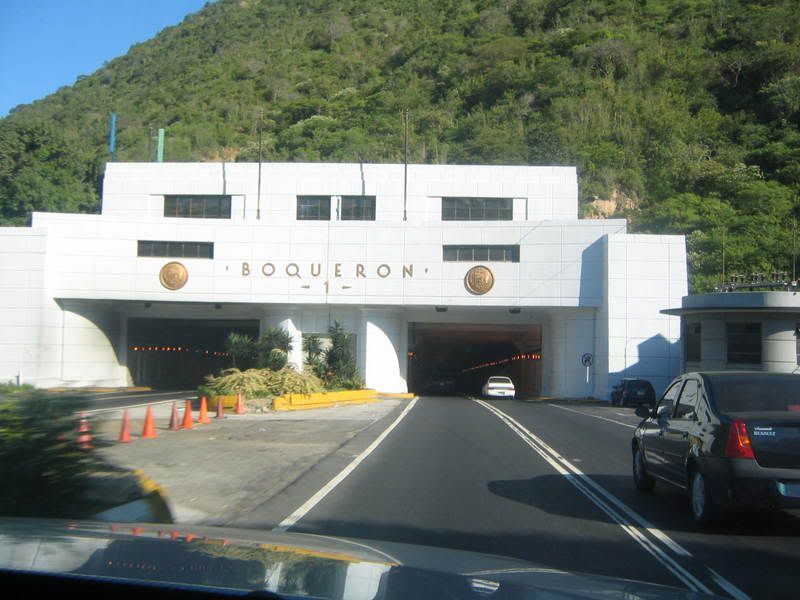 We then, arrived to the airport without any inconvenient at 09.12, exactly one hour after our departure from home, very good timing.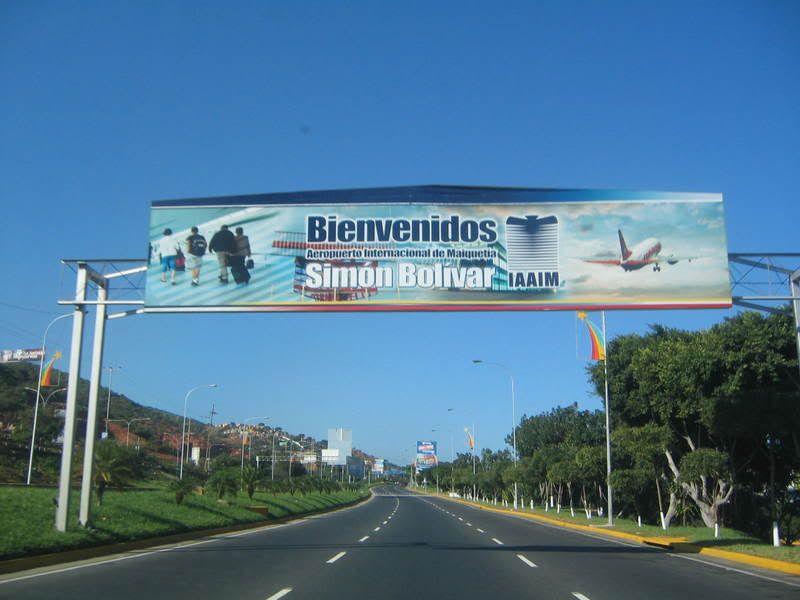 We unloaded the car and proceeded to go inside the nice International Terminal at Maiquetia. I found a huge queue line and freaked out, but fortunately it was for the SDQ flight from VH. After that sight, we walked to the Business Class section of AA to check-in since my dad is a Platinum Member of their AAdvantage FFP.
As a result, we were kindly and quickly attended by two nice AA girls and got our boarding passes. At 09.57, we were done. Very efficient, I must say.
After we got our Boarding Passes and filled our Emigration Forms, we walked a bit to go to the new Security point that allows going inside the gates area. The airport was nicely decorated with some Christmas lights. I must say I really like how CCS is looking. Here's a bit of evidence: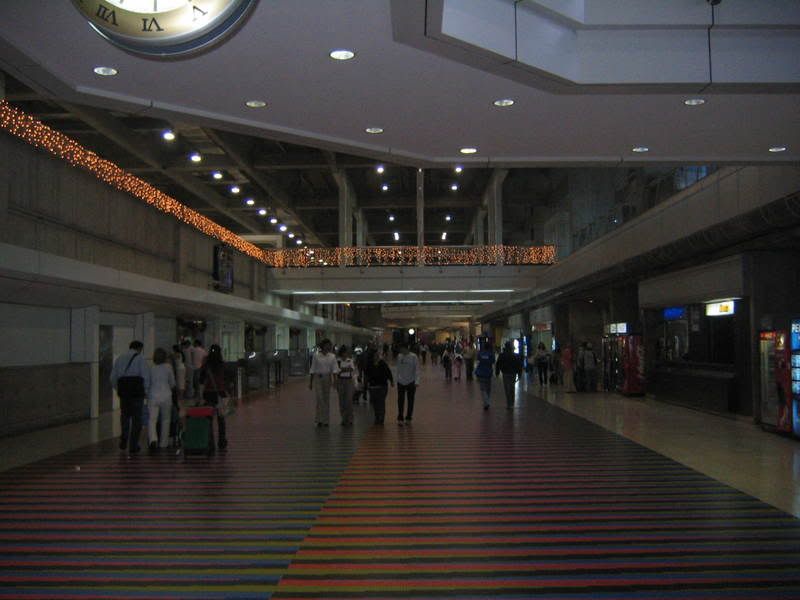 As we went through security, at 10.18, we decided to go and get some coffee at the new Food Court, with restaurants like Tony Roma's, Memphys, Budare (typical Venezuelan Food), Chicken Kitchen, Café Ole, Papa Johns Pizza, Chip'a'Cookie and American Deli.
After security check-point: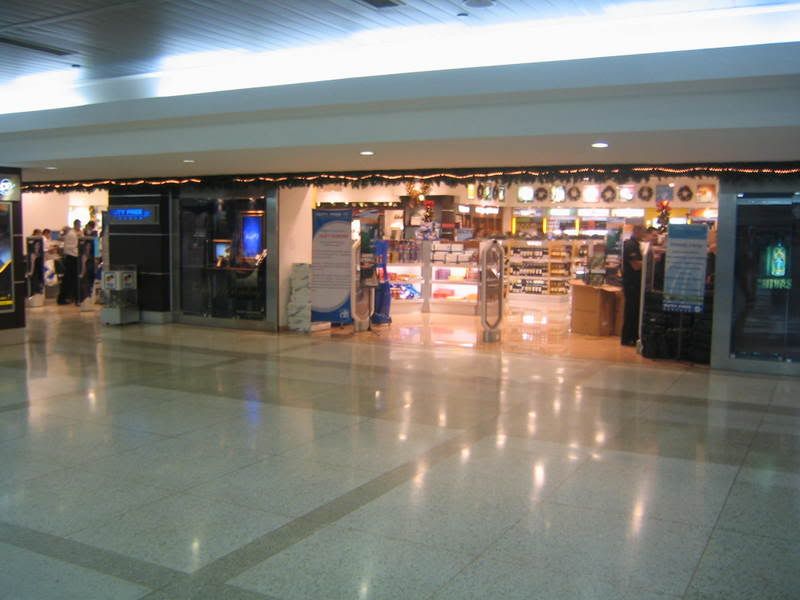 The Food Court (sorry for the blurry picture):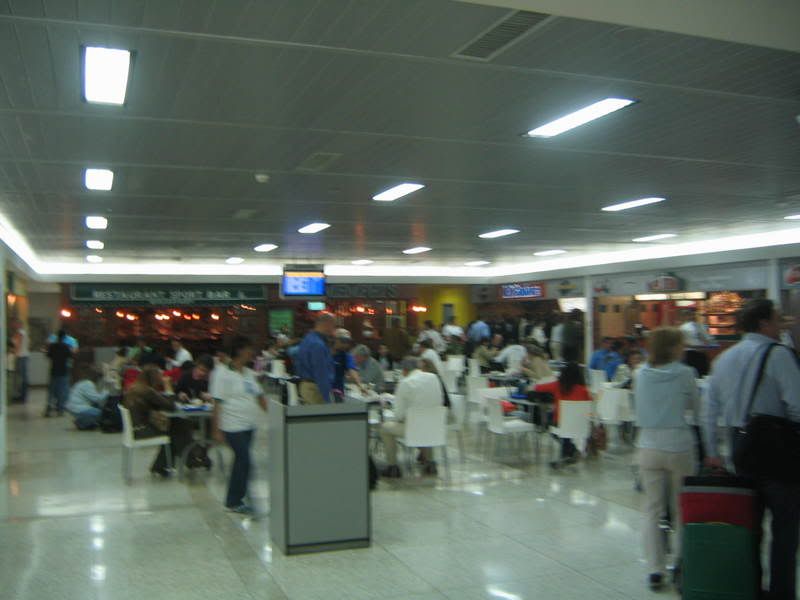 After we bought our nice coffee, we then went to the Duty Free shops to buy some Venezuelan presents (Toronto Chocolates and Ron Aniversario Pampero) for some friends up in the States.
Duty Free CCS: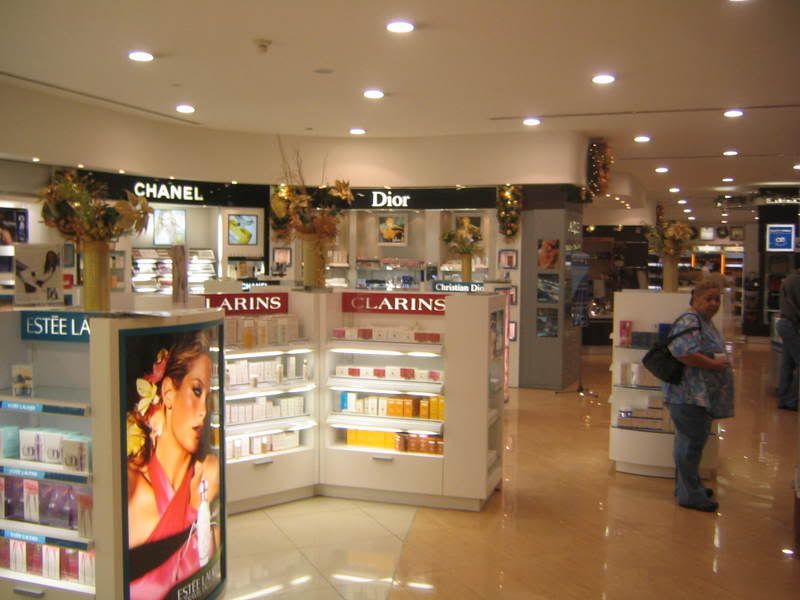 Rum area!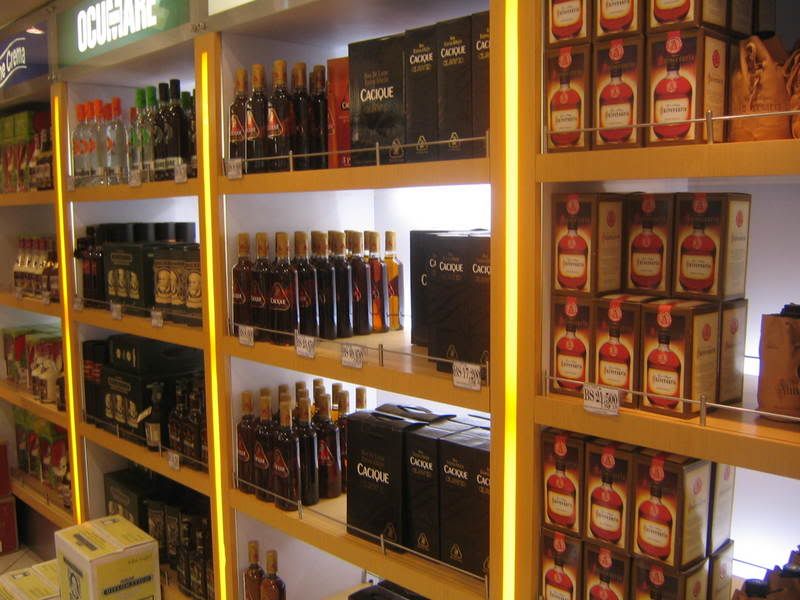 Then I, obeying my wishes of spotting some aircraft, went for a small walk within the terminal. Here are some pictures of the walk:
The brand-new jet bridges:
R7 to AUA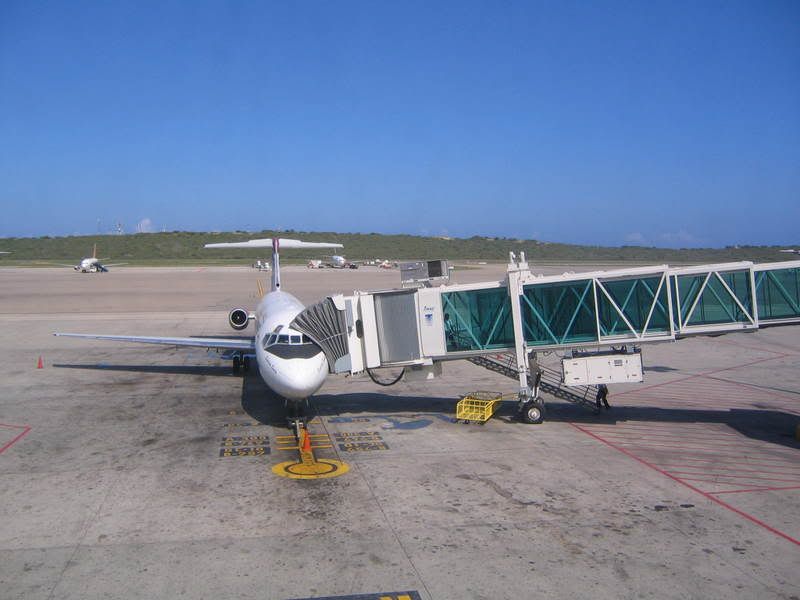 VH to Puerto Plata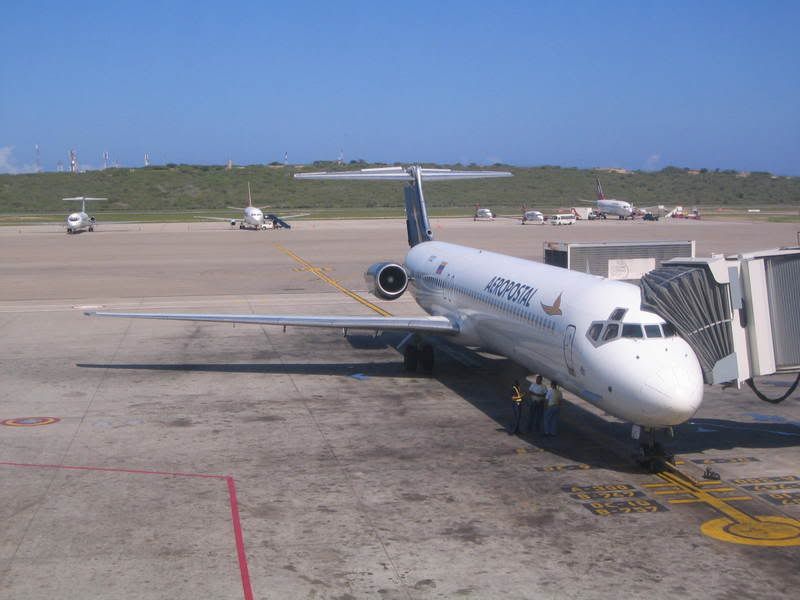 VH to SDQ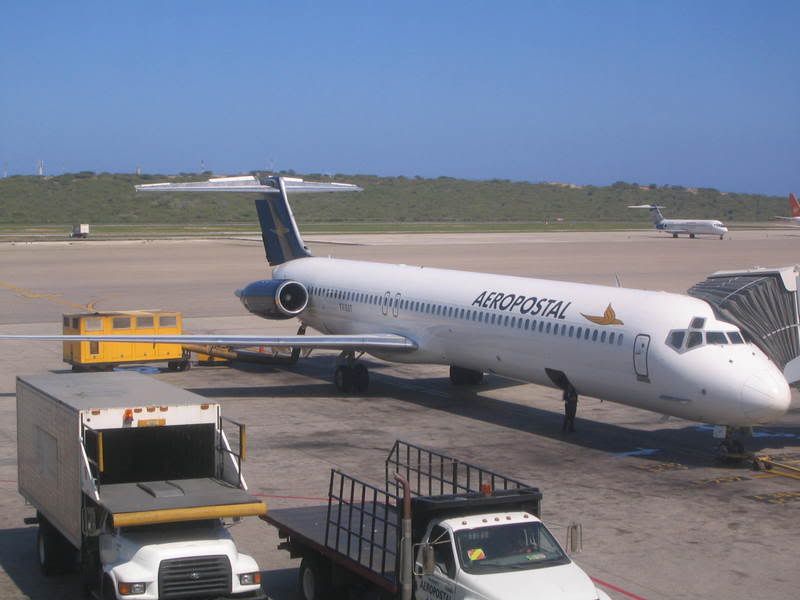 AV to BOG
Our AA A300 to MIA
The Time-Table at CCS: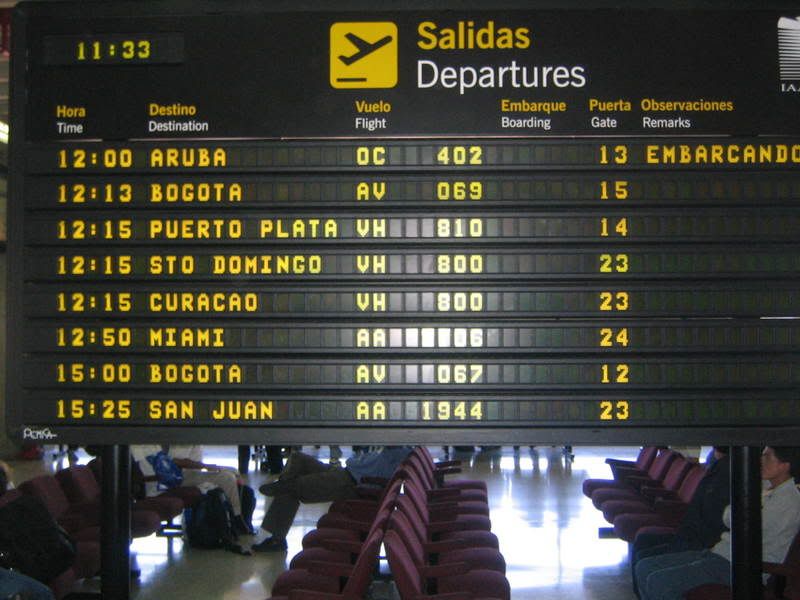 Lastly, we went to the American Airlines Admirals Club to wait for our flight. Inside the Admirals Club, the place was pretty full of people waiting specifically for our MIA flight since the aircraft was an A300. The JFK flight had departed some time before, so the place was mostly MIA pax. There, I got some pastries to eat, with some Venezuelan Cheese (Paisa). The table was very well presented with a vast variety of pastries and drinks. Here are some images of what I lived inside the Club:
AA's Admirals Club Entrance: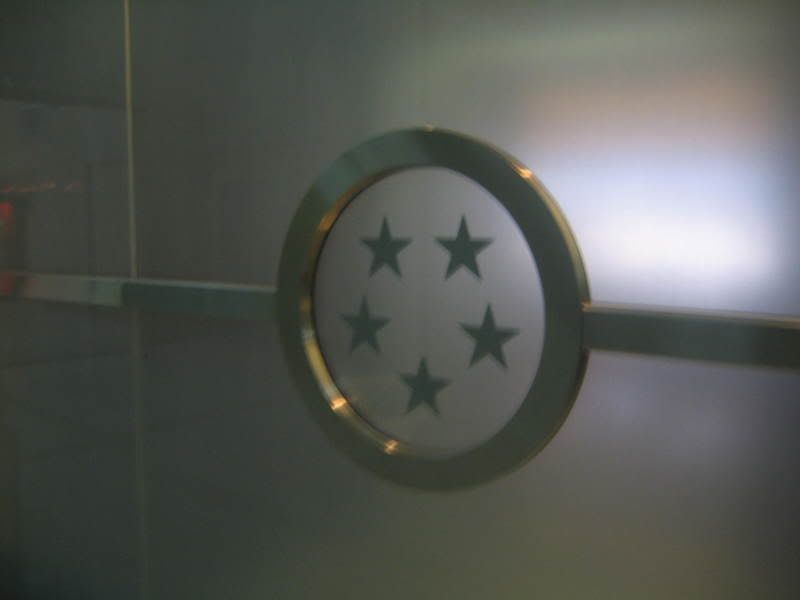 The table: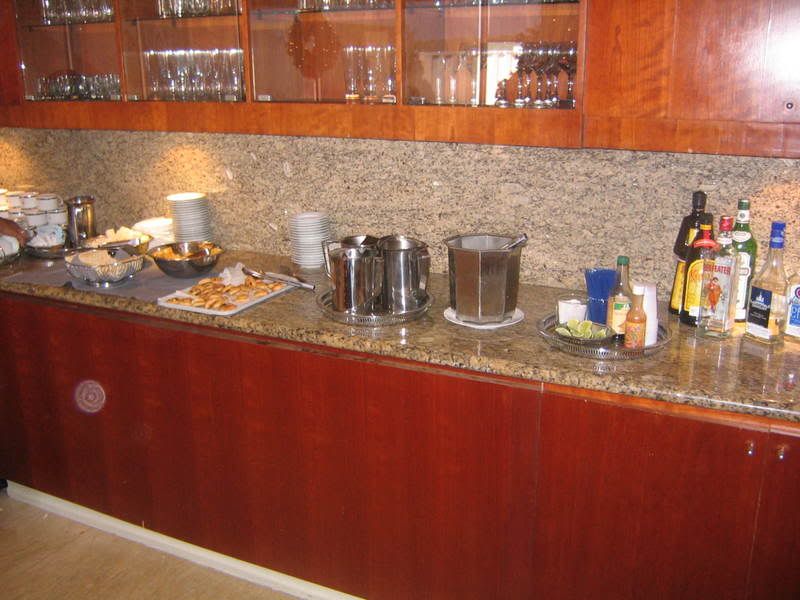 The Club: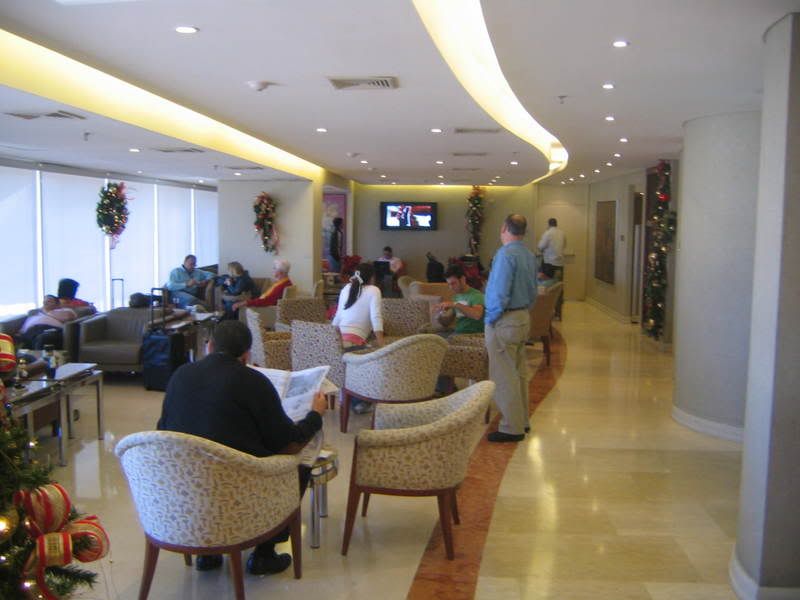 The View: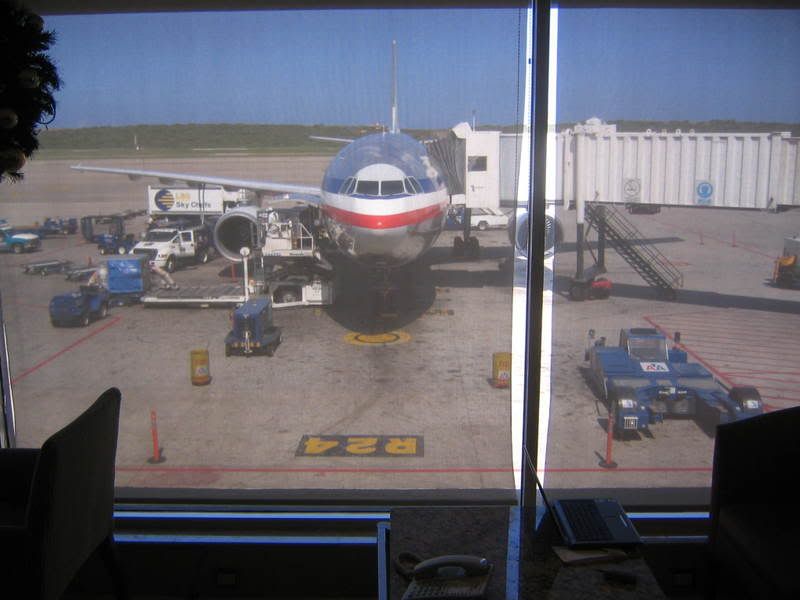 Guess who!? My little Broter!!! I guess it runs in the blood!
Here we are!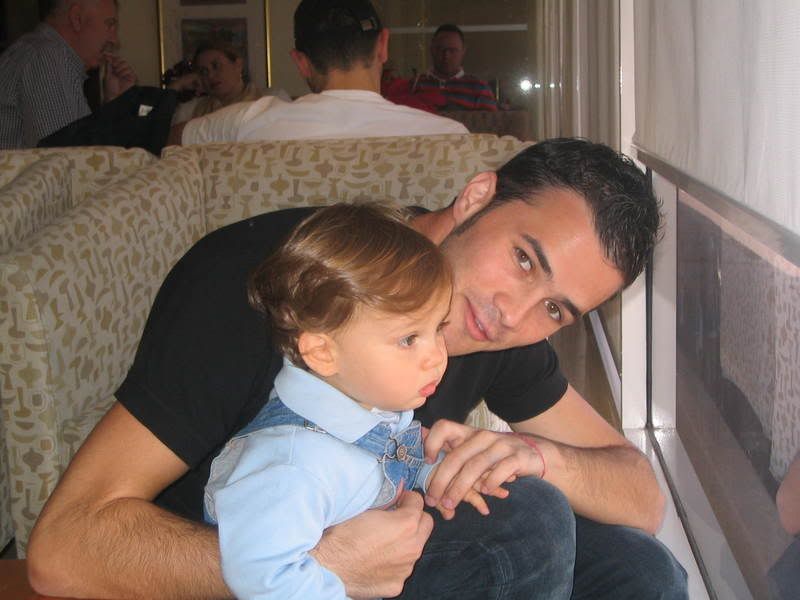 After a relaxed time in the Admirals Club, we went to Gate 24 as they called us for boarding at 12.20, 15 minutes after the scheduled boarding time. Since my Mom & Dad were flying up in Business Class with my baby Brother, we were the first passengers to board the A300.
--------------------------------------------------------------
Flight 1
American Airlines Flight 2106
Airbus Industrie A300
N14077
Scheduled Departure: 12.50
Departure: 13.06
Arrival: 15.07
When they called us to board, we were the first family to go trough. As a result, I went inside the jet-bridge with my little brother's stroller so they could store it. On my way, the security staff stopped me to screen my carry-on bags and then, I proceeded to keep walking down to the aircraft. When I got to the door, I handed the stroller to the guy in charge and quickly went inside the neat aircraft. Here's a picture of what I encountered: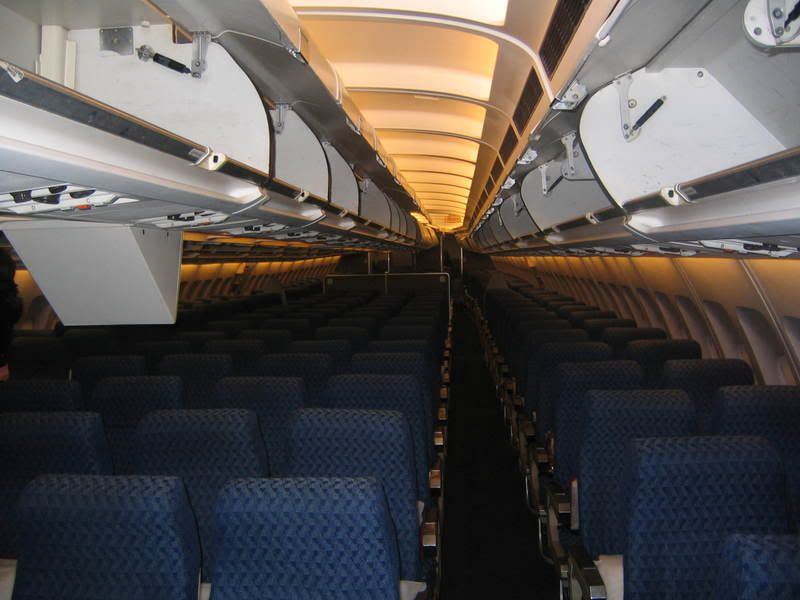 Naturally, I walked down the aisle with my sister to find our seats: 22A & 22B. When we got there, we took our time to take our laptops and cameras out and put all of our bags in the overhead bins. Then, we sat down and waited until the aircraft got totally packed of people. When that happened, we pushed back at 12.57, just 7 minutes behind schedule. Turned on the engines, and we were on our way to Runway 10. On the way there, the FAs informed us that flight time was going to be 2 hours and 57 minutes and we'd fly at FL320.
After Push-Back: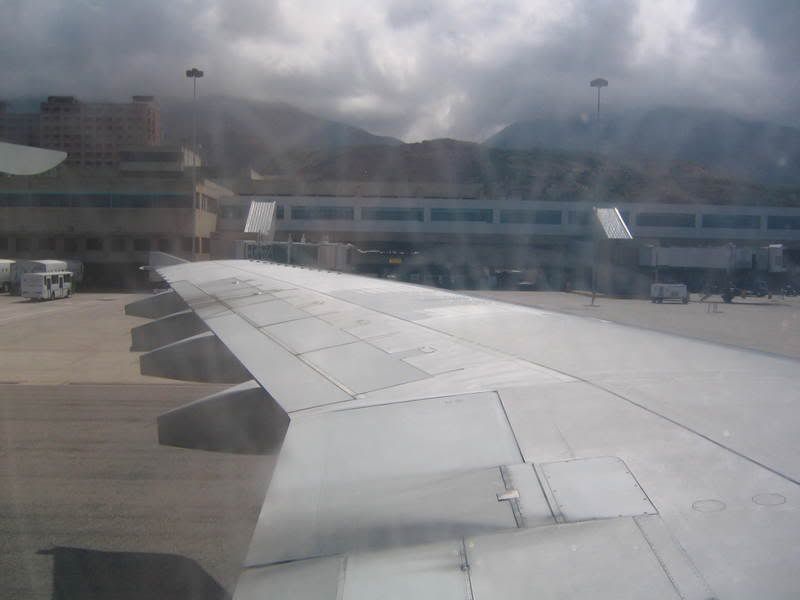 We got to the runway, waited for two Aserca DC-9s to land, and at 13.06, we lined up Runway 10 and performed a powerful take-off, making the common left turn towards the States. Here's the take-off video:
After take-off we climbed smoothly without notice. The FAs quickly started moving their carts to start the beverage and food service while the screens were showing "Talladega Nights: The Ballad of Ricky Bobby".
The service consisted in a choice of Beef or Pasta plus the choice of any drink available. I chose the Beef that came along with some rice and pickles, plus the common bread, salad with a French Vinaigrette dressing and some kind of caramel flan for dessert. It was pretty good considering its air-food back in coach. On the other hand, my Sister chose the Pasta. It was, without a doubt, much better looking than the beef. It came along with the same choices than the beef (except for the rice and pickles, of course). I asked her if I could grab a bite and was also much better than the beef. However, I didn't regret eating my choice since it wasn't bad at all. To drink, both of us had a Diet Coke and after we finished, asked for some coffee. Here's a picture of my meal:
After the service ended, I just laid back and tried to enjoy the rest of the flight. I didn't watch the movie. I've written most of this report on the plane since I think it's much better when I write what I live at the moment, so I can be as specific as possible.
Anyhow, the flight was getting kind of long, so I decided to close my eyes for a while to make some time. Finally, at 15.34 (CCS time) the Captain announced our descent towards MIA. We never caught a single bit of turbulence; therefore the whole flight was rather comfortable.
Finally, after entering Florida from the East, we made a sharp right turn to line up runway 9 at MIA. Final approach was neat and then, the whole nice flight was obscured by a pretty tough landing at 15.07, local time. Here you can judge from the video:
After we landed, we proceeded to taxi to our D51 gate, setting the parking brakes at 15.12. As we came out of the aircraft, had to walk for approximately 15 minutes to get to the Immigration area, which was empty, for our good sake! We waited for approximately ten minutes and were attended by an intimidating officer, who interrogated and looked at us like if we had never come before. Luckily, thanks to my baby brother, he then showed his teeth and started a friendly conversation with us. There's where you can see that these officers are trained to be like robots. No personality whatsoever.
When we passed through this point, went to pick up our luggage. That's when the chaos started. MIA, at its worst time, is a living nightmare. More than two flights from CDG, LHR, MAD, MXP, FRA, CCS and BOG had arrived. The luggage area was as full as a manifestation, full of people from different parts of the world. To walk was almost an impossible duty. Fortunately, our bags came out pretty fast even though our carrousel was being shared with the BA flight from LHR. So, as we got our bags, we went straightly towards the exit and then to the Car Rental zone. We then went to the Bus Stop to go get our car and waited about 20 minutes since all buses were full. For sure, it has been one of the busiest days at MIA in my whole experience.
In the end, we arrived to the Rental Company and got out car. Then, all of us with a living hunger went to grab some supper to a typical Cuban restaurant that owns the title of the 'first meal' for us, every single time we come to MIA.
Conclusions:
- CCS is at its best. AA's staff there was exceptional; the airport's infrastructure is better than expected and the services are as good as required. I'm proud of our airport.
- I was very impressed of the advance I saw at the construction of the new Bridge/Viaduct. They're really working hard.
- AA has the best service between CCS and USA. They have 4 daily flights between CCS and MIA. I have no complains about their service, however, I'd suggest the FAs to be more friendly and less robotic.
- Rush hour at MIA is horrible. People should avoid it.
- A service from CCS to FLL would come perfect for many people. Good thing Spirit is about to start on it soon.
Hope you liked my report!
The next leg is coming soon: FLL-DFW and DFW-EGE. Please expect it! Any requests, are very welcome.
Cheers.
Enrique.