This is my Trip Report #1 on
Airliners.Net
and it is a
Malaysia Airlines
' trip report.

PRE VACATION ARRANGEMENTS
After working like
throughout the year, I decided to give myself a treat by going on a vacation. I applied for a two weeks leave and it got approved. I left Indonesia on 24 November 2006 and after spending enough quality time with my family, on 30 November 2006, I headed to Malaysia Airlines' office in Jalan Sultan Ismail in downtown Kuala Lumpur (its former head quarters which was sold in June 2006 as part of their Business Turnaround Plan) and went straight to the Enrich Customer Service Center on the first floor. I picked up the latest issue of Enrich newsletter,
World of Riches
(November 2006 - January 2007 issue) and read it thoroughly. Then I headed one floor below to the ticketing office and asked the very friendly ticketing officer whether I can get a ticket to
Istanbul
on the following day with the return journey on 8 December 2006 and she replied "Yes", to my joy. A total of 39,000 Enrich miles was debited from my account and in no time I was issued with a return journey ticket to IST on Economy. I paid MYR 630 of taxes for the ticket.
Then I did some shopping, had a dinner with my best friend at KLCC and went home straightaway to pack up my things.
PRE FLIGHT
The next morning, I woke up at around 4 am and by 6.30 am, I was already at KL Sentral in downtown Kuala Lumpur to catch a train to KUL. I decided not to check in at KL Sentral (XKL) as I was afraid I may need to search for something from my luggage while on the train. I paid MYR 35 for a one way journey to KUL.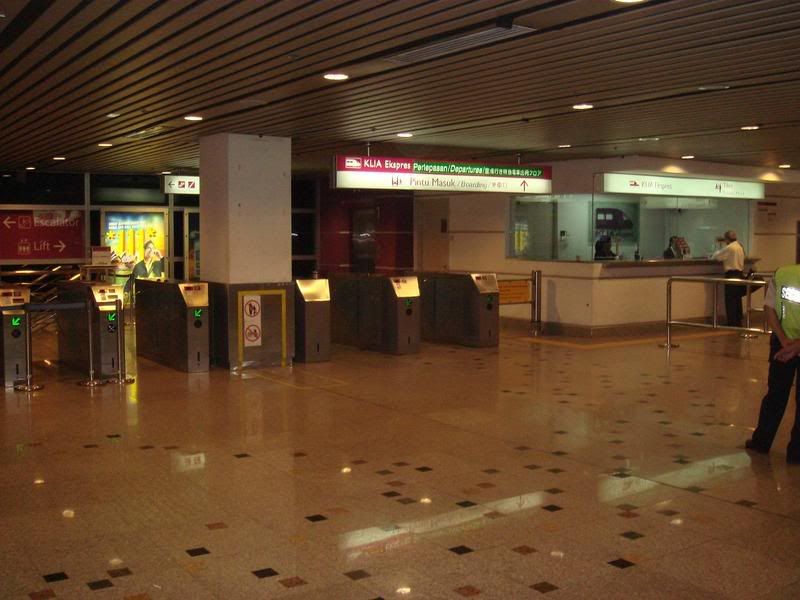 Minutes later the train arrived and I hopped into it. There were not many people travelling at that time on that day.
ERL train is the fastest and cheapest option when travelling alone to/from downtown Kuala Lumpur to/from KUL.
Half an hour later, I arrived at KUL. I disembarked the train and took the elevator to the 5th floor and there I was at the departure hall.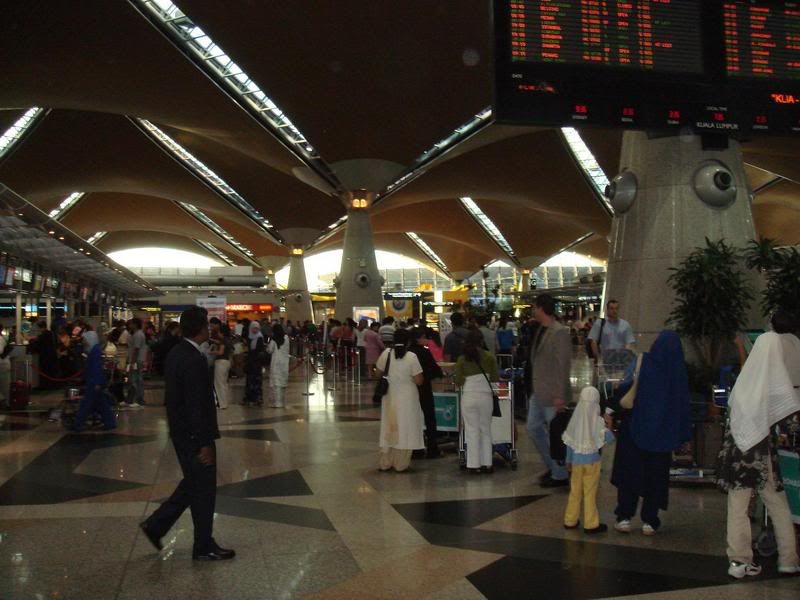 It was a normal busy morning at KUL. I checked in at one of the check in counter in island E and went to the international departure area afterwards. I cleared immigration but later stumbled upon the aircraft models gallery which were being displayed there.
The gallery features all airlines which fly to KUL and each carrier is represented by its flagship aircraft. EK and Fedex were represented by their A380s, QR by its A346, Iran Air by its 742, EVA by its 744 and such. I wish I could own all of them.
Then I headed straight to the gate as I am not a duty free shopping fan. My flight was assigned at Gate G8.
View on my way to Gate G8.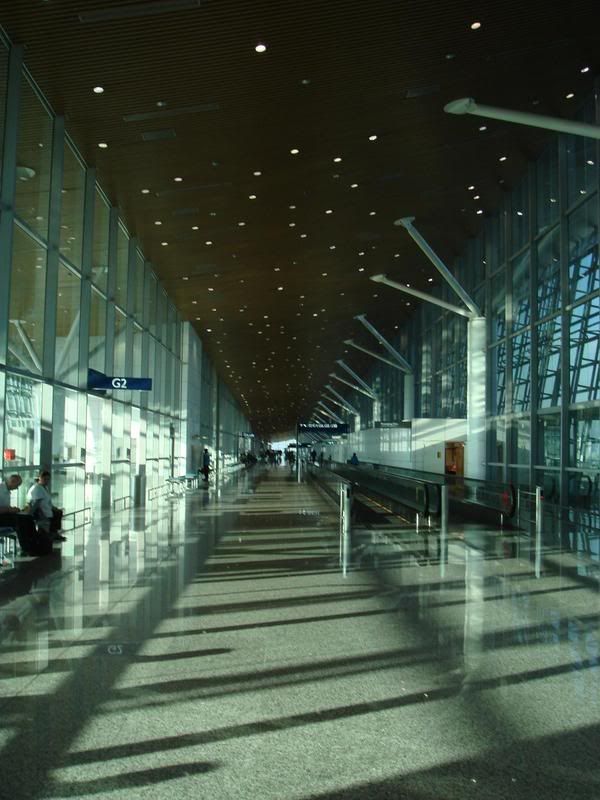 Finally, I was at Gate G8.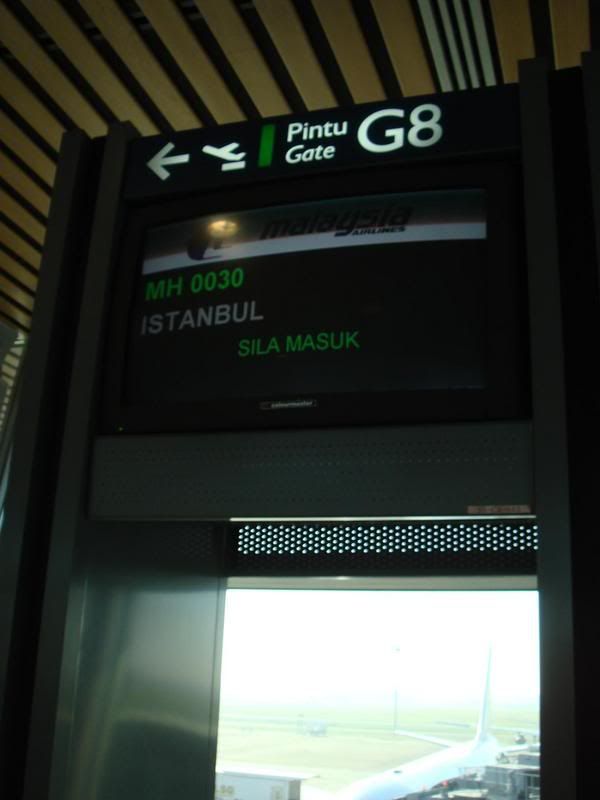 Upon reached the gate, I took a first glimpse of the aircraft that will bring me to IST. It was an A330-200.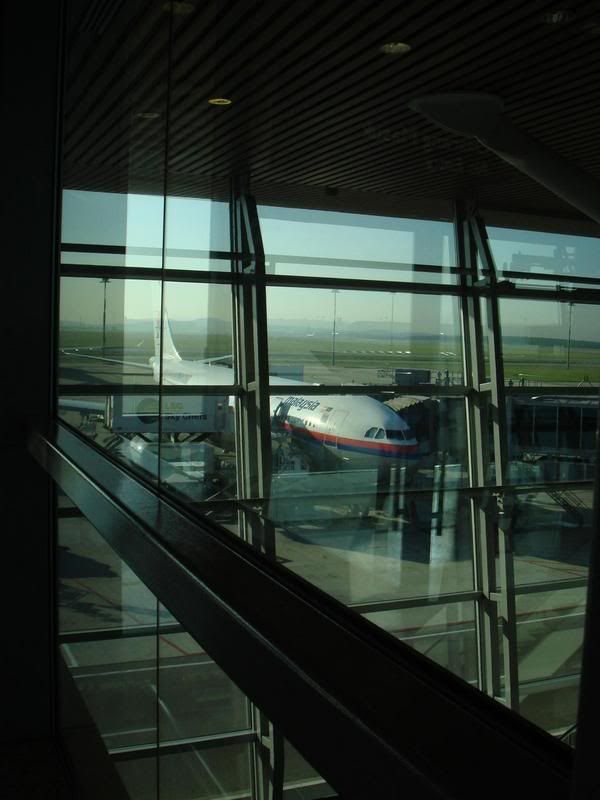 From the glasses of the multi tiered boarding lounge, I saw three pilots on their way down the elevator heading to the aircraft. They were the pilots whom later will bring me to IST.
While waiting to embark the aircraft, I took a close up photo of it. Too bad, I forgot to jot down or ask for the aircraft's registration number.
Then, all passengers were invited to board the aircraft. I was among the last person to embark.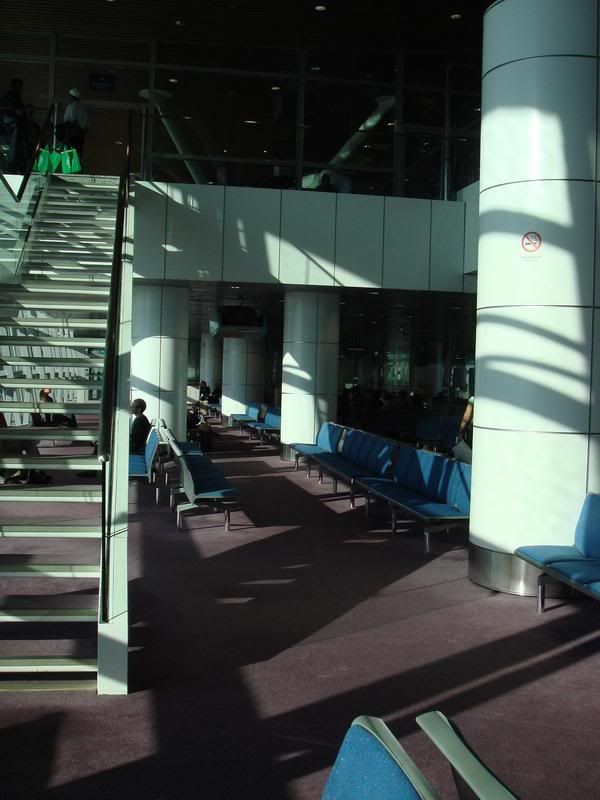 OUTBOUND FLIGHT
Date: 1 December 2006
Flight Number: MH 30
Carrier: Malaysia Airlines
Aircraft: Airbus 330-200
Route: Kuala Lumpur (KUL) to Istanbul (IST)
Departure Time: 09:00 hours Malaysian time (GMT +8)
Arrival Time: 14:30 hours Turkish time (GMT +2)
Seat Number: 42K (Window Seat)
Journey: 11 hours 30 minutes
Distance: 5,206 miles
Class of Travel: Y
Fare Category: T (Award Ticket)
After settling down on my seat I took out my camera and to my horror, it was out of battery!!!
Lesson to be learnt here...
Please ensure that your camera's battery is full before performing any air travel to avoid disappointment.
Anyway, MH's Y cabin layout is 2-4-2 and my seat was the -2 side to the right. Nobody seated beside me so I had both seats to myself.
A blanket was placed on each seat. By the way, my seat, 42K was at the very rear part of the aircraft. The section was served by four FAs, two men and two women. The seat pitch was not as generous as in MH's 772s or 744s. But since I got two seats to myself, it was fine. Plus the great cabin crew services covered up the lack of comfort in MH's A332. The flight departed on time and I had a nice view of KUL while taxiing and climbing up. The weather was clear and sunny. All seats in Y class were equipped with personal PTV and the IFE worked well. I watched two movies out of three which was on offer while onboard, "You, Me and Dupree" and "Tokyo Drift". The other movie was "Lady in the Water" which I have watched at a cinema in Indonesia.
Two sets of meals were given. The first one was a breakfast which was offered after the first hour of the journey. The second one was lunch which was offered two hours prior to arrival at IST. I choosed a rice based meals for both meals as I know that I won't be eating those for the next seven days while in Istanbul. Both meals were filling and satisfying. Between the two meals, the FAs offered snacks to the passengers which needed some. Juice, plain water, carbonated drinks and beers were offered several times during the journey. I was given a full can of 7-Up when I asked for a cup of carbonated drink.
I went to the lavatory once during the journey and it was spotted clean. I didn't sleep at all during the journey as it was a daytime journey, a very long one indeed. Oh, hot and cold napkins were also distributed before take off and landing.
The flight was about 70% full in Y class. The majority of the passengers were Turks returning from their vacation in Malaysia and Malaysian families on vacation to Turkey. MH's FAs were friendly and attentive as usual. All four of them took good care of us. They were anyway Skytrax's World's Best Cabin Crew for 2001, 2002, 2003 and 2004.
During the journey I managed to see some spectacular view from the window. The first one was the northern tip of Sumatra Island in the tsunami ridden Acheh province, then when the aircraft was approaching the coast of Chennai and the coast of Oman in the desert of the Arabian peninsular. The sky was perfectly clear without any clouds at 40,000 ft. When the aircraft was approaching UAE, I had a magnificent view of Abu Dhabi. Then it was a bit cloudy until the aircraft was about to approach the Mediterranean sea. I saw a stunning view over northern Lebanon and Syrian landscape before the flight moved over the Mediterranean sea. Then we approached the coast of Turkey and by then I knew that I was about to arrive.
I managed to get acquinted with a 23 years old Turkish guy, who was very friendly and chatty while onboard. His name is Tolgar. He was travelling to South East Asia and managed to secure some business contacts during his stay. He showed me all business contacts which he secured in Malaysia. He also gave me some tips about travelling in Istanbul, which I found to be handy and beneficial.
Then I felt that the plane has started descending and at about 14:30 hours Turkish time, we landed at IST. I saw a lot of TK's flights including an A330 which took off in the runway next to us minutes after landing. It was a magnificent sight.
I chatted a bit with the friendly FAs while waiting for my turn to disembark the plane. They told me that they are going to stay at Polat Renaissance, a hotel which can be seen from the airport and they are going to stay there for 2 nights only. They will return to KUL on 3 December 2006. I bid goodbye to them and disembarked the plane. In all, MH's Y product is great. They are anyway Skytrax's World's Best Economy Class in 2006.
Malaysia Airlines offers great Y class product.
The international terminal at IST looks new. After a short walk, I was at the immigration clearance and it was done in a few seconds as a lot of counters were opened for us. The immigration officer was also friendly. Malaysian doesn't need a visa to enter Turkey. We were given a 3 month visa upon arrival free of charge.
Then I headed to the baggage claim area. While waiting for it, I changed some of my Euro to the New Turkish Lira. I retrieved my bag and I headed straight away outside to get a cab. As I didn't have anything to declare, I passed over the custom without being checked at all. On my way, I was stopped by a nice gentlement who works for a tour agent company in IST. He offered a ride to my hotel for YTL 50 which I thought was expensive because from my reading I knew that a normal taxi ride from IST to downtown Istanbul would be around YTL 30. I refused his offer politely and got myself a yellow cab to downtown Istanbul and the metered cab really charged me YTL 30 inclusive of tip.
Tips: Always take the yellow cab whenever you are travelling to downtown Istanbul from IST as it is cheaper.
Forex: USD 1 = YTL 1.45
Turks are a nice host and always willing to help. Greet them and be polite and they'll treat you even better.
I was then officially in the Turkish soil.
The long, almost half a day journey finally came to an end.
THE VACATION
Istanbul is such a beautiful city. I totally fall in love with it.
It was winter during the time of my vacation. Being someone from the tropics, winter is always something very different and interesting to experince. The winter in Istanbul was mild, at around 10 degree Celcius during daytime with clear cerulean sky. Istanbul is very rich in history and has "a soul". With a population of more than 10 million people, Istanbul is a thriving mega metropolis and is one of the biggest city in the world.
Sightseeing
I spent my days strolling around the streets in downtown Istanbul.
Near Taksim,
and Kabatas.
There were a lot of mosques in the city with skyscraping minarets.
A minaret in Besiktas.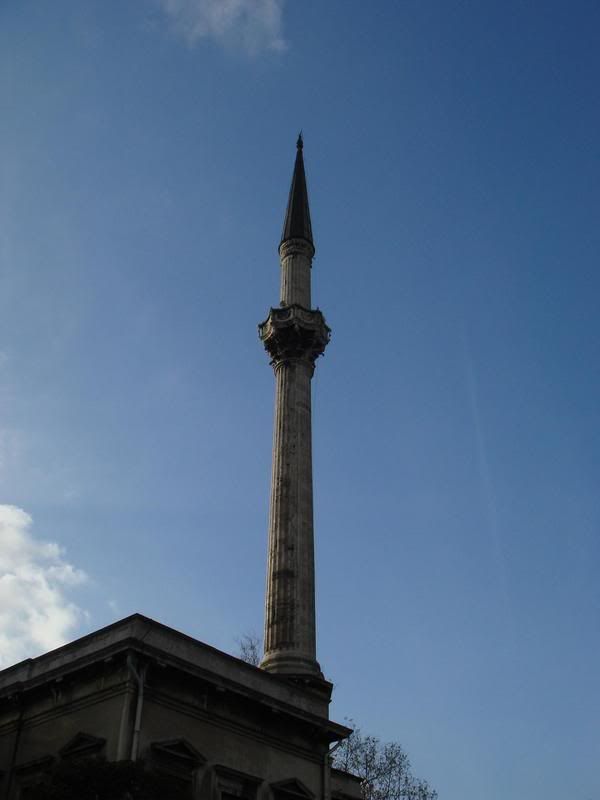 A minaret in Sultanahmet.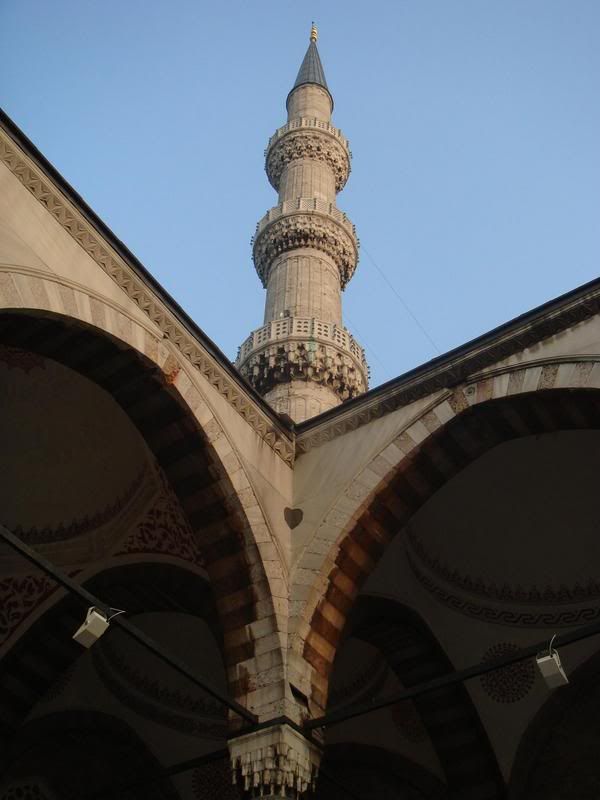 The mosques here were also very beautiful with unique and stunning architecture.
A mosque in Besiktas,
and Kabatas.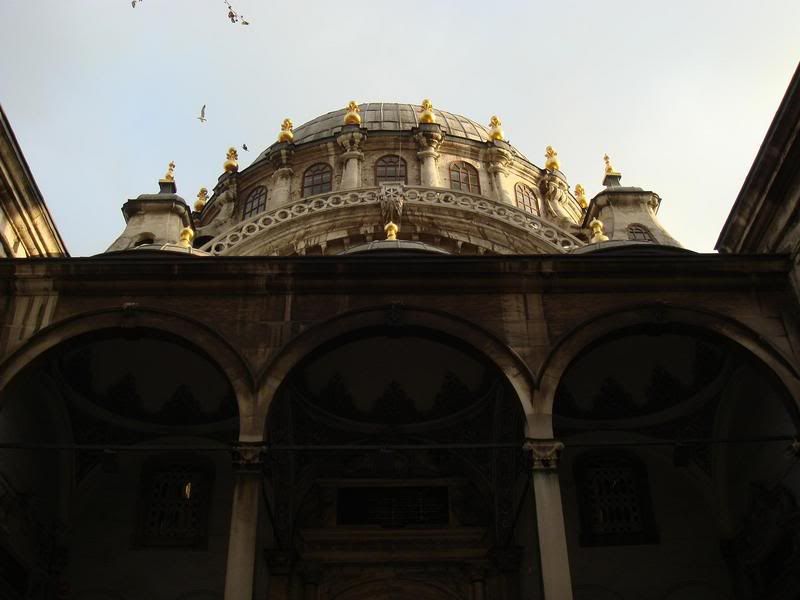 And ancient fountains which sprawled throughout the city.
A fountain in Kabatas,
and in Sultanahmet.
I also spent a lot of time relaxing in parks.
A park in Kabatas,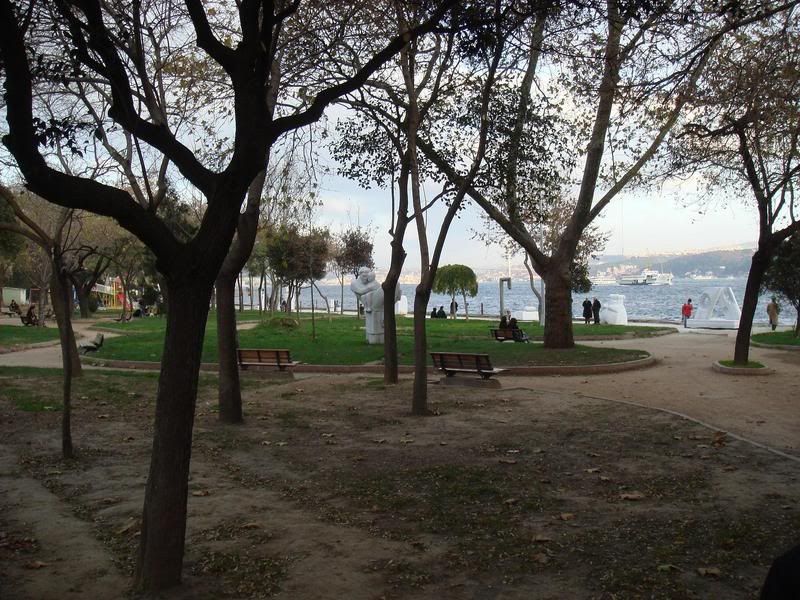 a park in Macka,
and watching sea birds in a park in Besiktas.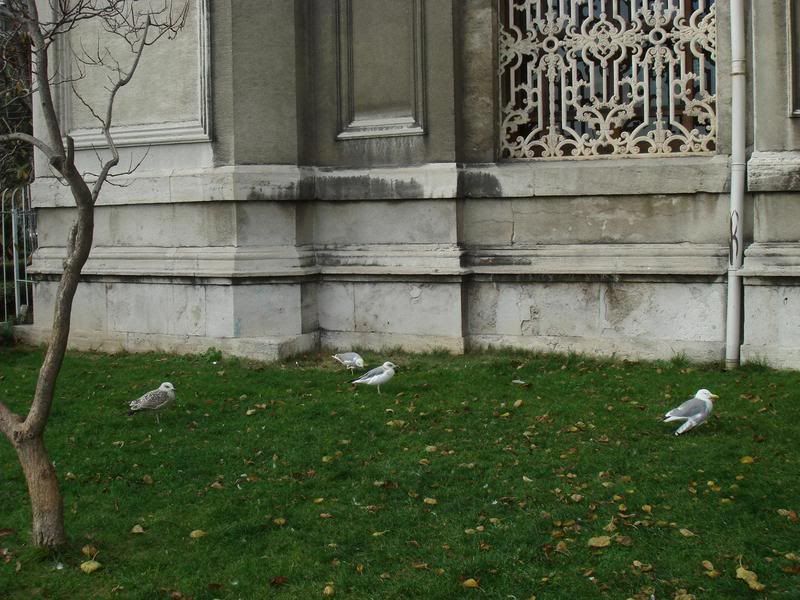 Don't forget to have a snack in a seaside cafe.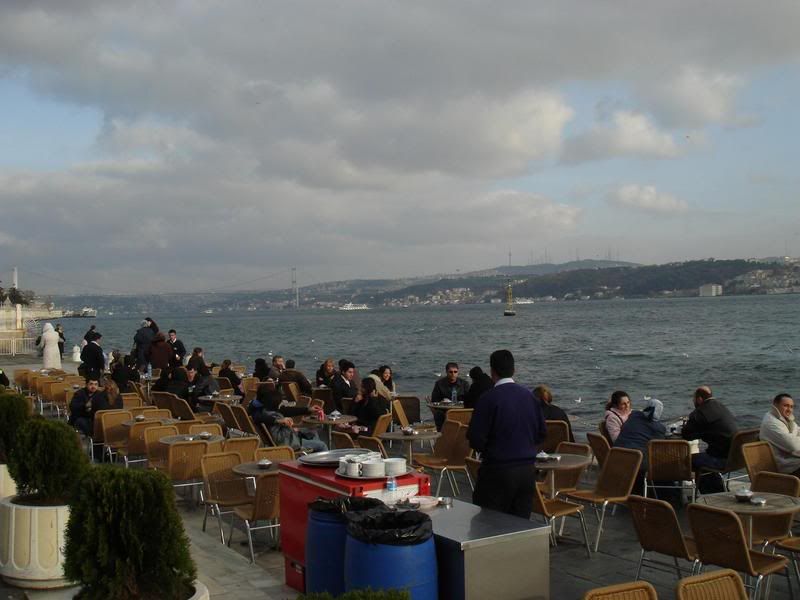 I went right to the end of the shore and there it was, the Bhosporus right beneath my feet.
and the clear sea beyond.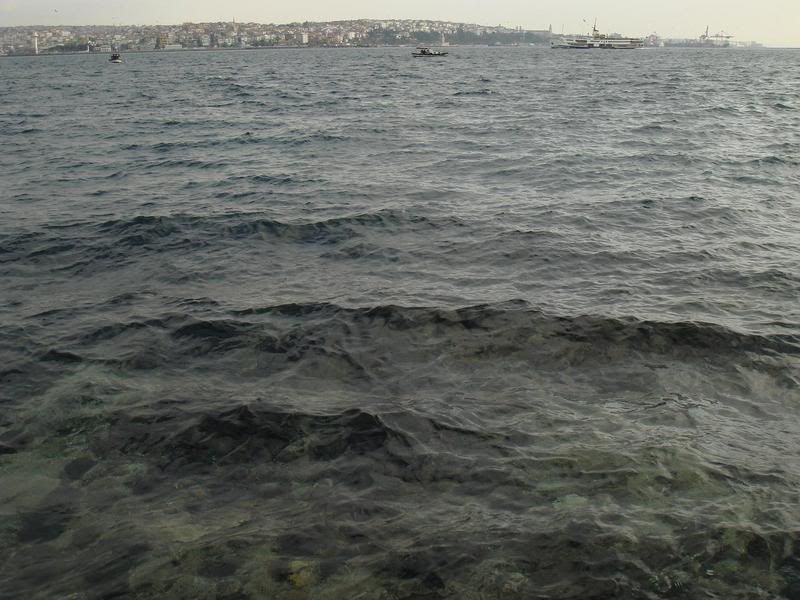 The Bhosporus Bridge which connect the European side and the Asian part of Istanbul is nearby.
The best and cheapest way to discover Istanbul is by using its tram. It only cost YTL 1.30 to any part of the city along its line and it passes major tourist areas in the city such as Taksim, Sultanahmet Square and the Grand Bazaar. The tram is comfortable and safe although it can be quite pack during peak hours.
Part 2 of the Trip Report, which includes the remaining of my vacation in Istanbul and the inbound flight will be posted soon. Stay tune.
9MMAR