Hey folks!
It is seminar time again, this time in Kiev, Ukraine. Our itinerary stated that we are about to take morning Austrian Airlines service to Vienna, Schwechat Airport (VIE) which is due to depart at 08:20, and arrive at Vienna at 09:40, then to take OS 661 to Kiev, at 10:40.
I woke up around 5 a.m., quickly took a shower, put my clothes and around 06:20 went to the airport. What I've noticed is the dense fog covering entire city, so I had some feeling that my flight will be delayed. Actually, Belgrade Airport is equipped with CAT III equipment, however, due to some issues which I really do not understand, one part of the system isn't yet tested, so the airport still operates under CAT I, which makes takeoffs and landings really hard in misty conditions. Anyway, arrived at the airport, I saw a significant number of people, waiting at the check in counters, as there was around 5-6 flight leaving at the almost same time, and another 6 flying a bit later on. Went straight to the common OS/LH check in counter and received both of my boarding passes, one for BEG-VIE and one for VIE-KBP leg. Another pain was the passport and customs, as only one counter was working and a dozens of people waiting in front of it.
In around 20 mins, I've passed through and entered the transit area. People here and there, Montenegro Airlines Fokker 100 YU-AOT at the gate, getting ready for a flight to Podgorica, Jat Airways B737-300 YU-ANF, YU-ANK and B737-400 YU-AOR, YU-AOS sitting at the gates, waiting for their upcoming flights. Our Fokker 100, which should take us to Vienna was supposed to arrive at 07:40, and boarding was announced around that time.
However, time passed by and still we couldn't see Austrian Fokker landing. The last information we had, is that it will commence another landing run around 08:45, and if fail to land, it will go back to Vienna.
That situation really happened, and our flight to VIE was canceled. The airport staff told us to take our luggage and call to Lufthansa Ticket Counters at the airport.
I felt completely mad. Me and my friend lost our connection to Kiev in Vienna, and another possible connection is over MUC with 3:30 hours of waiting in the transit!
After several minutes, our tickets were rebooked, and now we were about to fly BEG-MUC on flight LH3401, and then MUC-KBP on flight LH3232. Later on, we checked in our bags and got boarding passes for both flights.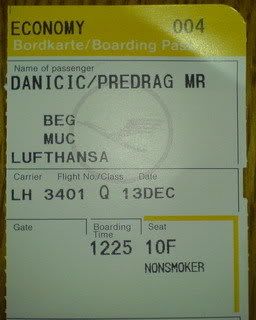 Flight: Lufthansa LH3401
From: Belgrade (Nikola Tesla/Surcin) (BEG)
To: Munich (Franz Jozef Strauss) (MUC)
Departure: 1255 local
Arrival: 1430 local
Equipment: Boeing B737-530 "Hildesheim"
Registration: D-ABIE
Captain: M. Konig
Class: Economy (Y)
After few hours of waiting, and another passport/customs control, as we had to "enter" Serbia once again after our flight was canceled, boarding for flight LH 3401 to Munich was announced. It was really busy time at the airport: Air France B737-500 to Paris, British Airways A319 to London Heathrow, Alitalia Embraer 170 to Milan etc ....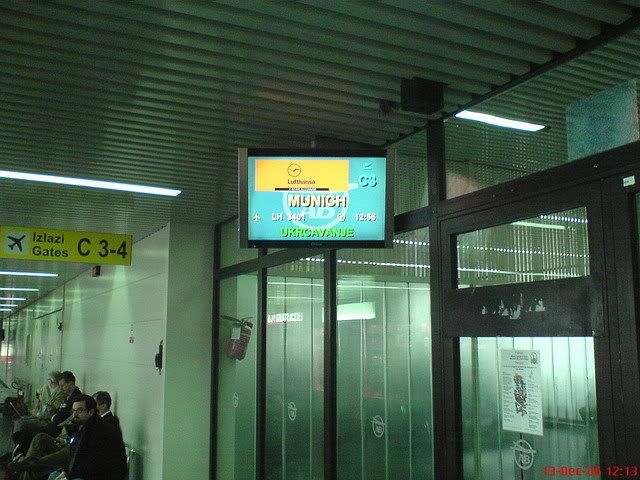 Here are the few pictures I took while waiting in the gate area: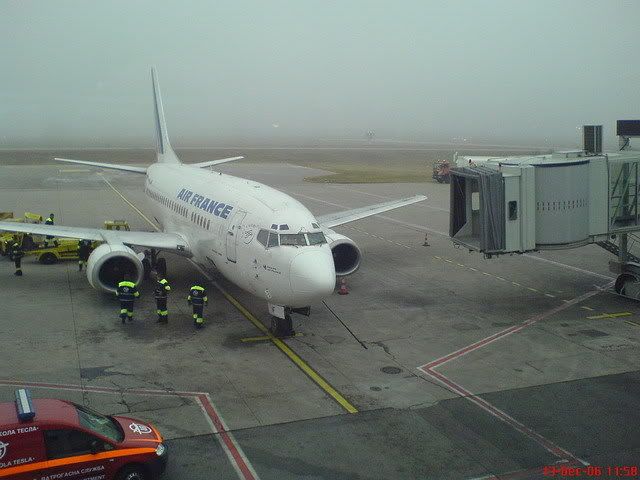 Around 12:35, we were called for boarding. First to board were business class passengers, as well as parents with small children, followed with the remaining passengers. As this was my very first flight with Lufthansa, I was really looking forward to see how the new interior looks like and I was really impressed. We were greeted by middle-age purser at the front door. On the plate opposite to him, was the wide selection of the worldwide newspapers: from Financial Times, to New York Times and Washington Post. Even some Serbian daily newspapers
The interior was really nice, business class has and empty seat between aisle and window, and the walls in it are decorated with Christmas applications. Leg room was really good, much better then in Jat 737. Seats can be reclined with the push of the button which is also really good.
View Large
View Medium


Photo © Bernd Karlik - VAP
Took my seat, and a few pictures more
Eurowings (Lufthansa Regional) Canadair CRJ-200 landed while we boarded, from it's Dusseldorf base.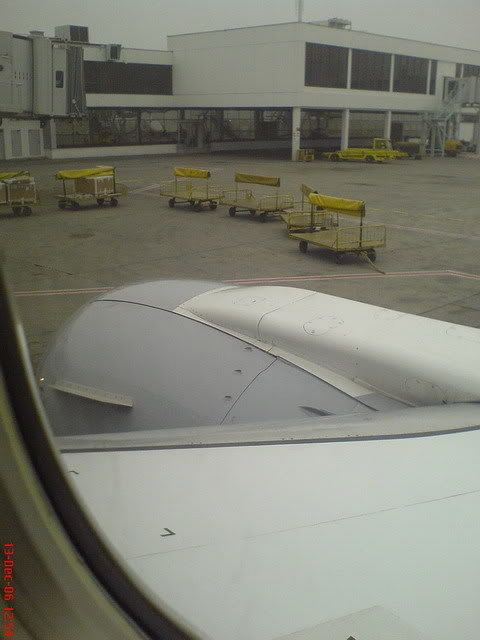 "Boarding completed" was announced at the public address system, 10 minutes before our scheduled departure time and the cabin crew started with their usual safety demonstration. This 737 doesn't have any inflight entertainment system. Pushback started and the engine no. 2 started to whine, with that lovely 737 whine sound. Soon it was started up, and the engine no.1 followed suit. After both engines were normal and stabilized, we started our taxi towards runway 30. A lot of airplanes sitting at the A platform: JU 737 YU-ANW, JU 737 YU-ANK, JP Saab 340 Cargo from Ljubljana, DHL Antonov AN26 etc....
Around 12:55, the captain pushed the throttles forward, and after 15-20 seconds roll we were airborne with really steep climb rate (which was great, if I may add
)
Our flight route will take us over northern part of Serbia, then Hungary, followed with Austria (we will overfly the Alps near Linz and Salzburg) and finally, landing to Munich over Bavarian plateau. Today's flight cruising altitude will be 32000 ft, which was gained before flying into Hungarian airspace. Captain addressed the passengers, and said that we are about to land at Munich, ten minutes behind schedule with some weather information on our flight. Inflight service started about 15 minutes after departure, we had some sandwich and round of soft drinks with tea and coffee, which is really nice, at least for short flight like BEG-MUC is. About an hour into the flight, the first glimpse of Alps showed up and I was absolutely impressed with how beautiful Alps are. I felt like we are flying almost on the very tops of the mountains. Captain even made a lot's of turns as he made an approach to MUC, so we had really amaizing views. It was absolutely phenomenal.
Our descend was already initiated, and the runway in use will be 08L. We were flying over Bavarian villages already, with lot's of turns and descends to establish on the ILS. Next to us, LH A320 was making an ILS to runway 08R. It was really great to see two aircrafts landing on parallel runway at the same time
It was excellent touchdown, and after quick reverse thrust we went to the high speed exit and after that to the Terminal 2. A lot of Air Dolomiti ATRs next to us, also Lufthansa Cityline CRJ-200/700/900, Condor A320, Emirates A330 and a lot of LH widebodies
Chocks on at 14:25, and we are ready to leave the aircraft.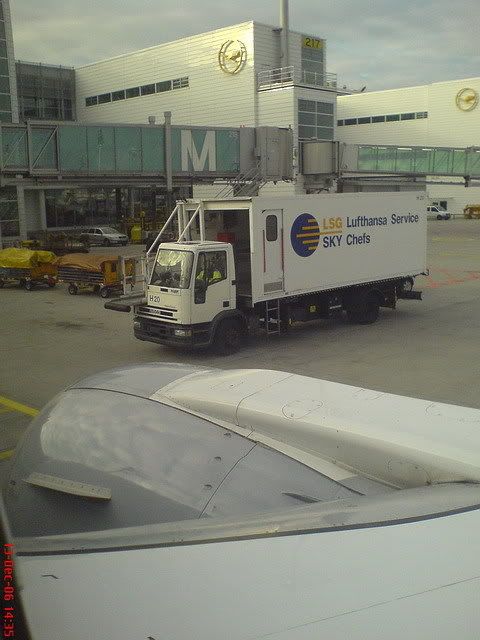 Nice LU's world A319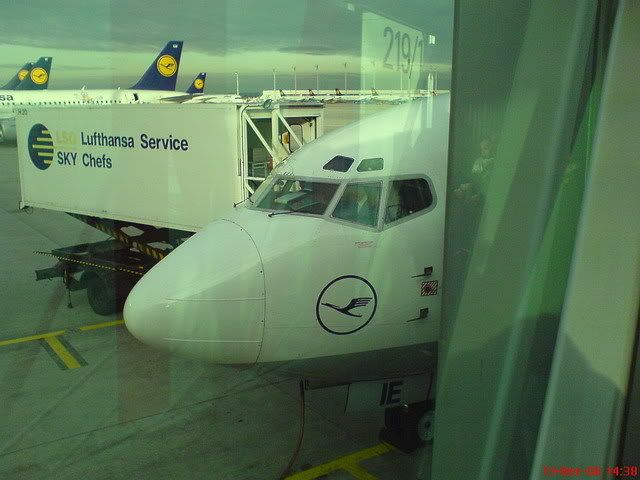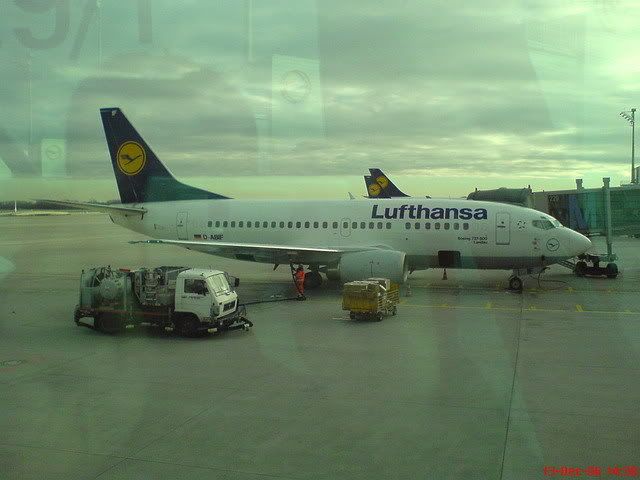 Now, we had to wait until 19:30 for our flight to Kiev. Yup .... a lot's of hours to wait
Anyway, there are some Bavarian food, so it could help us out
The other trip reports will soon be here. Stay tuned, and comments please