Copa is currently codesharing with Mexicana to offer flights to MTY and GDL both from MEX. Considering that I'm OnePass elite, I decided to take Copa with two stops in MEX and PTY instead of Mexicana with just one stop in MEX. Price for the r/t was only USD 700 with all taxes included vs USD 750 by Mexicana (3 month advance booking).
Dec 14th: Flying Day
Copa's flight to PTY departs CCS at 8:22 AM so you should get there by 5:22. Since we would be checking in in the small Business/Elite queue line, we arranged taxi pickup at 5am. I got done with my luggage at 2am and decided not to sleep as it would be worse to wake up in the middle of my deep sleep.
At 5am we loading our luggage in the Taxi SUV and made our way through Caracas's highways which were quite busy considering it was only 5am. We made it to the famous trocha mountain road (bridge replacement) by 5:30 and there was already a considerable line. We finally made it to the airport at 6:00 and quickly made our way to the Copa counters. There was only one family ahead of us in the Business line.
Mr Max was the check-in agent today and he quickly started printing out our boarding passes. I was flying with my mother, grandma and little brother. I had arranged to have our seats together at the time of booking but guess what... everyone was together except me. He couldn't seat me next to my family so he gave me an exit row window for the CCS-PTY flight and the row behind my family in the PTY-MEX flight.
To my surprise he didn't print out our Mexicana boarding passes, neither did he check our bags all the way to MTY. I complained and he called a manager but both said that Mexicana had blocked control of the flight and they couldn't print my boarding passes nor tag my bags. Later, this turned out to be a huge problem.
After checkin-in, we went though Emigration and we headed to the food court (Enrique, I'm gonna steal some of your pics from this point on
)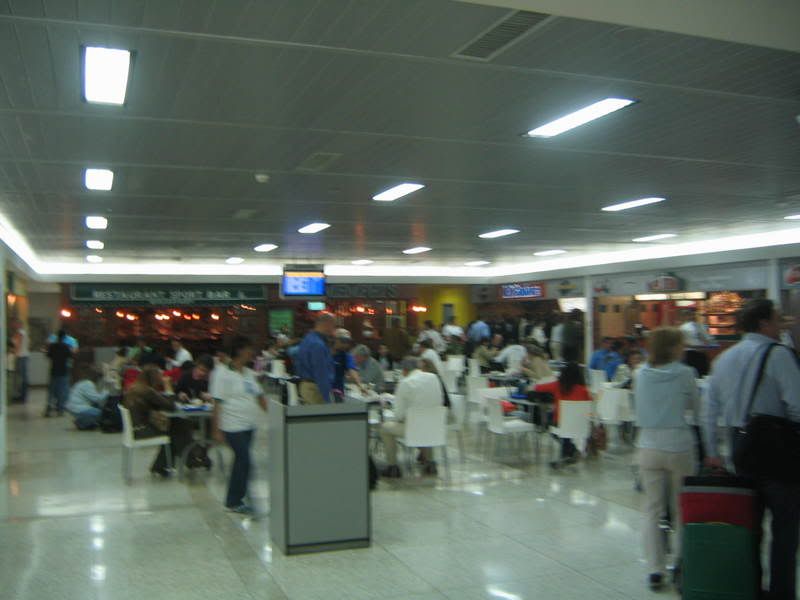 Where we had some nice arepas at the Budare. By the time we were done eating, it was 07:15 so we quickly headed to the duty free shops to buy Venezuelan rum and chocolate to our friends in Mexico. We also bought some Scotch for the Holiday Festivities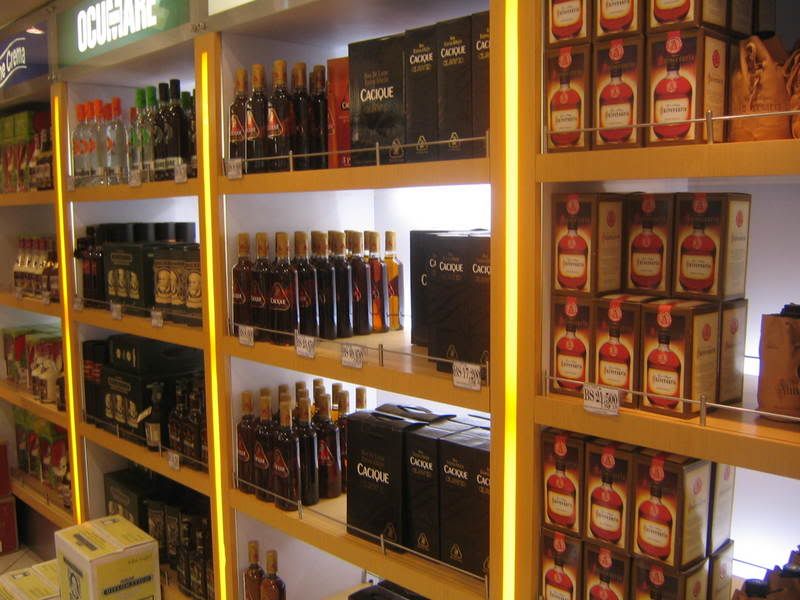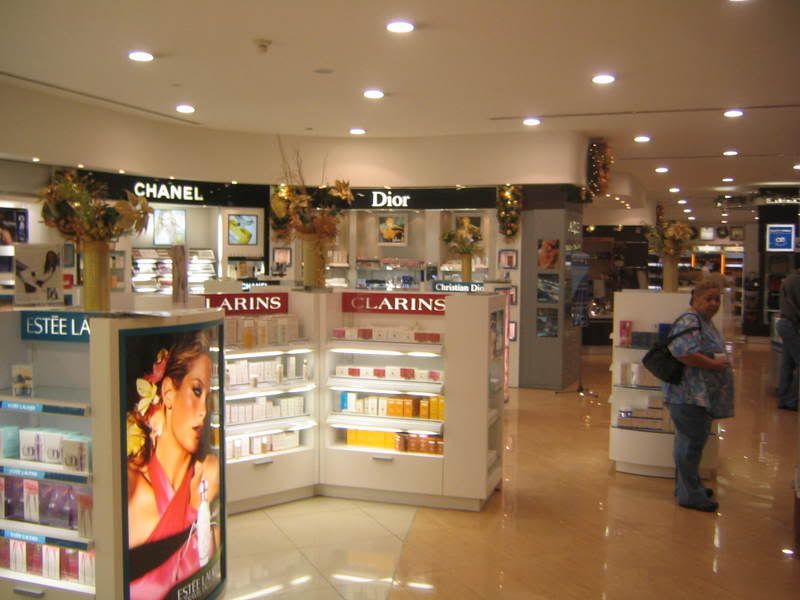 By 07:35 we got to the gate where a small line was already forming at the entrance of the jetway (looks like we Venezuelans are getting used to form lines like people do in Cuba to get rationed food), doesn't people realize that we are all gonna get one seat in the plane? I always mock those people.
At 05:40 they started boarding and Business/Elite/Pax with children were called first (as usual) and I made my way through all the stupid people that had lined up there since 7am. When I was handing out my boarding pass to the gate agent, they called for boarding people seated in the back (again those people boarded first than the idiots that had been in the queue since 7am).
Here's a shot of the new jet bridges in CCS:

Copa Airlines #220
CCS-PTY
Boeing 737-700w
HP-XXXXCMP


I quickly found my seat (15A) and to my surprise it had no seat in front
so I had plenty of legroom plus a nice window view.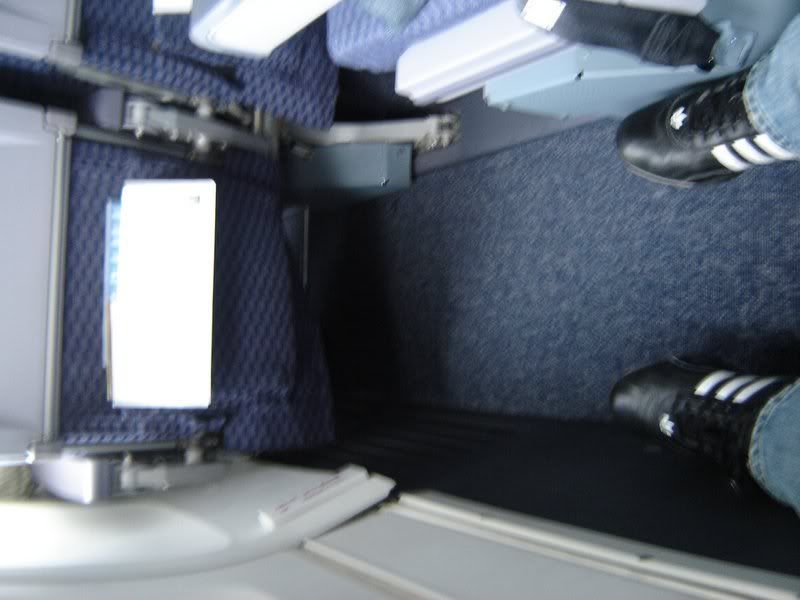 Boarding happened very quick and I had two seatmates in my row, the middle seat was taken by a man with a pony tail reading a french book (SAL final destination) and the aisle was taken by an american businessman who had MEX as final destination. The guy seated front of the pony tail guy was called by a FA to let him know that he was upgraded to Business.
There were 2 ladies and one girl in the row behind me. One lady was flying alone to PTY (I heard she telling the other lady how much stuff she was going to buy in Panama) and the other lady was flying with her daughter to Santiago de Chile. Poor girl kept asking: "How much further till we get to Chile?". On the other side of the aisle there was an Argentine headed to EZE and two ladies headed to Santo Domingo.
We pushed back on time and quickly made our way to runway 10. Here are some pics taken during our taxi run.
Continental 738w to IAH: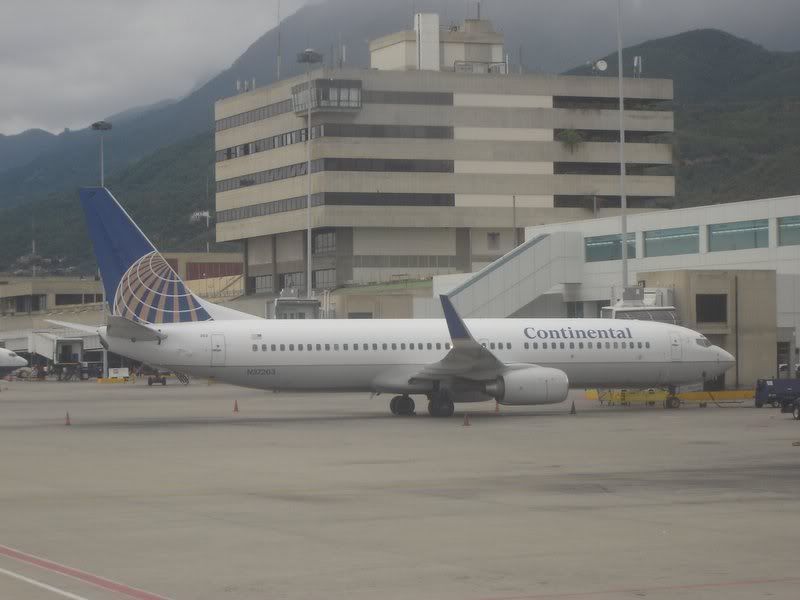 Mexicana A320 to MEX:
Venezuelan DHL fleet (ATR42F + 722F) & Delta 752: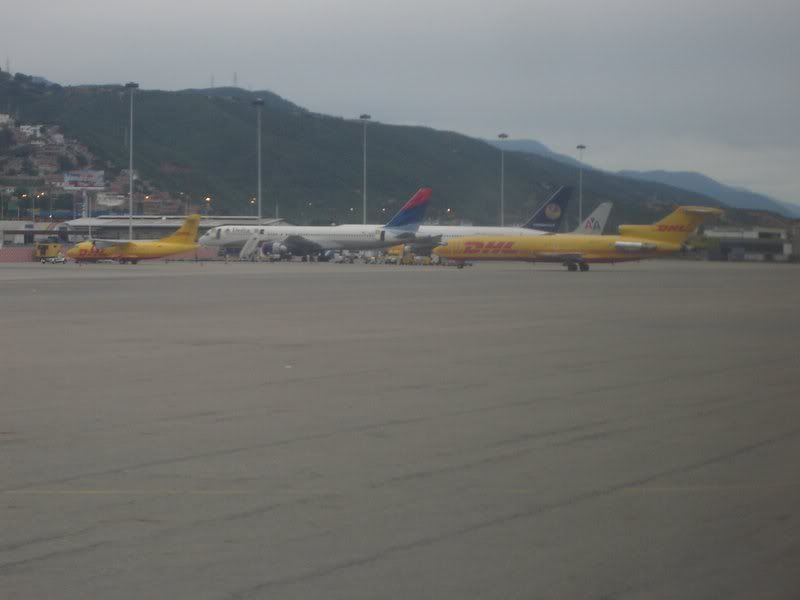 Santa Barbara 763:
American 738 with winglets (DFW bound)!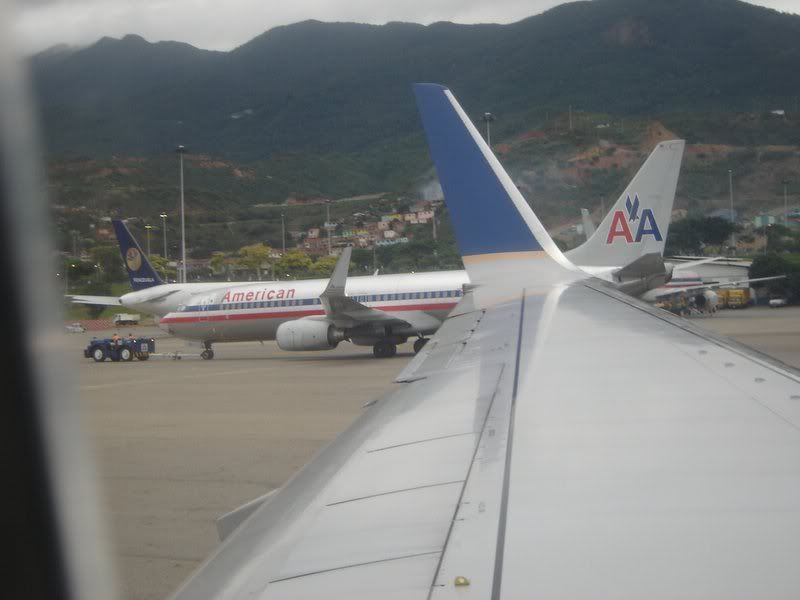 We held short of runway 10 for almost 20 minutes, I can't believe how incompetent CCS air traffic controllers are. It's always the same shit, they leave you there burning fuel holding short when not a single plane took off or landed. Looks like they don't know how to handle a radar. I wonder how we made it back to FAA's Category I.
We took off 20 minutes late and quickly made a left turn parallel to the airport. Here's a nice picture of CCS after take off: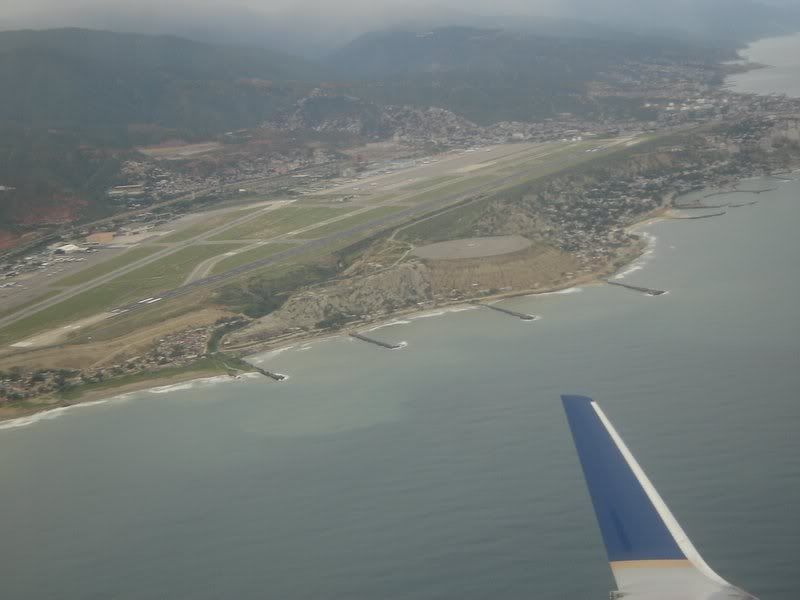 Right after takeoff I fell asleep and woke up when the FA asked what breakfast choice I wanted. I can't remember the options, I just picked the last one he said. It turned out to be an ugly mix of scrambled eggs with muffins and two thick slices of ham. I can't remember the last time I ate something so shitty on a plane. By the time I was done with this "breakfast" we were overflying the Guajira Peninsula which is shared by both Colombia and Venezuela and is home to the Guajiro (Wayuu) Native People.
Before we knew it, we started our descent into Tocumen Intl. and after a couple of hard turns we were flying parallel to Panama City coastline. Here are some nice shots of the growing skyscrapers that make up Panama City's modern skyline.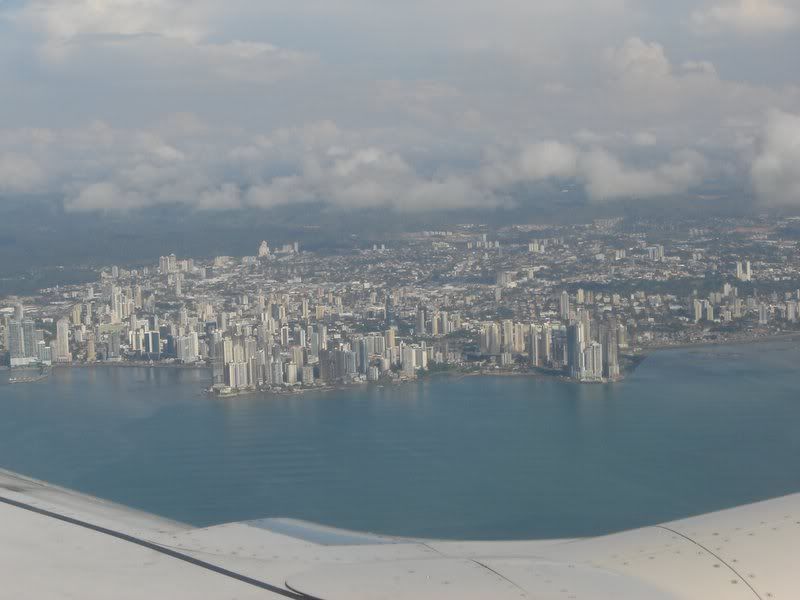 We touched down on runway 03R and thanks to PTY's airport layout we quickly made it to the terminal gate. Welcome to Copa's turf!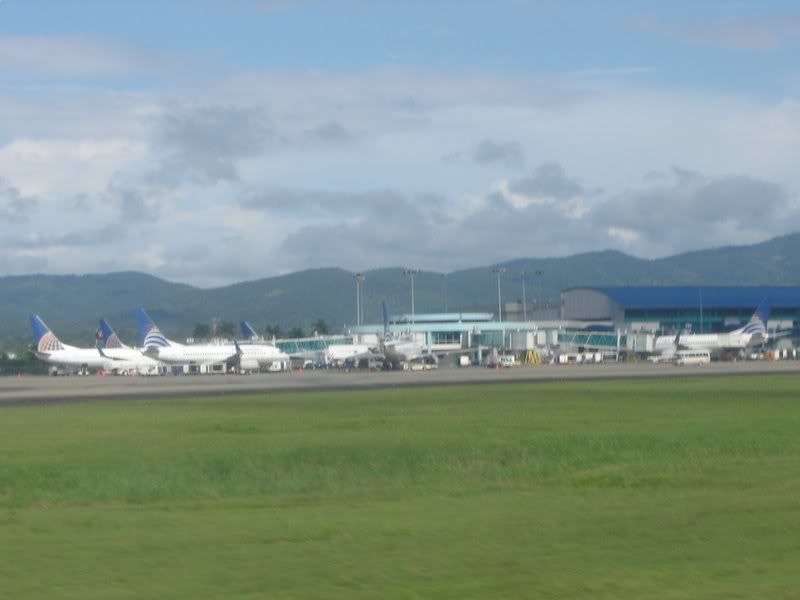 We were arriving 20 minutes late and I had a 55 minute connection in Panama so we had to hurry up a bit to get to our MEX bound plane. We arrived in Gate 23 and had to run to gate 18 which was already boarding. That meant no duty free shopping
There are many electronic shops selling Plasma and LCD TVs. I saw one guy waiting to board with a laptop bag and a huge 42" Plasma TV Box. How do you take that to the plane? You put it in the overhead bin? I guess you gate-check it.
At the gate I was greeted by a male FA who asked for my boarding pass. He read my name and checked a list he had on his other hand and told me that my new seat was 4F
I had been upgraded. I offered the seat to my grandma and she refused because she didn't want to fly alone for almost 4 hours. So I gladly took the window seat and ordered a cup of water as I was thirsty.

Copa Airlines #210
PTY-MEX
Boeing 737-700w
HP-XXXXCMP

Business cabin had only one seat left until the American guy that was seated in my row in the first flight showed up and he was too upgraded and again sat next to me. While we were at the gate I managed to get this nice winglet shot of an EMB-190. This winglet shot is dedicated to Enrique who loves winglets: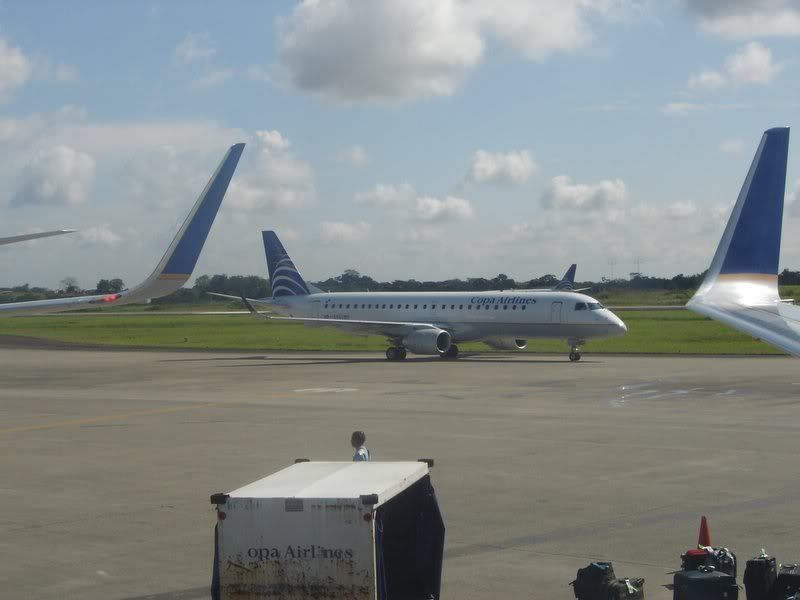 We were offered our lunch options at gate which were:
- Chicken breast
- BBQ Pork Ribs
I think the choice here was obvious.... Delicious Tony Roma's Ribs came to my mind when the FA mentioned BBQ Ribs so I took the Ribs while my seatmate took the Chicken.
We pushed back on time and to my surprise, wind had shifted so the active runways were the 21s. We taxied to runway 21L and quickly linked up and held for a few seconds. While we were holding, I could see a small cessna C172 flying over the terminal and then diving into runway 03L! How crazy is PTY ATC?? You are not supposed to use one runway in one direction and the other in the opposite direction. First time I see that kind of airport operation.
Nonetheless we took off from 03L and again flew parallel to Panama City's coastline, regretfully this time there were many clouds so I couldn't see the city, but we managed to fly over the Panama Canal and I got these nice shots:
Miraflores Locks (Pacific Ocean)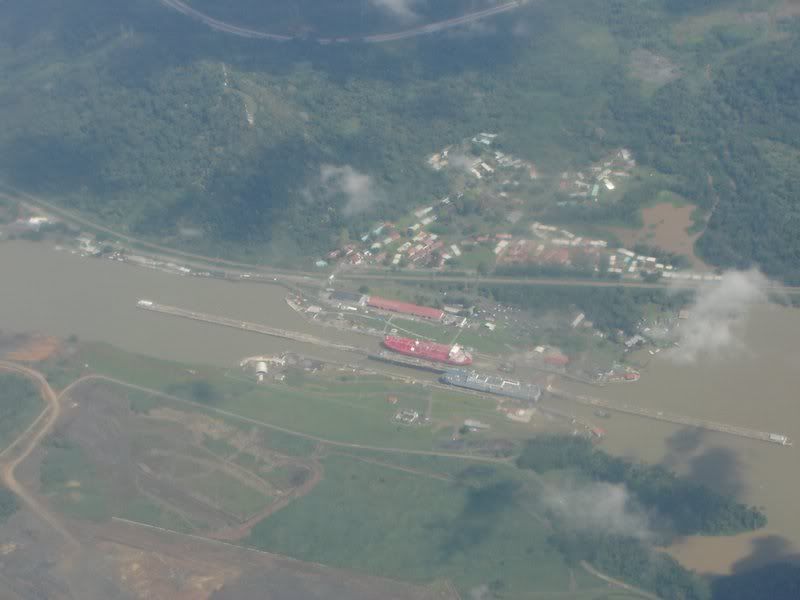 Centennial Bridge (opened in 2004)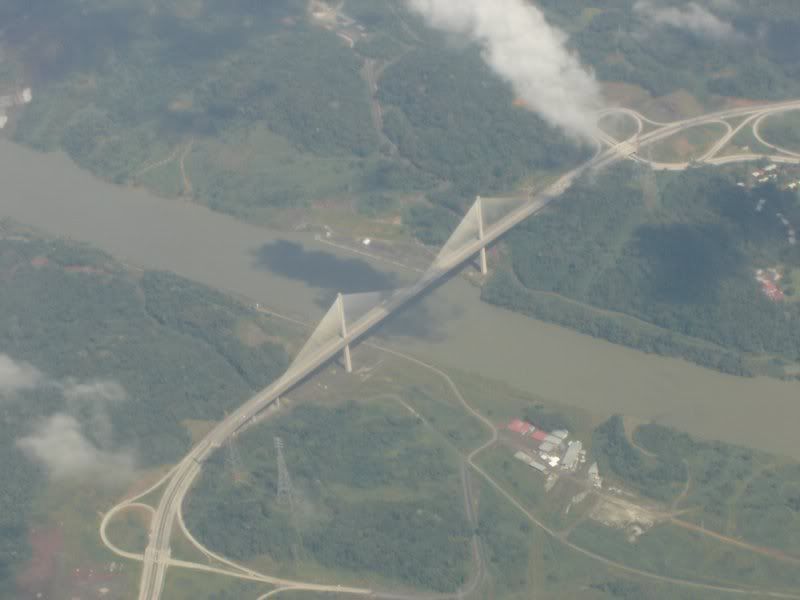 Ship on Gatun Lake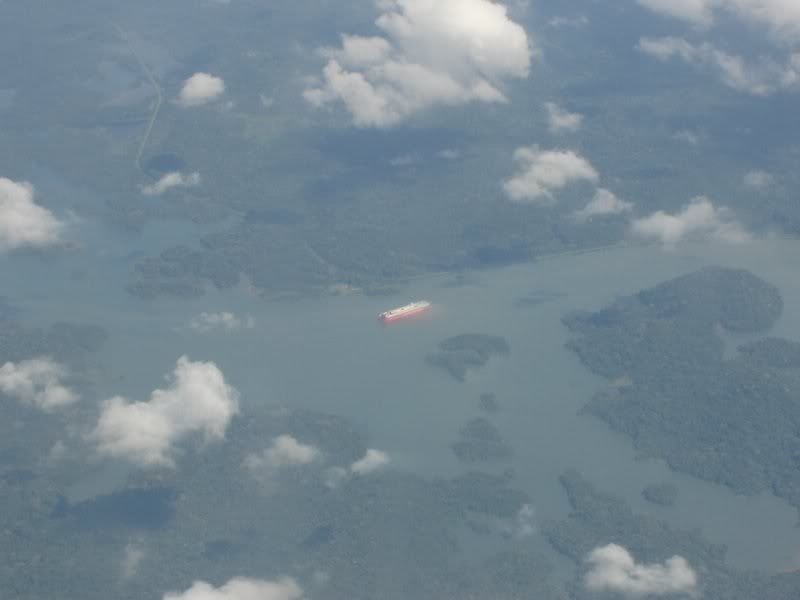 About an hour after departure the FA started serving the appetizer which consisted of roasted eggplant and lettuce salad with vinaigrette sauce. I only ate the salad, I don't like eggplant. Meanwhile, my seatmate ate the eggplant and didn't eat the salad.
Soon after followed the main entry which turned out to be a huge disappointment. It was only 4 pieces of ribs (each about the size of a Snickers Mini size chocolate bar) which made me fight with the bone to get the little meat there was.
I asked for a Heinekken beer after my "lunch" and about 15 minutes later the FA offered me vanilla ice cream with chocolate syrup. The ice cream was delicious and the beer was too warm for my taste.
Time passed quickly and we began our descent over Central Mexico. Here is the almighty Popocatepelt alongside the Iztaccíhuatl and the Paso de Cortes that separates them: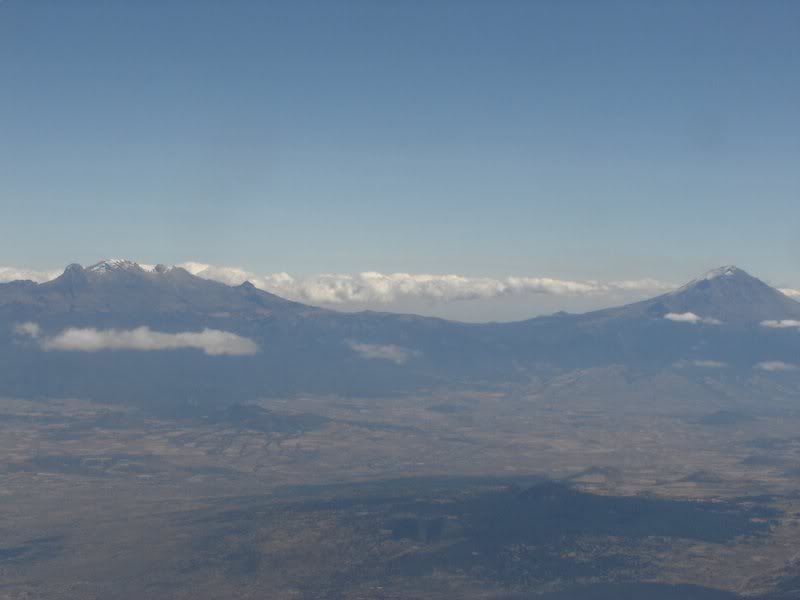 Here's a nice shot of Mexico City and its "monotonia", almost every part of Mexico City is like this: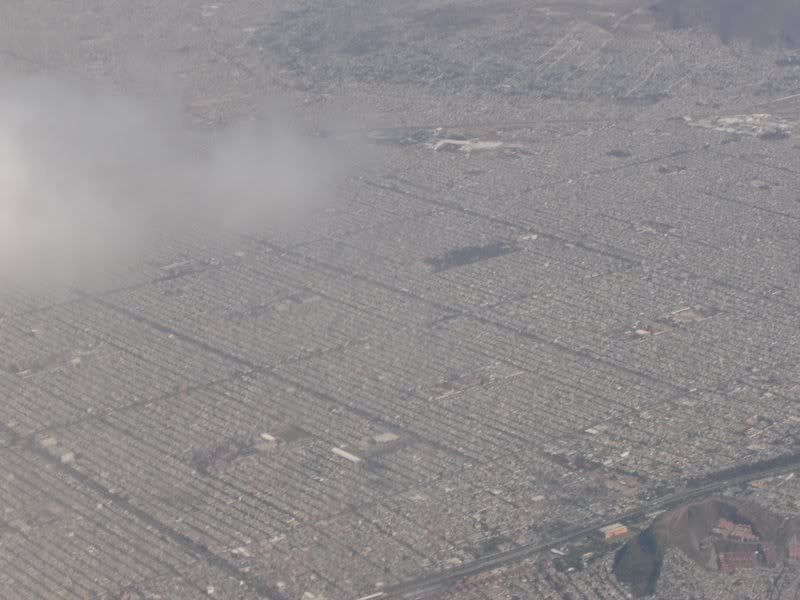 Hipodromo de las Americas (Americas Horse Track):
And soon after the Horse Track we touched down on runway 05L and to my surprise guess what plane I saw...
A CONVIASA 732!! (Leased from Global Air)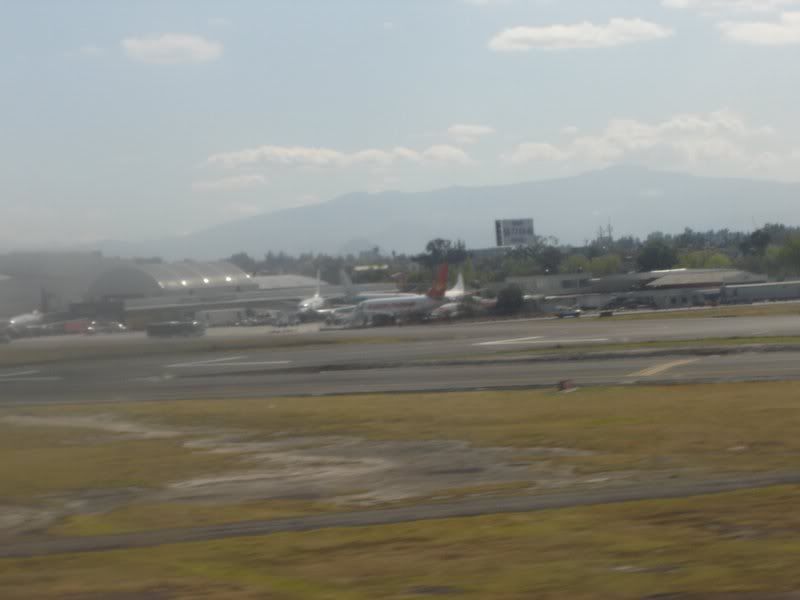 After exiting the runway a Northwest A320 landed behind us and we started our taxi run to our remote ramp position. On the way I took these shots:
Here comes the police!! The federales and their nice 722 (Mexican FBI):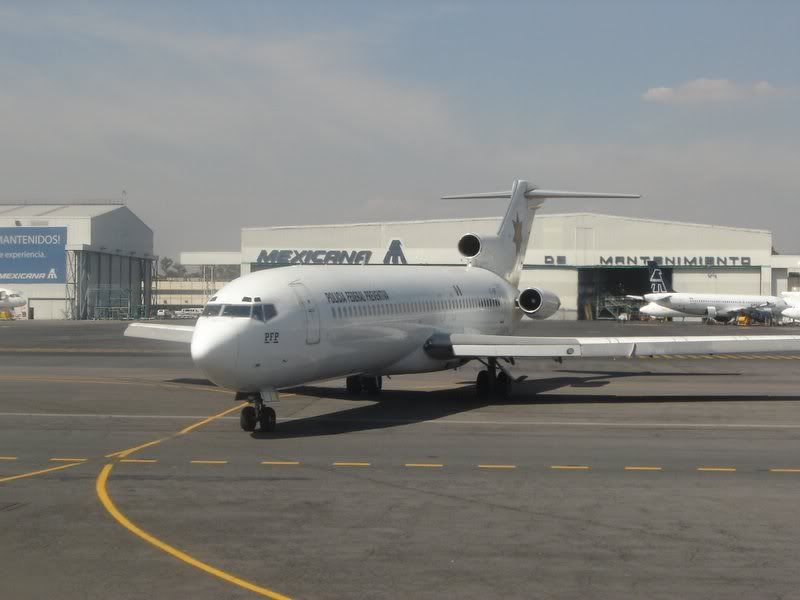 Pluna's 752 from Uruguay very far from home:
UPS 757F:
Here's Felipe Calderon landing in MEX.Mexican "Air Force 1" 757: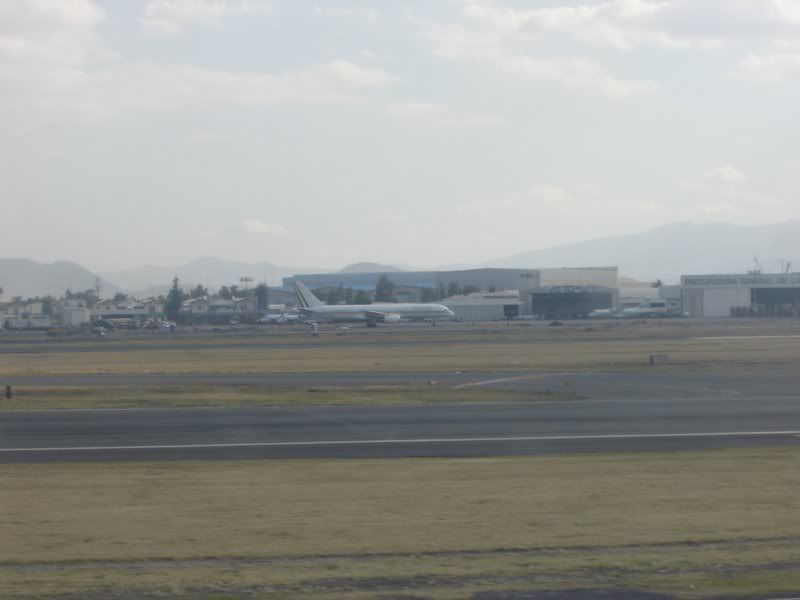 Aerolitoral E145 landing in 05L: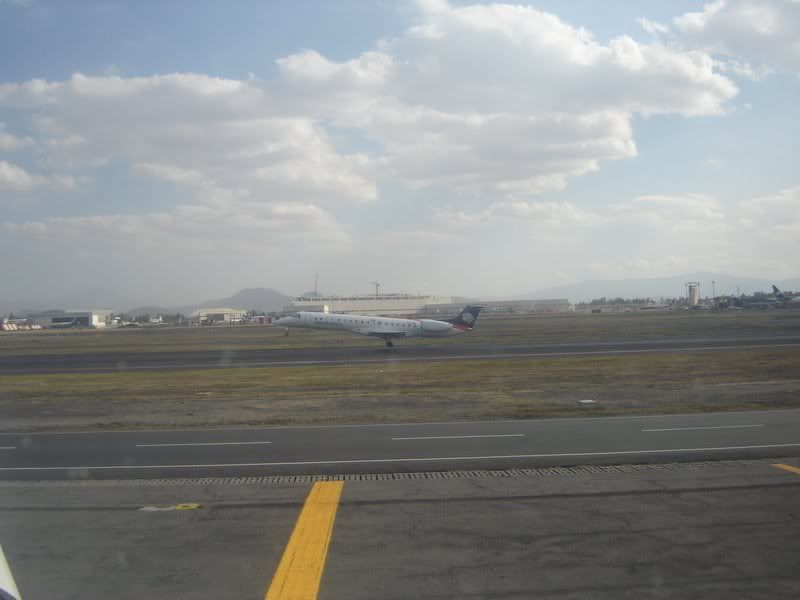 We parked next to the Northwest A320 in a remote ramp position and one of these guys came to pick us up:
We were taken to a gate right next to the Latin American immigration lines. For those of you who don't know, MEX has two different immigration areas: One for flights coming from Latin America and one for Europe/Japan/Canada/USA.
The line was quite long and it took a while for us to get to a free immigration officer. The officer was friendly and quickly stamped our passports. We then headed down to baggage claim to get our bags as they weren't checked to MTY. I thought I could recheck the bags with Mexicana without leaving the bag carousel area but boy I was wrong. We were carrying 6 large suitcases plus 2 carry-ons and we had to made our way to the Mexicana counters in the other end of the terminal!
We had to put our bags through an X-Ray machine and clear customs and then pay two luggage guys to take our bags to the Mexicana counters. My whole family and I were cursing Copa for not checking our bags all the way to MTY. We went to the Mexicana Business counters and asked the lady for our boarding passes, she was shocked to see that we were going on that flight because it was only 25 minutes before departure time. She called someone and asked that person if she could send bags to that flight. She managed to convince the other person and we proceeded to check our bags, but before we had to open all of them and submit to a security inspection. During the chaos the gate agent checked a carry on and we had to run through the counters to intercept the roller board in the carousel.
We finally checked all the bags and then ran to the security checkpoint line. It was quite long so I gave up any hopes of making the flight. By the time we cleared security we had 15 minutes but the thing was that we were in front of gate 11 and our flight was departing in gate 33. For those of you who don't know MEX, gate 33 is the last gate in the easternmost tip of the terminal and we were close to the westernmost tip. My grandma couldn't walk as fast as we can so she trailed behind. I told my little brother to run to see if he could hold the flight for us.
Someway in our way to gate 33 we found another security checkpoint! Apparently that is a division between the international and the domestic gates, but that's pure bullshit because my flight was leaving to MTY from the "International gates". It seemed like everything was meant to slow us down and lose the flight.
We were so lucky that the walkways headed in direction to gate 33 were broken down!! I was running out of breath until I found a working walkway which helped increase my speed. By that time I had lost sight of my mother and grandma and I could barely see my little brother running in front.
I finally got to the end of the terminal were the last gates are located and to my surprise my mom and grandma catch up after picking up a ride in one of those golf carts that run inside the terminal.
When I got to the gate the door was closed and I was cursing Copa like crazy. I asked a Mexicana Gate agent from gate 32 if he could open the door for us and he replied: "Go and make that line over there, the flight hasn't started to board" The FUCKING FLIGHT was DELAYED and the check-in agent didn't say a word!!!!!!!!!!!! I was so angry, I switched my Copa cursing to Mexicana cursing.
Soon after boarding started in a chaotic way and when we got to our seats there was no place to store our carryon. I made my way to the back of the plane hoping to find some place but no luck, until I saw some coats taking up a lot of space so I asked if I could move them and the owners said YES. I managed to store one roller board there and I found space for the other one after a nice lady offered to put her plastic bags under her seat.

Mexicana #14
MEX-MTY
Airbus A319
No Reg

We pushed back about 30 minutes late and joined the takeoff queue. It was very weird as some planes would take off from 05L and others from 05R. We were assigned 05R and took off after an Aeromexico MD80. Here's the takeoff video:
http://www.youtube.com/watch?v=bOLCpu-g7qQ
About 30 minutes after departure we were given a snack box and a drink. The snack box had a bag of potato chips, assorted cookies and something that resembled a Cinnamon Roll but had Ham pieces over it. It didn't taste any good. I definitely wasn't lucky today with my in-flight meals.
Our flight was uneventful over a very cloudy Mexico and we began our descent between mountains. It was a foggy day over Monterrey. We landed on runway 29 and taxied straight to our gate. An Aviacsa 732 landed right after us.
We had seats in row 7 and our bags were in the overhead bin over the last row so I had to wait for everyone to disembark so I could get my bags. After getting my carry-ons I said goodbye to the FAs and then made my way through the jetway until I found fellow a.netter Logan "N405MX" who was nice enough to meet me in the jetway.
After saying hello to Logan I headed to the baggage carousel and left the airport bound to our home in Southwest Monterrey. Here's a shot of the airport terminal from the parking lot:
Well that's it, expect a trip report on my way back. I'm currently writing a complaint letter to Copa for the hassle that I had to go through in MEX. I know many people including relatives that have flown this Copa/Mexicana codeshare before and they always get their bags checked to MTY and they have gotten all of their boarding passes at once.
Comments, questions are obviously welcomed
Saludos desde Monterrey,
Luis