Air France 033
Houston (IAH) – Paris (CDG)
Airbus A330-2 (F-GZCC)
Seat: 2A
Scheduled Departure Time: 16:20
Actual Departure Time: 16:15
Scheduled Arrival Time: 08:50
Actual Arrival Time: 8:20
Check In:
After a slightly late arrival from Orlando, my Boeing 757 reached the gate at 11:15 causing me to arrive at the Air France counter at around 11:45. At that point it was completely desolate with only a single agent running around preparing the counters for the day's influx of passengers. Meanwhile, I stood and watched the Northwest ground personnel check in a steady stream of passengers for the KLM flight to Amsterdam.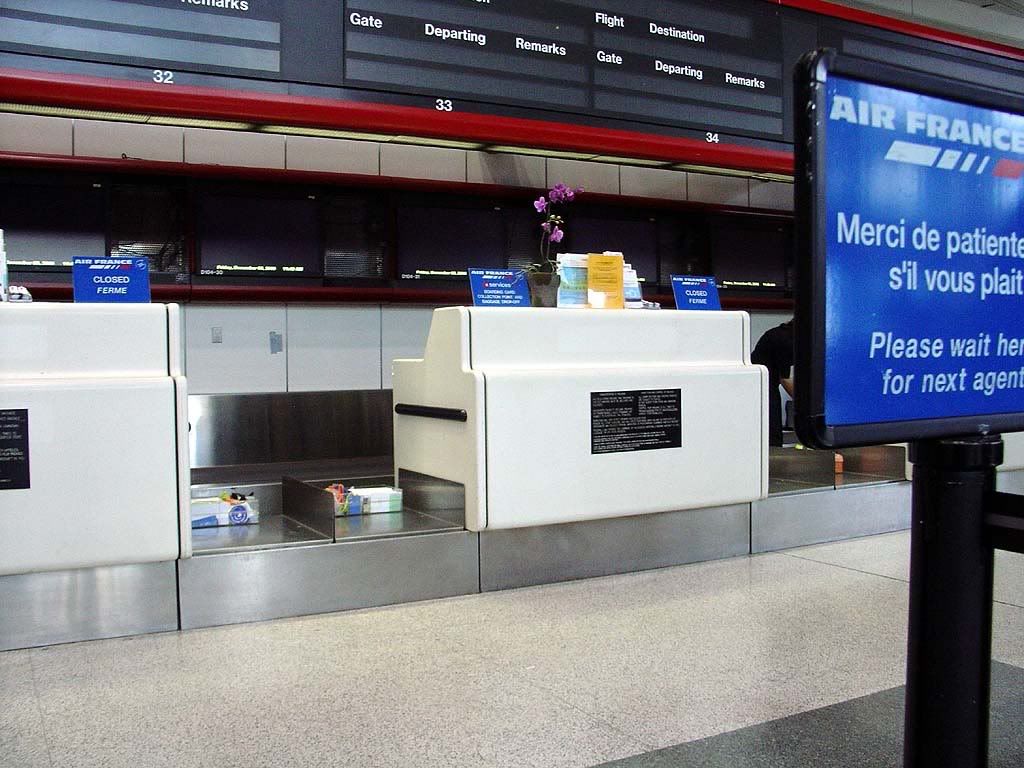 Around 12:05 the Air France counters opened and a young Asian lady called me over with smile. We exchanged pleasantries; she was smiling, courteous and professional and did her job with remarkable enthusiasm. Both my boarding passes were issued with my pre reserved seats while my bags were tagged all the way to Mumbai. The agent wished me a "Bon Voyage" and I headed towards TSA with my bag. After a quick stroll towards security, I was on my way to departures located on the second floor.
Lounge:
I followed the instructions on the back of the lounge invitation and found the Air France lounge directly opposite Gate 10. As I handed it over to the agent behind the counter I was greeted with a "Bonjour, please make yourself comfortable." The lounge was deserted at this point as it had just opened. I found myself a seat and grabbed a quick drink with some cookies. I chatted a bit on the phone and watched the club fill up. As I had a long wait, I got a few more drinks to pass the time.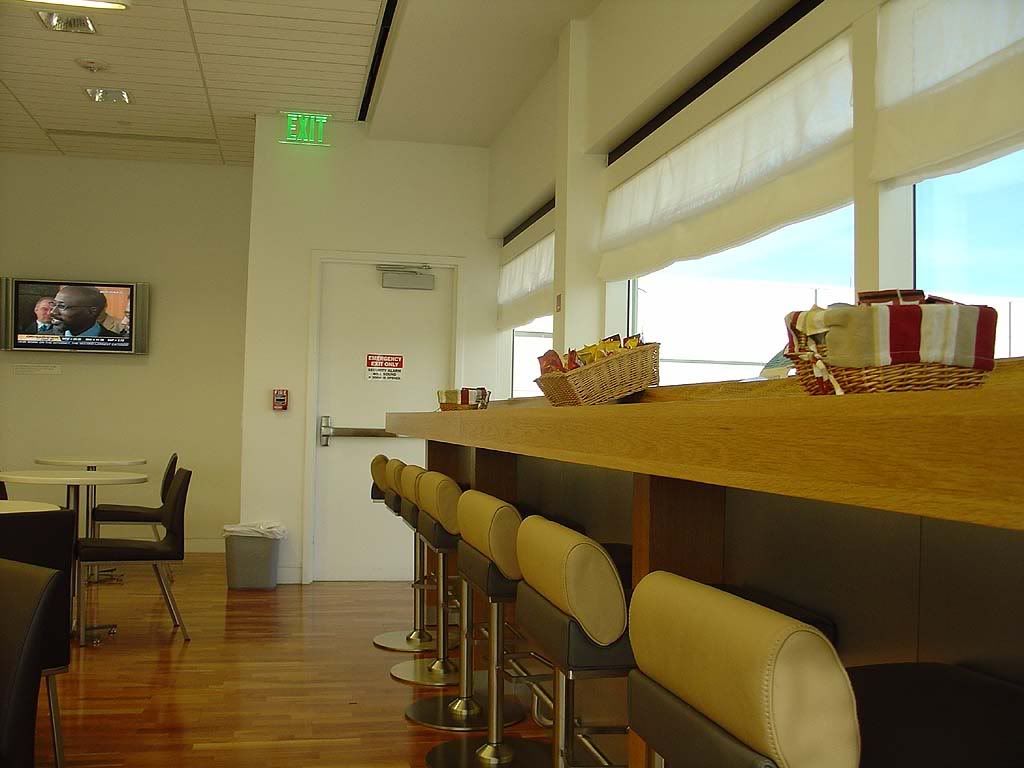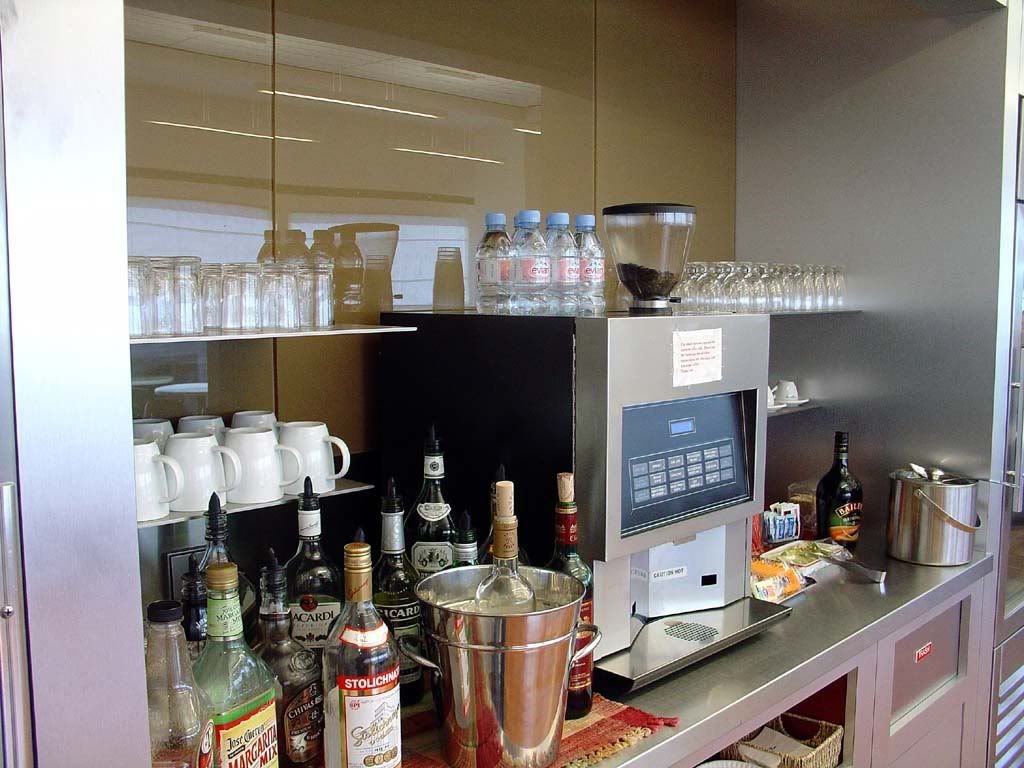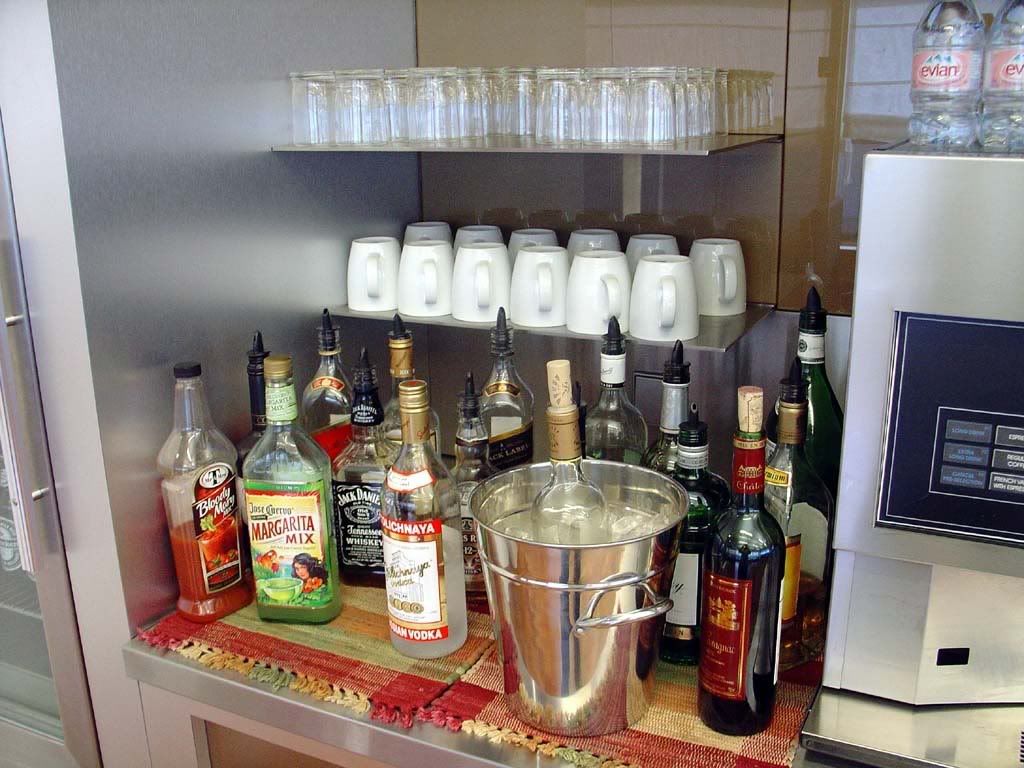 Boarding:
The boarding pass stated that boarding would begin at 15:30, thus, once 15:20 rolled by, I made my way towards the gate to prepare for boarding.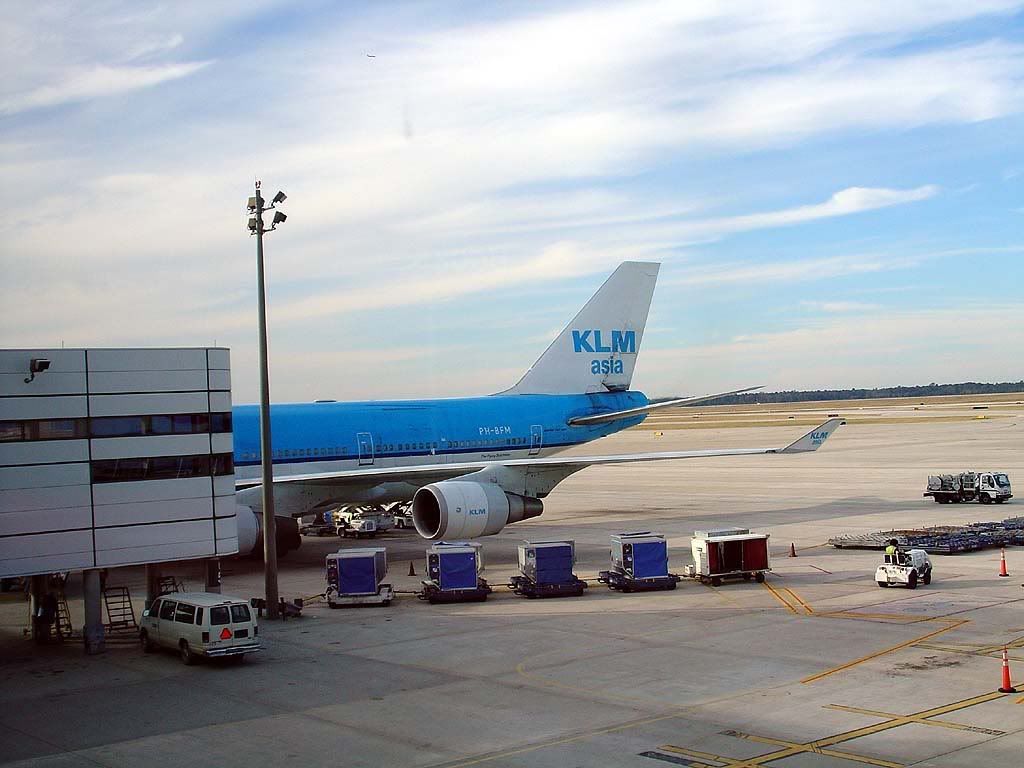 At exactly 15:35 boarding commenced with passengers traveling with children and for those needing assistance. At that moment, everyone started shoving their way to the front despite the ground staff saying general boarding had not commenced. I was standing to the side watching this spectacle unfold. A minute later they welcomed Business Class and Elites to board, so we all queued up like the orderly passengers we were on one side and had our boarding passes scanned, this was met with a smile and a "bon voyage."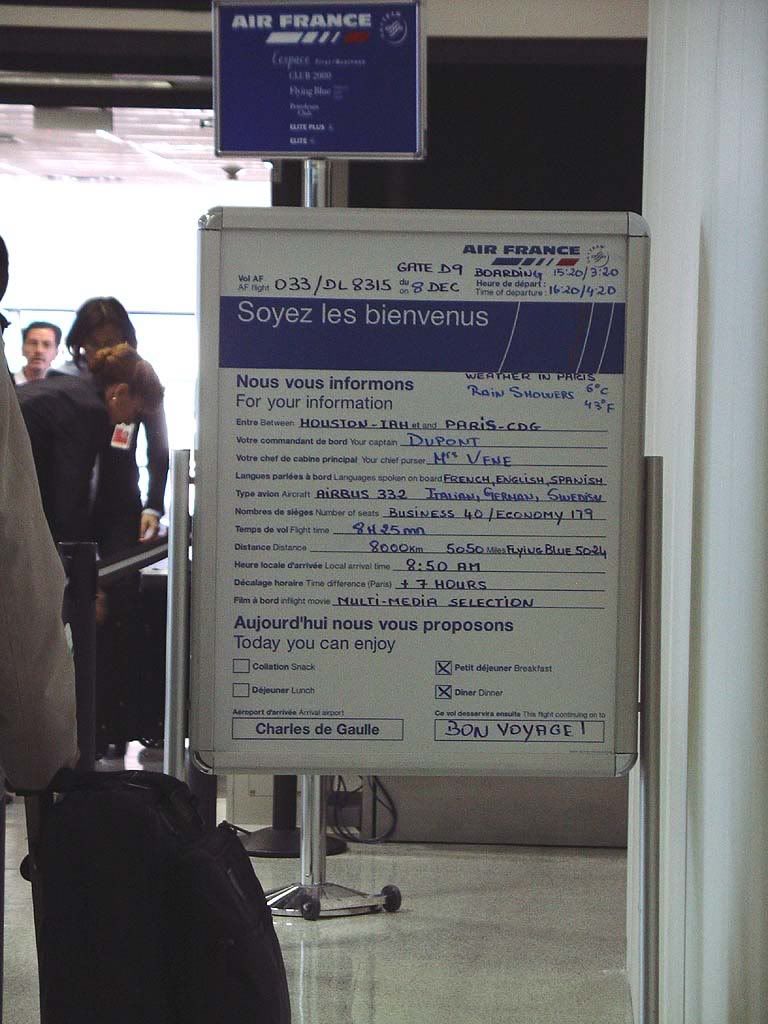 Once on the aircraft I was greeted by a male purser with "Bonjour Monsieur." After a quick glance at my boarding pass he pointed me towards the front of the aircraft. I stored my bags and picked up the hangar that had been placed on my seat with a blanket and a pillow. I had barely placed my jacket on the hangar when a middle aged male flight attendant appeared and held his hand out with a "Monsieur." I sat down and noticed a bottle of water and a pair of headphones were waiting for me between the seat and the armrest. Upon further inspection I saw my amenity kit had been placed in a slot next to my leg-rest.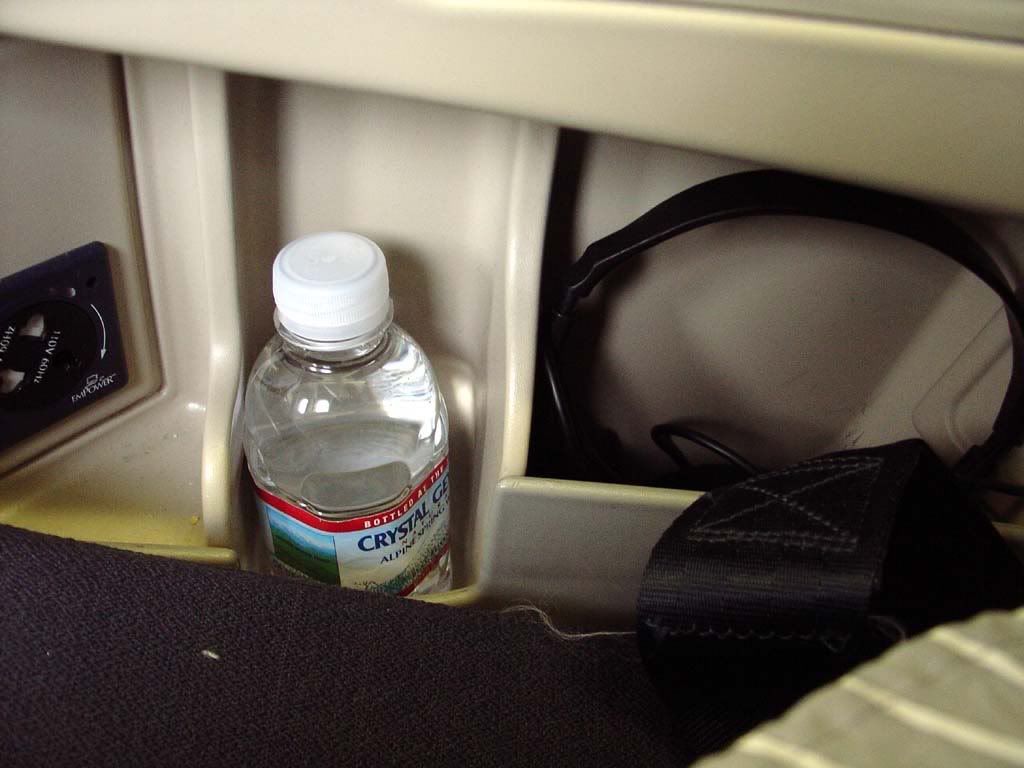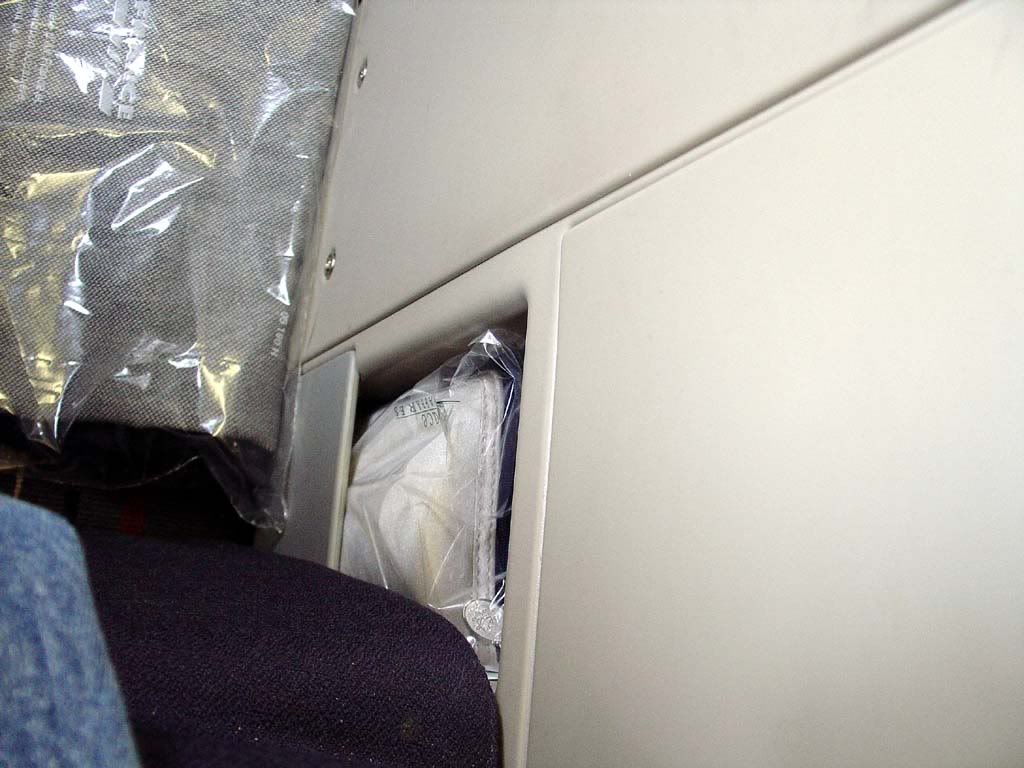 The cabin started filling up and that male flight attendant was running around the cabin hanging up jackets. The captain welcomed us onboard once things had settled down and stated that our flying time today would be around eight hours and thirty minutes. A tray of orange juice and champagne was brought around just as the door was closed at around 16:10.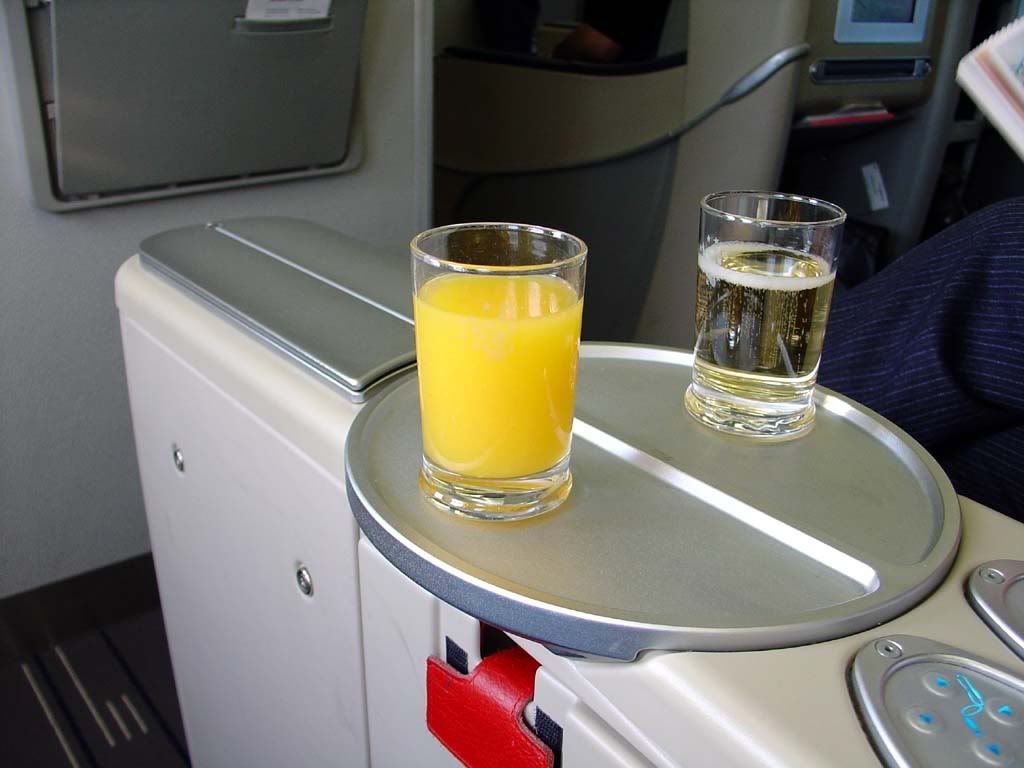 A crew member made a quick round with the newspaper trolley followed by the chief purser welcoming us onboard. The safety demonstration was aired just as we commenced push back at exactly 16:20. For those interested, here is a link to an actual Air France safety video on youtube. The one aired on my flight was identical to this one with the exception being it was an A330 rather than the 747-400 depicted.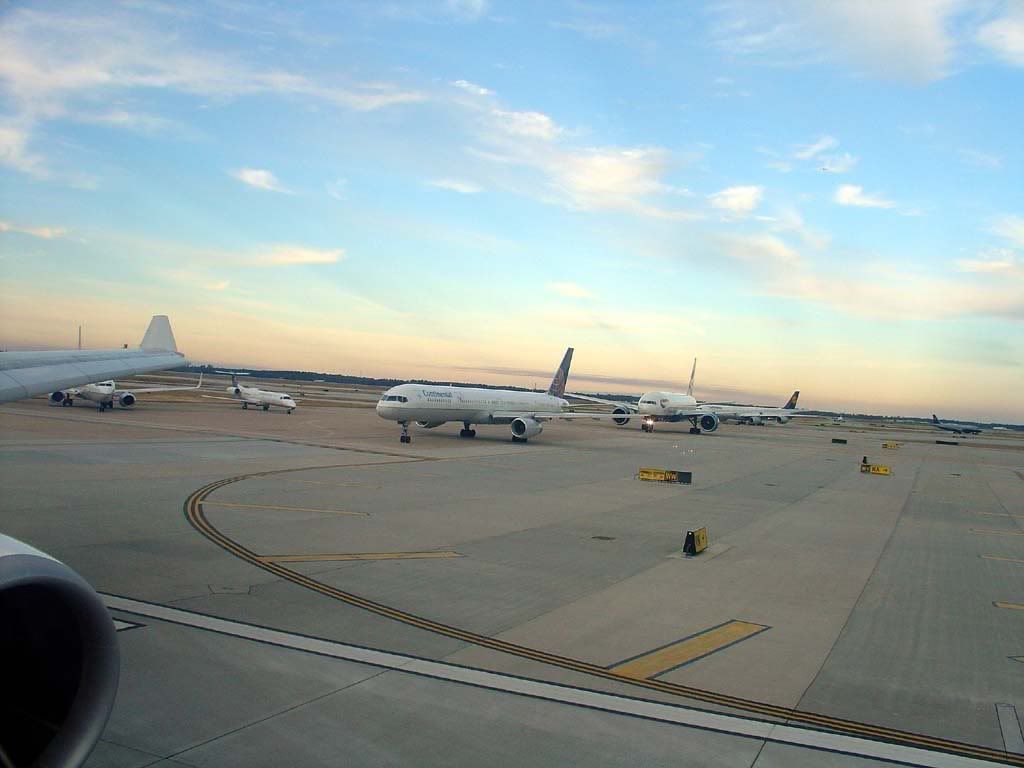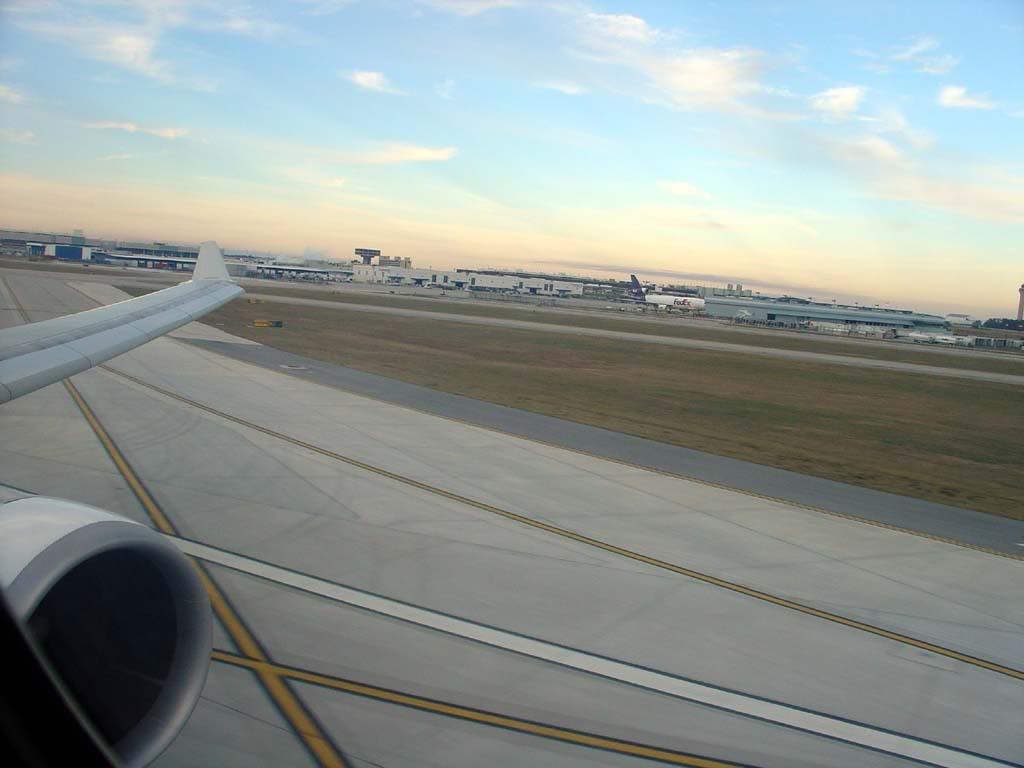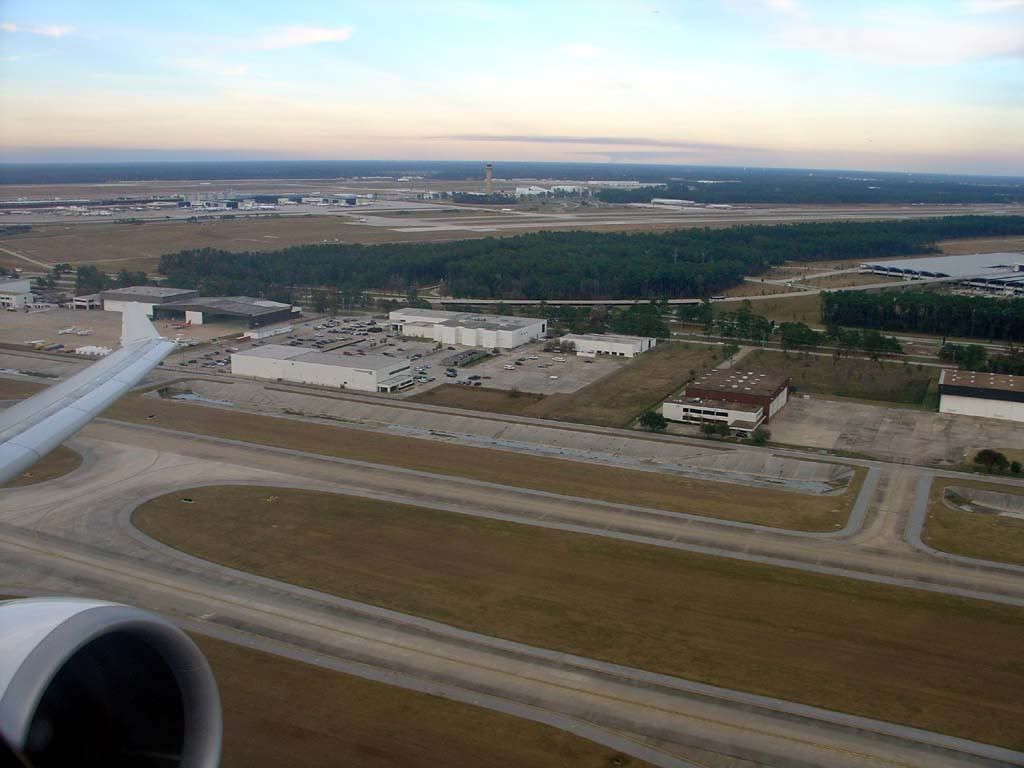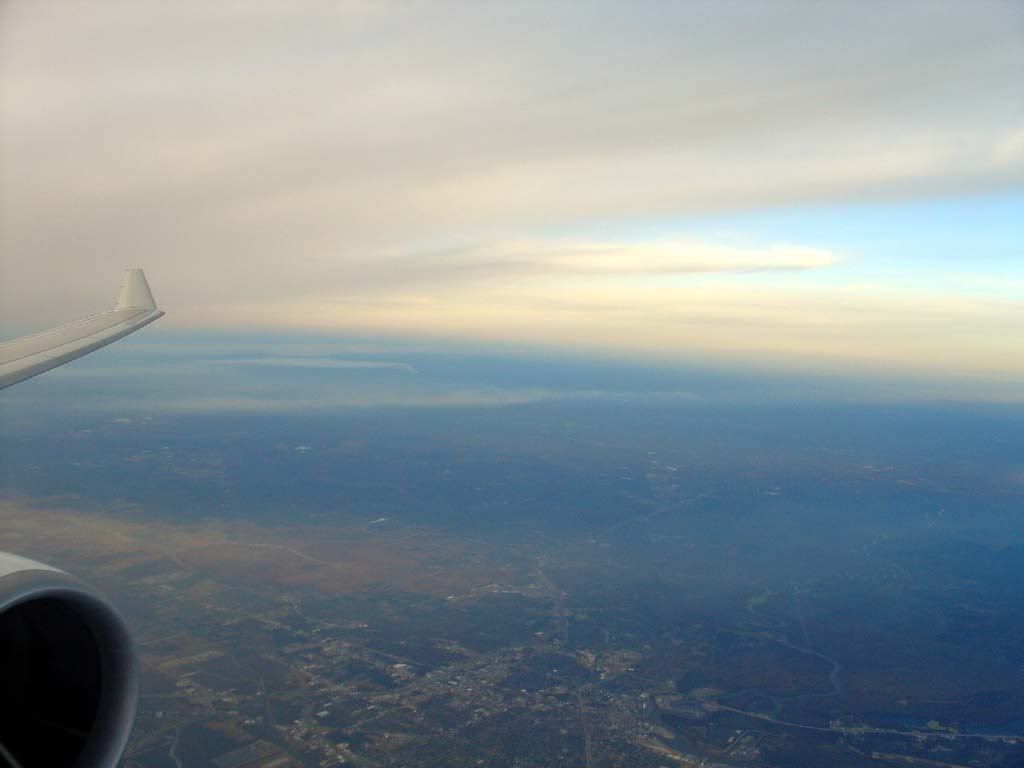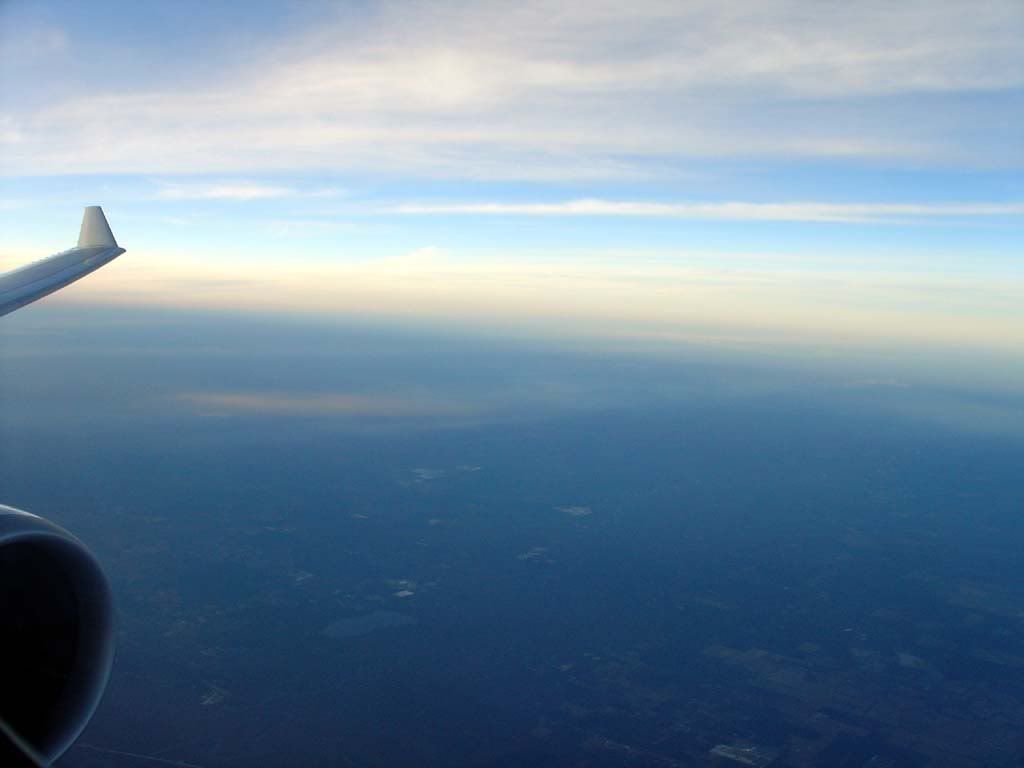 The Flight:
After a relatively quick take off and some great views of Houston, we turned Northeast towards Atlanta and began our long journey across the Atlantic. Hot towels were passed out and an announcement was made stating the video programming had begun, thus I eagerly pushed the button to release my PTV. However, it only popped up only half way through the armrest, the horror! No matter how much I pulled, pushed, prodded, cursed and yanked it would not budge. At this point in my seat mate was looking at me like I was some kind of wild animal at a zoo, though I can't say I blame him entirely. I decided to head to the lavatory and deal with this mess when I came back.
Upon walking back to my seat, I found the male F/A handing out menus. I quickly informed him of my dilemma. He first looked at me and then the PTV, tried pushing, and prodding it with his one free hand. After a few seconds he grunted, threw the menus on my seat and got down on his knees to try and take a closer look at it. He was yanking and pulling all the while muttering something in French under his breath. Another male F/A saw this and came over to see what was going on. Before I knew they were both on their knees tugging and pulling. After another minute the chief purser graced us with her presence. She asked the two guys a question in French and then joined the struggle. I felt sorry for my poor seat neighbor who now had three cabin personal invading his space. About a minute later I heard a loud noise and the three of them stopped talking. The male F/A picked up the menus, walked up to me in the aisle and said
"Pardon Monsieur. It is fixed, sorry."
I sat back down and decided that the PTV was not going to be moved by me for the rest of the flight. I just had enough time to glance over the menu quickly when the drink cart appeared.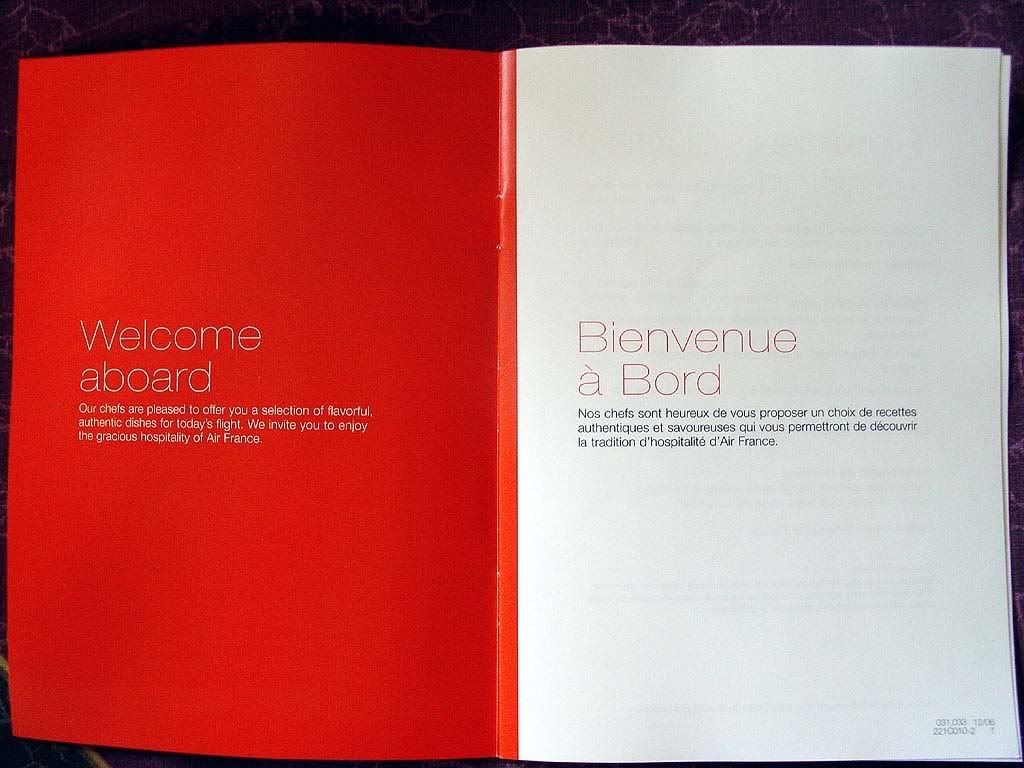 I opted for a contemporary glass of coke to go with my box of salted cashews. I noticed Air France does not use cans, but rather big liter bottles which I found interesting as it has been a long time since I last saw something like that.
I flicked through the AVOD system to see what movies were available for today's flight.
Cars
Le grand Meaulnes (French Movie)
Rumor Has It
Quand j'étais chanteur (French Movie)
Step Up
Pirates of the Caribbean 2
Miami Vice
Camping (French Movie)
Lady and the Tramp
Président (French Movie)
Scoop
My Super Ex Girlfriend
This is one of my biggest gripes with Air France, their AVOD system. Considering these are newly designed seats, their AVOD system leaves a lot to be desired. I had more choice with USAirways in economy back in 2002. KLM and NW have a far better AVOD system as do most other airlines out there with unlimited hours of entertainment consisting of movies, short features, comedies, games, music and much more. Air France seems to have missed the mark on this. Other than the movies there was one channel which had short features on a cycle, not on demand. I believe Air France needs to take a closer look at the system KLM uses. Never the less, I had to make do with what I had and selected "My Super Ex Girlfriend" as my dinner feature tonight.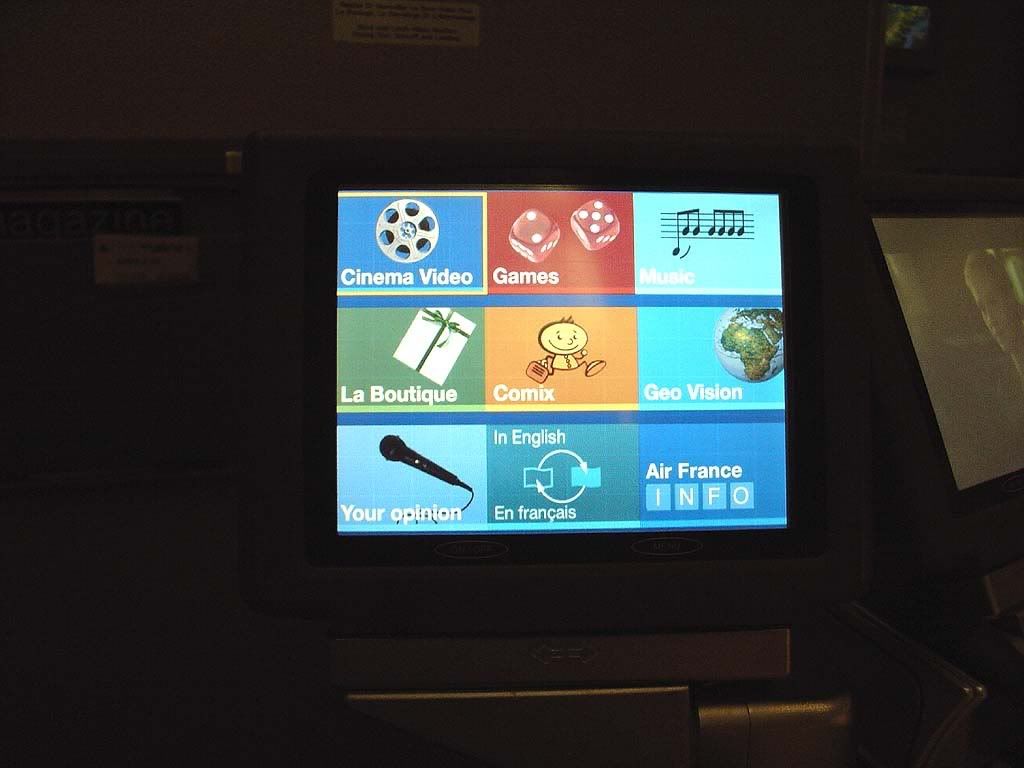 Once our trash was collected a white table cloth was laid out and the trolley was rolled by. This is what the dinner menu looked like tonight:
Traditional Service

Choice of Hor d'Oeurve
Foie gras, pears with fig sauce

Poached lobster and mango
Choice of Main Courses
Tournedos of beef and green peppercorns served with roasted potatoes and asparagus

Pan seared fillet of cod accompanied by broccoli and sautéed artichokes with basil
Plat du Jour (Plate of the Day)
Breast of marinated roast chicken
The chicken is marinated in ancho pepper a red pepper from Mexico, then oven roasted. This dish is accompanied by a lightly spiced mango sauce with coconut apricots
Our Special Selection of Cheese
Assortment of Desserts
Apricot clafouti, Brenton vanilla raspberry cake, sherbert served with cookies, choice of fresh fruit
Espresso is served at out bar Espace
Express Service
If you would like more time to work or relax, this chilled meal is offered in place of the traditional service: hors d'oeuvre of your choice, our special selection of cheese and pastry
Wine List
by Olivier Poussier, world's best sommelier 2000, chief sommelier of Lenotre, a signature bran of Accor
Champagne
Bollinger Special Cuvee
This excellent wine is certainly the most perfected non-vintage brut of the entire Champagne region. Because it is composed mainly of reserved wines – 80% grand cru and premier cru – this champagne exhibits extraordinary complexity. This blending also allows an exceptional aging over three years, creating a refined bubble and an acidity that melds with the overall ensemble of the wine.
www.champagne-bollinger.fr
White Bordeaux
Pessac-Leognan Chateau Coucheroy 2004 Lurton
This wine is comprised of 90% Sauvignon Blanc, with a hint of the Semillon grape. The combination of wood cask fermentation and vinification in vats gives rise to fresh, fruity and refreshing wine. I recommend it with fish, shellfish and goat cheese.
www.andrelurton.com
Red Burgundy
Savigny-les-Beaune 2004 Jaffelin
This village of the northern Cote de Beaune is located between Pernand-Vergelesses and the town of Beaune itself. In this 2004 vintage, the Pinot Noir expresses itself with luscious fruit flavors. The supple texture and restrained power of this wine makes it well suited for white meats and poulty dishes
Red Bordeaux
Haut-Medoc Chateau Reysson 2003 Cru Superieur
This chateau is located in Vertheuil, in canton of Pauilac. Composed primarly of the Cabernet Sauvignon grape, this wine expresses density and mellowness. The 2003 vintage produces a rounder, fuller, structure. A perfect companion to flavorful meats such as beef, lamb and duck.
Not being much of a foie gras man, I requested the lobster for my first course. The tray was placed on my tray table with a question in French, which I can only assume was a "what would you like to drink?" I answered back with "Bordeaux please." A bread basket was also placed beside me and I selected a mini baguette.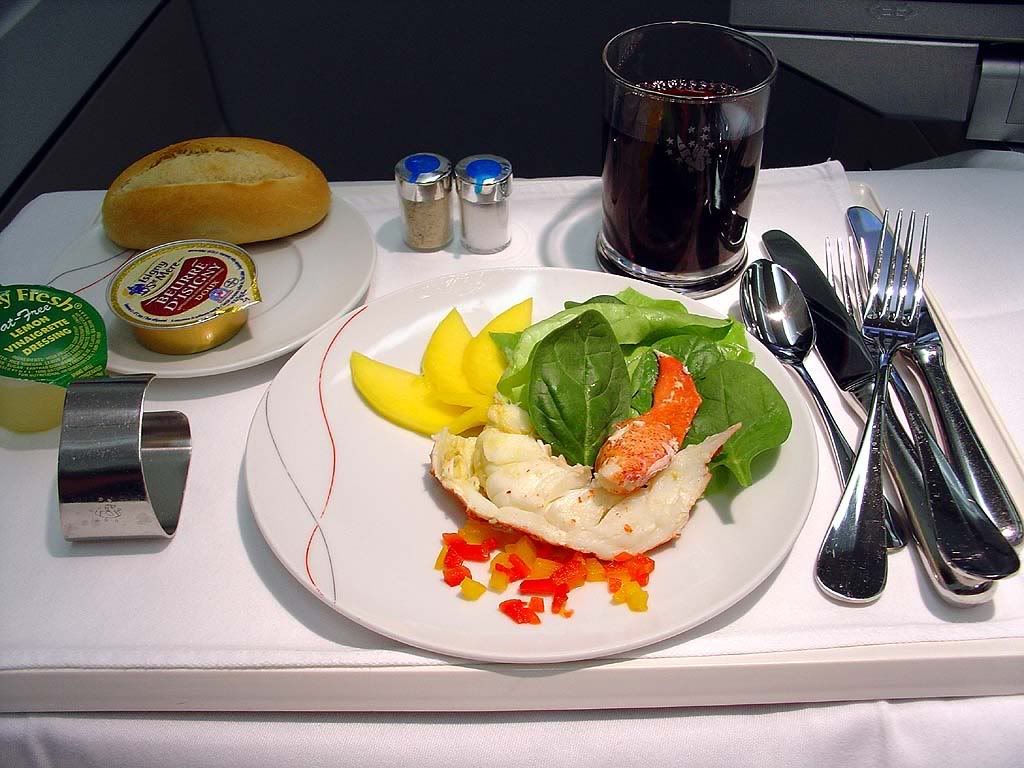 All I can say was the appetizer was excellent as the Lemon Vinaigrette Dressing really brought out the flavor of the lobster. Overall this was one of the best appetizers I have ever had on an airplane. A few minutes later the plate was collected and I was asked what I would like for my main course.
The steak was simply magnificent. It was soft and cooked to medium with a pink center, just the way I like it. Usually steaks are burnt to a crisp on planes, but this was excellent. The pepper corn sauce was a perfect combo to steak. The potatoes and asparagus were excellent side dishes as well. Once this was consumed, it was time for my favorite part of the meal, dessert. My tray was collected and I was asked what I would like for dessert.
I selected the vanilla raspberry cake and the mango flavored sorbet, the other two being lemon and raspberry. A small packet of cookies were added to the plate to make the trio complete. All I can say is wow! Amazing work Air France, the cake was rich and just perfect. The sorbet was fantastic, of course I am a sucker for anything mango anyway and the Pepperidge Farm cookies were the perfect ending to this exquisite meal. I can honestly say this dinner was one of the best meals I have ever had in flight.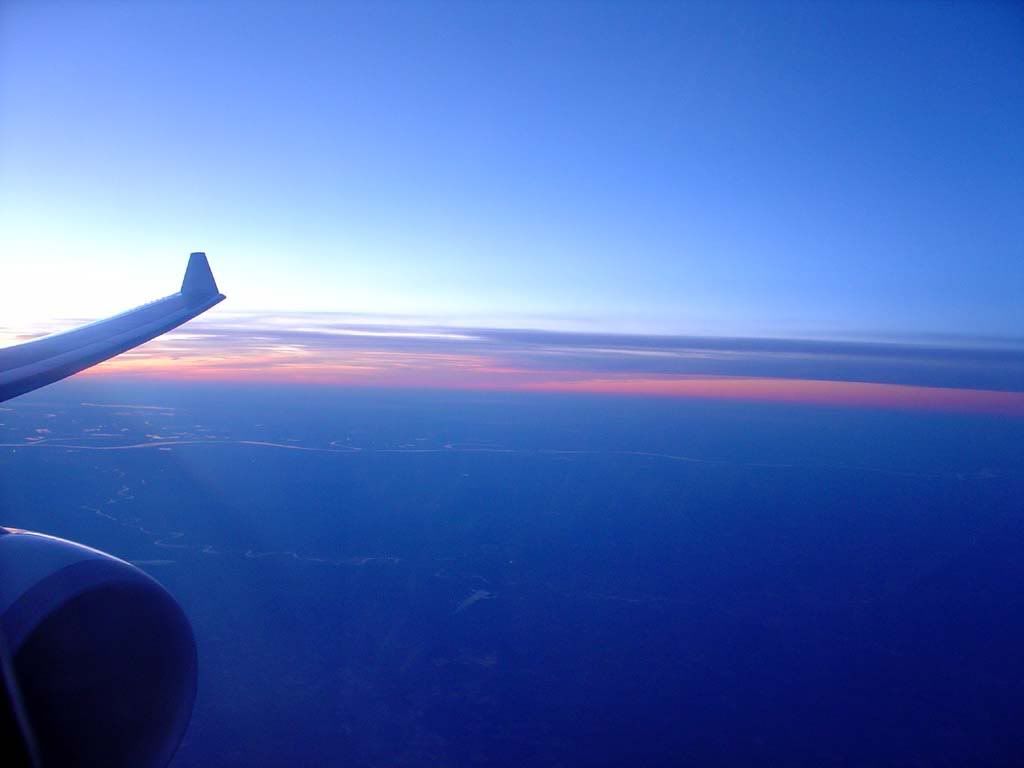 After dinner I tried putting the seat in sleep mode and I could not stay in it for more than a few seconds. The worst part of this is that there are no buttons that separately control the leg-rest or recline. It became difficult to find an optimal position especially when the seat was doing what it wanted to do. I kept playing around with the positions until I got it to be somewhat comfortable. I played a few games of Hangman and Air France trivia, which helped pass the time. Eventually I put some European hits on and placed the pillow behind my head to try and catch some shut eye. Sadly, it was not to be as I could not get comfortable enough to sleep.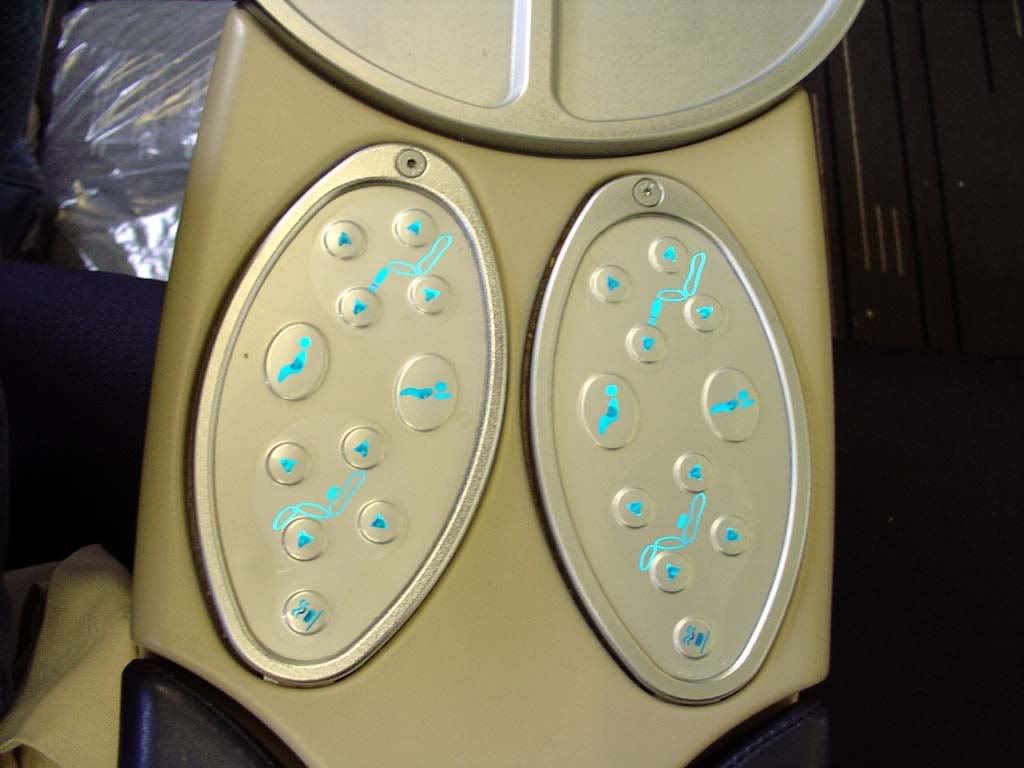 Somewhere south of Iceland I was about to become comatose when the seatbelt sign came on accompanied by a booming voice telling passengers and crew to take their seats due to turbulence. After a few minutes of nothing I was just about to fall asleep again when the plane started to shudder. This was followed by a loud crash from the galley. By now the entire cabin was awake looking around dazed and confused. The turbulence continued for a good thirty minutes before it ceased just as fast as it appeared, however by this time I was totally awake. I put on the "comix" channel and saw some Tom & Jerry followed by the ever so classic Road Runner and Bugs Bunny.
Before I knew it, we were just south of Ireland when the cabin lights were started. I saw the crew for the first time since they served us dinner. The standard white table cloth was placed on my tray and I was asked what I would like to have for breakfast.
Breakfast
Fruit juice, coffee, tea, hot chocolate
Fresh fruit, yogurt

Fresh bakery selection, breakfast pastries, butter and preserves
Choice of Main Courses
Cheese omelette, chicken sausage and roasted potatoes

French toast with apple compote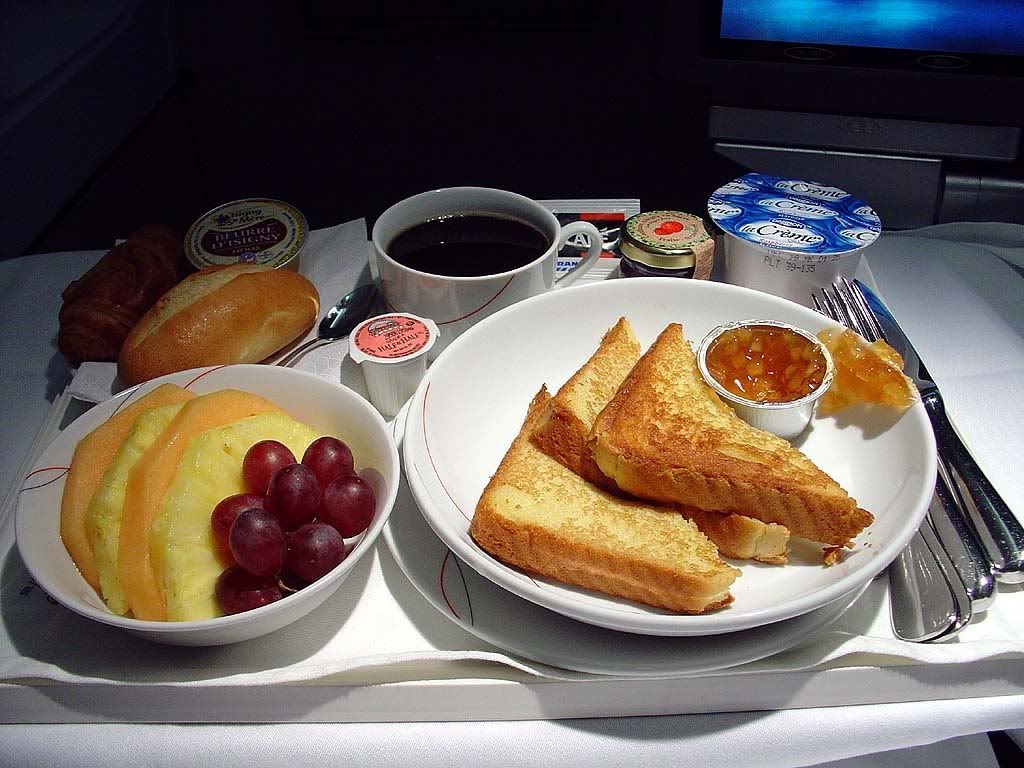 As you can tell I selected the French toast with some coffee. From the bread basket I took a mini croissant and a mini baguette. Just like dinner, breakfast did not disappoint, it was truly a masterpiece. The French toast was warm and slightly toasted and the apple compote was a perfect companion, much better than maple syrup. The fruits were fresh and chilled and the raspberry yogurt rounded it off perfectly.
The crew collected the empty trays and passed out hot towels just as the sun started showing through the window. The captain came just then and informed us that we would start our descent into Charles De Gaulle within the next five minutes. He mentioned there would be a slight ATC delay due to some heavy traffic. However, since we were arriving well before out scheduled arrival time, we would still be early.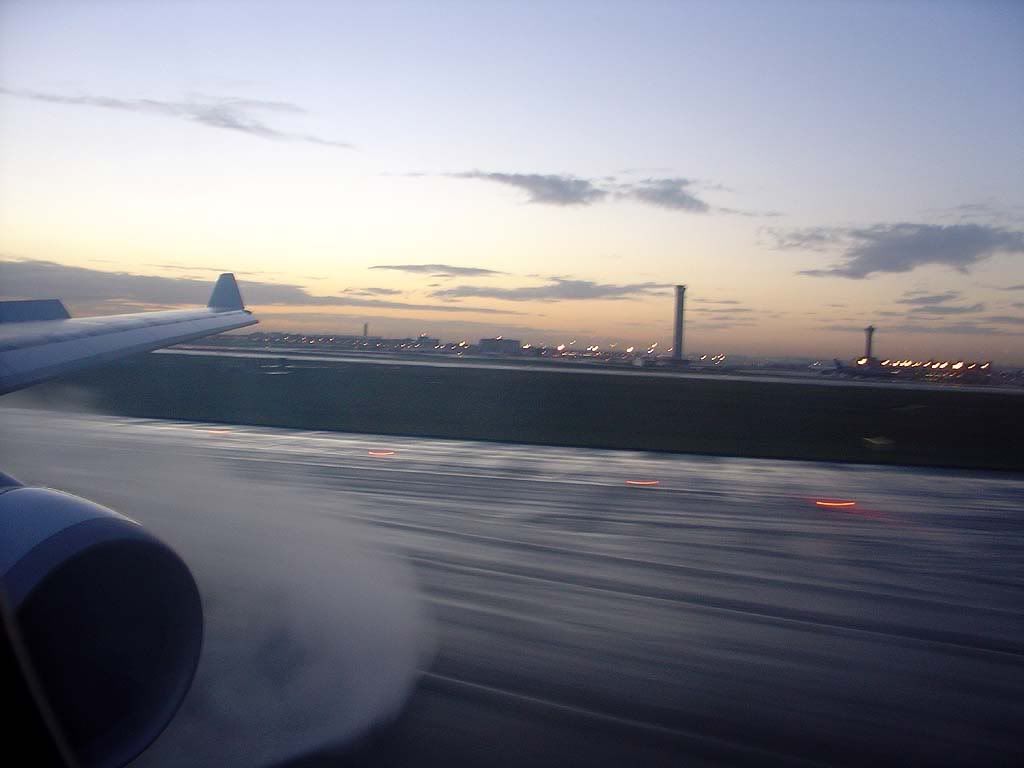 Arrival & Transit:
We touched down on a very wet runway near Terminal 1 which afforded me with some spectacular views of aircraft. However, one special aircraft that caught my attention was a Singapore Airlines 777-300ER. I could not help but be envious of those lucky passengers that had got to try out Singapore Airlines' new travel concept.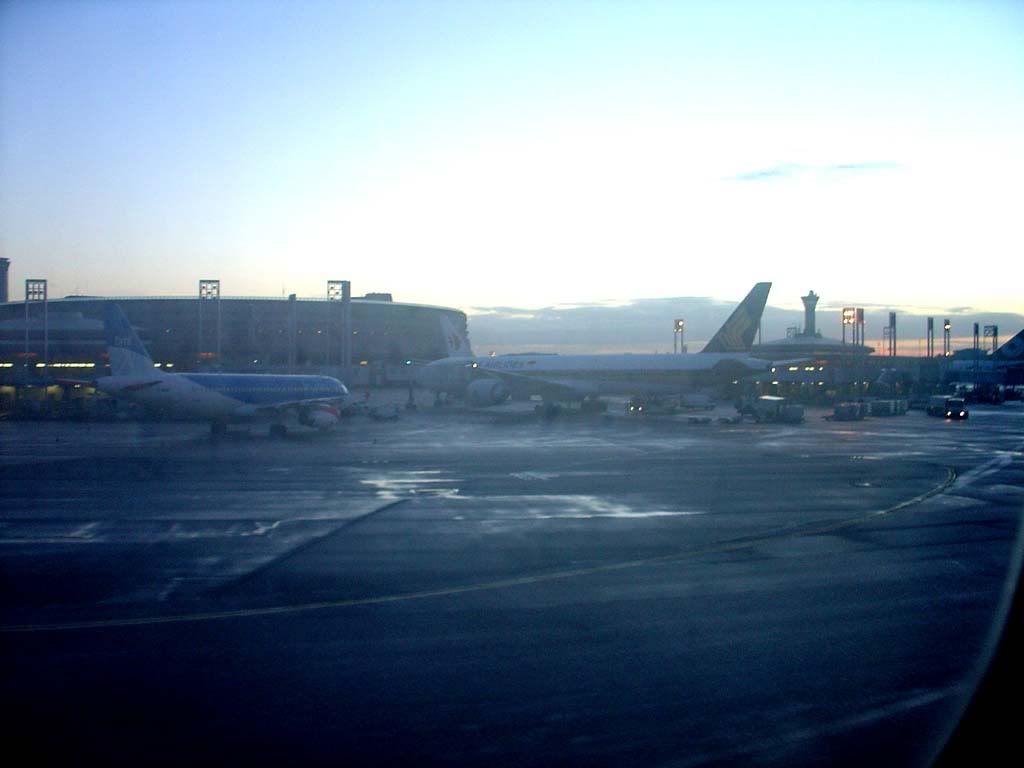 After another 10 minutes we taxied to our gate, the last gate in Terminal 2C. As we exited the aircraft we were each wished an "au revoir" by the cabin crew. Upon entering the terminal there was an Air France transfer desk where I handed a gentleman my boarding pass. "Mumbai is departing from gate A40, go downstairs and take a bus to Terminal 2A; not E or F, A!" I thanked him and attempted to follow the signs pointing downstairs.
Upon reaching the bottom floor there was a lady screaming at the top of her lungs "Terminals E and F, go to the bus." I stood on the side but it was amazing to see the number of passengers still running to the bus without even checking where the bus was going. Once the bus was full it departed and another bus almost instantly came by, however it too was heading for E and F. By this point the small room was bustling with activity, there was hardly any room to stand. Eventually this bus left and one for A, B and D showed up. Before the glass doors had even opened everyone started pushing and shoving towards the door. Thankfully, I was already at the front when this happened and just stood my ground no matter how hard the crowd starting pushing behind me. The French lady manning the doors, smiled at me, opened the door and said "go for it." Once every nook and cranny of the bus had been filled, we headed for Terminal A.
Once we reached Terminal A, I got off the bus and followed the signs for Gate 40. I walked to that security point and did the whole emptying the contents of my pocket and laptop all over again. This process took close to ten minutes due to the large crowd and extremely sluggish security personnel who were taking their sweet time processing each passenger. Eventually, I took the escalator up and proceeded towards a duty free shop to buy some cologne for myself.
After that I walked around between Gate A40 and A48. I could not spot a single Air France lounge. I saw signs for EL AL, Cathay Pacific, American's Admirals Club, Continental's Presidents Club, and Air Canada's Maple Leaf Lounge. I was just about to give up and head to the Presidents Club when I spotted an Air France employee. I asked where the nearest AF Salon was and he said it was opposite gate 51, I would have to go upstairs and go around to the other side and go back down. Its times like this I longed for Amsterdam Schiphol and its user friendly layout.
Five minutes later I was at the Air France Salon where I was greeted with a smile. One look at my boarding pass and I was shown inside. I sat down at one of the tables and grabbed a cappuccino with a nice glass of sweet mango juice. There was more than enough choice in terms of food and drink in this lounge, the only thing missing was a selection of hot food. I sat down and relaxed for a bit and took in the views of the planes outside.
Around 9:30, I headed on over to gate A40 the same way I got to lounge, going upstairs followed by going downstairs. On the way I spotted the Air Tahiti Nui crew and I must say they looked amazing in their different shades of blue. Maybe someday I will make it down to Tahiti, until then I will have to make do with staring at the A340 at airports across the globe.

Air France 134
Paris (CDG) - Mumbai
Boeing 777-300ER (F-GSQH)
Seat: 4L
Scheduled Departure Time: 10:35
Actual Departure Time: 11:51
Scheduled Arrival Time: 23:30
Actual Arrival Time: 0:36
Boarding:
As I approached the gate, a small group had already gathered in front of the boarding gate despite the fact that boarding had not even begun yet. Once again, I stood to the side and watched the impatient passengers go nowhere. At exactly 9:35 boarding commenced with passengers traveling with children and those needing assistance. Then everyone started shoving their way to the front despite the ground staff saying general boarding had not commenced. I was standing to the side watching this circus unfold when all of a sudden one of the agents throws his hands up in the air and screams at the crowd "look, we are just boarding first and business class only!" At that point all of us on the side looked at each other to make sure we heard right as no announcement had been made. Thankfully they were ready for First, Business and Elites so we all queued up orderly on one side and had our boarding passes scanned with a "bon voyage."
On the jetway we were held up for at least ten minutes as I suspect the crew were not ready for us. Once onboard I was greeted with a smile by a female flight attendant who I later found out was the chief purser. "Monsieur Tamboowala, your seat is across the aisle and will be the second row behind the First Class cabin. Have a good flight." What a greeting!
I stored my bags in the overhead bin and took my jacket off and hung it up on the hangar that had been placed at my seat. Just as I finished that a younger looking male F/A was in the aisle, "Monsieur, est-ce que je peux prendre votre manteau?" As I sat down I began to think about how different the crew was acting on this flight compared to the last. Soon enough my French neighbor showed up and we exchanged a "bonjour." Just as the last flight, everything had already been placed on our seats.
10:30 rolled by and we were still at gate and the front door was open. The pilot came on to welcome us onboard and inform us that we would be experiencing a delay today and as a number of passengers had been held up at security today. We would be close to 45 minutes late in departure as we were missing close to 60 passengers. To keep us happy, the crew brought around the standard orange juice and champagne tray as a pre departure drink.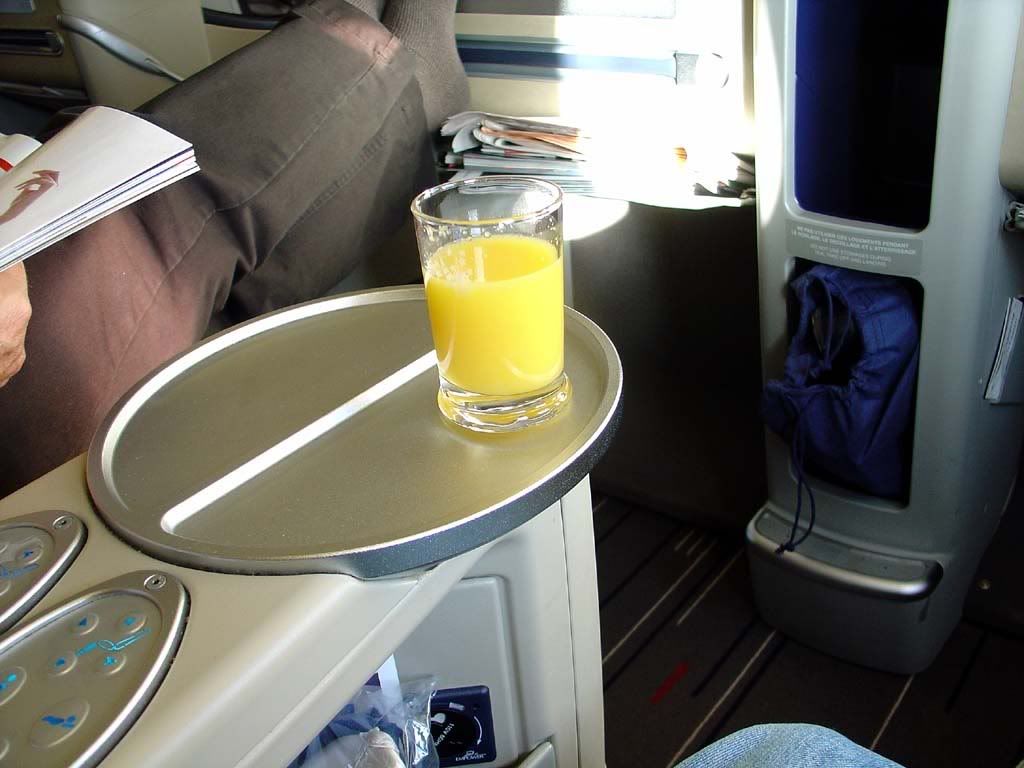 Close to 11:30 the captain came on again and said that we were missing around four passengers so we would have to incur a further delay as their bags had to be offloaded. Meanwhile, the crew came around with the newspaper trolley followed by some hot towels.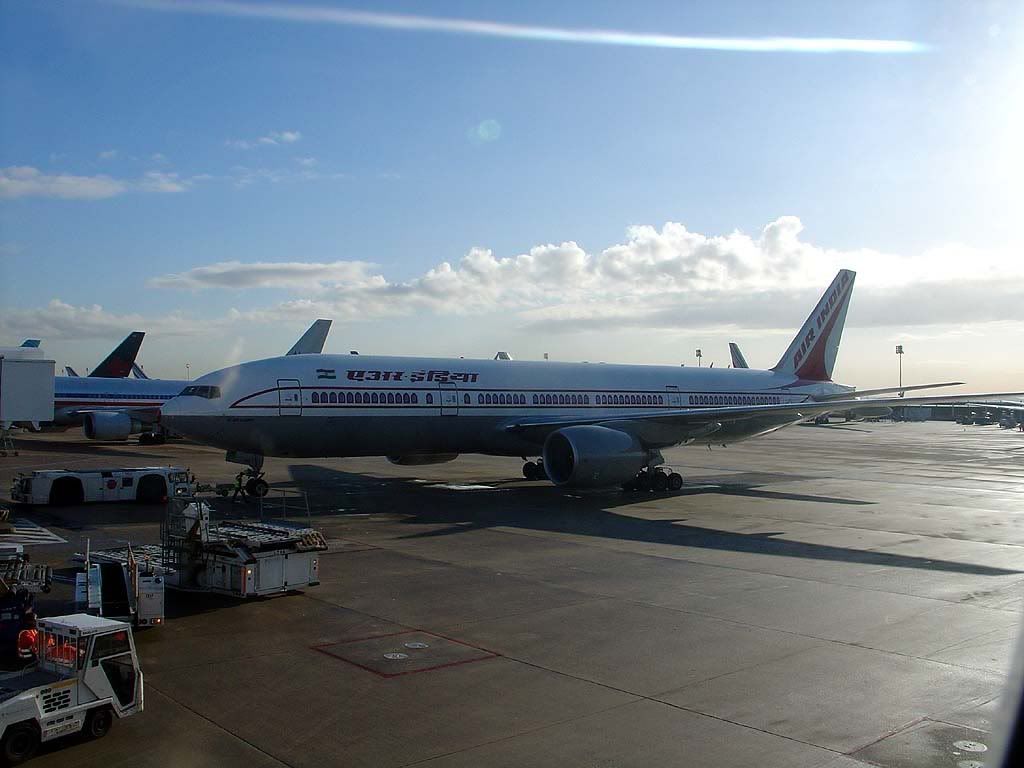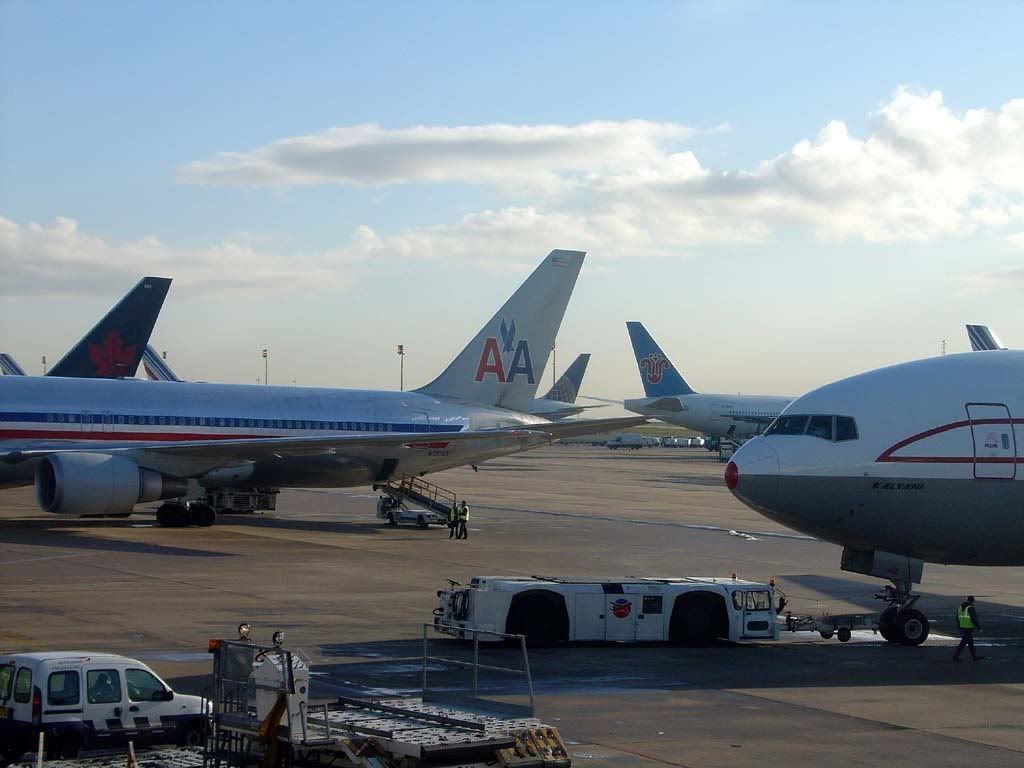 We finally pushed back at 11:51 and taxied to the far end of the runway overtaking an Air France 744, Air France A340, and an Air Algeria A330.
The Flight:
We rocketed down a rather wet and sunny runway into the French country side. This was my first Boeing 777-300ER flight and I must say, this thing is a beast, and more than just a little loud on take off.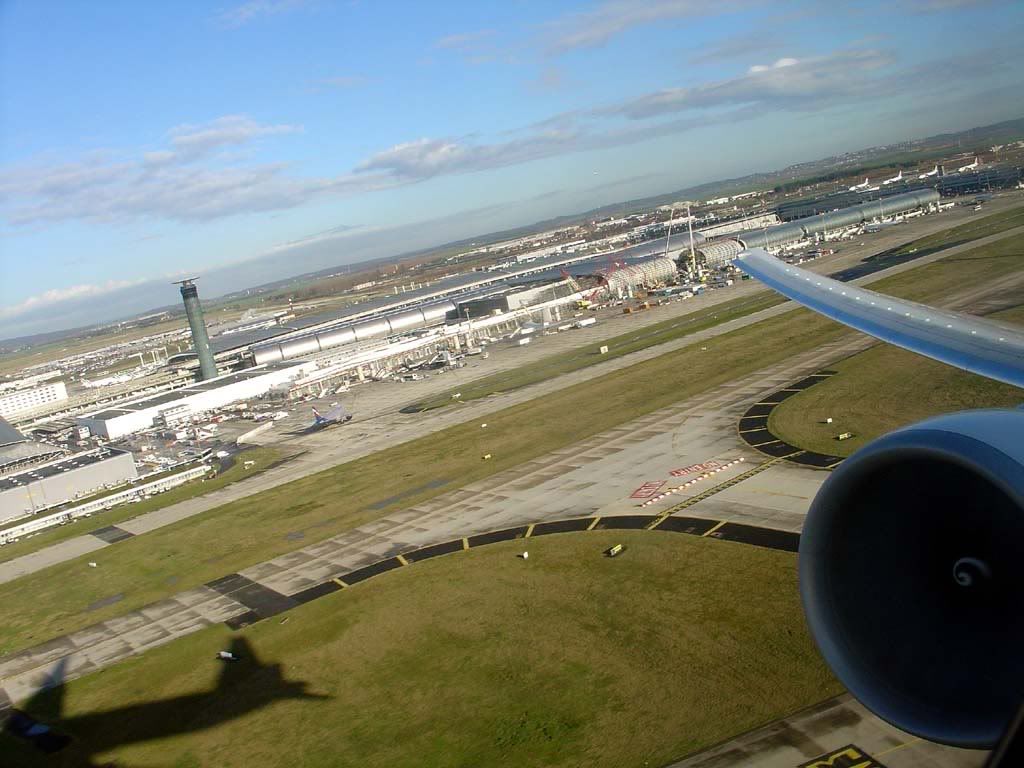 Once the seatbelt sign had turned off, the crew came around to distribute menus and hot towels. This was followed by an announcement that the AVOD system had been started so I eagerly pushed the "on" button. Sadly the result was not what I had hoped, a black screen. Dang it! Nothing would work; it looked like my entire system had frozen. I just sat there reading the menu over till the chief purser came by to greet me. "Monsieur Tamboowala, welcome onboard. My name is Jaqueline and I am your chief purser today. If there is anything you need today, please do not hesitate to ask me. I always like to take special care of our Elites." I smiled, introduced myself and thanked her for being so on top of things. I also informed her of my PTV dilemma. "Oh. I will re-set the system. Till then do not touch any buttons. I will check back with you in a moment Monsieur."
A minute later a middle aged female flight attendant came around with a tray of champagne and the standard box of salted cashews.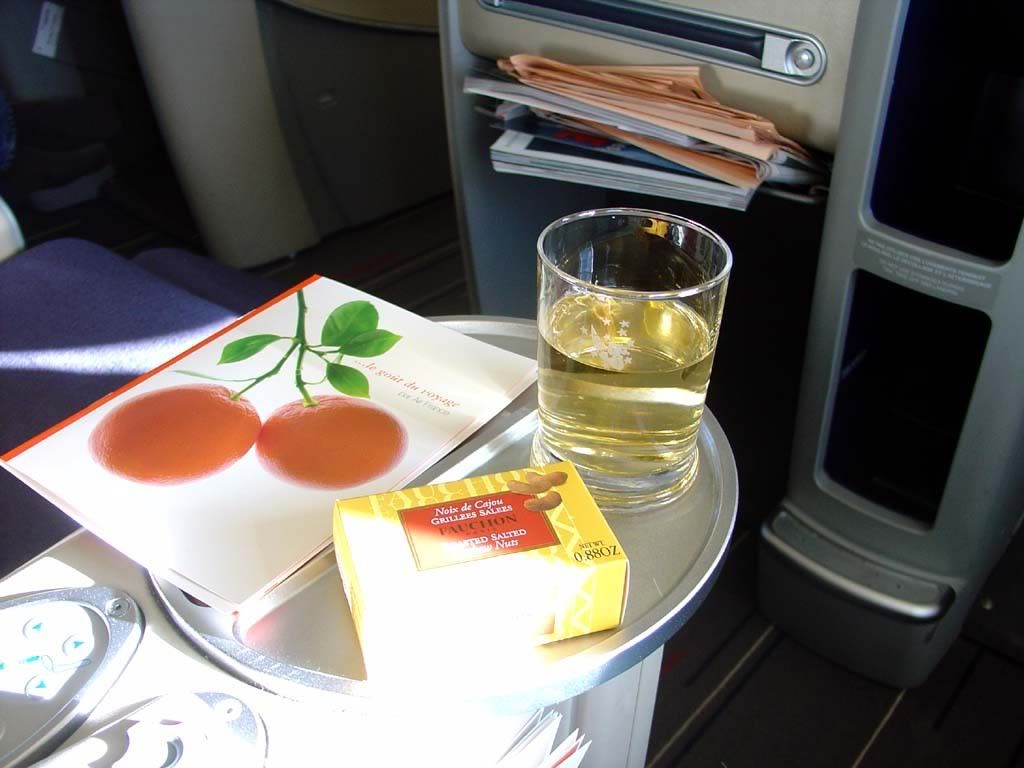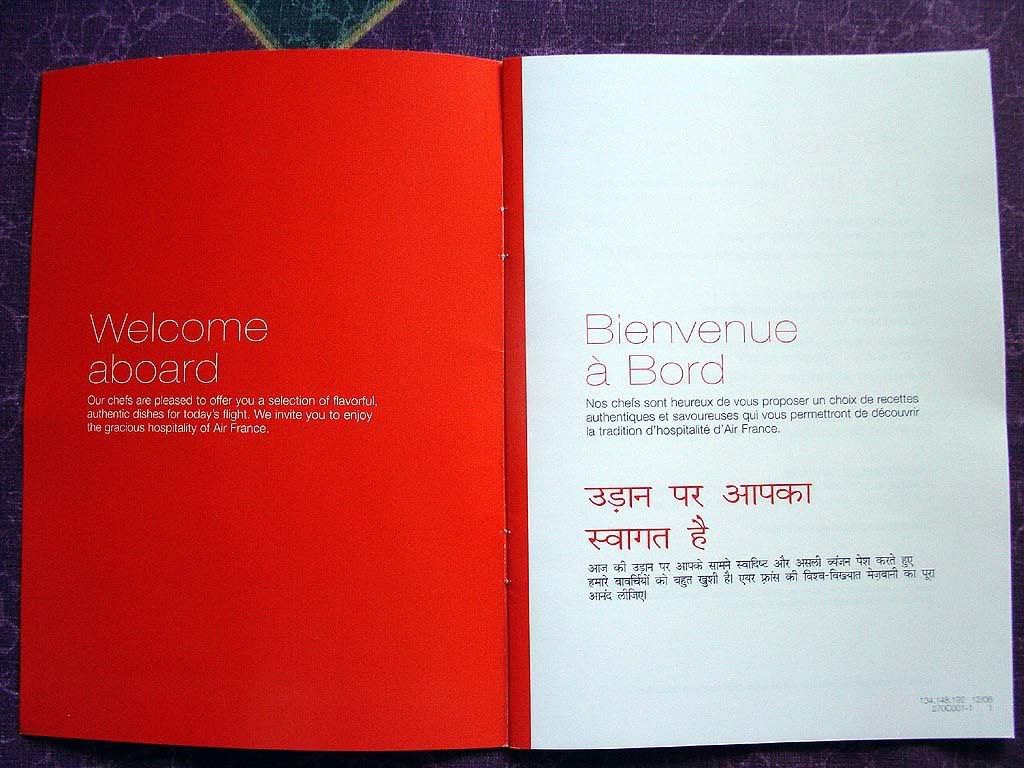 The chief purser appeared a few minutes later, "Monsieur Tamboowala, I have re set the system, would you like to check to see if it is working?" Thankfully it was. I elected to watch "Miami Vice" this time round. Before I knew it, my empty champagne glass was collected and the appetizer cart came through the aisle. The white table cloth was ever so gently placed on my tray table and the middle aged flight attendant asked me, "Monsieur
vous font décider sur votre entrée?" Since French is not my language I assumed she was asking me for my choice of entrée. The lunch menu for today:
Traditional Service

Choice of Hor d'Oeurve
Foie gras with spices and fig chutney

Peppered fillet of salmon and pasta salad with trout roe
Choice of Main Courses
Fillet of red snapper served with vegetable ragout and saffron potatoes

Indian speciality: "Pulao, choley masala, bairgan masala," rice with chickpeas and spiced eggplant
Plat du Jour (Plate of the Day)
Fillet of free-range chicken
A fillet of chicken is served with port wine sauce.
It is accompanied by cumin mashed potatoes and vegetables sautéed in sesame oil
Our Special Selection of Cheese
Camembert, Cabécou, Fourme d'Ambert
Assortment of Desserts
Farmer's cheese entremets with mango, Peruvian chocolate cake, sherbet served with cookies, choice of fresh fruit
Espresso is served at out bar Espace
Express Service
If you would like more time to work or relax, this chilled meal is offered in place of the traditional service: hors d'oeuvre of your choice, our special selection of cheese and pastry
As you can tell from the picture, I decided the salmon was the best option. I accompanied it with a small baguette and a nice glass of red Burgundy. All I can say is the salmon was wonderful, and the pasta salad was amazing. I am not a fan of roe but I could not even taste it, it was really an excellent appetizer dish, I could easily have asked for seconds.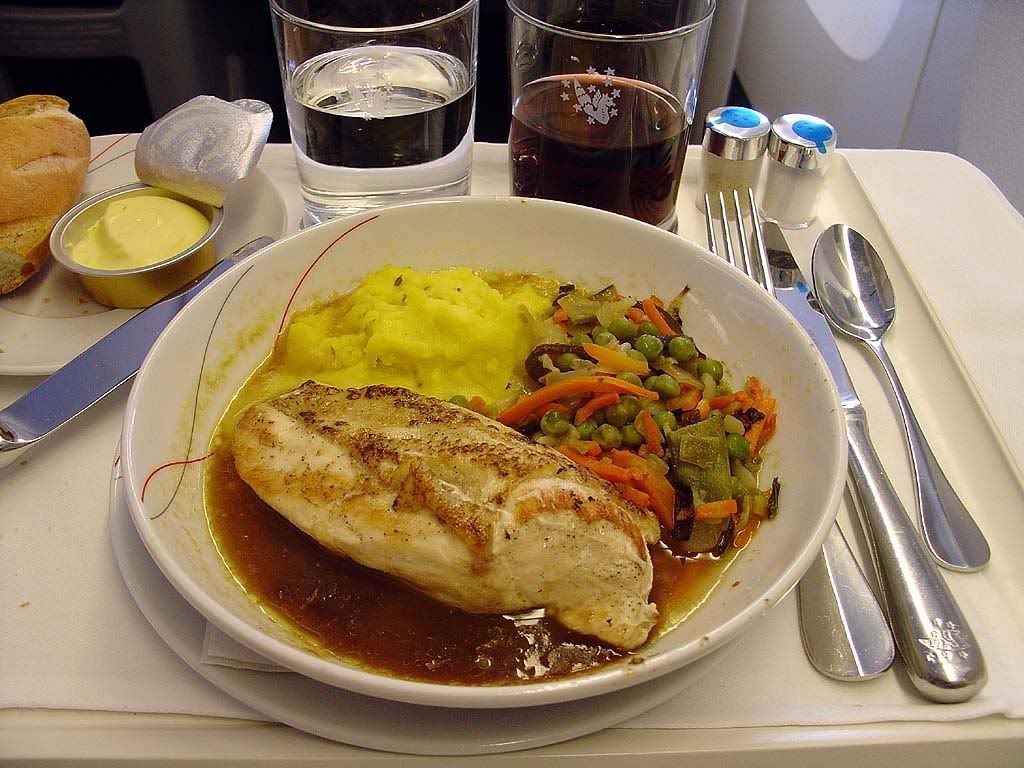 A short while later my empty appetizer plate was exchanged for the chicken dish along with another mini baguette and more wine. Once again, the meal was excellent. The chicken was soft and moist and the wine sauce was excellent. The cumin mashed potatoes were a nice twist on a classic dish.
A cheese plate was offered while I was in the midst of my entrée and since I had declined it on the last flight, I figured this was my only chance to sample it. The cheese was excellent as well, even though I am not much of a cheese person, this plate was excellent and gave me a good chance to try something that I normally do not eat.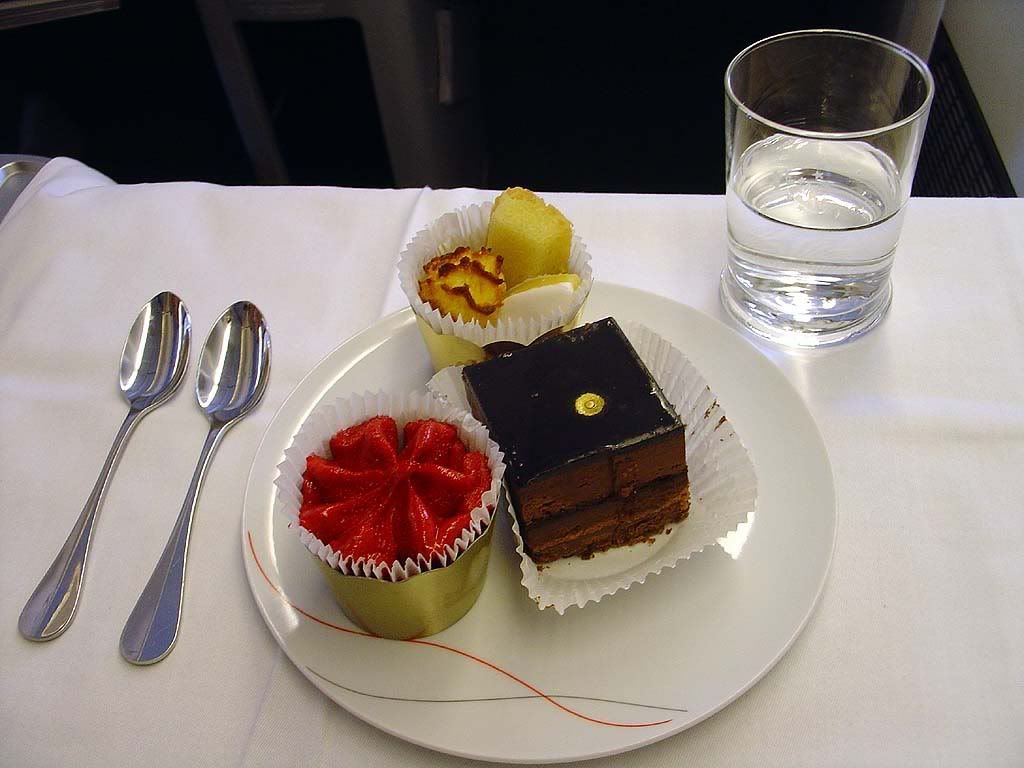 Soon enough my favorite part of the meal came by, dessert. My face immediately lit up as I saw the trolley to which the middle aged flight attendant noticed and smiled with a "Monsieur ce qui vous aimez pour le dessert?" I selected the Peruvian chocolate cake, some cherry sorbet, and cookies to go with it. I declined the fruit basket as well as well as the cheese entremets with mango as I was scared the button was going to fly off my pants. Once again, Air France did a spectacular job with the dessert, simply amazing.
Once the tray had been collected I, reclined the seat and attempted to take a nap. I think all that alcohol finally caught up with me, I was out for a solid hour and half, which is amazing for me. I woke just as the sun was setting somewhere over Turkey.
I put my PTV on and played some Air France trivia for a while. I eventually got up to use the lavatory and take a pen out of my lap top case in the overhead bin. Just as I did that, the chief purser approached me,
"Monsieur Tamboowala, how is the flight for you so far? Is there anything you need?"
"I am fine at the moment, thank you very much for asking."
"If you need anything, please goes ahead and ask me. I will be in galley."
I thanked her and sat back down and started up "Pirates of the Caribbean 2."
Before I knew it, the crew were about with a pile of white table cloths placing them on our tray tables.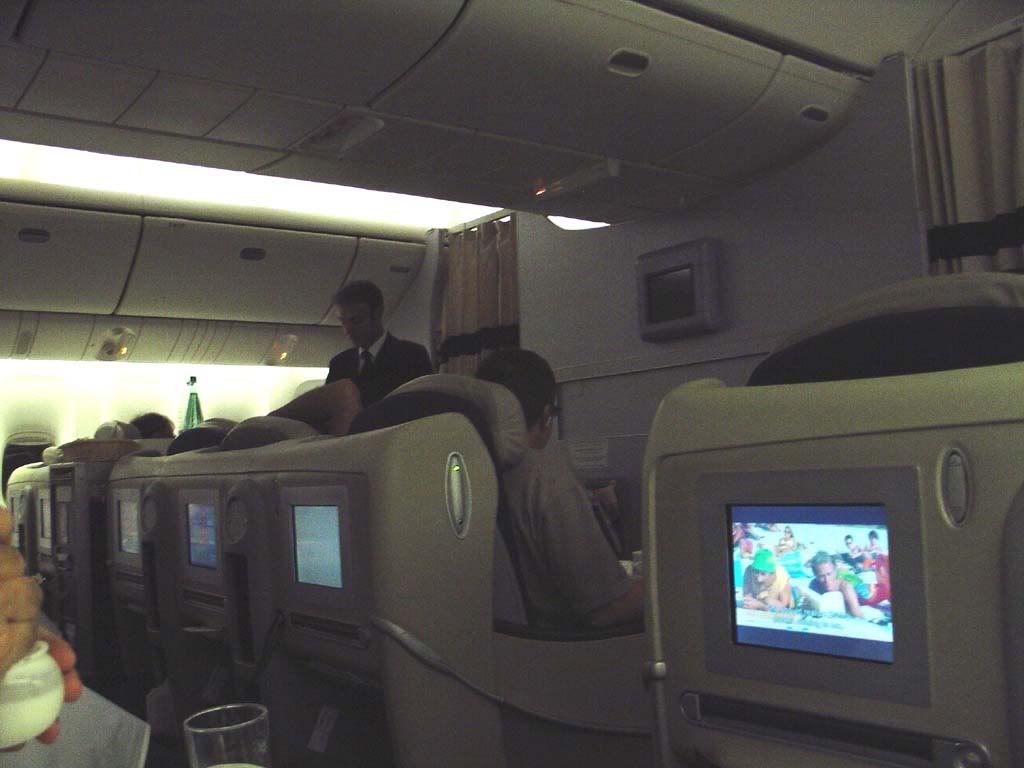 Light Meal
Moroccan-style salmon pie with lemon balm cream sauce and Chinese-style Vegetables

Yogurt
Fresh fruit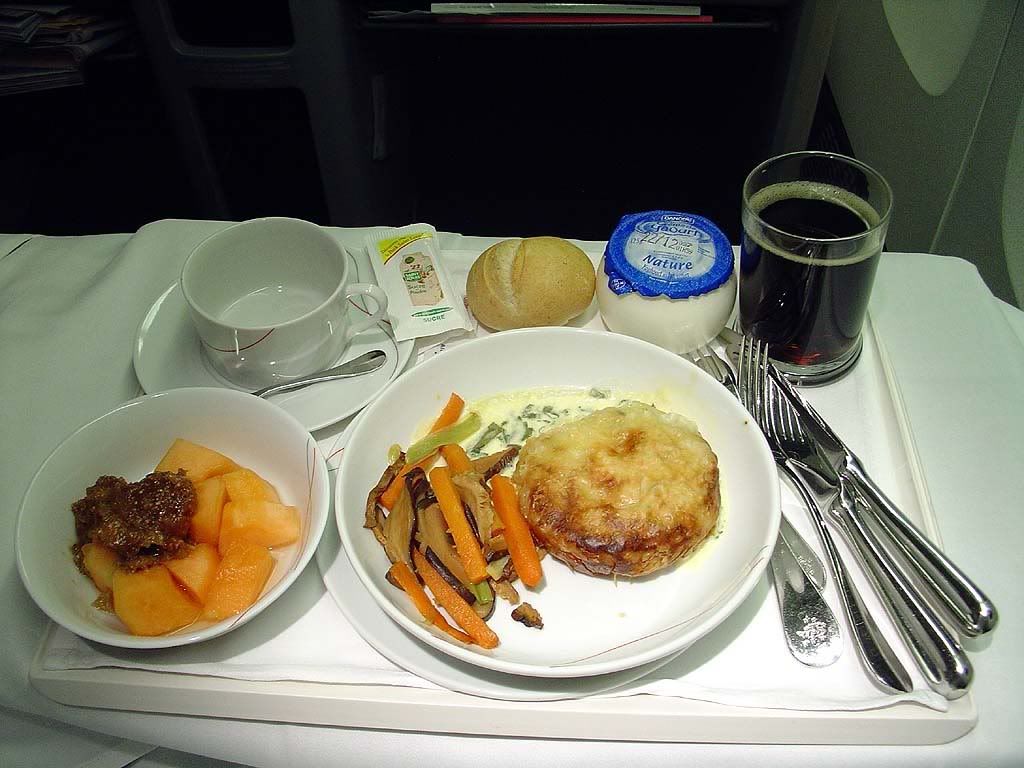 The pie was served with some bread and my choice of beverage, which was coke. The pie was outstanding and very unique. The fruits were fresh and had an excellent kick to them thanks to the ginger-fig concoction placed on top. The yogurt was as good as pre-packed yogurt goes, on the whole another fantastic meal from Air France.
The trays were cleaned up and landing cards were handed out by the crew. The pilot came on and announced that we would be beginning out descent shortly into Mumbai but due to some heavy traffic, we would circle once or twice before landing. I made another quick trip to the lavatory and was standing by the exit just as we hit some turbulence and the seatbelt sign came on. The young male flight attendant standing in the galley smiled at me and said "don't worry, as long as you hold on to something you should be fine." The other passenger and I let out a bit of a chuckle at that. The male flight attendant looked at my shirt and pointed to the upper left pocket and along with the best French-English accent I have ever heard said, "I luv Abercroumbie, dey are my favourite plaze to shop in de US of A." I nearly fell over laughing as at that moment he was the splitting image of one of my French-Canadian friends who is currently a flight attendant with one of the legacy carriers in the US.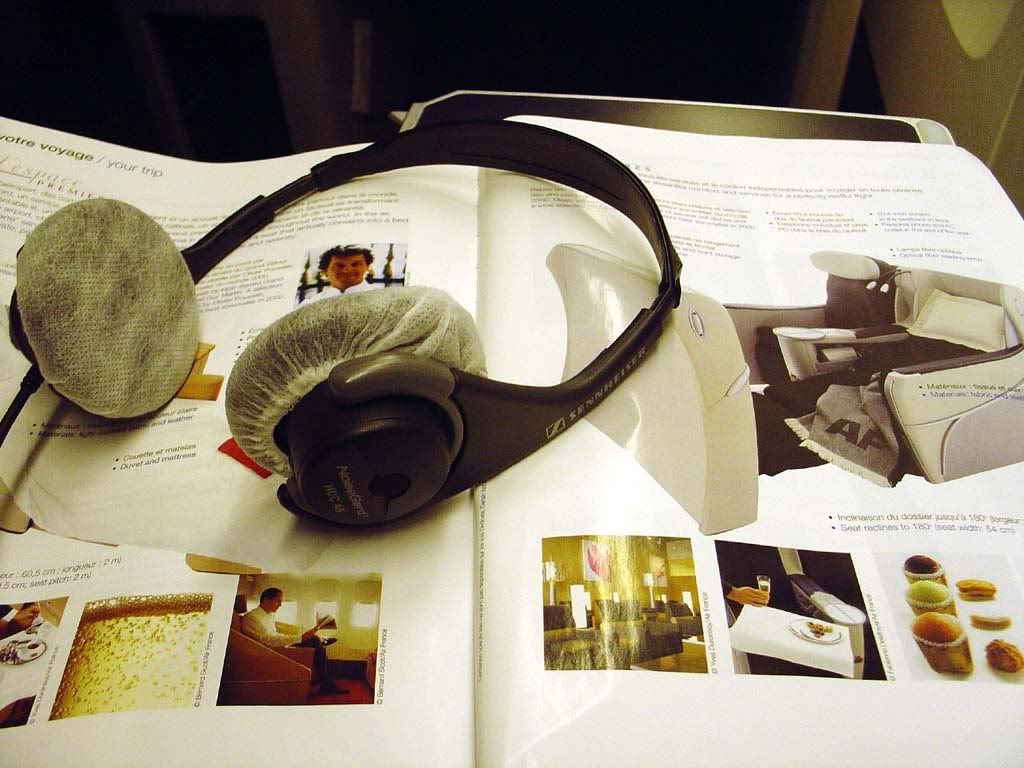 Hot towels were passed out one last time and the crew prepared the cabin for landing. I put my PTV on the outside camera so I could get some night time views of the city I was born in.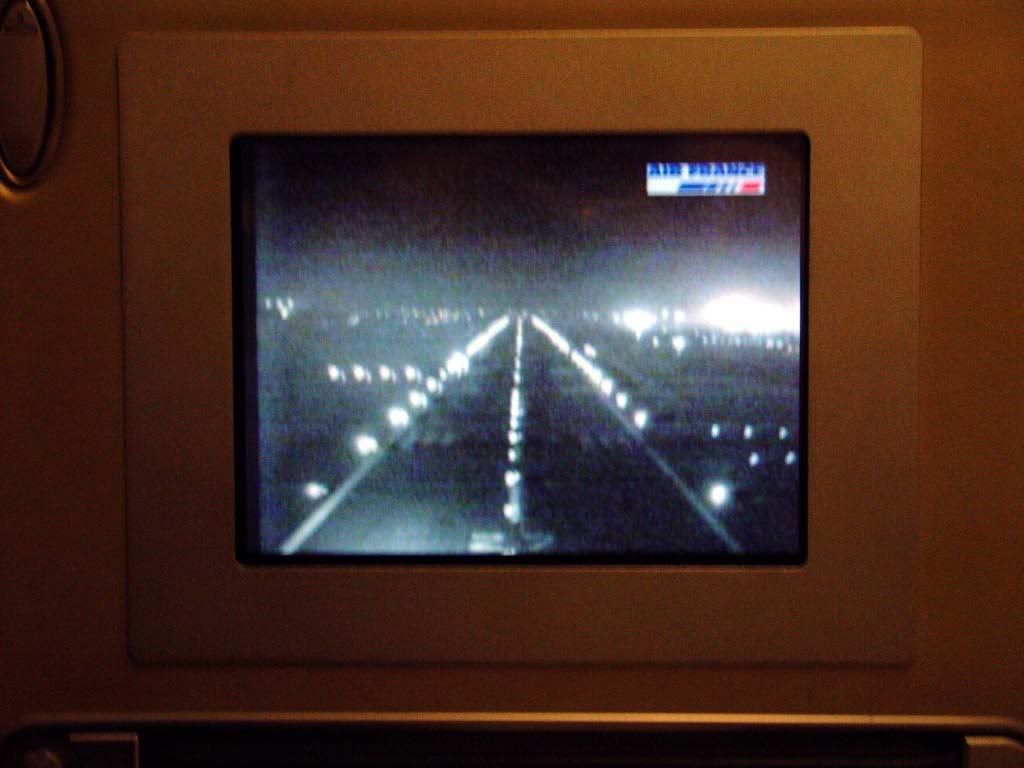 Arrival:
After some hard breaking, we taxied off the runway and I got to spot some aircraft I have not seen before. Besides the standard Indian and Jet Airways aircraft, the ramp was littered with the new comers to the airline industry as well as a handful of International carriers.
Kingfisher A320
Air Sahara 737-800
Go A320 (Blue)
Go A320 (Green)
Spicejet 737-800
Indigo A320
Air Deccan A320
Indian Airlines A300
Swiss A330-200
Alitalia 767-300
Delta Air Lines 777-200 (just landed ahead of us)
Austrian Airlines 767-300 (Still in Lauda Air colors)
Singapore Airlines 777-300
Air India 747-400
Air India 777-200 (the one from EWR and CDG-landed 10 minutes before us)
Once we docked at out gate, I wished the chief purser a good day and thanked her for a good flight. She smiled, thanked me and wished me a pleasant stay in Mumbai. I began the trek towards immigration trying to keep ahead of the entire 77W crowd that was about to follow behind me.
I headed towards the escalator where we converged with the passengers that were walking off their Delta flight from New York/JFK, the airport that I will be flying to in four weeks. This new immigration set up was excellent. There were a number of counters opened and everyone had to form a queue which moved extremely fast. I never thought I would ever see the day that immigration would be hassle free in Mumbai. Good job! There were a number of passengers yelling at officials as they were all being asked to fill out new immigration forms. Turns out good old Delta had given each passenger the wrong immigration forms. It is always good to see Delta winning the customer over with their "new and improved" service. I for one am sticking to my decision to stay away from Delta International until things actually improve. No matter how many new routes they start, new uniforms their staff wear, new tiled lavatory floors they add to their aircraft, or upholster new leather to their seats, I know things are the same. The immigration officer stamped my passport and I was on my way to baggage claim. Sadly this was still the small, dingy and crowded area it has always been.
The belt started a few minutes after I arrived and a bunch of priority bags came out and they were take off the belt and put on the side. Regular bags kept coming out and I started to get worried after 30 minutes. There was an Air France ground staff personnel standing next to the pilot and his wife. I asked her if I should be worried since it has been 30 minutes since the last Priority tagged bag came out.
"Don't worry sir. We are having problems tonight. We have 22 pallets of bags and they have been offloaded randomly. Wait a bit more and I am sure your bag will come." I was happy with that response but it did not seem like the pilot was. He was screaming at the poor girl,
"This happens every time I fly into Mumbai. My wife has been waiting here for 45 minutes, this is totally unacceptable. Where is the station manager? He should be over seeing this entire process at the airport. This is such crap, why does this only happen in India. What is wrong with your country?"
I felt sorry for the poor girl who was just nodding and trying to apologize to the pilot. I finally spotted my bag at 1:55am, almost an hour and 30 minutes after landing. Considering my bag had a priority tag, this was totally unacceptable on Air France's part. What is the point of a priority tag if I am going to wait so long at baggage claim? I saw a number of pissed off faces picking up yellow priority tagged bags. As I left the carousel close to 2am, there were still close to 50 passengers waiting including the pilots wife. Customs was quick and within seconds I was out at the greeting area with my dad. Now it was time for the long drive home.
Verdict:
On the whole I was not disappointed with Air France, but sadly I was far from impressed. Being a loyal KLM flyer myself, I was hoping that Air France would be along the same lines, if not better. The IFE needs to be looked at; KLM is light years ahead of Air France in this case. The seats are average at best, nothing overly special and lacking in any flexibility. Paris Charles De Gaulle is not a simple airport to maneuver around. I am however going to reserve judgment till all the construction is done as I am sure that causes a lot more problems than normal. One aspect I was really surprised with was the cabin crew, especially the Houston-Paris set. I had read about how friendly and hospitable they were on this website, sadly they did not even come close to the likes of KLM or Swissair (RIP) let alone their Asian counter parts. The lack of walk-arounds coupled with everything already being placed on the seat before boarding leads me to think they are on the lazier side, never have I seen cabin crew do so little on long haul; including US carriers.
If someone can shed some light as to why Air France does things this way, please feel free to enlighten me. Thankfully the Paris-Mumbai set of cabin crew left a far more favorable impression on me; though walk-arounds were still non existent. However I have to say that the catering was out of this world, Air France really knows what they are doing here. All four meals were outstanding and the dessert choices were breath-taking. I can honestly say the four meals I had on these two Air France flights may have been some of the best meals I have had in the air on any airline. Quality is certainly a well exercised word when it comes to Air France catering, I can not praise it enough.
In the future, if I have to spend money, I think I am going to try to stick to KLM. However I am not going to go out of my way to avoid Air France, on the contrary I think Air France has come a long way since some of my flights in the late 90's, which left a lot to be desired. I think Air France is on the right track to becoming a well respected airline, but for the time being they have a bit more work to do before they can be in the top league like many other well reputable carriers. Good job so far Air France.
Score:
Air France 033
Check In:
10 (Friendly and hassle free, could not ask for anything more)
Lounge:
8 (For an outstation, very nice. Could use more food and free wireless)
Boarding:
9 (Good enough if not a little disorganized)
Seat:
7 (Needs some work, especially in sleep mode)
Aircraft:
10 (In perfect shape, or maybe I have been flying NW's dinosaurs too long)
Crew:
5 (Big disappointment here, especially the disappearing act between meals)
Meal:
10 (Might be some of the best catering around)
Entertainment:
7 (AVOD does not cut it anymore these days, needs more choices)
CDG L'Espace Lounge:
8 (Needs showers in all lounges, not a select few. Some hot food options would be nice, otherwise it is a pretty good lounge)
Air France134
Boarding:
6 (Disorganized and no actual announcement for premium passengers was a turn off)
Seat:
7 (Same as the last flight)
Aircraft:
10 (Once again plane was immaculate inside and out)
Crew:
8 (This set was friendlier and much more personable than the last, however they fall short by KLM standards)
Meal:
10 (Once again, some of the best catering around)
Entertainment:
7 (Needs more choices)
Arrival:
5 (A mess and a half, but I blame this more on BOM than AF)
Total: 129/160=0.79
Air France scored an 79%
Please feel free to criticize or comment. I hope you found it a good read and if you have any tips or concerns for my future trip reports, please let me know. Thanks.
SR 103