I was really looking forward to this trip – I've wanted to see Scandinavia for years, but was always held back by high airfares (even in the dead of winter, transatlantic tickets never seemed to fall far below $1000). Finally, after lots of scanning, I found a much more agreeable price back in August, and went ahead and booked it – a roundtrip to Copenhagen on American and British Airways, connecting over London Heathrow.
Originally, I had planned to stay in Copenhagen for four nights and maybe take day trips to Malmo and Odense by train. After giving it a little more thought, and poking around for airfares on various websites, I discovered that fares between the Scandinavian capitals were pretty low (with the curious exception of Oslo, which seems to be horrifyingly expensive no matter where you're coming from). With a little bit of juggling, I put together a more ambitious itinerary:
ORD-LHR (American) LHR-CPH (British Airways) CPH-HEL (Finnair) HEL-ARN (Finnair) ARN-CPH (SAS) CPH-LHR (British Airways) LHR-ORD (American)
It was going to be a lot of flying – and didn't leave me a lot of time to truly explore each city – but I wasn't sure when I'd be able to afford a trip to Scandinavia again and I wanted to cover as much ground as possible. Besides, being an aviation enthusiast I wanted to pack in as many new airports and airlines as I could. With my itinerary set, I spent the rest of the fall reading up on Copenhagen, Helsinki and Stockholm, putting together a list of sights to see, and before I knew it, it was Thanksgiving and time to go…
************************************************
Chicago O'Hare International Airport
Wednesday, November 22, 2006
The news cameras were all parked outside of O'Hare's Terminal 3, reporting on horrible Thanksgiving travel delays, packed terminals and frustrated passengers. Inside the terminal it was a different story – things were actually moving nicely, and the terminal didn't seem to be any more crowded than on a normal weekday afternoon. I checked in at the first class/AAdvantage premier counter, where the ticket agent was finally able to assign me a seat on the LHR-CPH leg (I'd been trying for weeks - when, oh when will British Airways allow advance seat selection on shorthaul flights?)
I'd come to the airport early anticipating huge Thanksgiving crowds, but since it was still afternoon it looked like I had missed them by a few hours. I walked over to United's Terminal 1 to pick up a copy of the new Lufthansa timetable (good old reliable Lufthansa always has timetables laid out at its counter) and went through security there as well, since ORD's three domestic terminals are all connected airside. Along the way I collected a few photos, starting with United Express and American Eagles' regional jet armada at Concourses F and G:
More Eagle RJs and some AA mainline at Concourse H: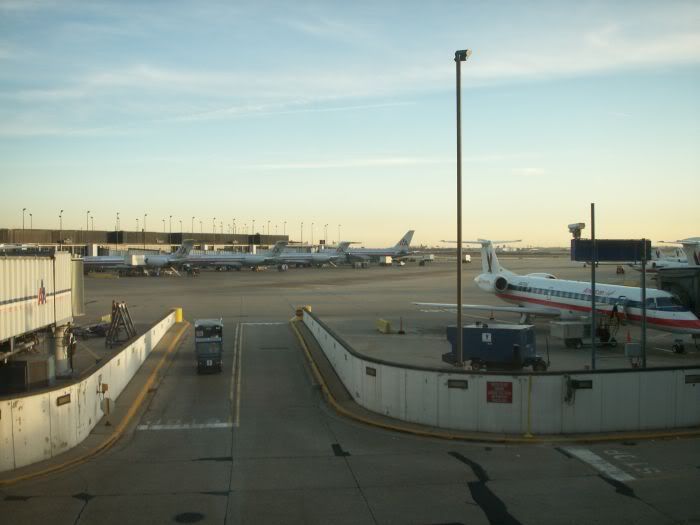 American always does a nice job decorating Terminal 3 for the holidays – the main concourse leading to the H and K gates is done especially well:
Since I was traveling on an international itinerary (and in business class – more on that later) I was able to use the Admirals Club, which at ORD is a sprawling three-story affair in the middle of the Y formed by Concourses H and K. It has great views across the Terminal 3 ramp – the gates downstairs have plenty of glass too, but there always seems to be ramp clutter in the way. Upstairs that's no problem: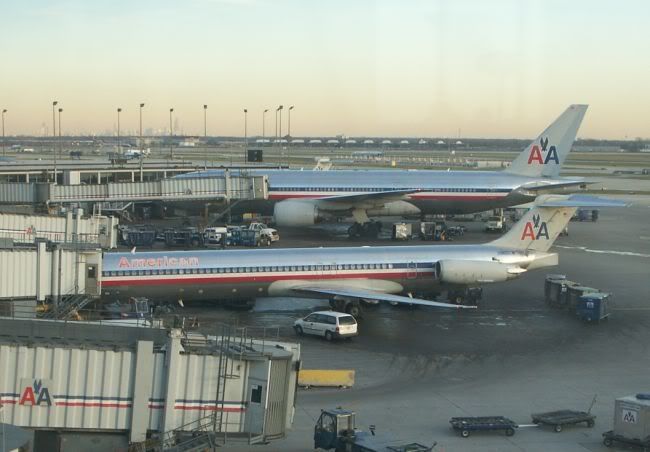 (That's my 777 to Heathrow parked in the background, and an MD80 bound for Philadelphia in front of it)
As it was midafternoon, a steady stream of widebodies from Europe was coming in on runways 27L and 27R, and most of them taxied right by T3 on their way to the stands at Terminal 5. Leading the way was a United 747-400, still wearing the old colors:
A Swiss A330 from Zurich: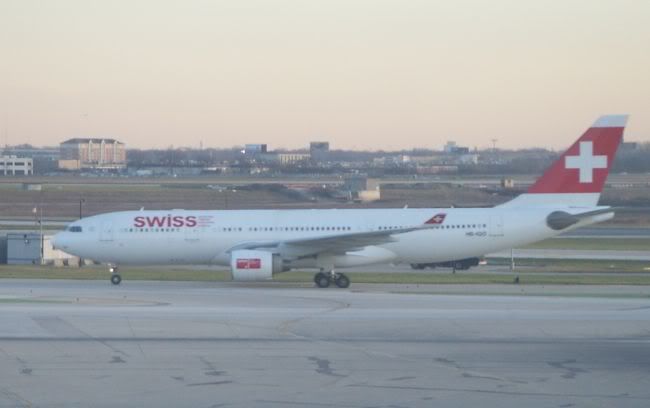 Iberia's daily A340 from Madrid: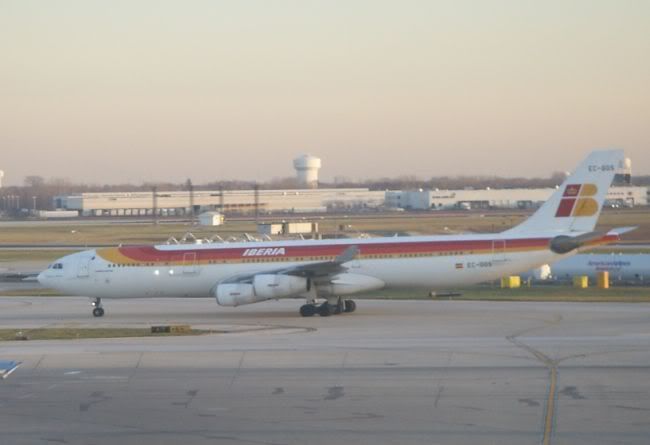 After a drink at the Admirals Club bar and a half hour spent watching planes from the windows, it was time to head to Gate K12 for my flight.
************************************************
American Airlines Flight 86
Chicago O'Hare (ORD) – London Heathrow (LHR)
Departs ORD 4:30pm, arrives LHR 6:50am
Boeing 777-200, seat 10J
Flying time: 6 hours, 35 minutes
I've flown to and from London on American's 777s several times, but always in coach. This time I was traveling in business class – a welcome change of pace. I settled into seat 10J beside my seatmate, a middle-aged woman heading to London for a long weekend, and we started chatting while the rest of the passengers boarded.
I had sat in the 777's business cabin before, but only on domestic flights between Chicago and Dallas/Fort Worth, where business is treated as a separate coach cabin for AAdvantage elites and most of the perks (meals, free drinks, amenity kits, etc.) aren't available. In any event, I found the business-class seat to be comfortable… nice and wide, and it doesn't have the weird 'scooped-out' design like the first-class seats on American's MD80 and 737-800 fleet, which always leave my back sore. There was plenty of padding and headroom… my only complaint was the footrest, which deploys and extends via a series of levers on the arm of the seat. It comes out clumsily and doesn't support your calves too well, even when the footpad is extended. I guess that's why American is rolling out new business-class seats on the widebody fleet.
Prior to pushback the cabin crew – an older bunch of ladies typical of AA international flights – took coats and offered champagne and mimosas. My seatmate and I polished off a few glasses of champagne… I have no idea what year or brand it was, and since stuff like that isn't important to me I didn't bother to ask. It tasted nice, and had the desired effect of putting me in a good mood.
Ed: upon checking the menu, it was a Pommery Brut. Whoopee.
It was dark by the time we pushed back, so I wasn't able to get any pictures. After the safety video (which was re-released this year to include the jaunty "We Know Why You Fly" jingle) the captain came on to say our flight would be shorter than usual due to an abnormally strong jetstream over the north Atlantic – almost 45 minutes shorter, in fact.
We joined the queue for the south runway complex and about ten minutes later turned onto 27L and made a powerful takeoff to the west, turning off the runway heading while still at a low altitude and heading east over the northwest reaches of the city of Chicago:
After hitting a bit of light chop breaking through the clouds over Lake Michigan, the seatbelt sign was turned off and the cabin crew began the dinner service. First up was the customary (on American, anyhow) bowl of mixed nuts and a choice of drink (I went with a beer this time.)
I'm not going to go to the trouble of typing up the entire dinner menu as some folks do – for me the flight itself is more important than what they feed me. The first course included a mixed-green salad with ranch dressing (can't go wrong with that, can you?) and a pretty tasty side dish of cold coppa ham with chunks of mozzarella cheese. We also got something from the breadbasket:
For the main course we had five choices – a "seasonal vegetable plate" or eggplant ravioli for the vegetarians, shrimp and scallops with risotto for the fish people, and for the meat-eaters a choice of either lamb medallions or a beef filet. I chose the filet (I'll always choose filet if it's available), which came with a mango-chili dipping sauce, a mysterious substance called "blue cheese potatoes" that came floating in their own rehydrated juices and two somewhat scraggy-looking glazed carrots:
By no means am I a foodie, but I had high expectations for the meal and wound up disappointed. The steak wasn't seasoned at all, and it looked suspiciously like the mini filets that American used to give its
coach
passengers back in the pre-9/11 days of International Flagship Service. The dipping sauce was good and added a little bit of flavor, but generally speaking it was only marginally better than what I normally get in steerage. The potatoes were awful; I wished I could get the crunchy potato patty that you get with your coach meal.
Call me unappreciative if you want, but I guess I just don't see what some of the folks on this board get so worked up about. It certainly wasn't worth transcribing the entire menu and paying an extra thousand dollars to experience.
Things improved with dessert, which I was too busy eating to photograph. We were given a choice between American's signature ice cream sundae or a plate of cheese and fruit (another no-brainer). The ice cream sundae had actually improved since the last time I had it, on a Seattle-Chicago flight last year. Now it's dressed up with some kind of crunchy honey-nut sprinkles and has a peach-flavored sorbet at the bottom. Excellent! One of the cabin crew also made a pass through the business cabin with a basket of Ghirardelli chocolates.
Dinner was cleared away as we passed Montreal and began the long slog up the St. Lawrence Seaway toward the Atlantic. I put on the noise-canceling headphones – I have a pair from Phillips, but I liked American's Bose model better – and settled into my transatlantic-flight routine of trying to sleep, getting about 20 minutes of sleep, waking up suddenly and for no reason, and then reading for the rest of the flight.
I put the seat into its fully-reclined position… I don't have the figures in front of me but I'm guessing it was maybe 130-140 degrees of recline. It was an odd sensation – I felt like my feet were higher than my head, which gives the illusion that the plane is constantly climbing. In any event, I managed about 45 minutes of good solid sleep, which is a nice record for me. And then (surprise!) I woke up suddenly and for no reason, just past Newfoundland, and read a book for the rest of the flight.
The captain wasn't kidding about the jetstream – we made it across the open ocean in about two and a half hours, and literally before I knew it, Ireland had appeared on the airshow map, which was indicating "Time to London 1:30". It was still pitch dark outside, and apart from the blinking wing lights I had no idea if we were nearing land or not.
For breakfast we were served a cheese omelette garnished with some very strong onions, a warm croissant, and a potato-and-sausage hash mix. It was a little heavy for breakfast, but it was good – much better than dinner had been. American has slashed the coach breakfast down to a croissant and bag of raisins, so it was nice to get something hot. (For passengers who didn't want to eat onions for breakfast, there was also a cereal-and-yogurt option.) My seatmate was still asleep, so I refrained from taking a picture of breakfast. Sorry.
When breakfast was over, the spidery lights of northwest England were shining out the window, and a few minutes later the captain came on to announce the start of our descent into London. Even at night, English cities don't look anything like ours in America – there's no grid pattern of carefully arranged streets, no fast-moving expressways slicing through the middle of town, no skyscrapers with blinking red lights – just amorphous blobs of development spreading out from a brightly-lit center, with headlights circling through roundabouts and tentacles of lights reaching out along A-roads to nearby villages. In the early morning darkness it all looked very sleepy, although there were already lots of cars rushing along the motorways, presumably toward London.
The captain came overhead again – we had made such good time across the ocean that Heathrow's noise curfew hadn't been lifted yet, and we had to hold over the Ocham beacon until the airport opened for landings at 6am. He also warned us that we might see the lights of some other aircraft circling very near us, and not to worry, that it's normal procedure at Heathrow.
After two spins through the holding pattern we got landing clearance and headed east, over the vast and twinkling lights of south London, passing in and out of clouds that threw the plane around a bit. Once we had passed the city we swung back in a long, tight turn toward Heathrow, and there below us was the city itself – the Tower Bridge, the London Eye, the Houses of Parliament, all lit by spotlights. Our 777 sank further down, the landing gear thumping into position over Hammersmith and Acton, and finally skimmed the rooftops of hundreds of very British-looking "semidetatched" houses in Hounslow before touching down on Heathrow's 27R about a half-hour ahead of schedule and a full hour before the sun was supposed to rise.
I'd never landed at LHR in the dark before, and it seemed strange to be completing a transatlantic crossing without watching the sun come up. As our 777 negotiated LHR's network of insanely narrow taxiways and 90-degree turns on its way to Terminal 3, the flight attendants distributed "fast lane" immigration tags, returned coats, and wished us a good morning and happy Thanksgiving.
My verdict on American's business class?
It's nice, but I didn't think anything about it justified the extravagant fares they probably charge for it. If I had been going to London on business and had to work a full day upon arrival, I think I would definitely have appreciated it more. The food wasn't anything special, the service wasn't much more attentive than what you get in coach – but the seats are comfortable and the fast-track immigration card is priceless. I was grateful to have the chance to try it out, but I don't think I'd go out of my way to pay for it on a seven-hour flight (on the 16-hour ORD-DEL run, I think I would, though.)
************************************************
London Heathrow Airport
Thursday, November 23, 2006
What a difference that fast-lane card makes! As I said, I found that to be more valuable than anything else about AA's business class. Arriving at LHR usually means taking your place in a long line full of recently arrived Americans and Middle Easterners (it seems like flights from these two regions always arrive simultaneously, doesn't it?) who stand cheek-by-jowl in the serpentine lines at T3, each pretending the other isn't there. Instead, I ducked behind a partition and came face-to-face with a customs agent. I was through Heathrow immigration in under a minute – something I didn't think was possible.
Outside of customs I headed for American's arrivals lounge on the upper floor of T3. I wanted to grab a shower and clean up before heading to T4 for my flight to Copenhagen. The lounge was very nice – lots of little rooms with showers and towels and toilets, plus a selection of drinks and breakfast items. Here's a look at my shower room:
I came out of the shower a new man, snagged a few sodas and a breakfast roll and headed for T4. The tube is closed between Heathrow Central and T4 while an extension to Terminal 5 is built, so anyone connecting has to take Heathrow Express – not a bad thing, as Heathrow Express is sleek and fast and, in my opinion, one of the best airport trains in the world. The Heathrow Central station (serving T1, T2 and T3) feels like it's about three miles below ground, however, and it's always cold and damp. I guess nothing's perfect.
Once at Terminal 4 I headed upstairs and joined the line for security, which wasn't bad at all… I'd imagine it's much worse in the afternoon and evening, when flights to North America and Asia depart. In the morning most flights seemed to be headed to the handful of European capitals that BA serves from Terminal 4.
This was my first time airside at T4 and it was odd to find such a modern terminal at Heathrow (most of my flights have been from the less-than-stellar T1 and T3.) Even so, T4 is twenty years old, and BAA have done their best to destroy it, cramming retail outlets into every corner imaginable and making it impossible to see where you're going. Being newer, I thought maybe T4 might have slightly better views of the action on the runways, and the food court near security did have some windows, although the movements were rather distant: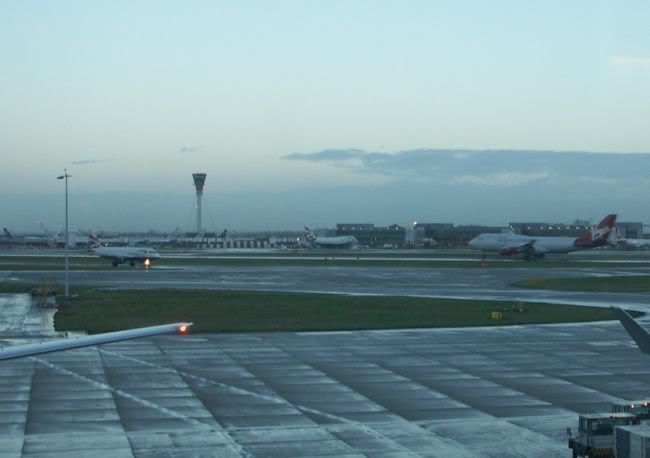 A bevy of BA heavies (hey, I'm a poet!) on the T4 apron: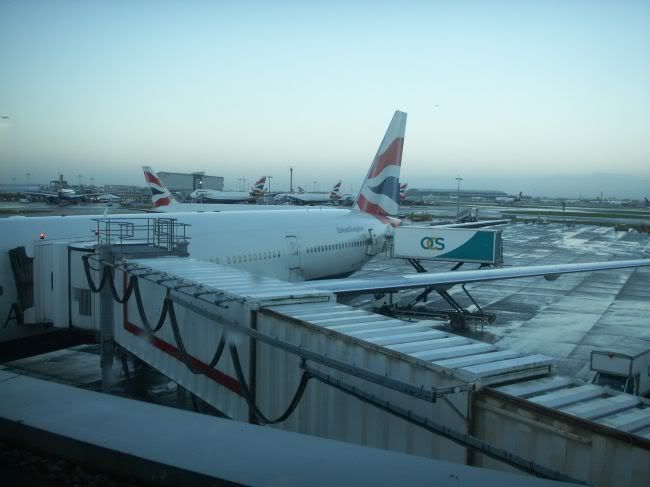 The main T4 departure concourse: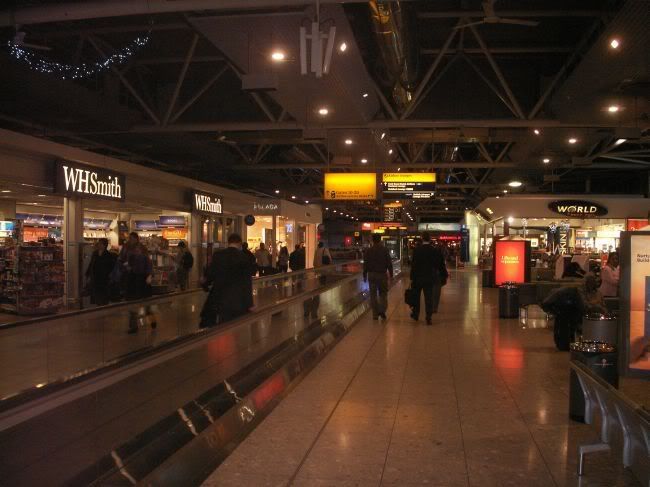 I headed for the British Airways lounge adjacent to Gate 1. It was a vast place, sprawling over two levels, but it's on the wrong side of the building for views, save for a few aircraft parked at nearby gates. There was a nice spread of breakfast food out, magazines and newspapers, and a bank of computers with internet access, so I helped myself to some nosh and was able to while away about 45 minutes before my next flight. I could also enjoy the view of the two gates visible from the windows, where this BA A320 was parked:
British Airways has a staggering number of 747-400s in its fleet, although you don't realize it until you come to LHR. Here's a nice example: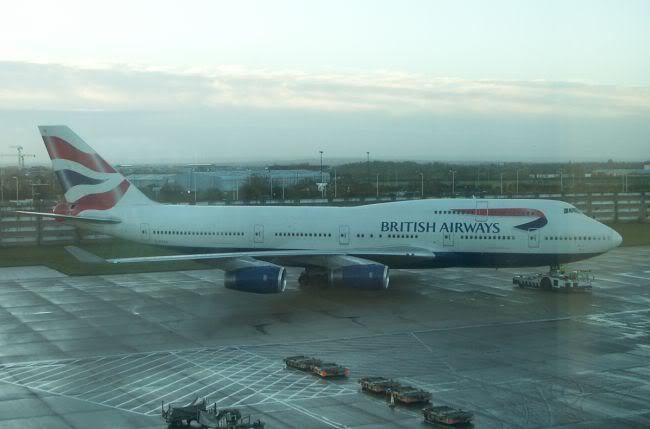 When the boarding time printed my ticket rolled around, I headed to the gate to mill around with the other passengers. A number of flat monitors around the gates were tuned a British news channel, which was showing a weather report. I always love watching UK weather forecasts – more often that not the weather is the same across the island, but the meteorologists do their best to highlight the differences:
************************************************
British Airways Flight BA814
London Heathrow (LHR) – Copenhagen Kastrup (CPH)
Departs LHR 9:40am, arrives CPH 12:05pm
Airbus A320, seat 7F (moved to 6F)
Flying time: 1 hour, 30 minutes
I was greeted at the aircraft door by two British Airways, whose pressed uniforms and cheerful attitudes were a nice contrast from the tired old AA crew I'd spent the evening with. BA's A320s are nicely done in dark blue leather seats, with the first few rows separated out as Club Europe. I was traveling in Euro Traveler (which means 'coach' in BA language) but since I was in row 7, my seat was designed to be convertible to Club Europe, and so had a little extra legroom and wider armrests. Once the aircraft door closed, I moved up a row, to an empty window seat where the view was less obscured by the engine cowling.
Preparing to leave the gate, with a fellow A320 on stand next door:
We pushed back on time and the drop-down screens played the BA safety video. Is it just me, or do British Airways have a really long, really wordy safety demo? It seemed to just go on and on. When it was over a recorded announcement played in what sounded to me like Danish, but turned out to be Greek (an off-duty SAS flight attendant across the aisle pointed out the error to a member of the crew.) I guess I don't have much of an ear for languages.
Passing the flightline at T4 – a lone QF 747-400 among lots and lots of BA widebodies:
I had landed on 27R that morning, but during my layover the runways had switched and flights were now arriving on 27L. With a burst of engine power we crossed 27L – I counted five aircraft stacked on approach in the distance – and joined the (very long) queue for 27R. The rain that had been falling when my 777 touched down had given way to clear skies and lots of sun – a great day for flying.
A glare-filled shot of a Gulf Air A330: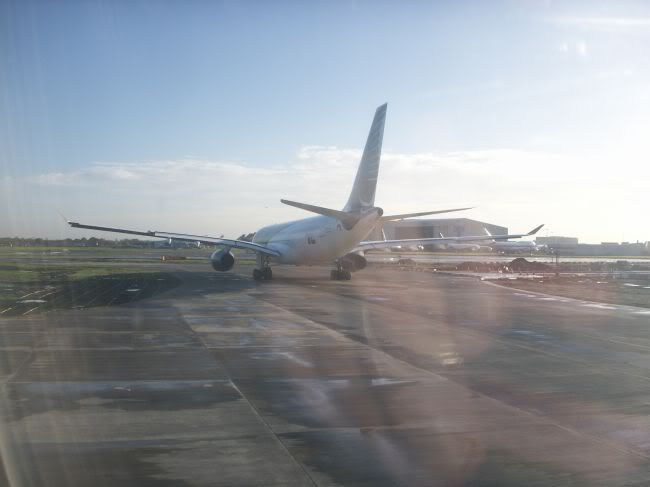 After about five minutes in the queue we nosed onto 27R and began our takeoff:
Our A320 climbed steadily west, heading up over the M25 orbital roadway and then out over the M4 and the suburban sprawl of Slough:
Turning above the M4, with the tip of the Queen Mother Reservoir visible below the engine:
As we turned back toward the east I could see Heathrow receding into the distance. Two more aircraft had already departed 27R behind us, and the sun was glinting off of dozens of airplanes parked on the ground. At the risk of sounding sappy, some mornings are really made for flying, and this was one of them. We headed east-by-northeast, droning over the neverending sameness of north London, and as we did the monitors dropped down again to show our flight path – just to the south of Stansted Airport, then across the Essex countryside before leaving England behind.
Clouds rolled in over the North Sea and there wasn't anything to see anything from the window anymore. The captain came overhead to welcome us aboard and give an update of the weather in Copenhagen – rainy with low clouds, pretty much what I'd been led to expect from Denmark in November. The temperature wasn't too bad, though… in the mid-40s.
The cabin crew came around with BA's "All Day Deli" inflight service – a ham-and-cheese sandwich, container of orange-mango juice and a small candy bar. The drinks trolley followed and I took a Coca Cola Light, which reminded me a lot of something we call "Diet Coke" back home in the US.
I was surprised to receive a little midget can of soda, though – is this a result of the foiled terror plot back in August, or are British Airways just getting cheap? In any event, here's a look at my lunch: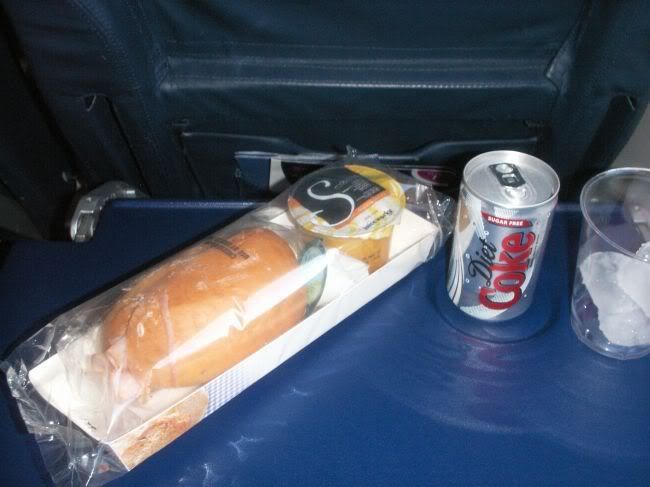 Interestingly, the boxed meal also came with a plastic bag that I could put everything into when I was done. The instructions on the bag said to hang it from the coat hook on the seat in front of me, and the crew would collect it. Not a bad idea… as soon as I was finished I was able to hang the bag from the hook and put my tray table up.
The rest of the flight passed uneventfully, broken only by the cabin crew's pitch for duty-free items from a cart in the aisle. According to the monitors we were over open water the whole flight, until we reached the coast of Jylland in Denmark and started our descent. The weather in Copenhagen hadn't improved at all, and we found ourselves sinking into a carpet of dense clouds: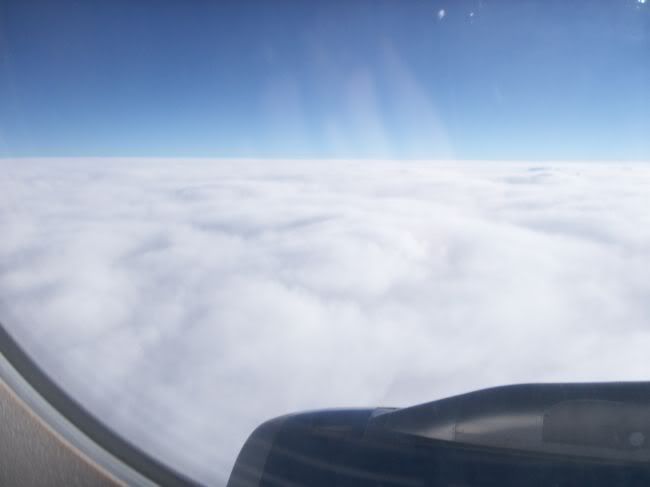 For several minutes we sank through the clouds, the engines changing in pitch, the spoilers rising and falling, and the captain calling "ten minutes to landing." Finally I began to see traces of land through breaks in the clouds – the warehouses, apartment tower blocks and divided highways of the Copenhagen suburbs. Eventually the clouds thinned out and we banked over the city's port, turning onto the base leg of our approach to Kastrup Airport: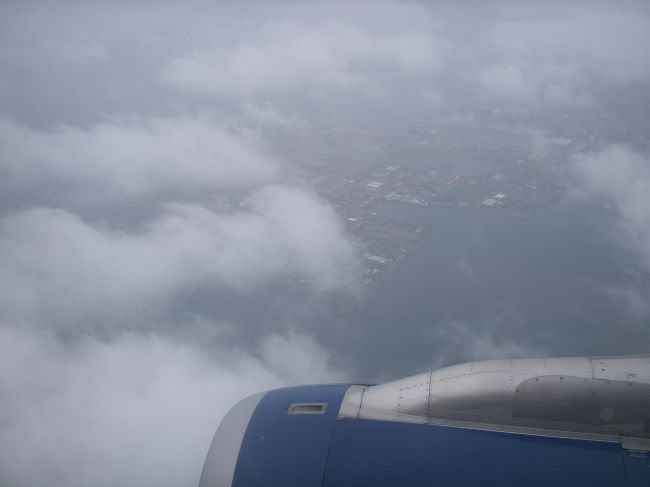 Final approach was completely over the choppy-looking waters of the Øresund, the body of water separating Denmark from Sweden. The city was faintly visible in the distance as we glided past the famous row of windmills in the harbor and past a number of heavy ocean freighters: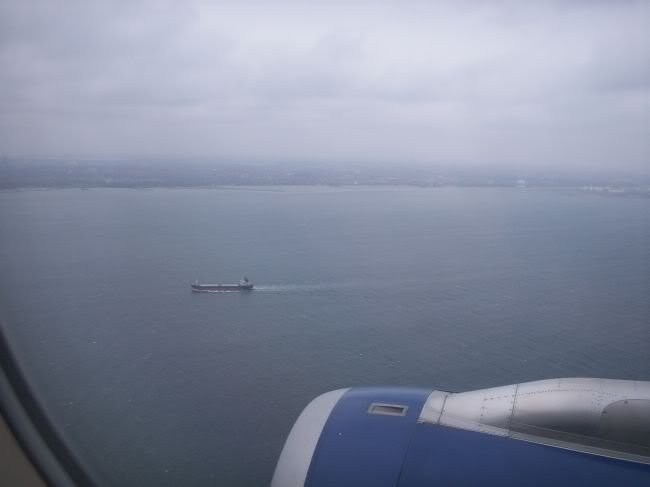 I shot a video of our landing, but it's too long to post on Photobucket and it's in .mov format (does anyone have any ideas for how/where I can post it?) We skimmed lower over the waves and I could see the shoreline and several SAS aircraft parked at hangars up ahead. Our A320 crossed the Amager shoreline and touched down at CPH right on time, rolling out without reverse thrust (which I never heard at CPH; have they banned it?)
Turning off the runway with the new Copenhagen control tower in the distance: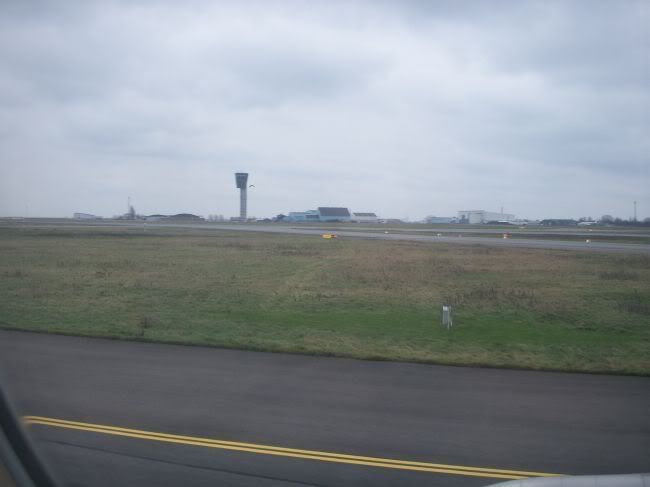 Denmark looked pretty windswept and bleak now that I was on the ground – between the taxiways brown grass blew stiffly in the wind, and raindrops were already beginning to streak the window. In the distance I could see lights flashing atop the spans of the Øresund Fixed Link bridge leading to Sweden. An SAS Dash 800 landed after us, then another, as we taxied back to the terminal complex.
Lots and lots of SAS – an MD80, A321 and A330 parked at Pier C:
Two MD80s parked at Pier B with Terminal 2 in the background: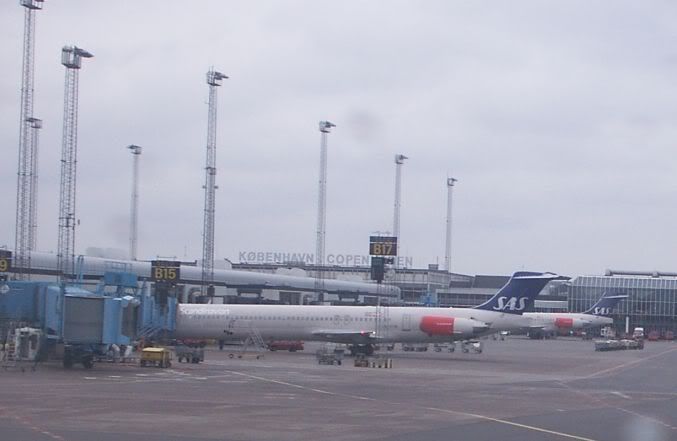 Some variety on the opposite side of Pier B… an MD80 of the SAS' erstwhile Snowflake LCC subsidiary, along with two (surprise!) SAS birds and an Air One 737 just peeking up: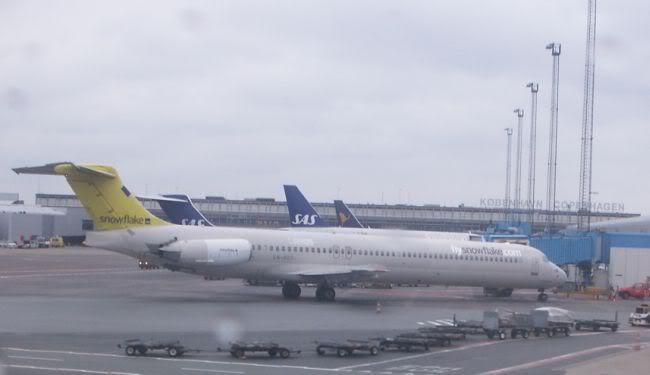 Turning into our gate on Pier A:
We pulled into the gate, the jetbridge was connected and a heavily-accented member of the ground crew welcomed us to Denmark. For me, that's one of the best parts of international flights – arriving and hearing that first foreign voice, and realizing you're in a different part of the world. She also reminded us that smoking was only permitted in designated areas of the terminal… I would quickly learn that Danes are some of the heaviest smokers in Europe.
I deplaned onto the modern and spotless Pier A, where I joined the line for passport control:
After receiving a "København" stamp in my passport – sadly it was the dull EU standard that's taken all the excitement out of getting your passport stamped in Europe – I headed for the main building, where I made my way to baggage claim: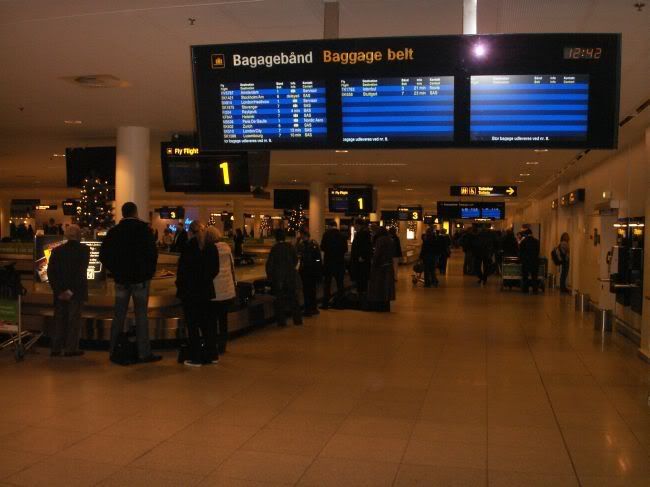 The exit from baggage claim funneled us into the middle of Terminal 3, which was thronged with departing SAS passengers. Fortunately, the DSB (Danish state railways) station is right in the middle of the lobby, so I was able to quickly buy a two-day ticket and head down to the platform.
************************************************
That's the first part of the report – I left two days later for Helsinki, and I'll have a much more in-depth look at the Copenhagen airport as part of that report. I'll leave you with a few shots of Copenhagen, though, starting with Strøget, the famed shopping street that's the longest continous pedestrian street in Europe (as you can see the weather never really got any better while I was in Denmark):
The Nyhavn canal, which was only a few blocks from my hotel and looks like something straight out of Amsterdam. It's lined with shops and restaurants, most of which are scarily expensive:
The city's main square, Raadhuspladsen, named for the Raadhus or city hall in the picture:
I also managed to make a trip to the famous Flyvergrillen, the tiny restaurant adjacent to Kastrup Airport that has an observation deck overlooking much of the airport. Getting there wasn't easy – I had to take a train to Tårnby, then take two separate buses – but it was well worth it. I had a cheap but tasty chicken sandwich there, then headed up to the observation platform for a great view of the field.
Aircraft were landing on 22R, but they weren't so distant I couldn't get some far-off shots with my primitive digital camera:
The ubiquitous SAS MD80… these are CPH's bread-and-butter. If you don't like MD80s or you're not a fan of SAS' rather minimalist color scheme, you might want to keep away from Copenhagen: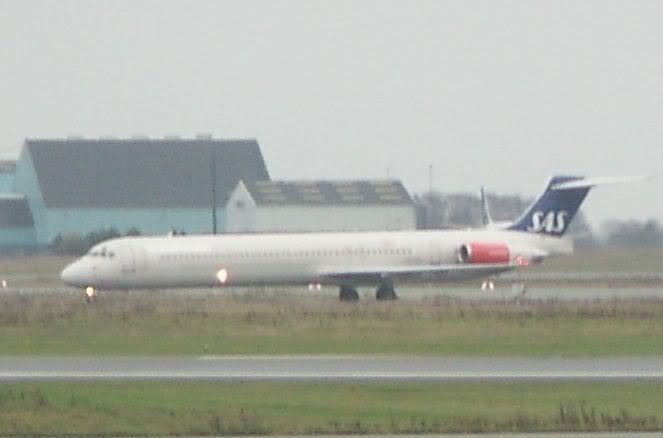 A Singapore Airlines cargo 747 turning off the arrival runway – SQ also serves CPH with 777s on passenger flights:
I highly recommend the Flyvergrillen – the food is good and the view is great, although if you go there in November, be prepared for pretty stiff wind and cold temperatures. I was really glad I had gloves and a scarf! Also, be sure you carefully plan out how you're going to get there – unless you take a taxi, it involves a few trains and buses and then a little bit of walking, too. They don't make it easy to find!
In any event, thanks for sticking it out this long… the CPH-HEL report should be up shortly, followed by HEL-ARN and ARN-CPH. Stay tuned until then!