"Good morning, seven o'clock," chirped the Danish-accented voice on my wake-up call. After two gloomy days in Copenhagen (read about my outbound trip
here
) it was time to pack up again for the next leg of my trip, to Helsinki. While I showered and dressed I watched the DR1, the Danish state television network, which hadn't started showing normal programming yet – just a test pattern of bouncing marbles overlaid with voices chattering away in Danish, which is about as difficult a language as any I've ever heard. Nothing is pronounced the way it looks, whole syllables get dropped from words in conversation and sentences run together – a Swedish acquaintance described it to me as "sort of like Swedish, but it's like they're talking with their mouths full of potatoes." Fortunately most Danes speak excellent English, so you don't have to attempt to speak their language (and embarrass yourself in the process.)
I took the sparkling new Copenhagen Metro – arguably the most modern subway system I've ever seen – to Ørestad, where the Danes seem to building a huge new city in the middle of the Amager countryside. There were cranes everywhere, building apartment towers, office buildings and new streets. After a quick look at the massive Field's shopping complex next to the station (it's basically an American-style mall, sort of like the Trafford Centre or Bluewater in England) I headed back to the station, where I switched to a DSB regional train for the short hop over Tårnby to the airport.
**********************************************************
Copenhagen Kastrup Airport
Saturday, November 25, 2006
The train drops off at CPH's Terminal 3, which primarily serves SAS and its partner airlines, so I had to walk back through a series of construction tunnels to Terminal 2. CPH is building a large centralized security checkpoint in between T2 and T3 (I'm not sure why, since queues never seemed bad on any of my visits to CPH.) Terminal 3 is very modern and very Scandinavian (lots of wood, glass and steel):
Terminal 2 is the oldest of Copenhagen's three terminals, although you'd never guess it – like everything else in Denmark, it shines like brand new, and it's sleek and modern and full of gorgeous people. It's a very simple design, with a vast check-in hall and little round skylights to let the sun (a rare concept in Denmark) through. Here's a look at the check-in hall:
The line for Finnair check-in was already quite long when I arrived, so I joined the much shorter queue for Finnair and oneworld elites. After dropping off my bag and getting a boarding pass, I headed upstairs to security, which is on the mezzanine overlooking the check-in facilities. It was possibly the most civilized security procedure I've ever seen… professional and thorough, conducted by pleasant officials instead of TSA agents barking out orders or monotonously repeating instructions.
Inside security the terminal is basically one long shopping center, punctuated by piers leading to each of the gates. There's lots of skylights and wooden floors, and when combined with the holiday decorations it looked pretty good: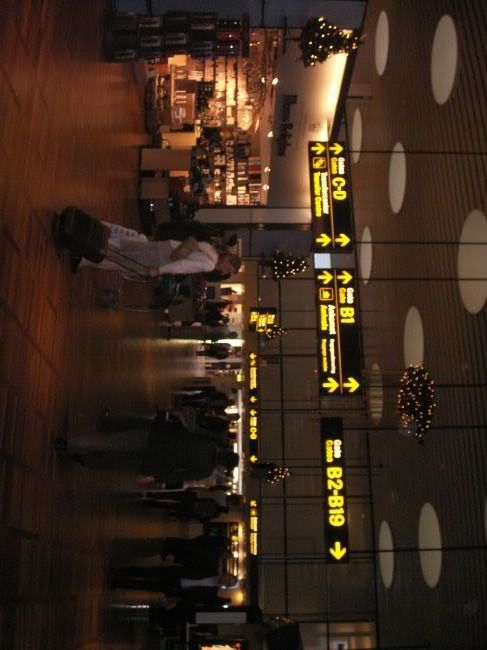 The shopping passage between Piers B and C: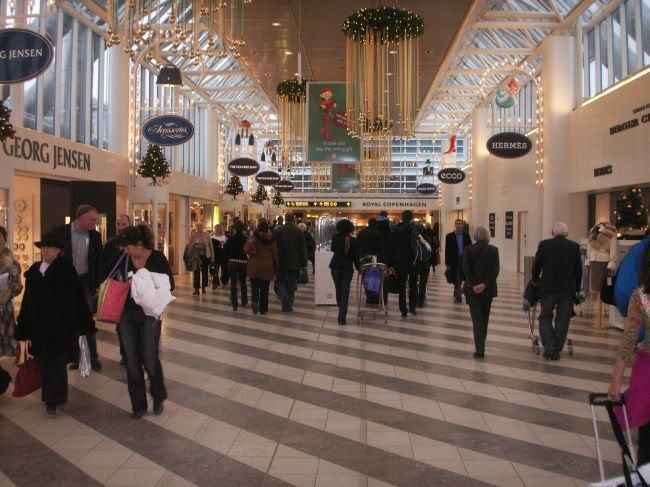 CPH doesn't have a formal observation deck, but views across the apron were pretty good from the windows lining the terminal. I couldn't figure out any rhyme or reason to gate assignments, except that Pier C seemed to handle all intercontinental flights and all SAS Dash 800 flights left from bus gates underneath the main terminal. Is there a pattern to where flights are parked?
An Estonian Air 737 was resting at Pier A: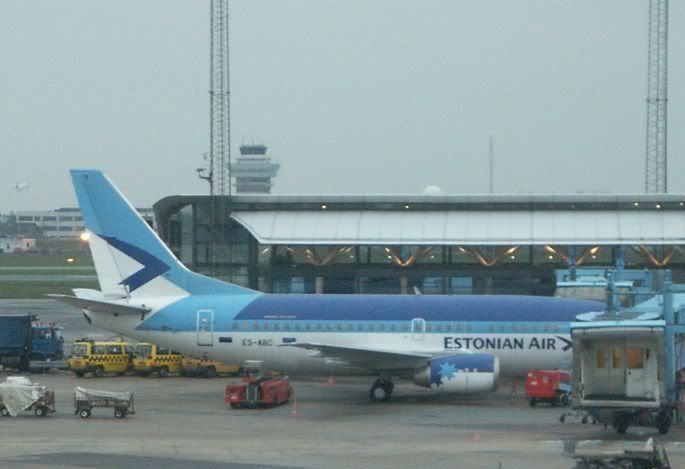 Two SAS Mad Dogs and a Sterling (former Maersk Air as evidenced by the light blue underbelly) 737 lined up on Pier B: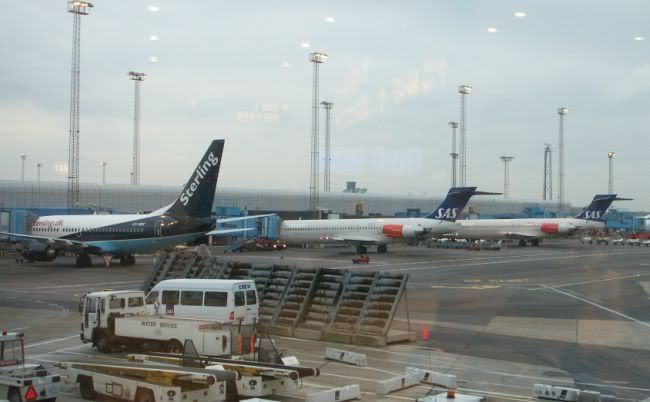 One of SAS' MD87s on the opposite side of Pier B: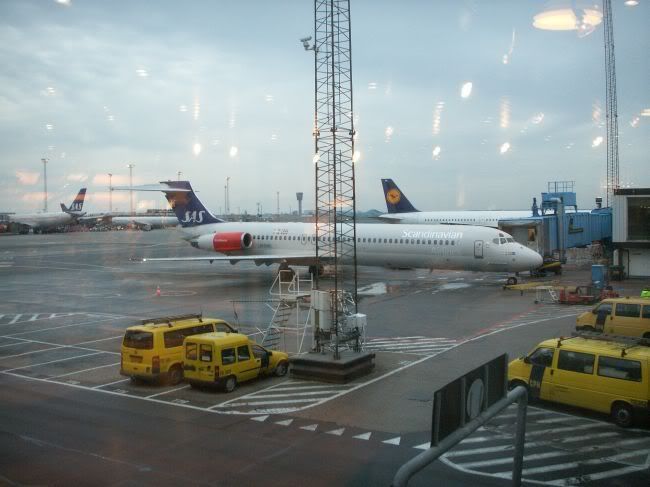 An SAS A340 and the SAS 'retrojet' A319 parked at Pier C, which predominantly handles intercontinental and non-Schengen movements (although my flight from Stockholm would arrive there a few days later):
The huge flight-status board outside security… as at many European airports, gate assignments aren't posted until about half an hour before boarding, to keep passengers out of the piers and in the shopping areas. They do this at Heathrow and I normally hate it, since there are no views from any of the shopping centers, but at CPH I didn't mind:
Eventually my Helsinki flight was posted at a gate on Pier A, so I headed down. Above the entrance to each pier is a sign reading "God resje – have a pleasant flight", which I thought was a nice touch. Pier A is one of the airport's original piers, although it was extensively rebuilt and renovated in the 1990s:
An Austrian Arrows Fokker 70 in the Star Alliance scheme and Norwegian.no 737 parked at one arm of Pier A: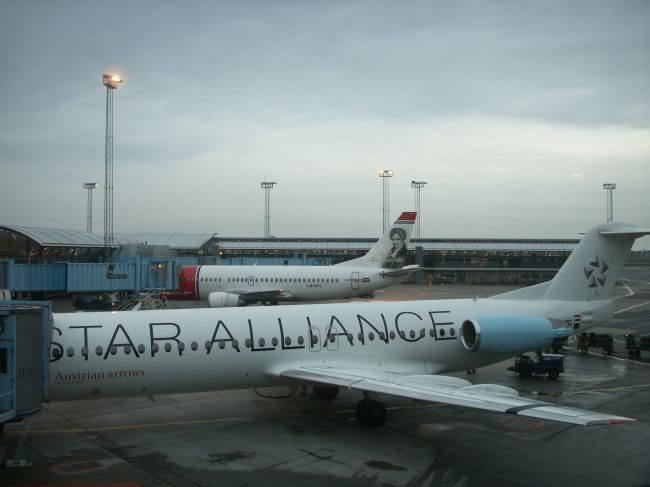 One of SAS' ubiquitous MD80s preparing to push back. SAS uses all three piers in the main building in addition to remote stands and gates at the very small domestic terminal. From what I could gather over the course of my travels, the SAS MD80 and A321 fleet are focused on Copenhagen, while the 737s are based at Stockholm and Oslo. I don't think I saw any SAS 737s while I was in Copenhagen, but that was just my brief impression: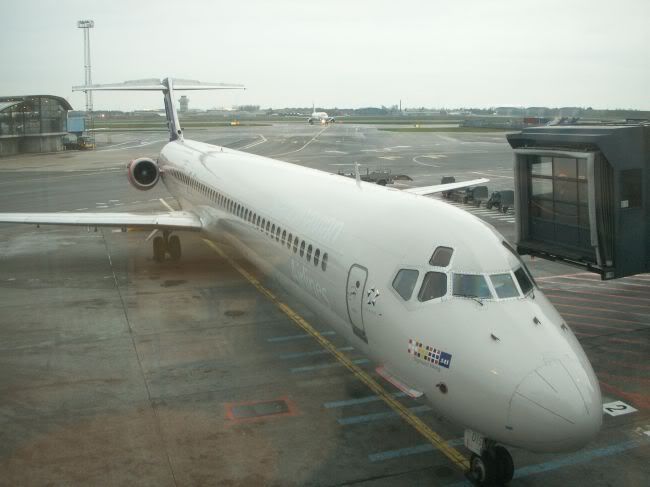 At the entrance to the gate holdroom our boarding passes were checked, so that when boarding began everyone just got up and went into the jetway. I'd never seen that done before but it seemed to work pretty well. Once you entered the holdroom, you had effectively boarded the aircraft and weren't allowed to leave, so each holdroom had a small unisex bathroom.
CPH's high landing fees have kept a lot of low-fare airlines out, so most of the holiday flights to Spain, Portugal, Greece and Italy are operated by more traditional "holiday' carriers like Sterling and Novair. easyJet are one of the few exceptions – here's an A320 pushing back for a flight to Luton: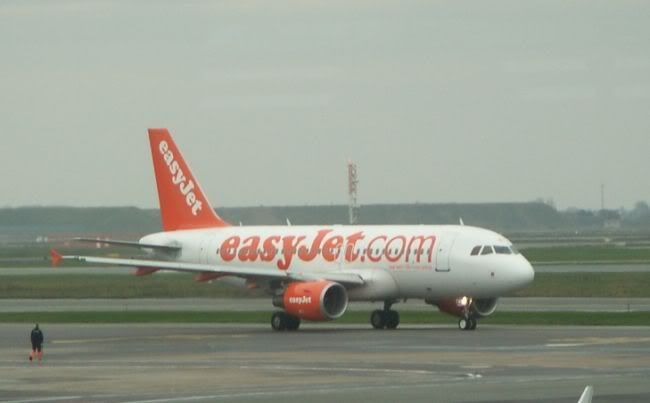 Our Finnair A320 pulling into the gate: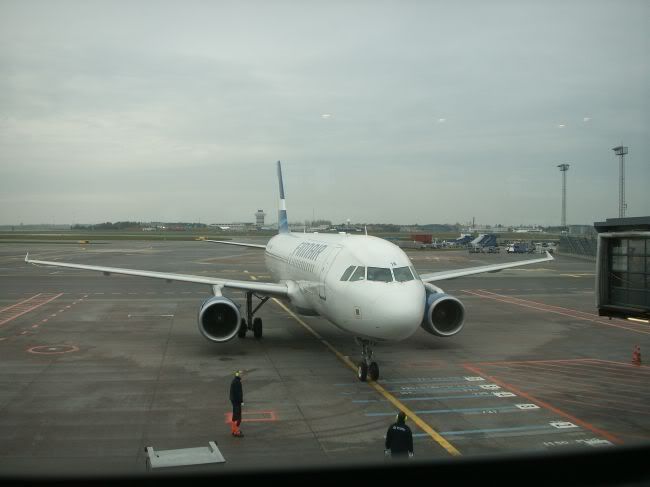 **********************************************************
Finnair Flight AY699
Copenhagen Kastrup (CPH) – Helsinki Vantaa (HEL)
Departs CPH 10:40am, arrives HEL 1:15pm
Airbus A320, seat 16F
Flying time: 1 hour, 35 minutes
This was my first time flying Finnair and on first impression the aircraft was very nice, upholstered in Finnair's customary dark blue and immaculately clean. The first five or six rows had been separated as business class, with the middle seats intentionally left empty (most European airlines do this on shorthaul flights rather than having a separate cabin as we do in the US.) I was sitting back in coach, but the seats were still quite comfortable and legroom was more than adequate. The flight was about 70 percent full, but the middle seat between me and the aisle remained empty.
As boarding wrapped up the cabin crew – two men and two women – came down the aisles passing out newspapers. In addition to the Finnish-language
Helsingin Sanomat
and the Danish
Jyllands-Posten
and
Ekstra Bladet
they also had the
Financial Times
in English. There may have been a Swedish newspaper in there as well, but I have a hard time telling Swedish from Danish.
While we loaded the last of our bags and prepared to push, the Austrian Arrows F70 started on its trip to Vienna: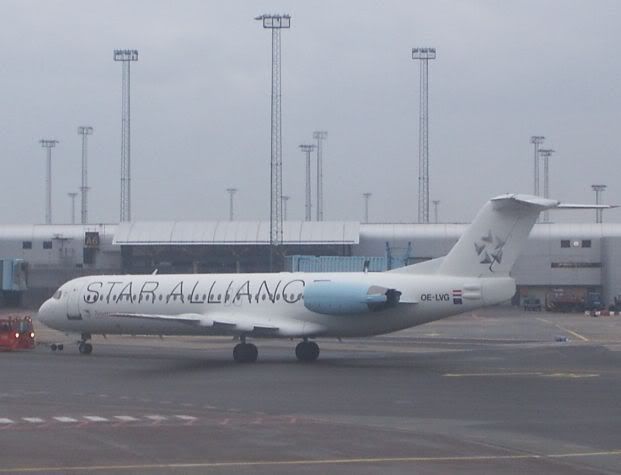 Preparing to push back, with a Spanair 717 on stand next door: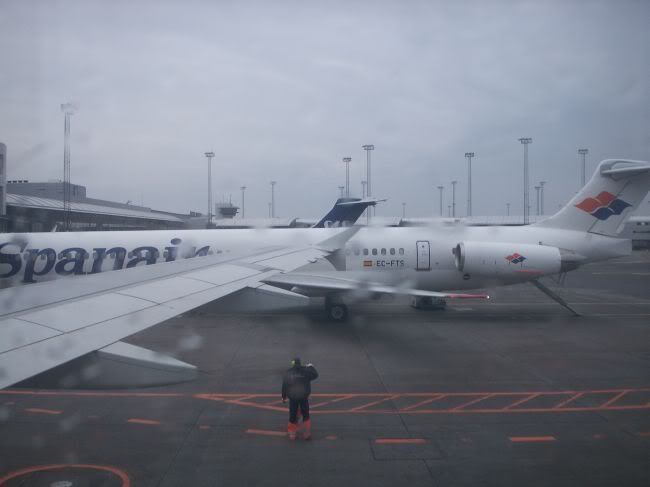 It began to rain as we left the gate and the engines started, and as the drops streaked across the windshield it became impossible to take any more pictures. We crossed runway 12-30 and headed for the threshold of 22R, getting in line behind a Novair A330 and a Cimber Air ATR. As we taxied the LCD monitors dropped down and played the safety video, which played first in Finnish, then in Swedish (a minority language in Finland) and finally in very British-accented English. After the video, a nosewheel camera was switched on for takeoff.
As it was now raining harder, I chose not to attempt a takeoff video (my camera probably would have focused on the raindrops rather than the scenery outside.) We roared off to the southwest, passing the Amager suburbs adjacent to the airport:
Leaving the coast of Amager behind, about to be swallowed up by the clouds:
For several minutes we climbed through the clouds, getting thrown around a bit in the process, and then finally broke out into the sun, which I hadn't seen for the last three days.
Once we leveled at cruising altitude the captain came overhead to welcome us aboard, repeating his message in Swedish and English. It was interesting to hear him switch seamlessly between all three languages – his English was only slightly accented. He said conditions in Helsinki were similar to Copenhagen – cloudy and foggy, with light rain. So much for a view of Finland during landing!
The LCD monitors remained down throughout the flight, showing an airshow map rather than any inflight programming. After turning over the Øresund, we then flew diagonally across southeastern Sweden, passing over Växjö and Norrköping before turning east just south of Stockholm and starting our descent over the Baltic Sea. I'm sure it was a scenic flight, but from my vantage point it left a lot to be desired: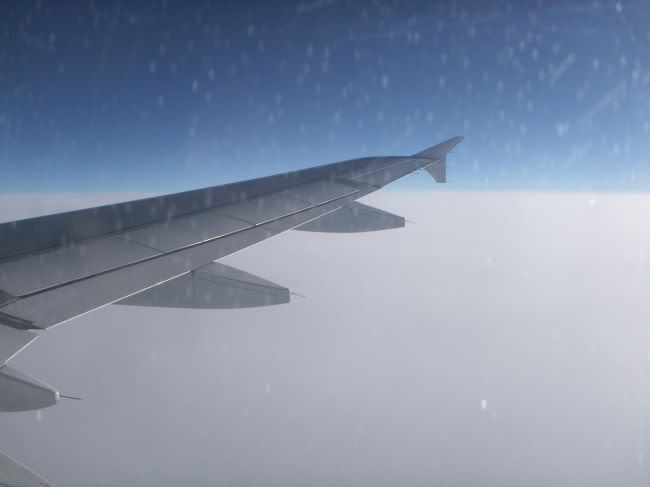 The cabin crew came down the aisle distributing plastic-wrapped snack boxes, which were a little on the chilly side (they'd clearly been in cold storage until that morning) but definitely a nice touch. Inside was a ham-and-cheese sandwich, a small container of foil-topped mineral water, and a candy bar: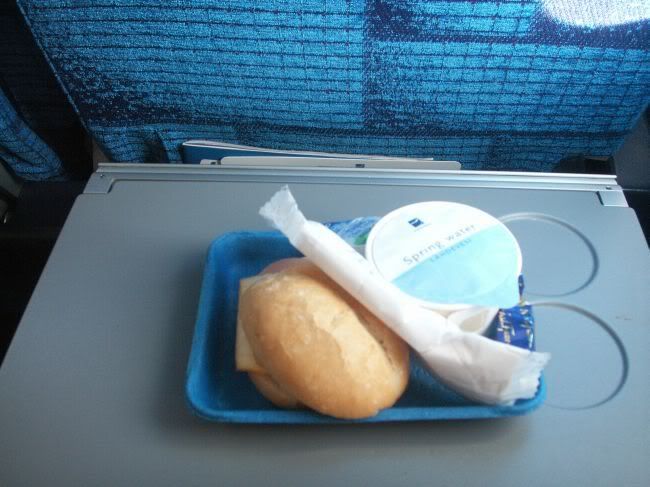 A cabin view as the service continued:
After the snack was cleared away I thumbed through the
Bluewings
inflight magazine, looking at the route maps and fleet information. Finnair operates a dense domestic route network, with mainline aircraft (mostly A320s and E170s) operating flights to obscure-sounding places like Ivalo, Joensuu and Rovaniemi. The remoteness of Finland's interior and the lack of motorways makes flying the most sensible option for a lot of trips, apparently. At one point another Finnair aircraft went whipping by, although given the distance I couldn't tell if it was an A320 or an Embraer.
After about 45 minutes at cruise the nose angled down and we sank toward the cloud cover. Most of the descent was flown in clouds, and we hit a fair amount of turbulence on the way down. Although it was only midday, the sky had taken on a dusklike quality: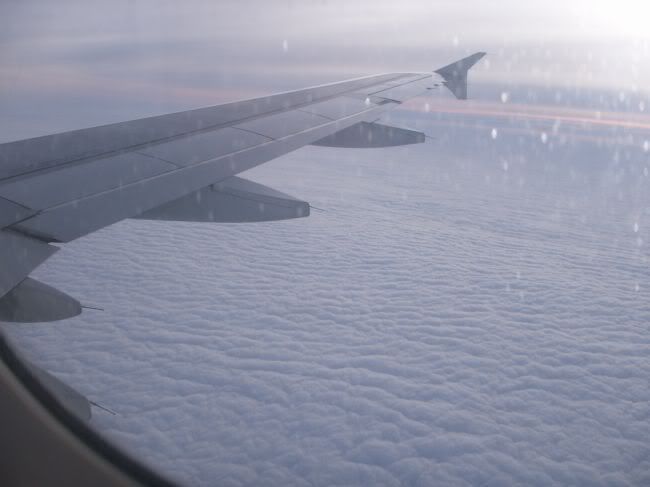 After several turns in the gloom (during which I lost any bearing I might have had), the mist trailed away and the Finnish countryside appeared below: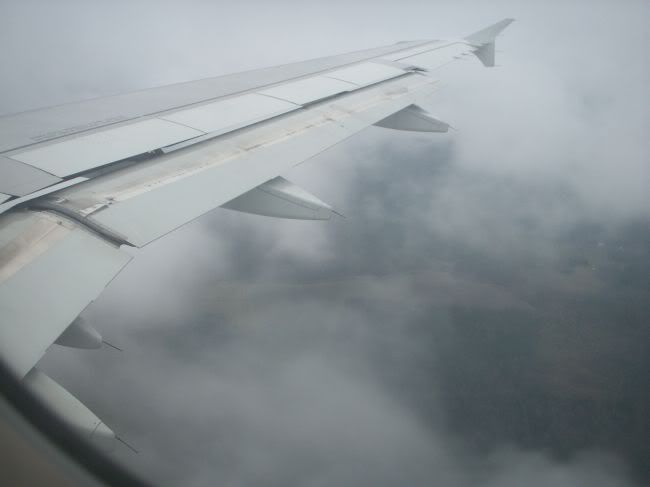 From the air Finland looked pretty sparse – dense pine and birch forests, lakes and narrow roads winding between rocky outcroppings. As the landing gear thumped down I realized that this was the furthest north I'd ever been on the planet. It looked very cold and wet… basically, exactly how I'd imagined it (no snow, sadly.)
After turning off the runway we taxied back round to the west end of the terminal complex. I was seated on the wrong side of the aircraft to have a view of anything, but I could see several Finnair birds out the window, as well as a KLM 737 and a Lufthansa A320 parked at the end of Terminal 2. As we wheeled around to our gate we passed an ATR-72 belonging to Aero, one of Finnair's domestic subsidiaries: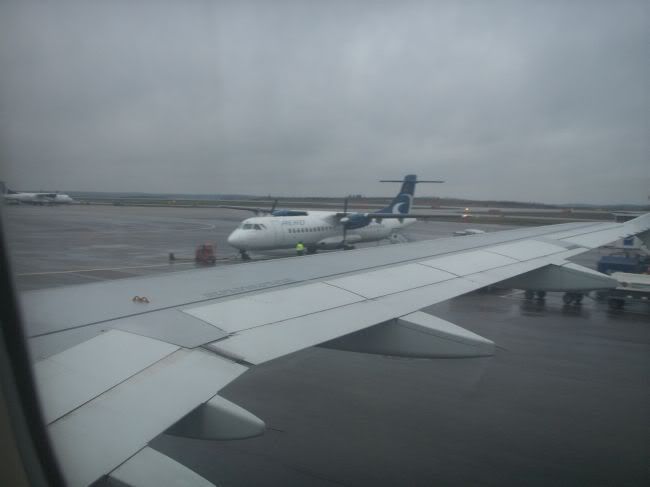 Pulling into our gate, with Helsinki's intercontinental wing and Finnair maintenance base in the background: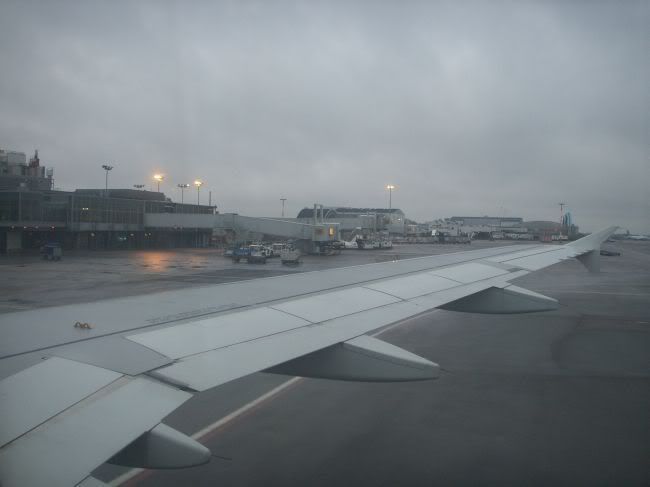 We deplaned via jetbridge into the HEL's original terminal, a cavernous building designed by local son Eero Saarien (who also designed the TWA terminal at JFK and the main building at Washington Dulles.) It's more than 30 years old, but it still looks quite modern: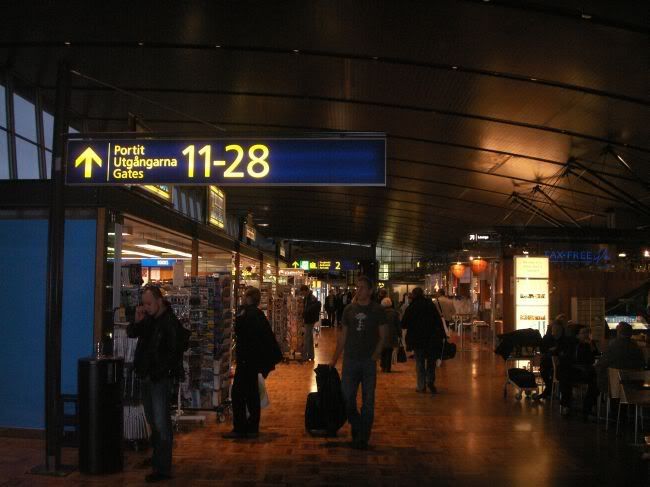 The terminal at Vantaa felt surprisingly large given the slow activity out the windows – just a few Finnair aircraft arriving and departing. Aircraft were arriving on runway 15 (as we had done) and departures seemed to be alternating between 22L and the much more distant 22R. I'm guessing I arrived at a slow time of day, but after CPH, Vantaa felt like a bit of a ghost town.
I headed to baggage claim, on the lower level of Terminal 2: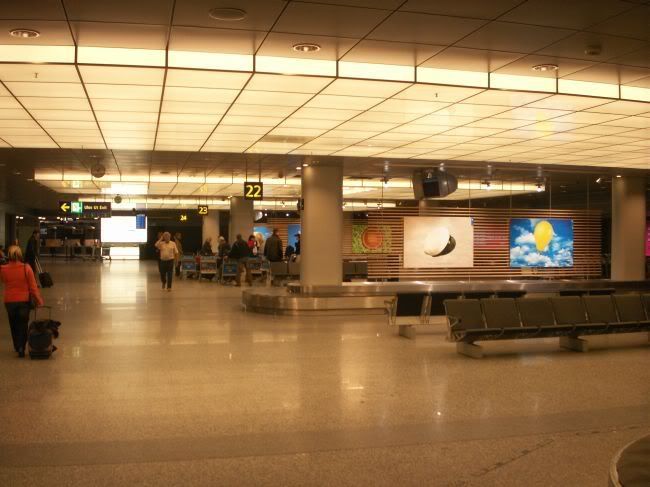 I had looked over my options for getting into the city prior to my trip; unlike most European cities, Helsinki doesn't have an airport rail link, although apparently one is being designed. Most of the lanes on the lower-level terminal roadway are given over to buses, which fan out to the central city and various suburbs like Vantaa and Espoo. Finnair runs its own bus, which goes straight into the city for a reasonable five Euros, so I opted for that.
The drive into the city took about 45 minutes, starting out on motorways (which Helsinki seems to have a lot of) that wind through suburbs and shopping centers and rock walls dynamited to make room for the road. From there we were shunted onto a dual carriageway that wove through blocks of flats and warehouses, and finally made our way into the central city. Compared to Denmark, Finland really looked like the "wild north" – pine trees, rushing streams, craggy black rocks coated in moss. I even saw a few log cabins among the other houses in the suburbs. When I've visited other European cities, I've always taken a train from the airport, so it was interesting to arrive by road for a change.
That's it for this section of the report – the next one will cover my flight to Stockholm, and I'll take a more detailed look at Helsinki Vantaa Airport as well. Keep your eyes peeled in the next few days!