This was a flight I took earlier this year, June into July. I took a trip with my family out to the Seattle area flying Continental outbound and United on the return. I wrote this trip report for another website after the trip, but I figure that it is interesting enough to warrant a re-post here. So, here it is. Enjoy!
Leg #1
KPWM-KEWR
(With unscheduled diversion to KABE)
Flight # CO2863
Equipment:
EMBRAER ERJ-145LR
Scheduled Departure:
13:30
Actual Departure:
15:30
Scheduled Arrival:
15:05
Actual Arrival:
17:59
Well, for a quick Continental "Express" Flight, this was quite a journey.
I arrived at the Portland International Jetport at 11:40 in the morning on Wednesday the 21st of June to catch a departure at 1:30 on Continental flight 2863 with non-stop service to Newark. The Jetport was quite quiet at this time, even for being the sleepy Portland Jetport. An E-170 pulled out as I was checking in, and 20 minutes after getting through security a pair of Delta CRJs showed up, but that was as far as the traffic went before my scheduled departure. The Jetport's terminal provides rather little in the way of photographic opportunities, but I was able to grab pictures of most of the traffic as it pulled into the gate area. As for the rest of the terminal, I can't complain. The gate areas have plenty of space (although the shared UA/CO gate area can get crowded at peak times) and there is more than enough in the way of amenities, with a full service bar/restaurant, a few food stands, and a free business center including wireless internet throughout the terminal. It is a very well taken care of place for being such a sleepy terminal for most of the day.
The CRJ-700 in from Atlanta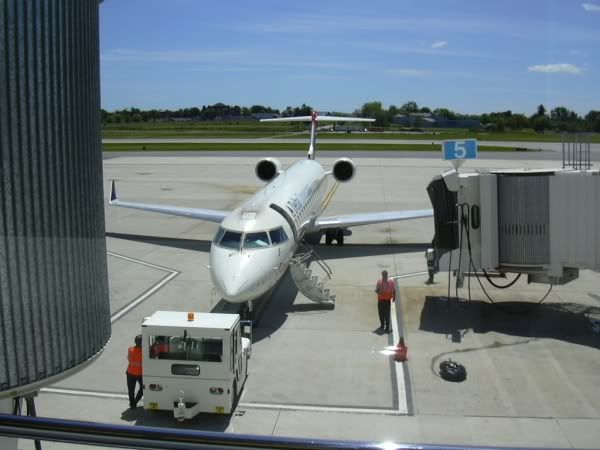 A CRJ-200 in Comair's colors, arriving from CVG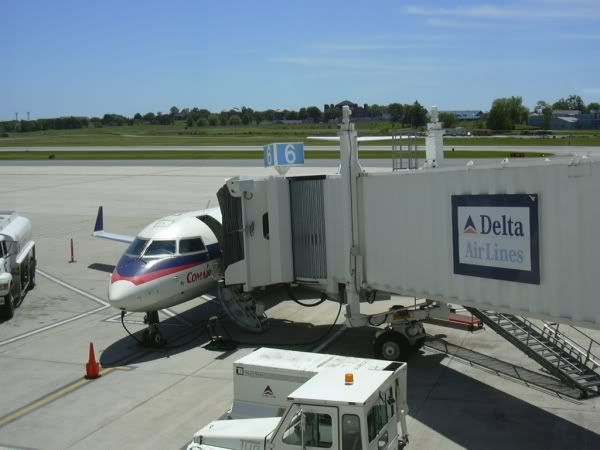 As 1:30 approached, we had no plane to board. As 1:30 passed, our pilots showed up and were as confused as everyone else in the gate area as to why they did not have an ERJ-145 waiting at the gate for them. There were no CSRs around, or anyone who really knew what was going on for that matter. Fellow travelers at the gate resorted to using cell phones to contact the outside world for scheduling information. It took nearly another 20 minutes to get word that our aircraft had been delayed at Newark, and was now on the way.
Note the board displaying the 1:30 departure time. This photo was taken at 2:10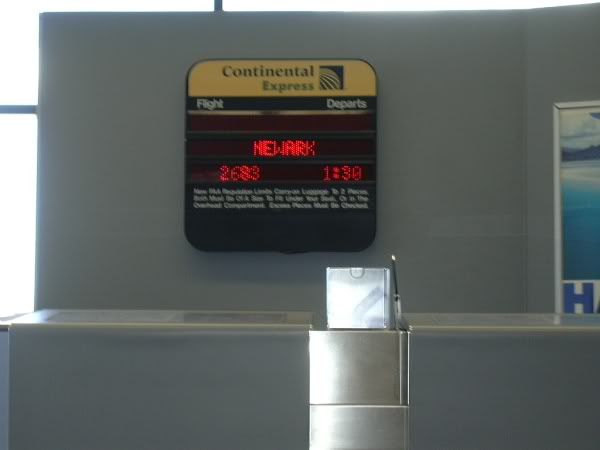 There was a plus side to this as well though. Before our jet arrived, plenty of other traffic came in. It was still just CRJs and ERJs, but it was better than nothing.
A CRJ-200 looking very nice in the US Airways New Colors.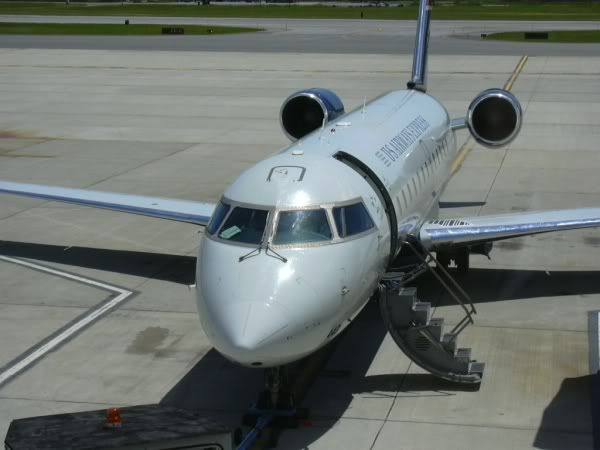 The equally good looking US Old Colors, this time on an Embraer 145.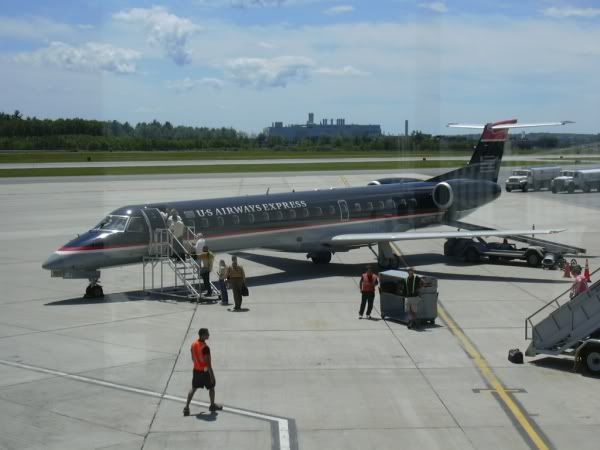 Finally, at about 2:50 we were allowed to board the recently arrived aircraft. I ended up with seat 17C, two rows from the back and at a window. I was surprised that most of the people around me seemed quite intelligent, rather than the typical tourist stereotype, which was a pleasant note in the midst of confusion over the ability to make our connections later on.
As we taxied out, the captain tried to explain that the delay was due to a ground stop, and the volume of traffic in Newark was too great to allow us a spot to land. At the time I didn't quite buy that excuse, but by the time we got to Newark, I believed it. (but note, I didn't get to Newark for quite some time now. There is much more that happens before that.) Anyways, on the taxi to 11, I finally caught sight of the JetBlue A320 on the ground. I had been waiting to see that A320 since Jetblue initiated service months before.
The biggest plane to grace the tarmac at PWM just in from New York/JFK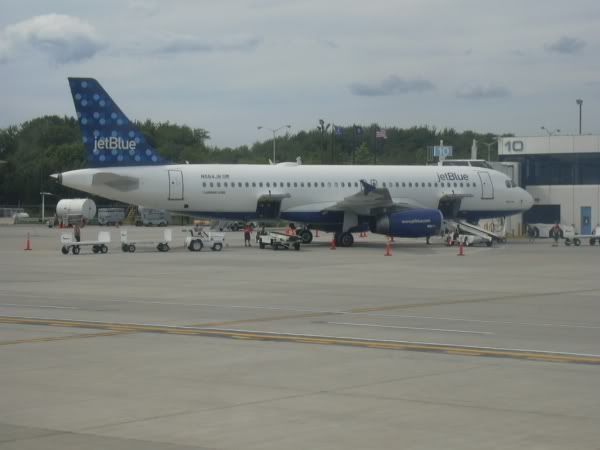 We had a very powerful takeoff from runway 11, sending us over Casco Bay and the city of Portland. No matter how many times I fly, I will never get over the kick of an ERJ accelerating out of Portland...it's just something about the moderate G-Forces involved that are so enjoyable...
Casco Bay and the Portland Harbor. (It looks to be Cousin's Island in the Center)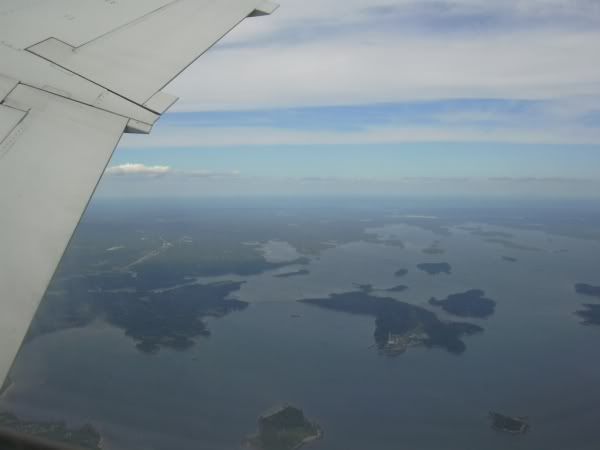 Soon after gear up, we made a 180 degree turn back over PWM and started on a southwesterly heading. We maintained this heading, and about 15 minutes out the FA came down the aisle with a drink cart. Personally, I hadn't expected any service on this flight, so the pretzels and drink were a pleasant surprise.
The food service on the ERJ-145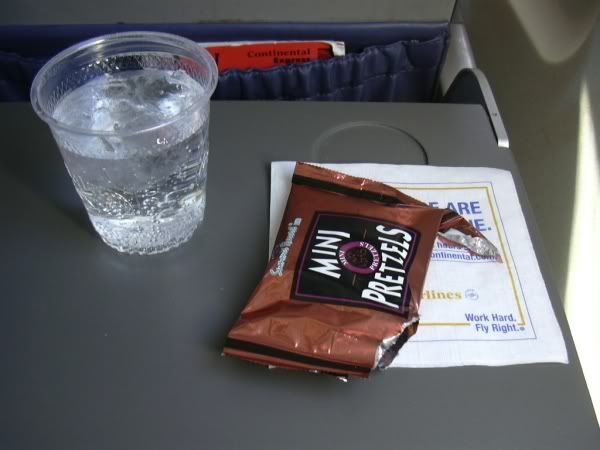 For the next 45 minutes I settled in, simply enjoying the scenery and my iPod. It was somewhere over Connecticut that we started to make slow circles to hold away from EWR. The captain came on after the first loop, informing us that we were waiting for a slot in EWR to land. That slot never came. 25 minutes after the first announcement, we were told that we didn't have enough fuel in the tanks to continue the pattern. We then diverted to Allentown, PA. (KABE)
PWM_ABE.jpg" width="600" height="448" border=0>
Allentown looked like a nice little airport, at least from what I saw. It looked to be about the relative size of PWM, with a bunch of RJs and a limited number of jetways. As we taxied off of the runway, 3 other ERJs were parked at the gates, among a few other scattered CRJs. There were also another 2 ERJs and a 737-500 parked off in an empty part of the ramp. That is where we taxied to.
Approach to ABE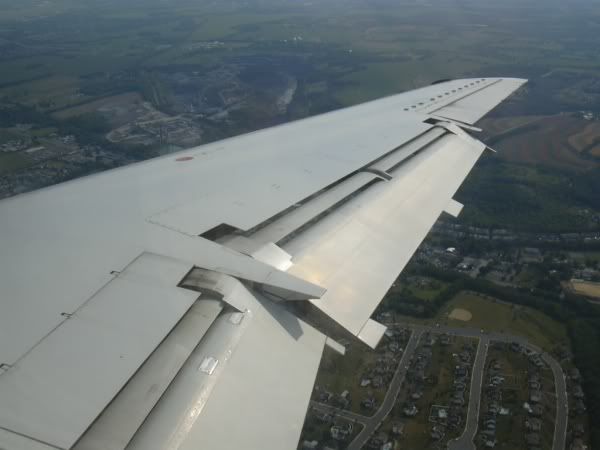 A few of the other diverted aircraft at KABE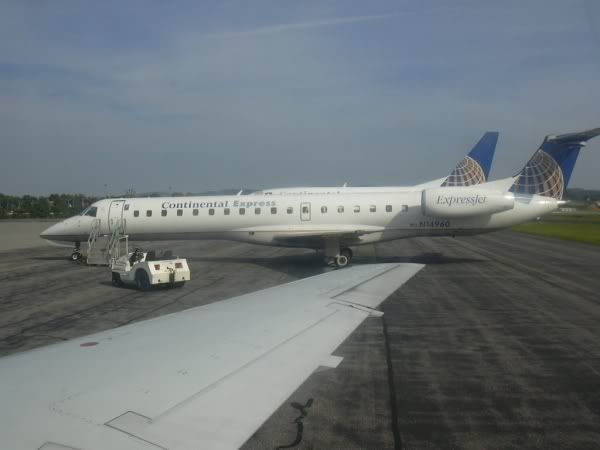 After a quick re-fueling and about an hour on the ground, we eventually got on our way, off to EWR. It still took a bit longer to get there. We preformed a few 'S' turns to slow our approach, and prolong the tension in the cabin over missed connections. We had a nice view of New York City on the way in, but that was on the left hand side of the aircraft, so: sorry, no pictures. Once we were down in Newark, it was easy to see why they had a backlog of landing aircraft. The line for takeoff was nearly the full length of taxiway Papa, delaying our taxi. There were aircraft on the tarmac everywhere. Mostly Continental planes, but there were quite a few international widebodies, from Lufthansa A340s to BA 777s.
ABE_EWR.jpg" width="600" height="450" border=0>
Some of the crowded tarmac at EWR.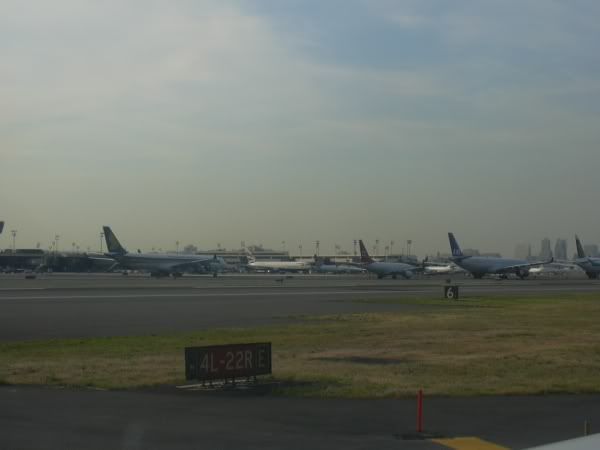 Anyways, we got to our gate after a long and interesting taxi. (comments from neighboring passengers, looking at an Air India 747..."wow!! It has an upper deck!! That's so awesome! I didn't know they could do that!" ...that's how isolated some of us Maine'ahs are...umm...yeah...)
Although we did get to EWR, the fact remained that we were 3 hours late. My connection on to Seattle had departed, though my bet is that it was still in line for takeoff when we were in the terminal. Checking the departure board, there were two more flights to Seattle that night, but it seemed that there were only two seats available on either flight. That didn't quite work for my family of four. We were able to get re-booked on Continental 1781, departing at 6:50 the following morning. We decided to leave our checked baggage in the system at EWR overnight, and rough it for the night. This decision would come back to cause my parents a little bit of distress, but that is for later.
Taking the sky train to the hotel shuttle platform was interesting. Newark's infrastructure seems to be in quite good shape, and is a quite clean airport compared to the rest of the city. Despite all of the bad things I've heard about being stuck in EWR, I didn't really mind the airport.
My family and I ended up spending the night in an Econo-lodge in a sketchy part of town, but it was cheap, and worked for the few hours we were there.
The next morning, we took the hotel shuttle, driven by a lead footed driver back into EWR. Check in and security was quick and easy, although I did have to be reminded multiple times to remove my shoes...I don't think I was entirely awake by then. We were early enough that the lines at security were nearly non-existent.
Leg #2
KEWR-KSEA
Flight # CO1781
Equipment:
Boeing 737-800/W
Scheduled Departure:
06:50
Actual Departure:
07:15
Scheduled Arrival:
09:46 (local)
Actual Arrival:
10:01 (local)
With the events of the previous day behind us, my family and I hoped for an uneventful flight. Luckily it was, for the most part.
Arrival and check in was quick and easy, as we had our boarding passes from customer service last night. Our departure was scheduled from gate C-127 on a 737-800.
Not actually our 737, but the same type...I'll plug the picture anyways.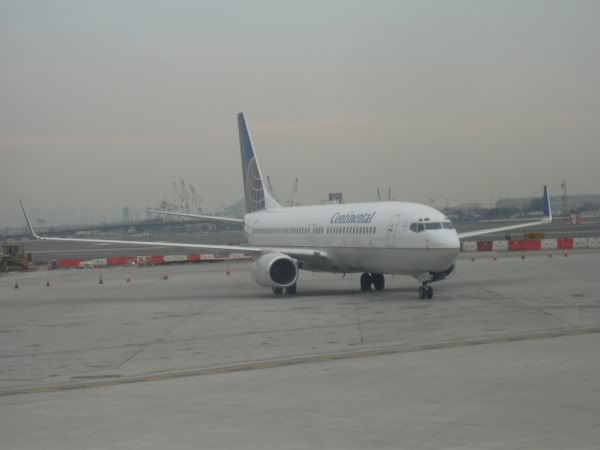 There was a 757 on its way to the Dominican Republic on the next gate over boarding at the same time, so it was crowded boarding area. Also, the passengers on my flight to SEA seemed to have some problems following directions. Nearly everyone was on the plane before the 3rd boarding group was called. Anyways, we ended up on the plane nearly last and got seats and overhead space quite easily still.
On this leg I had seat 9A, which was a little too close for comfort to the windowless bulkhead at 8A. (I was afraid about this, I vaugely recalled reading a thread here about being stuck in a forward economy row on a 738 with a bulkhead window, and I didn't want to be stuck in the same situation...)
The aircraft boarded and filled up quickly, and we had the doors closed in no time, but we were held at the gate for 15 minutes waiting for some late baggage. (At this time I thought it might have been my bags from the previous night holding things up. It wasn't.)
The view from 9A, whilst waiting for baggage.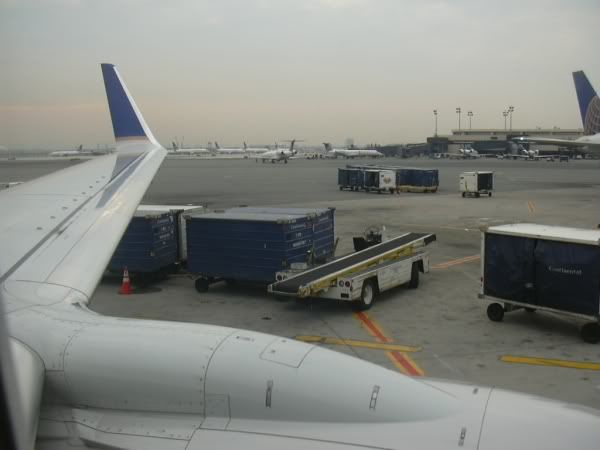 Taxi was shorter than the day before, but still took a while, behind a number of ERJs. As we approached the runway a number of cargo aircraft were inbound, including UPS A300s, a DHL 762, and a FedEx A310.
As we pulled on to 22R, a FedEx MD-11 made an abrupt appearance overtaking us as it landed on 22L. We later caught up to it just before rotation.
The MD-11 flying past us just before touchdown.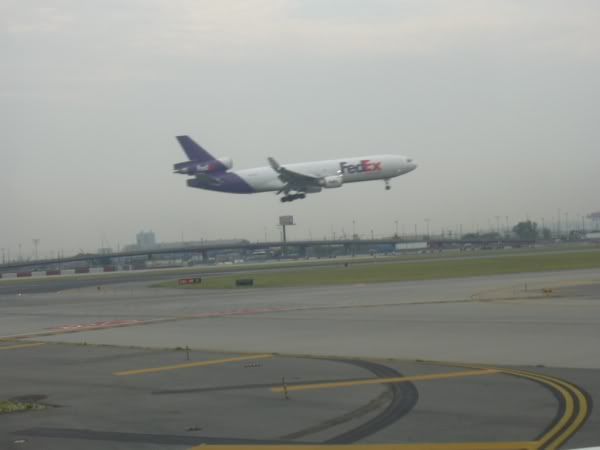 Climb out and cruise were about as normal as it gets. The captain did leave the seatbelt sign on until well above 10,000ft, due to reported turbulence ahead. I never felt much more than a bump or two, but it only delayed meal service a couple of minutes.
Being a morning flight, there was full breakfast service. It consisted of an egg and cheese Egg-McMuffin type sandwich, yogurt, a sweet muffin, and some unidentifiable fresh fruit. Everything was quite good, except for the fruit, which I didn't eat much of...I think it was pineapple...or something. That meal is the reason that I still like Continental. After all I had heard about Buy On Boards and horrid service, CO provided much more than I expected, and built themselves a good reputation in my mind.
The Food.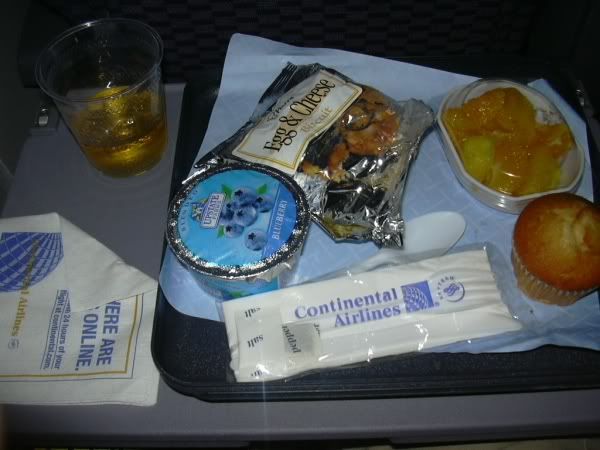 Over the course of the next 4 and a half hours, not much happened. The in-flight movie was "Big Momma's House 2" which was quite horrible. I watched it anyways. Somewhere over the Northwest United States, or possibly in Canada, an Air Canada A319 slowly overtook us, and slowly descended below and underneath us.
The AC319, as it passed below. (It seemed much closer than it looks, I just have horrible zoom on my camera).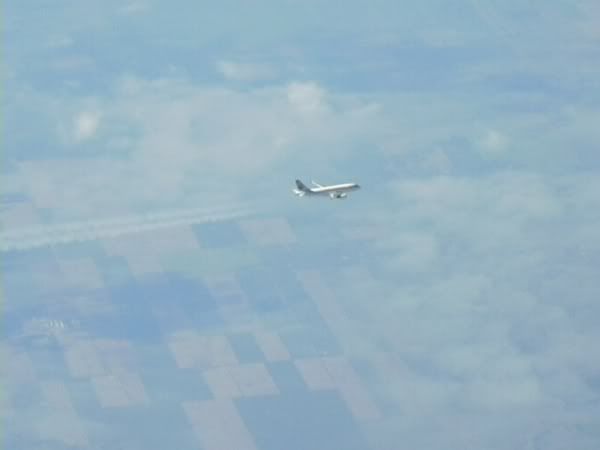 After that, there was once more an uneventful period of time. Twice more there was beverage service, with pretzels and choices of drinks.
Our captain took a very slow descent into Seattle, coming over the Rockies and Cascades. It was a beautiful approach, with snow covered mountaintops below the entire time.
Approach into Sea/Tac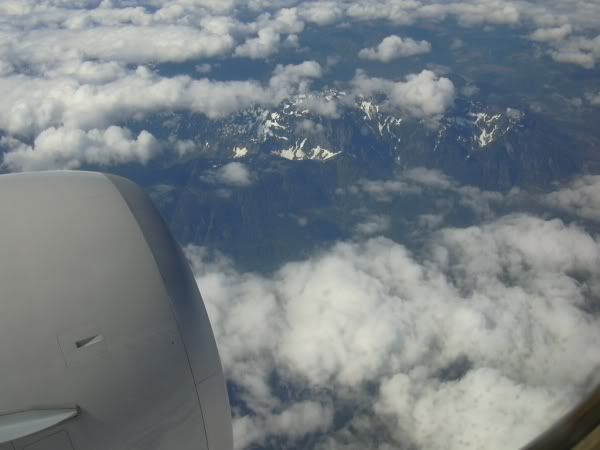 Unfortunately, this is where my photos end. My camera simply ran out of battery.
The landing was rather smooth in Seattle, after a number of turns to line up to the runway. Taxi to the gate was quick and smooth, going past a few dozen Q200 and Q400 aircraft parked on the ramp with Horizon. Seattle was also the single largest collection of MD-80s I have ever seen, with a good number of them for Alaska, and a couple at the gate with American.
Inside the terminal, I found it rather small and enclosed. The entire departure lounge had low lighting and low ceilings, just making the whole place feel kind of cramped. Once out past security though it got much better. The baggage claim area, as well as the rental car and parking structure was much more modern looking, and open.
Apparently though, my bags came in on the flights that we could not fit onto the previous night. My family insisted on waiting through the carrousel before asking an airline agent. When I did ask an agent, we had our bags within 2 minutes.
Why I didn't do this sooner, I do not know.
Anyways;
In Conclusion
Continental Airlines:
Service in flight was amazing. The planes were clean and well maintained. The flight crew was kind and preformed their jobs well. I would have no hesitation to fly them again, if there were not the problems connecting in Newark. Maybe I should go through CLE next time.
Newark Airport:
The terminal and sky train were surprisingly up to date and well maintained. The departure lounge was well maintained and well lit, and there were plenty of good looking aircraft to see. If not for the weather that indirectly caused the delays, I would love to fly through Newark again. I cannot say the same for the city surrounding it.
Overall:
I enjoyed my flight out to Seattle, despite the delays and whatnot. I got an extra takeoff and landing out of it, and I got to see plenty of aircraft locally in Portland. If it were not for my family's panic and confusion, I would have thoroughly enjoyed this.
Leg #3
Hofstadt Bluffs-Hofstadt Bluffs
Flight #9
Equipment:
Bell Jet Ranger
Scheduled Departure:
13:30
Actual Departure:
13:20
Scheduled Arrival:
13:55
Actual Arrival:
13:45
After a few days in the Seattle area, we made our way by driving through the Mount Ranier area, and down to Mount St. Helens. Before we entered the actual park, we began seeing signs for Helicopoter tours. We missed the first turn off due to hesitation (although now that I do more research on the internet, I see this as lucky, because we wouldn't have all fit into their small Robinson R-44 helicopter.) But luckily, the next rest stop/tour site had a heliport attatched.
Somehow, I managed to convince my parents (who are normally conservative in action) to splurge for the rather expensive tickets. Almost immediately after being given our bright yellow plastic "boarding passes" we were shown down a hill to the small helipad. In a wooden shed type structure we were shown a quick safety demo which really fell quite short on even the simplest of safety procedures, but this heliport was surely focused more on tourism than airline safety measures.
Almost immediately after the video was shown, the guide pointed out the helicopter at about 2 minutes out, coming up the valley at us.
As we stepped outside, the chopper came in to land from the previous tour.
The chopper. N636ES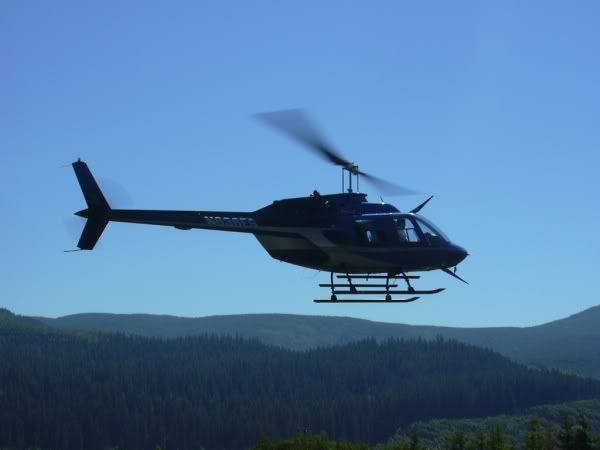 I took what I guess you could call seat 1A. The front lefthand side, next to the pilot. The left hand side throttle and joystick had been removed and the rudder pedals had been disconnected. (as the pilot informed me I "wouldn't be helping him fly the aircraft or anything" ...which I was a little dissapointed about. So it goes...)
Here's the aircraft. On one of the three helipads, the only one that seemed to ever be used.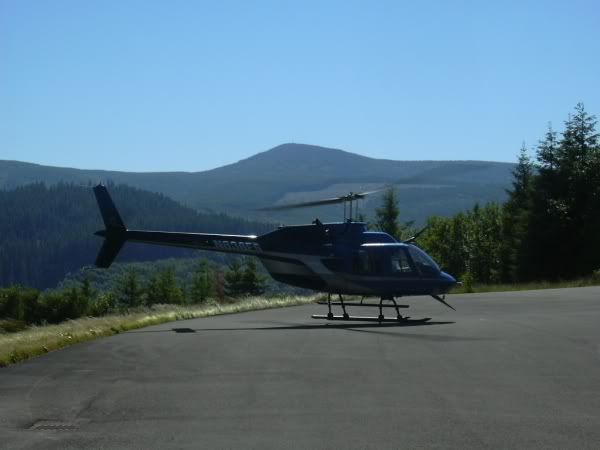 Takeoff was very smooth, the pilot just lifted up on the throttle and touched the rudder pedals in either direction as we just swayed into the air. Departure was straight down the path carved in the hillside by the mudslide of the eruption of the mountain in 1980.
The view from the front.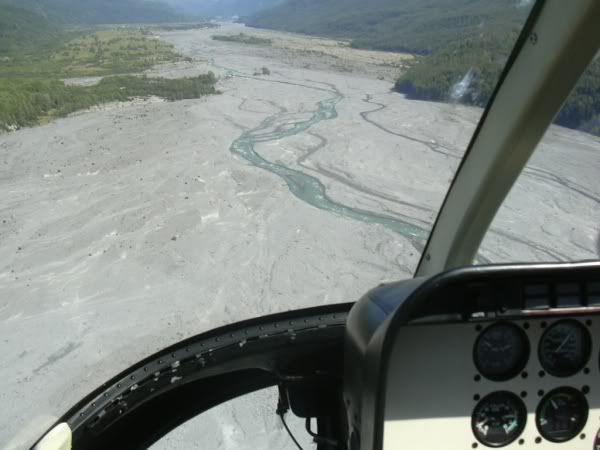 It was quite impressive, flying just a few hundred feet over the destruction of the "kill zone" where ash was still the only thing around.
A lake created by the mass of ash ejected from the mountain.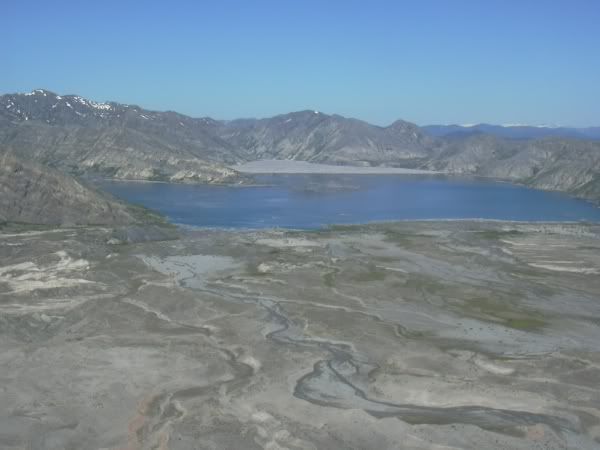 Some of the trees still lying on the side of a hill. (sorry 'bout the bugsplat on the window)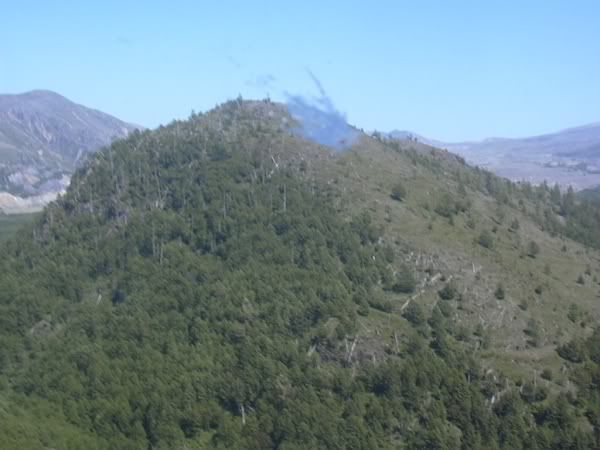 Almost as impressive as the scenery was the pilot's seeming total control of the helicopter. He did not look as if he had to exert any effort at flying. He simply narrated the tour. He did have the help of a nice looking flight control system, with a fully animated artificial horizon system, with way points, dynamic terrain, and other nav aids built in. My very limited experience with rotor craft up to now has consisted of Microsoft Flight Simulator, so the ease of flight was all very much new to me.
While you can't see the LCD screens well, you can get a feel for the panel.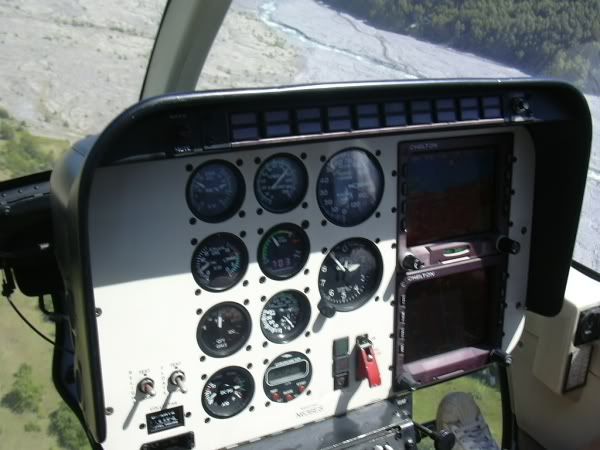 Sadly, this is where my camera quit on me. Again.
This was the third set of batteries this trip. I either need to spend some money on a less energy consuming camera, or I need to buy a few more sets of rechargeable batteries. I managed to snap a few more photos as approaching the mountain, but nothing up close.
The only clear photo of the actual volcano which I got.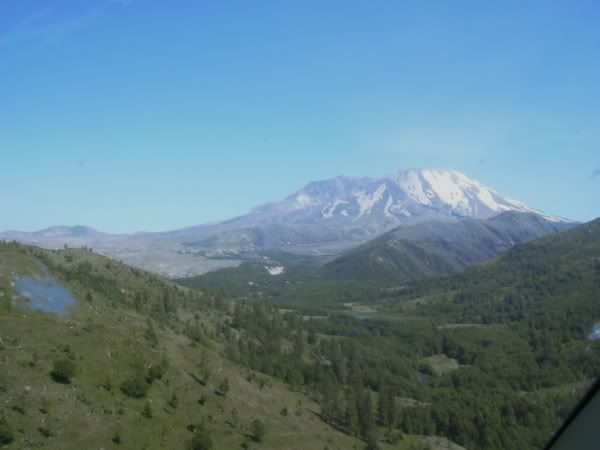 From that point, we climbed and flew directly over the active vent. Out of the crater from 1980 there was already quite a large cone forming from ash. This cone was actively spewing some smoke and steam, but nothing too impressive. From there we turned around and headed back to the heliport.
The pilot asked if there were any questions, asking if I wanted to know what all the "gizmos" in the cockpit did. I had to respond that I "basically had it all figured out."
The following return flight being a redeye, there isn't much in the way of photography at all. Sorry. All I have are a few shots in the SeaTac terminal before the sun went down.
Leg #4
KSEA-KIAD
Flight # UA262
Equipment:
A320-232
Scheduled Departure:
23:25 (local)
Actual Departure:
23:20 (local)
Scheduled Arrival:
07:10 (local) (+1)
Actual Arrival:
06:55 (local) (+1)
This flight was the beginning of the end of my family's vacation to the Seattle area. After nearly two weeks of touring the mountains and shores, and the city, it was almost sad to go, but I was as happy as always to get to an airport!
Due to our having nowhere better to go in the last hours in Seattle, we ended up at the airport nearly 4 hours early. We ditched the rental car, and check in was a breeze. The self-check in machines at United were much easier to use than Continental's, with big friendly print and simple instructions. On this part of the journey our seats were as we had selected them online and we were through security in no time.
By now I had gotten the hang of security procedures, although the X-Ray screener did have to stop and take a closer look at the tangled mass of cords and chargers that is my laptop and camera case.
Just through security was Seattle's version of the sky train. This time it was an underground subway on wheels that reminded me of Montreal's subway system, but it quickly and effectively carried us to the North terminal and United's gates.
Our scheduled gate, N16, was occupied by a number of people and an A319 when we arrived, it being a flight to Anchorage. Other than that, traffic was light in our terminal, with just a EMB-120 heading to Portland, OR and a 757 sitting empty across the terminal. Alaska Airline's terminal across the way was an entirely different story though. There were more 737s and MD-80s going in and out every minute than I had ever dreamed of seeing. I did manage to take a few pictures of those, simply because the windows facing them had been cleaned. All the other windows in the terminal were disgusting.
My only truly decent photo, a 737-700 pushing back for departure across the way.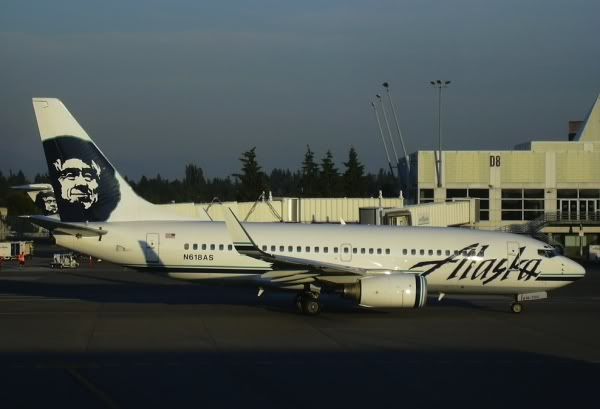 One of the MadDogs inbound passing us.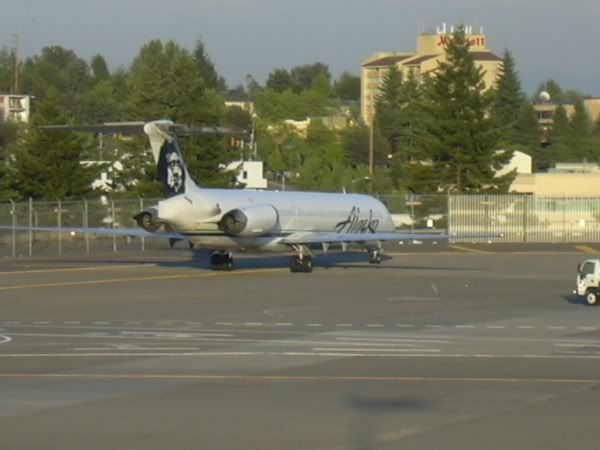 After an hour or so I decided to hop back on the Sky Train, over to Alaska's 'C' concourse. There, I managed to find the last Starbucks in the airport that was open. As I ordered my drink they pulled the gate closed behind me.
It's not the original Starbucks store, but it's in Seattle at least. I didn't want to wait in the lines of coffee fanatics at the true original Starbucks in downtown Seattle.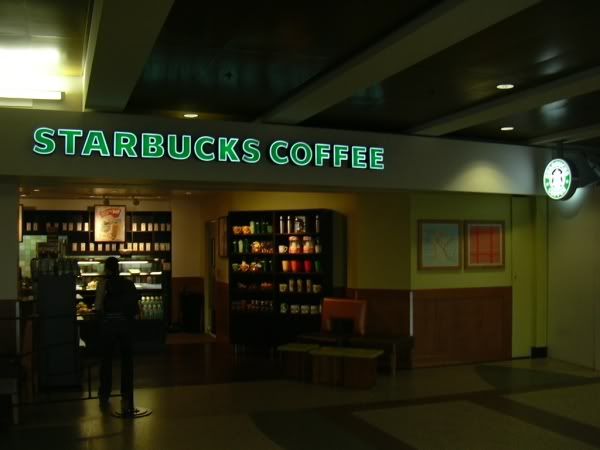 With my Caramel Latte in hand, I returned to the 'N' gates and my family for a while. Essentially we waited there until the plane arrived. I did show my brother to the gift shop once, but that was about it. People slowly filled around us, as more passengers for our flight, and a flight departing next door to ORD arrived. Also an Air Canada A319 pulled up sometime in the dwindling sunlight.
An AC A319. Not much to say about it really...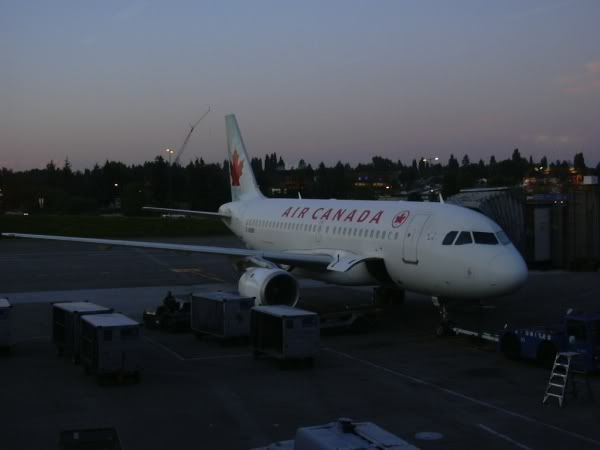 This is where my story does get quite boring, because the pictures essentially stop here.
My fellow passengers were quite nice, and we talked briefly about simple aviation stories, failed connections and messed up itineraries, etc. My mother and brother did end up seated in front of a woman taking her dog aboard, but the dog was relatively calm and quite small, so I don't think it was too much of a bother.
I was seated in 20F, a window seat just behind the wing, and directly over the rear cargo door. The seat was comfortable as far as airline seating goes. I do think it was slightly roomier than the 737-800 that I had on the way out.
Takeoff was smooth, although not too exiting. The pilot seemed to step up the throttles, so there was not a single surge forwards on the runway.
Cruising altitude was quickly reached at FL370, and the "meal service" commenced. This consisted of the FA's checking to see who was still awake, and offering $5.00 boxes of snacks to them. I chose to take the "MiniMeal" box, which consisted of some oily salami, cheese-like spread, potato chips, applesauce, and 2 crackers to put the cheese and meat on. It all tasted decent, no matter how bad it looked. The applesauce was a little bit odd, but that is to be expected with any fruit on airlines.
After that, I tried my hardest to pass out for the entirety of the flight. The movies were "The Shaggy Dog" and something else which I slept through almost entirely. I awoke with the sun at 5:30 eastern, and listened to my iPod for the rest of the hour or so in to Washington Dulles.
Leg #5
KIAD-KPWM
Flight # UA5690
Operated by GoJet Airlines
Equipment:
Bombardier Canadair Regional Jet 700
Scheduled Departure:
08:40 (local)
Actual Departure:
08:44 (local)
Scheduled Arrival:
10:10 (local)
Actual Arrival:
10:10 (local)
Deplaning in Dulles from the 'C' gates, my family and I proceeded to gate A1, where our CRJ back home to PWM was waiting. To do this, we were able to experience the IAD "moving lounges" as our FA called them. The people movers were nothing more than glorified buses that looked really weird. Oh well. They got the job done and we got there.
Once we arrived at the A gates, what followed was about an hour of semi-conscious waiting.
A pilot trying to get to his ERJ across the terminal ended up setting off a shrill alarm and strobe flasher over a door that remained on for 20 minutes, but that was the only unpleasant break in the monotony. Boarding was very quick, bypassing the useless equipment UA has at the gates, with simply a CSR tearing ticket stubs at the gate entrance.
I was one of the first on, and was seated at 15D, a window seat two rows from the back. I was lucky to be on early though, as one of the two FAs was essentially allowing free-seating, moving people everywhere about the plane.
The flight was about 90% full, and we were pushed back on time, taxing out behind another CRJ and a 757. I watched as the CRJ sluggishly took off, and the 752 rocketed out in true 757 style.
Our takeoff was rather unspectacular once again. The plane felt as if it were dragging along at minimal engine thrust before we just floated into the air.
Once in flight, the same FA who moved people about was up in the cabin, and acting very animated for the time of the morning it was. I believe her name was Abby, or something along those lines, and she seemed to be covering everything in the plane short of the announcements. She did the entire beverage service, with the lead FA sitting behind making the coffee and tea orders. Beverage service consisted of an ice filled glass of cola, and a packet of over seasoned nuts and pretzels ("fiesta mix!"). By far it was the most lacking service of my trip it was still better than nothing.
As we began our descent, the captain announced that Maine was quite overcast. And that it was. As we came over land masses that I recognized the clouds completely covered over. We flew runway 11 approach, right over the town of Gorham, but inside a cloud. When we finally broke through the cover, we were directly above Lanco assembly systems, a building which I have spent way too much time in for the school robotics program. Seconds later we were flaring over the runway threshold, and producing some amazing vapor vortices in the fog off of the flaps.
Taxi to the gate was all of 30 seconds.
And, with that, I was back where I had begun just two weeks earlier.
Overall:
United Airlines:
For check in and service with CSRs, United was by far better than Continental's policy of no one knowing what was going on. On the aircraft, I did find the A320 slightly more comfortable (which I have since found out is a trait universal to the A32x series, not just UA), but for In Flight Entertainment and service, I would have to give it to Continental.
Washington Dulles Airport:
I really didn't have anything against their facilities, but it didn't impress me. It seemed to be a sprawling mass of buildings with no real plan (which it really is...) The SkyTrains at EWR and SEA beat the people movers any day.
Anyways, that is it. I hope you've enjoyed!
Thanks,
-Kevin @ KPWM.