My last trip report only contained 35% of the intended content. Sorry about that. The new
complete
can be found in full here:
My Blog
I have asked the mods to delete the previous thread in the hopes that my burning shame for getting pwned by the internet may some day fade away.
For those of you that do not wish to visit my MS, I will attempt to provide the trip in parts, but it is quite long.
Part I
PRC-PHX-DEN-SLC-MSO~GEG-SEA-ATL~JAX~CVG~SEA~GEG
It was time to go home for the holidays. I was going to school at Embry-Riddle in Prescott, Arizona, and finally going home for the holidays.

Here are some pictures in my suite's lounge! Merry Christmas!
If you've ever seen the movie "Team America"...

I had originally booked to go home to Missoula, Montana, and then tried to change the flight because I had to go to Jacksonville, Florida. I had then planned to drive to Gainesville, Florida, and would stay there for a concert at which my most beautiful lady friend, Leah Swedberg, would be opening with Ms. Florida. The concert was a benefit for the military, I believe. My original booking was with Great Lakes Airlines from Prescott to Phoenix, with Ted from Phoenix to Denver, with Delta from Denver to Salt Lake City, and then with SkyWest (Delta SkyWest) from Salt Lake to Missoula. SkyWest kept changing my ticket (booking me on a later flight-6 hours later-even though my original booking still had open seats) and I had to keep calling them. They then started to simply drop my bookings, such that I would be listed flying (as it was a round trip) DEN-SLC-MSO SLC-DEN, with no return from Missoula. I got frustrated, as this kept happening, and finally called Delta and SkyWest. After being hung up on by some minions, I called the supervisors at both, who both blamed it on each other. Go figure. I did manage to get my bookings straight though.
It would be a long series of flights to get to JAX. I had to stop in MSO, where I decided to have my mother pick me up and drive me to Spokane in Washington state (GEG), where I would fly GEG-SEA-ATL-JAX. My flight from PRC was on the 14th, leaving at 6:48 AM and getting into MSO at 4:32PM. My flight out of GEG was at 5 AM. Ahh. Life. I was scheduled to get into JAX at 8:39 PM and was eagerly awaiting the time I got to see my girlfriend, as I had not seen her in months, and she wanted me to be there very badly to support her during her songs.
Lastly, I had packed all my clothes, presents, and whatnot in my two bags that I was going to check in, and was bringing one carry on. In it I had my camera, a pillow my lady made for me, note cards so I could get regs and whatnot, pens, knives for throwing, a brush, some candy bars, and that's all you get to know about.
As an overview, from Prescott to JAX, I would be traveling from roughly 3AM the 14Th until 9PM the 15th, get a small break, and be traveling from 6AM (EST) the 17th until 2:00 PM PST. Lots of traveling with minimal sleep. Not what I'd like, but doable.
The 14th. I slept for only a couple of hours the previous night, sadly, and got up at one. After making sure I had everything, I saw my friend Jeremy off to his shuttle (Shuttle-U from PRC-PHX, which I have tried only once and have decided it needs to stay that way) and played some of Sid Meier's Railroads.

Christmas Jeremy and my great roommate Jun.

I also checked on trip reports and double checked my itins. Lastly I made myself some food, put my fully charged camera battery into my 20D, and got ready. I left for the airport at 5. Parking is free at PRC, but there area only (about) 75 spaces, as it's a tiny place. I was wondering if there would be room for my Park Avenue, and lo!, there was. I parked fairly close and was the first passenger there.
Inside the terminal.

It was cold outside, so I was happy to be in the warmth. Shortly, a man came along (not with Great Lakes Airlines-who are the only people with air service to Prescott-it seemed) that gave me a remote to the one TV in the terminal. He also gave me advice on when the people usually get there, etc. He said I was free to roam about. Something I found very nice was that I did not have to carry my luggage with me everywhere, as no one cares if you leave it out. About 5:30 the TSA people showed up and began to ready the one aisle for the day. Only 2 TSA agents were there, one for checking checked in luggage, and the other for checking the metal detector and the carry on. The lady TSA agent started up the metal detector and walked back and forth through it with a strange metal object. She would put it under her armpit, in her pants, etc, and made sure that it was detected each time. I found that kind of neat. The male TSA agent started the X-ray machine and did various other things. About 1 hour before departure, the GLA agent showed up, along with a lady passenger, and checked her in. I noticed that he "weighed" her bag by picking it up and feeling it. Apparently he thought it was under 50lbs, and he then stepped over the scale (which he did not use) and placed the bag by the "line" for screening. The TSA agents lifted up the metal bars and let the lady stand to wait for screening while they hand checked her checked in luggage. I then moved to the counter and checked in. The man never bothered to even hand weigh my luggage, as I suppose it seemed to small. Fine by me. He noted I was flying all different airlines, but, though he could check my baggage all the way to MSO, he chose to make me go to the baggage claim at Phoenix. Since I had two hours between flights, this did not overly bother me. I then proceeded to screening. The TSA agents were quiet casual and very amusing. My friend Ihmran, also studying to become a pilot, was behind me and agreed that they were great.
After screening you walk up a flight of stairs that has a right angle turn, only to end in a room with 13 seats.

The waiting room after screening.

The room has no way out except how you got in, so it's quite strange. Our airplane landed and boarding was called about 5 minutes later. I walked back down the stairs and out to the ramp. The B1900 has fold out stairs, which were used to board. I sat in seat 7C.
Airline: Great Lakes Airlines (Great Lakes Aviation, LTD.)
Aircraft: Beechcraft 1900D [19 Seat Turbo Prop]
Facts: __
_• 25,000 ft.Maximum Altitude
___• 325 mph Maximum Cruising Speed
___• Spacious Stand-Up Cabin
___• Under-The-Seat Stowage Area
___• Preheated and/or Cooled Cabin
___• Contoured Airline Size Seats
___• Recline & Tray Tables
___• A Window & Aisle Seat In One
Registration: N210GL
Load Factor: 84%
Route: PRC-PHX
Cruising Altitude: 10,000 ft.
Flight time: 25 mins-10 minute cruise time.
Time to Altitude: 6 minutes
Departure time: 6:48 AM local. Arrival: 7:28 AM local.
Flight Number 5122
Date: 12-14-06
Seat: 7C (I would think that it is A and B, so perhaps I wrote it wrong?)
Upon boarding the aircraft, I found people sleeping. They were continuing a flight from Kingman, Arizona. Great Lakes charges very little (mine cost only $74 round trip) and operates to cities that are out of the way and underserved. They have main hubs in Denver and Phoenix. They fly to such cities as Show Low, Arizona, and Williston, North Dakota. As I said, odd and off the beaten track, but they get good loads and are a great service. For the price, I was happier with them than most of the other airlines on my trip.
Shortly the copilot came out of the cockpit (which has no closed door) and demonstrated some of the safety features. He was a very nice guy and made some funny jokes while the pilot started the engines and prepared to taxi. The start was smoky and quite nice. The 1900 makes a beautiful buzzing sound and the vibration of the engines is very relaxing. I especially loved the big windows, which are right at eye level (unlike those of my arch nemesis, the CRJ) and are oval instead of rectangular. We taxied a fast taxi via taxiway C C6, after which we then at Runway 21L while a few Riddle planes took off ahead of us. The pilot was kind enough to tell us the reason and explained that it would not make us late. After the planes were gone, which turned out to be less than five minutes, we taxied onto the runway and the pilots completed some last minute checks. As it was dark, the lights were on in the cockpit and they were a nice light blue instead of red. 60 seconds later power was applied and we were airborne before C4 (or D 4 for those of us on the Riddle side). Shortly we made a left turn over Riddle's campus and flew alongside Willow Lake. I could tell this was WillowLake, as we flew right beside that nifty little roundabout. The pilot flew the same routing that I had flown on an A320 for US coming back from BUR-PHX. This consists of a turn to the right over Prescott Valley and then a rough tracking alongside the interstate, which I believe is a fairly southerly.
Seven minutes after takeoff we'd reached 10,000 ft. and I could see Phoenix. The flight was very short so I spent most of my time attempting to get a picture of the beautiful sunrise, which was unfortunately on the OTHER side of the airport. Here is the sunrise:

..om/albums/o252/neces0c9/IMG_2679.jpg">

We began out short descent on the outskirts of Phoenix, right around the Lake Pleasant area. A series of left turns brought us onto final approach with runway 7R. This was the first time I'd been to 7R for landing so I was most pleased. I have to note something odd here, and perhaps peculiar to this flight only: the landing gear extension was almost violent. It actually knocked my camera out of my hands, so I was glad that I was using the strap on this flight. Unfortunately, I think that it did something to the lens, as it now makes a brushing sound, like felt against felt. It only happens near maximum zoom, and the quality is not affected, so I guess I can't complain. At first I thought we'd hit some wake turbulence, then I thought that it was just the gear, as I noticed it went down at that time, but it may have been a large coincidence and simply been both at the same time. Any insight into this would be appreciated.
Inside the airplane.

Landing was short, smooth, and on time. The reverse thrust was quite powerful for such a small aircraft, and we slowed rapidly and exited the runway at G4. There was almost an entire fleet of WN planes at 7L awaiting takeoff, so we held at F6 while a 737 took off. We then crossed very rapidly onto E6 and proceeded to the GLA apron. The stairs were let down and my friend and I were the last ones to get off.

My friend outside the Beech.
Wetook some pictures of each other by the aircraft, along with other airplanes on the tarmac, and the first officer came over and told us he would have to have us arrested if we continued. Just kidding. He actually invited us back onboard the airplane to take a seat inside the cockpit. We did and the captain showed us around. Their kindness was quite amazing, in my opinion. When we were leaving to go to the terminal, which is about 400 feet away across the tarmac, the captain informed me that the first officer does not mention it, but is a former Riddle person himself, from Daytona Beach, and he had pegged us for Prescott Riddle students, thus the invitation into the cockpit.
The cockpit.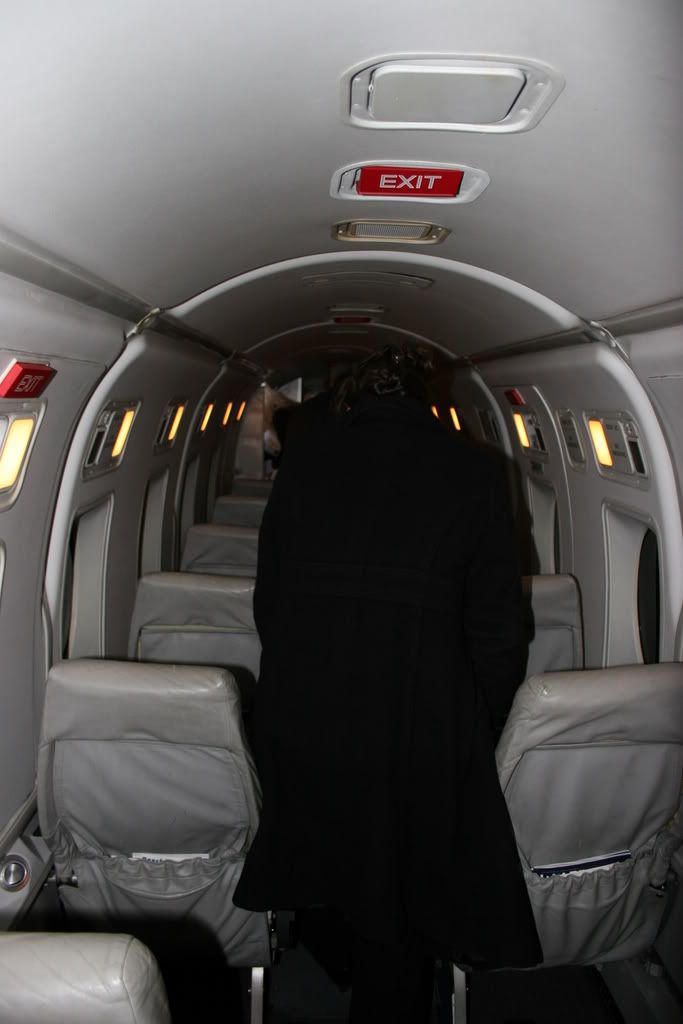 Inside the aircraft.

Flight ratings are given out of 100 points for easy calculation. Each section is worth 20 points.
Flight Rating
On Time: 20---On time departure, even with the short wait, and landed as scheduled also.
Crew: 20---Went that extra mile and let us in the cockpit. Were interested in everyone and very amusing,
Seats and Legroom: 18---The seats were leather and nice, but not as big as some. My main complaint is the lack of legroom, but this is only for tall persons, so it did not affect me.
Meal Service: N/A (20) ---There is none, but due to the flight time this is not a problem, and there are no FAs anyhow on an aircraft this size.
In Flight Entertainment: N/A (20) ---Nice windows make for great entertainment.
Overall: 98. (A) I have nothing to complain about and only compliments. I highly recommend this airline.
I recovered my bags from the carousel and proceeded to the United check in booth. I showed my tickets to the United person, who directed me to the kiosk. I thought this was the wrong way to go, as I had paper tickets, and I was right. I then talked to the nicest United lady who spent fifteen minutes and cleared my bags all the way through in all the airlines, so that I could pick them up in Missoula.
Next off was the security line. The wait was around 15 minutes, which is not long but was still annoying. My wait is almost always longer in anything due to my last name. Americans always think that they are the first ones to make a joke about it, which I normally find funny to watch, but when the TSA does it…bah. I regretted wearing so much metal as it took me five minutes to get all my stuff put away and then back on.
My flight was due to depart gate 1A at 9:47. When I arrived the Ted Airbus was already there, and I had 105 minutes until the flight, so I went to go get some food. The last time I was at PHX was with a user on this site, Monorail. A lot of you probably know Ed, or read his trip reports. As I was saying, however, on the last occasion after a flight from Burbank, we were going to do some spotting and I was most hungry, so I stayed in line for 20 minutes (it seemed) for a roast beef sandwich. Upon getting to the spotting area, I found it was a turkey and cranberry sandwich. This was right after Thanksgiving. I was most disgusted. This time I got a real roast beef sandwich, so it was strangely satisfactory. Anyway, as it happens, he was leaving on an America West 757 that day and we'd discussed the possibility that I might see him leave. You can find his trip report here. I kept an eye out for a while, but saw no site of him, so I thought I'd go ahead and finish eating my sandwich. I was sitting and eating when I saw an America West 75 lined up and going. I threw down my sandwich (spilling some vinaigrette, oops!), grabbed my backpack and took off to the window just in time to snap a few shots.
He rotated what seemed like very early, especially compared to some of the WN 73s that I watched depart, so it was a close thing. I hope you're doing well now Ed!
Airline: Ted
Aircraft: _Airbus Industrie A320
Registration: Unknown (Please contact me if you know.)
Load Factor: 100%
Route: PHX-DEN
Cruising Altitude: FL350
Flight time: 1 hour 26 minutes
Time to Altitude: unknown, roughly 80 nautical miles distance wise.
Departure time (scheduled): 9:47 AM local. Arrival: 11:33 AM local.
Flight Number 1428
Date: 12-14-06
Seat: 22A
I finished my meal and went to board. As I had a window seat, I was one of the first on the aircraft, which meant that there was room in the overhead bin for my backpack. I put it up and took my seat. The lead FA, Ronald, was making jokes all the time during the boarding, much the same as a WN FA might. I appreciated this, and loved how he referred to the boarding as "cramming people into the Airbus through that cold jetway."
We taxied for takeoff and there was not a huge line, with us in third spot. We departed 7L after a bit, and lifted off across from the ATA distance stand.

Three special schemes!

While retracting the flaps I noticed a piece from inside shear off and get bent up. It then stuck on the outside of the flaps. I got a picture of it. Don't know what it was. If this is a normal part or you have any guesses please let me know what it is.

What is that thingy?

Our course brought us into a left turn and up by Mingus Mountain, near Prescott and the interstate. We turned to the right so that we may have been heading east, but being unfamiliar with the area, I do not know. The air became choppy around thirty miles east of Flagstaff's mountain (do not know its name), which was also about the time that we passed the Barringer Meteor Crater.

Interesting formation...not the dust spots.
That rascally crater.

The captain announced that this chop was only temporary and would be over quite shortly. From listening to Channel nine, I gathered that it was a very localized disturbance. As we exited Arizona, the FAs came through the cabin with a free drink. I got tomato juice, as I felt that I might be getting sick and wanted the vitamin C.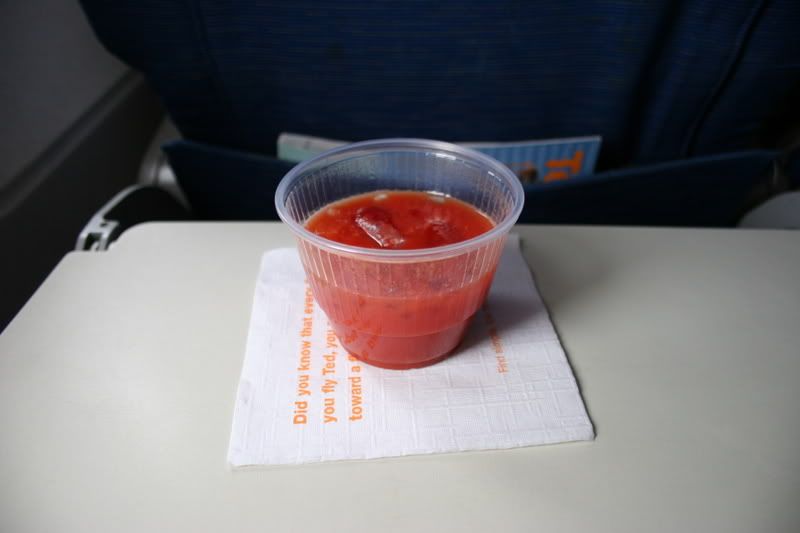 Enjoy breakfast!

I can't speak now, so it did not do me too much good. I don't drink caffeine anymore, as it's terrible for you, and I wanted to be well hydrated, so you'll notice that I order mostly tomato juice and water. I believe that I did get one small cup of Coke on one of the flights because I had that "nasty sinus taste," and the tomato juice would not rid me of its foul presence.
We cruised along at FL350 until somewhere over Colorado, when the air became a continuous light to moderate chop.

Some mountains over Colorado.

All flights were reporting it. FL280 and above were reported to receive chop, as well as all levels below FL190. Our four FAs collected garbage quickly and took there seats before we were over "Powder." We began our descent and the air became smooth as we passed FL270, but at FL190 it turned moderately choppy as expected. Listening to Channel nine, I heard a strange communication between Center and a SkyWest flight:
Center: SkyWest 6948* reduce speed descend to FL190, reduce speed to 250 knots.
SkyWest: Roger Center, 250 knots and FL190.
="">
(about ninety seconds later)
Center: SkyWest 6948, I said reduce speed to 250 knots,
SkyWest: Roger that, sorry it 'bout that.
(about 60 seconds later)
Center: SKYWEST 6948, speed readout please.
SkyWest: Ummm….270 knots isn't 250 is it?
Center: SKYWEST, I SAID TO REDUCE SPEED TO 250 KNOTS. You're GOING TO BE up the TAIL of the traffic ahead. REDUCE SPEED NOW.
SkwWest: Ummm….roger…readout says 250.
(no further communication from Center)
The captain turned us over the out rims of Denver and we lined up for final approach for 35L. The gear was dropped as soon as we were cleared for landing, and the landing was smooth.

Descending for landing.
More spoilers.

We were cleared for a high-speed taxi on M-6, and we taxied past a Champion 727 and the Great Lakes pad to gate B16. We were told that the double bridge was going to be used today as we had so many passengers, but we ended up not using it for unknown reasons.
DEN.jpg" target=_blank>
DEN.jpg" width=650 height=451 alt="http://i122.photobucket.com/albums/o252/neces0c9/DEN.jpg" border=0>

Landing and going by the unique terminal.
Flight Rating
On Time: 20---Departure as scheduled, landed 20 minutes early.
Crew: 20---The FAs joked in a manner that rivaled Southwest. Great job.
Seats and Legroom: 19. I had no problems at all. Legroom might be a problem if you cannot get a bin for your carryon.
Meal Service: 15---A standard beverage. I had hoped for a cookie or something on a trip like this. Oh well.
In Flight Entertainment: 20---Channel 9. Need I say any more?
Overall: 94. (A-) A low cost flight with higher than average service. Excellent.
I grabbed the train and headed off to C44 for Delta flight 665 which was due to depart at 12:55. I arrived and went to check in. There were two lines to the agents, as there were two agents. I selected one, and after five minutes I was the second in line. The man then departed to go find a wheel chair, as one was not brought to a nearby flight, so I stood there talking to the lady in front of me. The other agent then looked over at us and said, "Get back to the end of the line. Can't you see there aren't two?" I was not happy with his tone. Upon finally reaching the front (and the pervious agent came back so I was stuck waiting longer), the man then could not find my record…uh oh…after much searching he printed me off a pass, although he never explained the problem. When I asked him if he knew if my bags would make it through to Missoula at the next stop with SkyWest, his response was, "How should I know?" I did not like this tard's attitude much.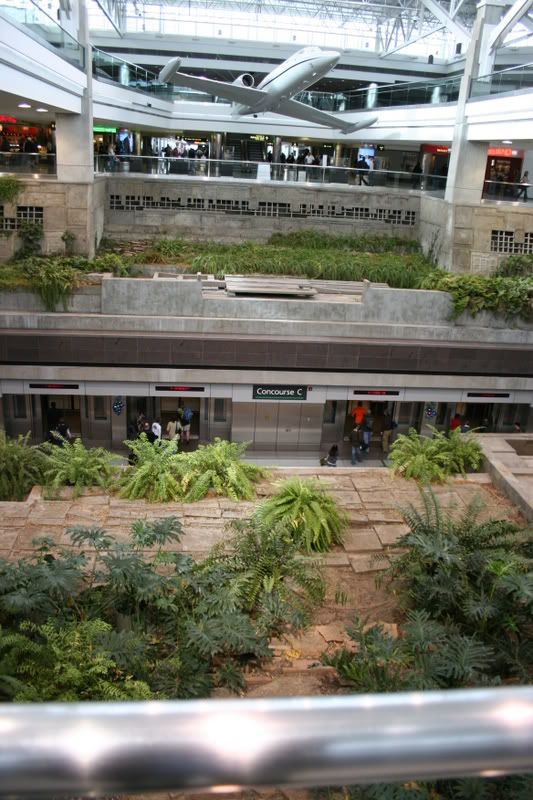 After getting off the train.
Another Delta flight...I like the MDs in the new colors.

To soothe my ruffled whiskers, I went and bought a piece of pizza, which was too greasy and made me feel sick. I then threw it away and cursed the airport for raping me of my hard-earned monies.
Airline: Delta
Aircraft: _MD-90
Registration: N912DN
Load Factor: 84%
Route: DEN-SLC
Cruising Altitude: FL220
Flight time: 1 hour 1 minute
Departure time (scheduled): 12:55 PM local. Arrival: 2:24 PM local.
Flight Number 1428
Date: 12-14-06
Seat: 23E
My aircraft, soon to head to Salt Lake City.

Boarding commenced and I was Zone 4. The load was not as heavy as last time, but the seats seemed much more cramped. I don't know if this was an illusion or not (perhaps due to the weighted 2-3 seating?), but I disliked it in any case. EDIT: The seats ARE an inch narrower than on the Ted flight...surprising what a difference it makes. An older couple sat beside me who were heading to Missoula also, it turned out. She works in the same field as I do, so it was a pleasant surprise. I enjoy having nice seat partners, and I would qualify my two on this trip as just that. We taxied for takeoff via taxiway G and were third in line for departure on runway 25.
Preparing for departure straight out.

Takeoff was smooth and quite powerful at first, but we soon decreased our pitch to a more usual angle.

Entering a positive rate o