I have completed this trip less than 24 hours ago, so here it goes. I think I bought these tix more than two months ago. It was around $1200 for two, one being a companion fare. "AS First" fills out fast, so I wanted to make sure we get some seats for the busy xmas season.
It turns out, 3 days before my outbound I had to travel to SEA. I couldn't use the AS ticket, so it was CO. I was lucky enough to sit exit row, next to a CO pilot and listen to his stories about landing in HongKong, the old one.
SEA was its usual self, everyday was cloudy drizzle and 45 degrees.
We stayed at the Warwick Hotel on 4th ave. and Lenora. This was the same place I have rented a studio in the late 80's for $310 a month. The hotel was booked on Hotels.com and it was around $140 a night incl. taxes.
Here are some photos from Seattle: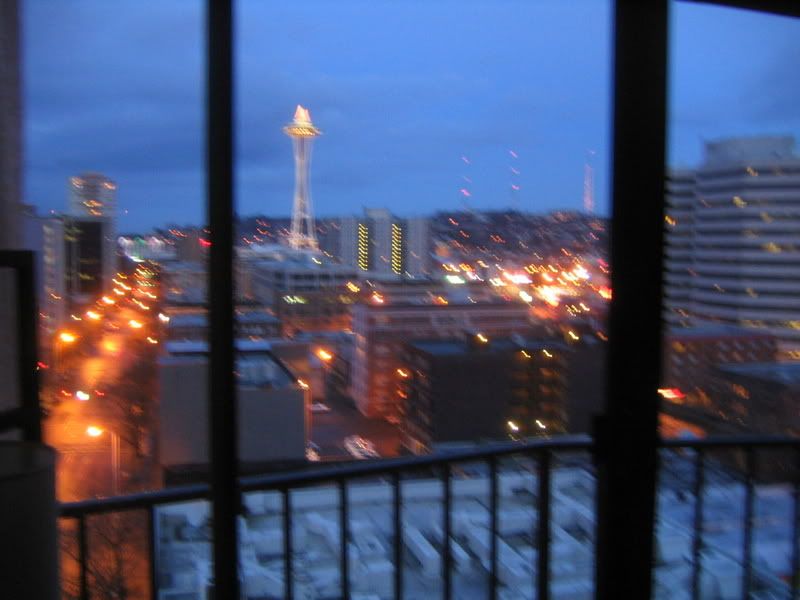 From the hotel looking North
Looking South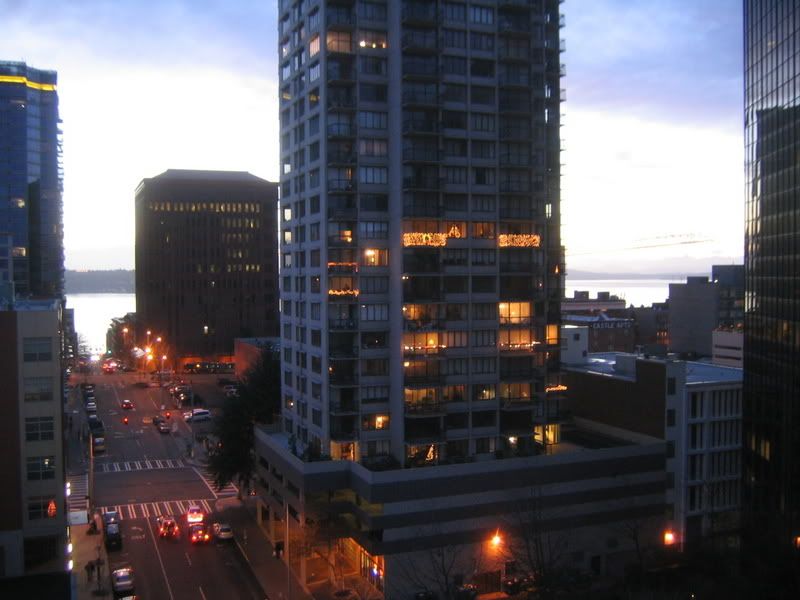 Looking West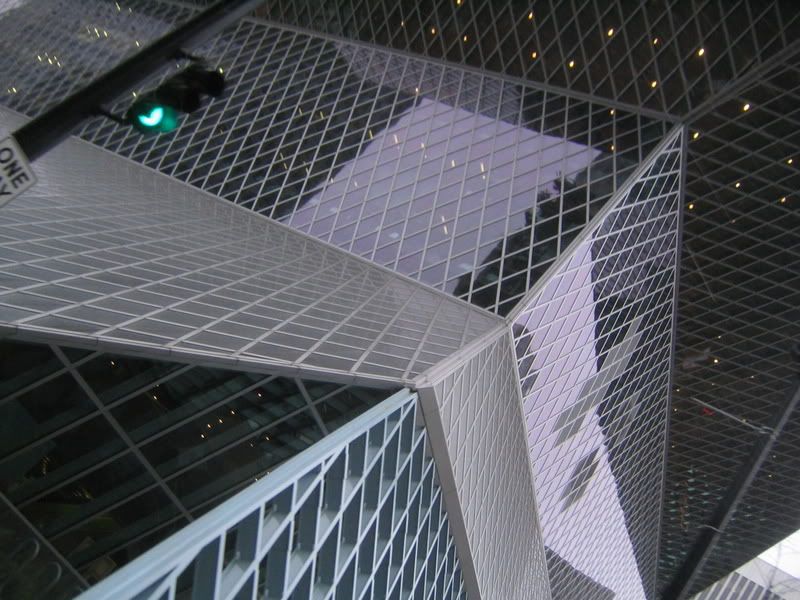 Seattle Library, great curves.
Favorite Seattle icons: The Space Needle and the Pink Elephant car wash
Just a reminder, Seattle is still an outpost. More seagulls than men or cars on the roads.
Now, back to the TR:
DEC.26TH, 2006
SEA-EWR on AS14
Our plane: 738 N549AS
View Large
View Medium


Photo © Michael F. McLaughlin
Departing gate: D6
Departing runway: 34R
Scheduled leave: 1:42pm, Actual: 2:34pm
Scheduled arrival: 9:53 pm, Actual: 10:08pm
Load:95%
Seat: 4F
Flight duration: 4:16 hours
Altitude: 35,000 feet
We arrived at the airport two hours before the flight. The traffic was minimal. The cab ride costs $30 from downtown Seattle to SEA. Since we were smart to ship our luggage by Fedex, it took us no time to reach our gate. TSA lines were very short also: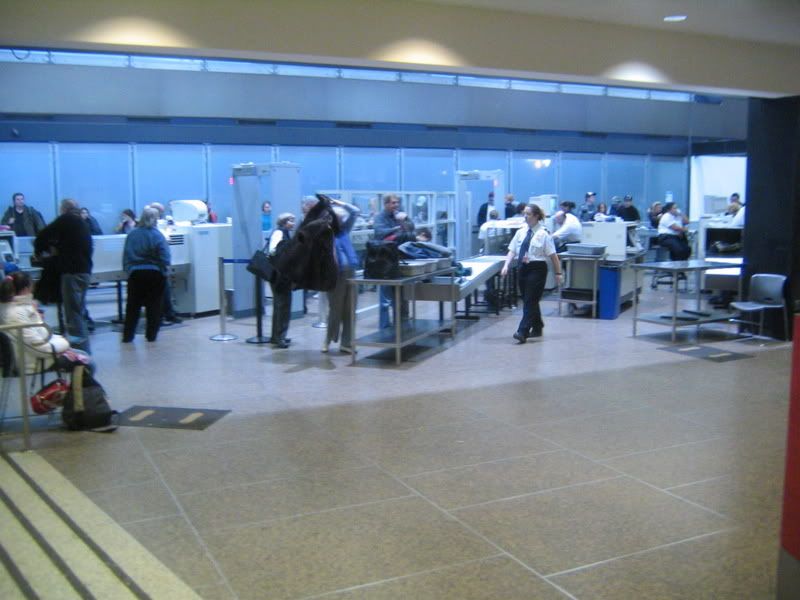 Looked at some shops on the way to the gate: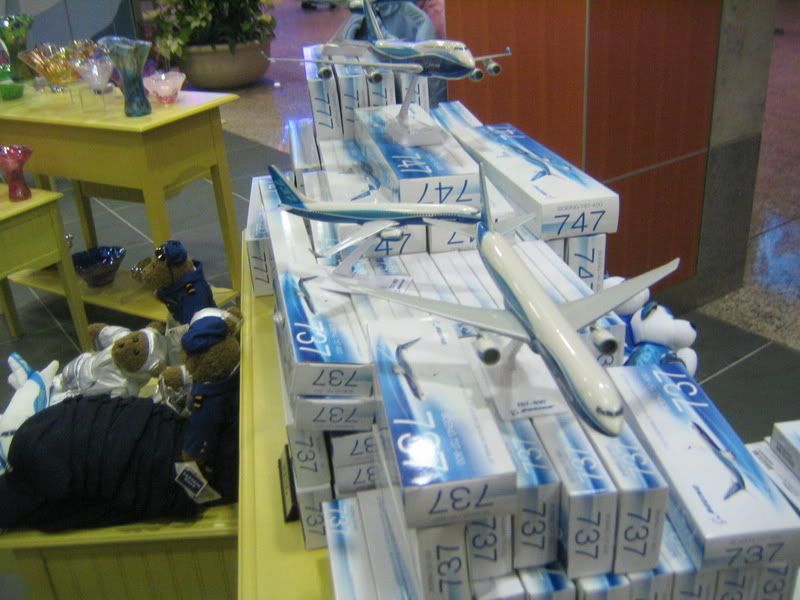 At the gate I saw actually three pilots going into the plane. Is this the norm? At 12:50 pm we were told the flight will be delayed due to mechanical reasons. At 1:30pm we started boarding.
There are 16 first class seats on these flights and almost always full. Nothing fancy, wide leather seats, 2-2 seating but not a whole lot of legroom. When we arrive at our seats a small bottle of water and some pretzels wait us.
At 1:50 Captain asks everyone to hurry up and sit down, so they can close the door for a 2:14 departure. Ten minutes later he tells us to scratch that idea since the ATC now tells him to take off at 2:34pm.
So we go to the end of the runway and wait until then even though there was no traffic in front of us.
Then it was a smooth takeoff, and soon after we flew over the Boeing Field, where you can see the Concorde, 747 and some others at the Museum. If some Seattle locals can help us to identify the rest.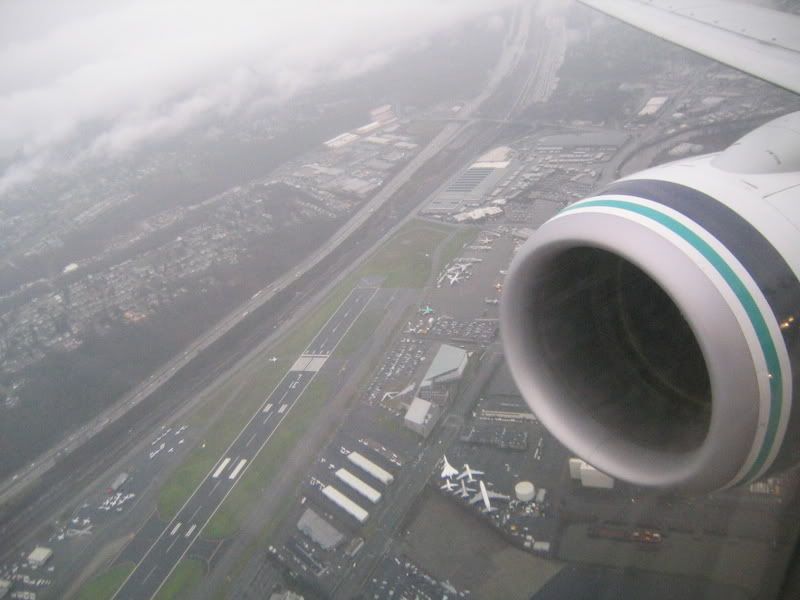 We were given dige-players, which you can also reserve and get in the economy section for $10. I watched "My super exgirlfriend" and "Devil wears Prada". Both were pretty awful, but the selection was limited; 4 current movies, 6 older ones, some sports stuff, few cartoons, 4 tv shows, and some Discover Alaska shows.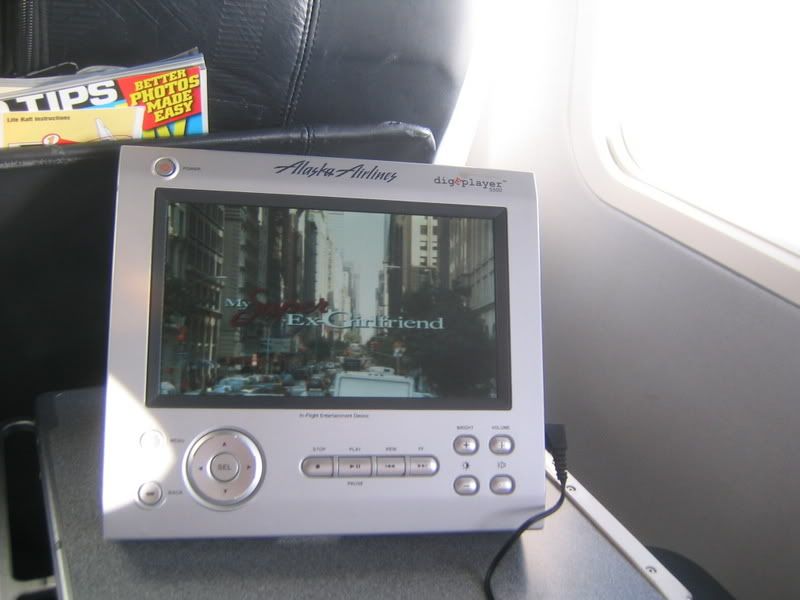 I chose the Guenoc CabSav 2004 for dinner. Very nice indeed, ended up having, mmmmm, 7-8 glasses during the flight, lost count..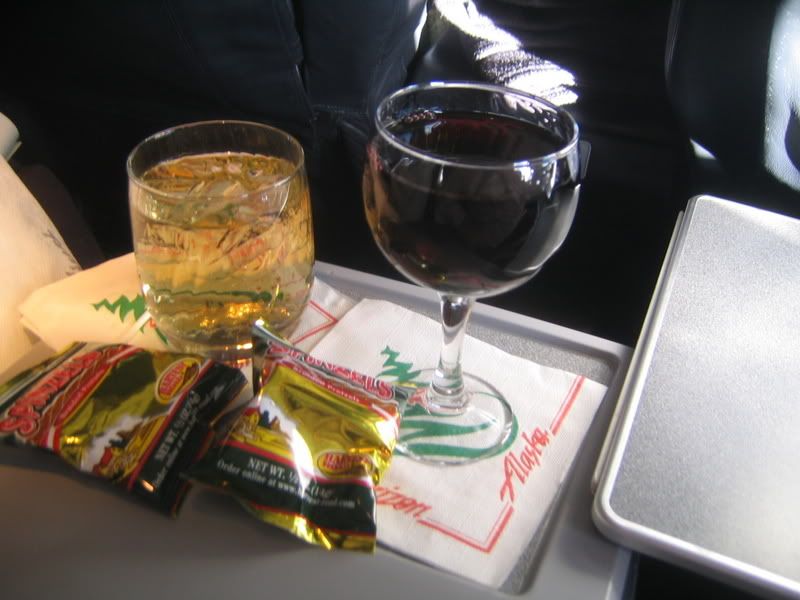 Then we were served a slice of bread and some greens with Sesame Thai dressing, pretty boring stuff:
Some reading was suggested with the meal: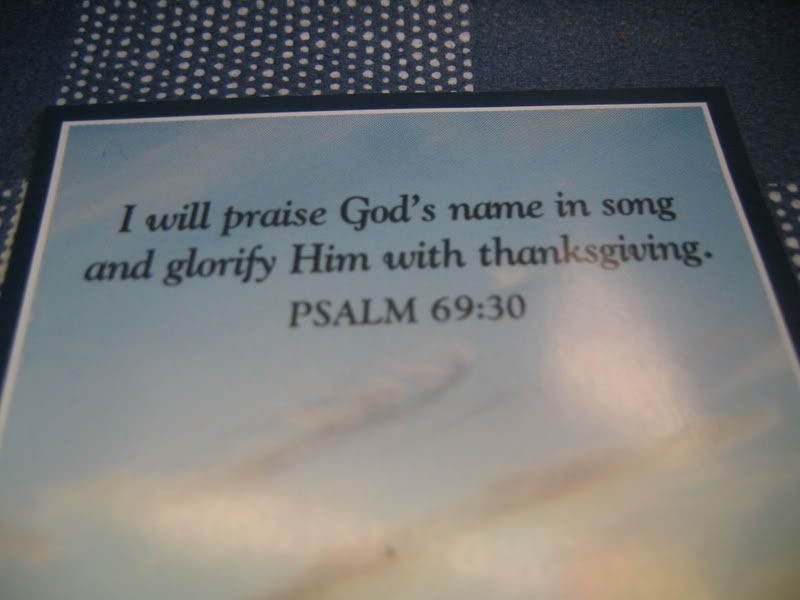 Our main course was a dry piece of boneless BBQ beef with some vegies and some potatoes: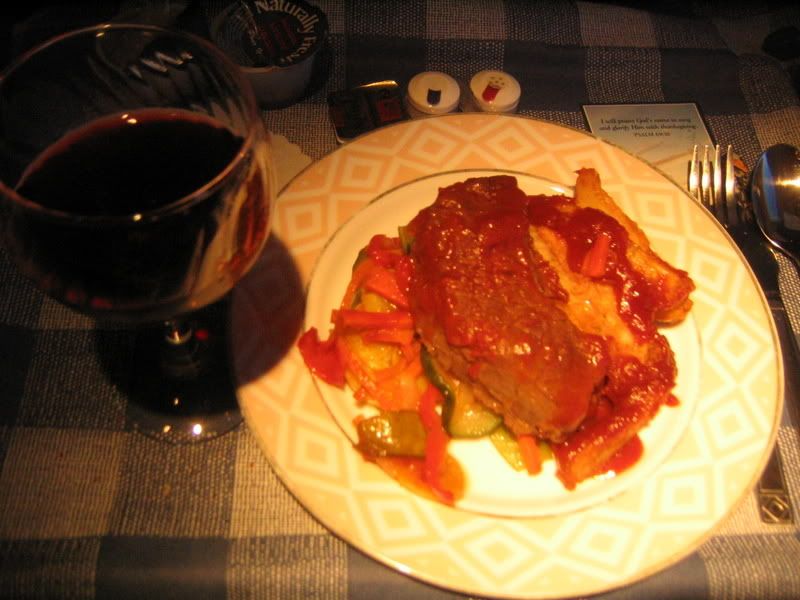 Final rays of sun:
By the way, this was a very smooth flight and the service by our FA was very good. And finally we were served vanilla ice cream and caramel sauce, and surely, some grand marnier.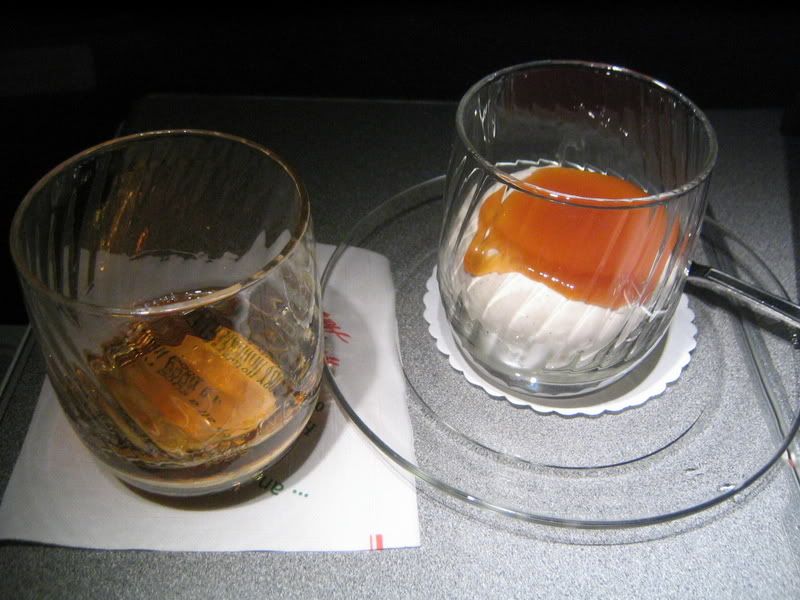 I will try to post the smooth landing video soon
As usual after arriving at the gate we wait about 5 min. for someone to let us out, but this is becoming normal these days.
Then we go outside and wait for a cab for another half hour.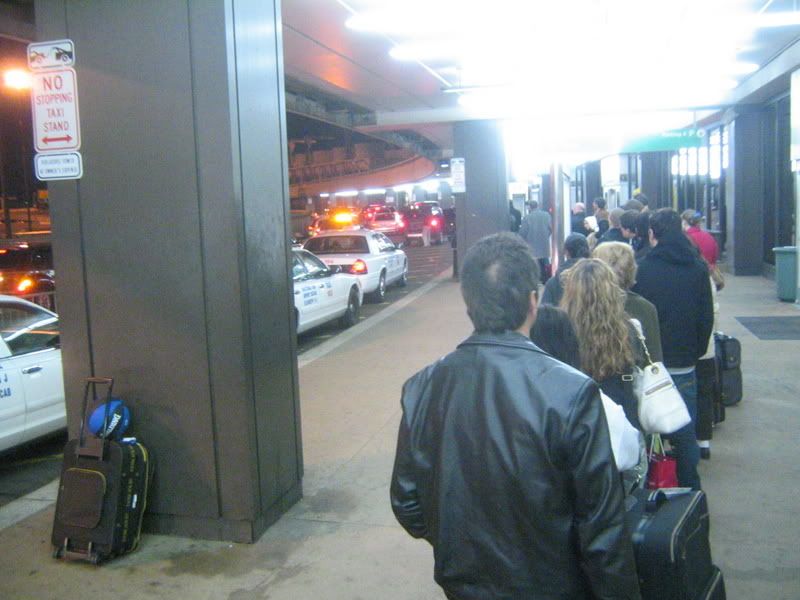 All and all, this was a very nice trip. After a little delay in SEA, thanks to strong tailwinds, we made it almost on time to EWR. Service was great as usual, plane was in great shape. Food used to be very good on AS years ago, but now like all others it is not so. Again the leg room is minimal, and you still have to jump over your seatmate to go to the rest room.
Hope you enjoyed this TR, thanks for reading.