FRA-CMB-BKK-CMB-FRA on SriLankan A332 & A343 (+pics)
Intro
In November my girlfriend and I decided to go on a one-week vacation in early December. After a few days of searching we found an attractive package: Six days near Hua Hin, Thailand, four star hotel - and flights on SriLankan Airlines from FRA to BKK via CMB. Unfortunately Amadeus showed an A332 for all four sectors, but I still accepted the package - hoping for an equipment change...
Pre-reserved seating
Since we booked online via a tour operator we couldn't reserve any seats initially. But after receiving the electronic ticket receipts and the reservation number I grabbed my Skywards card and called SriLankan's office in Frankfurt. A friendly lady immediately accepted my seat selection and 60 A and C were reserved for all sectors (SriLankan doesn't have a "B").
Sunday, 03 December 2006
Frankfurt (FRA) - Colombo (CMB)
SriLankan Airlines UL554
14:20-04:30 (14:28-04:31)
Flying time: 09:15 (hrs)

Airbus A330-243
4R-ALB (msn 306), delivered 11/1999
Economy Seat 60C
Check-in
Though we had arrived at FRA three hours prior to departure we already found a long queue in front of UL's counters. Just as we tried to go in line, a SriLankan employee told us:
"Sorry, this is not the end of the queue."
Indeed, the queue was twice as long and we hadn't realized there was a big gap in between so that people heading through the terminal could pass...
We waited some 45 minutes until we could drop our luggage at one of only three open Economy counters. Within a few minutes we had our boarding passes - without a pre-selection it probably would have been hard to secure a window seat.
Terminal 1A: cables and wires
When we lined up for security several different people asked whether we had plastic bags for liquids and offered them to us, but of course we were equipped appropriately. Though, it was interesting to see how many people still seemed to be clueless about the new rules and therefore had to dump countless items...
The gate area in concourse A is not what one would expect from a major German international airport and Lufthansa hub. I hadn't flown from this concourse at FRA for several years and I was surprised about the bad shape. Cables and wires stick out of the walls and roof panels in many areas, unused X-ray machines are located in the middle of the concourse, the number of seats in the gates is very limited...what a mess.
UL's 4R-ALB was being prepared for the 09:15 hours flight to Colombo at gate A56: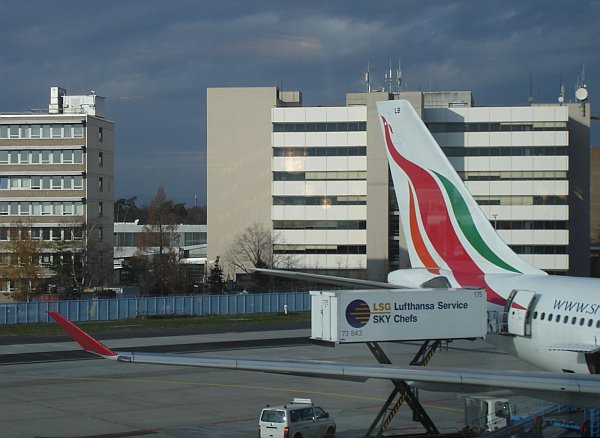 Boarding
Boarding started quite early, about 50 minutes prior to departure. Some minutes after the call we lined up but just as it was our turn to pass, they stopped the boarding process for at least 10 minutes. Finally we entered the cabin and were welcomed by friendly FAs in fancy dresses. While men wear a red jacket and dark pants, women wear a green cropped belly top and a long green skirt, with a long patterned cloth ranging from the shoulders across the belly down to the feet (covering the belly). Most of the FAs in the rear section were friendly as well, but one female and one male didn't smile much - the latter one actually looking grim most of the time.
Cabin & Seating
Except for the colors, UL's Economy cabin is very similar to the one on EK's A332s. While it showed minor signs of aging, the cabin appeared absolutely clean. The seats are the same as on EK, though they didn't appear as hard. Seat pitch is 32 inches according to UL, with the famous IFE boxes located under the window seats. Load factor was around 80 percent in Economy.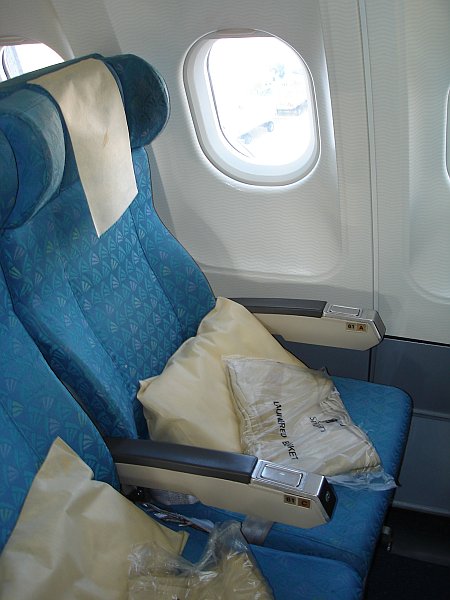 IFE
Just like EK, UL has installed PTVs in each widebody aircraft, but without AVOD. Again, the system is very similar to the one on EK's A332, but UL's programming is not as clearly structured and offers less choices. Summary:


18 movie and TV channels (mix from around the world, different languages)

22 radio channels

16 interactive games

airshow

front & down camera channel

I didn't review the movies or radio channels intensively, but the choice wasn't bad. Only standard games are offered - without an inflight trivia. The movement controls didn't work properly any more so sometimes I had to leave the game section by switching off the screen. We later noticed that also certain headsets didn't work properly.
While still on the ground, the front camera view is always a welcome feature: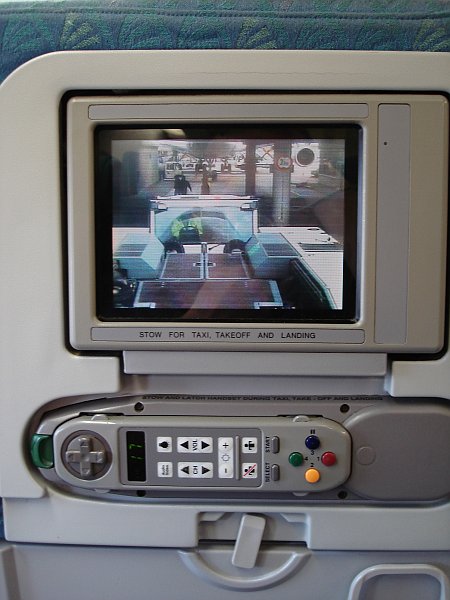 After hot towels had been distributed and collected again we were pushed back at 14:28…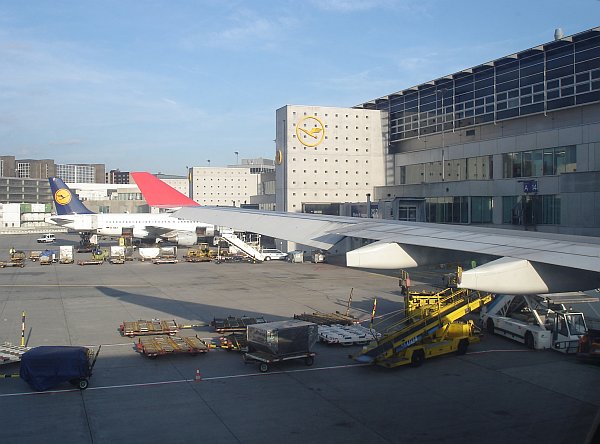 …and soon taxied towards runway 18.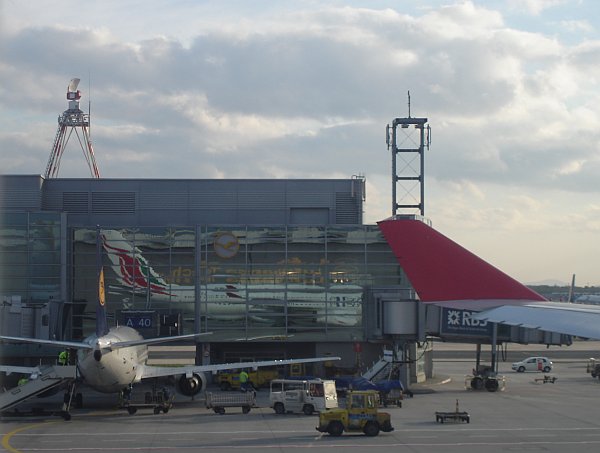 The early afternoon rush at FRA was over and we could enter the runway almost immediately for a long take off roll, followed by a steep climbout.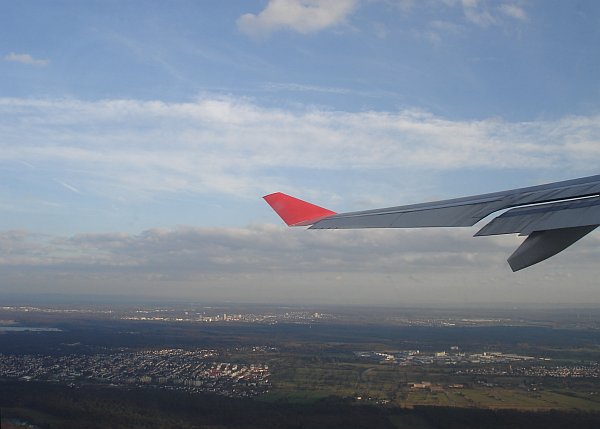 Left turn and heading east: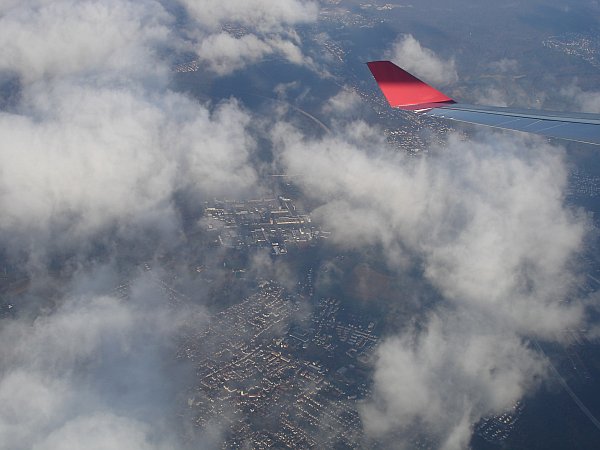 Snack
Early in the flight a tasty savoury mix was served - which even comprised dried peas: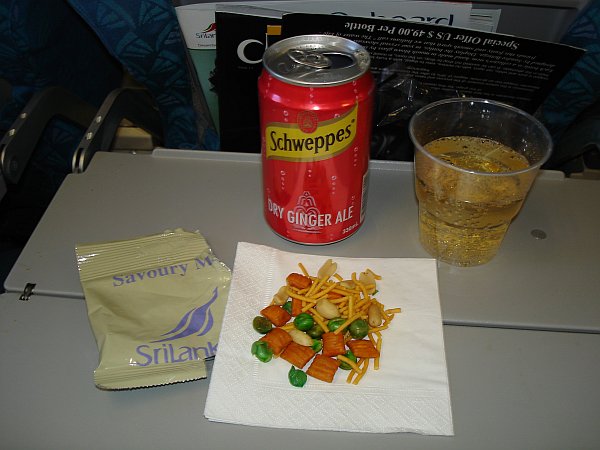 Menu cards
After the snack it was time for a closer look at the inventively designed menu card: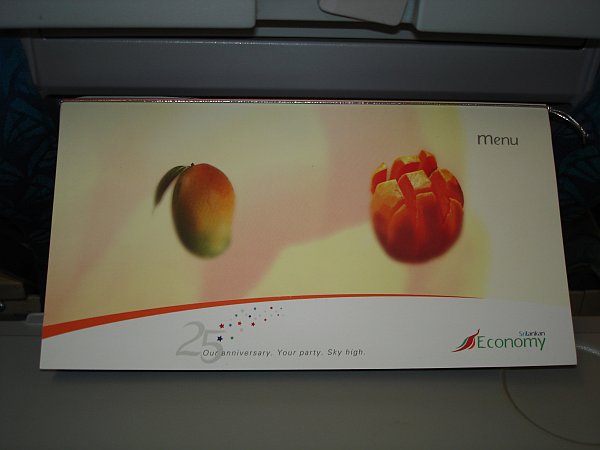 The card not only shows menu options, but also features short texts about drinks, herbs or other ingredients, e.g. Arrack (Sri Lankan coconut brew), parsley, mustard and tofu. On the second page there's a short text about the mangos on the cover:
"Authenticity comes naturally to Sri Lankans. More so, when it's spicing up nature's bounty. The staple of every fruit vendor is the regular mango transformed, taking on a more appetizing form by slicing it like a flower and sometimes adding a dash of chilli on top. A mouth-watering authentic Sri Lankan recipe."
Interesting and indeed mouth-watering, but it wasn't served on any flight, unfortunately...
Lunch
Surprisingly there was a choice of three main dishes which is definitely not usual in these days.
Hors d'oevre
Cray Fish in Cocktail Sauce with Italian Leek Salad

Main dishes
Lamb Rogjanosh with Kadai Gobhi and Basmathi Rice

Herbed Chicken Breast in Tomato Coriander Sauce with Creamy Leek Vegetable and Crispy Potato Wedges

Vegetable Biryani with Tempered Yellow Lentils

Dessert
Cherry Marble Cake
I went for lamb but the chicken my girlfriend took would have been a better choice. The lamb was a bit chewy and the cocktail sauce was quite rich, but it was still a decent and filling meal.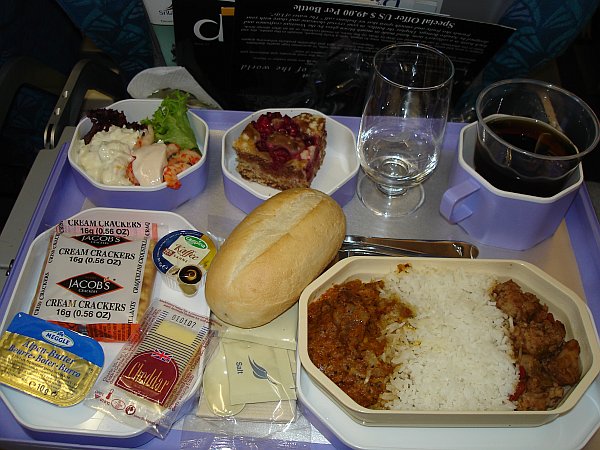 Beverage service was excellent with a large selection of beers, aperitifs, spirits, wines and non-alcoholic drinks available - and FAs were very generous. Unlike on many other carriers, you find a real glass on each tray.
Cruising at 37,000 feet...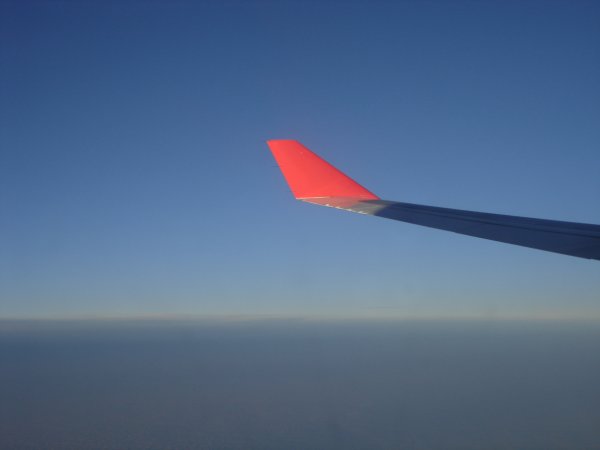 ...and sometimes as fast as 1040 km/h, thanks to a tail wind of 151 km/h.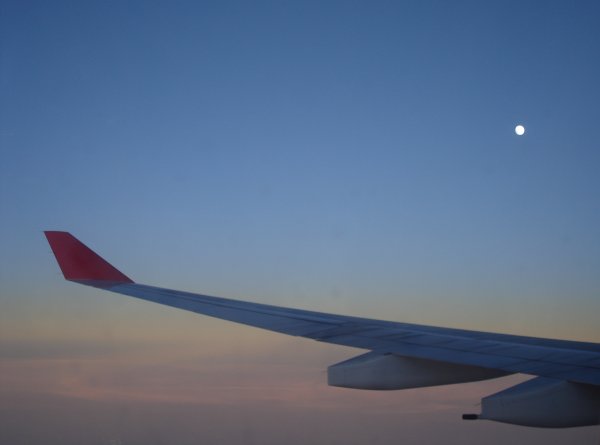 Dinner
A selection of vegetable and fish sandwiches and drinks was always available throughout the flight in the galley and some two hours prior to arrival a hot dinner (or better: midnight meal) was served. The menu card showed three main dishes again:
Appetizer
Fresh Vegetable Salad with Italian Dressing

Main dishes
Shepherds Pie with Beef Bolognese

Chicken Malai Curry with Curried Mixed Vegetables and Steamed Rice

Cheese & Leek Filled Tortellini with Mornay Sauce and Tomato Ragout

Dessert
Fresh Fruit
I ordered the Tortellini which were excellent - and they were "al dente". I was also surprised by the rich taste of UL's ceylon tea - not the tasteless stuff various carriers serve in these days.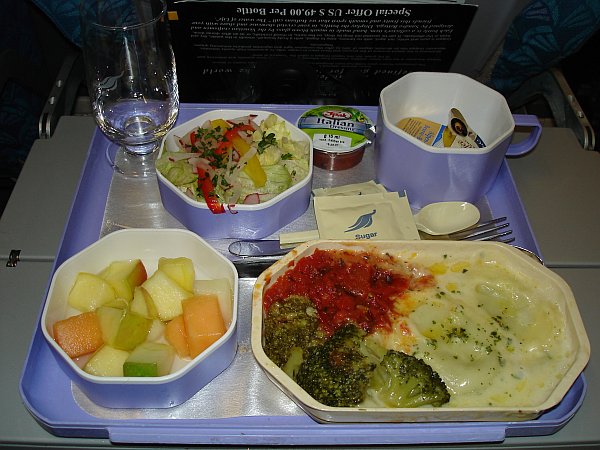 The remaining flight was uneventful - except for the observation that the lack of aft lavatories can cause congestion in the aisles between the two Economy sections, especially towards the end of the flight.
At 04:26 local time we touched down at Colombo Bandaranaike's single runway and due to low traffic we started deboarding only a few minutes later.
Colombo Bandaranaike Airport
After reading different reports on the web my expectations weren't high but I was positively surprised. We left the aircraft via jetways and entered a modern terminal building with eight gates on each side. Both the floors and restrooms were very clean and it took us only a few minutes to reach the transit area. It is equipped with various shops and bars - and an appropriate number of seats. Large glass windows enable views of the apron, but I was discrete with binoculars and camera, considering the political situation in Sri Lanka.
Database pics:
View Large
View Medium


Photo © GPaolo Colombo
MyAviation.net photo:


Photo ©
Monday, 04 December 2006
Colombo (CMB) - Bangkok (BKK)
SriLankan Airlines UL422
07:15-12:10 (07:22-12:25)
Flying time: 03:17 (hrs)

Airbus A330-243
4R-ALC (msn 311), delivered 12/1999
Economy Seat 60A
Boarding
After a security check we entered our gate and I spotted 4R-ALC being prepared for the service to Bangkok and Hong Kong. Boarding started quite early again and I soon noticed that the load factor would be close to 100 percent.
Parked next to us: UL's first A332 4R-ALA.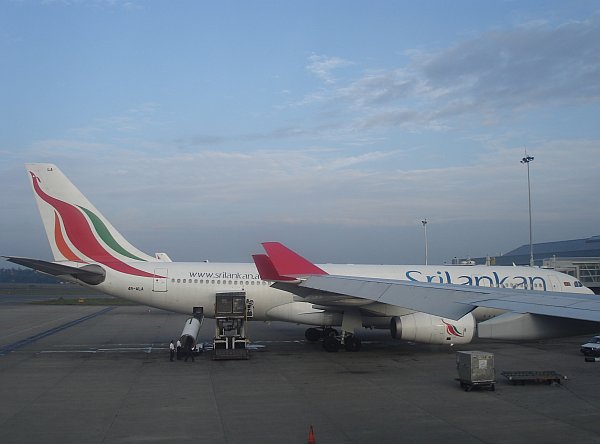 We left the gate at 07:22 and only an arriving PW-powered Etihad A332 prevented us from entering the runway straight away: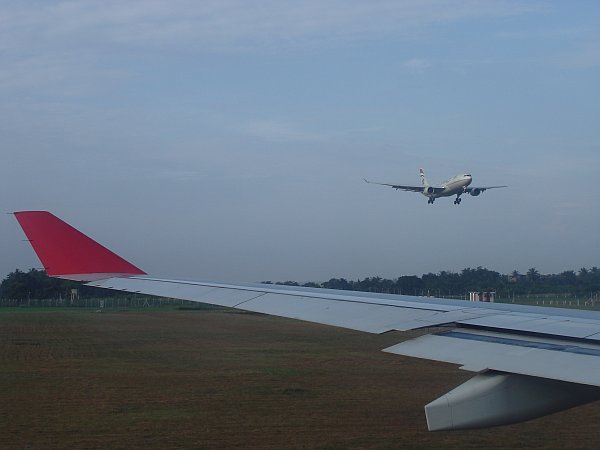 Some houses just behind the airport fence: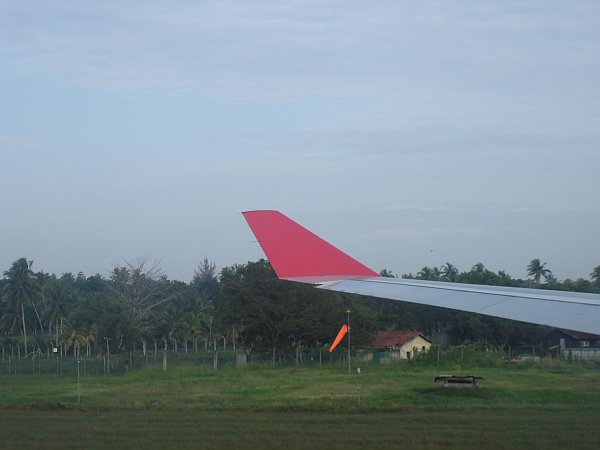 The relatively light load for the three hours-flight to BKK enabled a powerful takeoff: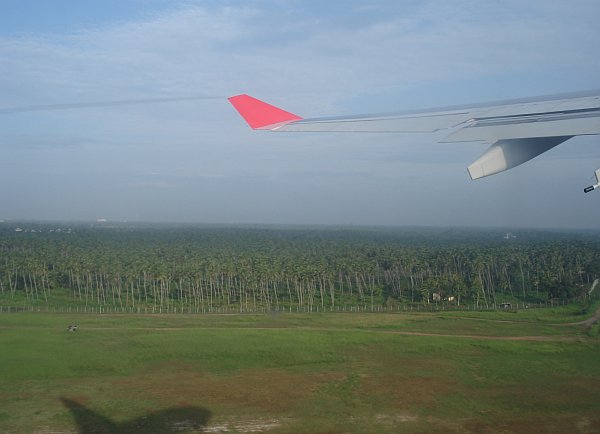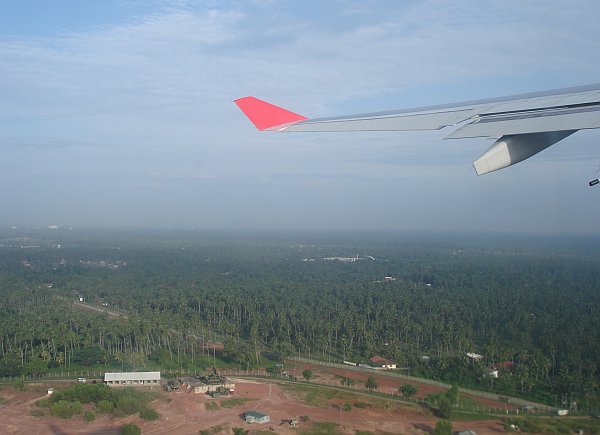 Black screen
This time the movement controls of the handset seemed to work but after only a few minutes my screen didn't react to any input any more and it remained black after trying to start over. Since the moving map was shown on the overhead monitors it didn't bother me much.
Breakfast
As expected a warm breakfast was offered and the menu cards showed three different main dishes once more again.
Appetizer/Dessert
Fresh Fruit & Strawberry Yogurt

Main dishes
"Kiributh" Milk Rice with Fish Curry Sri Lankan Style and "Seeni Sambol" (Onion Relish with Fish Flakes)

Spanish Omelette with Broiled Chicken Sausage, Grilled Mushrooms, Tomato and Roesti Potatoes

Vegetable Bhurji, Bakherkani, Palak Til Croquette
I took the spanish omelette which tasted very good - together with the fresh fruit, a croissant and the yogurt a filling and satisfying breakfast.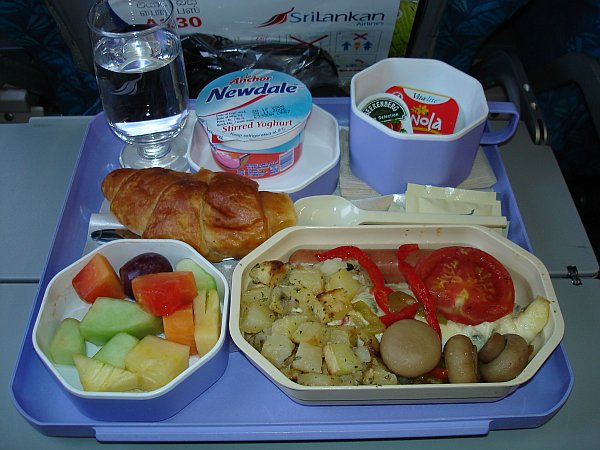 The remaining time passed quickly and Suvarnabhumi appeared on the left: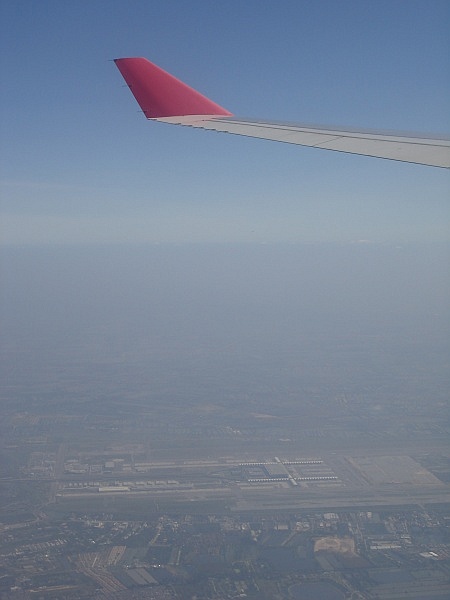 After flying towards the sea for a while and a wide left turn we passed a large golf course...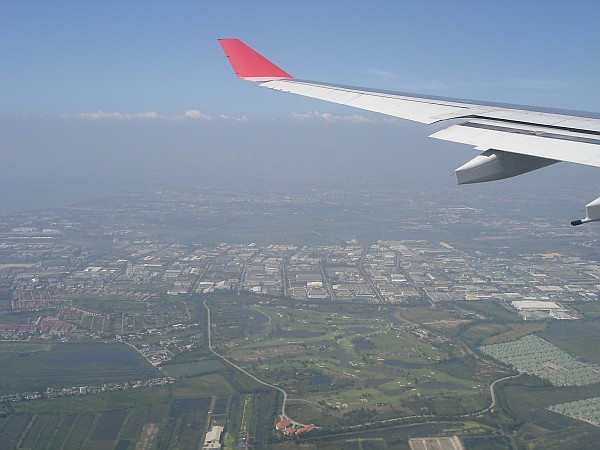 ...as well as a major highway, with parts of Bangkok's skyline in the background: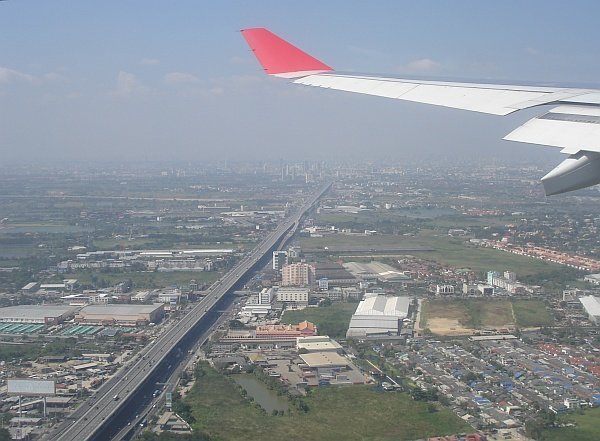 4R-ALC touched down at 12:18 and was stopped quickly: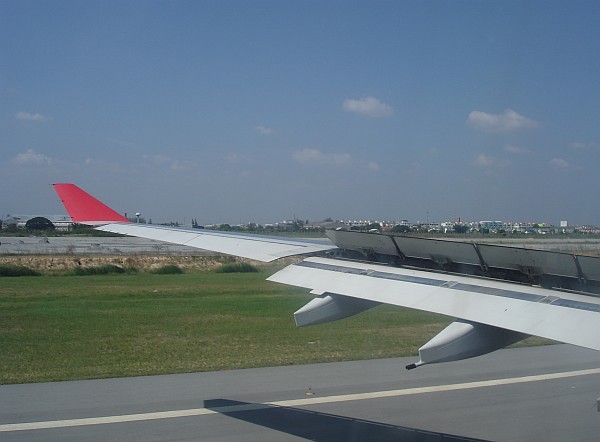 Impressive architecture and deserted gates at noon: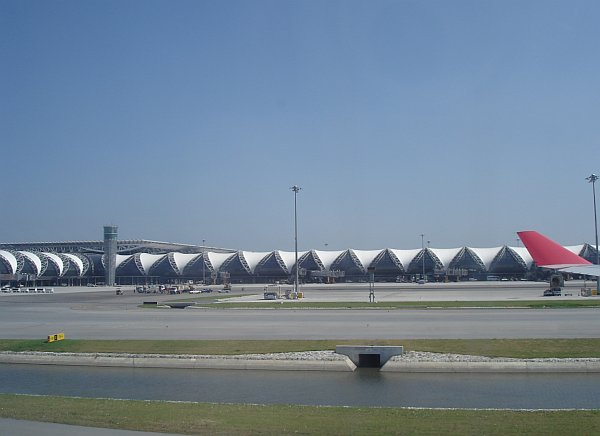 One of Santa Claus' private MD-11s...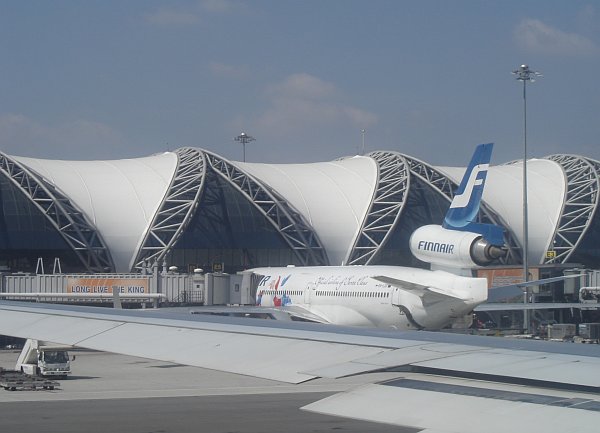 Bangkok Suvarnabhumi Airport
Arrival
The new airport's architecture is not just impressive from the distance but also from a viewpoint in the terminal. Though the halls appear a bit cool and the restroom facilities in the arrival area are definitely not large enough. Even men had to wait in row - and it wasn't really rush hour!
It was quite a distance to walk to the luggage carousel but that shortened the waiting for the suitcases.
Departure: Check-in mess
On the way back six days later we arrived some 2,5 hours prior to departure and were surprised by the masses of people in the check-in hall. Many people were sitting and lying on the floor, making it nearly impossible to move forward without hitting anyone. It was even worse around Emirates' check-in counters and it was quite a task to get in row for UL's check-in. Interestingly, each other queue seemed to move faster than ours and then we even had a "special case" directly ahead – a family with little kids and countless pieces of luggage which seemed to have a special problem with the agent. I was getting a bit impatient since I wanted to explore the observation deck as soon as possible and time flew by for waiting. Finally we received our boarding passes and after dipsy-doodling through the sitting and lying masses we could leave that hall.
Observation deck
It took me only a few seconds to find out that the indoor observation deck is not very useful for registration spotting. Sure, it was dark which made it more difficult to see anything in the distance, but double glass and panels even prevented good views of aircraft parked at the gates directly ahead. The heat up there was another negative aspect and we decided to leave again in order to check spotting opportunities from the gate area.
Air conditioning & artwork
After paying the departure tax at a dedicated counter we proceeded to the central departure hall with shops and restaurants. As expected, views were also very limited there and it wasn't any better in our deserted concourse E which was only accessible after a security check. The air conditioning system in the whole terminal area is a nightmare, thanks to the coolers installed on the ground. There are either very cool or very warm areas, but no section with a constantly comfortable temperature. At least the optical appearance of the hall is pleasing the eye, with Thai artwork located in the middle of the concourse: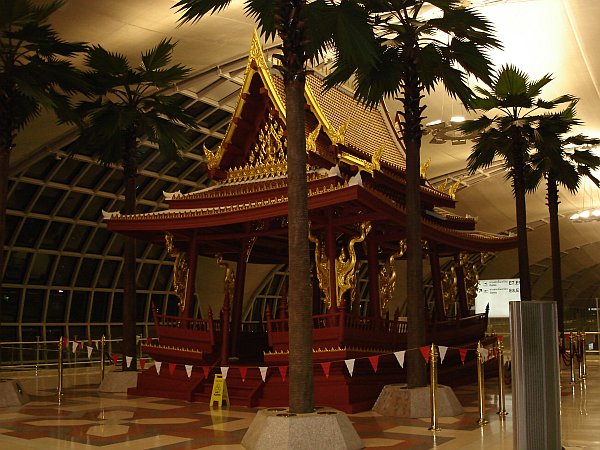 Saturday, 09 December 2006
Bangkok (BKK) - Colombo (CMB)
SriLankan Airlines UL423
20:55-22:50 (20:49-22:45)
Flying time: 03:07 (hrs)

Airbus A330-243
4R-ALC (msn 311), delivered 12/1999
Economy Seat 60A
Flying the same reg twice…
After 4R-ALB and 4R-ALC I had hoped for another different A332, but then 4R-ALC showed up again...and I had serious concerns that 4R-ALC would also operate onwards to Frankfurt. Prior to the trip I had heard of someone who had also traveled on the same routing (BKK-CMB-FRA) in November that the same aircraft had operated on both sectors. I also had in mind that - according to UL's timetable - two other A332 wouldn't be in line for the FRA service on that day. So chances were high I would encounter a
"flying the same reg thrice"
-scenario...
Boarding
4R-ALC had arrived on time so boarding was started early as usual. However, there were no boarding calls and at once almost all people in the gate rushed towards the entry. We took our seats in row 60 and it seemed this flight was packed just like the CMB-BKK sector. Legroom is limited by the IFE-box under the window seat: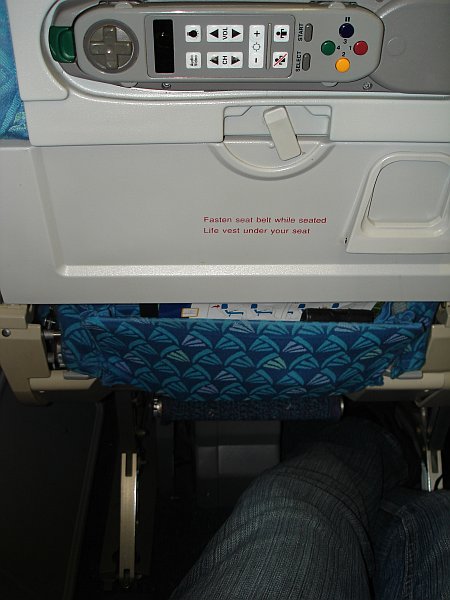 We left the gate some minutes early and took off 14 minutes later: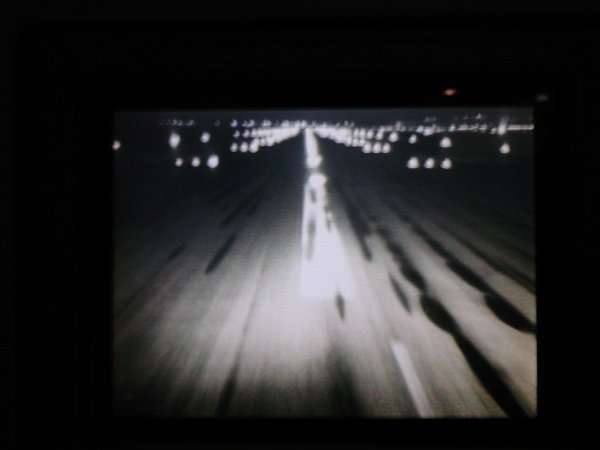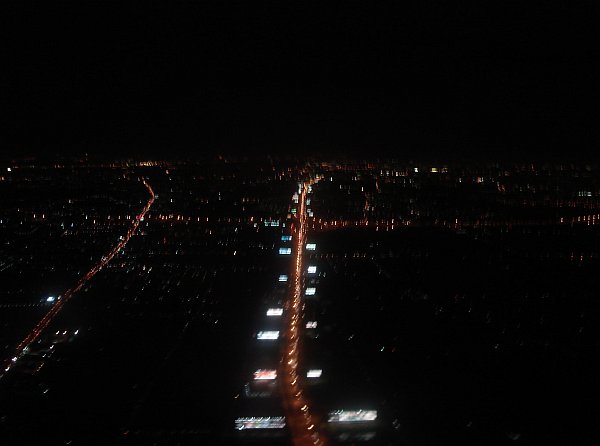 Dinner
A hot dinner was served shortly after takeoff:
Hors d'oevre
Smoked Red Snapper with Pasta Salad

Main dishes
Stirfried Chicken with Cashew Nuts, Kale, Sauteed Peppers and Steamed Rice

Baked Tilapia in Ginger & Black Mushroom Sauce with Yellow Bamee Noodles, Sauteed Bok Choy and Baby Carrots

Vegetable Green Curry with Stirfried Pack Choy and Steamed Rice

Dessert
Coconut Pudding with Taro in Raspberry Sauce
I tried the chicken and was really disappointed for the first time. The sauce was not my taste and the peppers were really spicy. The red snapper was dry, the pasta salad tasted strange and the coconut pudding tasted somehow artificial.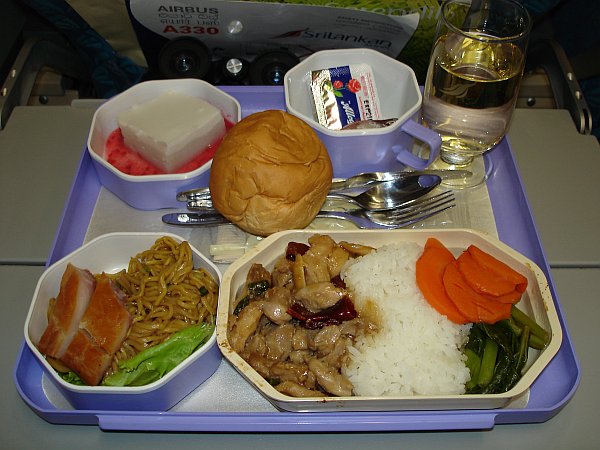 TV operational
The video screen worked again almost one week after it broke down and I could also enter the once critical game section. Though, I watched the map most of the time. 40,000 feet over the bay of Bengal: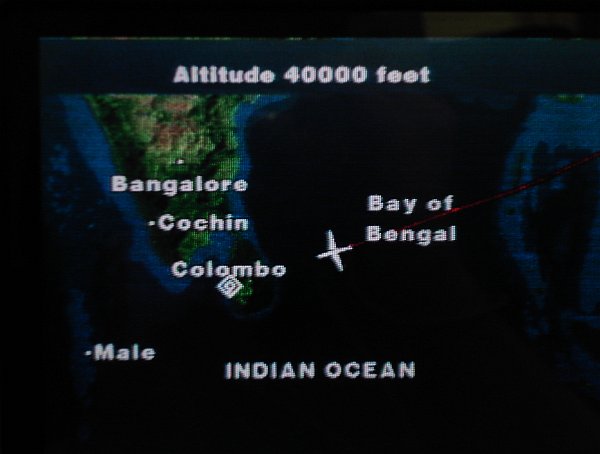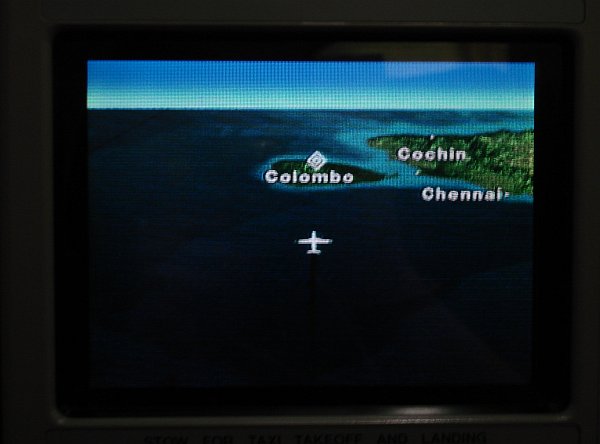 Noise cancelled…
The flight was mostly smooth and uneventful, with many passengers sleeping. Though, I noticed a young German sitting only two rows behind in the middle section who was loudly talking - seemingly persistently throughout the flight. He spoke English, and his addressee – a man probably from India or Sri Lanka – didn't seem to be very active during that conversation (or better: monologue). At least I could cancel that constant noise by switching on my MP3 player...
We touched down at Bandaranaike Airport on time at 22:40 and could disembark only a few minutes later.
Late-night surprise
First of all I tried to find out the gate number for the Frankfurt flight - and surprisingly it was different from the arrival gate. We went over to the other side of the concourse and an aircraft was already being prepared. I spotted a large "A" above the cockpit windows and concluded it would be A332 4R-ALA. However, as we walked to the transit area I could spot a large part of the wing and I suddenly noticed TWO tiny engines under the wing - the aircraft was an A343, or more precise, 4R-ADA, UL's first ever A340-300 and also a -311 version which was still missing in my flight log (only had -313X models before).
So apparently UL had decided on short notice to upgrade the flight - which was almost full, btw.
Sunday, 10 December 2006
Colombo (CMB) - Frankfurt (FRA)
SriLankan Airlines UL553
00:05-06:30 (00:06-06.25)
Flying time: 10:31 (hrs)

Airbus A340-311
4R-ADA (msn 032), delivered 09/1994
Economy Seat 60C
Boarding
The gate was packed and some young guys - equipped with seemingly totally oversized cabin luggage - lined up directly at the entry to the jetway. After being called, some C-class passengers, disabled passengers with wheelchairs and families with kids almost couldn't pass. And the guys who blocked the way simply wondered why they still weren't allowed to board...listening to boarding calls would be helpful sometimes.
Meanwhile I had discretely taken a picture of 4R-ADA's nose: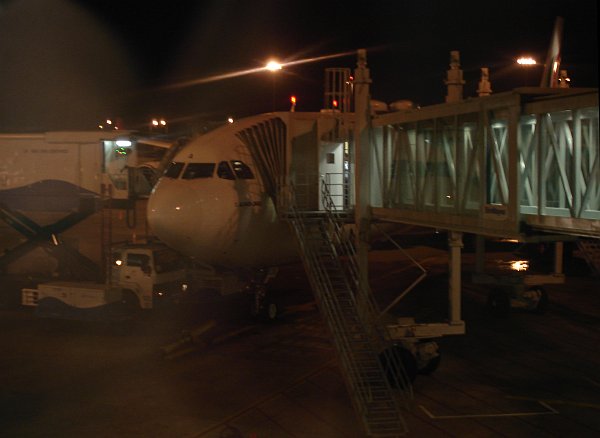 Cabin, seating & IFE
The A343's interior isn't different from the A332's, same seats, same pitch, same IFE. However, the IFE controls seemed to be in better condition – I guess 4R-ADA's cabin was upgraded quite some time after the A332s' deliveries. Front camera view: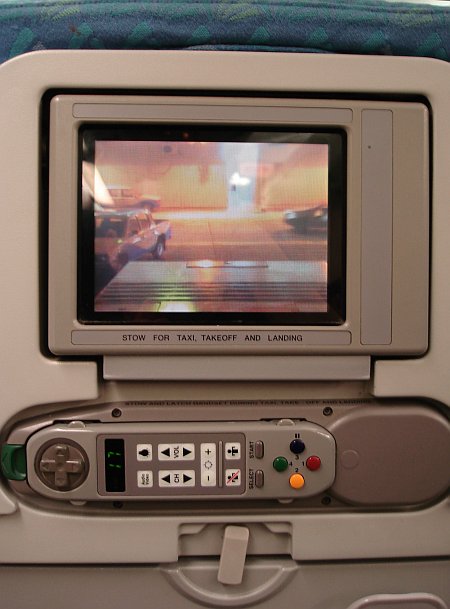 A343 takeoff…
We left the gate at 00:06 and ten minutes later the crew already started to accelerate the aircraft while still turning in. 4R-ADA rolled, and rolled, and rolled...and rolled...and rolled...finally raised its nose...and slowly lifted off. Just as the aircraft had become airborne, the last row of runway light disappeared on the screen...then it flew a long left turn, at a really slow rate of climb, barely gaining speed. Taking off in a heavily loaded A343 is always a pleasure...
Dinner
Half an hour later it was dinner time yet again:
Main dishes
Beef Bourguinonne with Stirfried Vegetables and Parsley Potatoes

Panfried Chicken with Shitake Mushroom Sauce and Pesto Marinated Tagliatelle

Vegetable Lasagne on Tomato Coulis

Dessert
Apple Almond Gateau
I ordered the chicken which was an excellent choice. Everything tasted good, no reason to complain. Drink: ice-cold Carlsberg.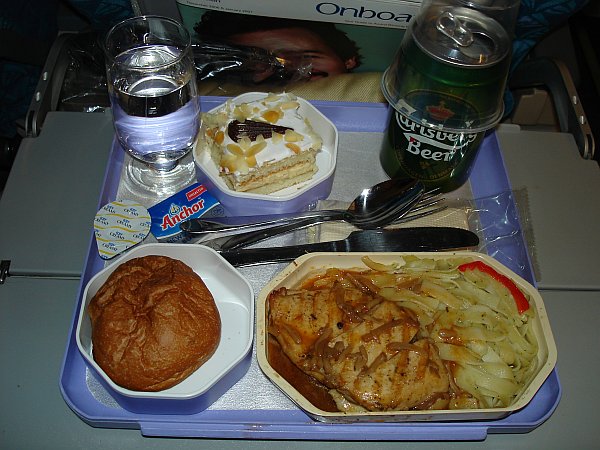 After the meal service FAs closed the window shades and I killed time with the IFE system. Several hours later we flew along the Iraqi border once more again, cruising altitude 38,000 feet: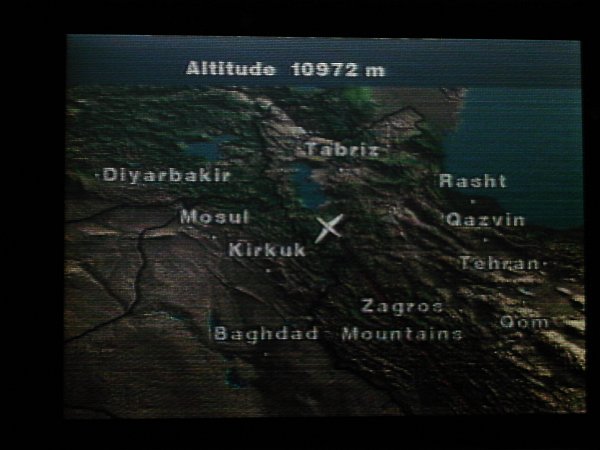 Breakfast
Two hours prior to arrival the lights were switched on and the cabin crew distributed hot towels and served a hot breakfast.
Appetizer/Desert
Fresh fruit and yogurt

Main dishes
Savoury Scrambled Eggs on Toast, Sauteed Mushrooms with Onion, Grilled Herbed Tomato and Hash Brown Potatoes

Spanish omelette with broiled chicken sausage, grilled mushrooms, tomato and Roesti potatoes

Vegetable Bhurji, Bakherkani, Palak Til Croquette
I chose the scrambled eggs and enjoyed yet another tasty and filling meal: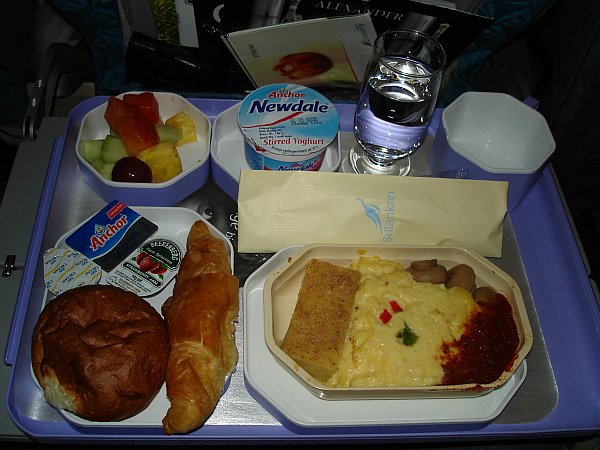 Cabin shot...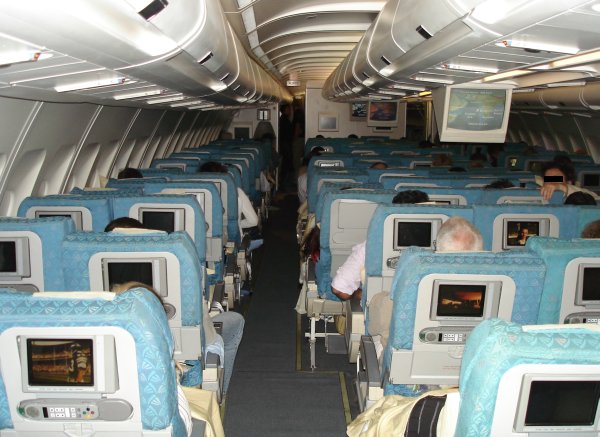 ...and an aisle shot: that's how the female flight attendants' dress looks like: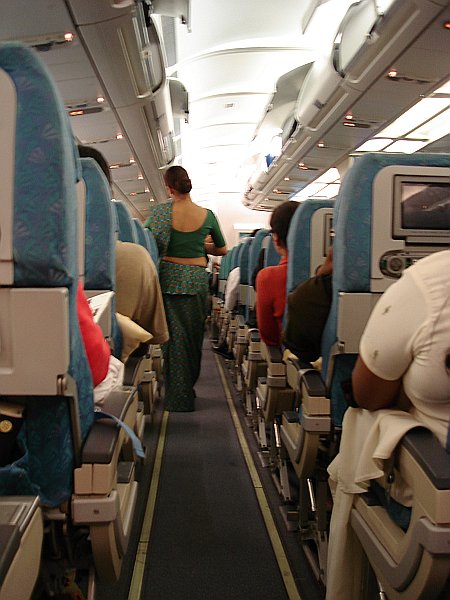 Remote...
The remaining flight was uneventful and we touched down at runway 25R at 06:17 in the morning. I soon realized we wouldn't taxi for the terminal - instead we taxied to a very remote position near the fuel depot where QF, SA and other aircraft are parked during the day. Since I hadn't expected a remote position at FRA in the early morning I had packed my jacket into the suitcase, so I had the pleasure to walk to the bus at zero degrees...at least I had the chance to take a picture: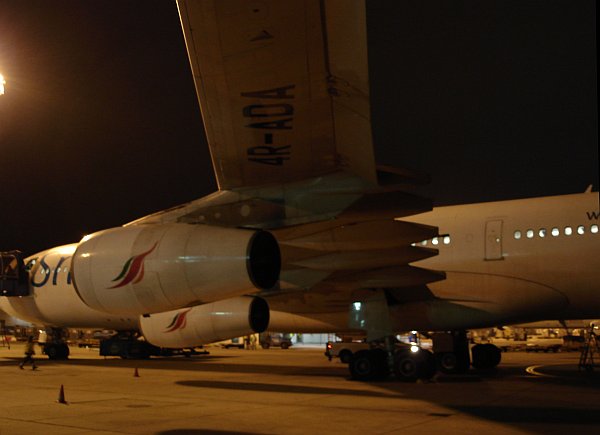 Arrival chaos
After the bus had dropped us off at Terminal 1 countless people "stormed" the escalator, so we decided to wait for a while. As we finally arrived at the top end of the escalator, a crowd of people blocked the way out and we almost fell down together with other people, who loudly complained about the chaos. There was simply not enough space for all these passengers from several longhaul flights who were stuck due to the slow process at the immigration counters. Finally we arrived at the luggage carousel, where we had to wait quite long again until our suitcases arrived. Only once did I wait longer – that was in 1997 when United misplaced my luggage at ORD...
Conclusion
Flying SriLankan was a satisfying experience, though I discovered certain deficiencies and room for improvement. FAs are professional, service-orientated and mostly friendly. Meal portions are appropriate, the food's quality is mostly good, but there can be exceptions. The choice of three main dishes is outstanding, FAs are quite generous with beverages. Though, UL's catering doesn't match EK's, both in terms of quality and presentation.
The non-AVOD IFE system is outdated by today's standards and needs a refurbishment (e.g. controls on A332s), though UL still offers more options than many other longhaul carriers. Front & and down cameras are always available which is very useful. Cabins are usually clean, seat comfort can be rated average, pitch (32 inch) is not different from other carriers.
Colombo Bandaranaike Airport is a convenient, functional airport for changing planes, but I wouldn't want to spend more than three or four hours in transit. Bangkok Suvarnabhumi needs to be improved, but I guess that is a matter of time. Several sections of Terminal 1 at Frankfurt Airport are totally outdated and should be refurbished and re-designed as soon as possible.
As usual, comments, opinions and questions welcome!
Best Regards,
PlaneHunter