Background
The holidays were coming around, and many options were on the table for me. I could
a)
Take no days off and come in to the office for a few hours in the days between xmas and new year's,
b)
Go back home to Florida, spending a total of 4 days just on travel, or
c)
Pick a point in the South East Asian map and head over there to do some exploring. I decided that Thailand, with all the hooplah heard about it, should be the place to spend a week getting to know a new culture and, of course, seeing the gazillion
wats
, or Buddha temples. I found incredible bargains for both flights and hotels. For SGD340 I could fly Swiss Business going out and Economy on return, earning my firts KrisFlyer miles! I decided I also wanted to head over to Chiang Mai to see Wat Doi Suthep and the hill tribes (neither of which I did), so I booked myself on Thai Royal Silk class for just over 7,000 Bhat, which was just 1,500 Bhat more than flying in economy, and thus also getting some more miles for my KrisFlyer account. I also got great deals at the Holiday Inn Silom Bangkok and at the Sheraton Chiang Mai.
Pre-Flight
The cab picked me up at 19:00 sharp in the lobby of my svcd appartment. There was a lot of traffic for Saturday evening, and it took us well over the usual 30mins to get to the airport. My flight would be leaving from Terminal 1. I wondered why not all of the Star Alliance are in the same terminal as SQ?
Check-In
There were four Swiss counters open. One for First class, one for Business class, and two for Economy. There were about 3 people in line for First, one for Economy, and no one for Business. However, I realized this was due to the fact that there was no check-in agent for Business! Finally one of the agents sat down in the Business counter and checked me in. Priority tag on the bag and boarding pass and lounge invitation in hand, I made my way past immigration and towards the SATS Premier lounge.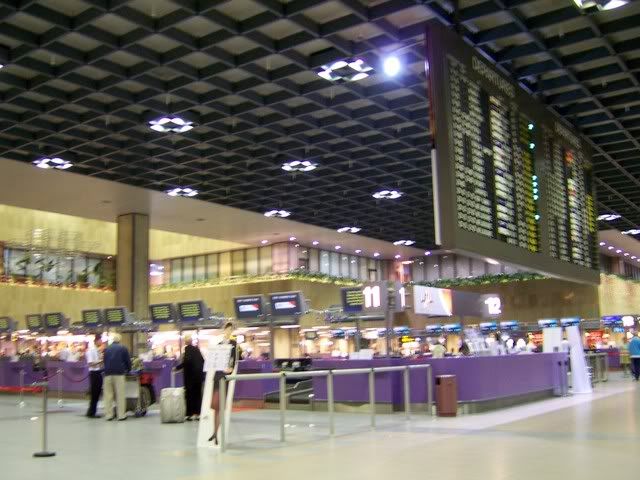 Terminal 1 Check-In Area



Terminal 1 Check-In Area
Several airlines use the SATS Premier lounge in Terminal 1. Most (if not all) of the Star Alliance carriers use it, plus JL and a few other non-alliance airlines. The lounge is really nice. It has a modern, trendy look, and it's quite spacious. There were about 8 internet terminals as well as different food selections. Warm food included noodles, curry chicken, and some kind of chili red beans. There were also some veggie sandwhiches, but these were not all that good. Drink selection was standard, which included soft drinks, beers, coffee, etc.
SATS Premier Lounge



SATS Premier Lounge
Gate
As I entered the gate my boarding pass was checked. The boarding lounge was not very nice. I hear people boasting on A.net of how lovely SIN is, but I take it they must be refering to Terminal 2. Terminal 1 is ok, but definitely nothing to write home about. It reminds me of most US airports. But there was nothing I could compare the boarding lounge to. Even in Third World country airports I find the boarding areas relatively spacious and more airy. This one (Gate 22) felt very cramped and quite tired. I didn't have to wait there long.
Boarding Pass
Flight: LX 183
Route: SIN-BKK
Aircraft: A340-300
Schd (Act) Time: 21:20 (21:45) - 22:45 (23:00)
Seat: 9A
The flight itself was good. The flight attendants did their job efficiently, without being too nice or with too many smiles. They reminded me of my Swiss grandma
As I sat down I wondered if the seat next to me would be empty. Soon enough, three beautiful women sat in 9B, C, and D. Wow! I thought I'd talk to the hottest one, seated right next to me in B. As I was going to utter the first word, they started talking among themselves in a manly, deep voice! Egads! Ladyboys! Damn... But I must say, though, better looking than some of the women! And the one seated next to me had the shortest skirt I have ever seen. At some point I did get a glimpse of her thong, but couldn't quite make out with kind of package s/he had in her undercarriage. I'm not too sure I wanted to know whether s/he was pre-op or post-op.
We were offered orange juice and water before push back, followed by newspapers (FT, WSJ, etc), and a steamy hot towel.
Pushback was slightly delayed but we were soon on our way to the rwy.
Boarding



Boarding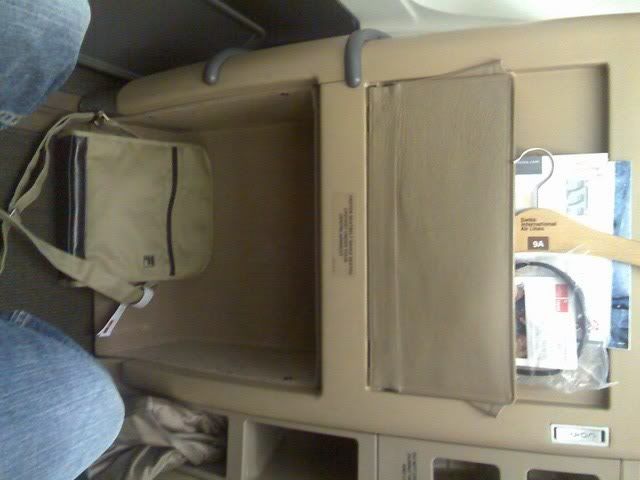 Legroom
The flight was uneventful. There was no menu for dinner - at least not for this sector. The meal was a small prawn salad as an appetizer, curry chicken on yellow rice, and a regular salad. Warm rolls were offered along with little plates with olive oil, salt, and pepper to dip in (yummy!). This was washed down with an Australian white and a coffee at the end. Not quite what you'd expect in Business on a European airline, but I guess this had to do with it being the initial (and short!) sector. As a matter of fact, I would say over 80% of the pax in C got off in BKK.
For the duration of the flight I browsed the IFE, which consisted of On-Demand movies, short programs, and music. I watched most of "You, Me, and Dupree," but got bored of it at the end.
Out of all the places in the world, we had to do a holding pattern over Bangkok, which meant I would be arriving much later than planned. This was a first for me, as even coming into LHR I had
never
before been in a holding pattern. I guess this was exciting being my first time? It wasn't for long, so that was good.
After deplaning, my first impression of the new Suvarnabhumi airport was a cold, dark place. The walls are all bare concrete, and the lighting is not very good either. However, the bldg would redeem itself on the return (more on that later).
Suvarnabhumi Airport Impression
Immigration was a bit on the slow side, but soon enough I went through to the baggage area, where I spotted some idiot wearing a Univ of Miami tshirt (GO NOLES!)
Baggage Claim
Having the Star Priority tag, my bag came out very quick. I got it off the carousel and went outside were the limo driver was waiting for me. It was nearly midnight and I couldn't wait to get to a bed!
Baggage Claim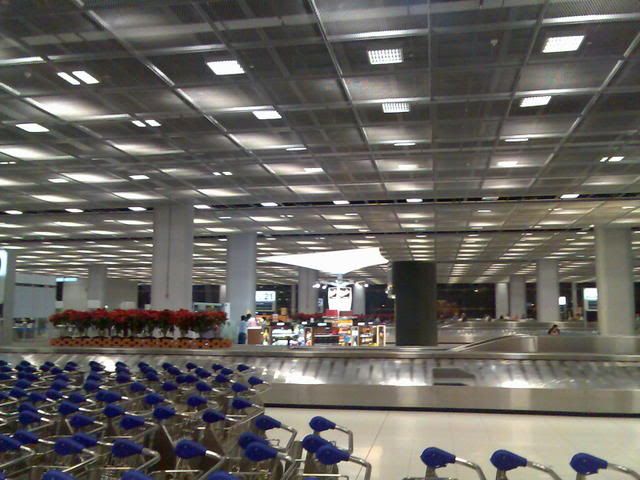 Baggage Claim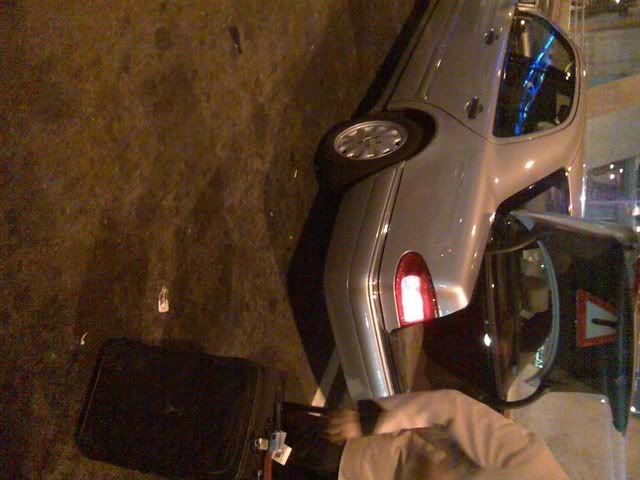 My Ride to the Hotel



Room at the Holiday Inn Silom
After a few days in Bangkok I was off to Chiang Mai. See Part II of this series for the trip report on TG's Royal Silk class
Overall, I was not impressed with Thailand. I had heard sooo many great things about the country. The highlights of the trip were the Reclining Buddha Temple and the Emerald Buddha in Bangkok, and Doi Suthep and the Monk Chat in Chiang Mai. But, IMHO, the whole experience was hindered by the hecklers telling me the temple was closed because of xmas, and how I should go with them on a "special" tour of the city (puh-leeeease!). It would've been ok if it was only once, or twice, but every time I got my Lonely Planet book out, I was approached by men,
tuk-tuks
, and taxis. Also, Bangkok itself is a horrible city. It is
the
ugliest city I've been to in the world, and, mind you, I've been to some ugly cities (Barranquilla, for example, in Colombia is quite ugly, except for El Prado). Chiang Mai was better, but it did remind me of the many small towns in rural Colombia I've been to: Junky, junky, junky. The pollution was just unbearable. At first I thought it would compare to Bogota, but Bogota now felt like paradise next to Bangkok's polluted sky. And the tourists! Luckily after the second day in Bangkok I decided to go to more off the beaten path places. And the other good thing was the weather! Very mild, much better than humid Singapore!
Anyway, now that I'm done with the rant, let's get back to the flights!
Check-In
After being dropped off by the taxi, I made my way to the G check-in area. Unfortunately, although there was a line, no one was at the LX or LH counters. I decided then to go to get my VAT refund and get some pics from the Sky Lounge restaurant.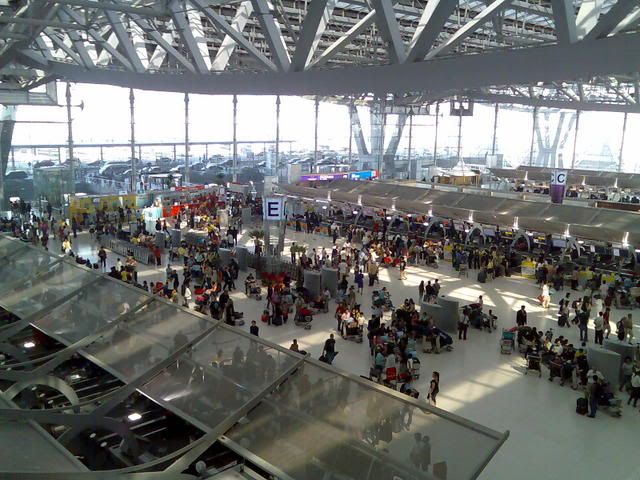 Check-In Area



Check-In Area
LH's check-in desks opened just after 1pm for the 4:05pm flight to Ho Chi Minh city. However, the counter's for LX's flight to Singapore wouldn't open until after 2pm.
At the desk, I asked the check-in agent if he could block the seat next to me. He told me this was not possible as the flight was overbooked (not true). He also told me that the seat I had pre-reserved had been given away to someone else (reminded me of Seinfeld's episode in which his reserved rental car is not available). I did manage to get a window seat, 32A, just behind the wing, so I was still a happy camper.
LX and LH Check-In Counters
After immigration, I strolled along the duty free area. Now, I must say: BKK's new airport really redeemed itself! This part of the airport is really, really nice. Quite airy, a lot of natural light, and none of that bare concrete.
Departures Area D



Duty Free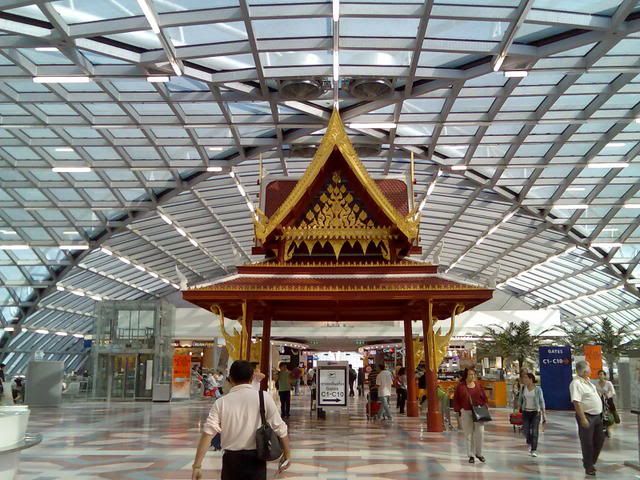 Departures Area C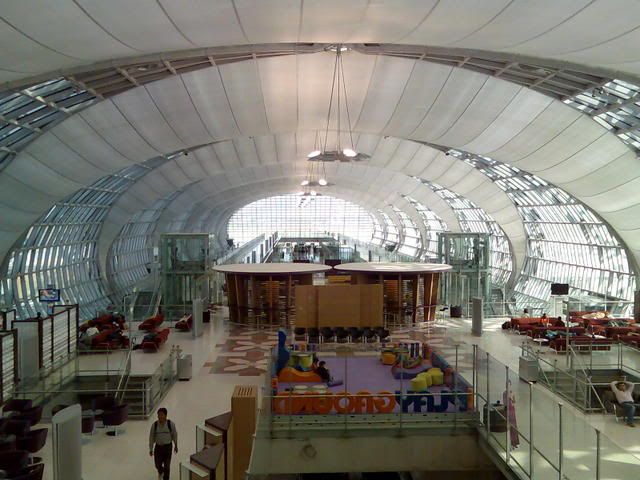 Lower Gate Area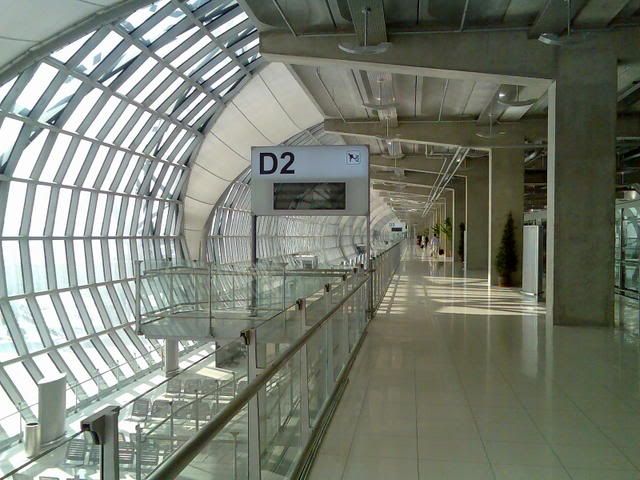 Gate D2



Gate D2
By this time I was getting hungry since I hadn't had lunch. And since I wouldn't be allowed into any lounges this time, I ventured for a last taste of local food
Better than lounge food!



The view from the restaurant
After that I went for my cash refund of the VAT taxes, for which I was charged a 100 Baht service fee! I was really getting pissed off at all these "fees" and "service charges" in Thailand. I was by now dying to get back to Singapore!
After I got my 300 bhat, I went to TMB to exchange the last couple thousand Bhat I had with me for Singdollars. Got my money and went to the gate.
Gate
Gate D4



The Empty Gate D4
Our flight arrived about 30mins late from Zurich. After waiting for about 40mins, boarding was finally called. I was eager to get home by now!
Flight: LX 182
Route: BKK-SIN
Aircraft: A340-300
Schd (Act) Time: 16:05 (16:40) - 19:10 (19:45)
Seat: 32A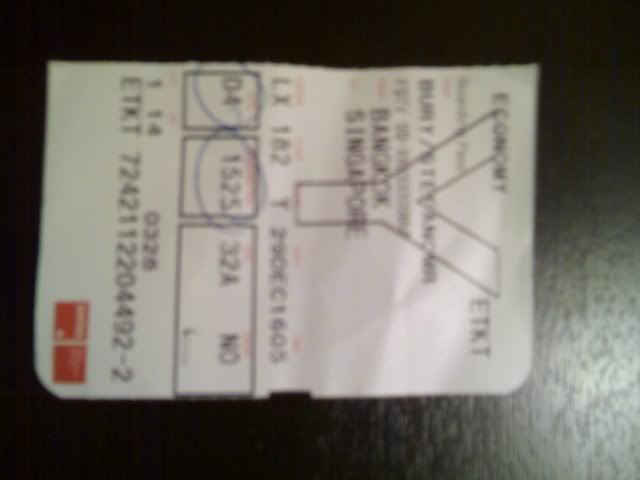 Boarding Pass



LX Economy



My seat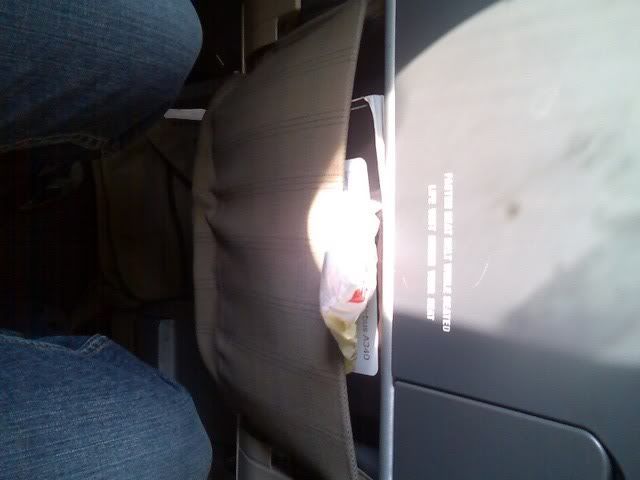 Legroom



PTV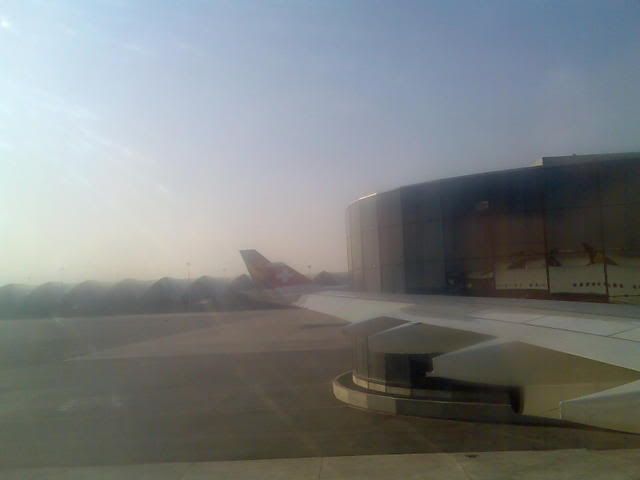 The View out the Window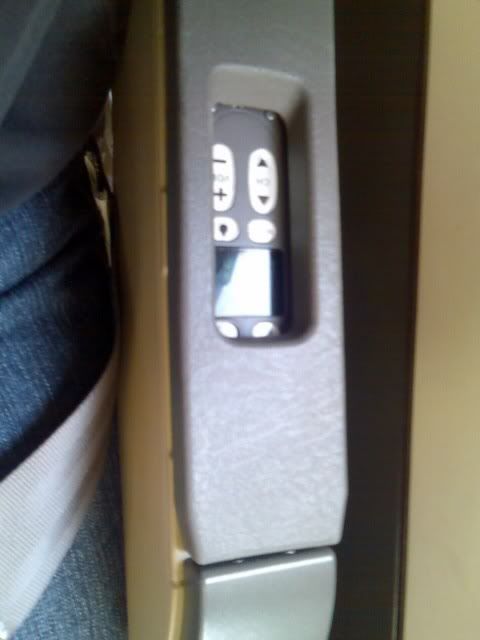 IFE Controls



LX Economy
The flight was again uneventful. We departed from rwy 01L and turned South over the South China Sea towards Singapore. The IFE was the same in Business and Economy, except the choices were different. I enjoyed an episode of The Office (American version) and started watching Pirates of the Caribbean 2, although the cabin was too bright and I didn't really enjoy the movie. So I whipped out my book, The Men Who Stare at Goats, and read most of the way.
The food on this sector for Economy was rice and fish, fruit salad, and a bun. A Bloody Mary was served, but the tomato juice was sweet and no tabasco was provided, so I never finished it.
Soon enough we landed in Singapore.
Parking Close to an AF 773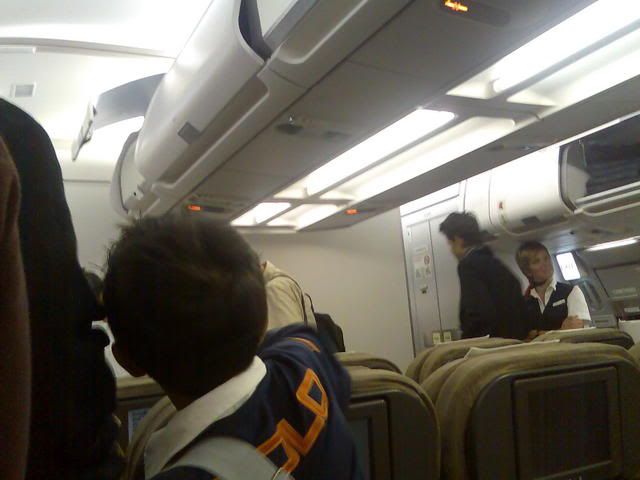 Deboarding
Immigration was lighting fast, as there was no one in the Singaporean/Resident lines. I went down to baggage claim to get my bag, got a taxi, and was on my way home, listening to the driver tell me that he likes Bangkok so much because of how cheap the women are there. Maybe he doesn't mind the ladyboys?
Baggage Claim
If you've reached this far, please leave a comment on how you loved or loathed my report (and my rant!).
And please check out Part II!