Part 3 of 4 – Melbourne to Singapore

Date:
Saturday 25 November 2006
Airline/Flight:
OS 008
Departure:
18:40 (18:37)
Arrive:
23:20 (23:10)
Aircraft:
Boeing 777-200
Seat:
2A / Business Class
The first leg of this journey, BKK-SIN-MEL, is here.
I had told the immigration officer that my main "to do" in Australia would be eating, and eat I did. The week in Melbourne was a busy one, spending a lot of time on email wrapping up work items before the Thanksgiving holiday. But I spent a lot of time with Stephanie, met some of her friends, and with the help of the handy 2007 The Age Good Food Guide ate at some fantastic restaurants:


Fenix

Oyster Little Bourke

Tutto Bene
Pretty Melbourne by day and night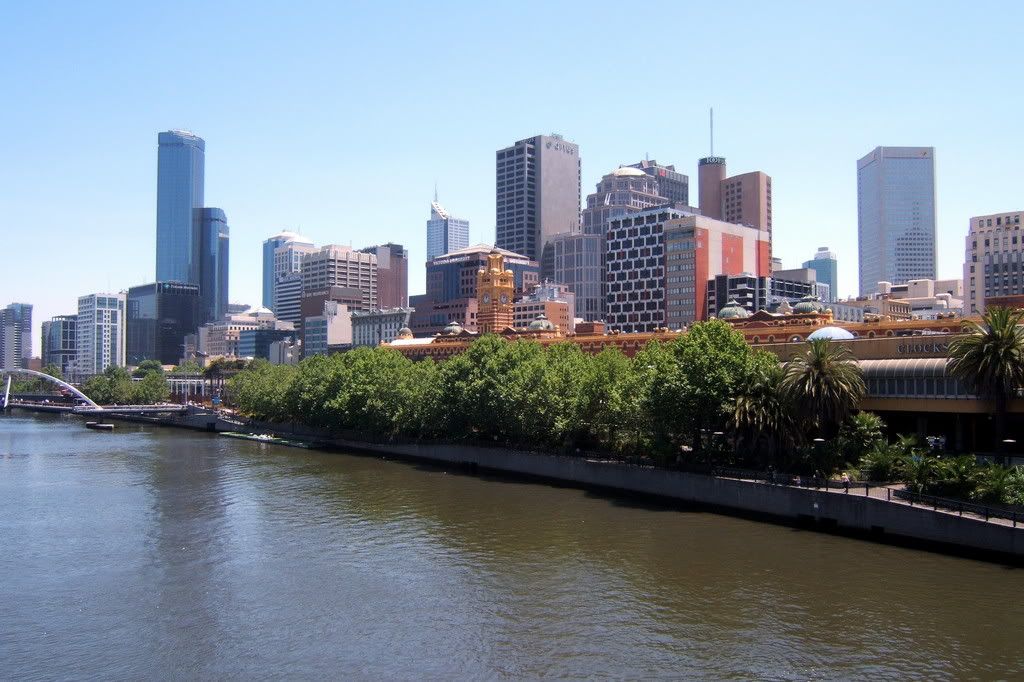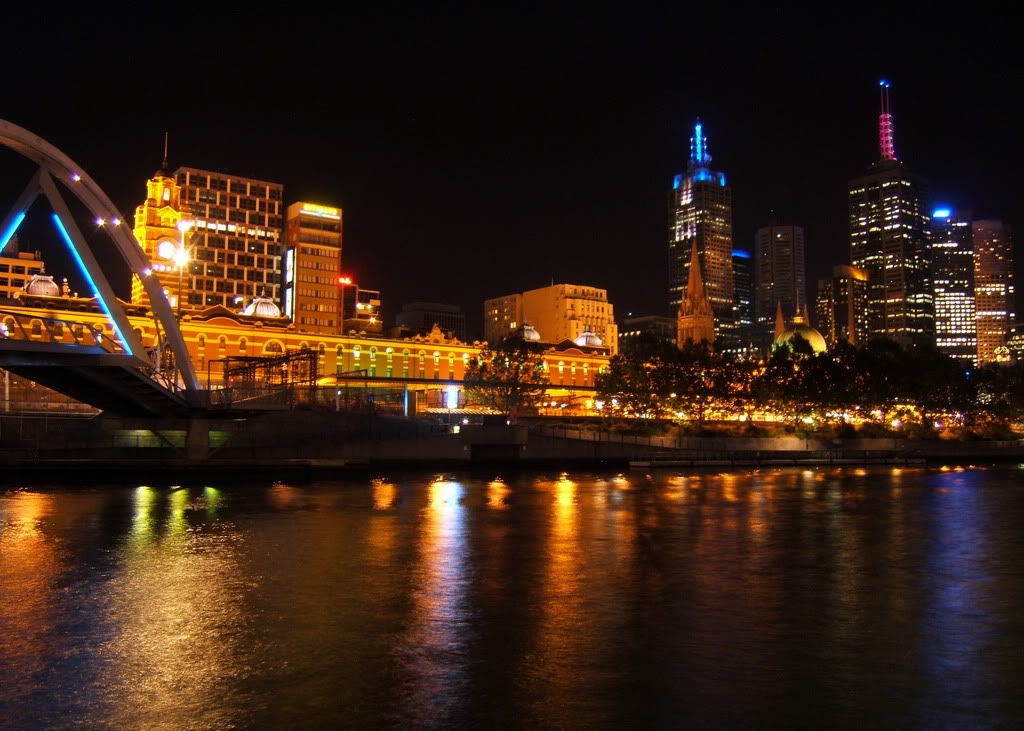 Saturday afternoon came quickly and after a quick lunch down at St. Kilda's Beach I caught a taxi up to Tullamarine International Airport. The airport strikes me as very small for a city of this size, especially one that (I perceive) has so many flights to international destinations.
Curbside at Melbourne International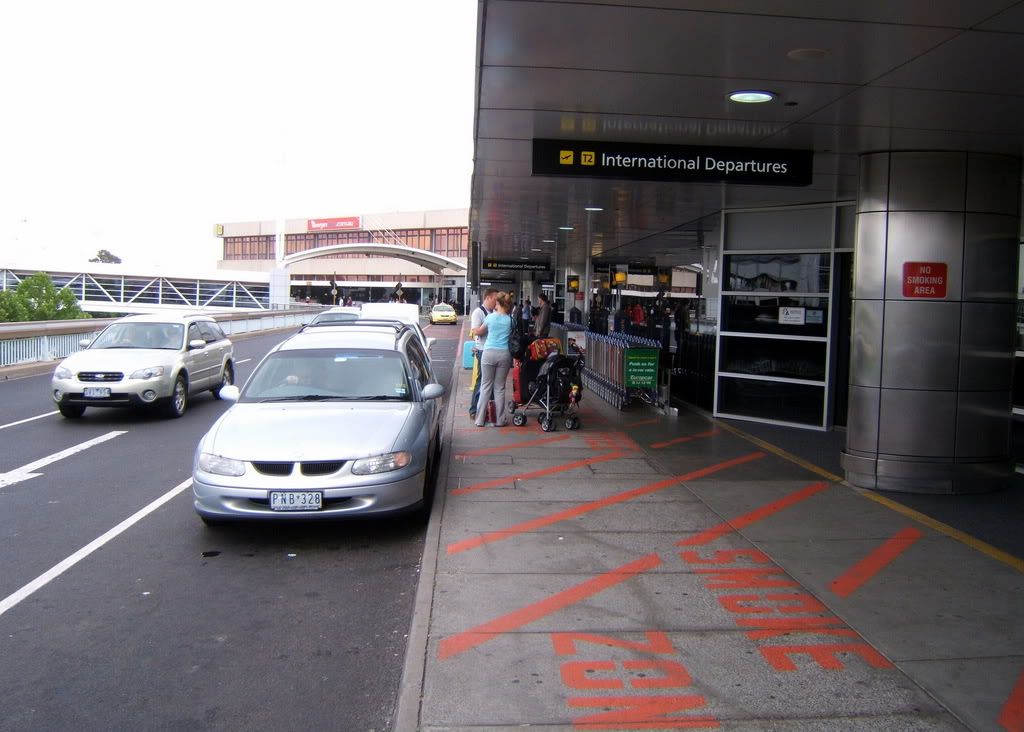 Arriving three hours before my flight, I was initially confused as the sign board directed me to check in counters 75-78 but when I got there, they were all Air New Zealand. There were no lines so I went to the counter to see if NZ handled check-in for Austrian. The agent, a contracted Qantas employee, said no but picked up the phone to call the Austrian counter to find out where they were… and that turned out to be immediately behind him on the other side of the check-in row.
The Austrian check-in area
There was already a good-sized line for the economy cabin but only a couple ahead of me in the business class line, so the wait was only two or three minutes. The man who checked me in was professional but not very friendly. He did change my seat from a middle seat to a window, thankfully.
I did a little bit of shopping, remembering that I should bring some gifts home for my fellow teachers at the small school where I volunteer as an English teacher. Chocolate-covered macadamia nuts seemed a safe enough gift. After buying some organic hand lotion for my mother-in-law, my shopping for gifts was complete.
A few minutes of wandering around the terminal and over to the domestic wings didn't yield a whole lot of good photo opportunities, so I proceeded through immigration and customs.
The very active Virgin Blue gates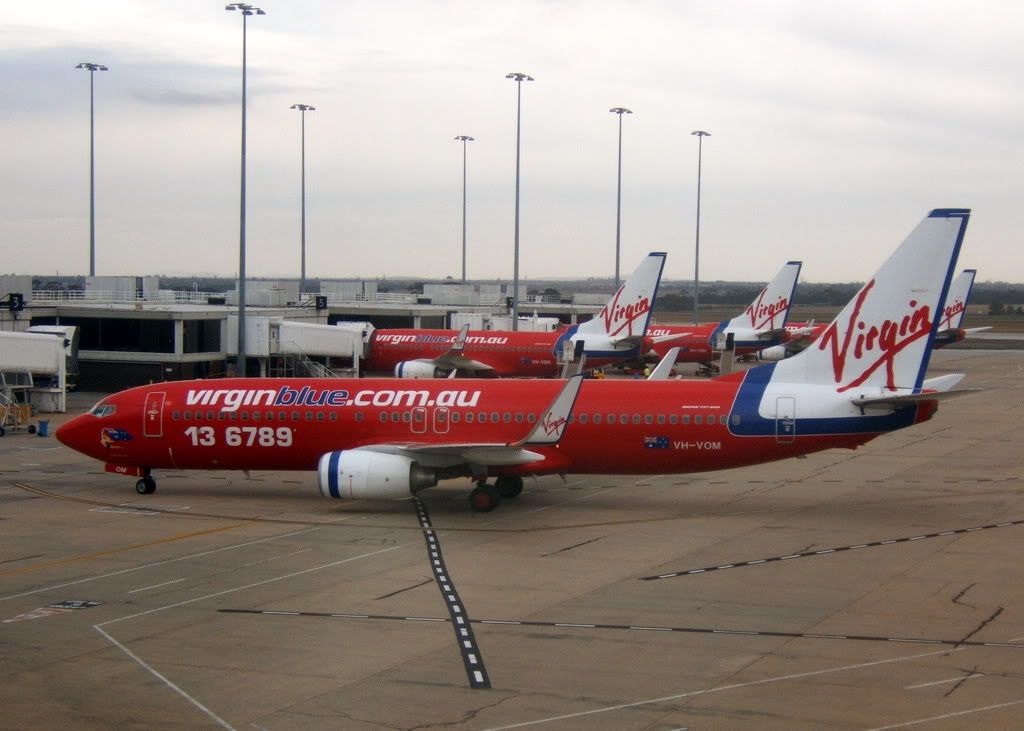 The terminal itself is like a large version of San Diego but with more shops. I wandered around a bit and found a few gates that offered some good photo opportunities. Fortunately, my plane arrived while I was standing next door at gate 2, giving me a very nice view of the starboard side of the plane without, sadly, a camera with a sufficiently wide-angle lens. Thank goodness it wasn't a 777-300!
My beautiful Austrian B777 arrives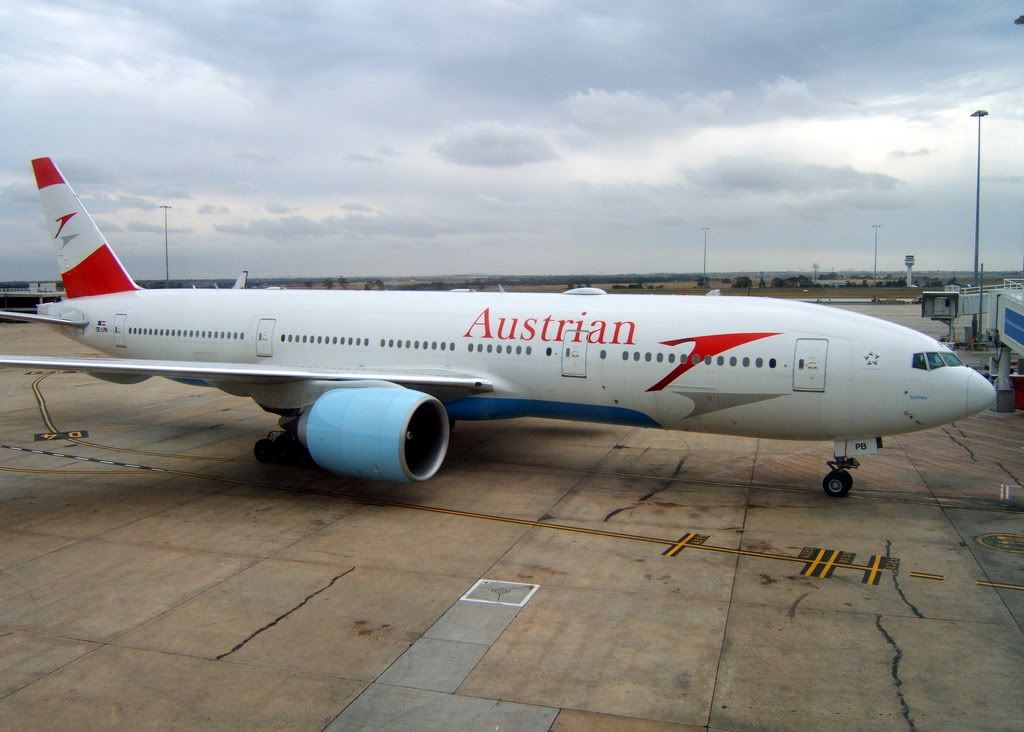 I found my way down to the Air New Zealand lounge, which is on the ground level in the rotunda area. It is a nice but dimly-lit lounge with a good selection of food and wines. The refrigerator full of wine, red, white and sparkling, brought back memories of "Absolutely Fabulous" on the BBC. I didn't snack on anything other than a nibble of some cheeses, since Austrian is known for its food service and I didn't want to fill up beforehand.
The lounge
Cheese and crackers at the NZ lounge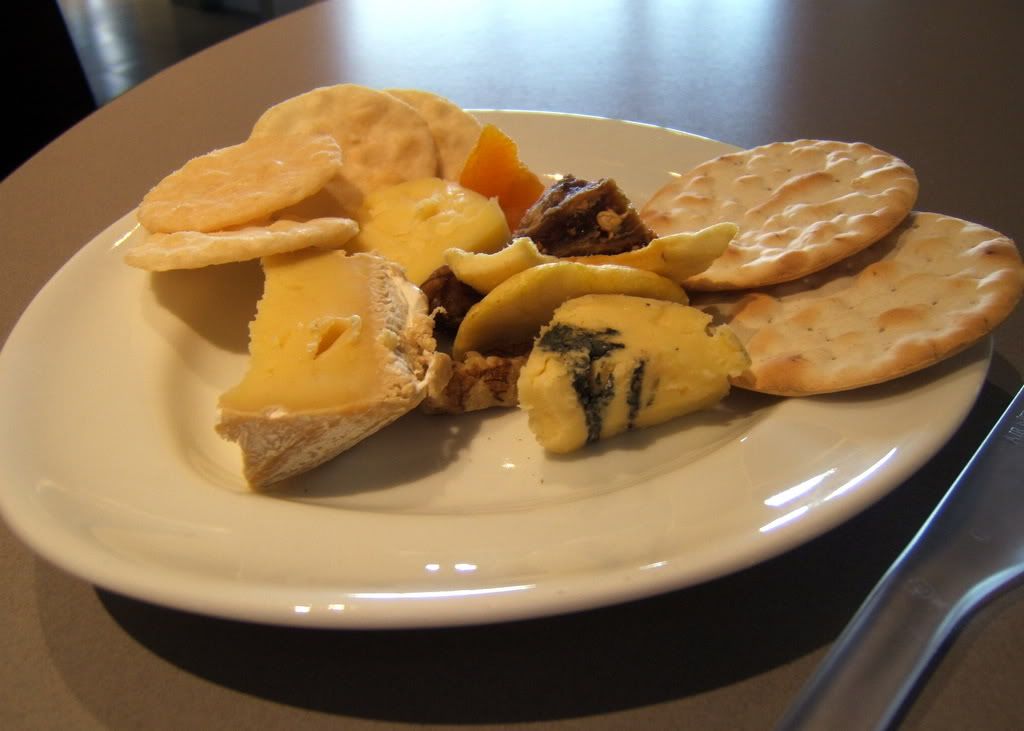 The washrooms have shower facilities but – here's the kicker – there are paper signs taped on the doors saying that the locks on the doors "don't work now." I'm wondering whether they worked before and no longer work, or they have
yet
to work. There were no towels larger than a washcloth and while I would have liked to shower off after being out and about earlier in the day, it seemed a bit silly to try drying off with a dozen or more of these little washcloths. Perhaps those facilities will be improved a bit soon.
There was a really nice long working desk that sat twenty or more people down the middle of lounge, complete with data jacks and power plugs. All Australian and the front desk didn't have any adapters. Plugs are becoming a challenge: some places you go seem to have these "universal plugs" that can take just about any time of plug. Others have nothing. This was one of those "nothing" situations. Going back upstairs to buy an adapter at a store seemed a bit of a waste, so I just read a magazine instead.
I'm tickled by the comment, "Relax"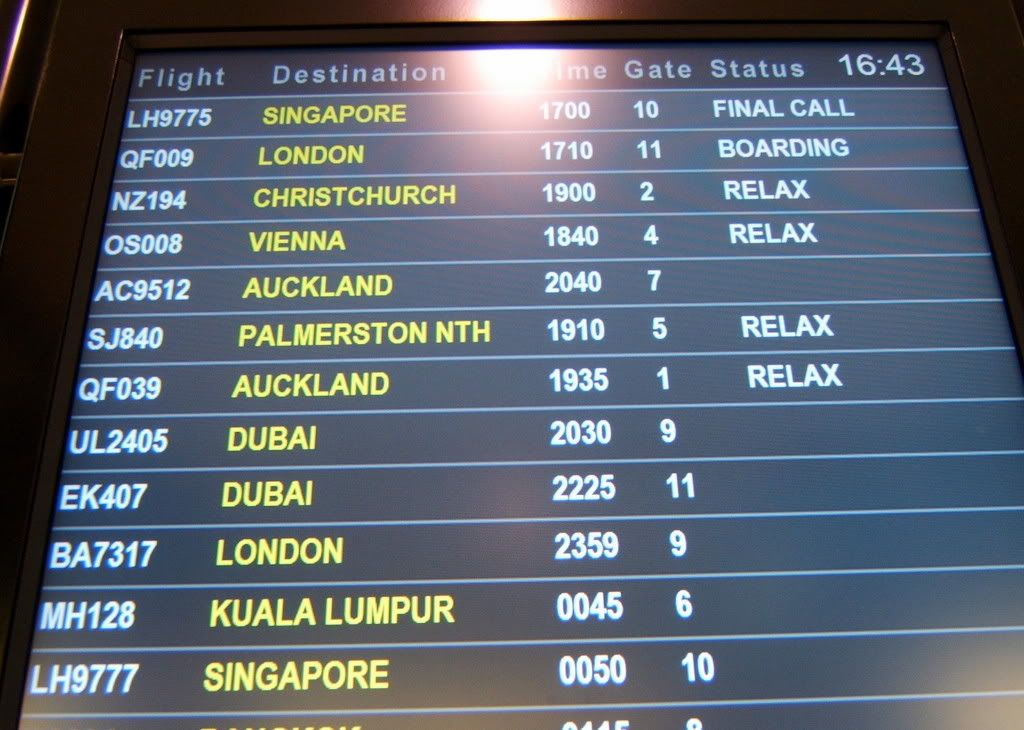 Qantas B747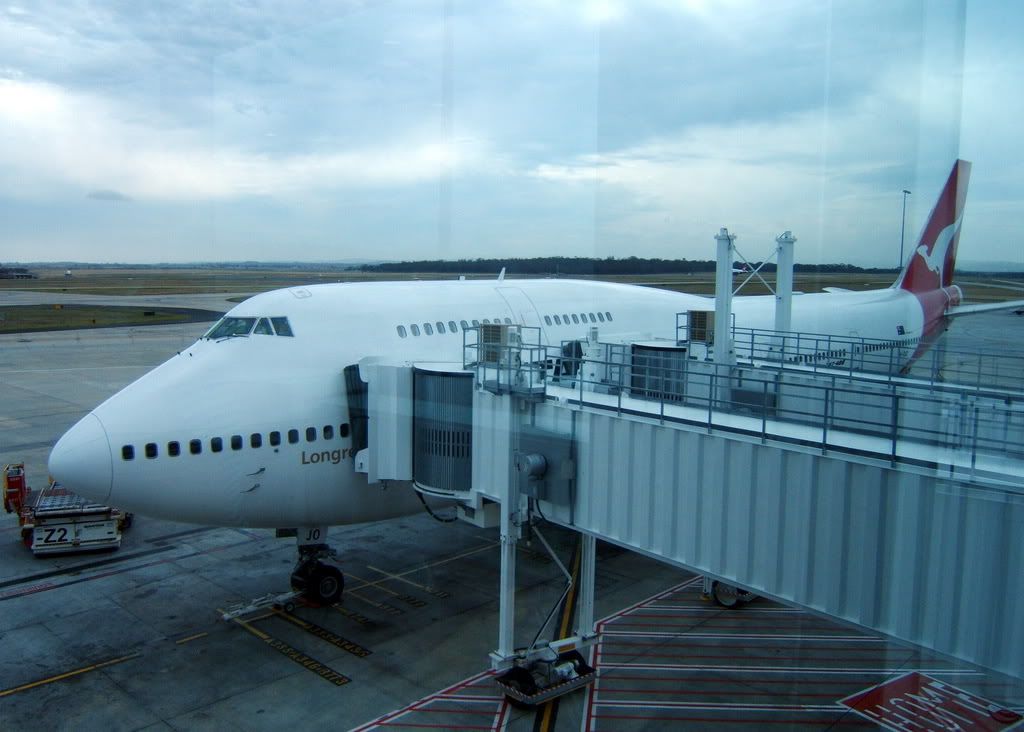 Emirates B777-300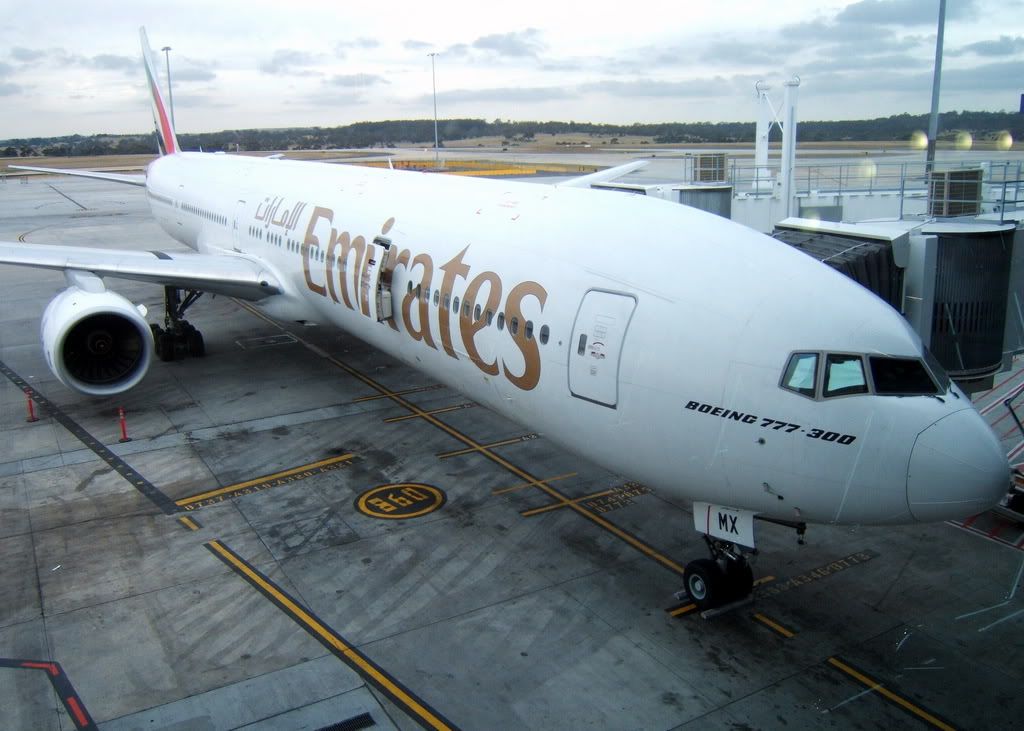 About a half-hour before boarding I decided to do some walking around; I like having lounge access but also get tired of sitting around on my behind when I have seven hours of sitting ahead of me. After taking a few more pictures of planes, including stopping at the Starbucks since it had the best views of my plane, I arrived at the gate just as pre-boarding started for families with small children.
Sunset view from Starbucks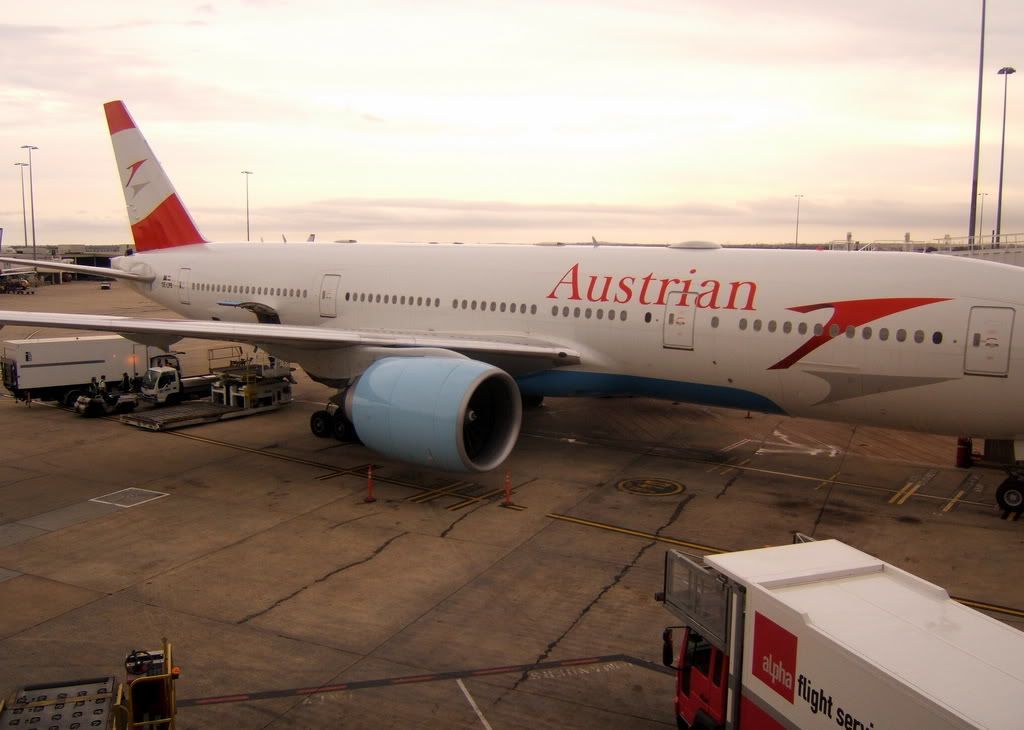 An Austrian man who I had seen in the lounge was already waiting at the gate, trying to get an explanation why he couldn't board yet. "But the boarding card says 5:40," he said to the agent. "Yes, sir," she replied, "That's when we want you at the gate. We'll be boarding business class in just a few minutes." "But that's not how it is done at the airports in Europe," he replied.
"Yes, and what about it?" I thought to myself.
The gate area before boarding
Thankfully for him, he only had to wait another three minutes before he was able to charge down to the jetway to his seat.
Boarding was through 1L with the second jetway being left unutilized. Two friendly, very red-attired flight attendants were greeting at the door and I was directed to the first aisle, in German.
As I settled in, another flight attendant took my jacket and got me a newspaper, a very huge Saturday edition of The Age. She looked at it quizzically and asked, "Is this only
one
newspaper?" Indeed it was, although two sections had been doubled up.
Business class seating aboard Austrian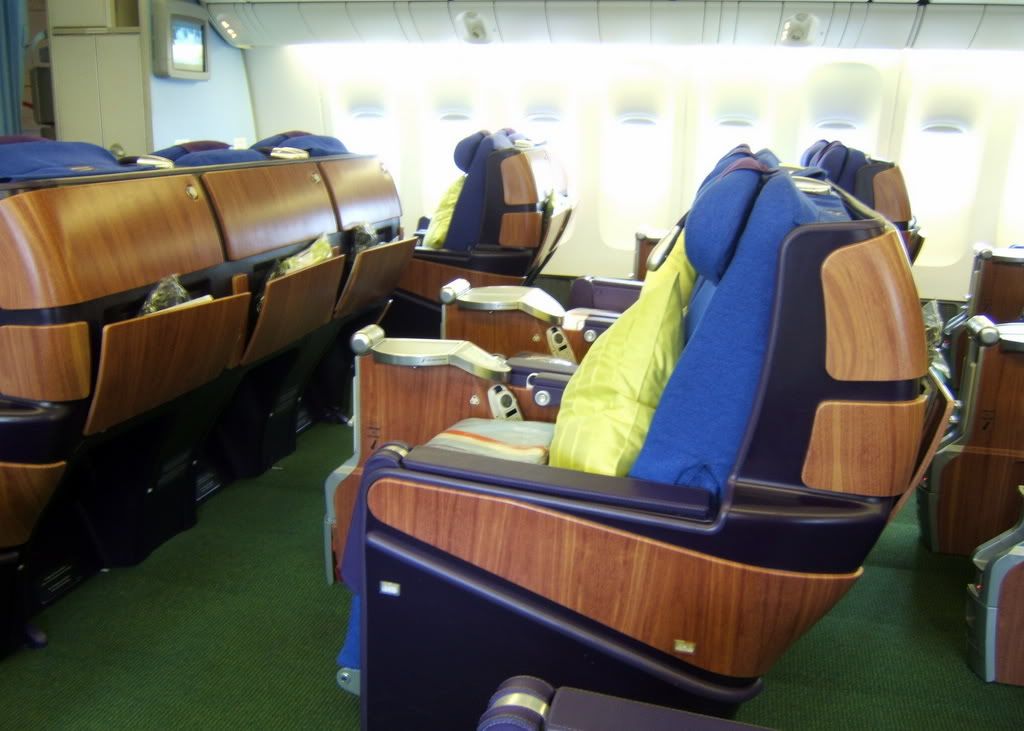 Doors closed almost ten minutes before departure time and flight attendants offered orange juice and water to us. We pushed back three minutes early and a oddly slapstick safety video was played in which a computer animated Chaplin-esque man runs into a stop sign while watching an airplane take off and then, later in the video, snags his tie when putting his tray table into the upright position.
Into position on Runway 16
We departed runway 16 and a few minutes later turned towards a northwesterly heading. Menus, a wine list and a coffee list (Viennese coffee!) had been distributed before the flight but as the purser came around to take orders, he told me that I had pre-ordered a low-fat meal which made absolutely no sense to me.
It made no sense to me, first of all because seeing my last name on the manifest, he initiated the conversation in German and my high school German is very rusty and probably never included the vocabulary to describe pre-ordering low-fat meals. Low-fat meals didn't even exist when I was in high school.
It also made no sense to me because I hadn't pre-ordered a lot-fat meal. What I think had happened is that since I had booked this flight through United, my United profile has a request for a low-fat meal in it, mostly because when flying on UA the special meals tend to be a little tastier than their regular fare. Anyhow, the UA agent hadn't confirmed the request when I booked the flight and the request had gone unheeded by Singapore, so it didn't even occur to me that Austrian might have received it.
I gave the purser a sort of puzzled look and, after asking him if we could speak English and going through the process of him repeating himself, we decided that I'd take my entrée but would enjoy some of the non-low-fat appetizers.
Interesting cloud formations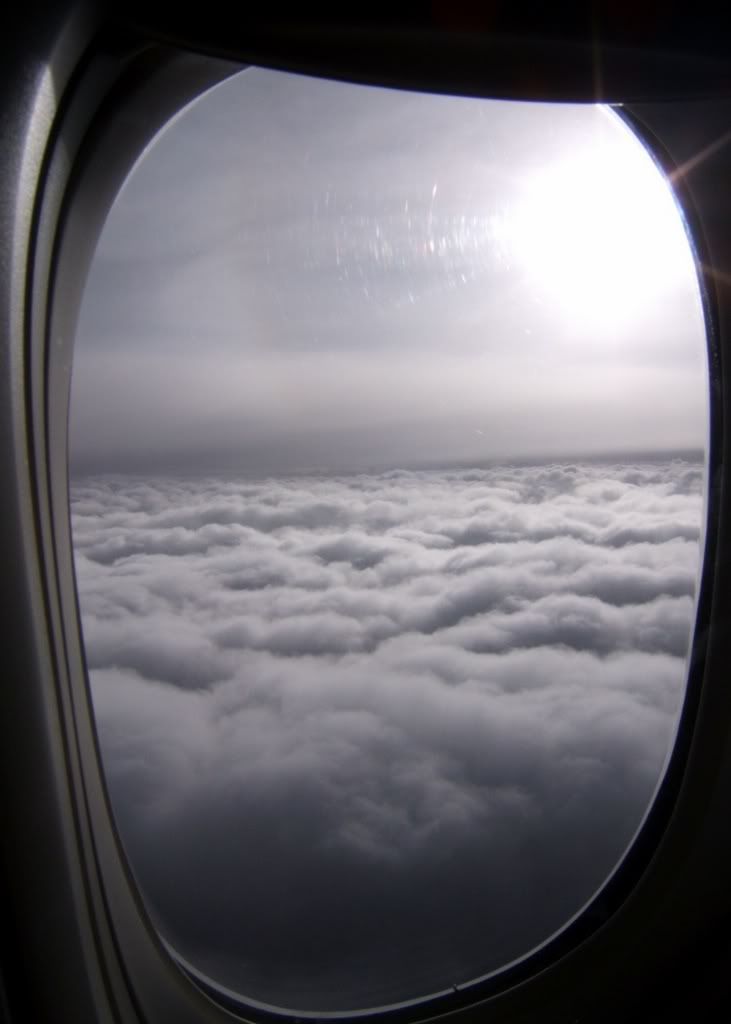 Neck-turning view back towards the engine
About an hour after takeoff, we were served drinks and a small plate with three amuse bouches on it. They were tasty but after having seen six appetizers listed on the menu, I thought, "That's it?" I know, I should have been perfectly satisfied with that but was a bit confused.
Amuse-bouche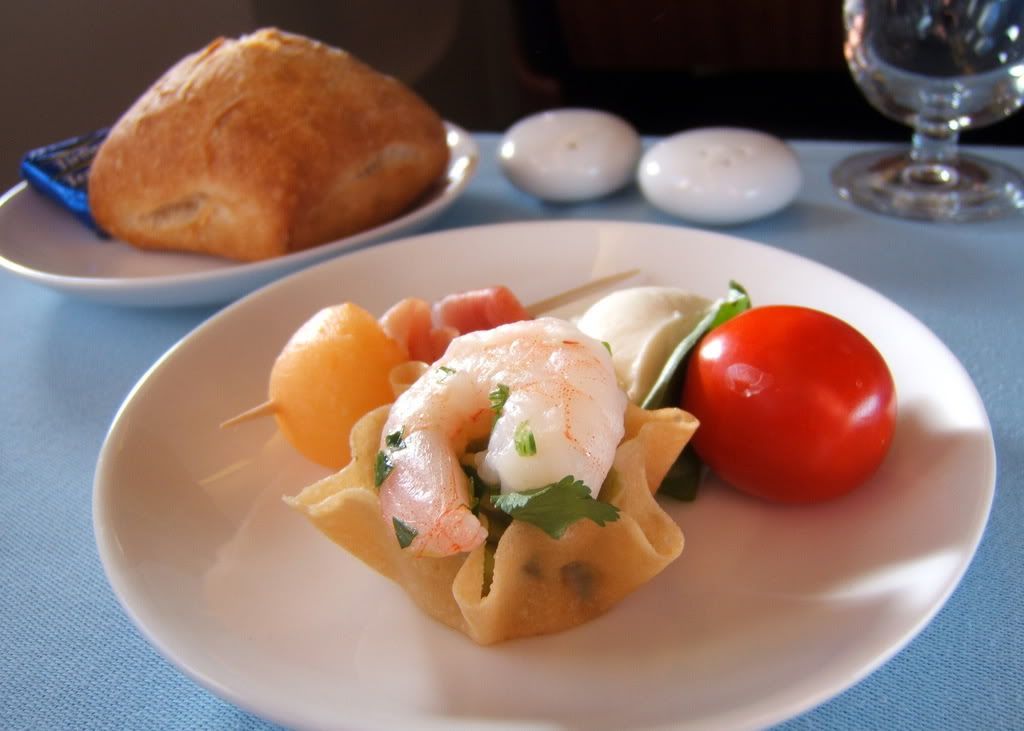 Just a few minutes later, though, my confusion was cleared as the flight attendants came down with a nicely-arranged cart with all six appetizers on them, explaining the items to each passenger and serving whatever anyone wanted to try. These included:


Prawns "Louis Armstrong" (served with a creamed mushroom ragout)

Smoked salmon with sour cream

Buffalo mozzarella with tomato and basil

Crispy pork salad

Seared beef on Caesar salad

Vegetarian fried spring rolls with sweet and sour chili sauce
I tried a bit of each and found them all to be tasty. The spring roll was not too oily but was nonetheless too heavy for an appetizer. With them I had a Duval-Leroy Fleur de Champagne Brut that was really superb.
Cart service for appetizers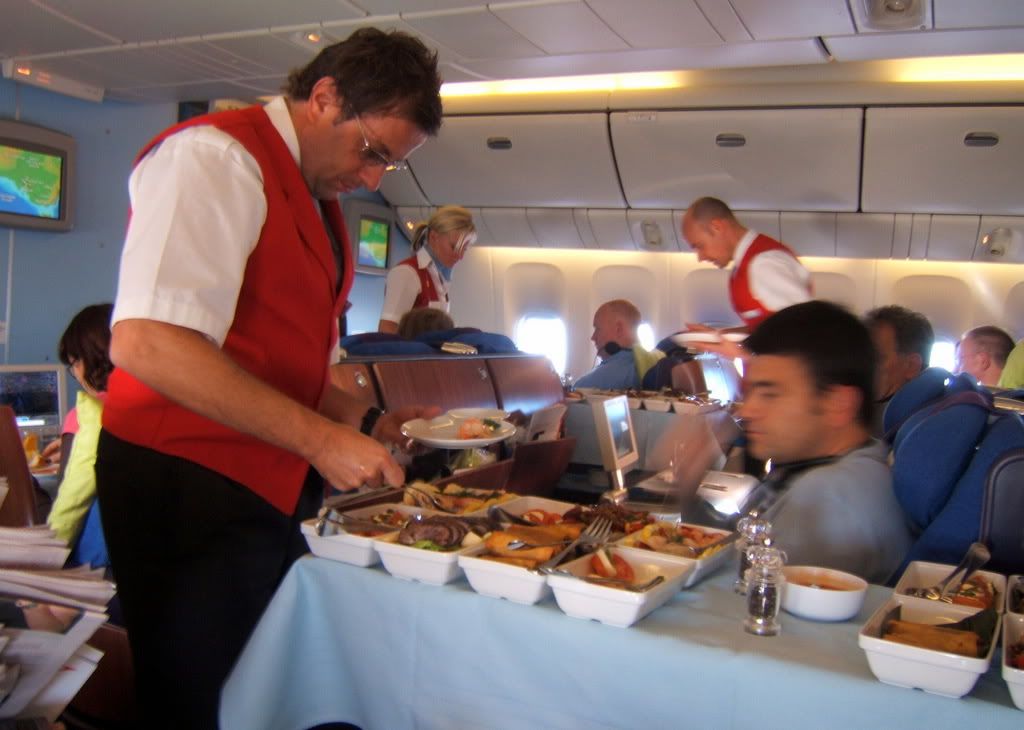 Unlike SQ, the OS flight attendants kept offering refills throughout the meal, although they seemed occupied with serving the food that sometimes it took a few minutes for them to notice needed beverage refills.
Thoughtful details: "Service is Our Success" etched on the champagne flute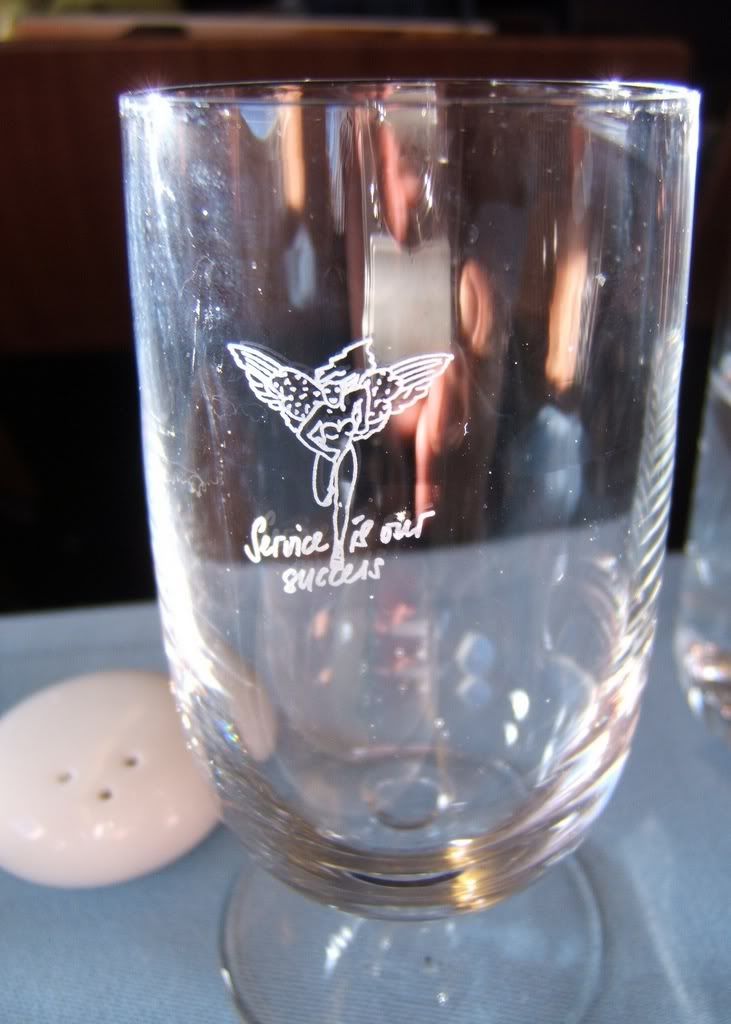 A tiny wooden clothespin to attach your linen napkin to your shirt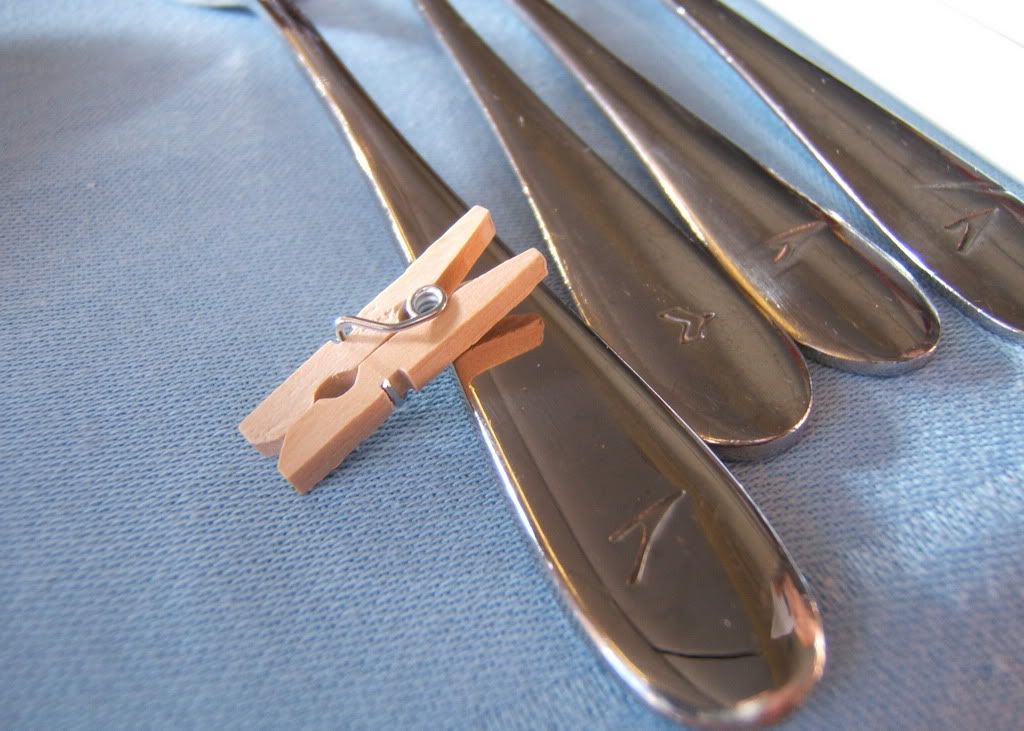 Interestingly, the Austrian long-haul flights feature a chef onboard. A previous trip report said that the chef had come out to take the orders. This was not the case on my flight, although the chef did come out to refill items on the cart. Actually, I'm curious what he really did that is different from the "galley" position that flight attendants are usually assigned to.
Anyhow, the regular meal service looked quite nice. Main dishes included:


Grilled Australian rockling (a fish) with olive-thyme puree and Mediterranean vegetables

Spring chicken on mushroom risotto with grilled asparagus

Penne con arugula with sun-dried tomatoes and fresh Parmesan cheese
Cream of celery soup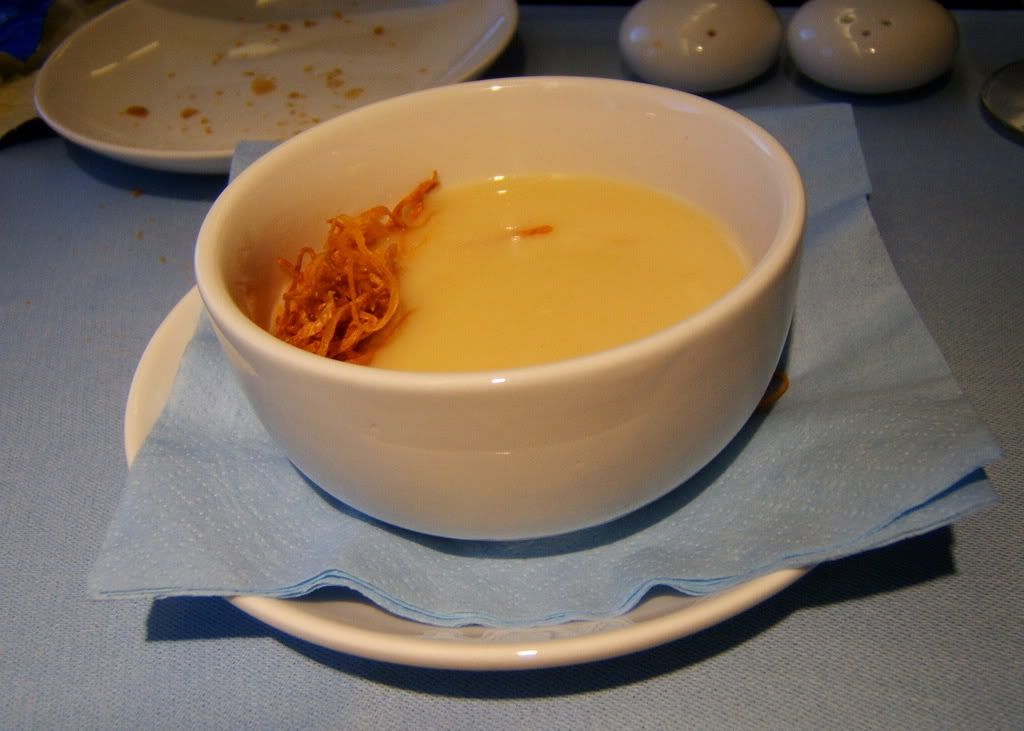 My low-fat meal was a wreck: herbed chicken breast with a scant few milliliters of sauce, oven-roasted vegetables, and steamed potatoes. In a word: dry. A simple sauce of chopped tomatoes and onions would have gone a long way to boost flavor and add some moisture while remaining low-fat.
Low-fat entrée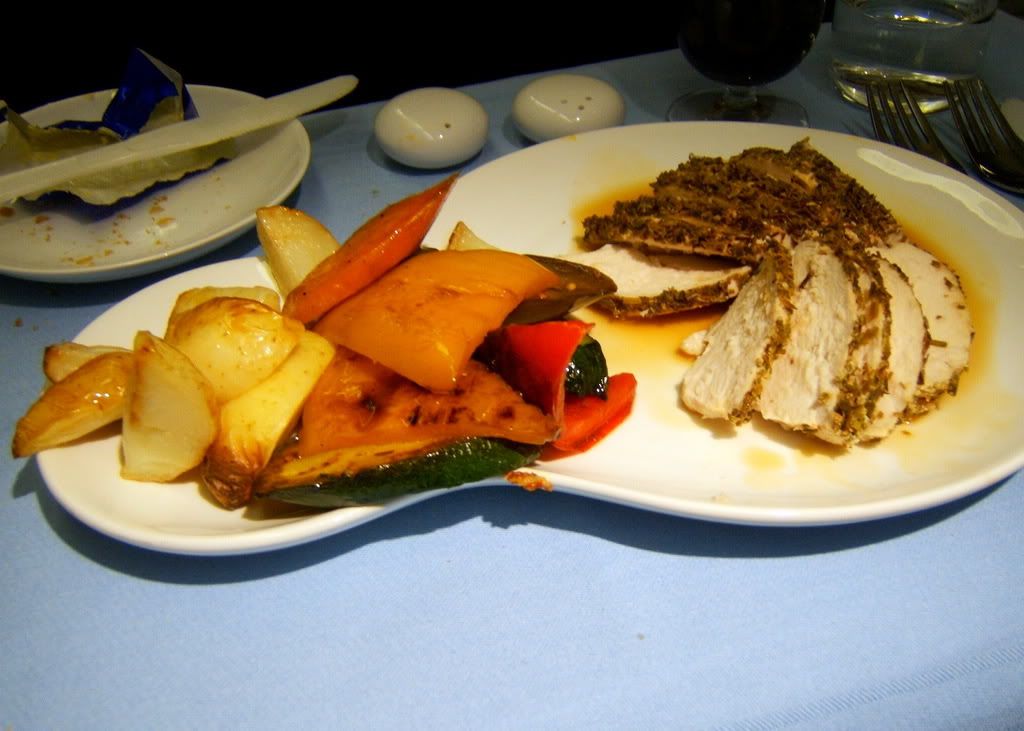 Well, I suspect I could have asked for something else if I had wanted it, but it seemed a shame not to take the meal I had supposedly ordered. But I didn't finish it. Instead, I waited for dessert. Served from a cart, it was a combined dessert/cheese/fruit course:


Fruit platters including melons, pineapple and grapes

Three types of cheese (a Roquefort, a camembert, and a firm Spanish cow's milk cheese)

Fresh strawberries with Mascarpone cream (this is, I suppose, a hybrid of the fruit and cheese platters, no?)

A double chocolate tarte, which I avoided. I mean, after all, I had ordered a low fat meal, right?
With dinner I had a glass of an Austrian red wine, a 2004 Zantho Zweigelt and then a Burmester port wine with the dessert. A bowl of hazelnut chocolates, wrapped in a special Mozart 250th birthday wrapper, was placed between me and my seatmate for us to snack on.
The service was quite leisurely – it was nearly three hours after departure when we finished. I declined anything from the chef-prepared Viennese coffee tray – too late for coffee – and fired up my laptop to make use of the remaining four hours and a few minutes (which is where I wrote the report up to this point).
After sunset the sky glows aquamarine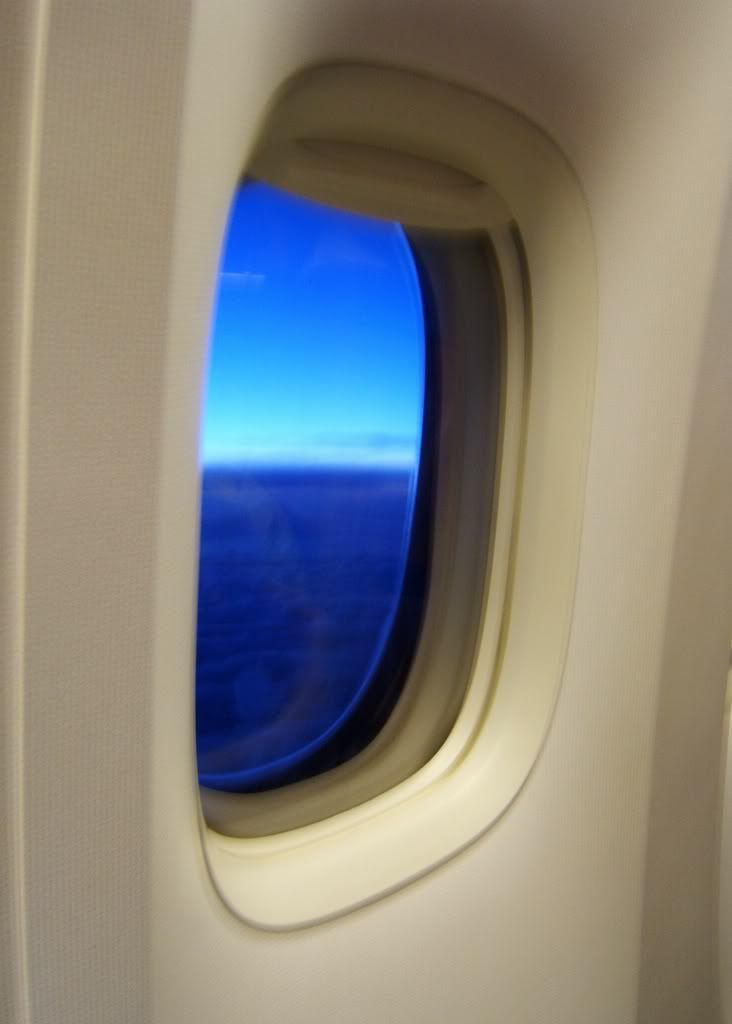 Shortly after passing over Bali, about one hundred minutes left in the flight, the flight attendants went through the cabin and, taking care to not disturb the many passengers who were still resting, inquired about anyone wanting a pre-landing snack. Choices included a club sandwhich or an Austrian dessert called Kaiserscharrn, described as a "shredded pancake with plum ragout."
It sounded much too filling and I and nearly all of the other passengers declined the offer.
During the post-dinner part of the flight, flight attendants passed through the cabin with decreasing frequency. At first it was easy to get a water refill every twenty minutes or so (small glasses, in my opinion) but eventually I had to work a bit harder: walk up to the galley, where the flight attendants had fashioned some galley lockers and pillows into a impromptu bistro, or ring the call button and pester them. I really should just carry a 1.5-litre bottle with me and save them and me the trouble.
Our arrival into Singapore was spectacular, the approach through mostly clear skies into runway 2C yielding a magnificent view of the straits dotted with hundreds of ships and a very impressive downtown skyline. The nose camera was on and so we had a very nice view of the runway, but it turned off just a few moments after touchdown so I couldn't enjoy the roll-out.
Our plane taxied for a few minutes to gate D4 and after we parked there was a moment of confusion before the cabin lights were turned on. It looked like most of the passengers were continuing on to Vienna, but they had to disembark and clear security to return to the gate.
Overall, Austrian was a very pleasant service and I'd strongly consider them for flights to Europe.
Stay tuned for the final installment of the report. Feedback and comments always welcomed.