This is part II of my trip to Thailand. For part one, click on the following link
Thai Trip I: SIN-BKK-SIN LX Business/Economy PIX!
(by
Coal
Dec 29 2006 in Trip Reports)
Background
After some days in Bangkok, it was time to go to northern Thailand to Chiang Mai for a couple of days and explore the Thai mountains. I got a relatively cheap airfare on Thai's Royal Silk class for about 7,000 Bhat. One, Two Go (stupid, stupid name) by Orient Thai was advertising one way fares for 1,700 Bhat, but I thought I'd indulge a little and earn the miles.
Suvarnabhumi just after 6am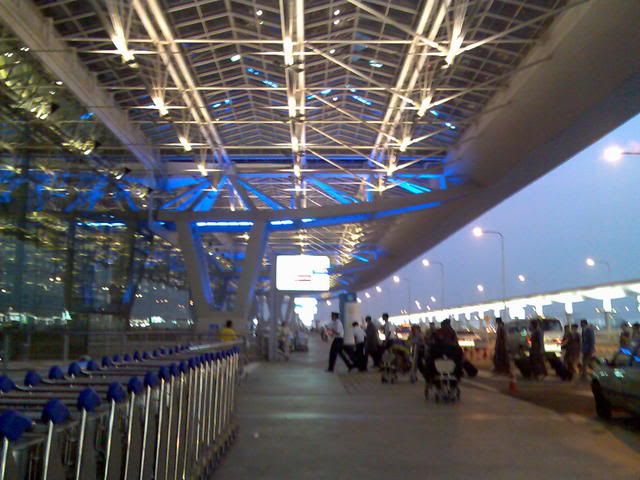 Suvarnabhumi at dawn
Check-In
Check-in was fast and efficient. Not too friendly, although I gather it was because the check-in agent didn't speak much English. I got my boarding pass and was directed to the domestic departure area, were I should find the Royal Orchid lounge.
Check-In information display
The lounge itself was quite nice. It was very big, and it was really crowded! I was surprised there would be that many people flying domestic business, especially Westerners, but I guess most of them must've been Star Gold or so. The food was really nice, and there was also a capuccino machine as well as some good O.J. (hey, I'm from FL!). After grabbing some food I made my way to a more private area to sit down. The chairs, although they looked really plush, were hard as rocks! Good thing I would only be sitting here for a few minutes. They also had 4 PCs with internet connections, of which I made use to check A.net and to post a question RE: the partial closure of the new BKK due to some mismanagement by the previous government. Boarding time came soon, so I headed towards the gate.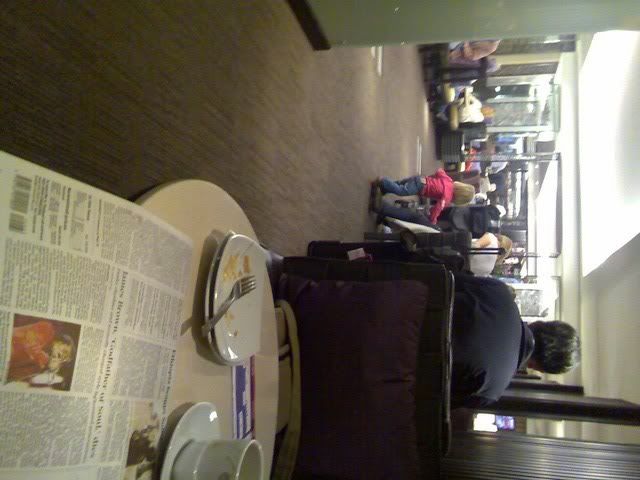 Thai's Royal Orchid Domestic lounge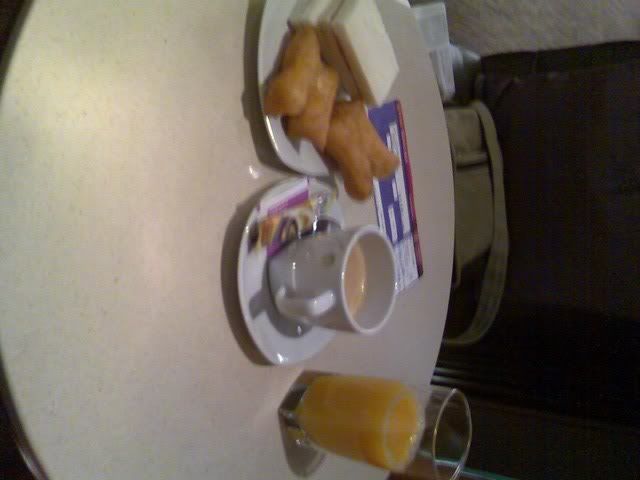 Good food selection
Gate
At this point I was still unimpressed with Suvarnabhumi. The domestic gate area looks a lot like the international arrival area, with all the cold, bare concrete. The gate for this flight was A1D, which is in a group of gates (A1B, C, and D) in the ground level. People are bussed to the aircraft from here. This was pretty exciting as I always enjoy riding around the airport at tarmac level. In the distance I could see a 744 in the old colors, parked in a remote stand. I figured this would be our ride for today. However, I was pleasantly surprised to see that our 744 was in the new colors, and was parked in one of the international gates (C or D pier, cannot recall). Awesome! This would mean we would get the international business configuration. It felt just great being next to the Queen. As we got off the bus, we headed up the stairs attached to the jet bridge. There was a dedicated bridge for premium pax. As I boarded I was greated with the traditional Thai bow and showed to my seat, 23A.
Gate Area



Gates A1B, A1C, and A1D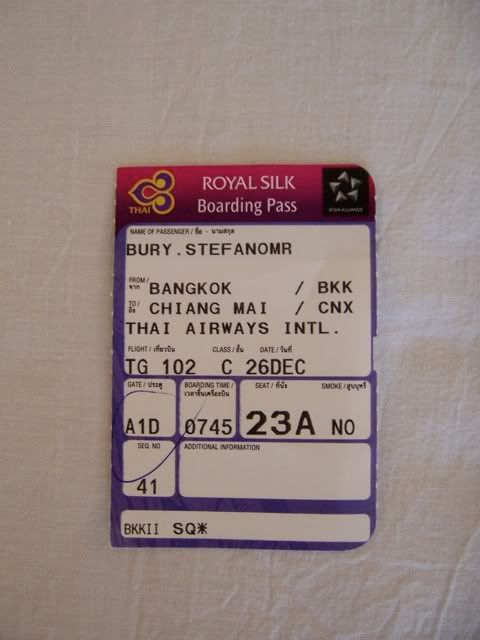 Boarding pass



The Queen!
While I waited for pushback, I tried to play around with the seat controls. They were not very intuitive, and didn't work all that well. The seat did not fully recline, even when pressing the button to turn the seat into a bed. Plus, the foot rest got jammed many times, leaving me in quite an uncomfortable position.
Seat 23A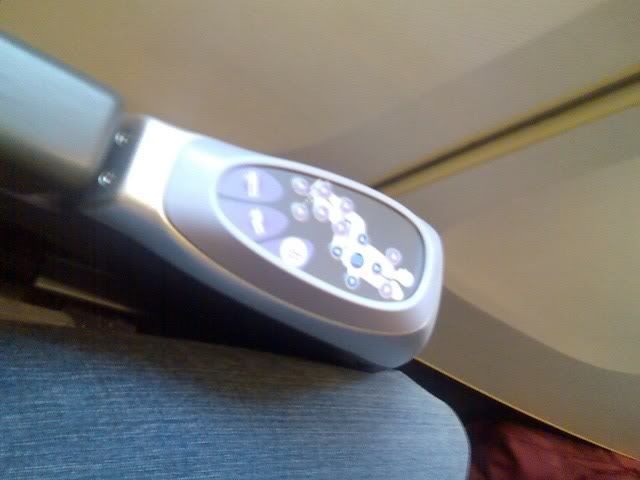 Seat controls



Thai's Royal Silk class



Looking towards Royal First class
Flight: TG 102
Route: BKK-CNX
Aircraft: B747-400
Schd (Act) Time: 08:15 (09:00) - 09:25 (10:20)
Seat: 23A
The flight was delayed due to some connecting pax arriving late into BKK. Finally just before 9am we started our push back. There were quite a few a/c in line for departure, including a few TG 744s, QR A332, and a few PG ATR42s.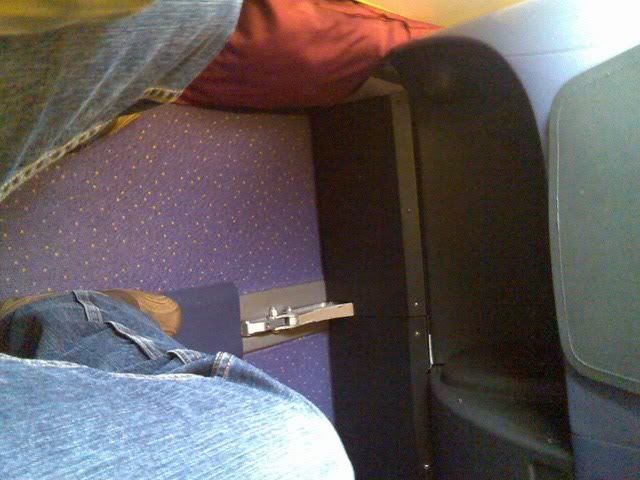 Legroom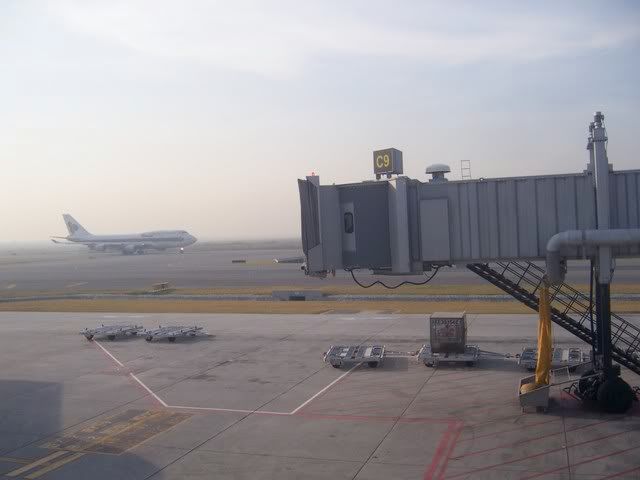 Thai 744



Bangkok Air ATR42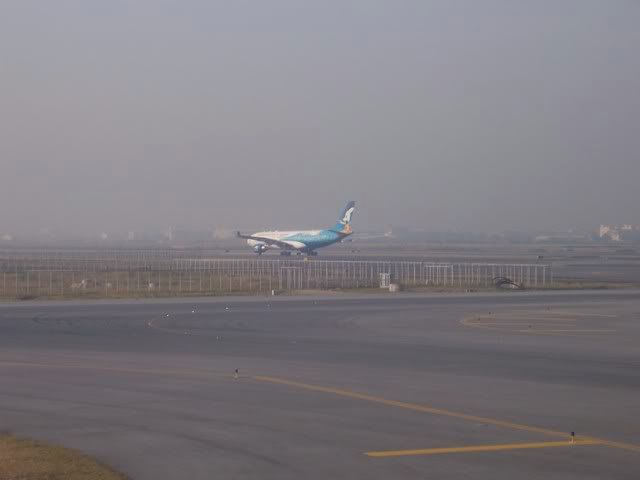 Qatar A332



Thai 744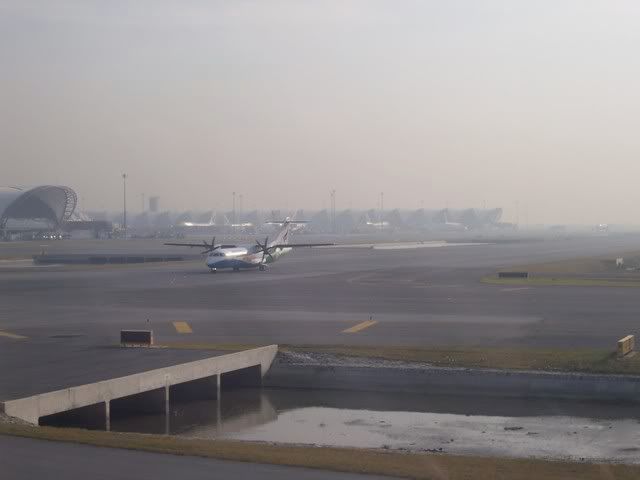 Bangkok Air ATR42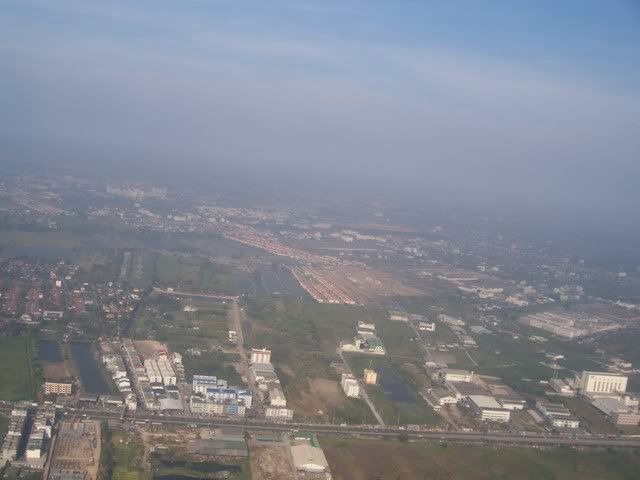 Taking off from BKK while listening to Infected Mushroom's "Ratio Shmatio"
The short flight was uneventful. The F/A's did the minimal that was required of their job, which left me unimpressed. There were no menus, and the choice of food for breakfast was some kind of rice noodle roll filled with mushrooms and shrimp, which was quite tasty! This came along with a stale croissant, coffee, and orange juice made out of concentrate. The tablecloth was literally thrown at me, quite rude! Also, when the F/A removed my tray, she accidentally pulled the iPod earphones out of my ear, quite painfull! No apologies were offered, even though she clearly noticed this. Furthermore, my three requests for a bottle of water were ignored.
The IFE consisted of a selection of about 70 channels of movies, programs, and audio that seemed to have started well before take off. You could rewind and ff the movies, but they were not offered on demand. Also, no headphones were offered, so I just listened to some Infected Mushroom on my iPod and read about Chiang Mai while watching the moving map.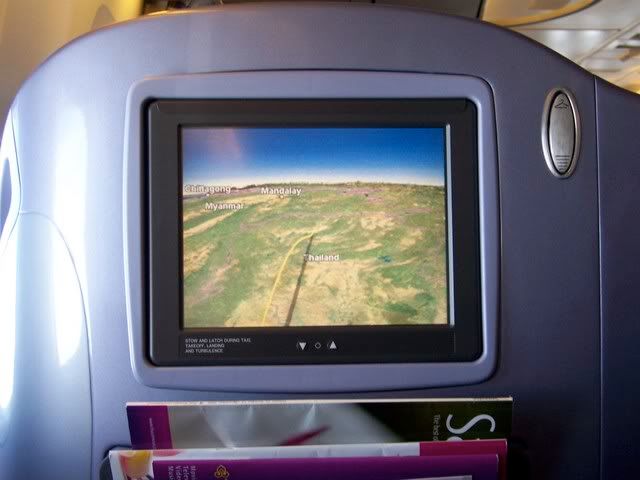 Moving map
Soon enough, we were descending next to the mountains, into Chiang Mai. I took some pics of the fog blanketed mountains, but they came out terrible and I decided not to include them in the report.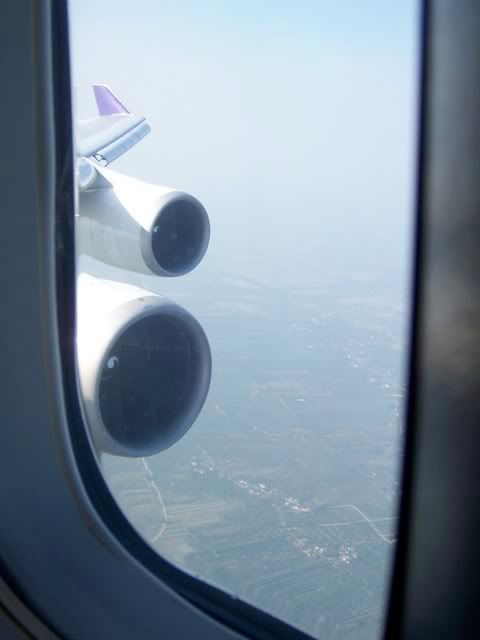 Finals for CNX
After landing, I quickly made my way to baggage claim. Here, I was also left unimpressed by Thai. Despite the fact that I had a Priority tag on my luggage, it came out
last
! You can imagine how long I had to wait for it, considering this was a full 744 flight. I guess Thai does not understand the concept of priority.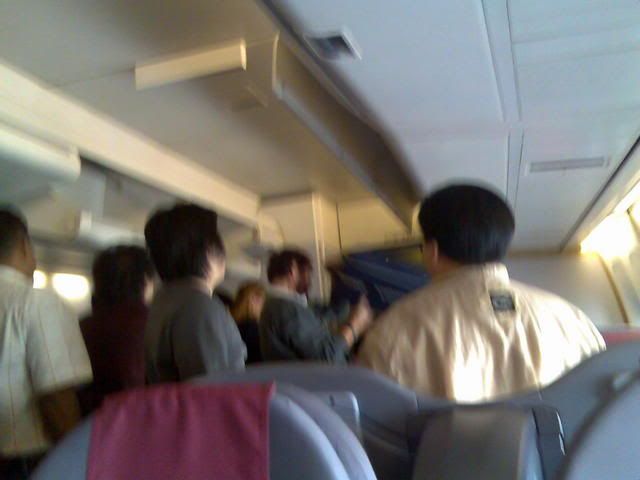 Deboarding at Chiang Mai



Looking out the window while waiting for my bag, I spotted a Nok Air ATR42



Arrivals area
After a few days in Chiang Mai, it was time to go back to Bangkok for a day of some shopping, before returning home to Singapore.
Check-In
The Thai Royal Silk check-in line was pretty long, with most passengers going to Phuket. So I decided to head over to an open Economy check-in desk. I was greeted by a nice girl wearing a badge that read "Trainee." I hesitated while remembering my experience with the AF check-in agent in OSL back a few months ago, who was on her first day on the job. I decided to give the TG trainee girl the benefit of the doubt, and let her check me in. It took her a while to find my reservation, due to the fact that she looked under my middle name instead of my last name. After a few minutes of trying to explain, in painfully slow English, which one was my last name, she found my reservation and gave me seat 14K. She pointed me towards departures and told me where the lounge was. Silly me didn't wait to check and see if she put a Priority tag on my bag. Well, she didn't, and later I would have to wait for my bag to come out last
again
! At least this was an A300 and not a 744.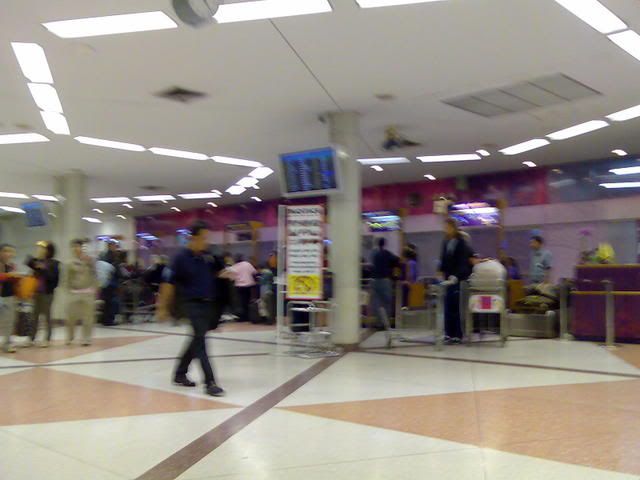 Chiang Mai Check-In Area
The Thai Royal Orchid lounge was conveniently located in the small gate area. The lounge itself looked pretty big from outside, but this was due to the fact that most of the walls had mirrors, creating that space effect.
Thai Royal Orchid lounge



Inside the lounge
The lounge was packed! I nearly couldn't find a place to sit, and I learned nearly all of the passengers in it were heading to Phuket, save for me and a couple from the US (I found it interesting that most of the tourists I met were all Americans - and they say Americans never travel!)
The empty lounge after the flight to HKT
The food selection here was not good at all. There were some bologna sandwiches and some kind of breakfast pastries. The orange juice again was made from concentrate (yuck!). But the coffee was quite good and I had about 4 cups. There was not much reading material, just like in the lounge in BKK. Selection included a few newspapers in Thai plus the Bangkok Post, but no international newspapers.
There were also two internet terminals, but it was painfully slow, mostly because of the earthquake in Taiwan. Ironically, the only page I was able to open up was the IHT's, which had the headline: "Asia goes back to pre-Internet days."
Gate
I left the lounge around noon to explore the small gate area. 12:15 came around and our flight hadn't boarded yet. No reason was given for the delay, and boarding for Royal Silk was finally called at 12:30, which meant a 15min delay.
Gate 6
I boarded through door 2L and was directed to seat 14K. Ah, it felt good to be on an old workhorse. I really like the A300! I think it's due to the fact that I flown on it on AA so many times.
Seat 14K



Thai's domestic Royal Silk class



Legroom



Check out the old school IFE controls!
I was offered orange or tamarind juice by the F/A. I hadn't had tamarind juice in... wow, I'd say over 10 years! So I took it and was quite nice. This was followed by a steamy hot towel and a copy of the WSJ Asia. Seated next to me was a distinguished looking lady. Now, I couldn't figure out whether she was the purser's wife or someone important in Thai society. The purser only drew his attention to her, even after some of my requests were turned down. He fell short of literally kissing her ass. But at the end of the flight, she said something that got him visibly angry and he started to raise his voice at hear to a near scream! In any case, I found it quite unprofessional for the purser to devote his entire time to her and ignore the rest of the passengers in C.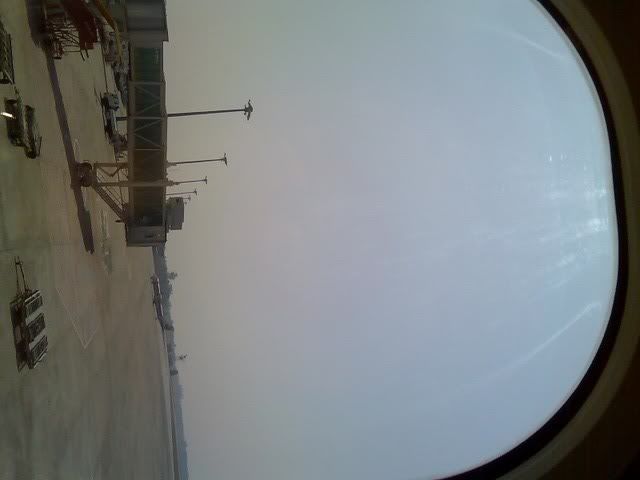 Ramp in Chiang Mai
Flight: TG 107
Route: CNX-BKK
Aircraft: A300-600
Schd (Act) Time: 12:30 (12:45) - 13:40 (14:00)
Seat: 14K
We pushed back about 15mins behind schedule, which was not too bad. We took off to the North and made a quick 180 degree turn to the South towards BKK.
Another uneventful flight. I spent most of the time listening to the tunes in the iPod and reading the WSJ. As with all the other sectors in this trip, there was no menu offering. The meal was lunch, which consisted of Duck in Peppercorn sauce, some stale piece of pie, and some kind of white flan concoction filled with fruits. This was washed down with a coke brought on a tray along with water and OJ, and finished off with a coffee. The coffee was cold, and the effect of this on the creamer was not good at all. 2 requests to the purser for another cup of hot coffee were ignored. I also found the duck to be an odd choice for a meal. I personally like duck, but everyone else in my family hates it and thinks it has a pond-like taste. The duck was ok, a bit rubbery.
We came in North of Bangkok and flew over the now closed Don Muang airport, which might actually open again for some flights if they do decide to partially close Suvarnabhumi for repairs.
We flew all the way to the South of Bangkok and made a 180 degree turn over the South China sea for a rwy 01R arrival. After landing we quickly taxied to pier A.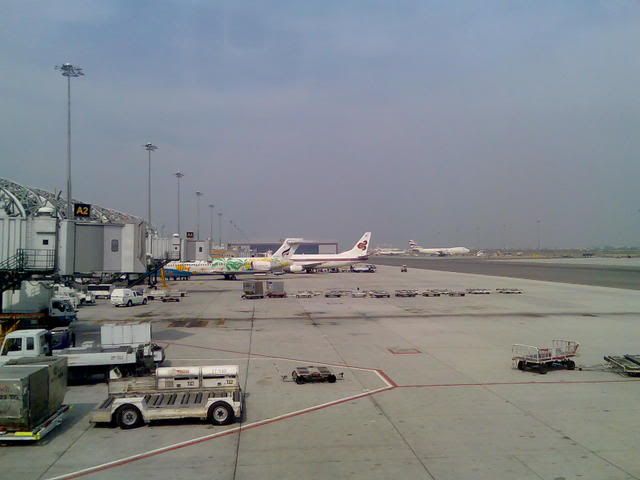 Domestic Pier



TG 734, PG 717, and Orient Thai 747 in view
I got off the a/c quickly and walked to baggage claim. Of course, since my bag hadn't been tagged as Star Priority, it came out at the end. At least it wasn't a 744!
Connecting flight info



View from baggage claim
Overall, I wasn't impressed with Thai. I chose them over PG because of the *A miles, but if I ever have to fly domestically in Thailand again, I will definitely give Bangkok Air a try.
For the return trip from BKK to SIN, go to part one in the following link
Thai Trip I: SIN-BKK-SIN LX Business/Economy PIX!
(by
Coal
Dec 29 2006 in Trip Reports)
Cheers,
Coal