Months became weeks and weeks, days. I finally got out my suitcase and started packing. I continued making mental notes of things I still had to do before I could board a plane and make a dash around the world. Suddenly, like a lightning flash, the day of departure was upon me. A quick check on ACARS revealed that VH-OJP (Albury) was on its way to JNB, from SYD, as QF63. With my suitcase and hand luggage packed, I ventured out to finish some last minute errands before my father was due to give me a lift to the airport.
Back at home, I grabbed my gear and loaded it into the DoubleCab. My nerves were starting to get frayed, due to the fact that my father was running a bit late, while I have a tendency to be punctual. My father arrived; we switched cars and set off for the airport. Luckily the traffic was light and we made good time out to Bloemfontein Airport. Judging by the amount of cars and people at the terminal building, it was apparent that a JE B738 was due to land. We swung into the drop-off zone; I said my final goodbyes and started off for check-in, which appeared like a total mess. Luckily most of the passengers were checking in for the Mango flight to CPT while there was virtually nobody in line for check-in to JNB on SA. It's not really a big surprise with many South Africans flocking to the coast and beaches at this time of year and another JE flight from DUR set to arrive within the hour.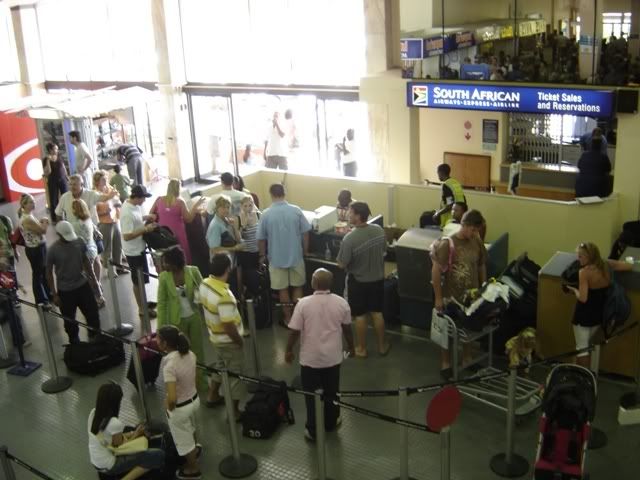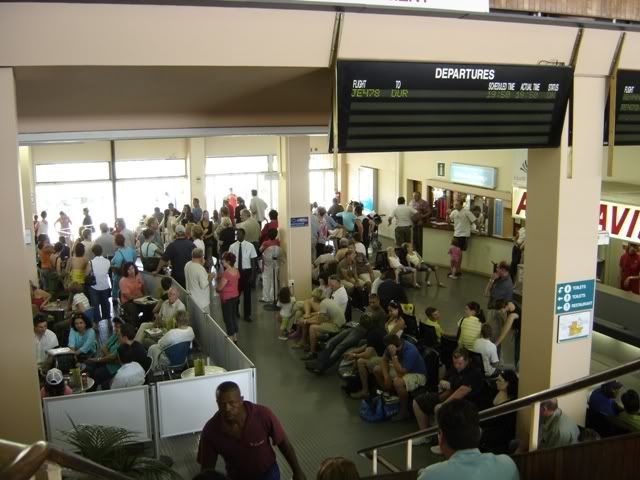 The load on SA1020, my flight to JNB, was quite light and upon request the seat next to me was blocked off and I got seat 10D, which is in the emergency exit row. Placing my boarding pass in the pocket of my laptop-case, I realized with trepidation that my wallet was not where it was supposed to be. A cursory search confirmed my worst fear – my flight was about to start boarding and I forgot my wallet, containing my credit cards and drivers license, in the DoubleCab (on its merry way back into the city). It's like an unexpected punch in the stomach – I felt pained, nauseated and betrayed by myself all at once. Think!!! I quickly phoned my father, who was not too thrilled by his "levelheaded" son's brainless blunder – it is something that he himself is rather inclined to do. The airport chimes sounded. Over the PA system, an "ominous" announcement went through the terminal: "Passengers, who have checked in for flight SA1020 to JNB, must please proceed to exit 1". My stomach churned and I rushed outside, waiting anxiously for my father at the drop-off zone. Luckily I didn't wait that long, apologized profusely, said my goodbyes once again and scuttled to airport security with the magic wallet in hand. I cleared security in no time and made a move towards exit 1. Time to calm down…
With my boarding pass in hand, I left the airport building and started walking out to ZS-NMB, waiting on the tarmac. On the left hand side, JE's ZS-SJH was parked with passengers from CPT still disembarking.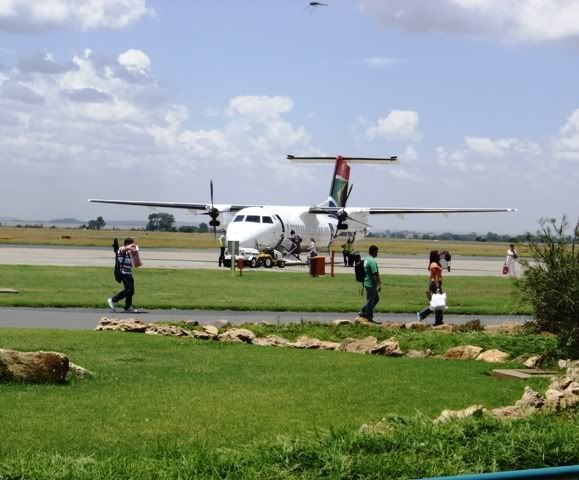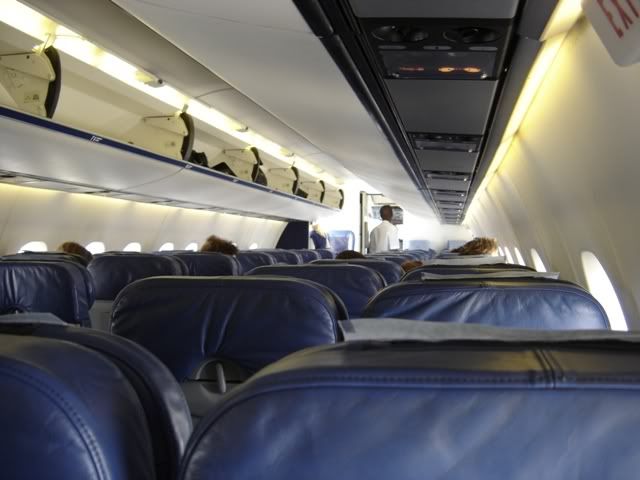 Fairly quickly, boarding for the JNB flight was over and the door of the DH8 was closed. Take off was on time in a Northerly direction. Due to thunderstorm activity in the area, the flight was fairly bumpy for the first 25 minutes. Cold meals, soft drinks, beer and wine were served on this 01h10min flight. I immersed myself in a magazine while the turbo-prop was making headway to the North.
It was not long before we started our descent into JNB, heading for runway 03R. With a dull thud, we touched down in a wet JNB and started a lengthy taxi towards the C-apron. Upon arrival at the hard stand, a bus pulled up to transport us to the terminal building and. The domestic terminal was as busy as can be expected, at least at this time of year, with some holidaymakers already arriving back home after spending Christmas at the coast.
Above all the terminal noise, it was apparent that a typical Highveld thunderstorm had broken out. Although a bit wet from the rain, our luggage arrive fairly quickly on carrousel 1. I made my way over to the International terminal, passing the CTA (Central Terminal Area) which is currently under construction and due to be finished in 2009. I was quite surprised to find the International departures area not busy at all. My suitcase was shrink-wrapped and I proceeded towards the QF check in desks.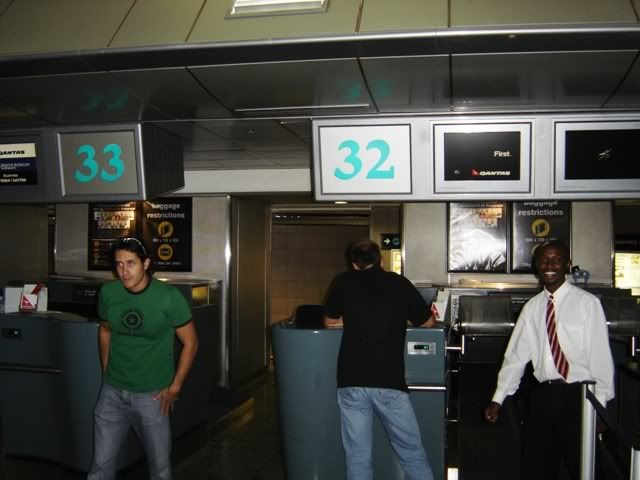 With just one bloke being helped at the First Class counter, I didn't wait long before it was my turn. My suitcase was tagged to MEL and I was allocated seat 2K on the JNB-SYD sector (QF64 / SA7700) and seat 6A on the SYD-MEL sector (QF449). Security and customs was an absolute breeze and I was on the airside in virtually no time at all.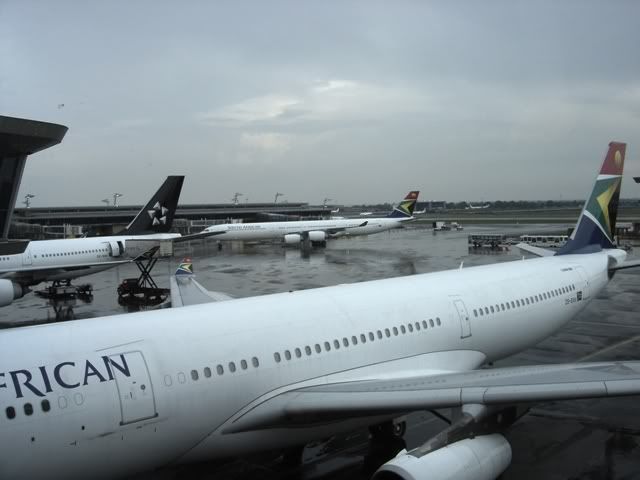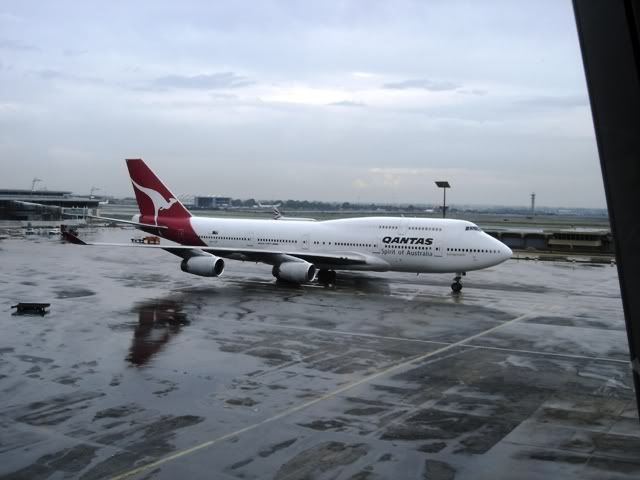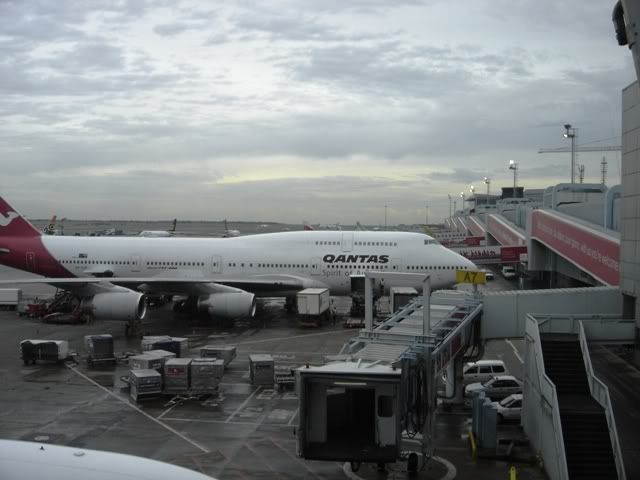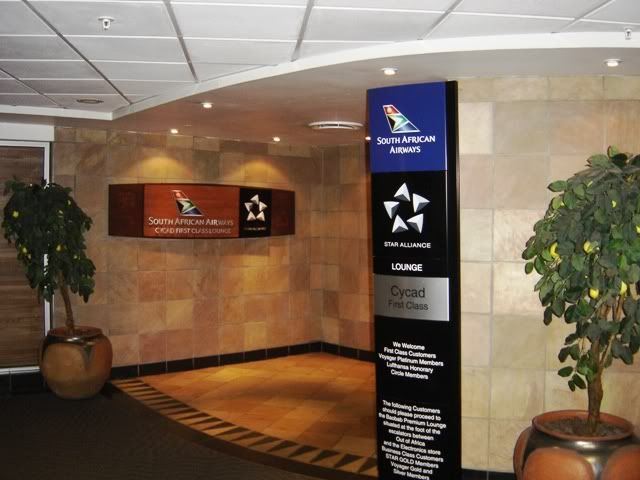 I made my way to the SA Cycad First Class Lounge, where I took a long, leisurely shower. Not feeling entirely comfortable with the idea of taking pictures inside a lounge, with quite a few guests, I decided to respect my fellow travelers privacy and forego the opportunity to take pictures. Boarding for QF64 / SA7700 commenced at gate 8 and by the time I made it onto VH-OJP, I was actually the last First Class passenger to board.
Escorted to seat 2K, the cabin crew was extremely attentive from the start. Glasses of champagne, orange juice and water were offered – I opted for the juice, as I normally don't drink alcohol when flying longhaul. While the rest of the passengers were boarding, amenity kits and pajamas were handed out to First Class customers. At about 17h40 it became apparent that we would not be departing on time as boarding had not been closed off yet. I loved the views seat 2K offered me – to the left and of course to the right. At last the ground crew left the plane and the CSM announced to the cabin crew that they were closing up. Shortly thereafter the airbridge was moved away and a tug was in position to start the pushback. Our departure would be from runway 21R, meaning a rather long taxi past the D-apron and cargo area to the top of the runway. At about 19h00 we taxied into position on runway 21R, the engines spooled up and we started to roll. Rotation was close to the "domestic side" of the runway.
Qantas First Class seats are quite comfortable and the service was impeccable. At least 3 members of the cabin crew were at our beck and call for most of the flight, with the CSM also making rounds to introduce himself to each passenger in First. There are copious amounts of food and drinks available. I couldn't find anything negative, other than the AVOD not being available, even after about three resets. However, that was not the end of the world as I had a book to read and some CD's to listen to. Before we landed one of the crew members even brought me a complimentary bottle of champagne as a gift, on account of the non-working AVOD. Kudos to Qantas!
Due to our late departure out of JNB, we had a late arrival into SYD and landed on runway 34L. Upon arrival at the gate, ground staff were available to assist those of us who had already missed or were about to miss connecting flights. There was no real wait at Customs and Immigration and it wasn't long before I made my way to the Qantas Domestic Connection Centre. I was rebooked on QF453 to MEL. After a short wait, we were bussed over from the International terminal to the Domestic terminal. My flight (VH-OGO) boarded on time from gate 10.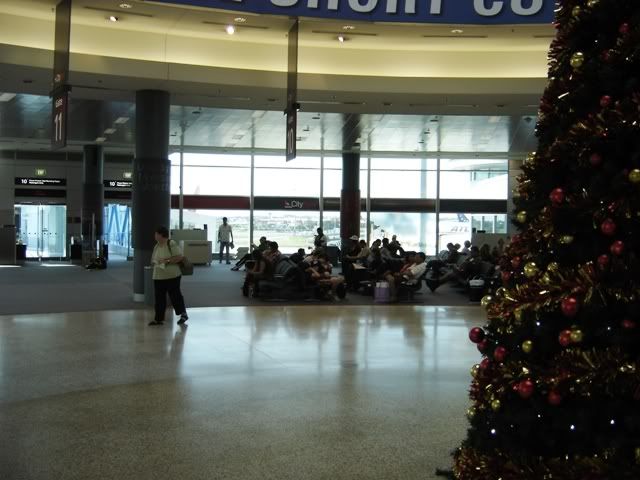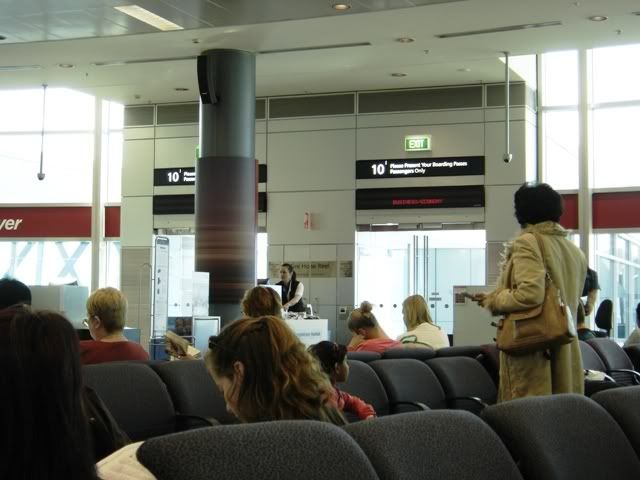 The Qantas Dreamtime business seats on the 767 are still quite comfortable. From seat 2A, it was amazing to see how quickly the crew worked to get the flight away from the gate – clearly they have done it few times.
The crew was efficient, had sincere smiles and made it a pleasure to be a passenger on Qantas. Many airlines the world over can learn something from Qantas crew and I sincerely hope that the pending takeover will not change Qantas for the worse.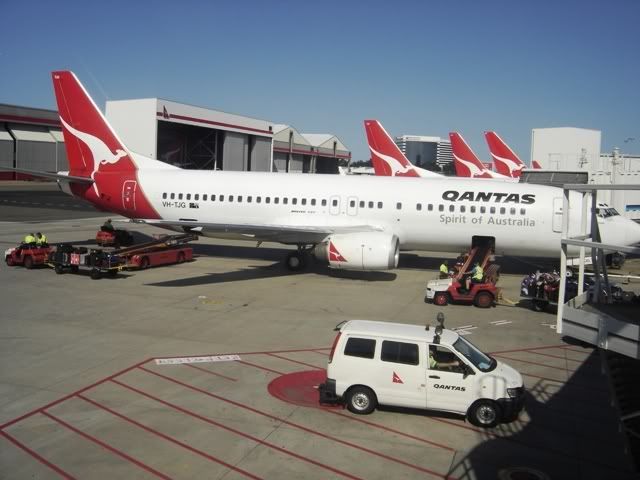 We were pushed back from the gate and started to taxi towards runway 07. Due to a queue of departing and arriving planes, we spent about 15 minutes at G2 and G1 waiting for our turn on the runway.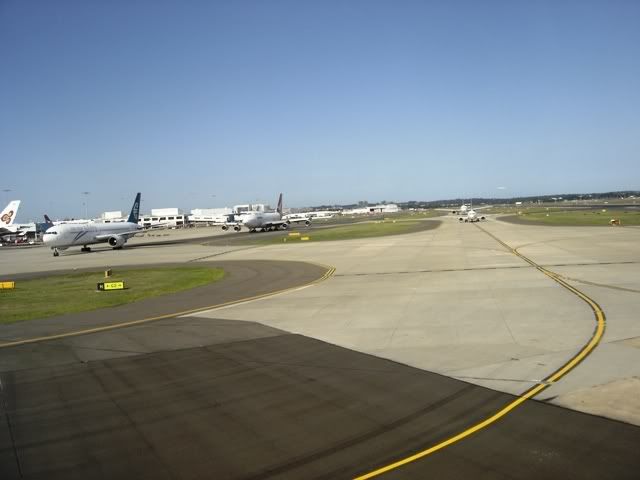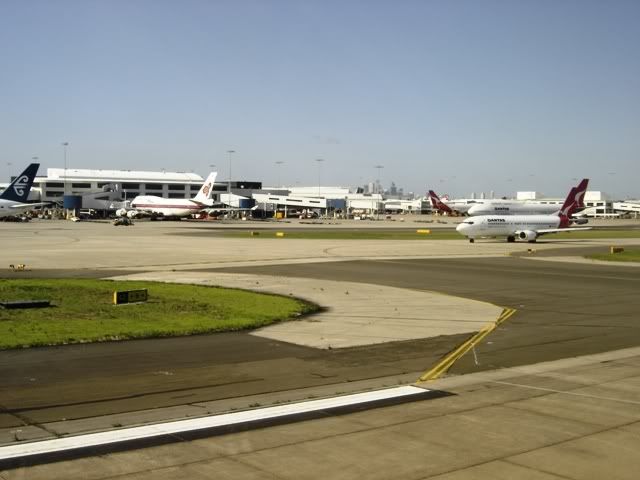 Eventually we rolled onto runway 07 and started a thunderous takeoff to the East. I had a bird's eye view of the Sydney CBD, beautiful harbor and Sydney Opera House.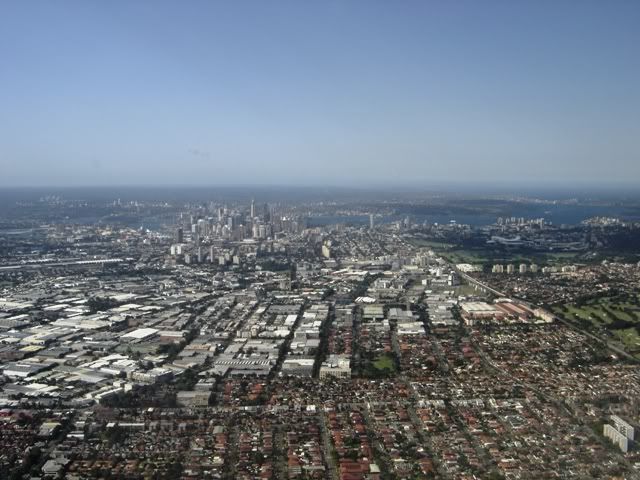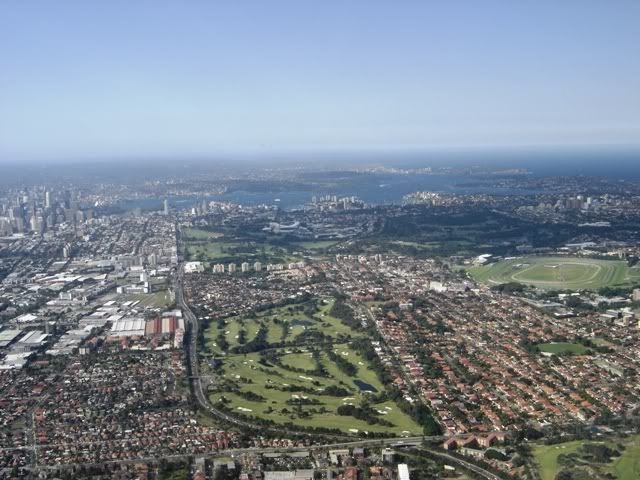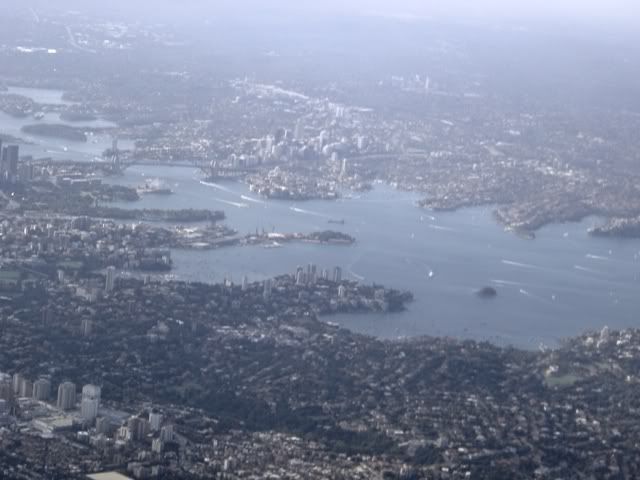 Bondi Beach looked like a semi-crescent shaped of pearl, dotted with antlike figures. On the evening news, it turned out that socialite Paris Hilton was one of the "antlike figures" that frequented the famous beach that day. Flying time to MEL was about 01h05 minutes, with afternoon tea being served. Thousands of hectares of scarred bush landscape, ravaged by intense bushfires, were visible from the air and billowing smoke could still be seen at some places.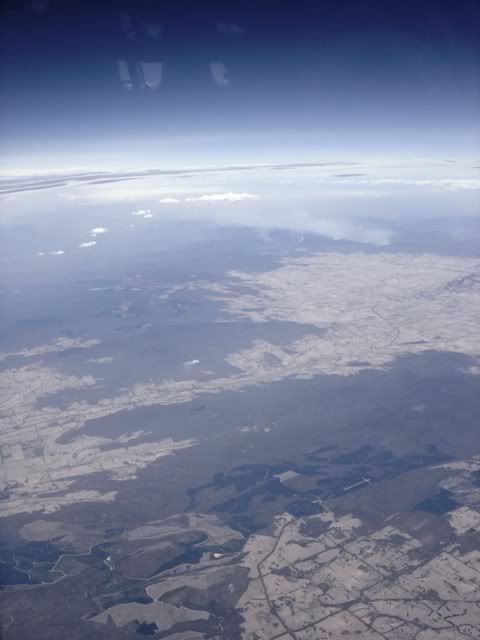 The flight went by quickly and it was not long before we were on short finals for runway 27 (I think).
Touchdown and we taxied to the Qantas domestic terminal, passing an OS 772 at the International terminal. We had a bit of a wait for our luggage to come out on the carrousels, after which I went outside to get a taxi to my hotel in the city. However, I should have known better than to get in a taxi driven by a man with a turban on his head (no offence)! He decided that we had "a train to catch", while I had no such intention. We sped down the highway, bolted over the Bolte Bridge and "slammed" into the forecourt of the Crown Promenade Hotel, just short of handbrake U-turn. I was home - for the next few days anyway…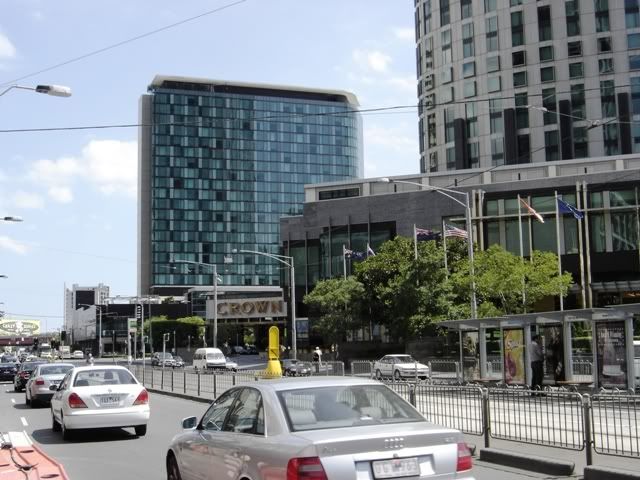 Part of Crown Towers on the right and the Crown Promenade in the background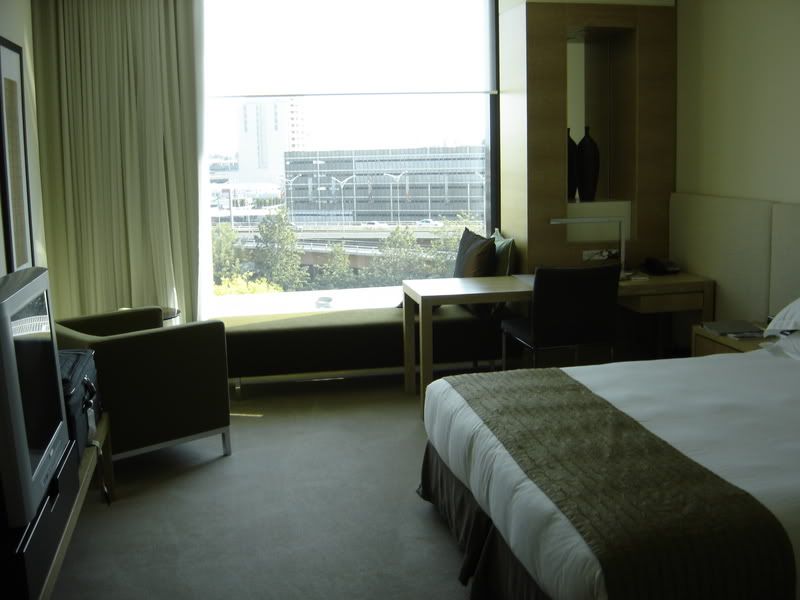 King Corner Room in the Crown Promenade Hotel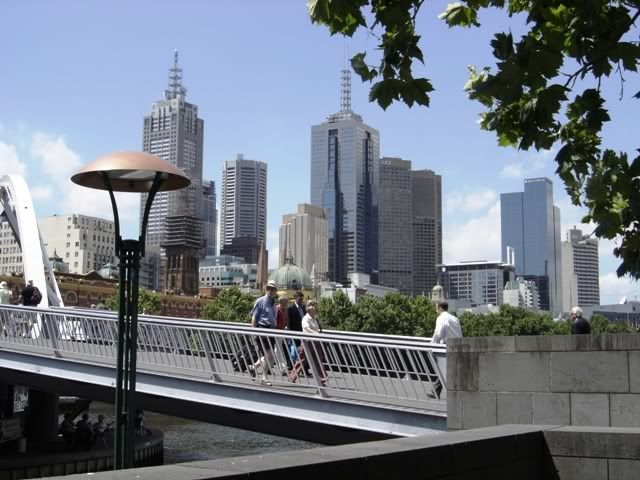 Melbourne Skyline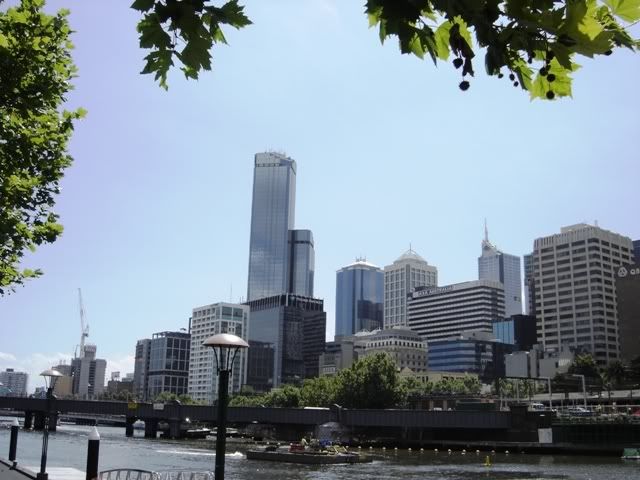 Melbourne Skyline with Rialto Towers in the background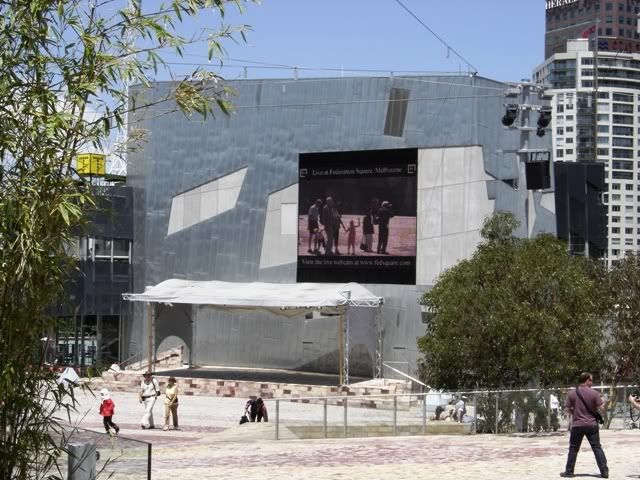 Federation Square - Melbourne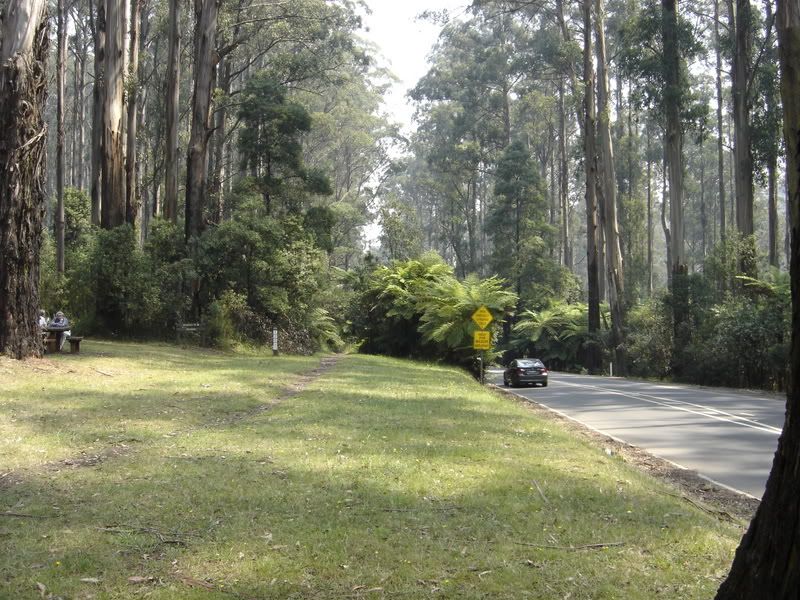 Sherbrooke Forest in the Dandenong Ranges