This is my trip report #2 on
Airliners.Net
and it is a
Malaysia Airlines
trip report.

48 hours after arriving from IST, I have to leave for Indonesia to get back to work. I had a blasting time while in Istanbul, I wish I could turned back time and keep on doing the trip over and over and over again.
My two parts trip report to Istanbul can be found here:
Istanbul Winter 2006 With MH (Photos) Part 1
(by
9MMAR
Dec 19 2006 in Trip Reports)
Istanbul Winter 2006 With MH (Photos) Part 2
(by
9MMAR
Dec 19 2006 in Trip Reports)
PRE FLIGHT

Monday, 11 December 2006
Still jetlagged and missing Istanbul so much
, I didn't slept all night and was spending my time packing my belongings all night long while watching the live telecast of the 15th Asian Games in Doha. At 04:00 hours, I finished packing up, took a bath and all set to leave. At 05:30 hours, I was already at the train station to catch a train to KL Sentral. I arrived around an hour later. Without wasting any time, I proceed to the ticket counter and purchased a one way ticket to KUL for MYR 35. I didn't check in at KL Sentral (again) on that day although there's not many people checking in there, because I will fly on MH's Golden Club Class, which mean I can check in at Island D in KUL - the most luxurious check in island there where all MH's Business and First Class passengers and also the Silver, Gold and Platinum Enrich members will check in.
I took an elevator to the ground floor and board the train minutes later.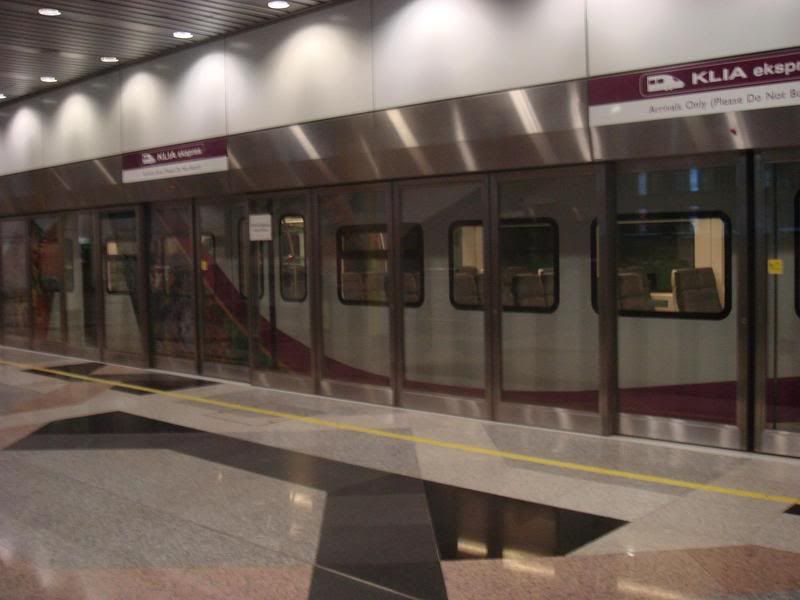 KUL's ERL Train arriving
.
The train was pretty full that day. Almost all seats in my coach were taken up. Sitting across my seats was a group of Caucasian Petronas employees, three gentlemen who wore a recognisable Petronas shirt.
ERL Train is the fastest and cheapest option when traveling ALONE between KL Sentral and KUL
.
At 07:30 hours, the train arrived in KUL. I disembarked and walked towards the elevator, which took me to the 5th floor (departure floor) rightafter. It was a busy morning at KUL.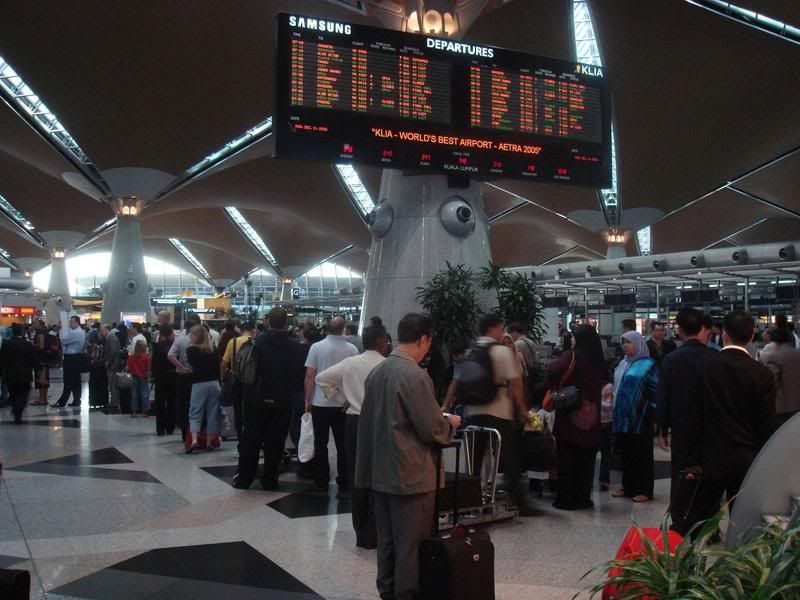 View over KUL's main departure hall
.
I walked towards check in Island D and saw quite a large crowd checking in there.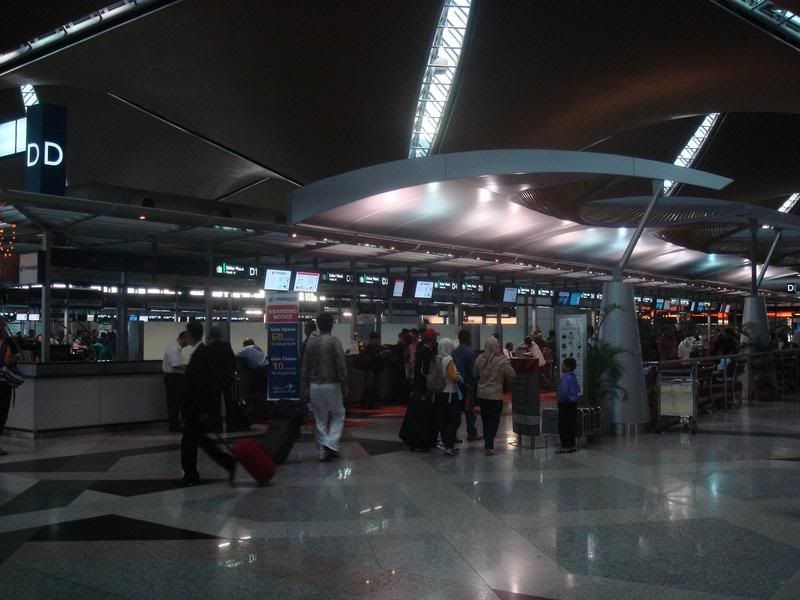 Check in Island D
.
The Check In Island D was different from the other check in islands. It features stunning design, well guarded with parameter fencing, with comfy sofas so passengers won't have to queue while waiting for their turn.
A close up over Check In Island D
.
Then came my turn, I was greeted by a friendly MH's Check In Officer. She asked me whether I would like to have a window seat or not, after checking in my luggage, to which I replied "Yes" with a big smile. Then she handed over my boarding pass together with the invitation card to MH's Golden Lounge at the Satellite terminal and wished me a pleasant flight.
I walked straight away to the international departure area, cleared immigration by using the machine and took the aerotrain to the Satellite terminal. I disembarked the train and went up one floor. After a brief walk along the corridor, I was finally arrived at the lounge.
MH's Golden Lounge at Satellite Terminal in KUL
.
There are two MH's Golden Lounges at KUL. One is at the Main Terminal Building, which is assigned for MH's domestic flights while the other is at the Satellite terminal, which of course, meant for the international flights.
I entered the lounge and passed over my invitation card to the receptionist. She briefly informed about my flight's information and ushered me to the left side of the lounge. To the right is the First class lounge.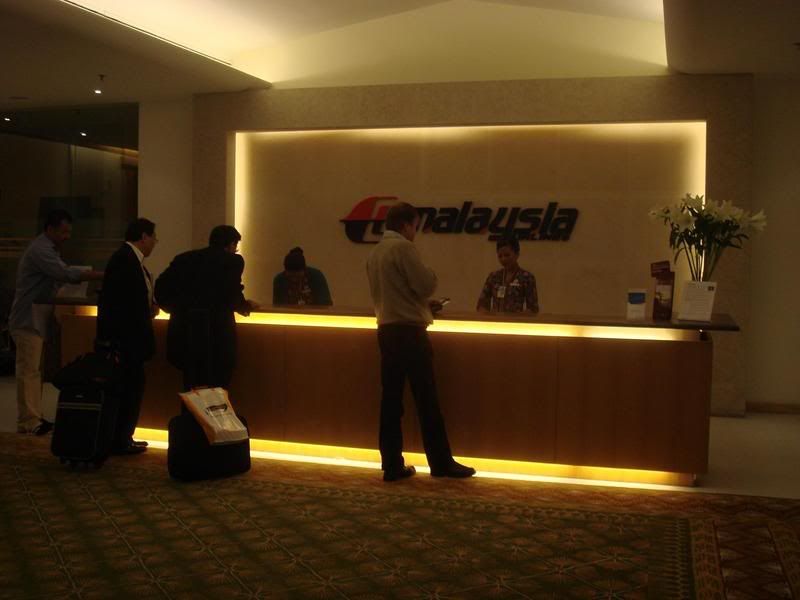 Receptionist area
.
This MH's lounge is surely a HUGE one.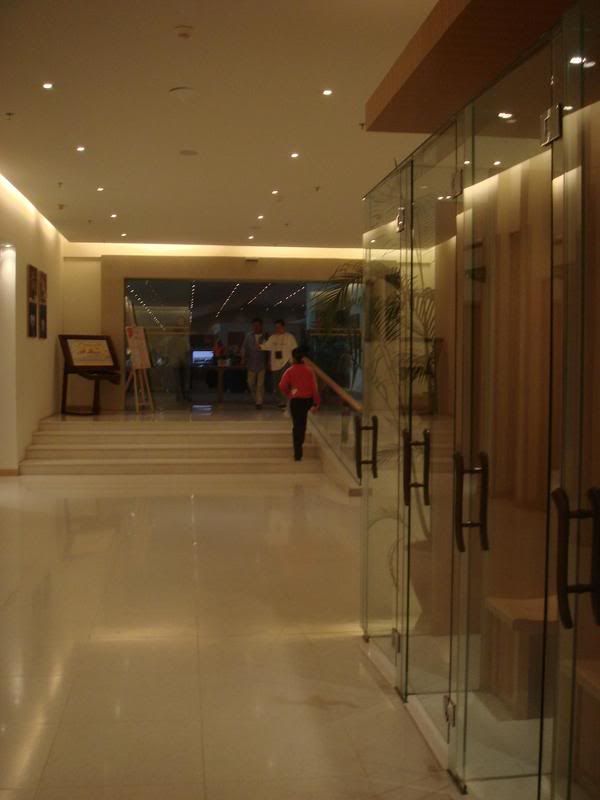 View on my way to enter the lounge's main area
.
I choose to sit in a comfy blue sofa and start unpacking my notebook computer as I had an urgent document to attend to. Power points were available (on the floor) at every sofas.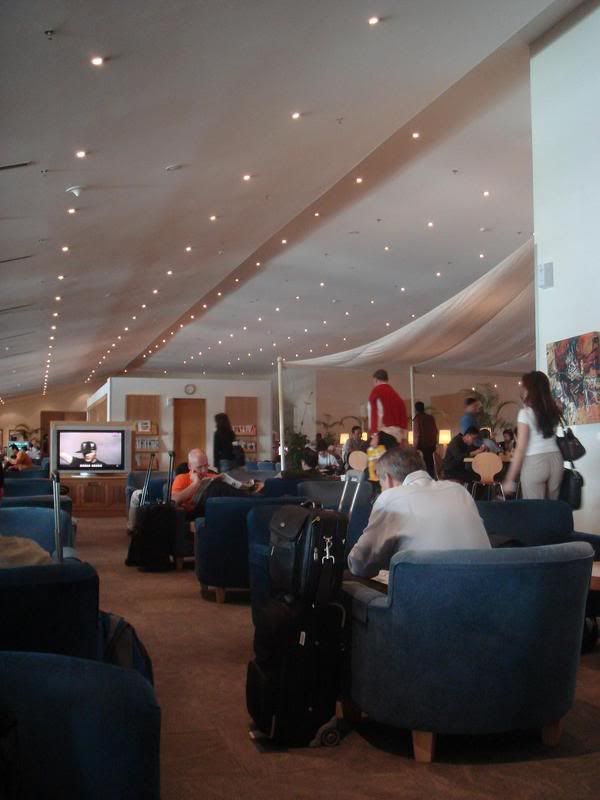 View inside the lounge's main area
.
After finishing my work, I went to the buffet spread area and took some chicken sausages and a glass of mango juice. I wish I could savour more but it was almost 08:30 hours at that time. I need to rush to my gate.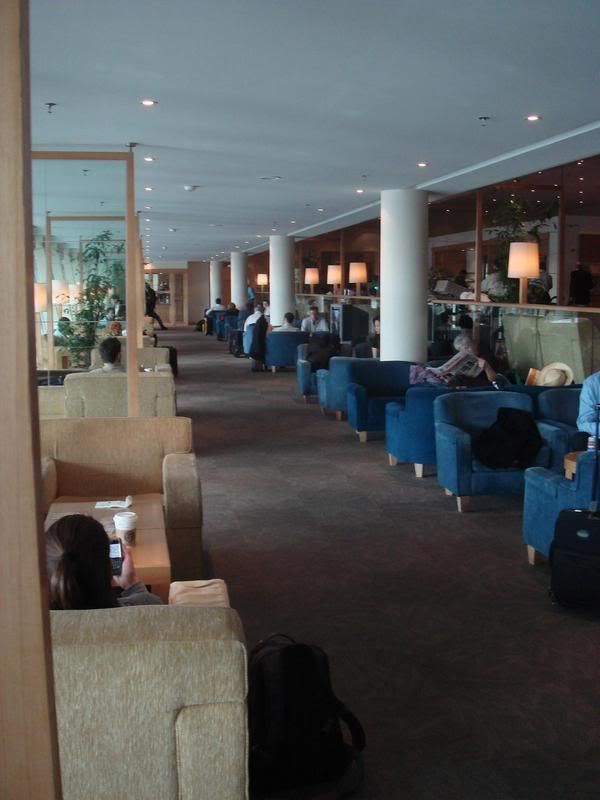 Another view inside the lounge's main area, next to the window which has a clear view over the tarmac
.
Soon after, in a bit rushing mode, I packed up my belongings and left the lounge for my gate. Before I left, I took this photo, which gave a very symmetrical view over KUL's Satellite terminal in its beautiful architecture. Very impressive, isn't it? Very VVV, very Valentino! And I think it speaks itself loudly, "World's Best Airport".
View from the lounge over the terminal below
.
On my way down to the aerotrain station, I stopped for a while to catch the action on the tarmac. There were a few MH's 772s to my right...
MH's 772s
.
... and also a few MH's 744s to my left.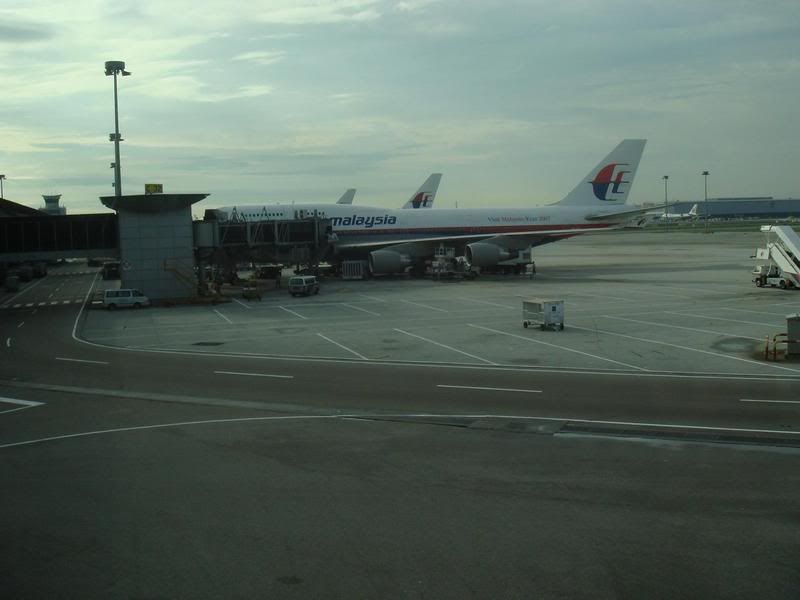 MH's 744s
.
Then I continued my journey to the aerotrain station, which situated below MH's Golden Lounge.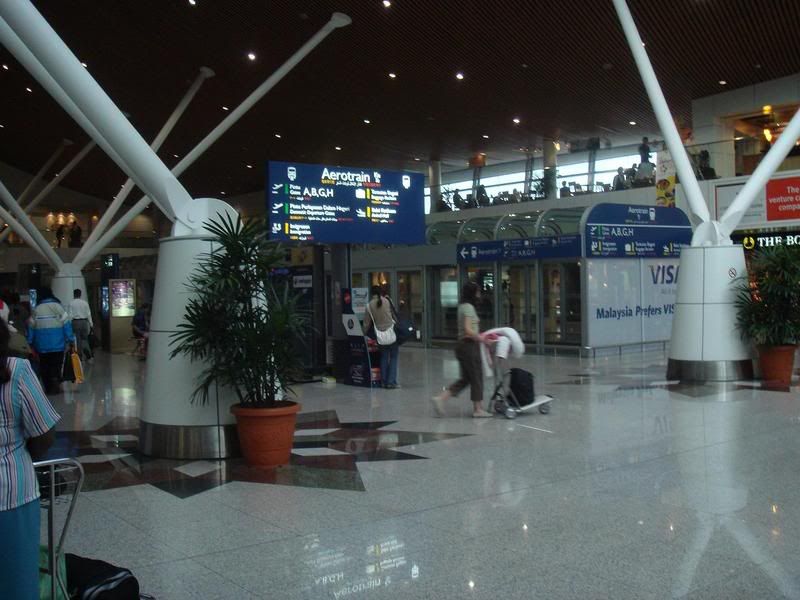 Aerotrain station
.
I took the train back to the Main Terminal Building where my flight was assigned.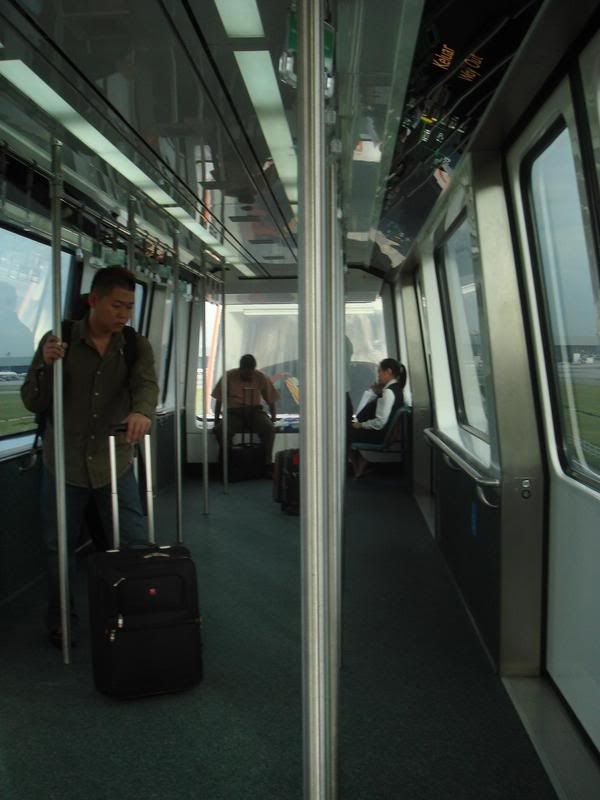 View inside the aerotrain
.
I reached the Main Terminal Building and walked rushingly to Gate G6. On my way, I stumbled upon this Harrods's carriage full of beanies, which I found kinda cute.
It reminds me of some distant sweet memories when I was in London back in 2004. Of course, one doesn't has to go to London to shop at Harrods.
Harrods's carriage in KUL
.
I continued walking to my gate.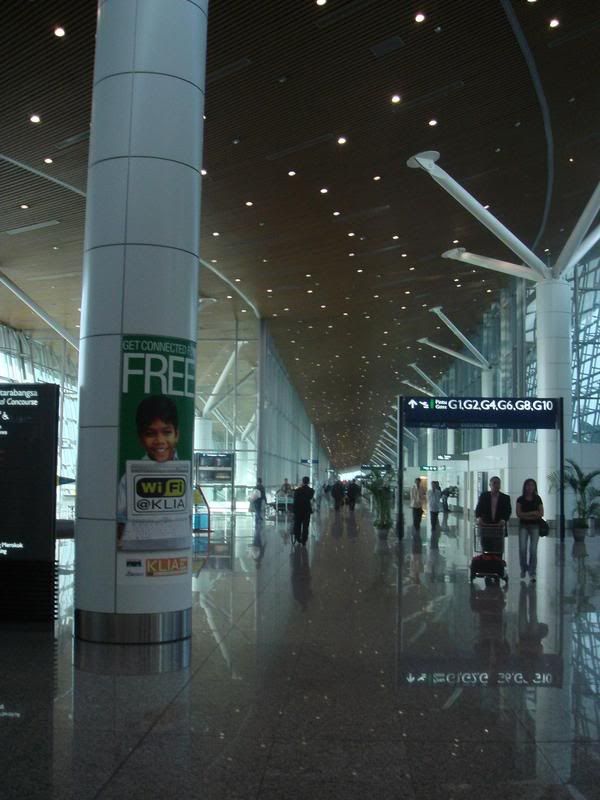 View on my way to Gate G6. Note the green poster pasted on the pillar; KUL provides free wifi internet throughout the entire terminal
.
Finally, I arrived at Gate G6. I cleared security screening and walked down an elevator to the departure lounge. Boarding has began when I entered the multi level lounge. I took a photo of the equipment, which will later brought me to CGK.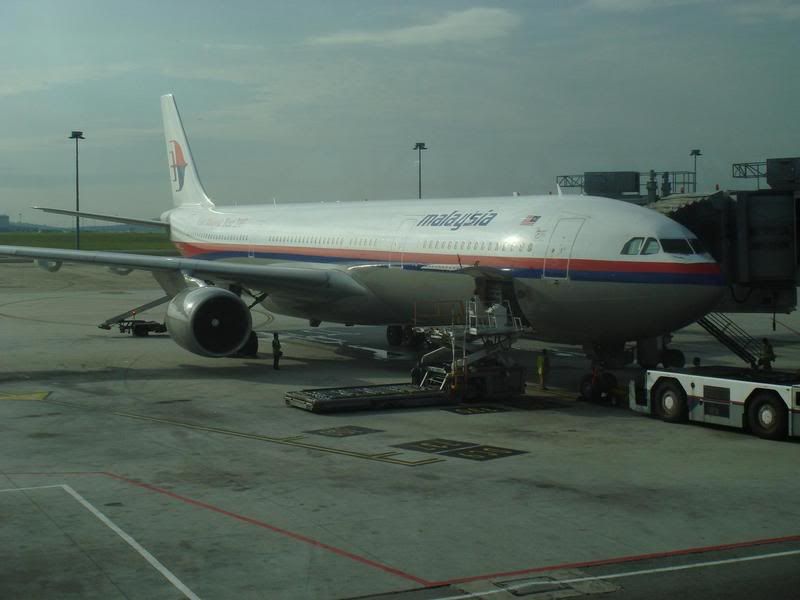 The equipment, 9M-MKE
.
I was actually among the last passenger to board. But still, moments before boarding, I took another photo of the equipment. It was an Airbus 330-300.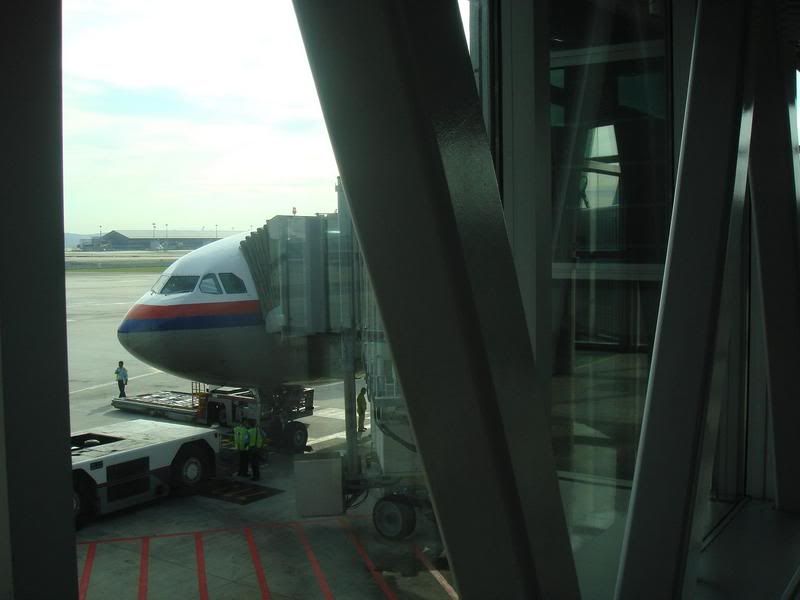 A close up of the equipment.


FLIGHT'S DETAILS

Date/Day: 11 December 2006/Monday
Flight Number: MH 711 (nicknamed 7 Eleven)
Carrier: Malaysia Airlines
Aircraft: Airbus 330-300
Aircraft Registration No: 9M-MKE
Route: Kuala Lumpur (KUL) to Jakarta (CGK)
Departure Time: 09:10 hours Malaysian time (GMT +8)
Arrival Time: 10:10 hours Indonesian time (GMT +7)
Seat Number: 8K (Window Seat)
Journey: 2 hours
Distance: 699 miles
Class of Travel: Golden Club Class (Business)
Fare Category: C (Full Business)
I placed two of my hand carried luggage inside the overhead compartment with the help of a very helpful male FA and settled down on my seat. There was a gentleman who sat next to me who looked like on a business trip to Jakarta. We chatted a bit while onboard. He seemed interested about my company's operation in Indonesia. Anyway, at that time, the FAs have already distributed the pre boarding drinks to the passengers. But they forgot to offer one to me. Maybe they were busy preparing for the take off. Hot towel were distributed and collected after the FAs completed their distributing round. Nevertheless, all of them smiled at me whenever they passed by my seat.
View from my seat. Looking out the windows
.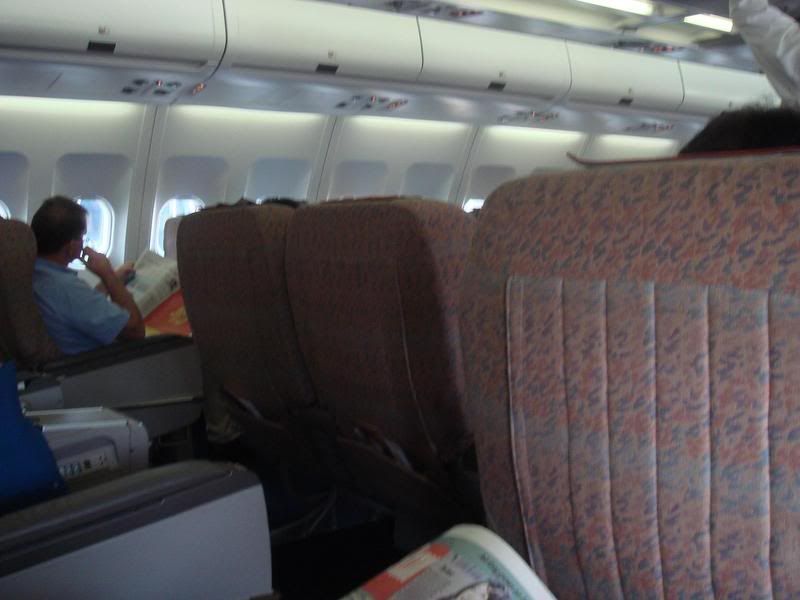 View over the cabin from my seat
.
This is actually my first experience in MH's A330-300 C class cabin. I was in their A330-200 C class cabin a few weeks before the trip and there was a big contrast between the two. A332s are deployed for MH's intra Asia service while the A330s are sent mostly for MH's regional service. The main differences between the two cabins are the seat and the seat pitch. A332s have wider seat in purple while the pinkish seat on A330s are a bit narrow. The seat pitch in A332s are like a football pitch, more than 60' if I was not mistaken! While on the A330s, the seat pitch is at around 40'.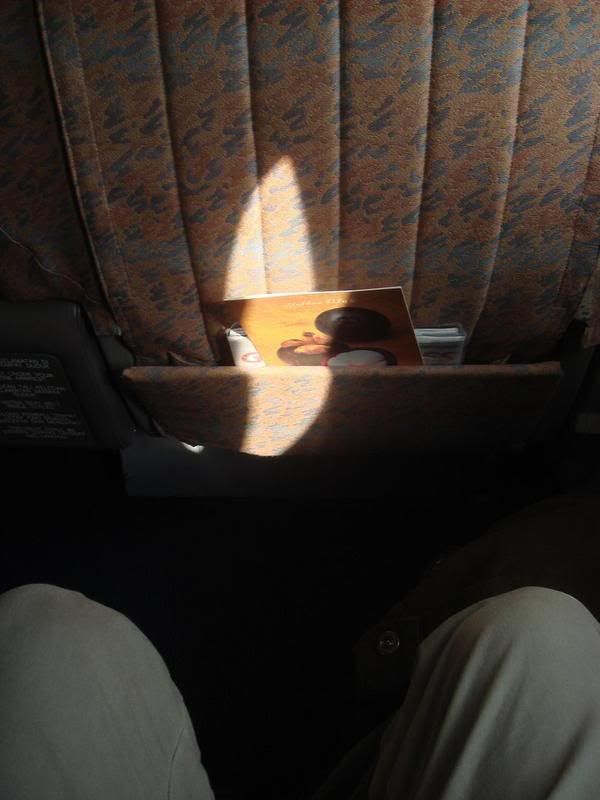 Seat pitch
.
I placed my backpack in front of me and still sitting comfortably. Inside the pouch of the seat in front of me, the menu, MH's in-flight magazine
Going Places
, in-flight shopping catalog and some other items were placed.
Safety briefing was conducted through the main screen at the front of the cabin. We pushed back slightly behind schedule, taxied, rolled and rotated. The weather was exceptionally clear and sunny. The load on C class was 80%. Moments after the seat belt sign was switched off, the FAs began their meal serving. I took the menu from the seat pouch in front of me...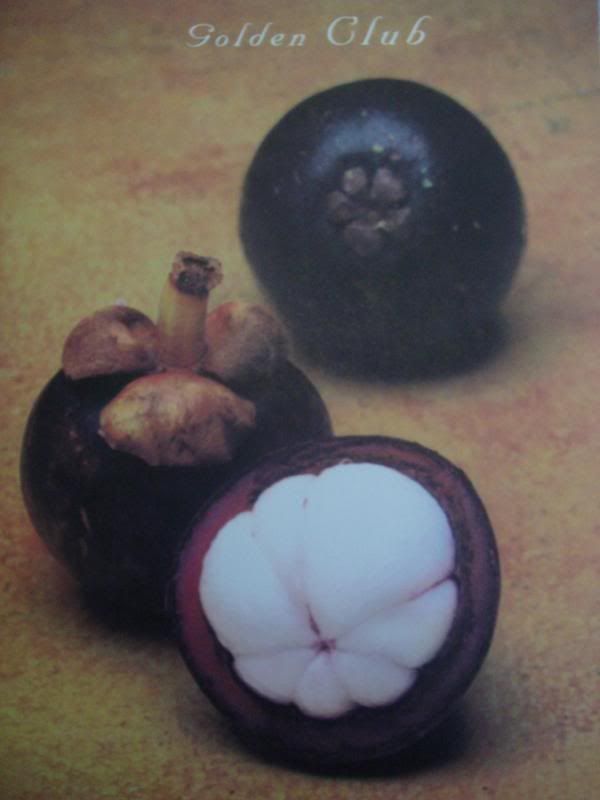 The menu
.
... which featured mangosteens at the cover
, and glanced through the selection for brunch offered on the flight.
The brunch selection
.
Then came my turned, the lovely FA asked me what I would like to have to which I replied "The steamed limandi with garlic and lemongrass for me, please." She prepared my table, placing a napkin over the table before serving the meal.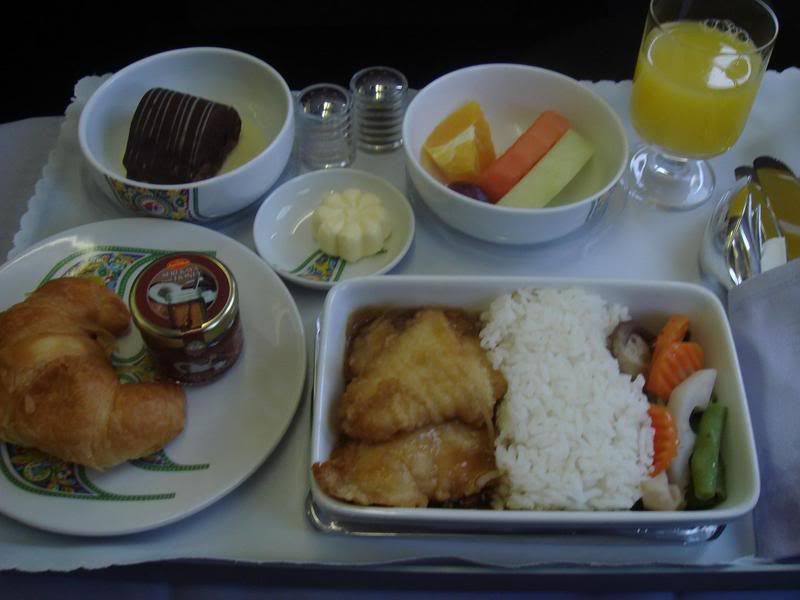 The meal
.
The meal was served in MH's chinas on a tray covered by a napkin. I was offered a bread selection of a croissant or garlic bread. I choose the former. The meal was filling and satisfying.
After finishing the meal, I called the FA and one of them arrived at my seat a few seconds after. She cleared my table and asked whether I would like to have a coffee, tea or anything else to which I politely refused.
Then I took this photo…
View over the equipment's engine and winglet from one of my window
.
… which I think a signature photo for all business class trip reports on
Airliners.Net
. It surely screams its intention.
Then I decided to stretched a bit and moved around the cabin. I was taking this photo of the cabin from behind (by the way, the cabin does look full isn't it? Good business for MH I sure hope so)…
MH's Golden Club Class on A330-300 cabin view. An FA was seen serving a gentleman
.
… when a friendly FA approached me from behind and offered to take a photo of me. I told him that I took the photos for a trip report. He seemed interested about it and asked for more details. I told him about
Airliners.Net
to which he admitted he didn't know much about. He asked for my camera and browsed through all the photos, which I have taken. He thought that all of it were very nice.
We spent quite sometimes chatting at the rear of the cabin.
Moments later, the flight started descending and I returned to my seat.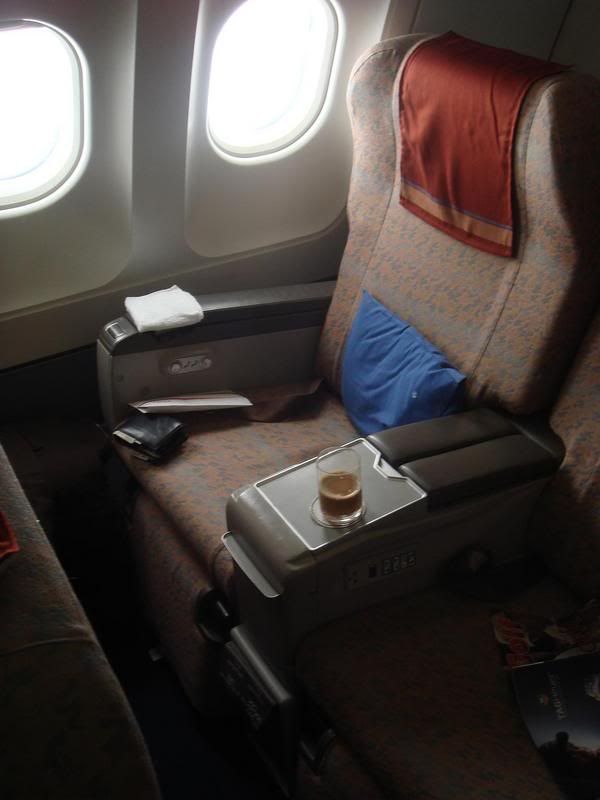 My seat, 8K
.
I really like the combination of the pink seat fabric with the dark red headrest cover. All seats were provided with the soft blue pillow. The FAs then started the cold towel distribution and proceed with its collection round rightafter. Oh, the pilot did make a few announcements from the cockpit but I wasn't paying attention to it. I guess I was too busy taking photos at that time.
Soon later, the pilot announced that the flight was about to land and asked all FAs to take their seats.
At around 10:00 hours Indonesian time, we touched down at CGK. After a short taxi, the aircraft parked at a gate and deplaning started. About four FAs wished me good-bye and I recalled my name was said by three different FAs. It felt great to be addressed by name by a lot of FAs.
The service provided in the flight was exceptionally good, with the exception that the FAs forgot to offer me a pre boarding drink, which wasn't such a big matter. The FAs were very friendly, helpful and chatty yet not intrusive. And they addressed me by my name throughout the entire flight.
I was then once again on the Indonesian soil.

I walked along the slightly dark alley at CGK…
Walkway at CGK, soon after deplaned
.
… and after quite a long walk, I arrived at the immigration clearance area. Here it was done manually (compared to by machines in KUL) in an open space counters. The process was smooth as all counters were opened for us.
Immigration clearance at CGK
.
After that I proceed to the baggage reclaim area. There wasn't any information on at which belt our luggage was unloaded. I have to walk from the first belt, Belt 1 until I finally found the belt assigned for my flights. It was Belt 4. While waiting for my luggage, I changed some of my Ringgit to Rupiah. The rates given were unfavourable, but I still need to change, as I need to have some Rupiah to pay for the taxi. Ten minutes later, my checked in luggage arrived on the belt and it was among the first one to made it. Being a Golden Club Class passenger, my bag was tagged "Priority Luggage" and MH really treated it as their priority.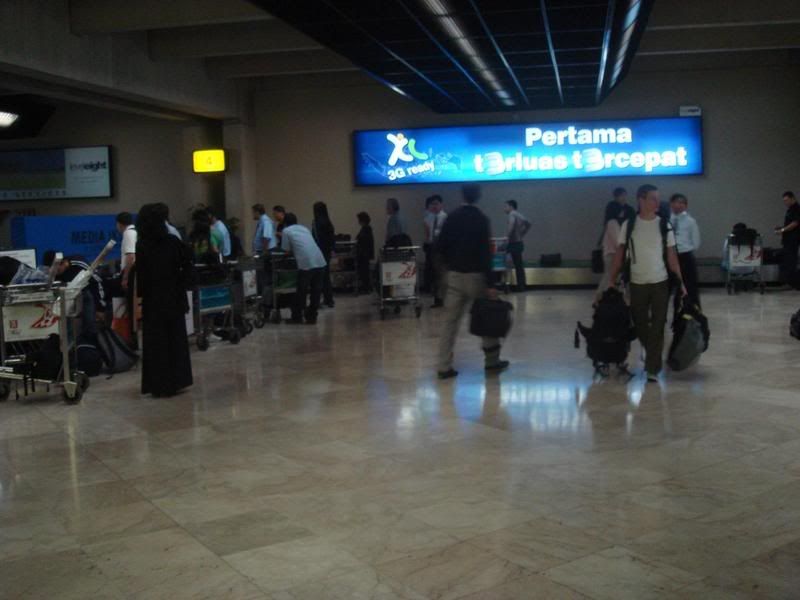 View over the baggage reclaim area at CGK
.
Came custom clearance. I just have all my luggage being screened once again and I was allowed to proceed. Then I decided to leave the terminal where I was greeted by a lot of touts soon after exiting the arrival hall. I politely refused them and walk hurriedly towards the drop in/off area. I took a photo of CGK's exterior before getting me a taxi to downtown Jakarta.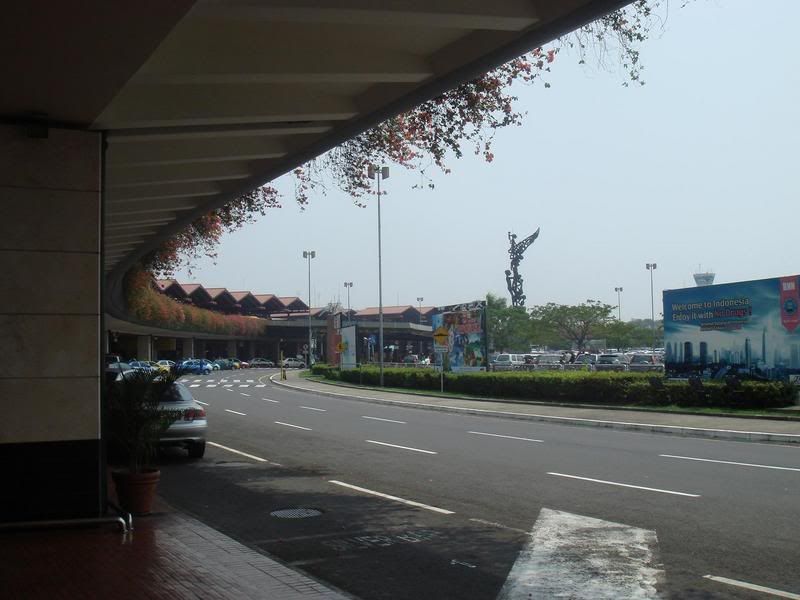 CGK's exterior
.
Never accept the offer of the touts (mostly illegal) at CGK. Refuse them POLITELY, yet firmly. Most of them operated using a personal vehicle and will charge double the amount of a taxi ride to downtown Jakarta. I was once being charged IDR 150.000 for a ride from CGK to downtown Jakarta by a tout. A taxi ride will only cost one around IDR 75.000 inclusive of toll and tip. The blue BlueBird and white Express taxis are recommended. Passenger will be given a card, detailing the taxi's registration number, name of the driver, time of leaving CGK and such, as a security features of the taxi service out of CGK, which I highly praised
.
USD 1 = IDR 9.000
I left CGK at around 11:00 hours on a white Express taxi. The taxi driver was nice and chatty. The traffic was a bit heavy that day. It took us 45 minutes to reach my destination, The Sultan Hotel (formerly Jakarta Hilton International) in downtown Jakarta for a meeting with a friend.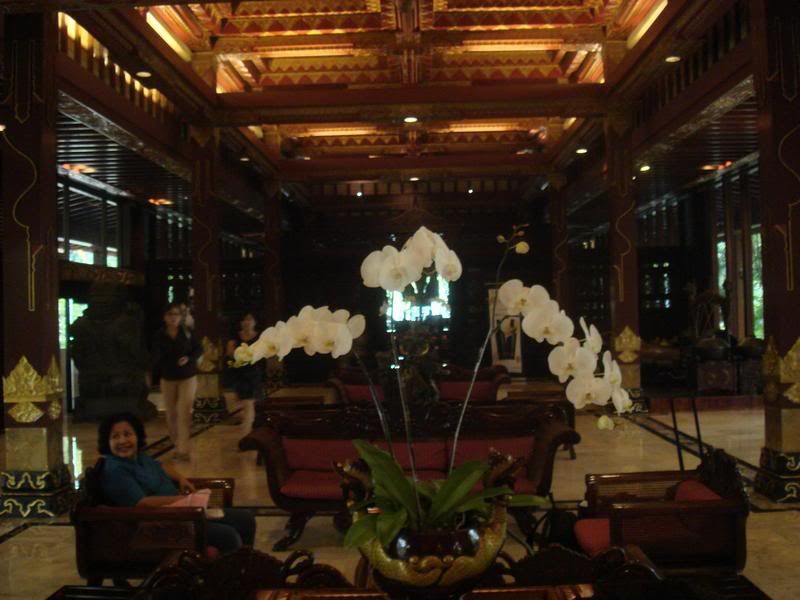 View over the lavish, traditionally influenced Sultan's lobby
.
As I settled down on the comfortable sofas at Sultan's lobby, my journey finally came to an end.
9MMAR