This is my first TR so be nice with your comments.
We decided to visit my dad's parents in Ohio this Christmas since both his sisters would be there along with his grandmother. We left our house in TUS the night before the flight because we did not want to get stuck the next morning on I-10 because of a problem with the van. (Can't trust those American cars, ever.) We stayed with family for the night and left the next morning for PHX. Traffic was light on US60 and we got to the airport quickly. After parking in one of the long term lots north of the airport we took the shuttle to Terminal 2. On the way I saw the US Airways PSA retro livery A319 and the tail of the HA 763. As we passed by Terminal 4, I was really glad we were not flying US or WN. They had extremely long lines outside. That may have been for curbside check-in, but the lines were not inviting regardless. If you want to fly WN, it would be better to do so from TUS and if you want to fly US, well, friends don't let friends fly US.
We had printed our boarding passes the day before so we just had to get our bags tagged. There were very few people checking in for CO, most were in the F class line and we had little wait. The CO agent that assisted us was friendly enough, nothing really bad or really good, but better than the lady in CLE, more on that later though. Security was a breeze with not many people at all in line. More people got in line after we left though. The TSA agent that checked our boarding passes before going through the metal detector was very friendly, I was impressed. No extra security for any of us and we made our way to the CO gates. After going through the metal detector I noticed I had not taken off my belt but nothing became of it even though it had a metal clasp.
Terminal 2 in PHX is rather dismal. It consists of the UA, CO, AS, and Great Lakes gates. There are two food shops and one bookstore, the UA lounge, and a large set of windows at the south end. The terminal is also narrow with small waiting areas near the gates. I left my stuff with my parents and went spotting. I parked myself at the end of the terminal to watch the planes taxi by before taking off on 7L & 7R. After a while I noticed the US PSA retro plane was coming and I had not brought my camera with me (that was stupid). I hurried back to get it but by the time I got back it had gone by. I got shots of some other aircraft as they went by though. I also saw the US Airways America West retro plane land on runway 8 on the other side of the airport.
An ExpressJet ERJ-145XR arriving from IAH.
A WN 73G taxiing for takeoff. I noticed while I was spotting that the 73G's used about 1000 ft less of runway on takeoff than their older counterparts, the 733.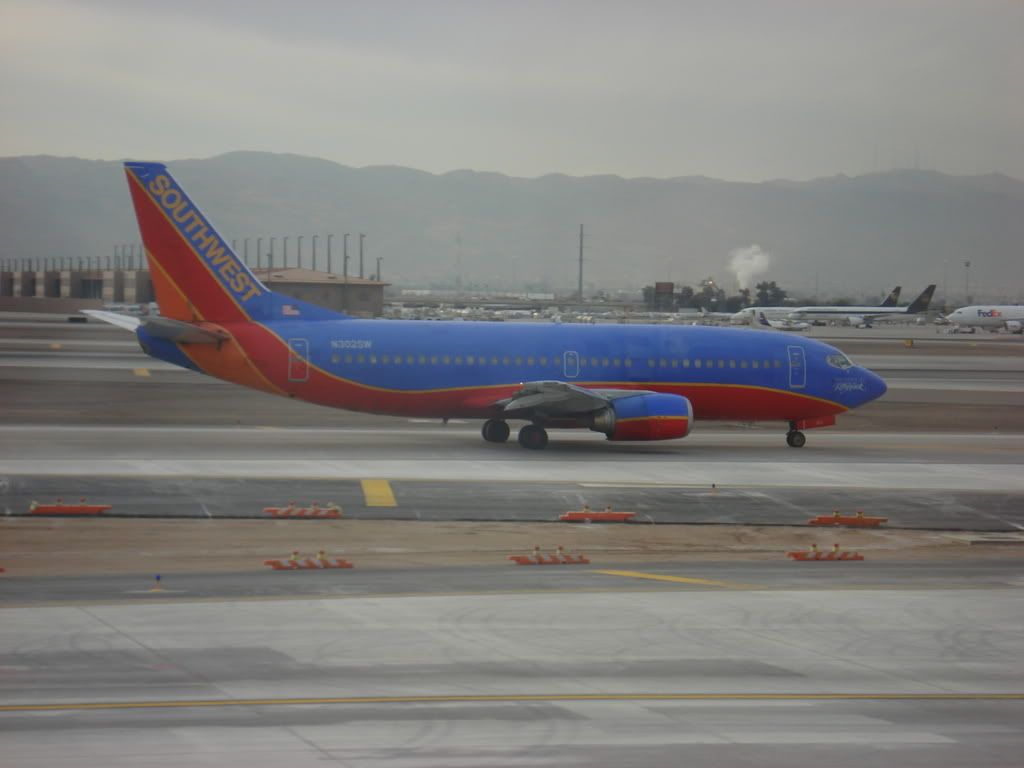 The WN 733 that has "Powered by Kittyhawk" printed on the nose.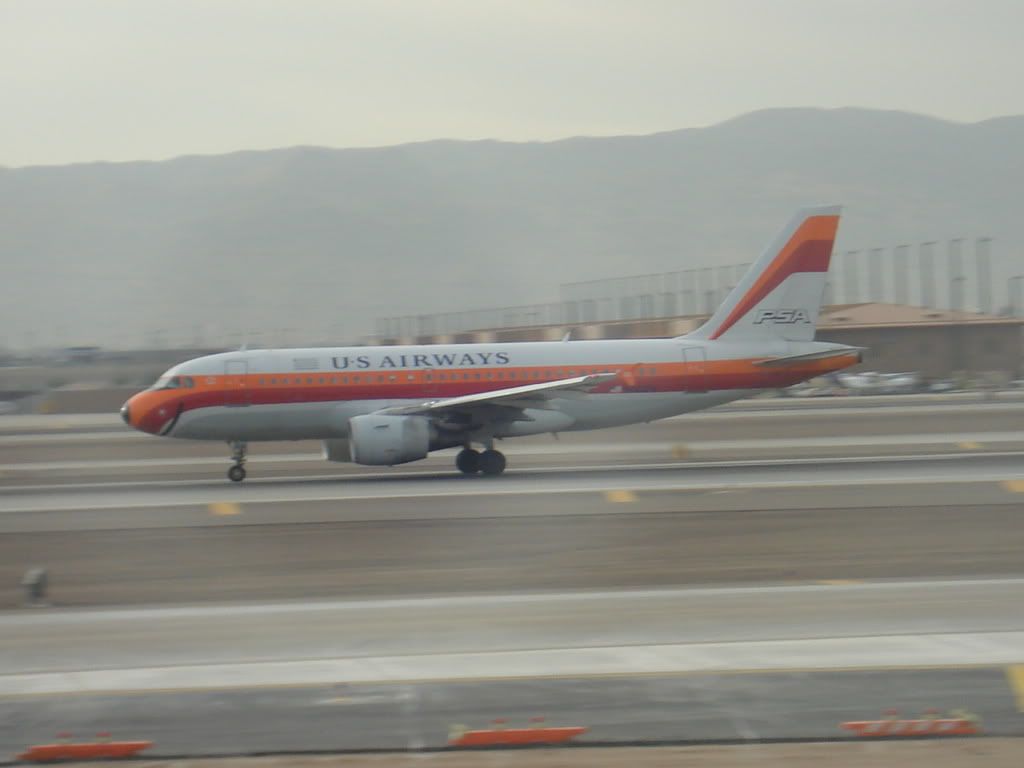 The US PSA A319 taking off.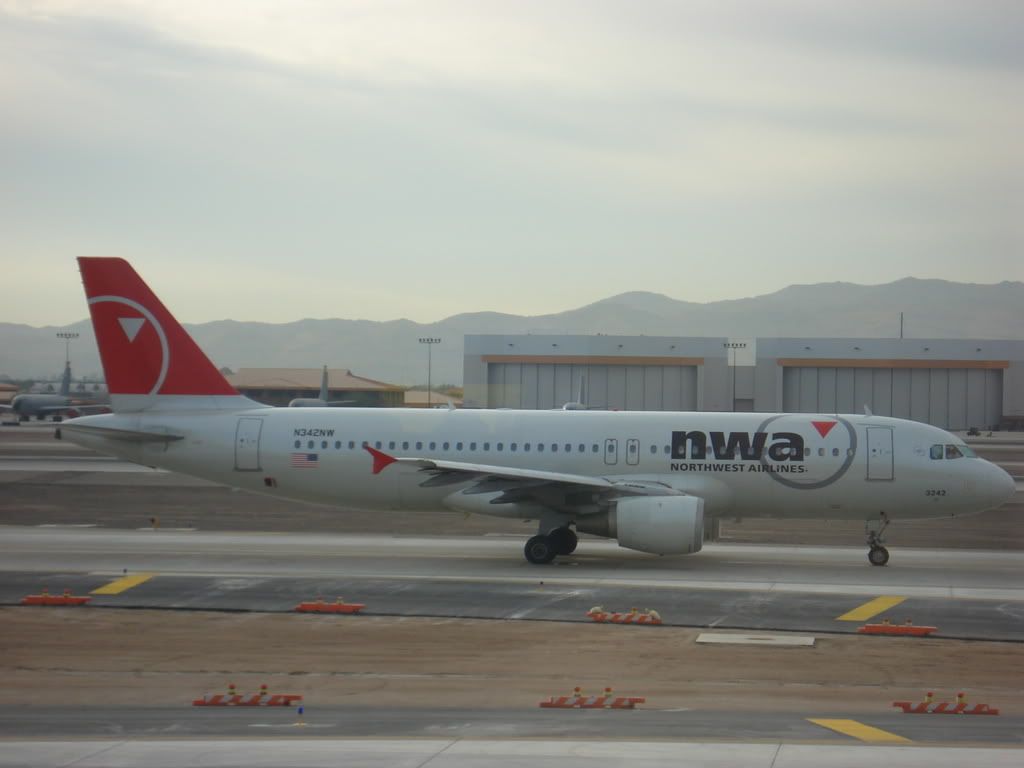 NW A320 taxiing for takeoff.
Cargo ramp with FX A310 and Cessna Caravans and UPS 757 and a DC-8.
Here are two AC A320's sitting on the southwest part of the airport. One is in the new colors while the other only has the new colors on the tail and a white fuselage. Does anyone know why they are here?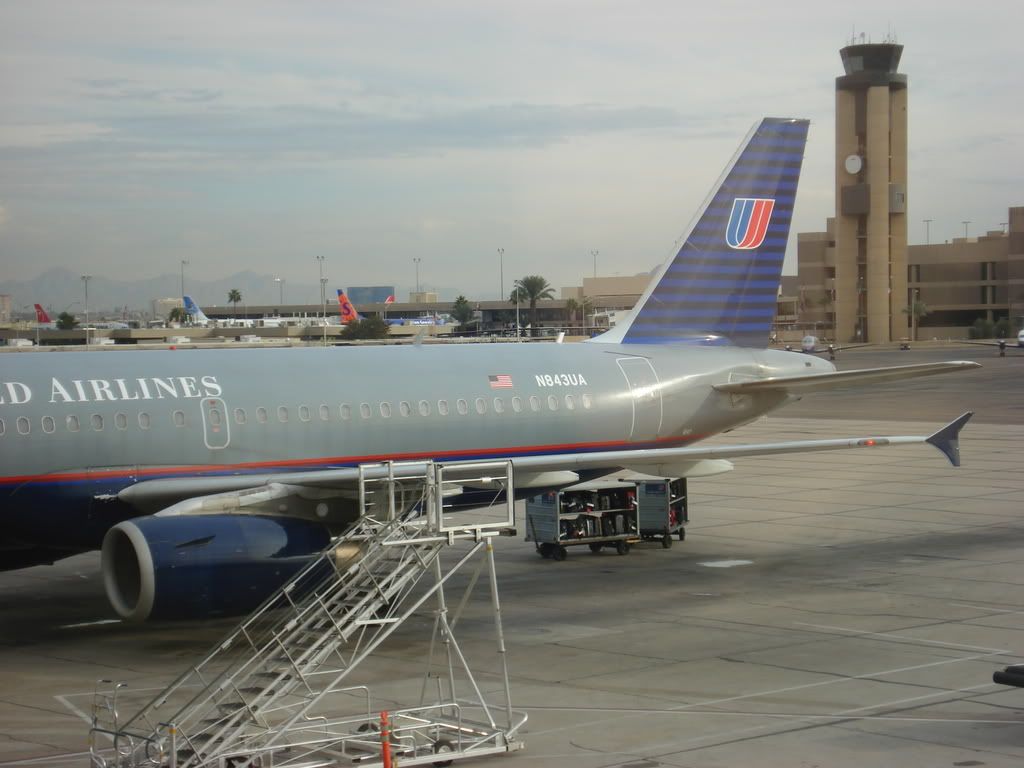 UA A319 to IAD and a winglet close-up, the flight is delayed. UA discontinued the A320 that operated TUS-PHX-IAD and gave both PHX and TUS one daily A319. It's kind of surprising UA has only one daily flight on PHX-IAD.
ATA 757 in Pleasant Holidays Livery at a remote stand waiting to go back to somewhere in Hawaii later that day.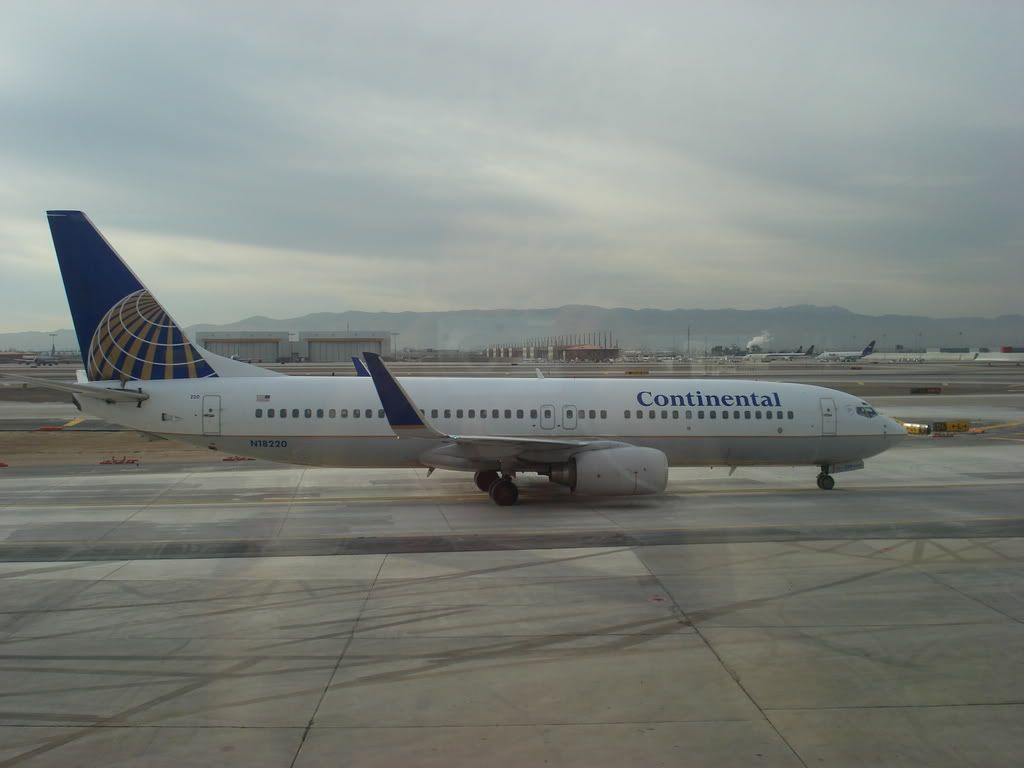 CO669 arriving from CLE, to go back out as CO1568 to CLE, our flight.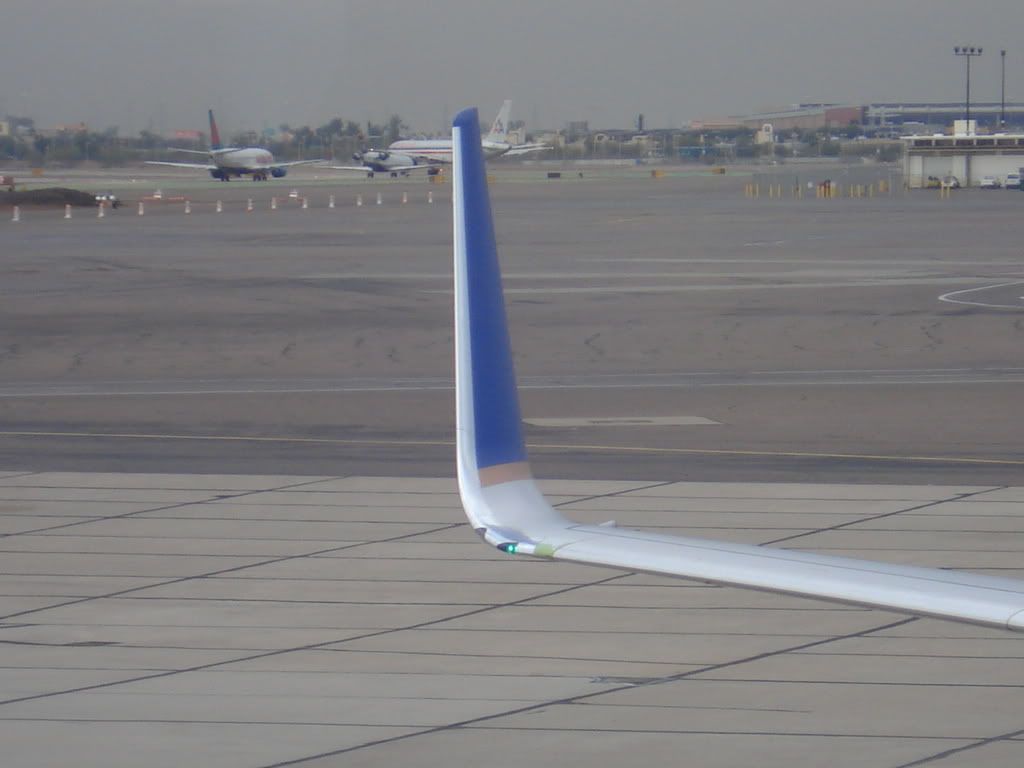 Winglet close-up of our 738 and the line-up at 7L.
Sun Country 738 and HP 757 Teamwork Livery through winglet of 738 at gate 6B that arrived early from IAH.
Those were the pics I got at PHX.
The ERJ that arrived from IAH had one open seat left and the agents asked if any passenger from the next flight (the 738) would like to get on this one. One lady quickly got up for it. The 738 flight to IAH was oversold and when passengers were asked to wait for another flight a few went for the $250 voucher they were giving. Our flight was oversold but they never asked for volunteers so there were some no-shows. Our family was spread throughout rows 7-9 and were some of the last passengers to board. My dad was in 7E, my mom and I in 8A & B, my sister in 8E, and my brother in 9B. We bought the tickets late and there were no seats left to select, so we let the computer do its thing. The lady in 8C offered to switch with my brother so we could be sitting together. Nice people in PHX today.
COA1568, N18220 737-824 w/ Winglets
December 22, 2006
Sched. Departure (Actual): 11:07AM (11:18AM)
Sched. Arrival (Actual): 4:53PM (4:27PM)
Gates: 6A in PHX to C5 in CLE
Runways: 7L in PHX to 24R in CLE
Time data is from FlightAware because I did not keep track myself.
The route. Cruising altitude was FL350 initially then up to FL370.
Most of the passengers on this flight had printed their boarding passes at home because the agents ripped off the top portion because they do not have scanning equipment in PHX and there was a large pile of pieces of computer paper and a small pile of perforated boarding cards. The taxi to 7L was quick and we took off with no delay. Much more powerful than the C172's I usually fly. What sucks about row 8 seats A-C on the 738 is that there is no window so I was slightly disappointed for this 3:09 flight. The movie was Talladega Nights which I watched again. It is OK, but not as good as Pirates of the Caribbean 2 which I expected to watch on the way home. Meal service began after the movie started and was a personal sized cheese pizza with a salad and funsize candy bar, to drink I had Apple Juice (no full can but I did not expect it). I was expecting a cold sandwich since that is what is shown for CO on
www.airlinemeals.net.
I was pleasantly surprised at what it was and the taste. Not bad at all. Definitely edible. Towards the end of the movie the FA's came around with the second drink service. I just had water. My brother asked for a full can of Coke and they gave it to him. Whether it was because he is a kid or if they do it for everyone I do not know. The movie ended and I listened to my CD player (I am anti-iPod, they are too small IMO. They would probably break if I sat on it.) and read the SkyMall catalog. Lots of useless junk in there. They still have the ad for the wall map of the world that is reversed so the west is east and vice versa. I think Leno had it on Headlines once. About an hour from landing, the FA's came through the cabin with a tray of cups of water. I had another one. We landed in a wet CLE early on 24R. We seemed to float a bit and the pilots really put on the reverse thrust upon landing. As we were deplaning I wished the FA at the door (Holly) a Merry Christmas which she returned. The bags seemed to take a while to come out but ours were some of the first which was nice. When we got to my grandparents' house we noticed the TSA had left notes in two of our bags but they didn't take anything.
Rating
Crew (Ground and In-Flight): 15 Check-In agent brought this one down.
Timeliness (Flight and Baggage): 15 Baggage took a little long to come out.
IFE: 20 The movie was acceptable to me and there are radio channels to listen to.
Food: 20 It was good and free.
Comfort: 20 I had no problem with legroom.
TOTAL: 90 (A-)
CLE puts their rental car area 2 miles from the airport so we took the shuttle there. We had reserved an SUV from Budget, but guess what, they did not have any left so we got a Chevy Impala. Isn't it nice to reserve a vehicle that you know will fit all of your bags and persons and get one that will barely hold your suitcases?[/sarcasm] The rate was less but we were not too impressed with Budget. We then drove down to CAK where we would stay for the next 9 days.
Unrelated info about what we did in Ohio. We packed for winter, but got spring. It barely even froze while we were there. Only once did it "snow" if you call a few flakes that never amounted to anything coming from the sky. If we wanted cold, we should have stayed in TUS. It was cloudy most of the time we were there and rained on some of the days. The first day the sun was out though, you could hear all of the small planes flying overhead from CAK. One day it was even warm enough to drive around with the sunroof open! We had a good time visiting with family. The day after we got there, I was surfing this site and noticed the fog delays in PHX. We were fortunate on this vacation in that we did not book through DEN and that the PHX fog was the day after we left. My grandpa has basic Juno dial-up service and only has 10 hours of internet access per month, which we discovered when the 10 hours was used up. *sigh* I had to resort to that old pastime called reading. One thing I noticed while there, do all Akron/Canton people think F9 is the greatest thing since sliced bread? Some of my relatives think so. Personally, FL is much better for the airport since they have nonstops to BOS, LGA, TPA, MCO, and ATL, but I may be biased, look at my username. FL is not so good if you want to fly to the west (PHX service starts next month!) but F9 is in DEN which has its own set of problems.
After 8 days of family, it was time to come home. After church the morning of the 31st, we came home and packed to be ready to leave at 2:30PM. We drove up to CLE where there was a torrential downpour but it moved off by the time we reached the airport. We returned the car while an entire fleet of ERJ's landed and we took the shuttle to the terminal. There was again no one waiting at the CO counters and an agent called us right over. She was not very friendly, no smile or anything like that. We got the bags tagged (some just barely under 50 pounds; remember we packed for winter) and went to security all of 20 ft away. Only my parents needed their ID's and there was no one in line for security. I did not take my belt or my watch off here and nothing happened. Do they turn the detectors on? CLE is nice in that you can go to any terminal after passing security and there are plenty of shops and restaurants available. We made our way to gate C11 and sat across from it at an unused NW gate. I left my stuff with my mom and took my brother exploring. We came to the tunnel to Terminal D and decided to go through it. Moving walkways are fun to use. Terminal D was completely deserted when we got there. It was only 4:20PM but there were no passengers. We walked throughout the entire place and only saw employees and lonely planes. The only ERJ's that were operating were from Terminal C. I guess all the jets we saw landing while returning the car parked at D and were done for the day. A few probably parked at C and did another flight before stopping. One thing that happened while we were at Terminal D was a CO agent asked my brother and I to come over and I was thinking "Hmmm". She then asked me to read some numbers that were too small for her. LOL.
Here are some pics I took in Terminal D.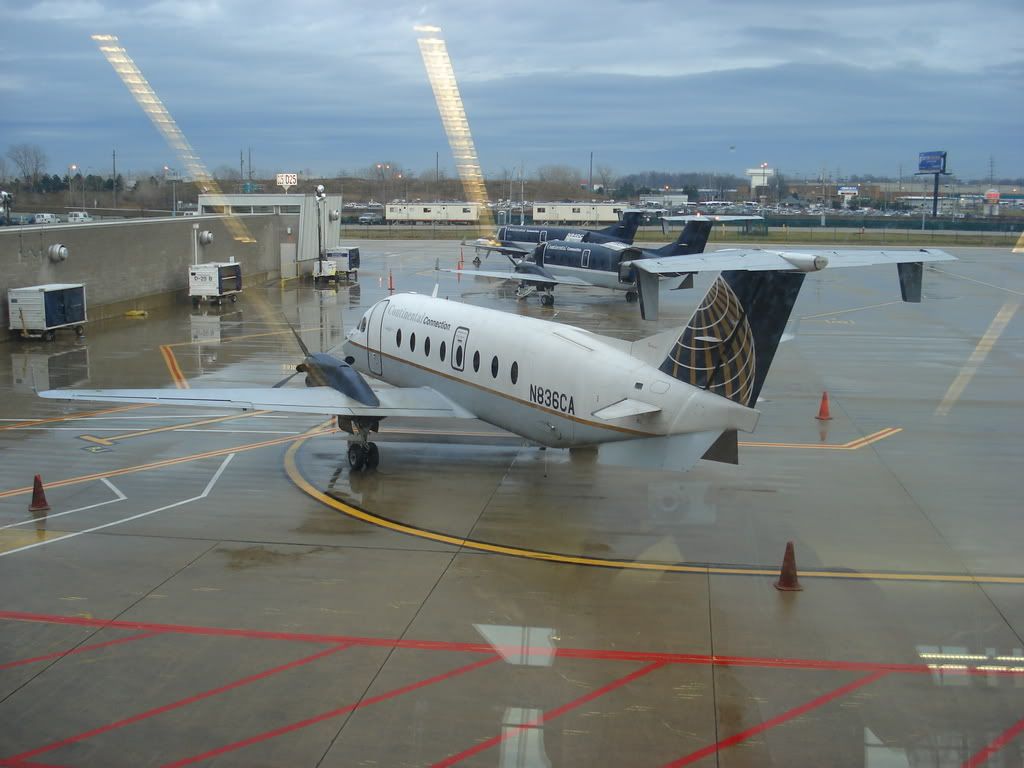 Beech 1900D's.
Ex-US Express Beech 1900D's.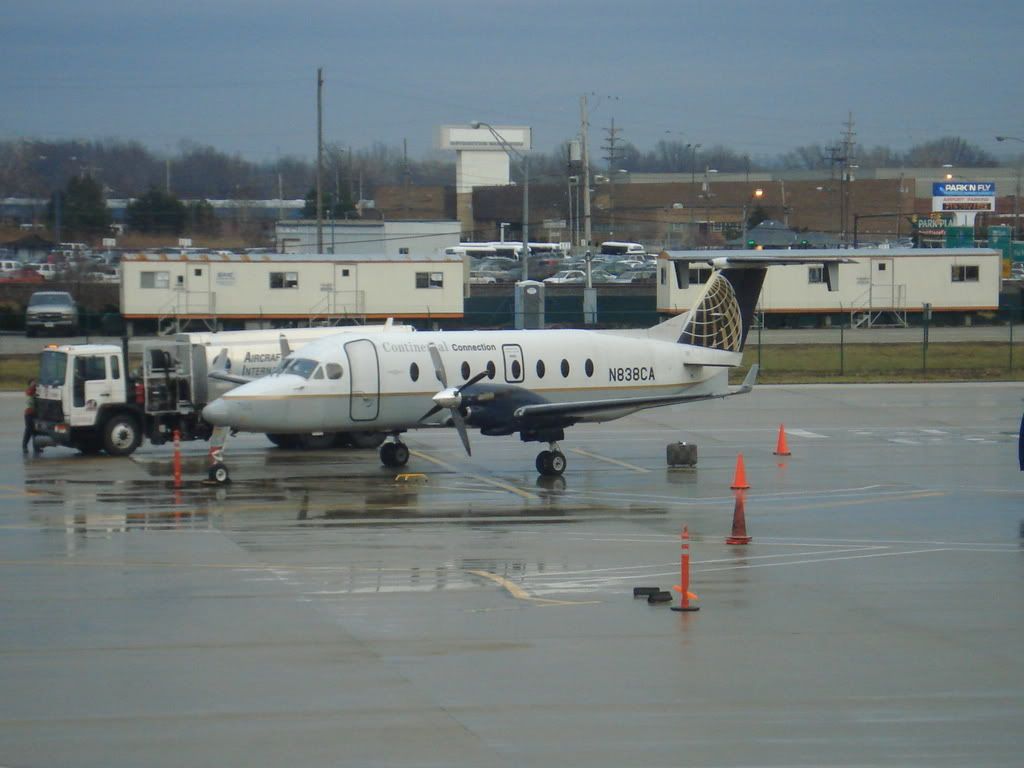 Beech 1900D.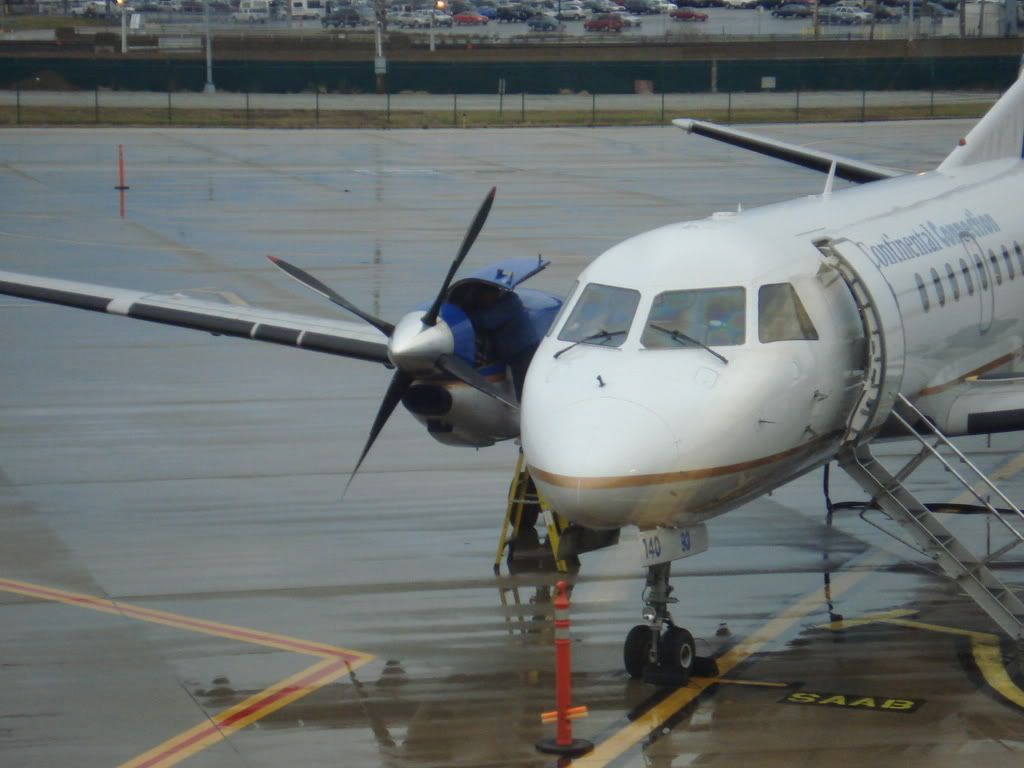 Saab 340 being inspected.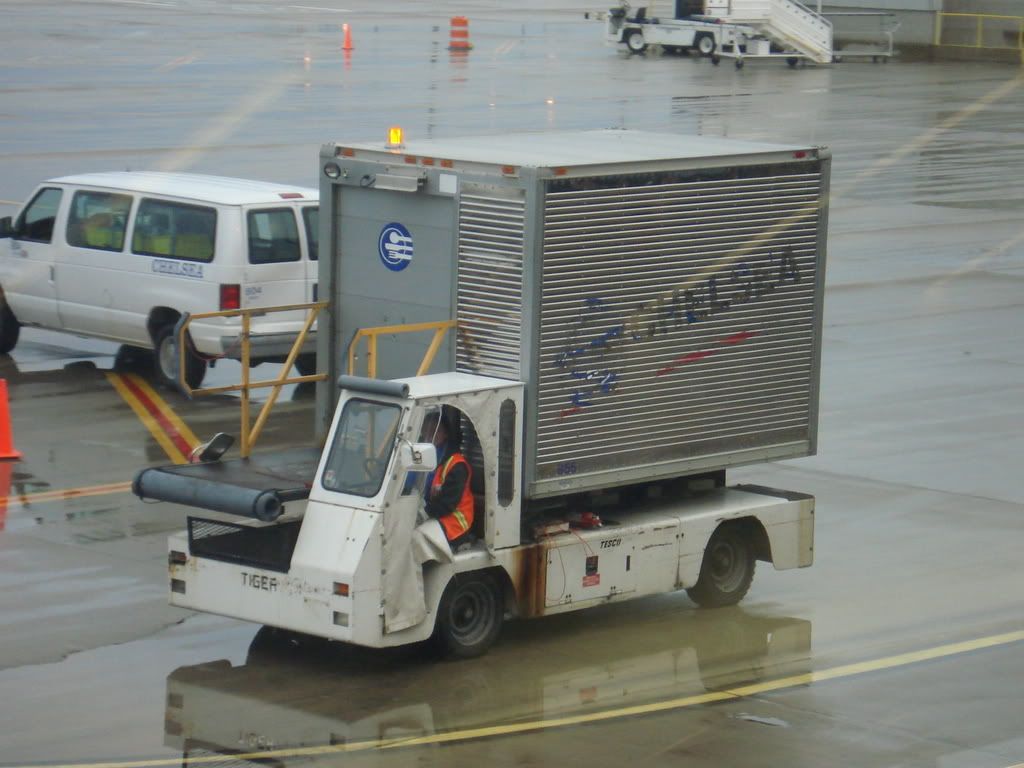 Small galley service truck.
ERJ-135, 145, and 145XR.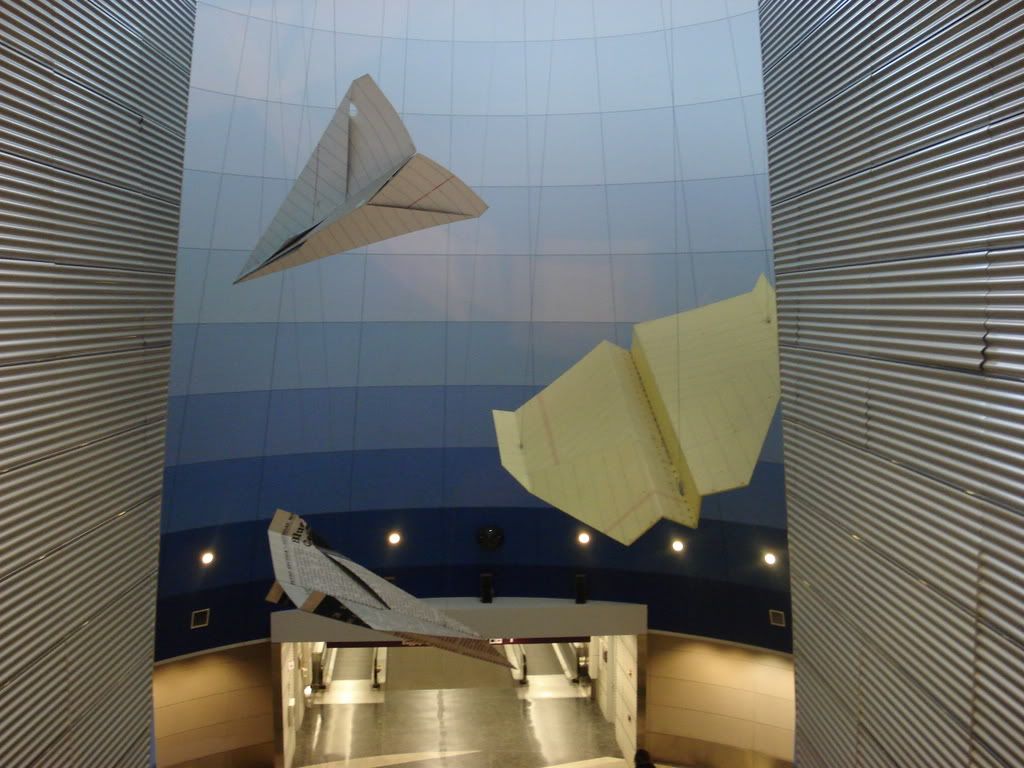 The paper airplanes on the Terminal D side.
The decoration for the underground walkway.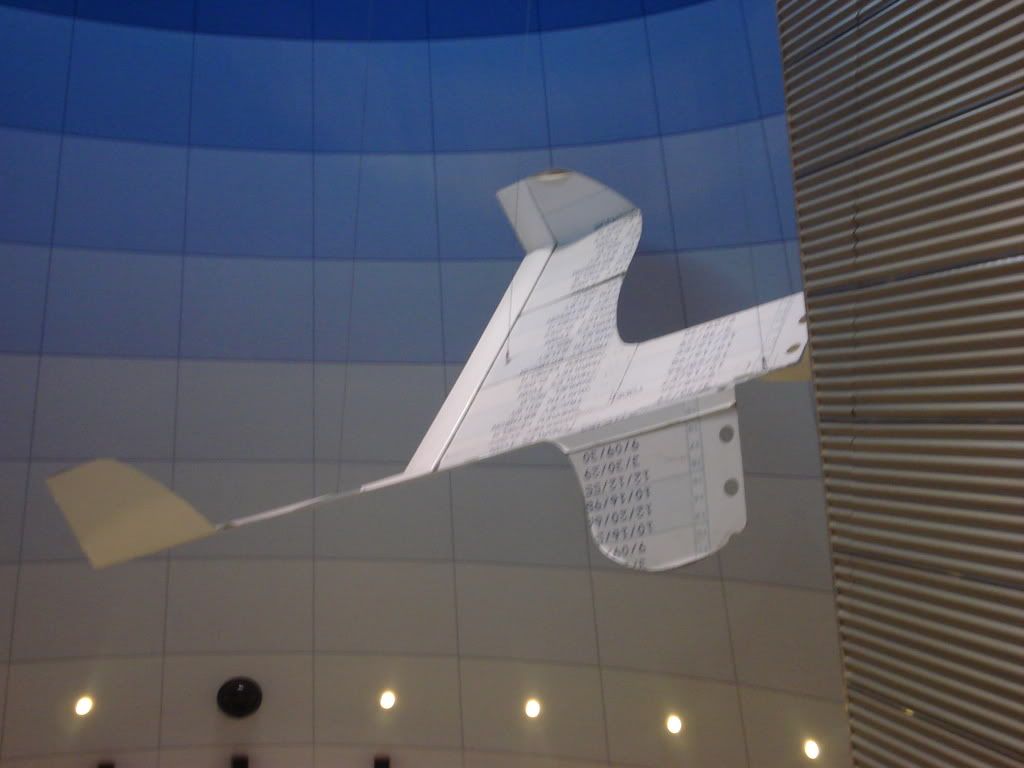 The paper airplane on the Terminal C side.
Terminal C was also quite deserted. Although CLE may seem like ERJ and 737 central for CO, not many planes fly after 4 PM. I should have gone to the WN gates, might have seen something there. I finished my spotting by going to the end of Terminal C. More pictures: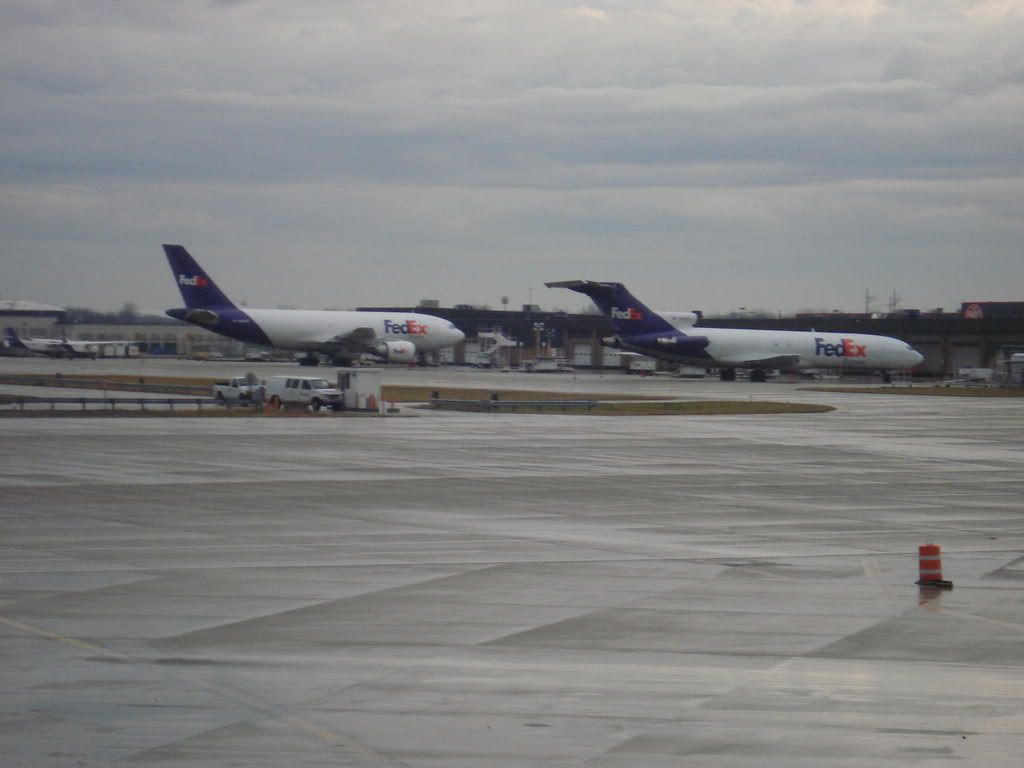 FedEx 727, A300, and Caravans. I saw a UPS 757 on the other side of the airport. Does CLE have two cargo ramps?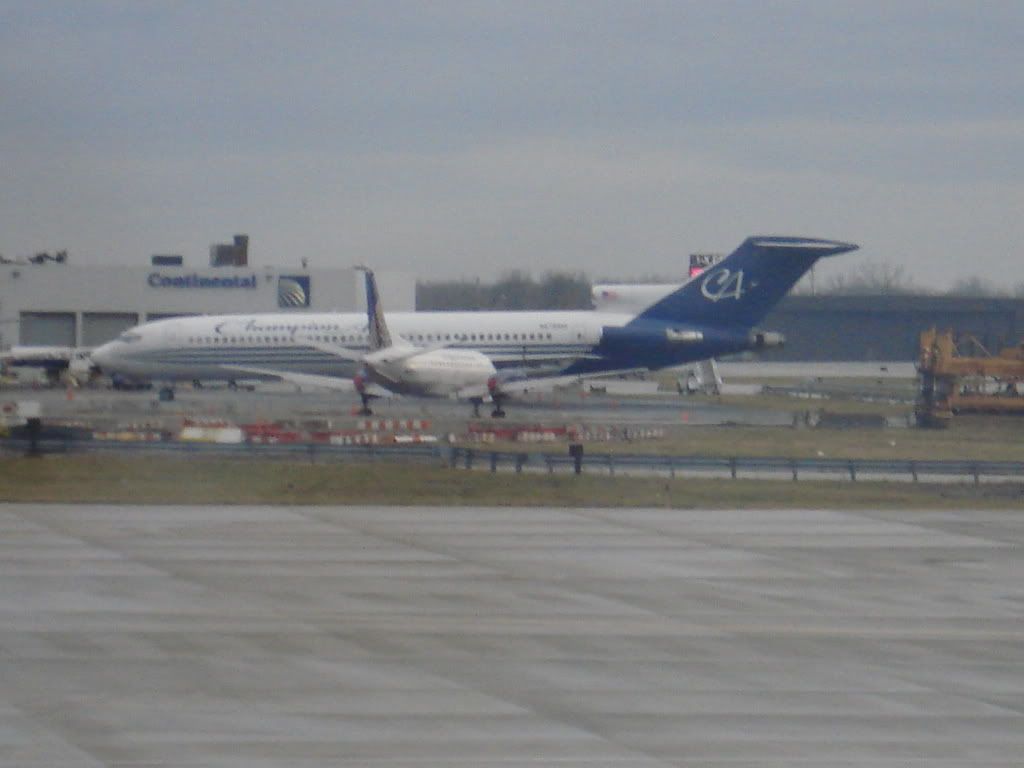 Champion 727 and Saab 340.
735 at C14.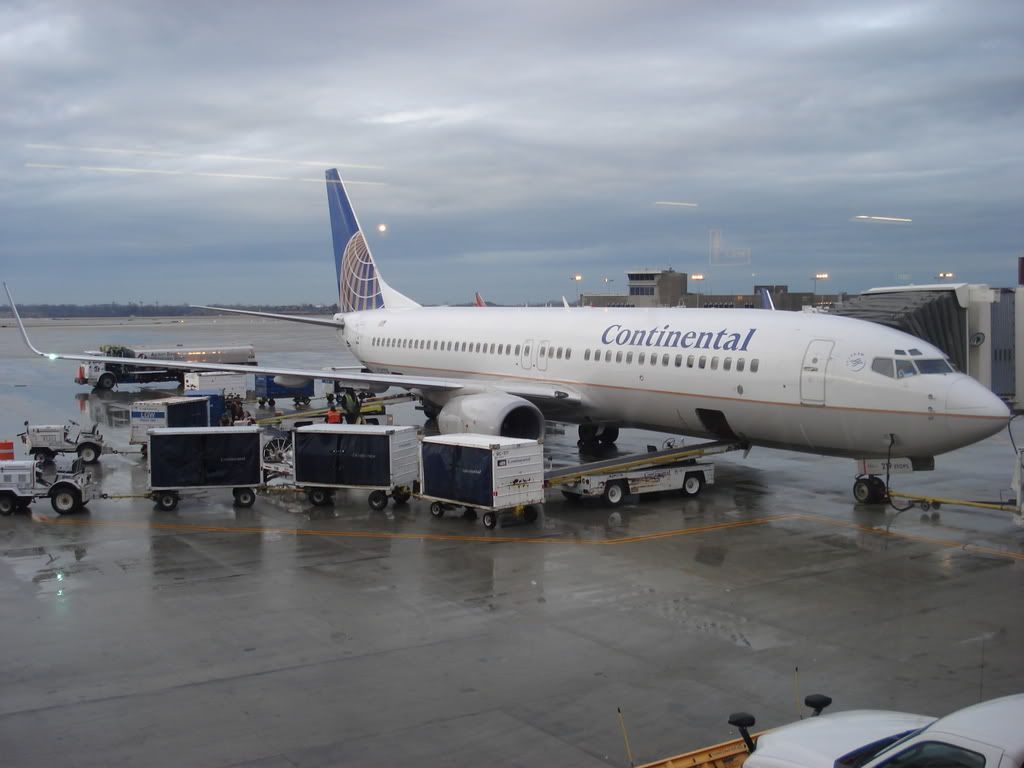 Our 738 at C11. There are no windows in the waiting area at C11 so this is the only place I could see the plane.
NW DC-9-30 taxiing for departure.
COA169, N14219 737-824 w/ Winglets
December 31, 2006
Sched. Departure (Actual): 5:40PM (5:46PM)
Sched. Arrival (Actual): 8:17PM (7:32PM)
Gates: C11 in CLE to 6A in PHX
Runways: 24L in CLE to 26 in PHX
Times again from FlightAware.
The route. We cruised at FL360 for this flight.
We again boarded last for this flight but we all sat in the same row; 7B-F. The first of the OSU fans were beginning the trek to PHX.
The 735 at C14 has been pushed back but it has no passengers. Going to maintenance maybe?
Passing Chicago en-route.
I took a picture of dinner on this flight. It was a Cheeseburger and the same salad. When I heard it was a cheeseburger I was unsure because the thought of a cheeseburger served in a plastic bag was weird. As the pizza on the flight out though, the cheeseburger was good and I was pleasantly surprised. My brother asked for a full can of Sprite and the FA also gave my sister and I full cans of what we asked for. I had a ginger ale and she had tomato juice. The movie we were supposed to get was Pirates of the Caribbean 2 as I mentioned before, but CO started January early and the movie was The Queen about the Queen of England. I was completely disinterested so I did some Sudoku puzzles and looked out the window. The moonlight allowed me to see the ground. My mom thought the movie was good, but she is into movies of that genre. There were two more full drink services this flight. The second service I declined but on the third service I had an orange juice.
Legroom was adequate. It would have been better if I would have kept my backpack in the overhead bin the whole time. For the picture I moved it though.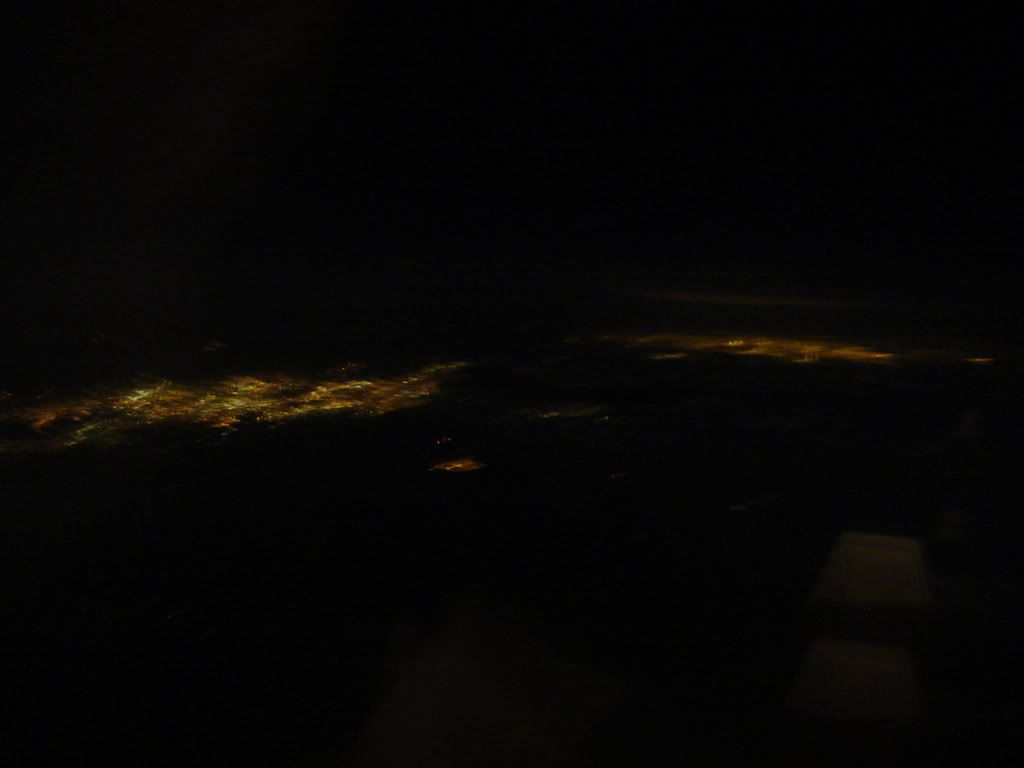 Passing by DEN and COS. They are closer than I thought. About 45 min after this a jet passed directly over us. It had tail-mounted engines, a contrail, and was flying southeast. It probably passed directly over us 1000 ft above.
The wing and engine on approach to PHX.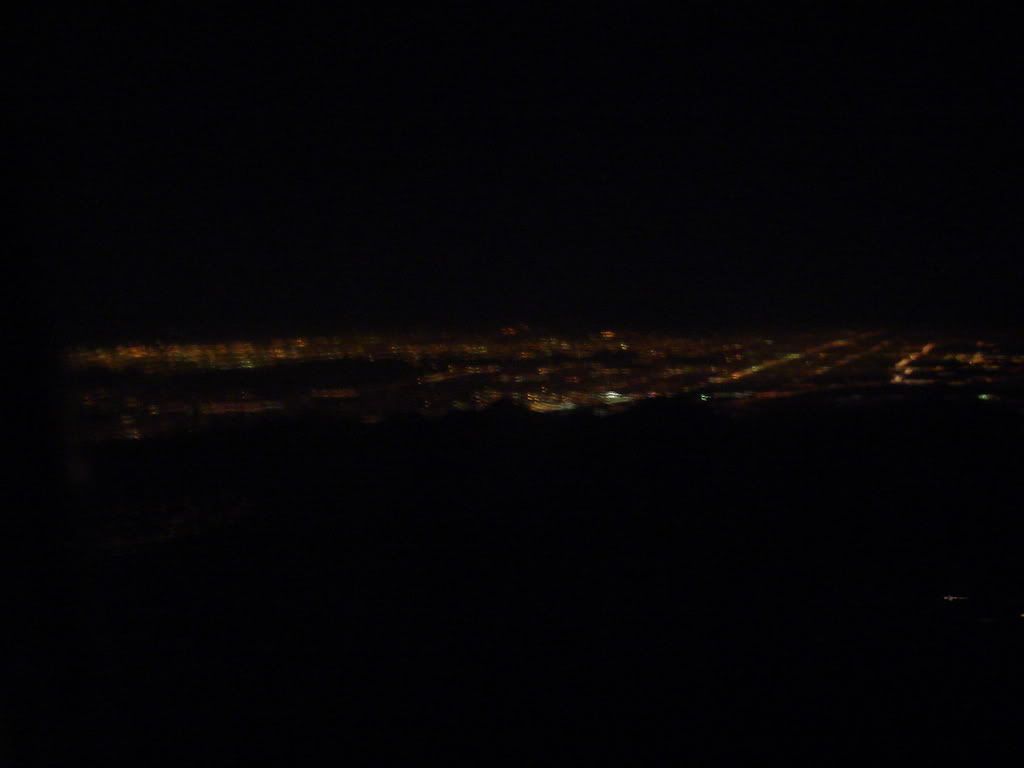 Getting closer to PHX.
We bounced once on landing and pulled off after Terminal 3. Taxiing back I saw a DL 757 that was still in Song colors pushed back away from the terminal.
A CO 739 at 6B from IAH. At gate 8 was another 738 that had arrived from EWR. The flight from EWR arrived around the same time as ours and getting our bags took awhile.
Rating
Crew (Ground and In-Flight): 15 Ground agent had no smile and FA's were not as friendly although they did wish everyone a Happy New Year over the PA. The friendly First Officer bumped this one up. He kept updating us with information and even mentioned during one announcement that London was 15 min into 2007.
Timeliness (Flight and Baggage): 10 Baggage coming out was worse in PHX than in CLE.
IFE: 15 The movie was boring but the stuff after it was mildly interesting.
Food: 20 Again it was good and free.
Comfort: 20 No problems here.
+5 Bonus because I had a window seat and saw Chicago and Denver.
TOTAL 85 (B)
Overall
CO needs friendlier ground agents and FA's. If they merge with UA, hopefully the only change will be friendlier crews and Channel 9. Everything else is good. I look forward to traveling with CO again, though with FL beginning to serve PHX, I will have a hard decision to make.
Comments and critiques welcome.