Hello everyone,
I returned from Barcelona a few days ago and I think that it was a pretty interesting trip so I decided to write a short report about it. Please excuse spelling mistakes, I wrote this report in just an hour this afternoon and I don't feel very good because a nasty cold hit me yesterday. Anyway, here we go, I hope you enjoy:
It is actually a good old tradition that my best friend Sebastian and me are flying to Spain after Christmas. The days after Christmas are incredible boring here in Germany and the weather sucks usually so it is the best to fly southwards where it is warmer, where the nightlife is better, and where we can enjoy the good and tasty Spanish cuisine.
Back in October we checked some travel and airline websites for good fares, after a while we found a pretty cheap flight to Barcelona on the website of Swiss International Airlines, the routing was Dusseldorf-Zurich-Barcelona-Zurich-Dusseldorf and the fare was just 135.70 EUR per person, no question that we pulled out our credit cards immediately to book this bargain.
Dusseldorf Airport
We went by car to Dusseldorf airport and parked it on the parking lot of the long distance train station because it is the cheapest, from there we took the people mover to the terminal and an escalator to the departure level where we went straight to the Lufthansa check-in counters. There was a pretty long queue so we tried to use the Quick Check-In automats but when I entered my card some Lufthansa dude approached us and told us that these automats are not working currently so we had to queue and it was our turn after approximately 15 minutes waiting time. The lady behind the counter was not the friendliest, we got no reply when we said: "Hello" and she didn't ask us where we want to sit, instead she only asked: "Luggage?", I replied: "Yes, two pieces" and she issued us the boarding passes for both flights. Then we went through the security control, had a coffee and a cigarette in the only bar in Terminal A, and went to our departure gate after a passport control which lasted 3 minutes because the Federal Border Guard dude did it with greatest accuracy.
The flight to Zurich
Date: 28th of December 2006
Flight: LX1019; operated by Swiss European Airlines
Registration: HB-IXH; Equipment: Avro RJ-85
The plane arrived from Zurich approximately 25 minutes before boarding should begin, we already thought that they wouldn't be able to turn the plane in such a short time and we were right, boarding begun 15 minutes later and I missed the newspaper rack which I always found in the jetway while boarding a Swiss Int. Airlines plane, too bad since we didn't buy any newspapers by our self. Anyway, a friendly flight attendant welcomed us onboard of the ARJ-85, we went to our seat, placed our jackets in the overhead bin and sat down. These Swiss Avros still have a 2-3 seat configuration which is way more comfortable than the Lufthansa or Eurowings 3-3 layout. The flight was almost full and it took a while until everyone sat down, eventually we got pushed back and left a cold and foggy DUS via runway 23L after a short taxi. The seat belt signs got turned off after we reached 10.000 feet and the captain made an announcement, he apologized for the delay and wished everyone a nice flight, cabin service started at the same time and we got served either a bag with a snack-mix or some chocolate in combination with a drink. I declined the snack but took a beer, Seb took the snack-mix and a beer as well, here is a pic of the "meal":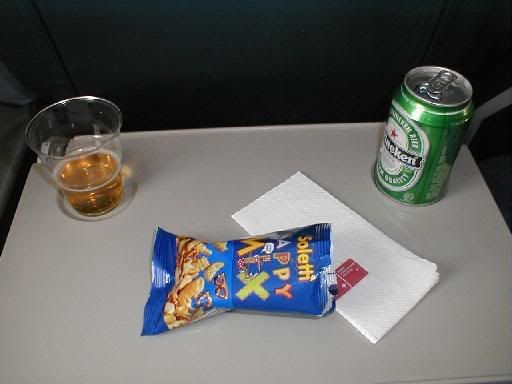 The remaining flight time passed quickly and we approached Zurich approximately 40 minutes later, here is an inflight picture: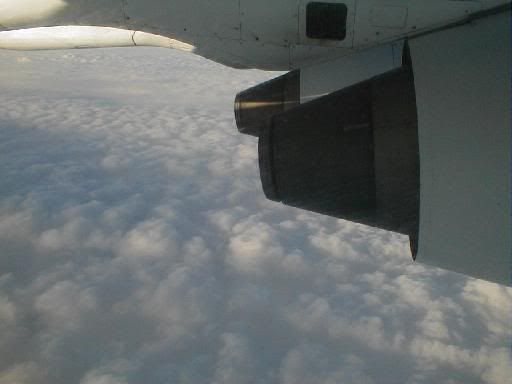 We deboarded and a bus took us to Terminal A where we checked the flight information monitor for the gate of our onward flight to Barcelona, it was A71. We went to the aforementioned gate after clearing security again and after we had a smoke in the smoking lounge with is sponsored by the cigarette brand with the camel on the box. When we arrived at Gate A71 we read "Relocated to A83" on the monitor, at Gate A83 we could read that the Lufthansa flight to Munich was relocated to Gate A1, pretty confusing and unorganized if you ask me.
The flight to Barcelona
Date: 28th of December 2006
Flight: LX1956; operated by Swiss International Airlines
Registration: HB-IOH; Equipment: Airbus A321-200
On my boarding pass was "Boarding at 16:45h" written but nothing happened at 16:45h, approximately 15 minutes later appeared some guy with a mobile passport control counter, the gate agent said in an announcement that everyone has to have their passport and boarding passes checked, boarding should begin shortly after this check. Some 15 minutes later had everyone their boarding passes and passports checked but boarding wasn't beginning and no further announcement was made, the three gate agents were busy with checking out something on a mobile phone so we passengers stood there without any further information. Eventually there was another announcement, boarding should begin in 10 minutes but it begun in 20 minutes, finally. This time there was a newspaper rack in jetway but there was not a single daily newspaper, only magazines and all except one were magazines for women like "Gala" or similar shit, both Seb and me took a copy of the "Auto-Motor-Sport" magazine, the only readable magazine in the whole rack.
Another friendly flight attendant welcomed us at the door and we went to our seat, boarding took ages because the flight was completely booked out, some time later we got pushed back and the safety video was shown on small LCD video screens which are installed over every 5th ot 6th seat row. I really like that Swiss' Airbusses are equipped with these things because you can watch the route map as well as inflight information during the flight. We left Zurich via an unknown runway, I didn't pay much attention because I was reading. The crew started service immediately after the 10.000 feet altimeter ping and they hurried up, I guess that they knew that it is rather difficult to serve everyone a drink and snack with just three flight attendants on a fully booked A321with a flight time of only 1 hour and 20 minutes. Everyone in Economy Class got an utterly disgusting cheese sandwich and a drink, we chose beer because hard booze was not available, in fact I was wondering about the small selection of drinks, there was no tomato or apple juice, no Fanta, Sprite or Ginger Ale, and -- as mentioned before -- no hard booze. Also disappointing that they didn't serve the good tasting "Feldschloesschen" beer from Switzerland, there was only Heineken available. Many people in the rows in front and behind us were surprised about the poor selection of drinks and food, some asked: "Do you also have ham sandwiches", others asked for a Fanta, a Gin Tonic, or an apple juice but the flight attendant had to apologize every time with the remark: "Sorry, not available". The remaining flight was uneventful and we touched down in Barcelona with a nice delay, we took a taxi to our hotel after clearing immigration and after picking up our luggage from the baggage claim. We had to wait there for approximately 20 minutes, 20 minutes which we could have used more useful when there had not been this utterly ridiculous "No liquids over 100ml in the cabin luggage" rule.
Our stay in Barcelona
The taxi dropped us off at the hotel entrance, I paid the driver, got out of the car and saw that a bellboy was already walking towards us, he welcomed us, took the luggage, assisted us during check-in and brought us to our room, he did it with so much friendliness and enthusiasm that I gave him 5 EUR tip. The hotel room was pretty stylo, especially I like the glass wall between the living- and bathroom: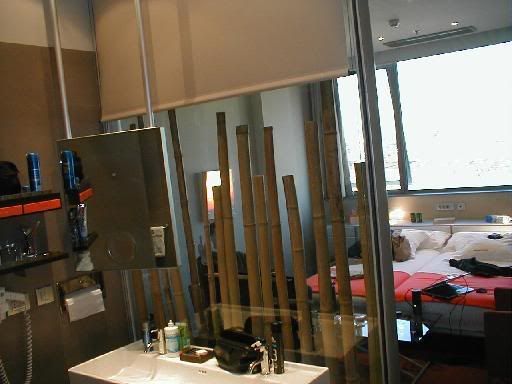 We were pleased that there was a notice on the table which said that all drinks in the minibar are for free, I opened it but there were only two small bottles of water, a bottle of Fanta Naranja, a bottle of Fanta Limon, and a bottle of Coca-Cola. These drinks came quite handy since we were pretty thirsty, after we finished them we went to the next supermercado to buy a bit stuff to make the minibar look nice, with success, don't you think?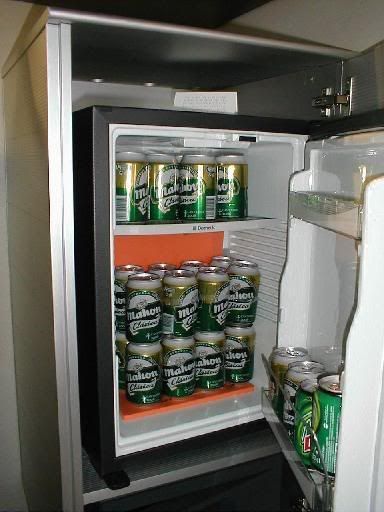 Then we decided to pay the hotel bar a visit, it was pretty empty but we sat down and ordered two beers and two J&B Whiskeys, later another round of beer and two Spanish anise liquors. Guess what we paid for these eight drinks....... yes, not less than 69 EUR, rip-off at its finest. We retired to some bar in the neighborhood, it was not only cheaper but there was also a nicer atmosphere in it.
On the next day I called fellow A.netter Miquel (A.net name = Mighluss), he is a Barcelona local and an expert when it comes to good bars and restaurants, and nightlife in general. It was 1:00h in the morning when I called him and of course I caught him while partying. He said that I should call back on the next day in the afternoon, then we would agree on a meeting point and time.
On the next day we slept pretty long as usual, had a shower, sent a SMS to Miquel and took a bus to Placa Espanya, then Miquel sent a SMS with our meeting point and time, 18:30h at Placa de Catalunya, in front of the "Corte Ingles" shopping center. We took bus line #9 and went to some bar to drink a beer until Miquel showed up at our meeting point. We said "Hello" to each other and walked to the first bar because all of us were thirsty. An awesome "bar-hopping" night in Barcelona was about to begin.
At first we went to some small bar where we had a few beers and a nice chat, then we became hungry and went onwards to a pretty good Tapas restaurant, we ordered some very tasty stuff such as fish, meatballs, tortilla, mussels, sausages, potatoes, and bread:
After finishing dinner we went to another bar, it was the Pastise Bar in a small side street near the Ramblas. The bar has an over 60 year old tradition and suddenly I didn't felt like being in Barcelona but somewhere in France, there was French music in the background and the bar offered plenty of French liquors. We stayed there for some time and went onwards, here is a pic of Miquel (left) and me (right) in front of the bar (beer count at this time: approximately 10 everyone):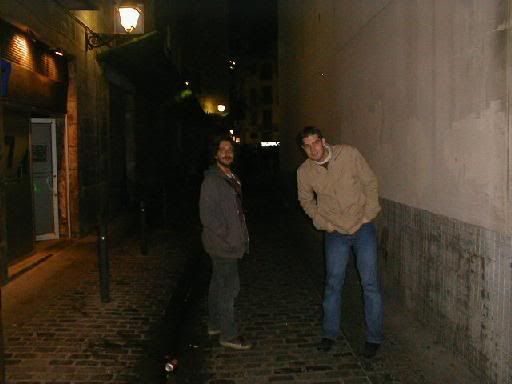 Then we went to another bar to have a few beers more, and guess what, we sat outside because it was still pretty warm. Yes, it was the 30th of December and we sat outside at 23:30h to drink a beer... only in Spain, so great. Here is a pic (Seb on the left, Miquel in the middle and me on the right. Beer count at this time: approximately 15 everyone):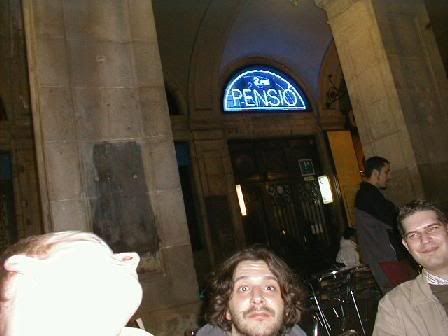 We finished our beers and decided to hit Las Ramblas, Barcelona's famous bar, cafe, and disco mile. It was incredible to see the masses of people who were out on that night to party. We walked a bit when two black guys approached us asking if we speak English. We said: "Yes" and they started to ask stupid questions like: "Where are you guys from?" and "Do you guys feel good?". I knew what they wanted and asked: "How much?", they replied: "30 Euro", me: "Too expensive, furthermore don't we need so much because we'll leave tomorrow", they again: "Ok, we have small portions for 20 Euro", me: "Is the stuff ok?", they: "Sure", me: "Ok, give us for 20". I gave one guy the money and he went away, Seb said: "You got ripped-off", I thought the same and followed the two guys but they just went to another guy who had the stuff, I got it immediately and asked for papers, one of these guys gave me 4 papers, I thanked him, he thanked us and wished us a nice evening. Yayers, it couldn't get any better, now we also had something to smoke.
We went to a small park where people sat on benches to smoke as well, to drink booze, to kiss their girls, and to relax. One joint later we hit the small side streets and Miquel said: "I don't know for sure but there is a bar where you can smoke, let me think", he started to walk and we followed him, then we entered a bar which looked like a typical Spanish bar but not like a bar where you can smoke weed. Well, we went downstairs and there I couldn't believe my eyes, there was such a cool atmosphere that I immediately felt home, everyone was smoking, chatting, relaxing, drinking beer, or dancing to Reggae music. Also cool that we three were the only white guys there, somehow I felt like in a bar in Kingston or Montego Bay. I took a short vid with my mobile phone cam, you can't see much (I can imagine that the guys there didn't like it when someone takes pics and vids of them) but it gives you an idea what was going on there:
We had a few beers and a few smokes more and sat on a table, some other guys asked if they can sit down as well and of course we invited them. Pretty cool to hang out there, watching the dance floor and chatting. I also have to say that I never, ever felt unsafe there, everyone was friendly and the owner came every 30 minutes or so to collect the empty bottles and to look if everything is ok.
Well, it was approximately 3:30h in the morning when we left there, pretty impossible to stop a taxi on the street at this time so we walked to Placa Catalunya after we bought another beer for the 10 minute walk there. We said "Goodbye" to Miquel and thanked him for the awesome night, then Seb and me took a taxi to our hotel.
On the next day we woke up at 11:00h, took a shower, checked out, and took the shuttle bus to the airport.
Barcelona Airport
We arrived at Terminal A two hours before scheduled take-off time, unfortunately we had to wait for another 45 minutes in front of the check-in counter because no agent was there. Eventually two Swissport agents showed up but they were everything else but not in a hurry despite there was already a massive queue. Fortunately we stood at the beginning of the queue so we got checked in rather quickly. We went directly to the security control which was rather empty before sitting down at some restaurant to have a snack and a drink.
The flight to Zurich
Date: 31st of December 2006
Flight: LX1955; operated by Swiss International Airlines
Registration: HB-IJI; Equipment: Airbus A320-200
Boarding was again 20 minutes late, seems to be normal for Swiss nowadays. Again no newspapers or magazines during boarding or in the plane, at least we got welcomed again with a friendly: "Gruetzi". Boarding took ages again because the flight was again almost booked out completely. We taxied to some runway far away from the terminal and took off, I enjoyed the great view on the Costa Brava: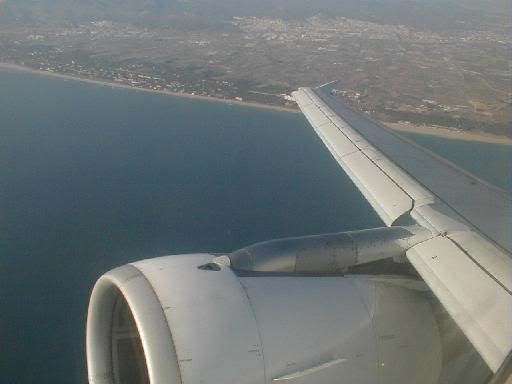 Cabin service begun directly after the 10.000 feet altimeter ping. It was again nothing to write home about, a snack-mix and a drink for everyone, the cabin crew was again apologizing that they only had a small selection of drinks because many other passengers were asking for stuff like tomato juice, hard booze, etc. The remaining flight time passed quickly and we entered French/Swiss airspace, the Captain and the First Officer made an announcement every time we passed a famous mountain, the view was absolutely great and we enjoyed this "Alps sightseeing flight", here are a few pics: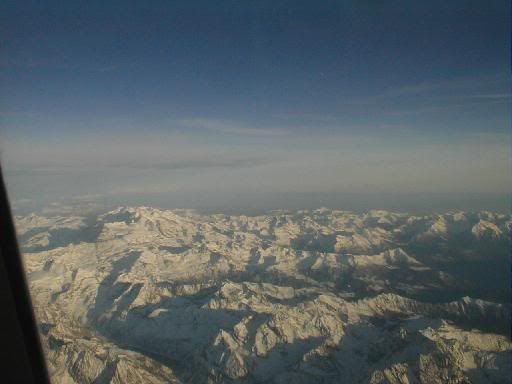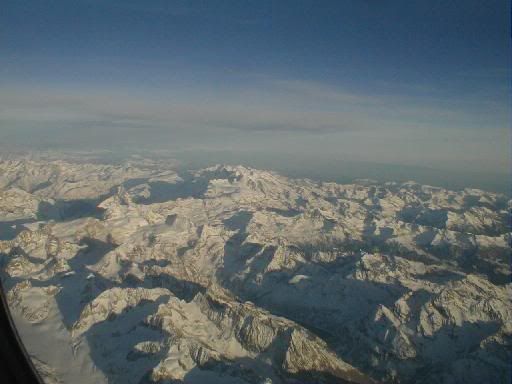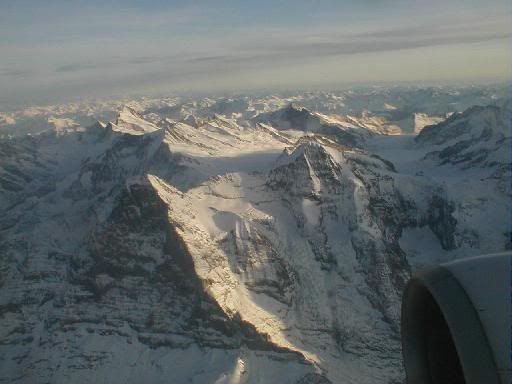 We touched down in Zurich and went to Gate A7 where our connecting flight to Dusseldorf should board, at A7 we could read again: "Relocated to Gate A5", at Gate A5 we could read: "Relocated to A71". Does anyone know why there are so many gate changes at Zurich airport?
The flight to Dusseldorf
Date: 31st of December 2006
Flight: LX1026; operated by Swiss European Airlines
Registration: HB-IXK; Equipment: Avro RJ-85
Boarding was late again (not a single one of our four flights was on time) and there were again no newspapers and magazines. The cabin of the Avro was pretty dirty, my seat pocket contained trash of various kinds and the inflight- and duty-free magazines in my pocket were totally fucked up, pages were pulled out and a chewing gum was placed in the inflight magazine. Not exactly what I expected from an airline like Swiss. The service on the flight was the same like on the flight to Barcelona, we got again one of these 3°C cold and disgusting cheese sandwiches and a drink, and again were people asking for ham or salami sandwiches as well as for drinks such as Fanta, the flight attendant had to apologize again. Touchdown in Dusseldorf was on time and we took the people mover back to the train station after we cleared immigration. We paid the parking fee and drove to Seb's apartment to refresh us for the upcoming New Year's Eve party.
Conclusion
Swiss was pretty disappointing, I have them in better memory. All four flights were late, the limited selection of drinks and sandwiches is not exactly what I expected from such an airline. On the other hand were the flight crews great, they provided a lot of information during the flight. Somehow I pity the cabin crews because they had to apology at least 50 times on each flight because of the aforementioned limited selection of drinks and food.
As for our stay in Barcelona: It was once again fantastic, Barcelona is definitely Europe's party capital #1 and it was a pleasure to experience the nightlife there, especially because of Miquel who was once again a great guide through the city. Thanks a lot man, hope to see you soon!
Thanks for reading,
Patrick