Finally another trip report finished. This one will cover Singapore Airlines cattle class flights BKK-SIN-CGK-SIN-BKK as well as two Indonesian domestic sectors – Sriwijaya Air B737-200 CGK-SUB and Garuda Indonesia Executive Class SUB-CGK. Paid the extra to fly SQ (vs. TG) as I was supposed to fly on the A340-500 SIN-CGK-SIN, alas that was not to be.
02 December 2006
Bangkok Suvarnabhumi Intl (BKK/VTBS) – Singapore Changi (SIN/WSSS)
Singapore Airlines SQ/SIA 61
Boeing 777-212ER
9V-SQK
0745-1110 – On Time
Economy Class, Seat 33C
I changed the original booking to the morning flight in order to get to Jakarta earlier since the A340-500 was gone from the schedules. Taxi to Bangkok Suvarnabhumi was very quick at 6am, needless to say. I hit the TG manned Raffles Class counter at about 6.30am, and of course it was as slow as any Suvarnabhumi check-in so far. I wonder when TG gets its act together – if ever.
I had checked in online so all there was to do was to delete the SQ Krisflyer number in the booking. The singaporeair.com online booking has a very annoying feature to automatically match your name and the KF account, so it showed up despite never entering it or even logging into sq.com. I've had my fair share of problems with this before, and just request it to be taken off completely nowadays as I don't credit to SQ KF. A completely unnecessary hassle, but I don't trust that it's actually entered as FQTS instead of FQTV since I had stuff credited there before.
I dropped a few letters (missing miles as usual…) at the post office and noticed a bunch of old seats brought from Don Muang in the check-in hall. They look absolutely ridiculous and out of place. Horrendous lines greeted me at the departure immigration – one could hardly fit behind the airport fee check doors. Lines moved faster than at Don Muang, but what's up with those paper signs asking you to use dedicated immigration checkpoints based on gates?? Sounds like the stupidity from Don Muang carries on – my friend was once sent to T2 there after queuing 40 minutes at T1 despite the two being fully connected.
After passport control, I made my way through the slippery shopping concourse to the D-concourse TG lounge as SQ 61 was departing from the D gates. The lounge has now received nice looking carpets, decent looking bar and what looks like noodle station or something. Food is still the appalling junk, i.e. stale pastries and fruit. My flight was leaving from D6, not far from the lounge entrance. Wrong, there's no way to access the concourse from there, one has to walk all the way to the other end of the lounge. Completely illogical.
Upon arriving at the gate, I boarded right away and took my aisle seat 33C. 9V-SQK has the newer seats and Wisemen 3000 AVOD. It was a full house in all cabins this morning. No surprise in the premium cabins considering TG's morning flight usually uses an antiquated A300. Hot towels were passed out and we were pushed back on time. The towels, even in F, seem to be some el cheapo ones now and not the plush ones they used to have on SQ.
We took off with no delay, and the flight time this morning was 1h55min. Breakfast was served shortly after the seatbelt sign went off – an omelette or fried rice with chicken. I took the rice and it was simply disgusting. No drink refills or extra bread were offered, and the trays sat there until we were almost descending into Changi.
After an uneventful flight, we started our descent into Changi, and landed on schedule at a few minutes past 11am. SQK docked at gate E4, and I made my way to the SATS Premier Lounge T2.
02 December 2006
Singapore Changi (SIN/WSSS) – Jakarta Soekarno Hatta (CGK/WIII)
Singapore Airlines SQ/SIA 158
Boeing 777-212ER
9V-SQK
1250-1325 – On Time
Economy Class, Seat 32G
The Premier Lounge is nothing to write home about, and I can't believe that in addition to Star Golds SQ even sends MI C class passengers here instead of the proper SilverKris lounge. There was some hot food on offer, but I was happy with some JW Black Label only this time.
SQ 158 was departing from E4, meaning it would be operated by 9V-SQK again. Despite the moronic "gate closing" signs on the departure boards, boarding hadn't even started as I made it to the gate about 25 minutes before departure. There was just enough time to fill out the Indonesian immigration/customs forms before pre-boarding for F/C/Elites was called. I find it rather arrogant to just put F/C/Solitaire/PPS on the gate signs when in fact all Star Golds can also board through that line.
I was in the second row this time, in seat 32G to be more exact. The newer 777s have dark blue seats in Raffles compared to the IMHO awful looking light blue ones on the early ones.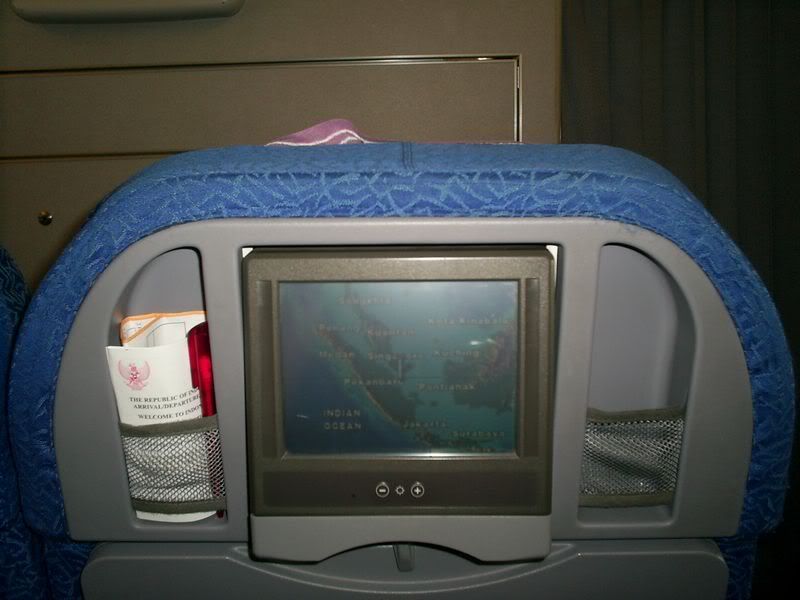 Seatback of the newer 777 Y seats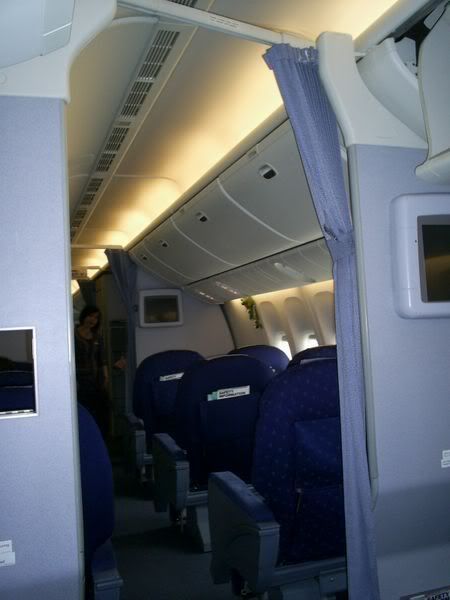 Raffles
I was surprised when somebody took the middle seat – the flight had maximum availability even in the GV4 fare classes the night before. Apparently SIN-CGK has plenty of last minute passengers, and the flight ended up being just about completely full in cattle class. Cabin crew prepared their usual pre-departure tasks – hot towels arrived and a Singapore Boy confirmed my SFML order for the flight. The crew was in a much better mood than the BKK-SIN crew.
We pushed back bang on time again, and were on our way to Jakarta a few minutes later. Meal service commenced about five minutes after takeoff – a hot meal with 2 choices if offered on this short sector. They tried to give me the usual stuff despite the rather large SFML sticker on top of my seatback – this was quickly corrected and I got a very nice fillet of salmon with potatoes. Had some white wine to go with it. Lobster and Krug in 1A would obviously been nicer, but this was really a top notch cattle class meal for a sector of 1h15min.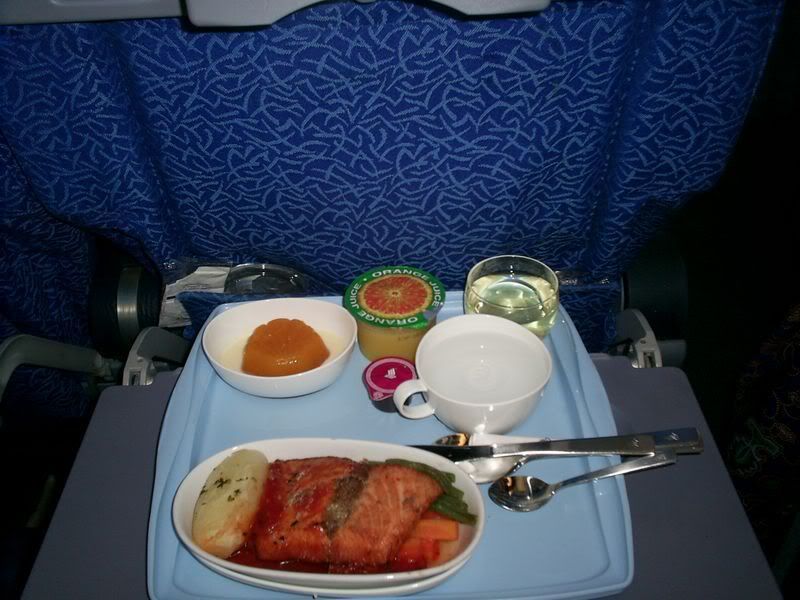 Service was excellent, and I got a couple more drinks after the meal, even a request for Baileys on the rocks 5 minutes before landing was met with the customary "certainly sir". We landed on time, and I rushed to the visa on arrival counters. An Eva 747 combi had just arrived and the desks were full of clueless package tourists and guides handing out passports.
JW Marriott Jakarta
I took an Express Taxi to the city as usual, about 80K with tolls and the airport surcharge. The JW rate is down to $90/night, this is a real bargain for anybody with lounge access considering it's one of the nicest Marriotts I've stayed at. Better yet, I had Bonus Bucks coupons to spare, basically getting the second night free for me.
I met with fellow Airliners.netter HB-IWC in the Executive Lounge as usual, he handed me the domestic tickets he had arranged for (thanks again!) and we enjoyed a lot of food and drinks from the buffet. The second night was spent eating and drinking as well but the Lounge ran out of Corona…Perhaps I had something to do with that.
The food/drink selection in this lounge is absolutely superb, and I don't think either one of us had anything else for dinner those nights. I also had breakfast both mornings – excellent spread at the Sailendra, and included in the rate. Perhaps the best $100 I ever spent for a hotel.
04 December 2006
Jakarta Soekarno Hatta (CGK/WIII) – Surabaya Juanda (SUB/WARR)
Sriwijaya Air SJ/SJY 256
Boeing 737-284 Adv
PK-CJL
1840-1955 – DELAYED (1950-2130)
Economy Class, Seat 10A (Exit Row)
Met with HB-IWC for lunch at some Italian restaurant near the JW in the afternoon before heading to the airport. I got to Soekarno Hatta terminal 1B at around 4pm – a bit early since traffic was very light. But considering how Jakarta traffic can be, one should always leave early in my opinion.
Check-in opened about 10 minutes after I got to the desks, and I was offered an exit row seat without asking. They deemed my standard roller bag to be too big, a big hassle with these low cost carriers and completely unnecessary as it would fit even in the old style 737 bins. I left the counter with a plastic bag with all my valuables and a funny looking boarding pass. It was a thick piece of cardboard, had "SUB 256" stamp on it, a sticker with the seat number, red in case of an exit row seat, and B7 written as the gate. All the other fields were left blank, including name. I was never once asked for an ID anywhere.
I decided to head outside for a walk – interesting to look at all the different ticket offices… Noticed on the screens that a Sriwijaya flight from Makassar was 7 hours late and another one 5 hours late. Apparently UPG was weather related though. Mandala to Surabaya-Denpasar was cancelled. I decided to head upstairs to the viewing area – glad I did. Not a place where I'd expect to meet other Finns, but I did indeed meet two photographers who post at
www.fap.fi.
Even more of a coincidence that they were on the same Sriwijaya flight to Surabaya. Nice pics at fap.fi including the two ill-fated 734s – PK-LIJ of Lion and PK-KKW of Adam.
As it was getting dark, we went inside, the two guys checked in and some Bir Bintang was had by all.
They were told there was a delay of 1 hour at this point. Security was usual, no matter what I've had in my pocket, the T1 machines just won't beep. SJ256 was leaving from B7, and the gate lounge was rather quiet. Later, I tried to inquire whether the 1-h delay was still there – the agents didn't speak a word of English. One wrote "7.30" on a piece of paper, clear enough.
An announcement was made at about 1940, in Bahasa only, but since everybody got up I guess it was the boarding announcement. A bunch of SJ 737-200s were sitting in front of the nearby and remote gates all the time, apparently all with mechanical problems since our plane had just arrived, hence the delay. After a long walk, an agent directed pax downstairs, and towards PK-CJL waiting in the dark.
Was greeted by a rather friendly F/A at the door and took my exit row seat. CJL has the ancient style overhead bins, seats looked a bit shabby but not too bad. The red Telkomsel ads on blue headrests looked tacky compared to very classy headrest covers on Batavia last time. The flight was maybe about 70% full, and since it was completely empty in the back, I decided to escape the packed exit row and grab 3 seats to myself.
Safety demo and a very long taxi followed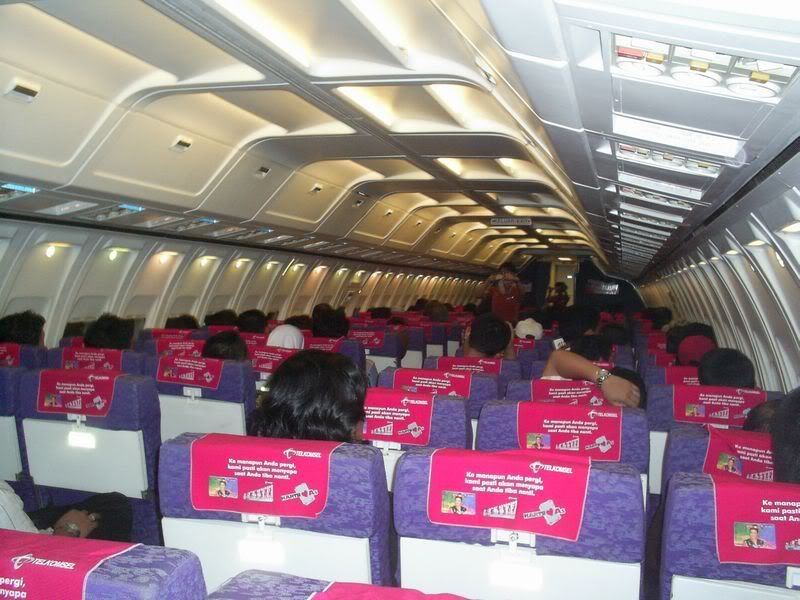 We took off at around 8.20pm and I was glad I changed seats – the noise in the back was incredible. The seatbelt sign soon went off, and I decided to check out the rear lavatory for any clues of the previous operator.
Cabin shot with service underway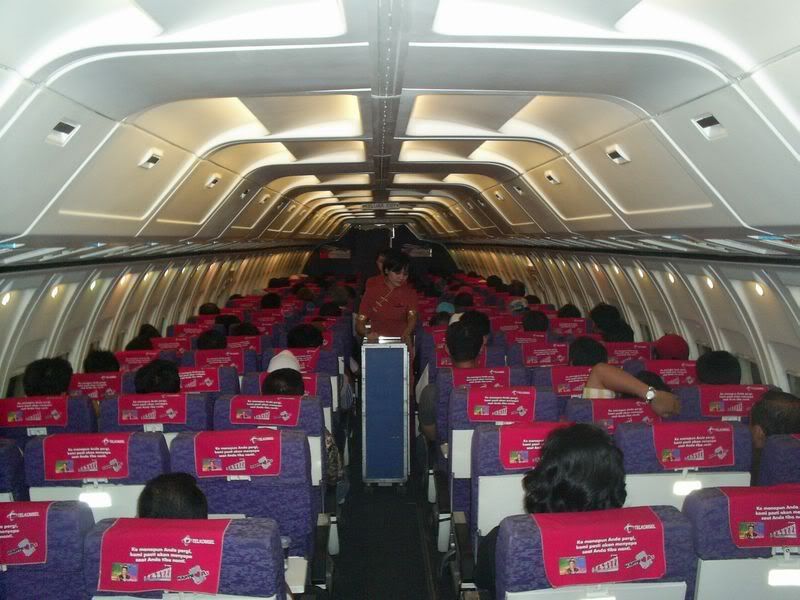 Not too bad compared to the lavatory on Mandala's PK-RIN or Lion MD80s.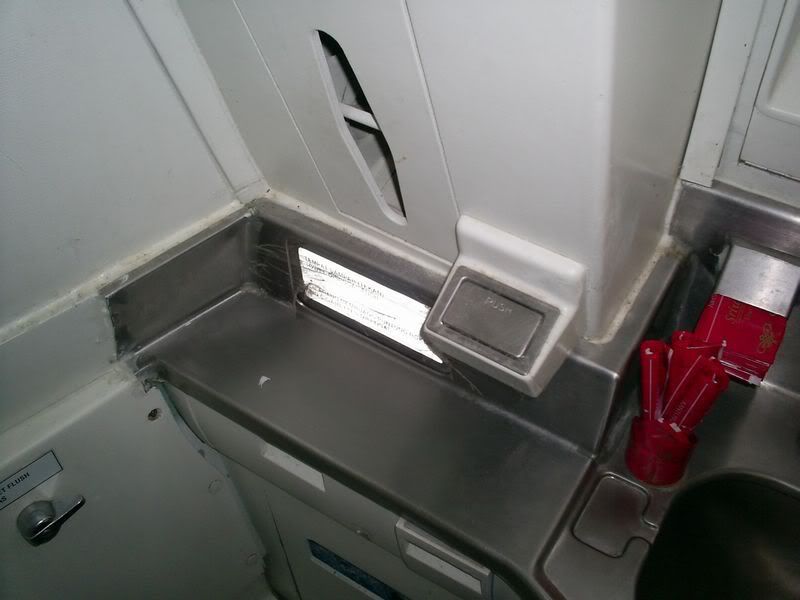 Greek instructions found – CJL is ex-Olympic SX-BCC, delivered in 1976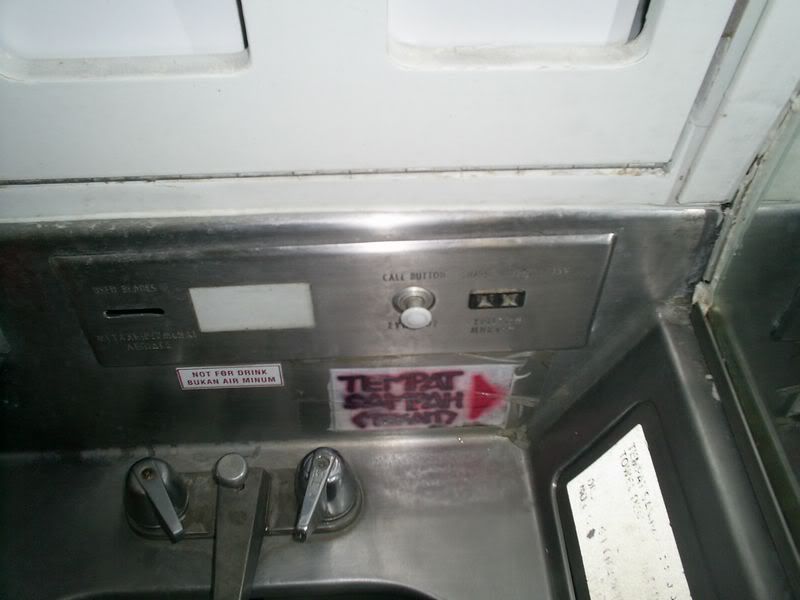 Meal service followed – a snackbox was handed out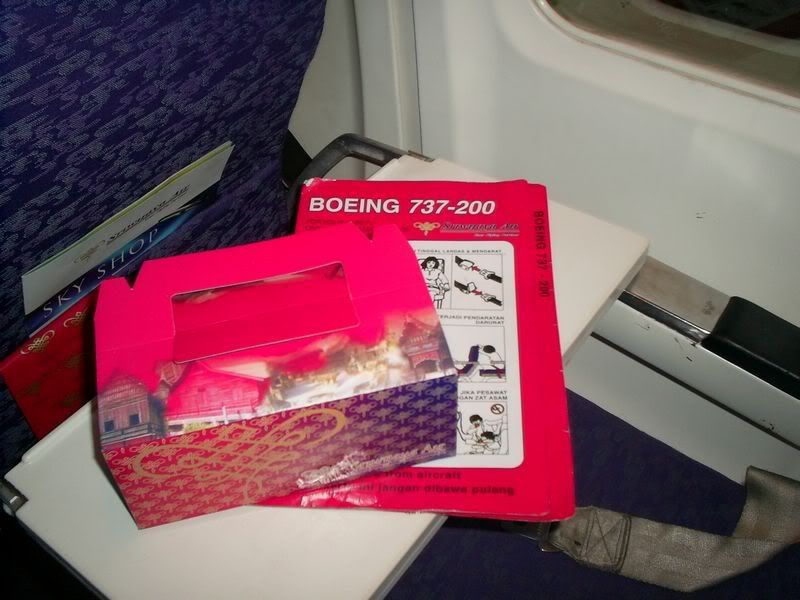 N ot half bad, the box had two pieces of some sort of bread and the cup of water typical of Indonesian domestic flights. After the meal, I noticed that my row had no number on the overhead compartment, the call button was of different colour and the window shade said "BOEING 707" on it. Perhaps spare parts from an Olympic 707?
As I said earlier, the cabin was a bit tired, all seats I tried "auto-reclined" etc. The traytables looked rather beat up too.
After an uneventful flight and no announcements whatsoever from the flight crew, we touched down at Surabaya Juanda almost two hours late. We docked next to some Batavia and Lion jets, and disembarked through stairs. It was my first time using the new terminal – a huge improvement over the old shack and rather nice overall.
Baggage claim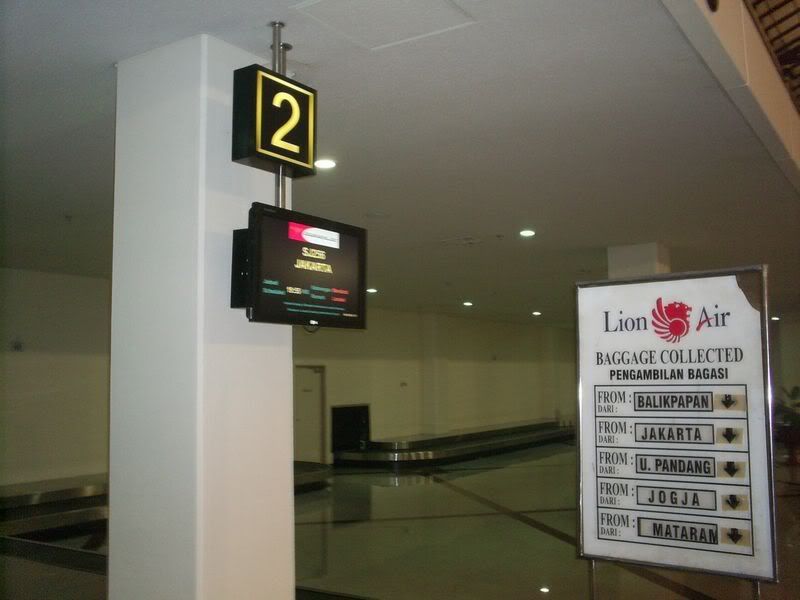 Bags arrived relatively fast, and I took a coupon taxi to the JW Marriott Surabaya. Upgrade to a studio suite as usual, good deal for $78/night and $100 discount for 2 nights with Bonus Bucks. However, the lounge is a far cry from Jakarta JW.
06 December 2006
Surabaya Juanda (SUB/WARR) –Jakarta Soekarno Hatta (CGK/WIII)
Garuda Indonesia GA/GIA 303
Boeing 737-3U3
PK-GGG
0600-0720 – EARLY (0555-0710)
Executive Class, Seat 1A
A terribly early flight, as I had planned to get back to Bangkok in time for my Channel Marketing lecture and I also wanted to catch the SQ A340 again. Lecture was cancelled and A340 swapped to 777, oh well. After way too little sleep, I dragged myself to the shower at 4 something, trying to wake up. Checkout was quick as I had them process the MBB coupon the night before, so I was in a taxi to Juanda airport by 4.20am.
In order to have the necessary departure taxes in cash, I had to set the driver straight about the Juanda Airport parking fee etc, I can read after all. These meaningless little scams piss me off to no end. I made it to the GA counters at about 5am, and noticed just one line, so there was a bit of a wait. The Garuda check-in is in the international check-in hall, so it was relatively quiet there.
The screens all said "0500 GA 301 Jakarta Economy Class". Not a big deal, but I simply said don't understand the shabby setups of GA/TG/PR at various airports. If I was the supervisor, I'd personally drag some sort of carpet etc out there and make sure there's a clearly signposted counter for premium cabins. After all, full fare C costs 1.7 million Rupiah one way, not that I paid that much but anyway. I got an economy class boarding pass with an "Executive Class" sticker on it – again a small detail but just as ridiculous as these paper signs for taxi at Bangkok's new Suvarnabhumi Airport.
I then made my way upstairs and into the Executive Class lounge.
Surabaya Juanda domestic concourse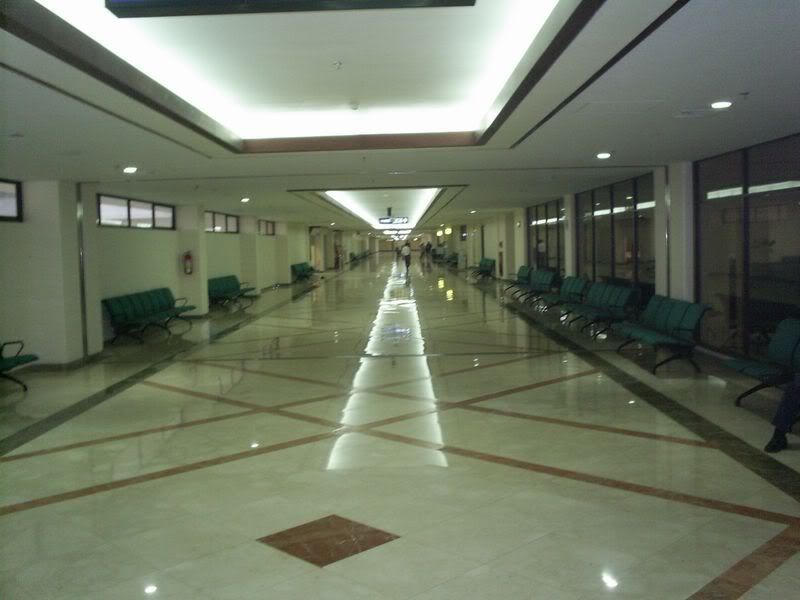 Garuda Executive Class Lounge
Lounge seating
Looking into the domestic check-in area for other airlines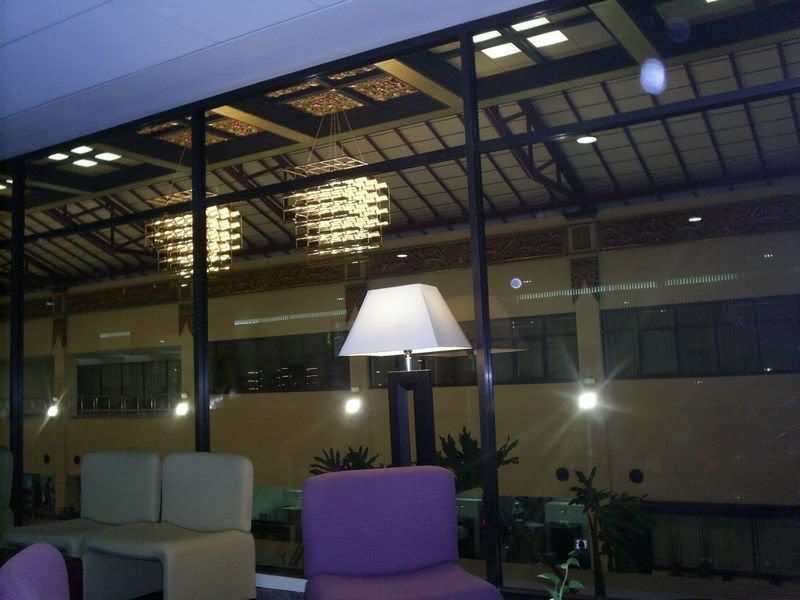 Buffet area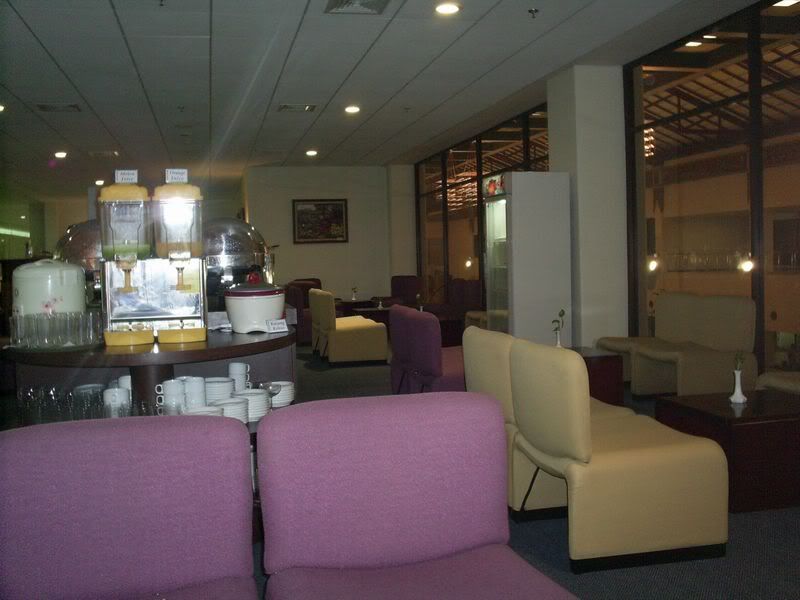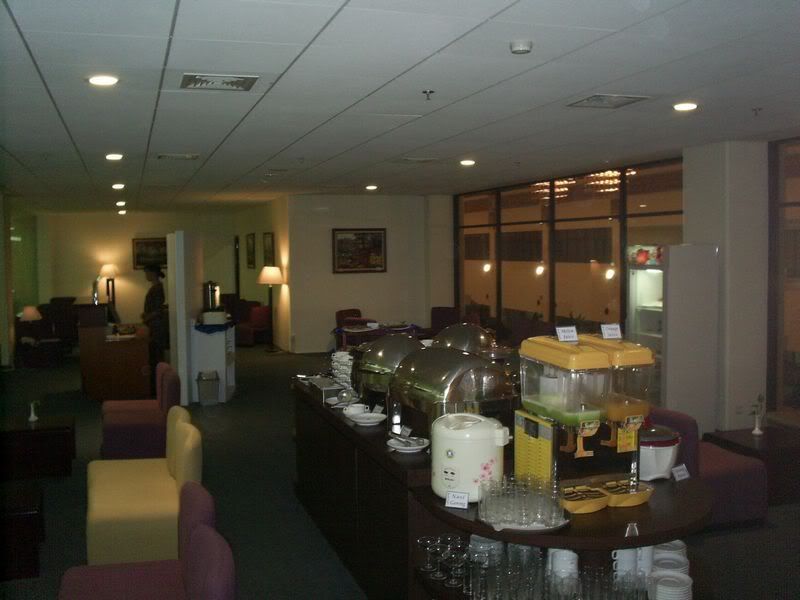 The lounge was obviously brand new, but very small and the air conditioning wasn't working. There was a good selection of local hot food etc – seemed pretty much the same as in the old lounge. Only soft drinks available (old one had Bintang on tap). I guzzled a few bottles of coke and ate some soup, not too bad. No complaints, although overall the old GA lounge was much larger and perhaps nicer.
I went to the gate just after 5.30am, and boarding was about to begin.
HB-IWC told me what 737s were overnighting at Surabaya, and that GA 303 would most likely be operated by PK-GGG, a -3U3 originally delivered to Garuda. The 5am was apparently operated by an ex-Aeroflot -400 series, those have much worse business class seating.
Another 400 series next to our gate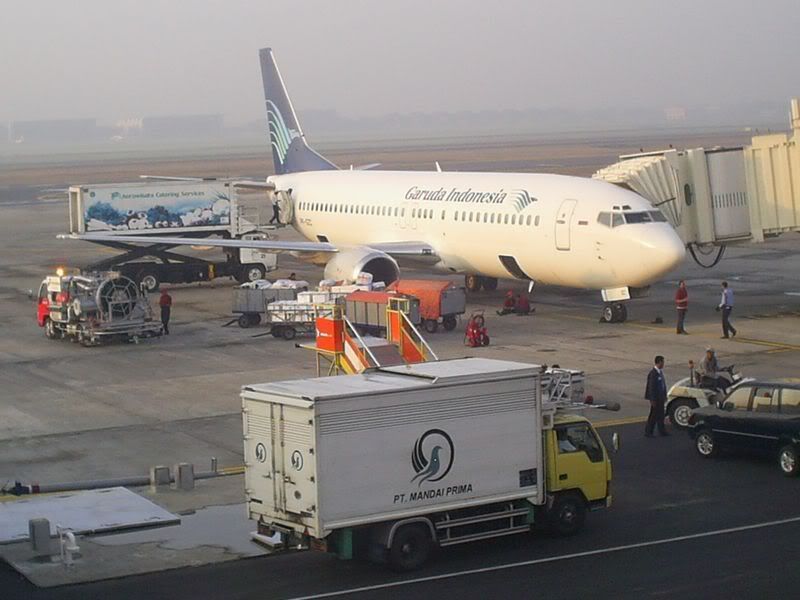 I was amongst the first to board, and took my bulkhead window with excellent legroom.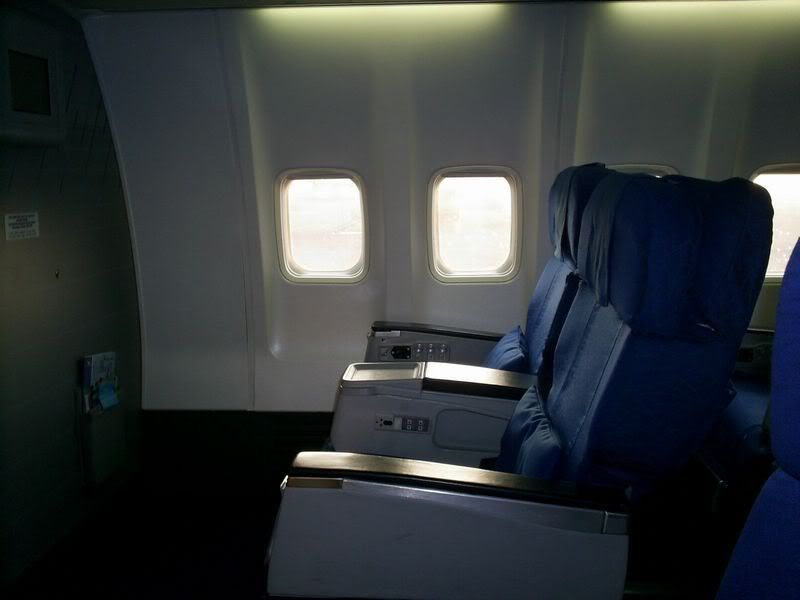 Not sure why this was open – not many storage possibilities there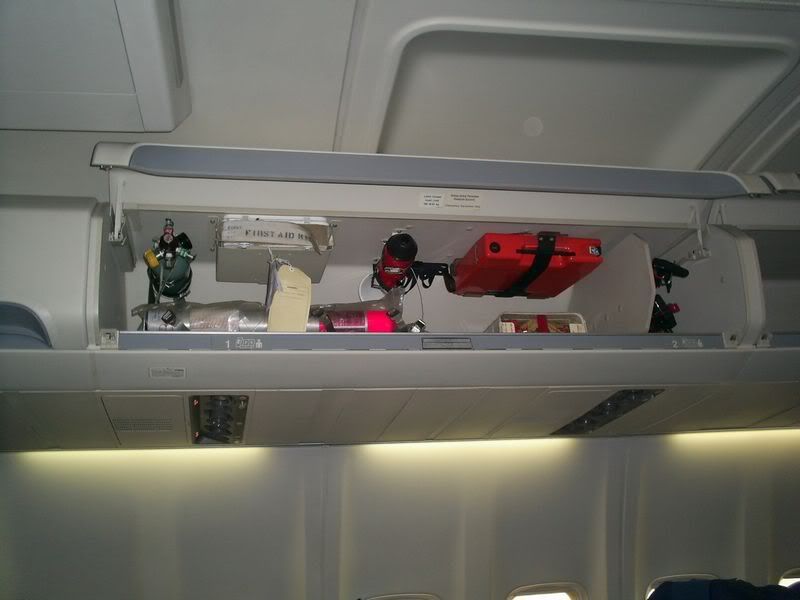 Pre-departure drinks (apple juice only) and newspapers were offered, I accepted.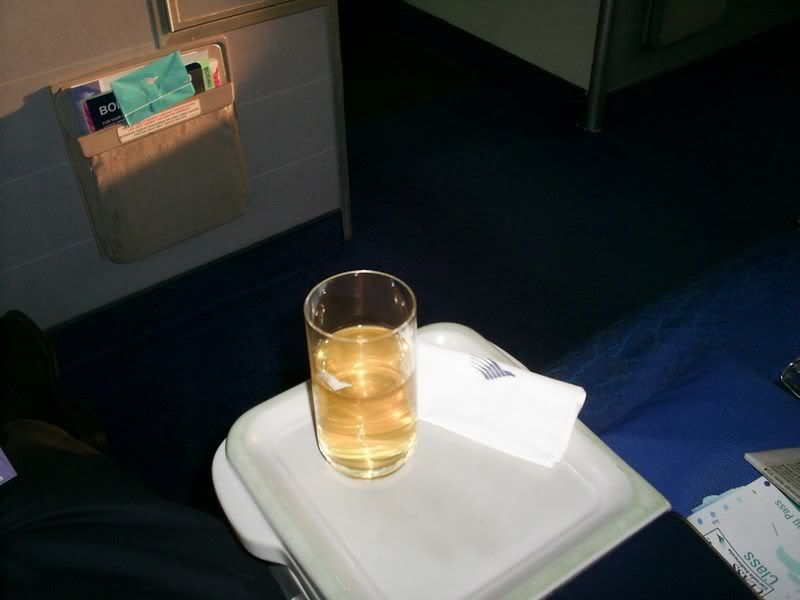 We were pushed back five minutes early, and the Executive Class cabin was more or less empty, with just a couple of other passengers in the back. Economy looked rather full.
Bandar Udara Internasional Juanda
Garuda and Adam 737s, Cathay's A330-300 was there as well
We took off without delay, and I still spotted Lion's PK-LMW by the runway. This was the MD80 I flew CGK-SUB, and it overran the runway on its return from Denpasar later that day. Meal service started minutes after takeoff, with an omelette and some chicken being the two choices. I didn't really fancy any food, just wanted to sleep, but decided to give it a try anyway.
Omelette, chicken sausage, mushrooms, tomato as well as fresh fruit
Hot towels were offered after the meal, and I reclined my seat trying to sleep. The original GA planes have rather nice business class, although the legrest wouldn't fully extend in my seat.
I spotted this mountain/volcano en route
There was plenty of information from the flight deck unlike on the low cost carriers, and soon the captain announced we're about to start descent to Soekarno Hatta. Landing was early, and I spotted two Saudia 747s as well as many GA Hajj planes such as Orient Thai's 747-3B5 HS-UTL. We didn't use a jetway, so after snapping one last pic of the cabin, I walked down the stairs and into domestic arrivals.
Saudia 747s
Executive Class seats on PK-GGG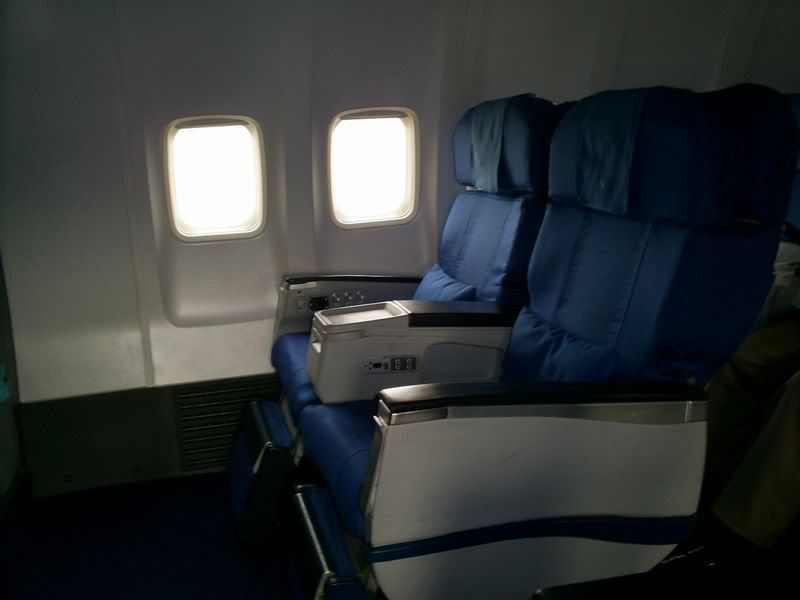 06 December 2006
Jakarta Soekarno Hatta (CGK/WIII) – Singapore Changi (SIN/WSSS)
Singapore Airlines SQ/SIA 153
Boeing 777-312
9V-SYJ
0915-1150 – DELAYED (0925-1200)
Economy Class, Seat 52G
Ignored the touts claiming to be working as guides for the airport, and made my way to the SIA check-in. I was originally booked on SQ 155, but since it was no longer an A340, I decided to ask for the earlier SQ 153. No problem, I got an aisle seat in the back and the agent said she'll try her best to get my seafood meal transferred to this flight.
Departure immigration was quick, and I made my way to the Esplanade lounge as the agent had instructed. Alas, I was turned away and told to use the one across the hall – it looks like the Esplanade is for Raffles/First/PPS only. The one across the hall was packed with mostly CX passengers, and a complete dump. Had a bottle of water, didn't fancy any of the food they had on offer.
An announcement was made that SQ 153 will be 10 minutes delayed, SQ apologizes for the inconvenience. I went to the gate just before 9am, it was D1 as usual for SQ. 9V-SYJ was being prepared for the short hop, and the gate lounges were rather busy. Boarding started at 9am sharp, and I made my way to aisle seat 52G. SQ Girls were greeting passengers and helping with bags as usual.
SYJ has the newer seats and Wisemen 3000 as well (useless with no headphones on CGK flights in Y)
Legroom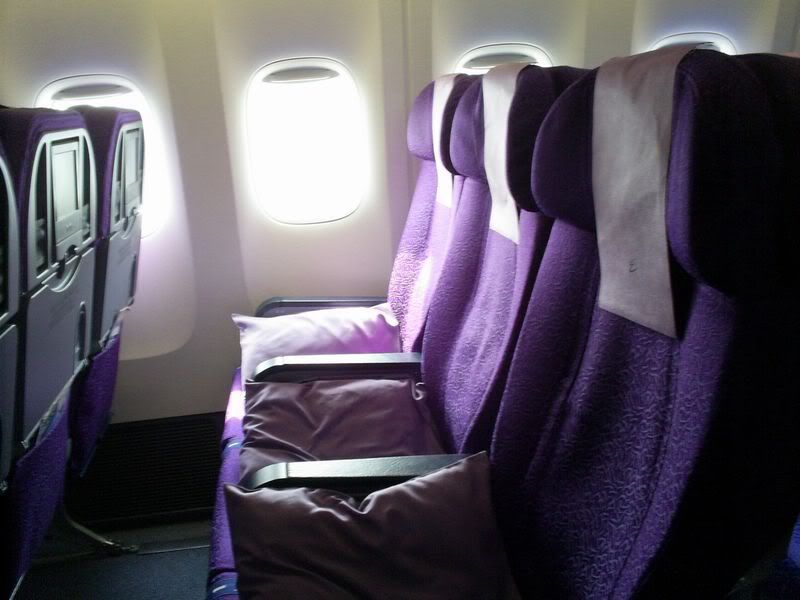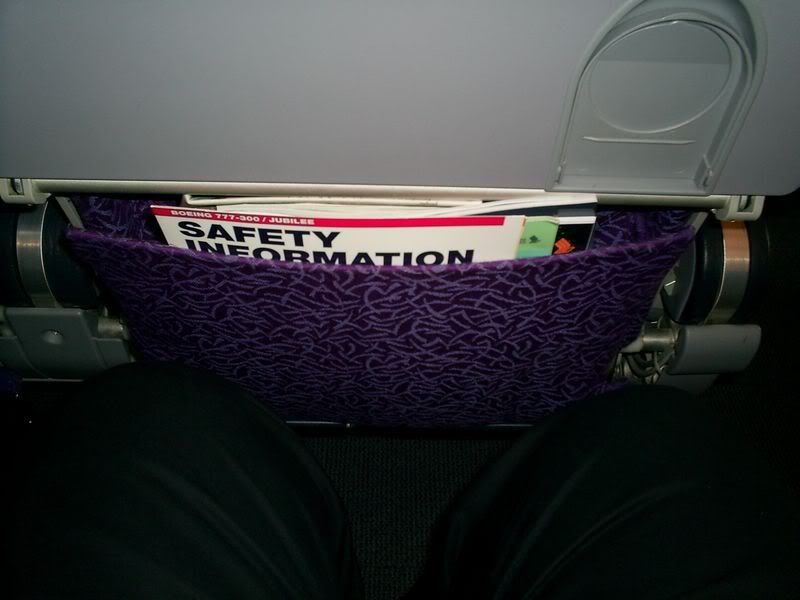 Boarding was soon completed and hot towels distributed as usual. Luckily the middle seat stayed empty, so I was looking forward to some shut eye during the short flight. We were pushed back exactly 10 minutes late as announced, and took off without delay for the short 1h15min hop to Singapore Changi.
Meal service started minutes after takeoff again, and my seafood meal had made it. It consisted of some shrimp and fish, pretty tasty compared to the breakfast the others were having.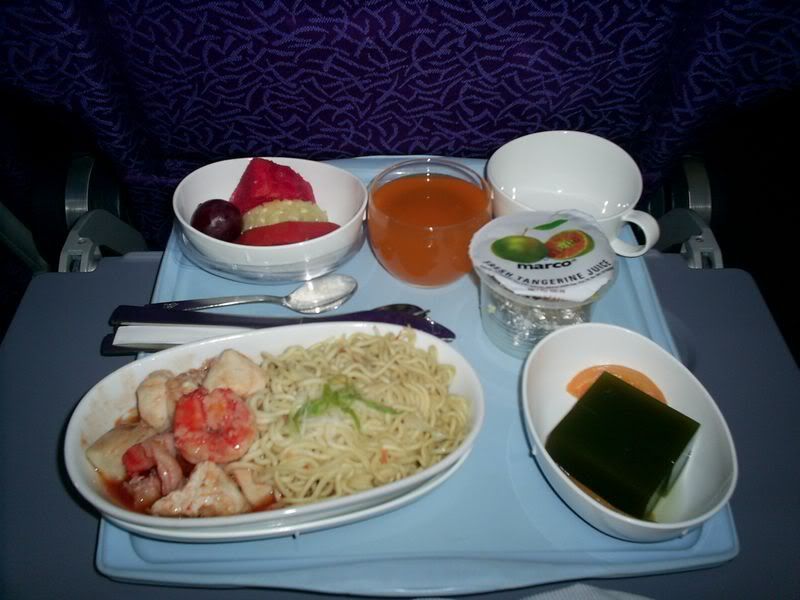 Coffee, tea and juices were offered, no idea about refills since I fell asleep straigt after finishing the meal. With the decent legroom and being able to lean against the middle seat, I actually only woke up as we were on final descent into Changi and the F/A asked me to put my seatback upright. We landed 10 minutes late, and reached the gate a few minutes later. Thankfully there was no drug check or whatever you call these extra security checks at Changi – would have been a huge line since I was in the back of a 777-300.
06 December 2006
Singapore Changi (SIN/WSSS) – Bangkok Suvarnabhumi Intl (BKK/VTBS)
Singapore Airlines SQ/SIA 64
Boeing 747-412
9V-SMW
1410-1555 – RETIMED 1450-1615 – On Time
Economy Class, Seat 61A
I got an email from SQ BKK a few days earlier about a time change for this flight – seems like it was because of the change to 747. SQ 64/67 was the last SIN-BKK-SIN rotation with 747-400s, it has gone to mostly 777s these days. No more Skysuites in F to Bangkok, at least on a regular basis. What a pity.
I had a couple of hours to kill at Changi – and the SATS Premier Lounge isn't exactly a palace. Better than the old dump, but still a very basic lounge. There was some low end hot food available as well as the usual drinks. Johnnie Walker Black Label and some tomato soup was what I had. I certainly hope T3 will have better facilities available for Star Golds if I'm still stuck in monkey class most of the time when it opens…
I thought 2.20pm was a reasonable time to leave the lounge for a 2.50pm departure – just to find a huge line at the security screening. It escapes me why SQ or Changi can't set up priority lines for the security check, they threaten to close 10 mins before departure, screens flash "gate closing" and all you find is a queue with no priority for premium passengers. Or at least put some special screens in the lounges that indicate what's actually happening since they have scrapped boarding calls.
I chose a seat in the back in one of the two-seaters, fully expecting the seat next to me to be empty. However, despite the change from 777-200 to 747-400, the flight was completely full at least in economy class. The legroom was very tight compared to the 777s, and the picture quality on the PTVs was just appalling. Despite having Wisemen 3000, these Megatops are really falling behind competition in the back.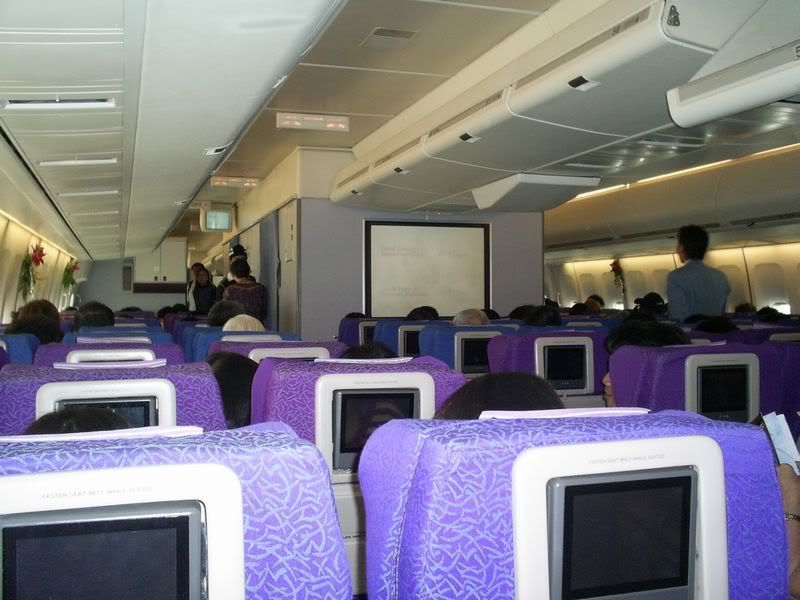 We were pushed back on time, with the Singapore Changi Airport sign in the background
After a rather long taxi, we took off for the short two-hour hop to Bangkok Suvarnabhumi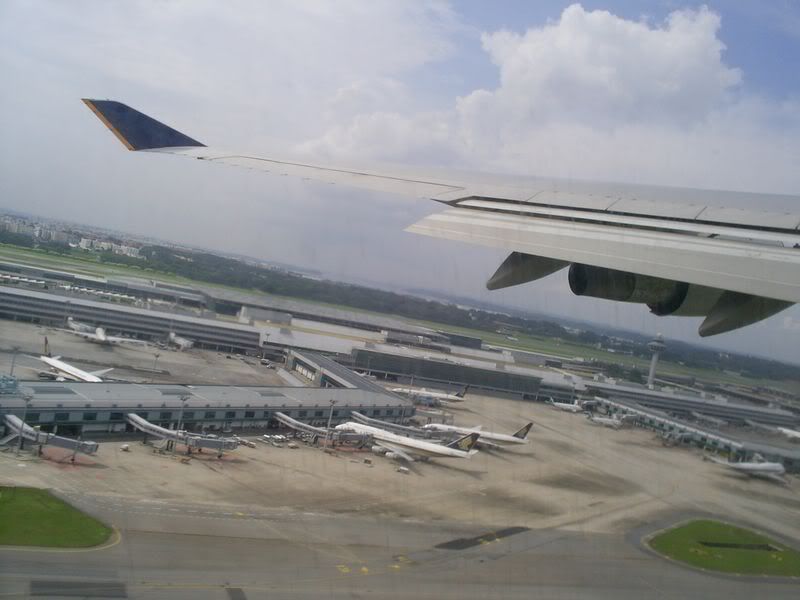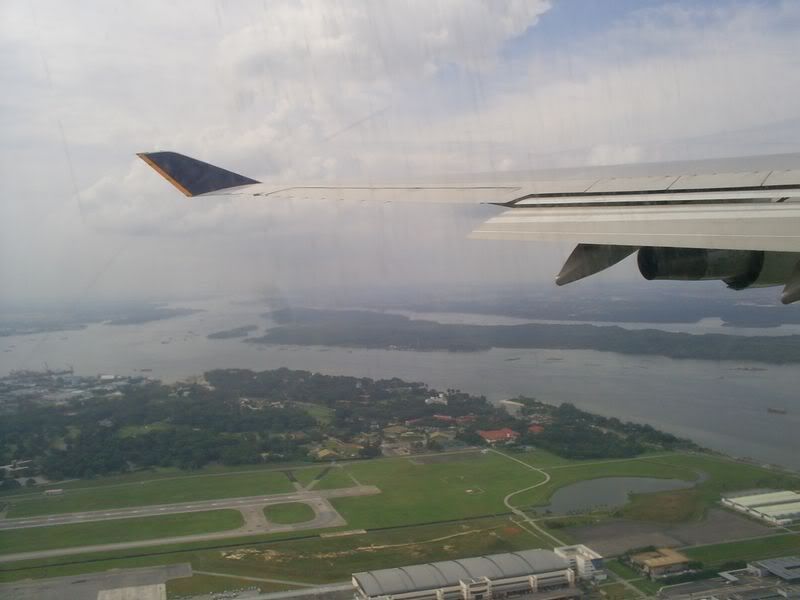 No pre-meal drinks were offered, and it took an eternity even for my special meal to be served. Asked for white wine to go with it. SFML was the same excellent salmon as on SIN-CGK, with the addition of a rather nice prawn salad.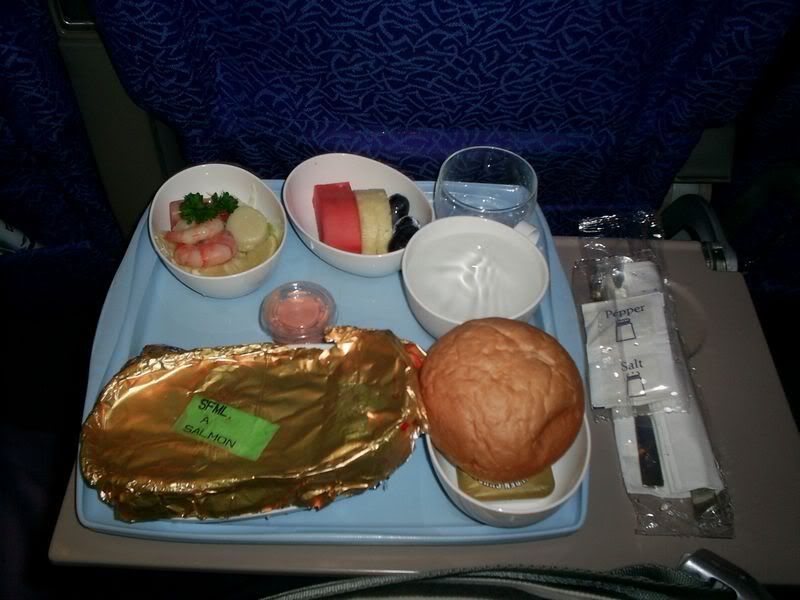 Service was completely appalling, no refills of drinks, no additional bread rolls, and nobody answered the call button most of the time. I asked for a wine and another Tiger when somebody finally noticed the attendant call – just to be told "you'll get the Tiger after the wine". Really pathetic, I'm sorry but the tiny wine glass is not enough especially if nobody offers refills.
Bought over $200 worth of stuff from the Krisshop, and as F/As often get commission on these sales, I at least expected to get decent service after that. Not so, I was filling the order form when the F/A, clearly pissed off waiting for about 3 seconds, said "the beer!" she couldn't bother serving earlier. Got the goods from the duty free and ordered a Baileys with ice as usual – just to be told the cart is closed. Utter bullshit considering they were happy to oblige 5 mins before landing on SIN-CGK.
Cabin view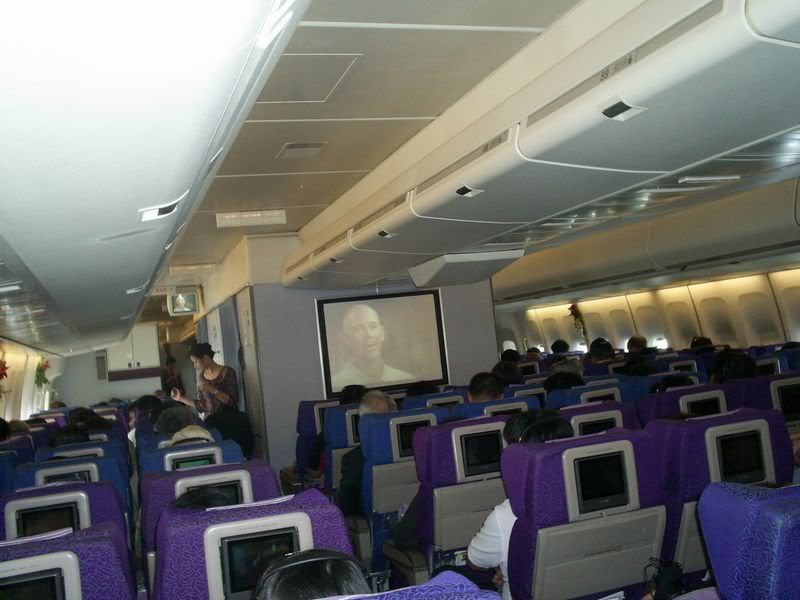 Christmas decorations
Legroom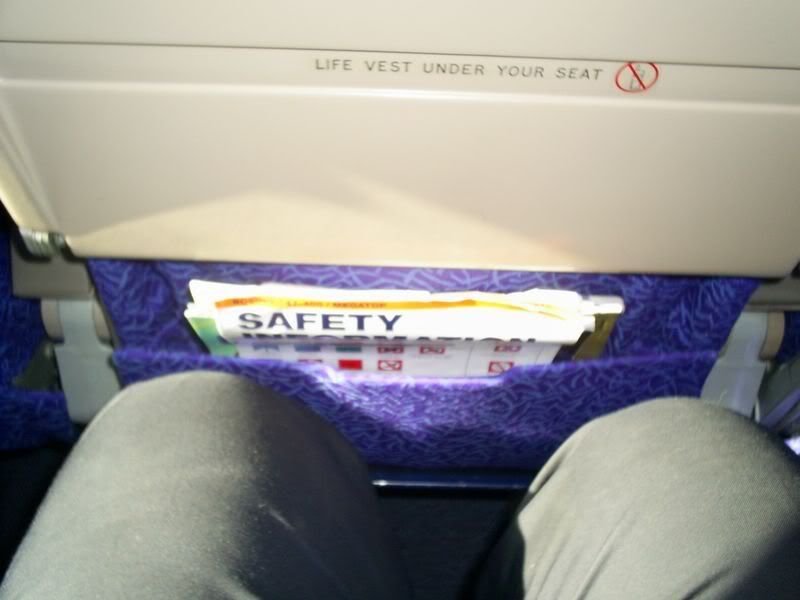 Approaching Suvarnabhumi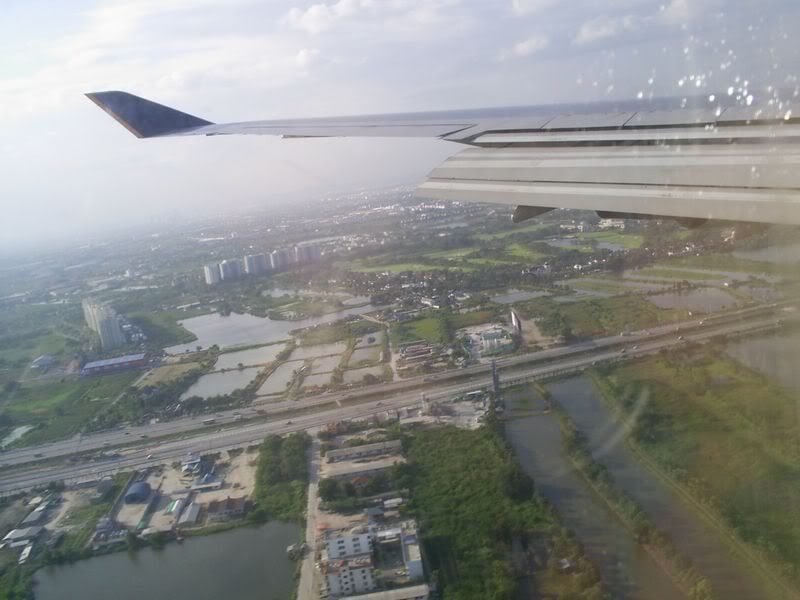 Some twenty minutes later, we started descent into Suvarnabhumi, and landed on time at 4.15pm. We docked at the preferred D gates, next to an extremely dirty SAS A340. Immigration was quick, and so was customs. A horrendous line for taxis downstairs, but I wasn't about to drag my bags all the way to the departures level so I just waited.
SAS A340-300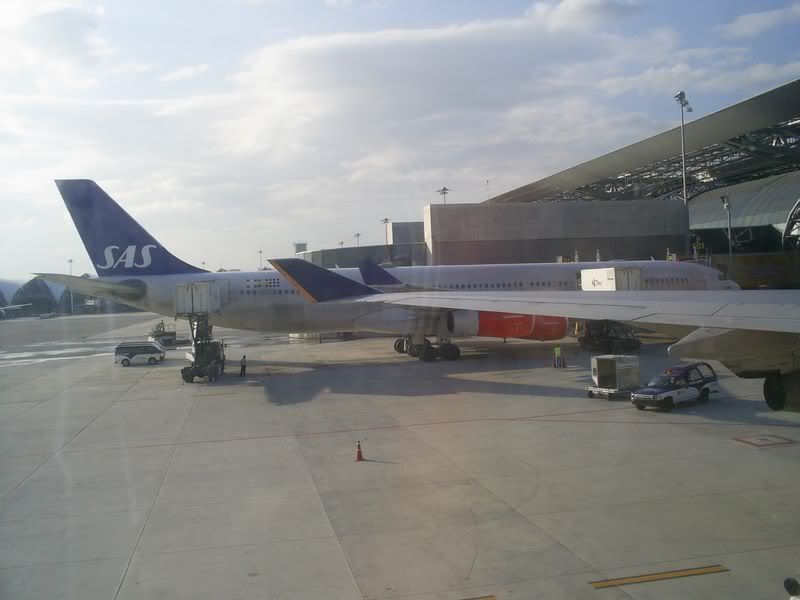 Overall, the SQ Jakarta flights were good, BKK flights were both extremely disappointing. Perhaps it has something to do with yields on these routes and BKK being packed with GV2/GV4 fares all the time. Frankly SQ wasn't worth the 3000 Baht extra over TG nonstops since I didn't get the A340-500s.
Sriwijaya was interesting, not bad apart from the delay. GA domestic Executive Class was excellent as usual, and on time.
I've flown on quite a few of the Indonesian airlines so far, here's how I'd rank them:
1. Garuda Indonesia [on time, nice business class, professional staff, decent lounges]
…
…
…
2. Batavia Air [The 737-300 was in good shape, more or less on time, professional staff with some English skills]
3. Sriwijaya Air [Not bad apart from the delay and no English at gate, a bit shabby cabin on the 732]
4. Mandala Airlines [Not much different from SJ, but some cabin parts of PK-RIN looked downright scary]
…
…
…
5. Lion Airlines/Wings Air [I boarded a Jogja flight despite three boarding pass checks when going to Surabaya, rude staff, delays, horrible condition of M80s, incl overflowing toilets]
Not sure what to try next time, perhaps Adam or Merpati.
Hope you enjoyed,
Lari