AMERICAN AIRLINES - LONDON HEAHTROW TO BOSTON LOGAN
As X-mas was soon comming it was time to head across the pond to Boston to spend Christmas of 2006. I decided to fly American Airlines due to the cheap fare being offered on AA.com. AA also appealed to me as I decided to fly from Boston to Miami a few days later to catch some winter sun. The flight was around $200 less than other carriers such as VS and BA.
We decided to stay at a hotel the night before in Heathrow as the flight departed in the mid-morning. We stayed at the Jury's Inn Hotel which is located next to BA's Heathrow Maitenence base.
The Jury's Inn just before our transfer to Terminal 3: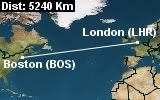 Route:
London Heathrow to Boston Logan (EGLL/LHR-KBOS/BOS)
Flight Number:
AA109
Carrier:
American Airlines
Aircraft:
Boeing 777-223/ER
Aircraft Registration No:
N791AN
Scheduled Departure Time:
10:30 (GMT)
Actual Departure Time:
10:46 (GMT)
Scheduled Arrival Time:
12:55 EST (GMT-5)
Actual Arrival Time:
12:19 EST (GMT-5)
Seat Number:
34J (Window Seat)
Journey:
6hr 34m
Cruising Altitude:
40,000ft
Class of Travel:
Main Cabin
We arrived at a busy Terminal 3 during the mid-morning rush. American Airlines had several check-in counters open for Business, First and Main Cabin passengers. I must say the check-in area at LHR is pretty poor compared to other AA larger cities. At this time near to our check-in counters there were flights heading to Hong Kong on Cathay Pacific, aswell as to Jeddah/Riyadh on Saudi Arabian Airlines along with multiple Virgin Atlantic flights.
Check-in was pretty slow today during the holiday rush. There was several flights being checked in at the same time. Miami passengers had priority as the flight was due to depart soon.
After being checked in by the nice AA London staff we made our way upstairs and looked around the shops before immigration. We then decided to join the long line at immigration in Terminal 3. Thankfuly the line was moving quite fast and there was around 5-6 screening areas open.
I also had to take part in a random check; which involved taking my shoes off. I then arrived into the big duty free area which is simply great compared to American airports.
A rather blurry attempt of a photo in one area of duty free in Terminal 3:
There were many shops in Terminal 3 including:
AMT Coffee
Accessorize
Bagel Street
Best of the Best Supercars
Body Shop
Books etc
Boots
Bulgari
Burberry
Caffè Italia
Cartier
Caviar House & Seafood Bar
Chanel
Chez Gérard
Chocolate Box
Christian Dior
Cigar House
Dixons Tax Free
Emporio Armani
Glorious Britain
Gucci
Harrods
Nike
O'Neill's
Starbucks
TGI Friday's
And more.......
After doing some duty free shopping I decided to head to the gates to take some photo's of the large amount of widebodies that T3 offers.
HS-TGO being turned around for the midday flight back to Bangkok
Bad close up of HS-TGO
Kuwait Airways A300-600 named "Wara" being loaded for the flight back to Kuwait
Air Canada 767-300ER being pushed back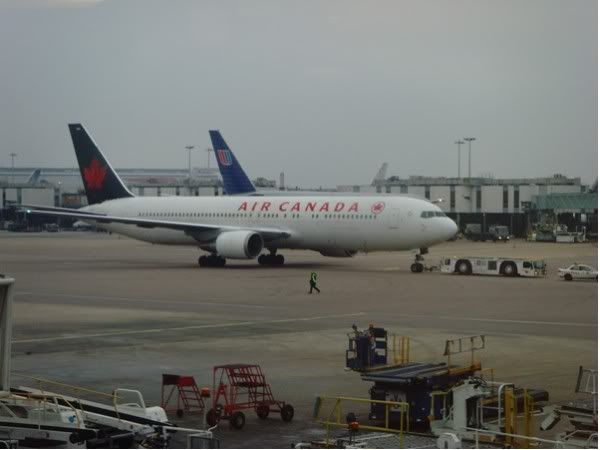 American Airlines 777-223/ER at the gate after arriving from the USA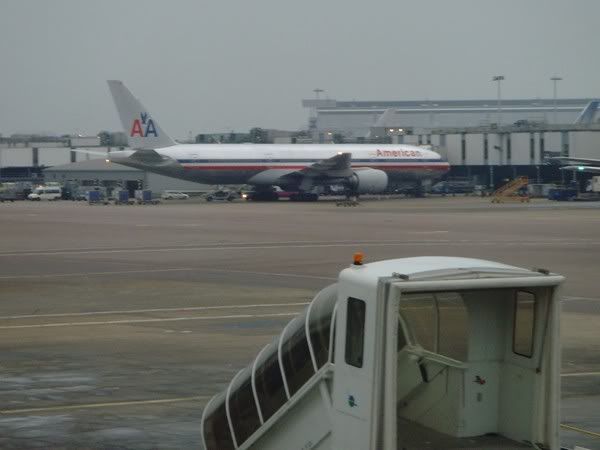 Another Air Canada 767-300ER in the old colours being tugged to a remote stand
An United Airlines 777 in the old colours being readied for the flight to Washington Dulles
Lineup of some heavies at T3 including a Thai Airways 747-400, Kuwait Airways A300, Air Canada 767-300 and Air India 747-400.
Gulf Air A330 in the old colours waiting to depart back to Bahrain at 09:30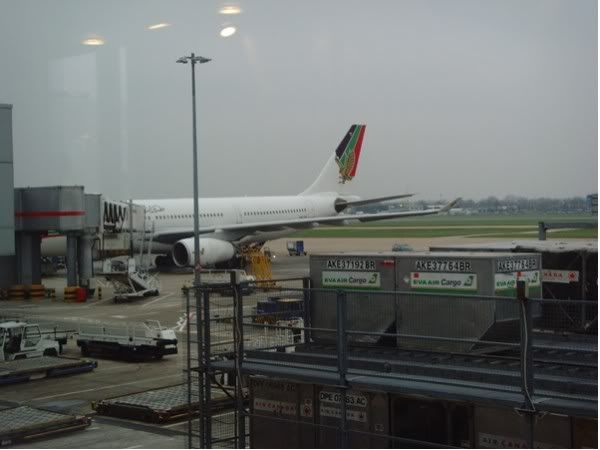 One of the long halls that have yet to be renovated
A list of connecting airlines at Heathrow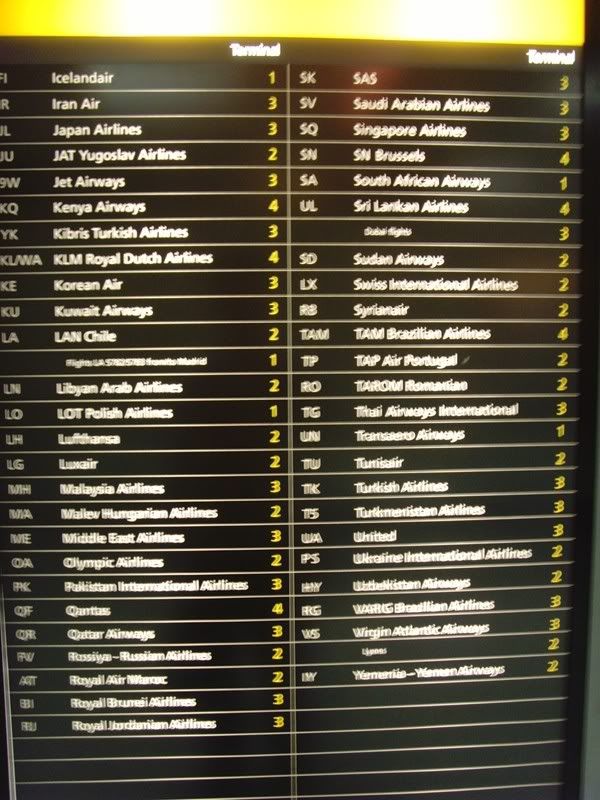 List of flights soon depart from Terminal 3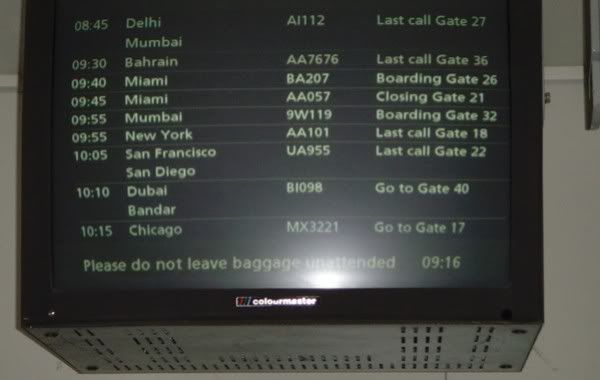 N784UA being prepared for the flight back to the USA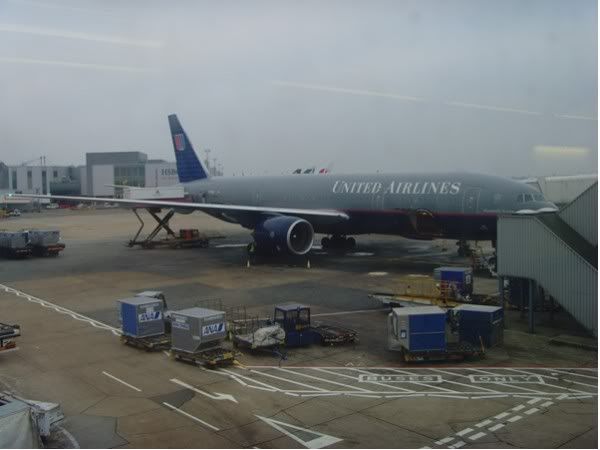 SAS A321 that had just arrived from Scandinavia
One of the many AA 777's at Heathrow
Another AA 777 being turned around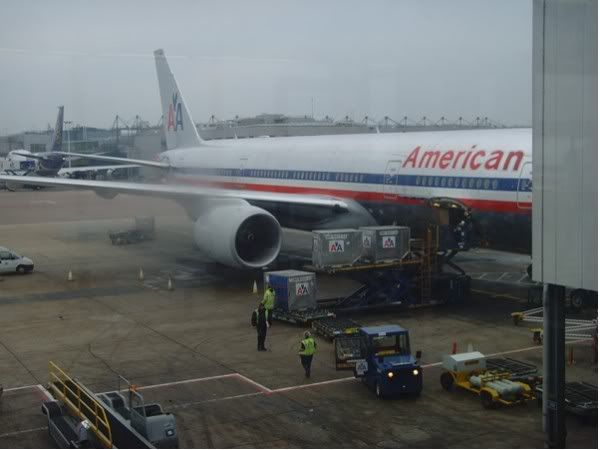 UA 777 about to pusback for the SFO flight
A different angle of HS-TGO
A shiny AA 777 (N783AN) at a remote stand at T3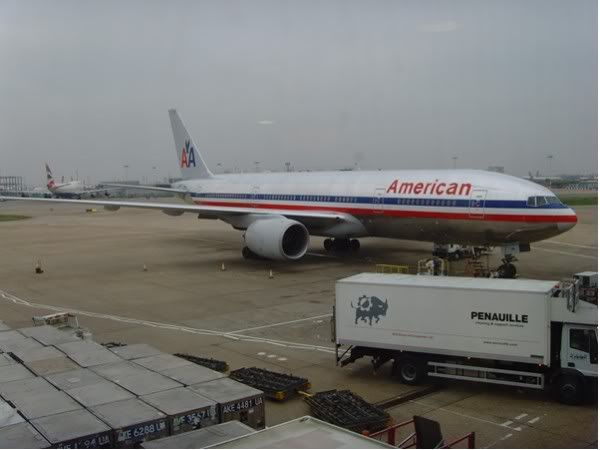 A close up of N783AN, the aircraft earlier arrived from JFK as AA132. This aircraft would later depart to JFK as AA105.
An American heavy arriving from the US
N791AN which will soon take me to Boston
Another view of N791AN with a few AA, VS and BA heavies in the background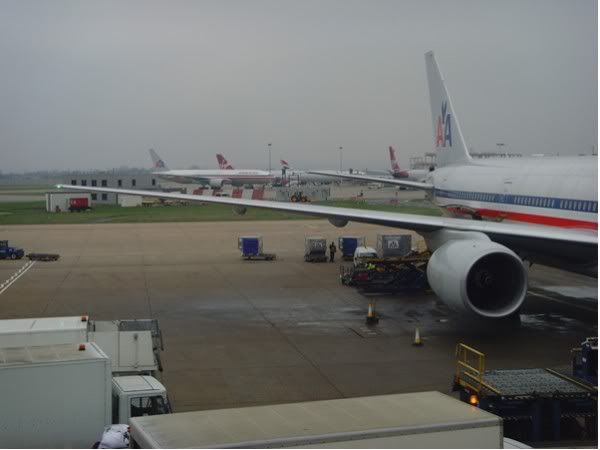 After taking a few photo's of T3 aircraft, boarding was then called for American Airlines flight 109 to Boston Logan. We entered the lounge and waited until we could enter the aircraft. After about a 10 minute wait they announced boarding for First and Business passengers. Boarding at AA was done differently to other airlines I've experianced. Rather then annoucing by seating rows; they are done in groups. For example group six would be towards the back of the aircraft. Personaly I think this is a good idea and is better than annoucing it by seat rows. When was this introudcued, I cannot remember it during my last AA encounter?
We entered the aircraft through door 2L. We walked through the Business class cabin which seemed not even half as good as airlines such as British Airways, Virgin Atlantic, Cathay Pacific and so on. What is the price like compared to other airlines for AA's Business class cabin?
I eventualy made it to my seat which was seat 34J in the Main Cabin. The cabin crew welcomed us on board and made a nice first impression to the passengers.
The Main Cabin was in a 2-5-2 configuration which made the 2 seating seem very spacious. I must admit I do like this configuration.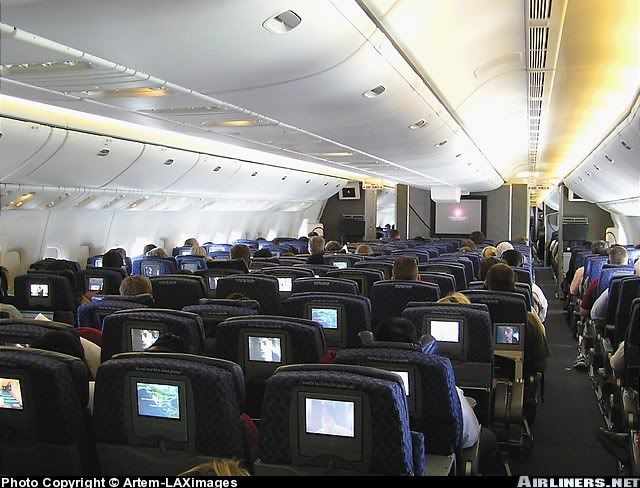 A view of my legroom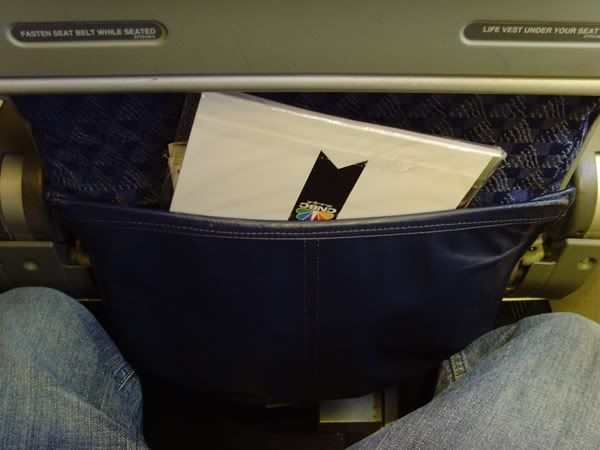 View from my seat, looking down the terminal with three American 777s' 2 AA and 1 UAL
Today's flight to Boston was to be flown by N791AN which was delivered in 2000. The aircraft previously came from MIA as AA182. The aircraft was located at gate 19 in Terminal 3.
Pusback of a company 777
Beautiful 777 heading of to active runway, I love this sceme on the 777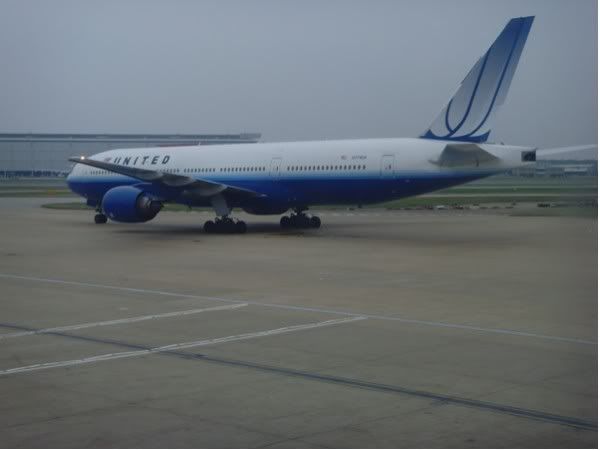 The captain annoucned that push back will be soon and the flight will depart soon. As we pushed back from Terminal 3 the safety video was shown. The crew then welcomed themself and the pilot gave the flight information of today's flight. The captain named Bob announced that our flight today would take only 6h 30m and it was a beautiful day to fly. As you can see from my pictures, LHR is very dull today. There was quite a bit of traffic at LHR and in the London area. The captain then said we were to fly at 39,000ft throughout the journey into Boston. We were to off to the west and head towards Cardiff, Wales before heading onto Shannon, Ireland and then across the Atlantic, over Nova Scotia, Canada and down the Maine coast into Boston.
Our route today; courtesy of FlightAware: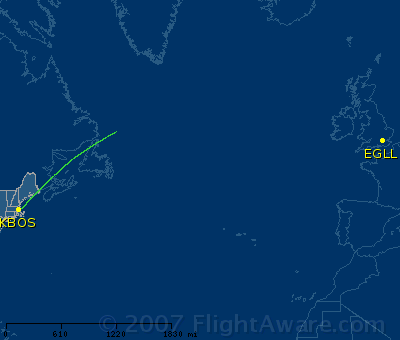 During pushback, a series of heavies at remote stands
Two Air Canada 767's, One Air New Zealand 777, A single AA 777 and a BWIA A340 at T3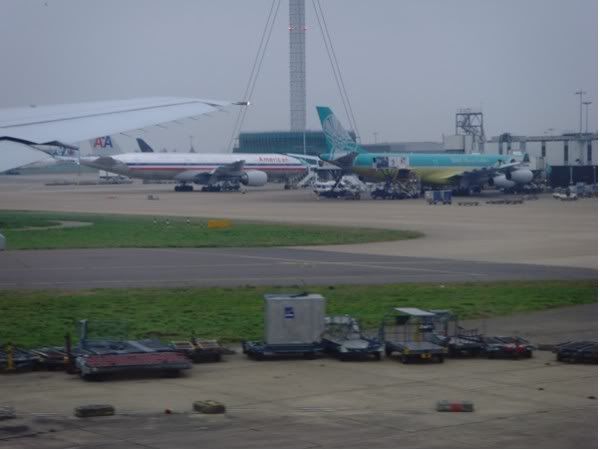 VS A340's and a American Airlines 777 at the remote stands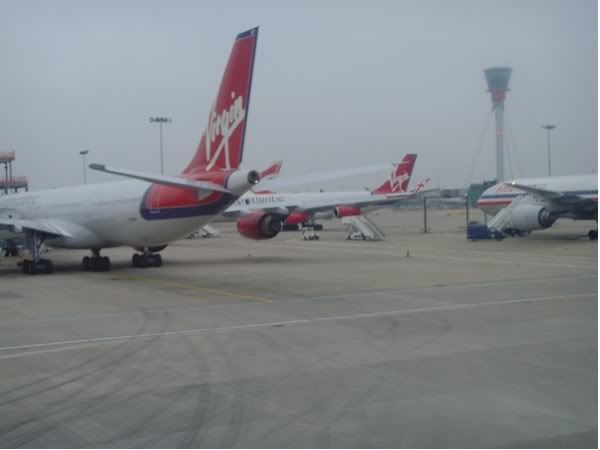 A lineup of Virgin A340's near to Terminal 5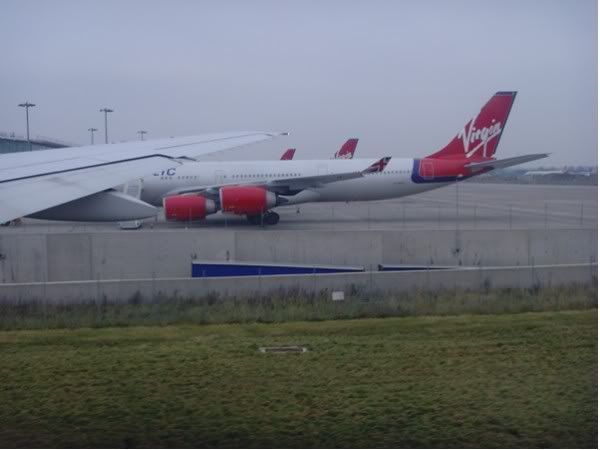 The long wing of the 777 as we head towards the active runway
We waited in line for takeoff for around 10mins, and then the captain announced we were 3rd in line for take-off. In front of our aircraft was a UAL 777, AC 763 and a few BA A32S's. Takeoff was on runway 09R.
Take off video of flight 109 to Boston Logan
A view of Terminal 4 as we soar out from London Heathrow.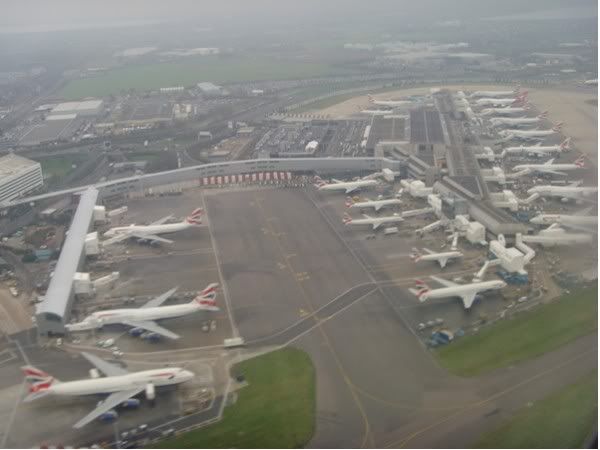 Today's route on the moving airshow map on the PTV's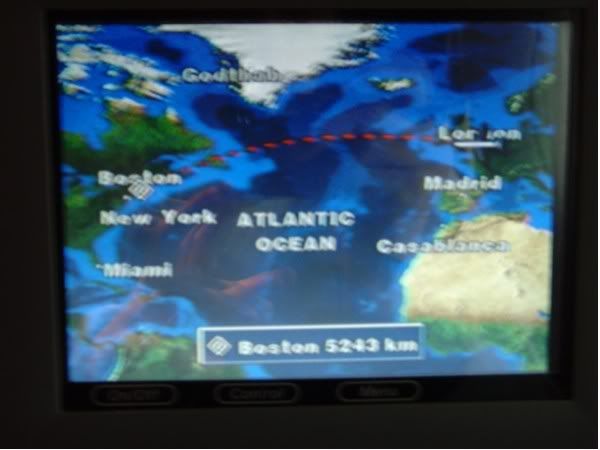 Turning out of the overcast clouds over London
Continuing our climb over Wales
As we reached our initial cruising altitude of 37,000ft a drinks service was offered to passengers. We were given a choice of drinks for free excluding alcohol which cost $5 or £3 each. I was suprised that full size soda cans were offered to passengers rather than the mini-cans often offered.
The flight then encourted some turblence off the west coast of Ireland, so the captain announced we would rise to 40,000ft for the rest of the flight.
Later on a lunch service was offered to passengers again with a drinks offering. There was a choice of Beef or Chicken. I had the chicken and it was served with vegtables and pasta; and a dessert which was a lemon pie. Also offered was water and a bread roll.
As we headed towards Canada another meal service was offered which was a snack. In the snack box there was the following items:


Sundried Tomato Flavoured Crackers

KitKat

The Laughing Cow Cheese Spread

Fruit Flakes

Mini Pringles Original Flavour

Walkers Short Bread Sticks

During our meal service, a drinks service was again offered to passengers.
Our Snack service:
The view from my window over Canada
Soon after the captain annouced we were to begin our decent into Boston's Logan airport.
Our estimated time of arrival in Boston was 12:15 local time.
We began our initial decent over Maine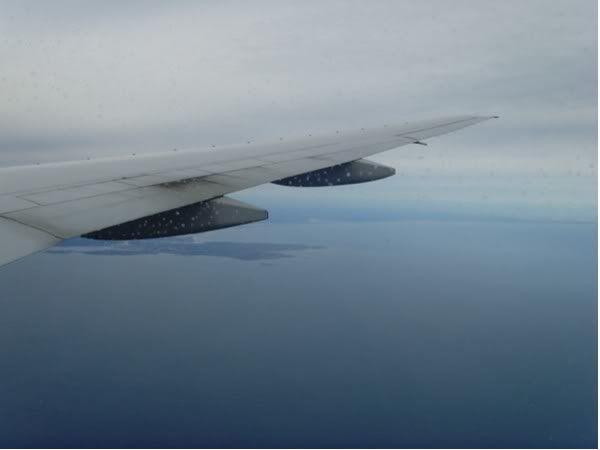 Turning over the Atlantic Ocean during our decent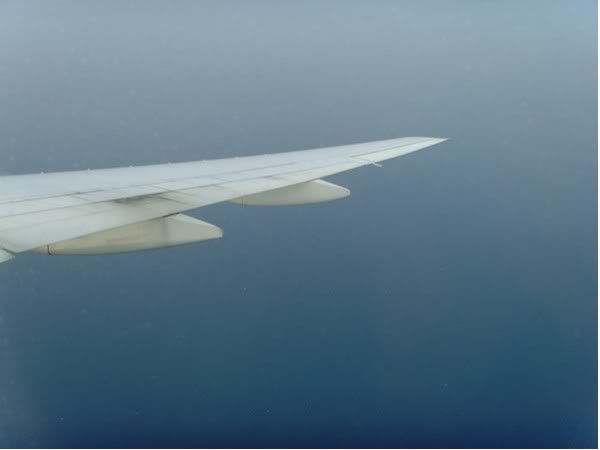 The captain making the adjustment to slow the aircraft down
Full flaps down during final approach to BOS
Nice view of the Boston Coastline as we make our final adjustments before touching down on New England tarmac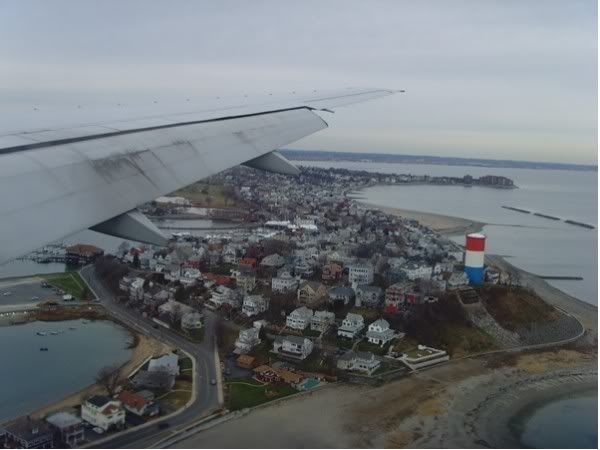 Making our way into Logan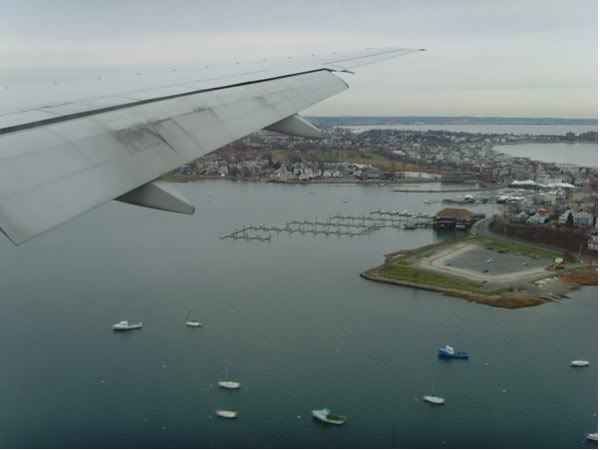 Touchdown, Welcome to Boston!
Turning onto the taxiway at BOS
NWA A320 (N332NW) having just landed before us. Were both waiting for the AA 757 to take off before crossing the runway.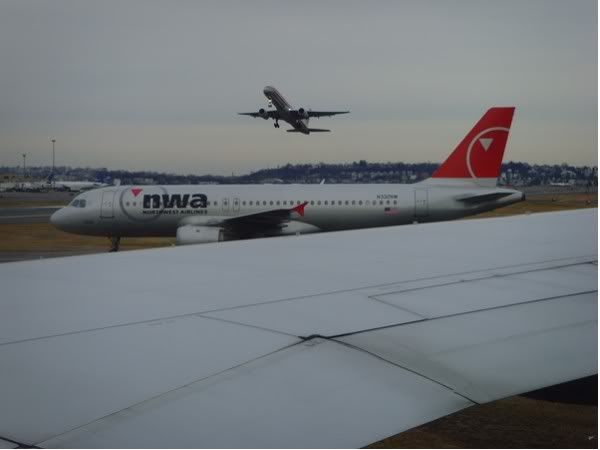 Boston Terminal Information during our taxi to the terminal. We arrived at Terminal E, as do AA's International arrivals at BOS. All AA departures leave from Terminal B.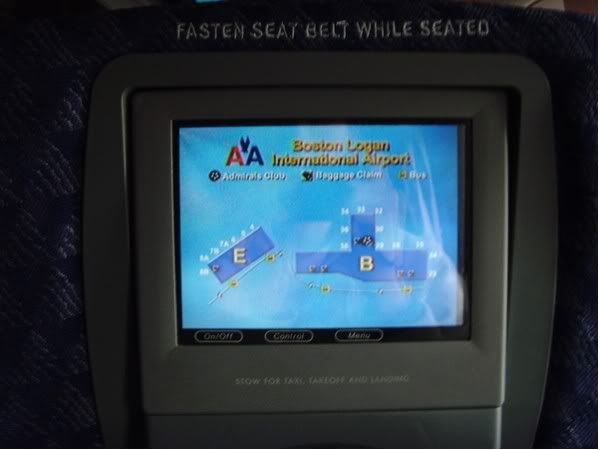 Turning into the gate at KBOS's Terminal E. There was an EI A330, BA 777 and a LH 744 at the terminal.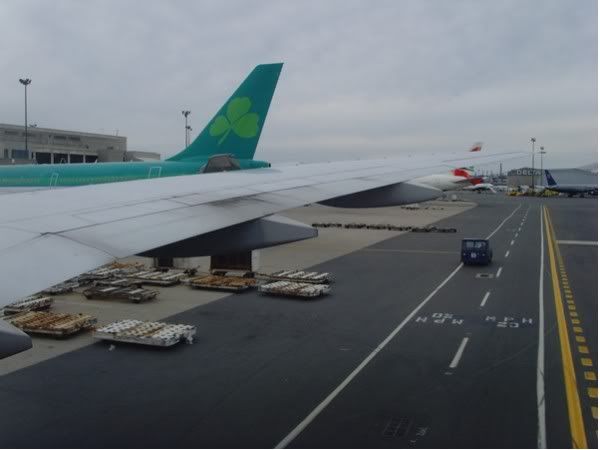 Two European Heavies at the gate
Pulling up next to EI-EWR from Ireland.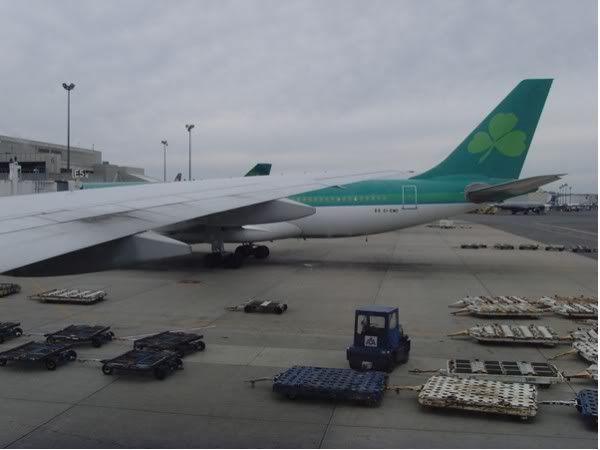 For all of you EI fans, will be a shame to see them gone from OneWorld
As we reached the gate, connecting OneWorld and American Airlines information was given out to passengers. There was a delay at the gate as the AA ground crew had to get from Terminal B to E early as the flight arrived early. We were gifted by comedy comments from the captain.
He was very informative throughout the flight. He also reminded us that we were still early a few times, in a funny way!!
Whilst waiting for gate to connect to the aircraft a Alitalia 767 arrived from MXP.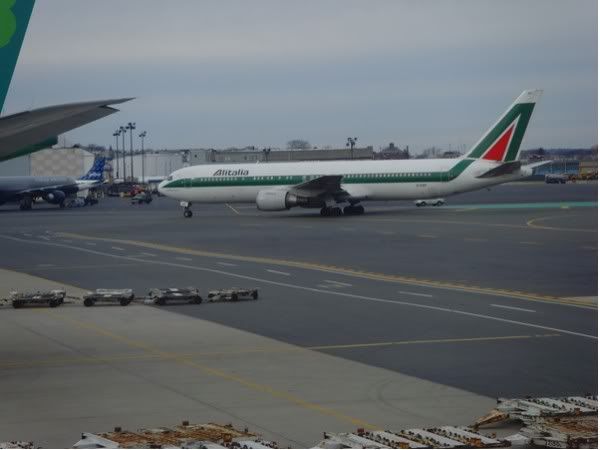 We eventualy departed through gate E4,
Looking back at the aircraft:
Another view of N791AN
We arrived into Terminal E which was very modern and clean. I was very impressed by the terminal. Immigration was slightly slow as not many counters were open. After going through immigration we then went and collected our luggauge which was very efficent and fast.
I decided to take some photo's of Terminal E as my next flight would be from Terminal B.
Arrival area of Terminal E
A very empty check-in area at Terminal E
Another view of Terminal E check-in area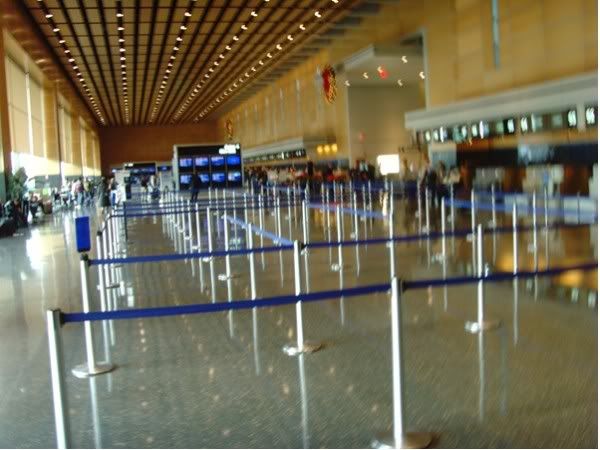 I then went outside to go Boston to spend Christmas!!!
Thank you for reading, any comments welcome
Rob!