TRIP REPORT JAPAN 16-27Dec06
----------------------------------------------------
QUICK FACTS
Routing:
ZRH-HAM-HEL-NGO-FUK-HND-WKJ-CTS-HKD-HND-ITM-FUK-HND-OIM-
HAC-HND-KIX-RVN-HEL-BRU-GVA-ZRH
Legs flown:
21
Airports visited:
16
Brussels - National (BRU/EBBR), Belgium
Fukuoka (FUK/RJFF), Japan
Geneva (GVA/LSGG), Switzerland
Hachijojima (HAC/RJTH), Japan
Hakodate (HKD/RJCH), Japan
Hamburg - Fuhlsbuttel (HAM/EDDH), Germany
Helsinki - Vantaa (HEL/EFHK), Finland
Nagoya - Chubu Centrair (NGO/RJGG), Japan
Osaka - Itami (ITM/RJOO), Japan
Osaka - Kansai (KIX/RJBB), Japan
Oshima (OIM/RJTO), Japan
Rovaniemi (RVN/EFRO), Finland
Sapporo - New Chitose (CTS/RJCC), Japan
Tokyo - Haneda (HND/RJTT), Japan
Wakkanai (WKJ/RJCW), Japan
Zurich (ZRH/LSZH), Switzerland
Airlines/Operators flown:
11
Air Berlin (AB/BER)
Air Nippon (EL/ANK)
Airtransse (--/TSQ)
ANA All Nippon Airways (NH/ANA)
A-net/Air Nippon Network (EH/AKX)
Finnair (AY/FIN)
JAL Express (JC/JEX)
JAL Japan Airlines (JL/JAL)
SN Brussels Airlines (SN/DAT)
Swiss International Air Lines (LX/SWR)
Virgin Express (TV/VEX)
Aircraft subtypes flown:
14
Airbus A319
Airbus A320
Airbus A321
Beechcraft 1900 Airliner
Boeing 737-400
Boeing 737-500
Boeing 747-300
Boeing 747-400
Boeing 767-300
Boeing 777-200
Bombardier DHC-8-300 Dash 8Q
British Aerospace/Avro RJ85
Embraer 170
McDonnell Douglas MD-11
INTRODUCTION
Around Christmas time, Finnair (AY/FIN) usually routes a couple of their scheduled flights from Japan to HEL via Rovaniemi (RVN/EFRO). Rovaniemi, located in Lapland, is promoted as the home of Santa Claus and this is supposedly popular in Japan. I knew this and, as a lover of special airline routes, I always played with the thought to one day take such a flight from Japan to Rovaniemi. This 2006/07 season, I stumbled over these flights again when browsing the schedules in the Amadeus reservation system. I initially discovered the flight on 24Dec06 from Tokyo-Narita (NRT/RJAA) to RVN operated by A340-300. As is to be expected, all the cheaper fare classes were sold out on this flight. Further checking the system, I also noticed a flight going from Nagoya-Chubu Centrair (NGO/RJGG) on the same date, but operated by MD-11. There, the cheaper fare classes were sold out, too. I knew AY also flew to Osaka-Kansai (KIX/RJBB) but there was no flight on 24Dec. But after playing around a bit more, I discovered a flight a day later, on 25Dec06. And to my surprise, all the flights fare classes, down to the very cheapest one, were still available! Was this maybe my chance to finally fly non-stop from Japan to Lapland?
I began to play around with the system a bit more and, just for fun, I tried to quote a fare for from Zurich (ZRH/LSZH) to NGO via HEL and vice versa. Well, it didn't work, because there was no AY HEL-ZRH flight operating on 25Dec06. So I tried any other AY central European destination, but no luck. AY seems to not fly any European services on Christmas Day. But I found an AY codeshare flight number to Brussels (BRU/EBBR), operated by SN Brussels Airlines (SN/DAT). So I quoted a ZRH-HEL-NGO-(RVN)-HEL-BRU. And I was surprised to be quoted a reasonable fare in Q class. By further optimizing, I found that fares were significantly cheaper if I started the journey not from ZRH but from Germany. So a good hour of play started to get serious, with me realizing that indeed this trip could become feasible! Now it got down to choosing the exact schedules (where Q class was available) so that I could fly on the most interesting flights. Also, I noted that AY was offering codeshared domestic legs in Japan operated by Japan Air Lines (JL/JAL) to several cities, such as Fukuoka (FUK/RJFF), Sapporo-New Chitose (CTS/RJCC) and also between Tokyo-Haneda (HND/RJTT) and KIX on the days where AY had no direct flights from NRT to HEL. Best of all, these Japanese domestic legs did not increase the fare (except airport taxes)! And in addition, instead of flying direct KIX-(RVN)-HEL, I decided I would actually like to disembark at RVN, to see what all those Japanese were going to do and see there. It would be nice to spend Christmas Day at Santa's "home". And the Q fare still worked, even when taking a flight RVN-HEL one day later, on 26Dec06. This because a stay of less than 24 hours is not considered a stopover!
So, after much consideration (I considered the following, among others: Could I fly on a leg using a Finncomm Embraer 145? Which route would give me any AY codeshare flights on carriers I have not flown yet? Were there any interesting aircraft types?), I settled on the following routing:
16Dec06 HAM-HEL AY Embraer 170
16Dec06 HEL-NGO AY MD-11
17Dec06 NGO-FUK JL B737-400 (operated by JC, AY codeshare)
25Dec06 HND-KIX JL B767-300 (AY codeshare)
25Dec06 KIX-RVN AY MD-11
26Dec06 RVN-HEL AY Airbus A321
27Dec06 HEL-BRU SN Avro RJ85 (AY codeshare)
This routing turned out to be CHF 1445 all inclusive (approximately USD 1210 or EUR 925), not a bad deal, considering the number of legs it gave me. I booked it about 2 months before departure.
Next step would be to determine on how I got from ZRH, where I live, to HAM and back home from BRU. BRU was easy, having never flown Virgin Express (TV/VEX). Considering that this brand would disappear soon into the newly formed Brussels Airlines, I took the opportunity and booked a flight to Geneva (GVA/LSGG) for EUR 107 (CHF 175/USD 143). From GVA I would then take a Swiss International Air Lines (LX/SWR) flight to ZRH. I still had a non-rev "friend's ticket" (called "buddy pass" in the U.S.) for this. Going to HAM, I had the choice of EasyJet Switzerland (DS/EZS) from Basel (BSL/LFSB) and Air Berlin (AB/BER) from ZRH. Although I had flown on both carriers numerous times, in the end the convenience of flying from ZRH had the upper hand and I booked AB for CHF 128 (EUR 82/USD 107).
Finally, my trip was not yet ready without the both dots in Japan, FUK and HND, connected in some way. At first, I thought about using the super efficient train system in Japan and visiting some interesting airports along the way, such as the newly built Kitakyushu (KKJ/RJFR) off-shore airport, Hiroshima (HIJ/RJOA), the new island airport at Kobe (UKB/RJBE), Osaka-Itami (ITM/RJOO) and the always interesting and busy KIX, NGO, HND, NRT. But then, trains are not airplanes! So I decided to do some crazy flying in Japan. Domestic flights in Japan are always very enjoyable due to the impeccable level of service. I still had miles on United Airlines' (UA/UAL) Mileage Plus which I could use for flights on ANA All Nippon Airways (NH/ANA). I decided to max it out, going to the northernmost airport in Japan, Wakkanai (WKJ/RJCW). Ever since I saw these pictures on a.net from WKJ, I wanted to go there:
At the same time, I wanted to take the opportunity to finally fly on a domestic B747-400. Because an award ticket can be open jaw but will need to end at the point of origin, I ended up with the following routing. Note that I was able to get three legs out of the return flight from Hakodate (HKD/RJCH)! There was a lot of talk to do, convincing the UA call center staff to book it that way instead of a direct HND-FUK.
19Dec06 FUK-HND NH B747-400
19Dec06 HND-WKJ NH A320
21Dec06 HKD-HND NH B747-400
21Dec06 HND-ITM NH B777-200
21Dec06 ITM-FUK NH B777-200
This ticket cost 15'000 miles and a mere CHF 19 in fees (USD 16/EUR 12).
To connect the open-jaw between WKJ and HKD, I booked NH (operated by Dash 8-300 of A.net) from WKJ to CTS for JPY 17050 (CHF 180/USD 148/EUR 113). Unfortunately I missed a discounted fare bookable 28 days in advance by just 2 days. NH has a nice website where domestic flights can be booked easily (in English) and seat numbers can be chosen. Airtransse (--/TSQ), a small airline operating in the northern island of Hokkaido with Beechcraft 1900D's is not listed in any GDS and OAG schedules. Their website is Japanese only, but thanks to AltaVista Babelfish I was able to decipher their schedule and I sent them a fax requesting a reservation from CTS to HKD. A couple of hours later, I had an e-mail confirmation in my inbox! The flight cost JPY 12000 (CHF 127/USD 104/EUR 79).
Now, my itinerary was back where it started, at FUK, with the connection to HND still missing! I noticed a flight by JL published on a "747" which I assumed to be the last B747-146 SUD flying at JL (but I couldn't be sure as 747 is the generic code for any 747). I booked this flight from FUK to HND on 22Dec06. I had to book this flight on this particular evening, otherwise the 28 day advance purchase fare would not be available anymore. JL's website for booking domestic flights is in Japanese only. JL's European call centers were closed already. So I called their reservation number in Japan where they directed me to an English speaking person which was able to book the flight. Costs were JPY 15400 (CHF 163/USD 133/EUR 102). Using flight number, booking reference and name, the booking is then accessible on the (Japanese language) website. Again using lots of on-line translation, I was able to get to the seat map, but unfortunately the upper deck seat map was not accessible. So I reserved a window seat in the back of the aircraft.
To spend 3 full days in Tokyo was a nice plan, but flying a bit more would be even better. On my last visit to Tokyo, I noticed flights to a couple of islands south of Tokyo, Oshima (OIM/RJTO), Miyake Jima (MYE/RJTQ) and Hachijojima (HAC/RJTH). And even better, NH had a daily flight between two of the islands, OIM and HAC. This was definitely something I wanted to do! So I now decided to book a side trip to OIM and HAC as follows:
23Dec06 HND-OIM NH Dash 8-300 (operated by A.net)
23Dec06 OIM-HAC NH B737-500 (operated by Air Nippon)
24Dec06 HAC-HND NH A320
This was also booked via NH's website at a cost of just JPY 21250 (CHF 224/USD 184/EUR 141).
My Japan trip itinerary was now complete! 21 legs over 11 days, for a total distance of 26508 km (16471 mi). The total cost (except the GVA-ZRH leg) was CHF 2461 (USD 2060/EUR 1575), averaging at just CHF 117 (USD 98/EUR 75) per leg or CHF 0.093 (USD 0.078/EUR 0.059) per km or CHF 0.149 (USD 0.125/EUR 0.094) per mile.
FLIGHTS
Date: 16Dec06
Route: Zurich (ZRH/LSZH) - Hamburg-Fuhlsbuttel (HAM/EDDH)
Schedule (local times): ZRH 0855 - HAM 1015
Scheduled block time: 1:20
Flight number: AB 8683
Airline/Operator: Air Berlin (AB/BER)
Aircraft type: Airbus A319-132
Registration: D-ABGB
After almost missing a flight a couple of days before due to a long wait at the security at the E-Gates, I went to the airport for an early check-in about 2 hours before departure. AB operates a mini-hub in ZRH on Saturdays with flights to Fuerteventura (FUE/GCFV), Tenerife-South (TFS/GCTS), Las Palmas (LPA/GCLP), Lanzarote (ACE/GCRR) and Funchal (FNC/LPMA), with feed coming in from HAM, Frankfurt (FRA/EDDF), Dusseldorf (DUS/EDDL), Berlin-Tegel (TXL/EDDT) and Vienna (VIE/LOWW), and exceptionally on just this date, Leipzig (LEJ/EDDP). Therefore, I expected quite some passengers checking in at ZRH, too. However, there was just one counter open when I arrived and just one person in front of me. This passenger was quite agitated (rude and unfriendly), as he wanted to check in to VIE, which is an AB codeshare flight operated by Niki (HG/NLY). But funny enough, HG uses a different handling agent (Hahn Air) than AB, therefore the agent was not able to check him in. He was quite mad about it, as the Hahn Air counters were not yet staffed. When it was my turn, I got my desired window seat. After going through passport control and using that very annoying train (all with a tape with yodel music and cow moos) to the E-gates I arrived at security. Fortunately, the dreaded long wait at security did not happen today. After security, I wanted to buy my favorite drink, Coke light (Diet Coke for the North American readers). This was not possible, as the only place where you could buy something was out of stock. Can you believe this? They don't allow to bring drinks but you can't buy some either? (Ok, other drinks were available, to be fair.) My flight was at the western end of dock E and the gates of the other AB flights were nearby. Fortunately, all inbound flights were arriving on-time, as there was no fog this morning. There was a temporary extra security checkpoint for transfer passengers connecting between AB flights nearby. Boarding was via jetway and I took my window seat in the first half of the aircraft. We then pushed back and taxied to runway 28 for take-off. The flight was standard AB, with free drinks and a small sandwich provided (which I declined). Cabin attendants were friendly, but smiles were lacking. (Not as advertised: "Smiles included".) I slept through part of the flight. Weather in HAM was grey and rainy, but there were some breaks in the lowest cloud layer from time to time and I was able to see down. We landed on runway 23 and taxied to an open stand. No stairs and ground crew were there, we had to wait for about 5-10 minutes. The captain apologized for the wait, explaining that we had a short notice change of our parking position. We were bused to Terminal 2. Baggage delivery took unusually long, with the first bags appearing only around 40 minutes after arrival! My bag was, of course, one of the last ones. I cleared customs and went to look for the AY check-in counter. I noticed that HAM airport is quite nice looking and modern. A construction site was located in between Terminals 1 and 2. I guess they will build a similar new terminal to connect the existing Terminals 1 and 2. (Will there be just one terminal after it's finished or will they renumber the terminals to 1, 2 and 3?)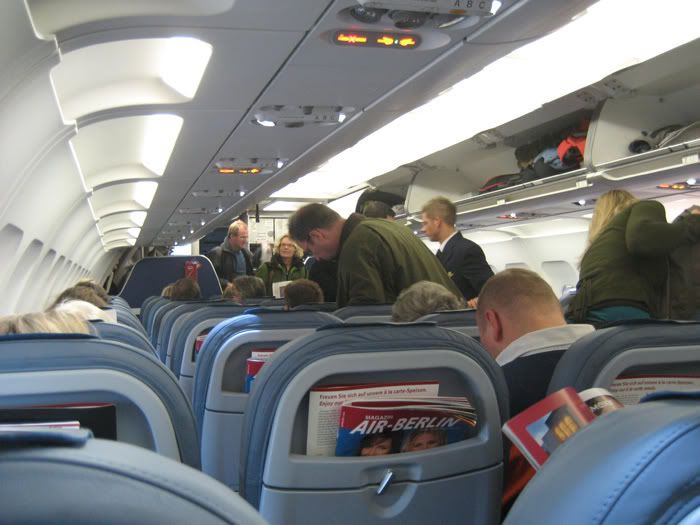 Boarding D-ABGB for the flight from ZRH to HAM.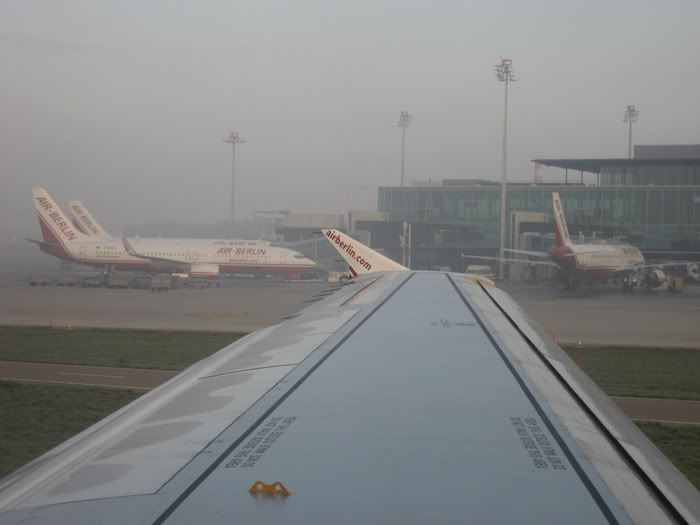 Air Berlin Saturday-morning hub at ZRH.
Terminal 2 at HAM.
Date: 16Dec06
Route: Hamburg-Fuhlsbuttel (HAM/EDDH) - Helsinki-Vantaa (HEL/EFHK)
Schedule (local times): HAM 1320 - HEL 1610
Scheduled block time: 1:50
Flight number: AY 852
Airline/Operator: Finnair (AY/FIN)
Aircraft type: Embraer 170LR
Registration: OH-LEM
AY's check-in was also located in Terminal 2, so it was quick and easy to find. One counter was open and the second one was just being readied. I waited for the second one to open. A friendly agent checked me in, but he didn't have a clue about the destinations I was going to, Nagoya and Fukuoka. He didn't even dare to pronounce these names... quite funny. He just said: "Here's the boarding pass to... to.... wherever you go." My baggage was through-checked to my final destination FUK, but I did not get a boarding pass for the NGO-FUK leg. I then went through security (no long wait) and made my way to the gate. At the gate, detailed announcements were made about the whereabouts of our incoming aircraft. Such information as that the flight is now inbound and on-time and will appear at the gate and will be cleaned was given. I found some seats next to a power outlet and started to write this trip report on my laptop. Boarding was on-time and I took my window seat. The Embraer 170 is very generously laid out, with a very nice seat pitch. The seats were covered in blue AY tuned fabric, not quite as nice as the leather seats I enjoyed on my previous two Embraer 170 flights. There were two cabin attendants. I noticed that the crew were always referring to "safety belts" and not "seat belts" which I found a good way to emphasize that these belts actually have a purpose! Take-off was from runway 33 and flight time was about 1:30. No ground was visible from above, as the whole area was covered in a compact cloud layer. Service consisted of free drinks and a snack in a sealed plastic bag which I found quite cheap. Due to the pressure difference, said bag was looking like a balloon. I don't remember the contents, but apparently nothing that caught my attention... The sun set midway through the flight and we landed in HEL on-time.
Gate for flight AY852 from HAM to HEL. Note the picture of the destination on the monitor. I like this feature.
OH-LEM pulling into the gate in HAM.
Line-up on HAM's runway 33 in dreary weather.
Enroute from HAM to HEL. Note the Embraer 170's nice 2-2 layout.
Nice orange glow after sunset. Taxiing to the gate at HEL.
Date: 16Dec06
Route: Helsinki-Vantaa (HEL/EFHK) - Nagoya-Chubu Centrair (NGO/RJGG)
Schedule (local times): HEL 1715 - NGO 0950
Scheduled block time: 9:35
Flight number: AY 079
Airline/Operator: Finnair (AY/FIN)
Aircraft type: McDonnell Douglas MD-11
Registration: OH-LGF
View Large
View Medium


Photo © Fabio Lorenzato - SpotIT
After arrival in HEL, I went to look for the transfer counter. I wanted to check if it was possible to check me in for my connecting flight from NGO to FUK (in HAM it wasn't). There were two queues of about 5 passengers each, not moving at all in the 5 minutes I waited there. So I decided to give it up and I proceeded through the departure area to gate 33. All gates numbered from 30 are in the international (non-Schengen) sector. To get there, I had to go through immigration to leave the EU. At first, it seemed odd that there were only very few non-Schengen gates, numbered from 30 to 33. But actually, gate 31 is not just one gate, but many gates, numbered 31, 31a, 31b, 31c, 31d and 31e. Boarding at my gate 33 commenced quite early and we went through a long walkway to our aircraft, OH-LGF, adorned by a Santa Claus. I made my way to the very back of the cabin, where I had window seat 56L reserved. The back cabin is a 10-abreast section, whereas there is also an economy class section with 9-abreast seating in the middle of the plane. For my booking class Q, no seat reservation could be made in that 9-abreast section. When I arrived at my seat 56L, it was already occupied by an older Japanese passenger. It turns out his seat was 55L and he just sat in the wrong row. He politely and profusely apologized (in Japanese) and was already getting up when I offered to just swap seats, as he had the window seat, too. Too late I noticed that a very beautiful young lady was occupying the aisle seat of row 55! Well, instead of sitting (and possibly talking to that beauty) I ended up with the 3 seats in my row to myself, which wasn't bad either! The flight was maybe 60% full. The crew was mixed Finnish/Japanese. After take-off, we circled the airport and I got a nice view at it and at Helsinki, too. Our route was over southern Siberia. A dinner was served, but there was no choice, just one meal. It was an Asian dish with rice and some meat morsels in a sauce. It didn't taste very well, to be honest, but I ate it anyway. There was a bread roll and margarine (no butter), and there was silverware. The crew were very good for the frequent "water patrols" during the whole flight, which I appreciated. As far as IFE is concerned, this MD-11 did not have any personal screens, just the main screen. I was able to get quite some sleep. I tend to sleep quite ok on a row of 3 economy seats, much better than on one seat in business (but of course only if those Y seats remain empty!). I woke up over the Yellow Sea between China and Korea. The sun was already up by then and I managed to get a glimpse of South Korea, covered in snow, through a cloud break. We got hot towels and a breakfast which I skipped (except the bread roll). What was nice is that breakfast was served only just one hour before landing. After collecting all the trays, we were in descent to NGO. Approach was from the South to runway 36. The Lufthansa flight from FRA had just arrived ahead of us, but despite this, immigration was quick, which surprised me (at KIX and NRT I had two queue around 45-60 min on previous trips). I had to get my baggage and go through customs. I had to unpack my baggage for the customs agent. I guess they are unused to see passengers arriving with just a small cabin size backpack and a roller bag...
Impression of the gate area at HEL.
OH-LGF awaiting it's passengers at HEL's gate 33.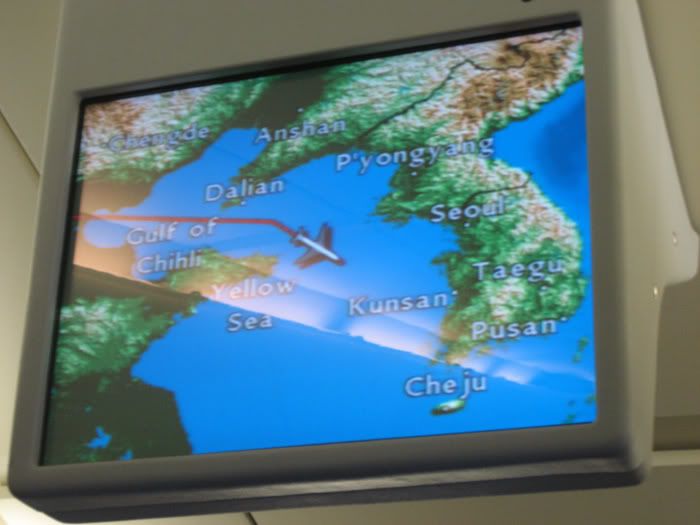 A couple of hours later. I woke up over the Yellow Sea.
Breakfast consisting of a couple of strange things. Don't know if it was good or not as I didn't taste it.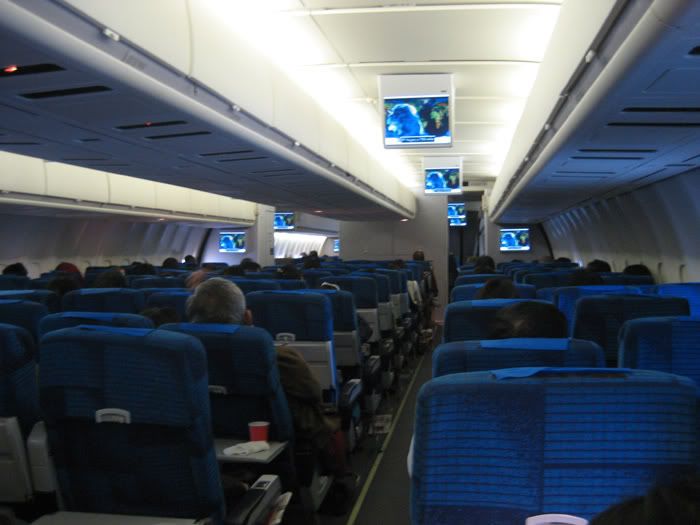 View of the 10-abreast cabin in the back of this MD-11.
Touchdown at NGO. The LH A340 has just arrived ahead of us and is taxiing to its gate.
Part of the modern NGO terminal. Shown here is the check-in area.
Santa Claus's MD-11 OH-LGF brought me to Japan.
Date: 17Dec06
Route: Nagoya-Chubu Centrair (NGO/RJGG) - Fukuoka (FUK/RJFF)
Schedule (local times): NGO 1115 FUK 1240
Scheduled block time: 1:25
Flight number: JL 3209 (codeshare AY 6867)
Airline/Operator: JAL Express (JC/JEX)
Aircraft type: Boeing 737-446
Registration: JA8993
View Large
View Medium


Photo © Yuxiaobin
I needed to proceed to domestic check-in for my connection to FUK. Unfortunately, there were no more window seats available. This always disappoints me, as looking through the window is important to me, it's my IFE, so to speak. Plus I like to take pictures whenever I can. Despite going through immigration, customs and check-in, my 1:25 transfer time still allowed me to go to the marvelous observation deck for a couple of minutes. I then went through security, which is always very efficient and without waiting times in Japan. Even back in 2001, security checkpoints in Japan used special devices for checking fluids. You place your bottles or cans onto a small device which then checks the fluid and if everything's ok a green light illuminates. This is a very quick process, maybe 1 or 2 seconds. If the check fails, you can still take it through security after you opened it and the agent smelled at it. Why can't we have something like this in Europe, too? No, we rather pay extortionate prices for drinks after security. (If they are available... see also my episode on my first leg of this trip....) At the gate I asked if maybe a window seat had become available, and yes, indeed it had! I was very happy about this! The agent just had to put my boarding pass through her machine and my old seat was crossed out and the new seat number indicated. Cool. Boarding was quick, but the flight was sold well. My seat was just the first row in Y class. C class was 5-abreast, with 2 seats on the left side. Y is 6-abreast. Because of the shift of the aisle from 2-3 to 3-3, the first row in Y has only two seats on the left and the place of the third seat is taken by some sort of console (see picture below). We departed on time. The flight was nice, with some gaps in the cloud cover allowing good views. Service consisted of different juices and water handed out by four charming female cabin attendants. We took the southern approach to FUK, landing on runway 34.
View from the great NGO observation deck towards the domestic wing. The JAL Express 737-400 would later bring me to FUK.
I love flight information boards. Looking very exotic in Japanese. My codeshare flight AY 6867 is listed on a separate line.
Part of the domestic gate area at modern NGO.
On board JA8993. Doors closed and cabin crew passing through for cabin check.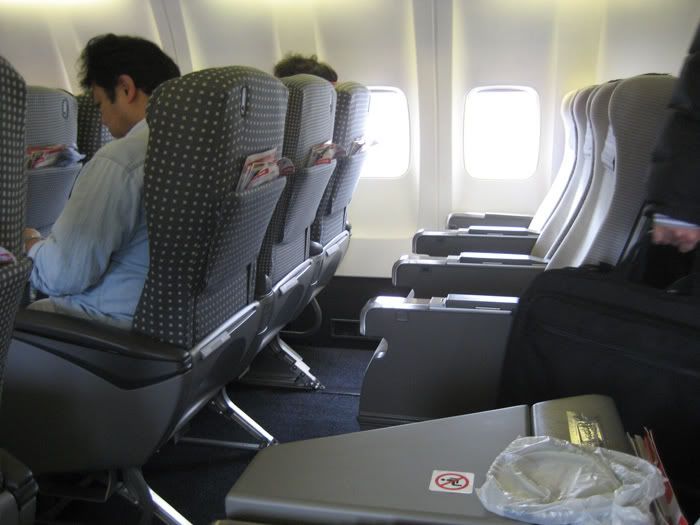 My seat row with that console mentioned in the text above.
The friendly wave by the ground crew, as usual in Japan. I always like to wave back!
Liftoff from NGO's runway 36. In Japan, the airport's name is always written alongside the runway. You can even see this on Google Earth.
Overlooking Osaka Bay enroute from NGO to FUK. The outer of the two islands on the right is the one built for Kobe (UKB/RJBE) airport.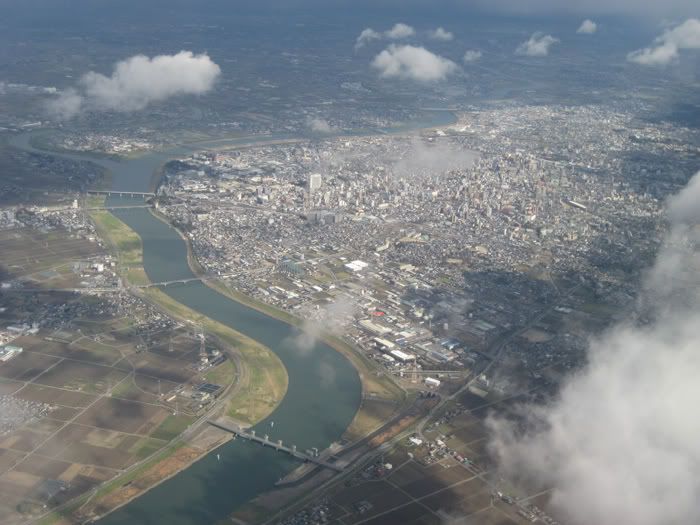 Nice view of the city of Kurume, while approaching FUK from the south.
Nasty weather welcomes me to Fukuoka. Taxiing into our gate.
The weather in FUK was unusually cool, with strong winds and some sleet showers from time to time, which I found unusual. The next day, I did some spotting at FUK. Terminal 1 has a nice outside observation deck, unfortunately with a fence (but photography works if you use some zoom). Terminal 2 has glass around the observation deck, which was not very clean because of the recent rain, but at least it was good quality glass without any scratches. From midday, the sunlight is from the opposite direction. I went to look for a spot in the approach area (approaches were from the North that day). There was a spot if you just follow the road around the airport from Terminal 3 toward the International Terminal on the other side of the runway. I found it a bit too close to the approach path, however. The International Terminal is nice, but of absolutely no use for photography. The glass front of both observation decks is scratched and dirty and is of low quality.
Date: 19Dec06
Route: Fukuoka (FUK/RJFF) - Tokyo-Haneda (HND/RJTT)
Schedule (local times): FUK 0810 - HND 0935
Scheduled block time: 1:25
Flight number: NH 242
Airline/Operator: ANA All Nippon Airways (NH/ANA)
Aircraft type: Boeing 747-481 D
Registration: JA8965
I wanted to take the opportunity to fly on the upper deck of a 747 again. I tried to make a seat reservation two days before departure at the ticket counter, but this was not possible. I was told to contact UA as they had originally made my reservation. Then, on the evening before departure, I tried to check-in. This was also not possible. Therefore, I decided to check-in early the morning of the day of departure to secure an upper deck seat. FUK is ideally connected to the city by subway train. I arrived at the airport by 6:15 and check-in went quickly and I even got an upper deck window seat. I was also checked in for my connection to WKJ. Boarding was called about 20 minutes before departure and went smoothly. I was greeted by the friendly crew and took the stairs to the upper deck. Newspapers (including English language ones) were available at the entrance of the upper deck cabin and were also offered by the cabin attendants multiple times before and during the flight. Seating upstairs was 3-3. There are additional storage bins between the seats and the outer (curved) walls which was nice. Pushback was exactly on time. Take off was from runway 16 towards the south. The take off roll was quite short, I guess a 747 loaded about 65% on a domestic flight has lots of power reserves. It is nice how quiet take-off is on the upper deck, being so far away from the engines. (However, MD-80's front seats are still unbeatable in this regard.) During climb, I could see the mountains of Kyushu Island, which had some fresh snow (which surprised me, considering the location of Kyushu). After climb, we were served drinks (several juices or soft drinks). Flight time was about 1:15. The flight above the cloud cover was uneventful. We approached over Oshima Island into HND, landing on Runway 34L. We used a lot of reverse and the rollout on the runway was surprisingly short. We taxied around the terminal and docked at the gate and I went to go see the screen with my connecting flight information.
Landside view of FUK's Terminal 2.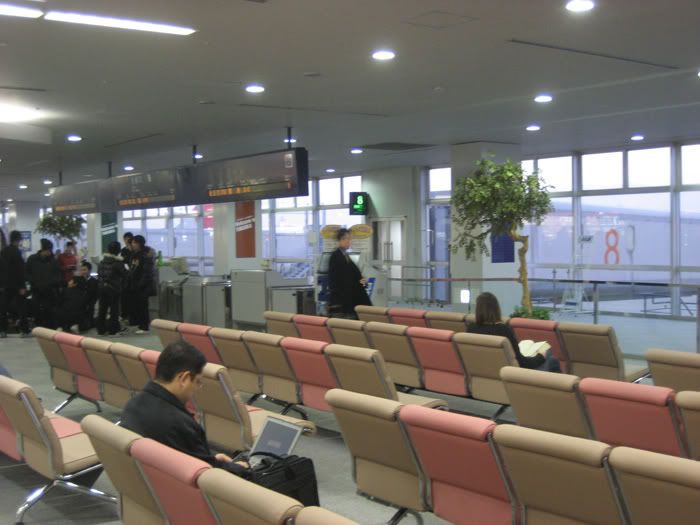 The gate area at FUK. Waiting for NH 242 from FUK to HND.
Ship 965 being towed to gate 7. It would bring me to HND.
Boarding NH 242. Notice the boarding pass readers where passengers introduce their boarding passes themselves. This makes it so much speedier than in Europe. The machine to the left is used to input your frequent flyer code by introducing your boarding pass and frequent flyer card.
The upper deck of JA8965. The cockpit door is visible.
A nice feature on 747 upper decks is the storage bins between the seat and the window.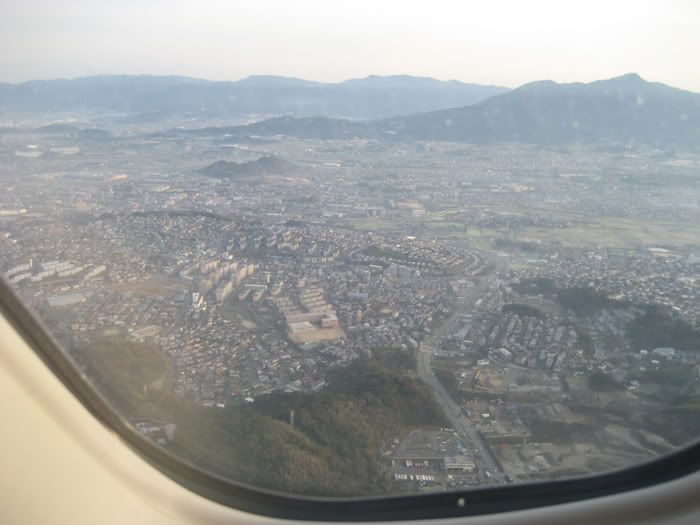 Shortly after take-off from FUK, on the way to HND.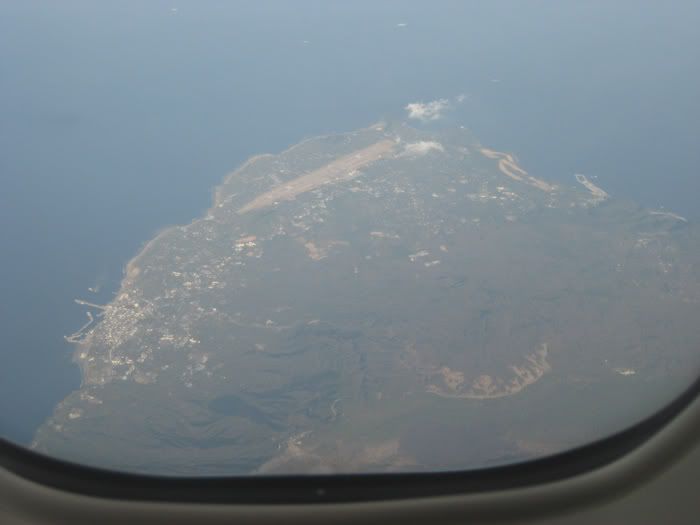 Oshima Island and its airport (OIM/RJTO), which I would visit later, visible during approach to HND.
Date: 19Dec06
Route: Tokyo-Haneda (HND/RJTT) - Wakkanai (WKJ/RJCW)
Schedule (local times): HND 1105 - WKJ 1300
Scheduled block time: 1:55
Flight number: NH 571
Airline/Operator: ANA All Nippon Airways (NH/ANA)
Aircraft type: Airbus A320-211
Registration: JA8383
View Large
View Medium


Photo © Kazuteru Sugawara
Before going to the gate, I had a quick lunch at a small ANA Festa restaurant in the gate area. My flight was boarding from the "bus lounge". The information board at the gate announced that our flight was now "servicing". The accurateness of the information given at Japanese airports is amazing. We boarded a "Friendly Airport Limousine", which was the bus that brought us to the aircraft. Boarding was through the front door. The flight was very lightly booked, I estimated a load factor of about 30% only. As always, the crew, consisting of 4 lovely ladies, greeted all passengers warmly. (It just comes to my mind that I haven't seen a single male cabin attendant throughout my travels through Japan.) The aircraft had a very dated looking but clean interior. The seats were covered in two different light color (green and blue) fabrics. I somehow had the impression I had gone back to the 70'ies, but of course the A320 is younger. It certainly looked very old fashioned. The seats were outright uncomfortable, very hard and strangely shaped. I normally don't have any problems with airline seats of any kind. We took off from runway 34R, with an immediate right turn to avoid overflying Tokyo. I had a good view towards this mega-city. The flight progressed from Tokyo over Northern Honshu, called Tohoku in Japanese. We flew over two volcanic crater lakes, Lake Tazawa and Lake Towada, before crossing Mutsu Bay, Shimokita peninsula and then Tsugaru Strait, the body of water separating Honshu and Hokkaido islands. Before descent, the captain made a lengthy speech, but unfortunately in Japanese only. There was a compact cloud cover over the Wakkanai area (and over the whole of Hokkaido, for that matter). We descended through the clouds when I suddenly noticed Wakkanai on the left side. We then flew a circling approach towards runway 26. This was done flying very low as the cloud base was low, too. The area was snow covered, but the runway was clear. We touched down and taxied to the parking area. There are 3 to 4 parking positions (depending on aircraft size) and one jetway, where we docked. I then asked the cabin crew if I could take a picture of the interior of the aircraft (after the passengers had disembarked) but this was politely denied. (Of course in Japan you never get a straight no, so the crew mentioned I could take a picture outside the aircraft.) The standard speech mentioned that it was forbidden to use electronic devices (including digital cameras, but this specifically is only mentioned in the Japanese version of the speech) from the time when the fasten seat belt sign was turned on until leaving the aircraft. This rule was apparently followed by the book. Of the few passengers, only about 5 parties had checked baggage, which arrived quickly at the sole carousel. In Japan, you will always have to show your baggage receipt which will then be compared with your receipt and if everything's ok they will then take off the label and take the receipt and throw it away for you. There was a bus connection from the airport to the city (the city bus meets each flight, at the time I was there, there were just 3 daily flights). However, I didn't take this bus as I wanted to see and photograph the departure of the A320 that brought me there. As on all Japanese airports, there was an observation deck, however, the one outside was closed (presumably during the winter). But there was a nice and lovingly kept (with nice pictures of the area on the walls) inside deck with clean glass through which I could get some nice shots. The weather, however, was quite nasty with light snow showers and strong winds. I then went back to the ticket desk to have the tickets issued for those NH flights that I had booked over the web. For this, I had to show my credit card. After everything was accomplished, I took a taxi to town. The trip to town took about 25 minutes and the taxi was about JPY 4200.
Flight information board showing all departures from the bus lounge. I will be on NH 571 to Wakkanai soon.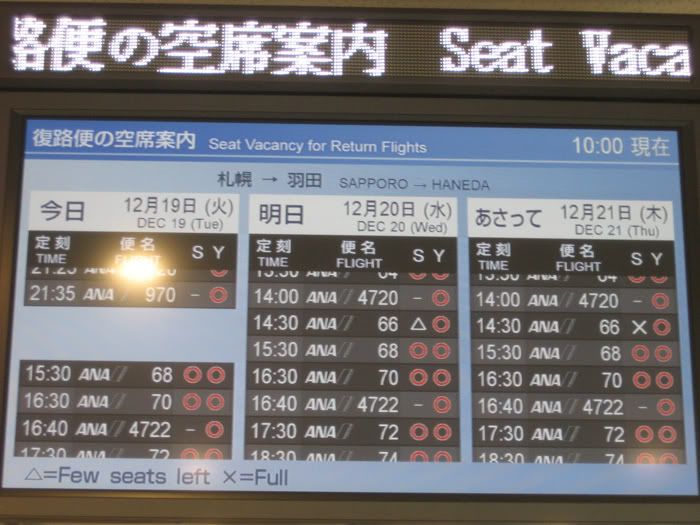 While wandering around the HND gate area, I noticed screens showing the seat availabilities for return flights. This screen was at a gate of a Sapporo-New Chitose (
Top